I recently hosted a few of my favorite ladies at my home for a tarot night! We were lead by the amazing and beautiful Jessica Stone. And of course I made it pretty with the help of a few of my vendor friends! It was a magical night with new discovery and exploration of all things tarot. So if you've ever been curious keep scrolling… Jessica is sharing all about tarot and why it can be such a fun and special night with your friends!
Photos by Corrie Lynn Photo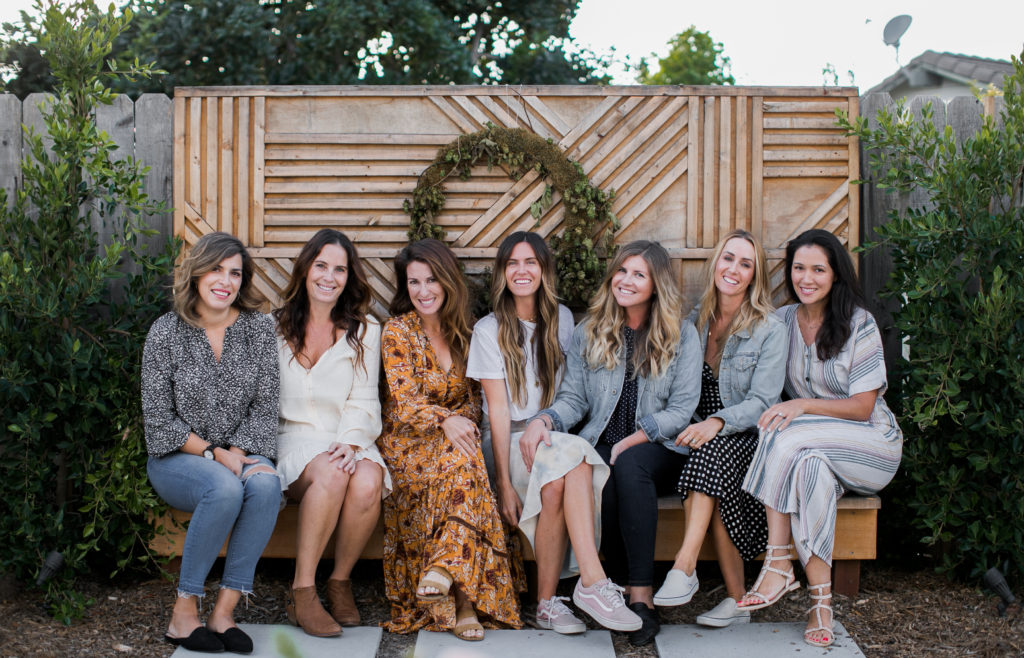 Let's start with some of the pretty though… Like this invitation from Proper Letter. Love this rad take on all things tarot welcoming my guests! Simple and pretty!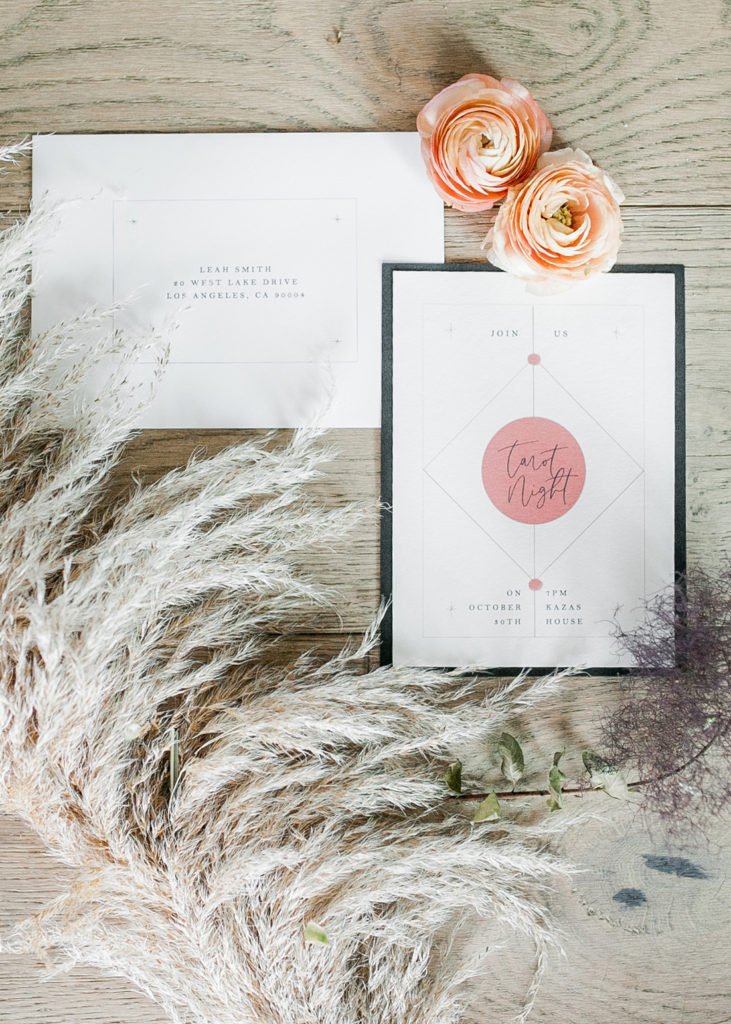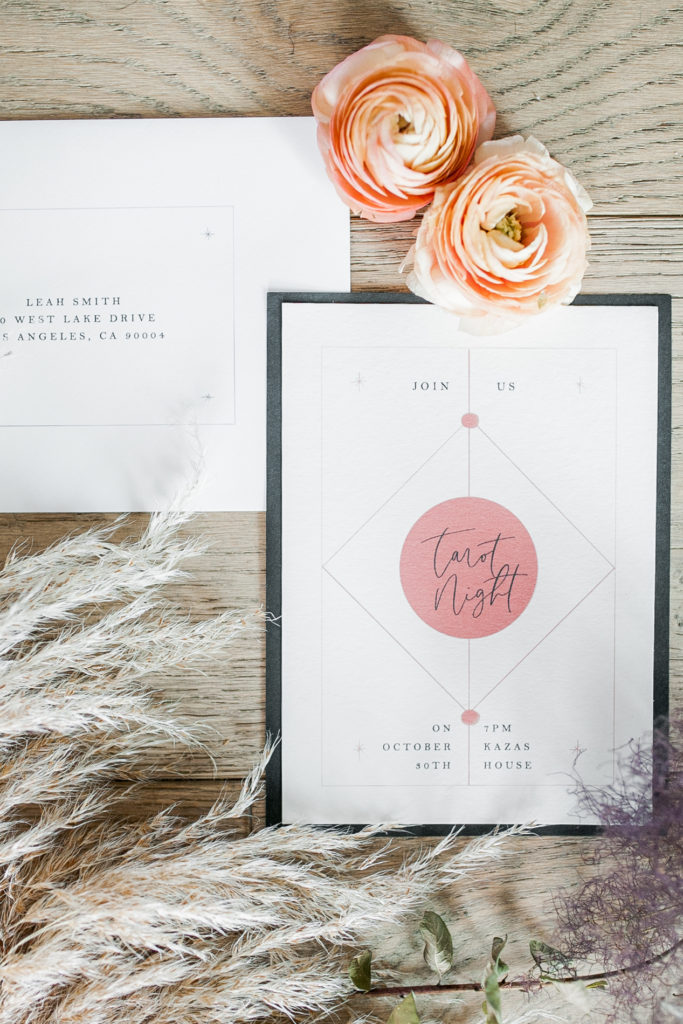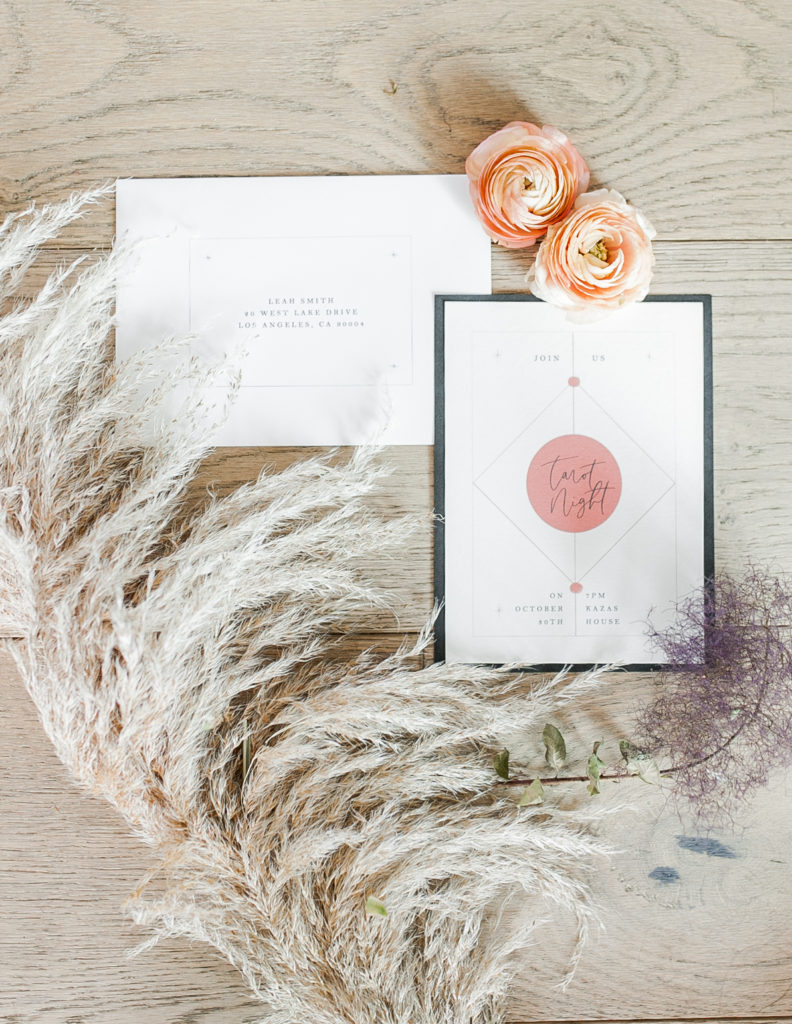 Next up the table! We did individual readings so while each of us went and worked with Jess, the others noshed on some yummies! I set the table with Cherished Rentals beautiful tabletop dishes, glassware and flatware. The white chairs are courtesy of my friends at Sweet Salvage Rentals and the napkins are from Hostess Haven.
Those beautiful blooms you see are by the talented French Buckets. I love her take on a fall arrangement, especially that smoke bush she added in there! And that wreath behind us?! Made of hops! So fun, right?!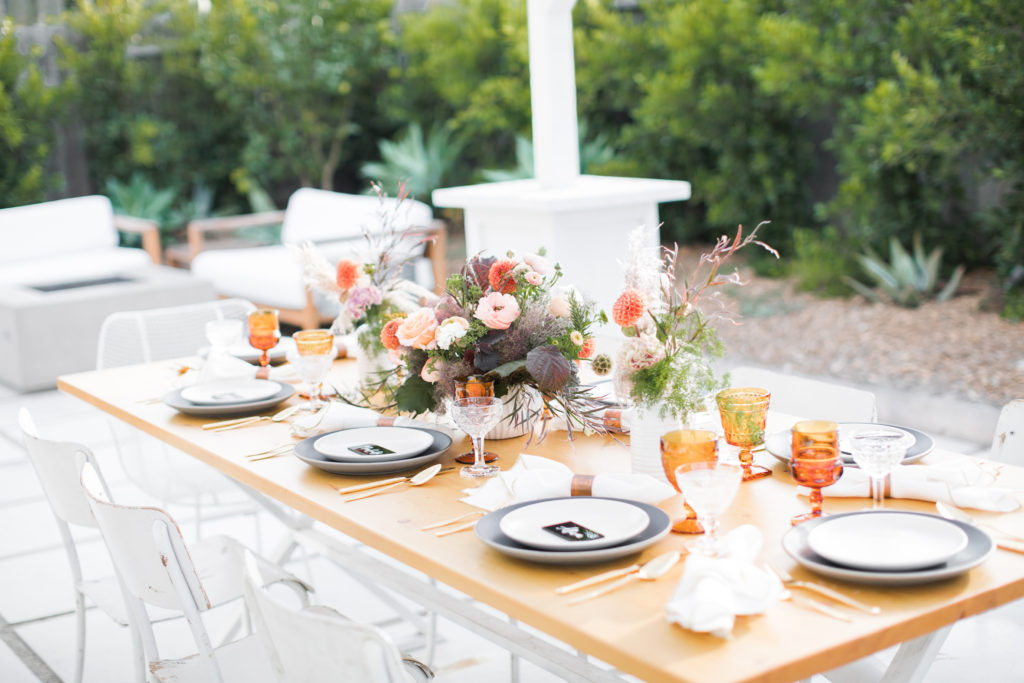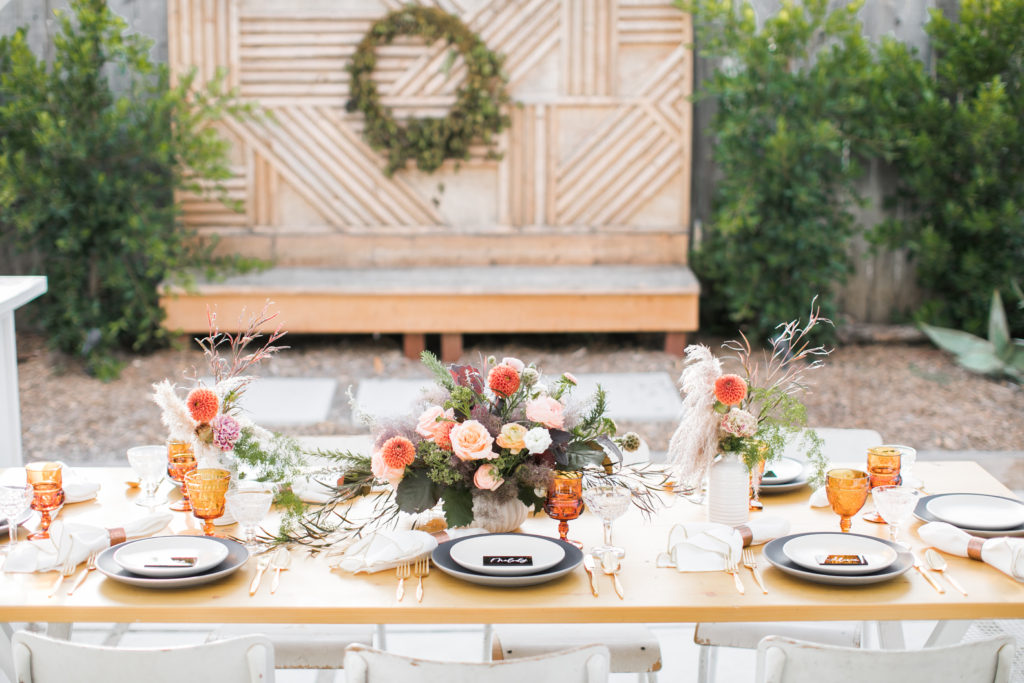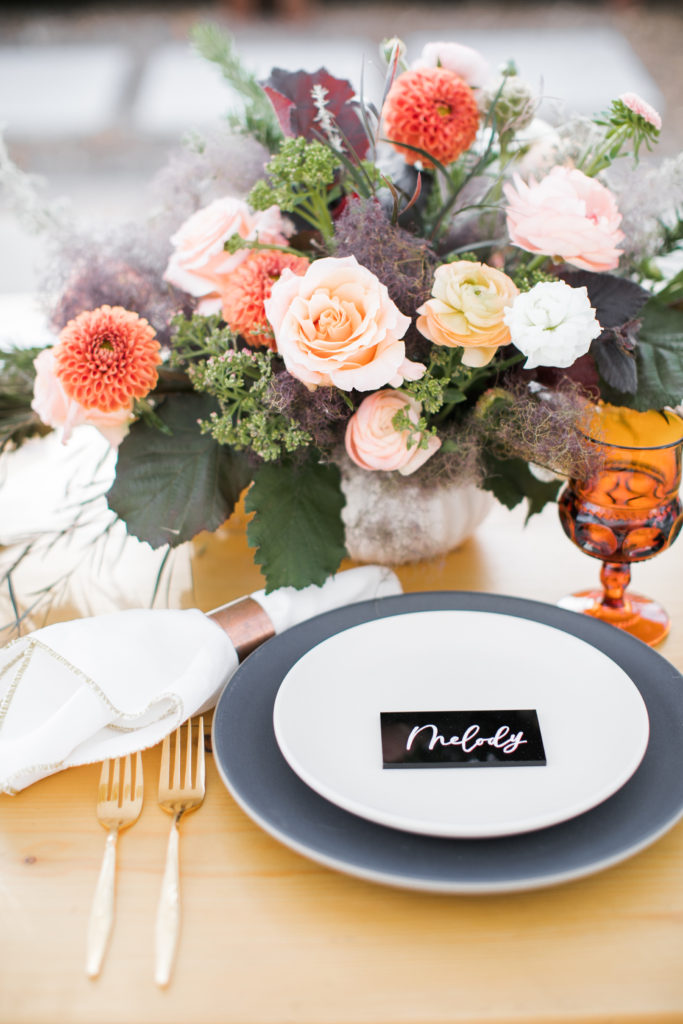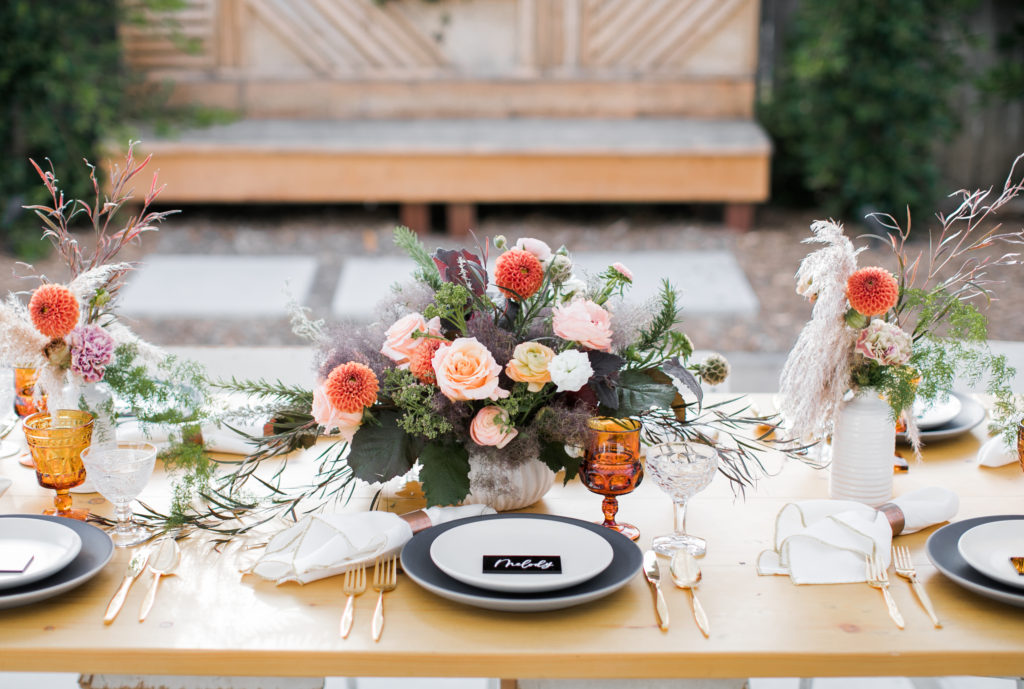 Proper Letter also did the place cards and I'm sort of obsessed with that white on black!!! Don't you love it?! Just pops and love how moody it is, especially for a party like this!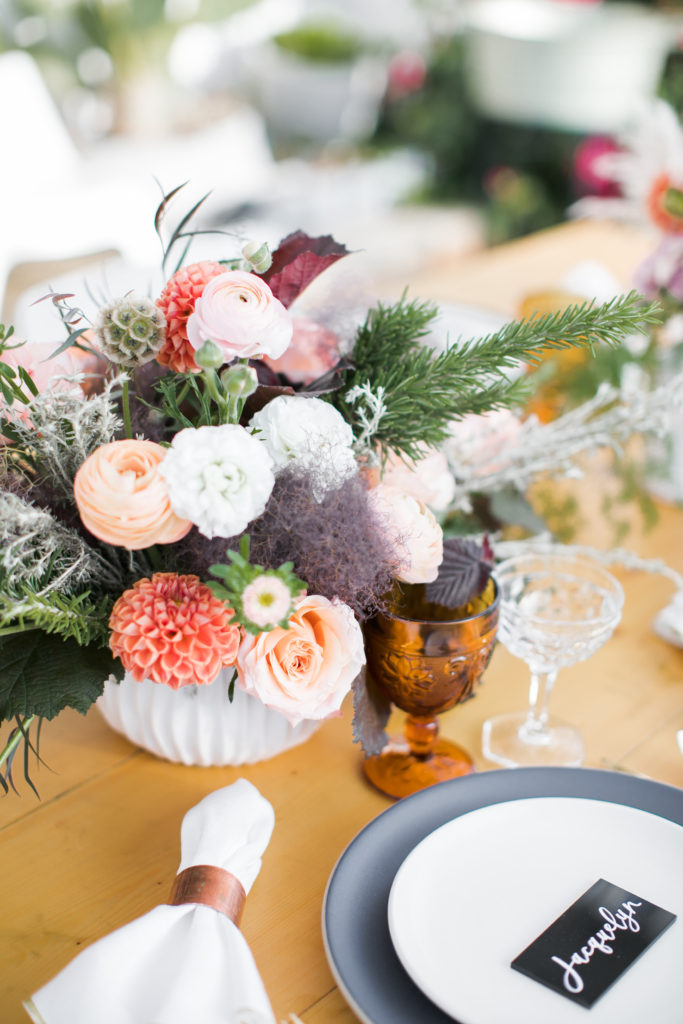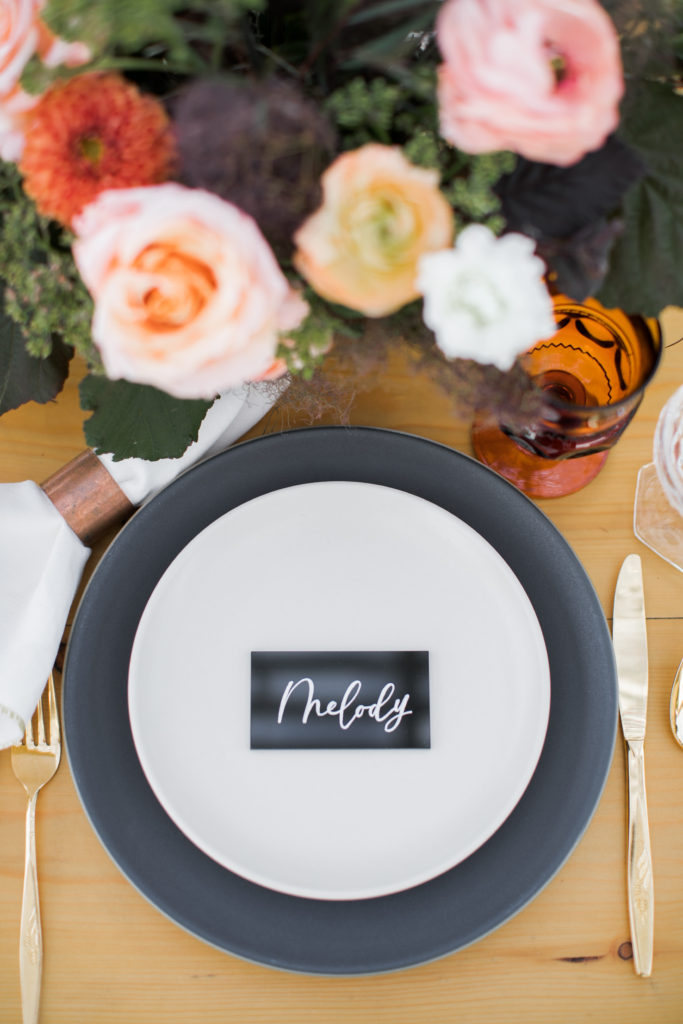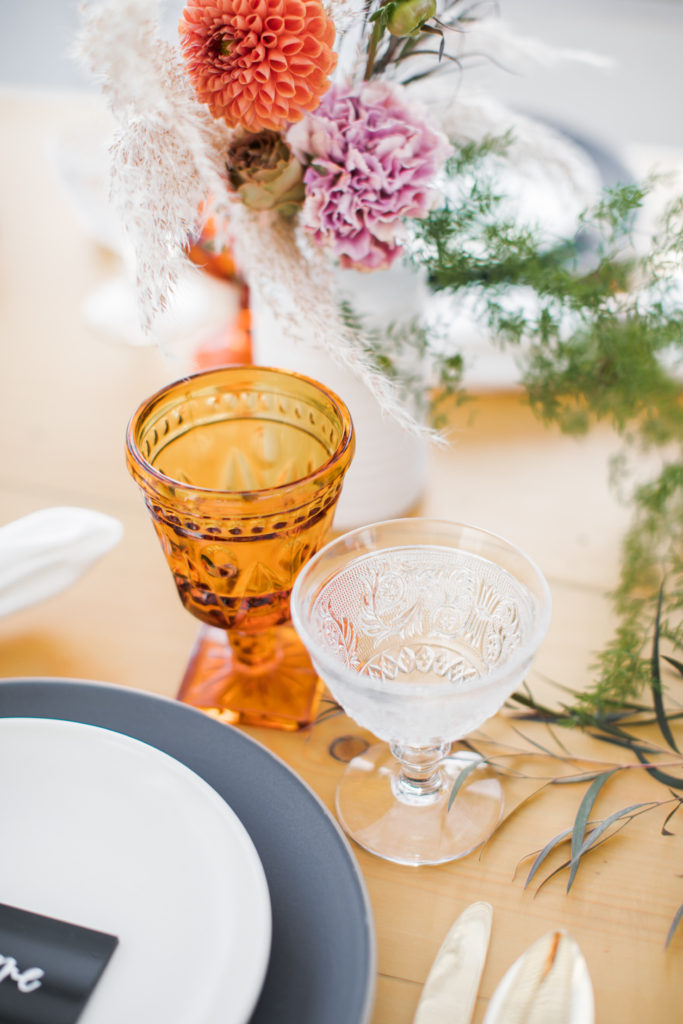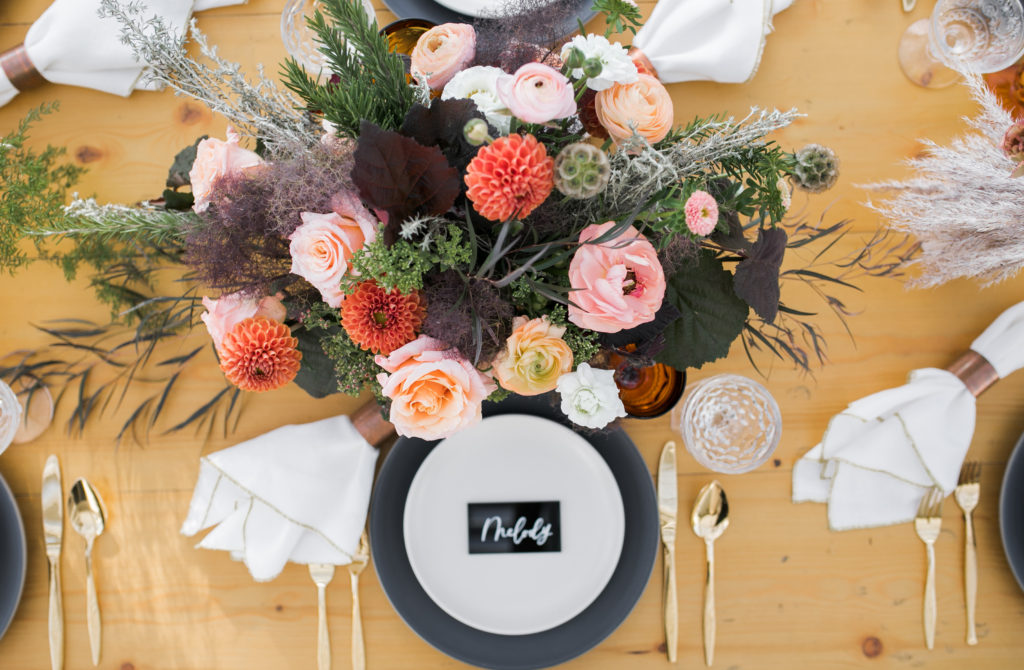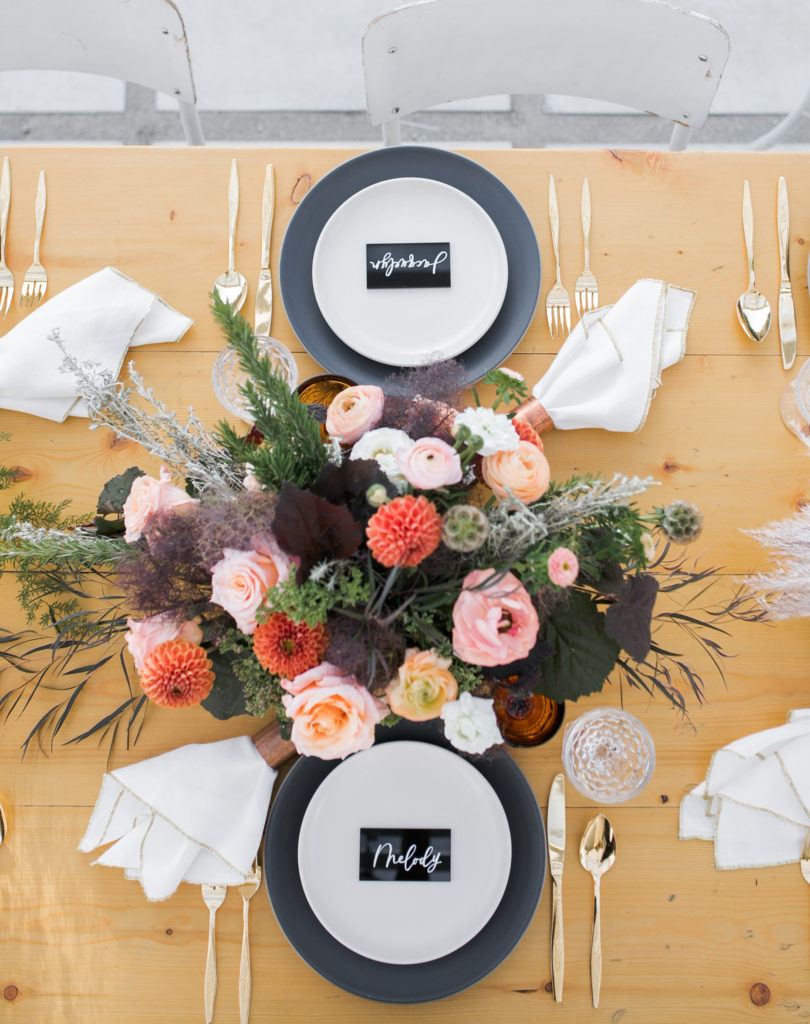 Remember how I said we noshed?! Well of course only on pretty stuff!!! Graes Platters made one of their infamous spreads with a gorgeous fall theme. And we drank an assortment of One Hope wine – cabernet, chardonnay and rosé – yum yum!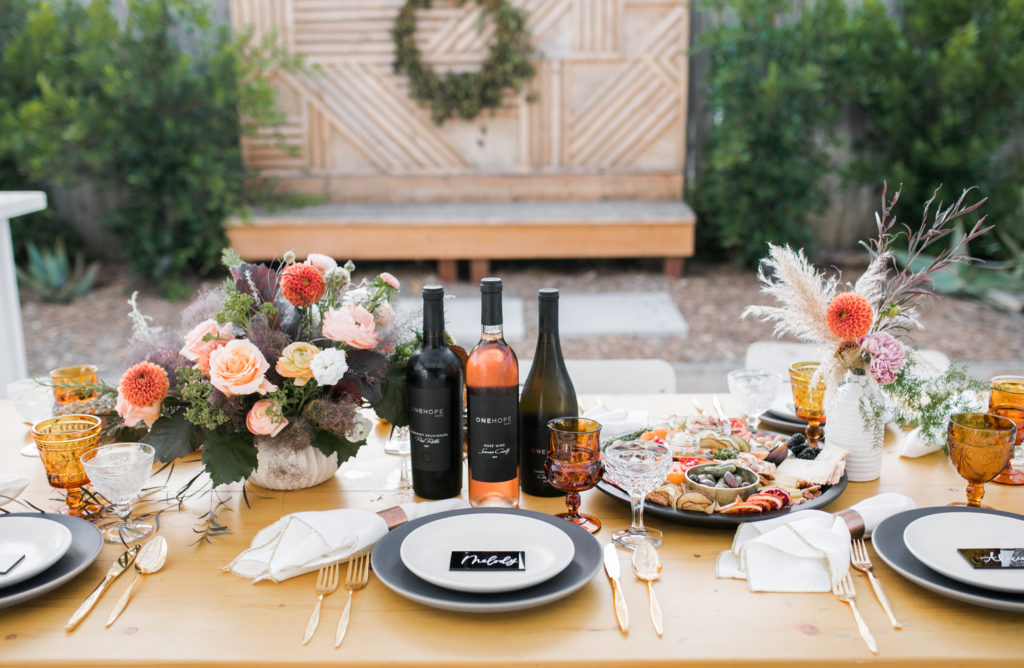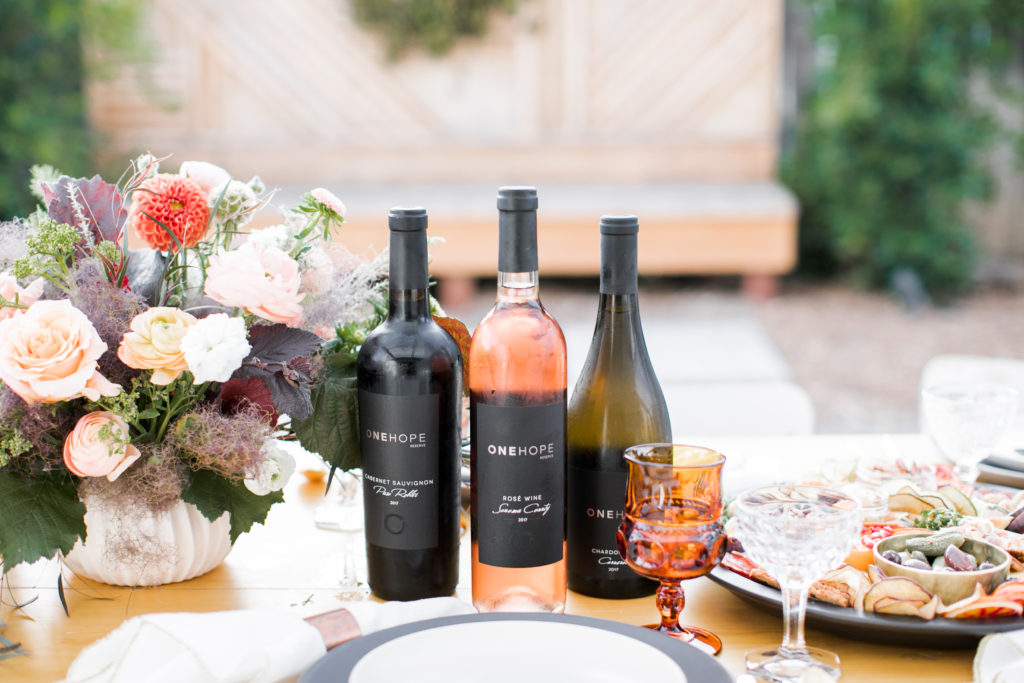 There I am hosting my little fanny off! Always gotta make sure the glasses are poured for each guest! My cute dress is from Saltwater Luxe – and I've been wearing it quite a bit this fall! Love it!!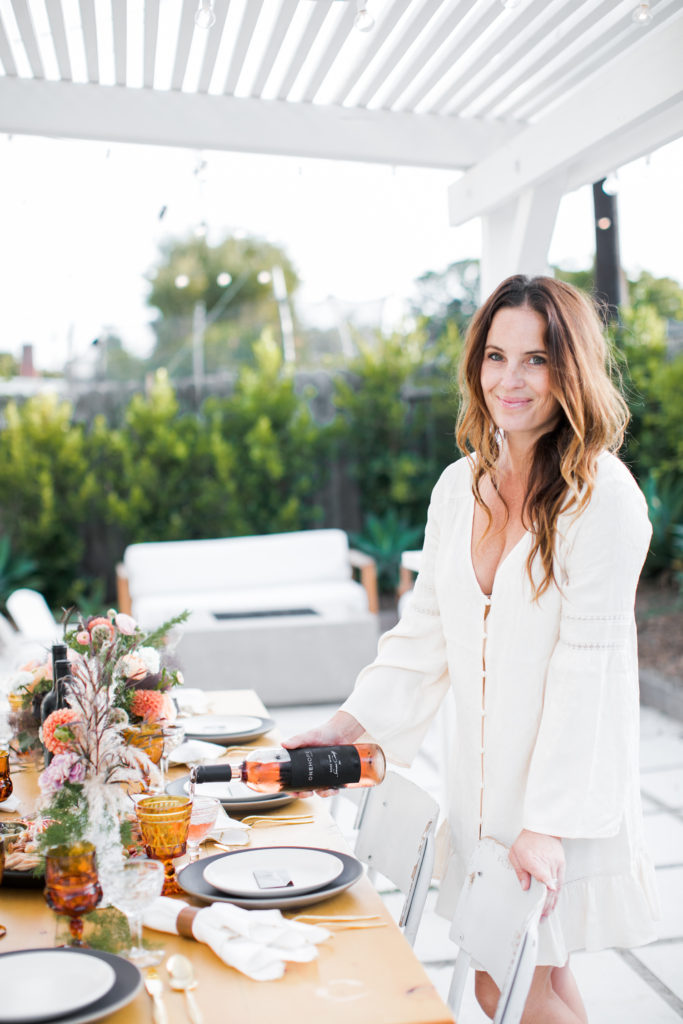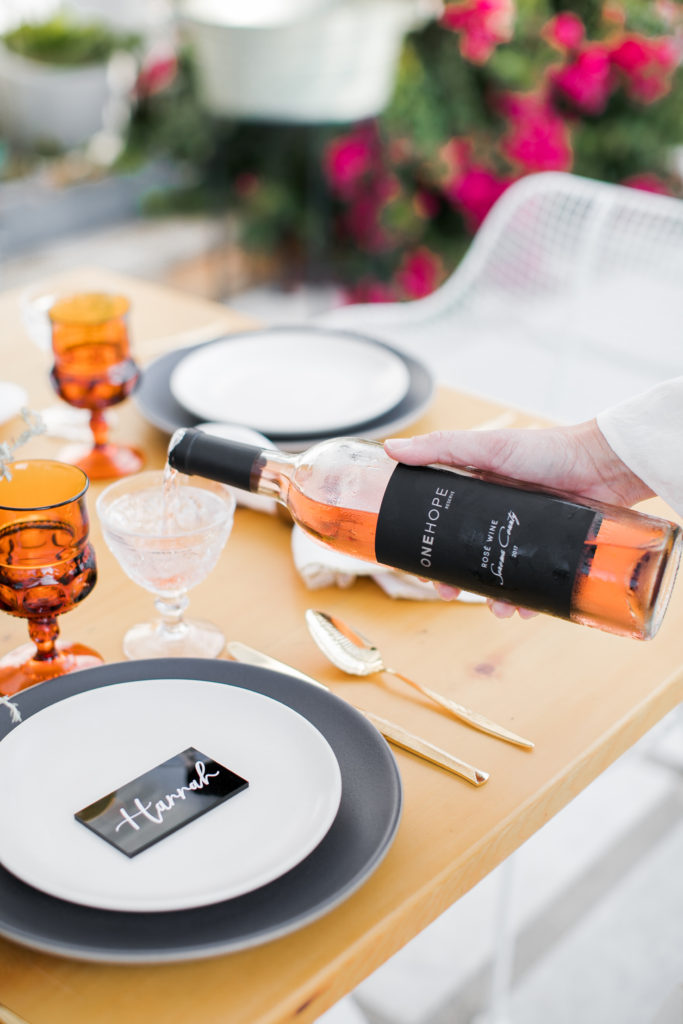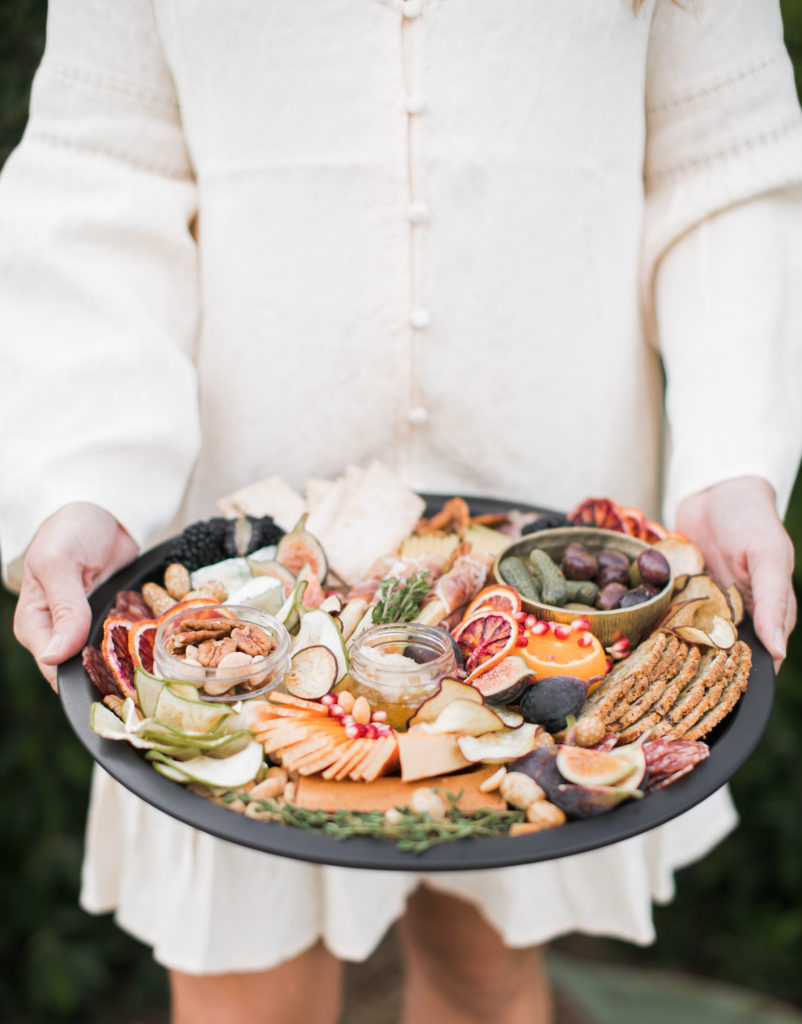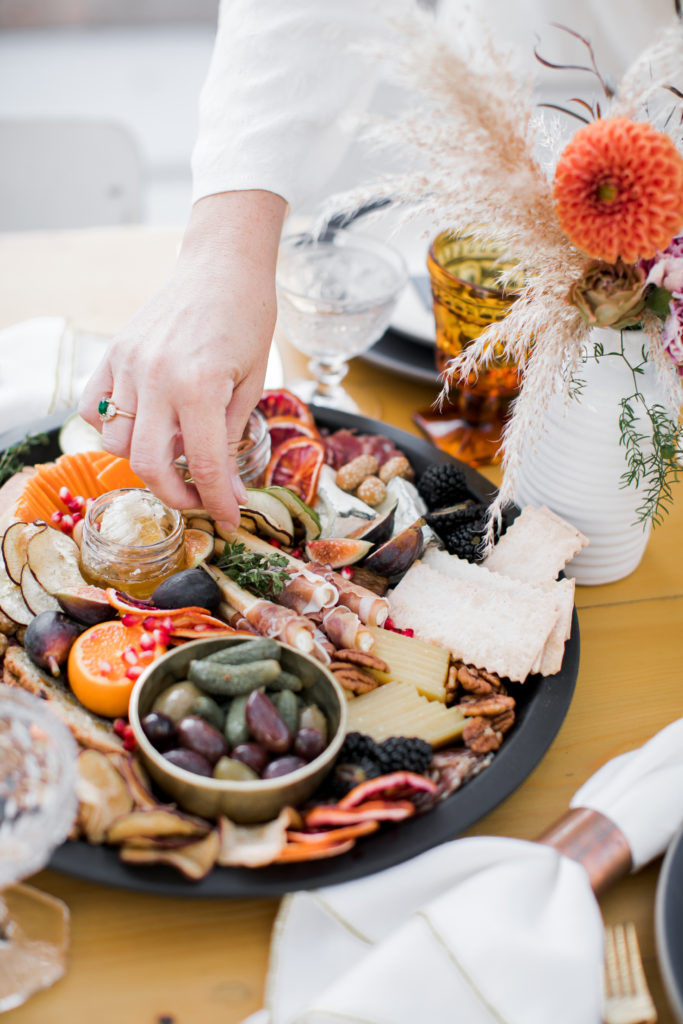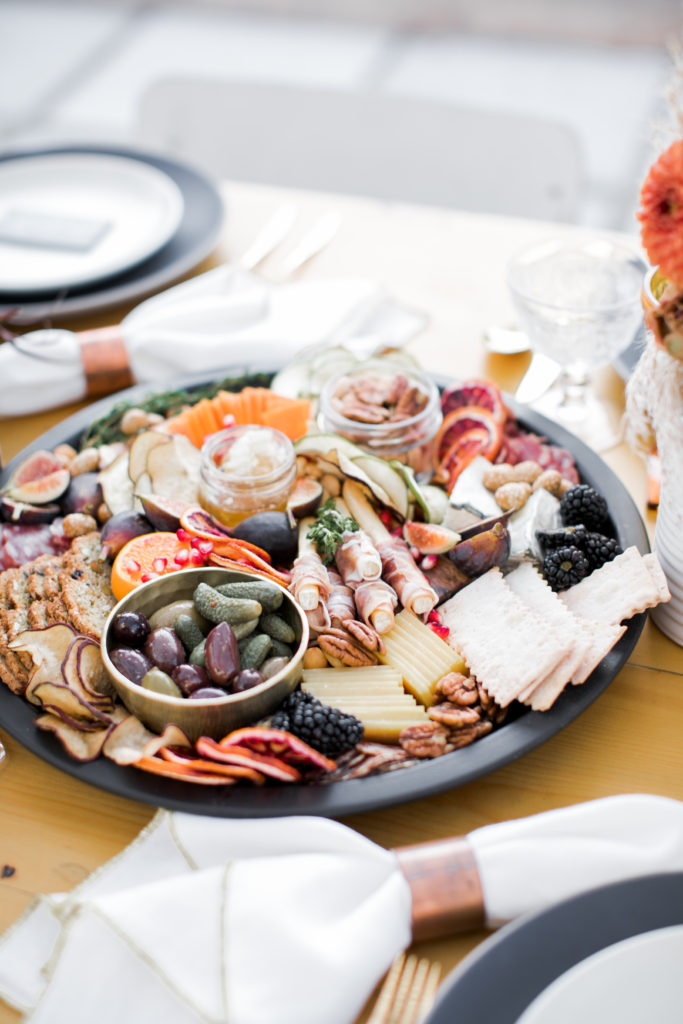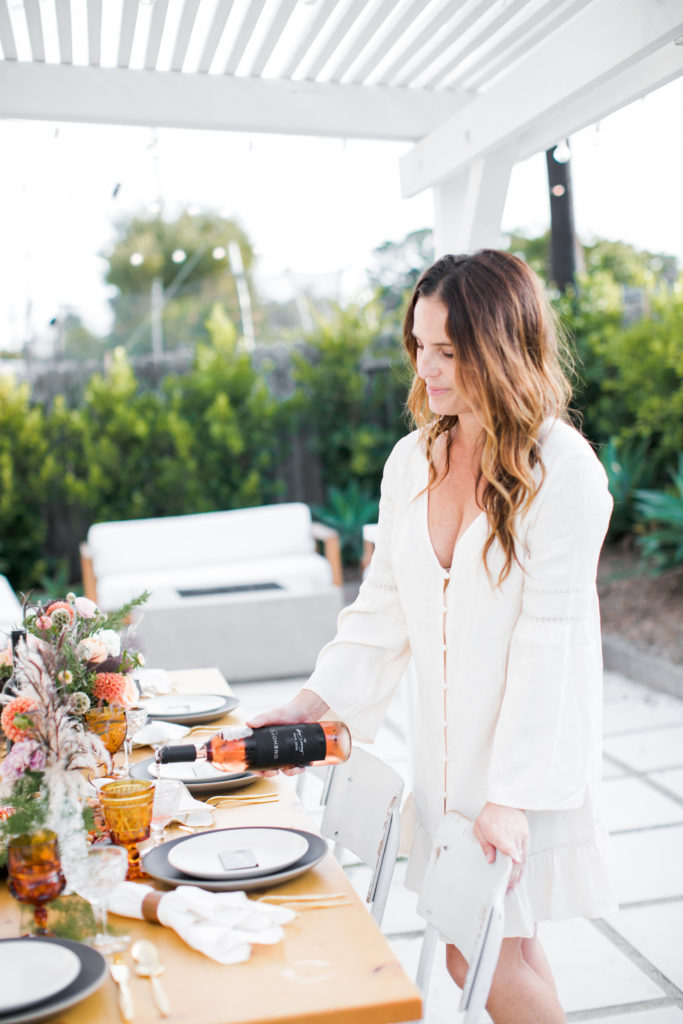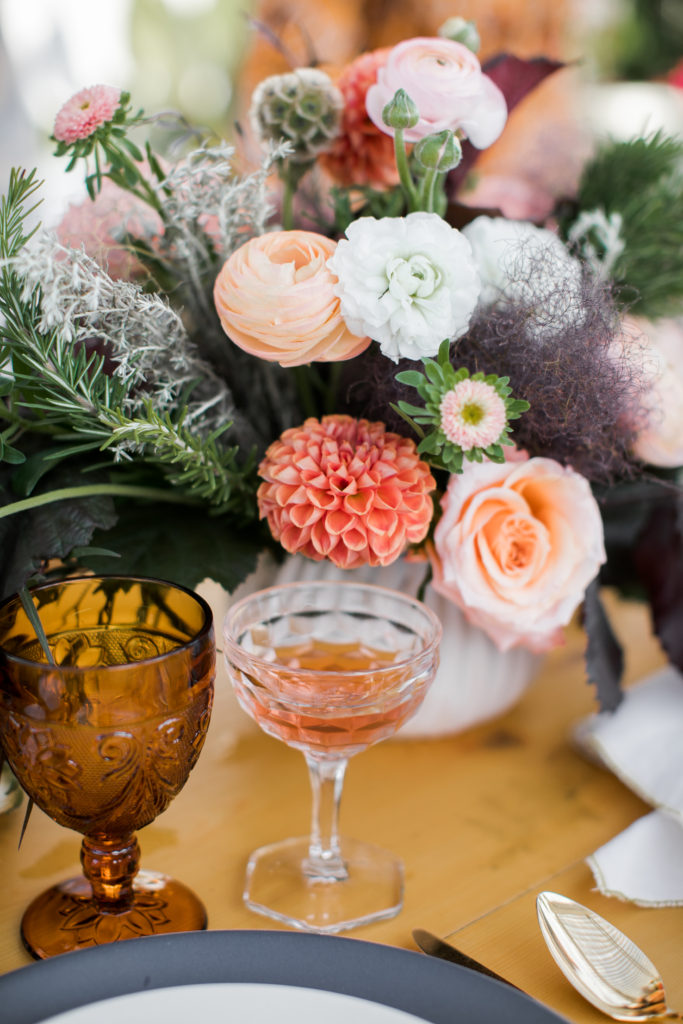 Cheers! Now back to all things Tarot!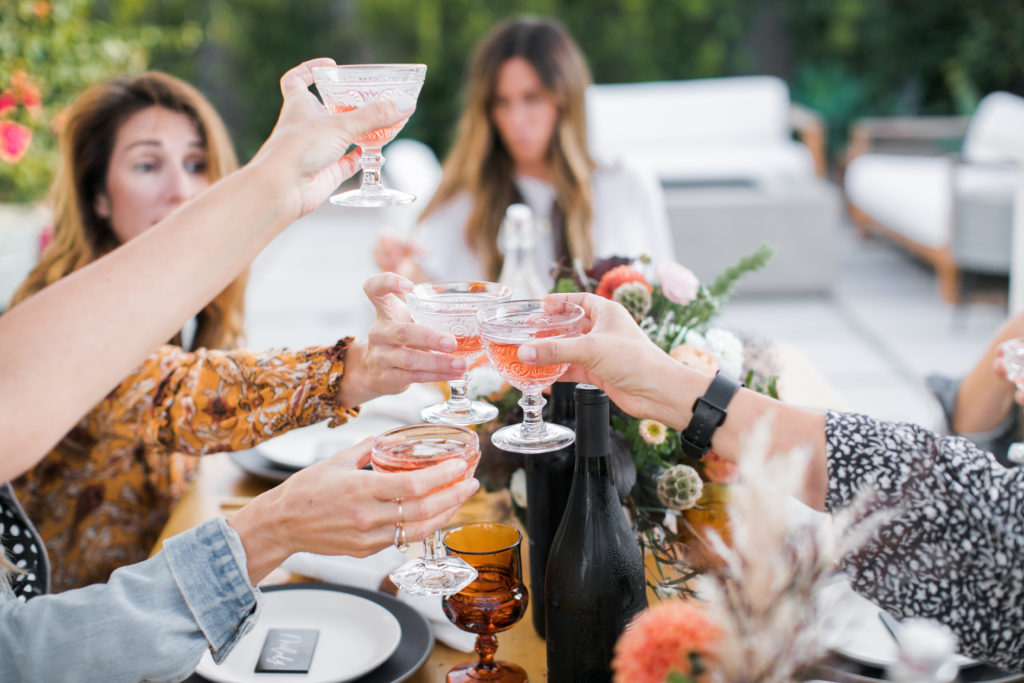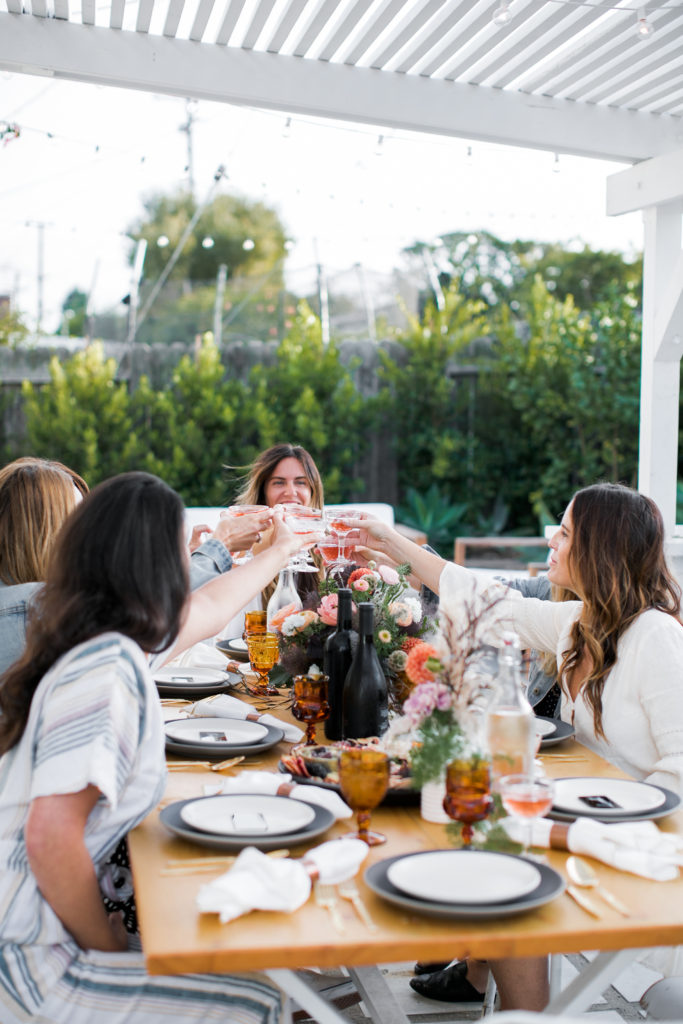 We passed around stones that would help calm us and bring us to our center while we did a group mediation. It was the perfect start to the evening with all of us focusing and breathing – releasing any negativity before we moved forward. Jessica's voice was so soothing we all agreed we'd love to have her around while we are trying to fall asleep and clear our heads, haha!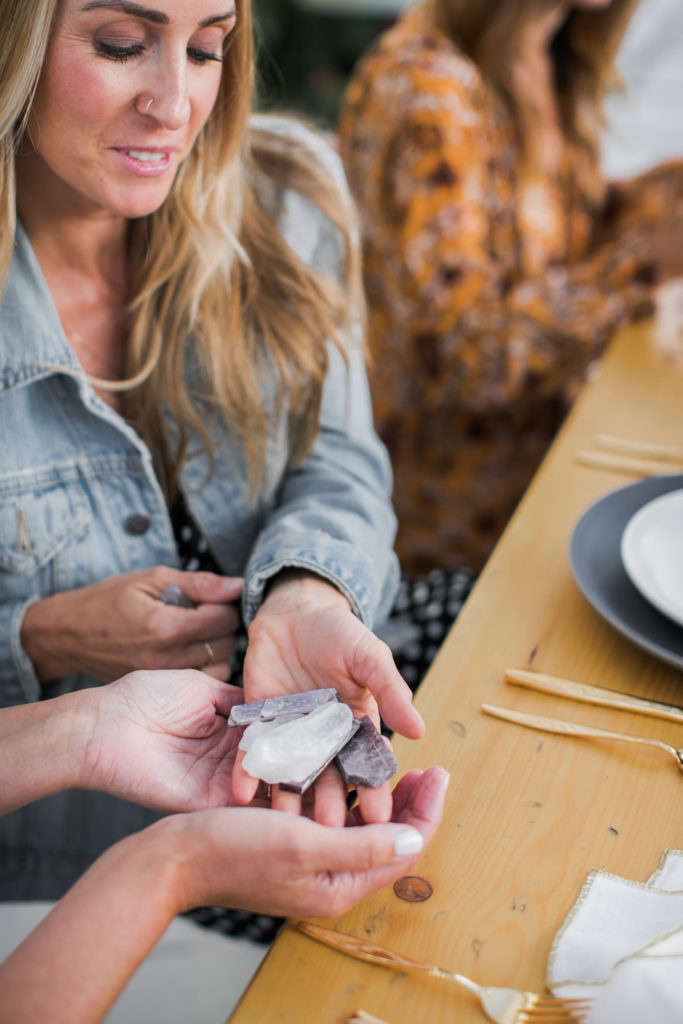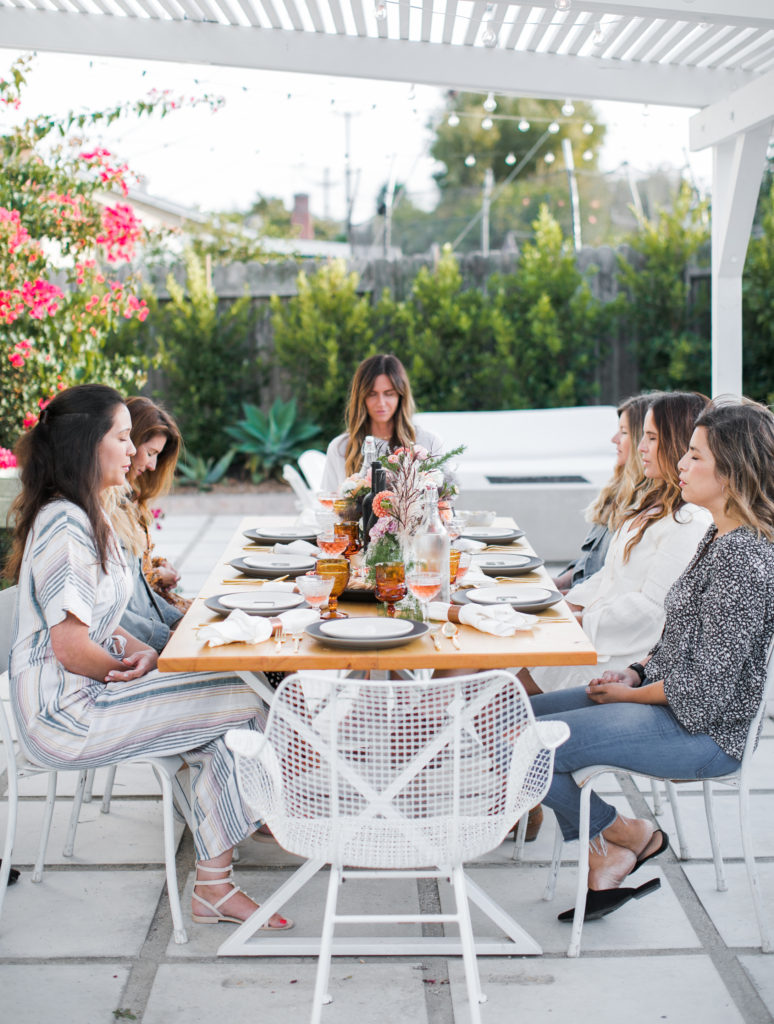 A little bit about Jessica… She is an intuitive healer. Her whole life she has been able to connect into vibrational energy. Through Tarot, Reiki and Guided Meditation she clears and shifts her clients frequency to empower them to live a healthier holistic life.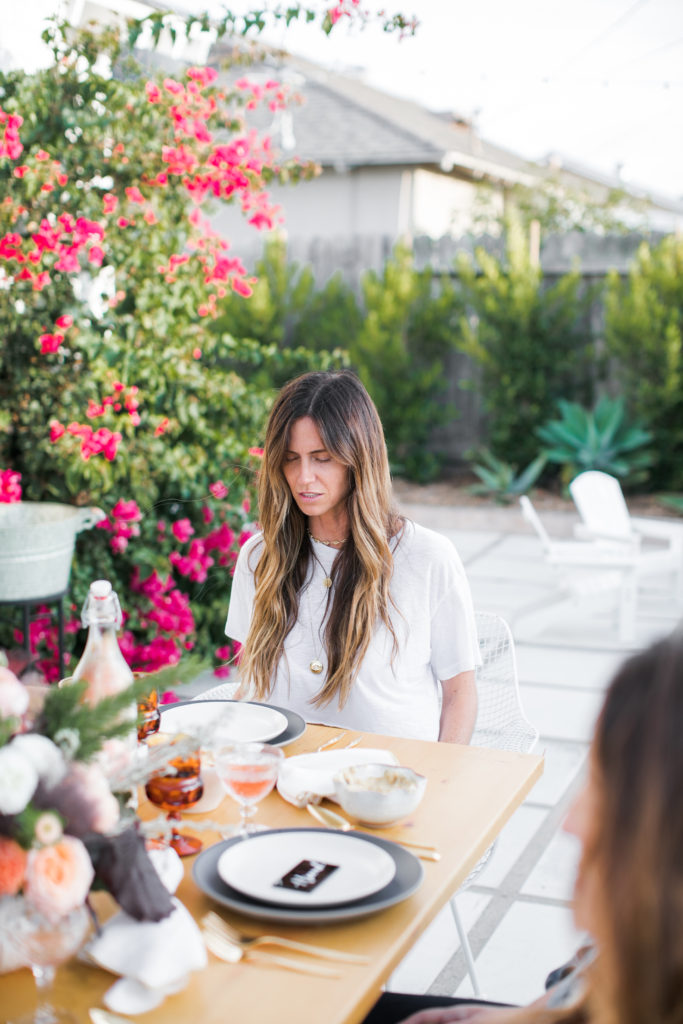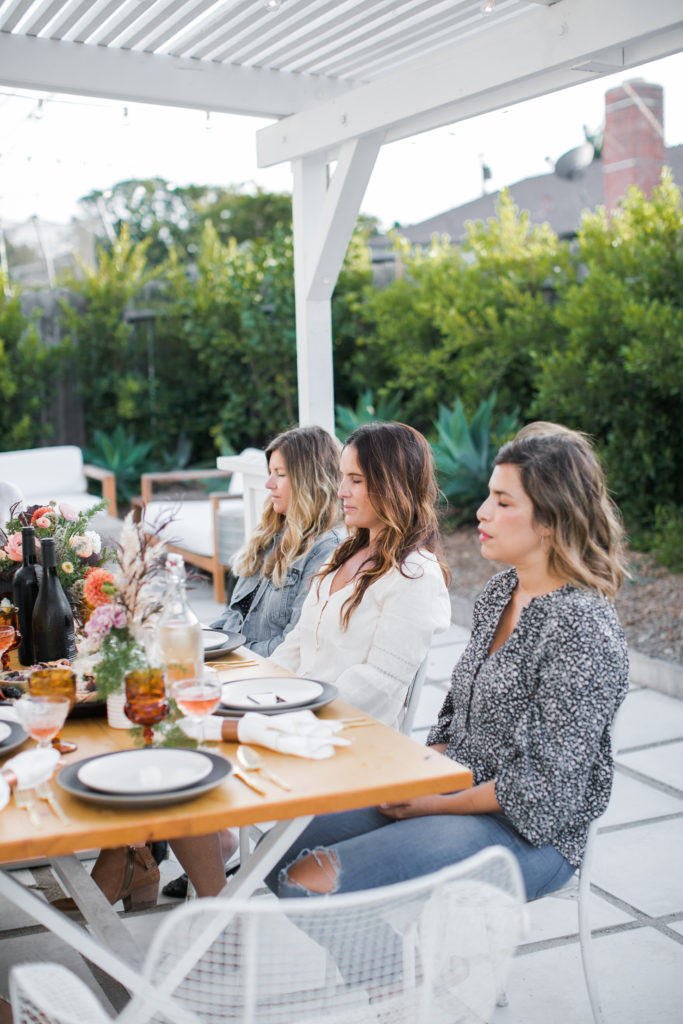 From Jessica…. We all have the power to live this life to the fullest and each of us hold that power inside us. Tarot simply brings forth the journey your energy is manifesting and helps you navigate your path with intention. It creates such a beautiful touch of connection to a girls night, a great conversation started for weddings and a soulful touch to any party.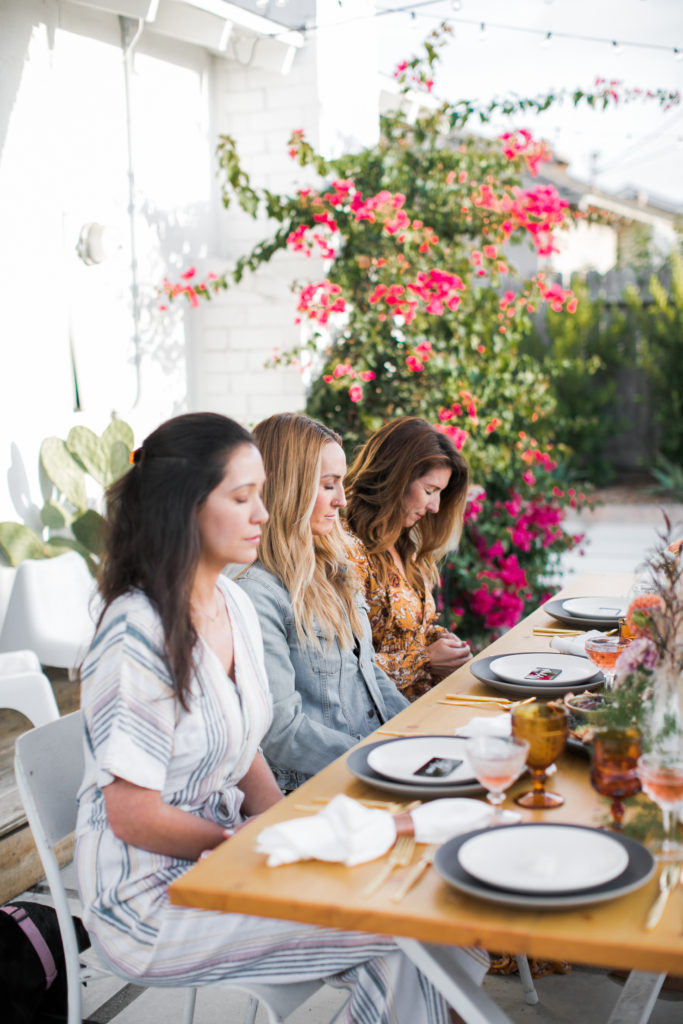 Most of us were new to Tarot that night, and if you are too keep scrolling to read about it from Jessica. It's all about your energy and what you are being pulled toward in that moment. All of us were amazed at how right on our cards were. We also agreed that the way Jessica explains the cards was very helpful. She has amazing analogies and makes it easy to follow along and understand. She really is great at what she does!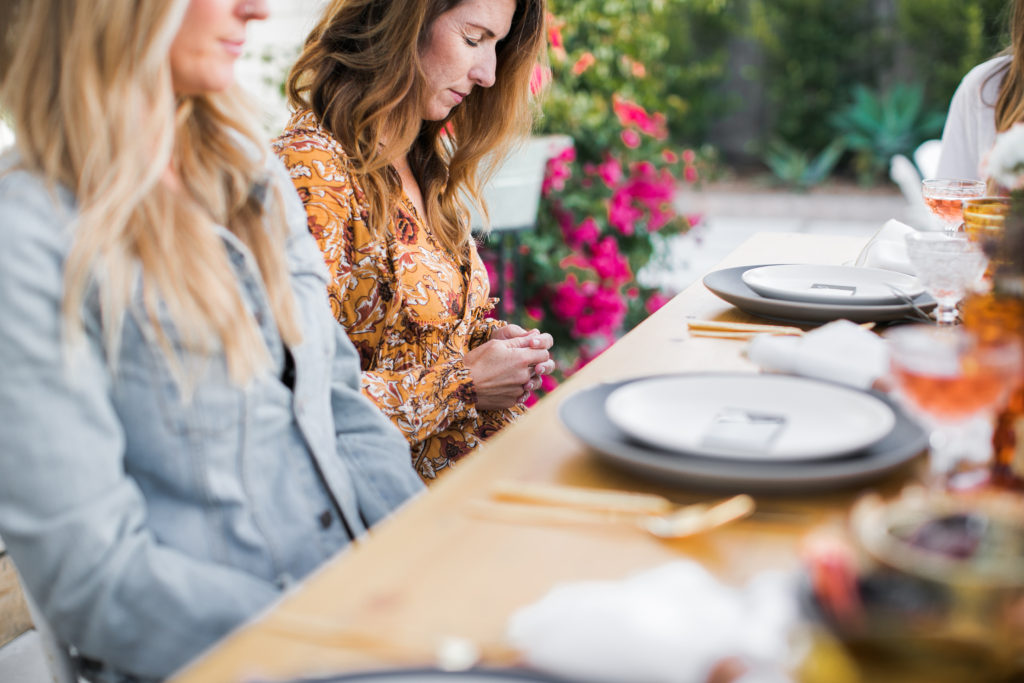 So what is Tarot anyways??
Tarot is a symbolic map of consciousness that represents our journey here on Earth.
There are 22 of the Major Arcana cards. These cards align with the milestones of "life's story". They represent the 22 inevitable phases or passages of every journey we will encounter during our lives (not always in order). These phases repeat themselves and recur multiple times throughout life creating a cyclical nature in which there is no true beginning or end. When these cards are pulled it is a time of deep reflection on patterns we create.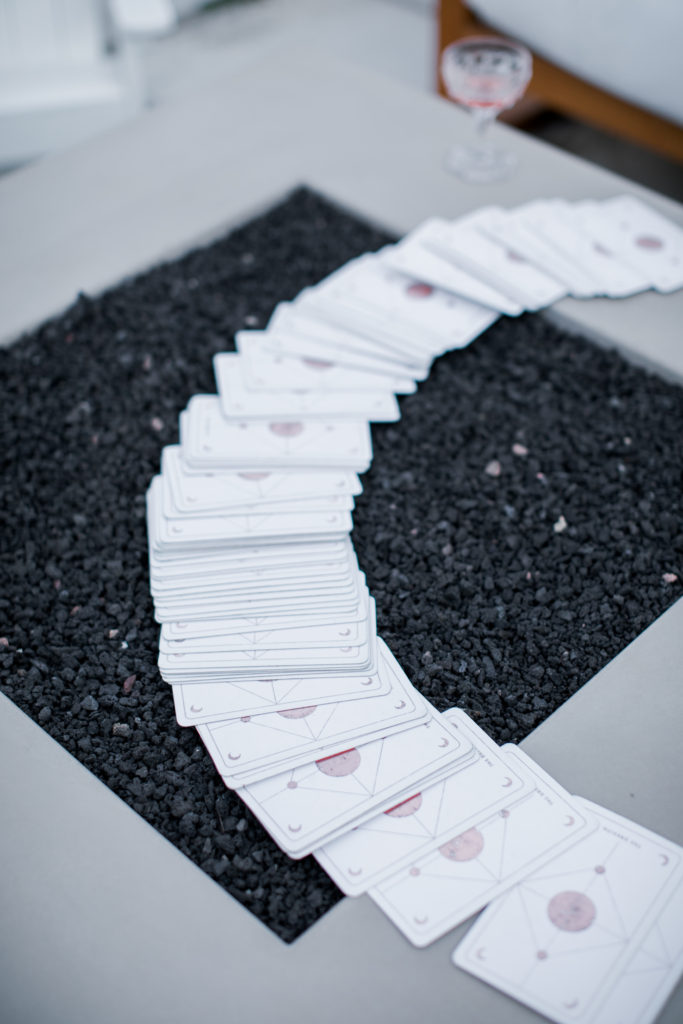 There are 56 cards of the Minor Arcana. There are 14 cards in each suit numbered Ace through ten and the court cards Page, Knight, Queen and King. The Minor cards symbolize the daily aspects of life, giving insight into our challenges, talents opportunities and experiences.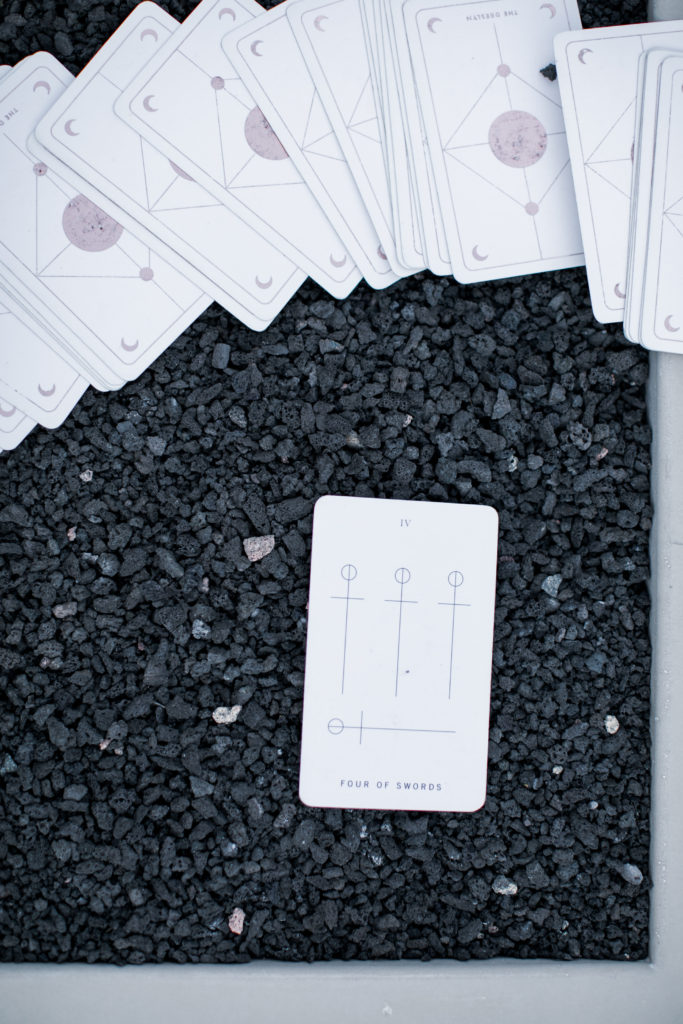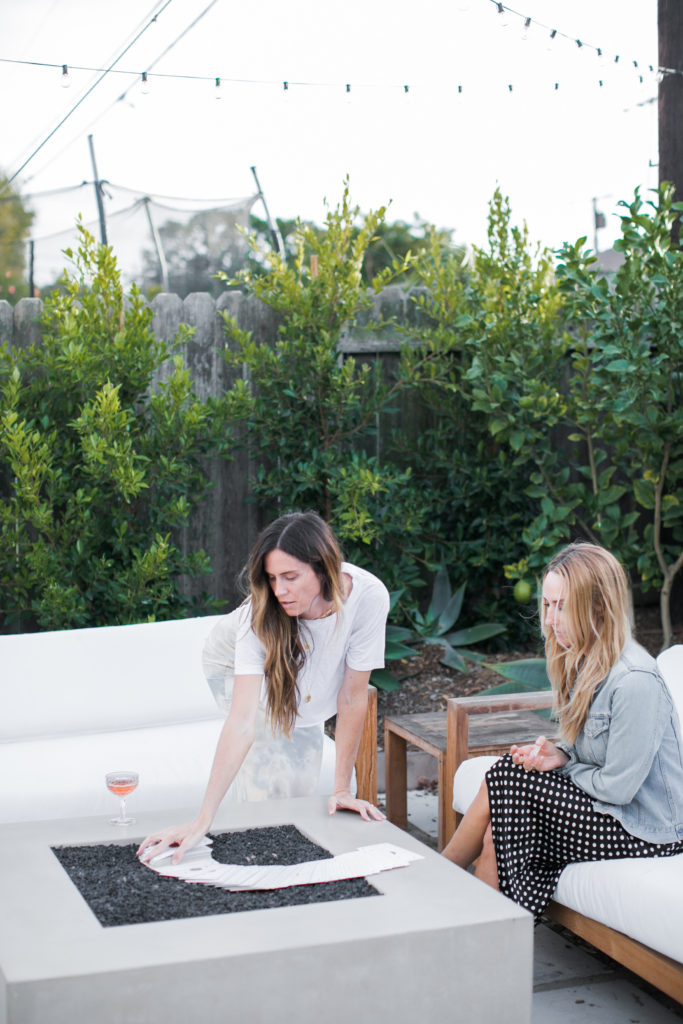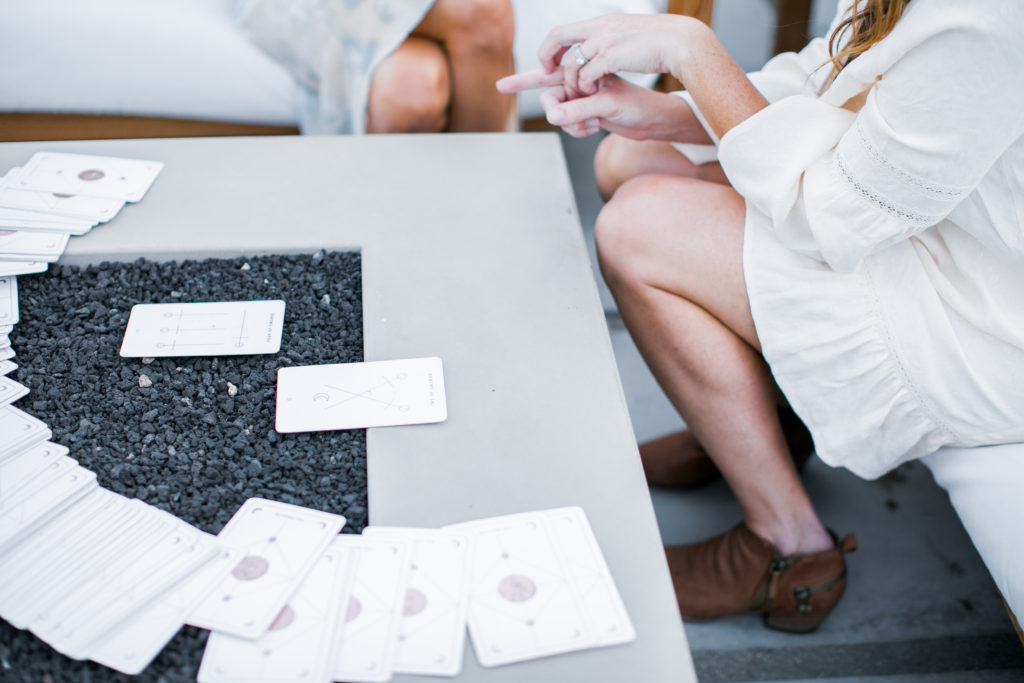 Just like if you hold food, medicine or come in close contact with people your bodies vibration will either pull toward or away. So in this tarot course you will learn simply how to run your hands over the cards and pull what vibrates towards your energy. Just like electricity our energy follows the path of least resistance. So although I am not a believer in cards telling you the future (we all have free will) you will be able to start to understand your patterns you most naturally create and in this self awareness be able to navigate your future.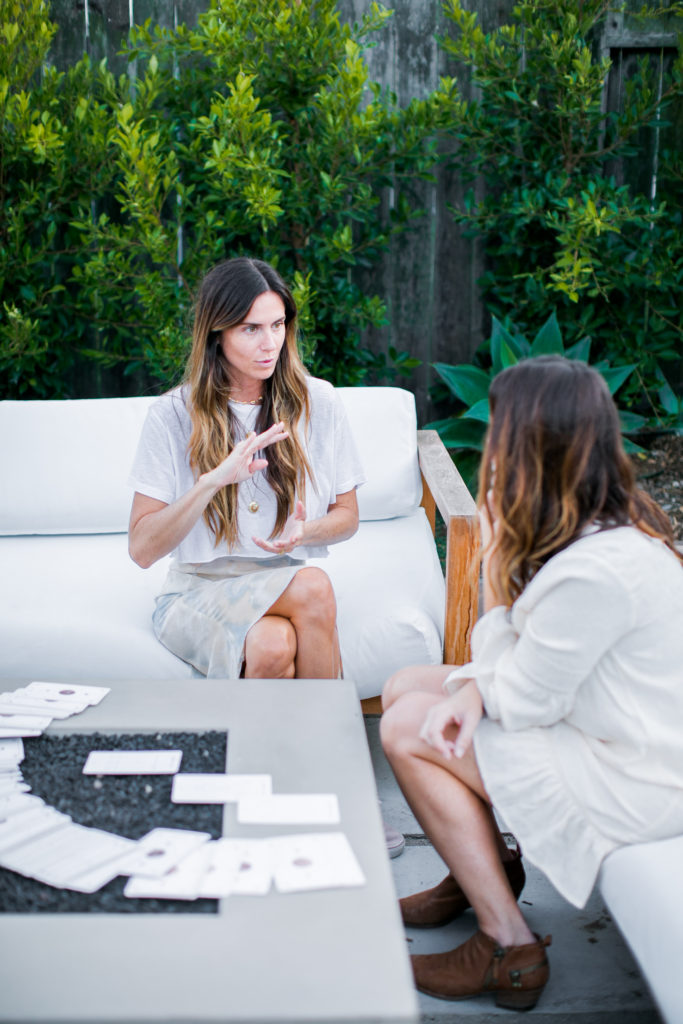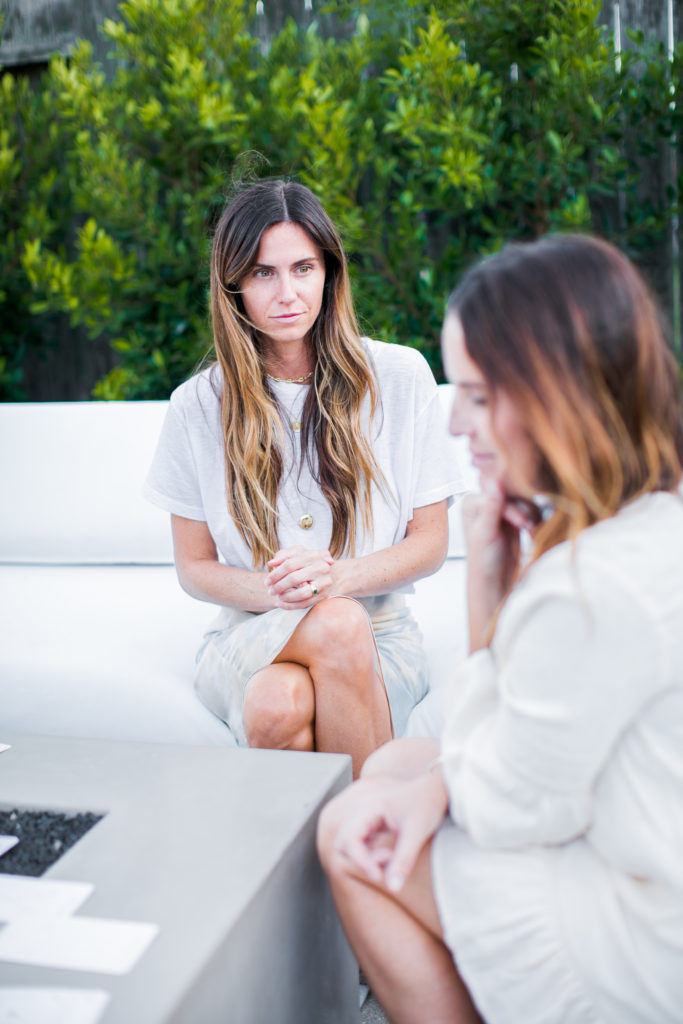 It was such an interesting night and we all had the most amazing time! So if you are looking for another way to gather your girlfriends and celebrate I can't recommend this enough!! Thank you Jessica for sharing your gift with us!!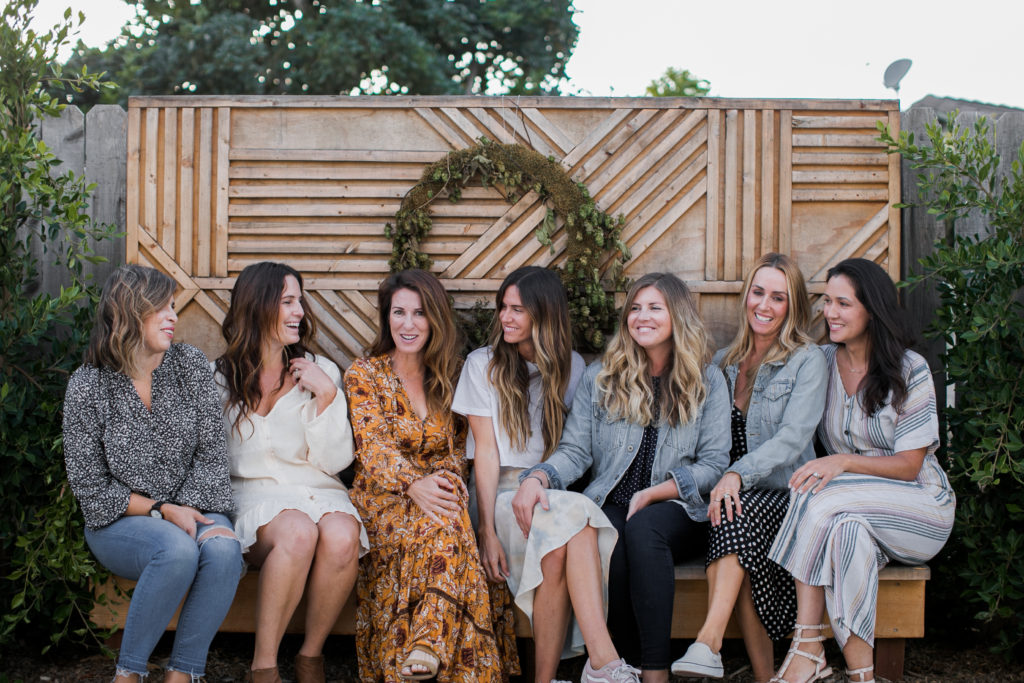 xx
Jacquelyn