I literally can't believe that Thanksgiving is in two days!!!  Where did this year go?!  Well we couldn't let the Thanksgiving holiday go by without a pretty tablescape for ya!  And this one is full of rich florals, beautiful glassware and really yummy food & wine.  The wine was taken care of by our favorite One Hope who we partnered with for this shoot.  And speaking of food, if you don't know what you are serving for apps yet, Contemporary Catering has you covered!  They are sharing all the details on these easy crowd pleasers!
Keep scrolling to see more photos from Taylor Hotter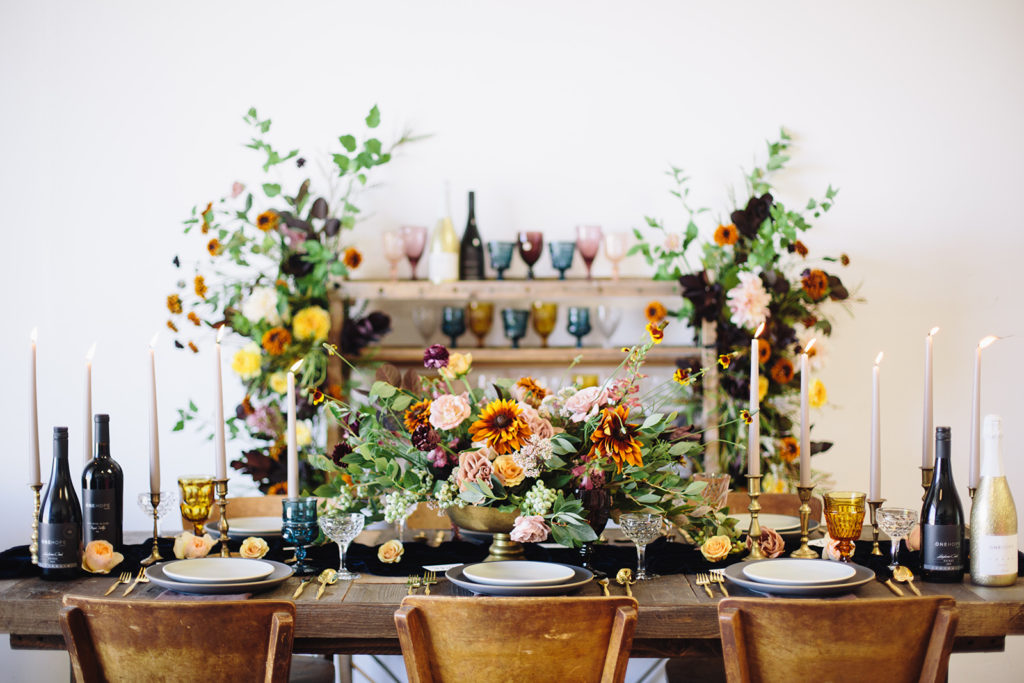 Every event needs that pretty invite!  I love this brush lettering from Stand Tall Mia.  And a classic black and white is always a good idea, plus that touch of gold is just so festive!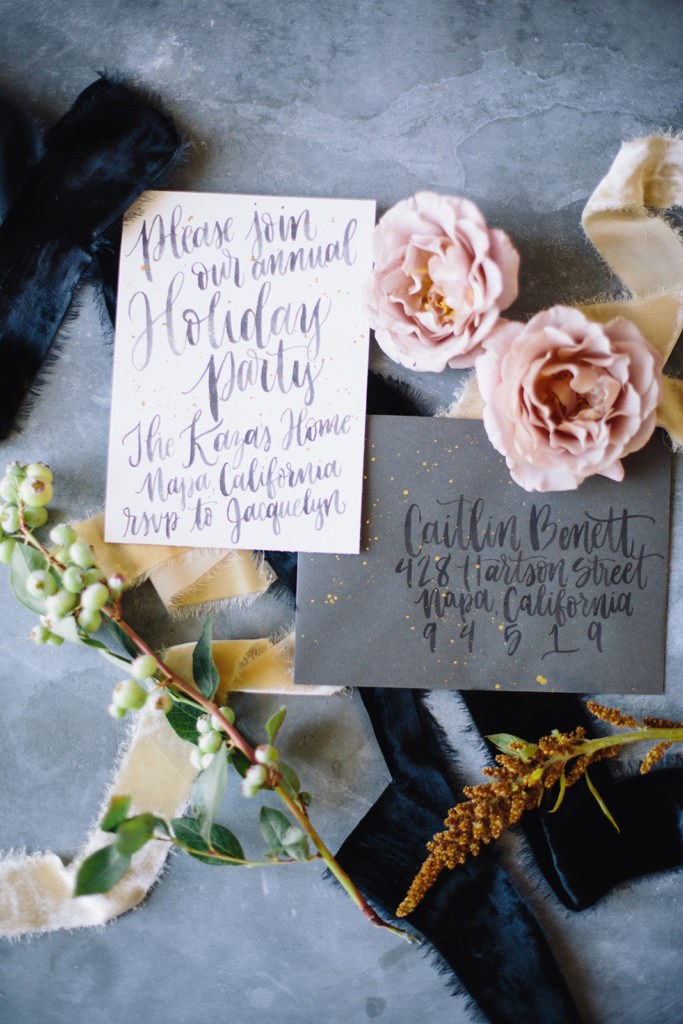 We set the table with all of Cherished Rentals pretty pieces, along with a dark velvet runner from Party Crush Studio and mulberry colored napkins from Hostess Haven.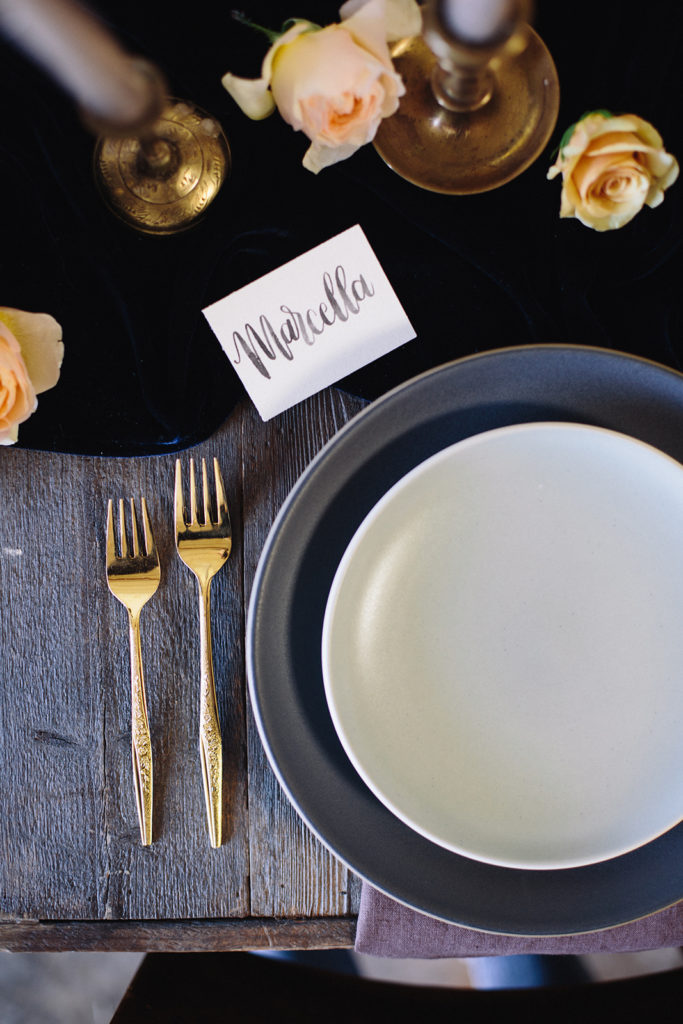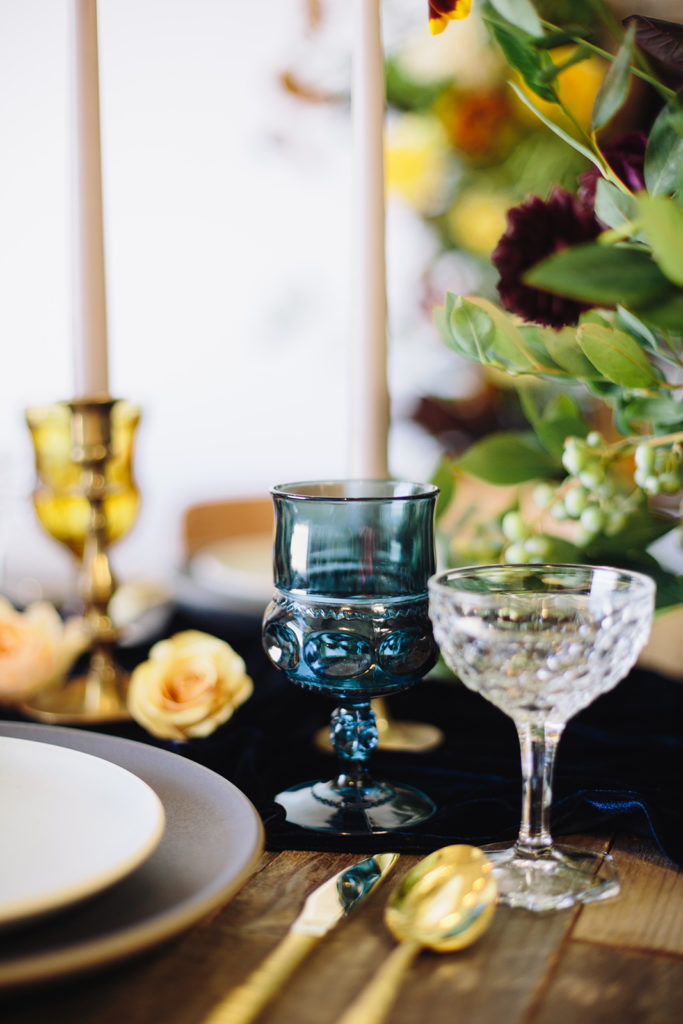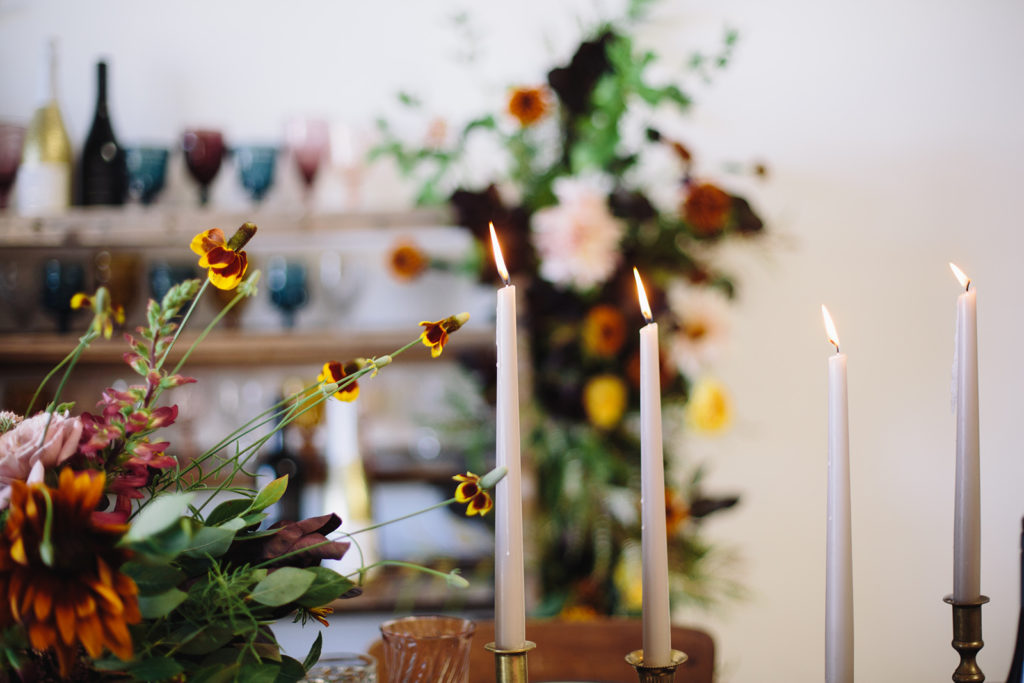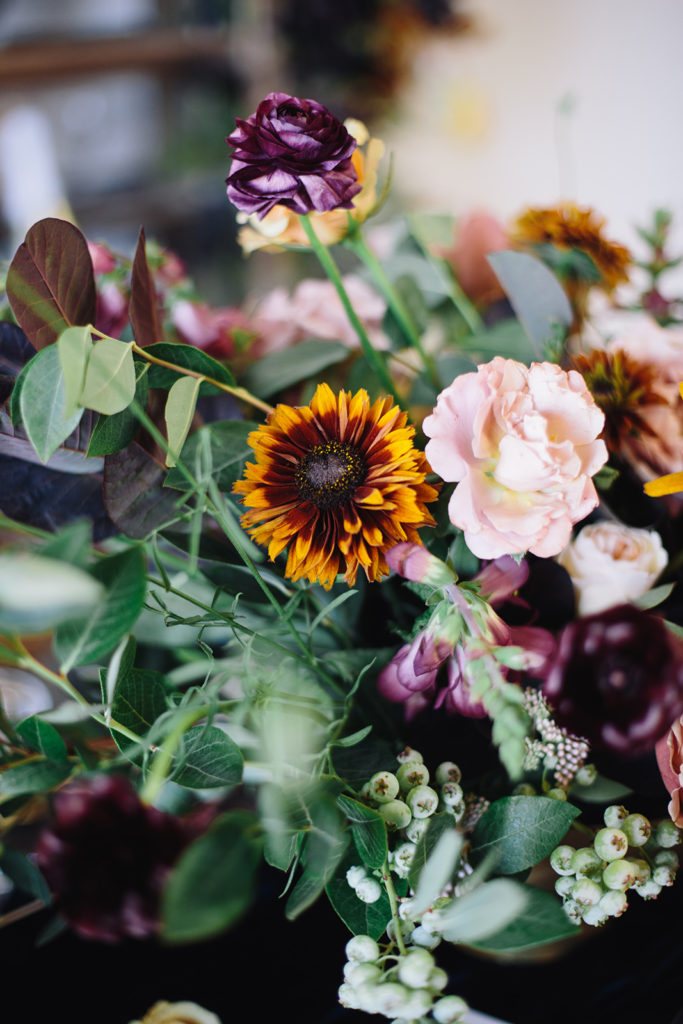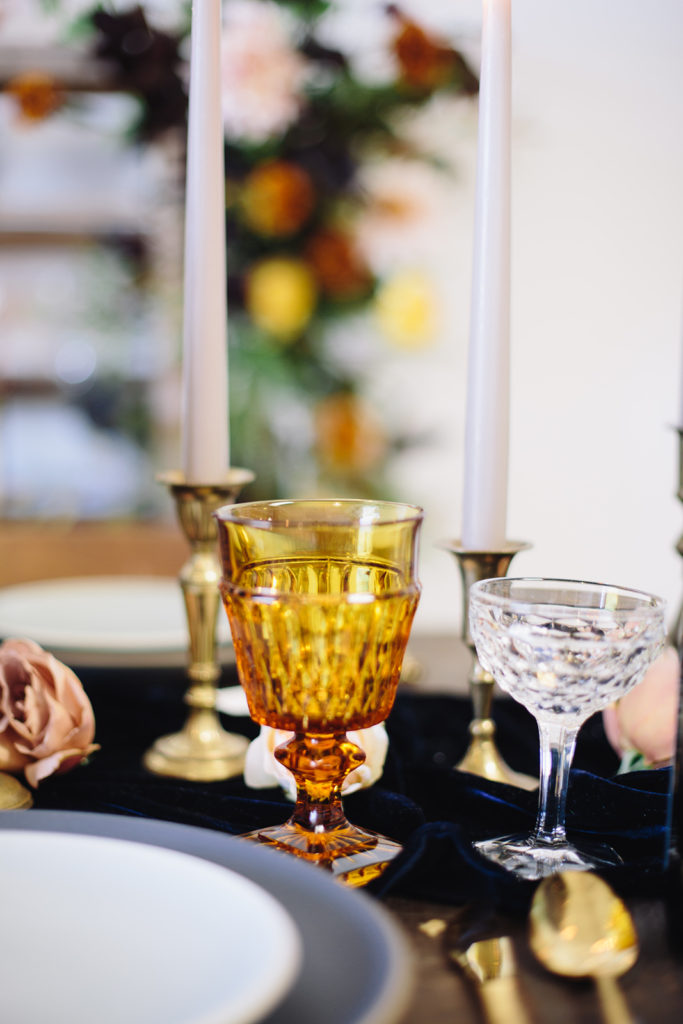 These flowers by Rooted & Wild are just my favorite.  I love the moody colors mixed with the bright orange and yellows.  Just perfect for Fall and of course the main event – Thanksgiving!  Mackenzie of Rooted and Wild had the flowers going along a beautiful shelving unit from Sweet Salvage Rentals, it looked like they were growing all over the pretty glassware from Cherished Rentals.  The colors were so perfect together and I love the way it all turned out!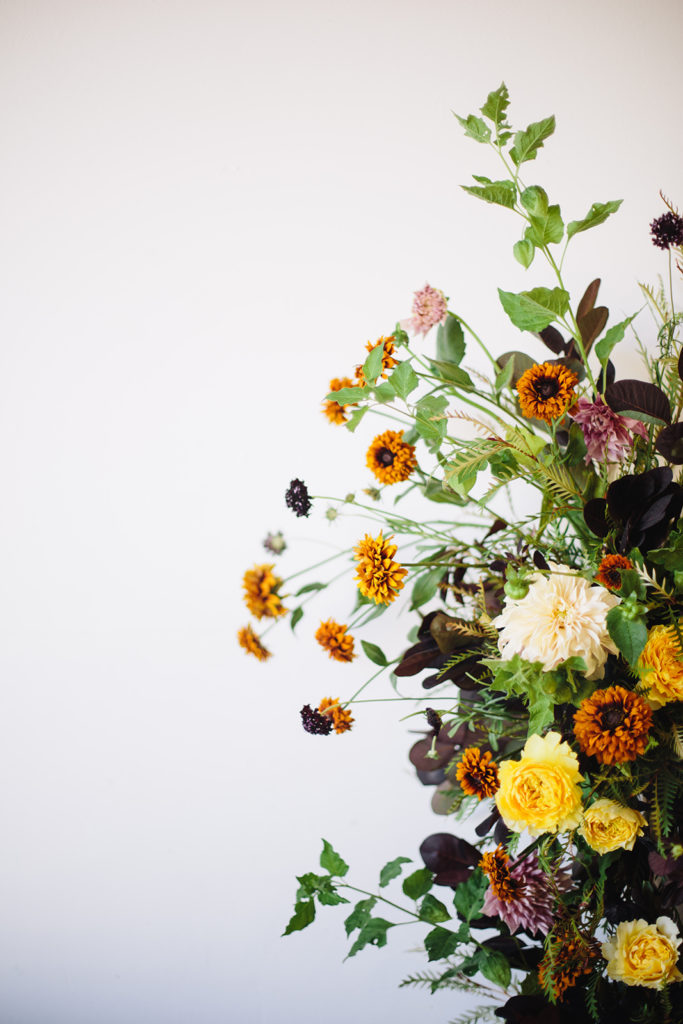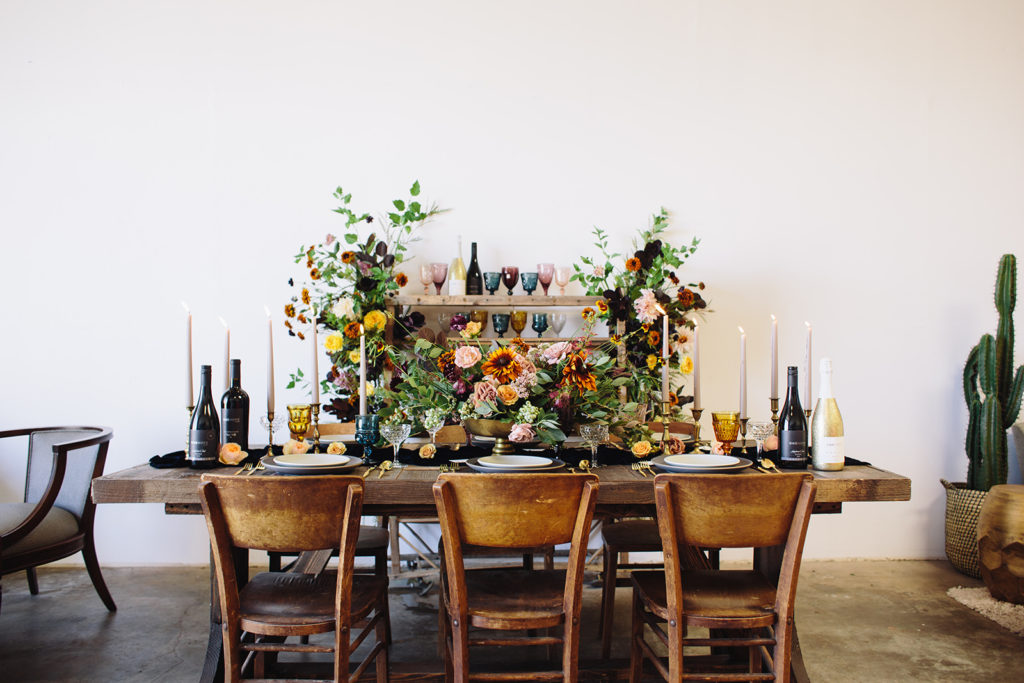 Now for the good stuff, the eating and the drinking!!!  This crew was living the dream enjoying all the wine and all the food their tummies desired!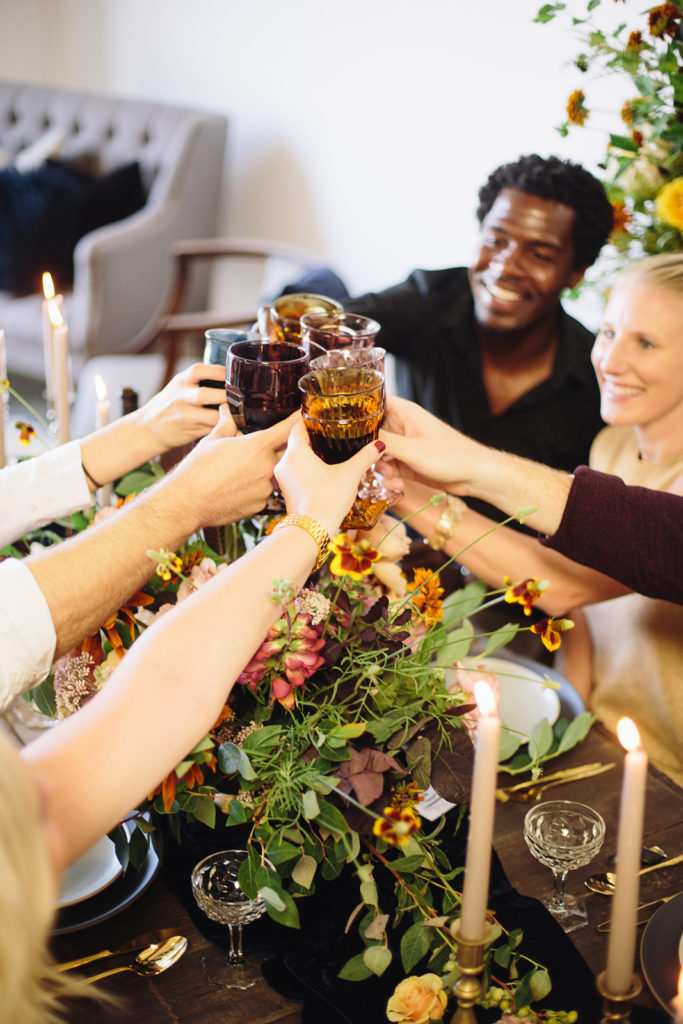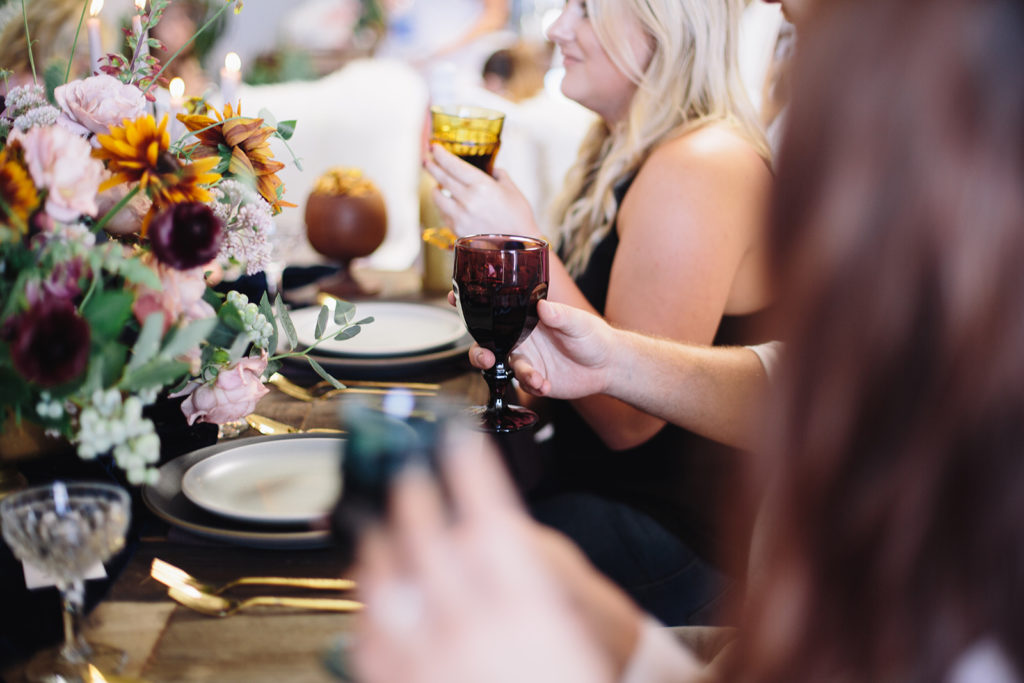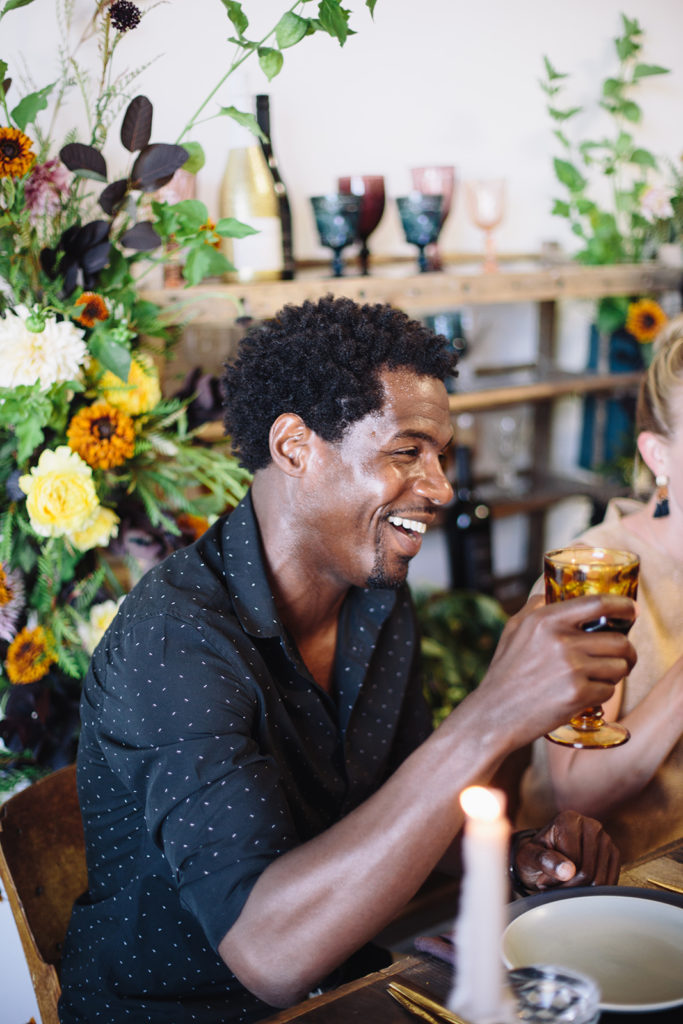 One Hope's shimmer bottles is one of our absolute favorites for the holidays.  They make such an amazing hostess gift or you can have a few on hand to serve to your friends or family for all the holiday gatherings.  Plus, the shimmer bottle helps support children as each bottle provides 2 meals to a child in need.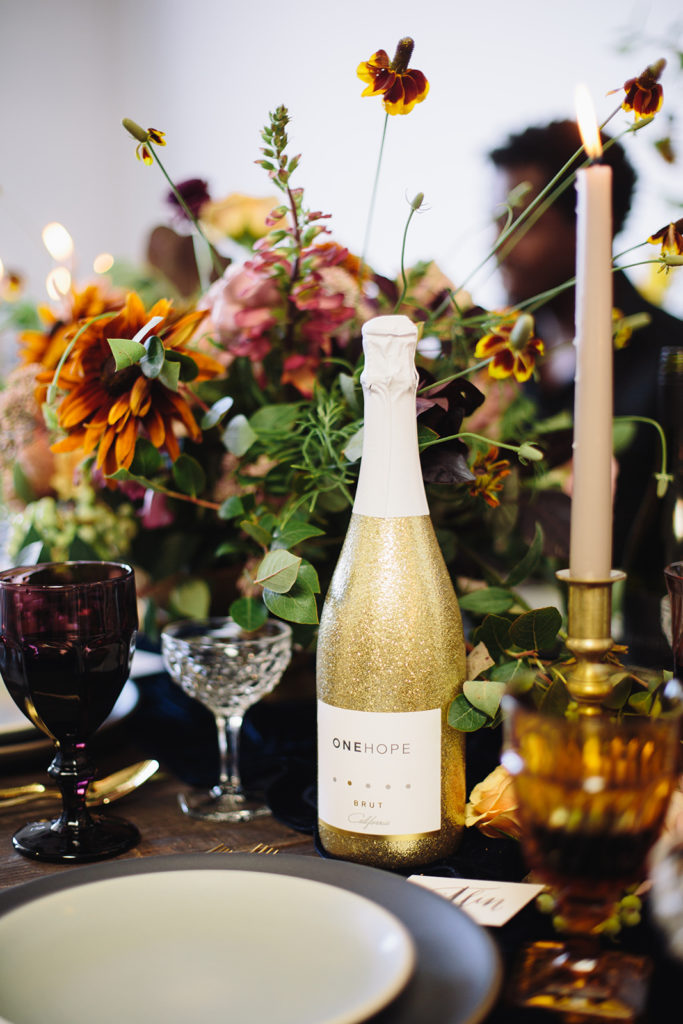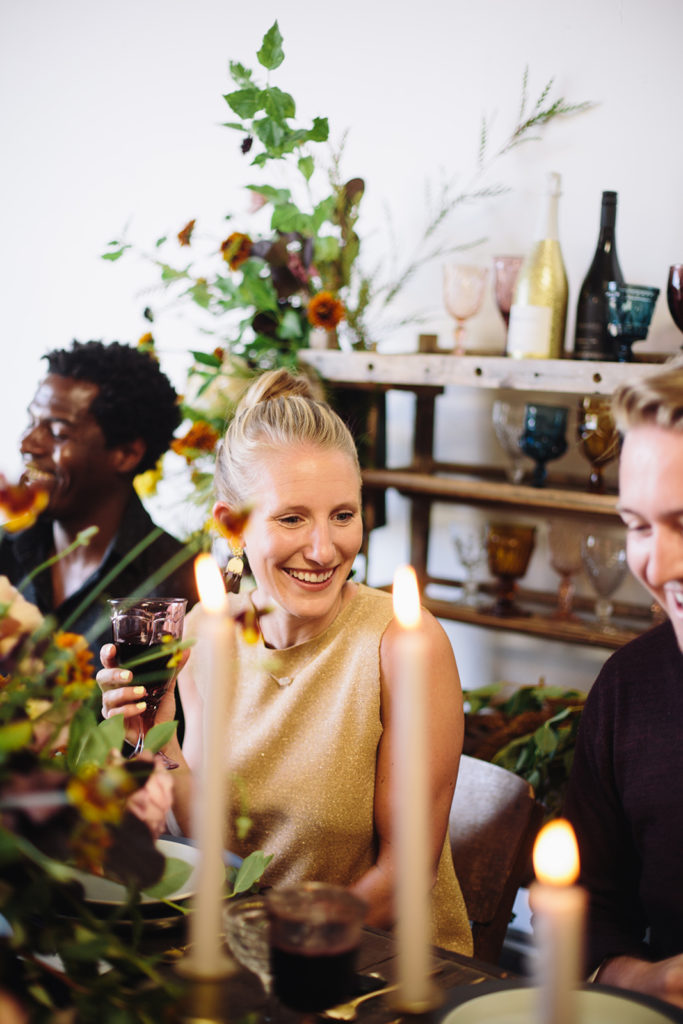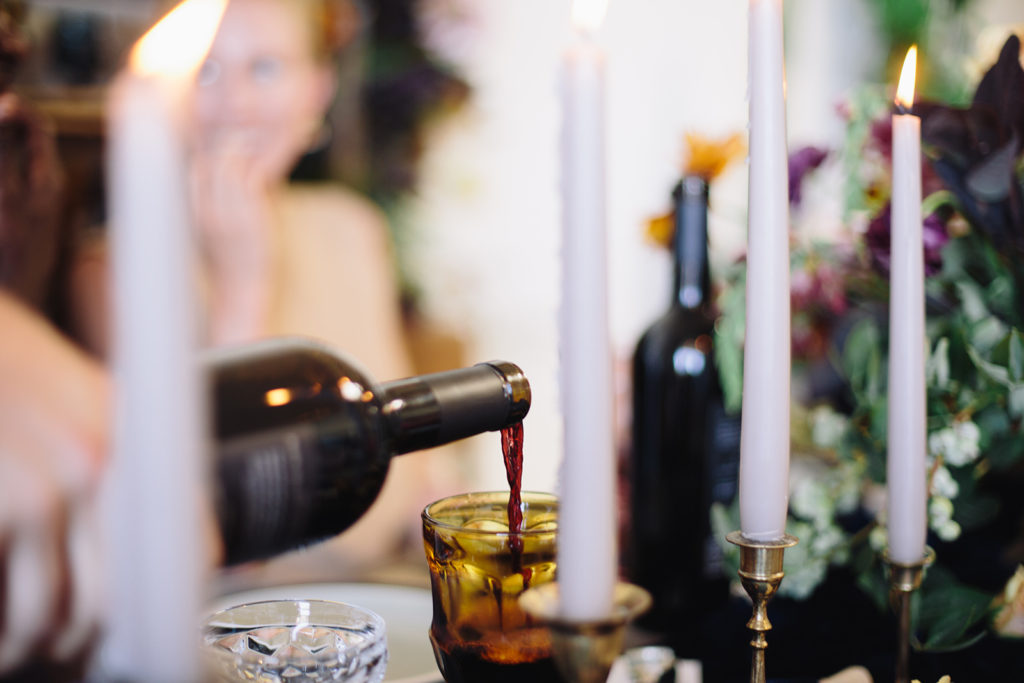 Now for some recipes from Contemporary Catering!  First off, this Siracha Chex Mix which pairs well with that shimmer bottle!  All of us at the shoot couldn't stop snacking on this goodness – I mean who doesn't love Chex mix?!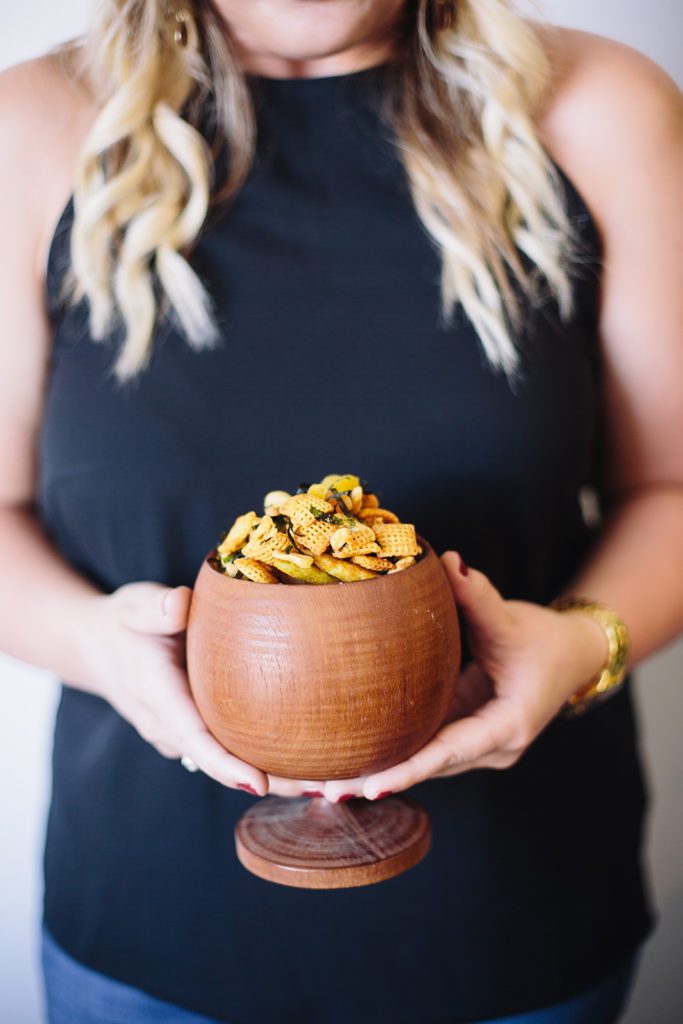 Ingredients
6c Corn Chex Cereal (or similar)
3c Pretzel Nugs
3c Pita Chips
1c Cashews
2c Harvest Snaps Green Pea Snacks (or any freeze dried pea snacks)
1c Quartered Dried Apricot
2pk Nori Snack Sheets (Shredded)
3T Butter
3T Honey
1/4c Sriracha
1T Lime Juice
1t Grated Ginger
Method
In a large mixing bowl combine the chex, pretzels, pita, cashews, harvest snaps and apricots, reserve.  In a small pot over low flame, melt the butter.  Turn flame off and stir in the honey, sriracha, lime juice and ginger.
Pour butter sriracha mixture over the chex mixture and toss to coat thoroughly.  Evenly spread the coated mixture over a lined sheet pan and bake for 5 minutes in a preheated 350oF oven.  Allow the chex mix to cool then toss in the shredded nori.  Serve.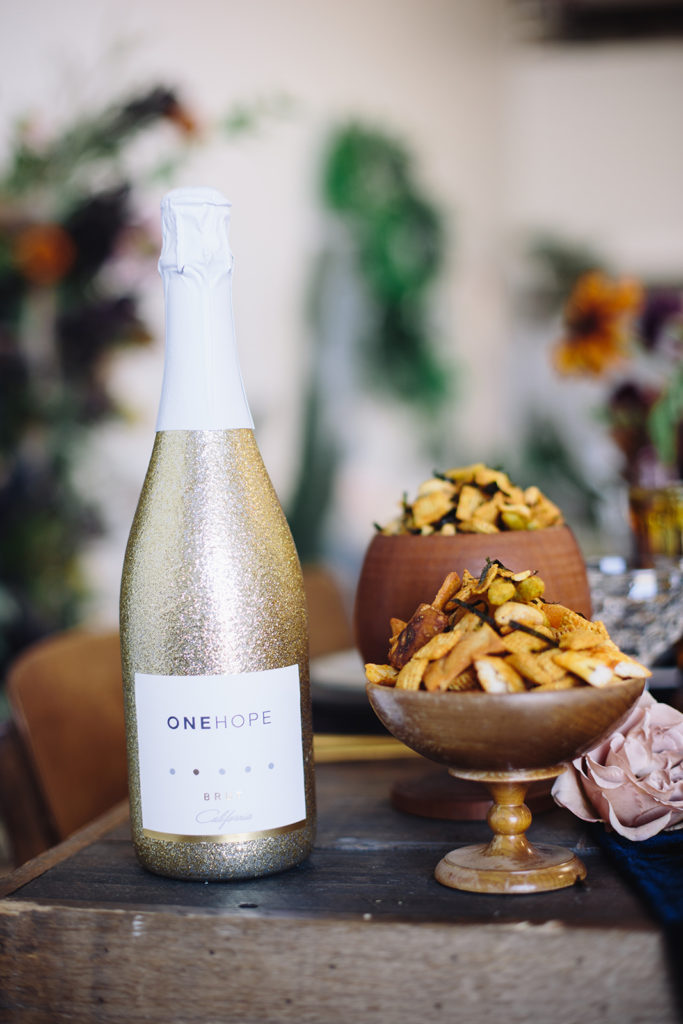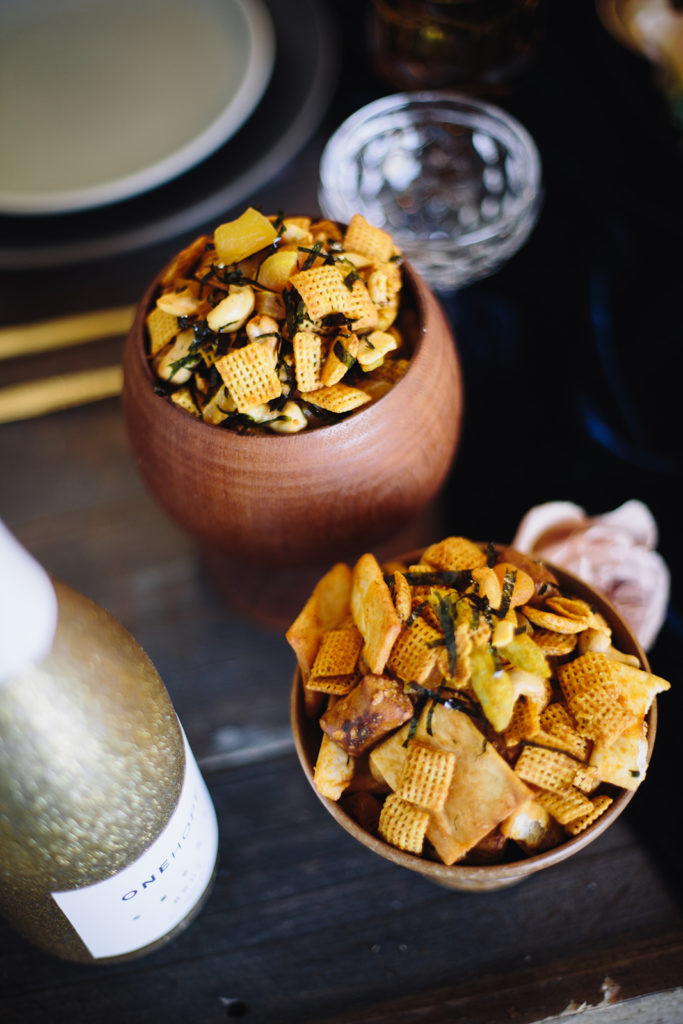 Next up, these Turkey Croquettes with a Dijon Mustard Sauce.  Such a yummy finger food, and this pairs well with One Hope's Red Wine Blend – one of my favorites as well!  What a tasty combo!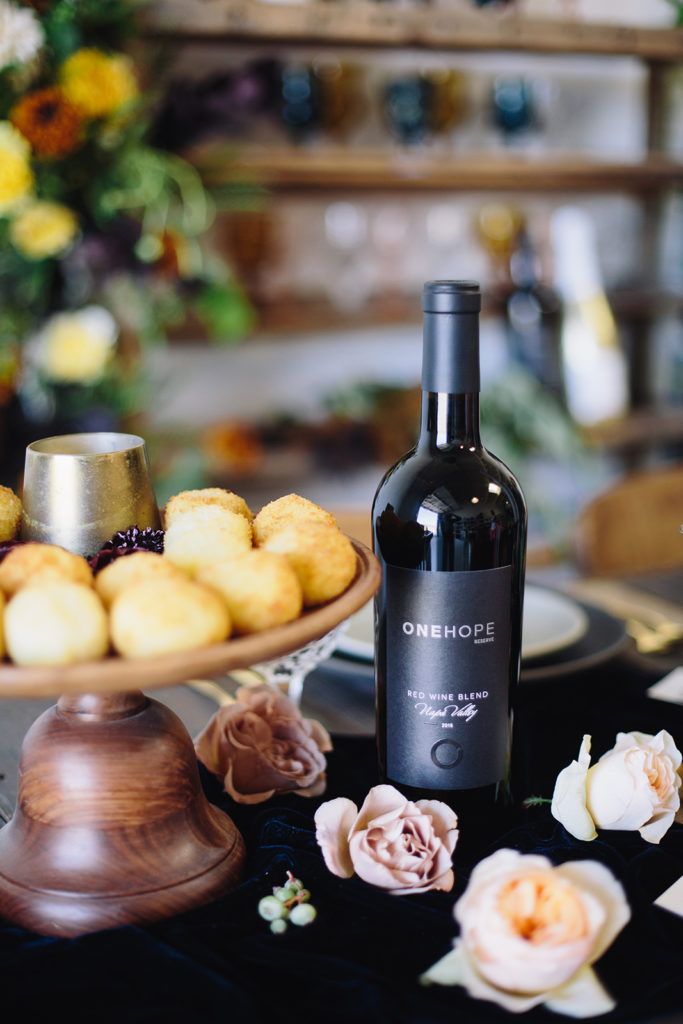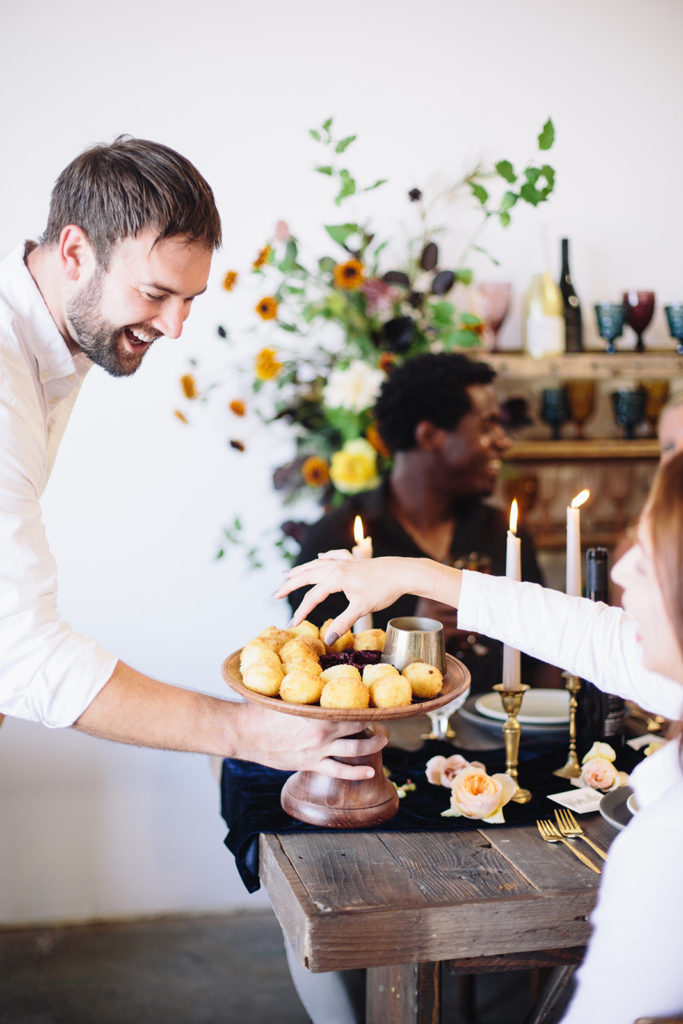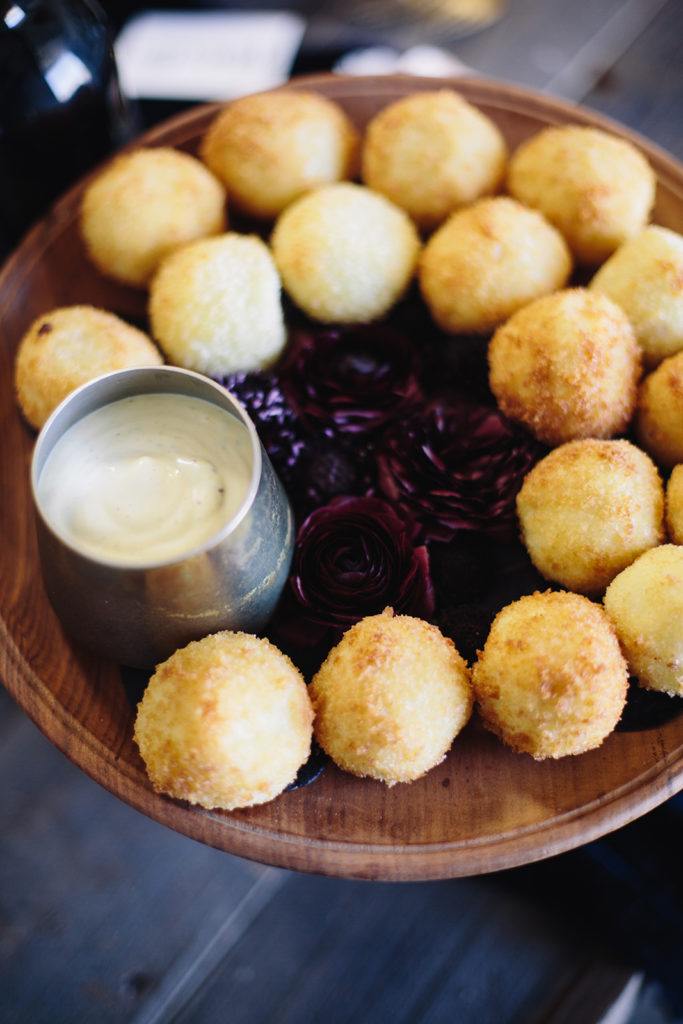 Ingredients
1LB Cooked, drained and cooled Ground Turkey (or Chicken)
3ea Large Russet Potatoes (peeled, boiled, mashed and cooled)
1/2c Melted Butter
1/2c Sour Cream
Salt and Pepper to taste
1/4c Chopped Parsley
2ea Whole Eggs
2c Ap Flour
2ea Eggs Beaten
3c Panko Bread Crumbs
1c Dijon Mustard
1c Grain Mustard
1.5c Mayonnaise
1/2c Warm Water
2T Chopped Parley
Method
In a large mixing bowl combine the cooked turkey, mashed potatoes, butter, sour cream, whole eggs, salt and pepper and chopped parsley; mix thoroughly.  In three separate mixing bowls place the flour, beaten eggs and panko bread crumbs.  Form the croquettes into balls about 1" in diameter (a little bigger or smaller is ok).  Take each ball coating it thoroughly in flour, then eggs, then lastly the panko.  You can either freeze and save for later or take directly to your fryer and fry at 350oF for 45 seconds to 1 minute or until golden brown and hot in the center.
Sauce Method
In medium mixing bowl combine the dijon and grain mustards, mayo, water, chopped parsley and salt and pepper. Chill and hold for service.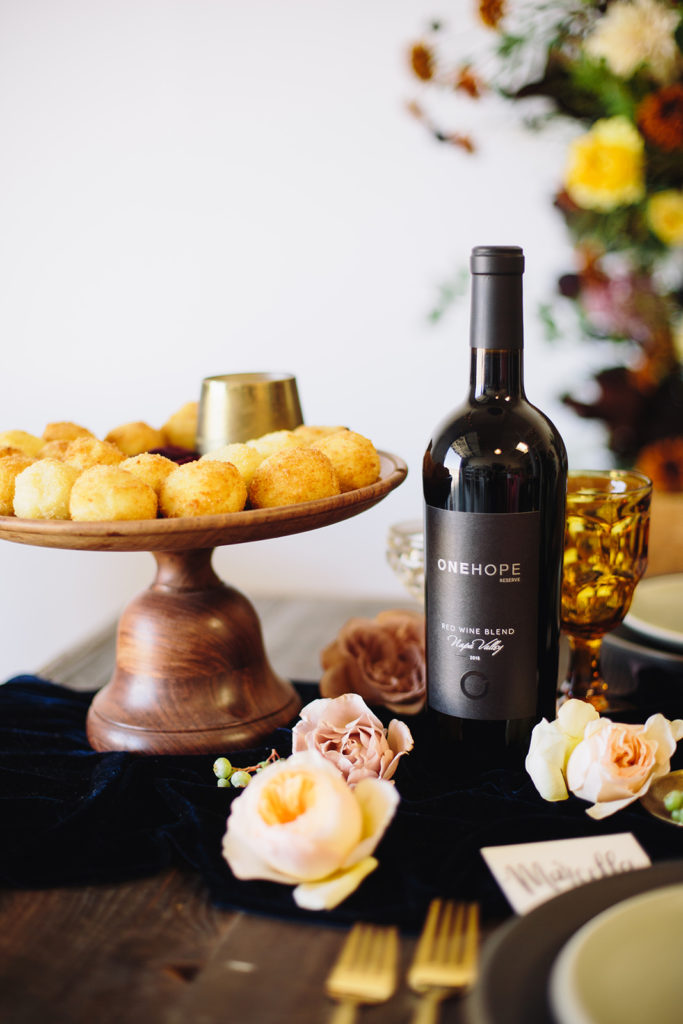 Maybe you prefer something lighter?  Well here you go, these Ahi Tuna Cucumber Canapés are just for you!  These re the type of thing you never think you can do on your own, but I was assured they are very easy!!  These also match well with that red blend, so just go to town!!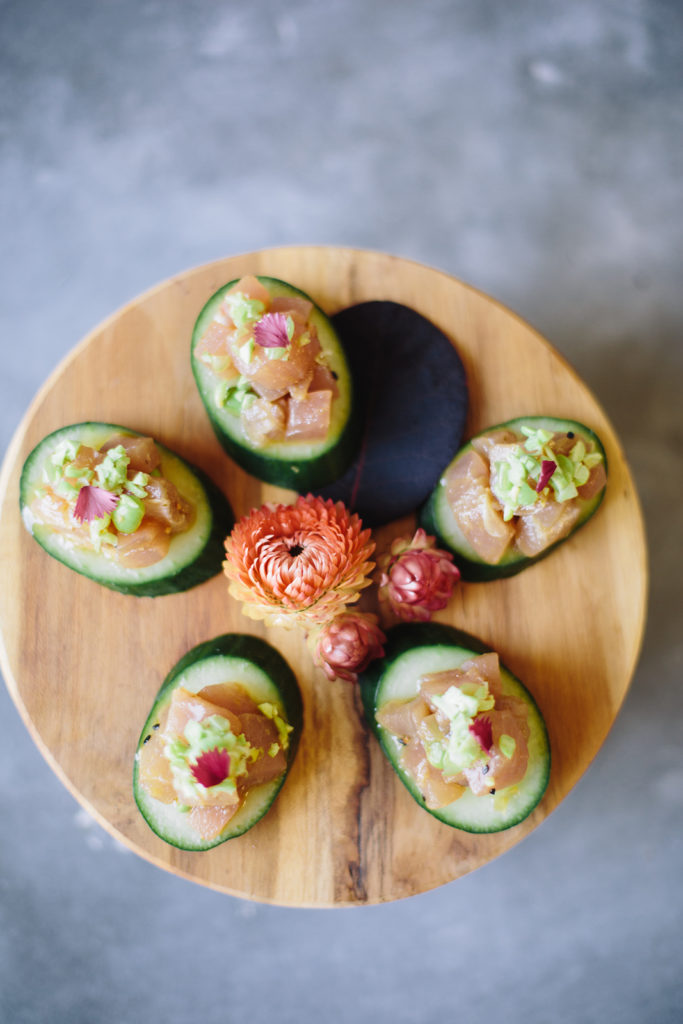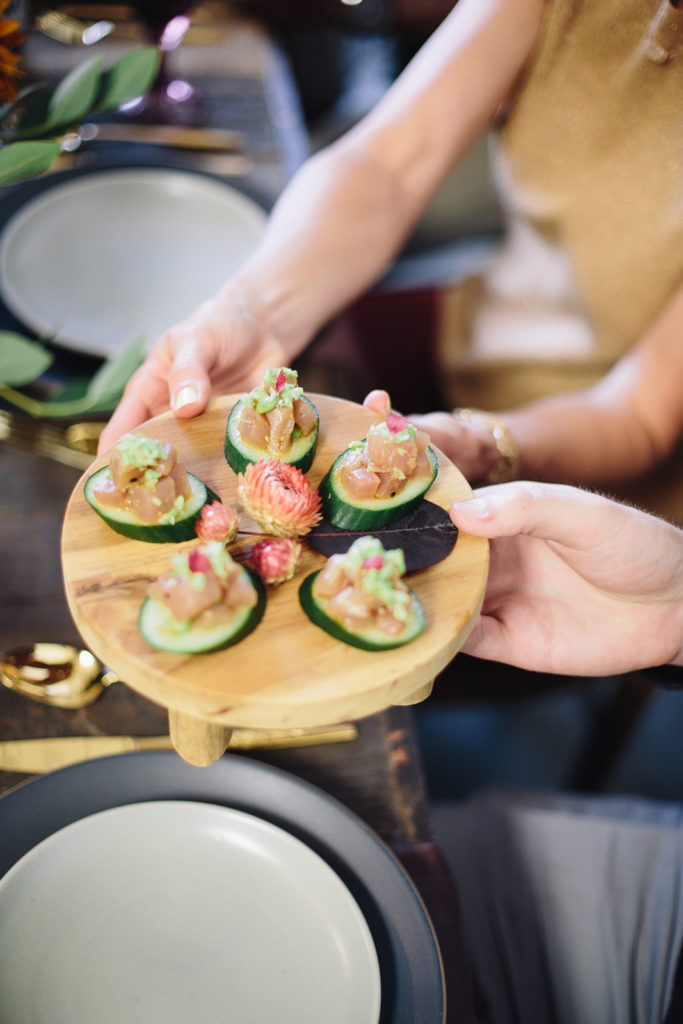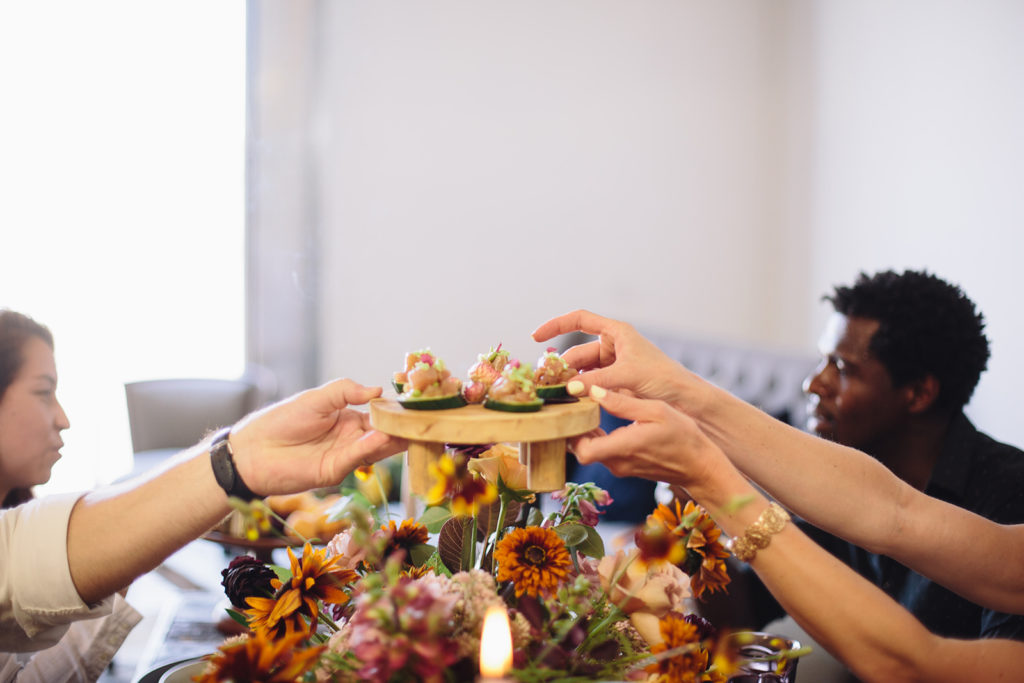 Ingredients
½ LB Ahi Tuna (chopped to desired consistency)
1 Bunch Scallions
1T Black Sesame Seeds
1ea English Cucumber
Dressing Ingredients
3/4c Soy Sauce
1T Lime Juice
1T Sesame Oil
1t Sriracha (Optional)
1t Honey
1t Fresh Grated Ginger
1T Minced Scallion
Method
Combine all dressing ingredients in mixing bowl and whisk together vigorously.  Reserve for service.
½ LB Fresh Ahi Tuna.  Place chopped tuna in a mixing bowl and add the premade dressing.  Mix till fully dressed, cover and refrigerate just before serving.
Slice English Cucumber 1/4" thick on a bias.  Lightly salt before placing a tablespoon of the tuna mixture onto the center of the cucumber.  Garnish with sliced scallions and black sesame seeds.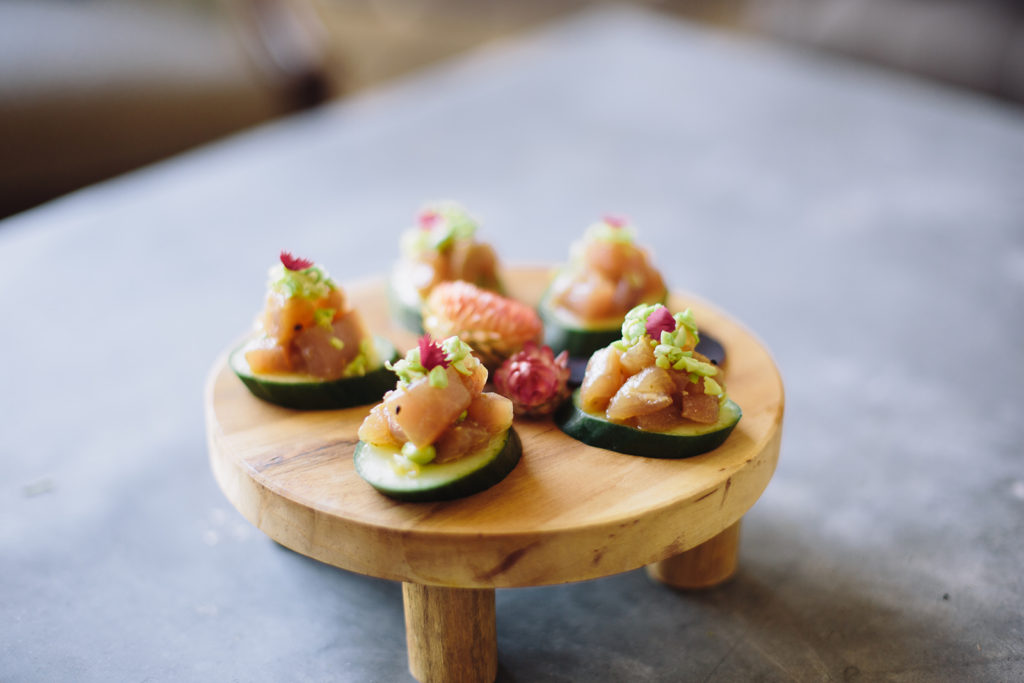 Last but not least, to pair with One Hope's Australian Shiraz is of course an Aussie style Mini Meat Pie!  How cute is that?!  These bad boys didn't last long, and you'll know why if you try them!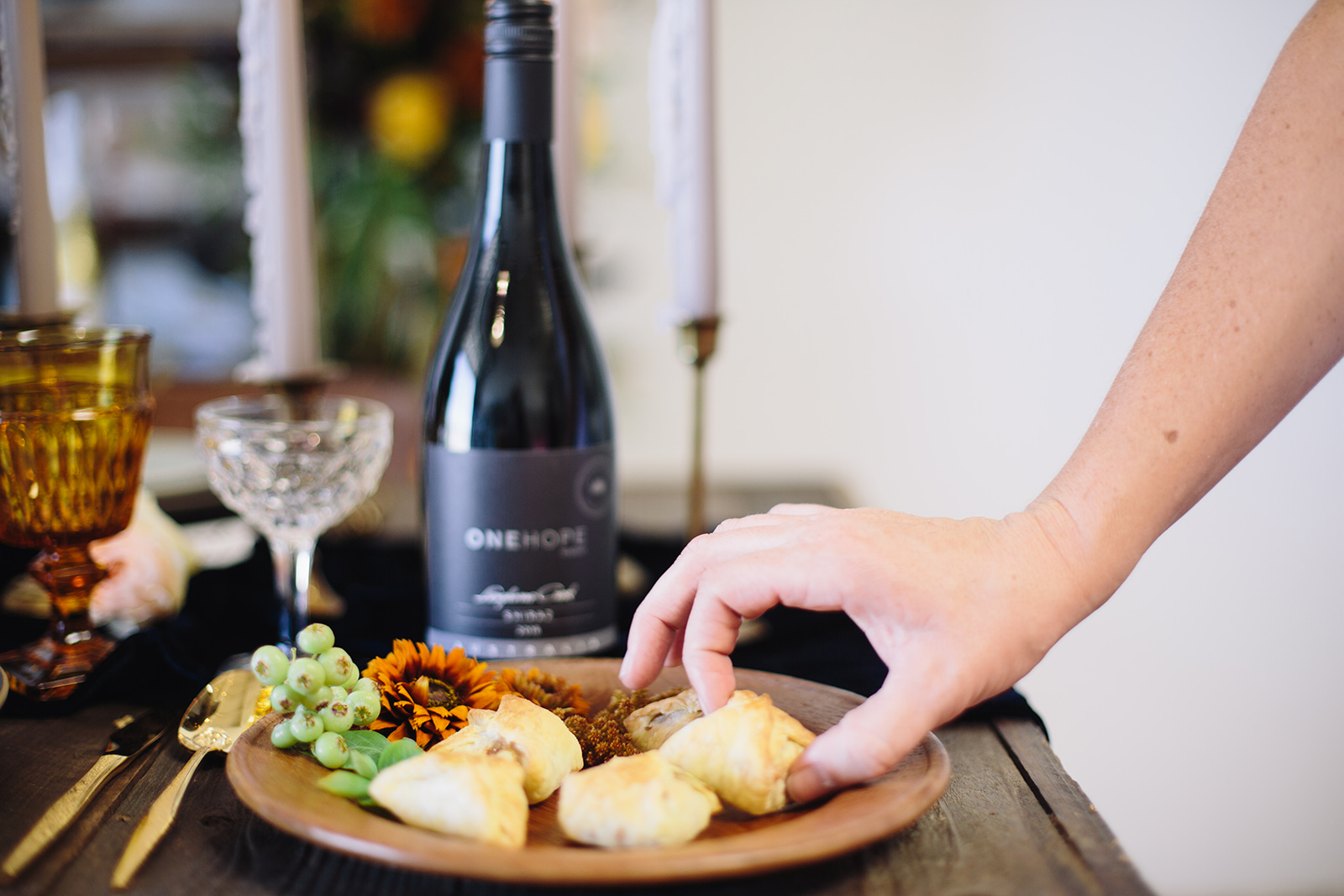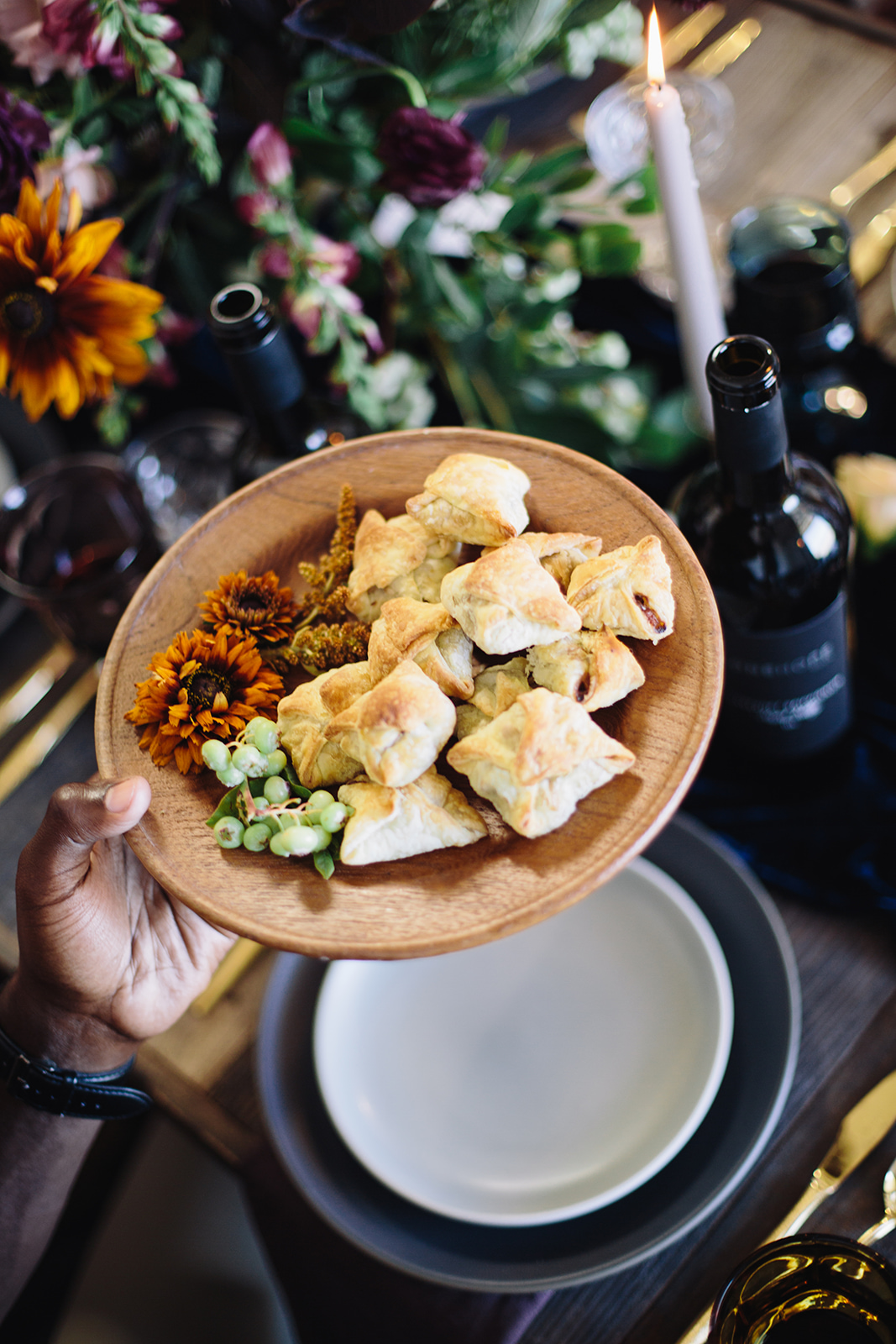 Ingredients
  1T Butter
1T Olive Oil
1ea Medium Spanish onion Small Dice
2ea Celery Stalk Small Dice
3ea Medium Carrots Small Dice
2ea Large Russet Potato Small Dice
1/2Lb Beef Medium/Small Dice (Preferably Australian)
1c  Sauted Mushrooms Small Dice
1/2c Aussie Shiraz (Or any red wine will suffice)
Salt and Pepper to Taste
2ea Eggs Beaten (Optional)
Store Bought Puff pastry sheets
Method
In a large saute pan over medium heat add the oil and butter.  Add to that the Onion, Celery, carrots, and potatoes.  Cook for 4/5 minutes stirring occasionally to prevent burning.  Then add the mushrooms and wine and cook for another minute or two or until there is only a tablespoon or so of liquid.  Season with salt and pepper.  Cool mixture and reserve.
Roll out the puff pastry and cut into 1.5"x1.5" squares.  Spoon a tablespoon of the beef mixture into the center of the square.  Start with one corner of the square and fold into the center, tap the top of the corner with a dot of water to help the pastry seal closed.  Continue in this fashion going around the square in one direction until the square is closed.  Place the closed squares onto a lined sheet tray and brush with the beaten eggs.  Bake at 350oF for 25/30 mins or until golden brown.  Serve.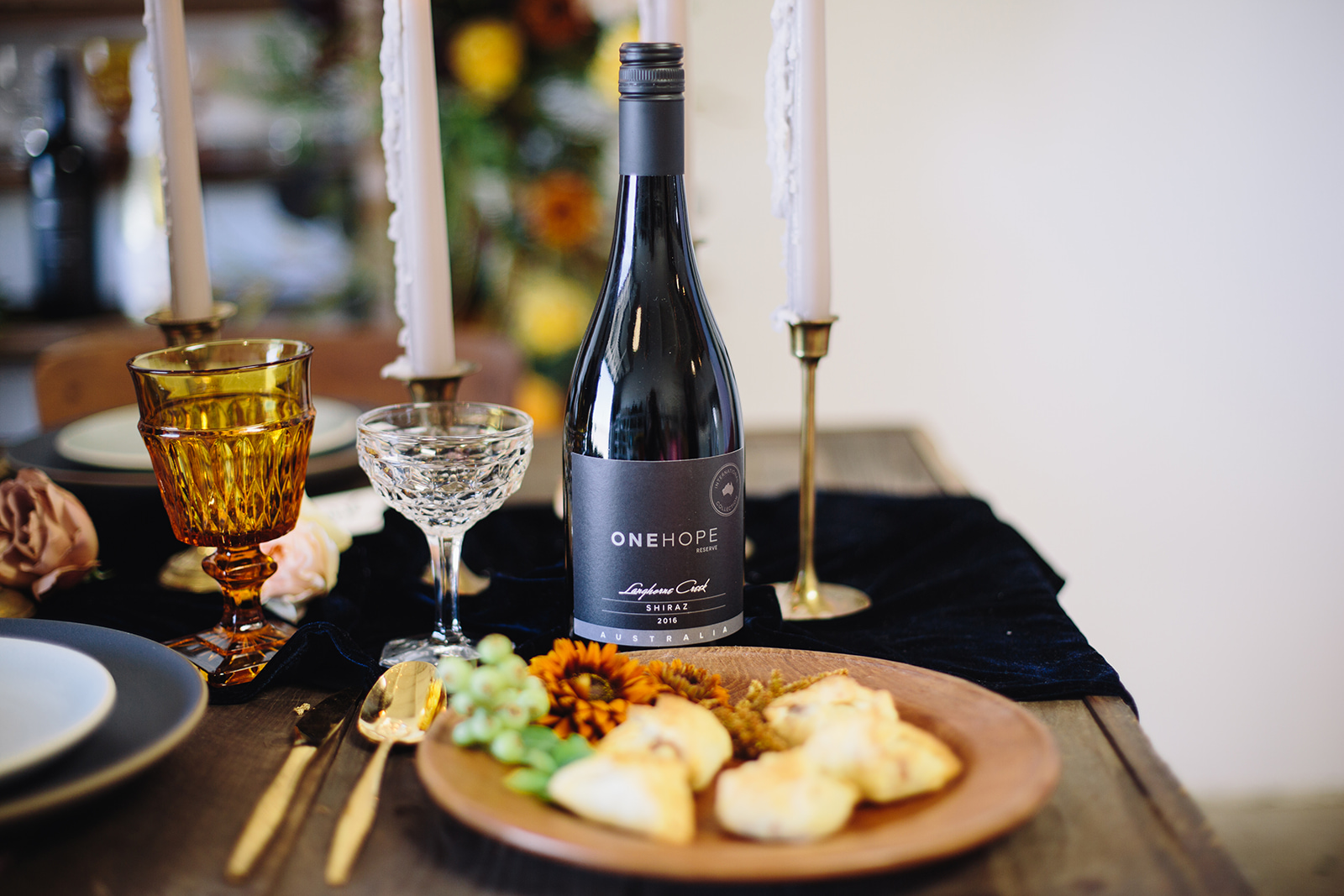 Now you know why these guys have these big smiles!!!  All that yummy food and all that delicious wine!  Now that's what I call a party!!!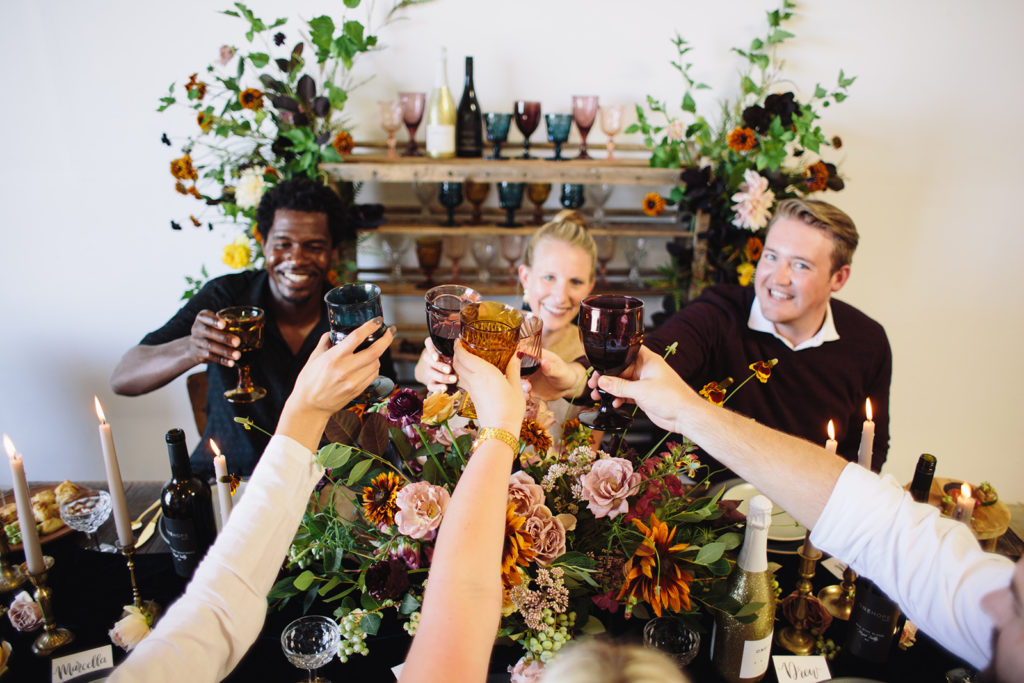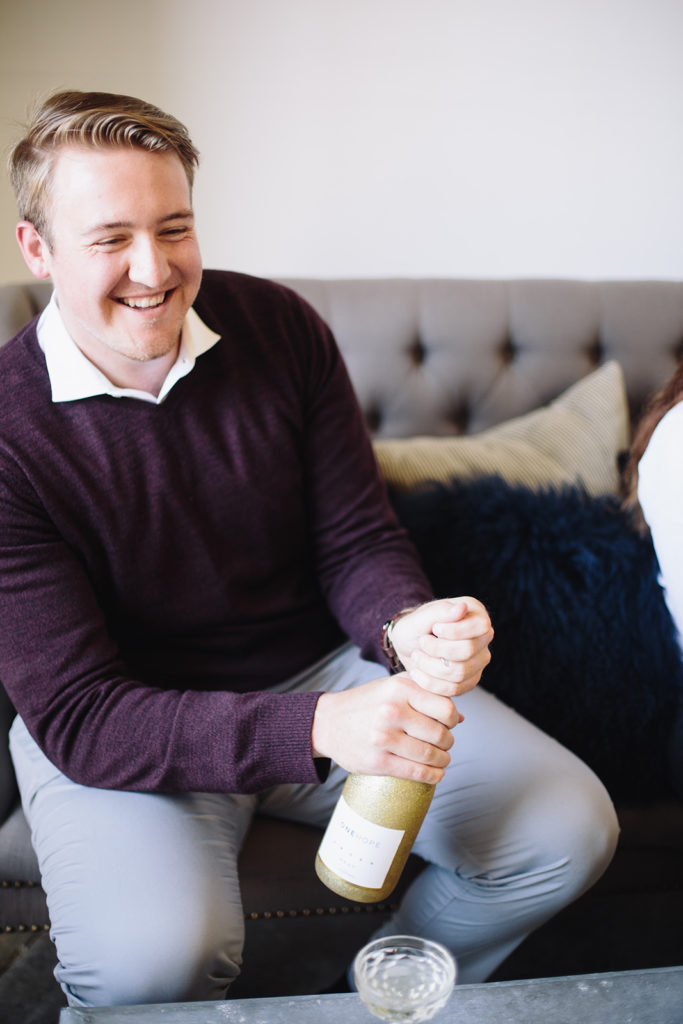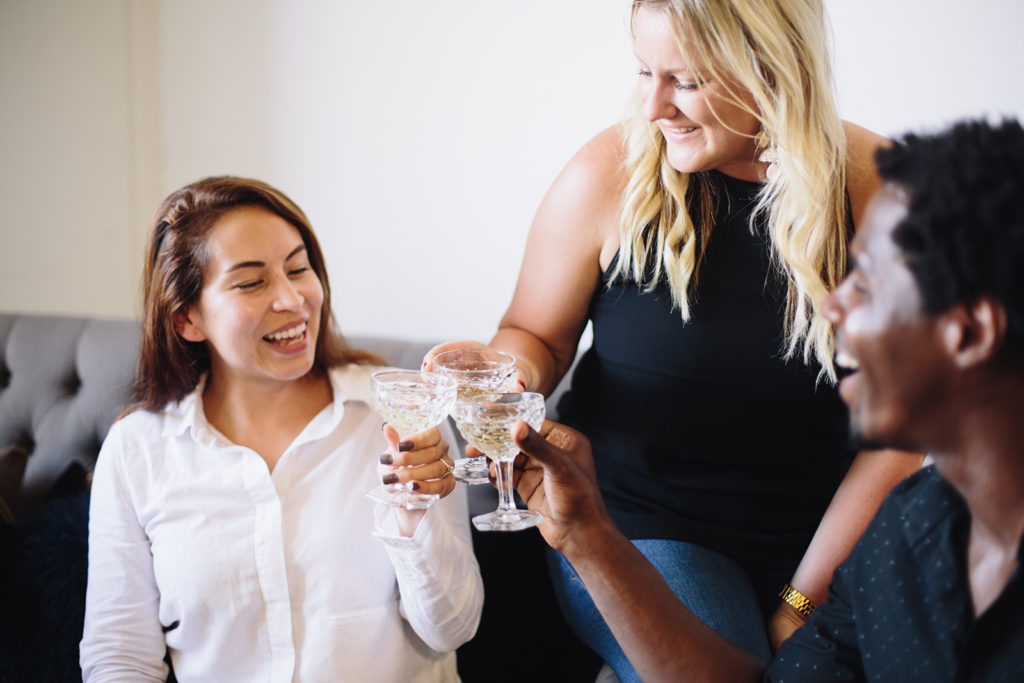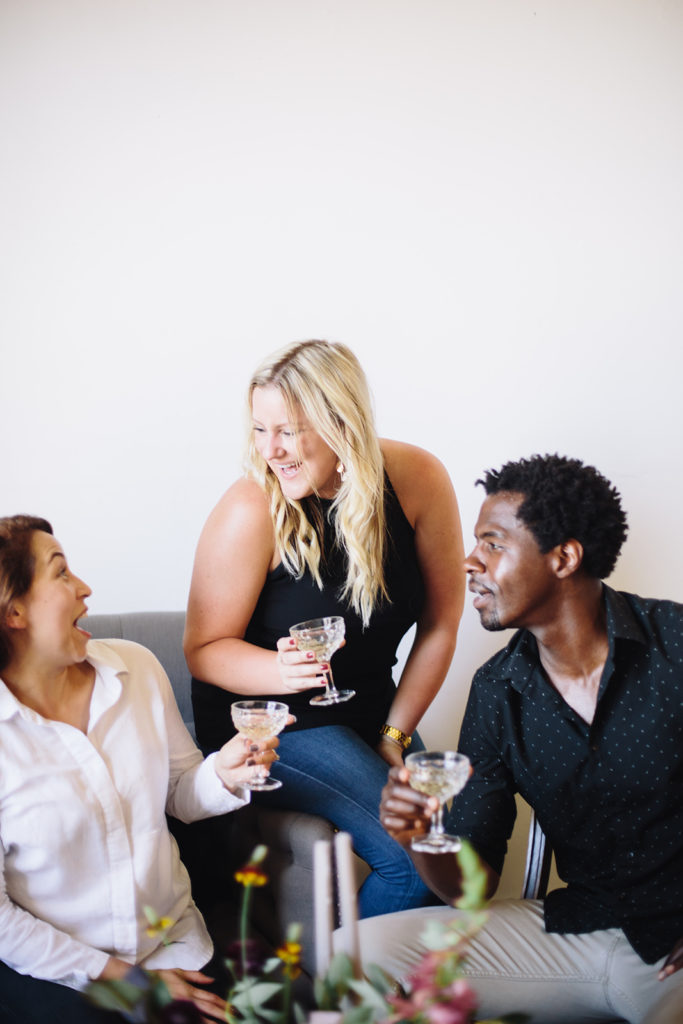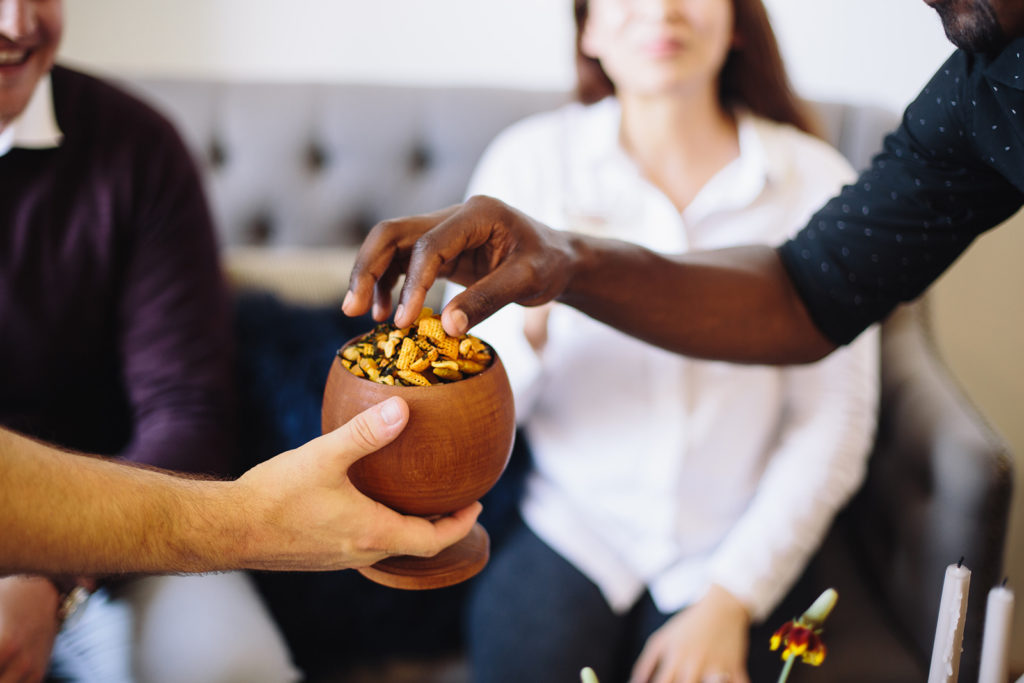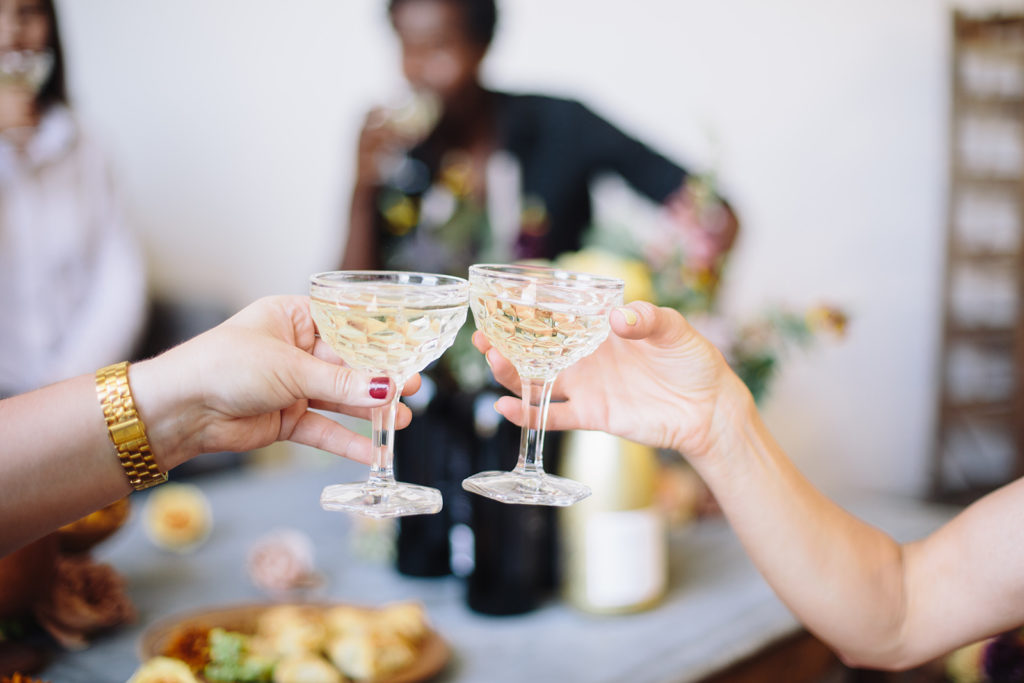 Cheers to an amazing Thanksgiving!  We are thankful for all of our readers and hope you have a wonderful day with your friends and family!
xx
Jacquelyn