Another home tour, and this one is oh so good!!!  This one is not only special because it's just so dang pretty, but it's also special because it's the home of one of my dear friends!  Kevy and I have been friends for the past 7 or 8 years and she's one of my favorite in the world.  Leah and I love hanging out with her and we've experienced some of our greatest highs and greatest lows of our lives together.  Our kids are all similar in age and she's one of those friends that I know will be there no matter what and who I can always count on for a great laugh.
Well, as far as her home goes, I have a major crush on it.  Kevy is beyond stylish and creative, she is always dressed to perfection and she probably missed her calling as an interior designer.  She's beyond talented at it which you will see, among many other things.  In fact she has recently launched a fine jewelry collection called Dottir Collective where you can see her eye for detail and unique beauty.  Her husband Nick isn't too shabby either, a great husband and incredible father always working hard and quite the stylish guy himself!
My friends and I live to hang out in Kevy's amazing backyard.  After remodeling her home a few years ago they landscaped her front and backyard and I tried (but didn't come close at all) to model my yards after hers.  They are so serene and inviting, our friend Melody said it best "you feel like you're on vacation when you walk into her backyard".  Now isn't that the ultimate compliment?!
Kevy and Nick have recently decided to put their home on the market.  After putting all of this work into it, believe it or not they are actually ready for a new project!  Their home is located in the highly desirable East Side Costa Mesa area, so if you're looking for a turn key home that is styled to the nines in a great neighborhood, this one is for you!  And I'm really hoping somebody buys it so she can a) move to my side of town and hopefully be my neighbor and b) design another rad house for me to drool over!!!
Thank you for the photos Corrie Lynn Photo, keep scrolling to see why I'm so envious of this gorgeous home!  There are a ton of photos, with good reason!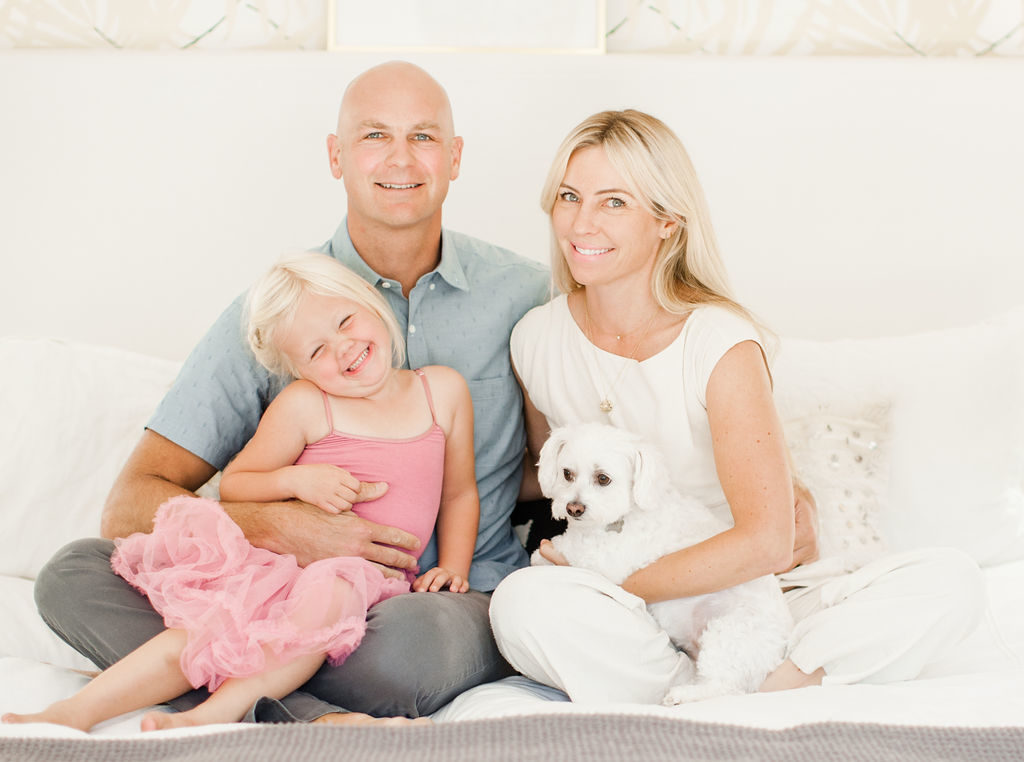 Tell us a little bit about you and your family…
My husband and I have lived in this area our entire lives.  We grew up across the baby from each other and went to rival high schools.  We did not connect until after college and we were friends a long time before we dated.  We have a colorful 4 year old named Lena and a dog named Schiesser.  My husband is an Engineer for Orange County Fire Authority and I do national sales for the commercial printing industry and I also have started designing fine jewelry in the wee hours of the night.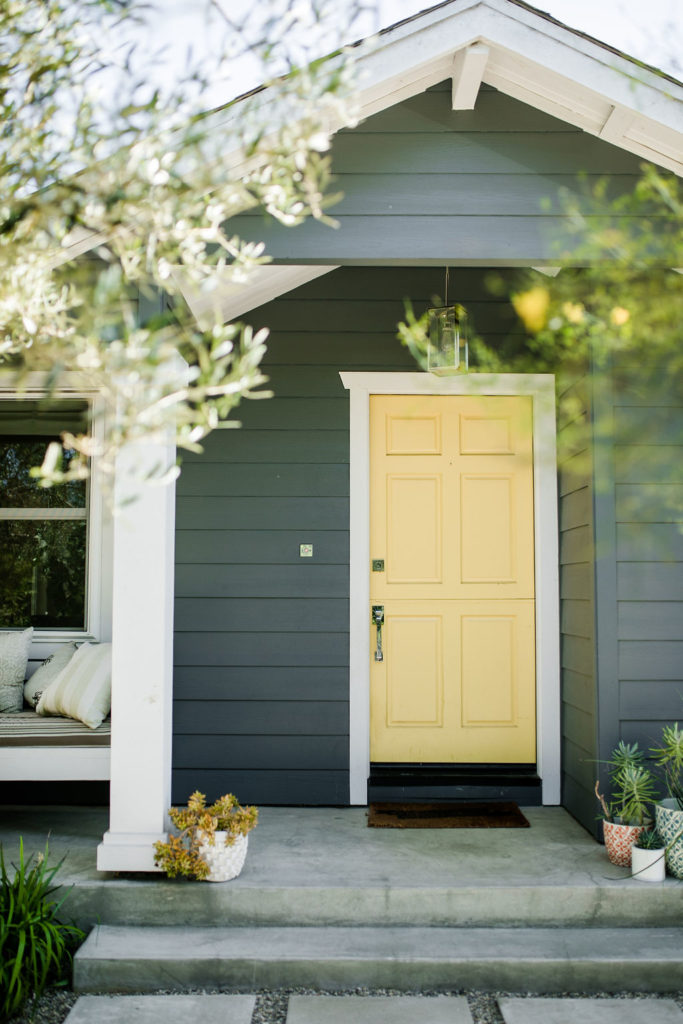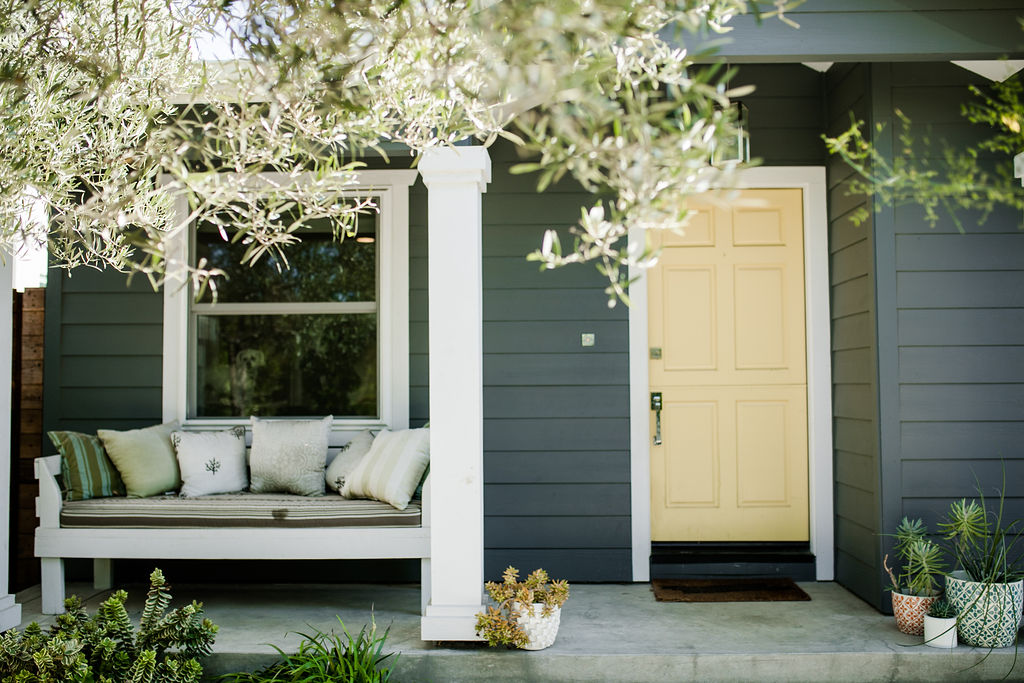 What do you love about where you live?
We live in the most urban part of east side costa mesa. We have the best schools to go to but also have the luxury of being able to walk to everything. I can walk to Mothers Market, Hardtfit (an amazing pilates studio) and my favorite coffee, Coffee Dose. We can also hop on our bikes and be to the waters edge in less than 10 minutes. It is really so convenient.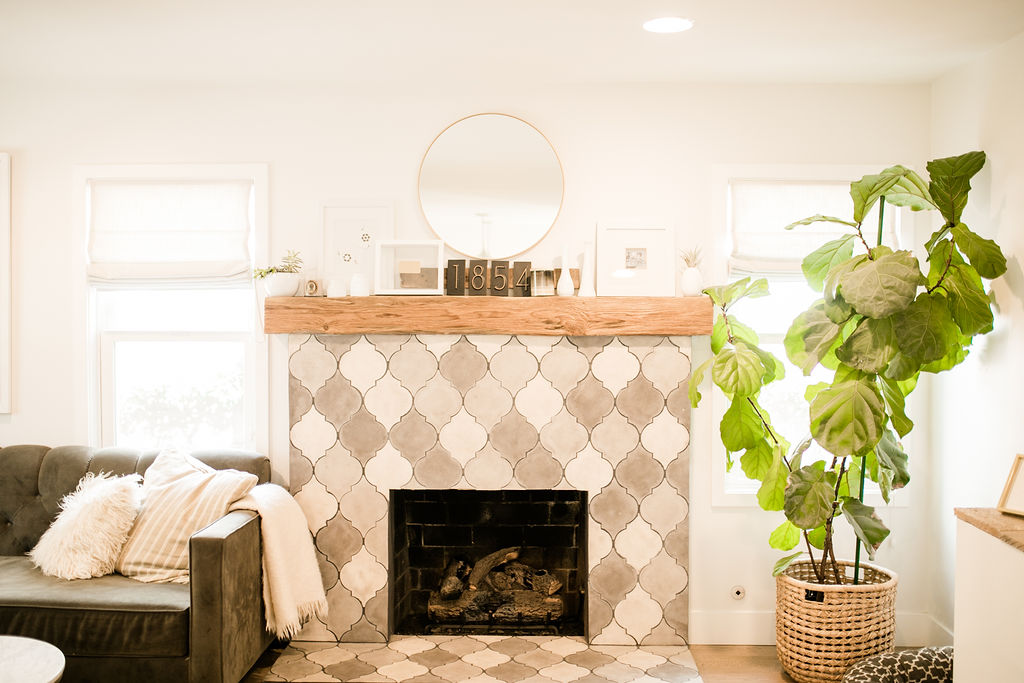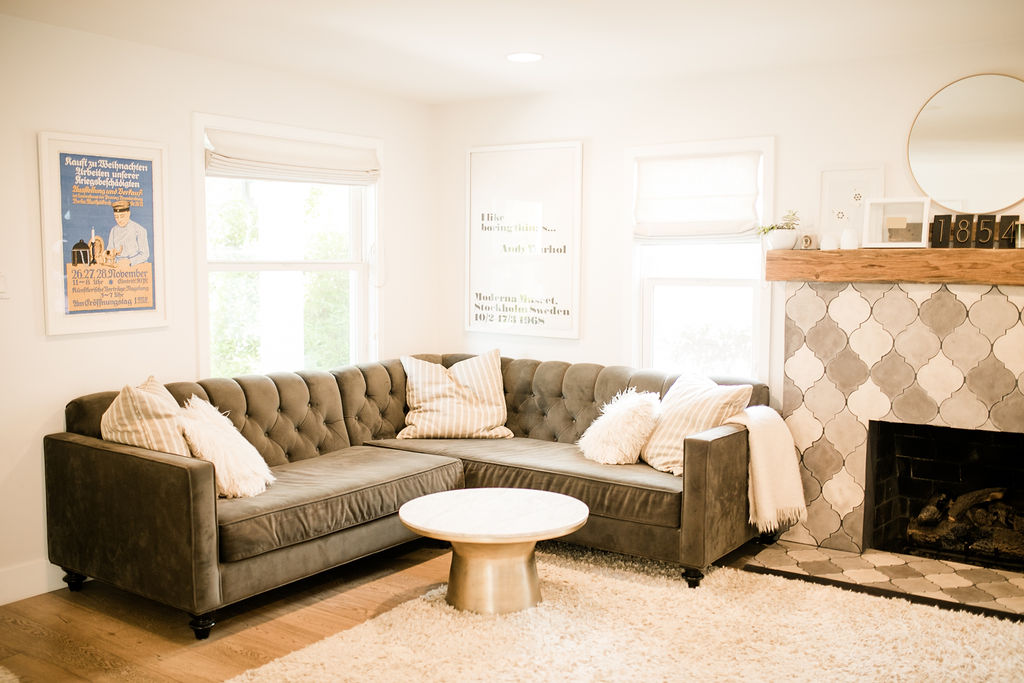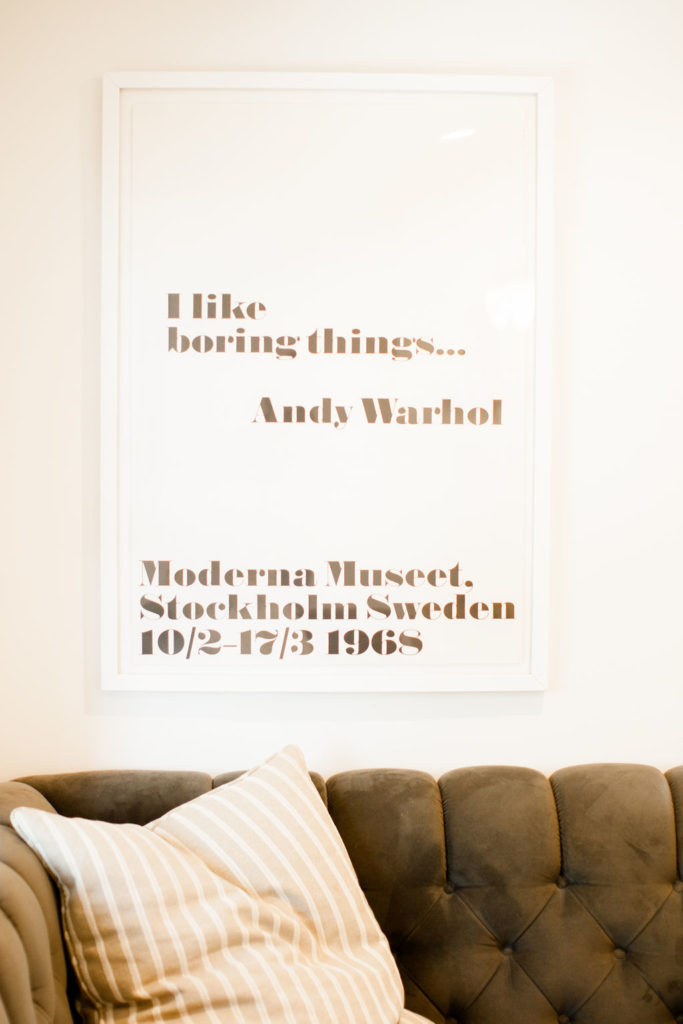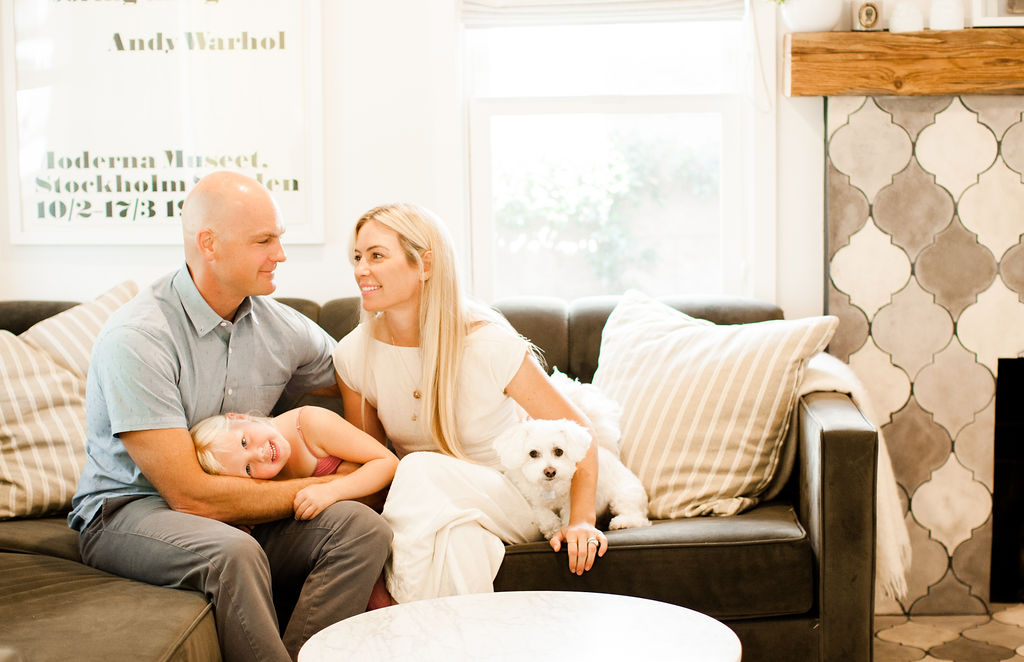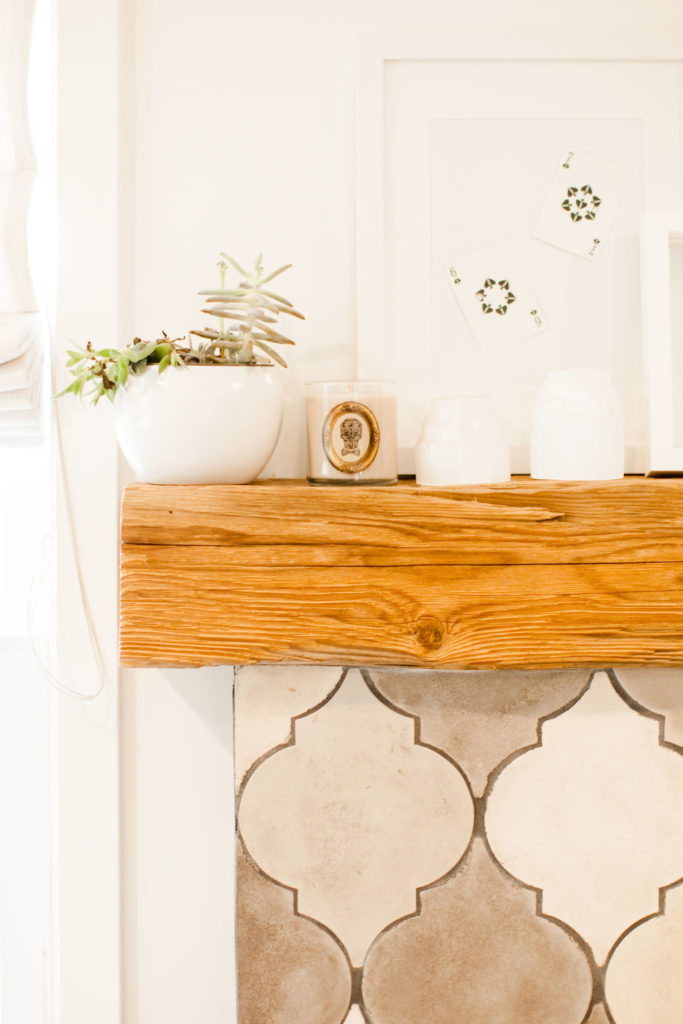 What piece in your home just screams Kevy?
The entire thing! Although my husband was heavily involved in the design decisions. Maybe the credenza in our living room? I looked and looked for a piece forever and nothing was correct. So we bought a cabinet from Ikea and free floated it on the wall. We then bought vintage barn wood from Austin Hardwood (that we also used in the bathroom) and laid it across the top and added hardware from Rejuvenation to the front. It was one of those things that my husband looked at me like I was crazy when I told him what we were doing but we both love it now. I also have a framed picture from my baby shower of this incredibly crude baby shower game we played. I really wanted to hang it on the wall after I had it framed but my husband wouldn't let me. IF that was on my wall it would scream Kevy. :)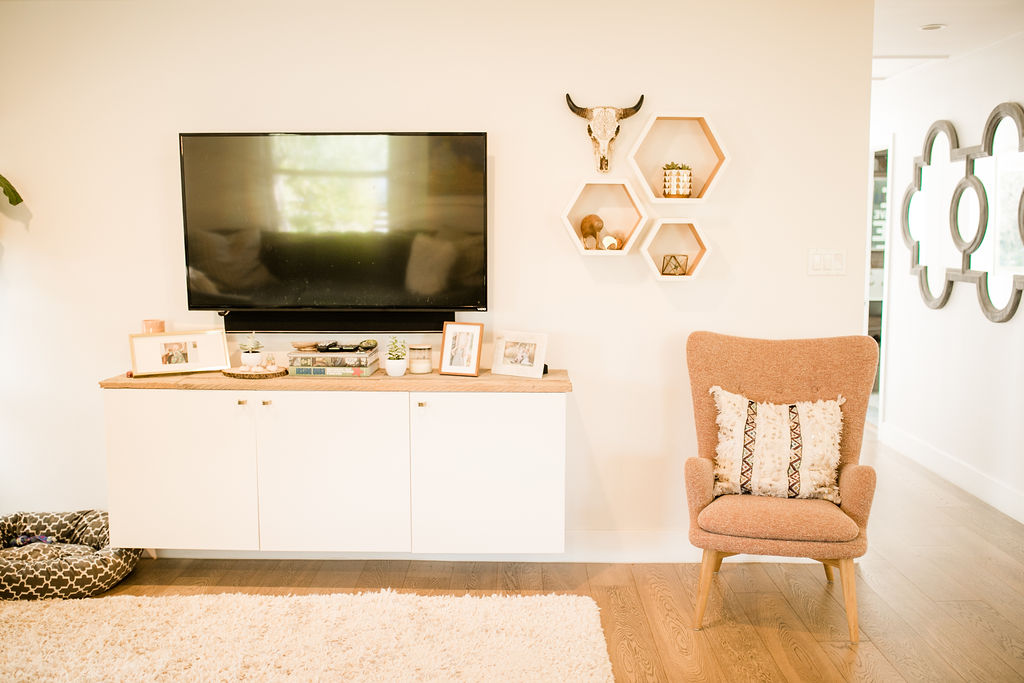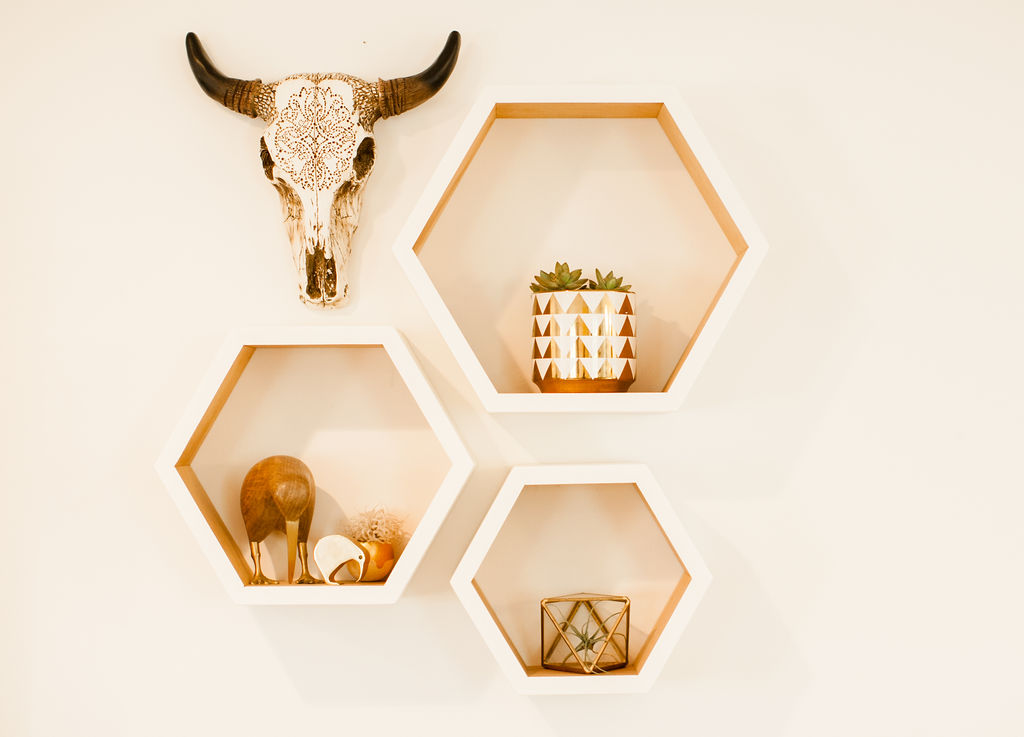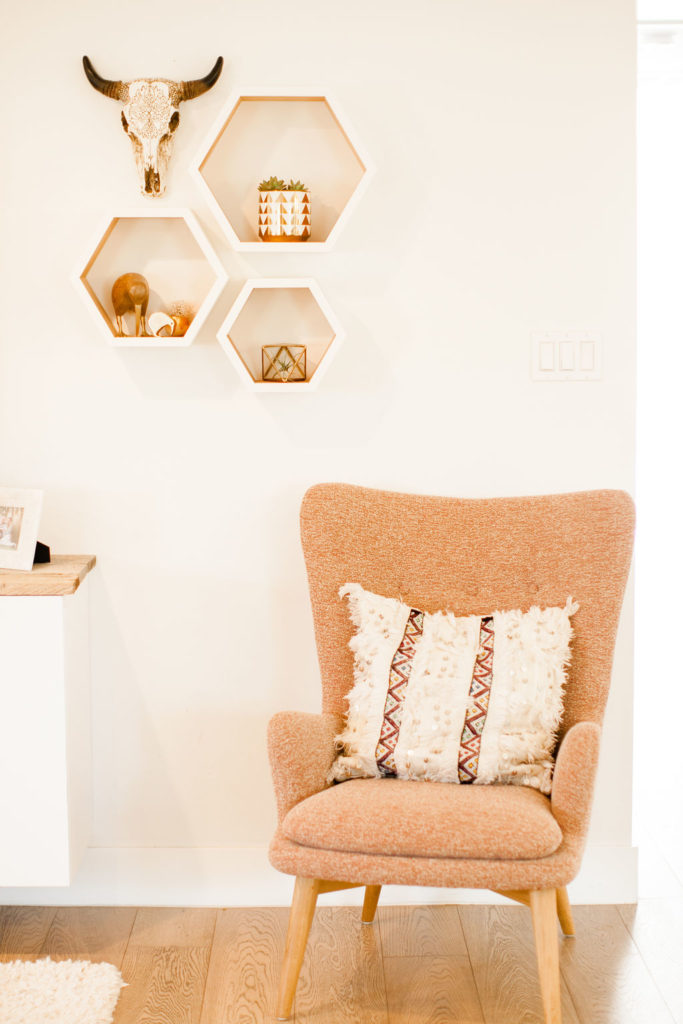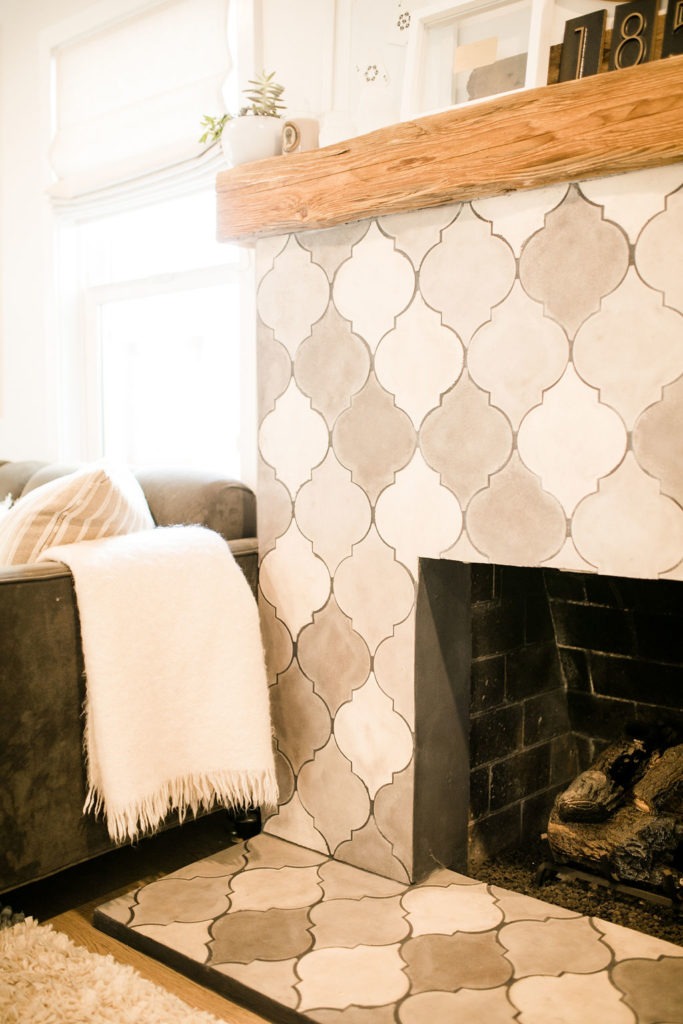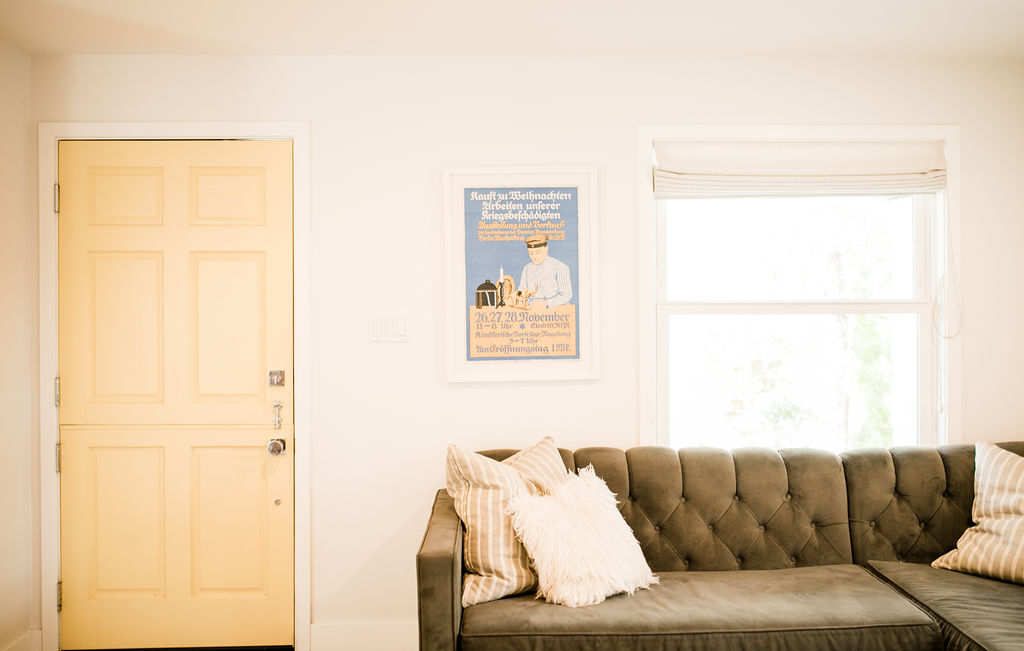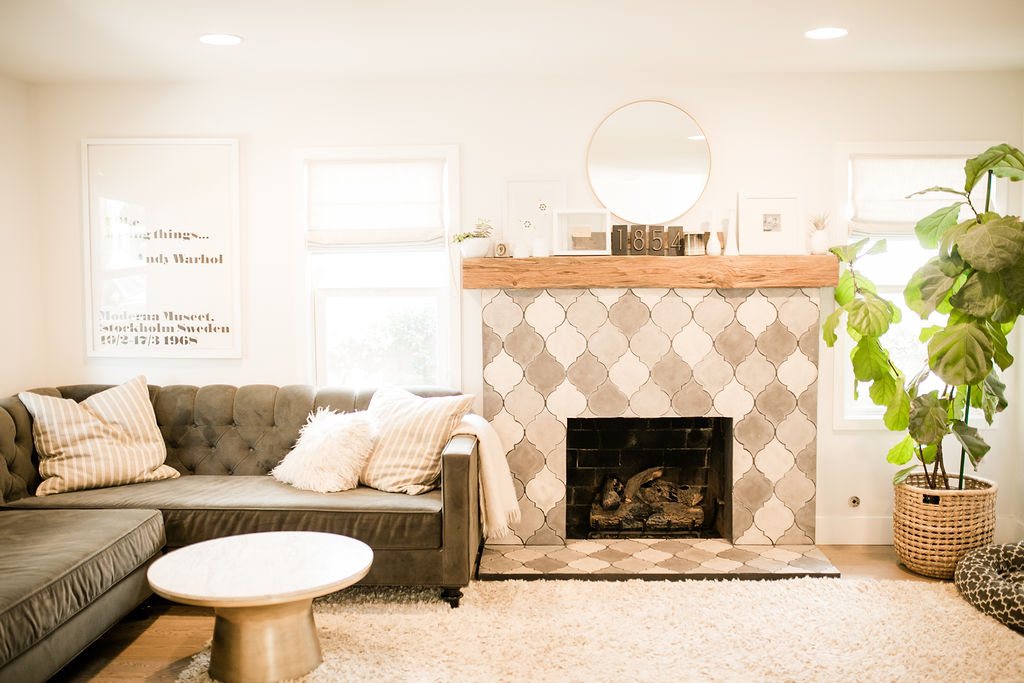 Where are some of your favorite places to shop for your home?
Everywhere! I love flea markets, it's where I get most of my art. I have found a ton of art and decorative pieces at places like West Coast Craft. I also love to find unique things while traveling. Our bathroom light is from a trip to Italy.  Our furniture in our home is hodge podge of places – Restoration Hardware, west elm, CB2 and Ikea. I also have gotten a ton of pieces from places like Everything But The House and Chairish. My favorite lighting in my home I found via Chairish.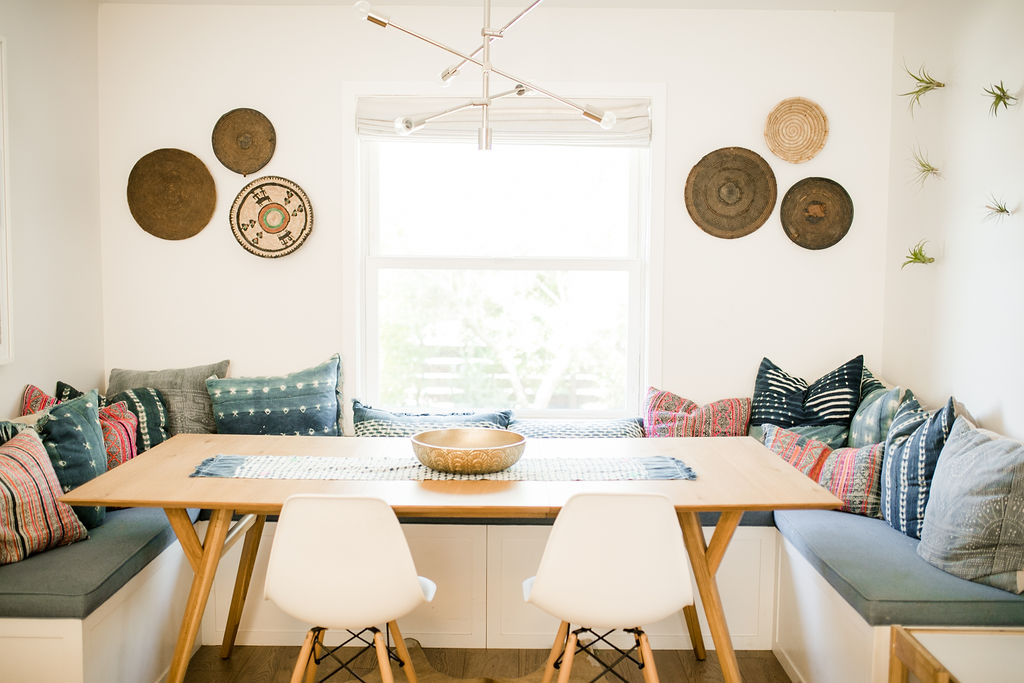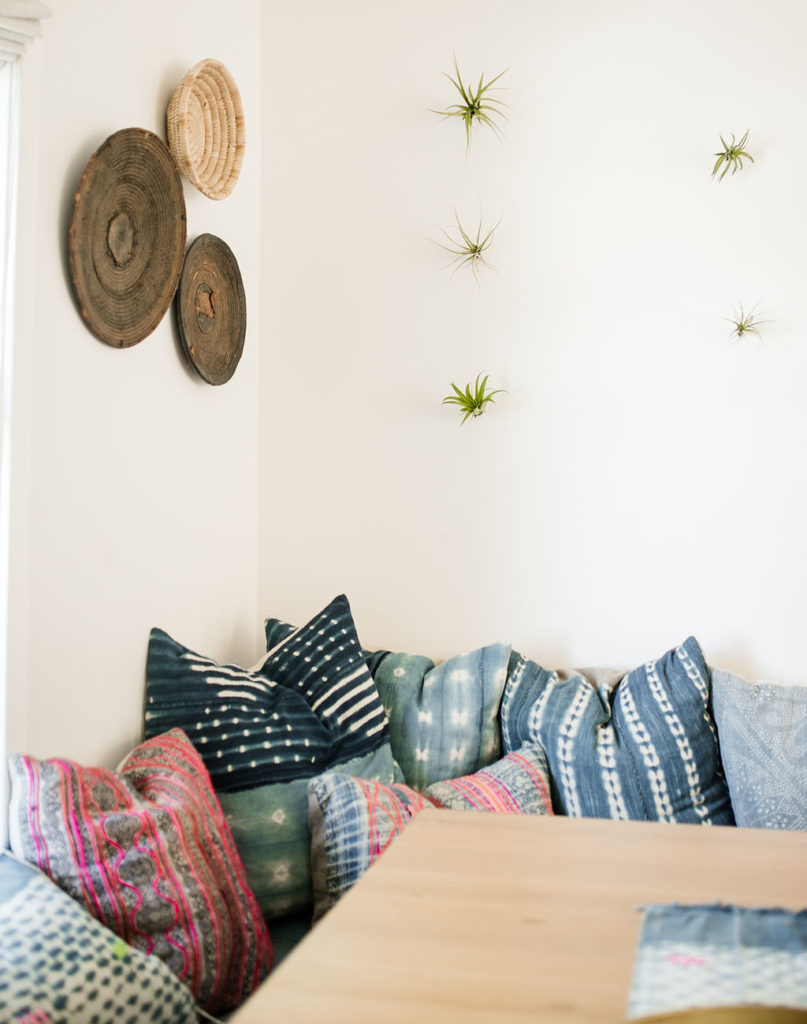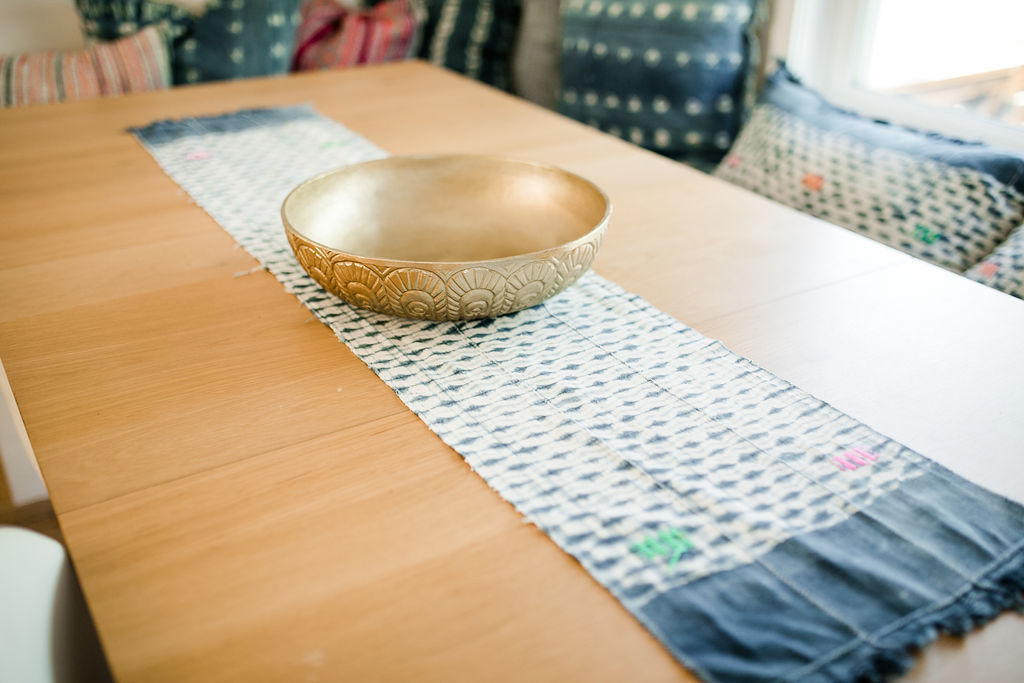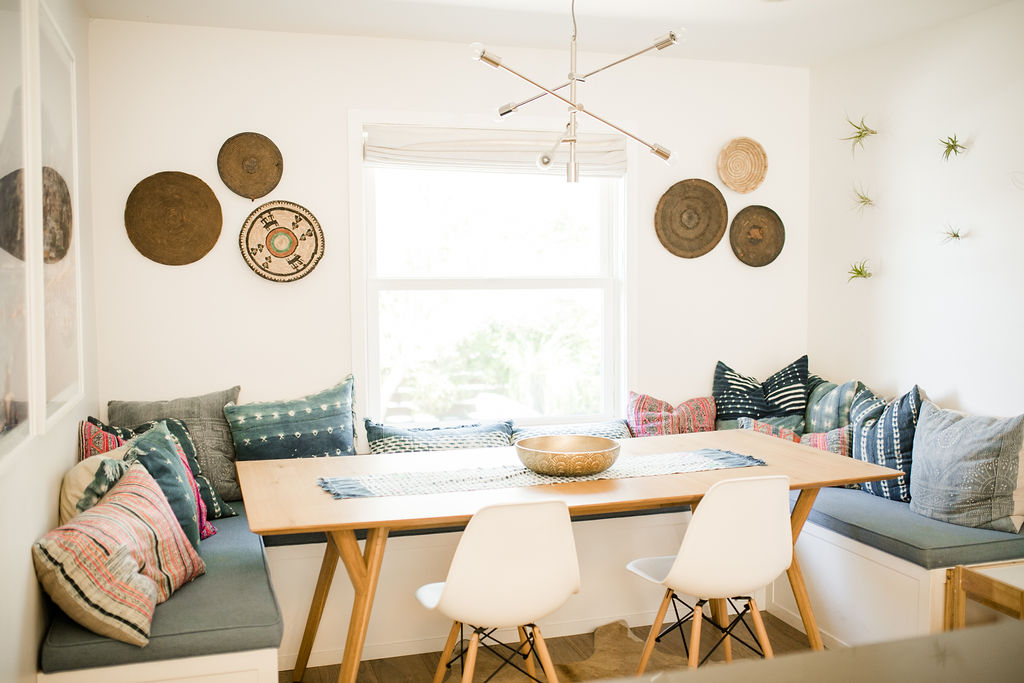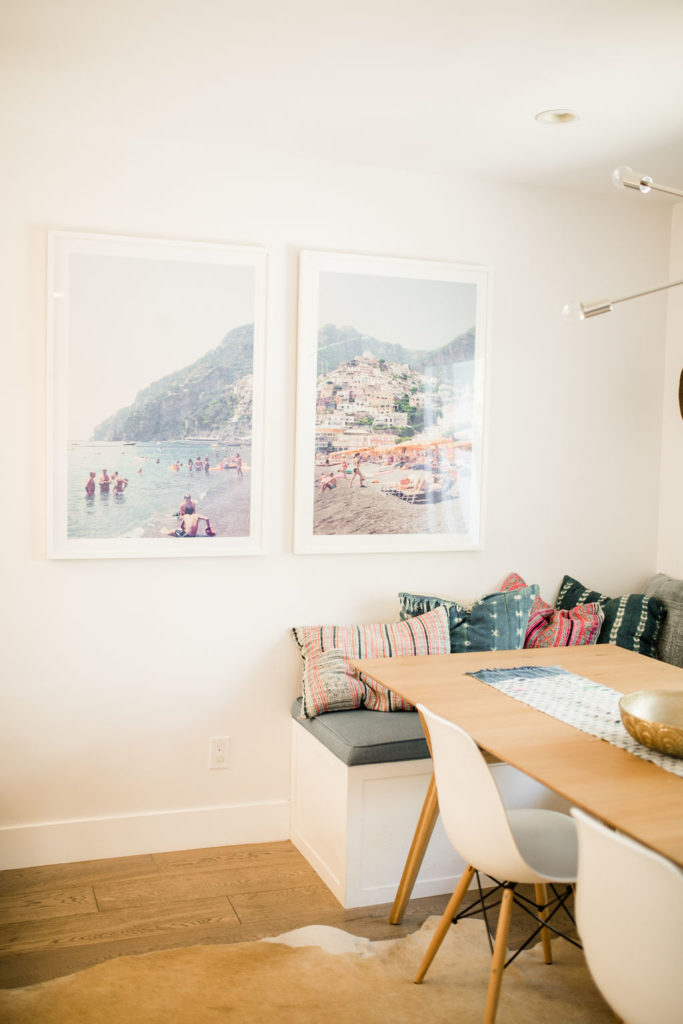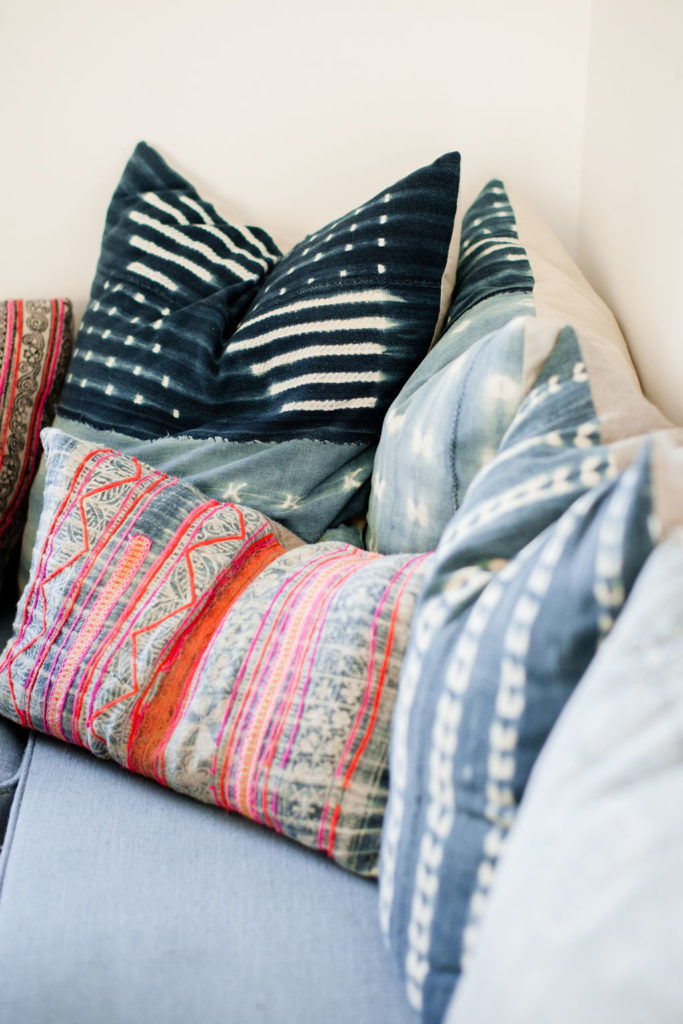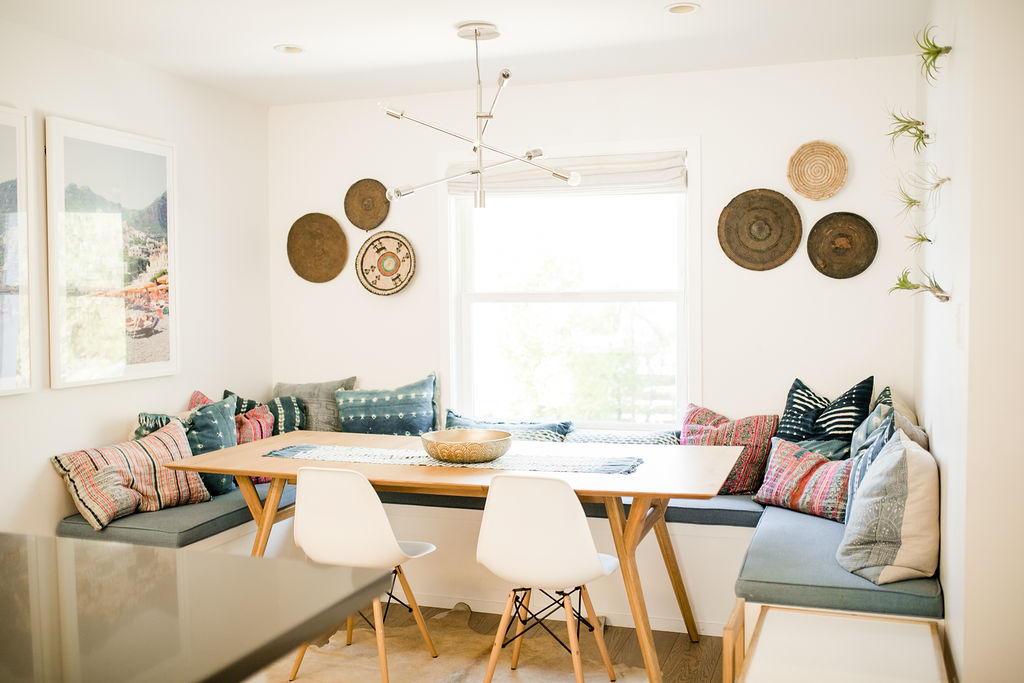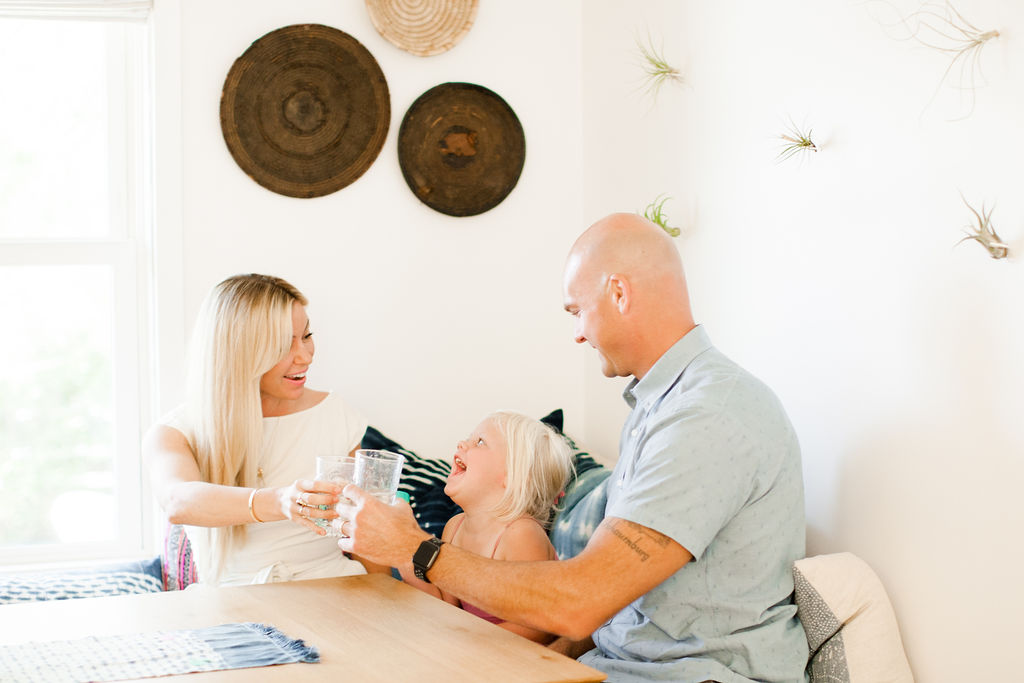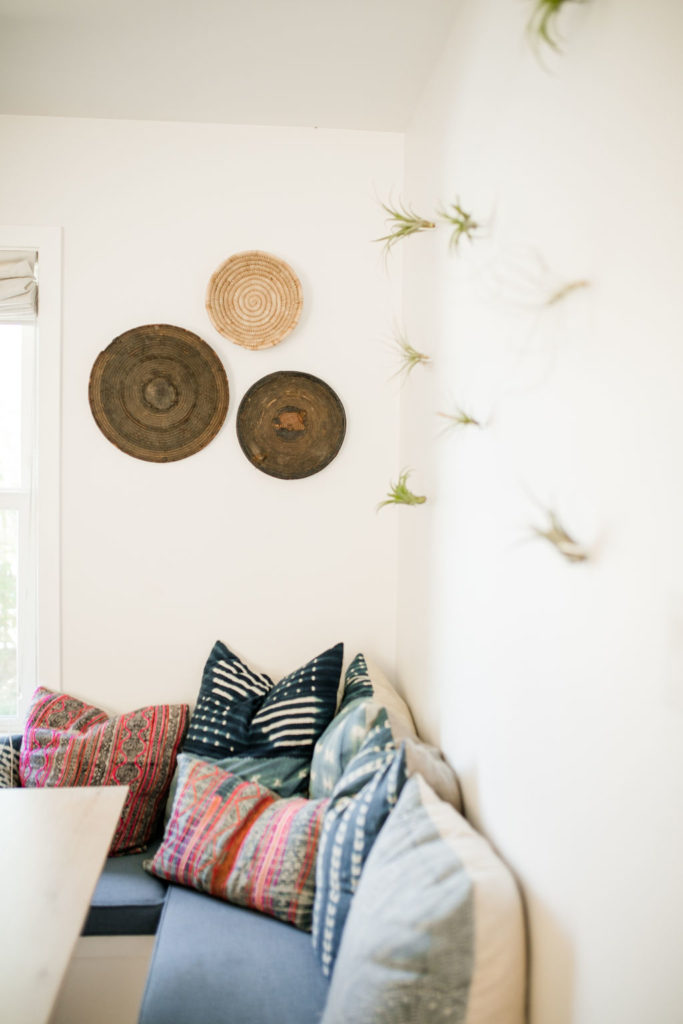 What did you want to achieve when you were designing your kitchen?"
Our house was built in 1948, the lots back then in the area were built narrow and deep. We wanted to keep the bungalow vibe of the original house but modernize it. So we created a more open concept. Where the island is now was where our dining room table was and essentially the end of the house.  It was a really hard place to design because we were still limited to the width of the original home. We originally wanted the the island to face out towards the living room but there was not enough room to make it work. I am happy how it ended up. While still small, it is efficient and blends with the house layout perfectly.  My husband is the cook, and he picked out most of the items in the kitchen. He had must haves for sure – and was adamant about the Thermadore appliances and the sink faucet. He also picked out the back splash marble. We picked out a clean simple hardware from NY Hardware and chose a quartz counter because Nick new I needed something I couldn't stain or destroy.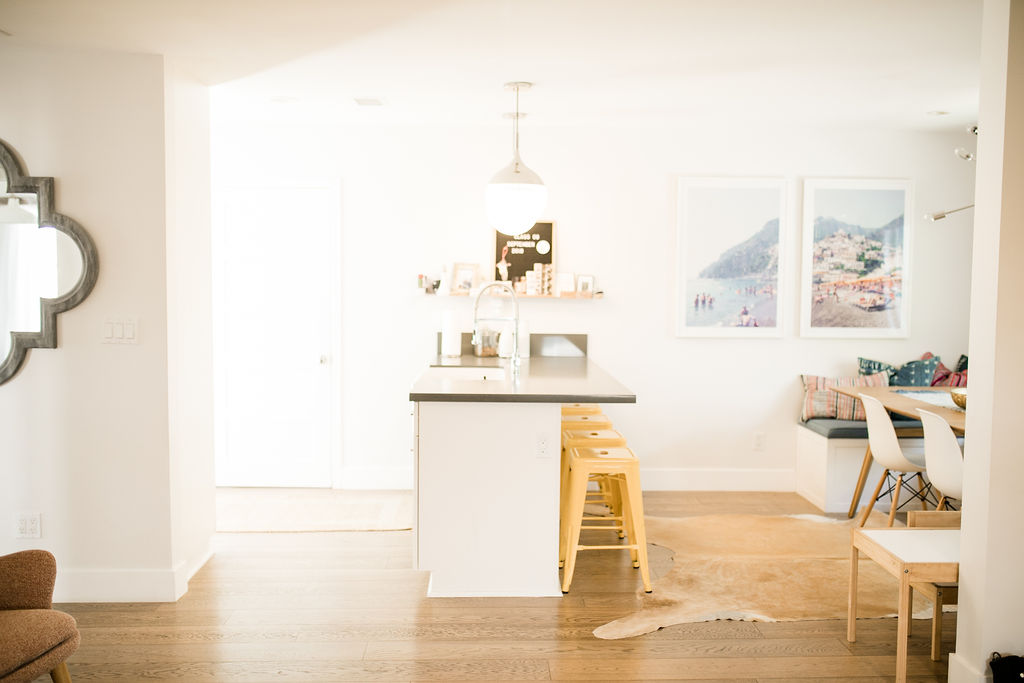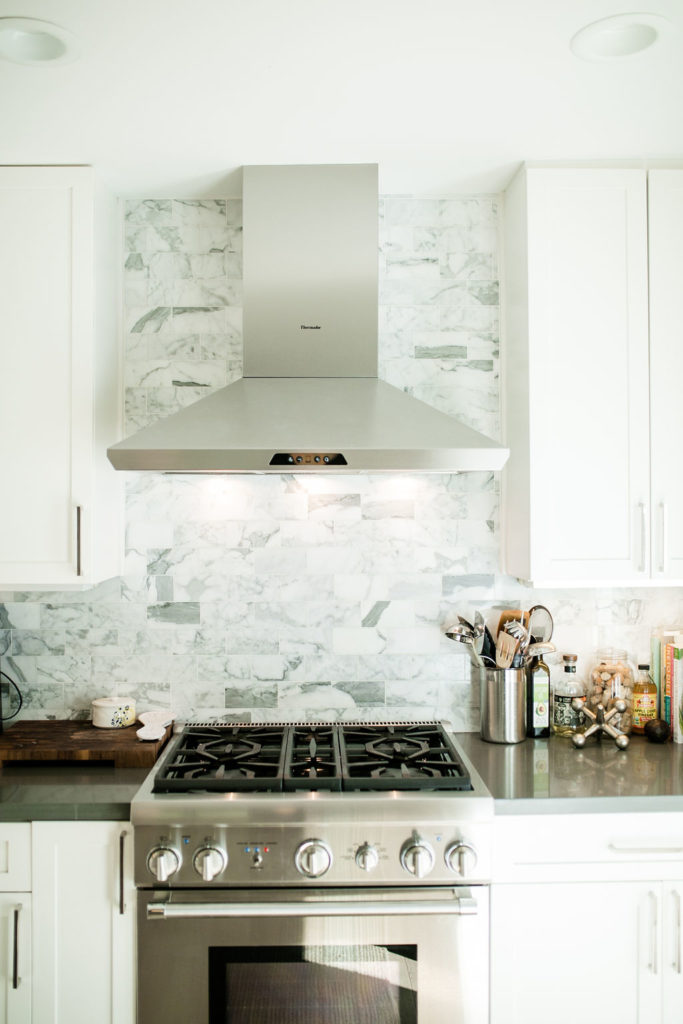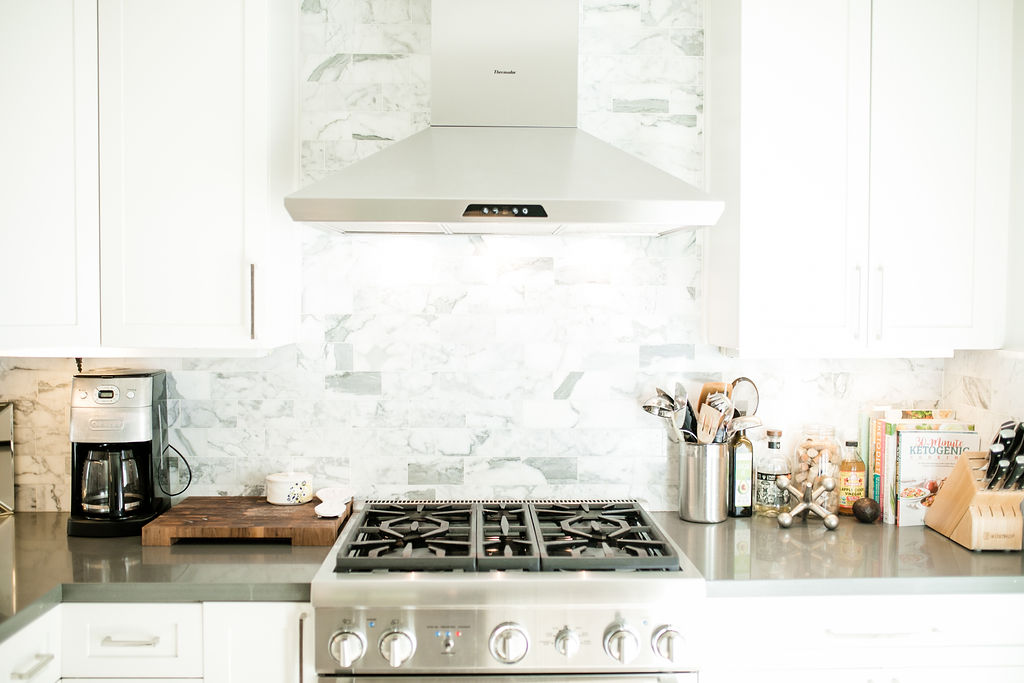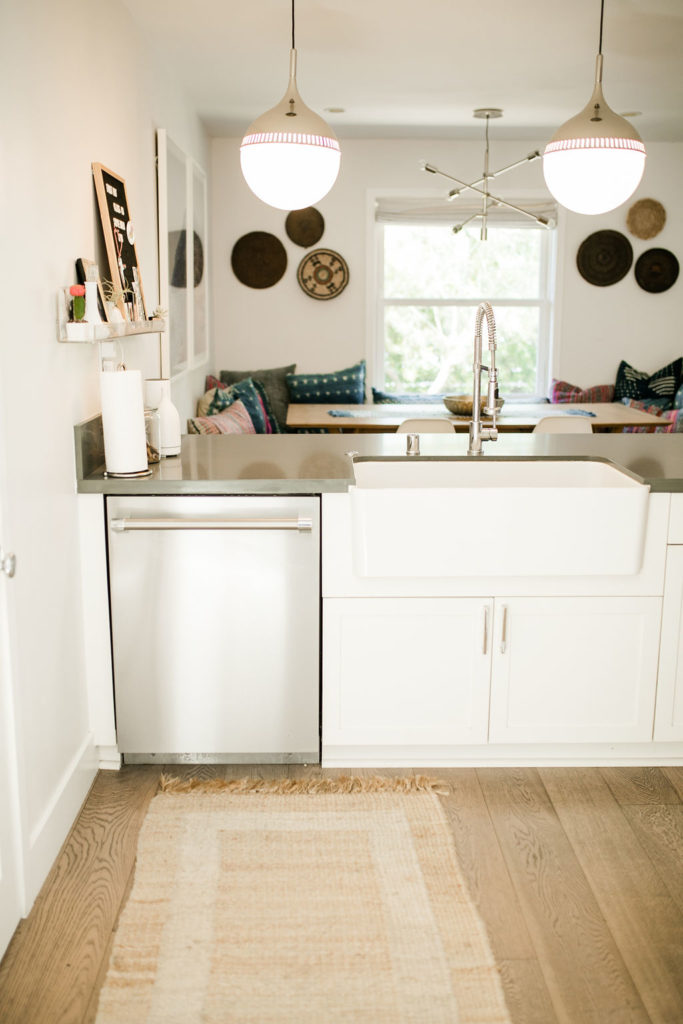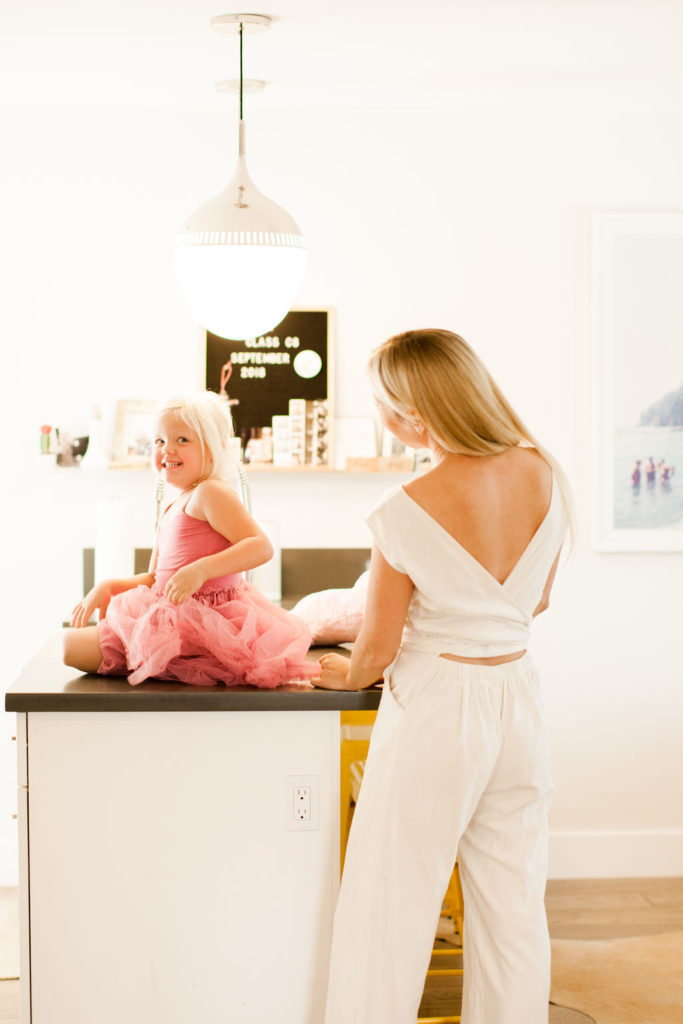 What is your favorite room in your home?
My bedroom. No question. It is my sanctuary, and I feel like I am on vacation in a swanky hotel. I can open my french doors and all  can see is beautiful greenery and the sound of the fountain. It is very relaxing. Not to mention an amazing bathroom and enormous closets. Runner up is not really rooms but it is our yards. They feel like rooms and are real extensions of living space of our home. I think the room that gets the most excitement from people is my daughters bathroom.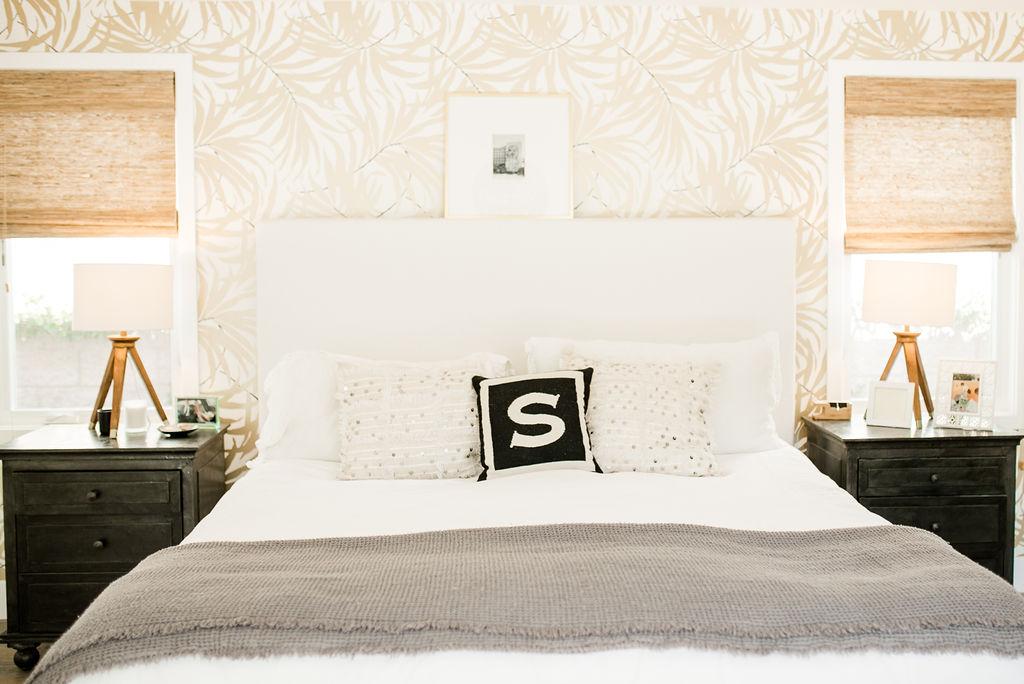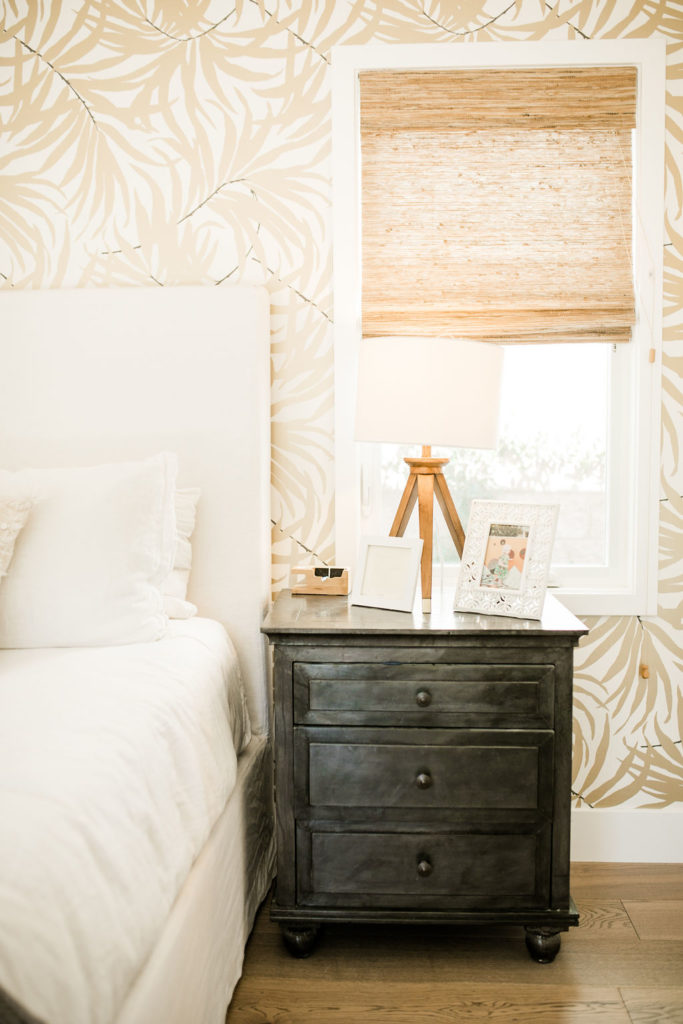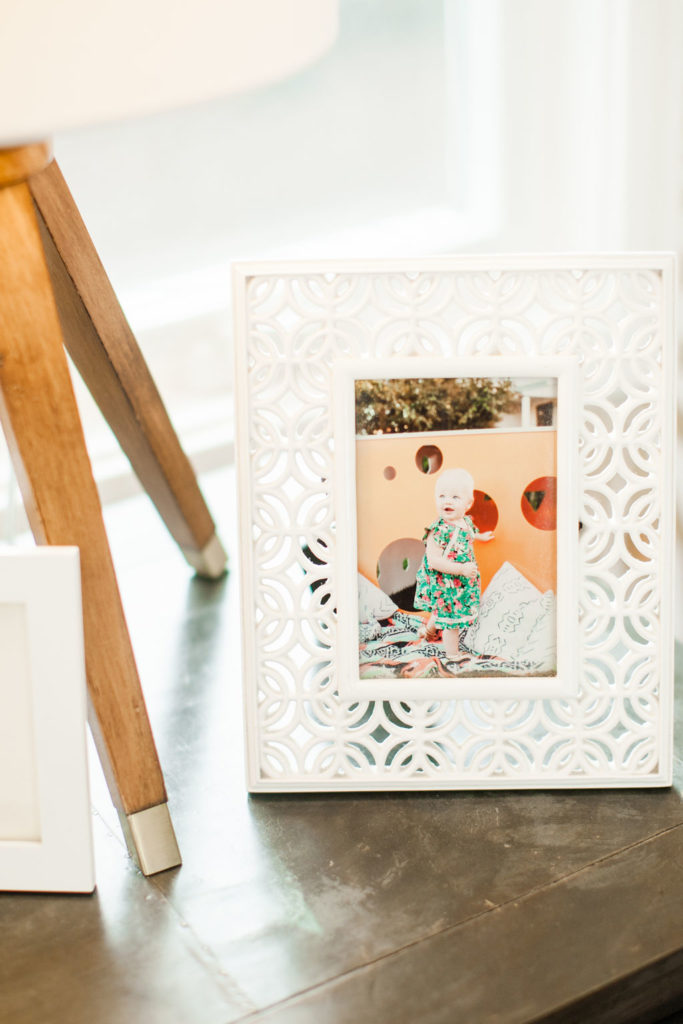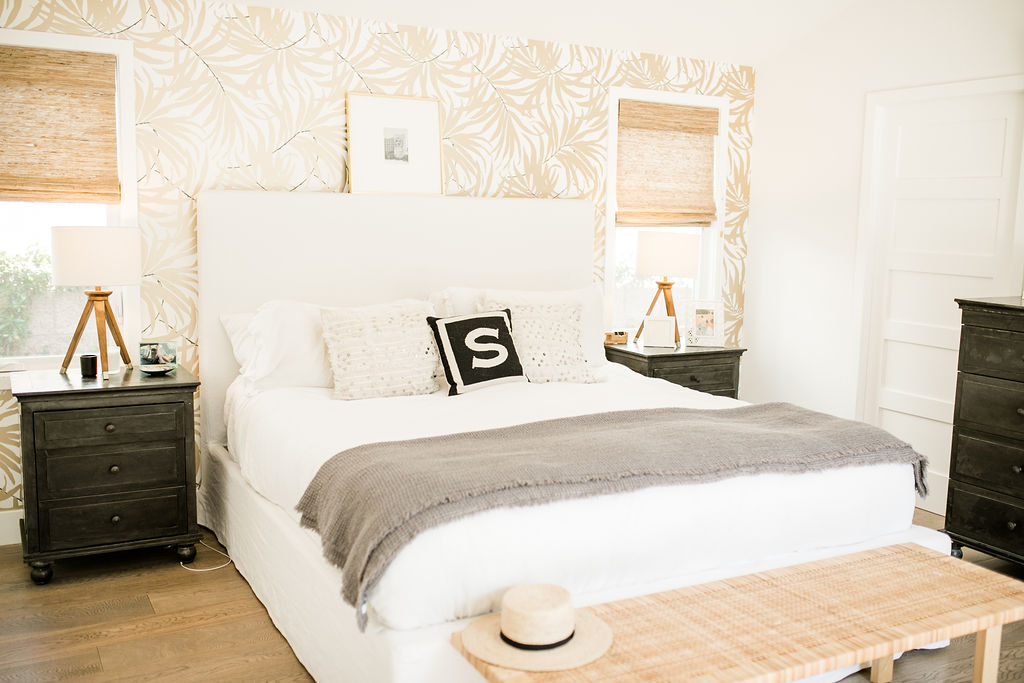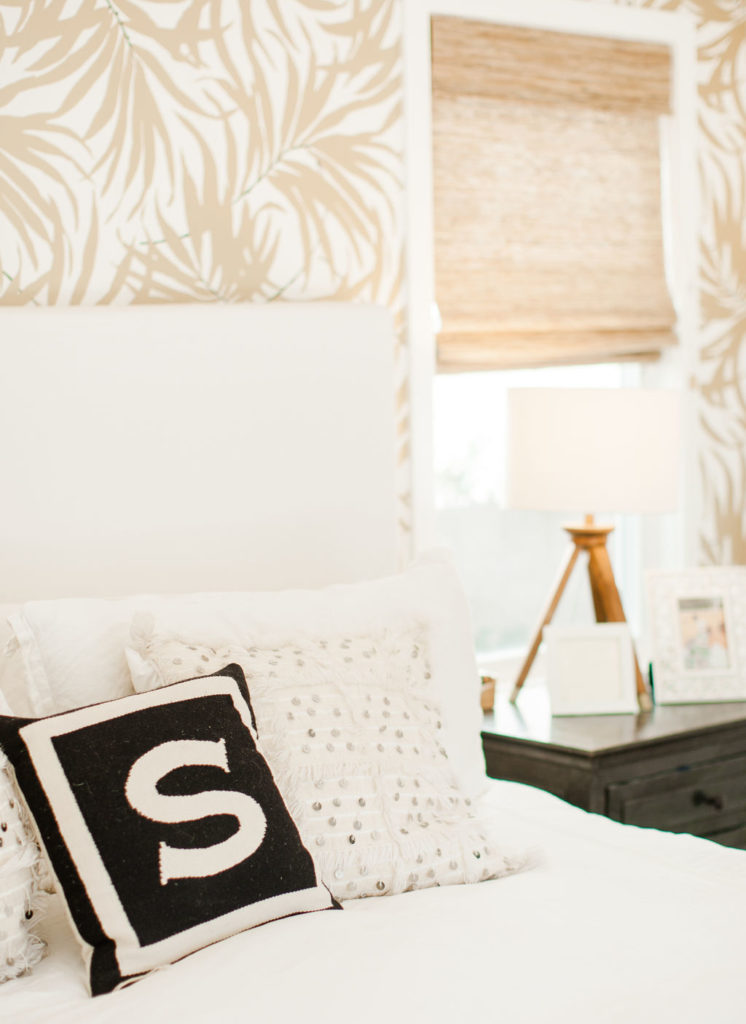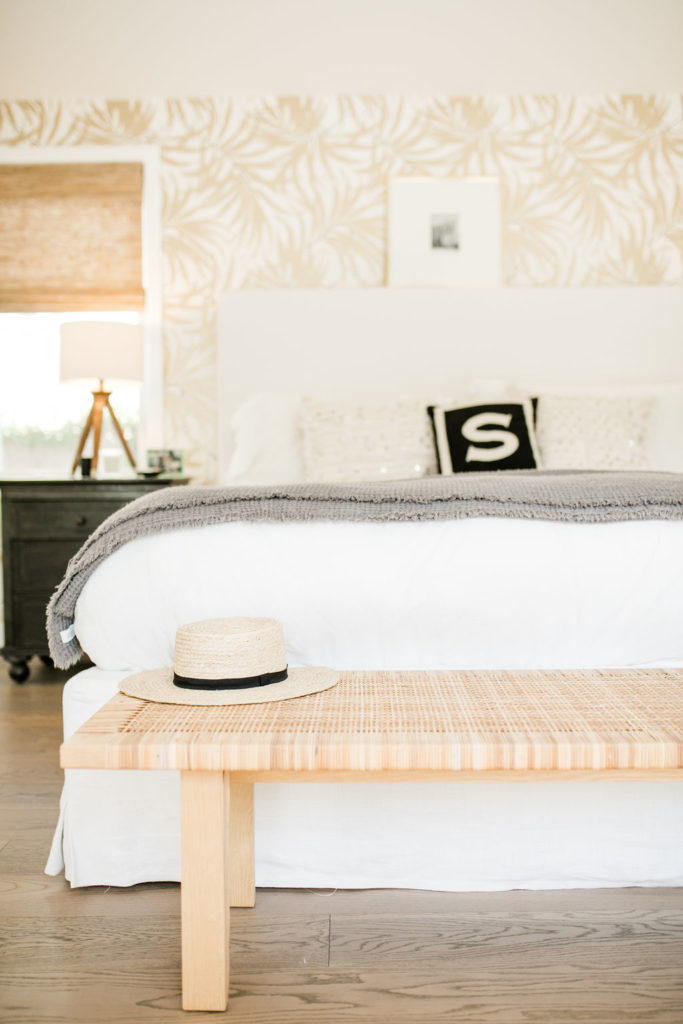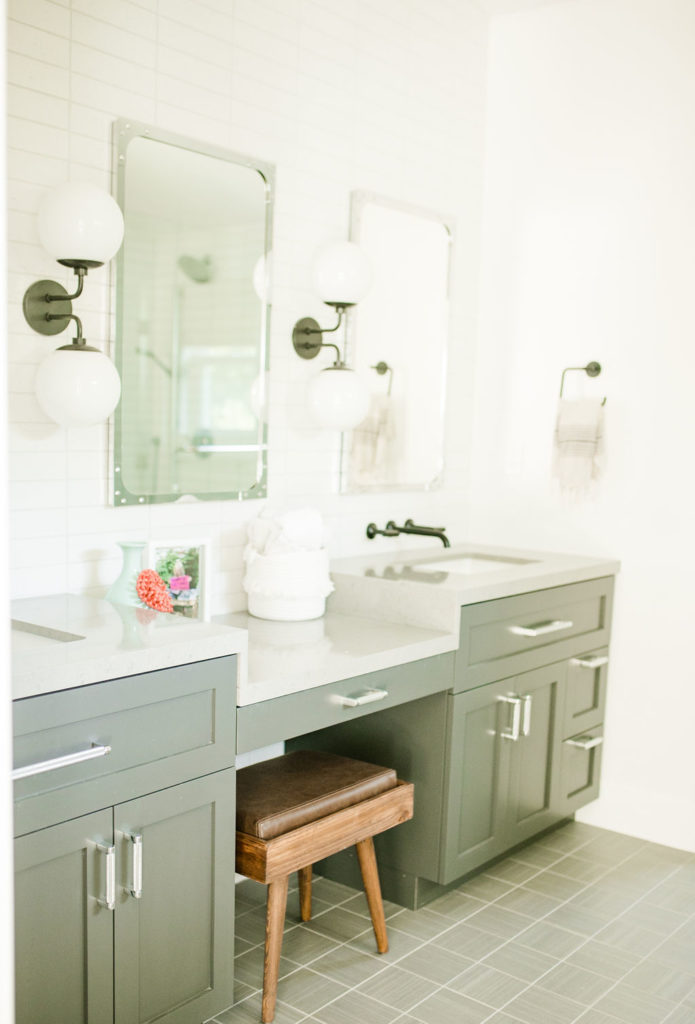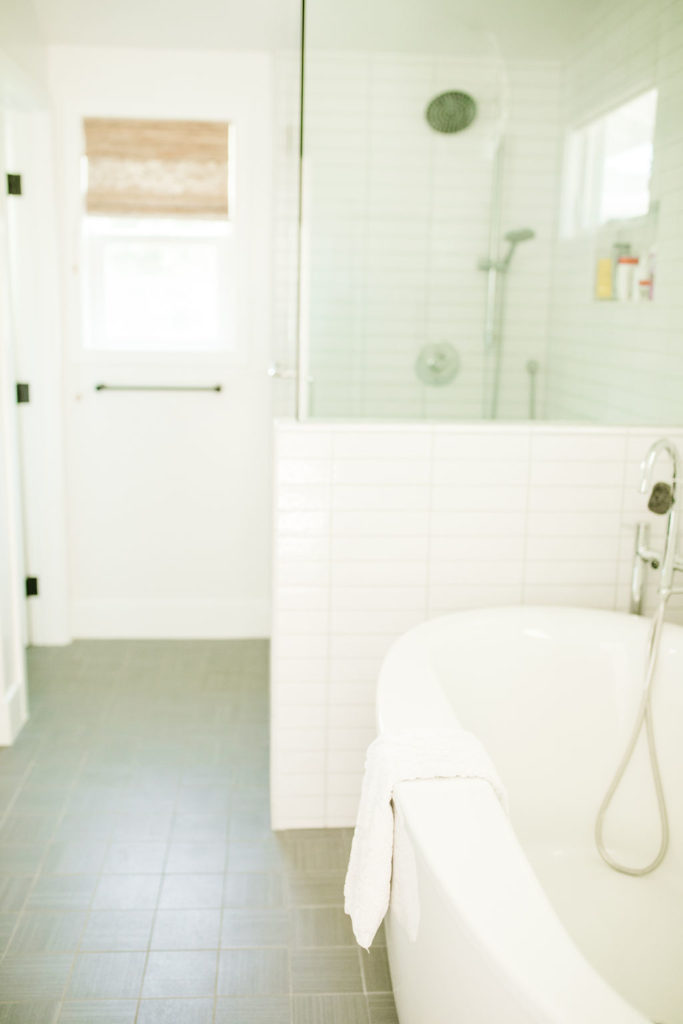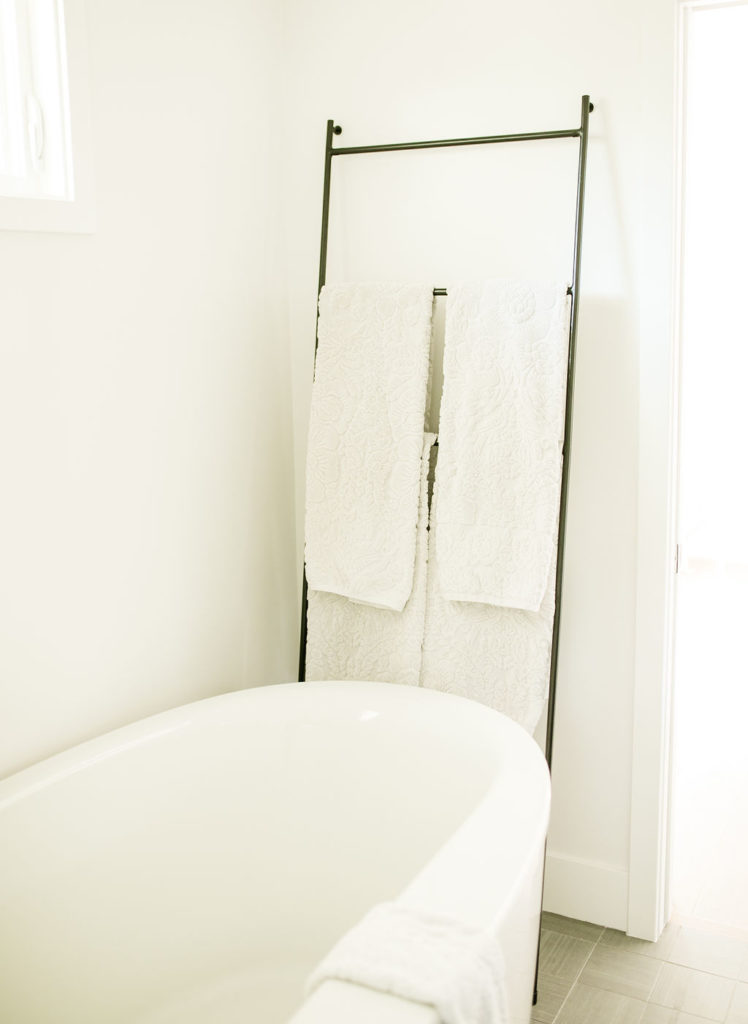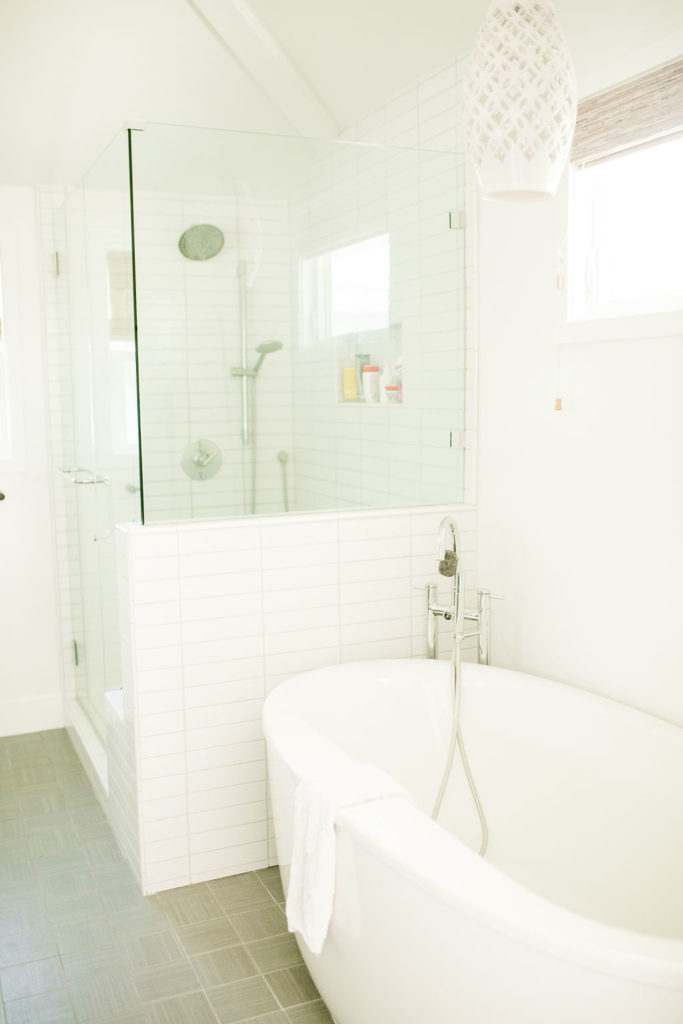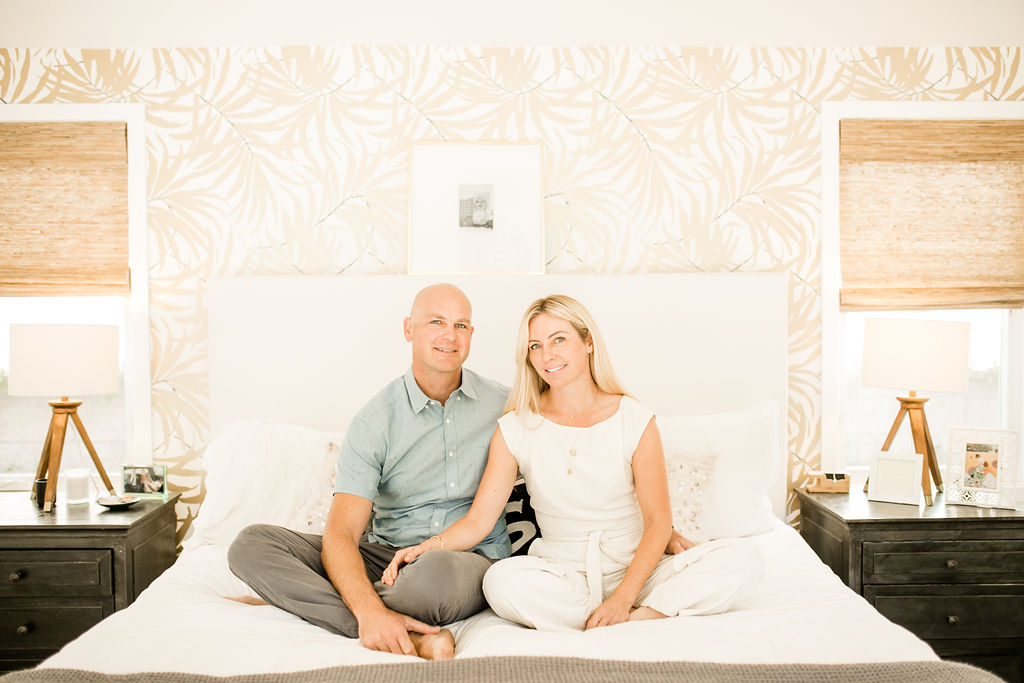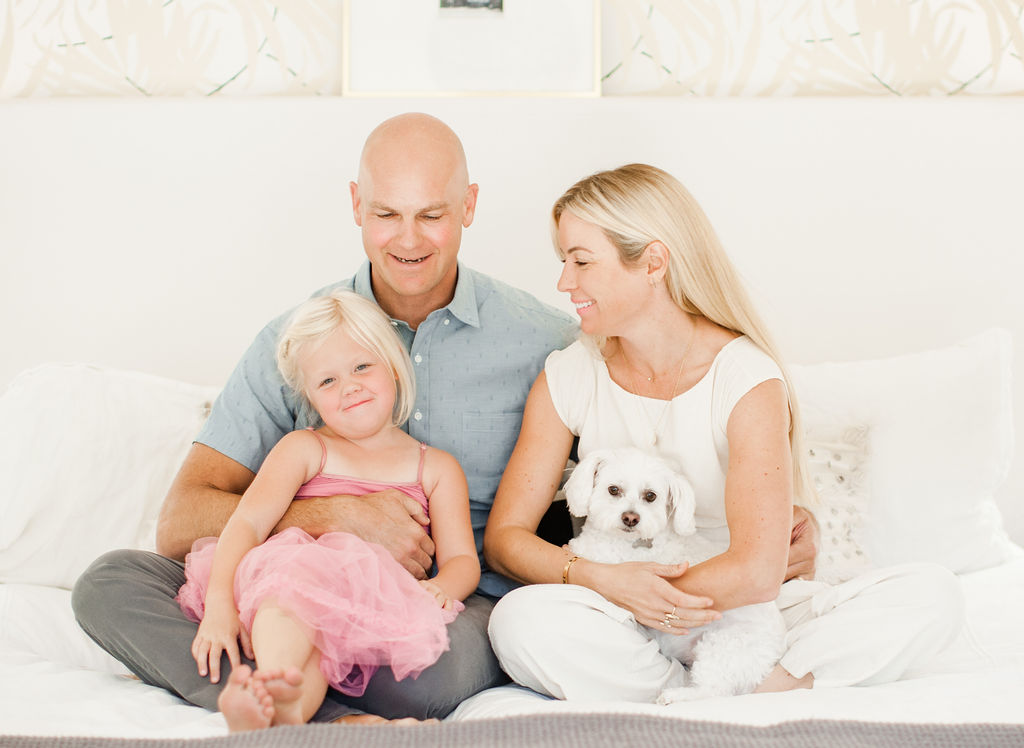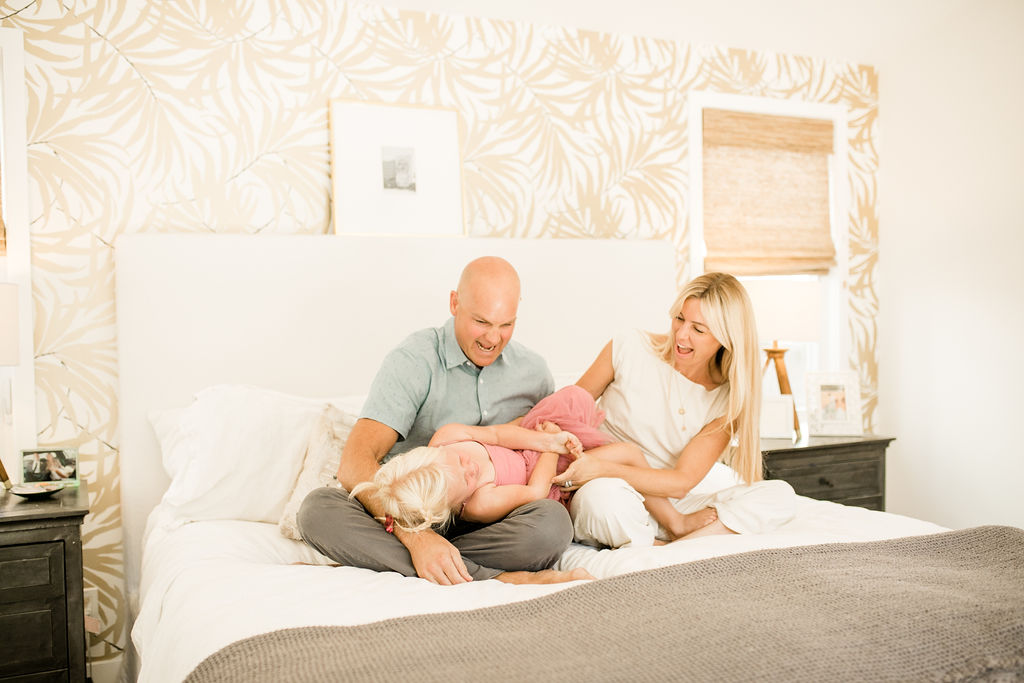 We love Lena's room!!! How do you design something for a child that is aesthetically pleasing but also practical?
I found the wall paper first, before we even knew what we were having. So I knew I was going to use it regardless of gender. Then I had to choose everything else to flow with that. I had her curtains made in the mustard yellow pattern.  I was worried it would clash against the bold pattern on the wall, but it is perfect. We bought her dresser at the flea market and I decided we should paint it a bright pink to have a bold pop of contrasting color instead of trying to blend in with everything else. This gave us a color pallet that was easier to work with as we accessorized.
We used these vintage soda boxes that we actually used for our wedding center pieces as shelving for her wall. Above her dresser is this beautiful copper fire screen that my dad had bought for my grandmother in South Africa in the 1970's. When she passed my mom had it framed and I sneakily stole it from her house one night after family dinner. It is for your grand child! She couldn't say no.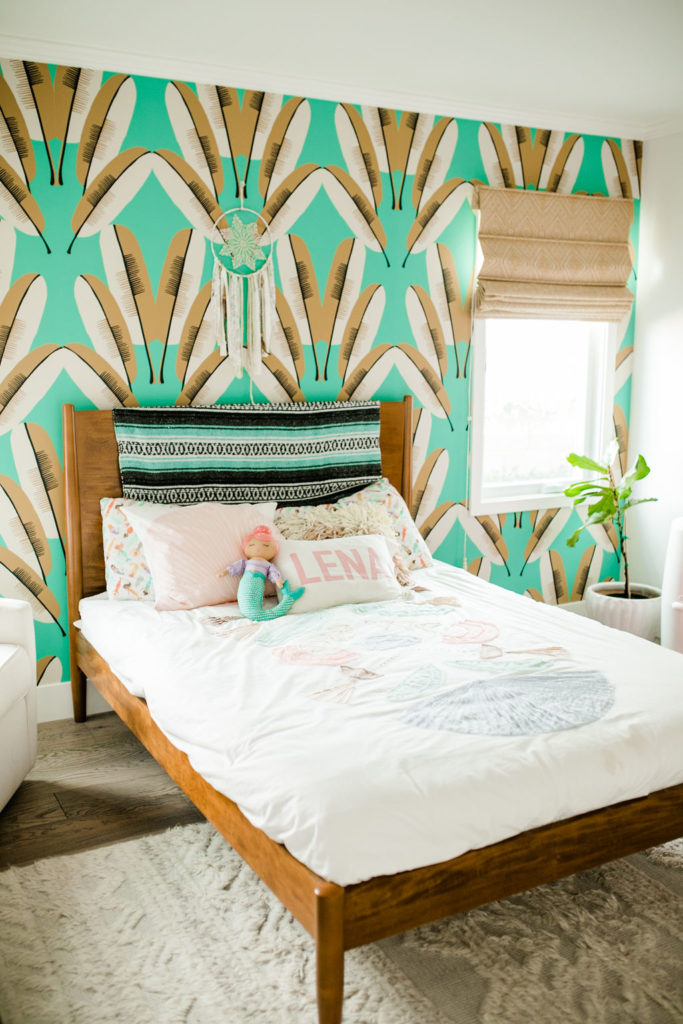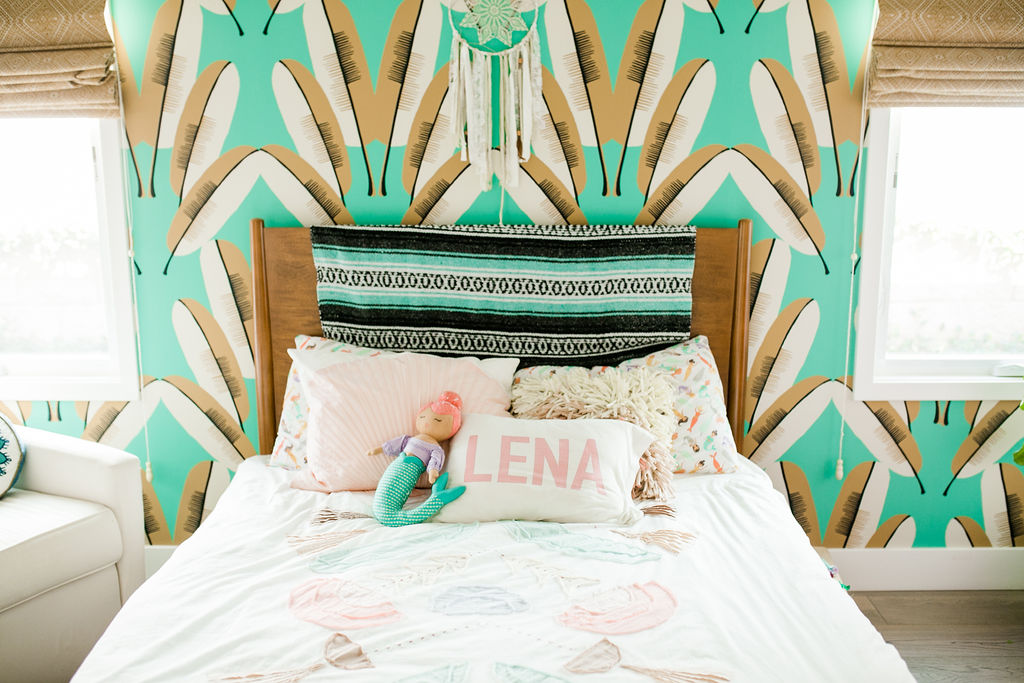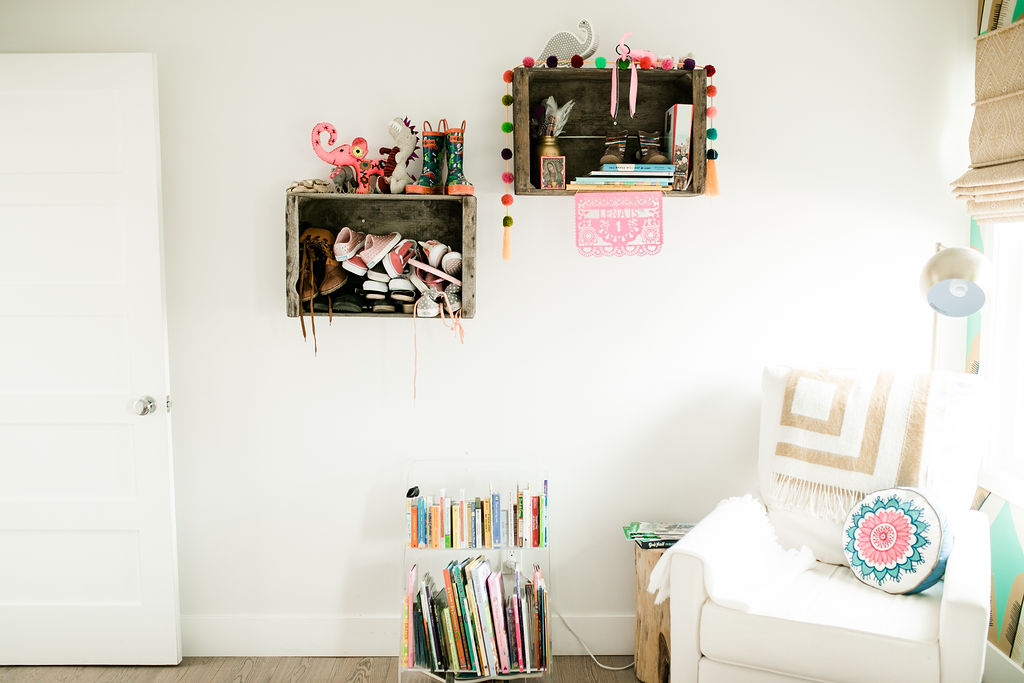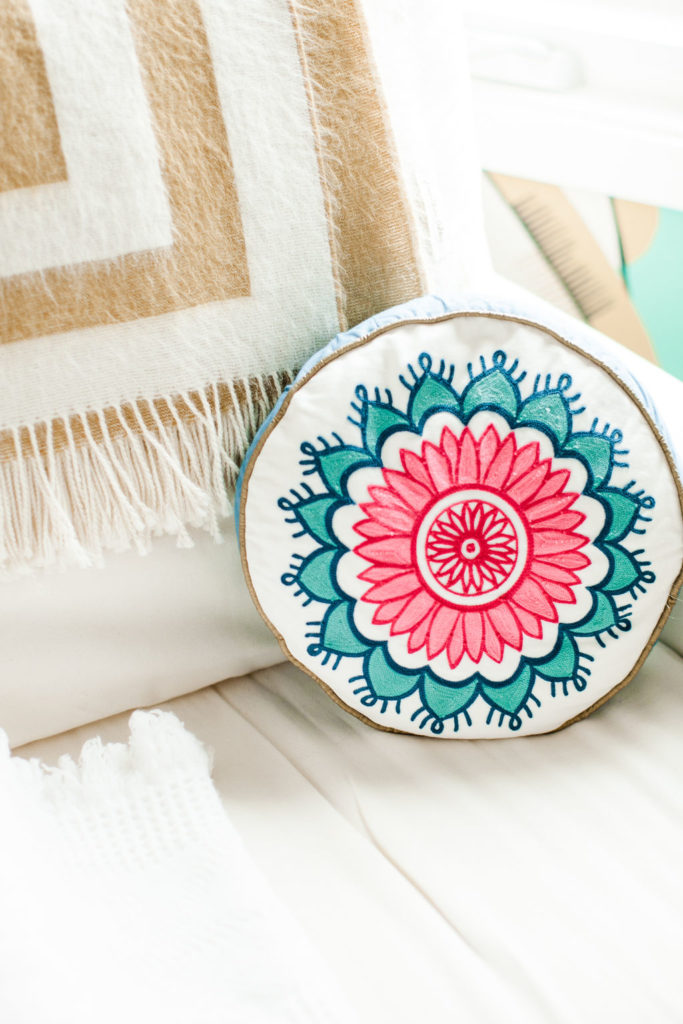 Isn't Lena the cutest?!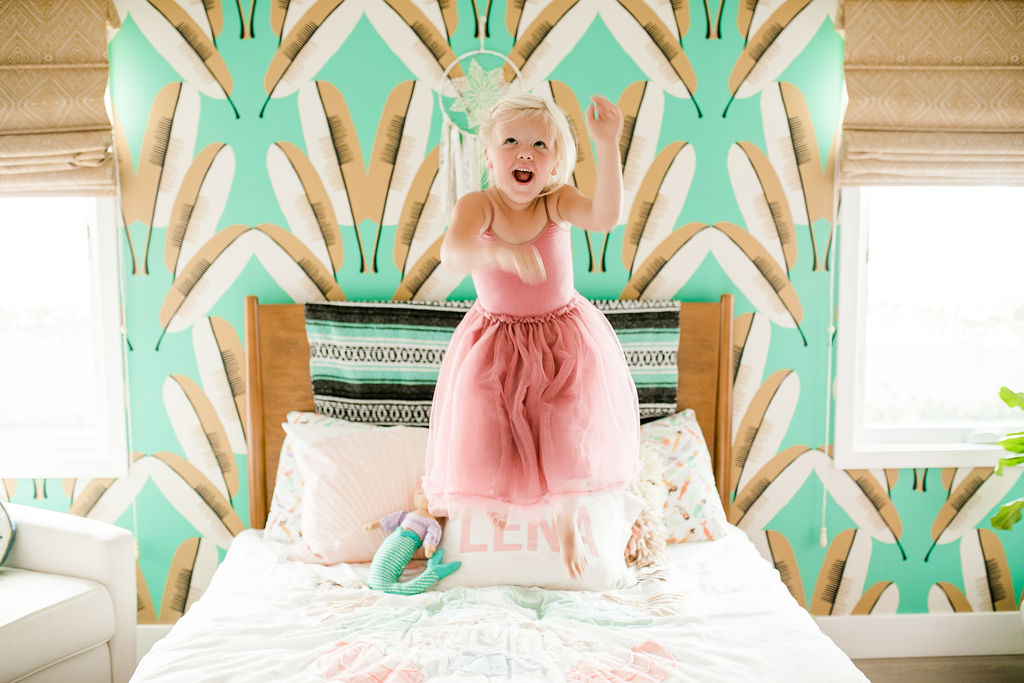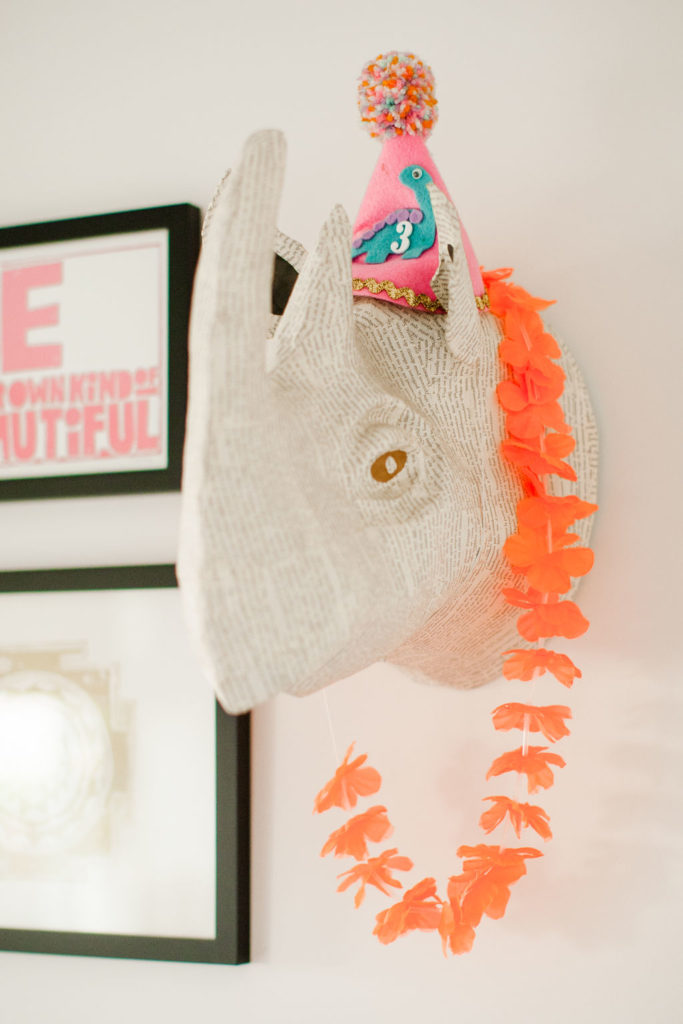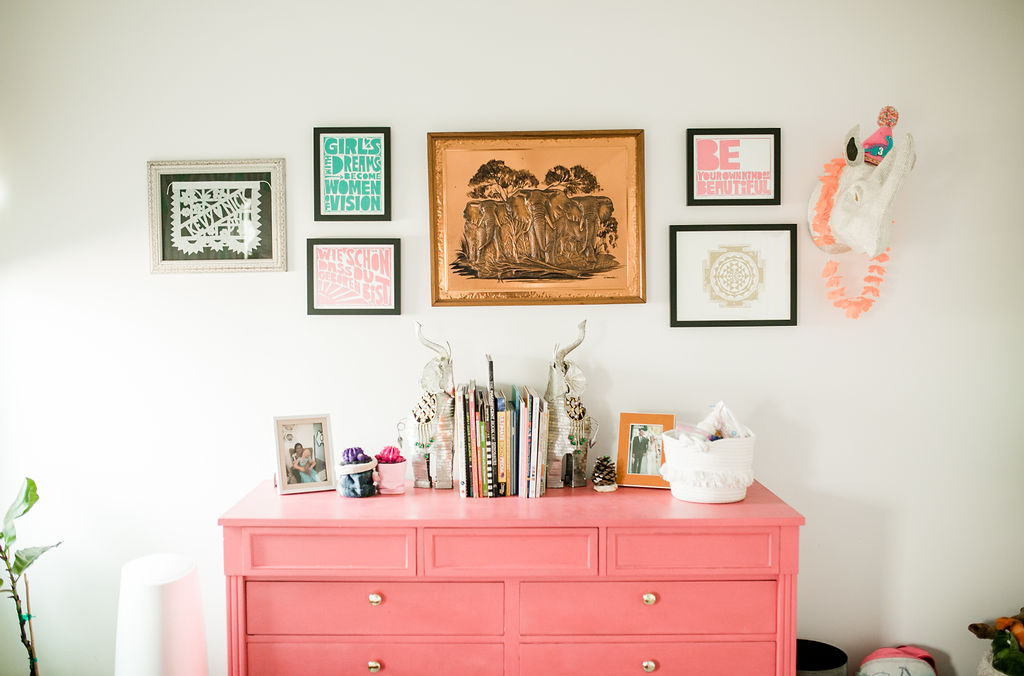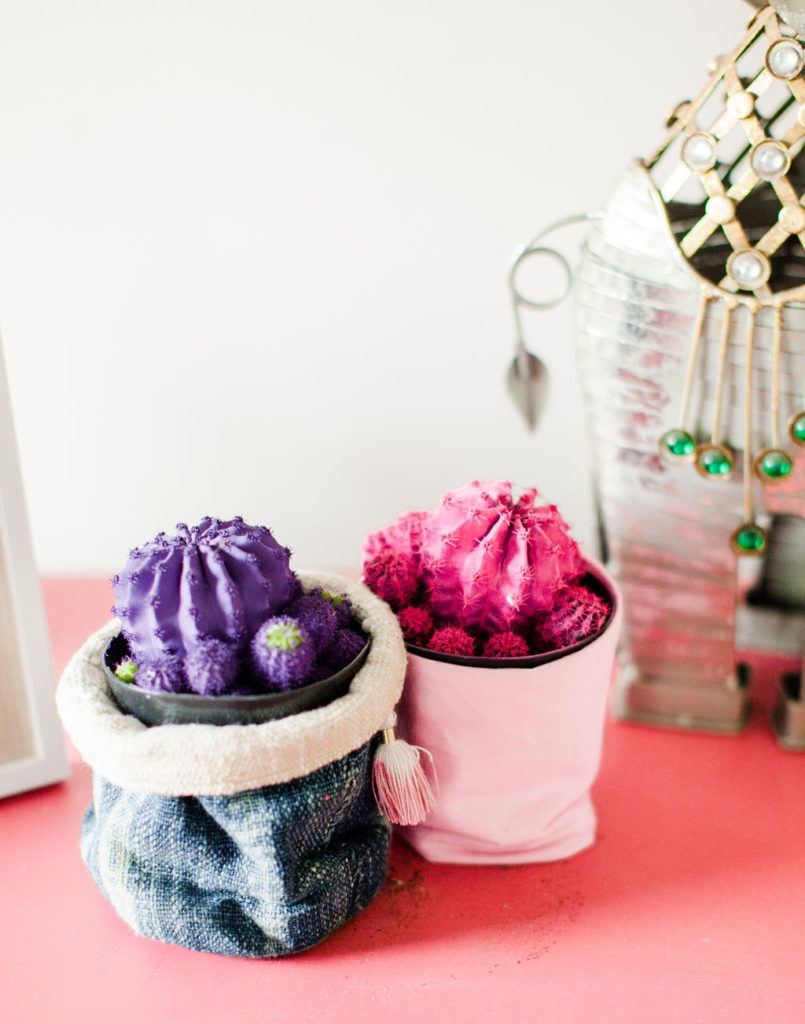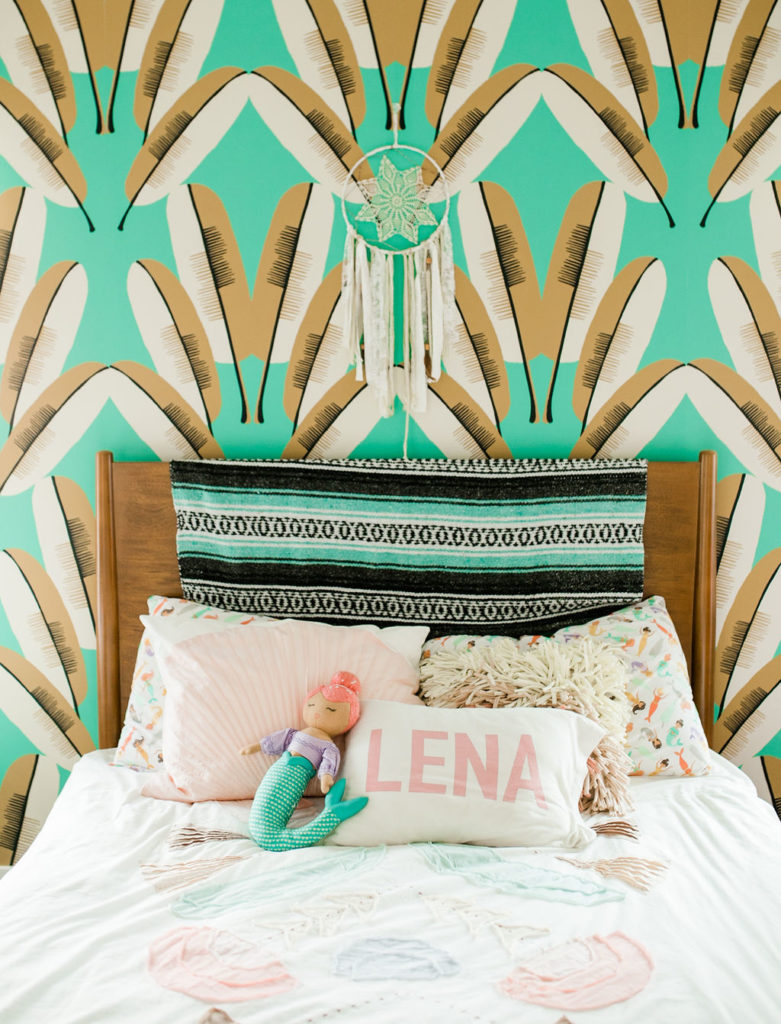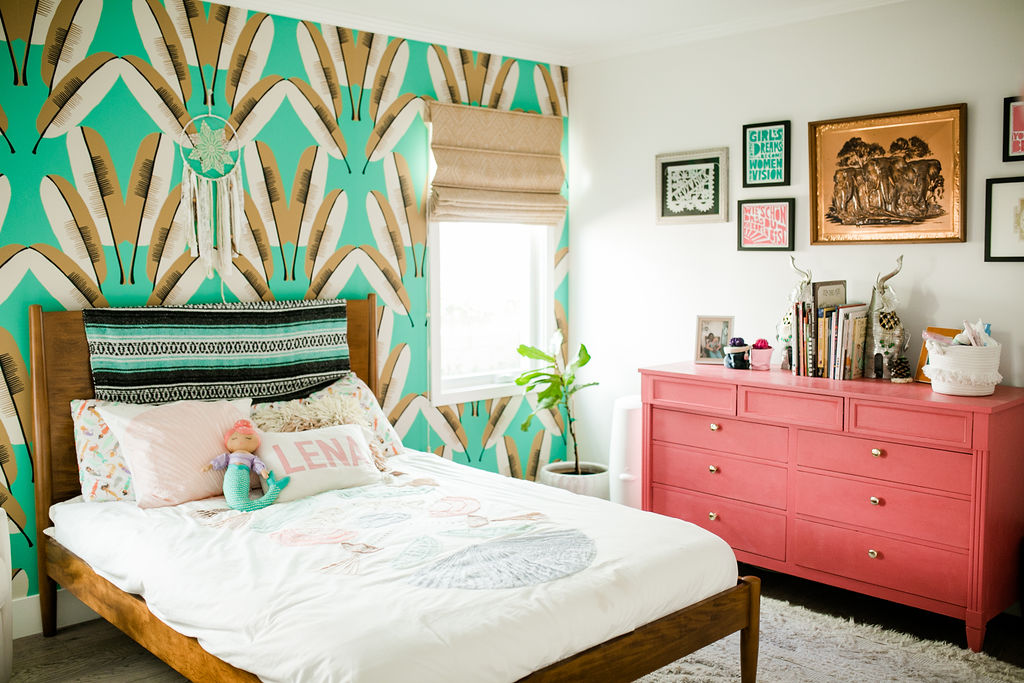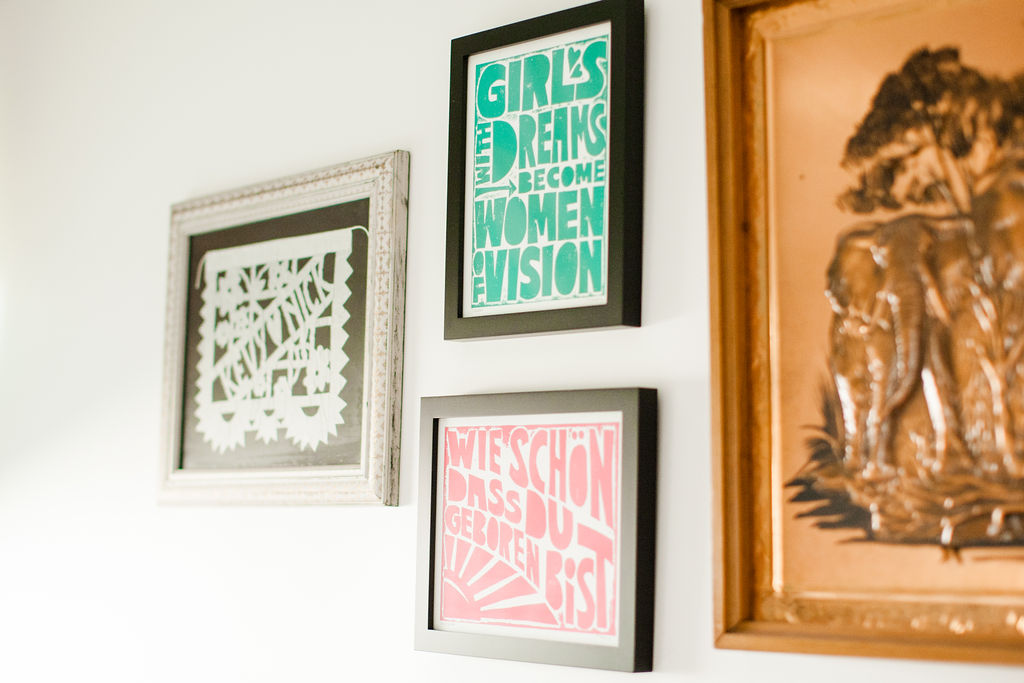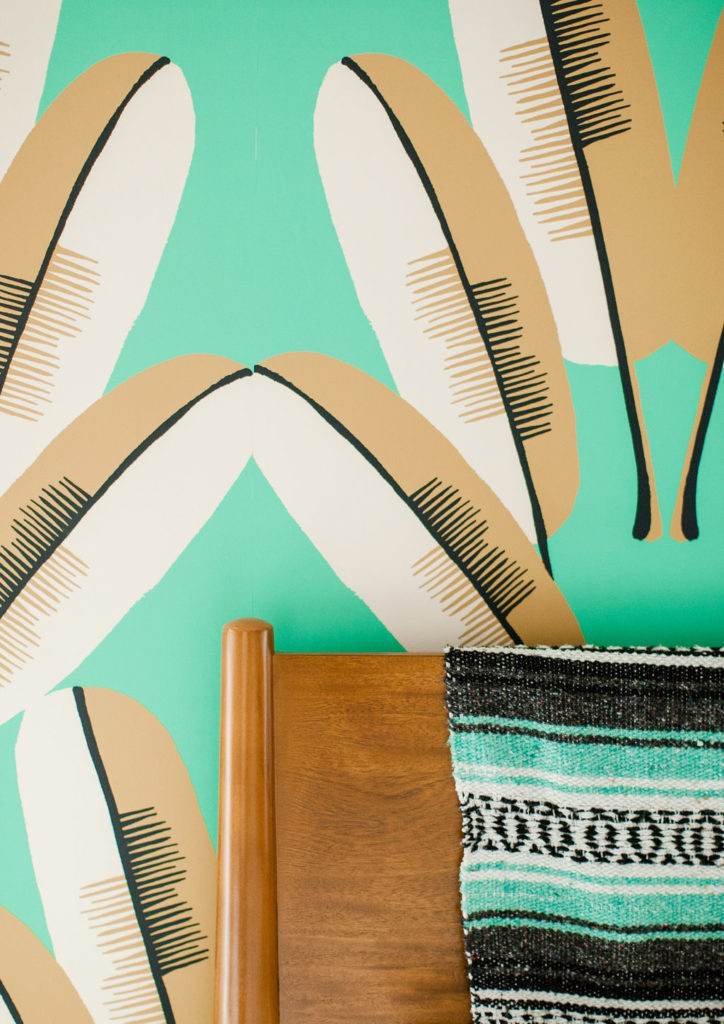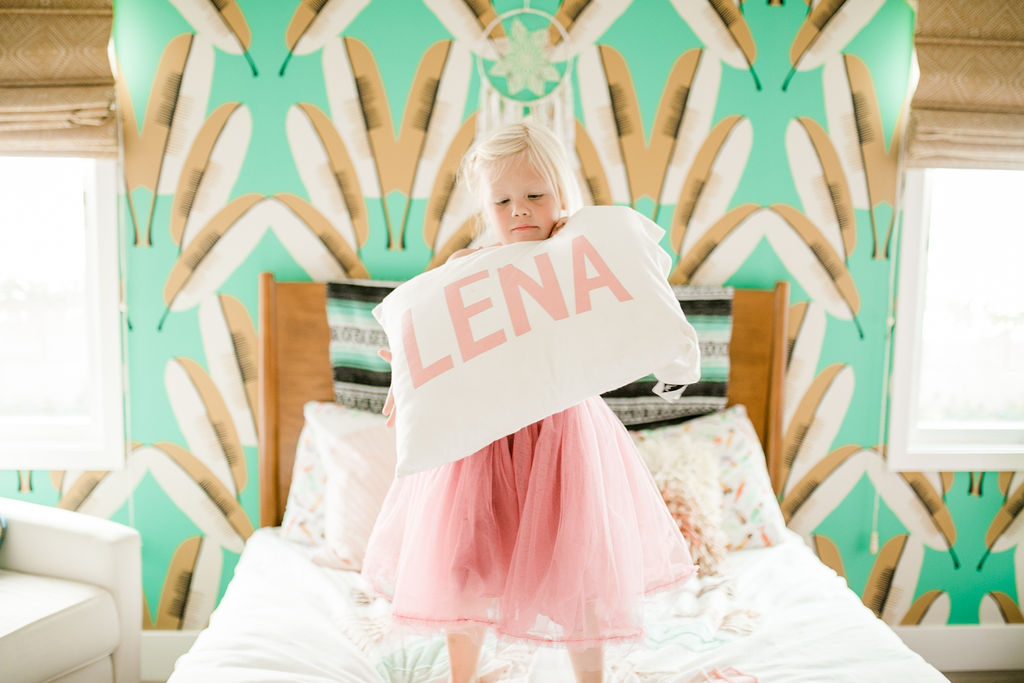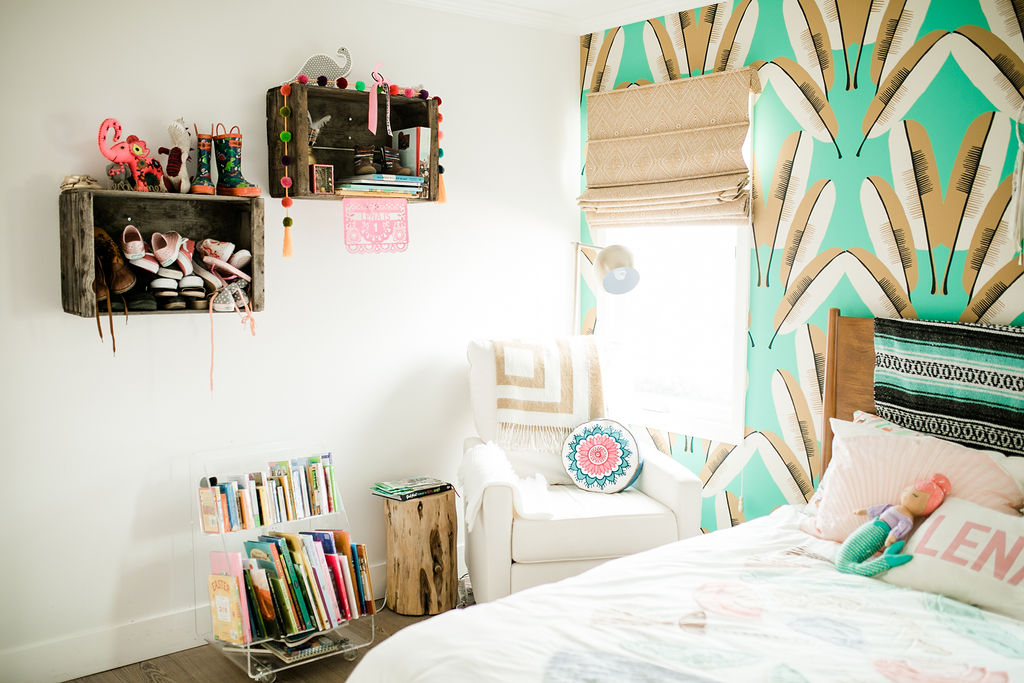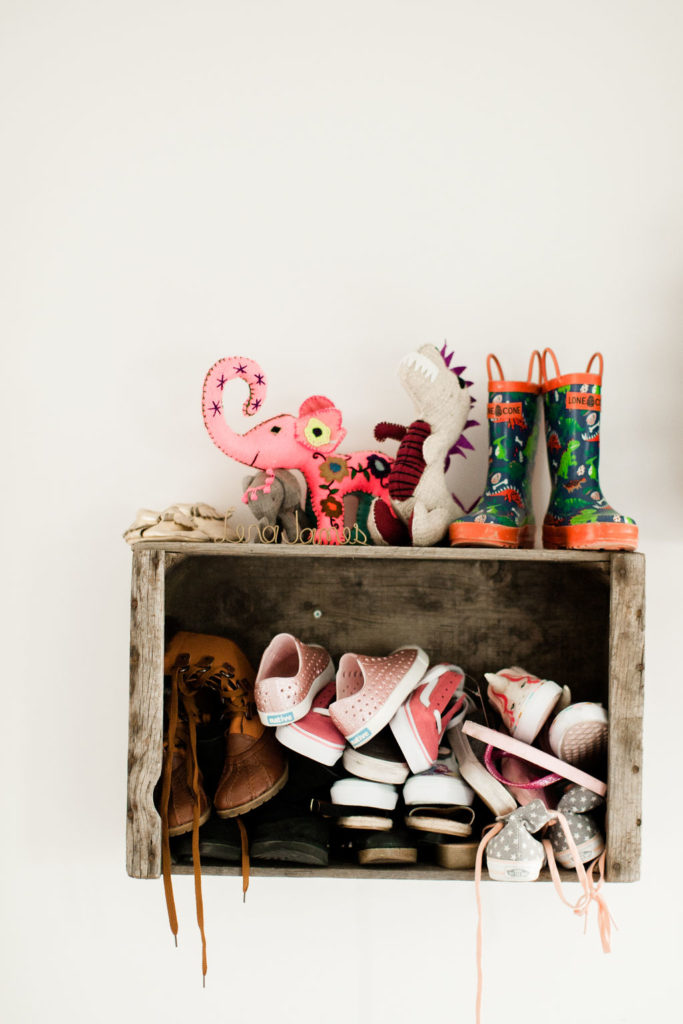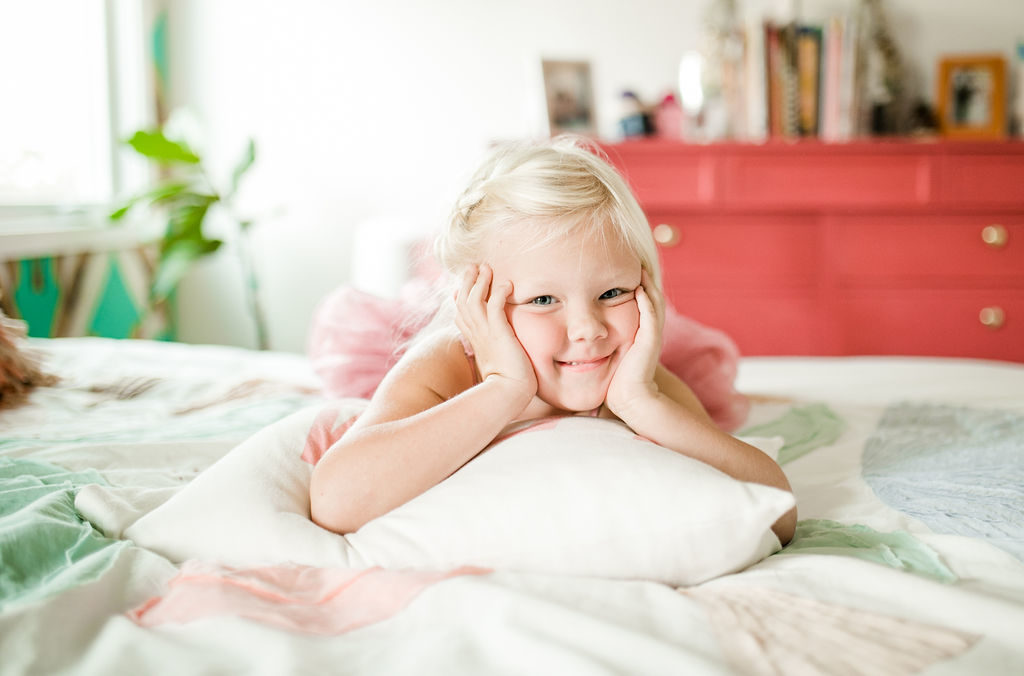 Any design tips to share with our readers?
I feel like staples should be staples and then go crazy with the accessories that you can change out. Have fun with it and go with your gut not someone else's opinion.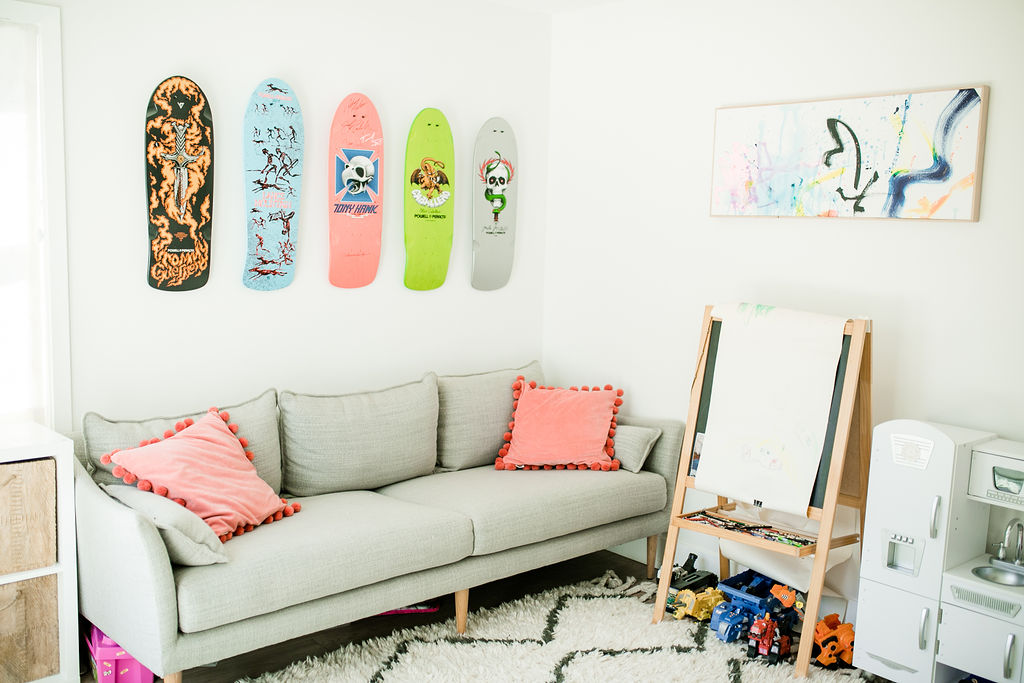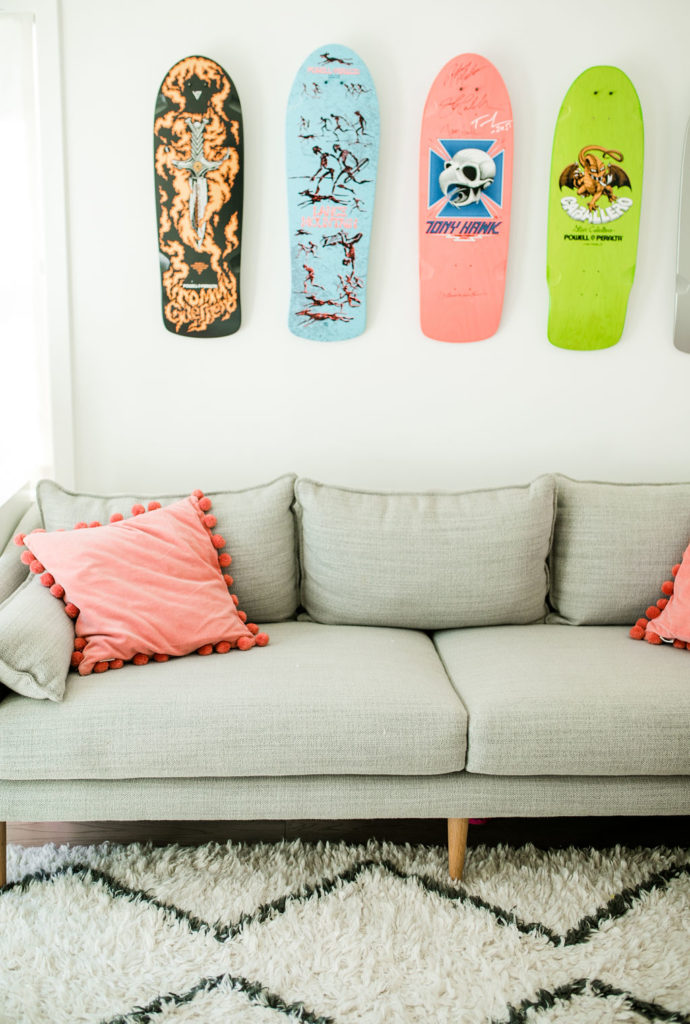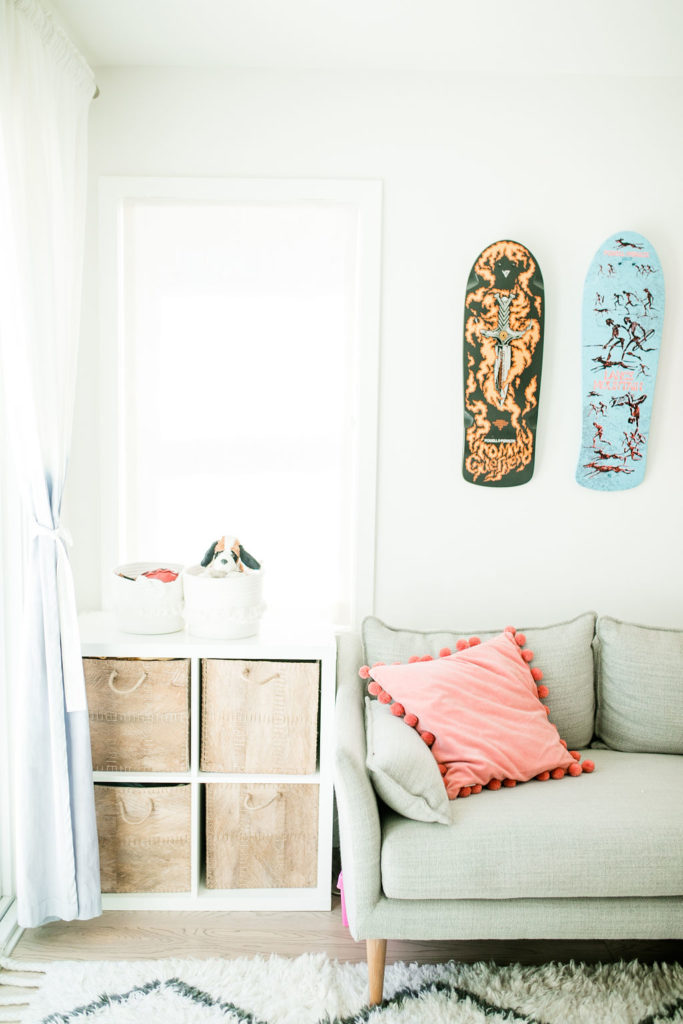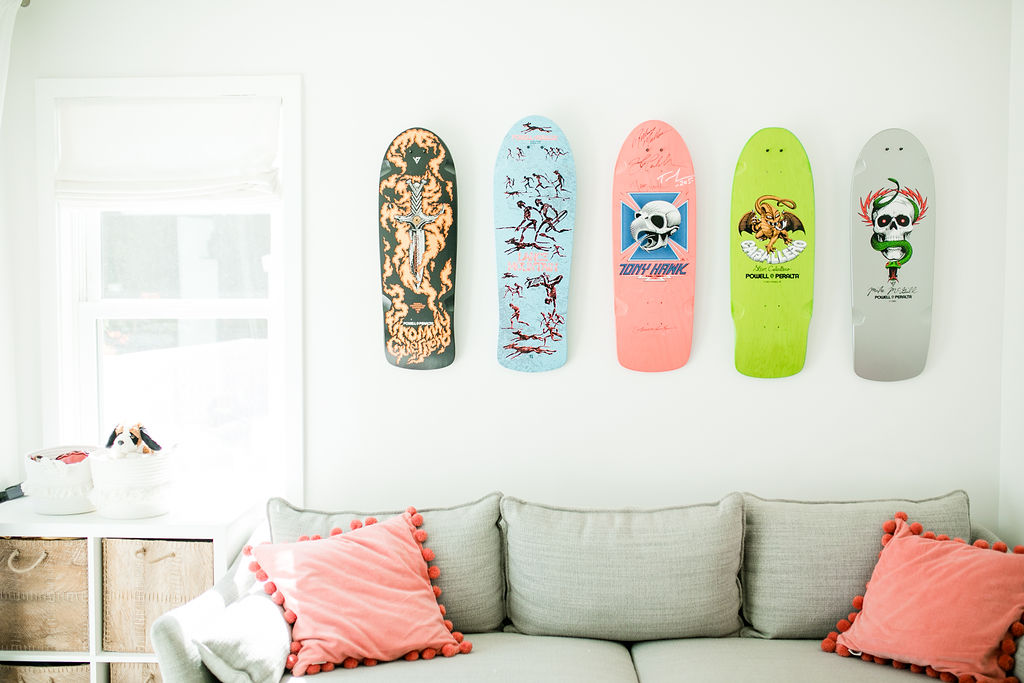 You decorated your home on your own, talk to us about that process… What did you love and hate the most?
We knew when we initially bought this house that one day we were going to do a major remodel. So we waited until we could do the entire thing at one time. I am an all or nothing person. I hated so many things about the house I knew I would be super frustrated if we couldn't get everything I wanted at once. We had no closets. It was a disaster. We only had 1 bathroom, equally bad. Our refrigerator was in the garage because the kitchen was so small. So I think the part I loved the most was committing to hitting a goal and being able to get it done.
We were blind to the process and we went all in. I loved working with the architect on the layout. I feel like I have a good eye for that. I could also look in tile stores for hours, I loved all the possibilities. It was super fun to be able to pick everything out, and then worry, hoping that it looked all pulled together when installed. That was pretty stressful. There were quite a few sleepless night over the details for sure.
Then we finished the house – and we had no yards! I didn't even think that we were going to have to worry about that for some reason. So that was stressful because we had a new baby and our new home was surrounded by dirt. Yards are not my thing. I couldn't for the life of me figure out what to do, it may have been the sleepless nights with a new child. Luckily I found Camille Beehler who has a great eye and she helped design EXACTLY what we were looking for.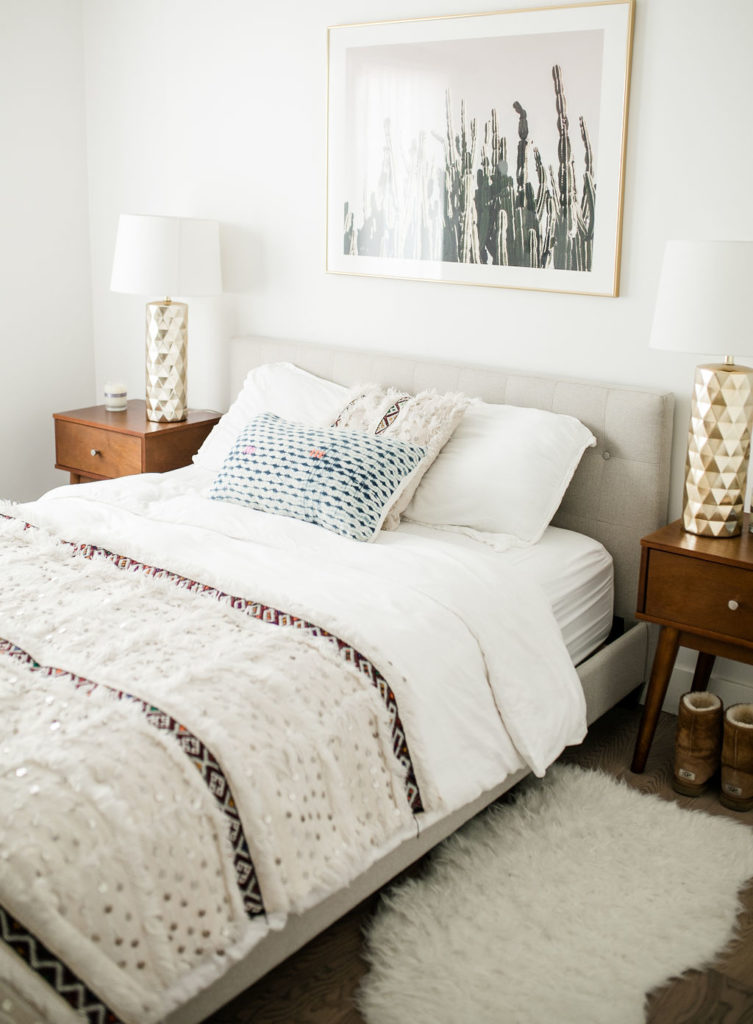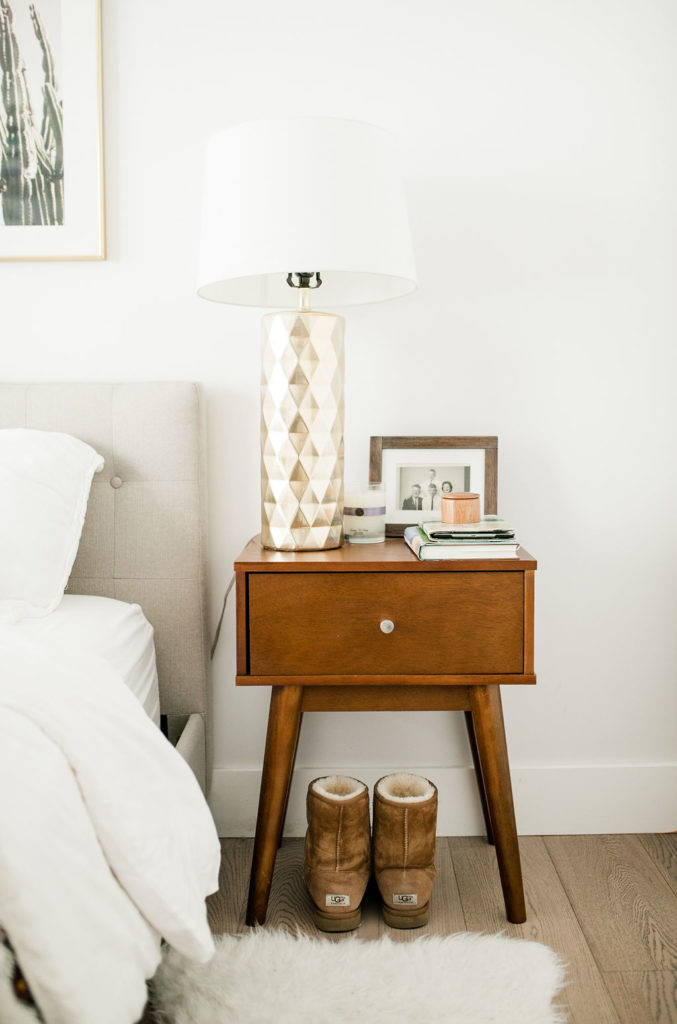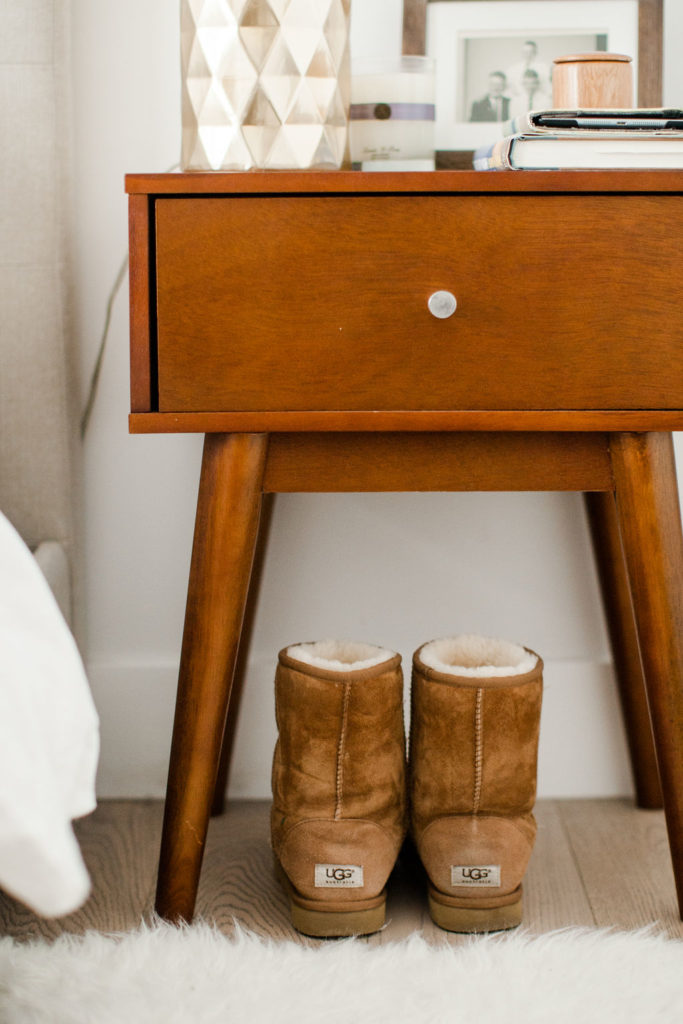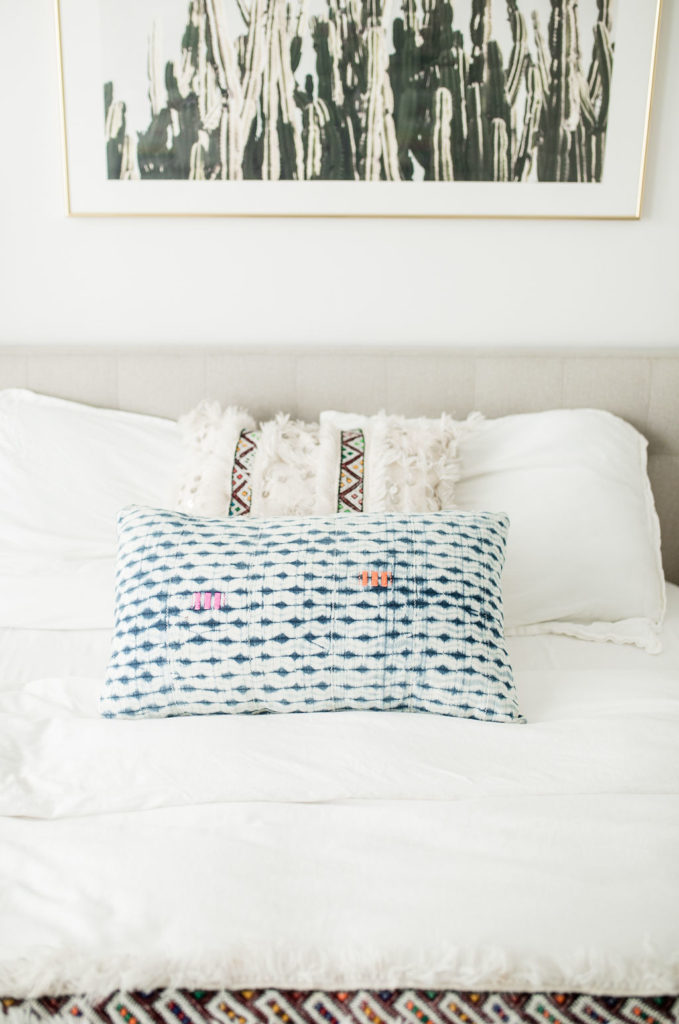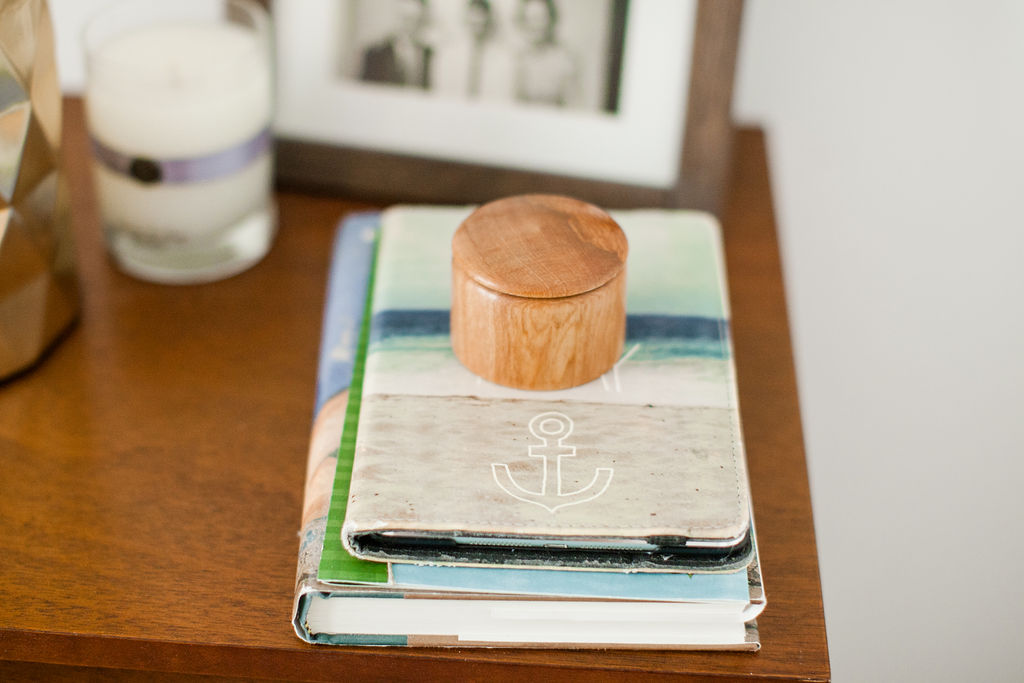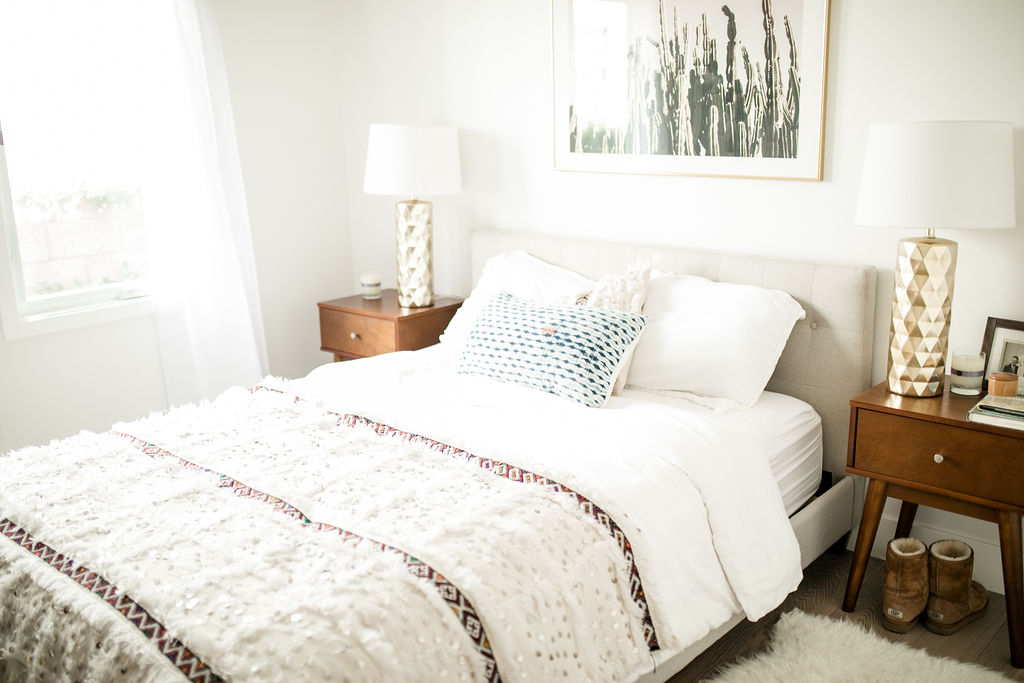 Talk about the design process with Camille and how trusting someone else to complete the final steps to making your house a home…
It was a really natural process, she was local to the area and understood the lifestyle in the area. Besides being one of the nicest people I have ever met, she is super passionate with what she does and a complete artist. We looked at the other homes she had done and we just knew that she would be able to figure out what we needed. Given she has done a ton of houses in the neighborhood, she really has the gift of making outside living complete. I had to trust someone else with this because I knew nothing about plants, as far as what lives and what doesn't in different climates. I had a few requests as to what I wanted but she seamlessly made it all cohesive. Word of advice, if you need help get it. You don't want to make a costly mistake trying to cut corners and do it yourself. Also – meeting with people and trusting your gut. Don't settle.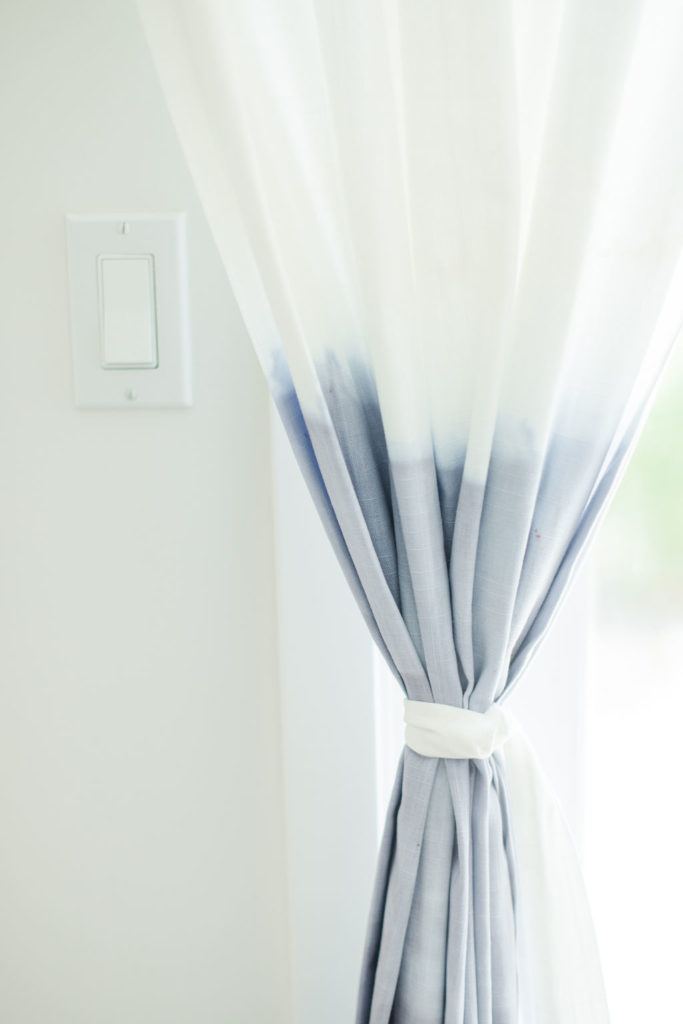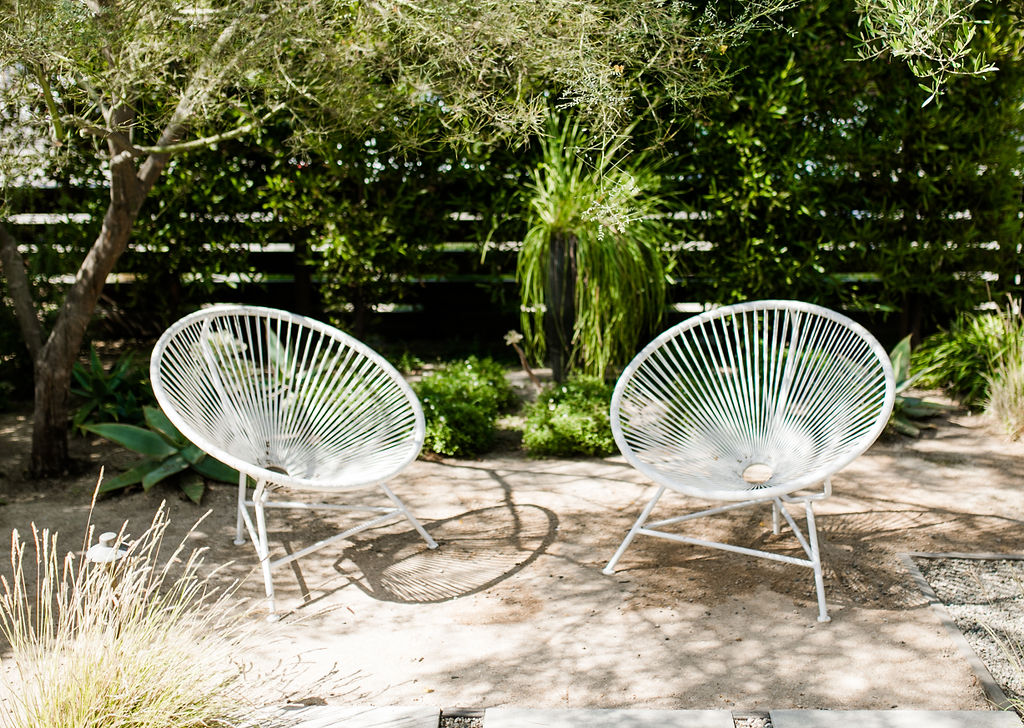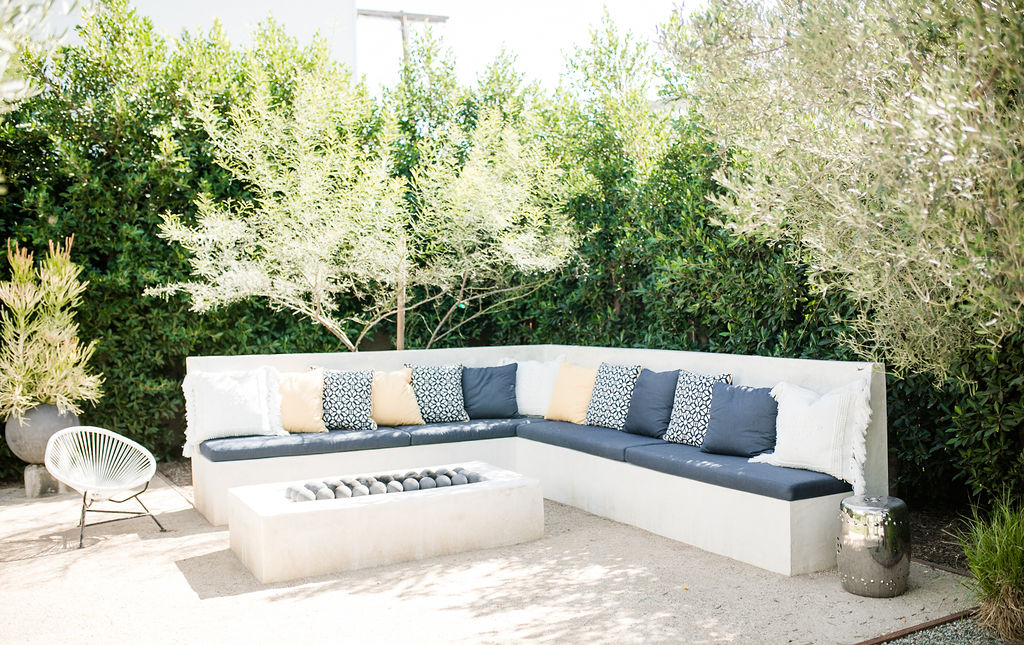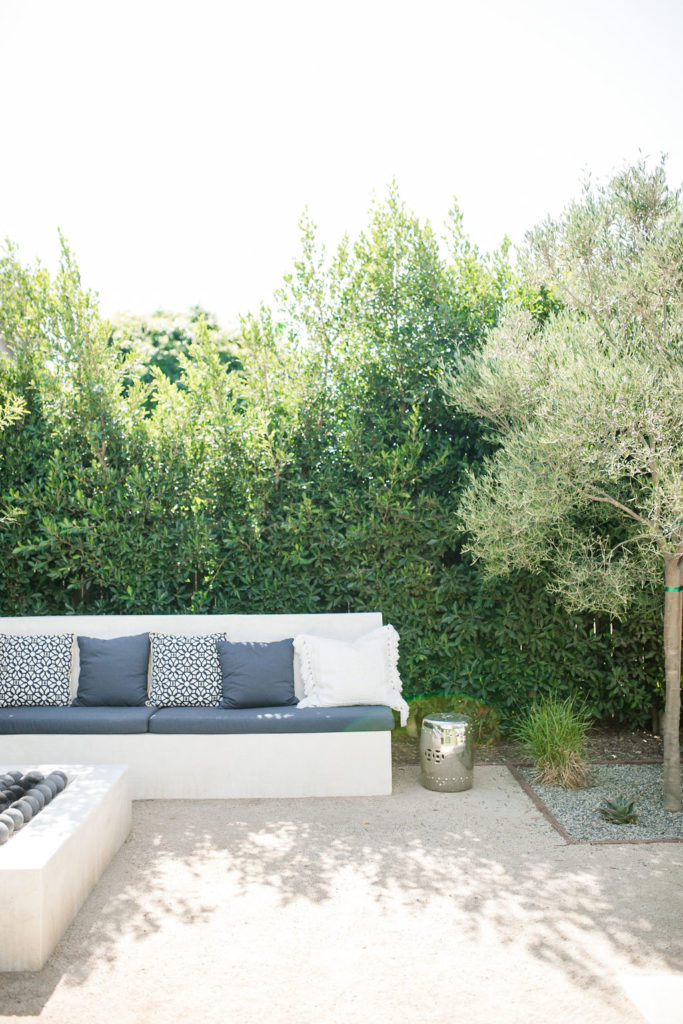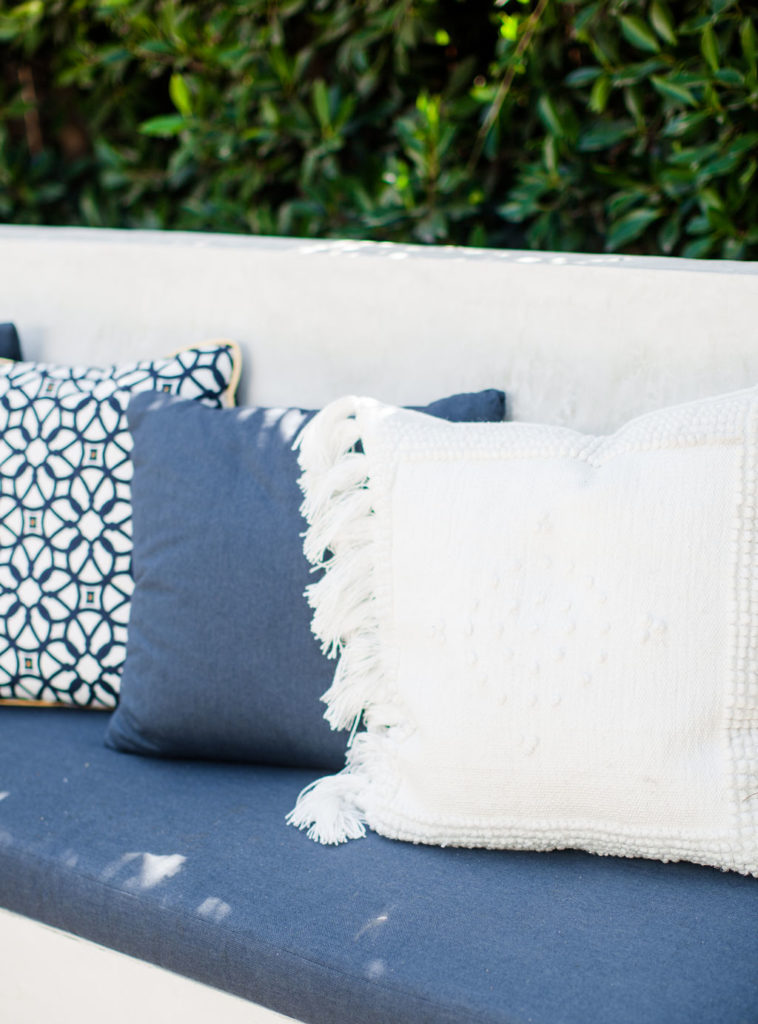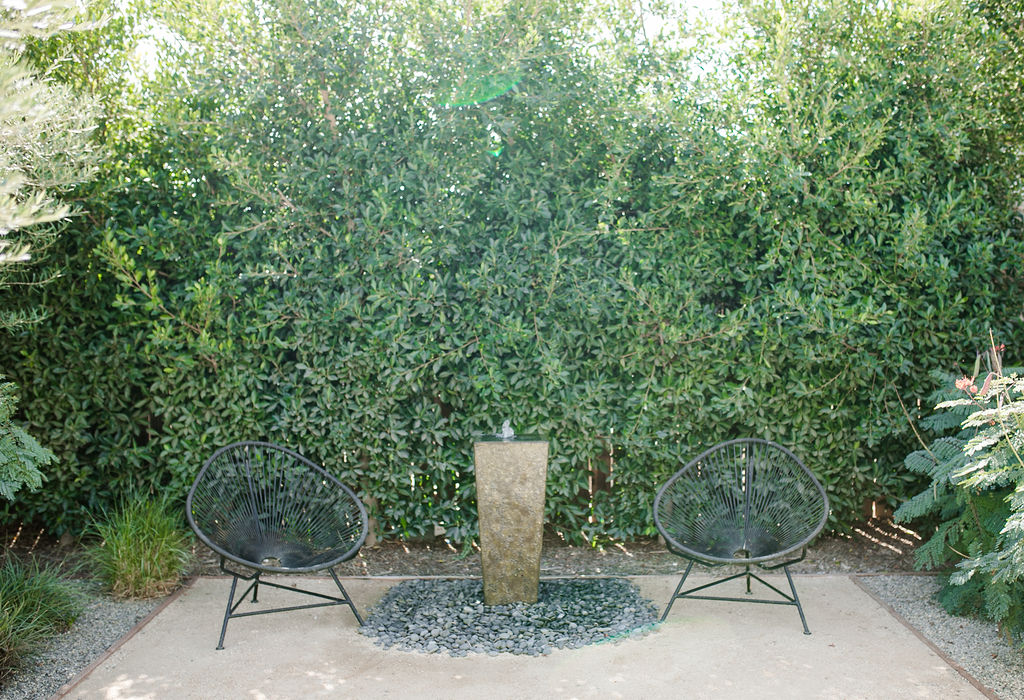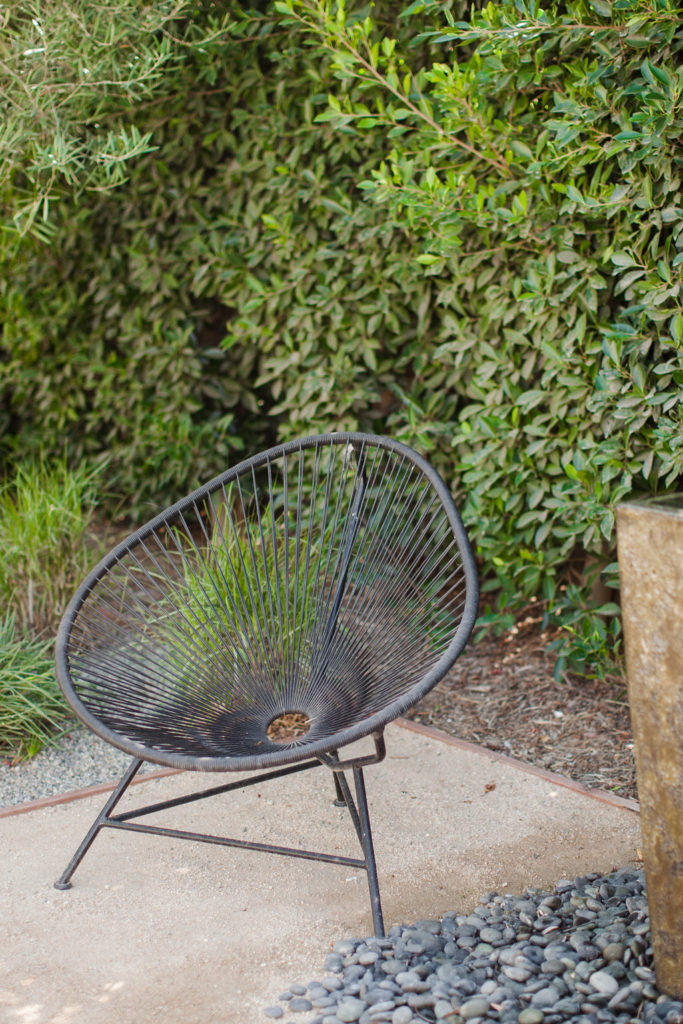 Why do you want to leave this gorgeous home?  I'm sure you are already scheming up plans for another stunner of a house!
For that reason exactly! Everything is done, there is nothing else left for us to do. I just need to add more to my plate I suppose. I work well under high stress.
I told you guys this was a good one!!!  The Schaumburgs have done an incredible job, down to the last detail!!  Thank you for sharing with us Kevy!!!
xx
Jacquelyn