We've been sharing magical parties left and right lately and today's is no exception! This is the backyard party of any girl's dreams, complete with our favorite Unicorn theme!! This time our inspiration came from Sophistiplate's new kid's Unicorn Dreams Come True collection and it's so adorable. With a pretty color scheme of pinks, blues, and golds on their die-cut plates and their beautiful blush glassware what's not to love? We had so much fun with this one and loved creating the perfect party to showcase all that gorgeous tabletop. Wait till you see the little ladies having a blast, this one is just so darn cute and my friend Blaire Going captured it that pretty backyard light in the best way! See it all below…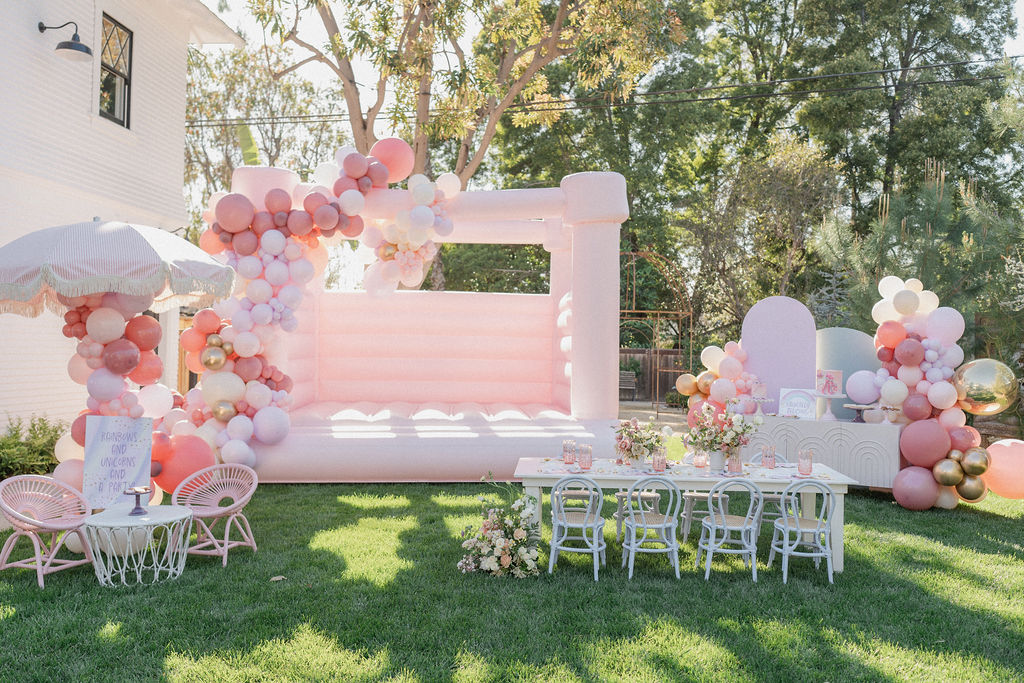 Let's start with the prettiest little invite from Poppy Jack Shop! This one was so fun to style and she did the most adorable acrylic place cards with tinsel, I love them!! Those cocktail stirrers were the perfect touch, just add in some confetti and it's a party!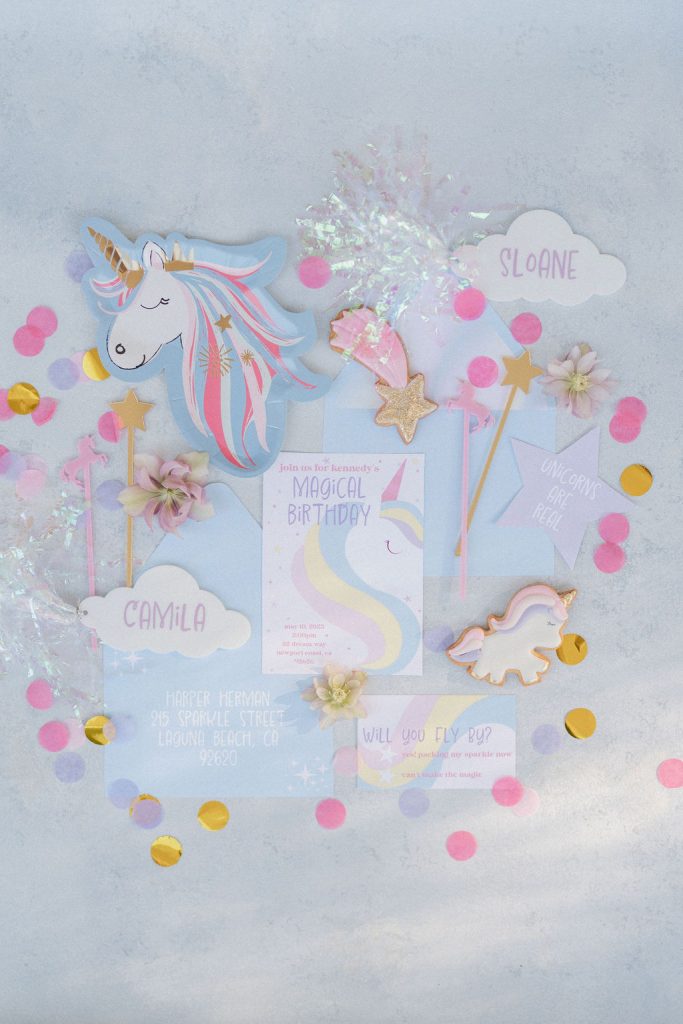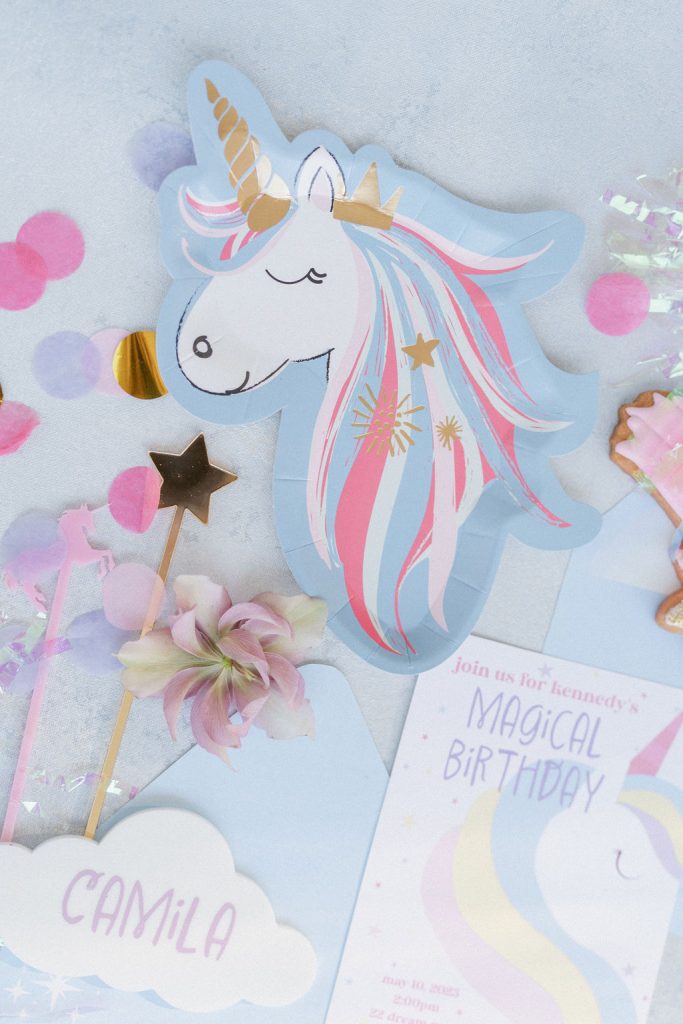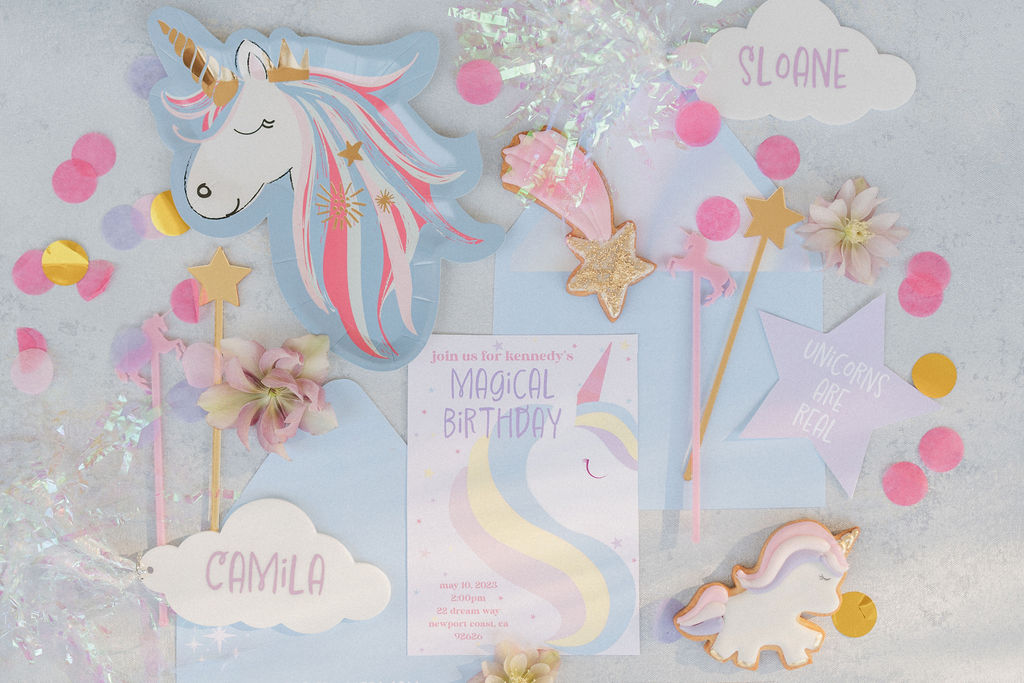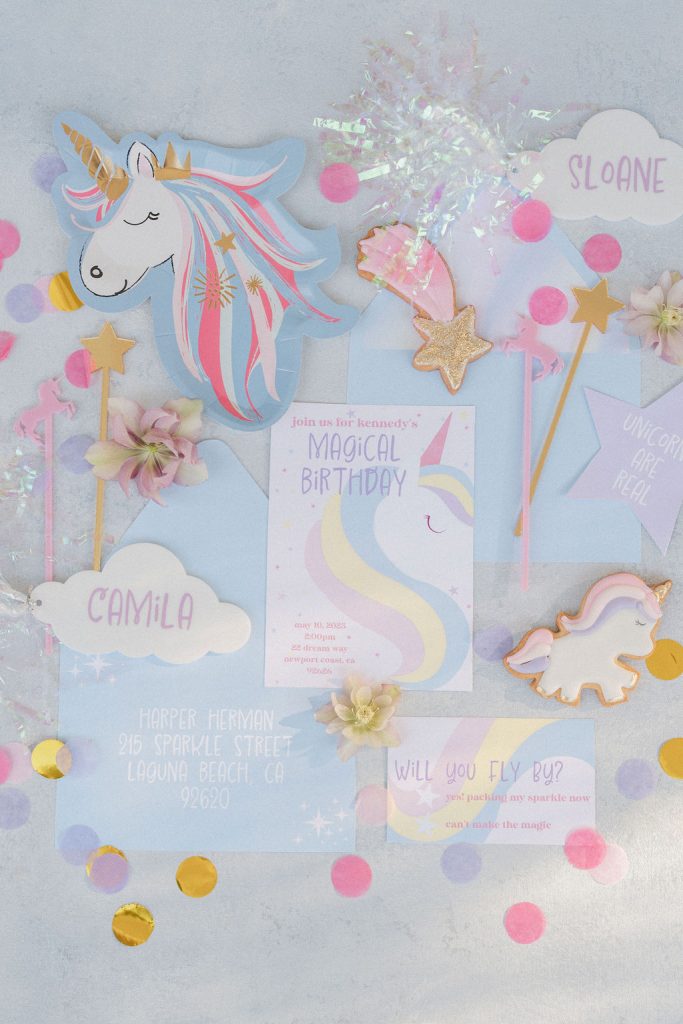 The scene was set in the most gorgeous backyard ever, my dear friend Marnie's who owns Sweet Salvage Rentals. It's always a treat being at her house! We had this adorable sitting area complete with the prettiest pink umbrella, lots of balloons, and the cutest new pink chairs. Plus, the perfect welcome sign by Poppy Jack to complete it.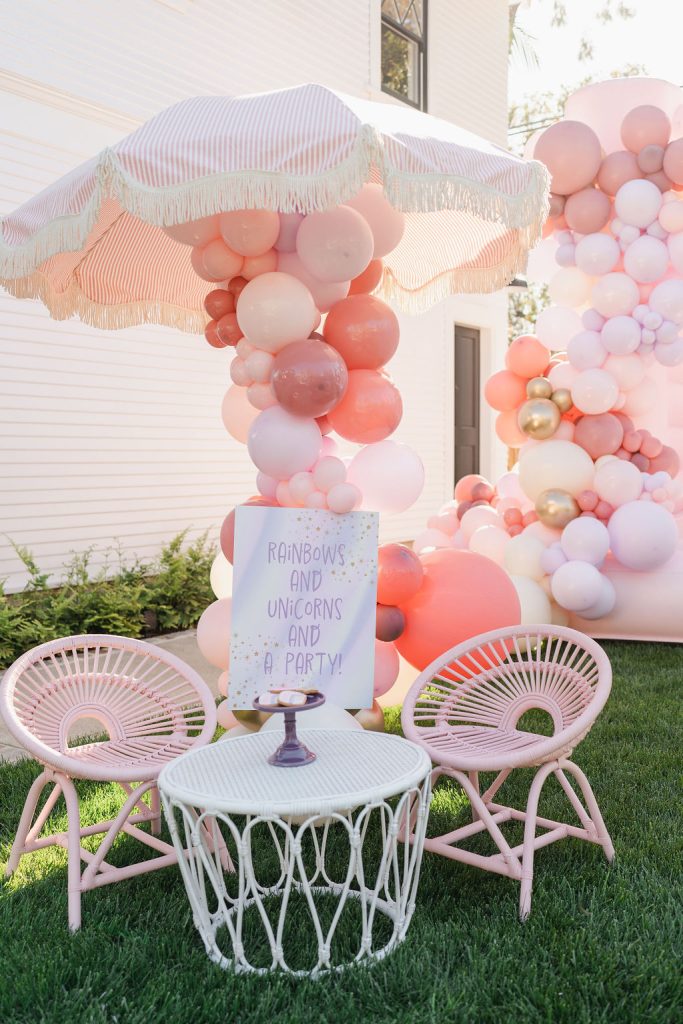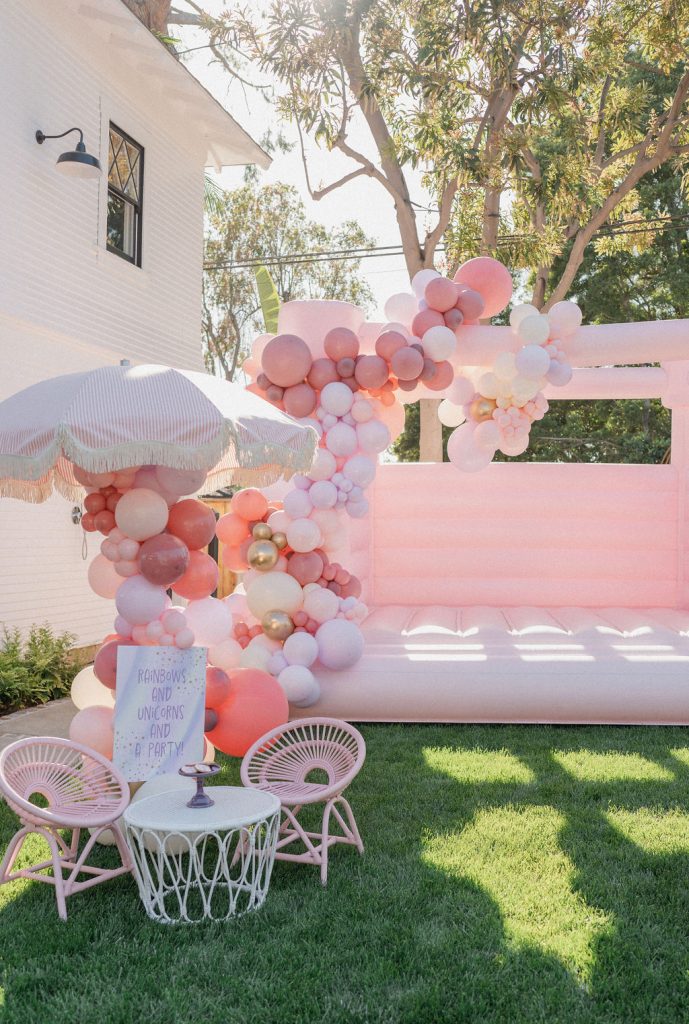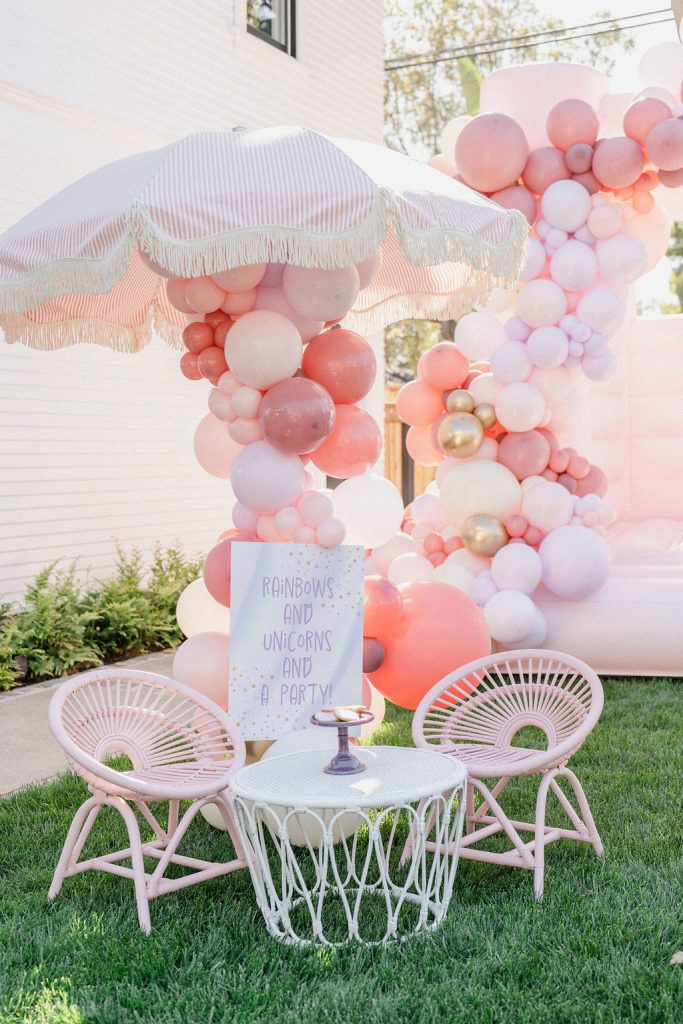 We also had this amazing pink bounce house from What's Bouncing adorned with ALL of the balloons from The Pop Shop. It's such a great addition to any party – it serves as a wow statement, backdrop to your table, and a fun activity for the kids!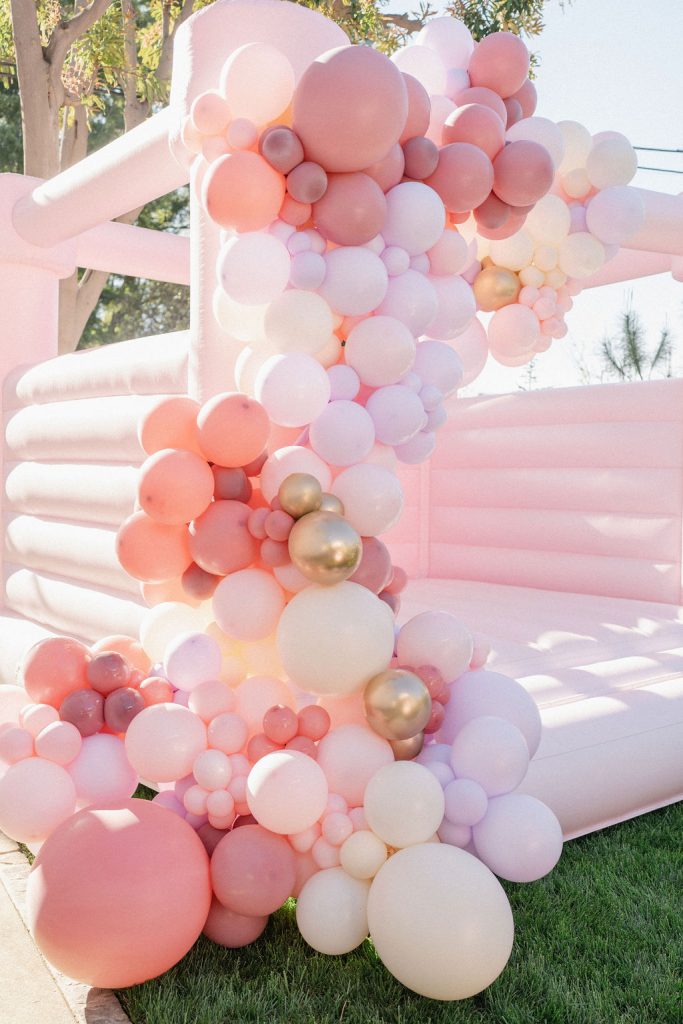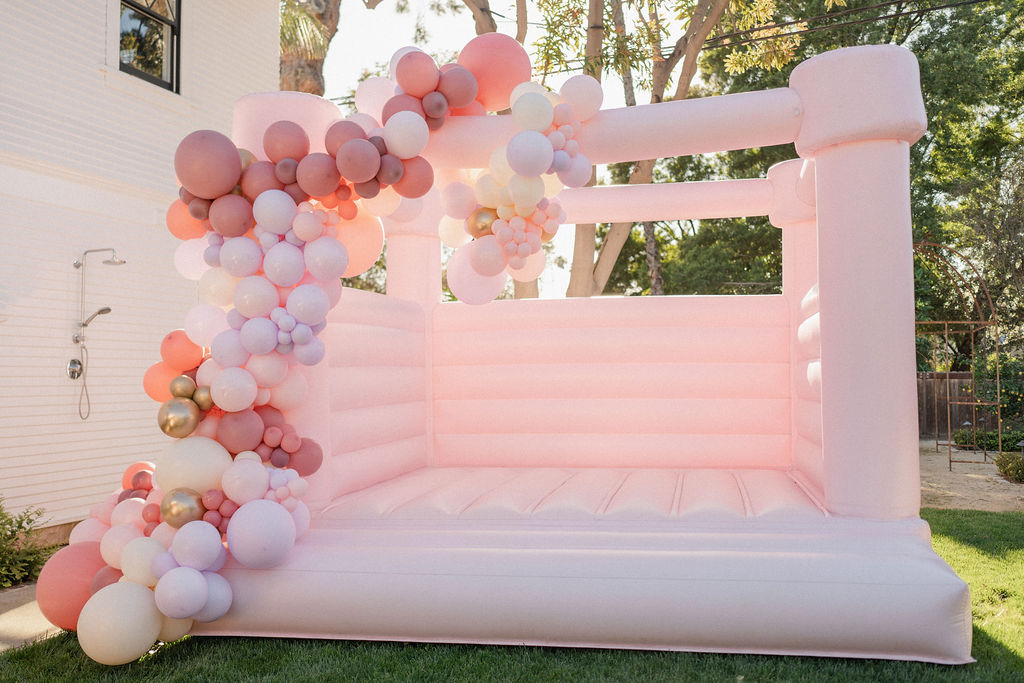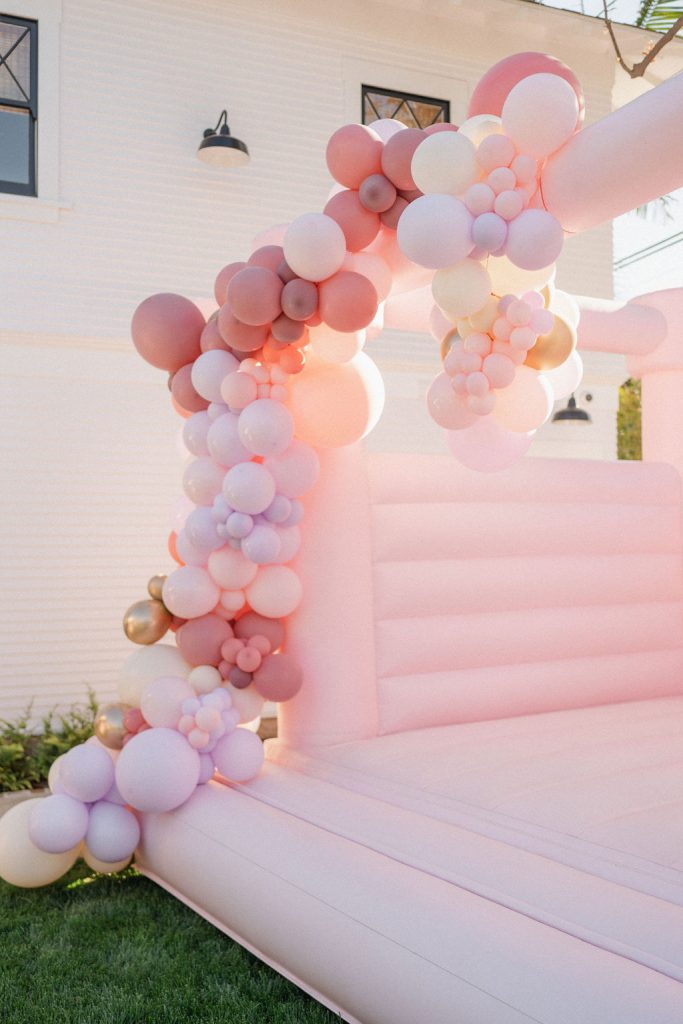 Onto the rest of our pretty set up! I love this table so much! Sweet Salvage Rentals has so many adorable new kid's chairs and these are some of them! That lavender color is just so dreamy. And I love this table from every single angle.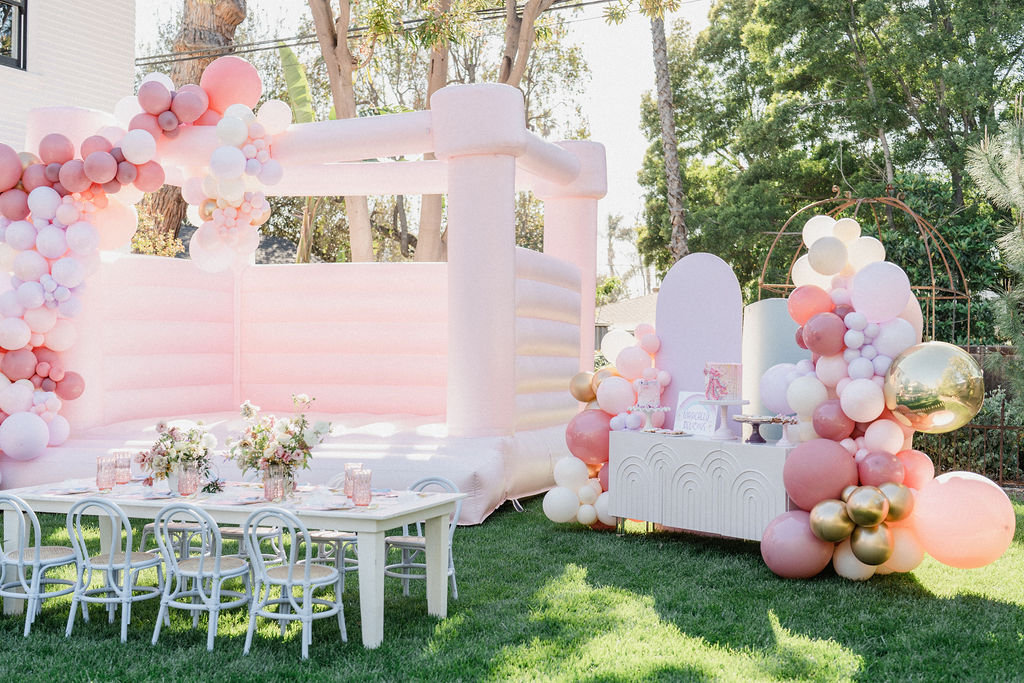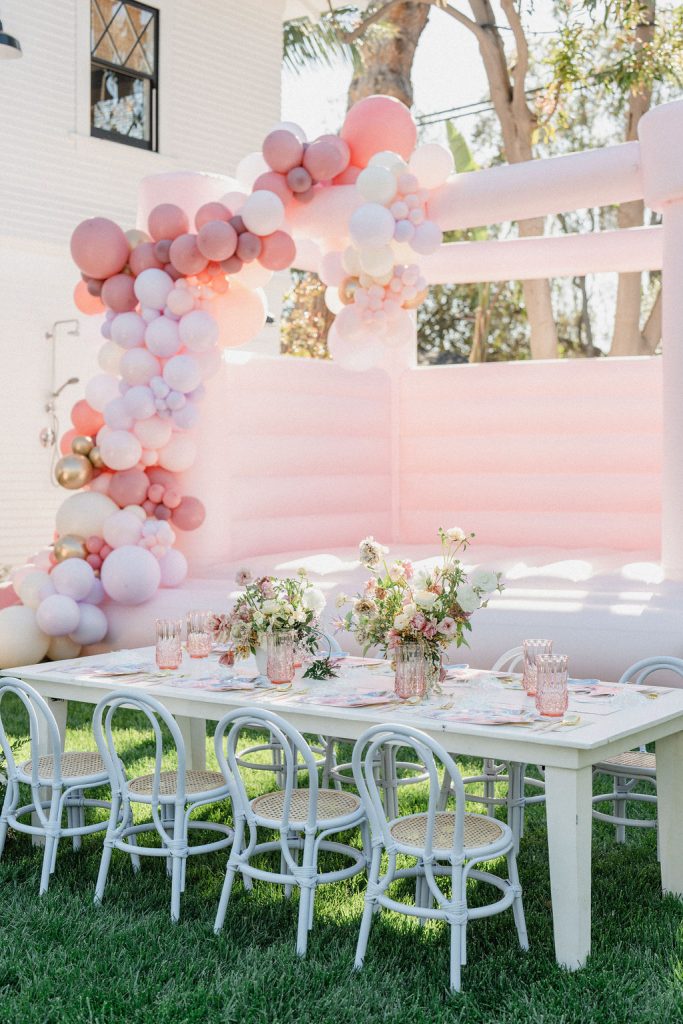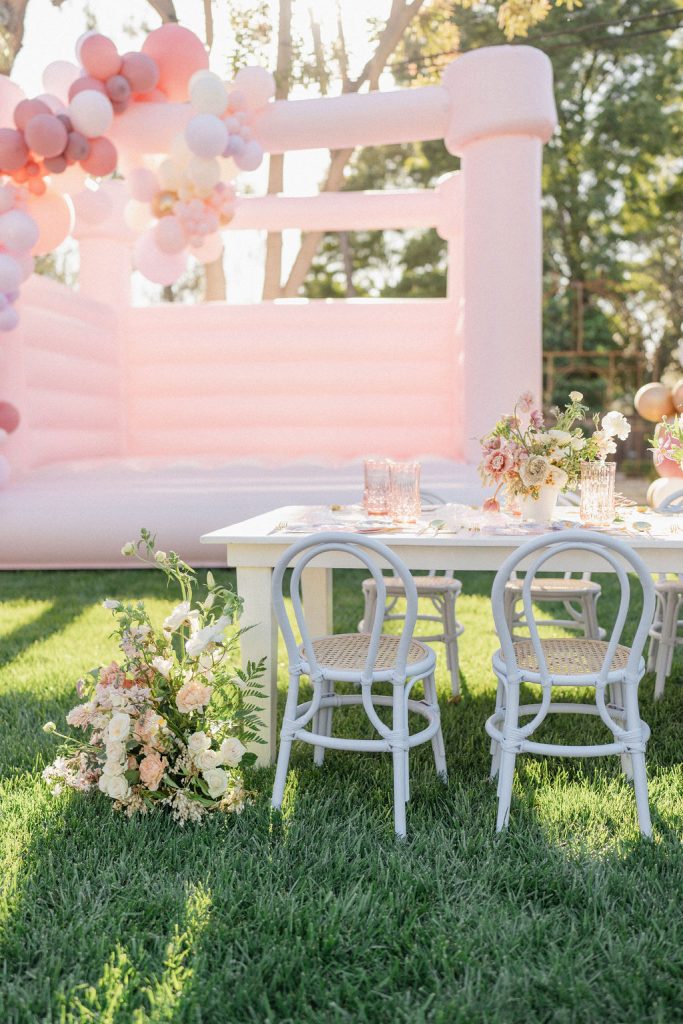 All of the gorgeous flower arrangements you see are from Earth & Grace, and they are so ethereal and pretty!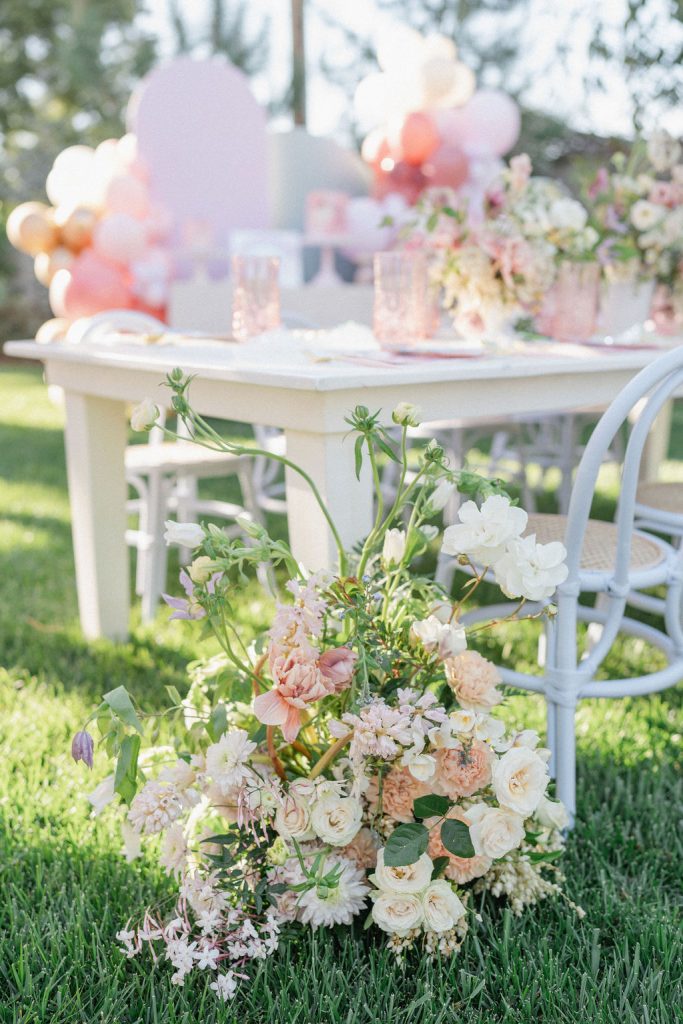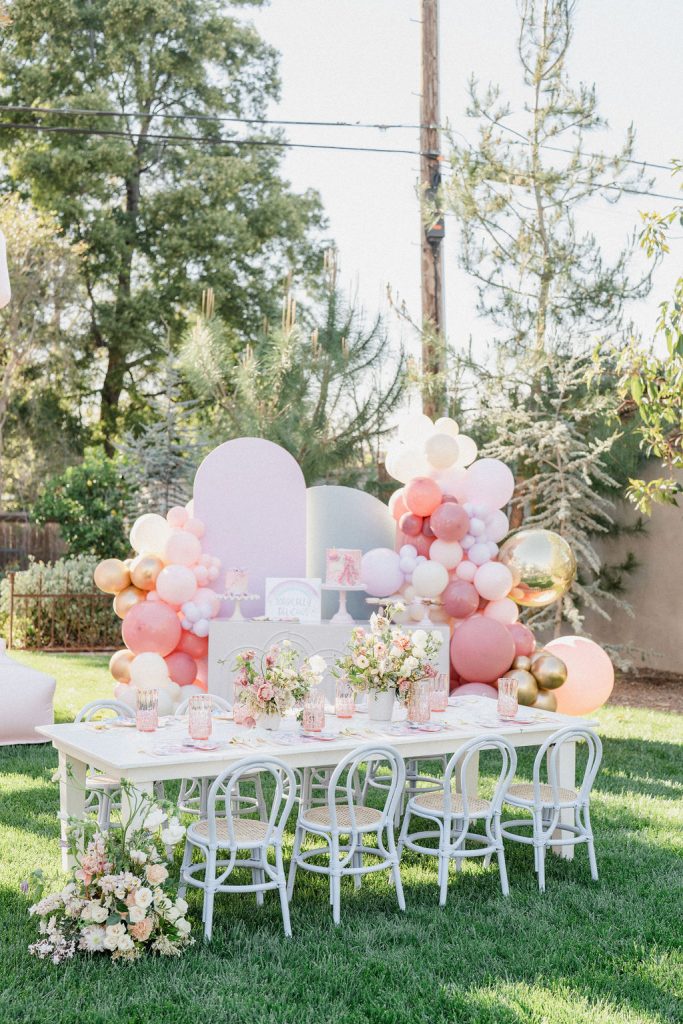 There's those adorable plates from Sophistiplate! How cute are the two die-cut plates paired together? Paired with the gold detailed napkins and their famous Bella Flatware – a forever Beijos favorite! Oh, and seeing those Poppy Jack Shop cocktail stirrers on the table definitely adds to the magic.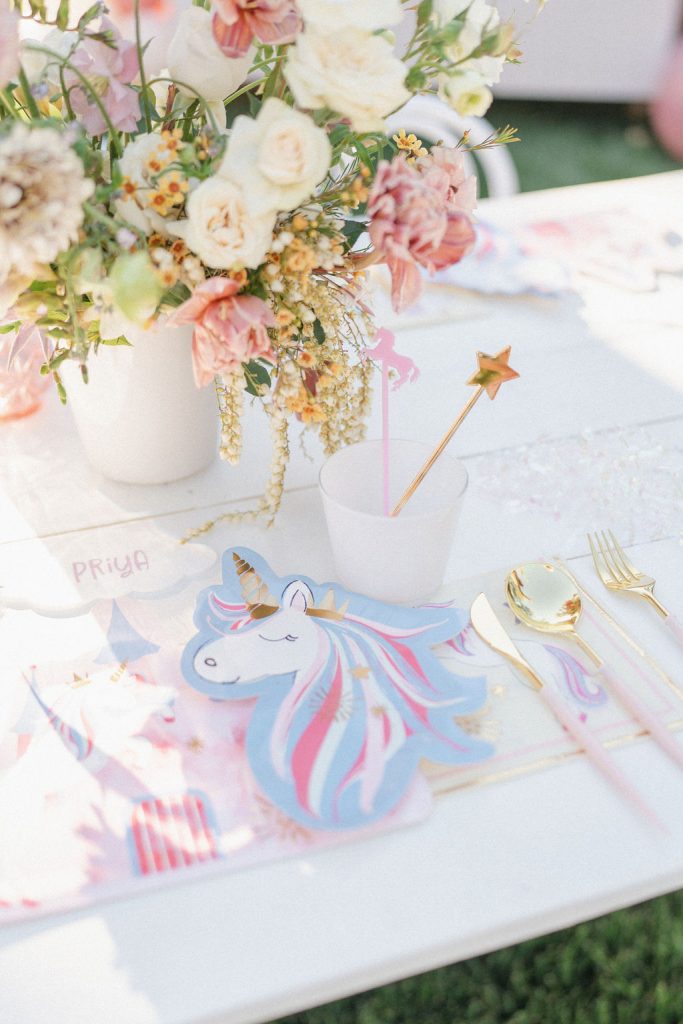 I mean…. How pretty is that?!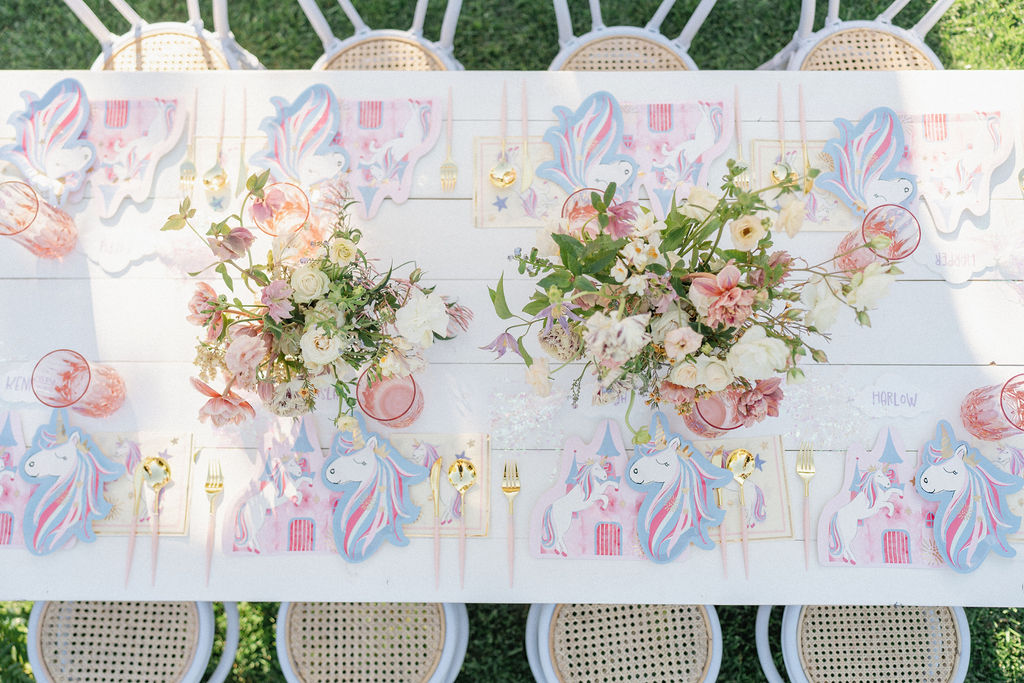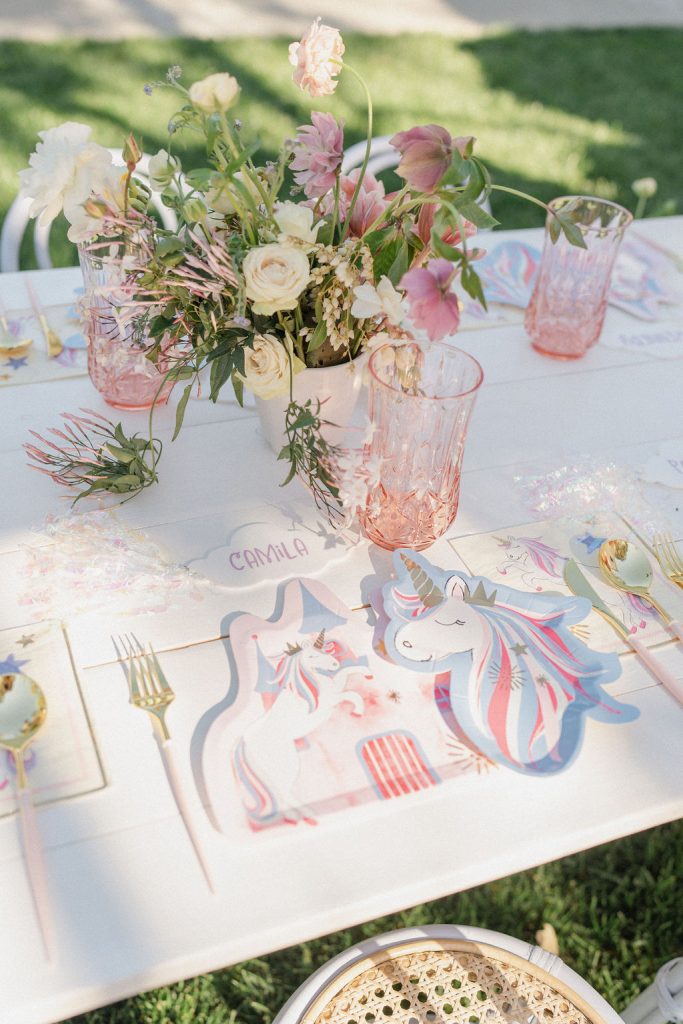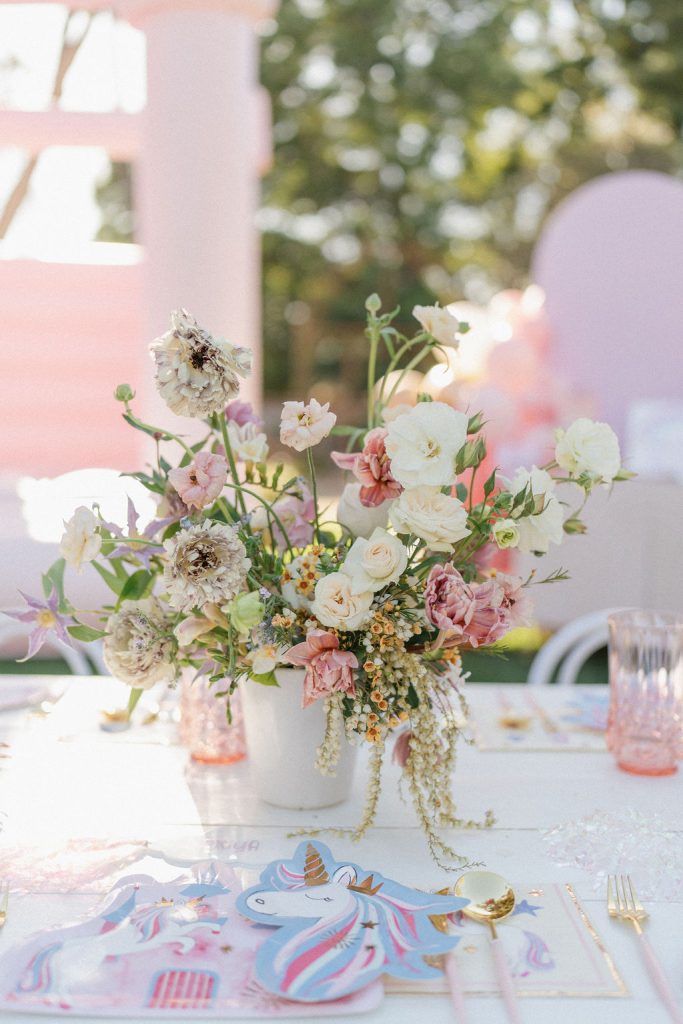 I have one word for you… Wow!!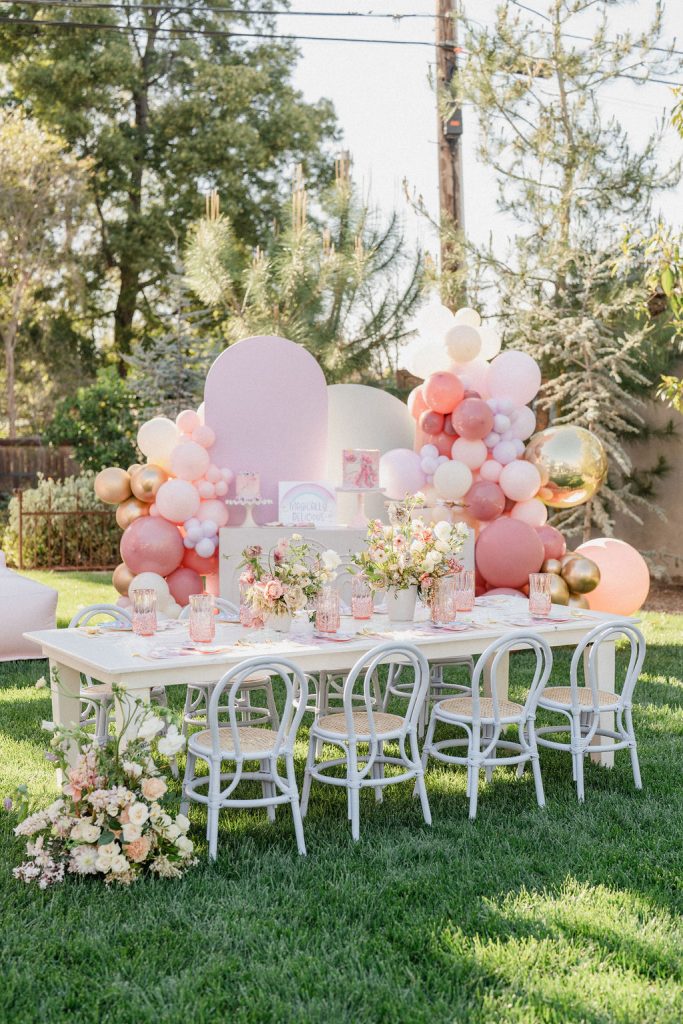 Onto desserts and Sheila Mae knocked it out of the park! This cake is just so adorable and I also loved those cloud macarons. Wait till you see us cut the cake though, that's when it's REALLY impressive!!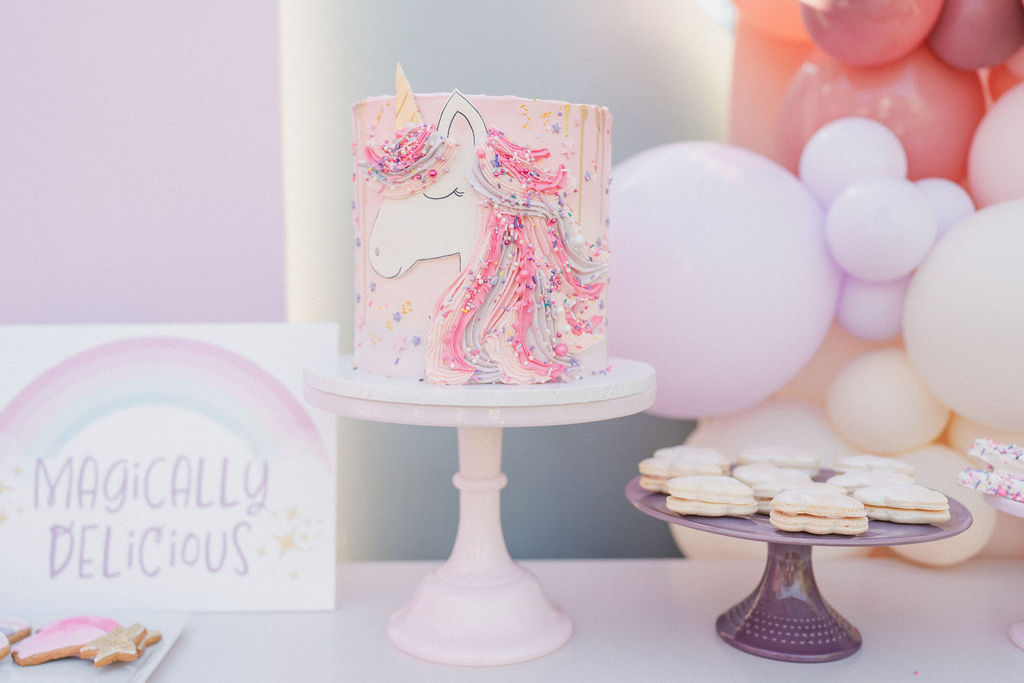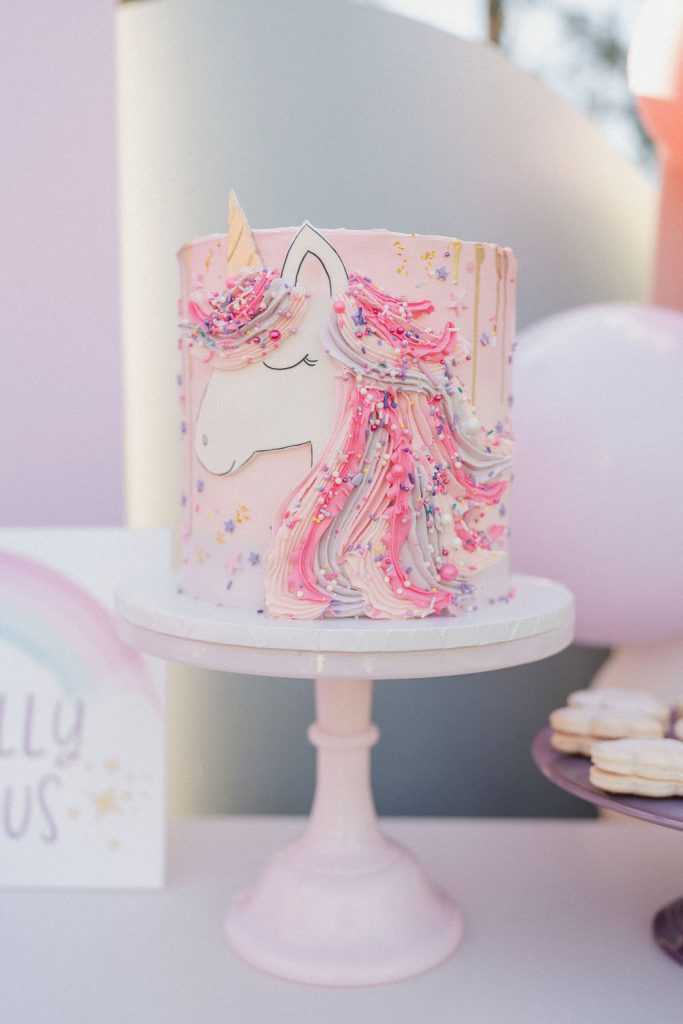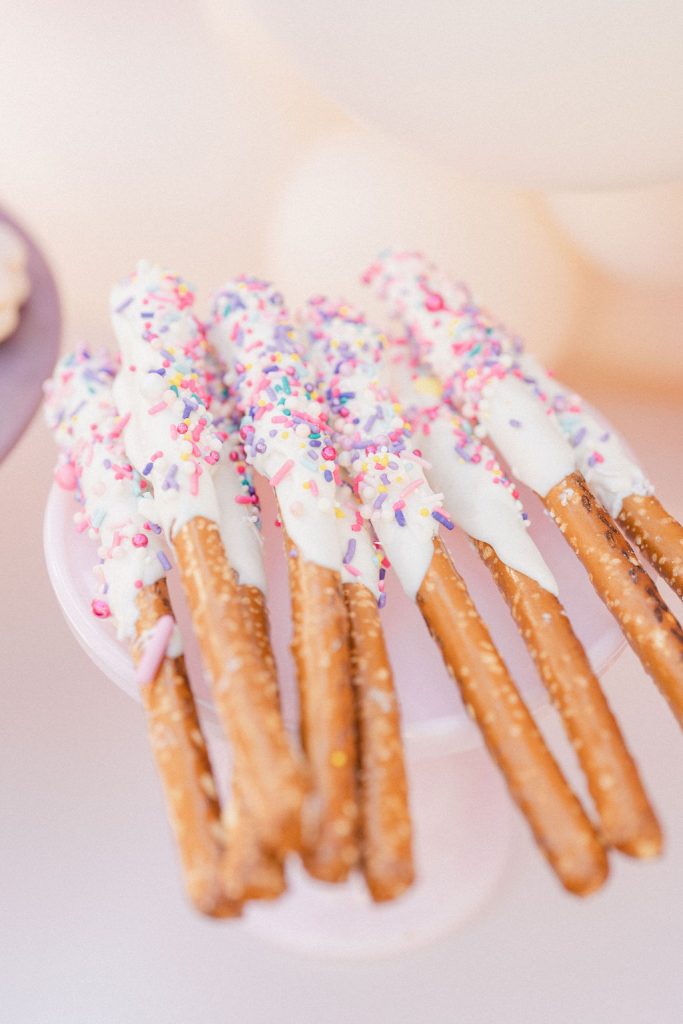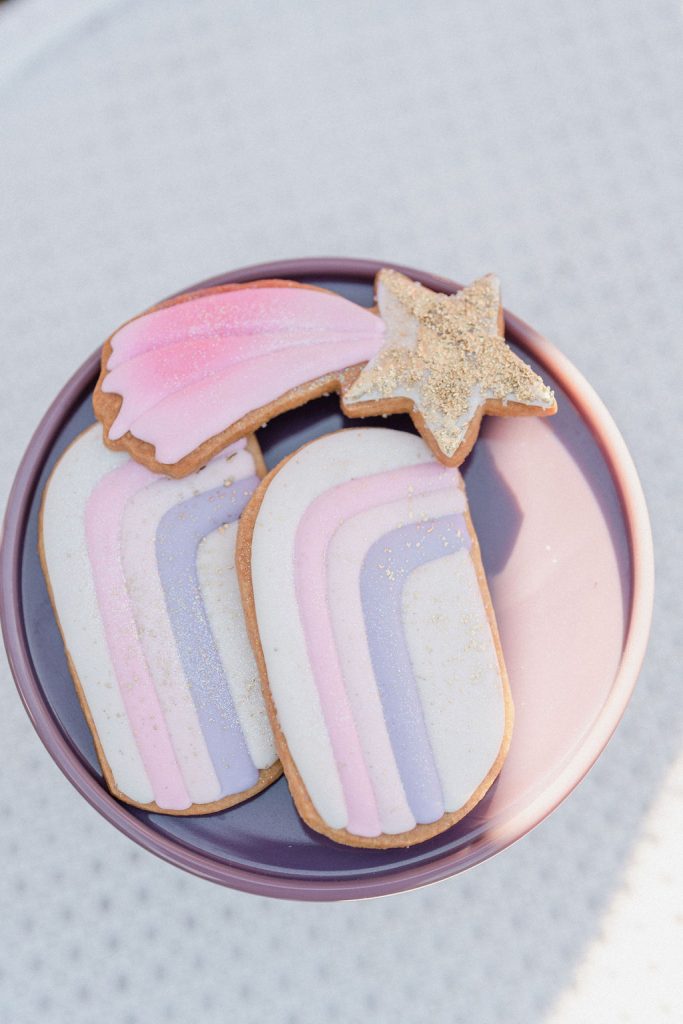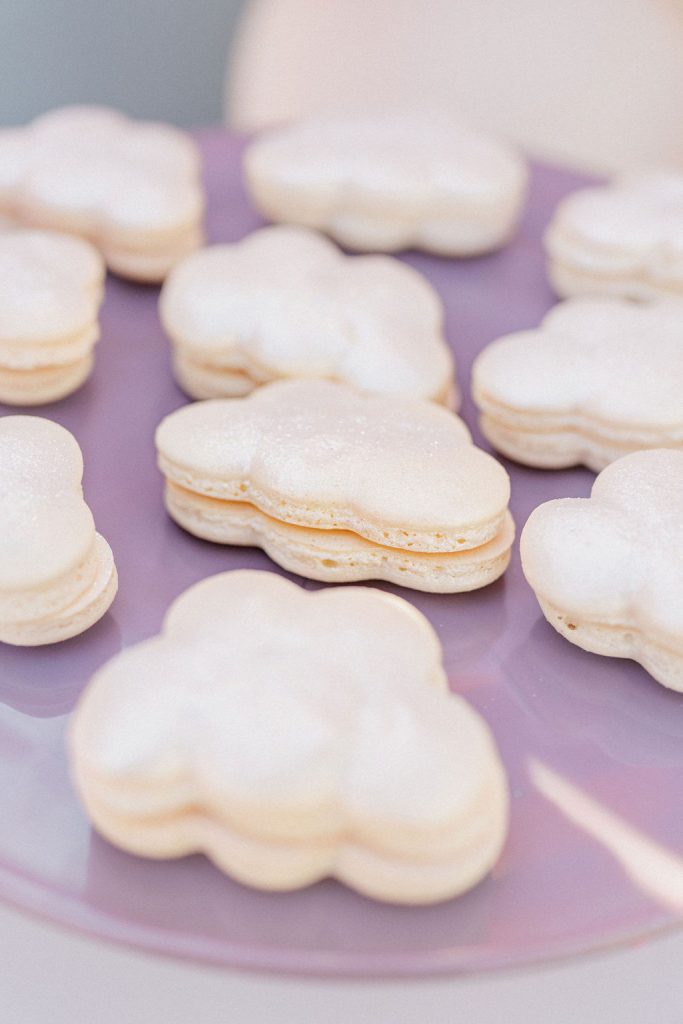 Another picture perfect sign by Poppy Jack Shop!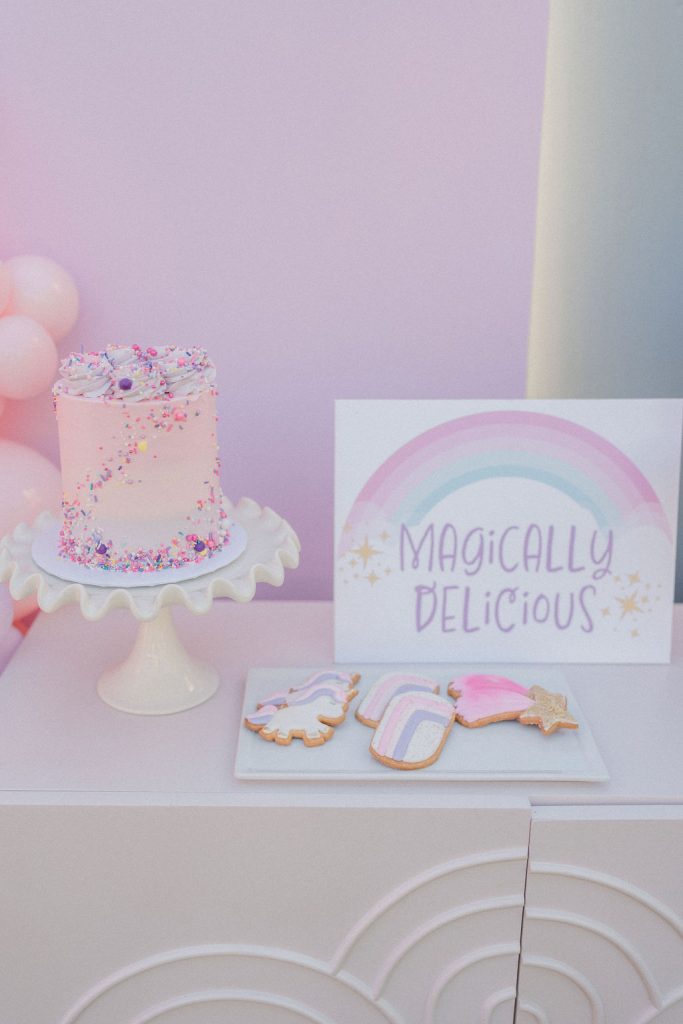 And yep… those Wild & Rae dresses are looking really pretty… That sunset light is just so pretty too!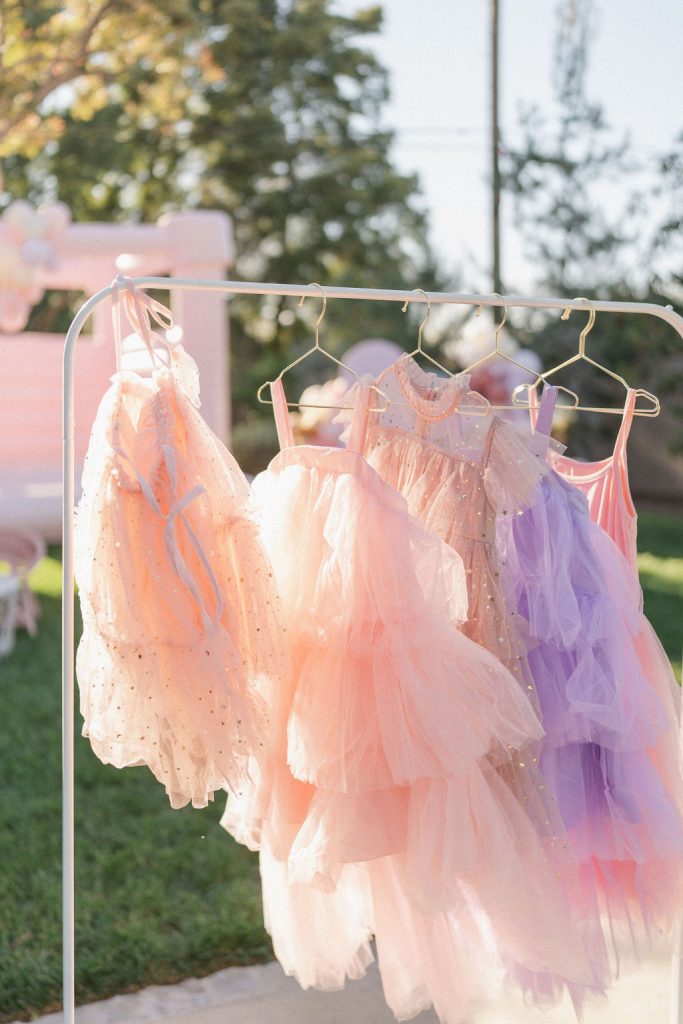 The first girls to arrive were checking out our set up, and I think they liked it!!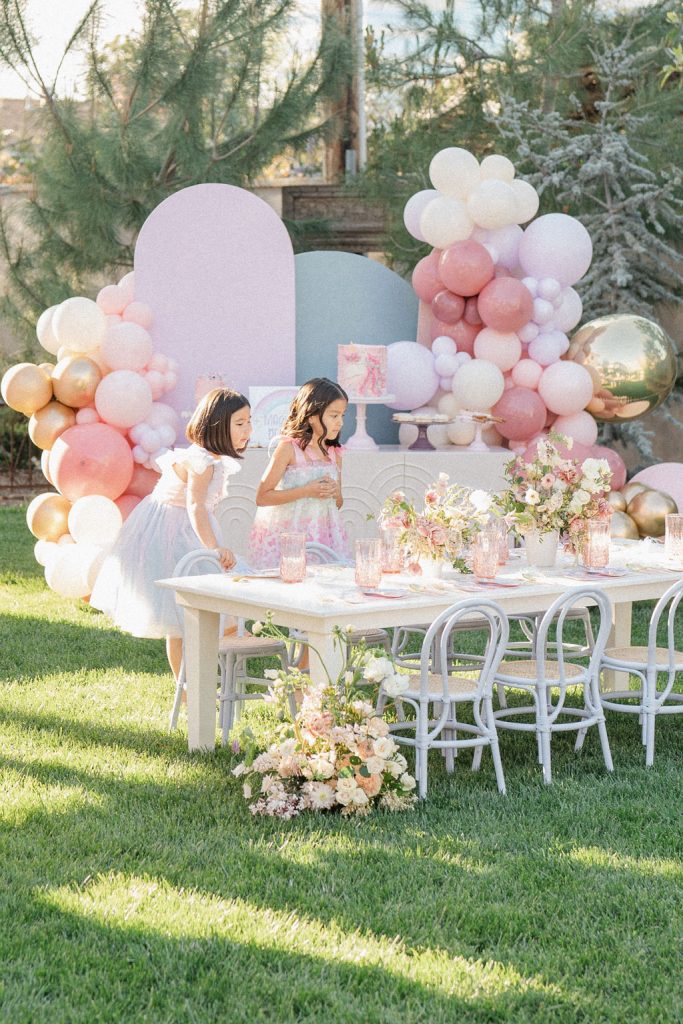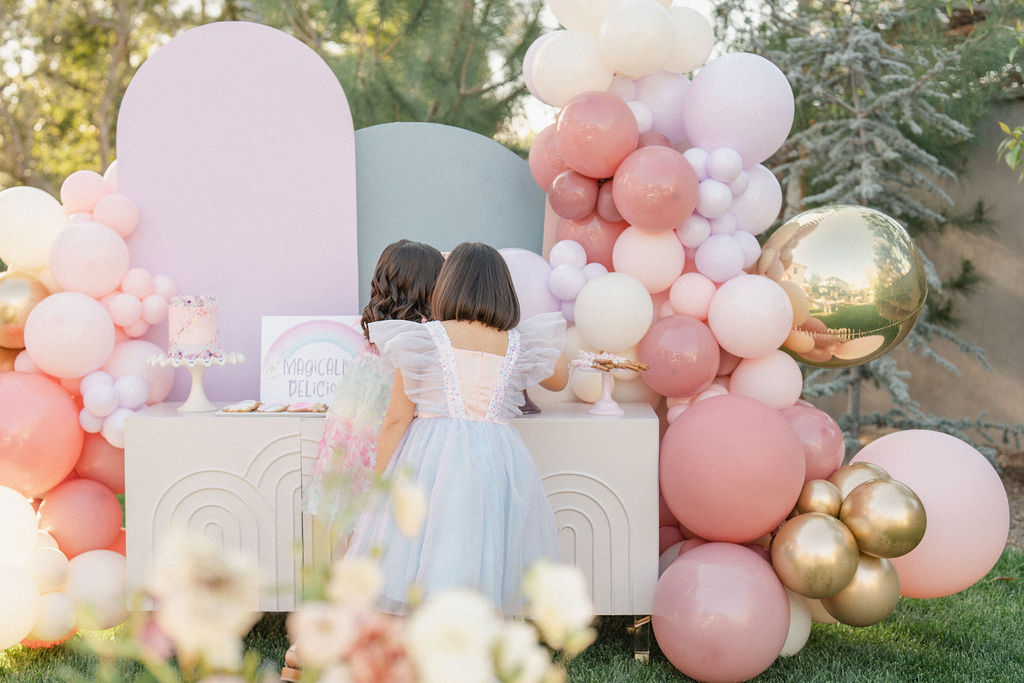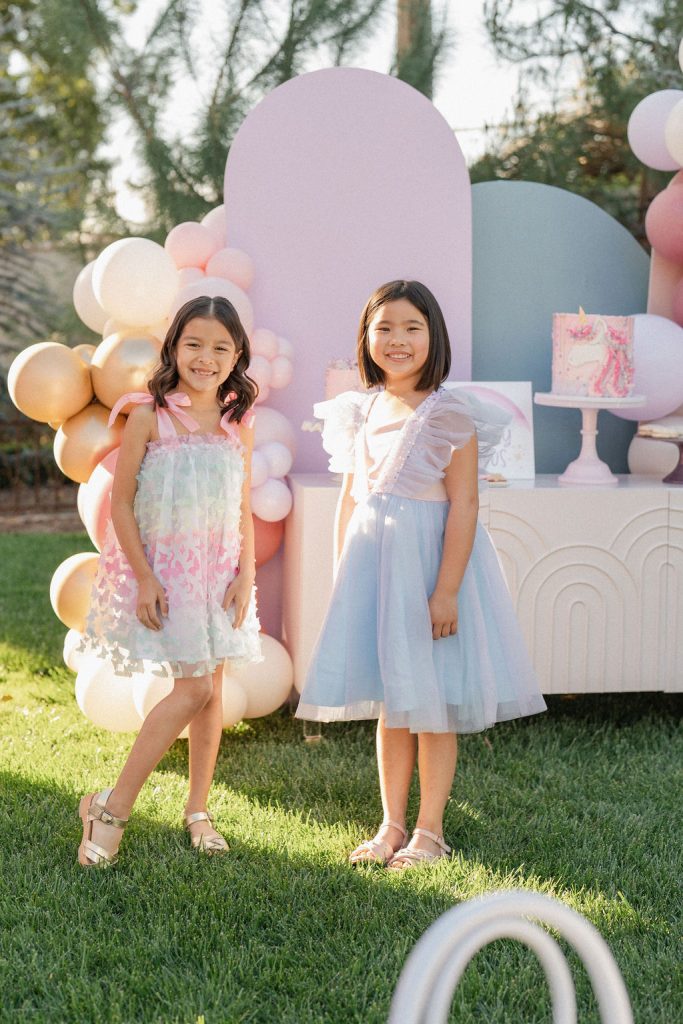 Time to add in the rest of the crew!!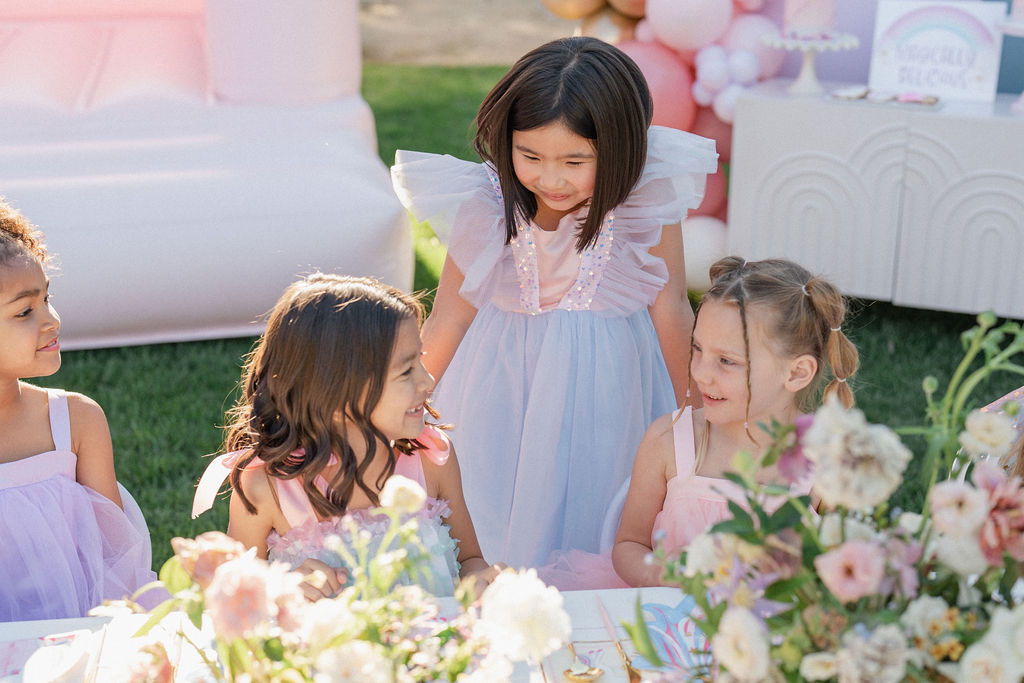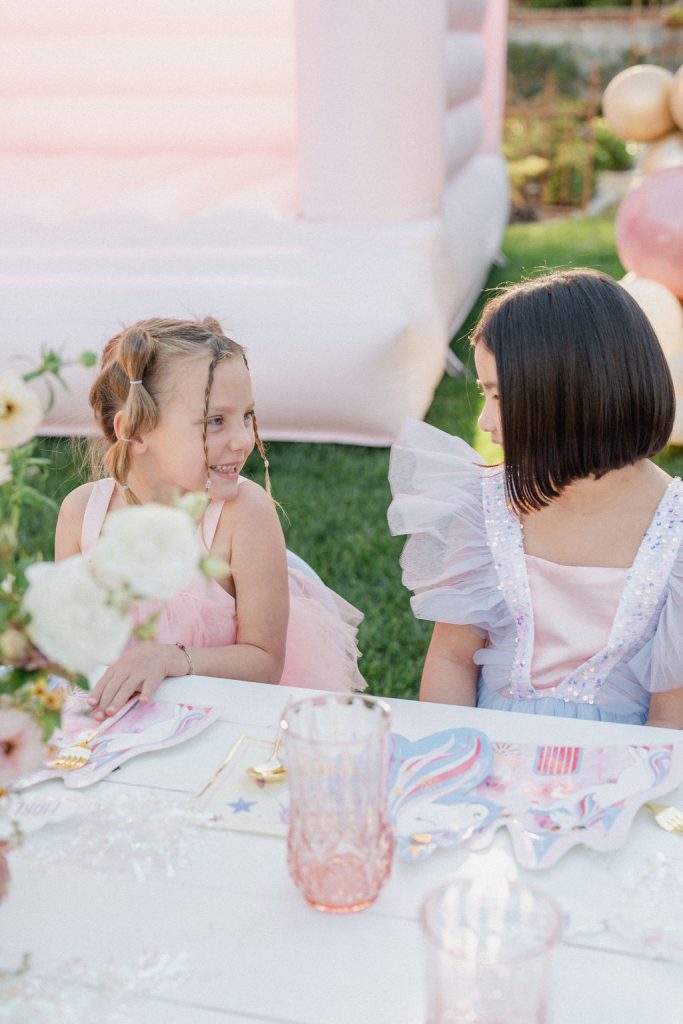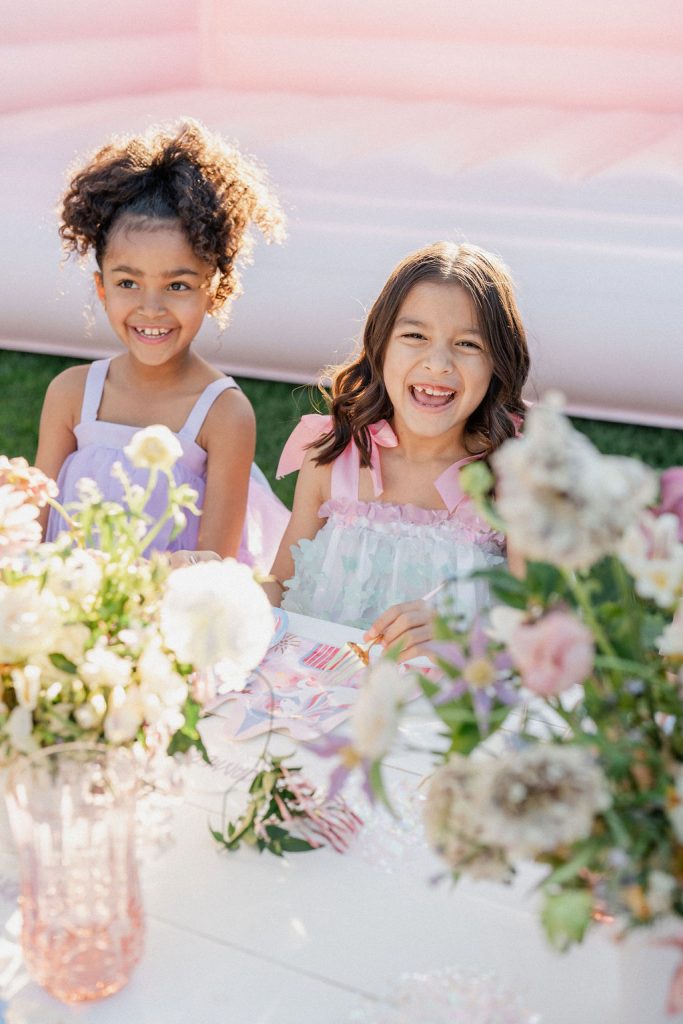 These girls have SO much fun together, I love to see their little friendships and all the smiles that happen when they're together!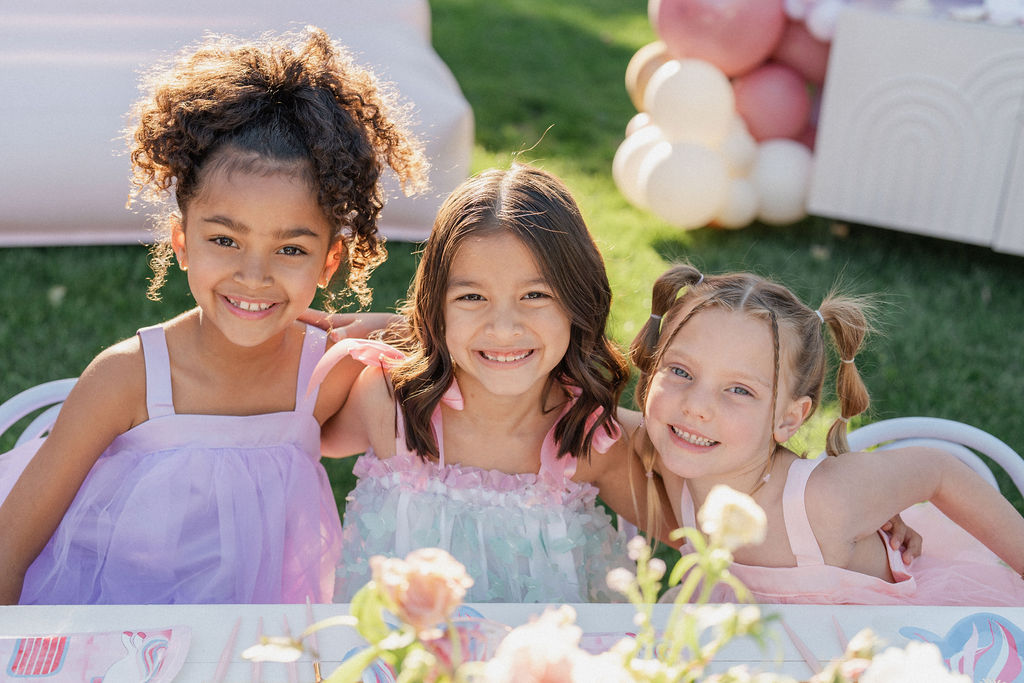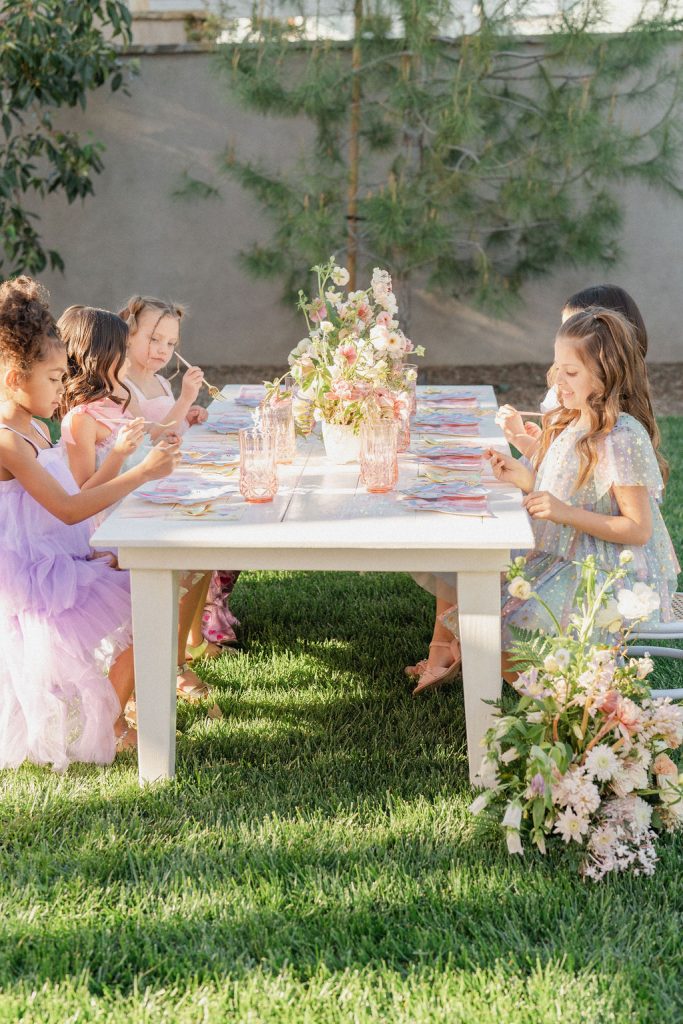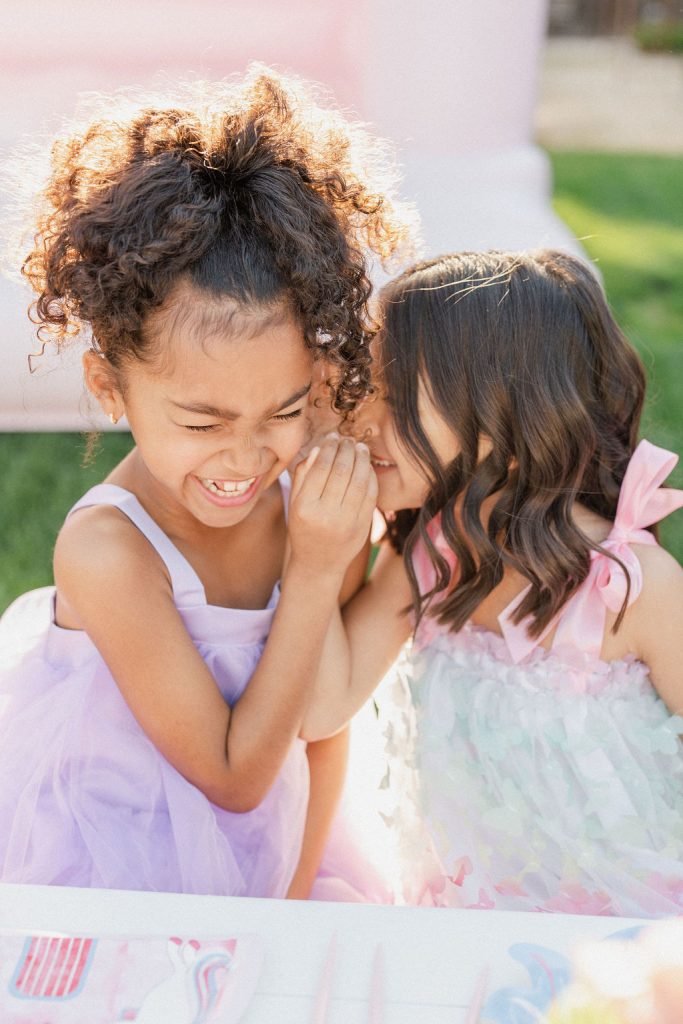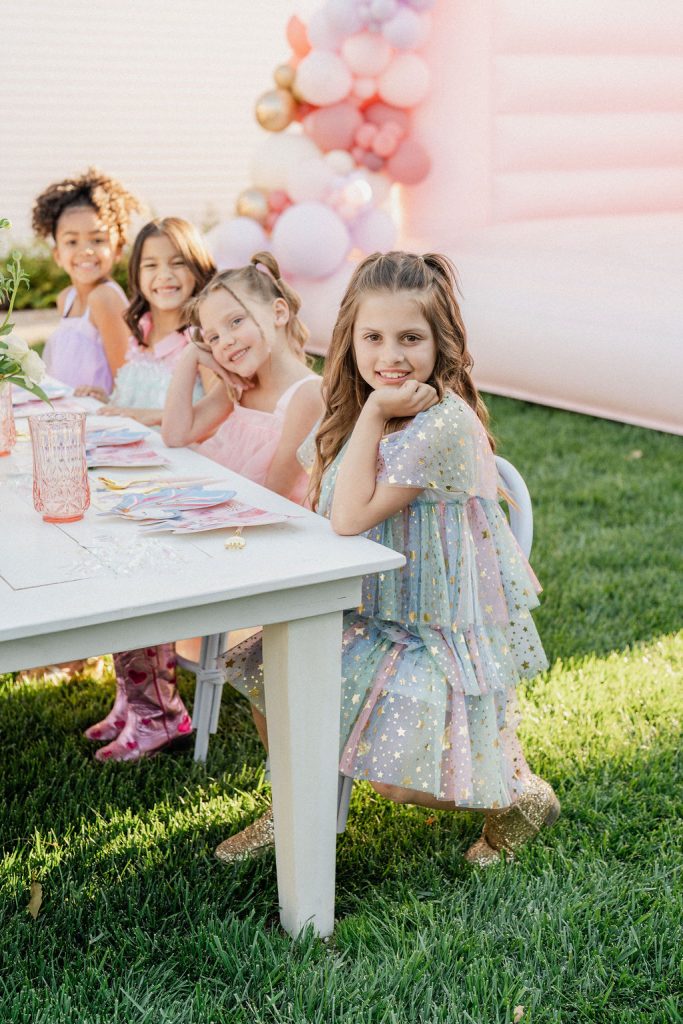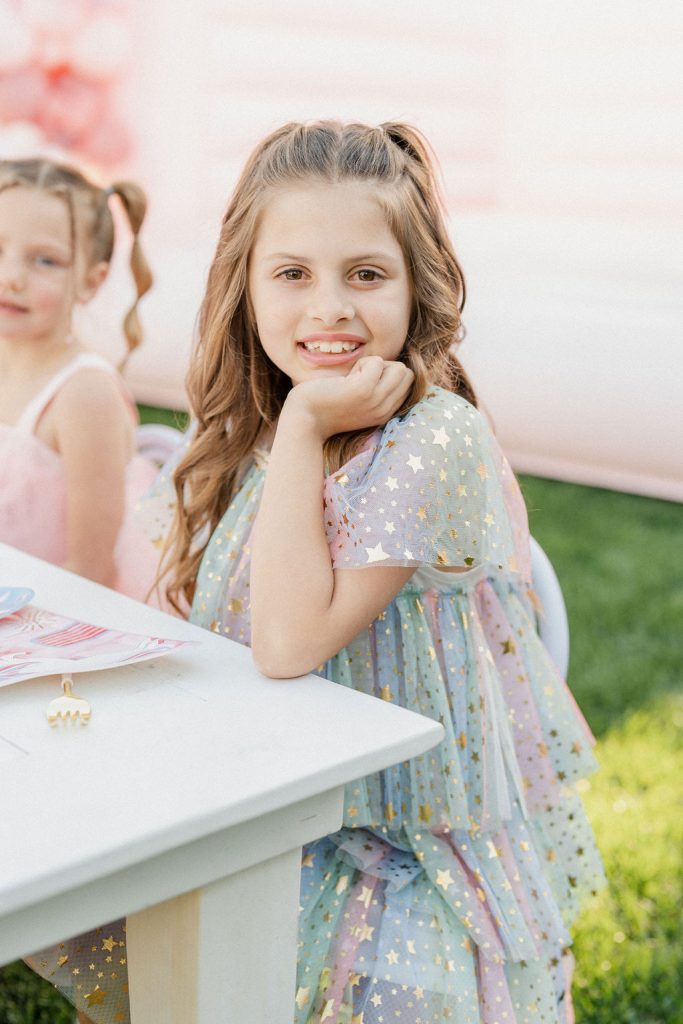 And they were as in love with this theme and table as I was!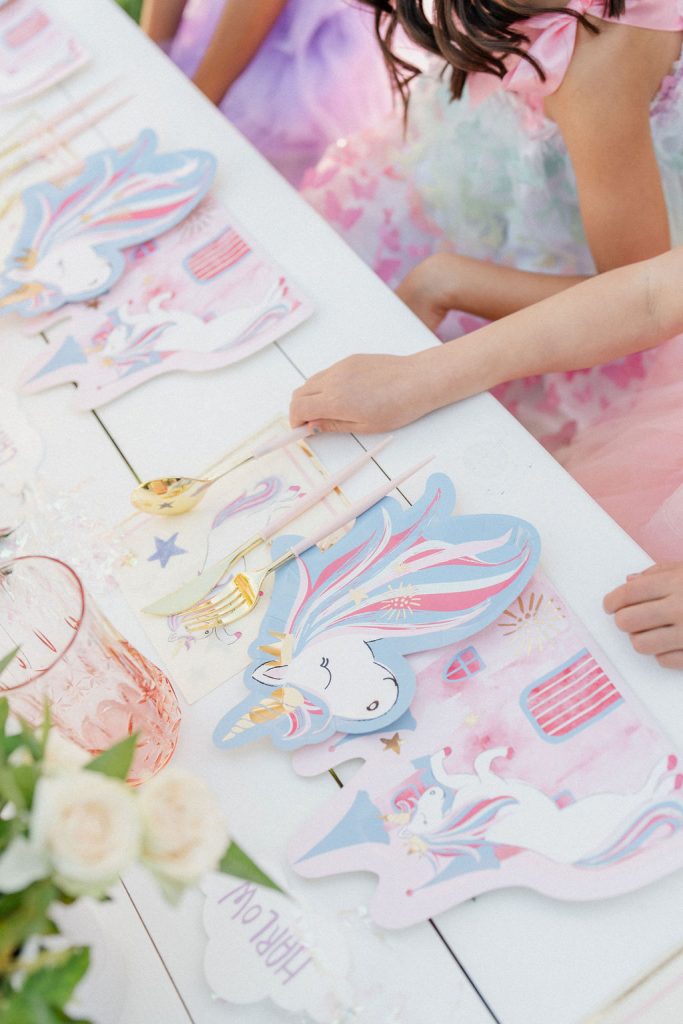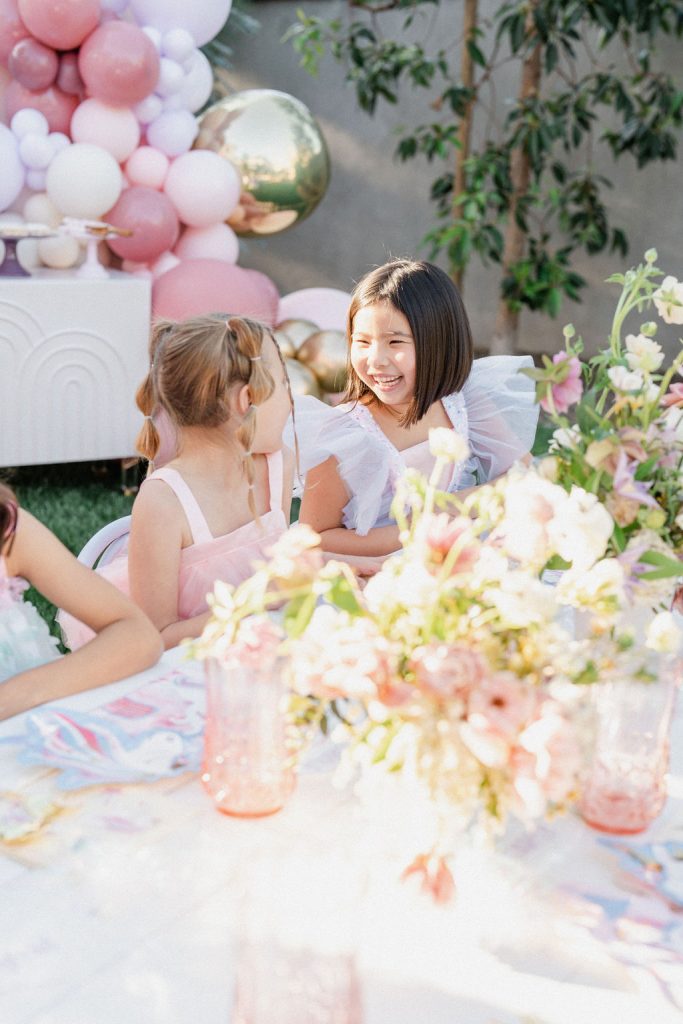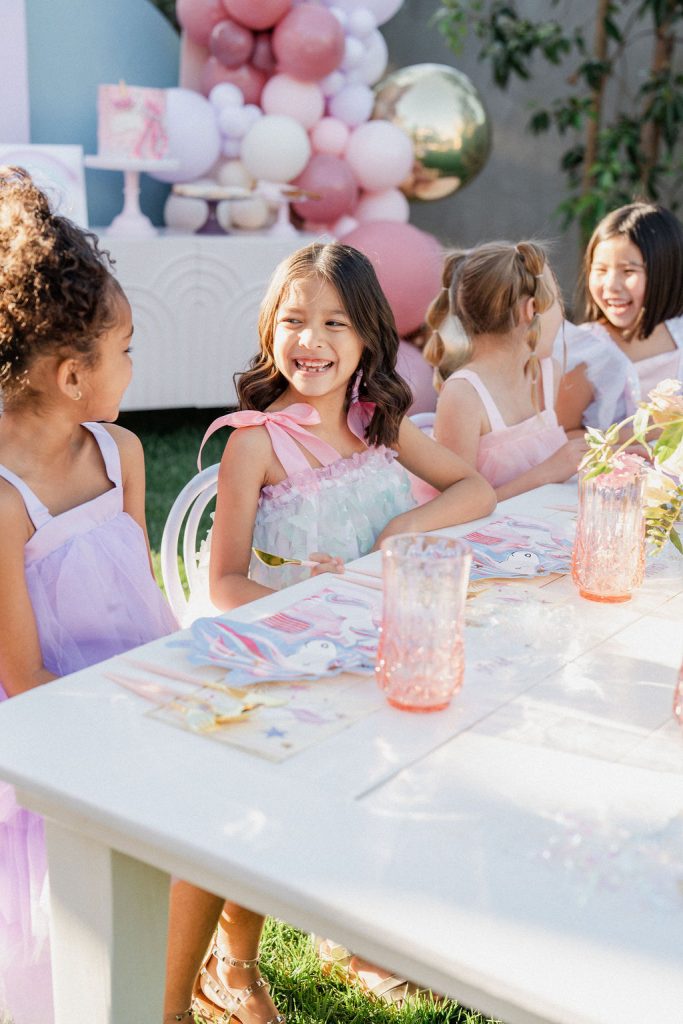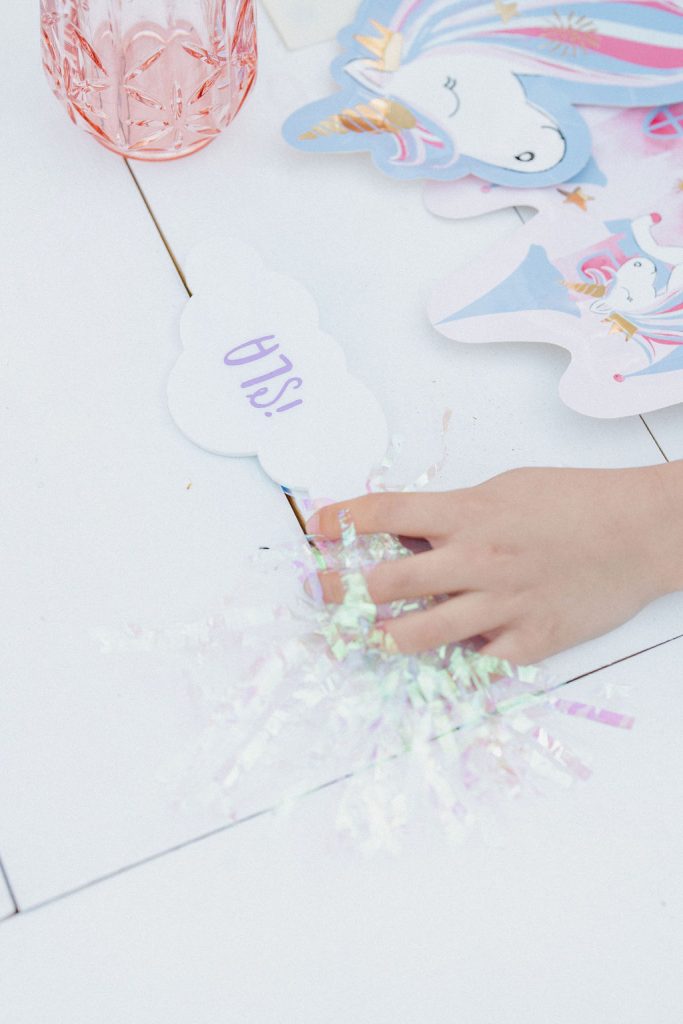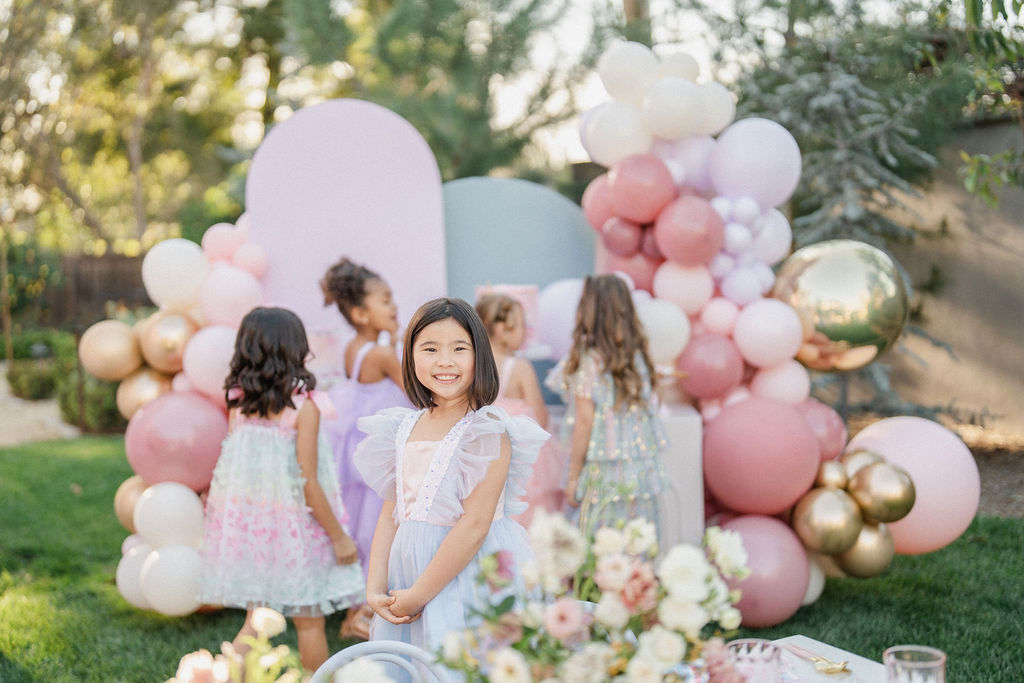 I love this little sitting situation! And how cute are those cuties by Sheila Mae?!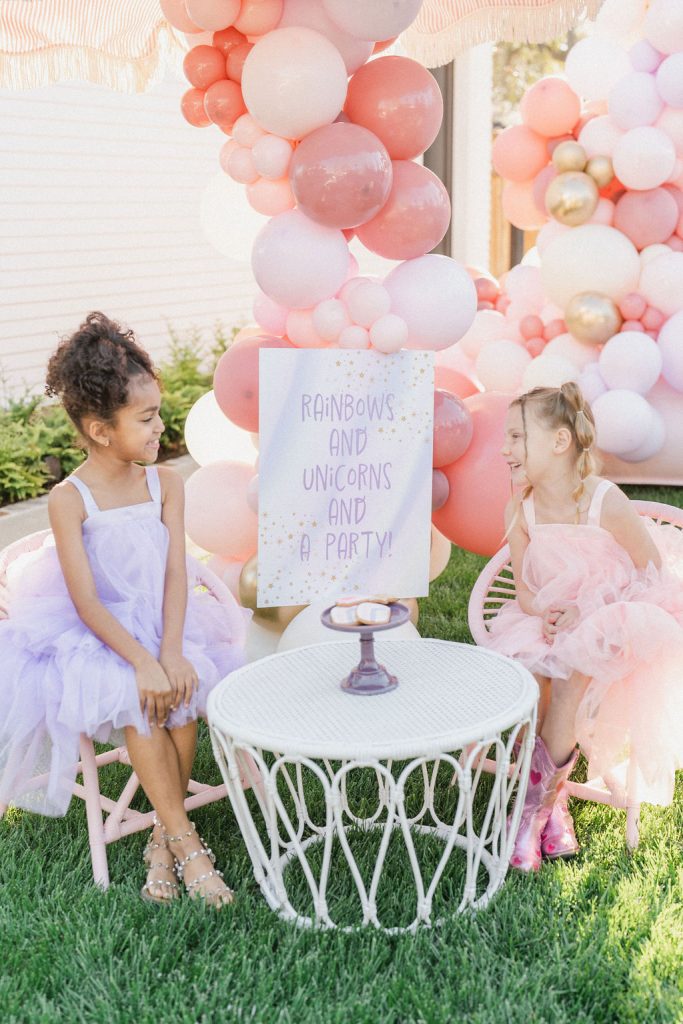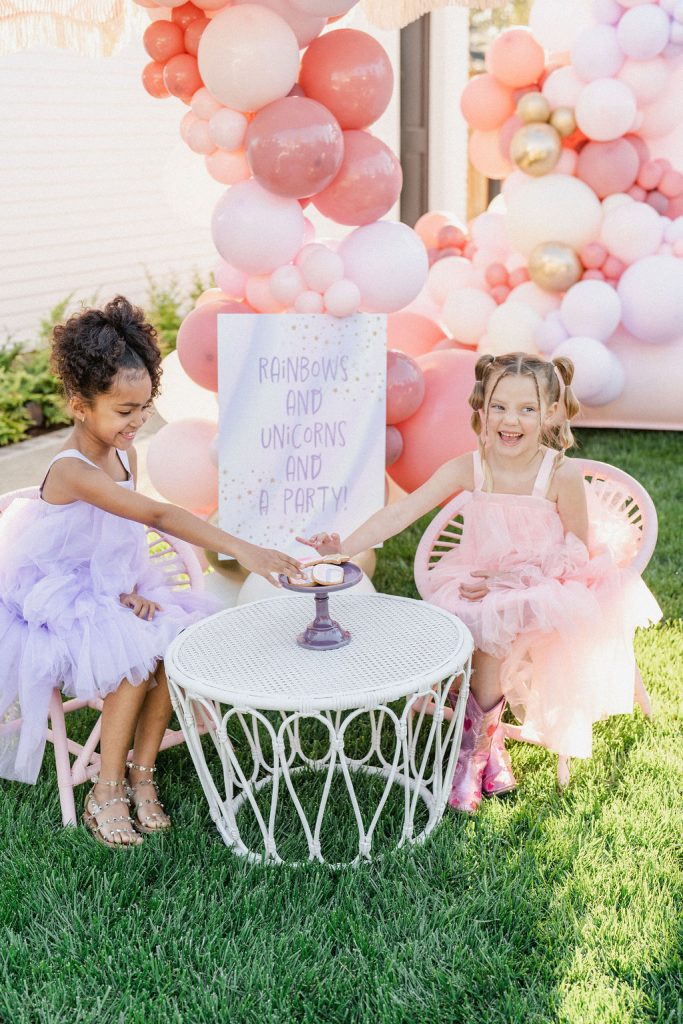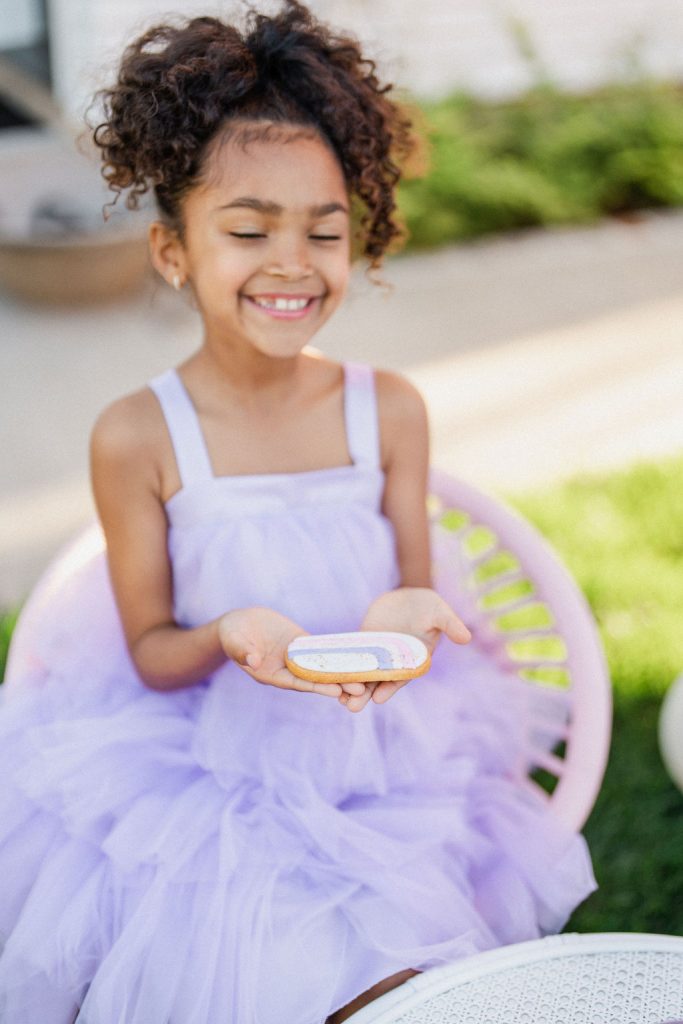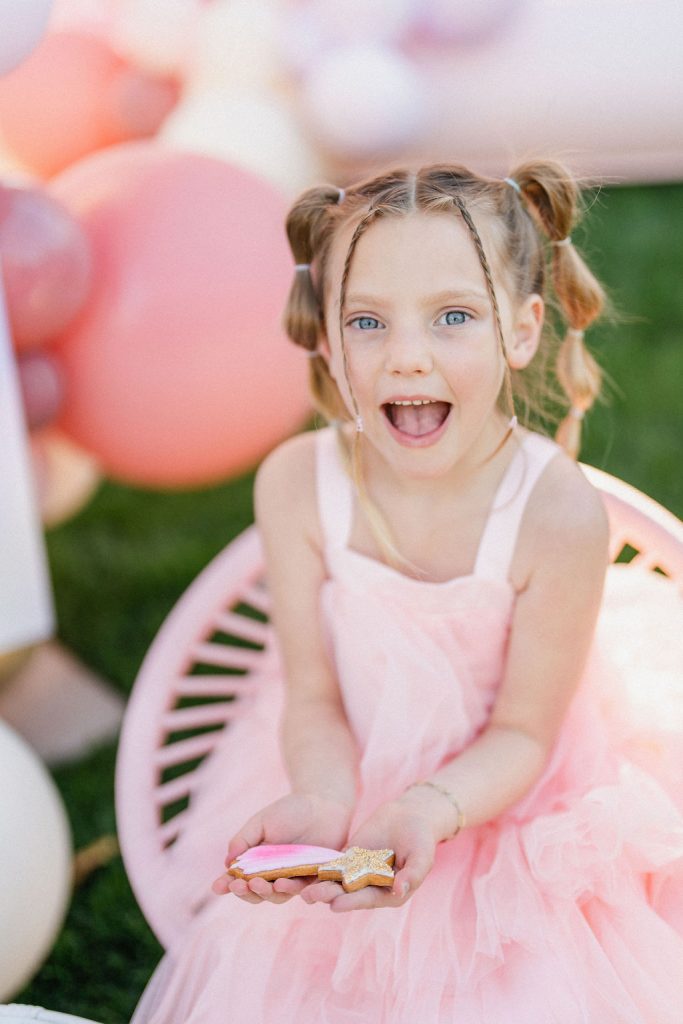 Let's take a better look at these cuties and their adorable Wild & Rae dresses…
Miss Camila looking as sweet as ever in this rainbow butterfly dress!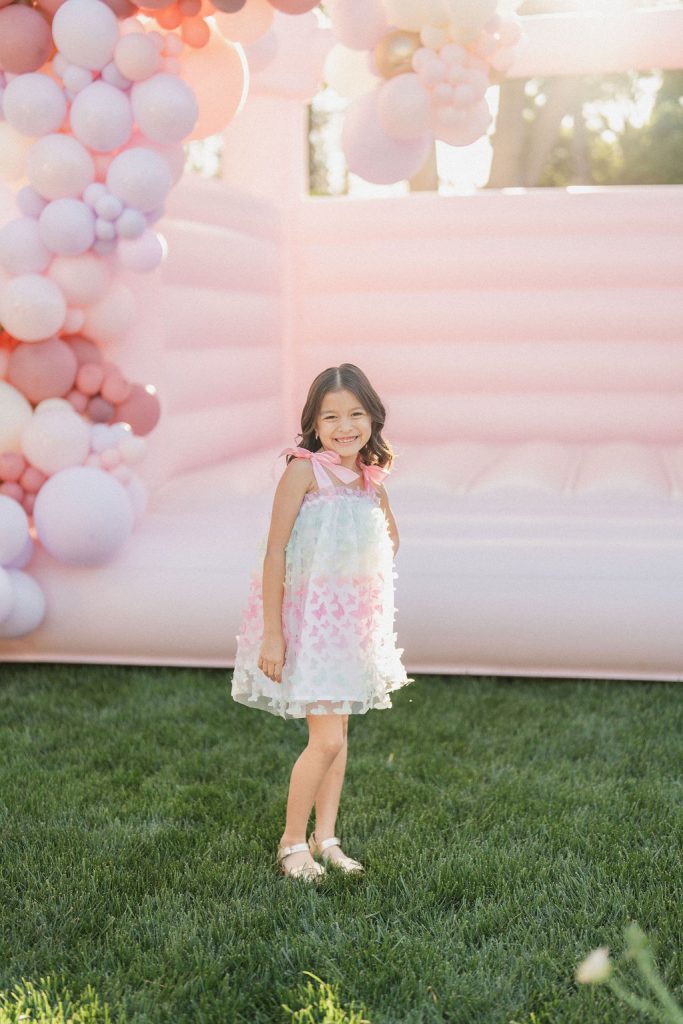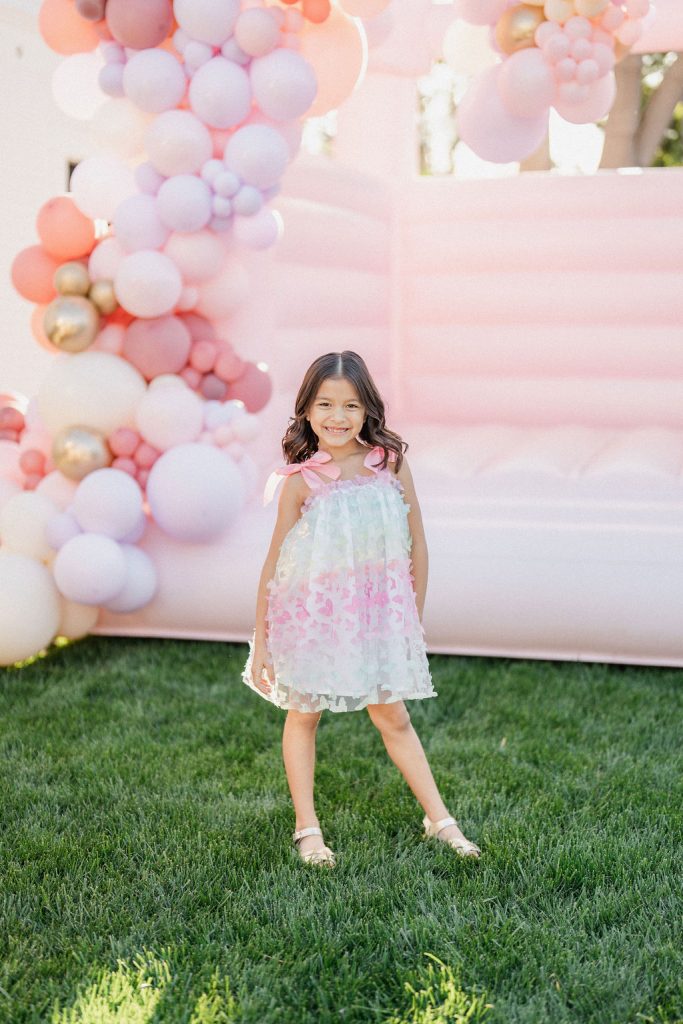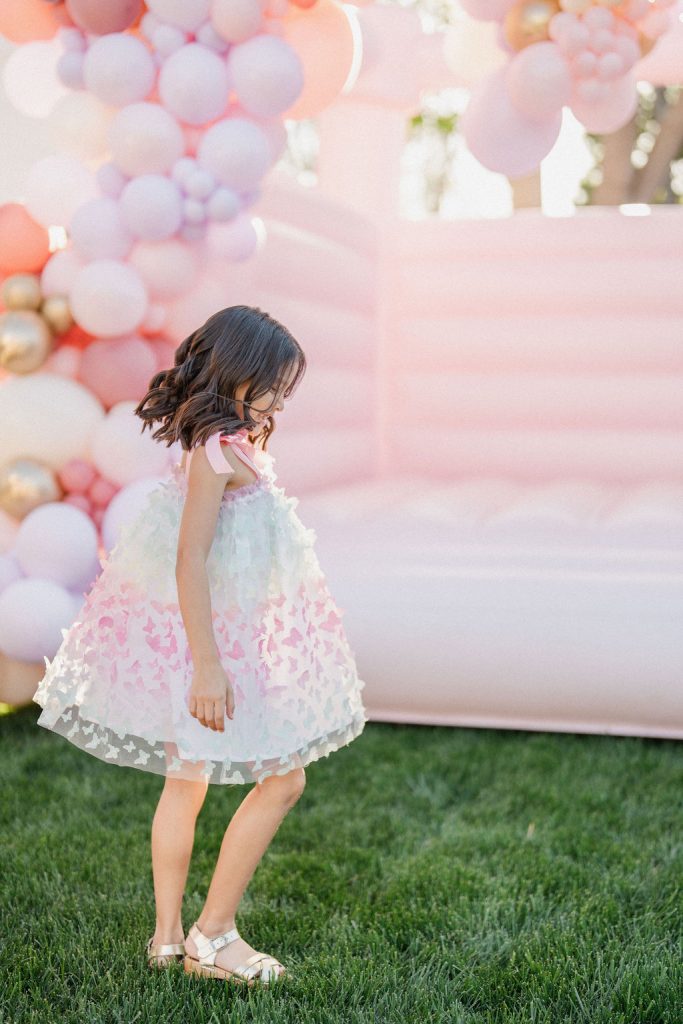 And my little love Kennedy as cute as ever, I love the sleeves on this gorgeous dress!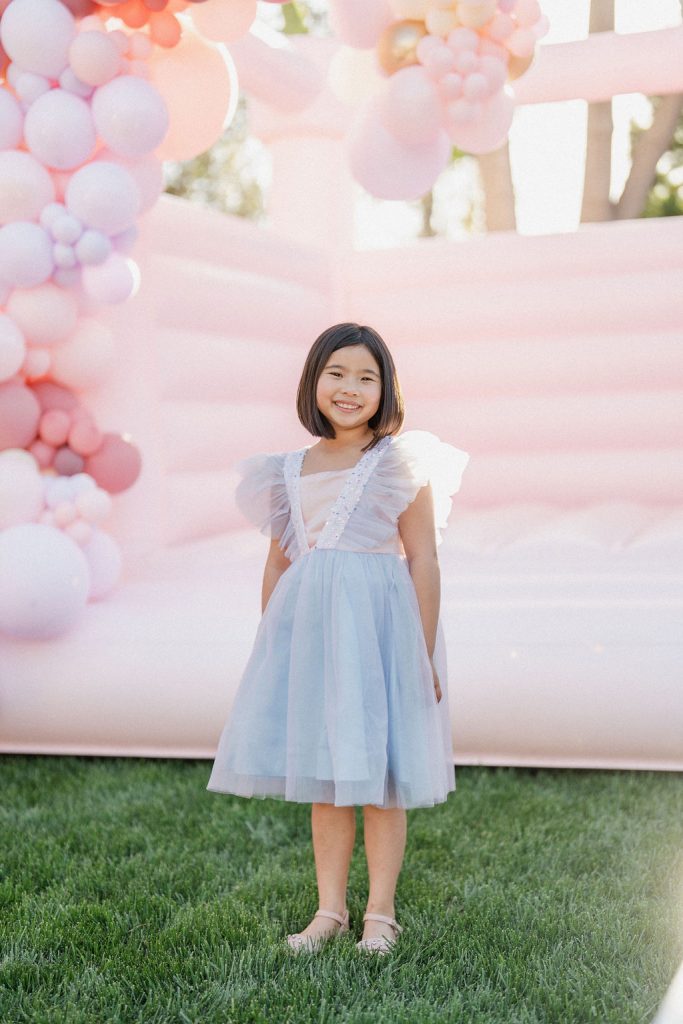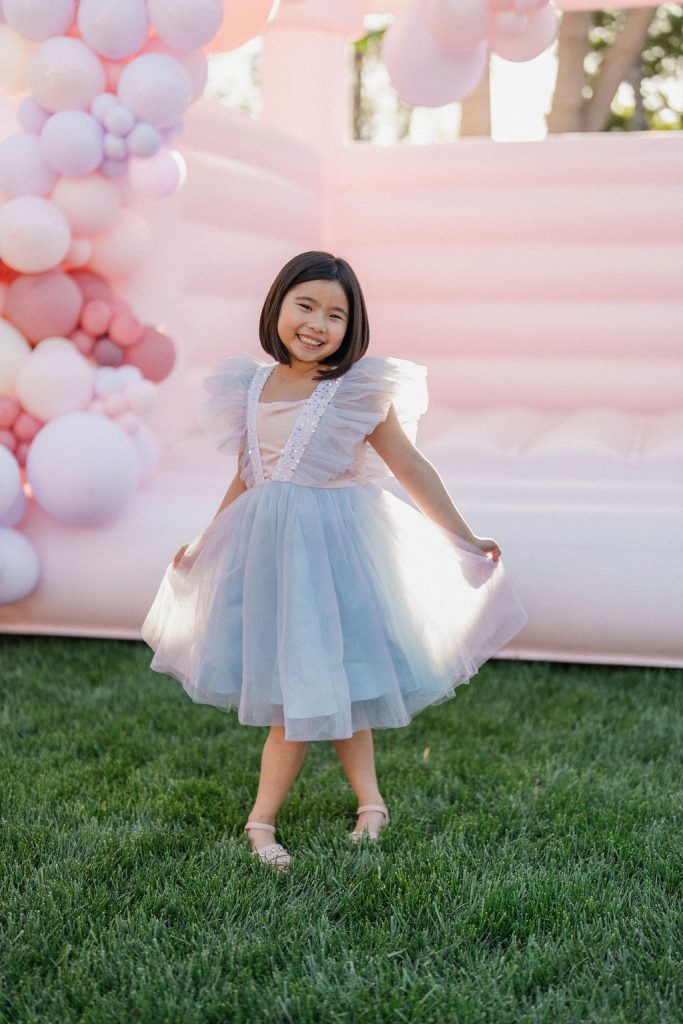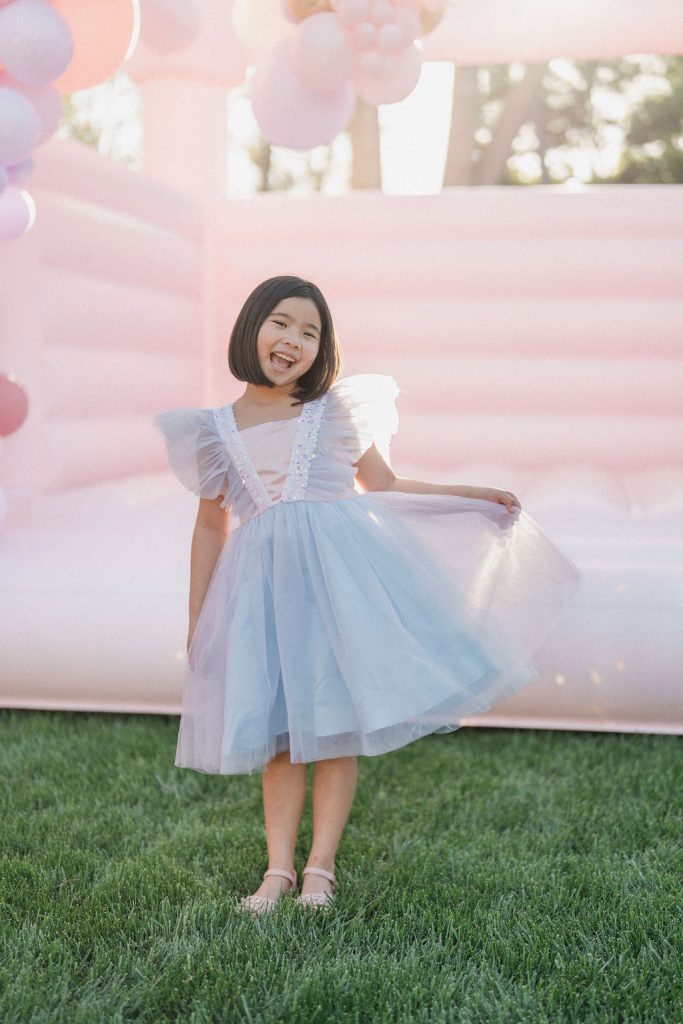 My sassy little goddaughter Isla in this sparkly frock, I love this one!!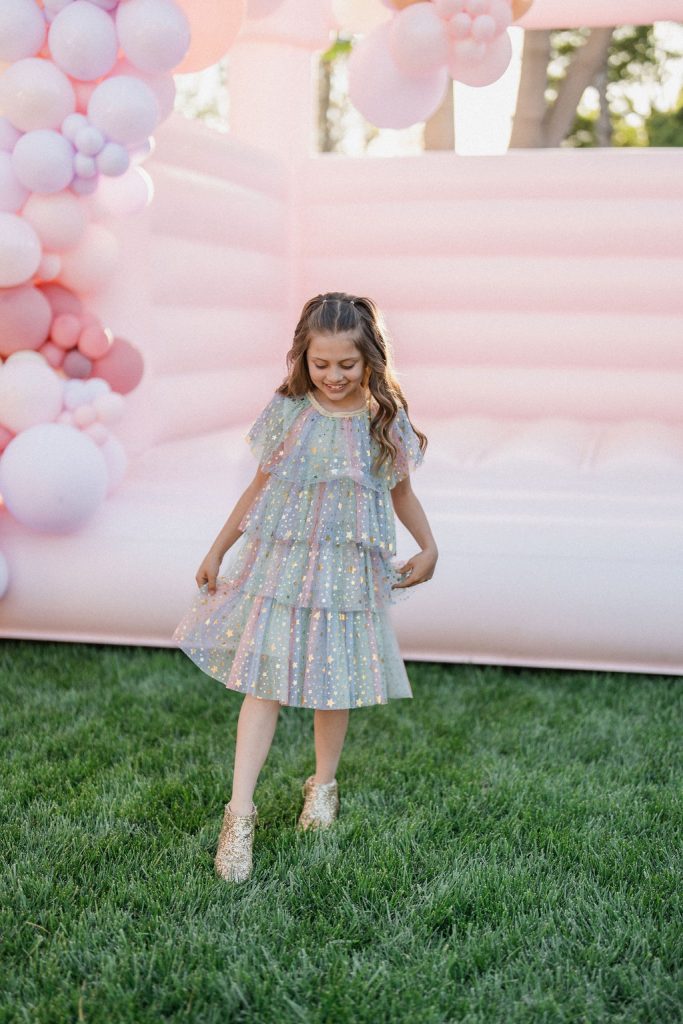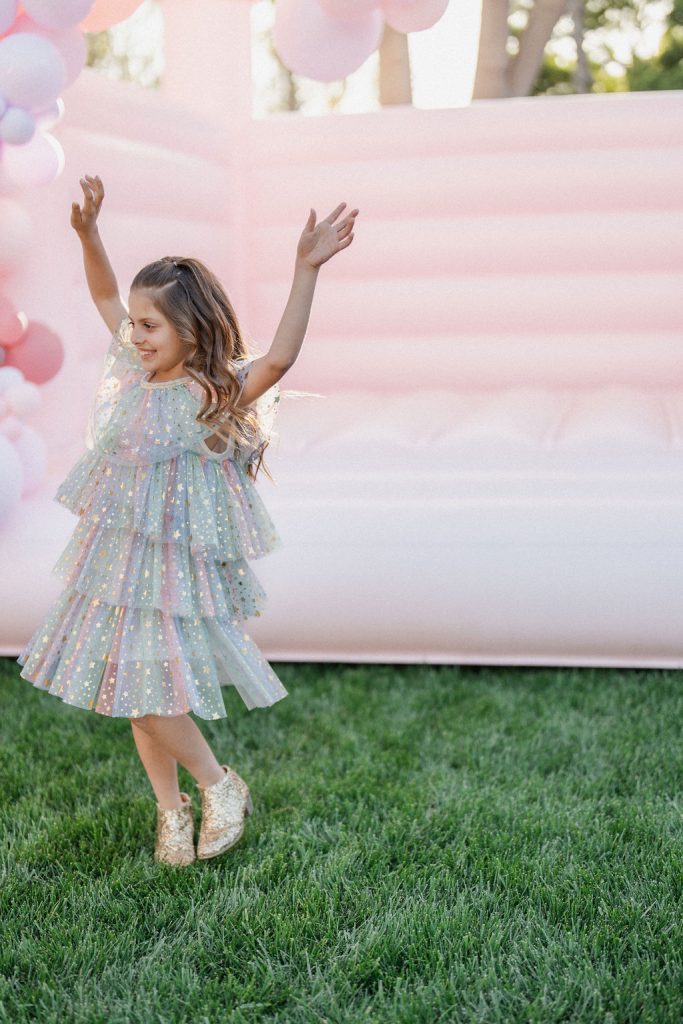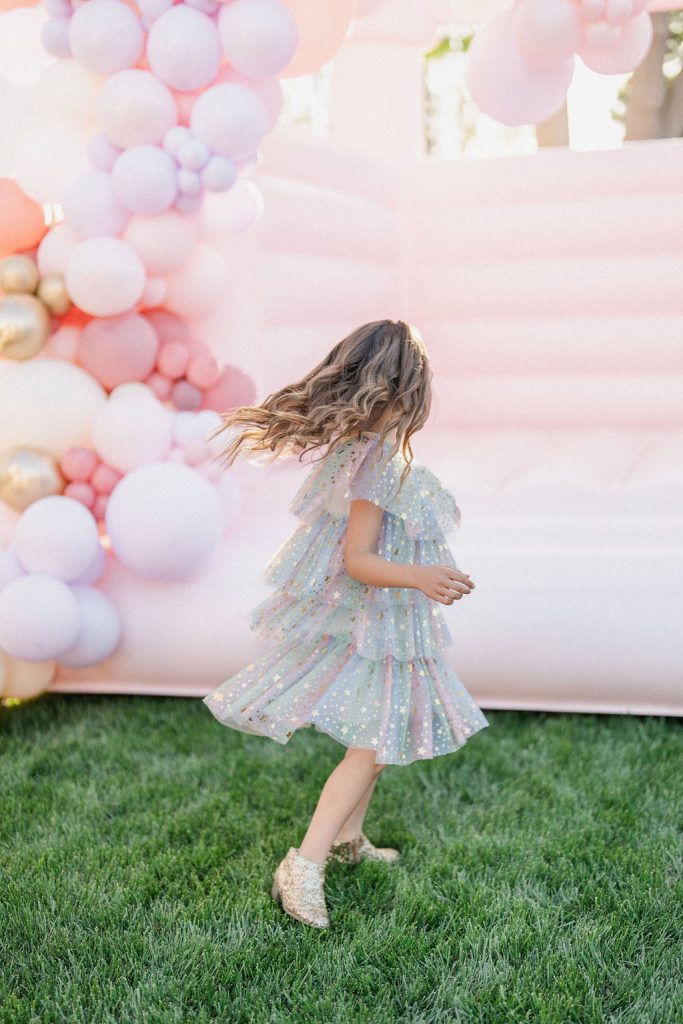 Adorable Harlow is in Wild & Rae's newest tiered chiffon dress, I love how it's high low!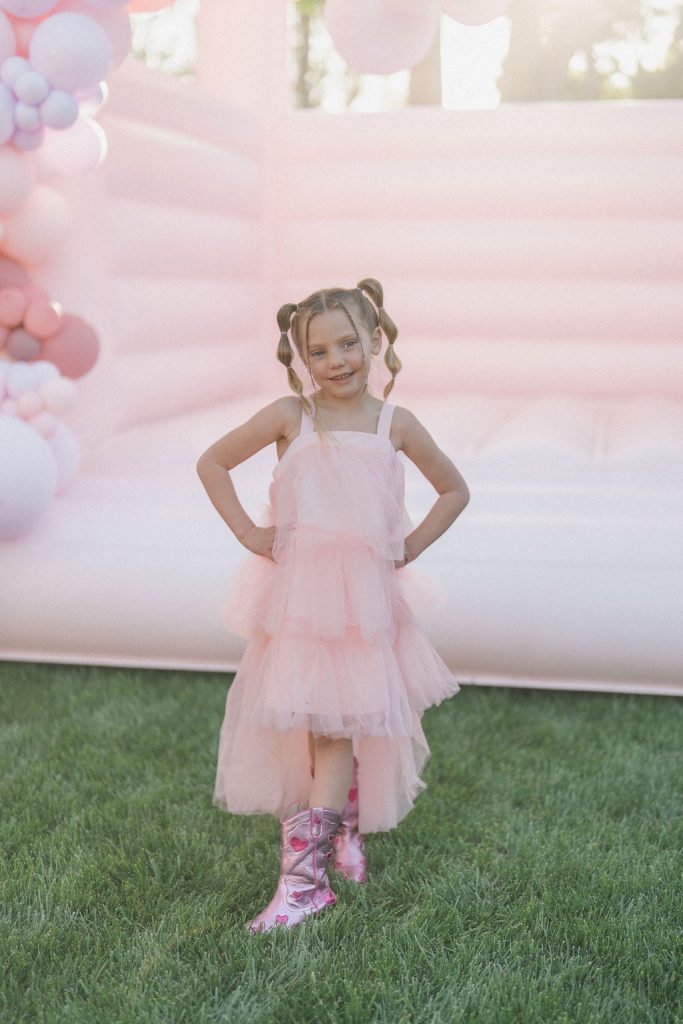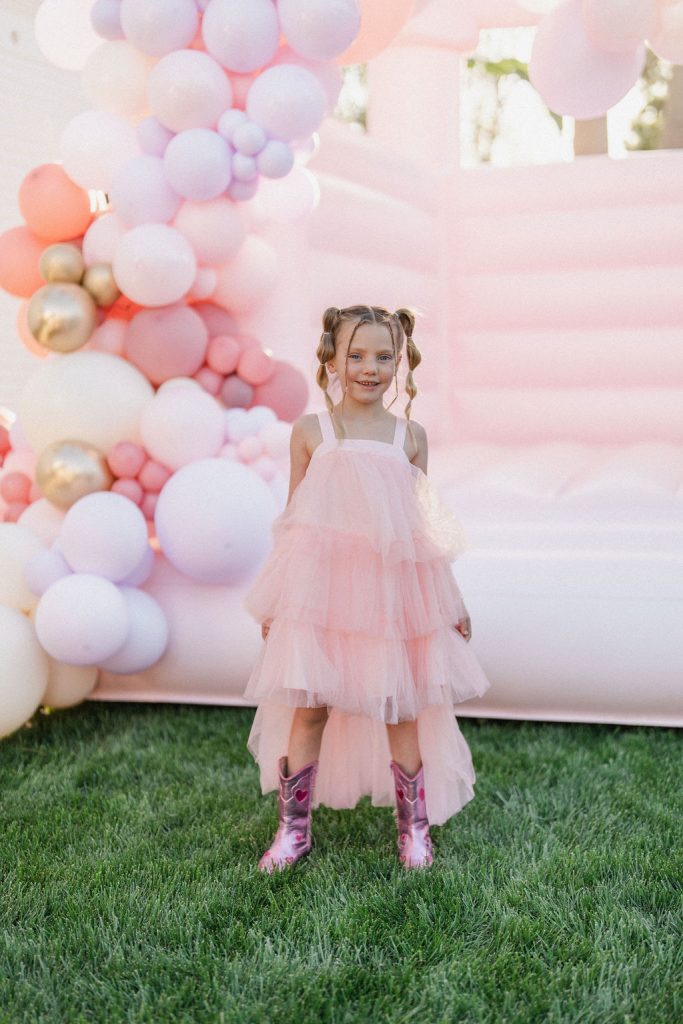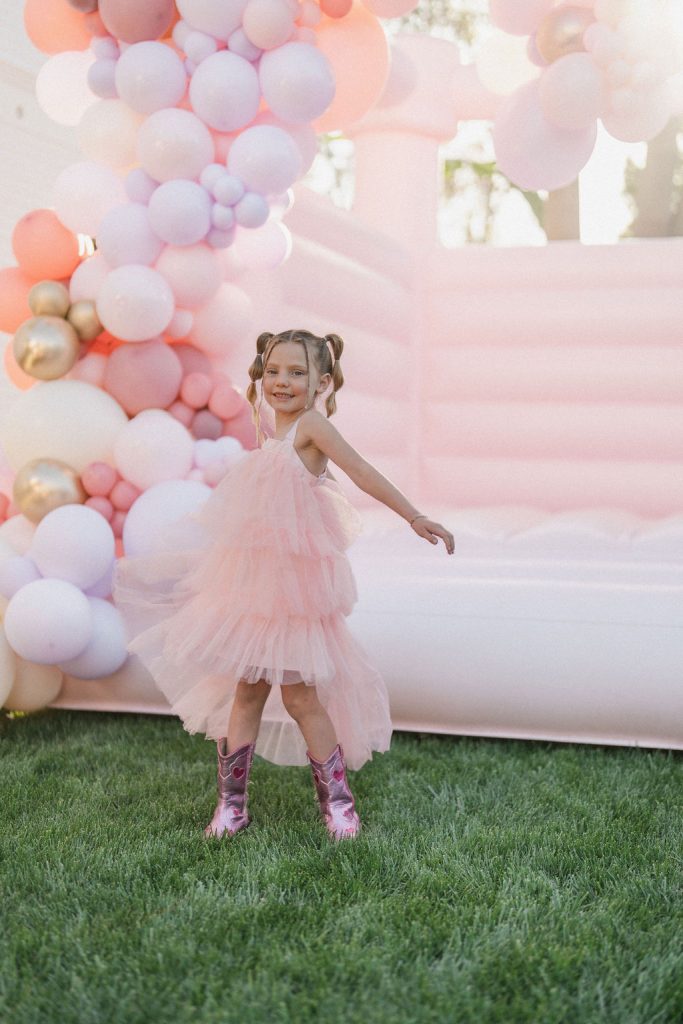 Also in the new chiffon dress but in purple is beautiful Priya, she is such a doll! Which color is your favorite?! I can't decide!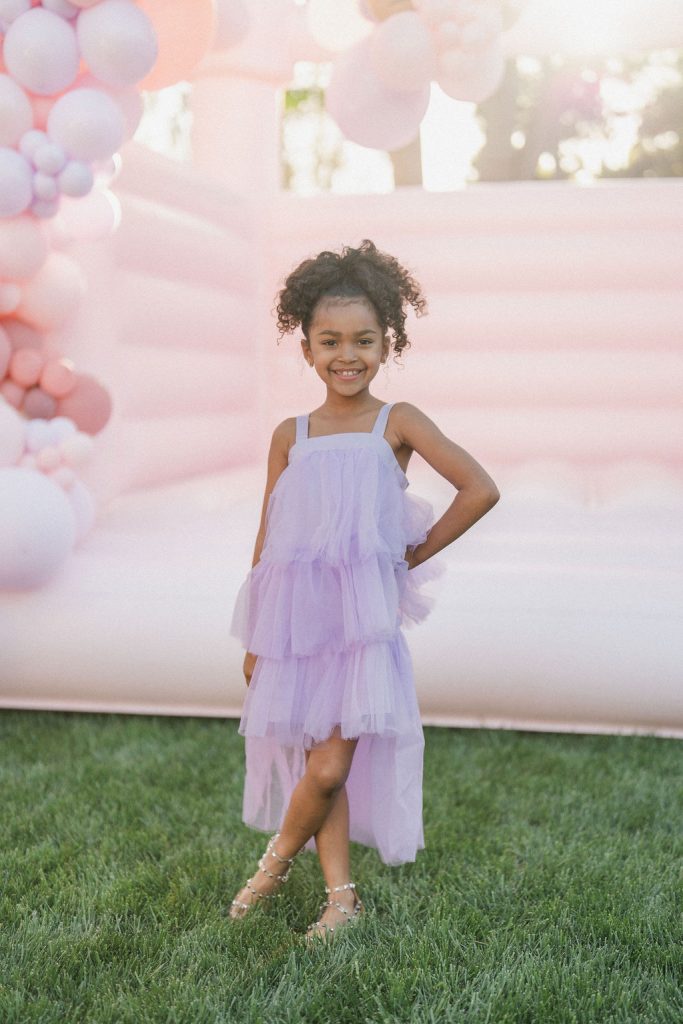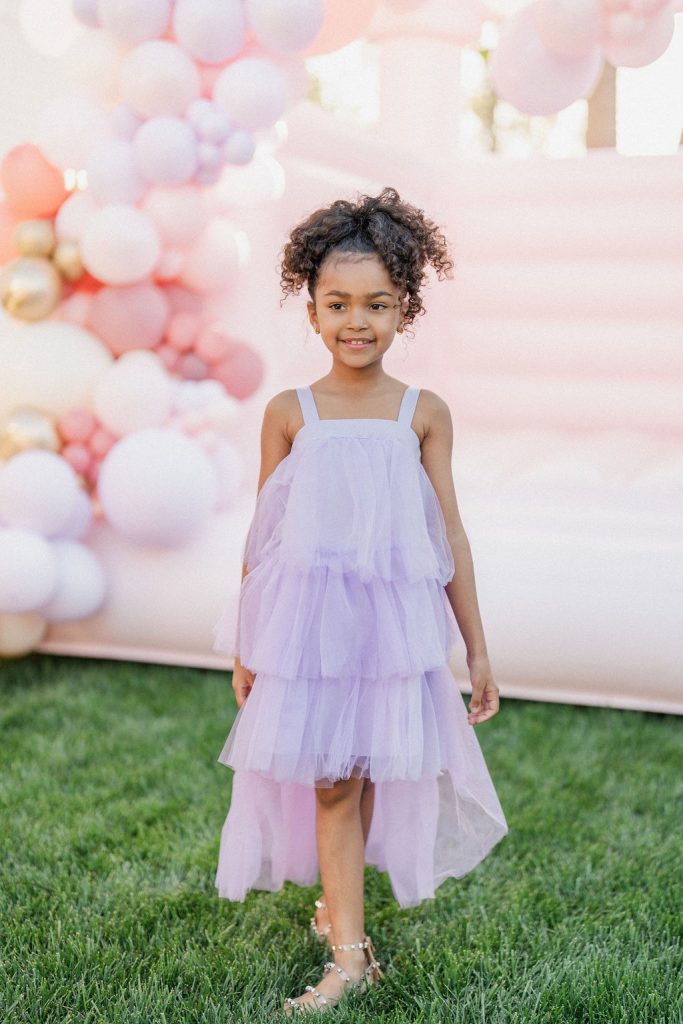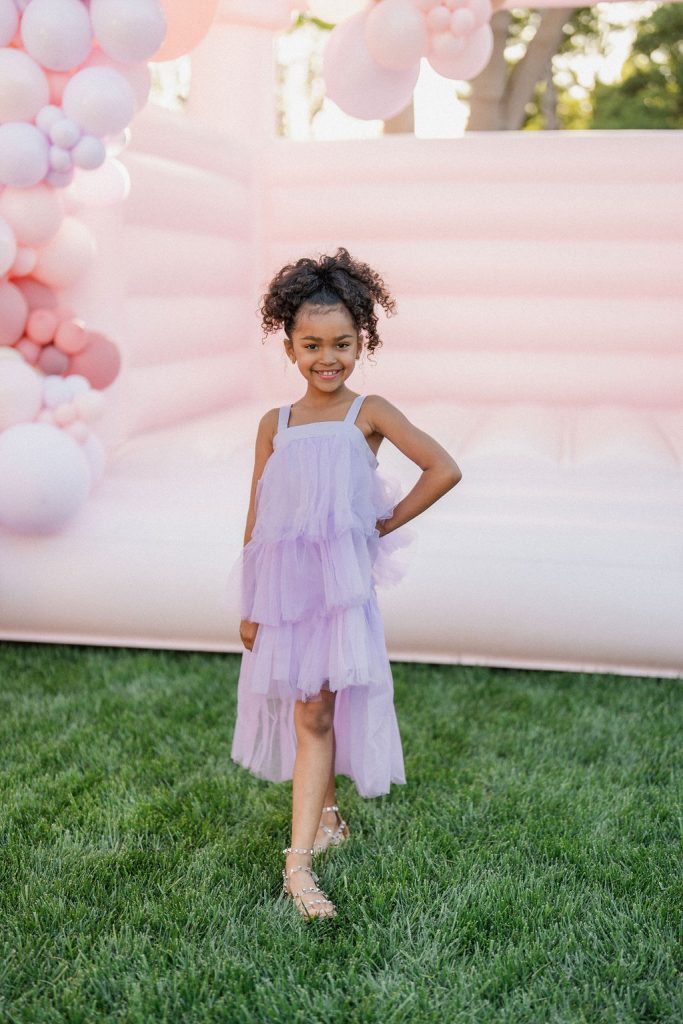 Love this girl gang!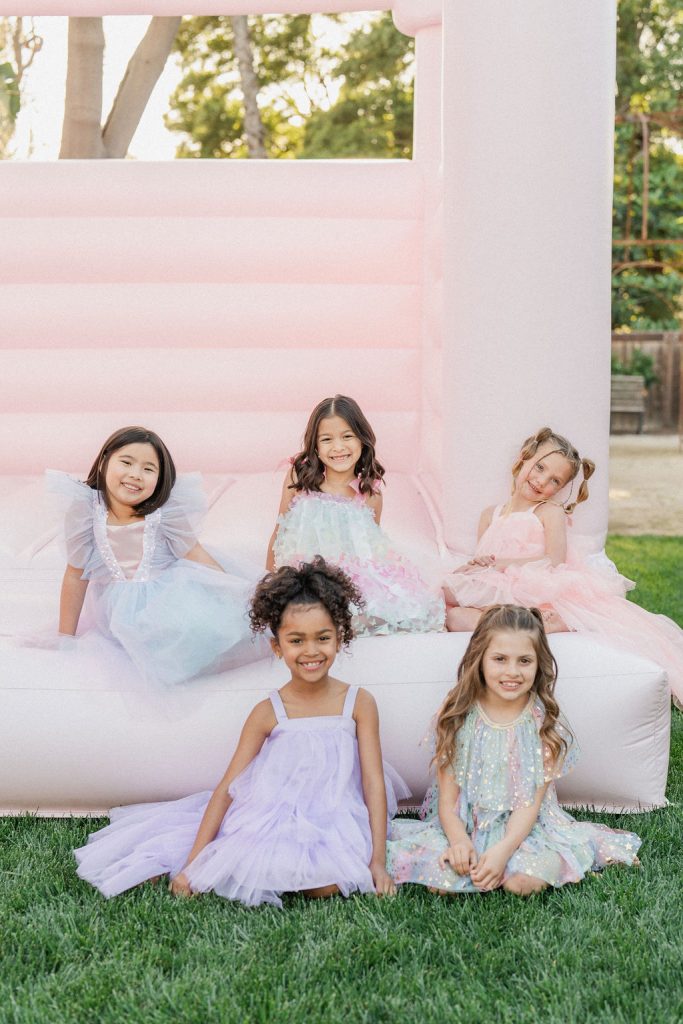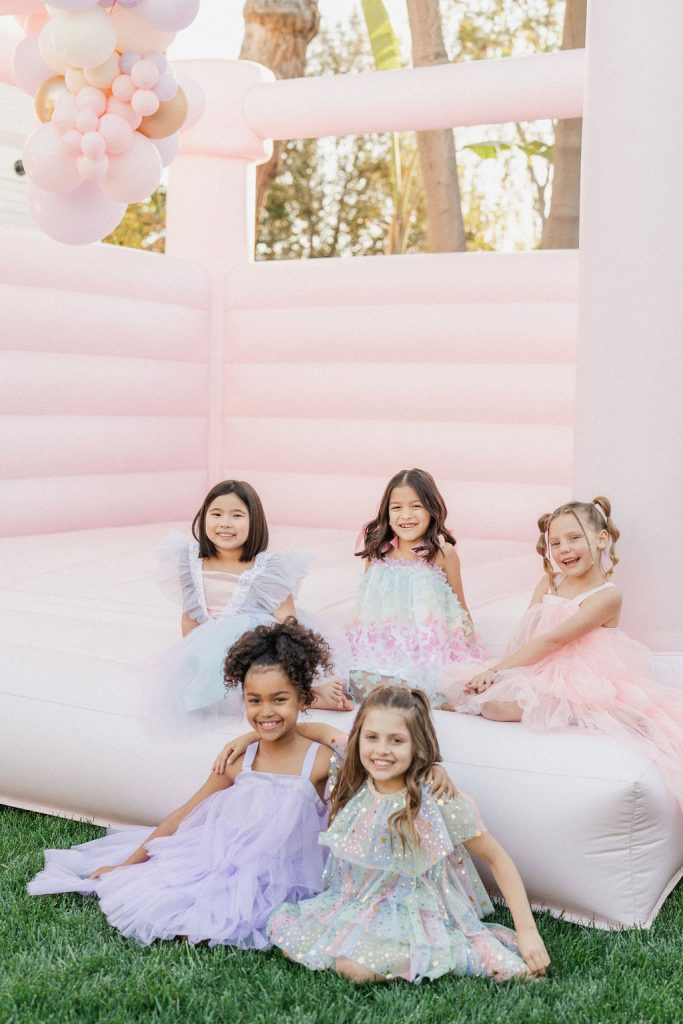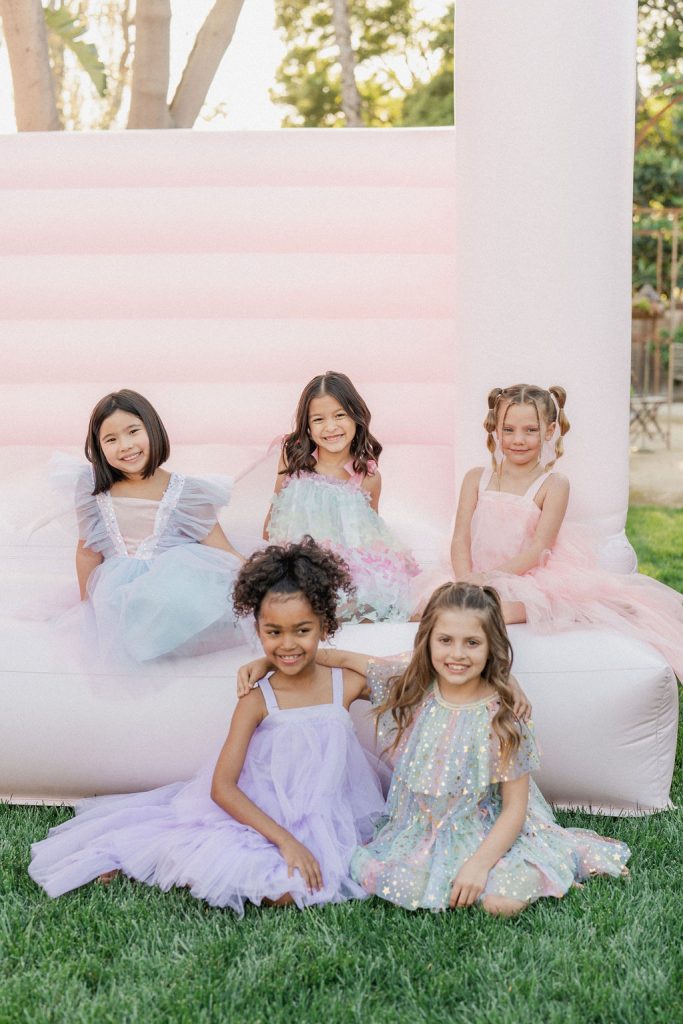 And now, time to BOUNCE!!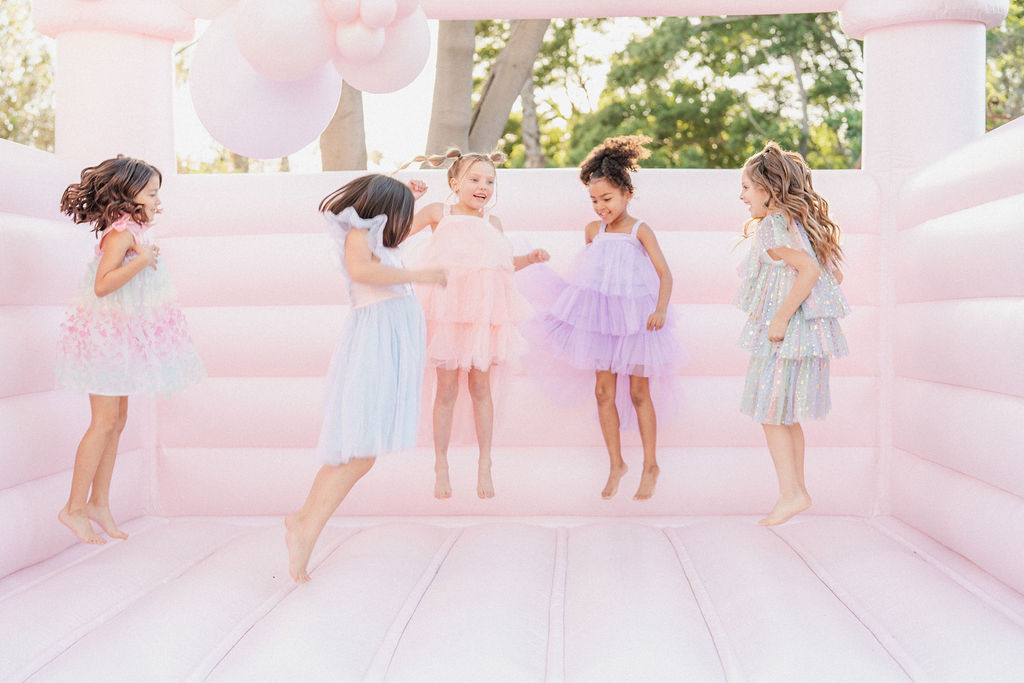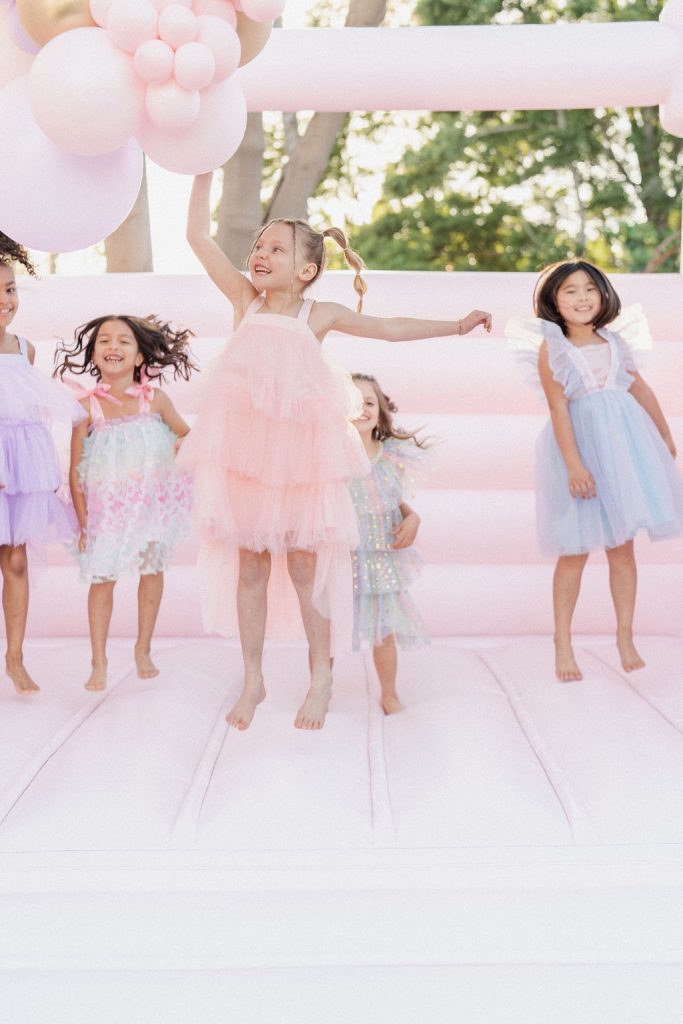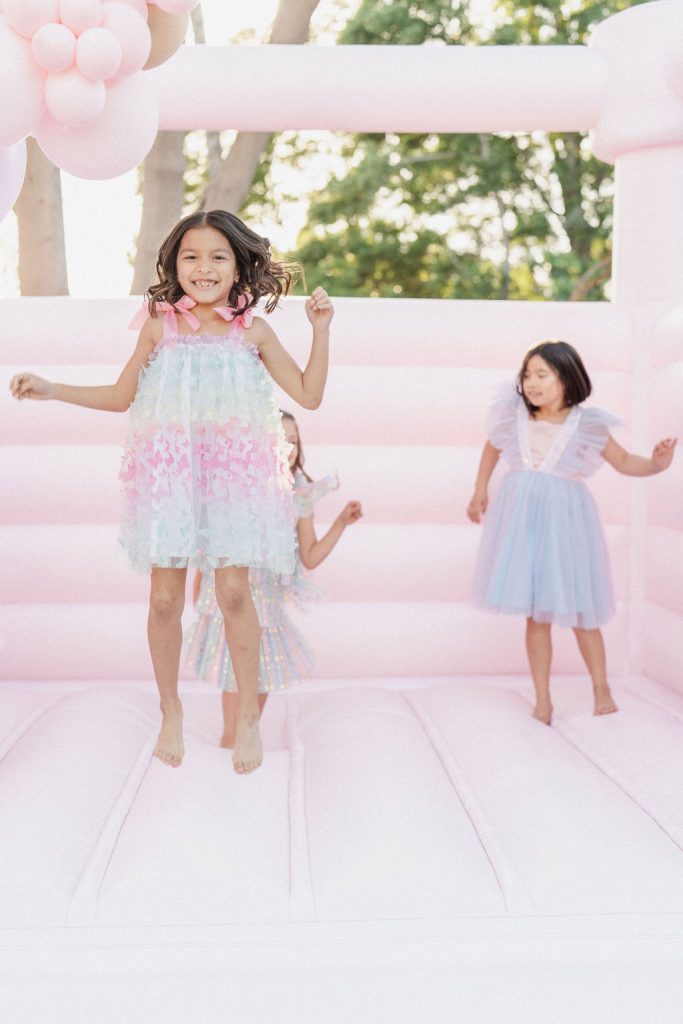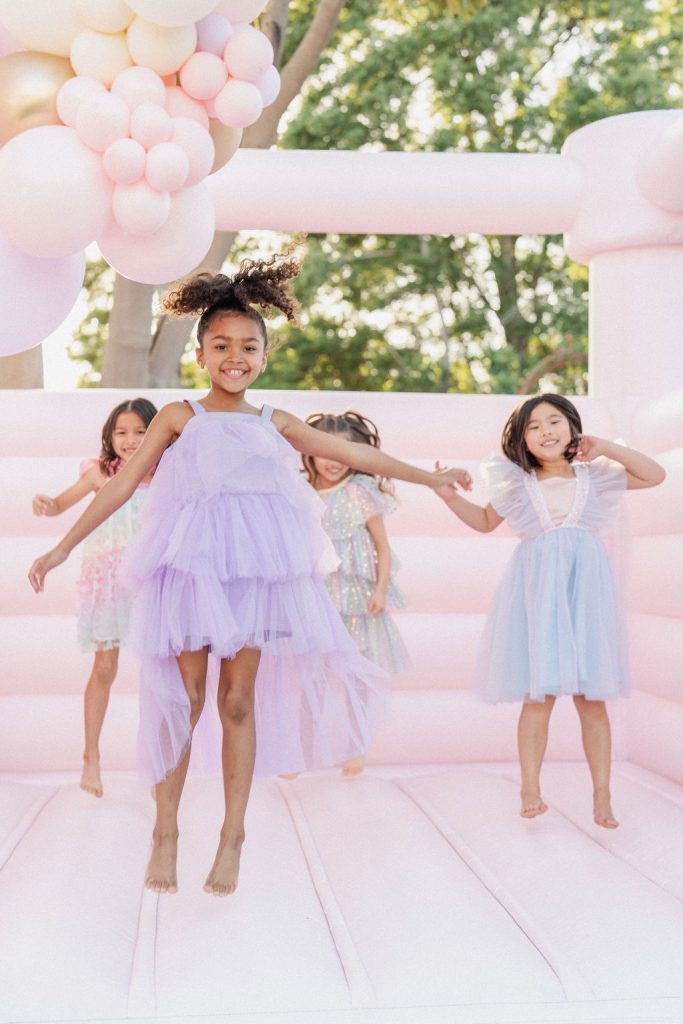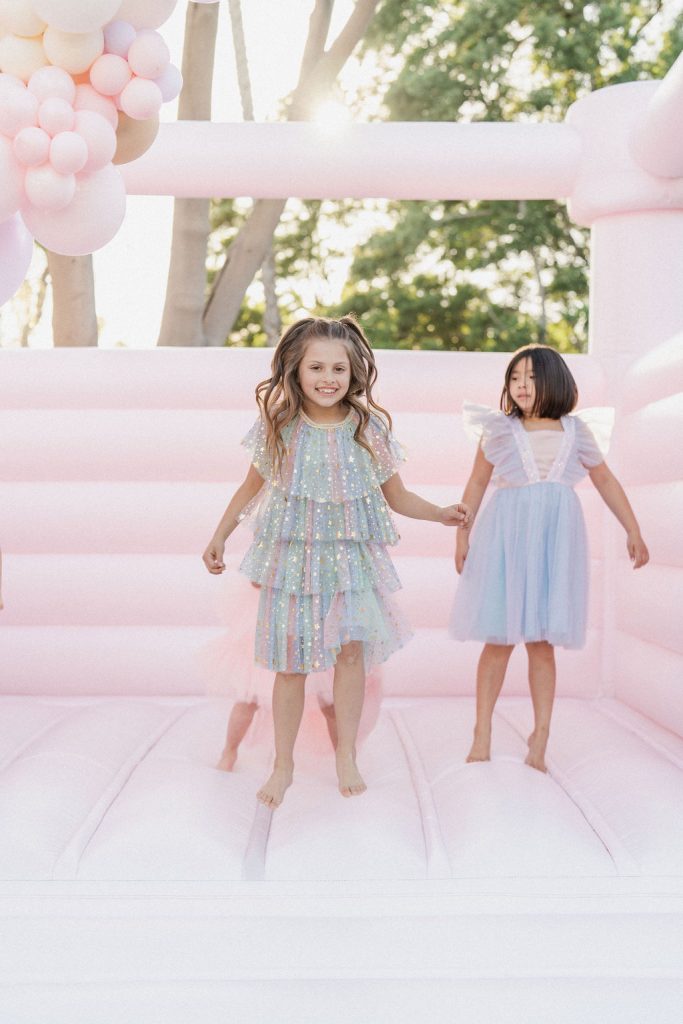 Gosh they're cute!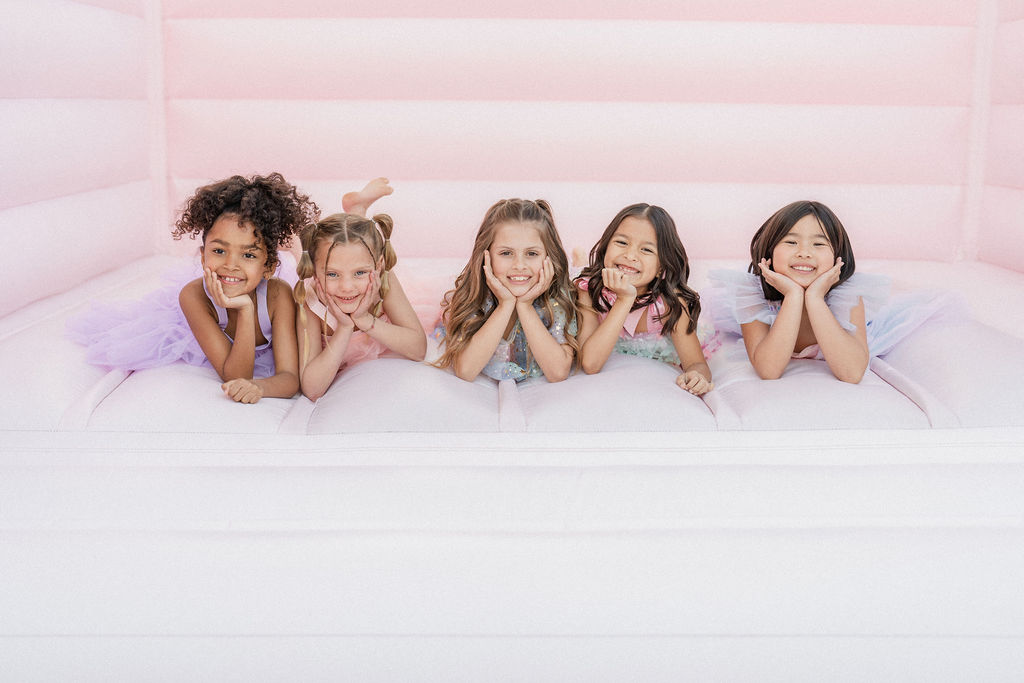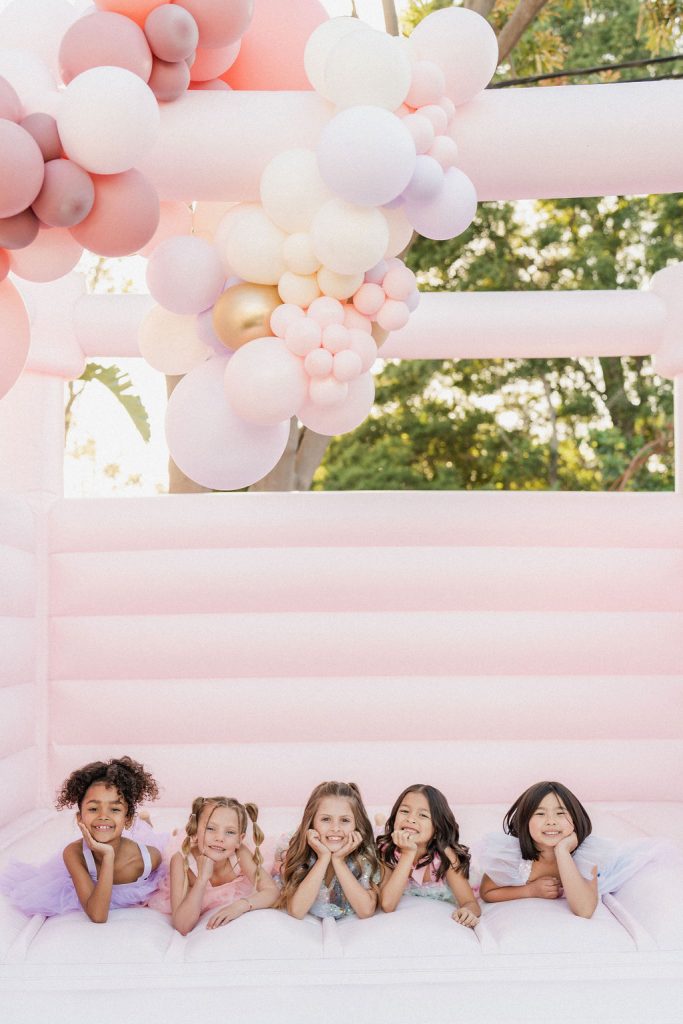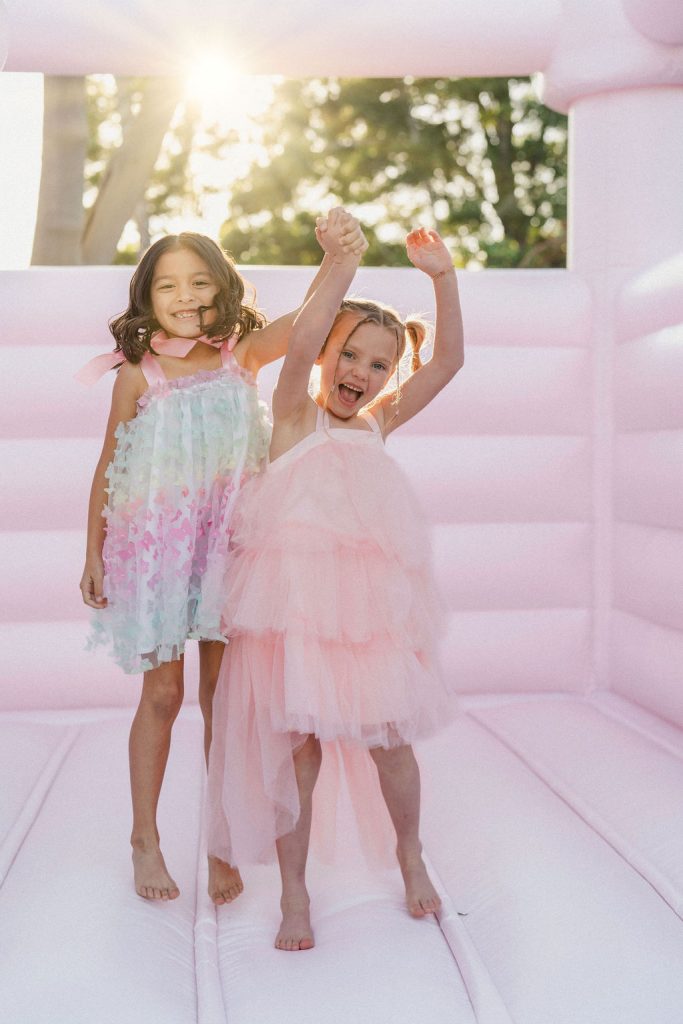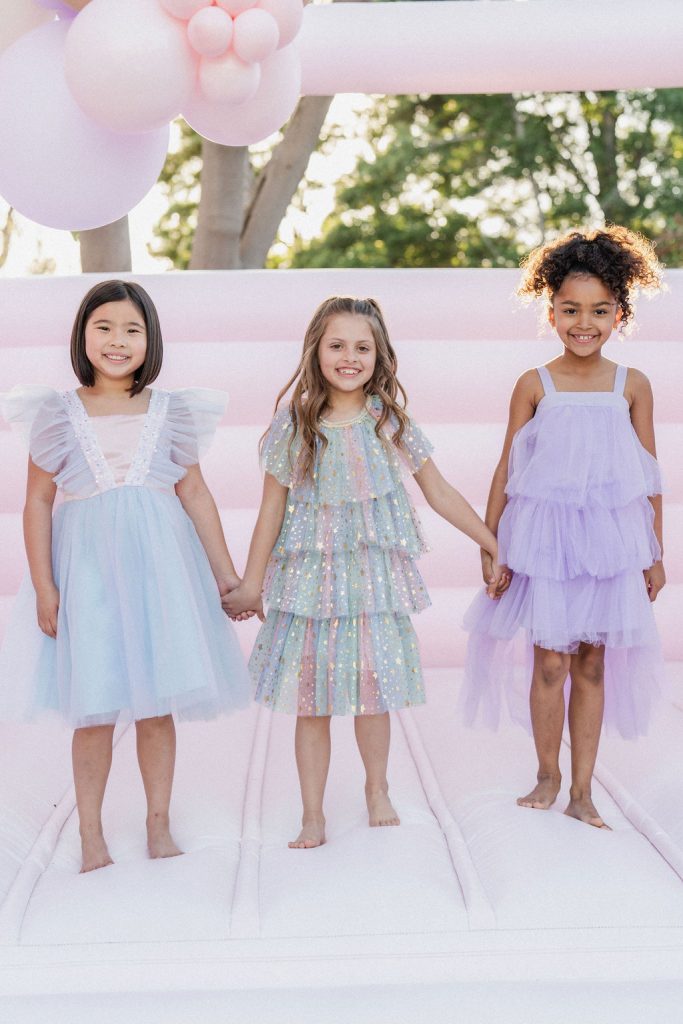 And then we cut the cake – CAN YOU EVEN!? Danielle from Sheila Mae makes magic and boy does it look pretty and taste so good!!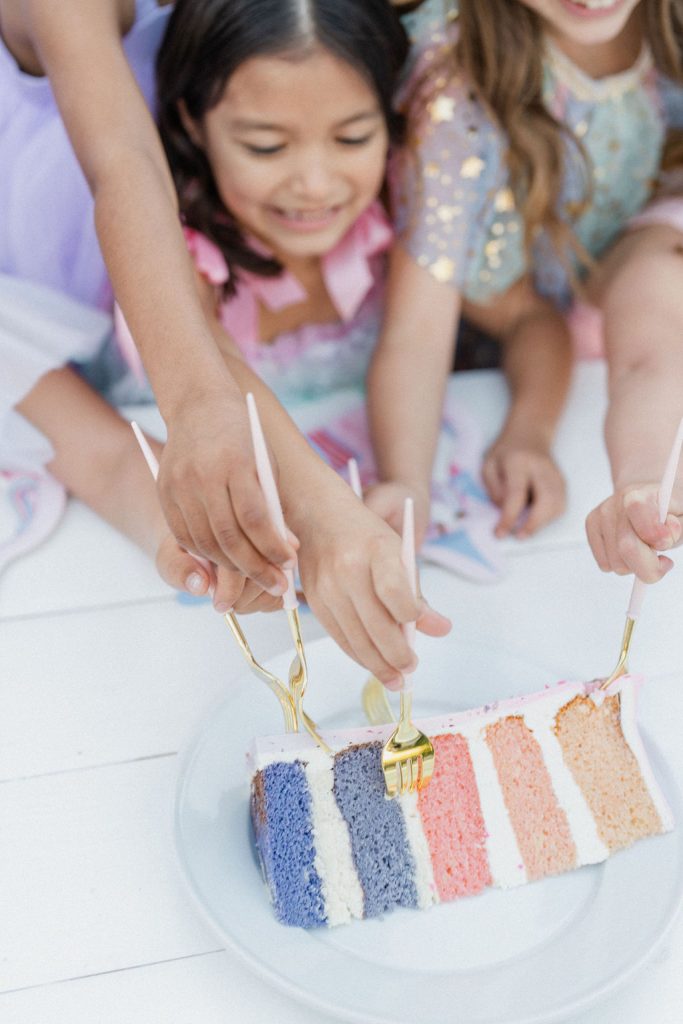 The girls went to town!!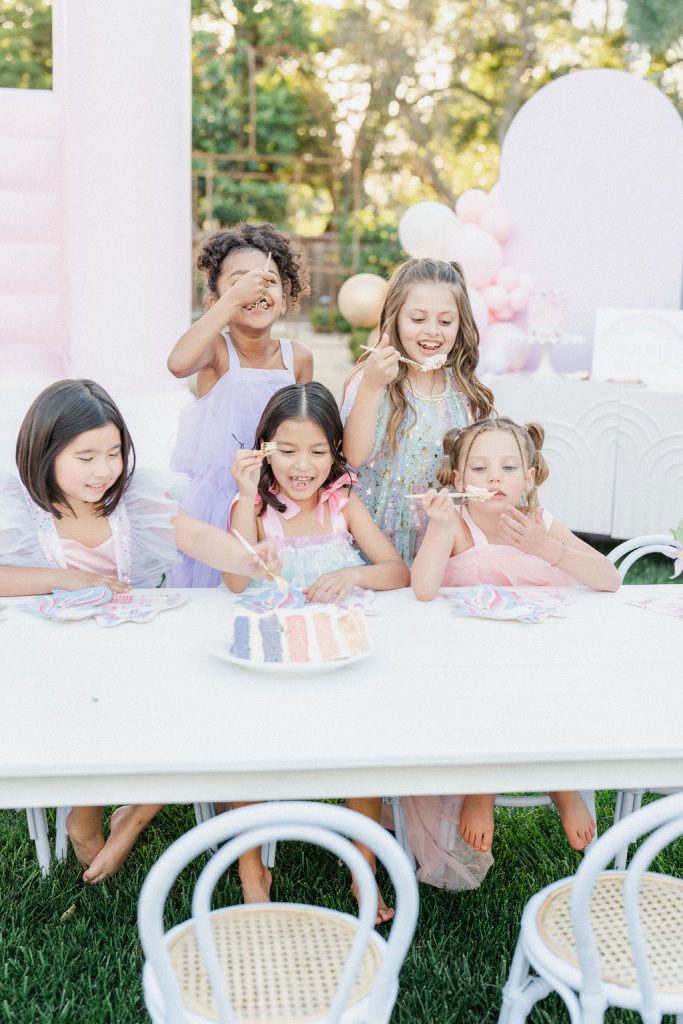 And that's a wrap on the prettiest backyard party ever!!! Shop this party below!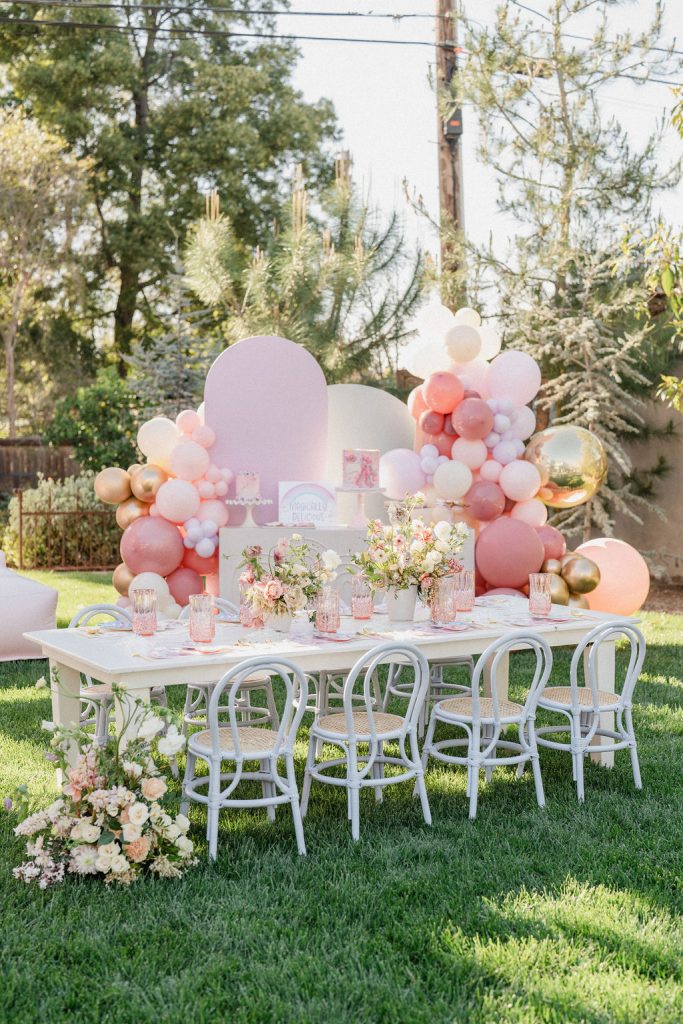 xx
Jacquelyn