Creating fun food for kids that is both healthy AND creative can be quite a challenge. The first hurdle is, well, they are kids! Kids, particularly mine in general, can be stubborn when it comes to trying new food. Their little dino nugget, Annie's mac + cheese, white rice, fruit, and plain pasta bubble are hard for them to leave. Getting them to even try something new is just plain exhausting. You know they will love it, but those little stubborn minds just won't budge. On top of that, having it be food that is silly and fun, well that's just near impossible. Mainly because well, how can you make mac and cheese and dino nuggets look fun?!?
With the start of the new year, it was time to try and find something healthy that is fun for the kids to snack on! I had a ton of ideas, but I came across the winner on Instagram. It's the popular Instagram craze, the Mermaid Toast! You remember this craze a couple years ago? My daughter is super into mermaids and unicorns, so it was time to bring back this craze in our house. This under the sea toast is not only super cute to serve up, but it's on the high level of healthly with having superfood powders like blue-green algae, spirulina, hibiscus, and beetroot. These superfood powders are natural dyes that create pretty pastel cream cheese which create that picturesque mermaid look!
Are you ready to get your mermaid toast game on? It takes under 5 minutes to make and your cool mom status to skyrocket!
---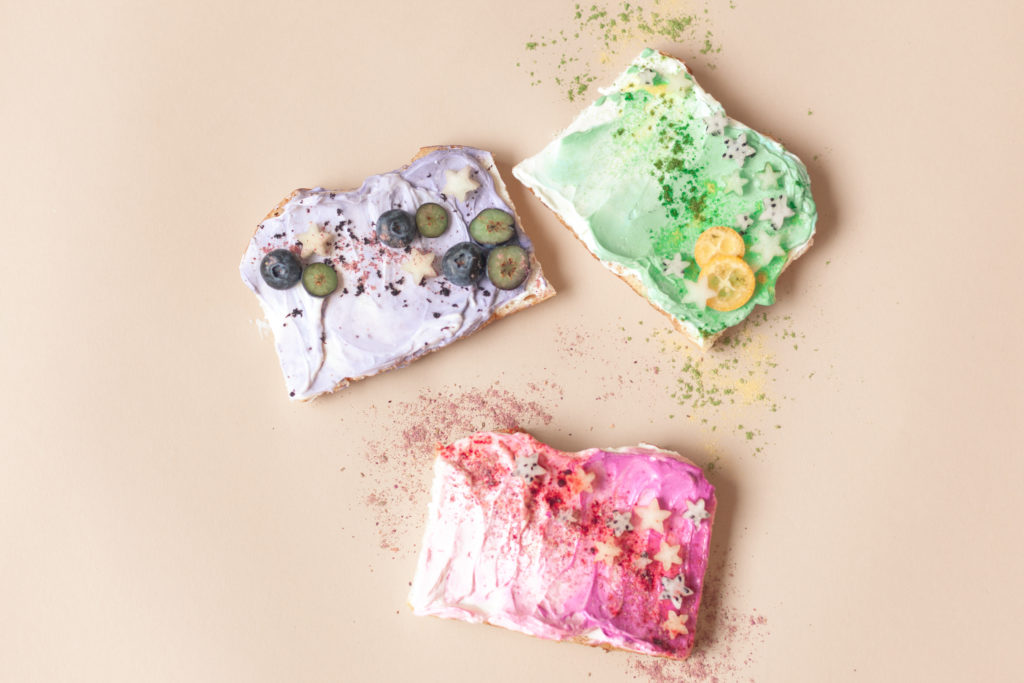 Mermaid Toast
SERVES: 1 toast | PREP: 2 MINUTES | COOK: 3 MINUTES
W H A T   Y A   N E E D!
Toast or bagel
1-2 tablespoons cream cheese
1 teaspoon spirulina powder
1 teaspoon beetroot powder
1 teaspoon hibiscus powder

Various toppings: chia seeds, shredded coconut, granola, kinds of your little one's favorite fruit, the list can go on!
B U S T   O U T:
mini star cutouts 
---
I N S T R U C T I O N S
There are so many different directions you do here. But the best part of this fun meal is its simplicity. So, keep it simple! Cut out stars and heart shapes from your little one's favorite fruit.
Get your toast or bagel, and spread a thick layer of cream cheese on toast. Sprinkle your superfood powder of choice on the side. Use a knife to carefully mix in the powder, making swirling motions. Spread it to the other side for full coverage. You can also premix your superfood in another container of cream cheese, and then spread and intermix with the cream cheese already prepared on the toast.
Add a pinch more of the powder to create a darker ombre look.
Get creative and add chia seeds, shredded coconut, fruit, edible gold leaf, glitter, the list goes on. But, again these are kids, so maybe just stick with the cream cheese and fruit. We can't scare them off right away!

*Beijos Tip- Test your superfood powders 1st before giving your kids, some of them can have a taste that would have any kid spit it out! But you can throw some in there, and add a little bit of natural food coloring to create that desired pastel color!
---
---
B E I J O S  K I T C H E N  

xx
Abby