It's been a minute since we had a new post and guess what?! The next month is full of them! I'm kicking off some newness for you this weekend with this pretty Spring table I designed with Sophistiplate's Wild Flower collection. It has the most gorgeous water color floral design in the prettiest color scheme. It was so dreamy to play around with this collection adding in gorgeous floral arrangements, rattan, fruit, and amazing details. Take a look at how we styled this and get inspired for all the pretty events you can host at home! Maybe even some Mother's Day inspiration? I think so!
The beautiful photos by Jessica Lynn Photo are a must see, enjoy…
Gotta start off any event with a pretty invite! Pirouette Paper made this pretty and we love the modern and simple touch that lets the print of Sophistiplate's Wildflower collection stand out. Aren't the poppies so fun?! We loved using the colors to create fun details like place cards and the invite. It's all styled to perfection on a Chasing Stone mat.
Here's a better look at that gorgeous Wildflower collection. The colors just play so well together and we love the pops of different tones and textures!
Onto our table! Of course we had to have all the fixings for this one! Balloons, florals, rattan chairs – we had it all! Those gorgeous chairs are from Sweet Salvage Rentals – you may recognize them because they are one of our favorites to use, haha! Balloons are of course by my girl Ellen at The Pop Shop – this time we added some greenery and I love the way it looks.
The table was set with Sophistiplate's beautiful Wildflower collection along with their Bella flatware in pink. I'm obsessed with this flatware and use it very often for our parties and shoots. It comes in so many fun colors and just has that cute modern feel to it. I love how the plates have that gorgeous rose gold waved edge as well.
As far as those gorgeous floral arrangements go, well those are by the one and only Earth & Grace! She combined the perfect textures and colors yet again to create these beauties. I added some oranges and kumquats as well for pops on the table.
I mean talk about a stunning place setting! The place cards by Pirouette Paper were kept simple to let the plates shine! As with the glassware that are from my own collection at home. They are from The Little Market and Sur La Table.
I'm so obsessed with these flowers by Earth & Grace! I just want to have flowers like this in my house every day forever!! They really captured the vibe of the plates which makes it even better.
You don't just have to have flowers on the table! I like them on the floor too! There's something about flowers, once they arrive at an event things just liven up and look complete.
The same goes with balloons – they sure know how to make a statement!
Now that's a table I want to be at!!!
Yummy bites and some vino are always a must, right?! One Hope always spoils us with wine and Taylor Made Catering did this amazing grazing board, and those cute cookies?! They are by none other than Arlos Cookies. Pretty food and treats to add to our pretty table!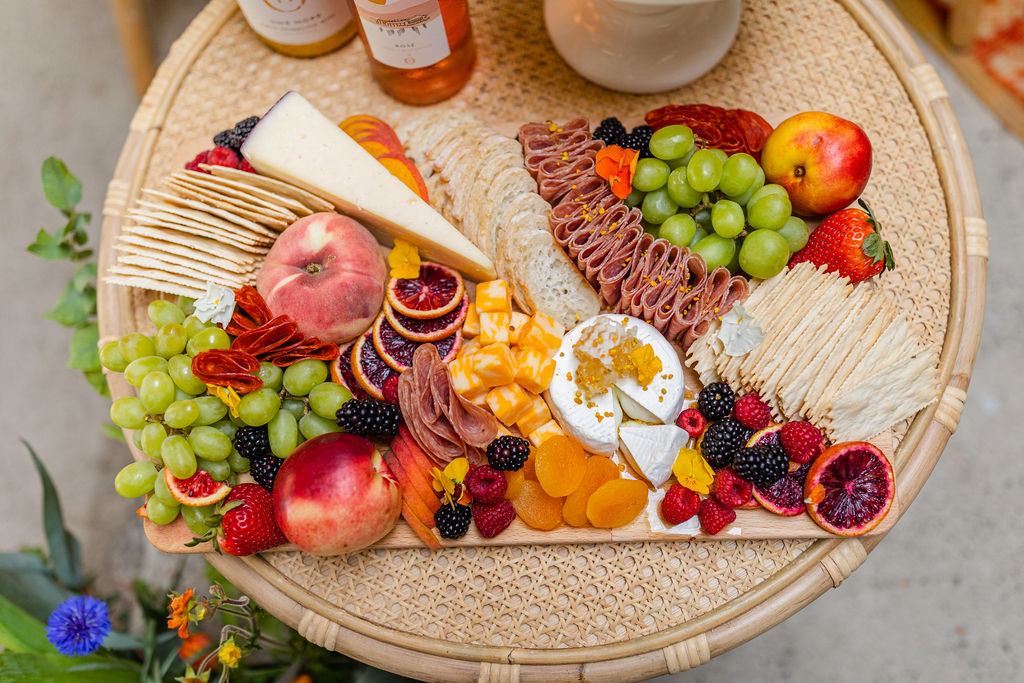 So much pretty, I can't get enough!
We added the blue salad plates from the Wildflower Collection, love them! The blue really adds a fun pop!
Pretty darn gorgeous if I do say so myself!
I truly love entertaining, and setting a pretty table is my love language. There's so much that goes into the design and creation of each and every party and table we do. I only hope you love them as much as we do! My pretty dress is by Saltwater Luxe, because as a hostess it's also important to dress the part!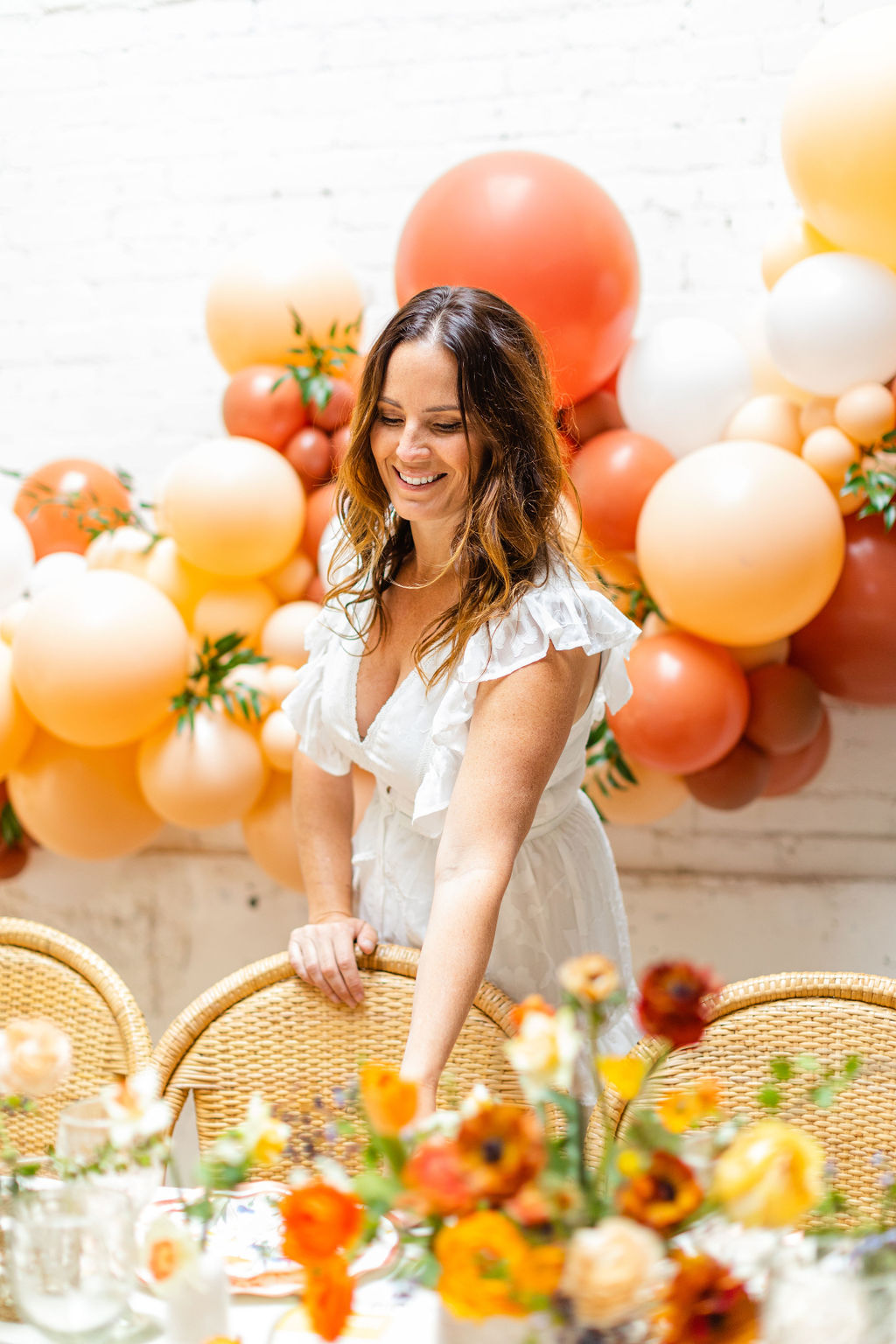 Cheers!!!
Happy Spring!!!
xx
Jacquelyn