The summer is full of fun, and lots of parties! Have you been to a few of your own over the past few months? It seems like the birthday parties, backyard hangs, and just extra fun is never ending! Well we added to that, because that's how we roll! I teamed up with my friends at Pottery Barn Kids to throw two lucky kiddos the ultimate birthday bash. My son Cruz has a summer birthday along with his buddy Colette, so we spoiled them and their pre school buddies rotten with a colorful and amazing birthday party. Check out all of the fun captured by my friend Jessica Lynn Photo below!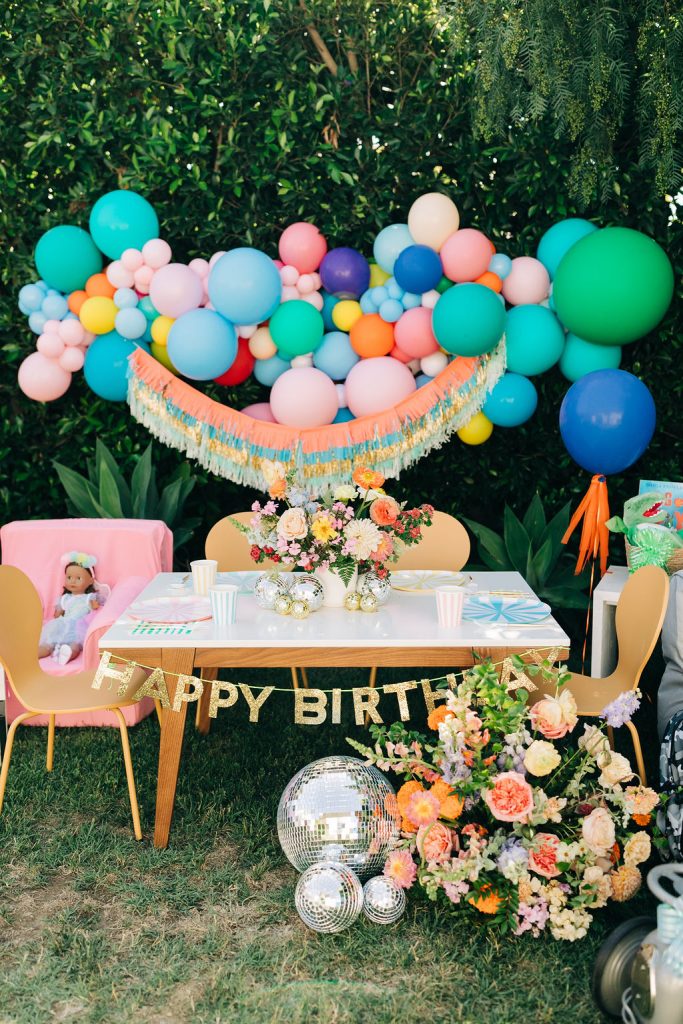 Nothing screams a birthday party like balloons! The Pop Shop brought only the most colorful collection for this party. Our adorable PBK Mid Century table and chairs were set with more colorful fun from Meri Meri and Sophistiplate. I love this new collection from Meri Meri and have been using it a lot this summer for our clients. Adding in a gold Happy Birthday banner, a few disco balls and gorgeous florals from Earth & Grace is always a good idea too!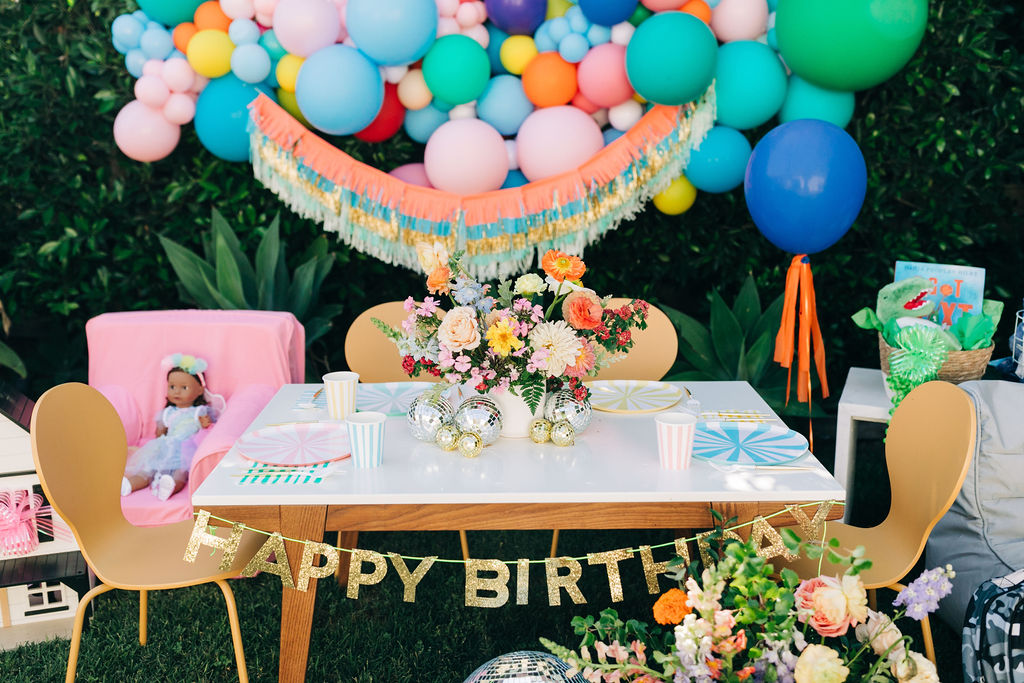 I'm obsessed with that fringe!!!!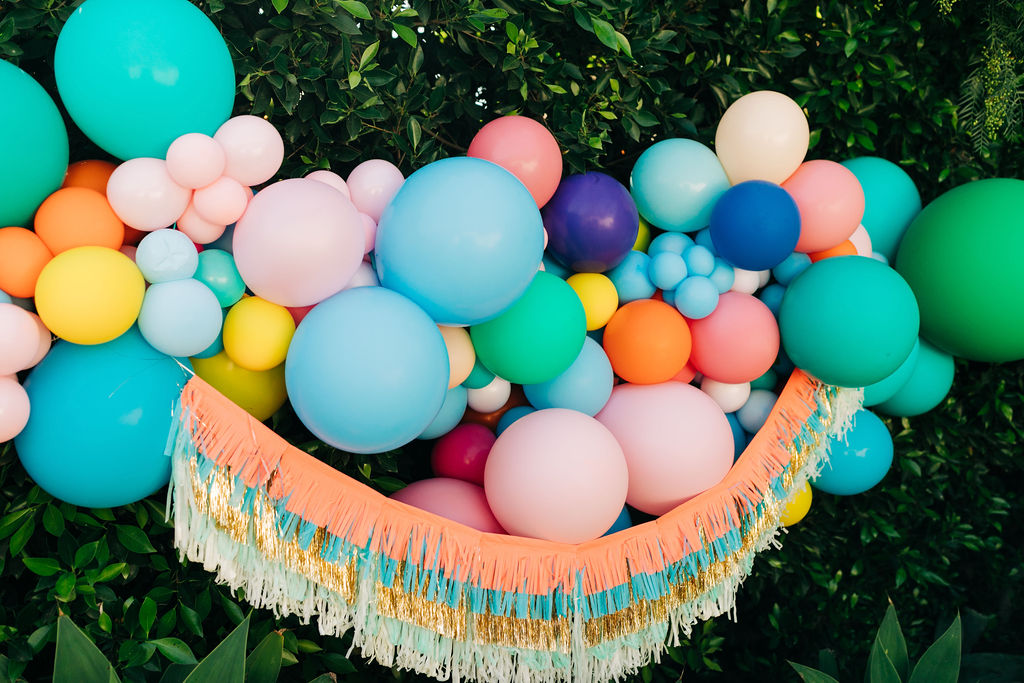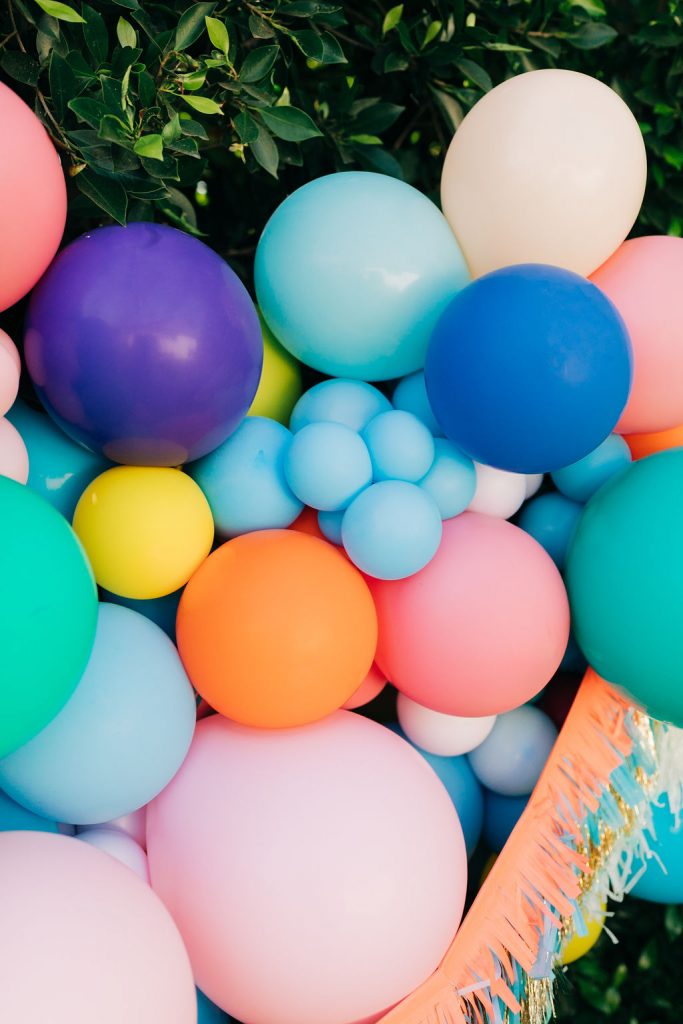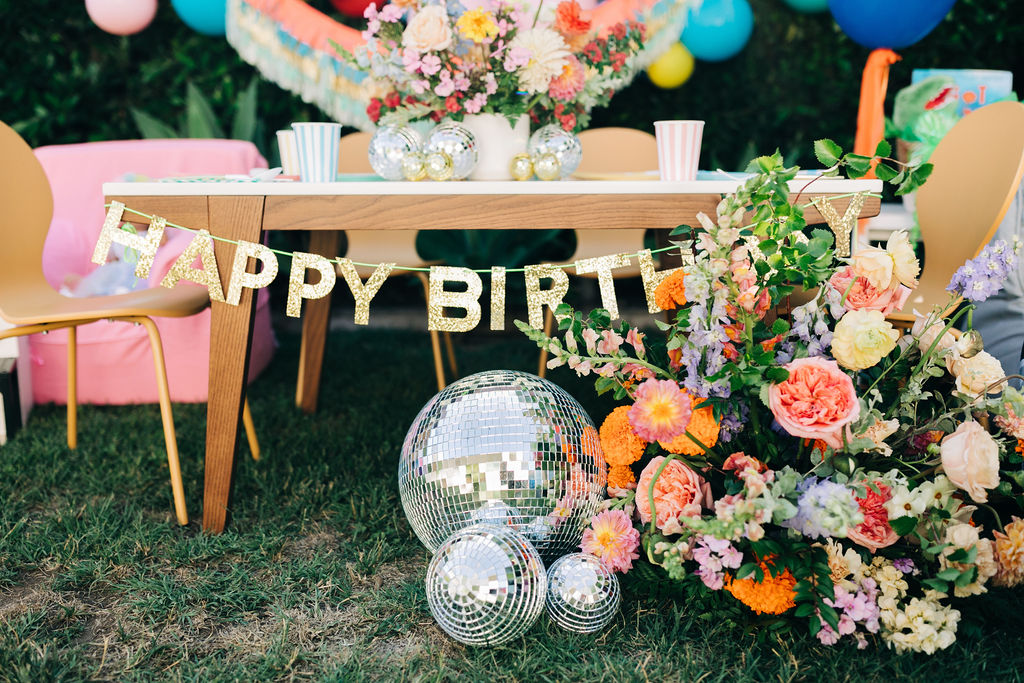 The absolute cutest plates in the best colors!!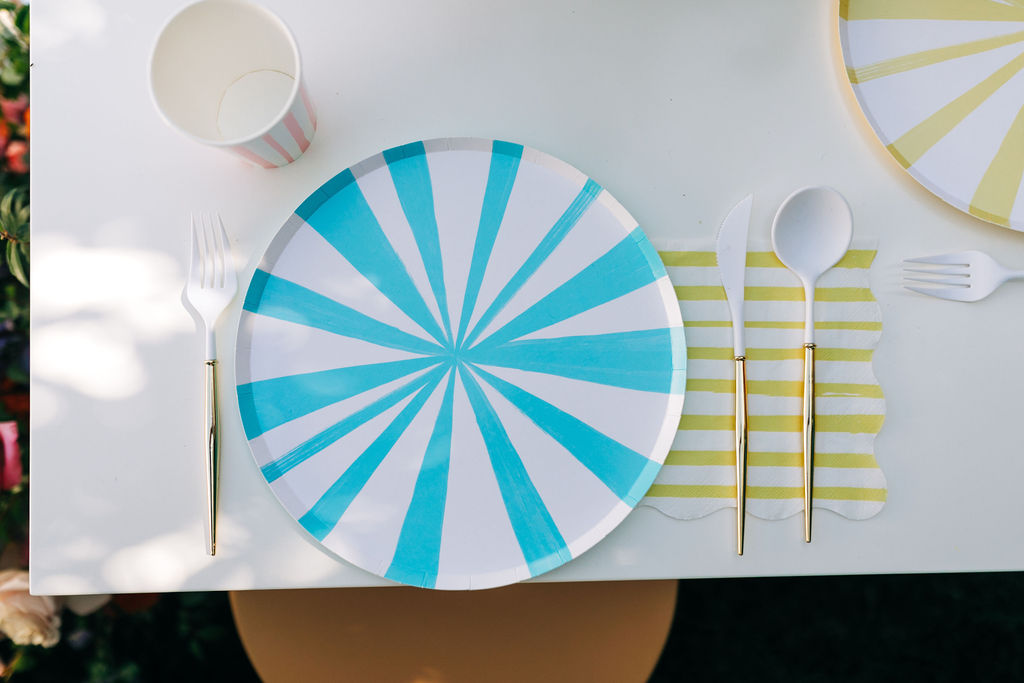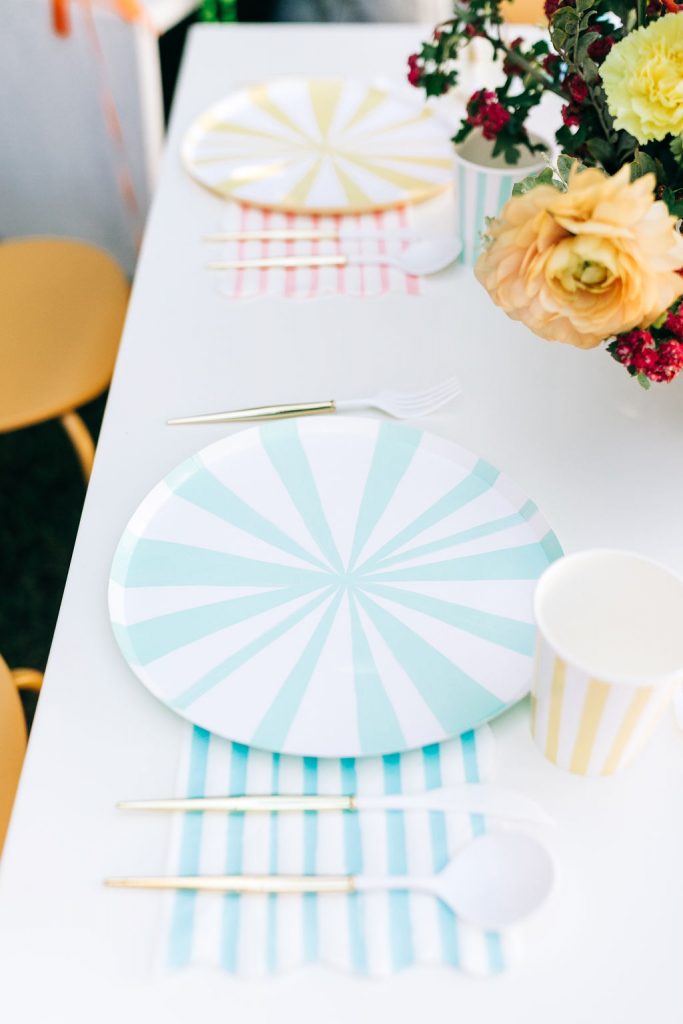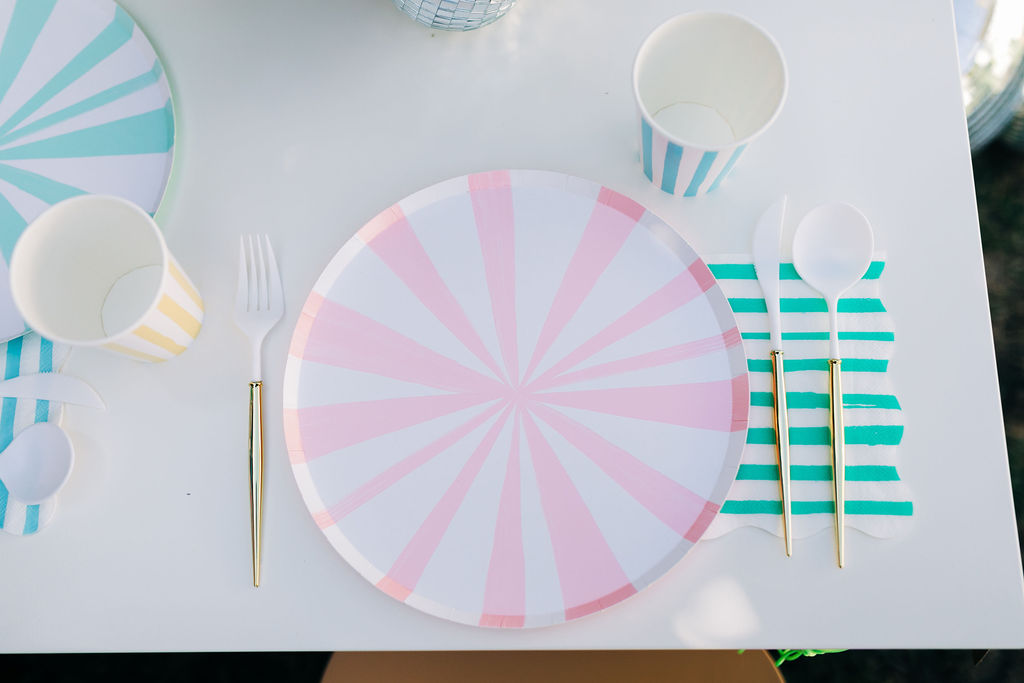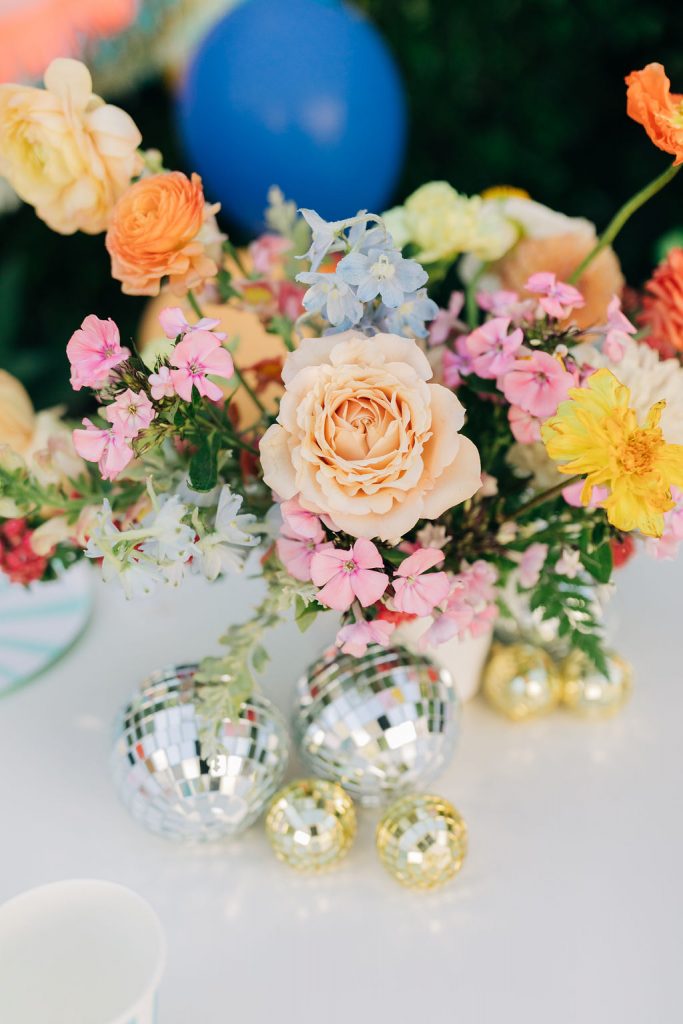 Now for all of the amazing gifts!!! Pottery Barn Kids really has the best assortment for our littles, from fun games and toys to amazing books and outdoor activity ideas. It was so fun putting together gifts for these two cuties to enjoy! Get ready for my top picks for all the best gifting ideas – you'll be invited to EVERY party once you follow this guide, haha!
Every little girl and boy needs a play kitchen! Colette was gifted this amazing mid century play kitchen from PBK along with a cute set of wooden cooking tools and fruits and veggies! She's set to play her heart out with her little sister! Question, can my own kitchen look this good?! Haha!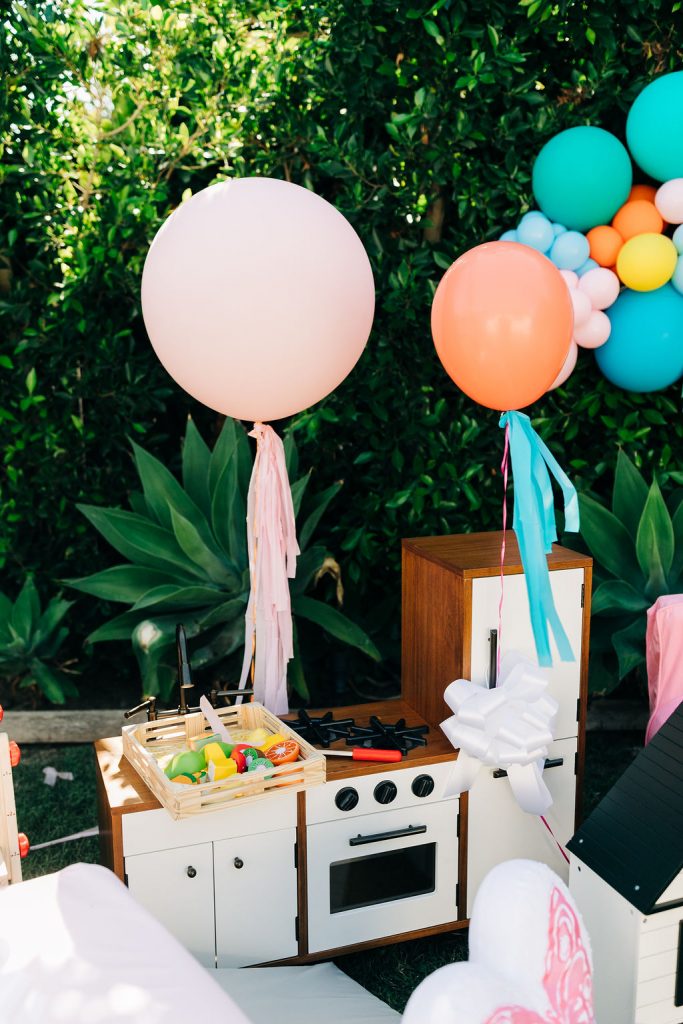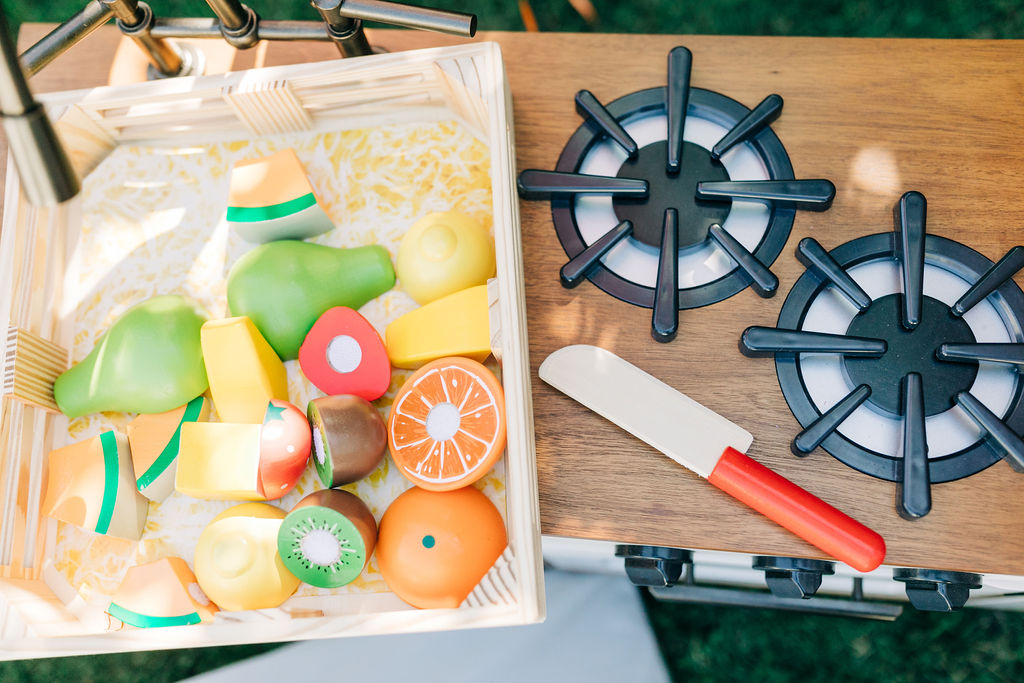 Both kiddos were gifted an art easel, art supplies, and a hooded beach towel. I love gifting anything where kids can be creative, so this easel was a top priority! The accessory set is just the cherry on top! And the hooded beach towel? Well that's for the kids to wear when Mom has to hose them off from getting so messy with paint, of course! Haha!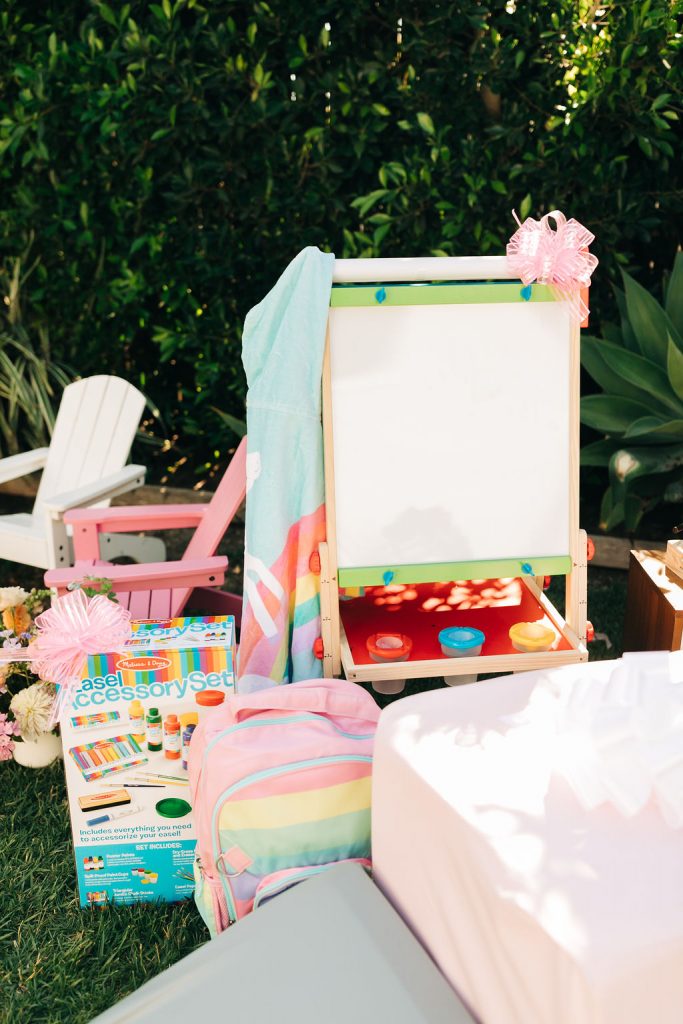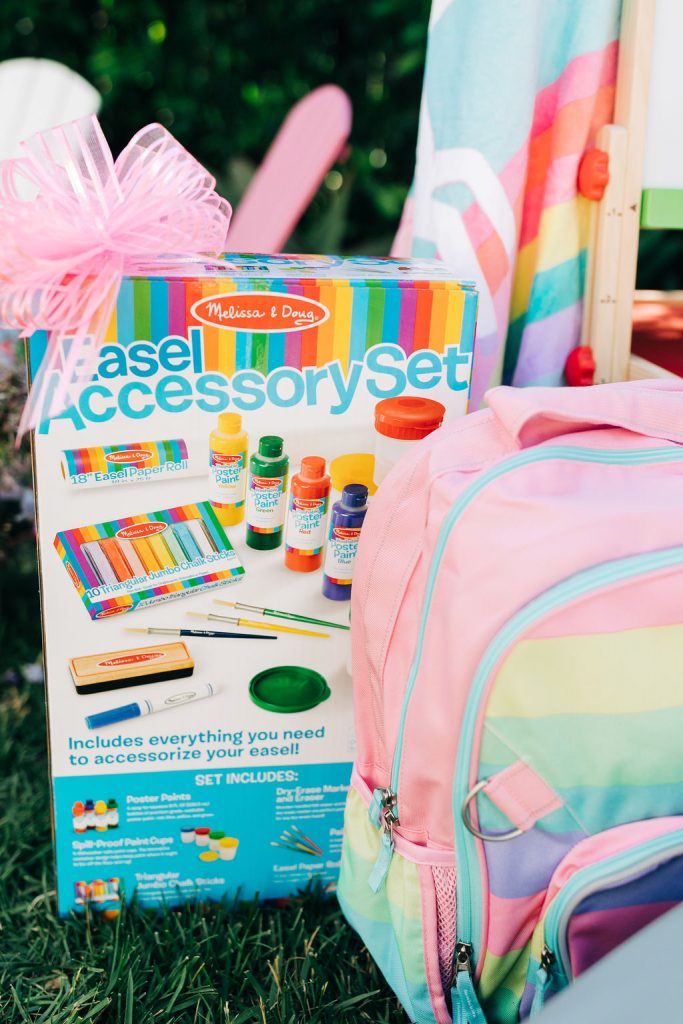 Another must have was this sweet dollhouse. I love that it's a farmhouse too! So cute, and again, wouldn't mind if my own house was this cute!!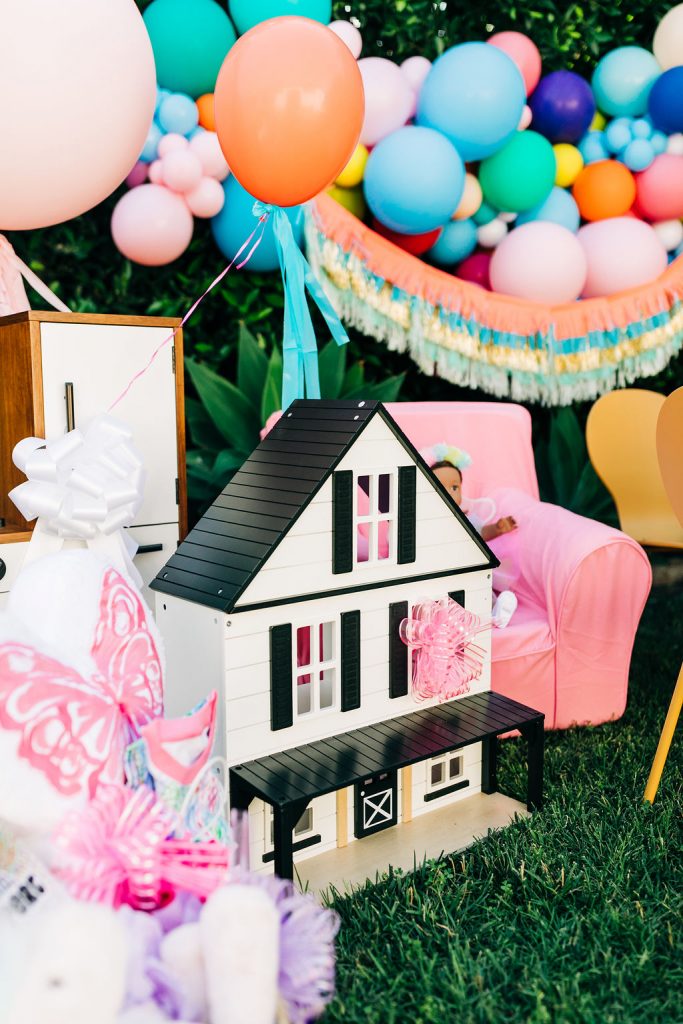 I did a few themed gift baskets, this being one of them! A pink butterfly pajama set paired with a pink butterfly pillow – I mean what little lady wouldn't love that?! Both by Lilly Pulitzer and the perfect cozy set!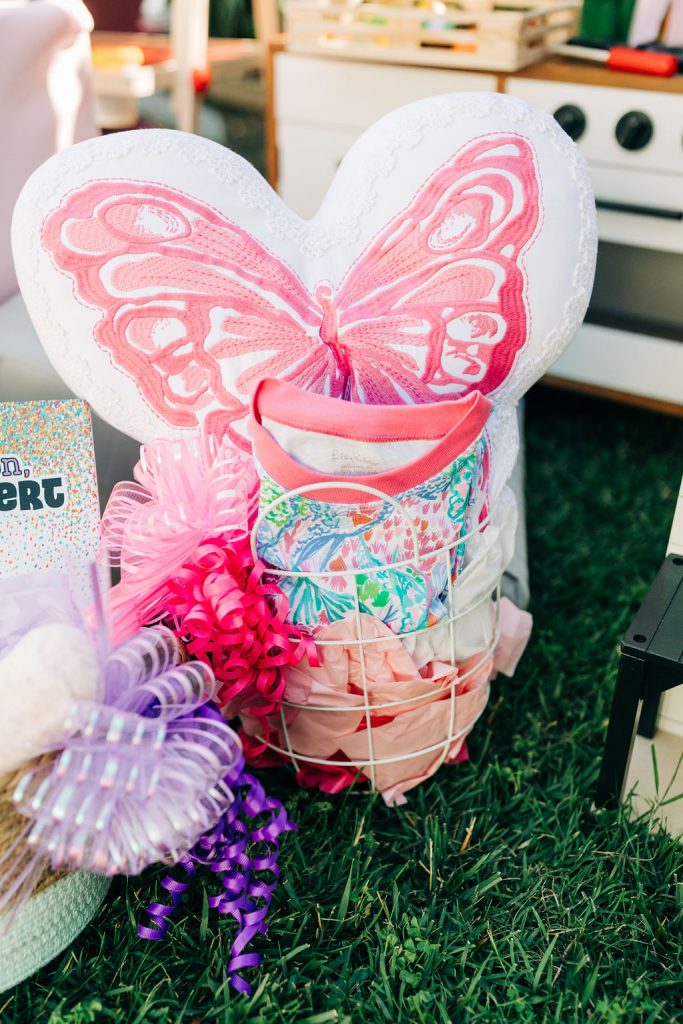 This play gym was a big hit since Colette does gymnastics! The perfect soft play jumping, get the wiggles out type of thing. You better believe I got one for Cruz too. Parents will thank you later! Haha!!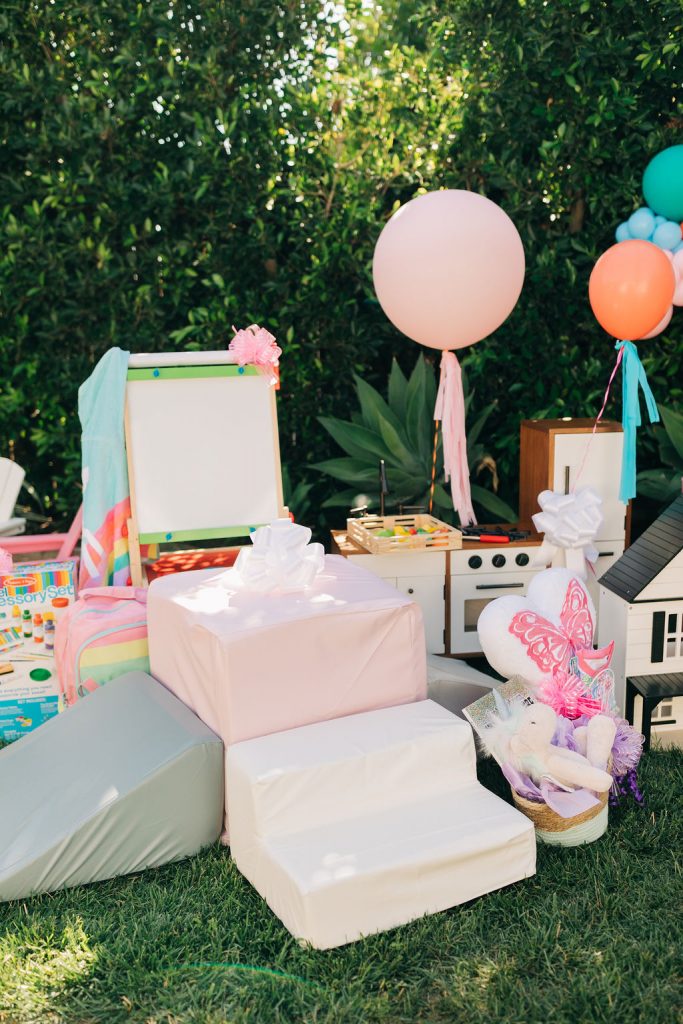 Another adorable find, this rainbow backpack – loving those colors!!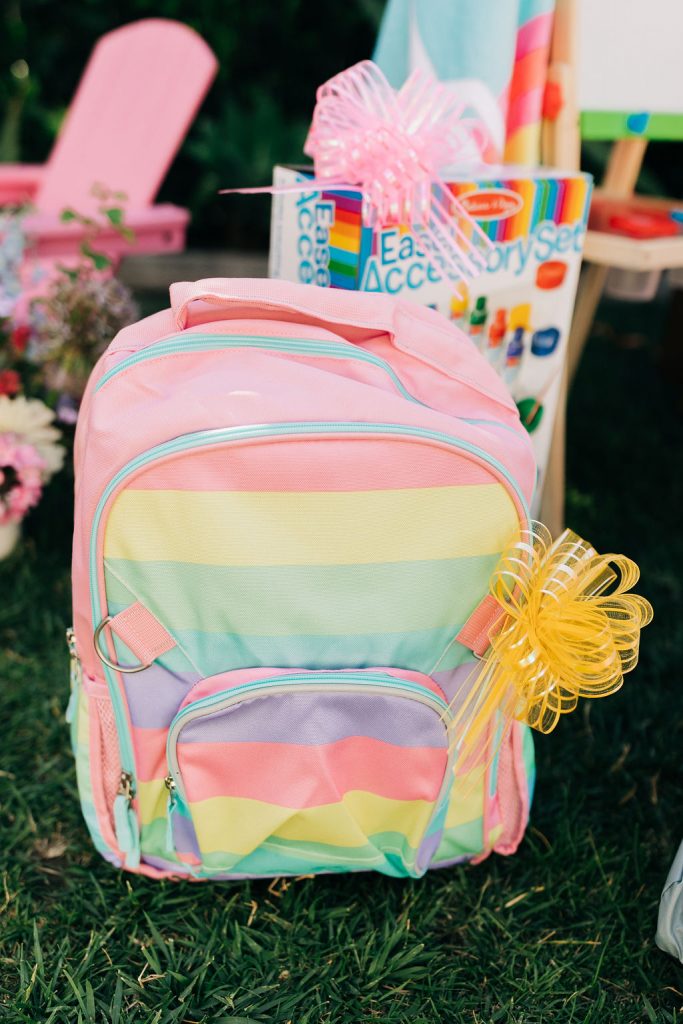 Now onto the boy's goodies!! Cruz was just as lucky as Colette and got an art easel as mentioned, plus a cute dinosaur towel!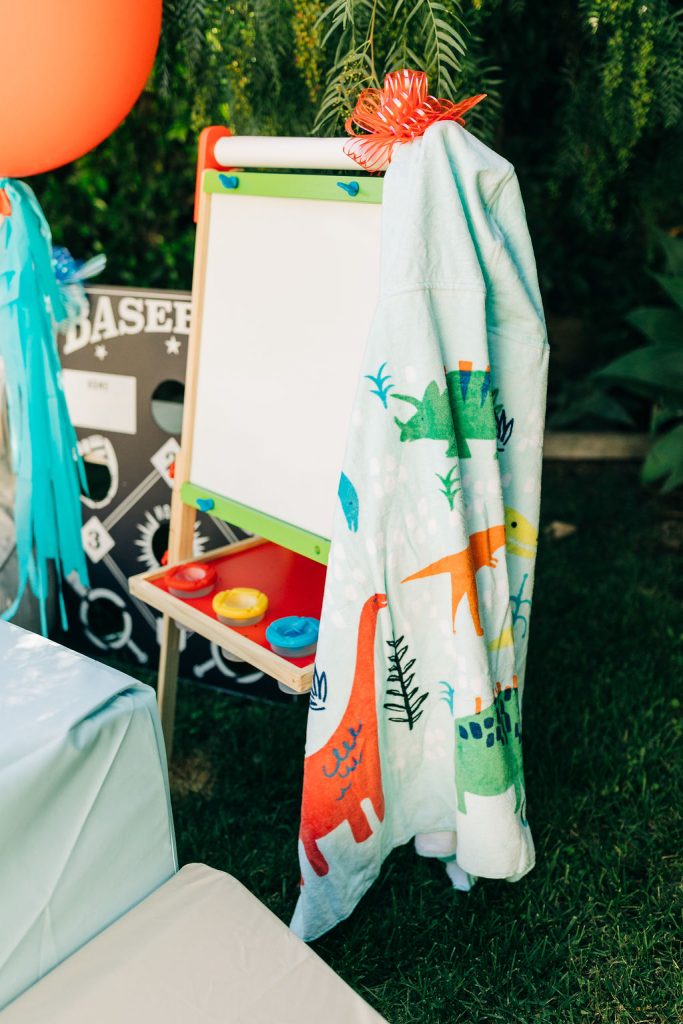 My little guy was VERY excited about his new backpack for kindergarten next year!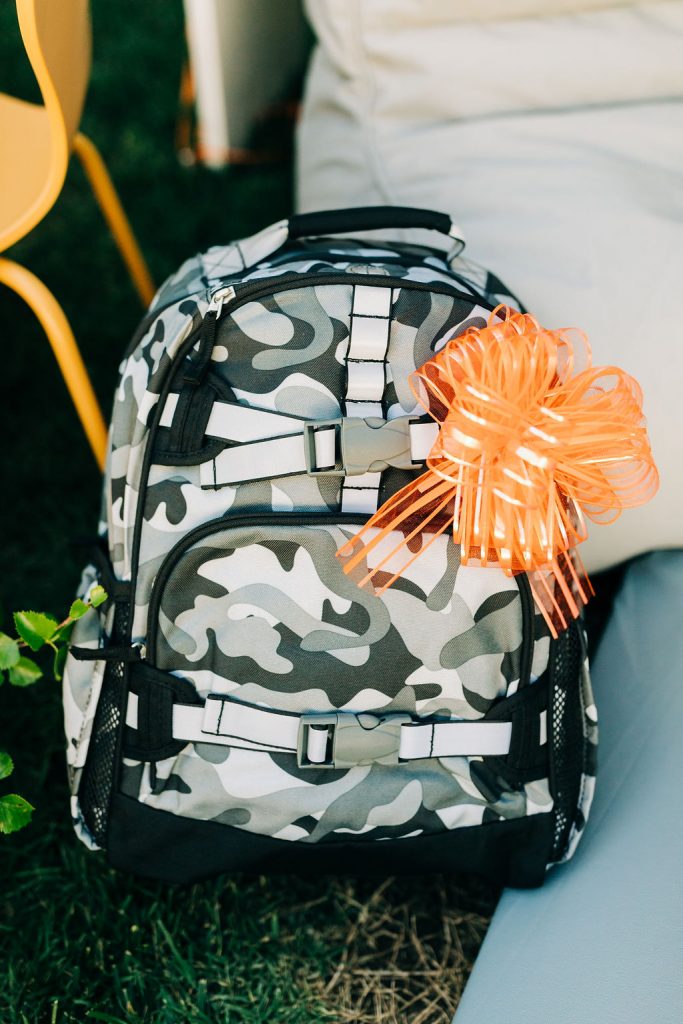 This little racer got ALL of the boys excited! Your very own race car?! Score!!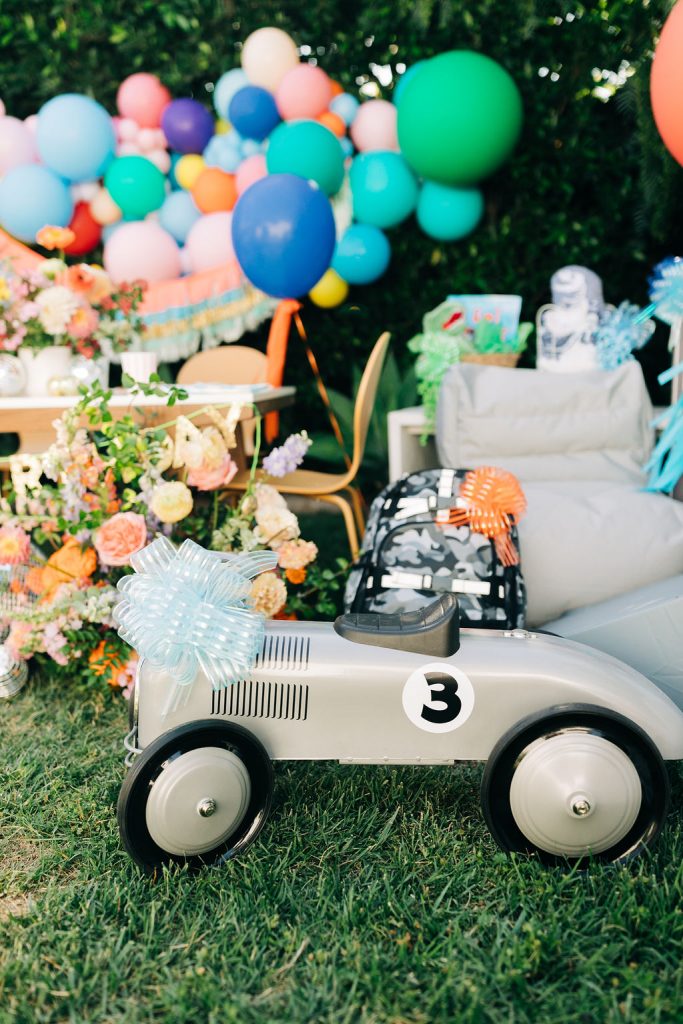 Another play gym, because trust me, these boys have ALL the wiggles to get out! And jumping on the couch can only go so far, haha…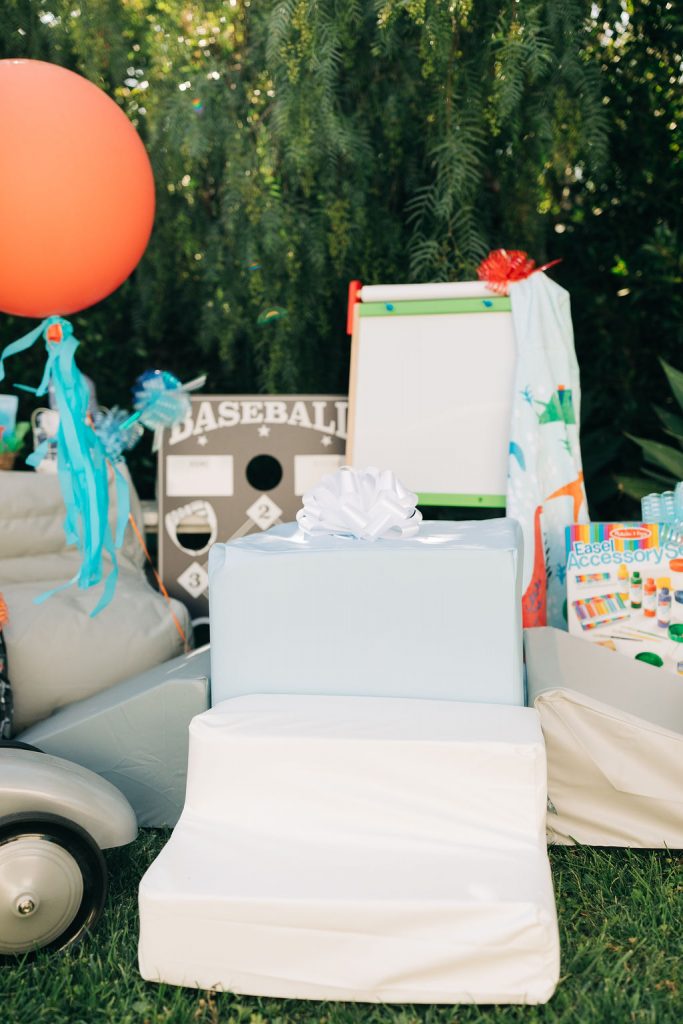 This gift set is similar to Colette's but Cruz got dinosaurs!!! Dino jammies and a Dino pillow to cuddle with and read all of the Dino books!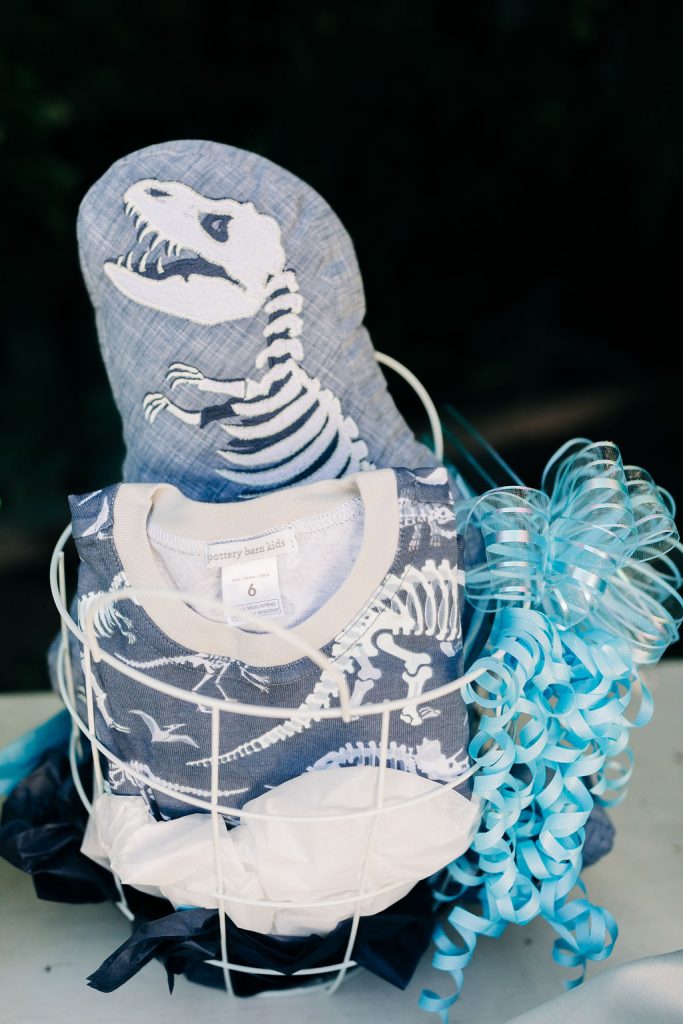 Another thing I love to gift kids are books! They are the best gift in my opinion and Cruz is a little obsessed with sports these days so this basketball book was a good find! Plus a snuggly Dino that lights up to cuddle while you read makes the ultimate gift basket.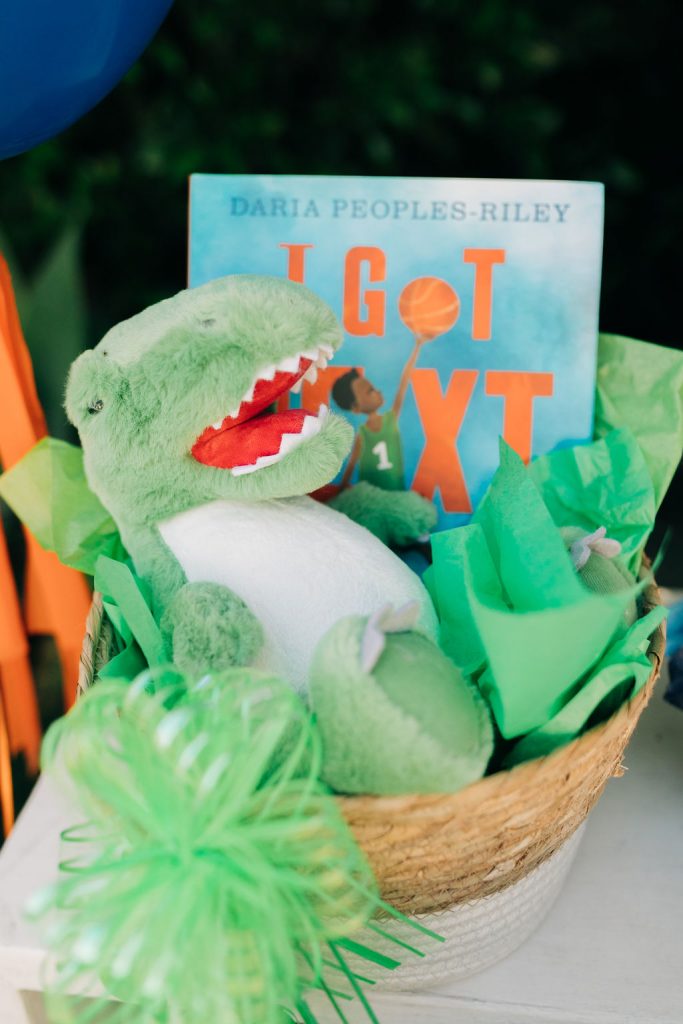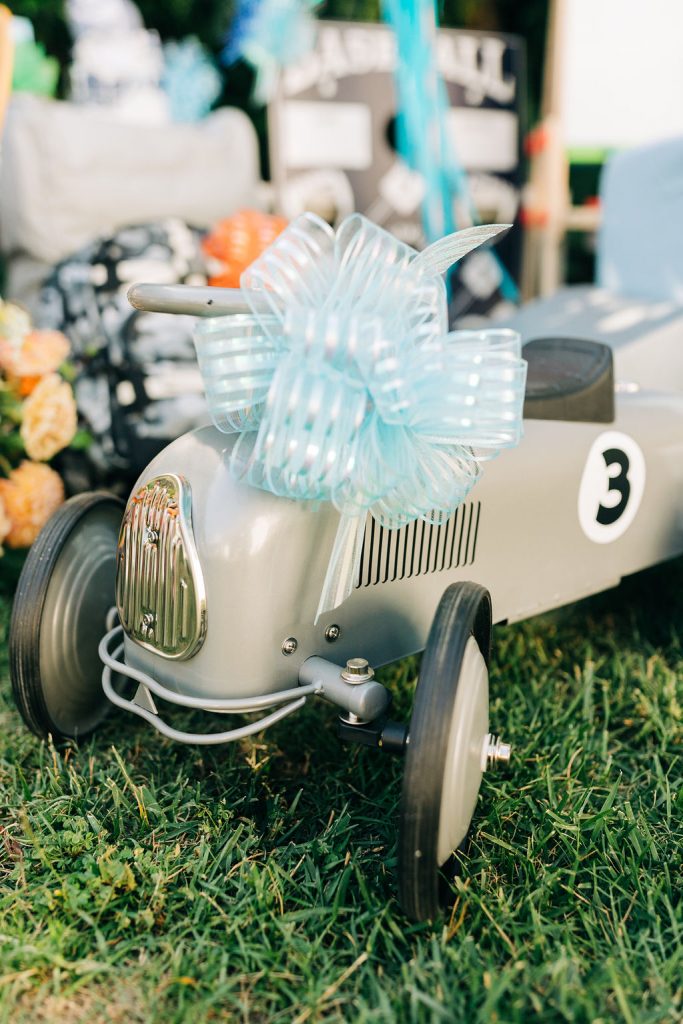 What a spread of gifts!!! I told you it was the ULTIMATE party!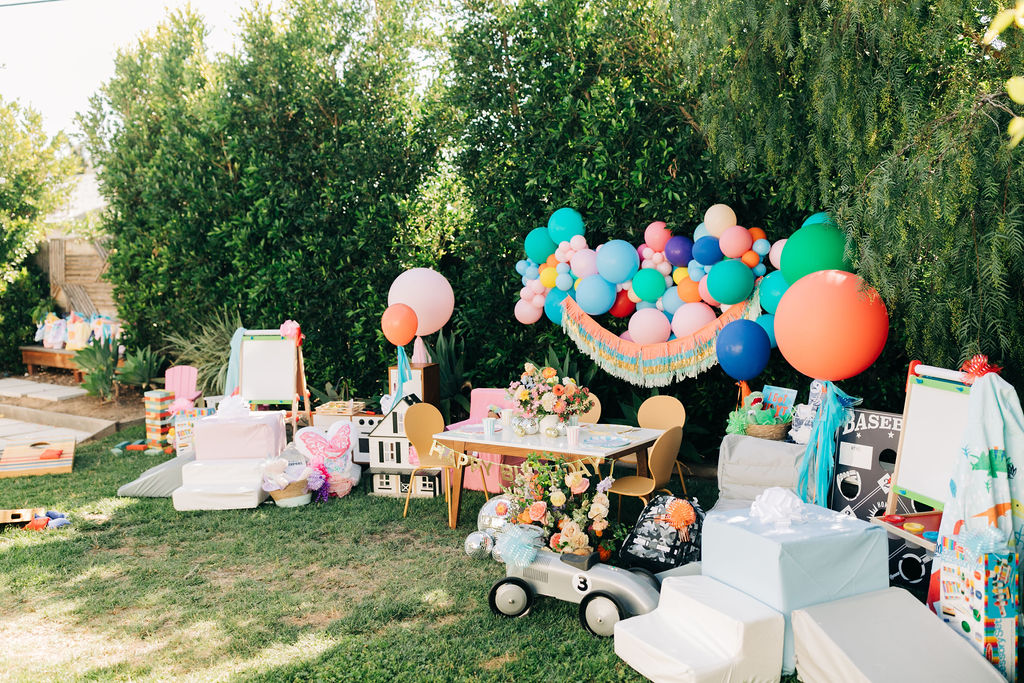 I set up a few outdoor activities for the kids to play with during the party including this jumbo jenga set and corn hole. The rainbow colors matched our party so well and the kiddos had so much fun playing with them! Also, how cute are PBK's Adirondack chairs? I'm obsessed!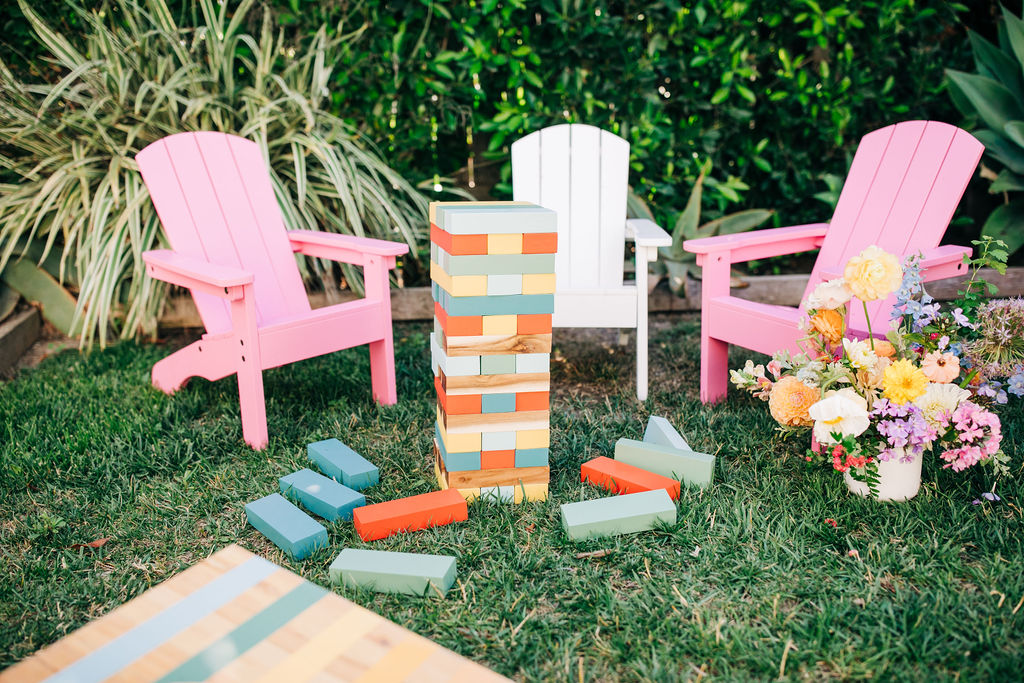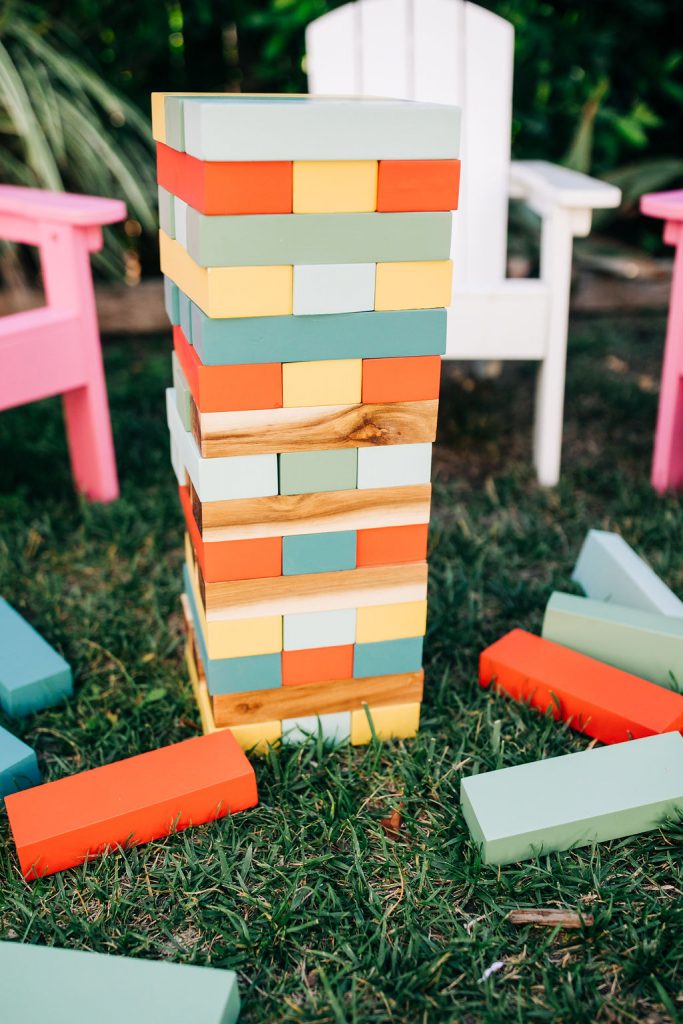 The birthday girl and boy weren't the only ones to get spoiled! Each guest had a personalized water bottle waiting for them at the party along with a few other goodies that I'll share soon…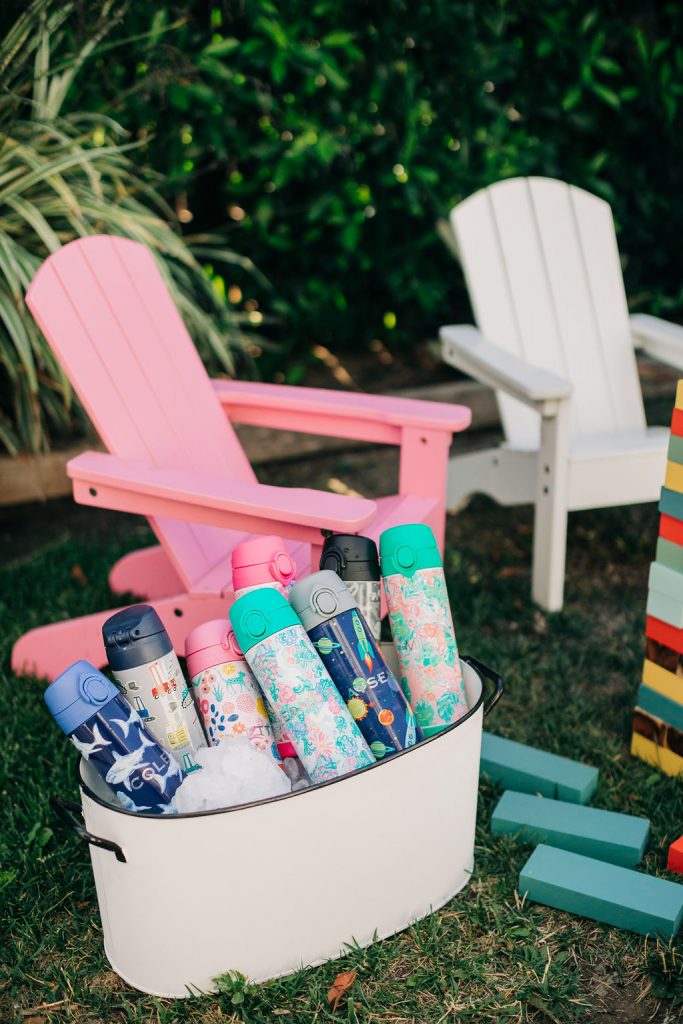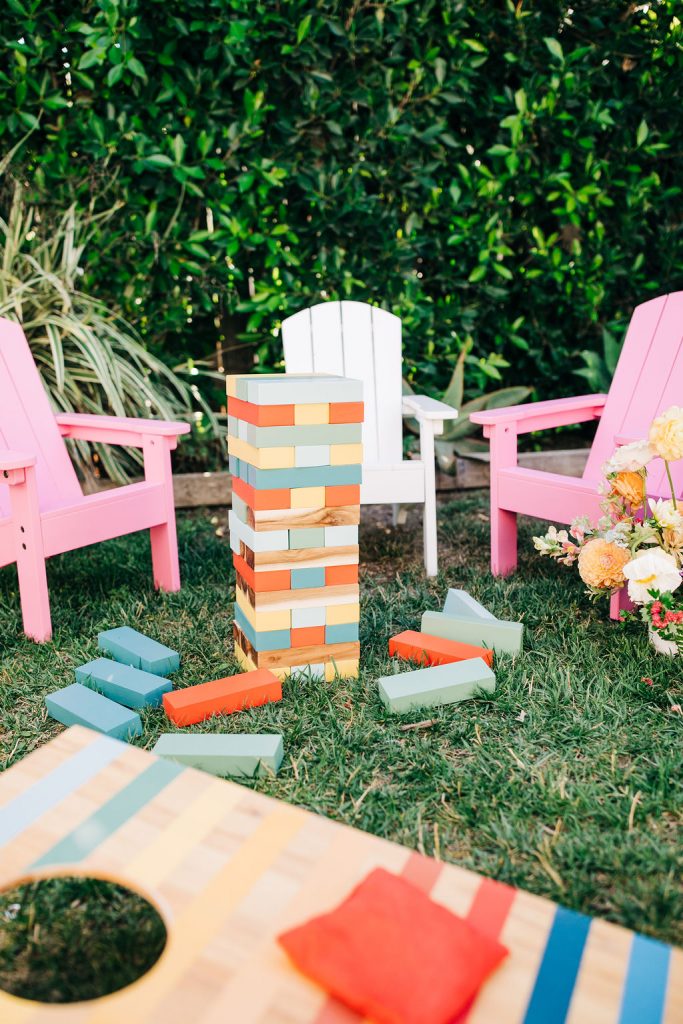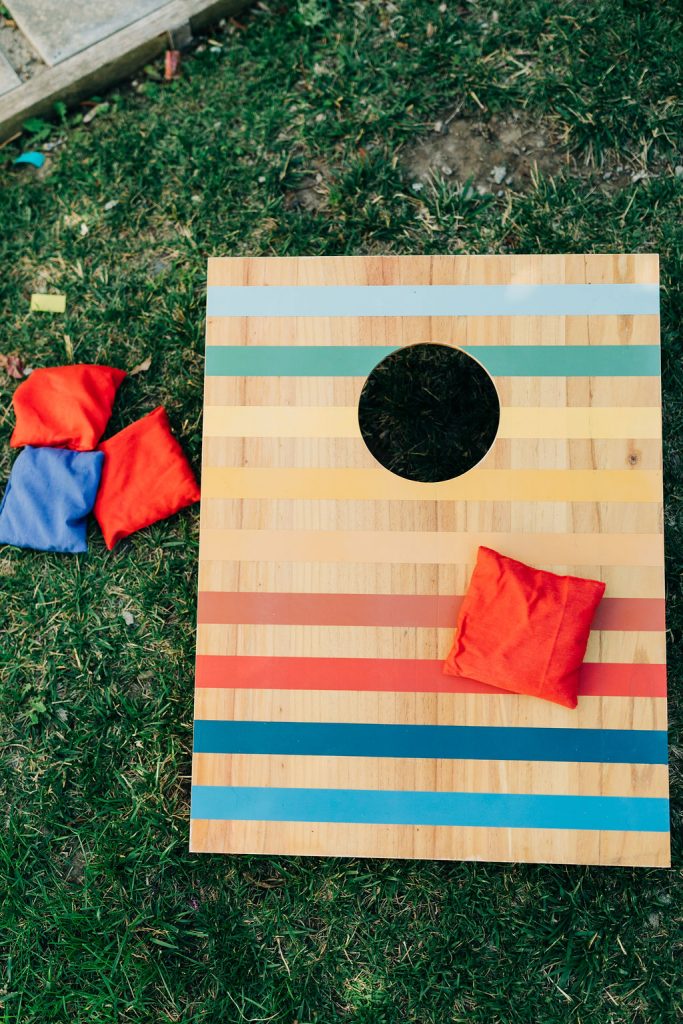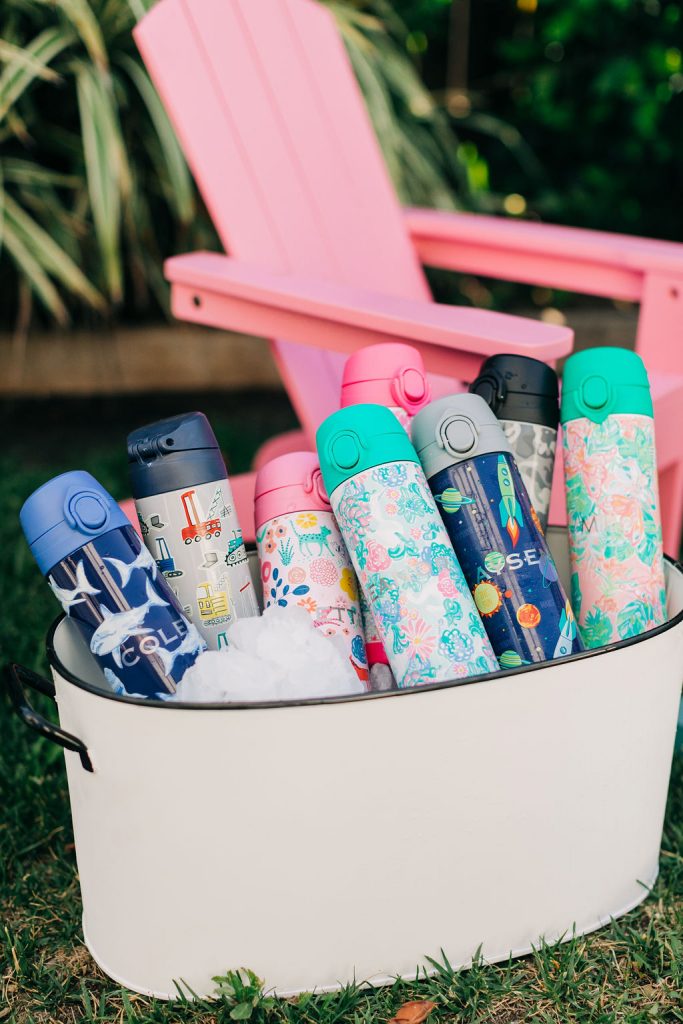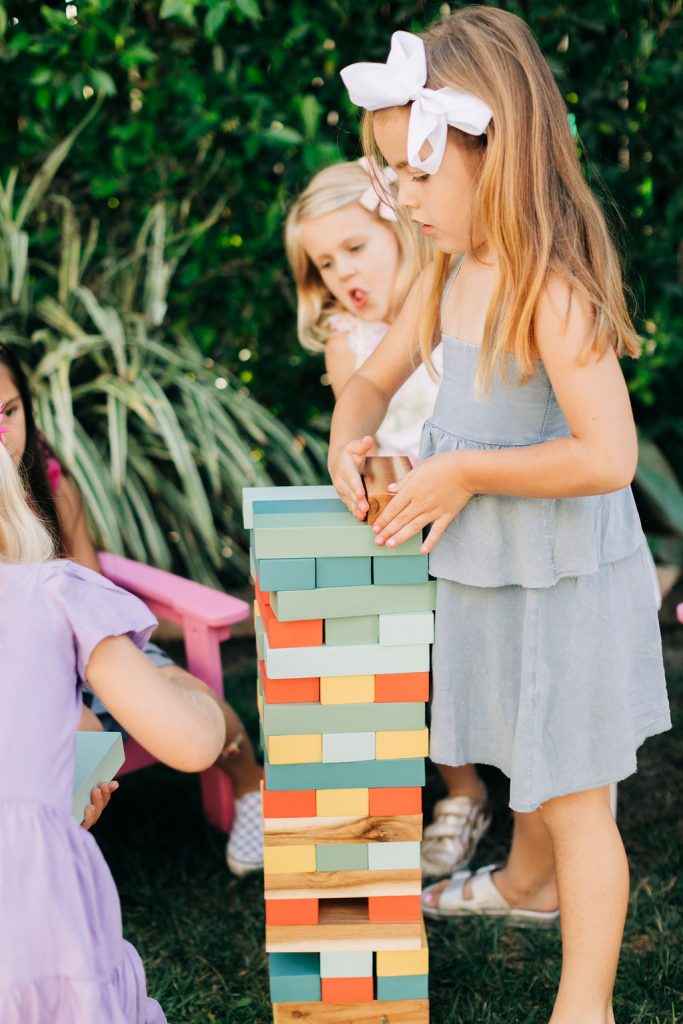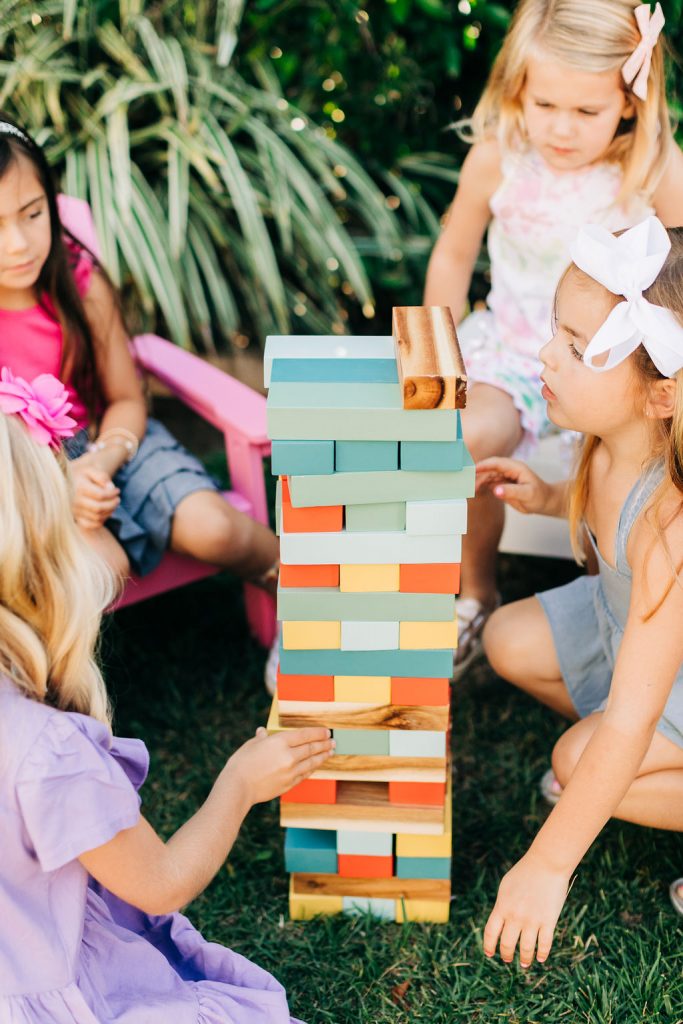 More goodies!!! I made sure that these kids were ready for summer with the perfect personalized beach bag and personalized towels! I love how colorful and fun these items are, PBK is the best!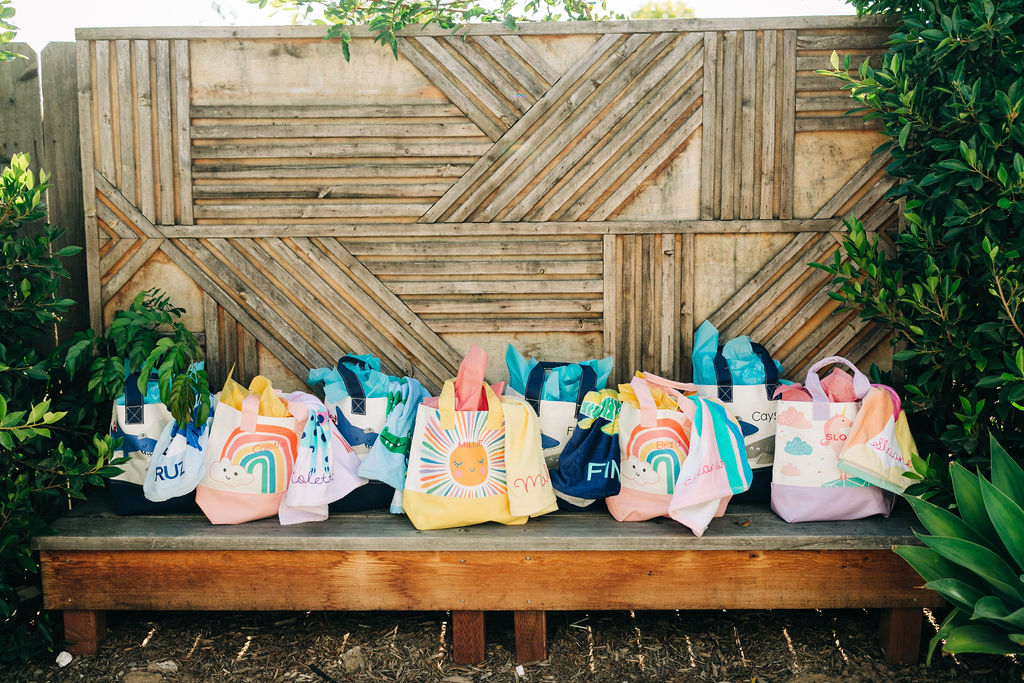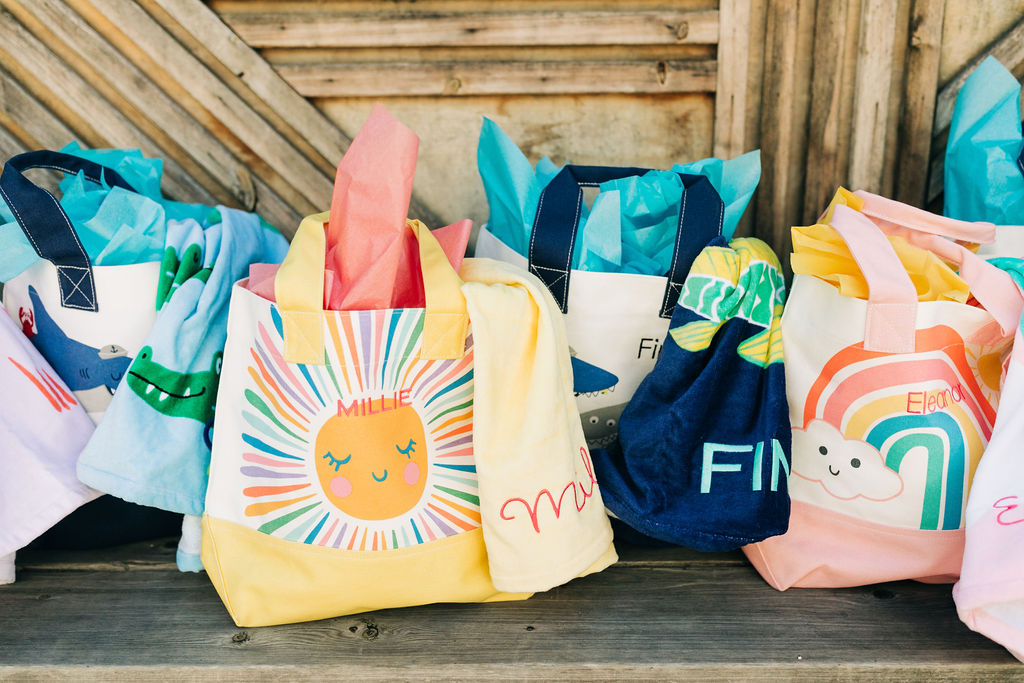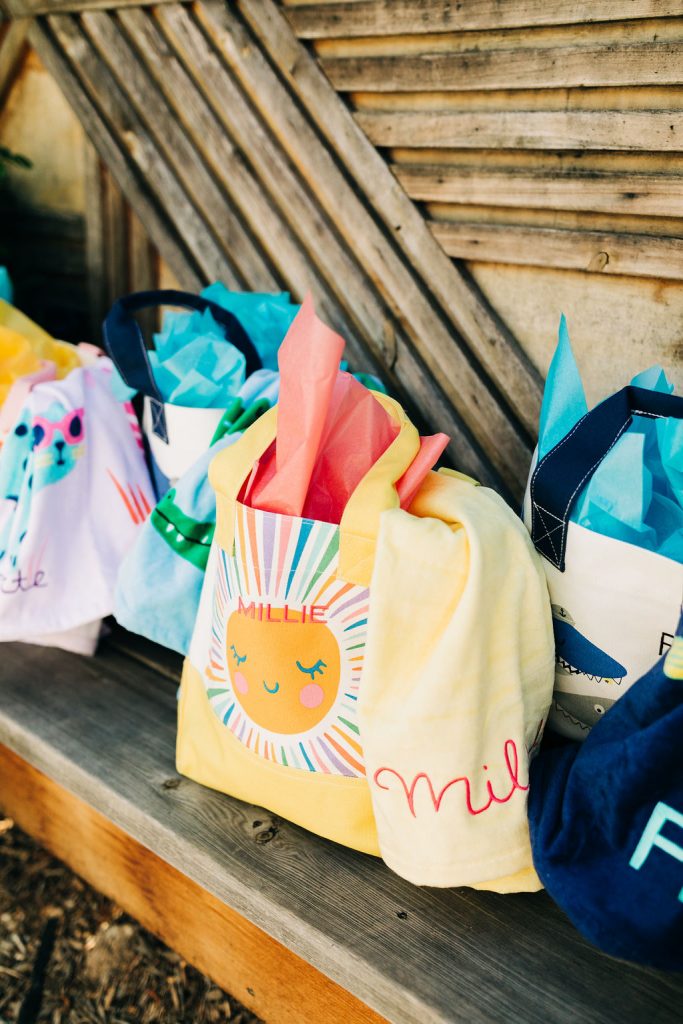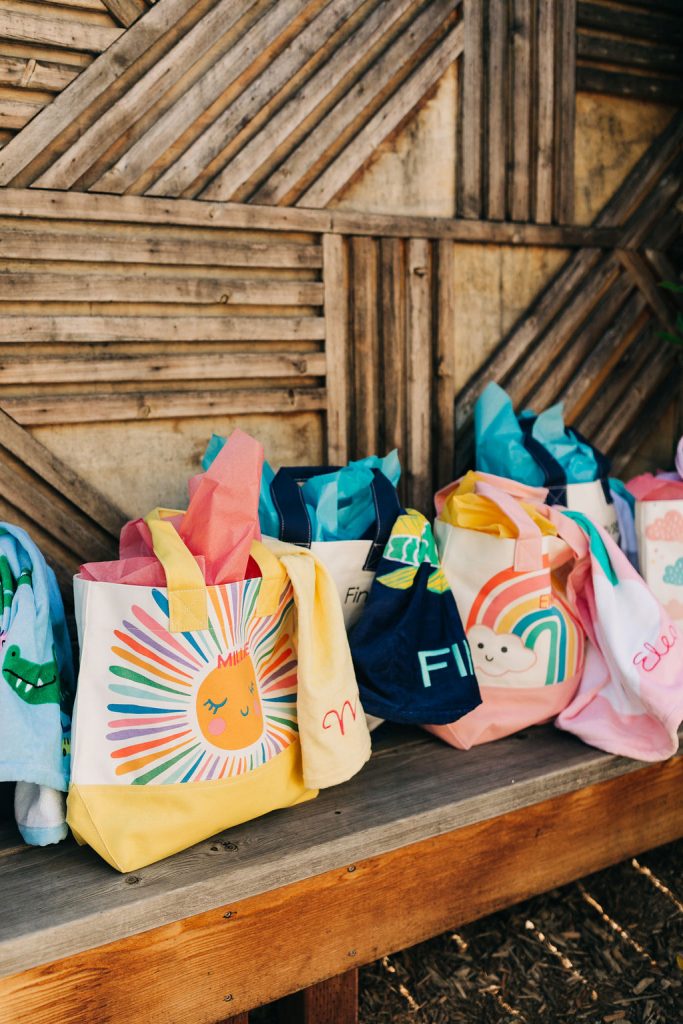 Of course these cuties had to each model their own swag!! Colette has the Happy Rainbow bag and Cool Cats Beach Towel.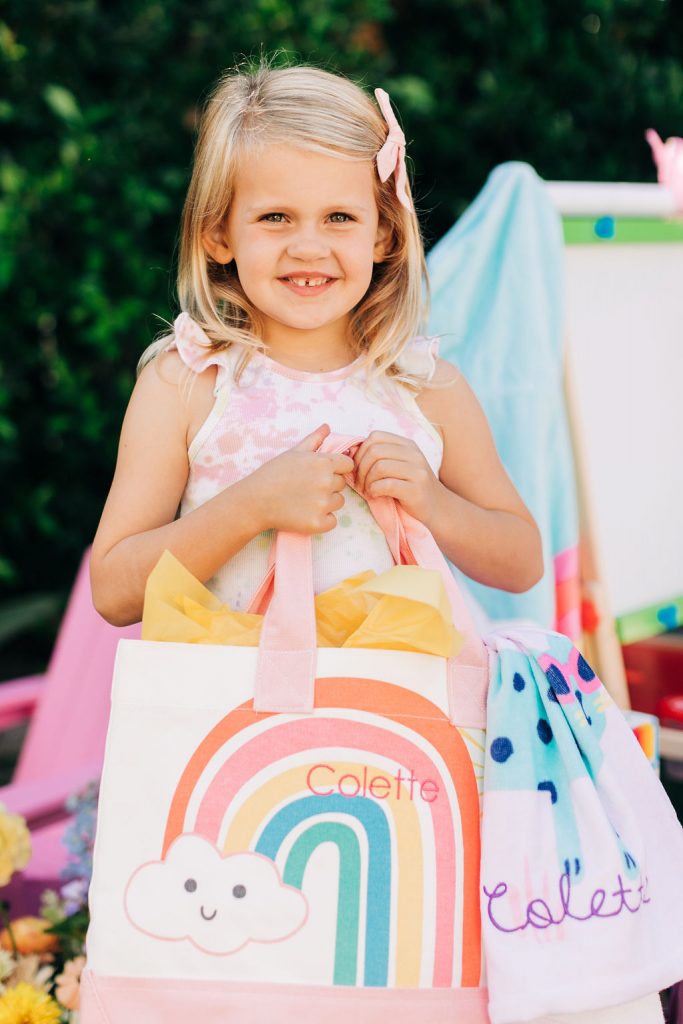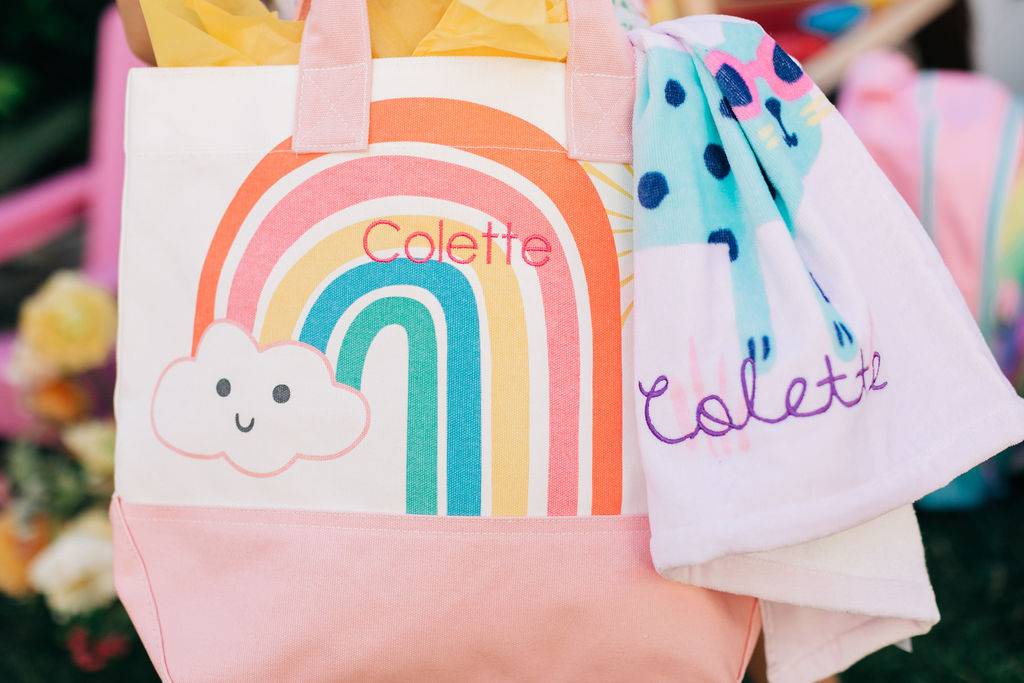 Miss Millie has the cutest Sun Beach Towel and matching tote, love the yellow and happy sun!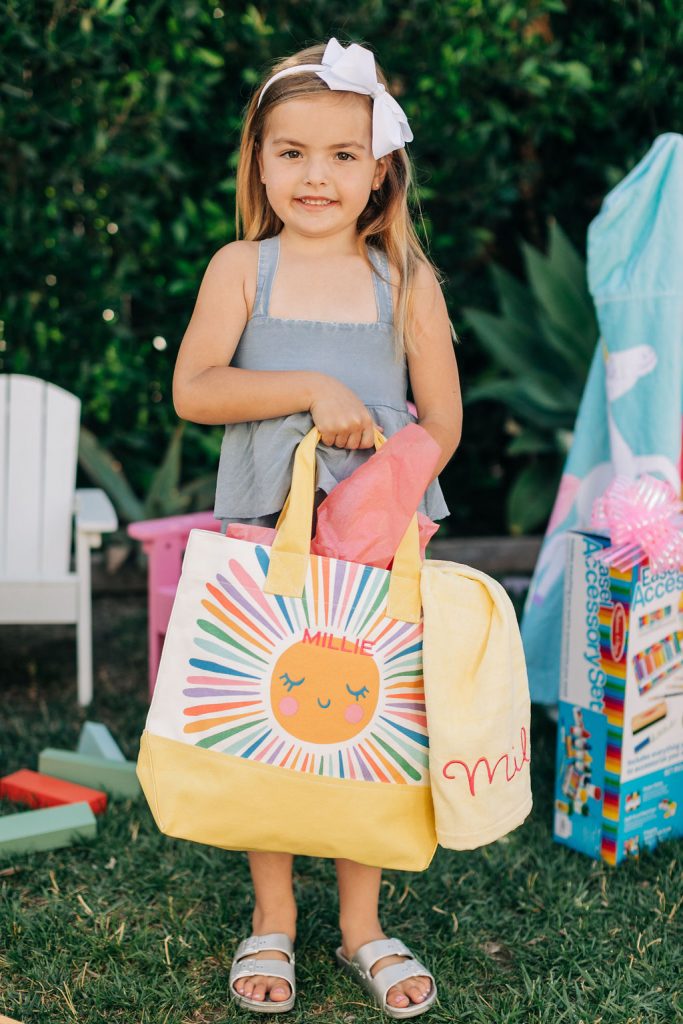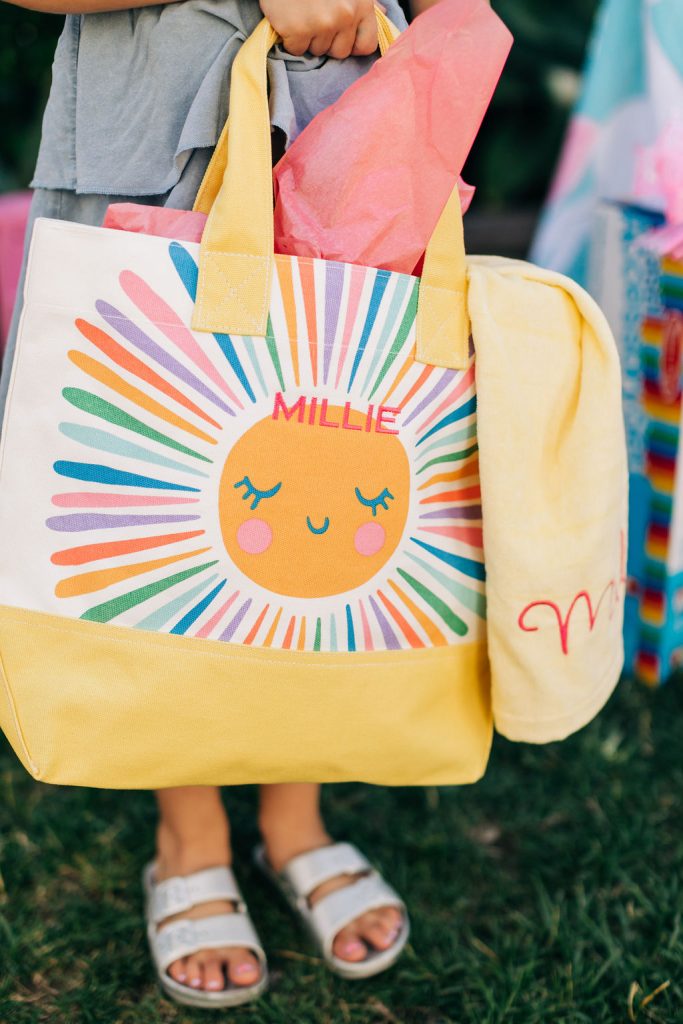 Cute little Eleanor also has the Happy Rainbow Tote and matching towel! I think she's just as happy as the rainbow!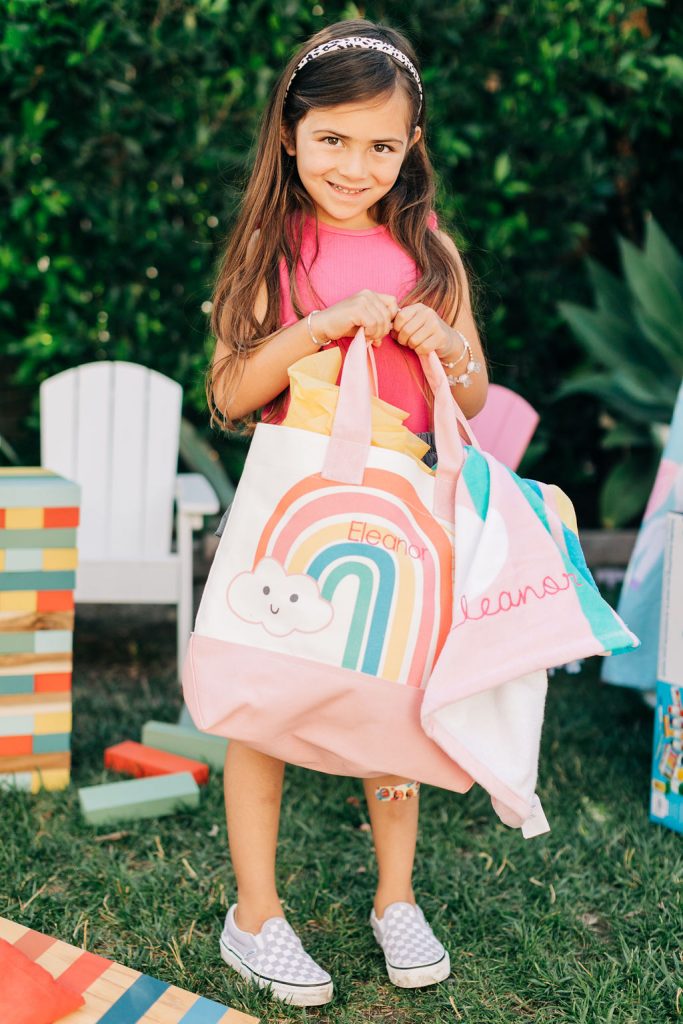 Happiest girls!!!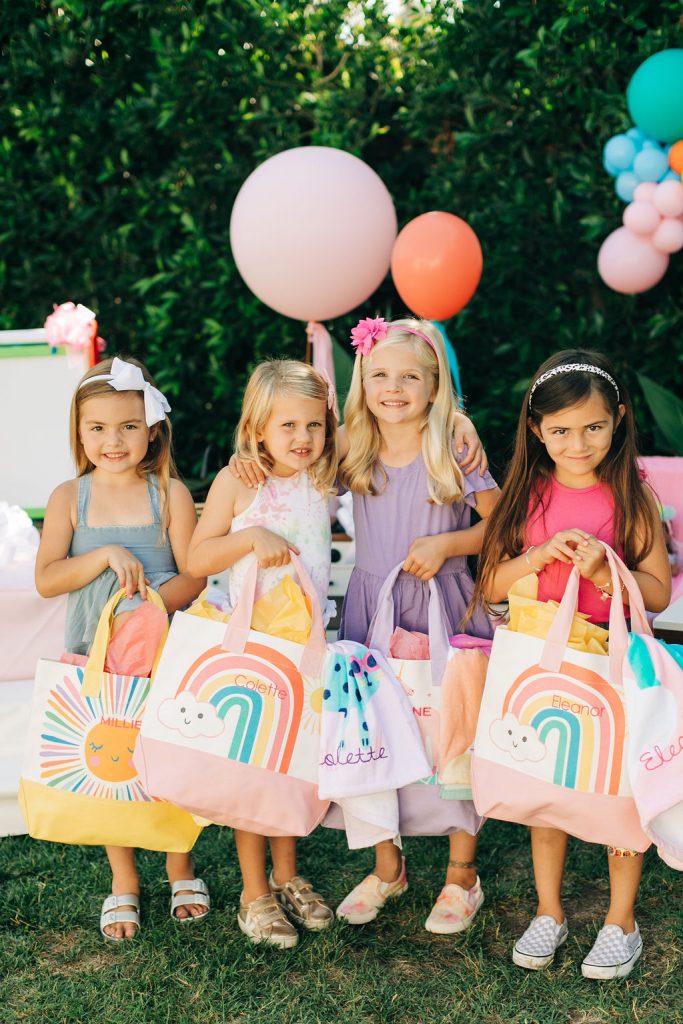 All of the boys got the Nautical Shark tote because these boys love them some sharks! Cruz got the Rainbow Shark towel to go with it – for a while he told me his favorite color was "rainbow" – he's since moved on to golden and now turquoise. But he still loves his towel!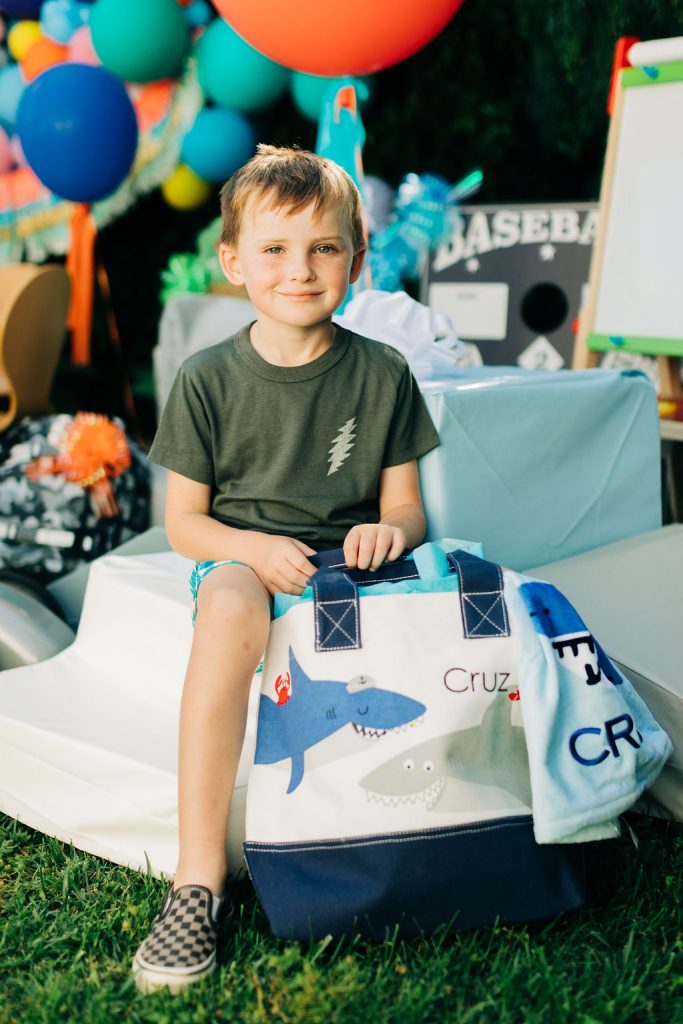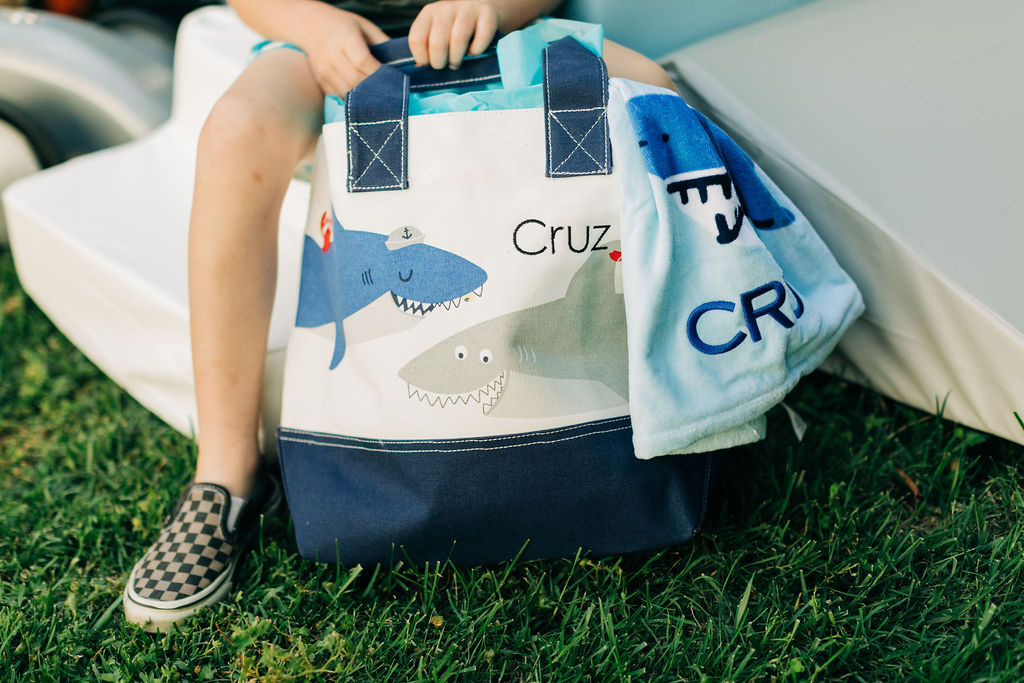 Caysen was stoked on his tote and his Ship in a Bottle towel.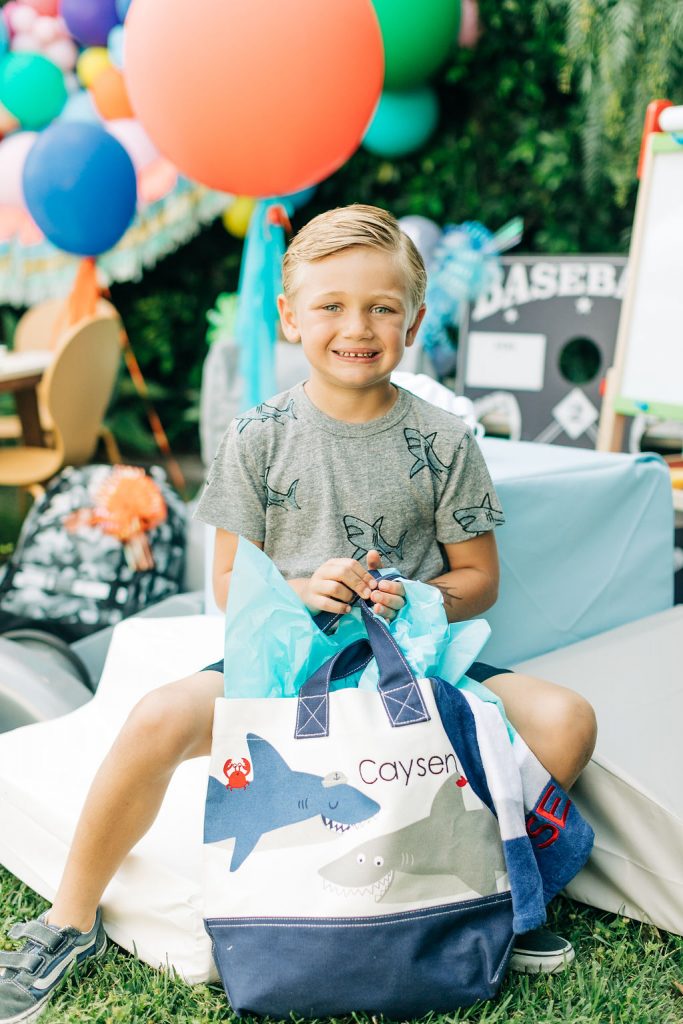 And how cute is Finn with his tote and Funny Fish towel?! Adorable!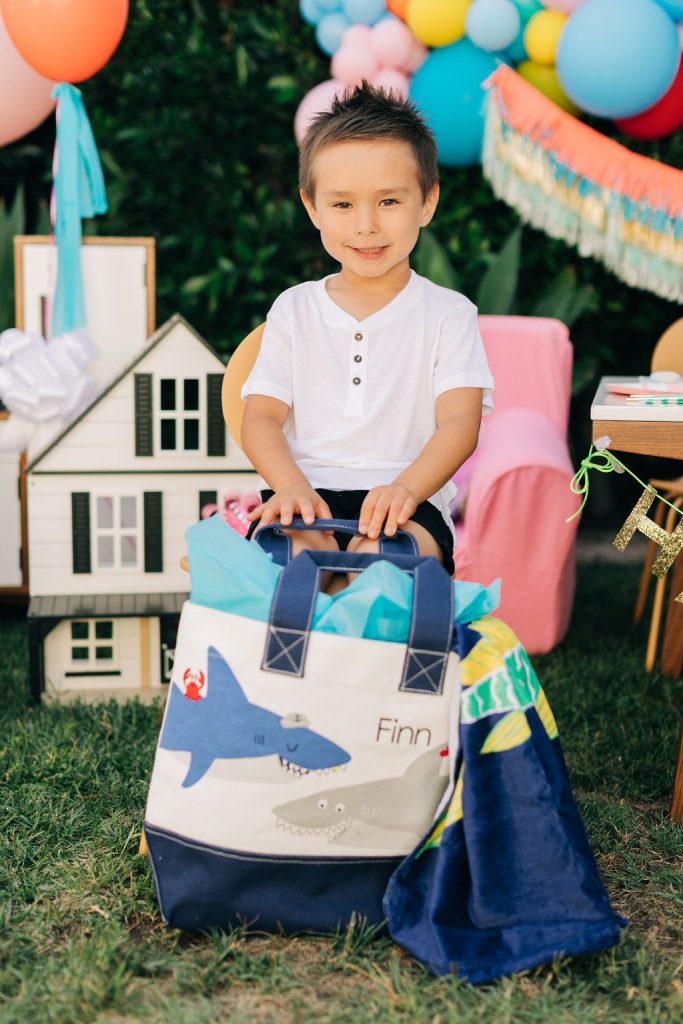 The birthday boy and girl were definitely happy to share their fun with their friends! Everyone got to play with the new toys and gifts. Love how these preschool buddies love each other and share so well!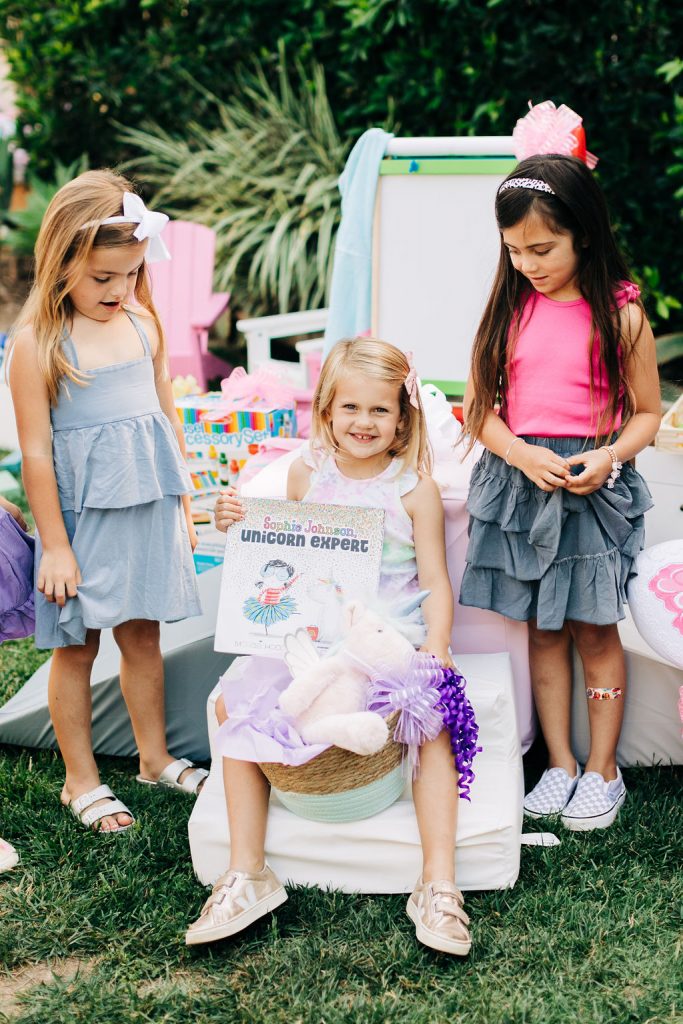 Colette loved her new Unicorn book and toy!!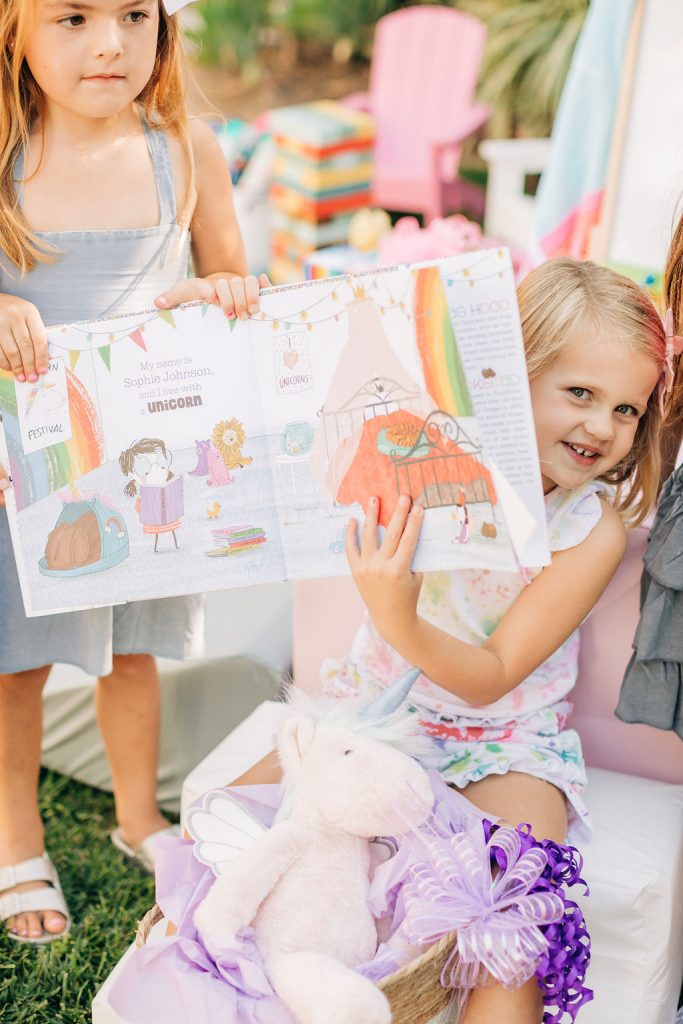 Cruz was excited to show his friends his loot and also got his comfy chair he's sitting in! It's an outdoor bean bag and it's the perfect size for him!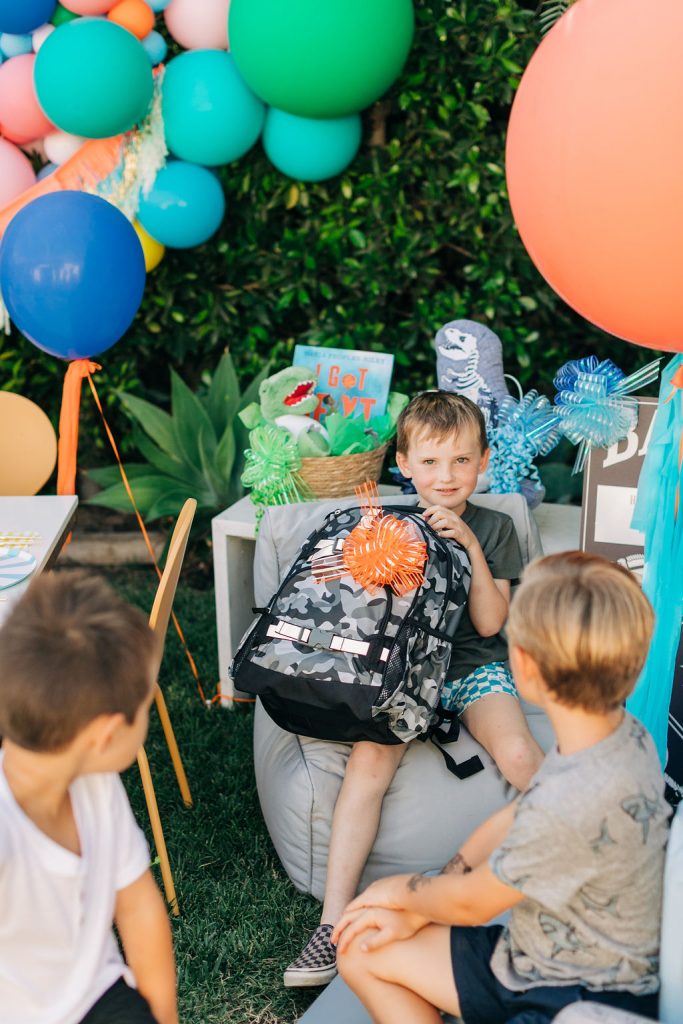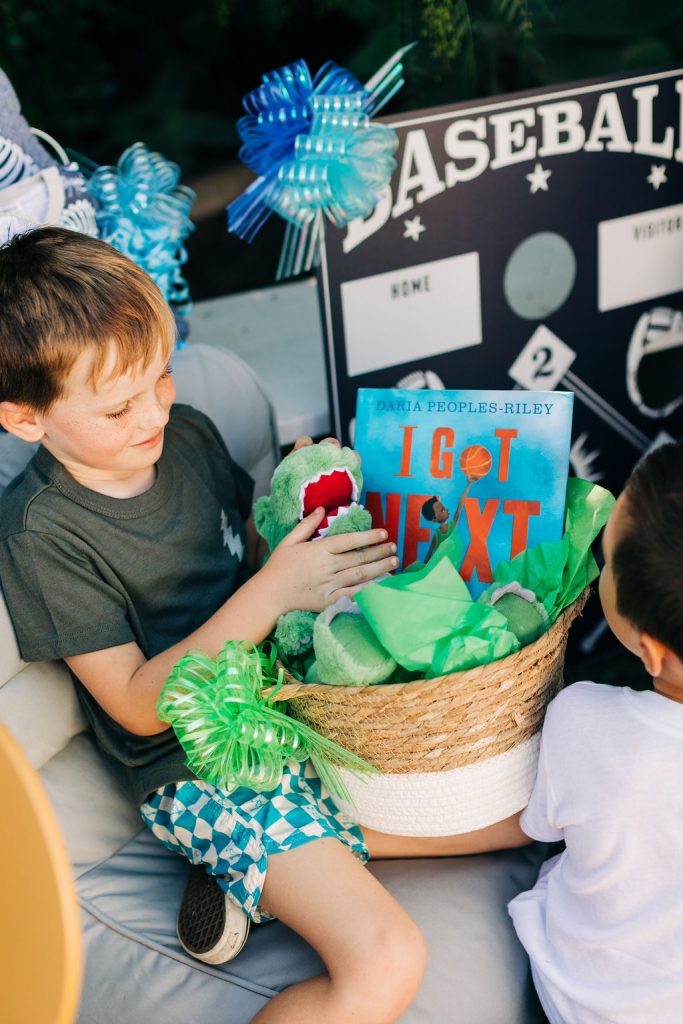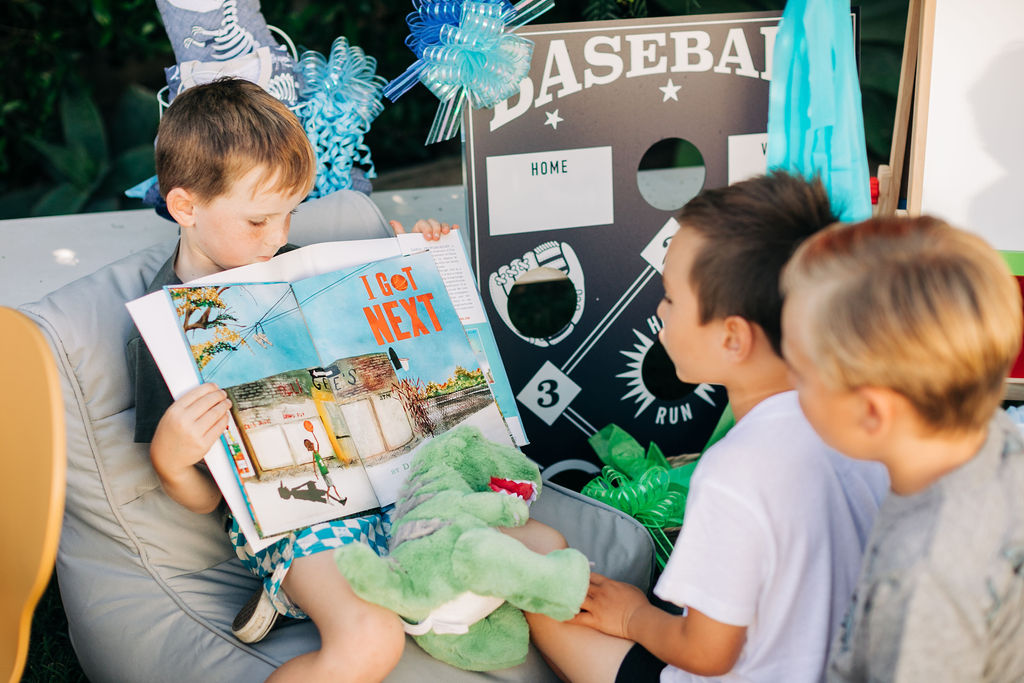 Love these buddies!!!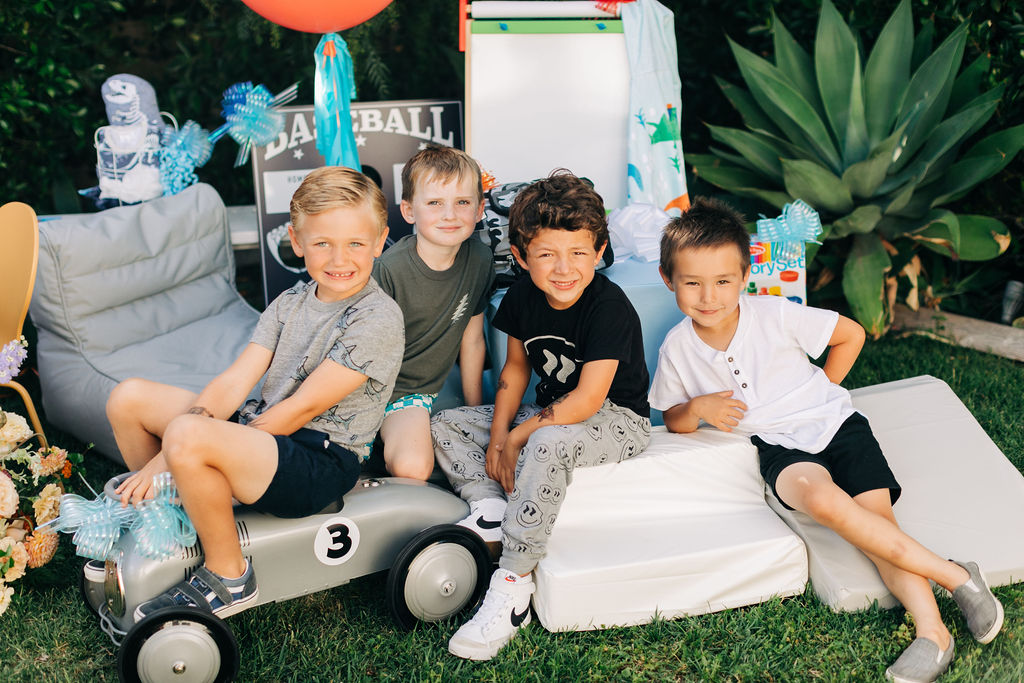 Cruz also got this baseball toss game! He loves this one so much!!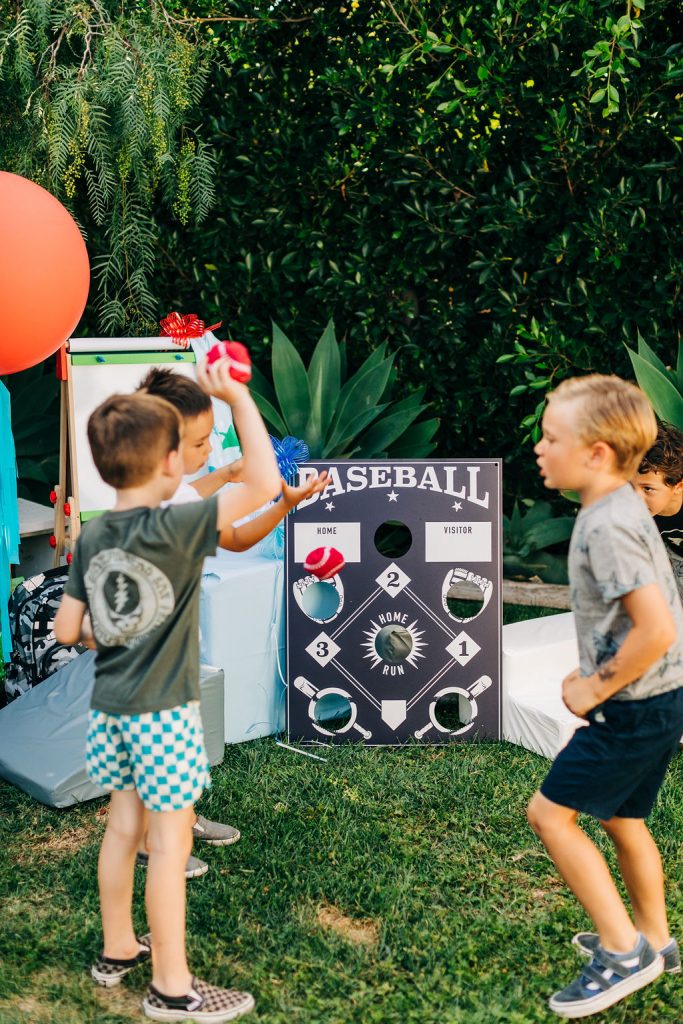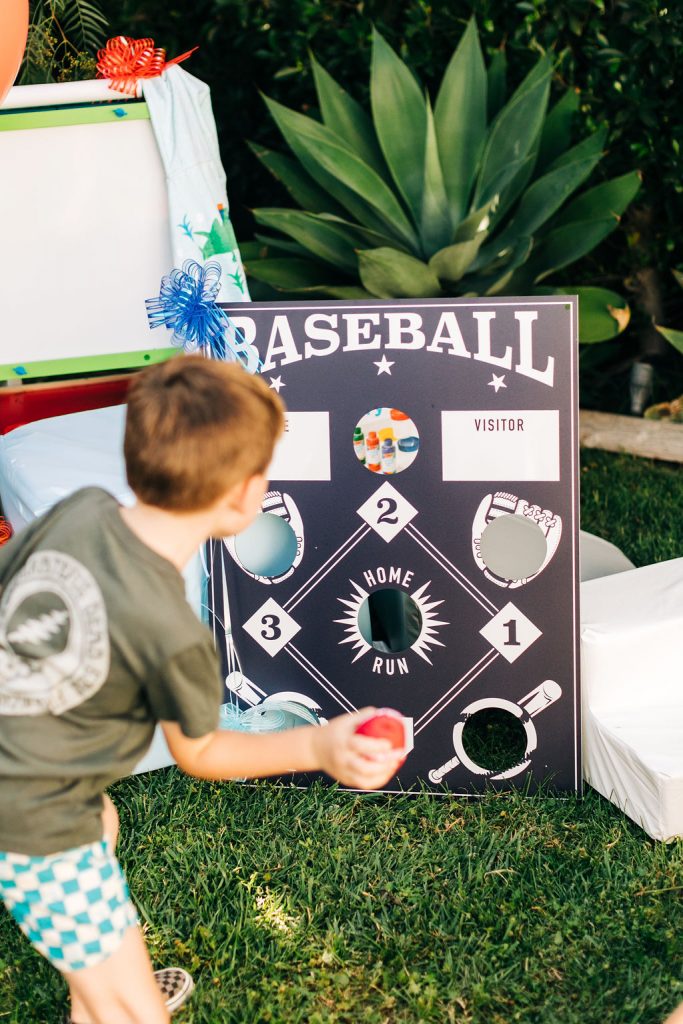 Sloane is loving playing with that adorable dollhouse!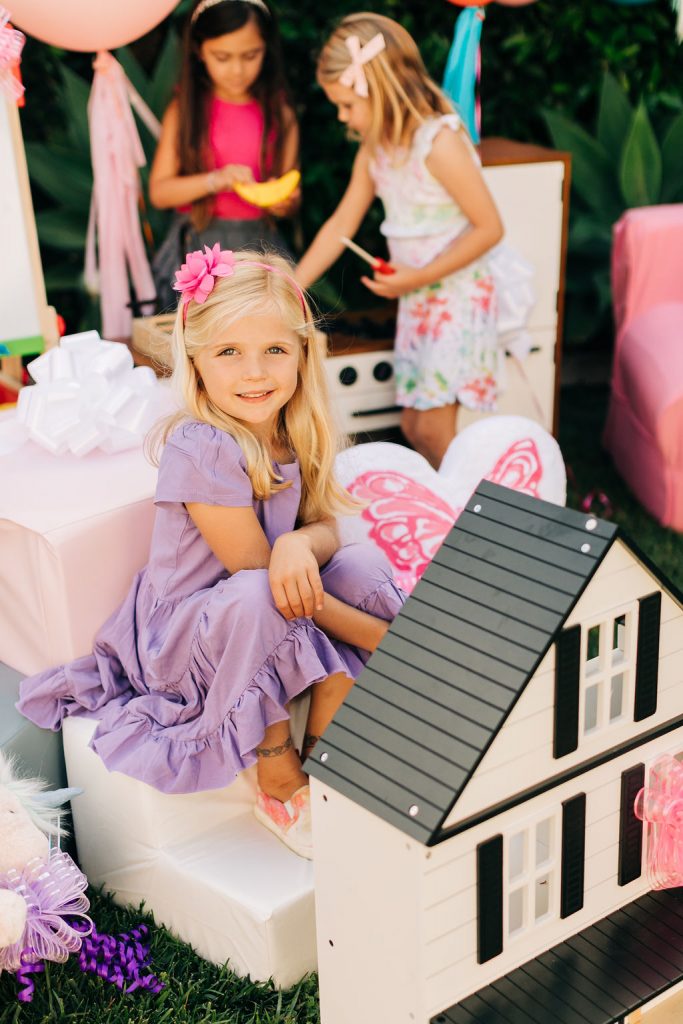 Another few gifts that you see Millie playing with are this precious Gotz doll and the pink outdoor anywhere chair. Yes, they made everyone's favorite PBK chair for outdoor use! Perfect for roasting s'mores!!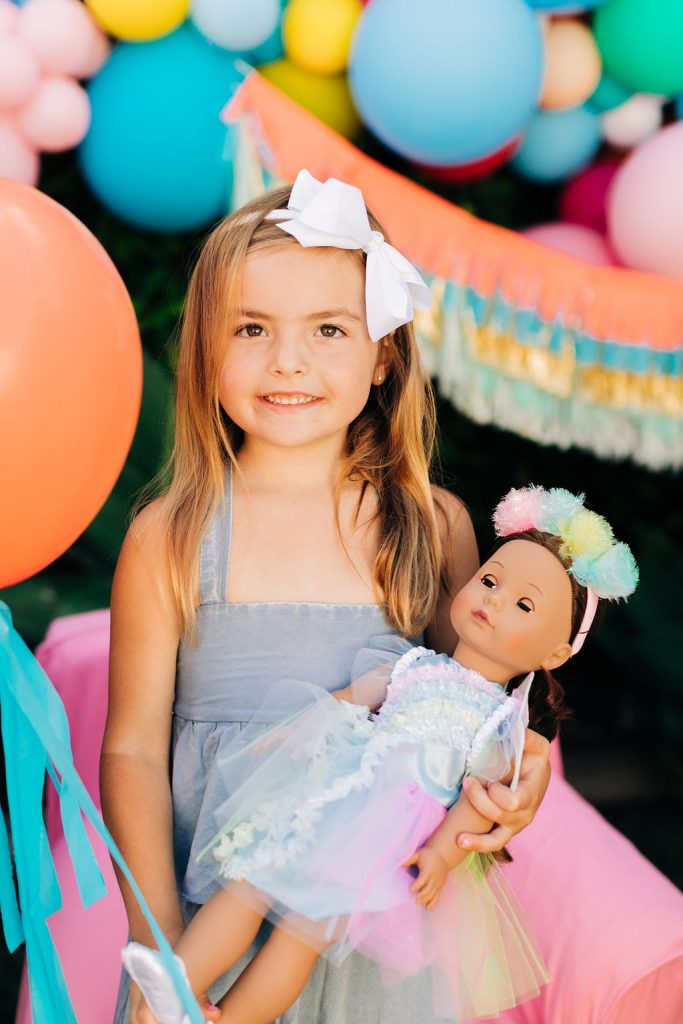 Everyone loves their new colorful towels!!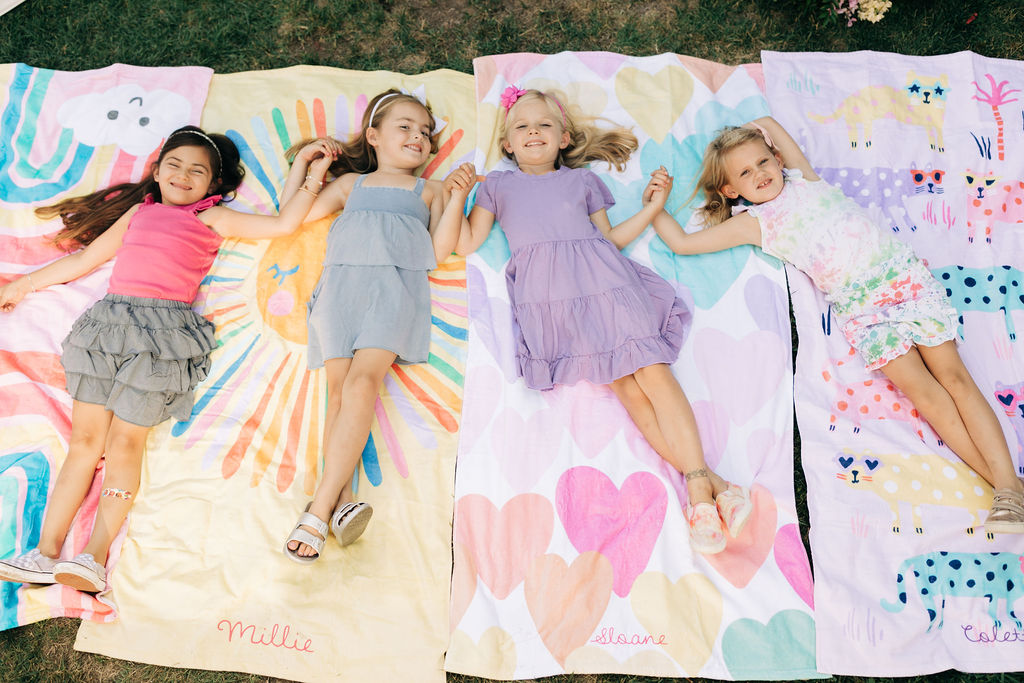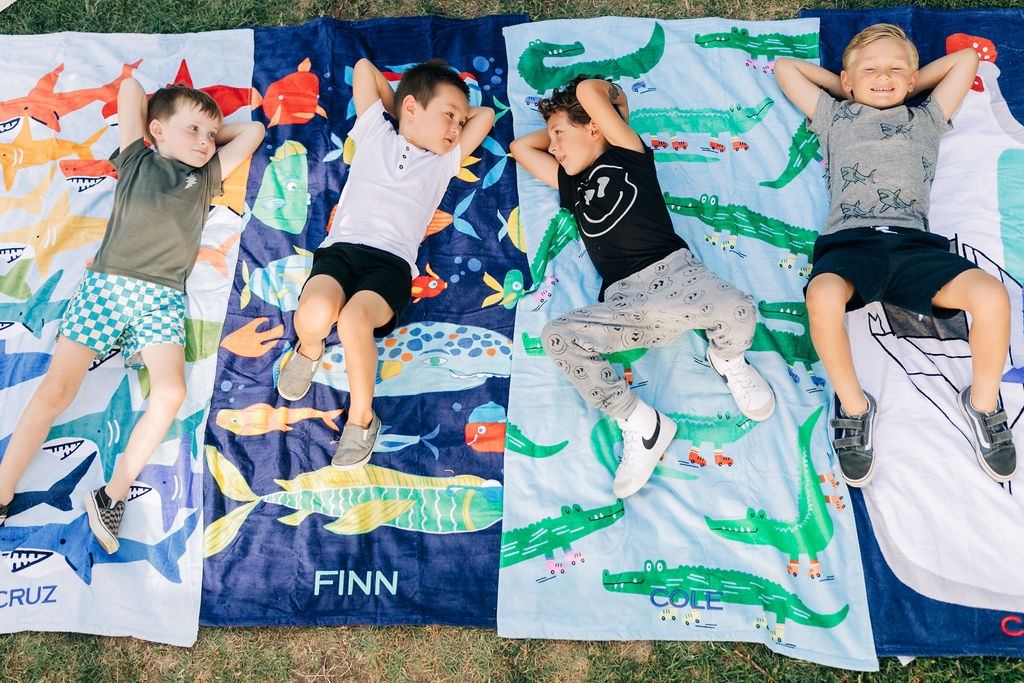 Time for dessert!!! Sugar from the Heart Bakeshop replicated the sun design from PBK onto a cake and I just about died over the cuteness!! She also did a gum ball cake which the kids died over, haha! And so many other adorable treats!!! We had some very happy kiddos!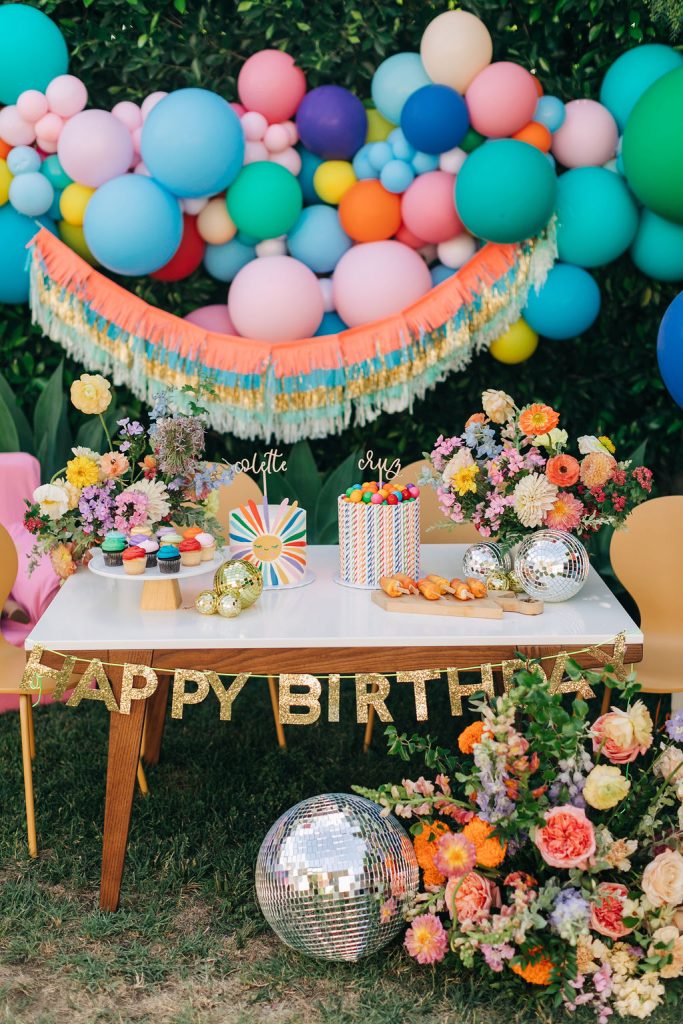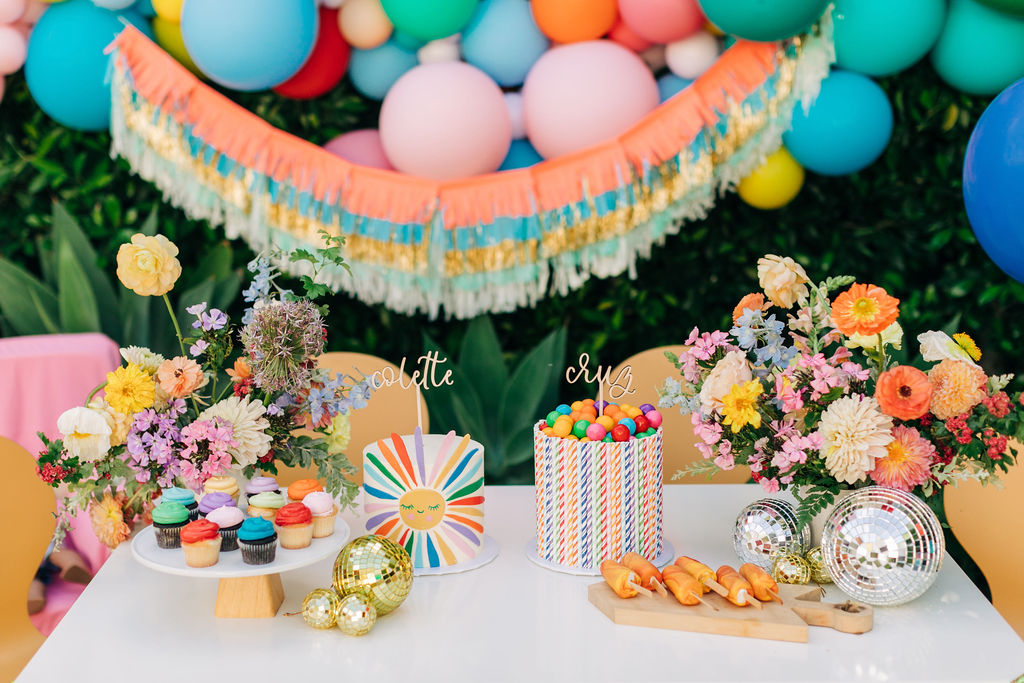 Those adorable cake toppers are by Poppy Jack Shop! You know we couldn't do a party without her sweet details.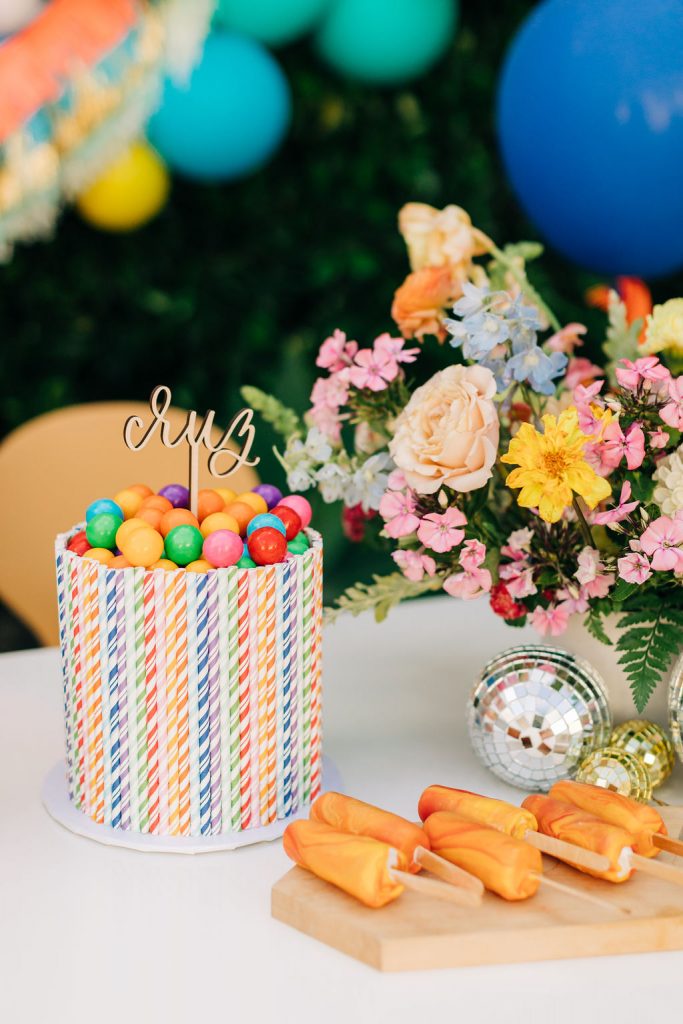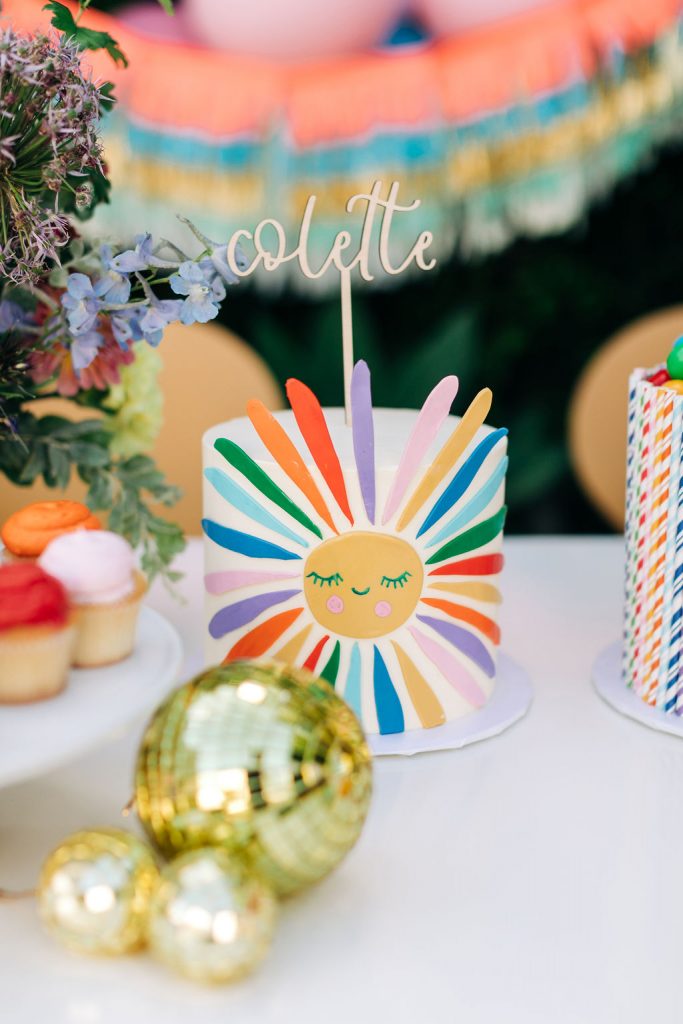 Rainbow cupcakes for the win!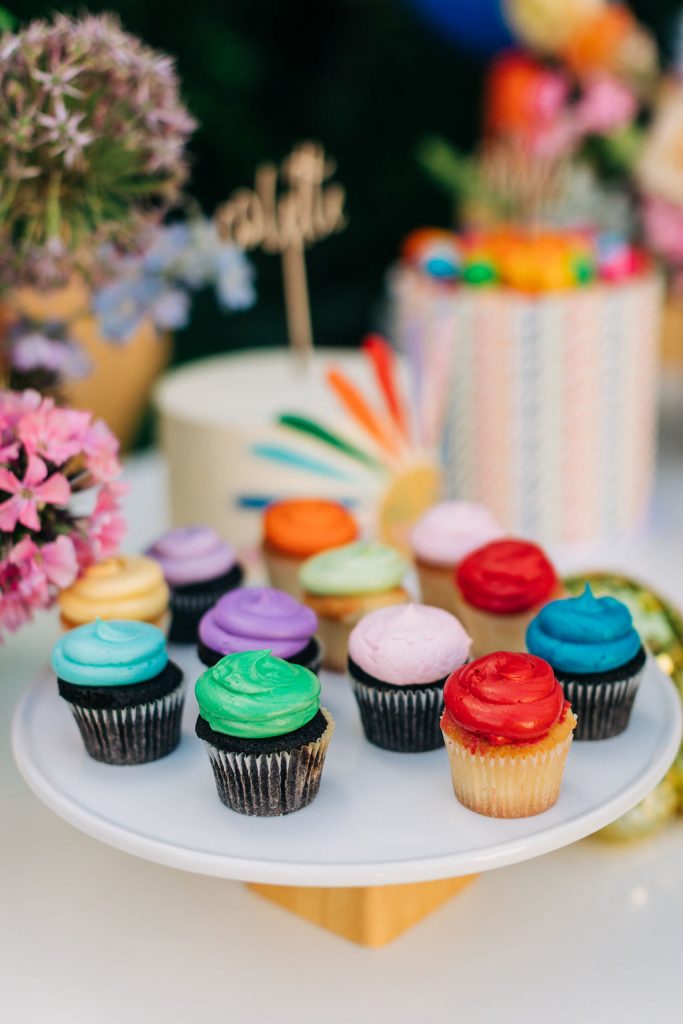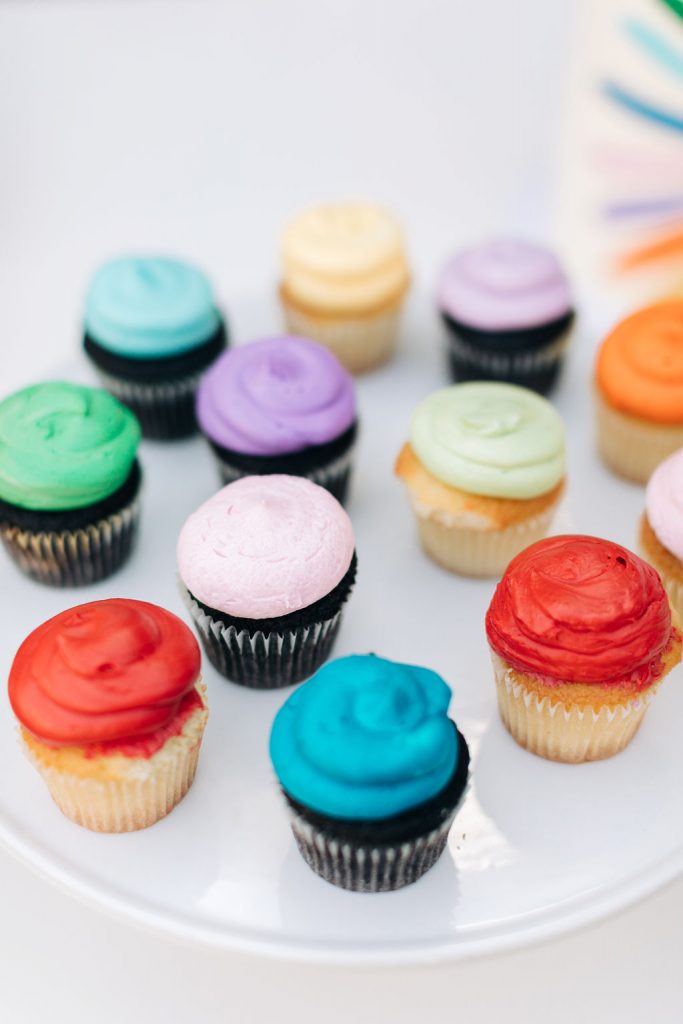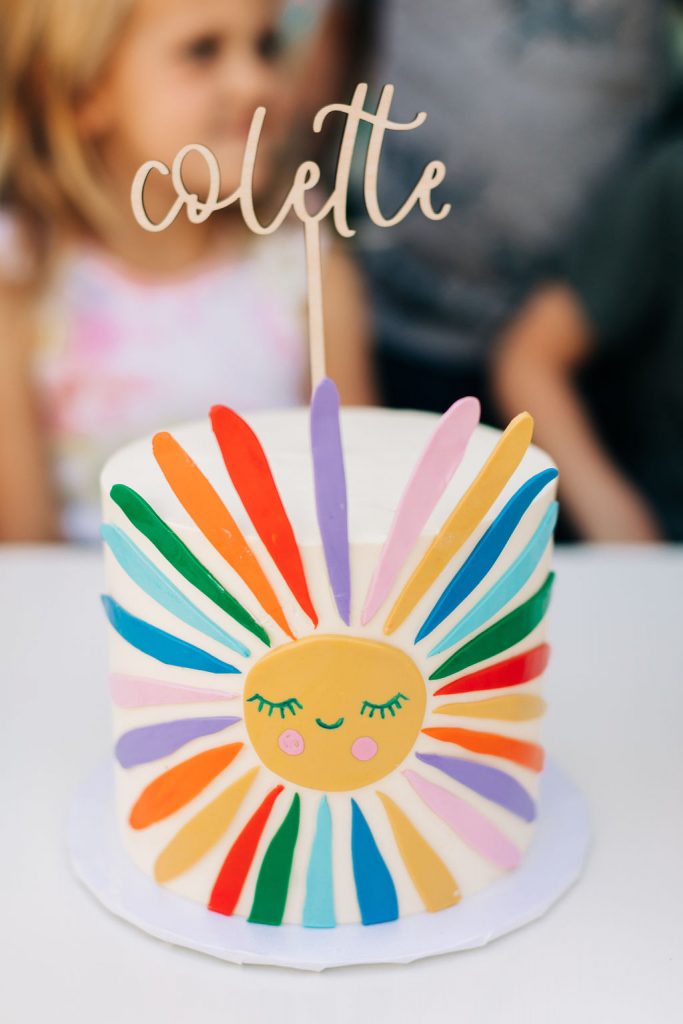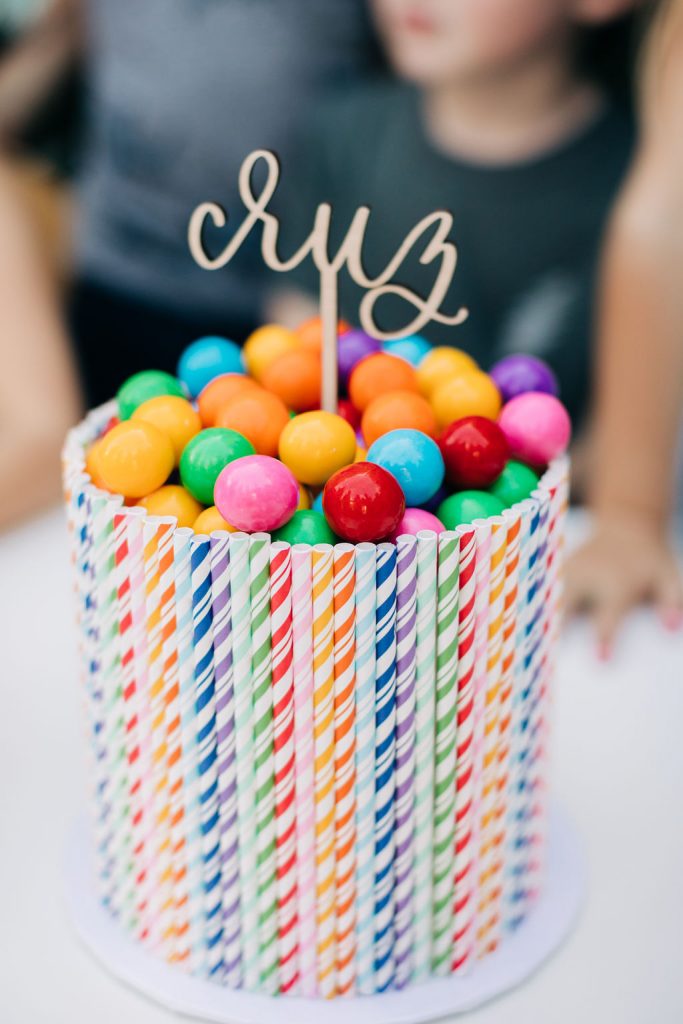 And the most perfect cookies!!!! Love, love, love!!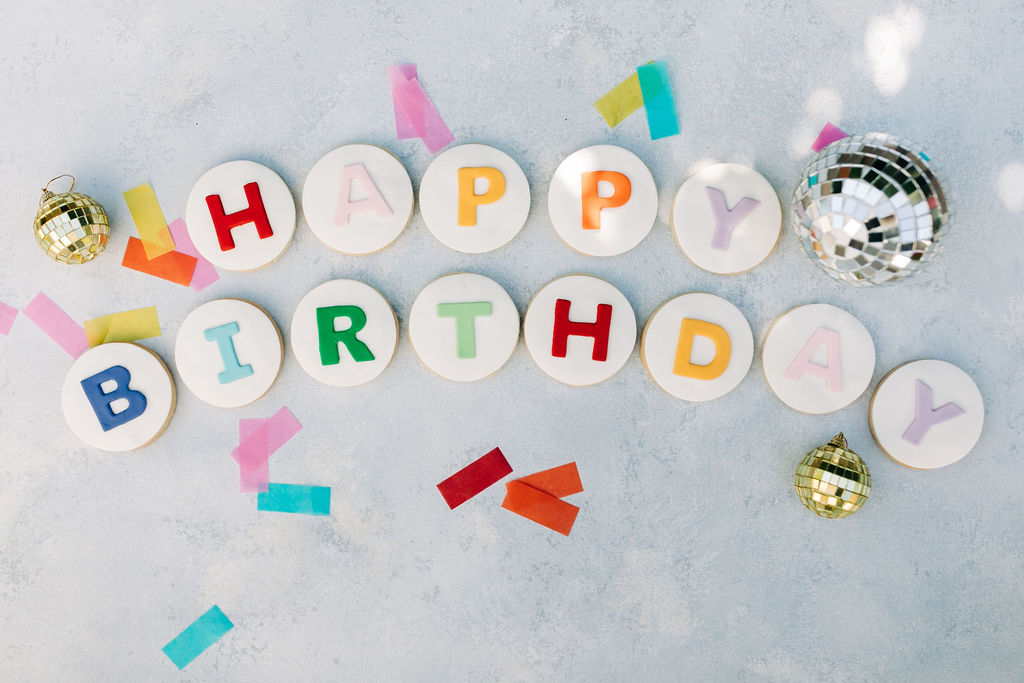 This is one happy bunch! All the goodies for these pre school graduates that are friends forever!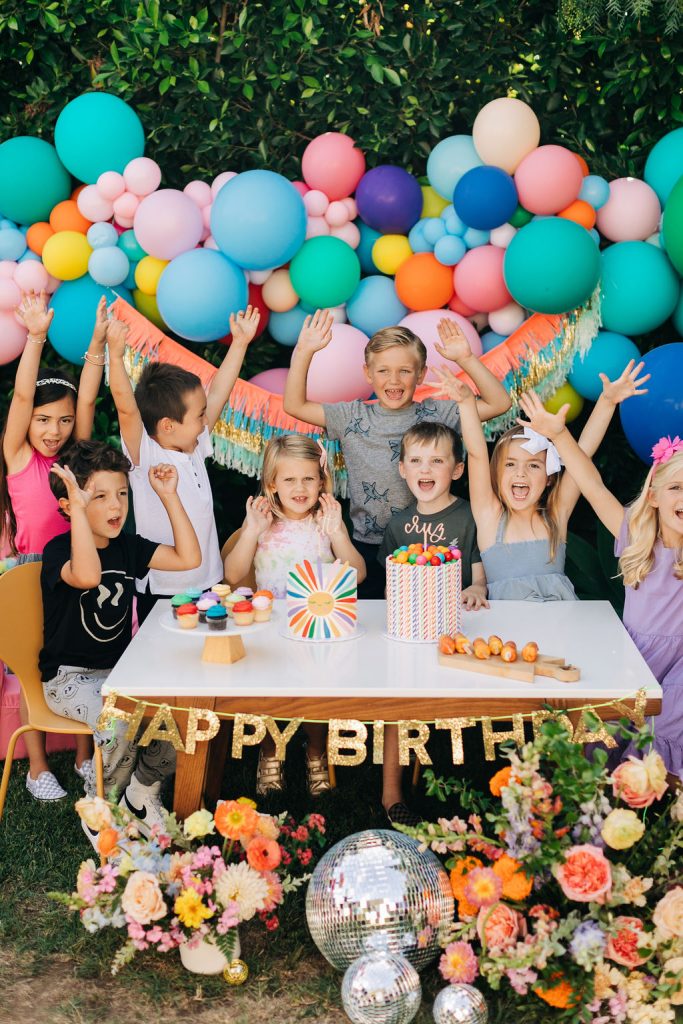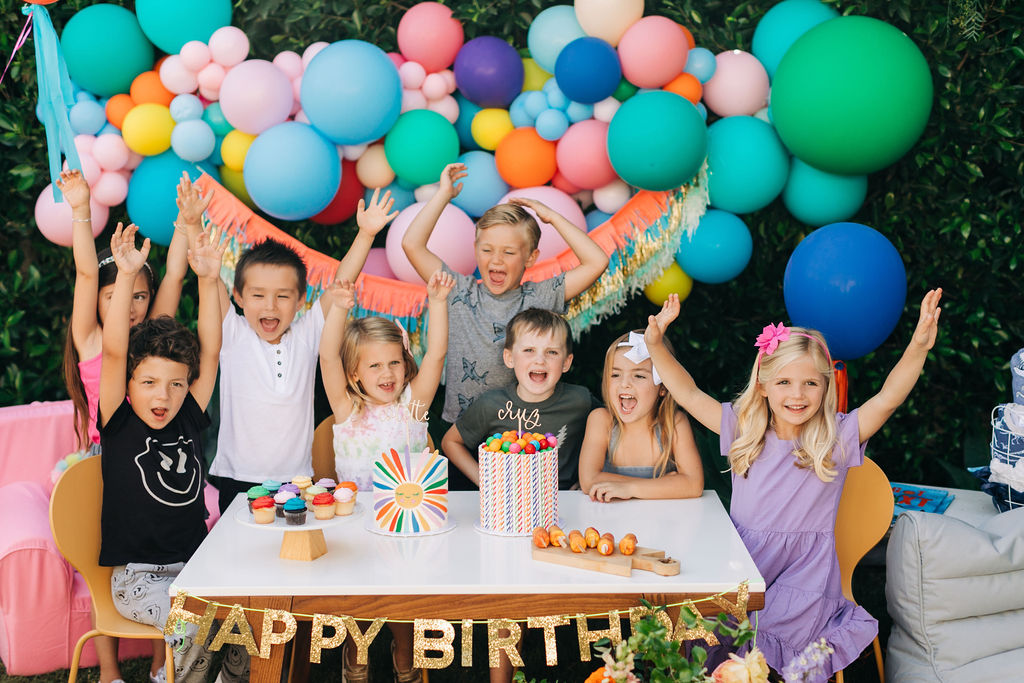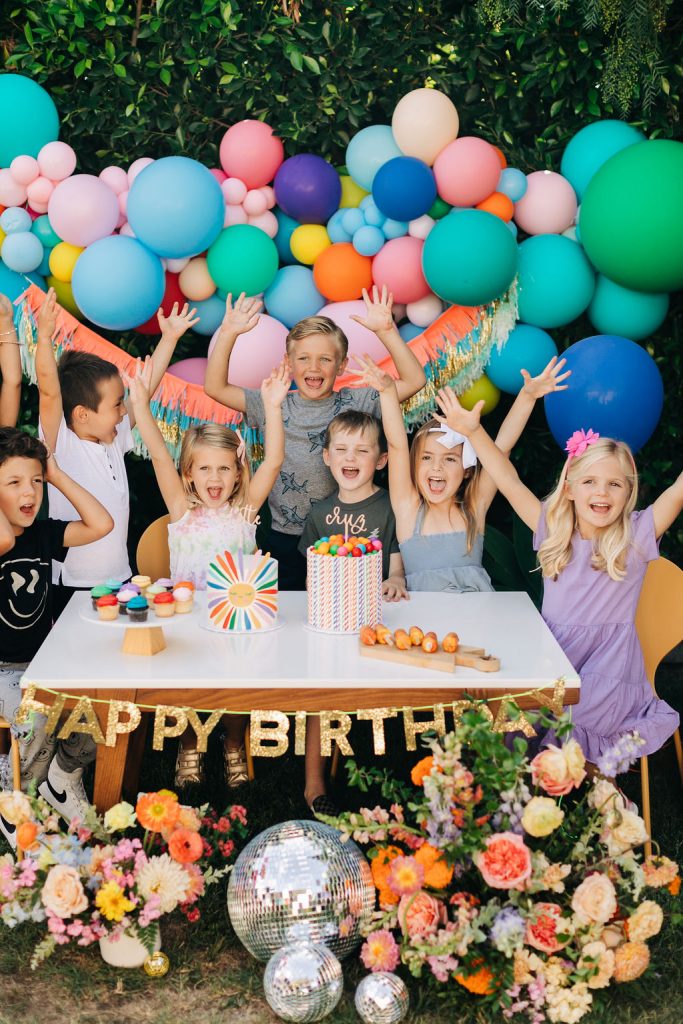 If you looked up happiness in the dictionary!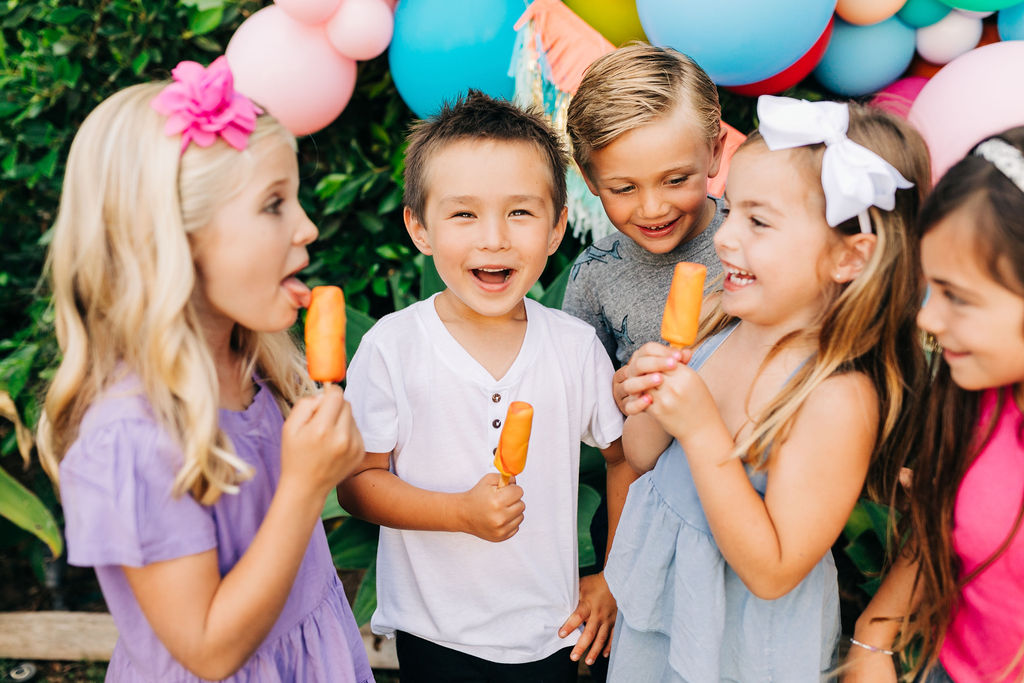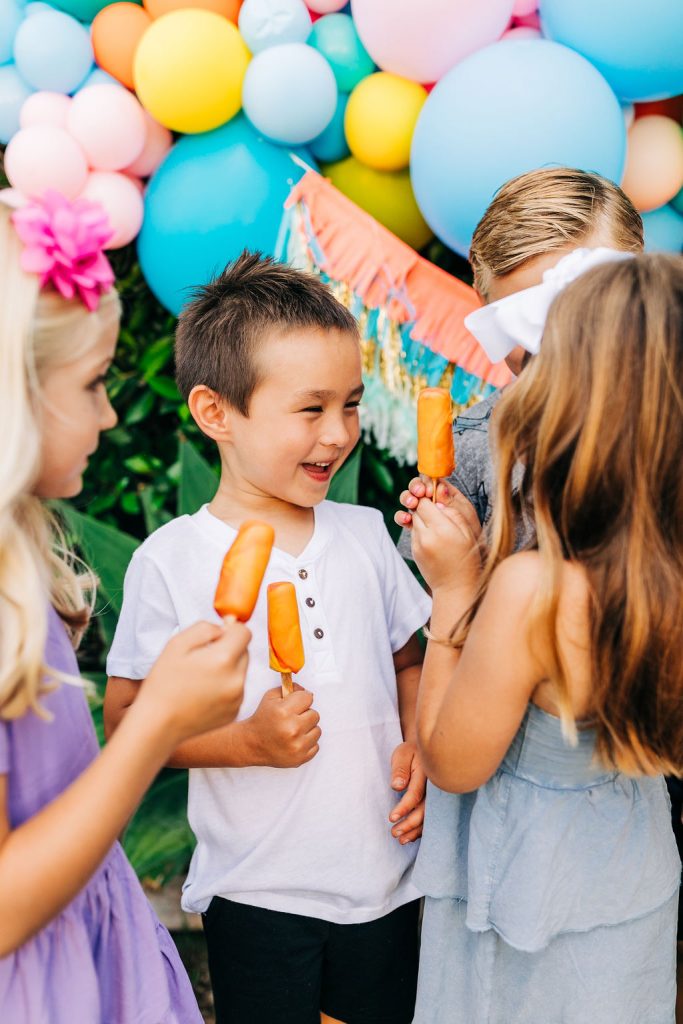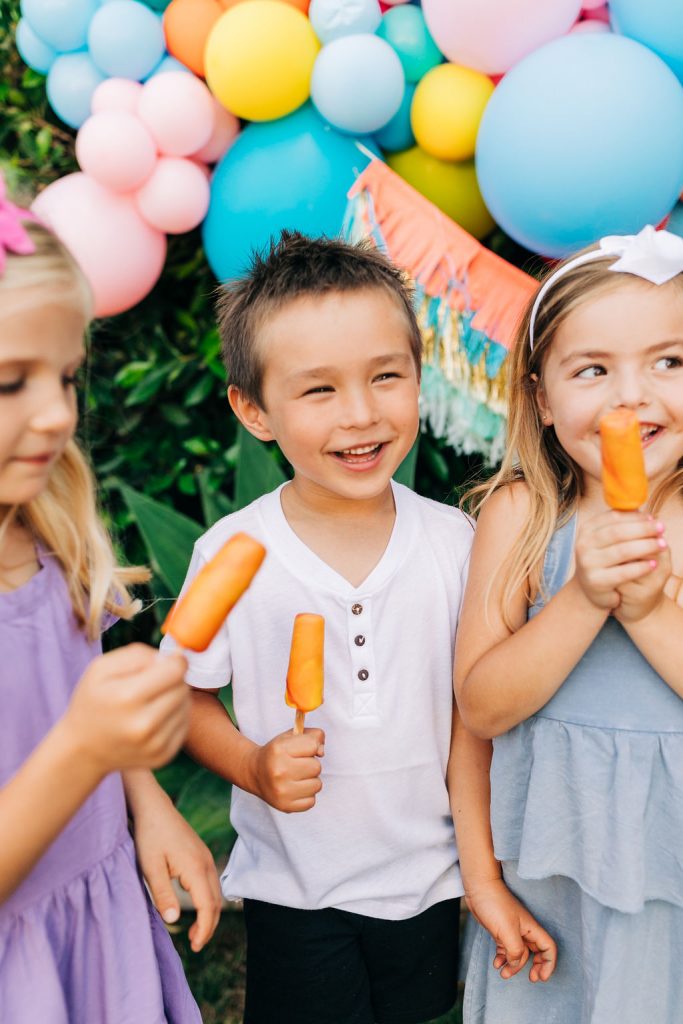 Cheers! Shop this post below!!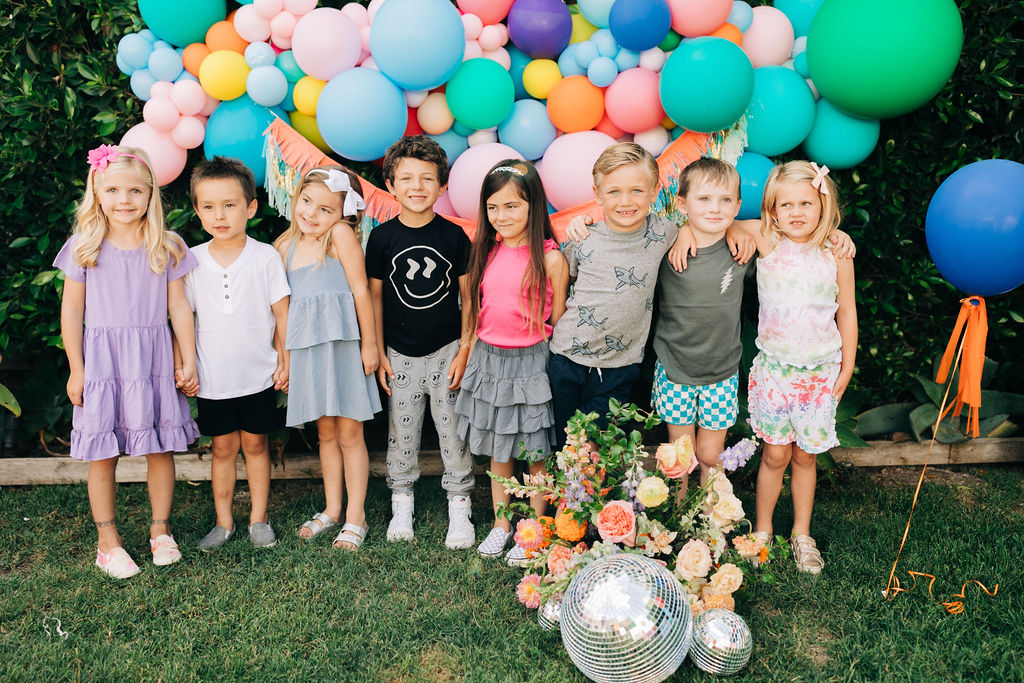 xx
Jacquelyn