When I did this cute little shoot everything was normal. We were all outside with our kids living our regular life with no worries. Now, life is a little different with shelter in place orders and a pandemic facing the world. Through this whole situation my main goal has been to stay positive and keep life as fun and normal for my kids as possible, while staying safe of course. Sometimes it's hard for us to post these happy shoots, it feels a little unimportant or trivial right now. However, I think we all need an escape and a positive image to remind us that we can make it through this.
This shoot is in collaboration with Coterie, a party line that sends a party in a box straight to your door! Pretty perfect right now, to have a party at home, right? All of us Beijos ladies have kids with birthdays that have either happened or will happen during this crisis. And as much as things don't feel too magical right now, it's important to keep them magical for our kids!
So why not create a party at home for them? For a birthday or just because? Here is a party inspired by unicorns for you today – I hope it brings you joy, magic, and a little inspiration for an at home party or one to come after this is all over!
Photos by Alison Bernier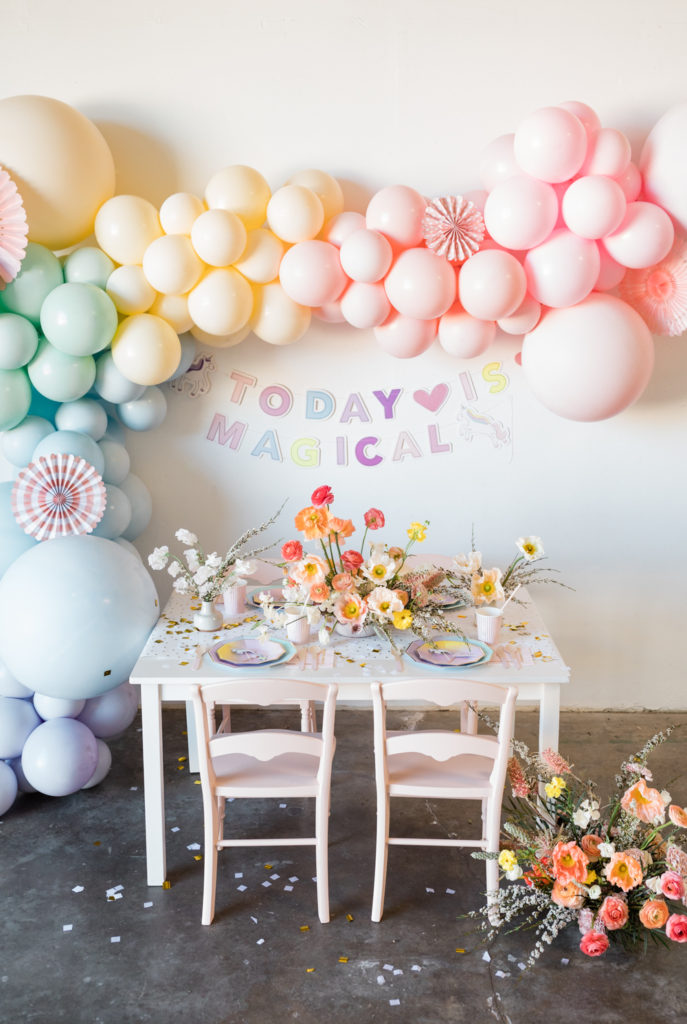 For this party we used the Unicorn Party Set from Coterie. It comes with the cutest tabletop set and you can add on any fun details! I love the pastel tones for this one, they were so fun to play with – especially with those amazing balloons from The Pop Shop!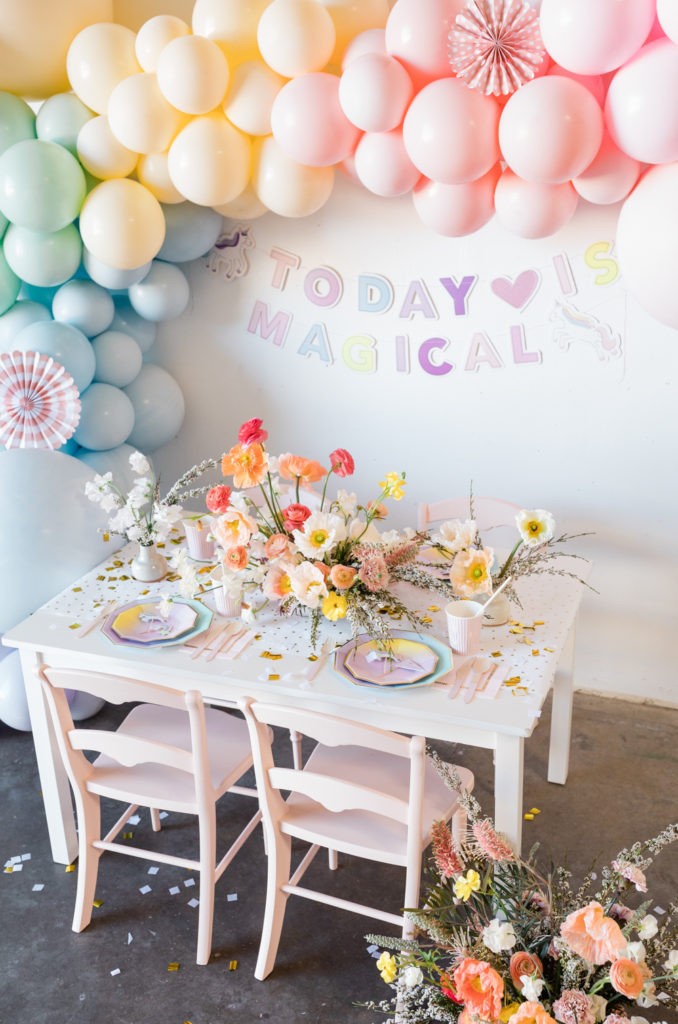 A few of the add ons I used were this brushstroke table runner, the gold confetti set and the unicorn mini toppers. They add so much character to the table and are just fun!!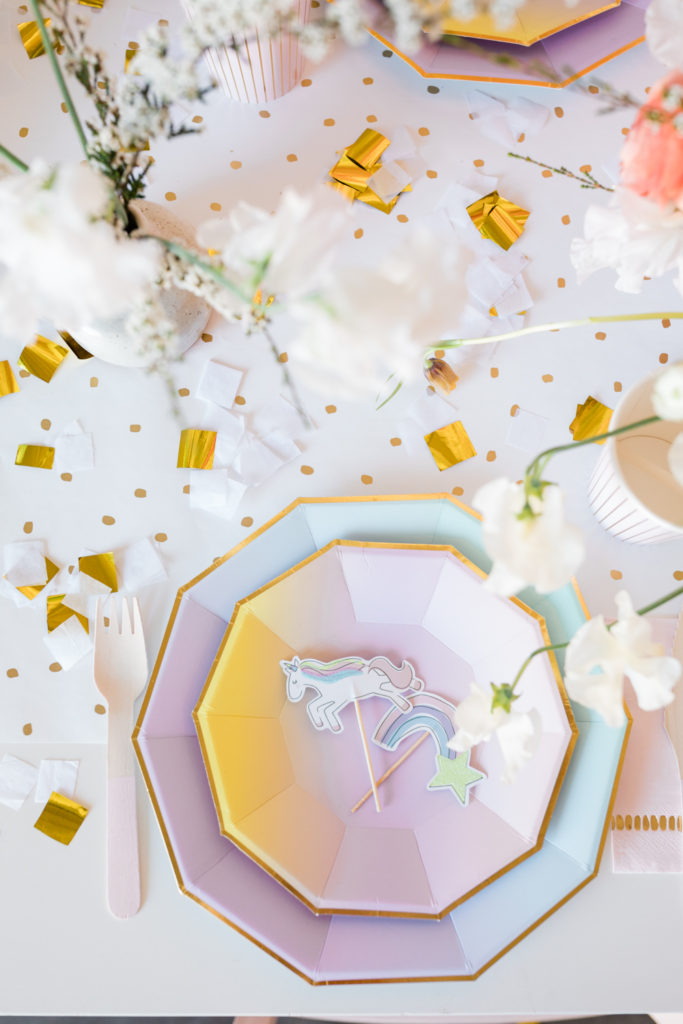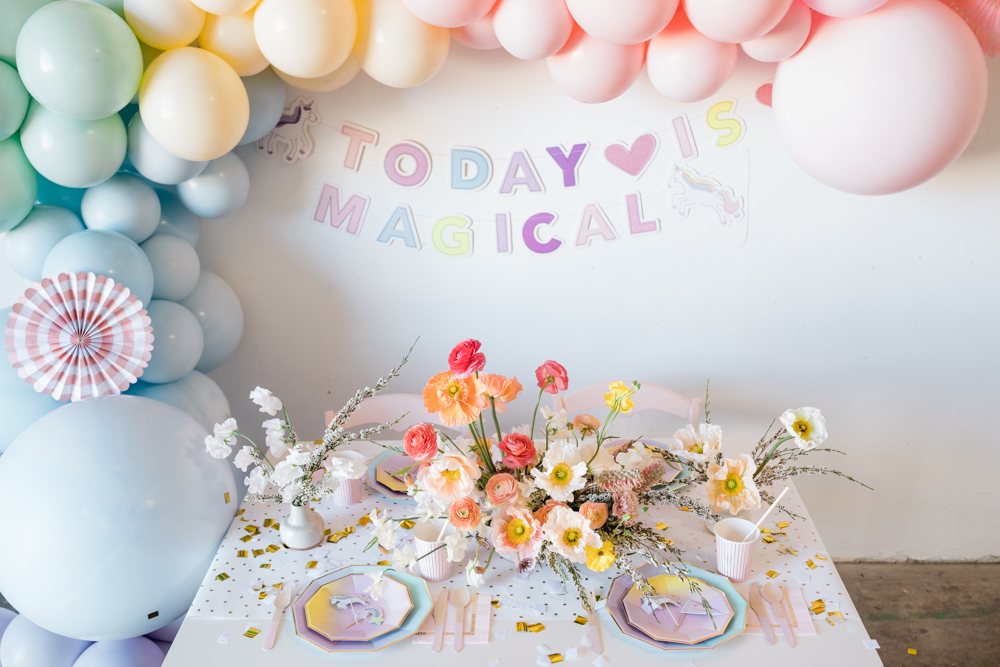 Not Just in Novels is responsible for these beautiful blooms! Something I try not to skimp on for parties are flowers – they just make it! But, if you are doing it at home Trader Joe's and Whole Foods have great options as well – plus Afloral has amazing faux florals too!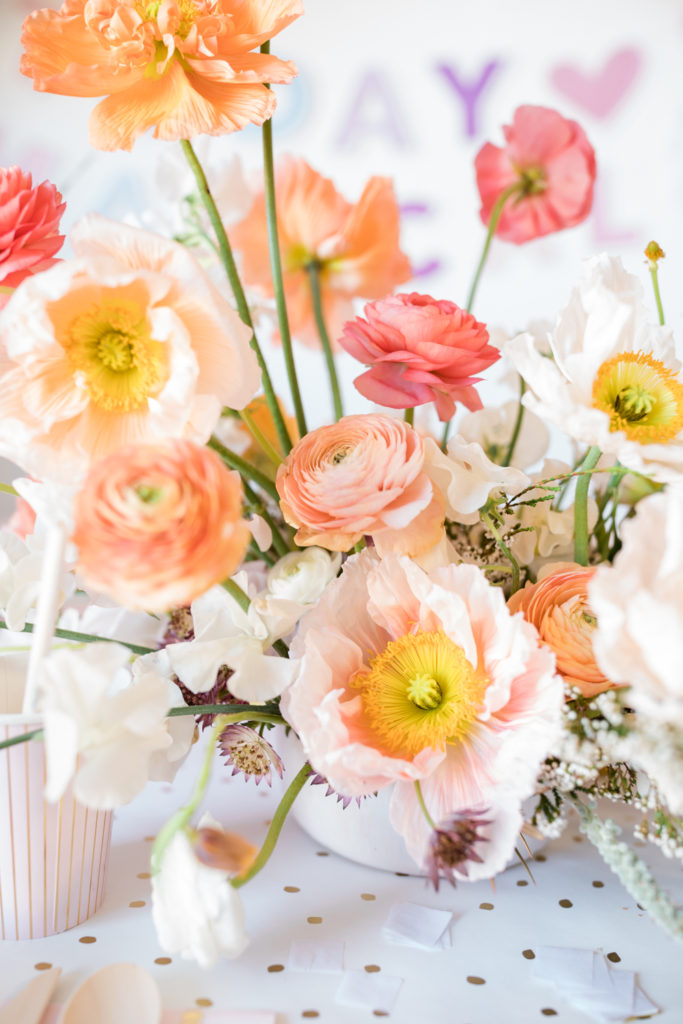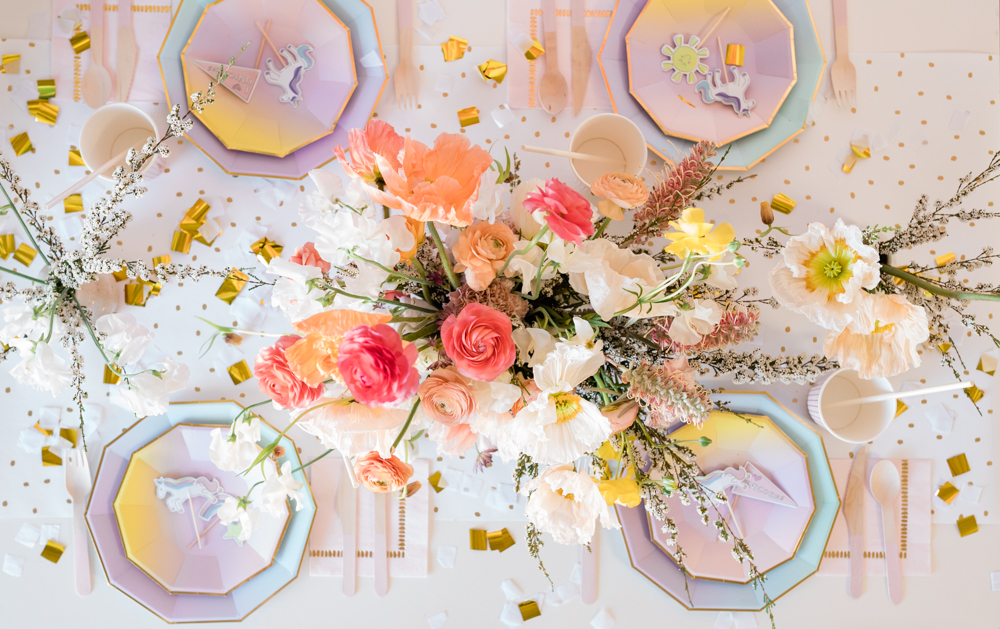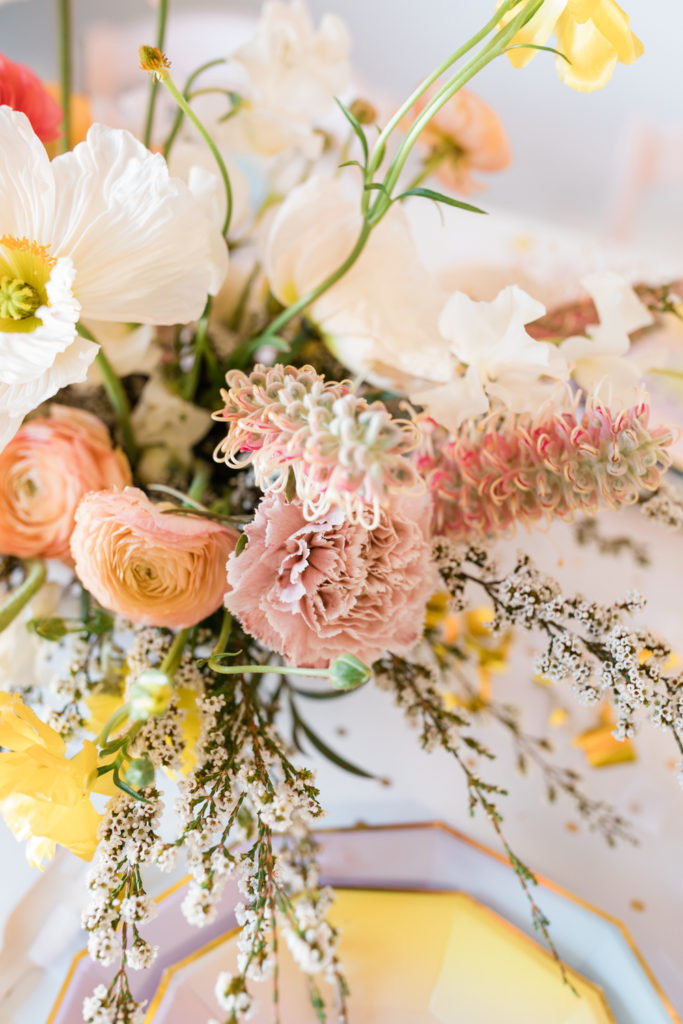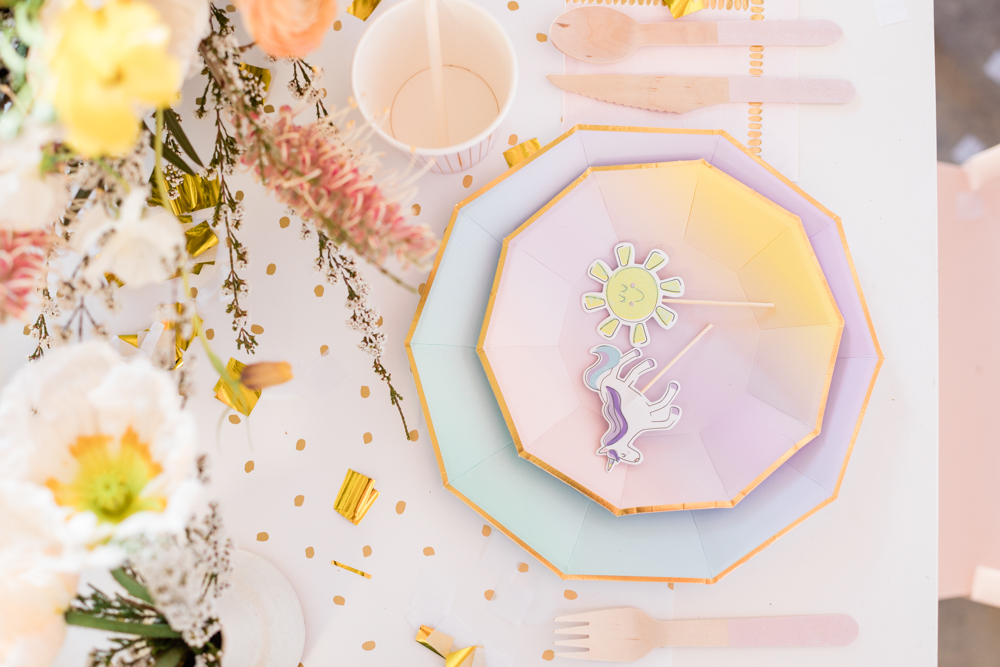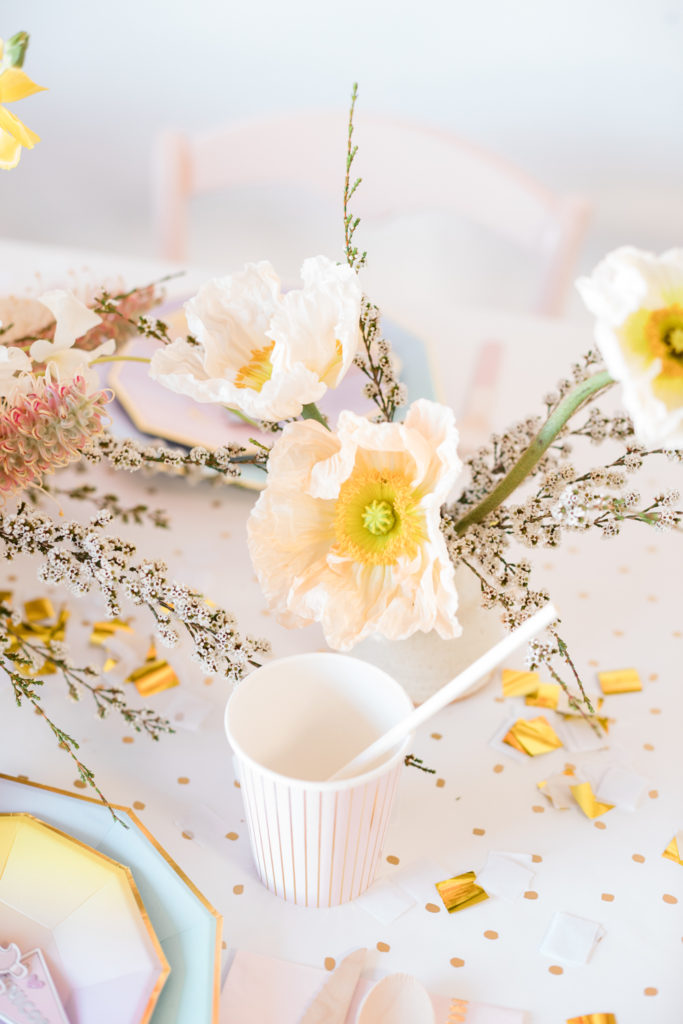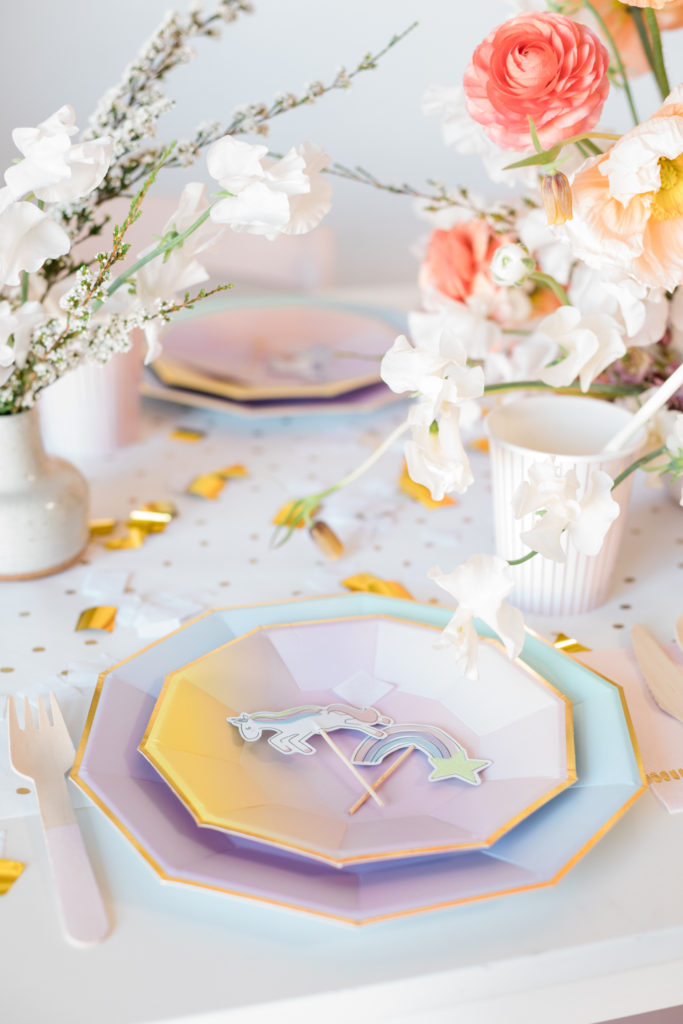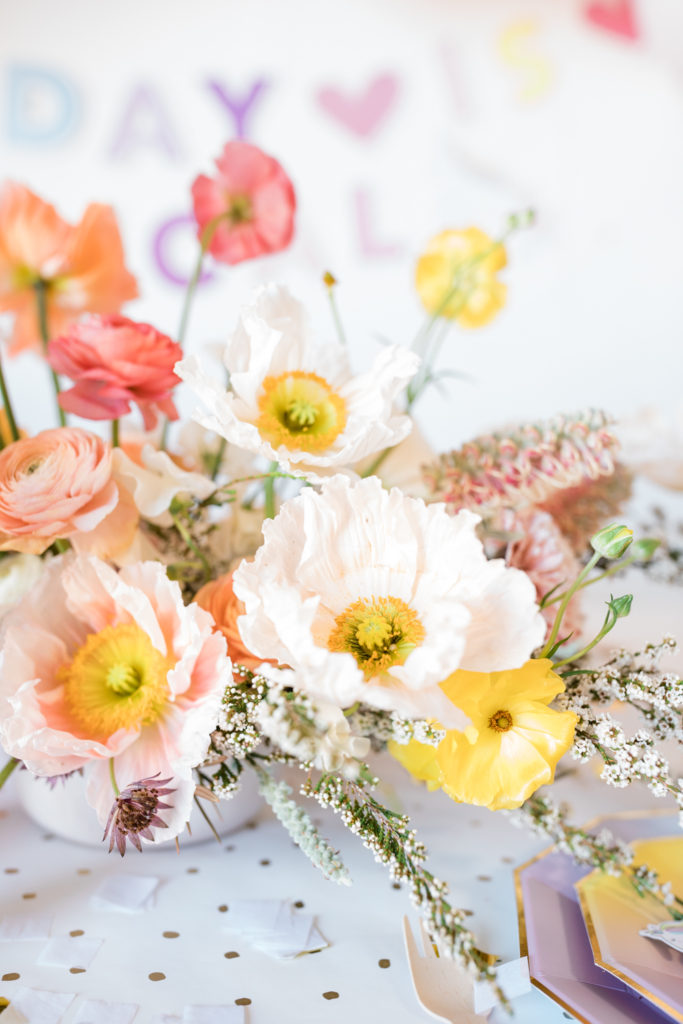 Another must have add on has to be that Today is Magical banner!! It's just so adorable! I also loved using Coterie's party fans and mixing them in with the balloons! Adding that extra texture was really fun!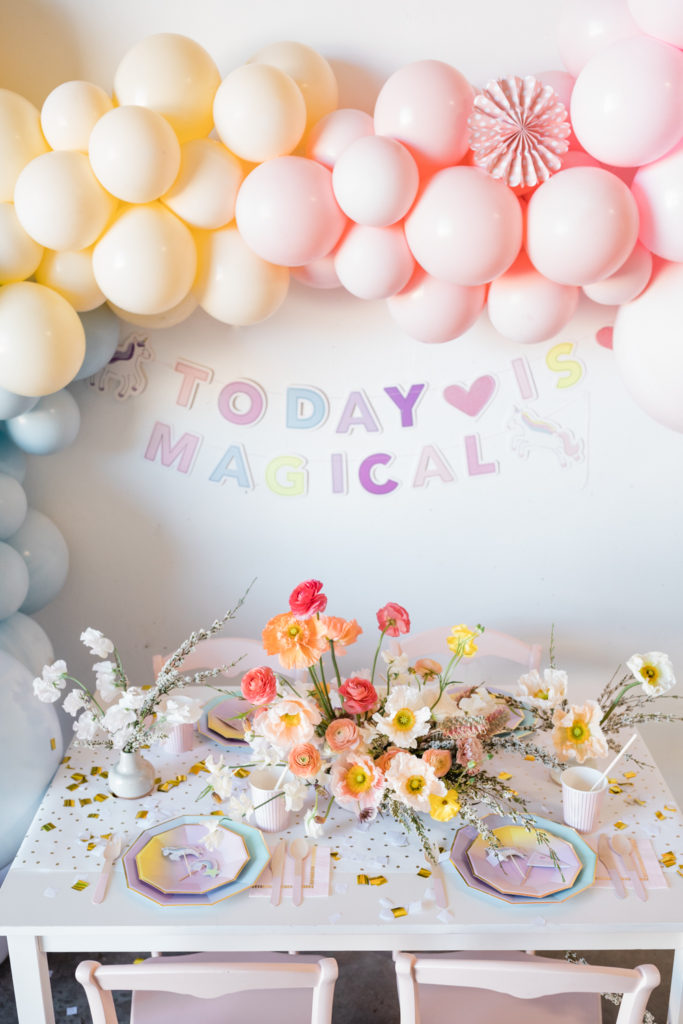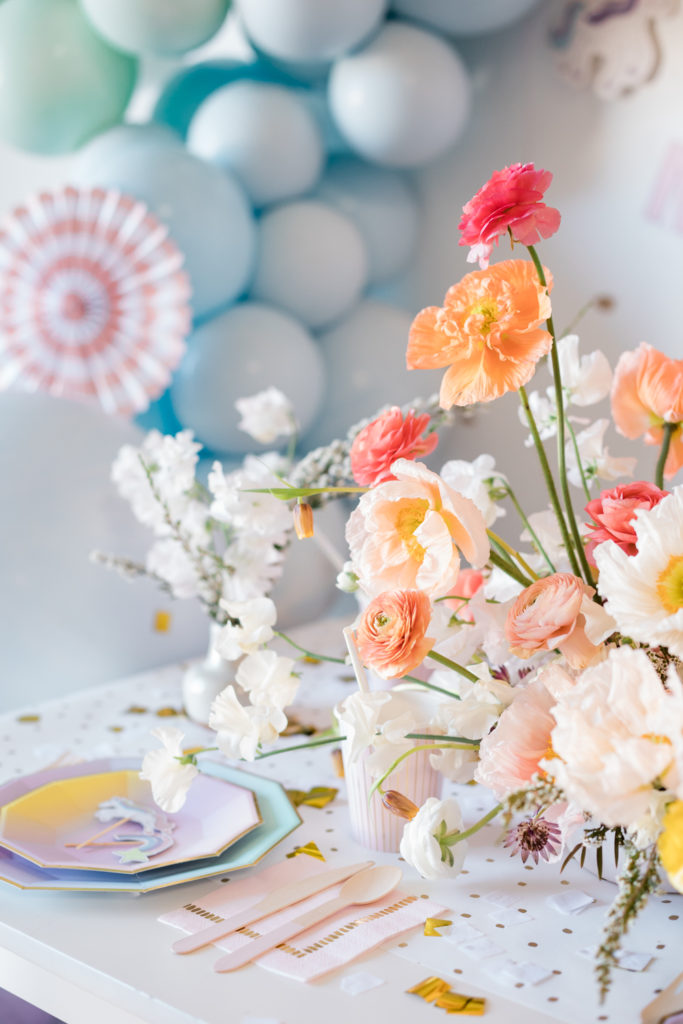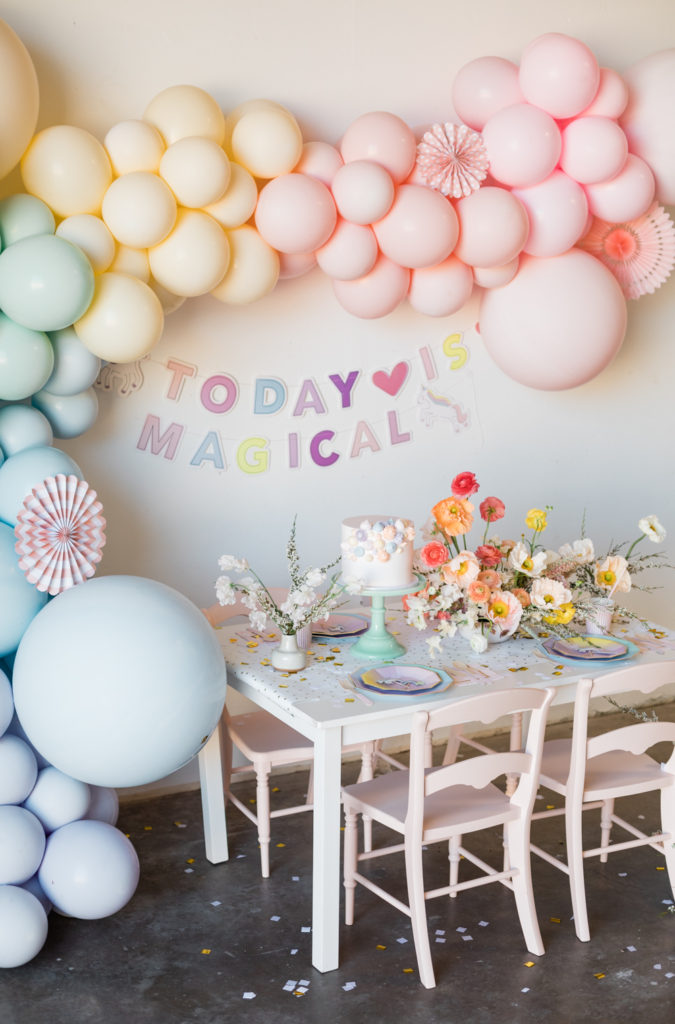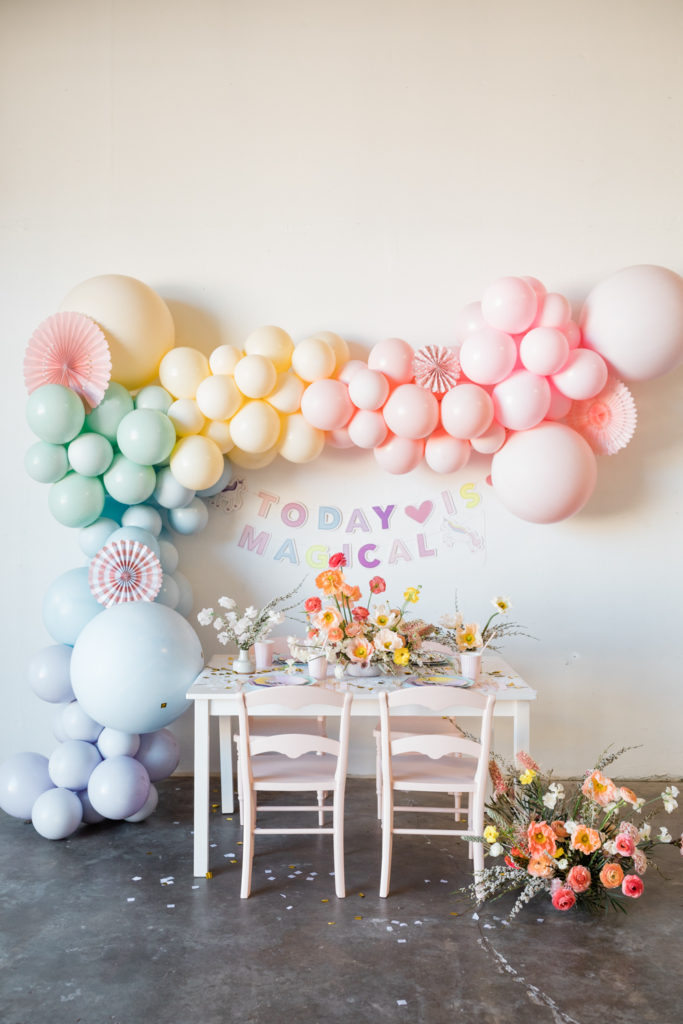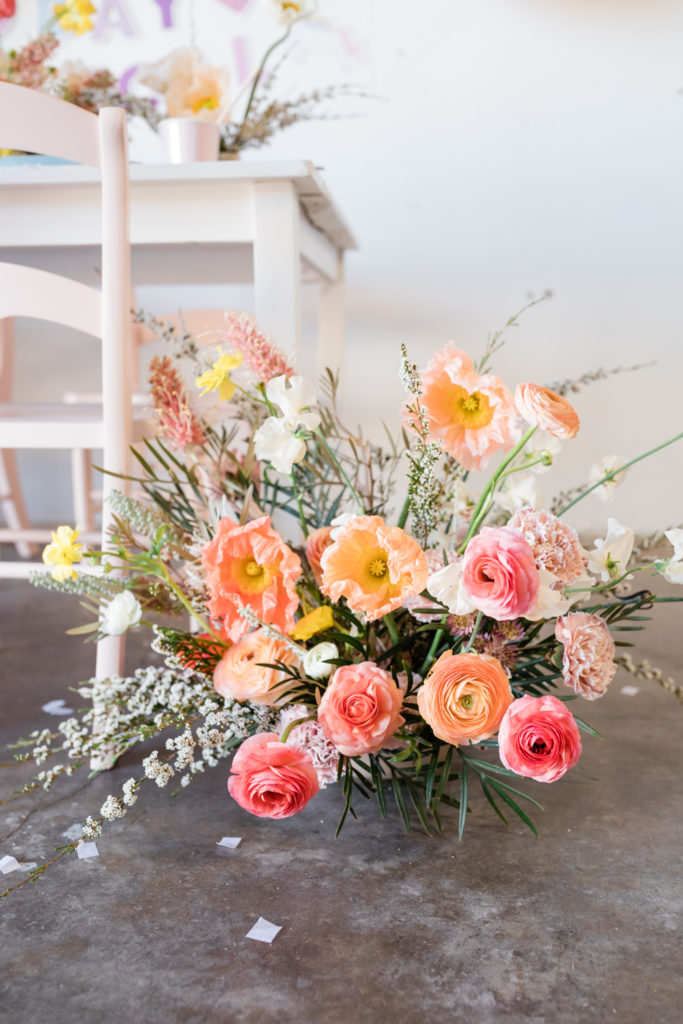 Just so darn cute!! A little girl's dream for sure!! Speaking of little girls, lets add some in!!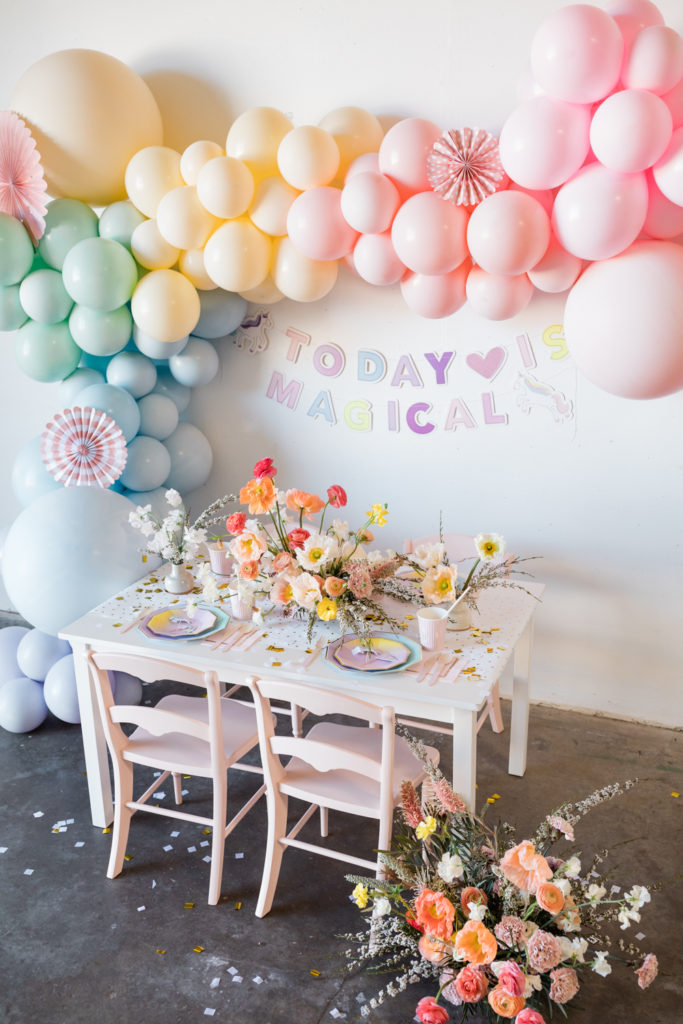 Cutest little unicorn lovers!!! All the adorable unicorn tops or dresses are from our friends at Chaser Kids! They always come through with great themed outfits – and they are THE softest fabric!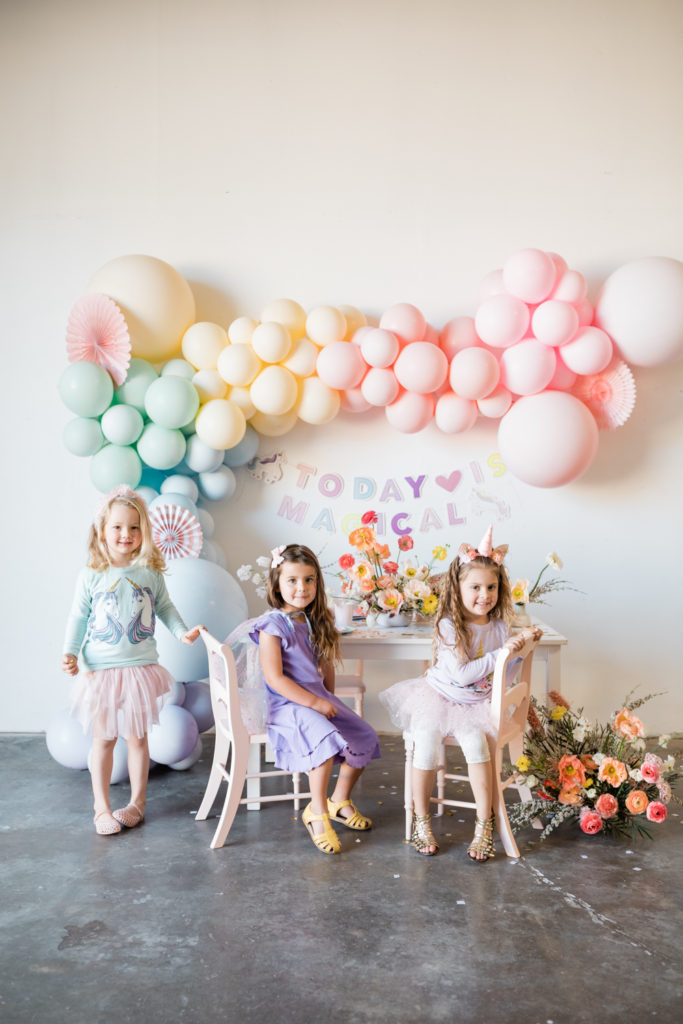 You may notice the cute accessories worn by these little ladies as well! They are all from The Daydream Republic. From capes, to headbands to bows, each girl was styled to perfection!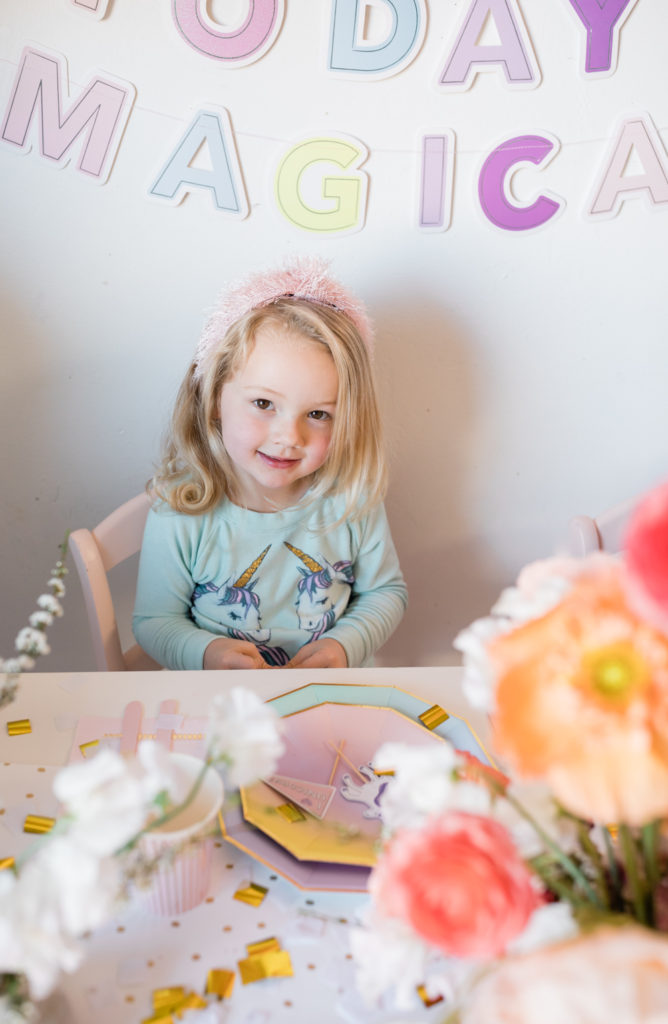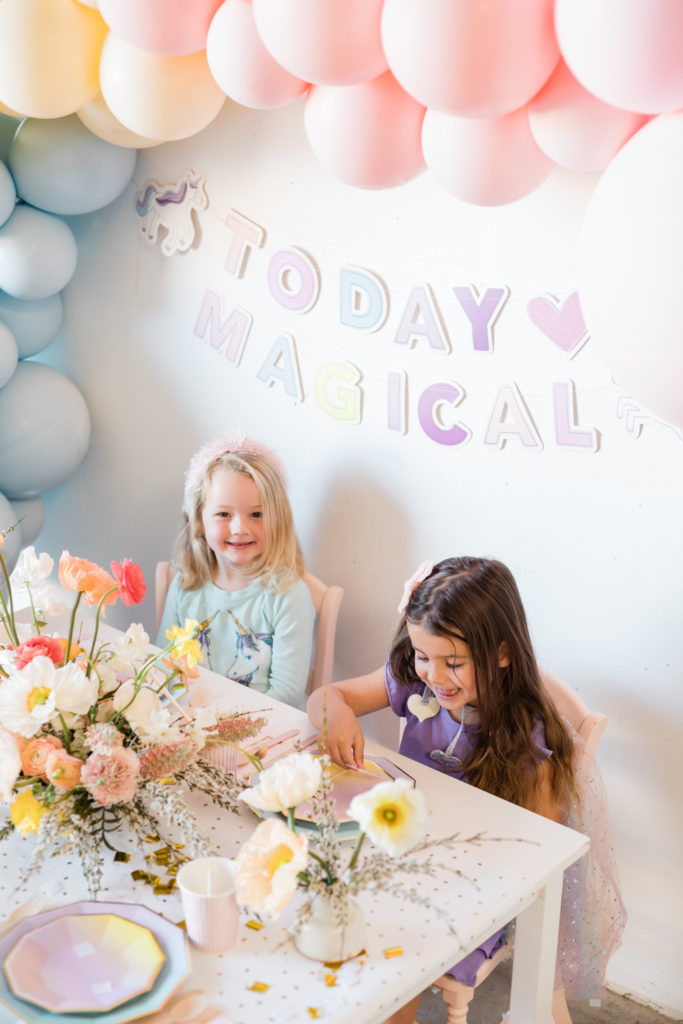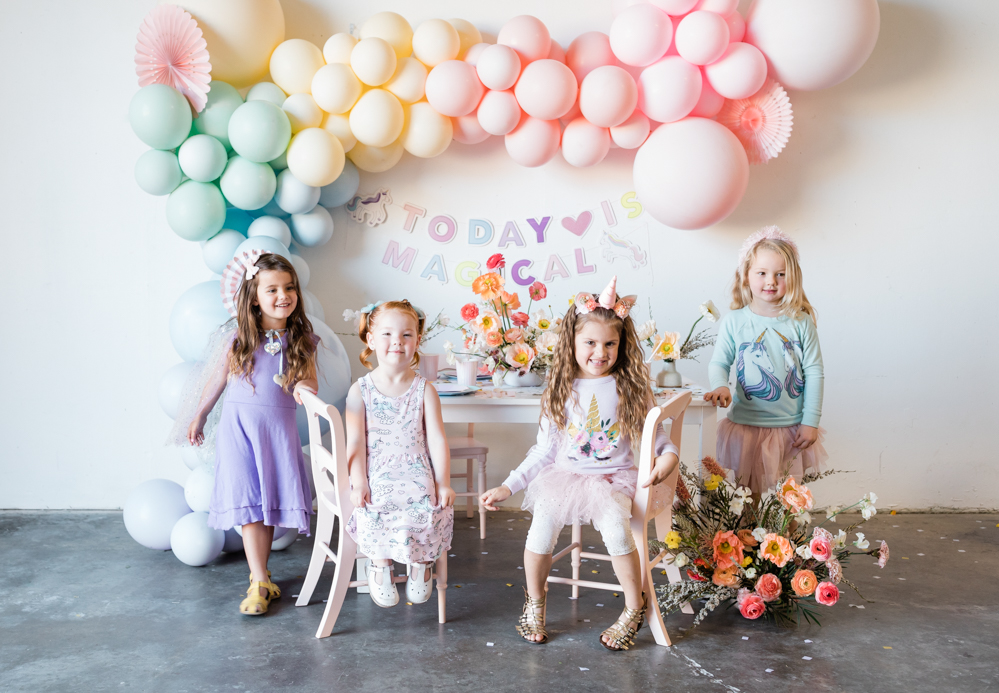 Pigtail bows are my favorite!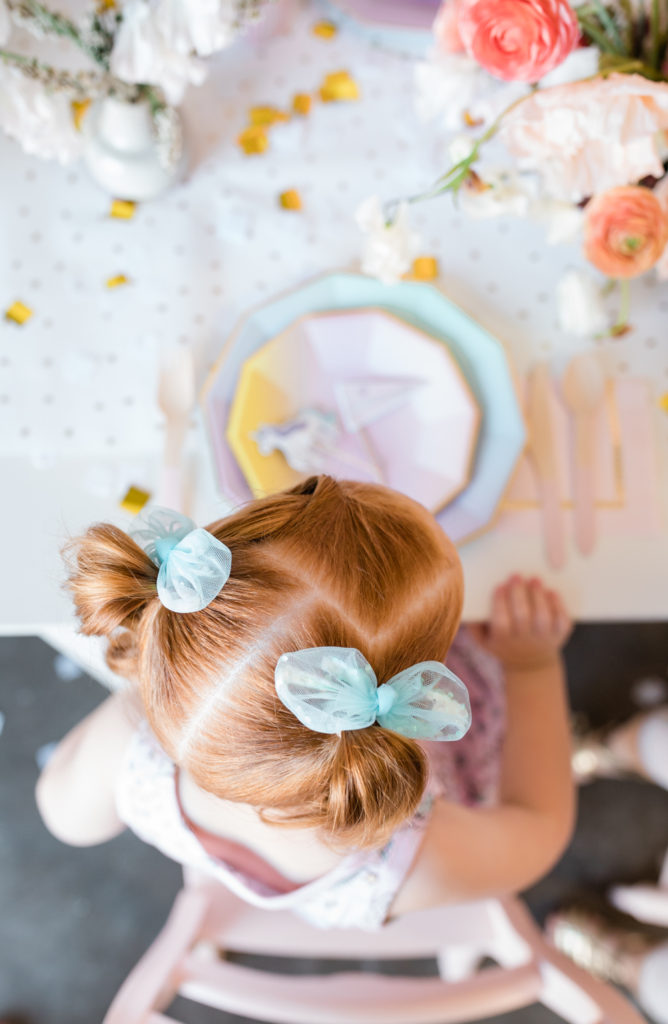 Isn't this unicorn headband adorable?! It's straight from Coterie! So not only can you have the perfect unicorn party but the perfect accessory as well!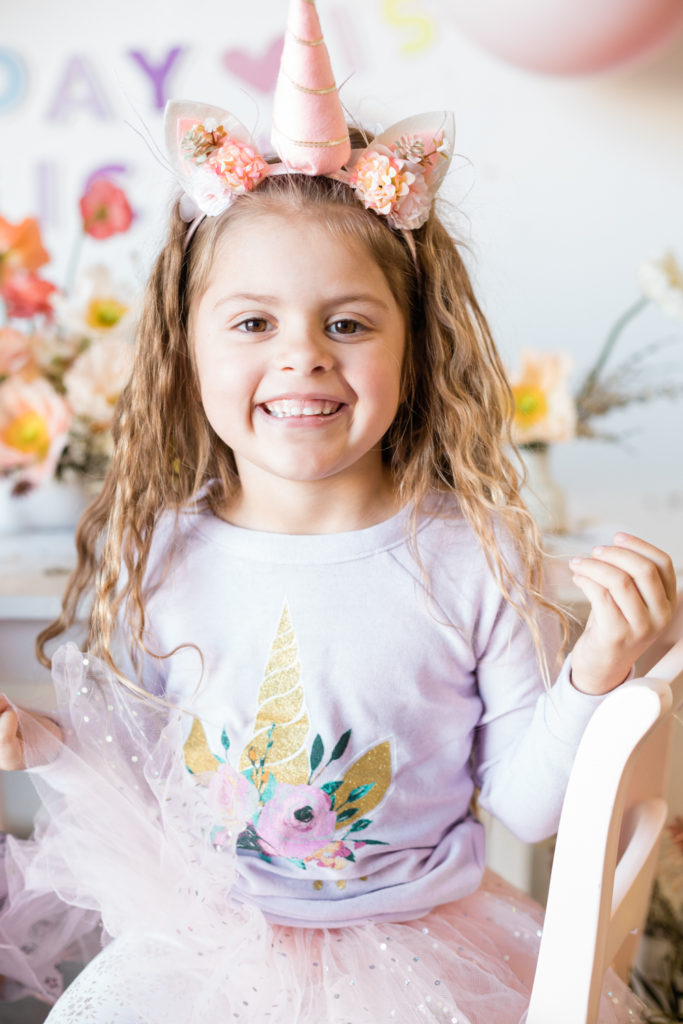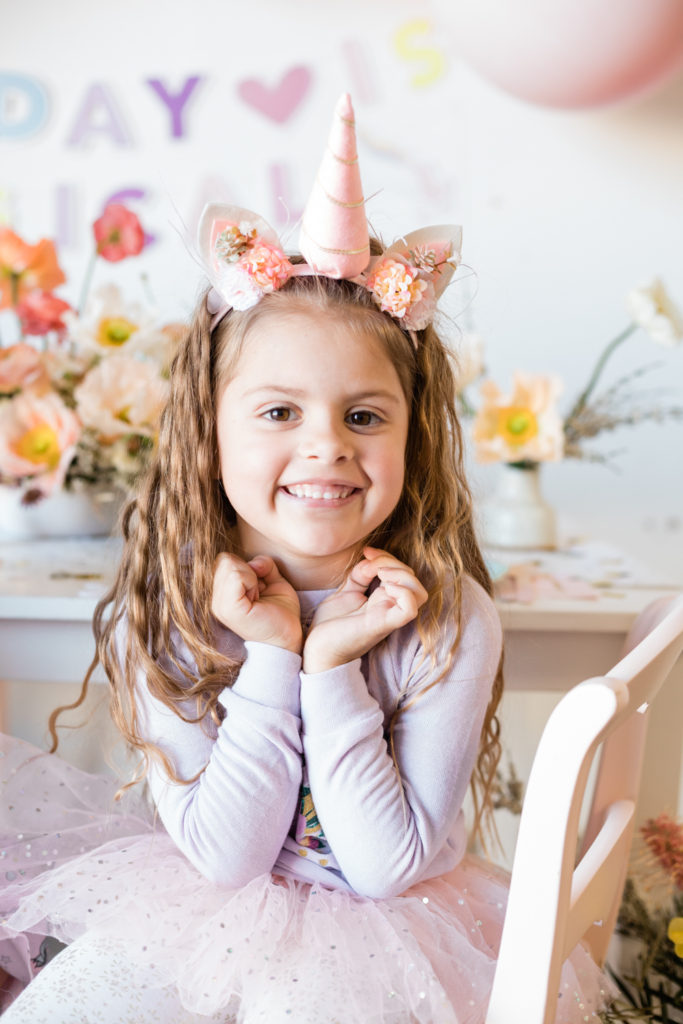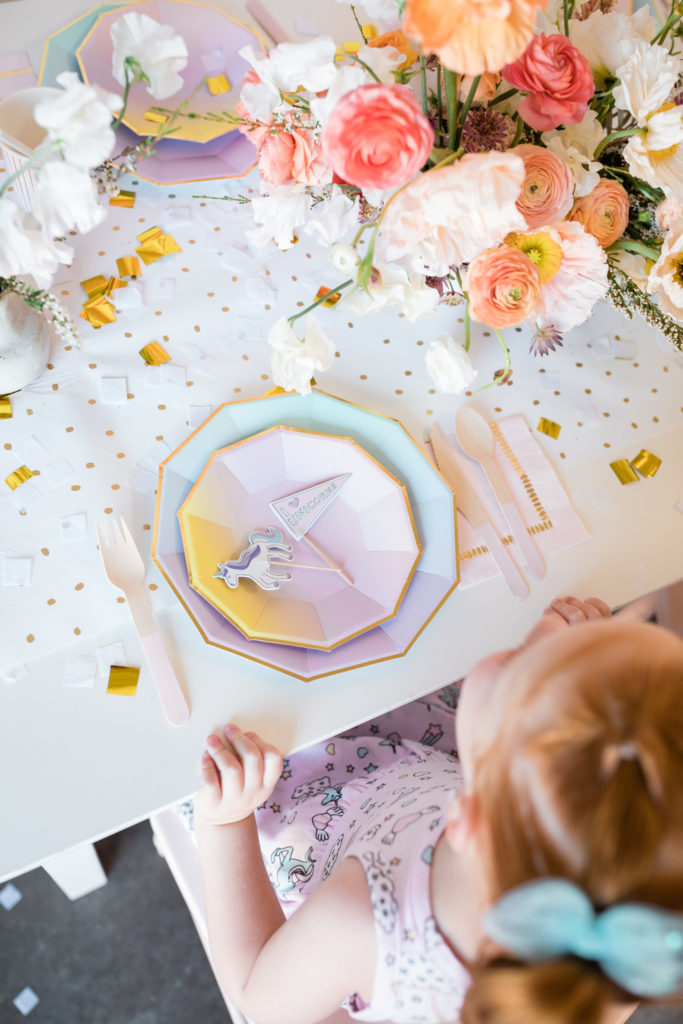 These little ladies didn't have any fun at all!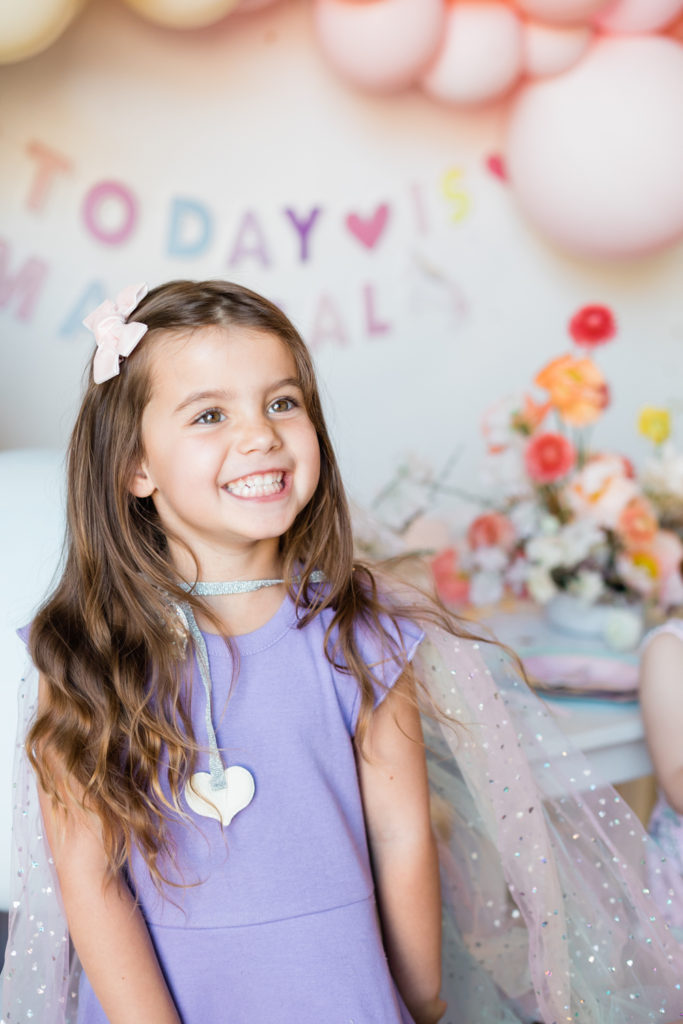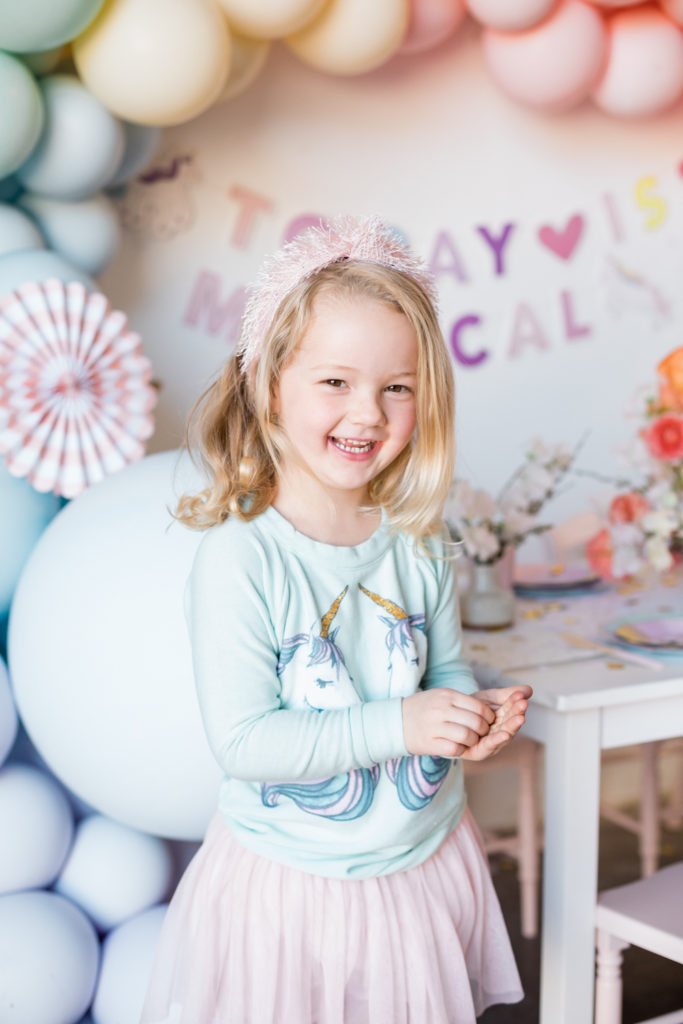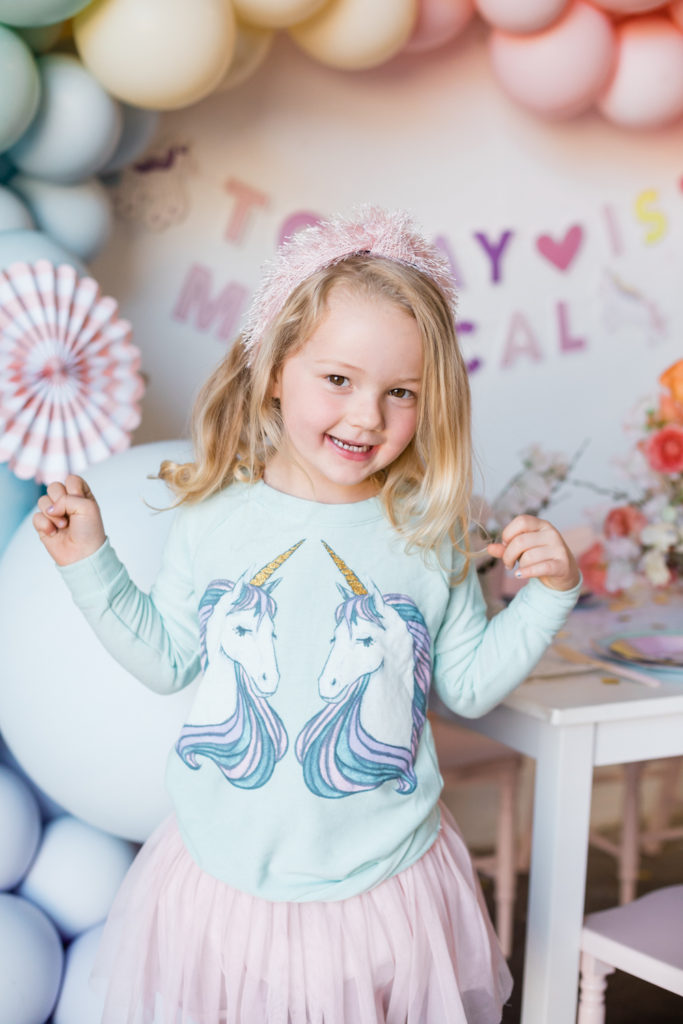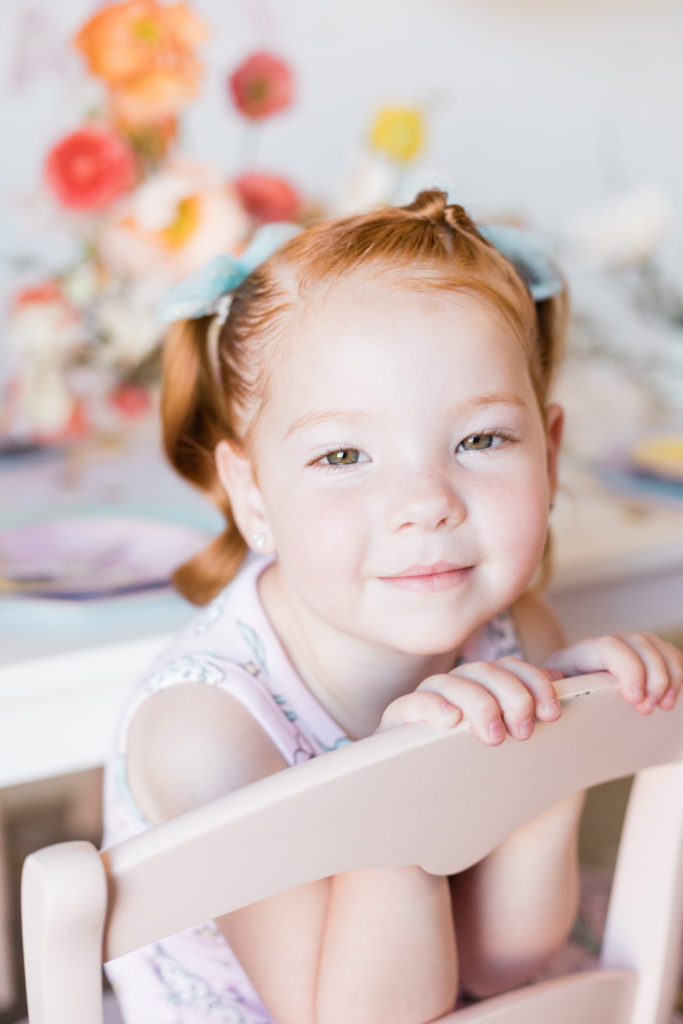 How could I forget these unicorn rings?! I mean…. Come on with this cuteness! The Daydream Republic is just the best!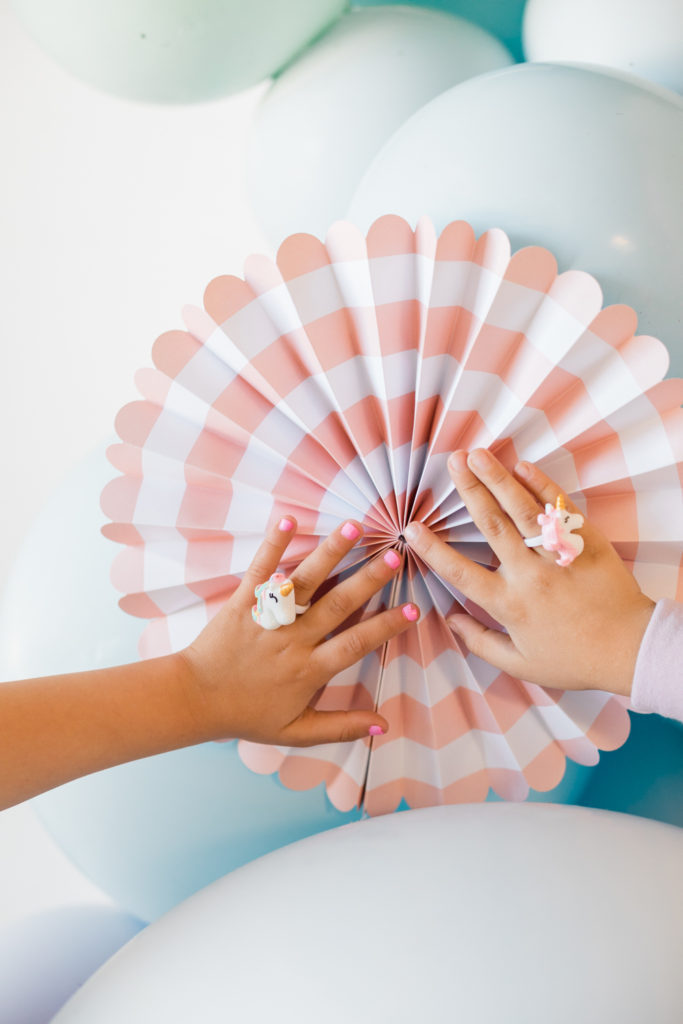 Another addition every party needs is a cake!! Or desserts at least!! This cute cake is from our friends at Sweet & Saucy Shop. And it was as delicious as it was adorable!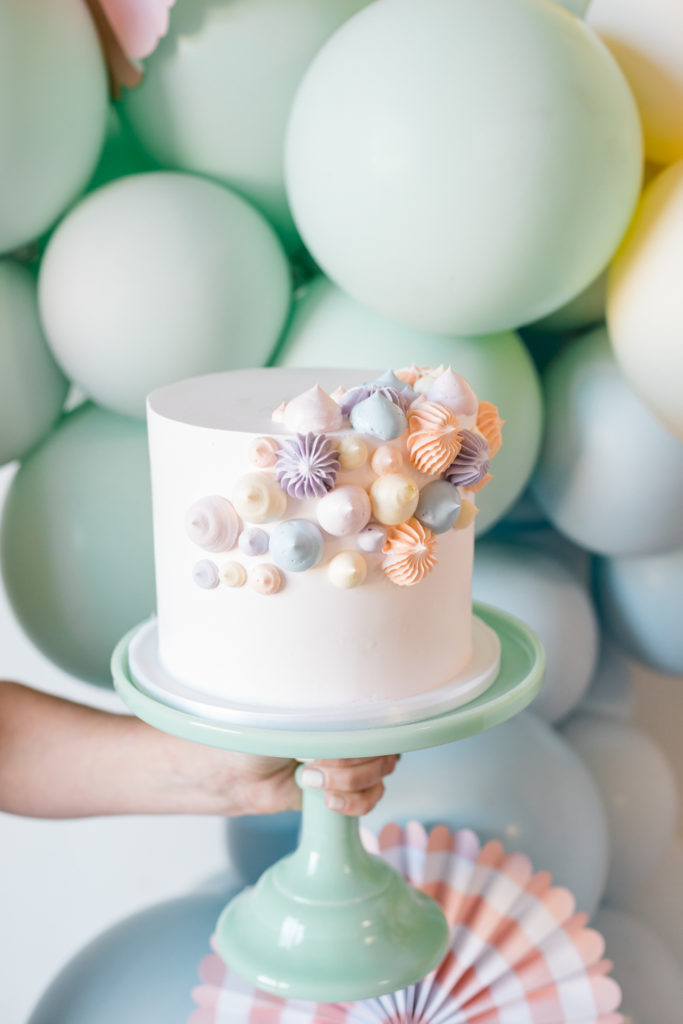 Also too cute?! These amazing cookies by Frost Your Cookie! Her cookies are always amazing and so detailed. And I love how you can have a handle on your cookie to avoid the mess – so smart!!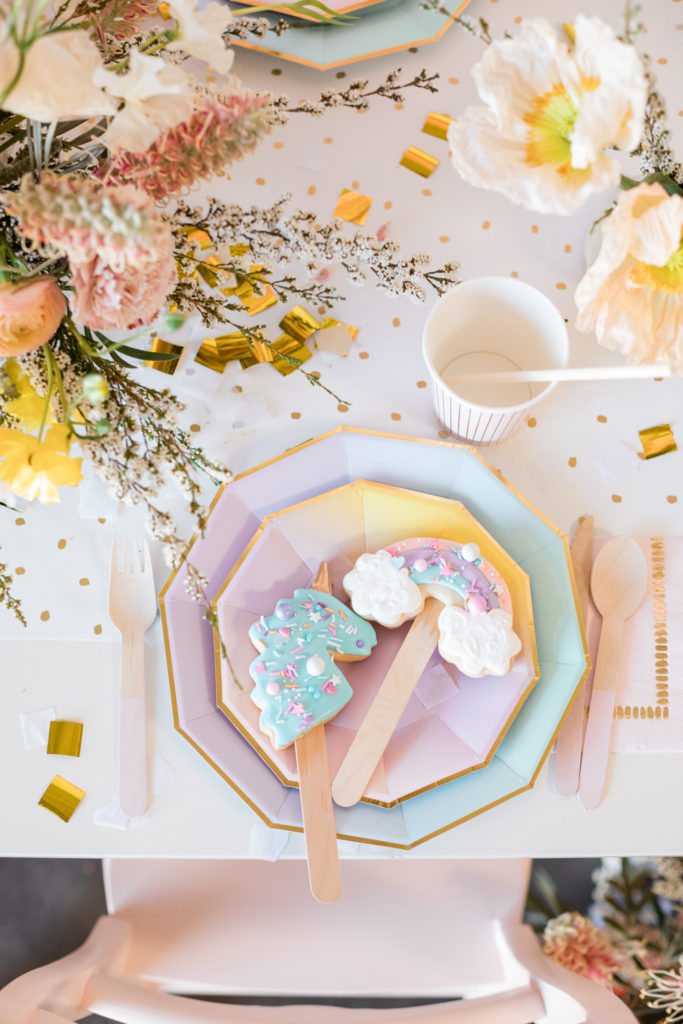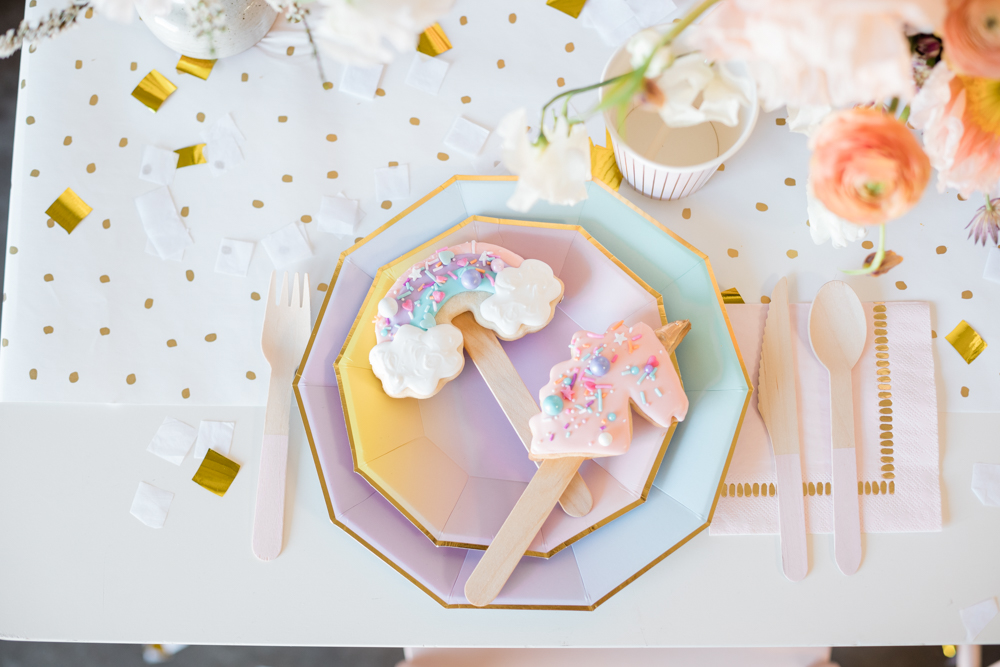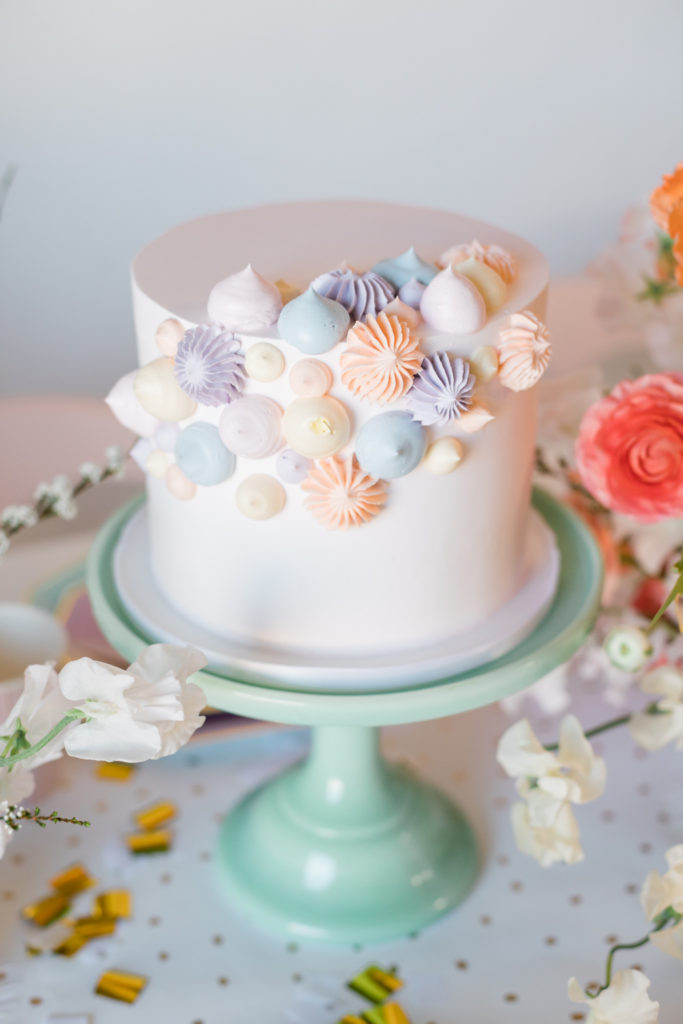 Every birthday girl needs her candles! I fell in love with this sweet set on Coterie!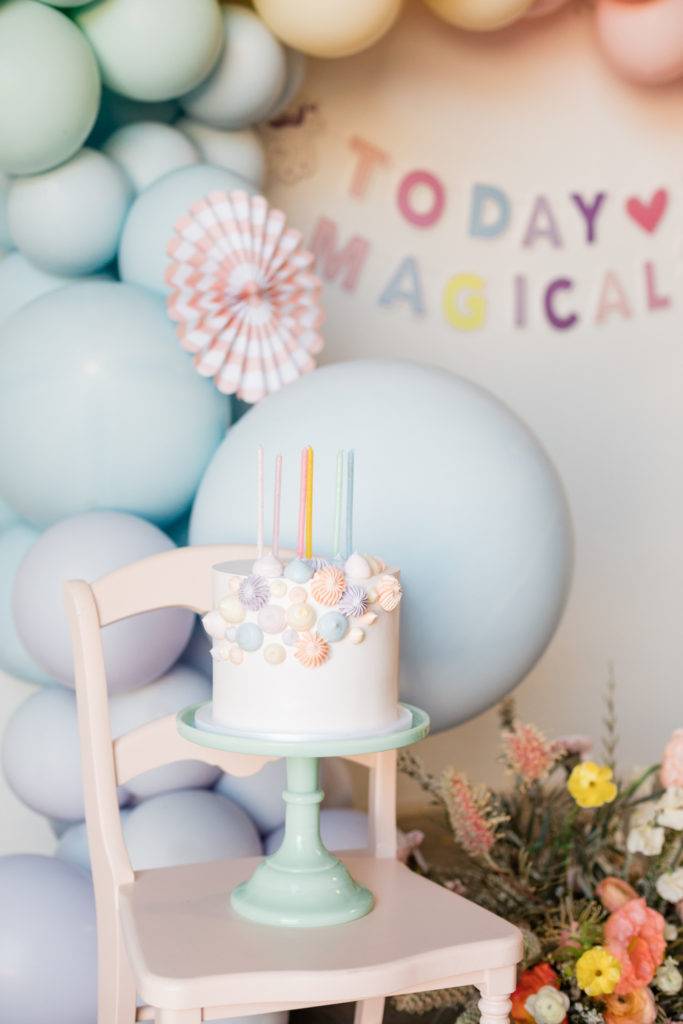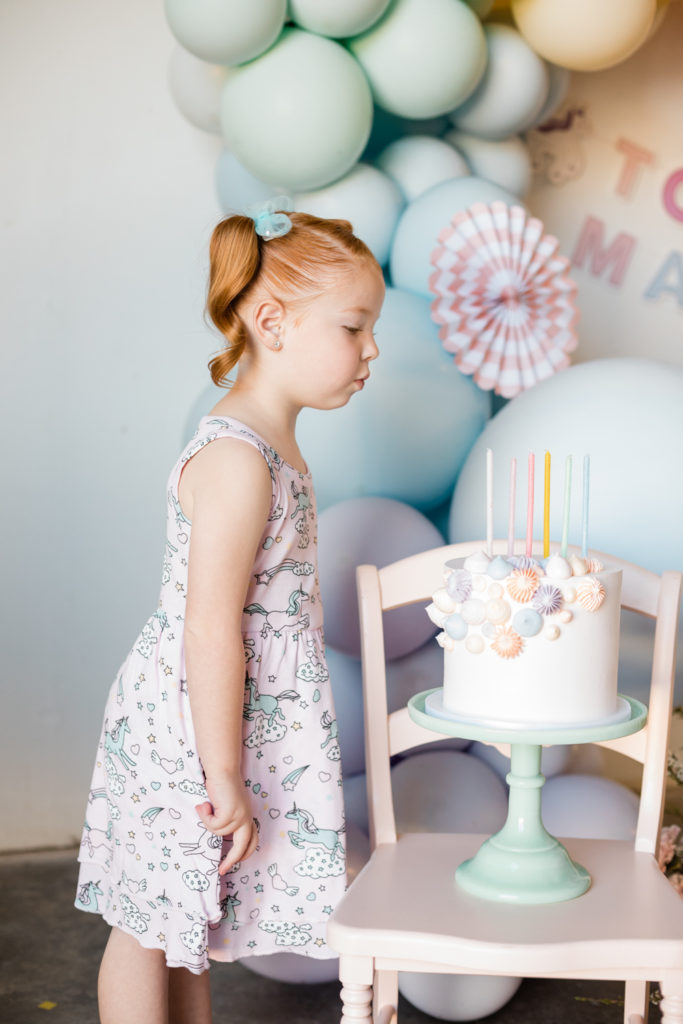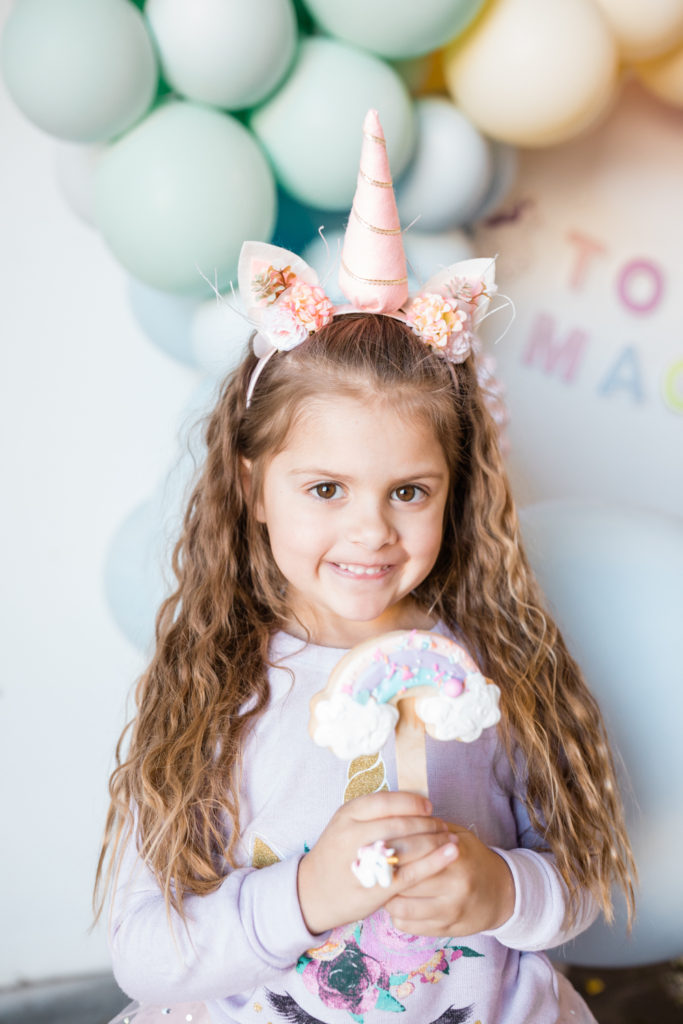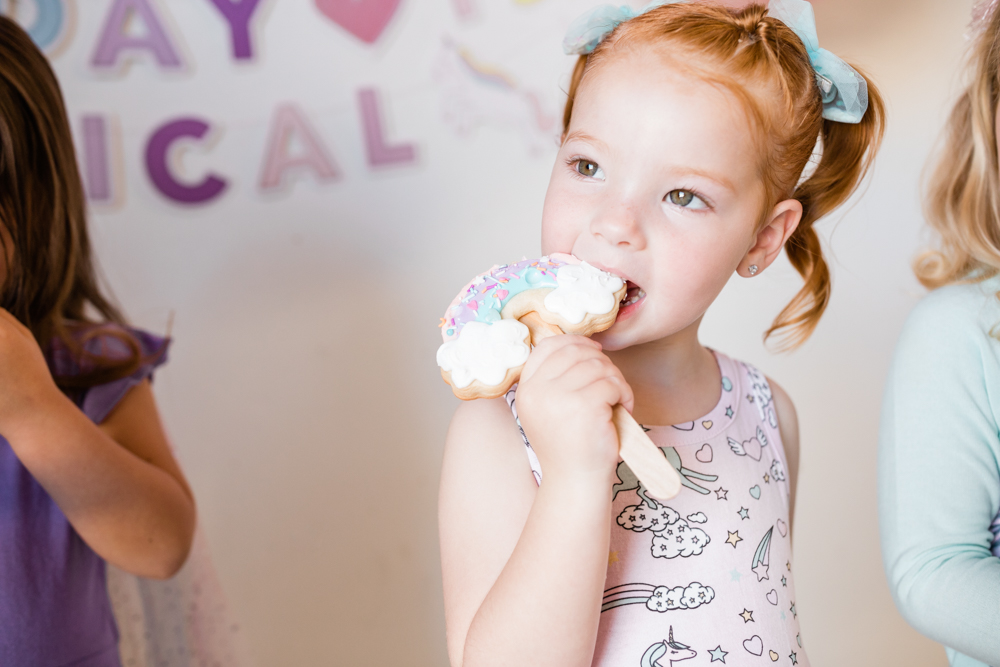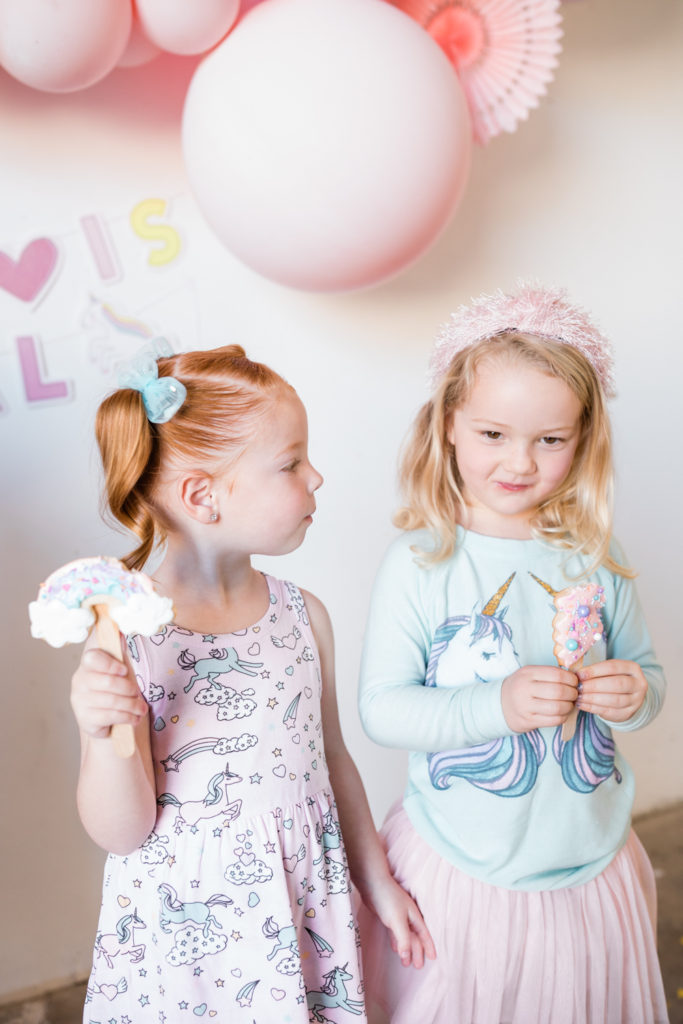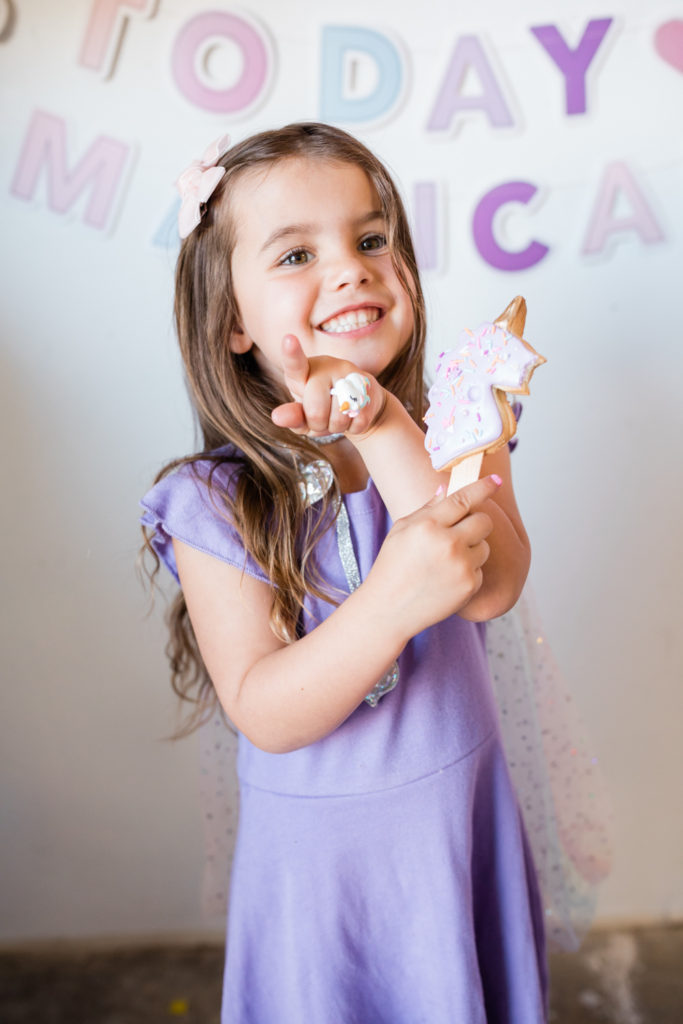 Couldn't be more magical!!!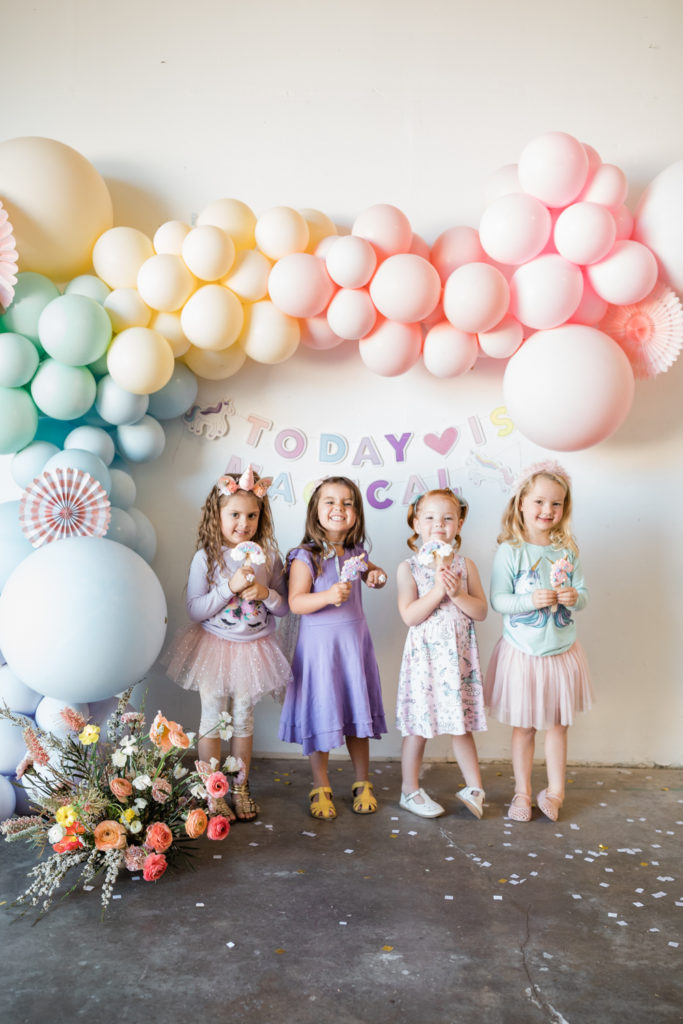 Again, I hope this inspires you for a cozy party at home or even if you are planning a party in the months to come! I really do look forward to the time where we can all celebrate life's big and little moments together again!!!
xx
Jacquelyn