A few months ago I… – GULP – turned 40! Not something most of us look forward to but after the past few years I wanted something to celebrate. It was a milestone birthday that my husband and I wanted to gather our nearest and dearest to have some fun! I of course enlisted the help of all of my favorite vendors to make it extra cute and special! It was a night to remember, including a little Salt n Pepa karaoke at the end of the night and the cops coming – awww to be 40! Check out all of the fun and see how us Beijos ladies celebrate ourselves, ha!
Photos by my talented bestie Alison Bernier
We were going back and forth on whether to have a party with Covid but 2 weeks before we said, let's go for it! So it was huge that all of these vendors came through for me on such short notice. Guests were greeted in the front of our house with a 40 marquee from Alpha Lit, amazing balloons by The Pop Shop and the cutest welcome sign from Pirouette Paper. My neighbors asked how my party was the next week and I said it was fun, I turned 40! They said, yes, we know, haha! I guess those marquee letters really make a statement!
This is "Little Jacquelyn" and she was made by my sister for my 30th birthday party. That crazy gal has hung around since and we decided to pull her out for another big party, haha! That's me at my 5th birthday party!
The Pop Shop sprinkled her magic every where! Even inside! I love this color scheme – it was just what I wanted for my special day!
Sweet Salvage Rentals spoiled me and brought all of the amazing furniture pieces you see! We had a table set for guests to eat at, cute high tops spread throughout the yard, and the most beautiful bar set up! All of the gorgeous floral arrangements were made by my gal Alex at Third & Park. I'm telling you – these vendors – or as I like to say, FRIENDORS – are so so good to me!!!
The disco balls were a fun touch! I borrowed them from my friend Sabrina at Golden Arrow Event Design. It ain't a party without disco balls!!!
I love these beautiful flower arrangements so much!!!!
The bar was probably my favorite spot, and it wasn't just because we had the yummiest drinks! I love this beautiful bar from Sweet Salvage Rentals, paired with the amazing balloons, florals, and of course a disco ball! This scene is just too good! Plus, Pirouette Paper and Creative Amme created the most beautiful signage and stir sticks for those extra special details. Love, love, love!!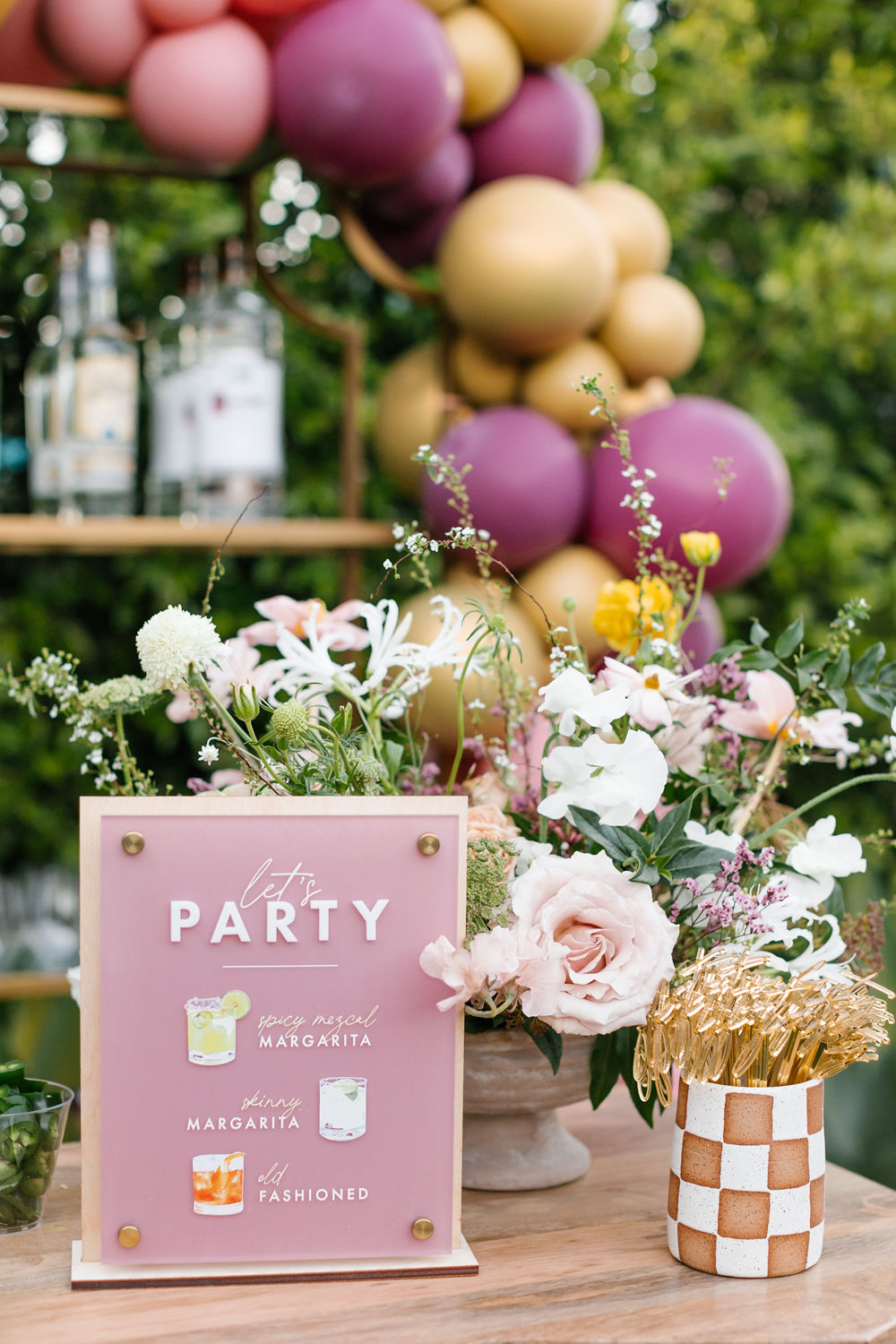 Gimme all the skinny and spicy margaritas!!!!
I don't have pics of the delicious food but we used Soho Taco for our catering and bar. They are THE yummiest tacos and everyone devoured them! We always love Soho!!!
For dessert we turned to Sweet & Saucy Shop for the yummy bites!!! A cake was necessary and then all the little bite sized desserts, including chocolate chip cookies from Alison's daughter Olivia. Chocolate Chip cookies are my love language!
Just a few awkward photos with my handsome hubby, haha! Love this guy and how he took care of me for my bday – a few weeks after this party we went to Cabo just us two and it was the best!!!
I'm so grateful for this amazing night with family and friends! I feel so lucky!!! Oh, and I definitely bought heels for the party but opted to wear my go to checkered Vans – they are just more me!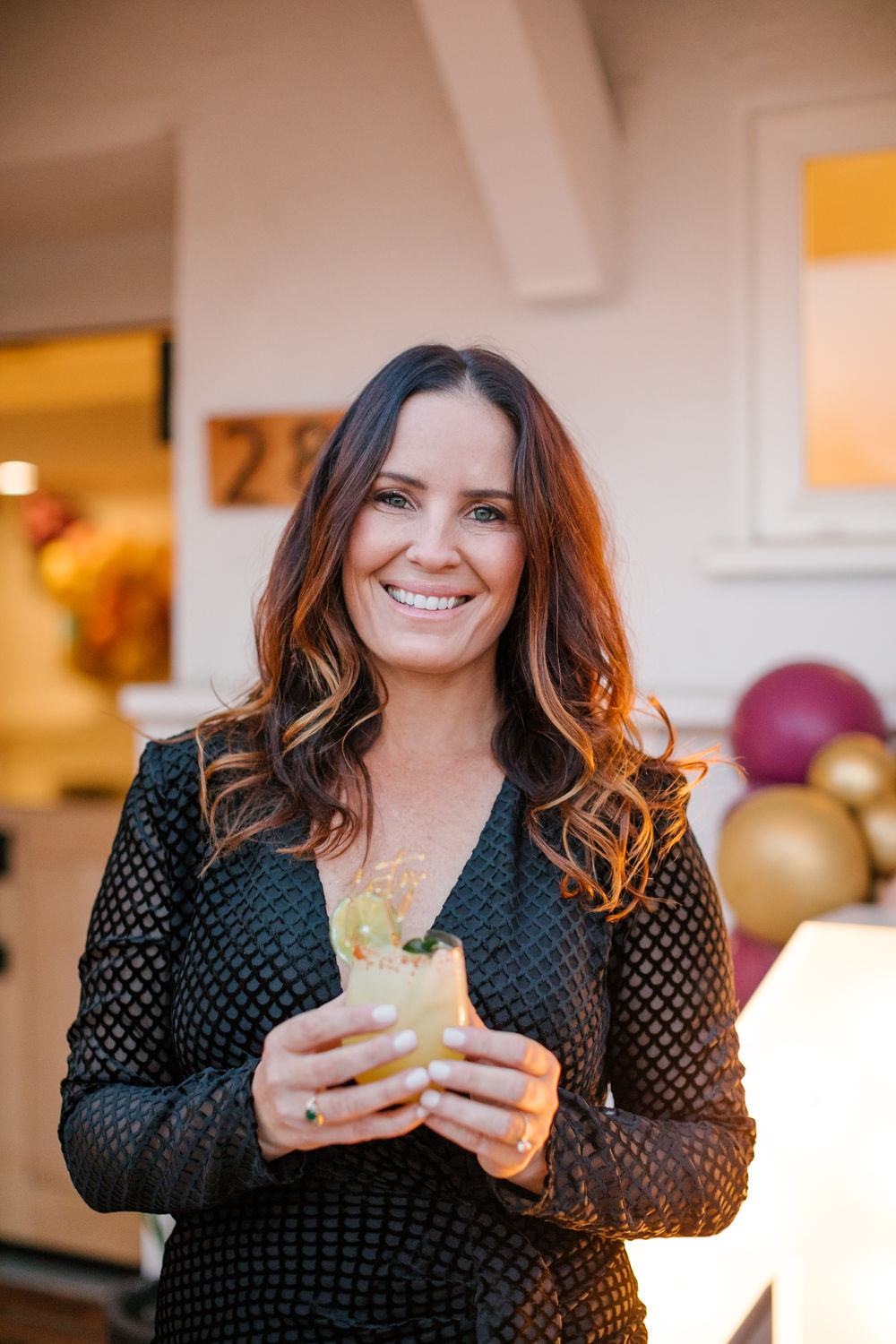 A highlight of the party was having Foto Vibe Photostation come for fun photo op moments!!! Everyone loves a photo booth – that's for sure!
Right before everyone arrived we got a few snaps with family and friends. My sister was pretty darn pregnant for the party, but that didn't stop her from having fun!
The lady behind the lens had to hop in for a photo with me!!! Love this bestie of mine!
My cute parents came for the fun too!!! Then they took my kiddos home for a sleepover – yay!!
Don't let this guy fool you – my brother in law was the life of the party!!
Again, I feel so grateful to everyone who made my night special and helped to make turning 40 fun! Thank you from the bottom of my heart!!!
xx
Jacquelyn