One of the best things about being a parent is getting to relive all of the holidays with your kids.  This is my first year with Court being in pre-school for a holiday, Valentine's Day!  One of my favorites!!!  My birthday is the day before Valentine's Day so it has always held a special place in my heart.  I was especially excited for this holiday because I got to come up with some Valentine's Day card ideas!!
When Ms. Sherri, Court's teacher, told me he had to bring 24 Valentine's Day Cards for everyone in his class I was so excited!!  Yay!!  It was finally happening, I was getting to do the mom things I'd always dreamed about!  I really love coming up with creative ideas for my kids, whether it's birthday parties, every day activities or special treats for the holidays.  So in my case I take these kind of things as a challenge… Challenge accepted Ms. Sherri!!
We all know that candy is not really ok these days…  There are so many allergies out there so you have to be so careful!  That's why I wanted to come up with some non candy Valentine's Day card ideas to share with you.  I asked Leah & Abby to each do one as well so we could share some options with you!  Hope they inspire you!!
All cards by the uber talented Meghann Miniello
All photos by the amazingly sweet Ari Moyashedi
For Court's card I wanted to do something with a beachy surf theme… Because he's like totally a grom bro!  Just kidding!  But really, he loves the beach and I just thought these army surfer men & women were so amazing!!  They are the perfect fun little gift and totally unexpected.  I definitely think he will be unique at class and both boys and girls will love them!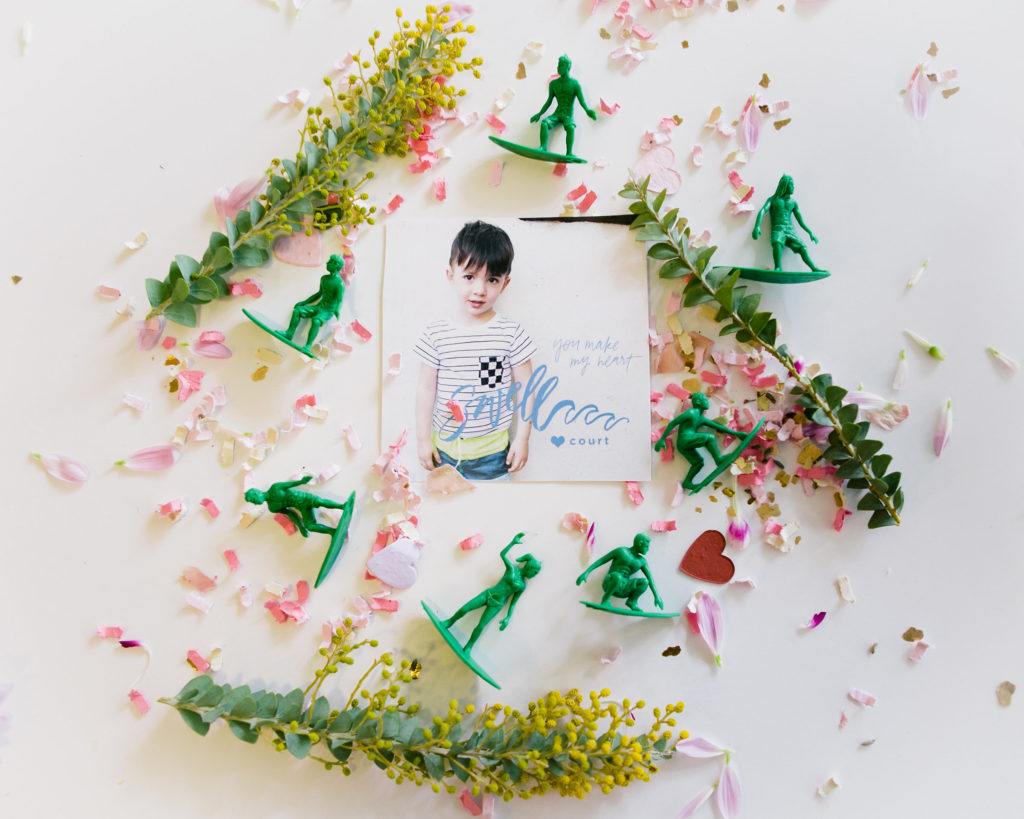 How cute is his little face in this photo?!  I took it the other day right before we headed down for some playground time on the beach.  His card says "You make my heart SWELL" – a little beach pun!!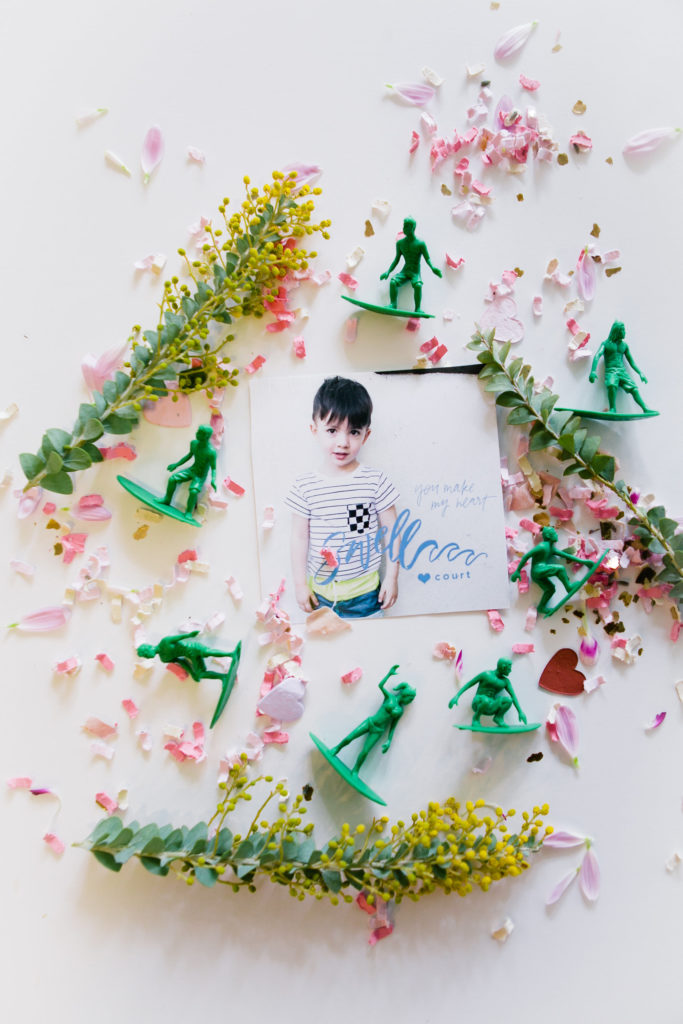 Leah decided to do a joint card for Edie & Isla, her two little girly girls!  She found these adorable heart stunner shades online and knew they would be such a fun Valentine's Day treat.  They come in a variety of colors – not pictured are blue, so if you're worried this is too girly don't be!  Every kiddo has fun dressing up and we can just picture how much fun these would be at a Valentine's Day party!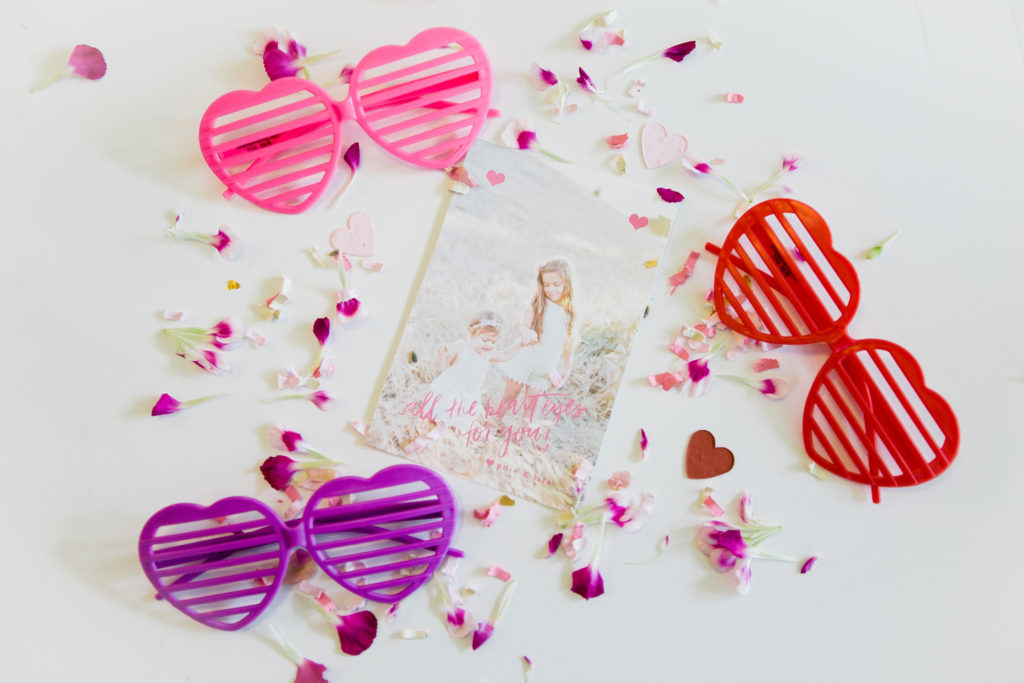 Meghann added two little mini hearts to put the shades into and you can give the cards like this below!  The caption says "All the Heart Eyes For You!"  So perfect!!  I think this one is my favorite!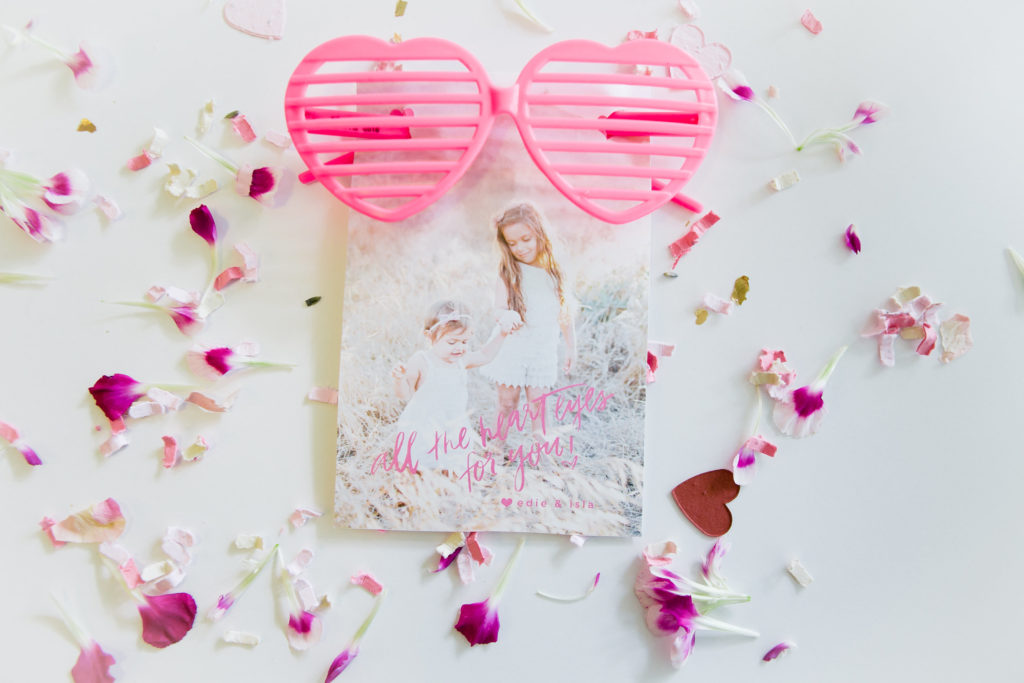 Next up is the Guido kids… Abby used this super sweet photo of Dylan & Jett having a smooch fest for her Valentine Card.  Nothing like these kissing photos to show them when they're older, or when they are fighting to remind them that they actually DO love each other!  Ha!  Abby used Glo-Sticks for her special treat, so fun, right?!  The perfect addition to that Valentine rave your kids are headed too, haha, or for just some fun because who doesn't love a Glo-Stick?!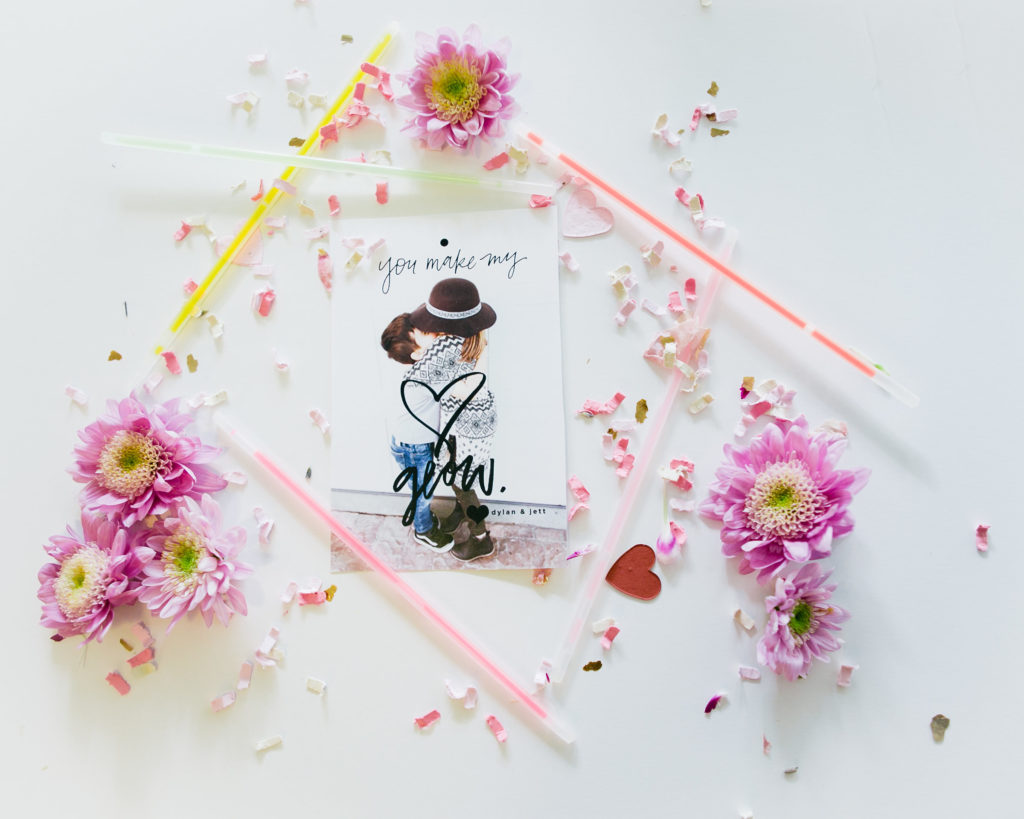 The caption says "You make my heart glow", isn't that the cutest?!  And you can stick the glow stick through the card, how adorable is that?!  We know these would be a hit at school!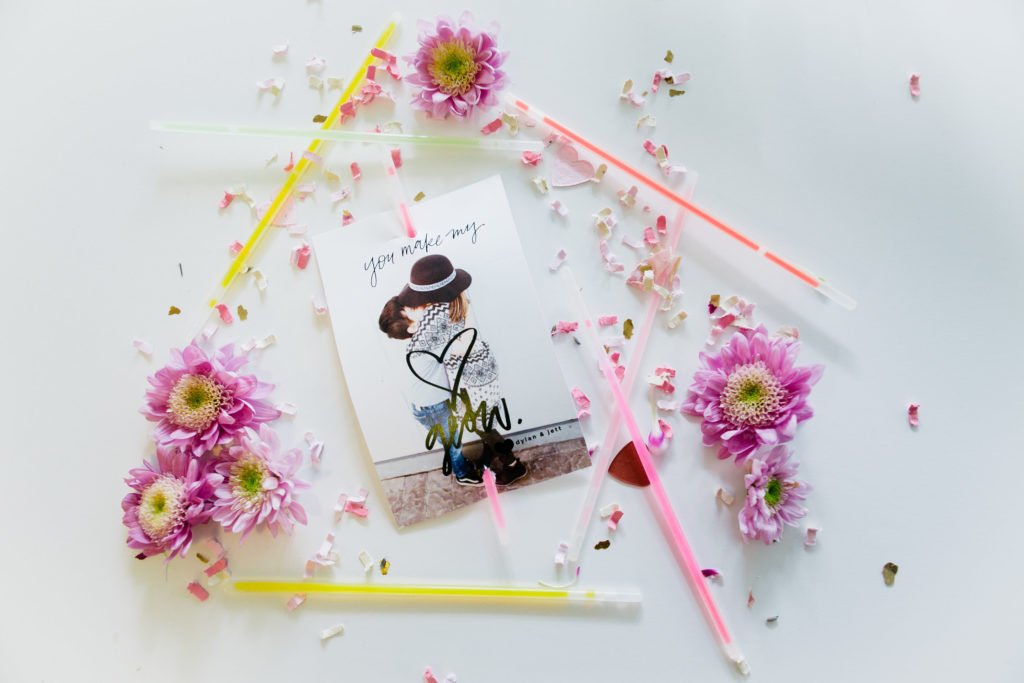 Hope this inspired you with some fun non candy Valentine's Day Card ideas!
xx
Jacquelyn