Valentine's Day is two days away and how will you be spending it?! Out on a hot date or snuggling at home? Well this year I thought I'd inspire you with a little group date with your friends! Let's face it, with little ones it's hard to get out. So why not host a night at home with all your friends, let the kids run amok in the background and just enjoy! I always find it easier to get all the kids together and tire themselves out while the parents get to eat and drink their little hearts out.
A night of fondue, both sweet and savory, with wine is in order! See how I set it all up and how you can set it up as well below!
Photos by the talented Corrie Lynn Photo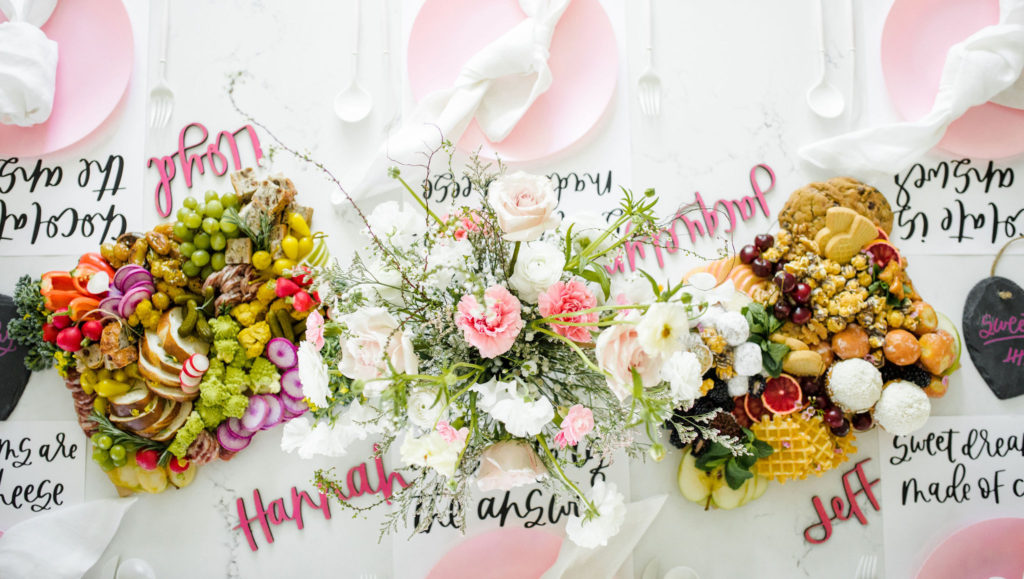 Sweet dreams are made of cheese – as most people would say! Fondue is such a fun communal idea. It's definitely a great conversational food as well, a fun way to get interactive with each other and enjoy a delicious spread all at once! We used Swissmar fondue pots for both cheese and chocolate and I love the look of each of them. Classic and built to last from one celebration to the next!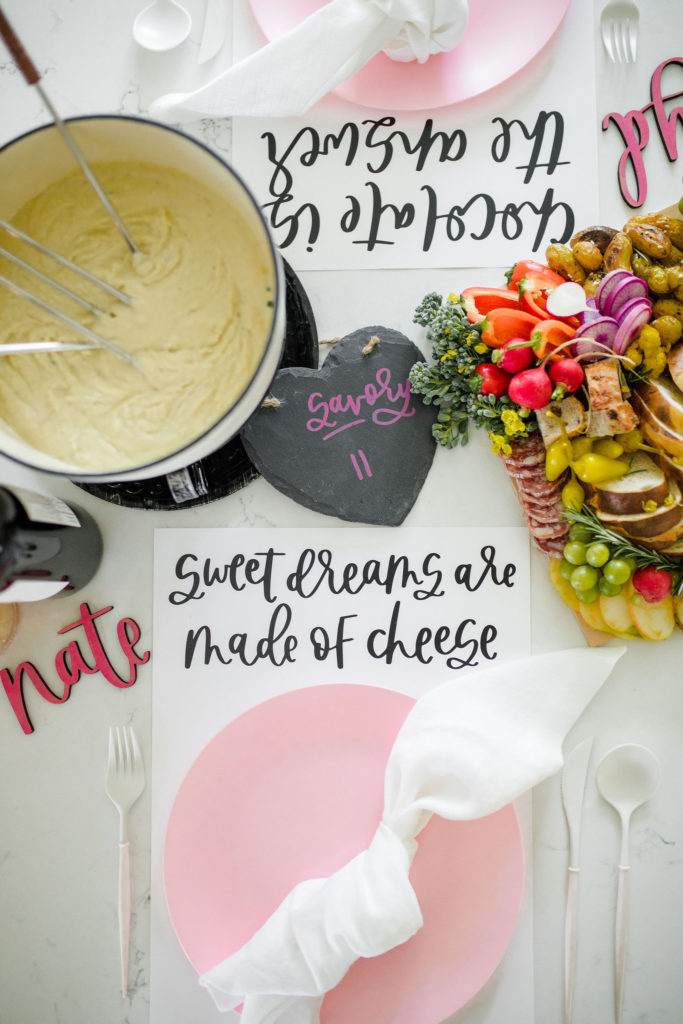 I set this one up on my kitchen island. It's the main spot we usually hang out in my home, where we can keep an eye on the kids while also enjoying dinner. I just got these Beekman Counter Stools from Serena & Lily and it has definitely brought us around the island more! My kiddos eat breakfast there every day now and we gather there as a family much. more often.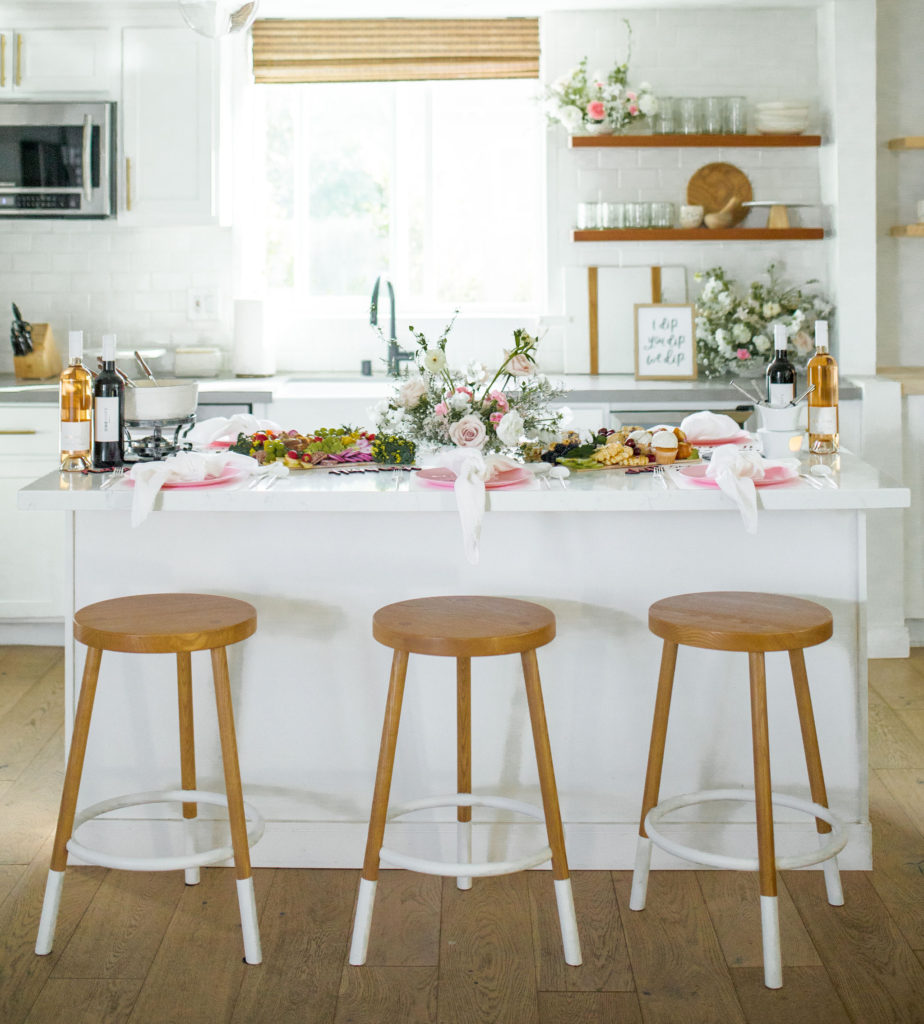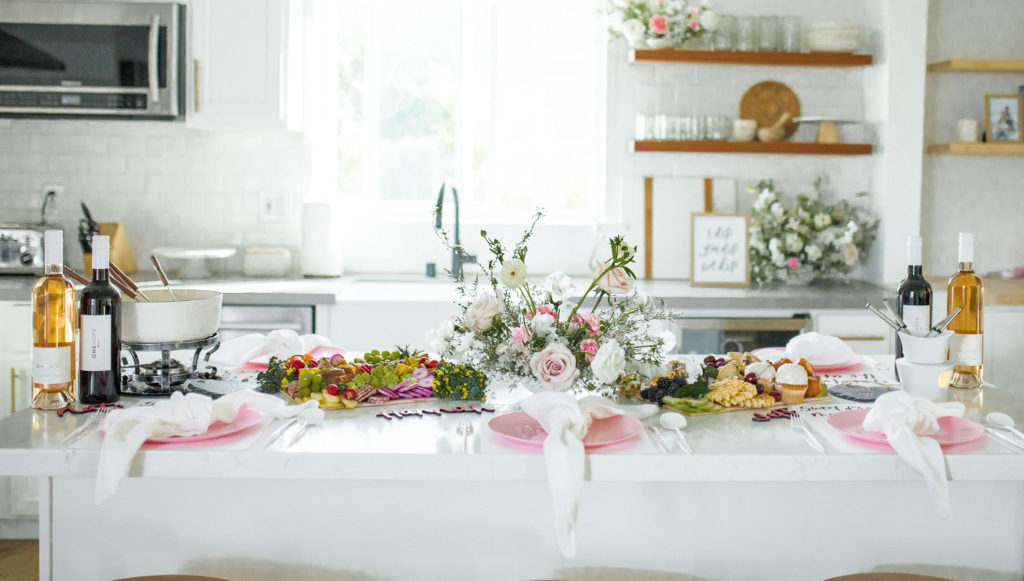 Third & Park decked out my home with the prettiest floral arrangements, the white and pink matched perfectly with my table set up! Oh, and how cute is that fondue sign from Poppy Jack Shop?! More on her witty ways later…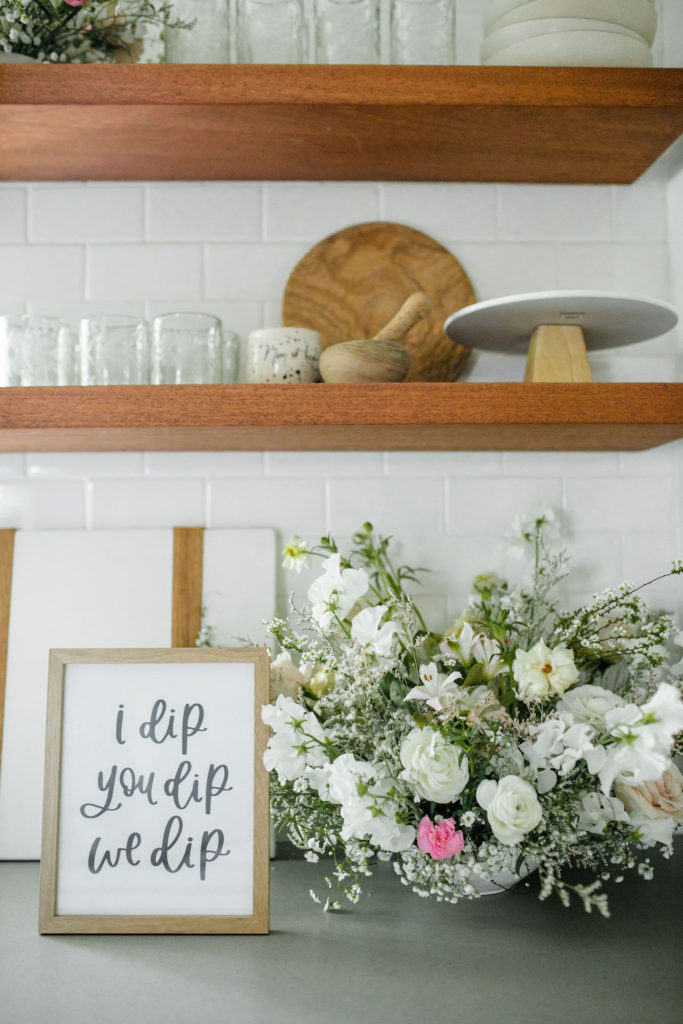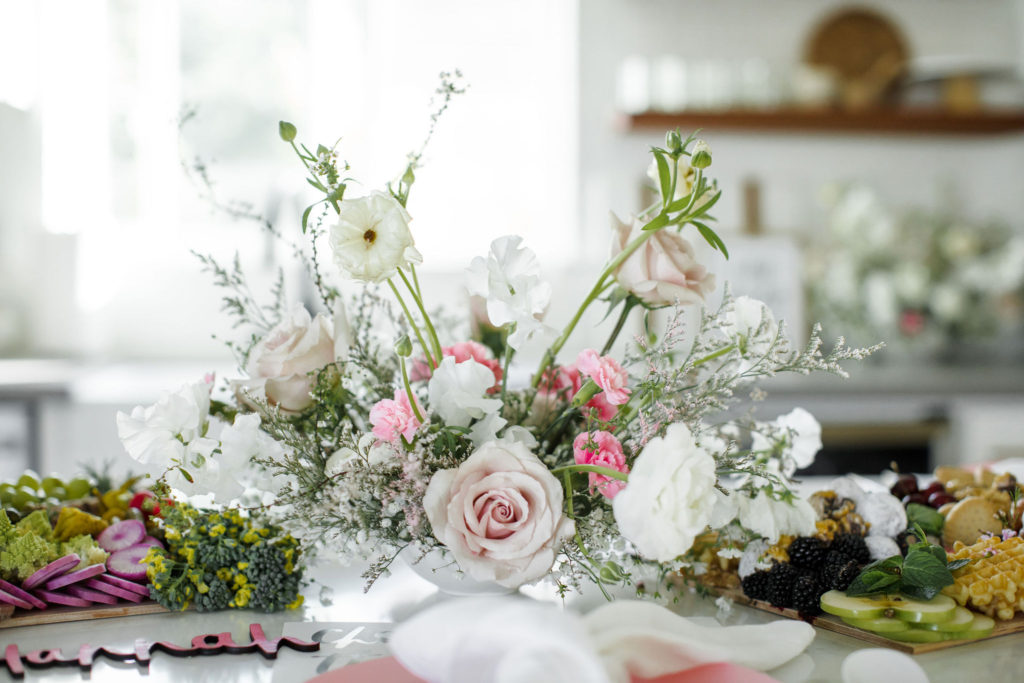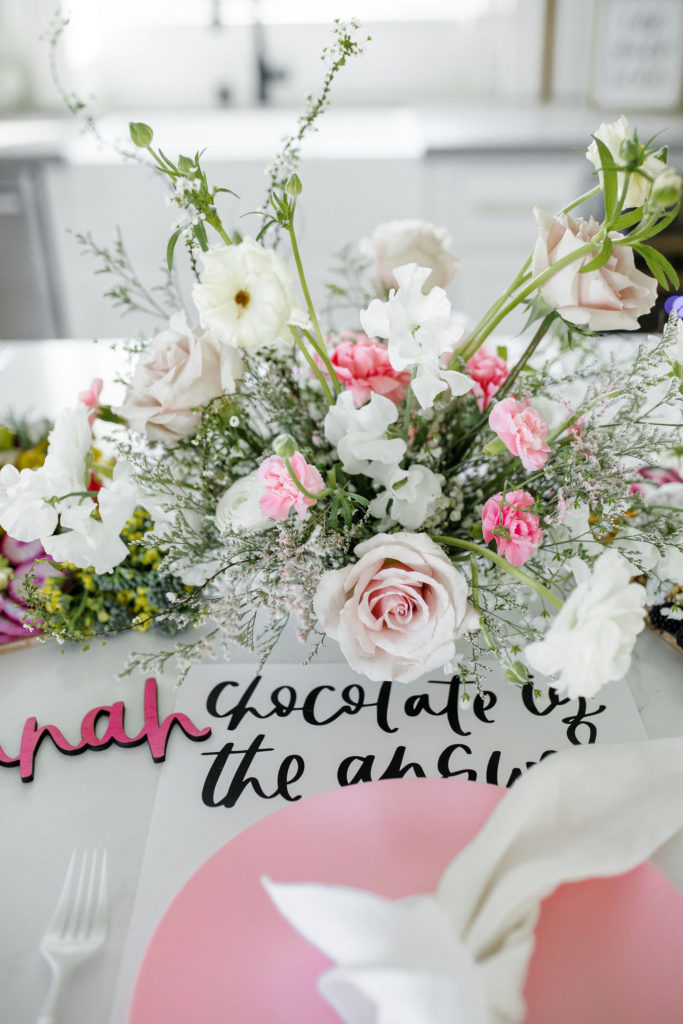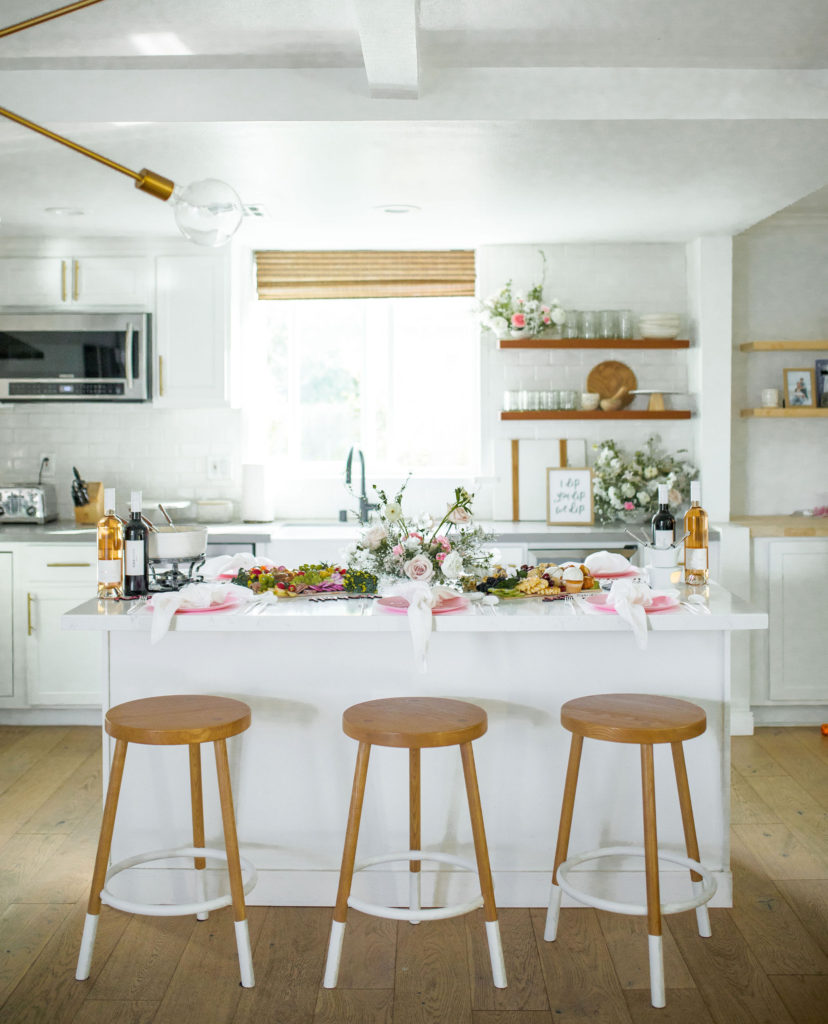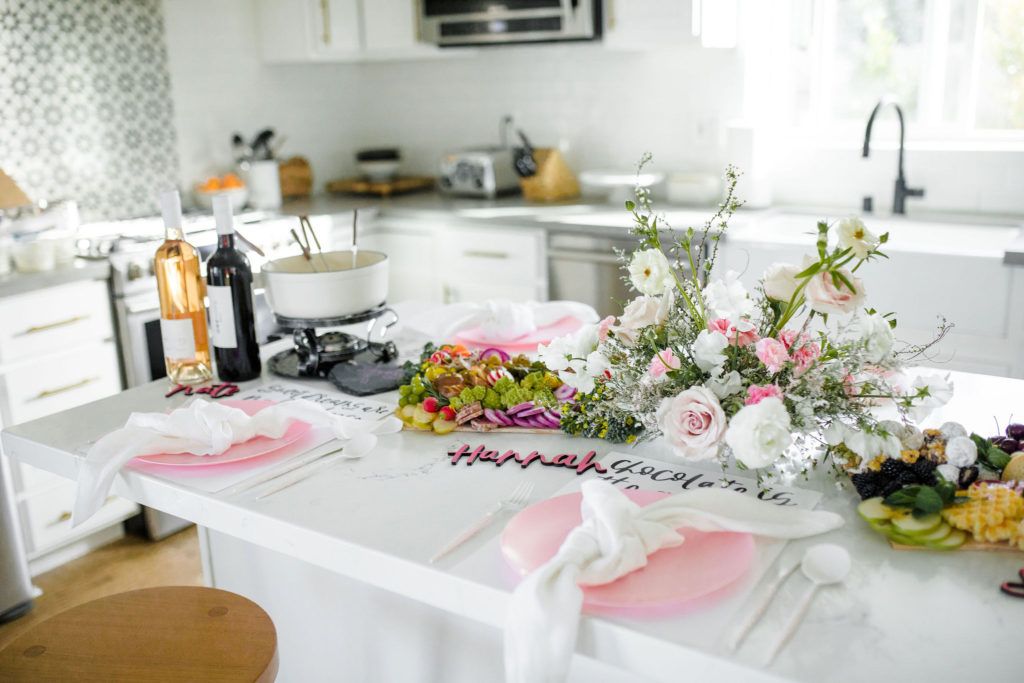 With fondue you must have gorgeous grazing boards! My go to Graes Platters created the perfect boards for both our sweet and savory fondues. They were oh so yummy and we devoured each of them!!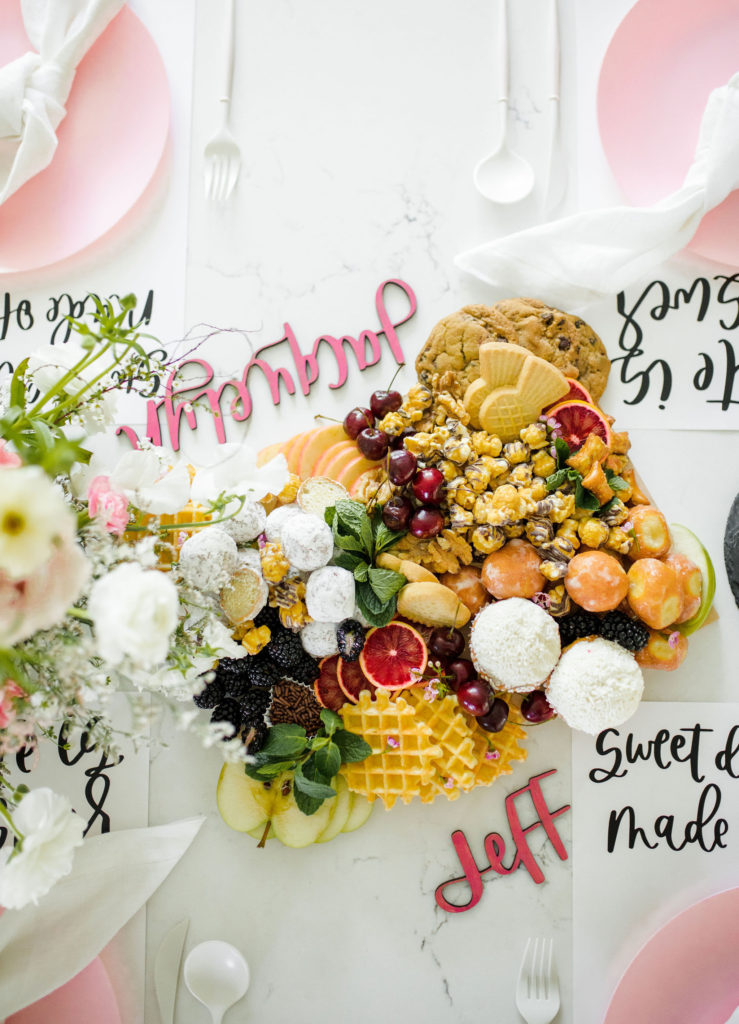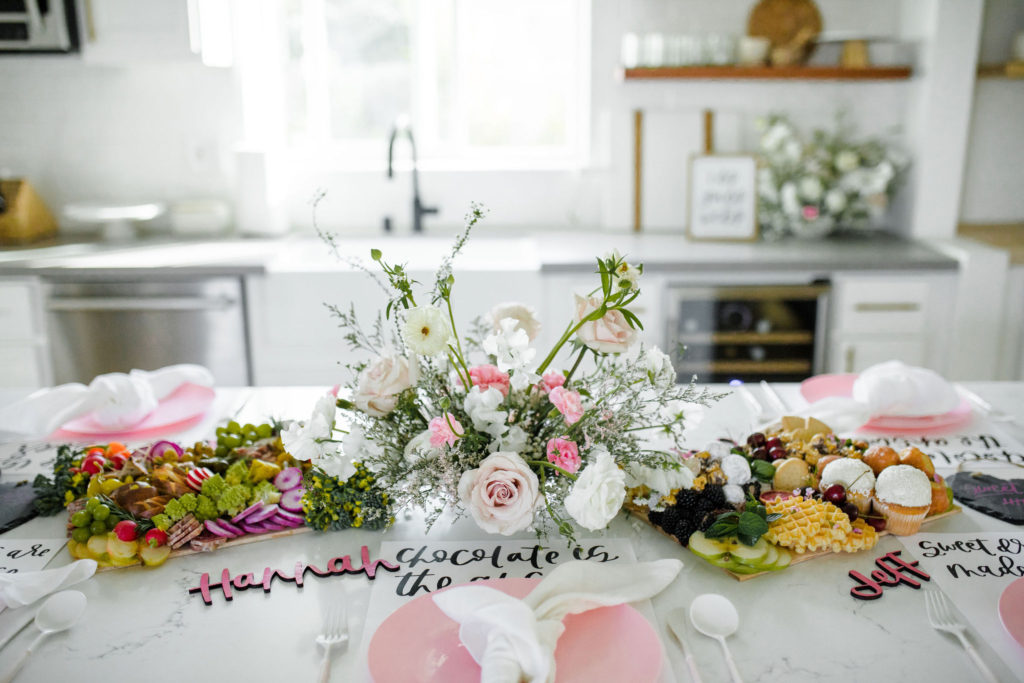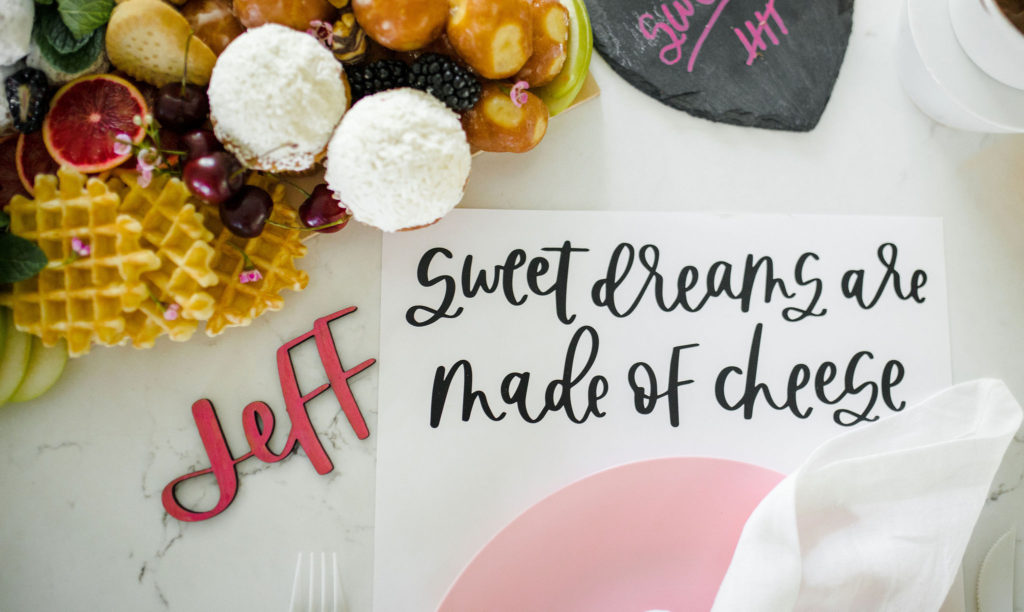 Those fun graphic placemats and all the other gorgeous details are by my favorite lady Courtney of Poppy Jack Shop. I can't always take credit for the puns, that girl is good! She came up with all of these!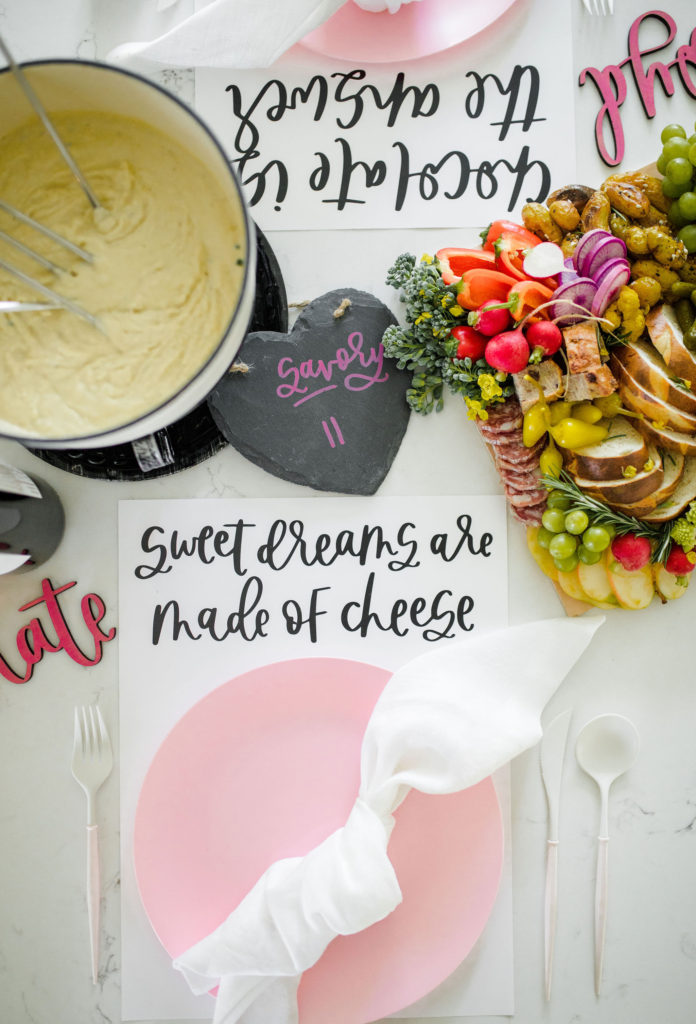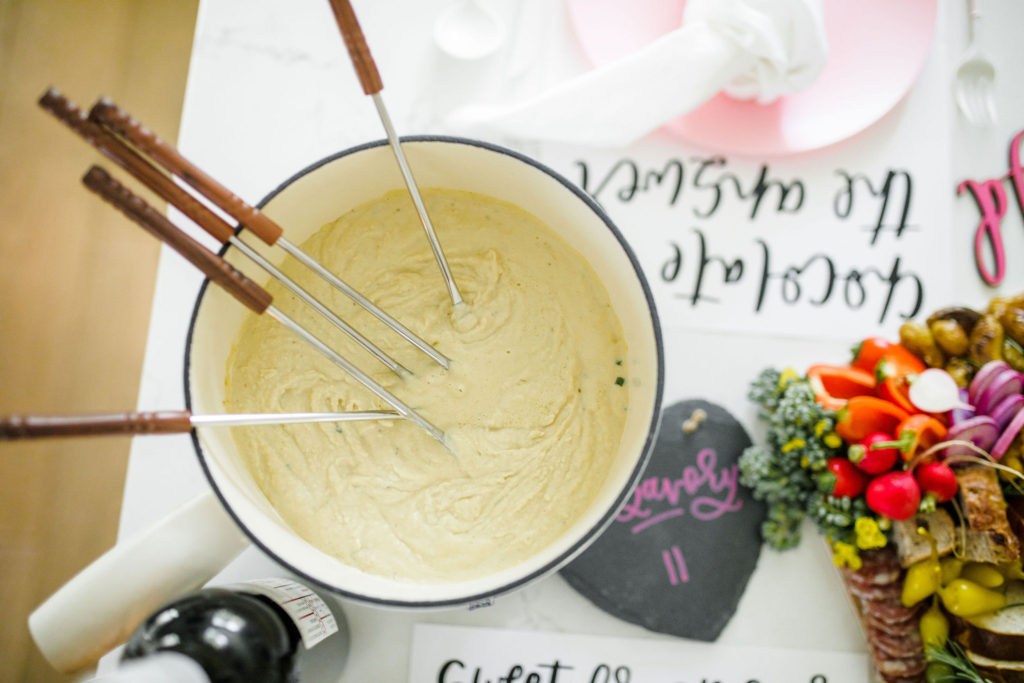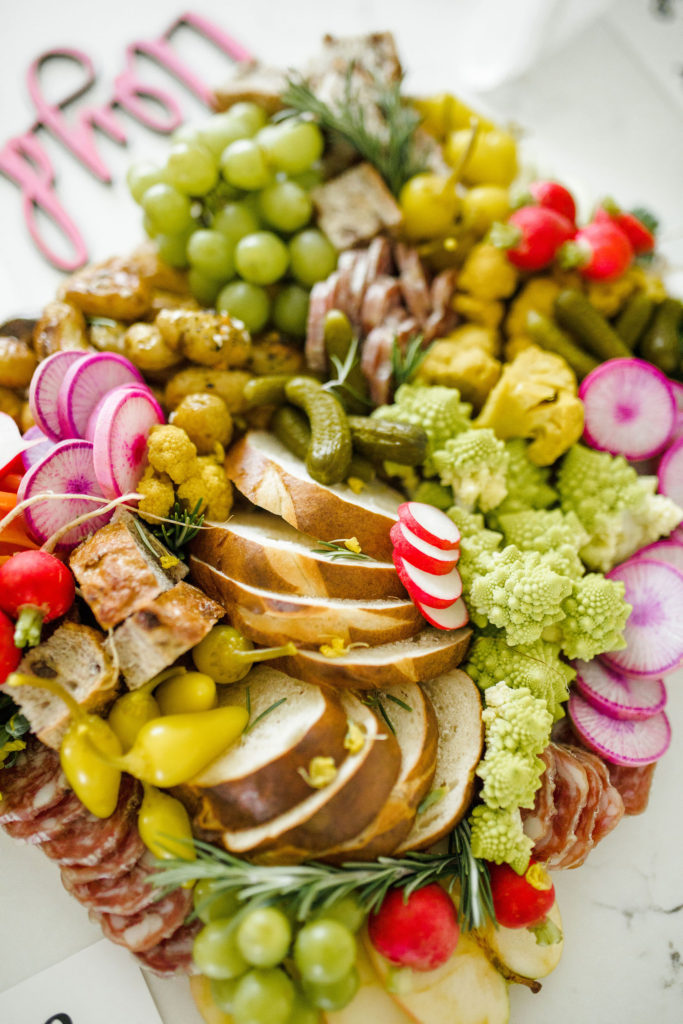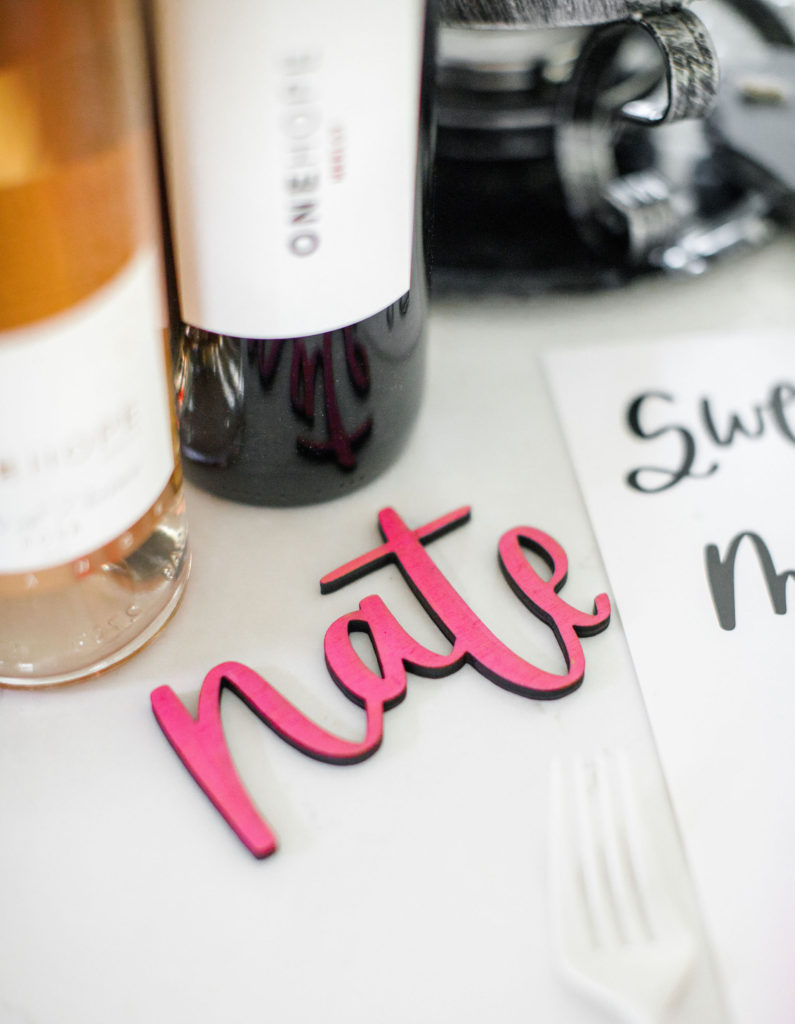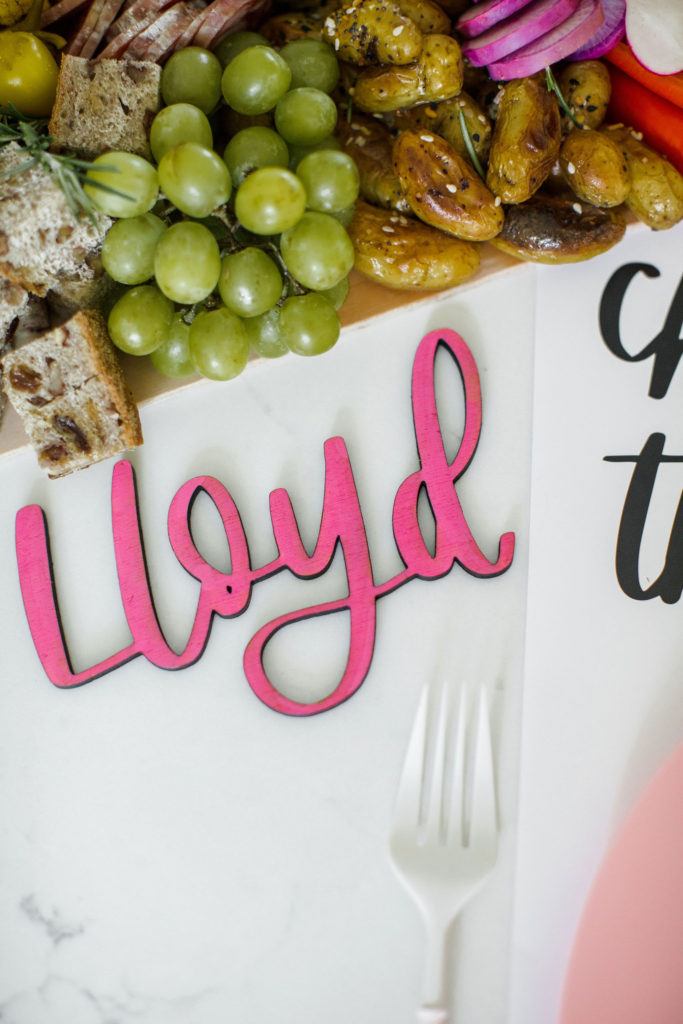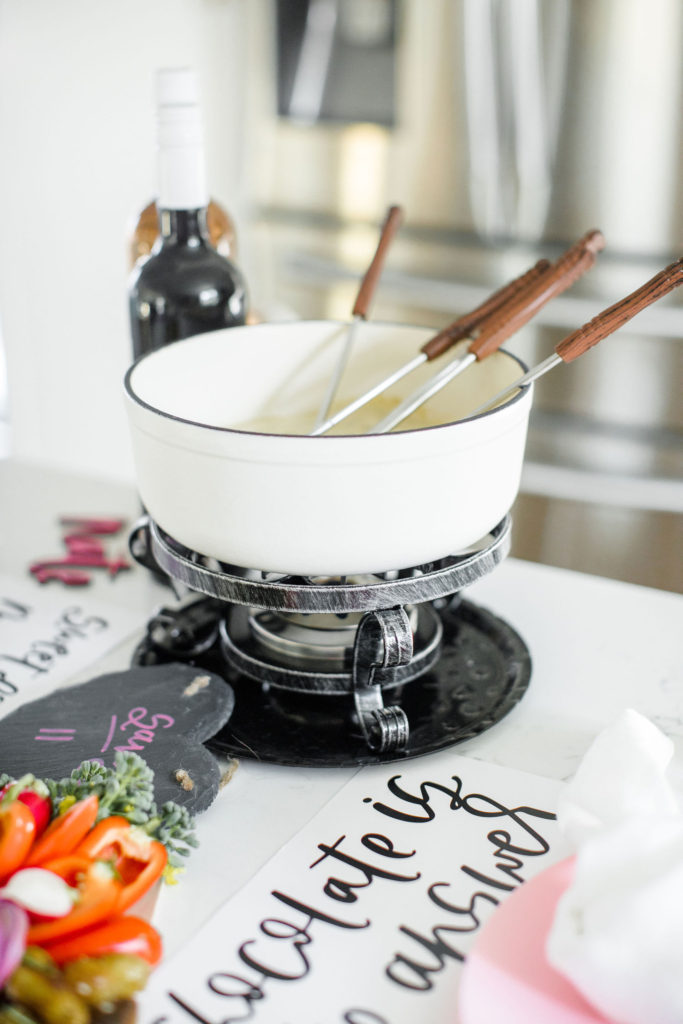 My favorite pink plates by L'entramise were in action – they are the best for Valentine's Day! And I just got those beautiful white linen napkins from Serena & Lily as well.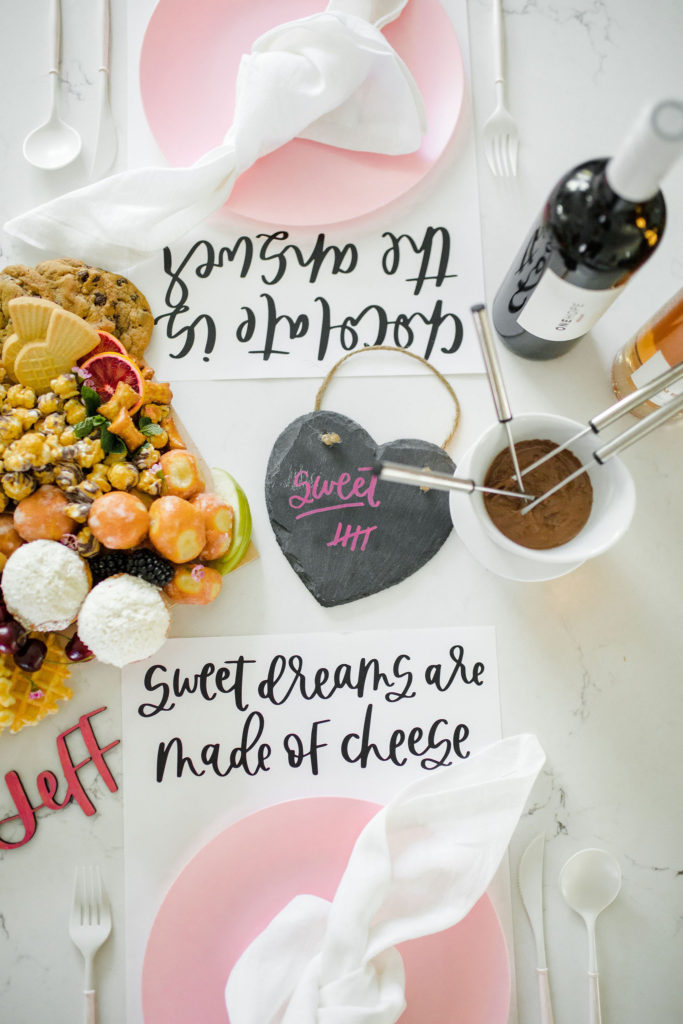 There's those Graes Platters in their full glory!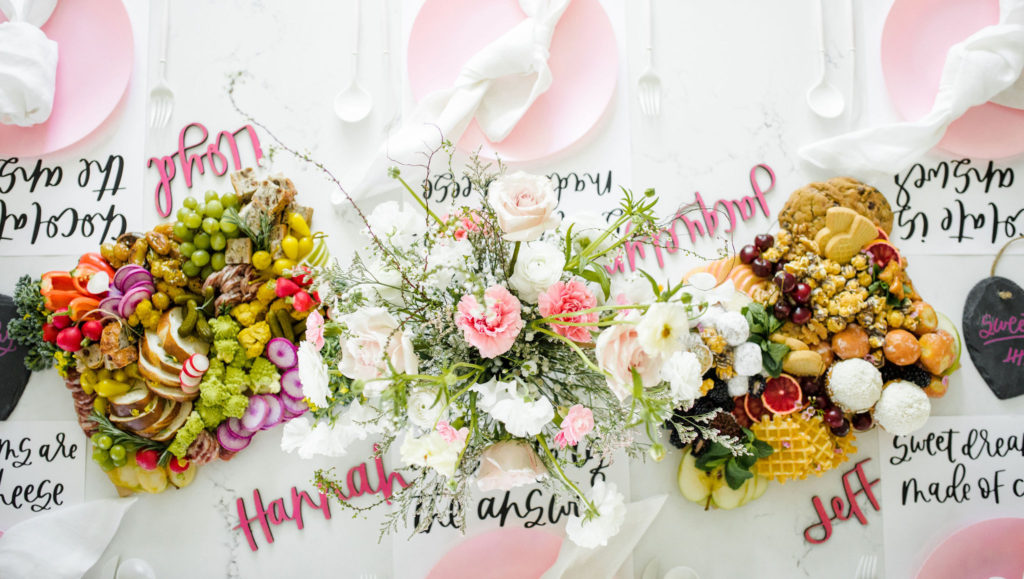 I served One Hope wine of course! A little bit of rosé and a little bit of red for the evenings bites!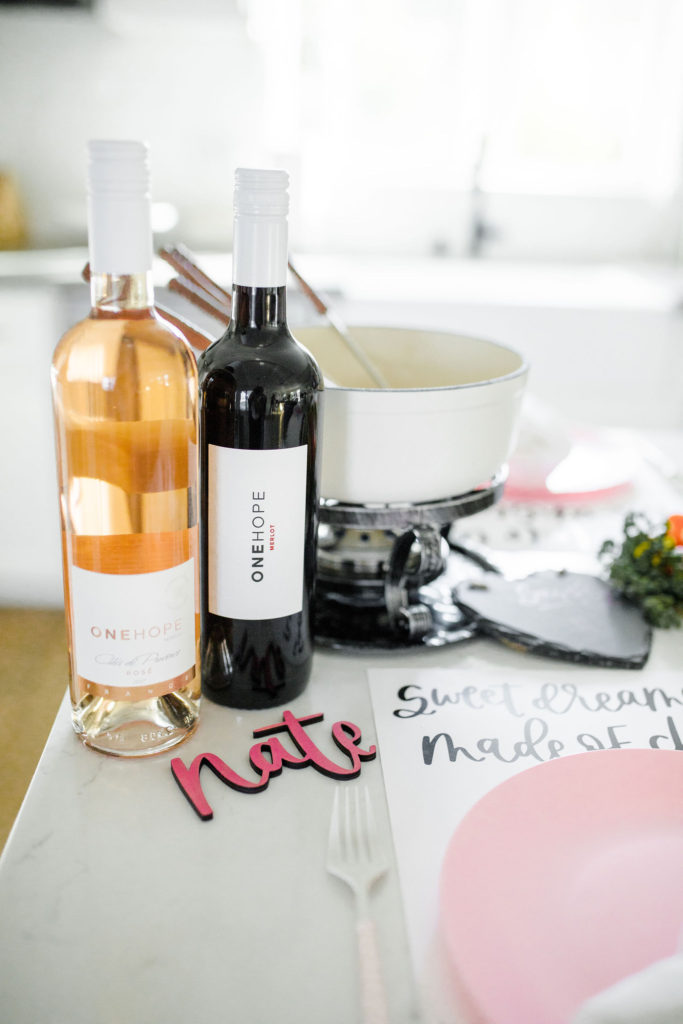 Poppy Jack Shop used the amazing and new COLORSHOT Acrylic Paints and Paint Markers to add color to this table. She painted the place cards and used the markers on our chalkboard signs. I was told they were the best paint markers she's ever used… Just sayin….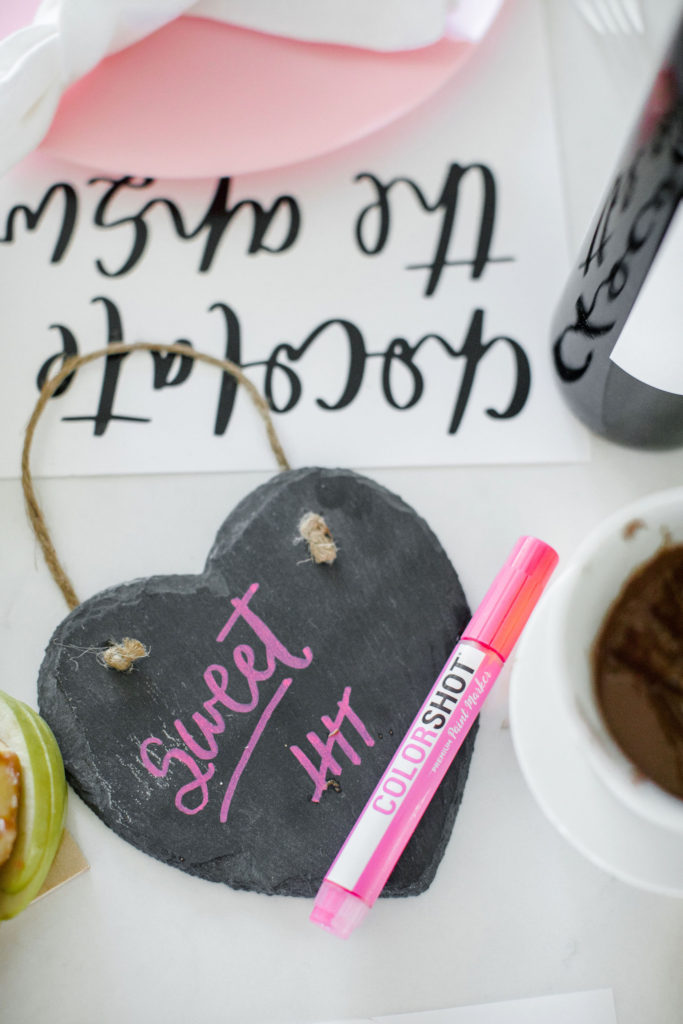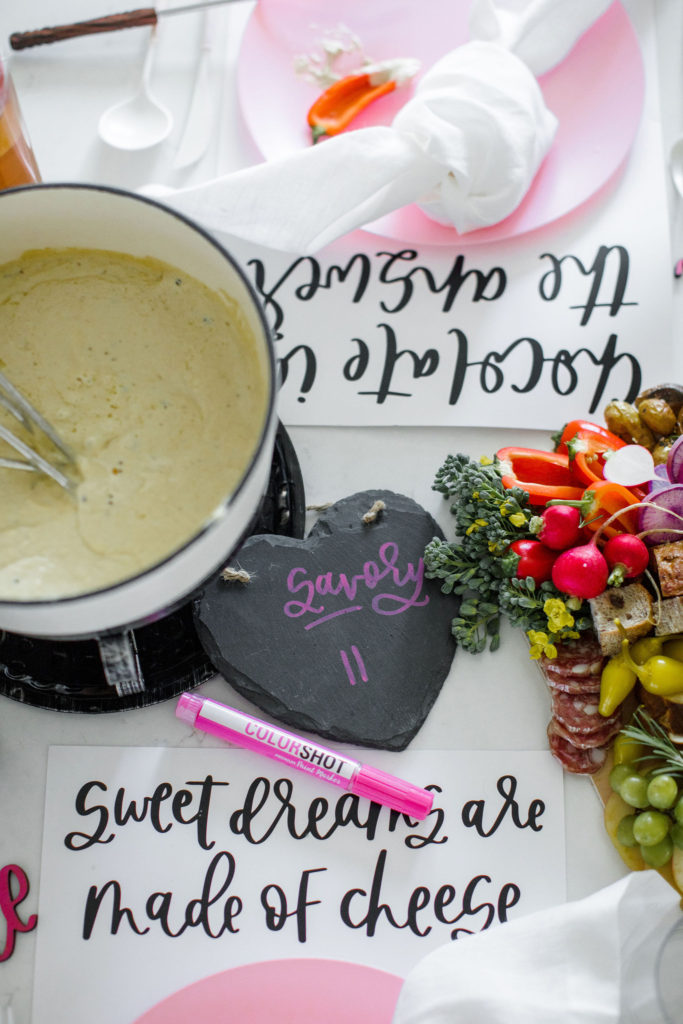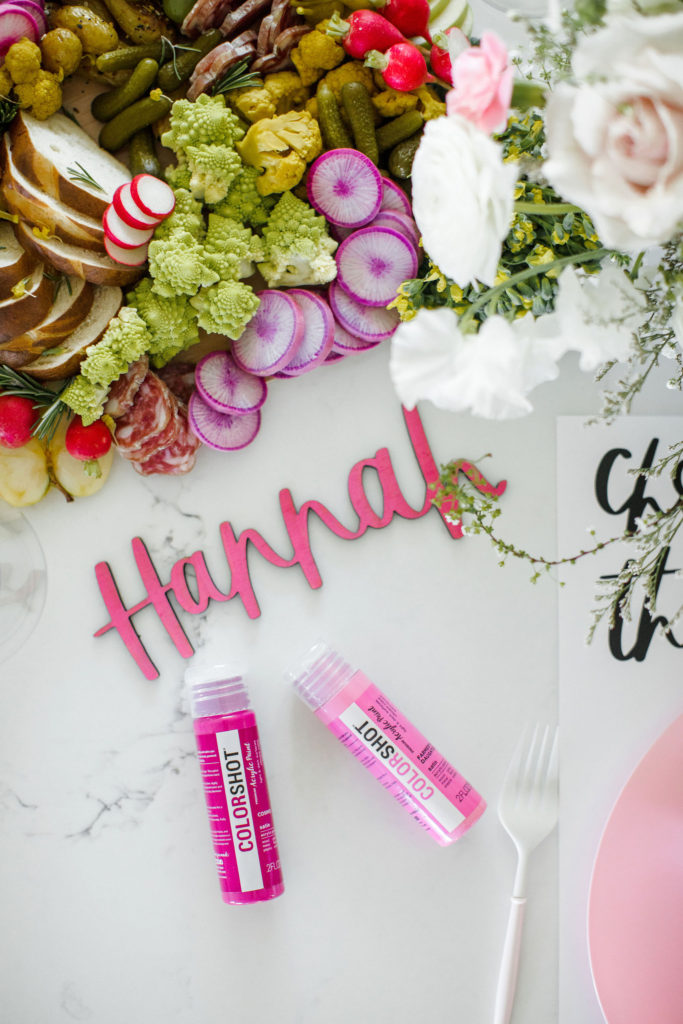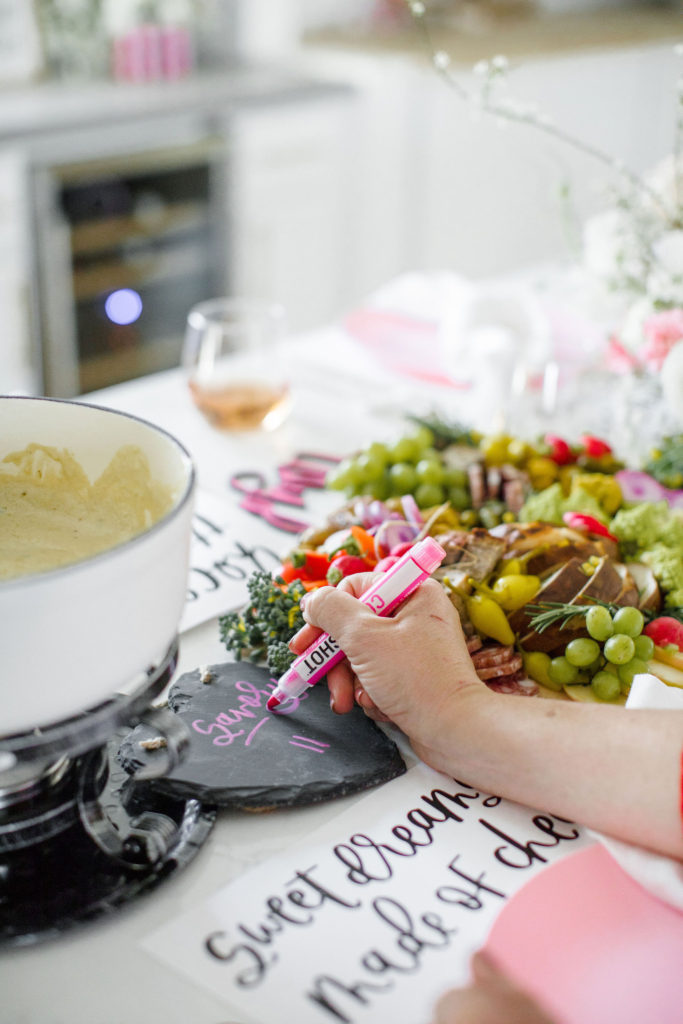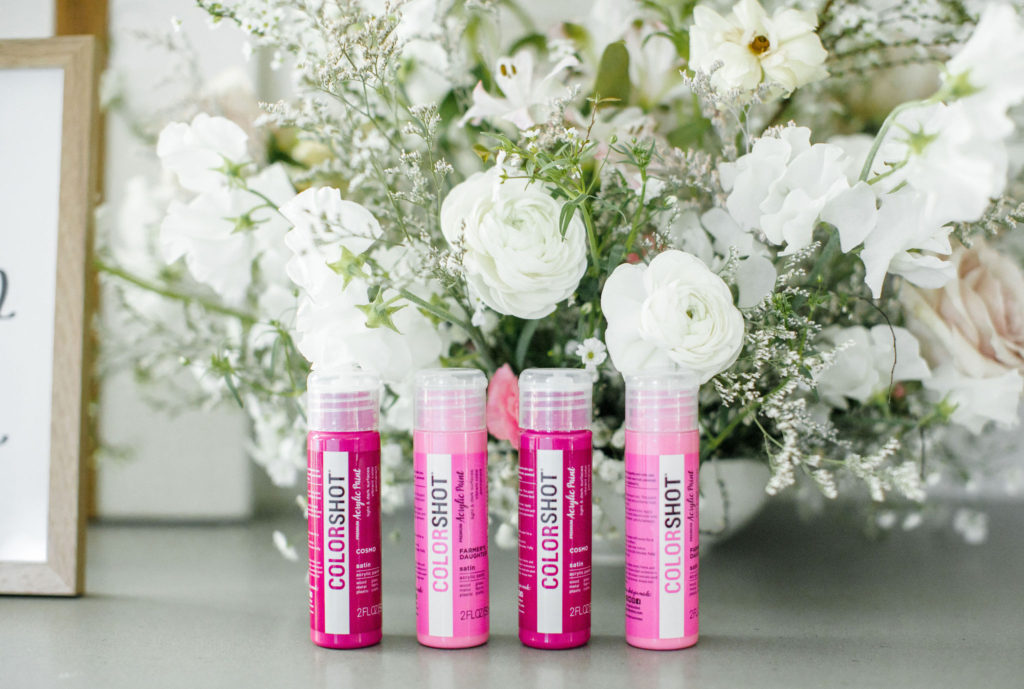 Now let's get this party started!!!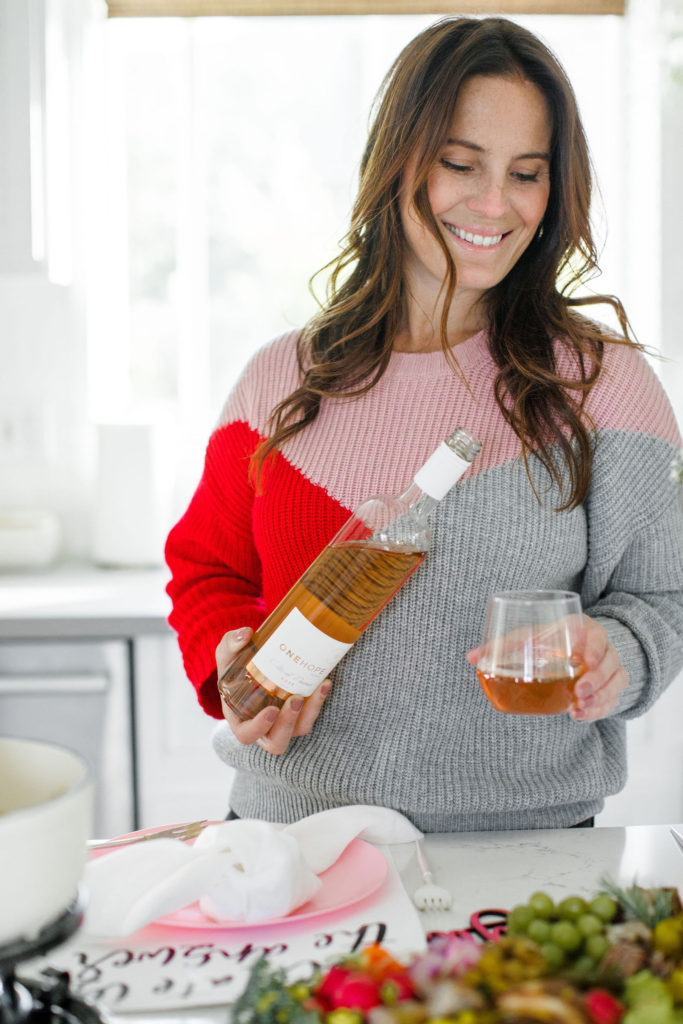 By the way, if you ever want a yummy cheese… Benchmark Restaurant has an artichoke cheese fondue that's to die for! Which is what we ate here!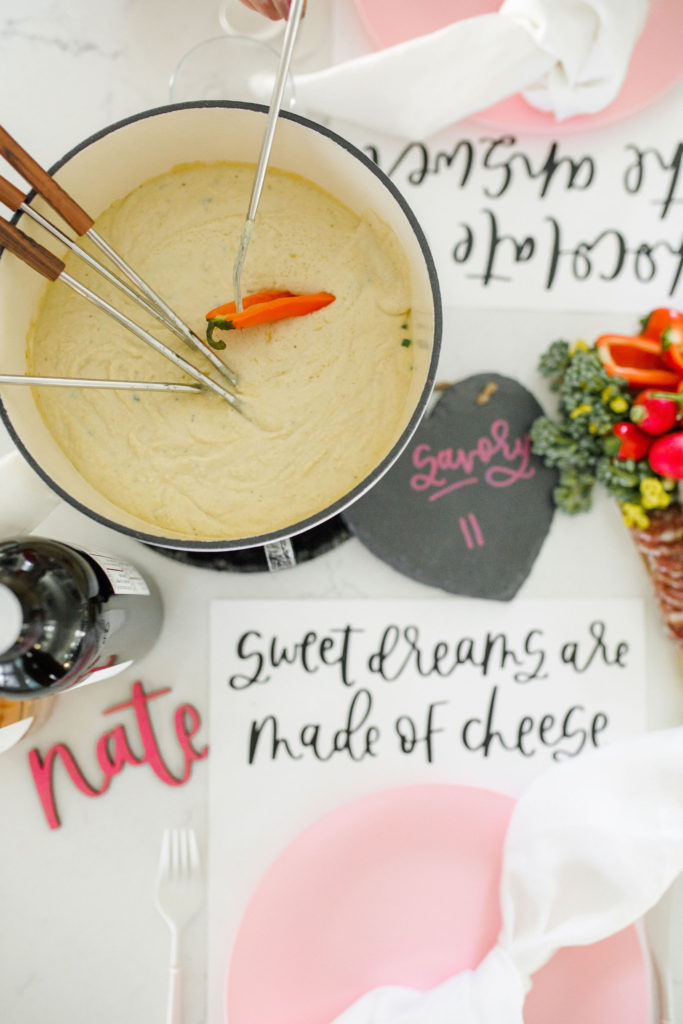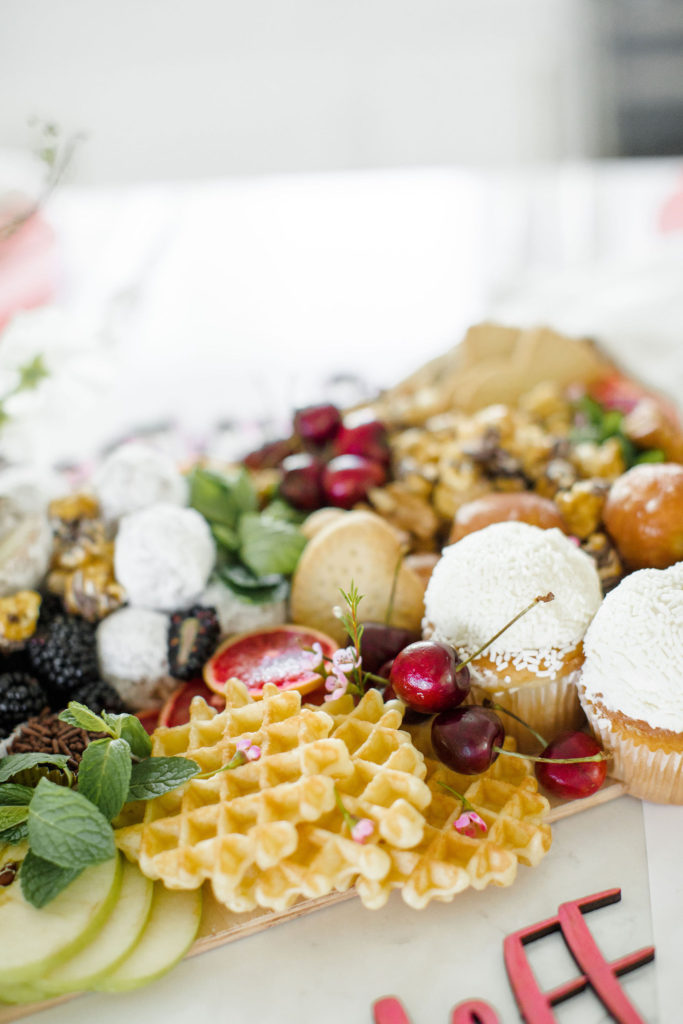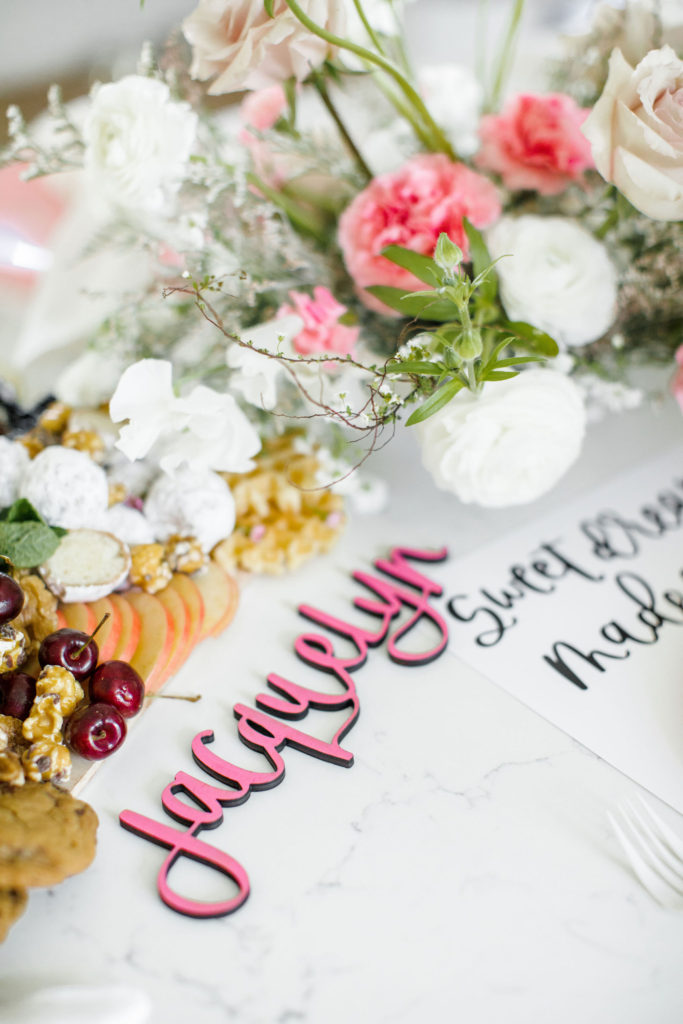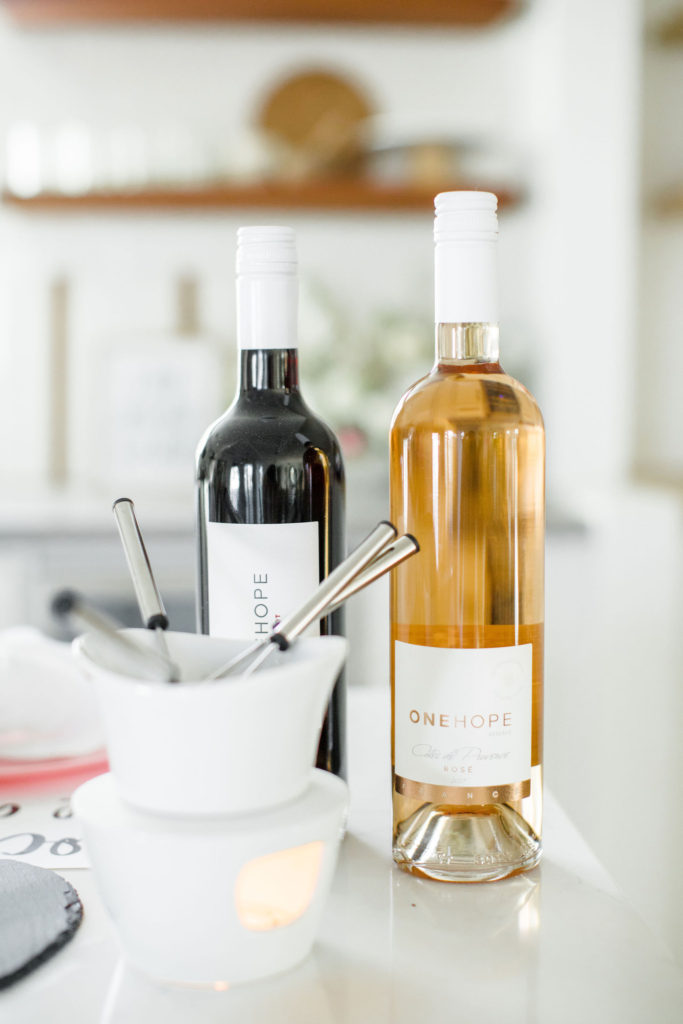 Are you team sweet or team savory?! I guess you can see which team I'm on!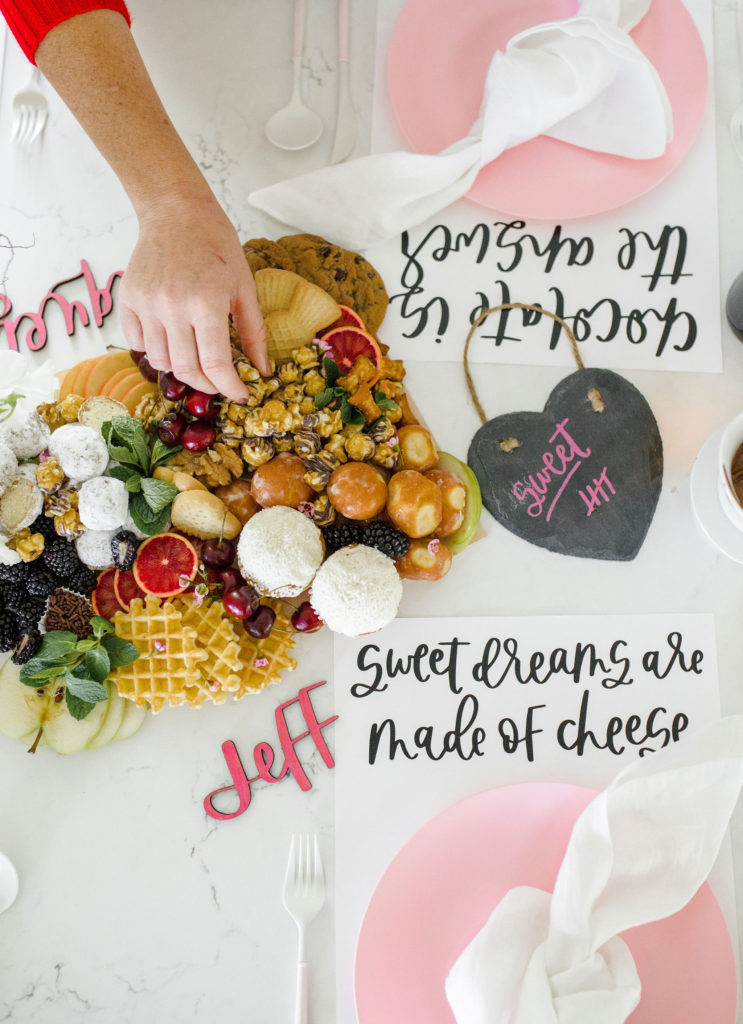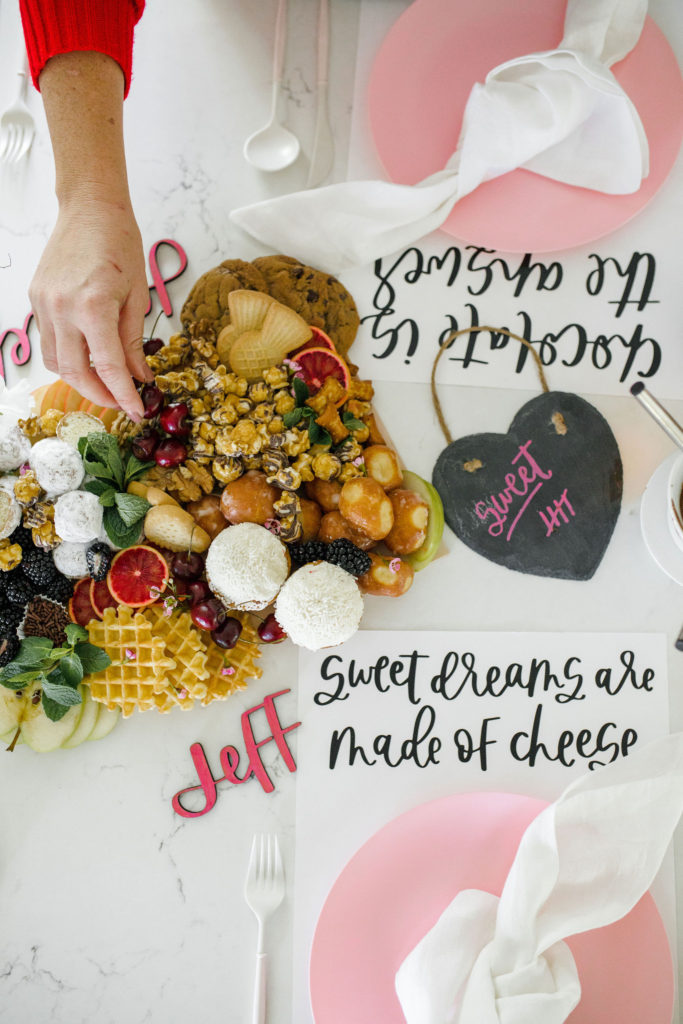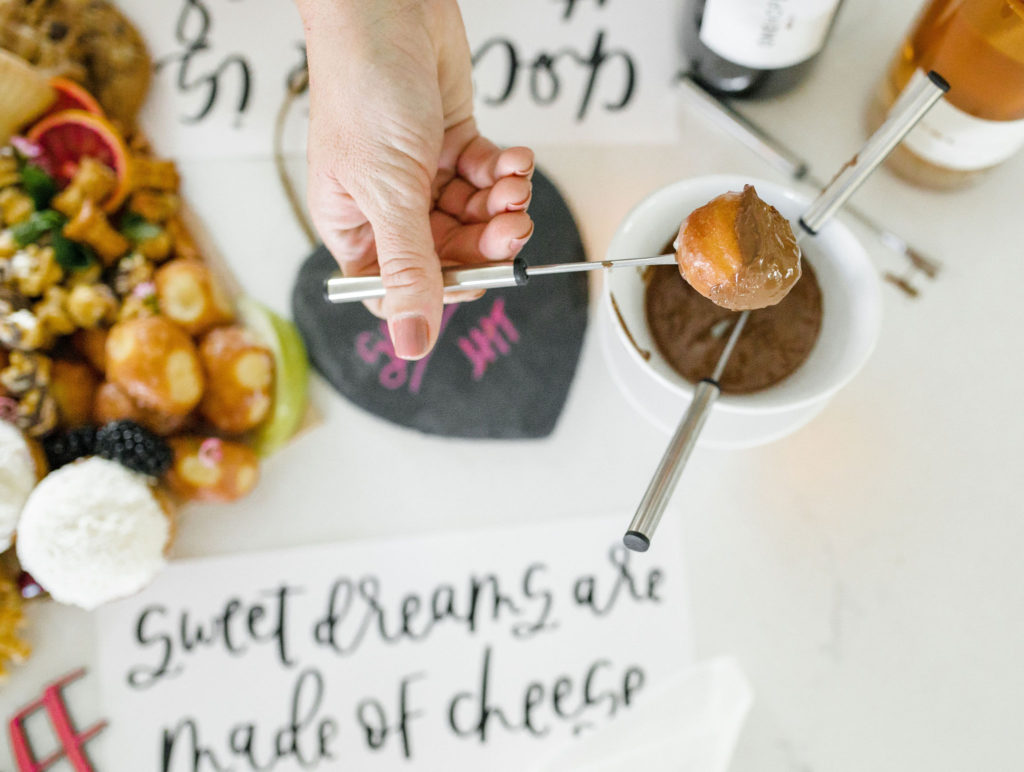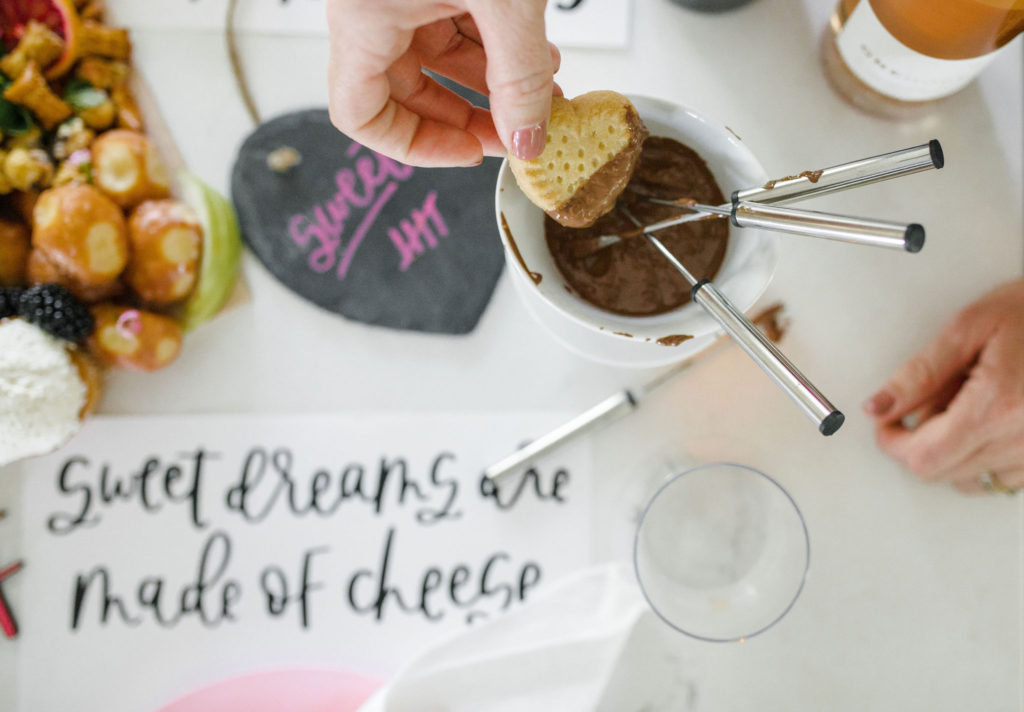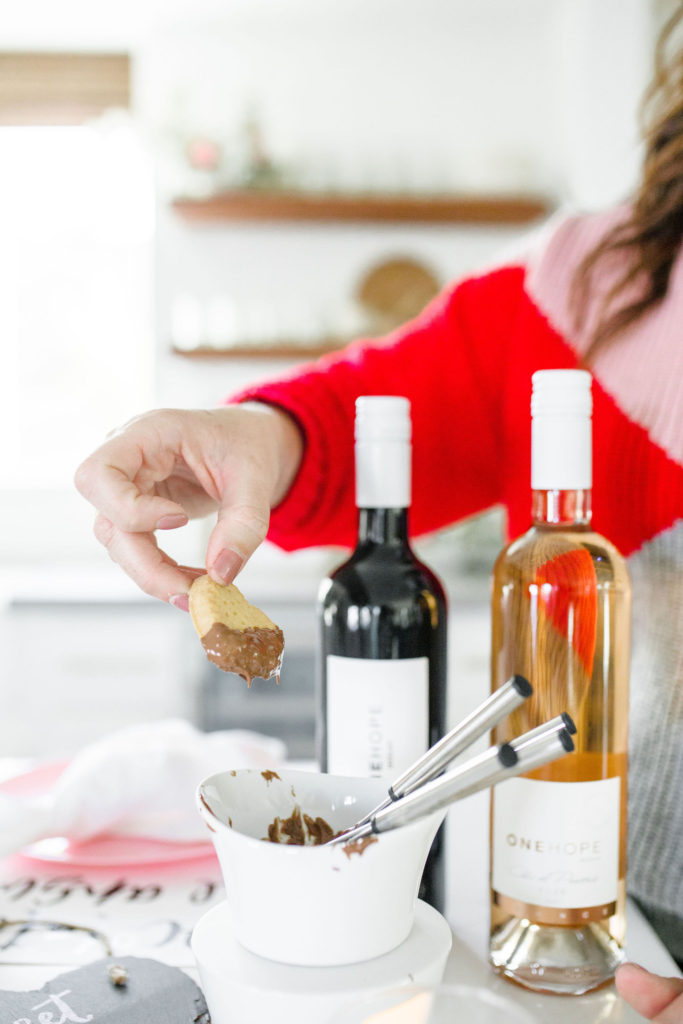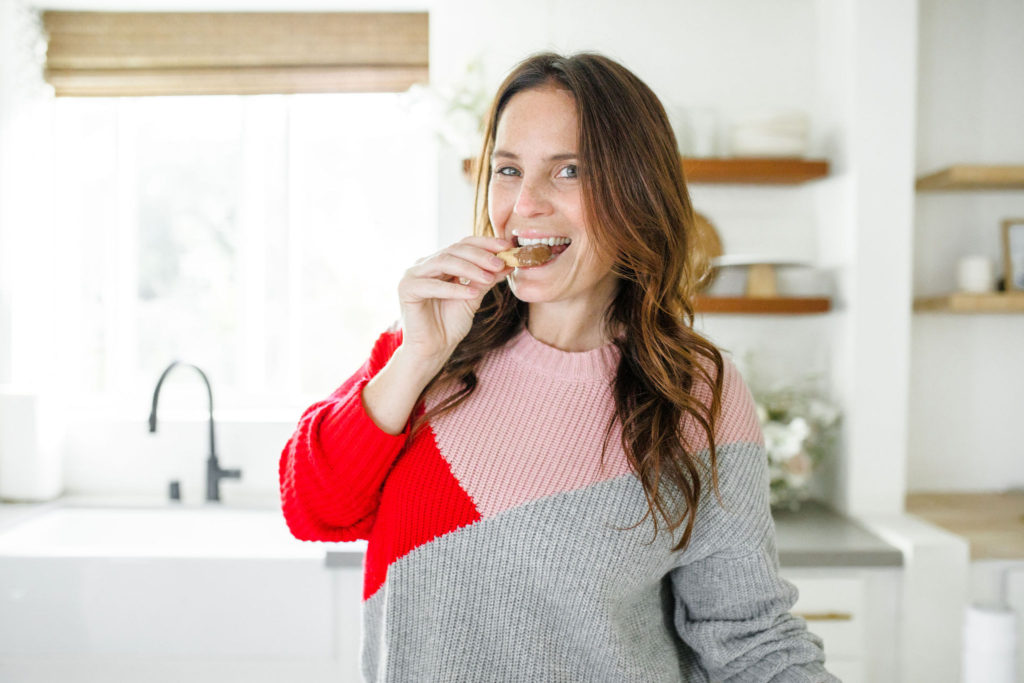 Such a fun idea for a friends Valentine's night in, right?! You could make this a couples night, a girls night and hey – you don't need a holiday to make it happen!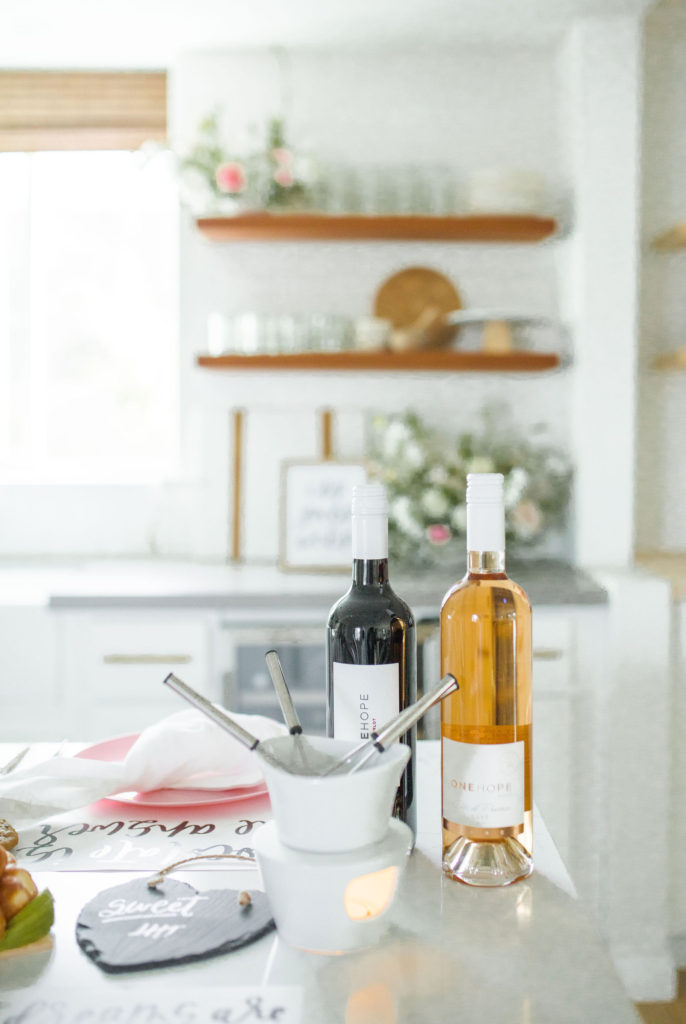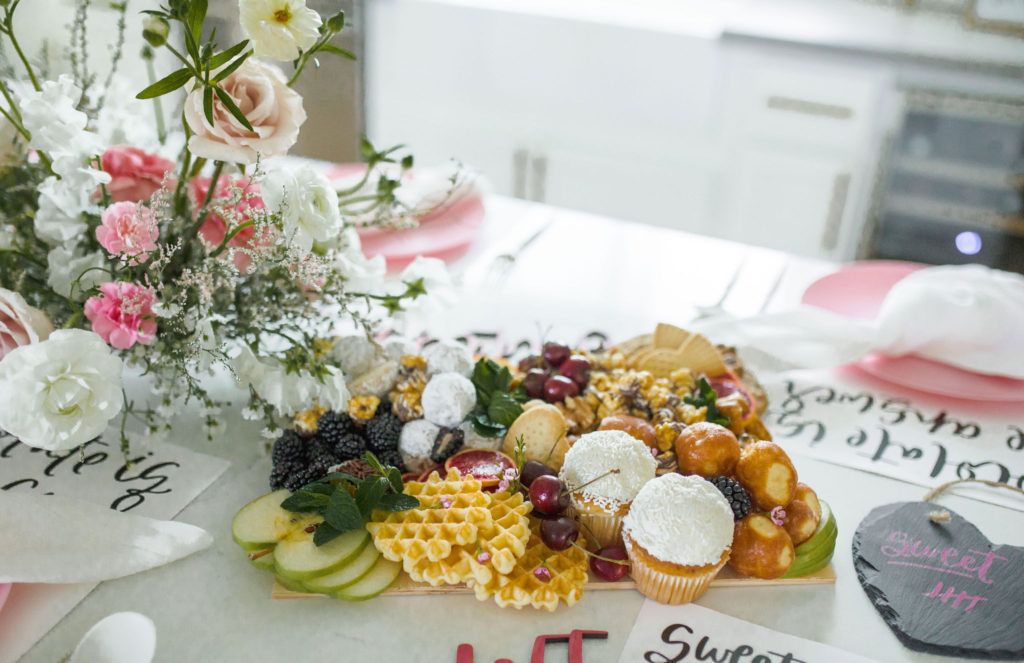 Hope this gave you some fun ideas for your Friday night!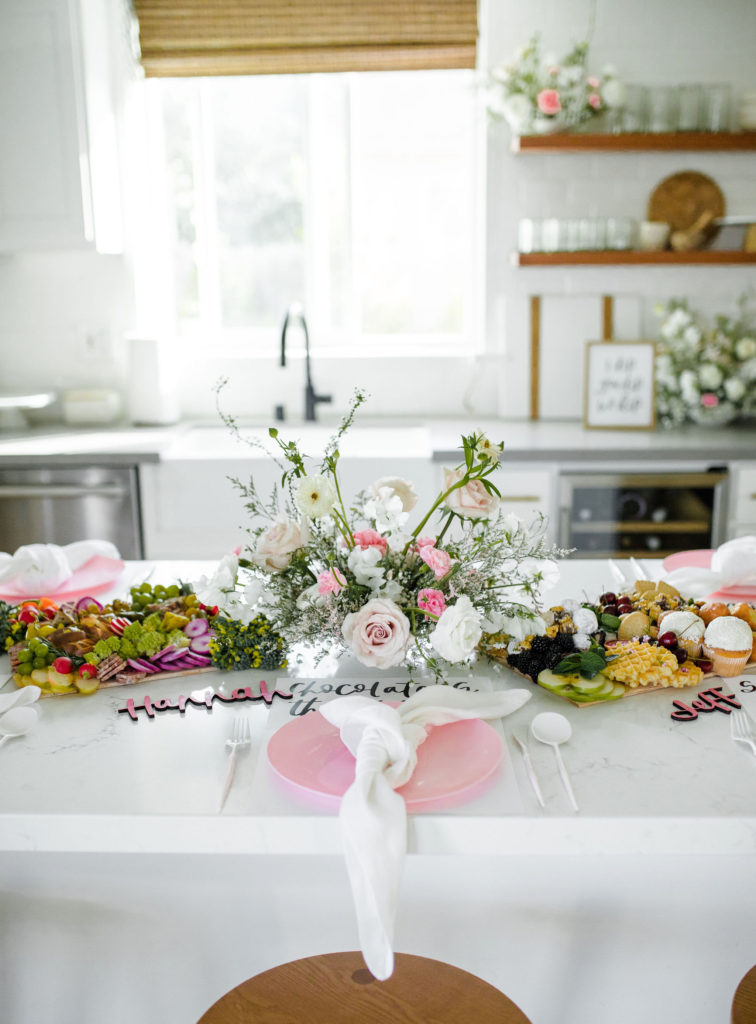 xx
Jacquelyn