A makeup bag, a place where all of your must-have beauty products and daily items like that coconut oil that you can't live without, comingle. And if you ask me, the contents of one's bag can tell you a lot about its owner. Are you a simple no fuss person? Lipstick hoarder? Or the all natural beauty product loving gal like myself? We thought we would give you a peek inside our makeup bags that we carry around everyday.
It all starts with the makeup bag itself. Always on the hunt for that one perfect bag to add to the collection, I discovered Lovestitch on Instagram. I was initially looking for a weekender bag for my sister's bachelorette party. The one I currently owned was probably five years old and desperately needed to be replaced. While shopping their Instagram feed I saw some cool boho inspired cosmetics bags, and it was love at first sight. This is where our love story begins with Lovestich's line, an understated boho feel and that California vibe we love so much.
You can shop each of our bags below too!
Let's start with me!!!
Photos by Little Meg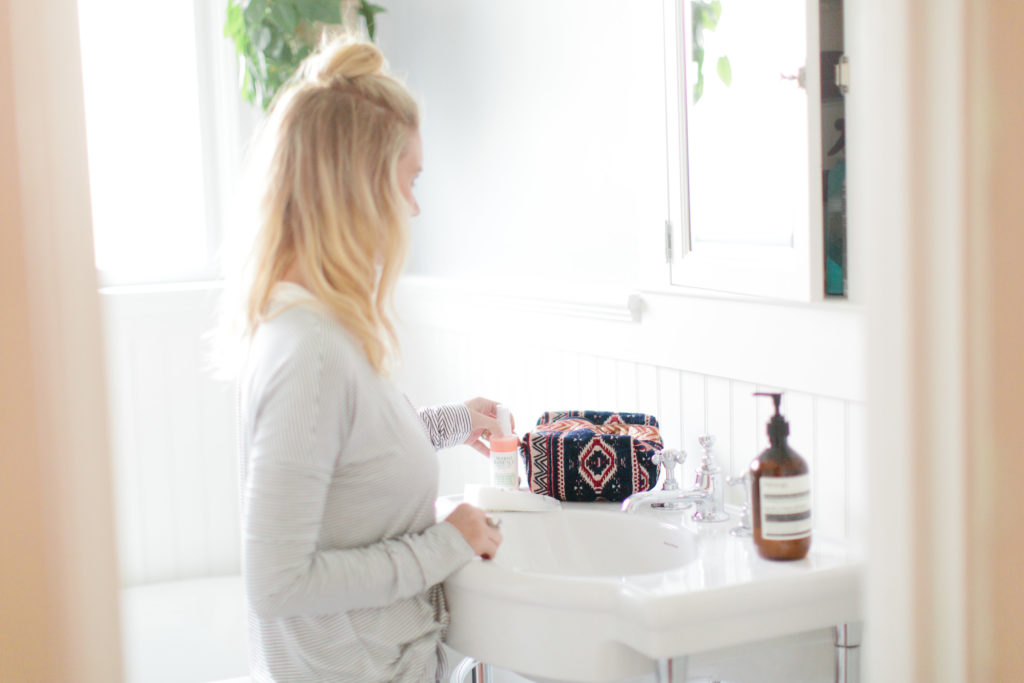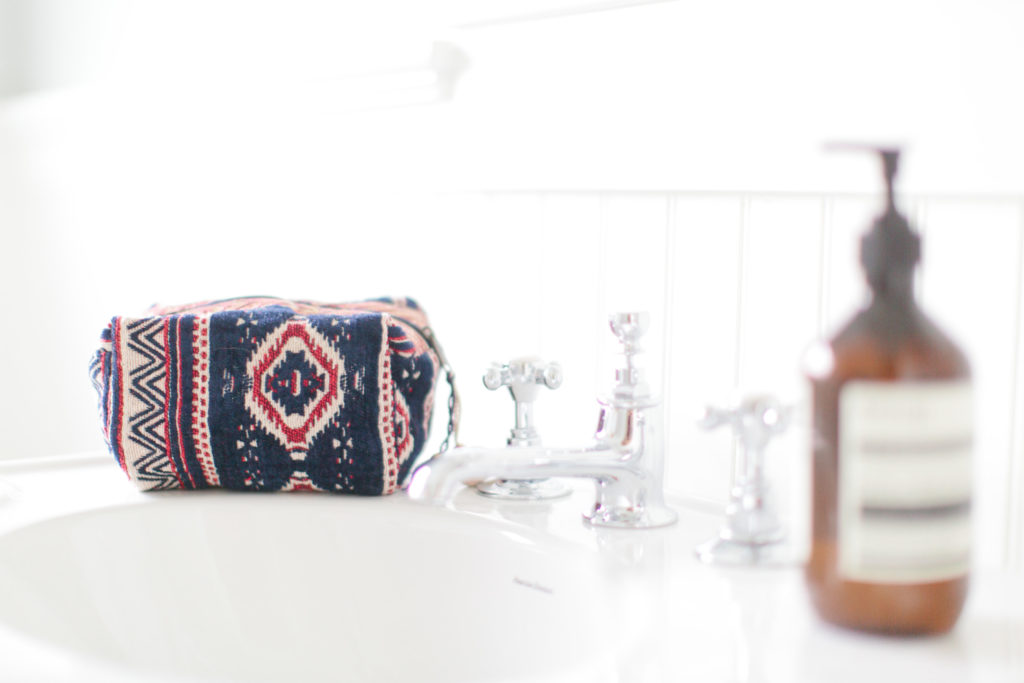 All my goodies are packed away in the moody Venezia Makeup Bag. Soft and beautifully embroidered, this origami make up bag with beaded pom-pom zipper detail is too cute to not have a place on top of my vanity. Usually, I will store it in a cabinet, but not this baby. For the past couple years, I have been trying only to buy all natural products that aren't filled with anything I can't pronounce. But I do have some true and tried products that aren't natural that I can't live without. On an everyday basis, I only wear mascara and loose powder following my daily skincare routine. My bag is a mixed collection of my favorite items for every day.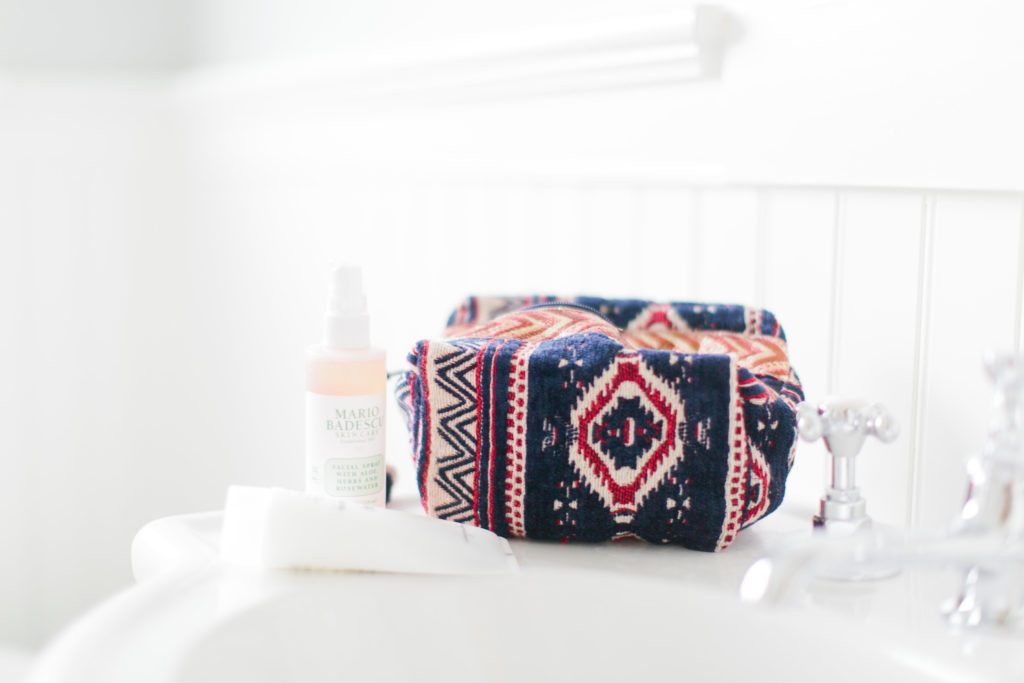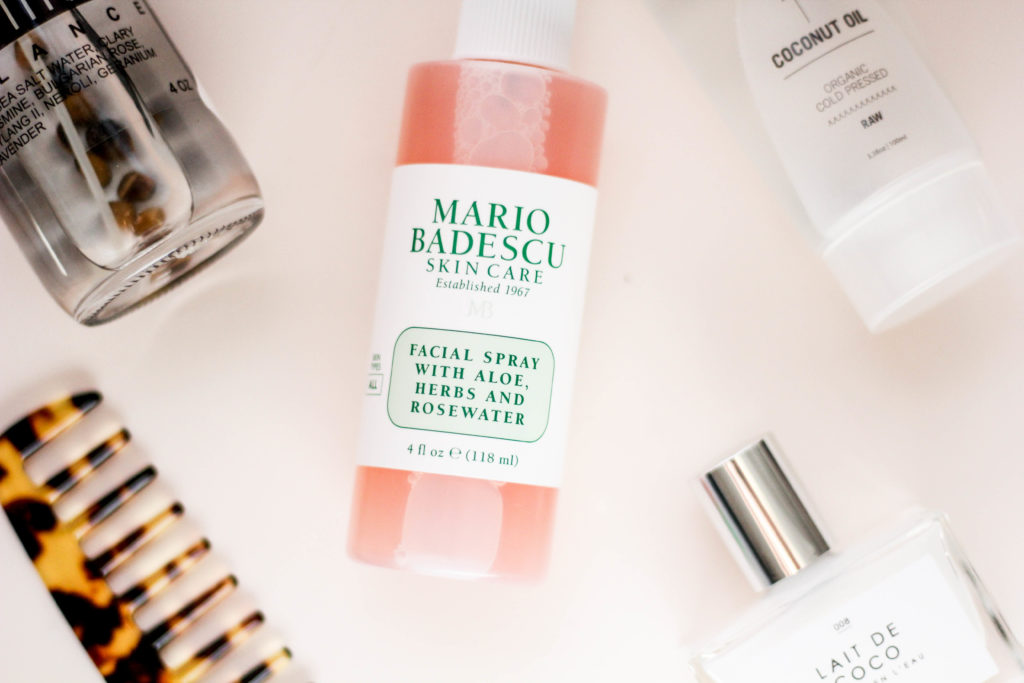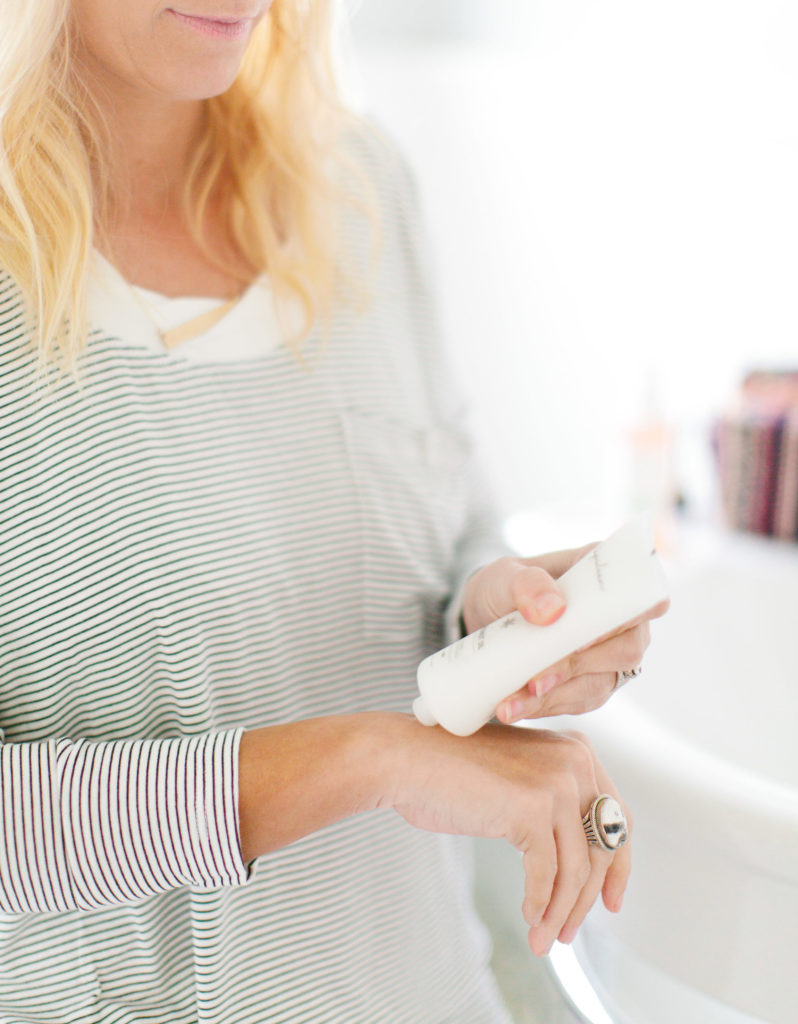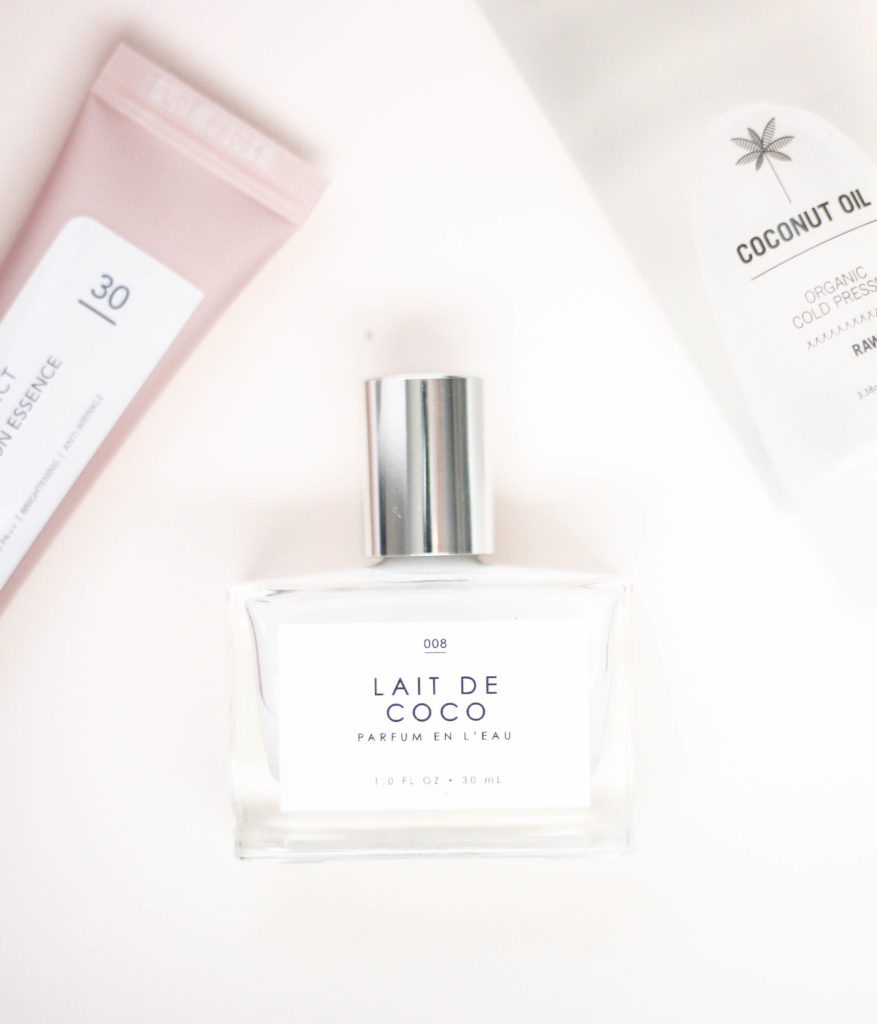 Every morning, I start my day with the Mario Badescu Facial Spray, and Kapuluan Coconut Oil to give my skin a little pick me up, and nourishment from the raw cold-pressed coconut oil. Followed by Sun Project Shimmer Sun Essence Lotion to add a natural glow to skin while protecting from the powers of the sun with this SPF 30 sunscreen. It is so soft! I just love it! Lastly, a spritz of the best smelling perfume out there. If you love coconut; you will be smitten over the Lait De Coco spray.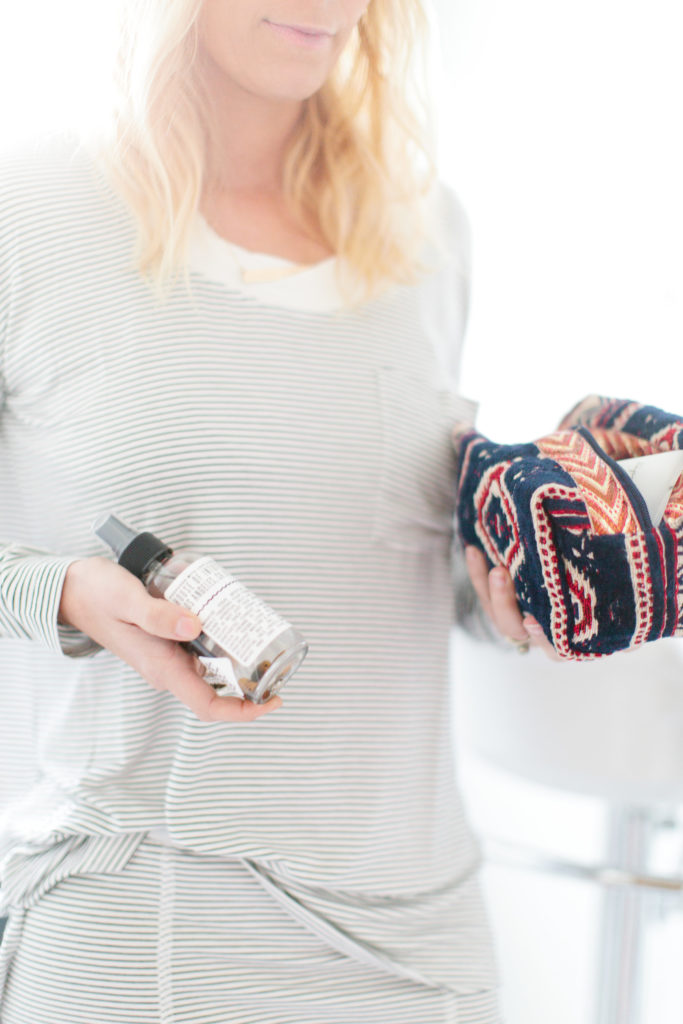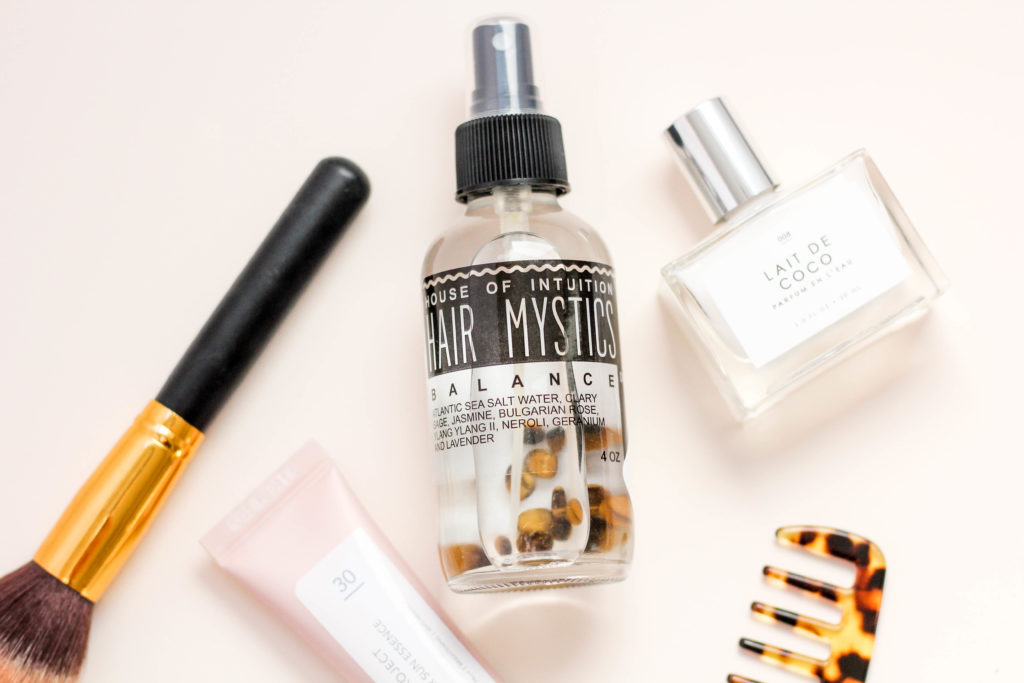 This mama spends maybe 5 minutes on her hair in the morning. You will either see me with a top knot my go-to look or in a hat. House of Intuition, Hair Mystics Harmony Spray is a sea salt spray I use that is made with naturally refreshing fragrances + essential oils to condition and hydrate my hair.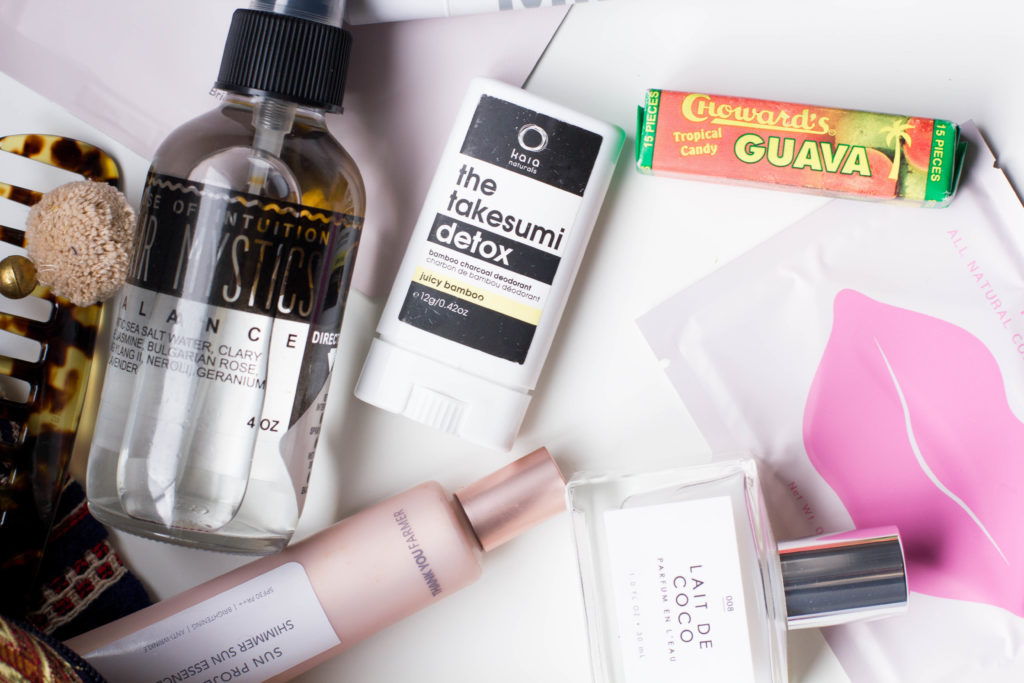 On hand ALWAYS, is the Howard's Guava candy. I'm one big guava freak, and these give me my daily fix.
I love this Taksumi Detox Deodorant in the travel size. Whenever I'm feeling under the weather, I apply this bamboo charcoal deodorant a couple of times a day.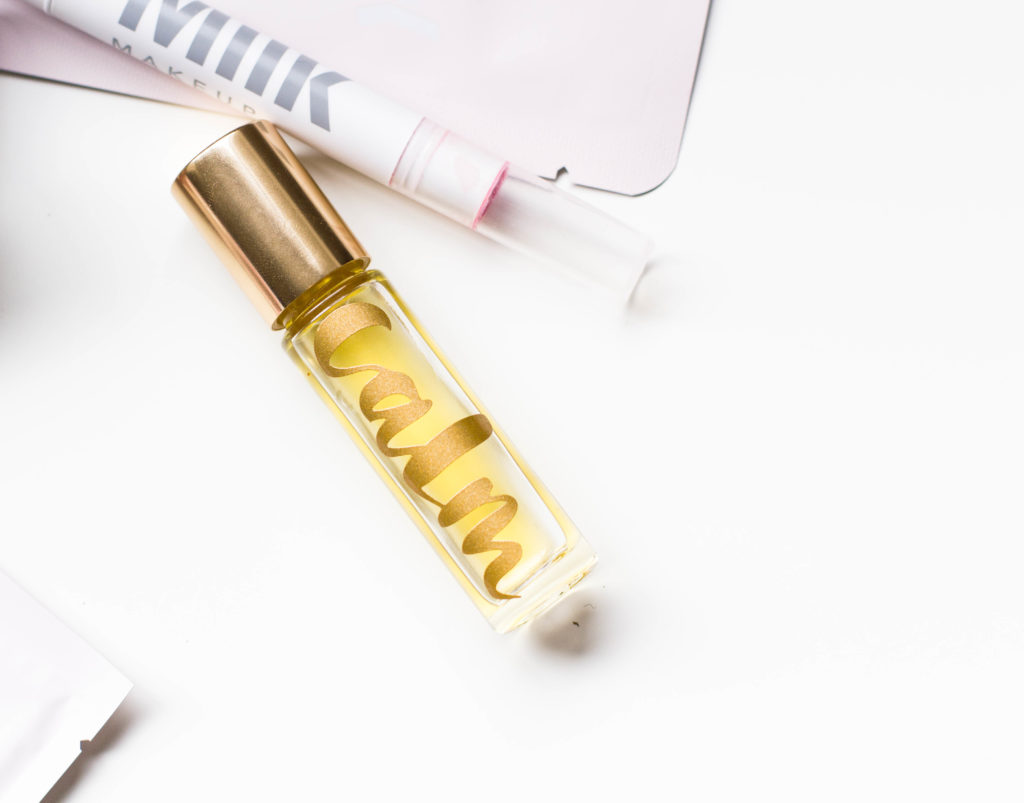 I always carry my calm essential oil blend with me in case I need it throughout the day, and lately that has been a lot! We are going to be sharing more about essential oils soon, and I'm so excited about it! As well, I pack a lip and skin mask just in case I'm feeling extra dry. We have been traveling a lot lately back and forth from Sacremento, and these have come in handy. Last but not least, Milk Makeup Balm in Babe and Pure Paw Paw Ointment for dry, cracked lips, and cuts. I use Pure Paw Paw on the kids too, and it helps instantly. It's one of my favorite products that I can't live without.
Shop Abby's Bag

On to What's in Leah's makeup bag…
Photos by Megan Welker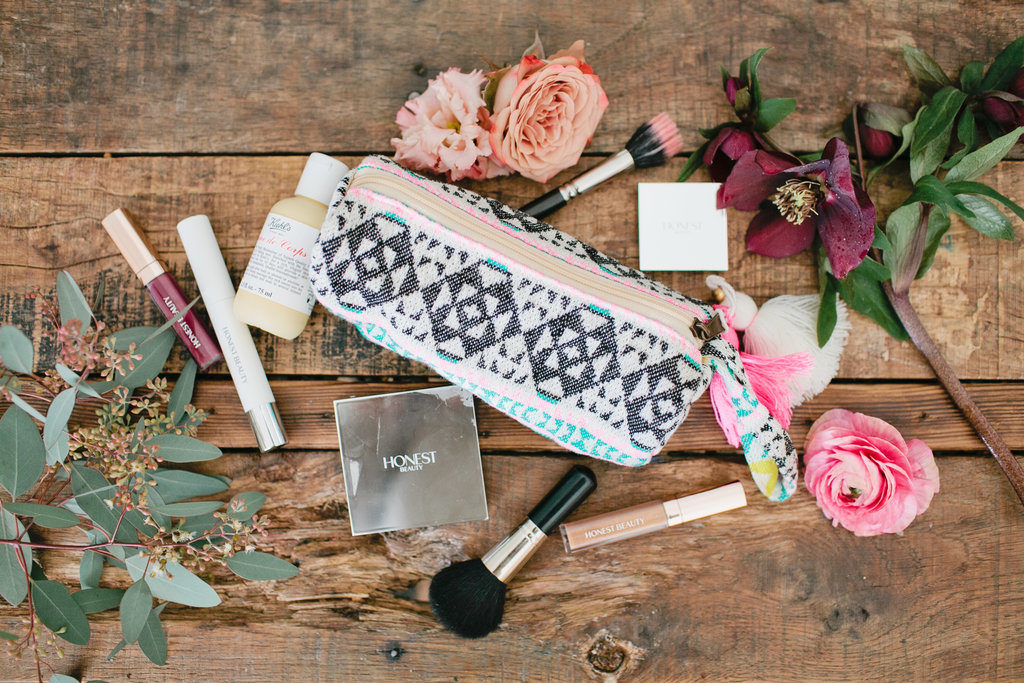 My favorite Lovestitch bag is the Loa make up bag.  I like it because it's a long tube-like bag that will fit longer brushes or makeup palates that I sometimes tote along.  Especially when we are doing events, and we show up early and grungy, then have to put on our game faces for the main event.  But what I take with me every day is different.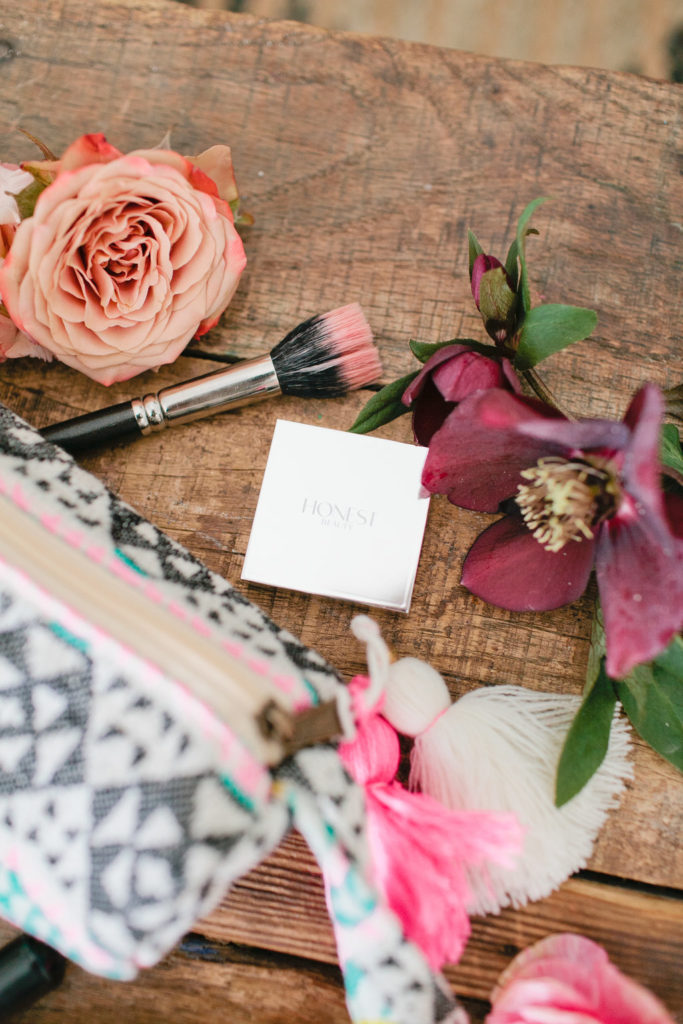 Most of what you will see in my bag is by Honest Beauty.  I'm pretty addicted to it since I rarely have time to myself these days.  All I have to do is log onto the website every month, and three new makeup pieces are shipped to me for $50!! Deal…right??!!  So I never have to make that trip to the mall for makeup, it's super convenient right now.  And if I don't like something, the returns are easy, and the customer service is good.  No complaints here!  So above is the concealer you can find here.  I always need concealer on hand for sure.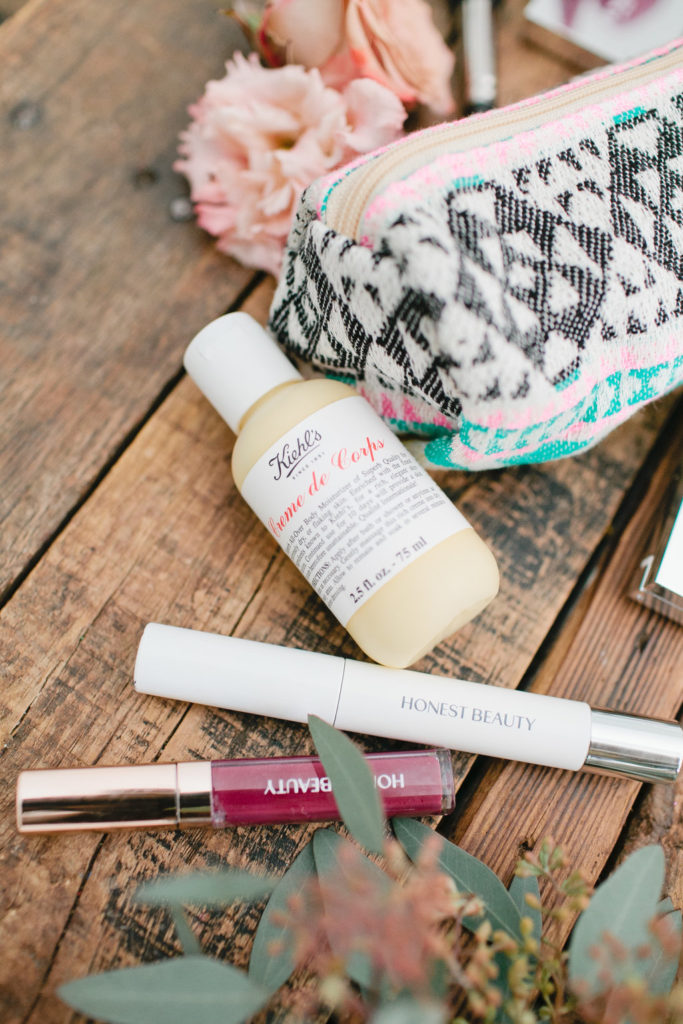 One thing I never leave the house without is Kiehl's Creme de Corps.  The best hand lotion everrrrrr!!!  Especially in the winter time.  The mascara is good, comes with a primer, which I like and easy for those 2 seconds per eye mascara jobs on a busy day.  It's also not a pain to take off every night; it's perfect for everyday use.  Since I don't wear a lot of makeup every day, sometimes l like a bold lip with some light mascara to do the job.  You can find this pretty bright gloss here.  It goes on pretty natural, don't let the rich color here fool you.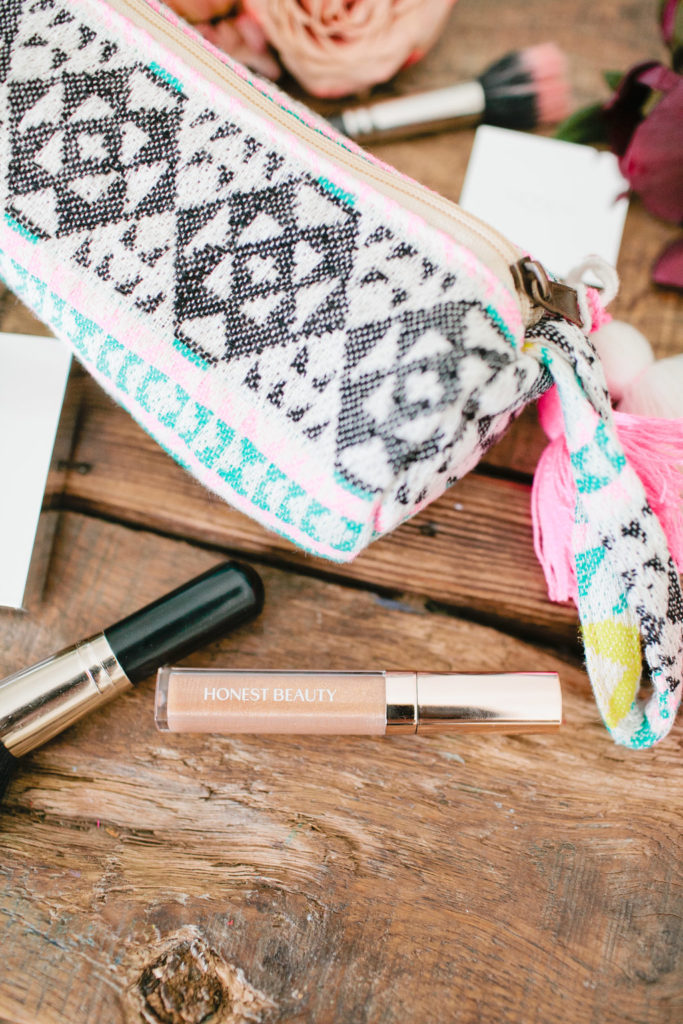 Always need a sheer good gloss you can find this one here.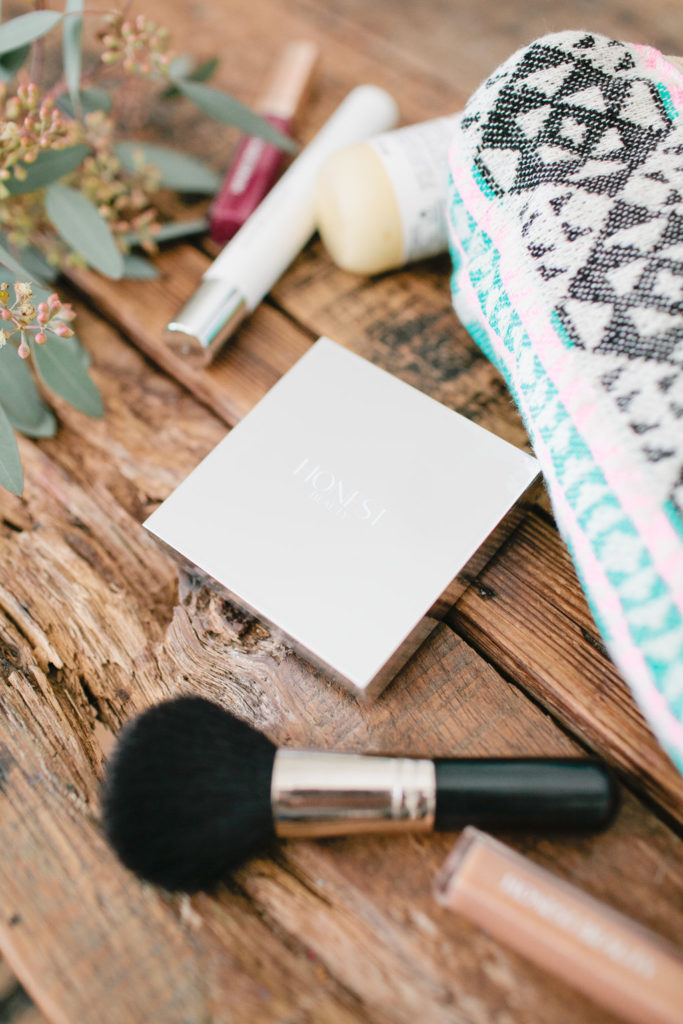 And last but not least my creme foundation you can find here.  It's thick enough to even out my skin, and hide my lovely sun spots, but yet thin enough for everyday use…if that makes sense, haha!  I know you get it!
Shop Leah's Bag

Last, but certainly not least!
Jacquelyn and her set of essential goodies she can't live without!
Photos by Ariane Moshayedi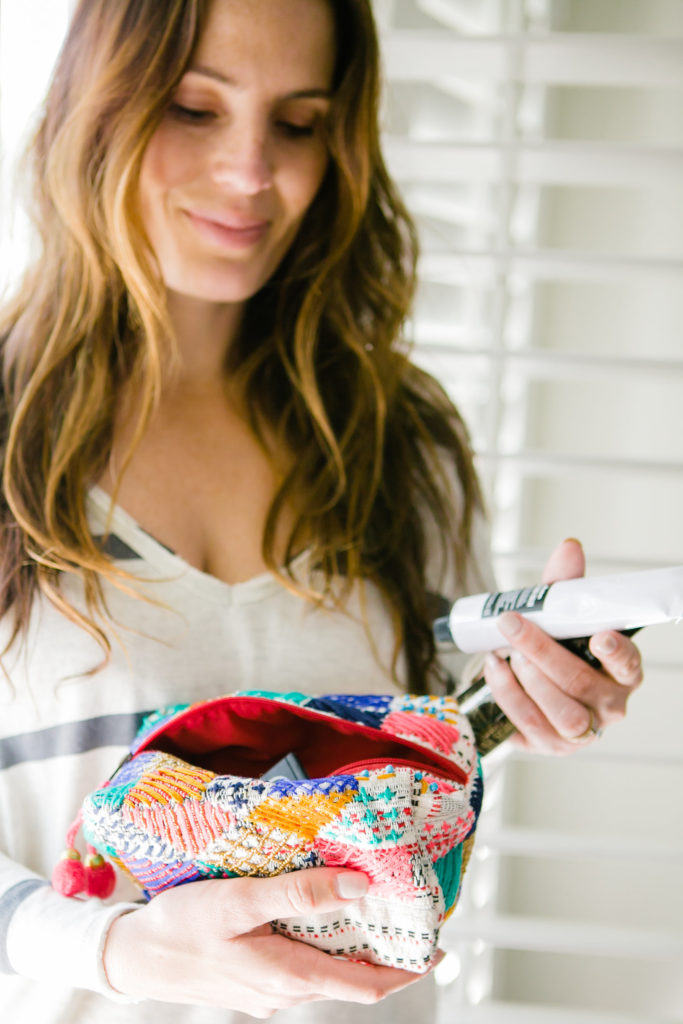 I have to say; I'm not the most beauty conscious or oriented girl.  Although, I should probably change that as I get older because these wrinkles aren't getting any better, haha!  But there are a few essentials that I always use and have to have around.  They are my everyday items that I usually don't leave home without!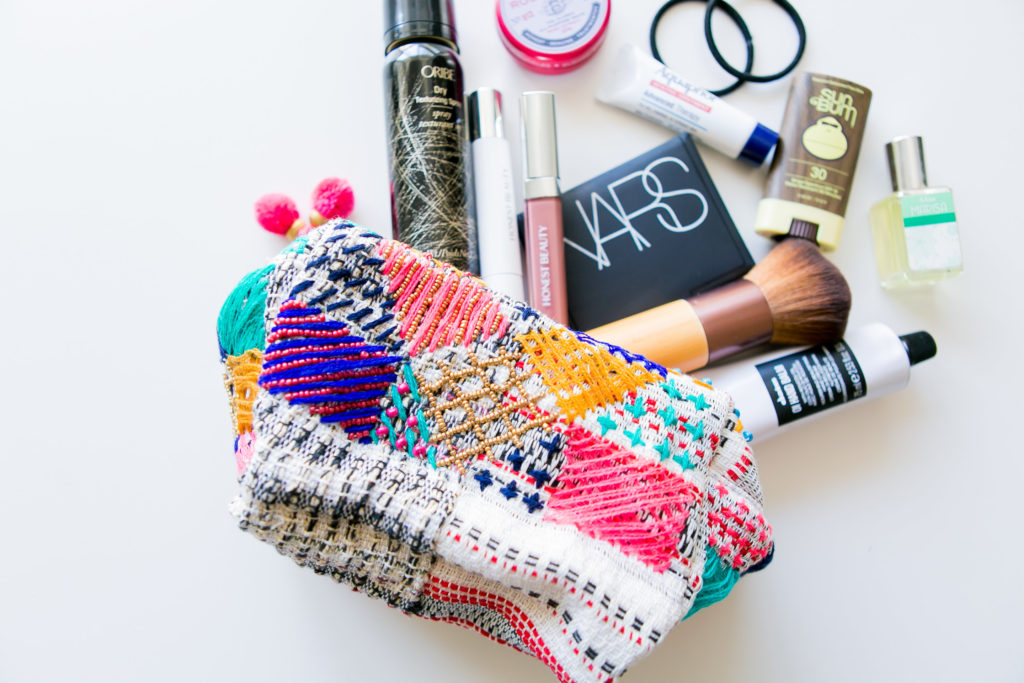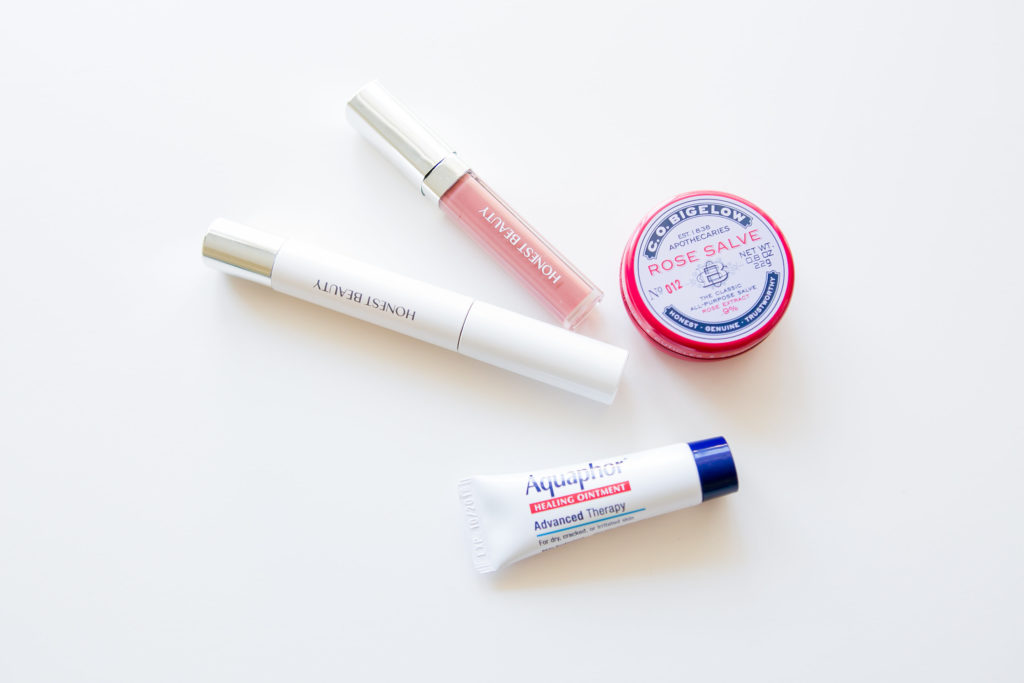 Aquaphor – Have you ever seen the movie My Big Fat Greek Wedding where they use Windex for everything?  Well, that's how I am about Aquaphor!  Oh, you have a cut?  Use Aquaphor.  Oh, your nose is red from having a cold?  Use Aquaphor.  You have a rash?  Use Aquaphor.  You get my point.  I use it a lot for a chapstick and just always love having it handy, you know because I would die without it :)
C.O. Bigelow Rose Salve – My mom puts this lip balm in my stocking every year, and I use it all the time, and it will last me a full year!  I love the soft pink tint it gives to my lips, and it keeps them moisturized and shiny without being sticky.  It's definitely one of my go-to items I always have to have, these big lips gotta stay hydrated or else they get majorly chapped!
Honest Beauty Mascara & Lipgloss – So Leah introduced me to the Honest Beauty product line – do you see a pattern here?  I can't find any beauty products myself because I'm useless in this department, haha.  But seriously, I fell in love with these products the minute I tried them.  For one thing, you can order everything online, and it's delivered straight to your door quickly.  The products are not tested on animals and don't have parabens, paraffin, silicones, sodium lauryl sulfates, mineral oil, or synthetic fragrances- you know, the bad stuff. I was on the hunt for a new mascara- I had used Dior Show for years, but I was so sick of how long it took me to get it off at the end of the day. I love how Honest is effective and works but also comes off easily at the end of the day.
And their lipgloss colors are so pretty! I am currently obsessed with Dreamy Kiss and Generous Kiss. I'll be trying more of their products soon!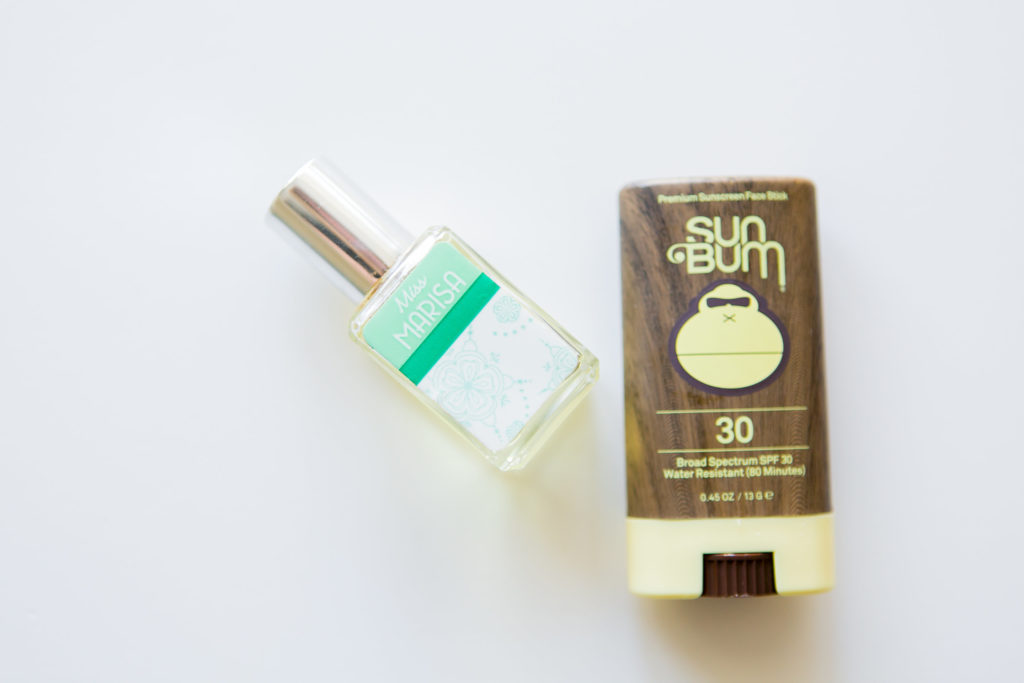 Sun Bum Sunscreen Stick – So this is something my Nanny introduced me to!  I love Sun Bum products because they work and (mainly) because of the smell.  I find myself buying most of my beauty products because of the smell including hair, lotion, lip gloss, you name it.  But this particular item is one that I love b/c it's perfect for kids and when I'm on the go.  It's small, so it fits into my makeup bag, it would even fit in my pocket!  And my son Court has loved using this since he was 1!  He loves putting it on his face even, and we all know the struggle of putting sunscreen on kids!  It's like trying to wrestle an alligator, so when you have something that they don't mind putting on and are even willing to do it themselves?!  Winning….
Miss Marisa Oil – This has been one of my favorite scents for around ten years now!  It basically smells like summer and the beach, and who doesn't love that?!  It reminds me of warm days in the sun with some sweetness to it.  I love rubbing a little bit on my wrists, and I'm good to go!  I have never gotten sick of this scent, and I don't think I ever will!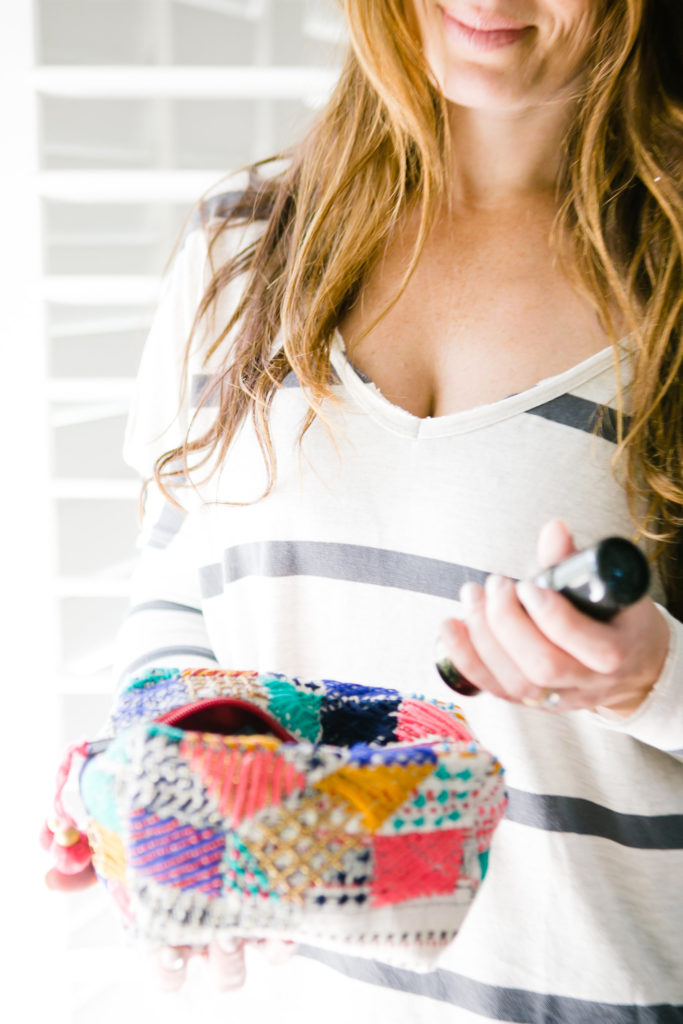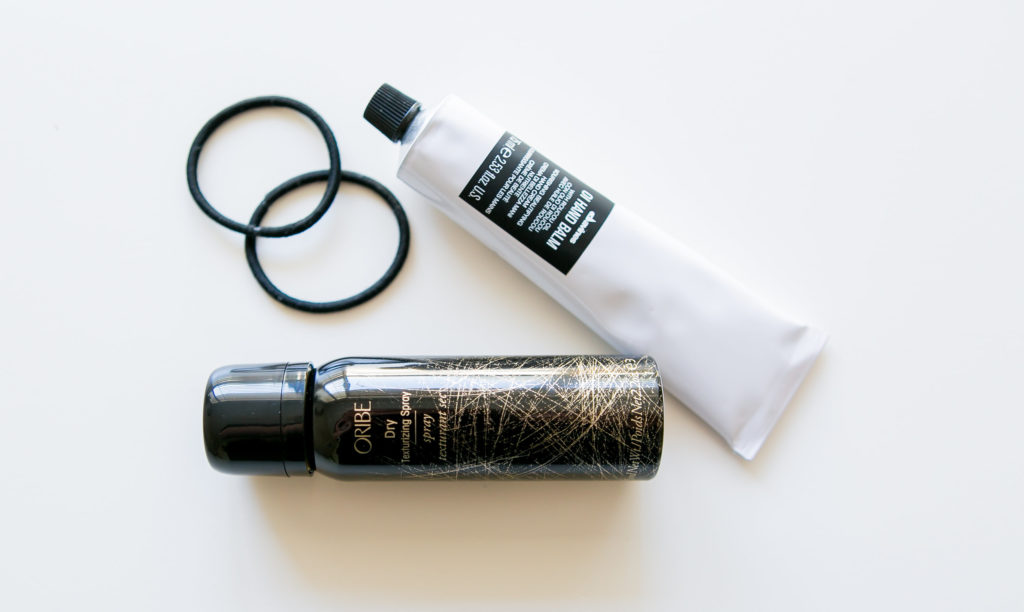 Oribe Dry Texturizing Spray– Ok, so this stuff I can't live without! Whenever I have a day where I don't feel like washing my hair- which can be a lot these days because duh, mom life- I just spray this magical stuff on my hair and voila! It looks even better than the days I actually wash my and do it! Did I mention the smell?!? Gah, I love it… So if you're like me and barely get 5 minutes to yourself for such extravagant things like a shower, then this is for you :)
Davines OI Hand Balm – I love keeping my hands moisturized and soft, but I hate the feeling of them being greasy.  This hand balm gives me exactly what I want.  Soft hands with no slick and yucky grease.  I also love the smell to it; it just smells clean if that makes sense… There I go with my smells again!  Speaking of smells, Davines has my favorite hair spray which also smells so yummy!
Goody Elastic Hair Ties – Do I even need to say anything?!  I love these because, well, I'm a girl, haha!  I can't leave home without a hair tie; you never know when you need them!  They are usually on my wrist which is a HUGE pet peeve for any photographer you'll ever meet, so I've gotten used to keeping them in my bag.  I usually use two at a time, I'm not sure why, but my hair just feels more secure and better when I do.  These are the ultimate everyday essential for me!!!  Can't live without them!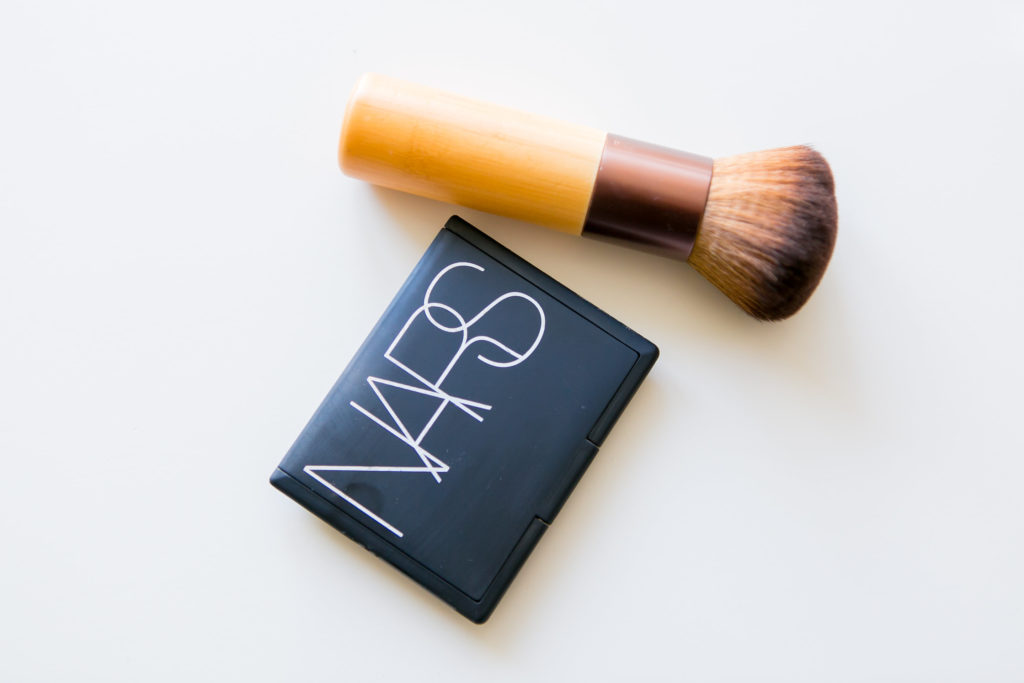 NARS Laguna Bronzing Powder & Eco Tools Brush – I have to have bronzer, like every day… I feel naked without it!  California girl problems, but I love having some color on my face and NARS has been my favorite for a while now.  I just got into this brush line as well; it's super soft to the face which I love.
Shop Jacquelyn's Bag

xx
Abby