If you're like me and millions of other people, you've become engrossed in Game of Thrones.  I must admit, I wasn't that into it at first… My husband would watch and I basically thought it was soft core porn, haha. But after a few seasons we were on a long drive and I asked him to tell me about this show he loved so much, and the next three hours he basically explained the first 3 seasons to me… Yes, we are dorks. Now I've watched it from beginning to end and lets just say I'm invested!!

It's hard to believe our beloved gang of the seven kingdoms will no longer be around after this Sunday. It's always hard to say goodbye to a great show so I decided to send them off with a bang and celebrate with this Game of Thrones inspired tablescape.  Don't worry there will be no severed heads (and other body parts for that matter) or Starbucks coffee cups on our table. See more over on 100LayerCake where we are featured today as well!

Now get ready for me to nerd out and you will too over all the beautiful photos by Megan Welker.
Stand Tall Mia created the prettiest invite that asked everyone to gather at House Stark, because nobody wants to go to Kings Landing, am I right?! Especially after last week's episode, yikes!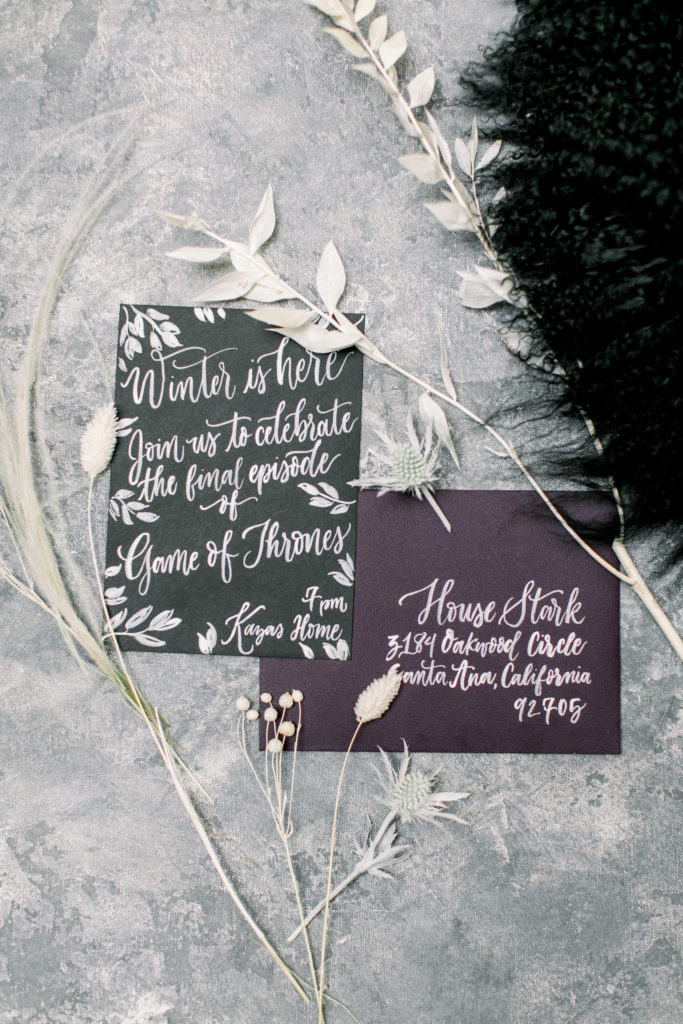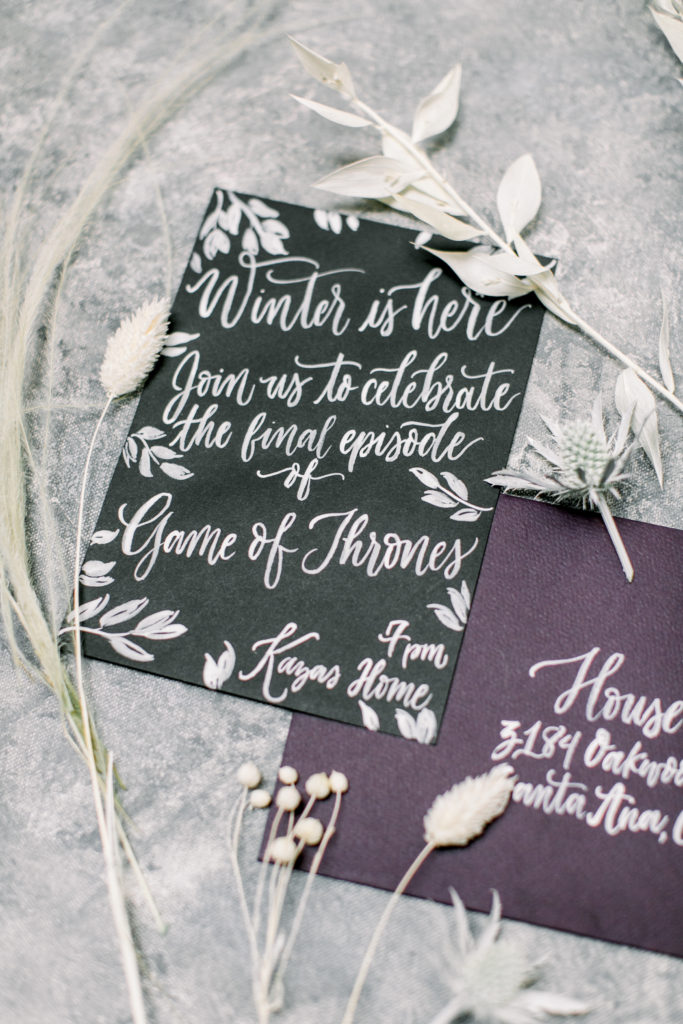 All of our favorite characters were sitting at the table, courtesy of her amazing handwriting. It was hard for me to make the cut down to 8… Arya, Jon, Sansa, Tyrion, Jaime, Brienne, Sam and Dany were all there… However I was sad to leave Tormund out, he is the life of the party!!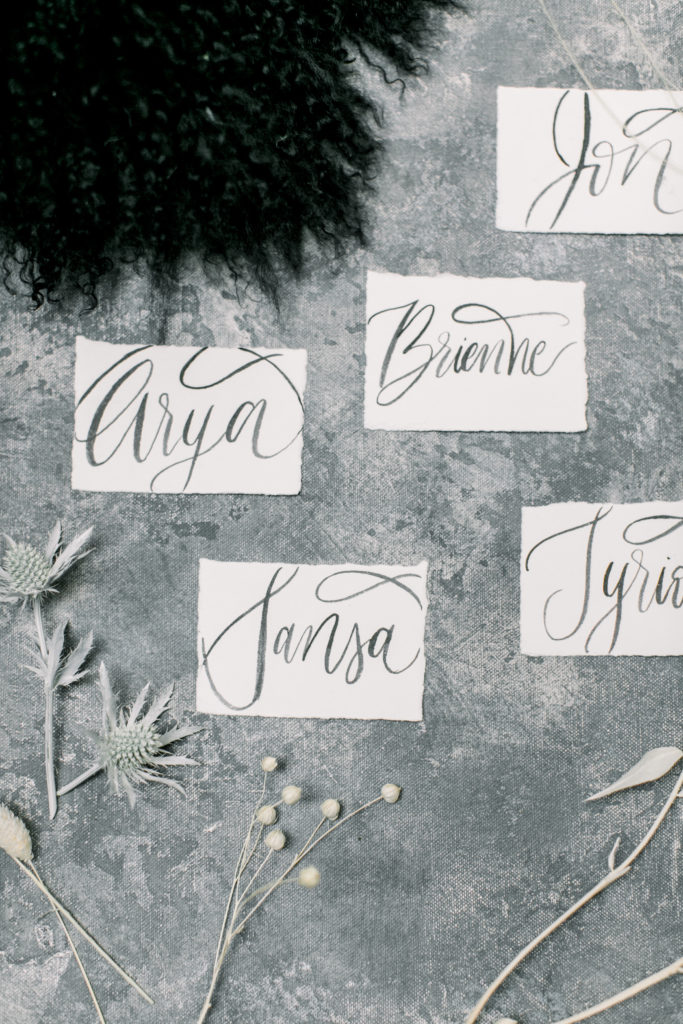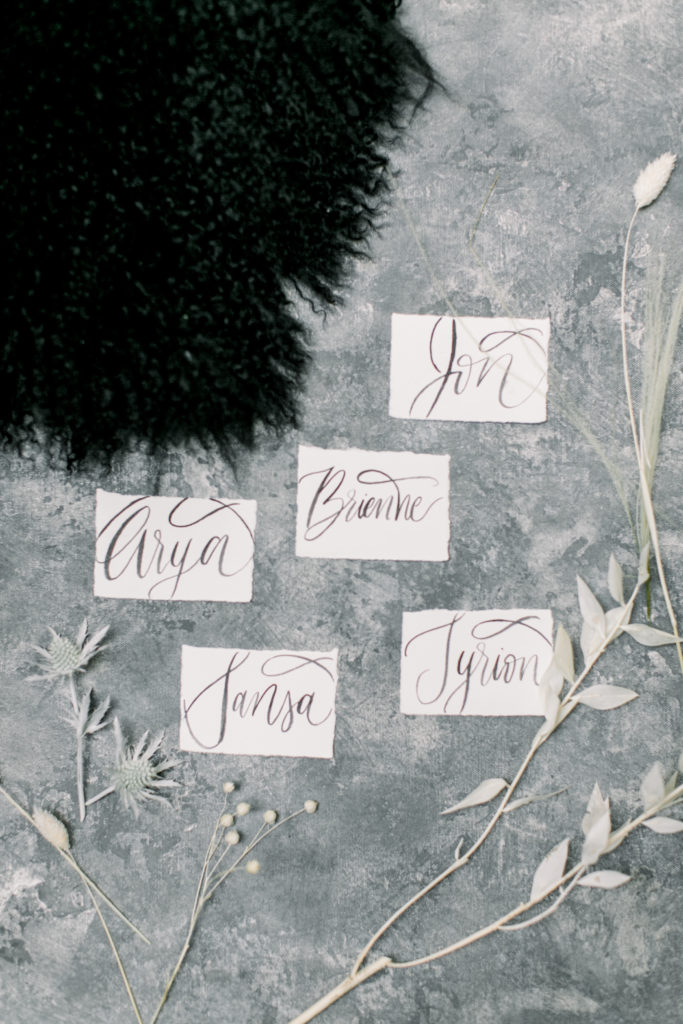 Although it's Spring, we went a little bit darker for this design, it is Game of Thrones after all. I started with rich velvet textures; furs reminiscent of the wildlings and Jon Snow, and dark marble and metal tables all from Sweet Salvage Rentals. The tabletop items consisted of dark, light and metallics. I used Cherished Rentals beautiful collection of heath ceramic plates in black and stone with gold flatware and candlestick holders. Black candlesticks were lit and dripped along the table. The napkins from Hostess Haven were a bit more masculine in a dark blue color and I paired them with their copper napkin rings.

The florals by The Mad Florist were one of my favorite elements. She hung an install by chains built of greens and dark burgundy leafy plants that had such gorgeous texture. Then on the table we went completely opposite and did white feathery florals to represent the North and the White Walkers. Creeping in the white arrangements were a few dark red pieces… I love the contrast between the two, something that represents the show in so many ways.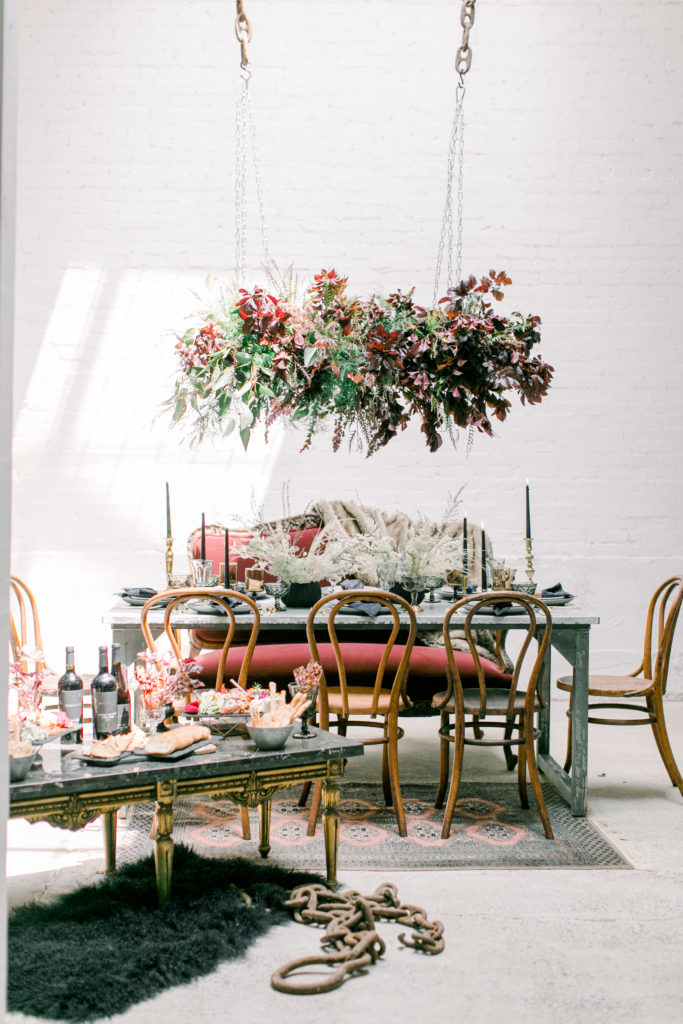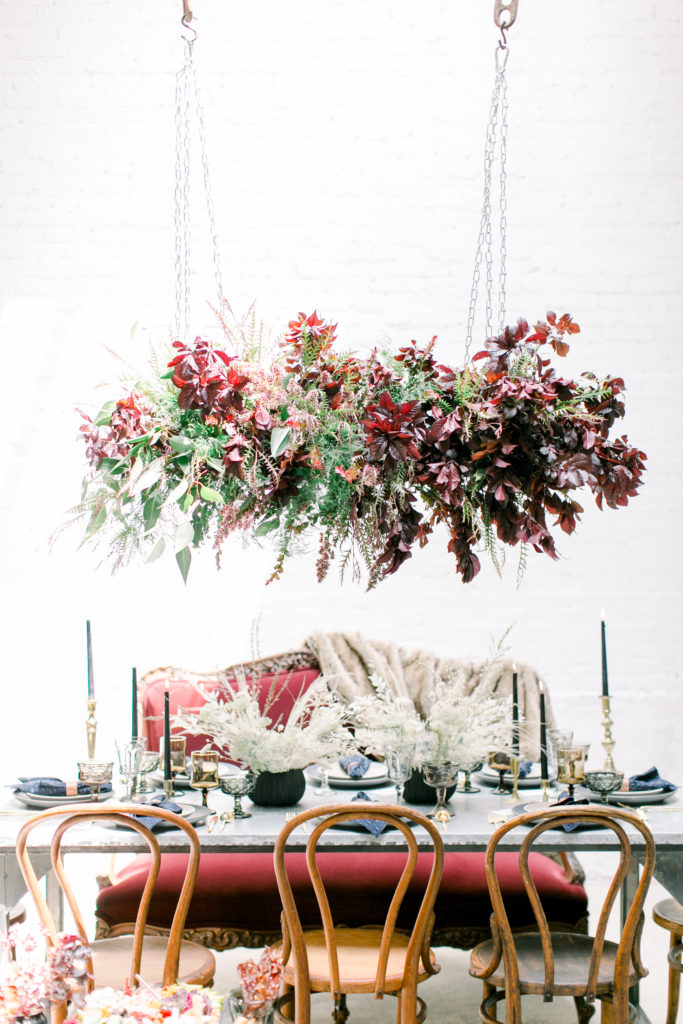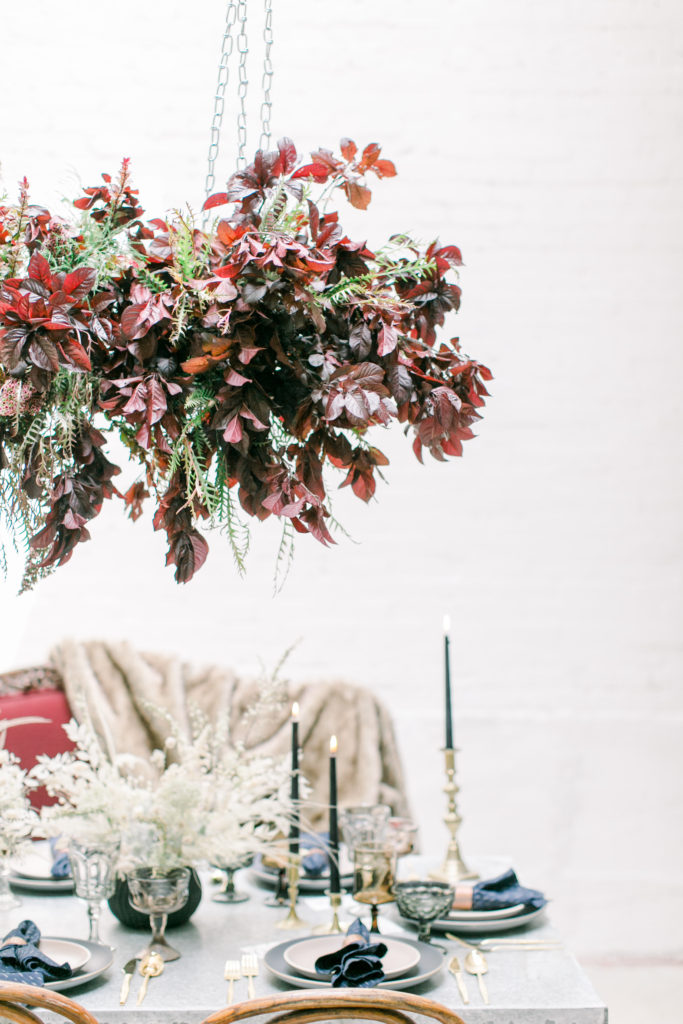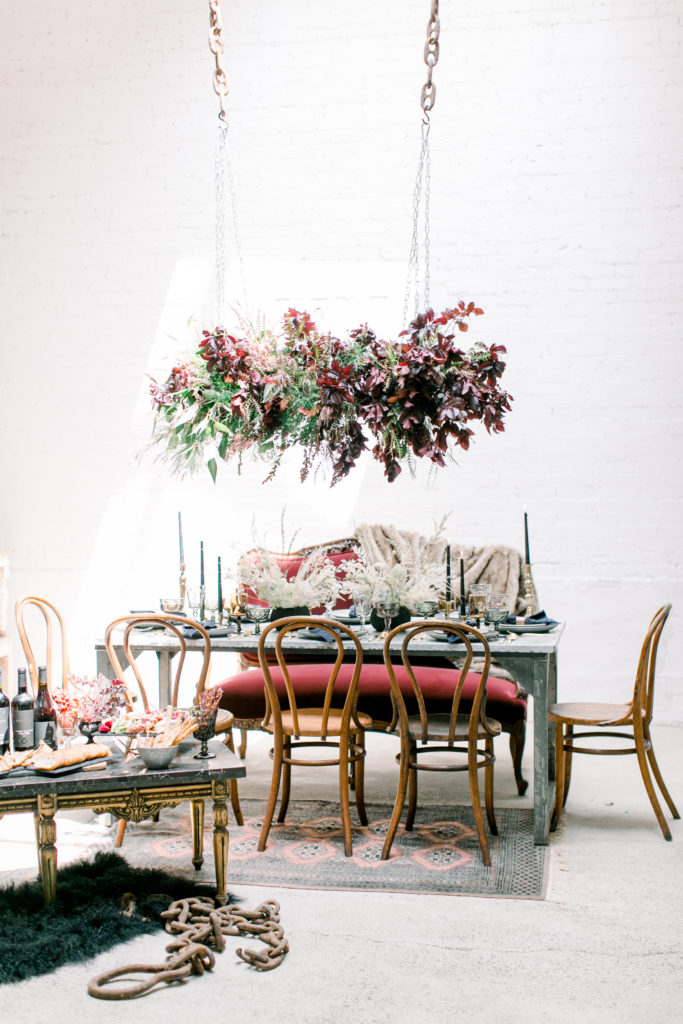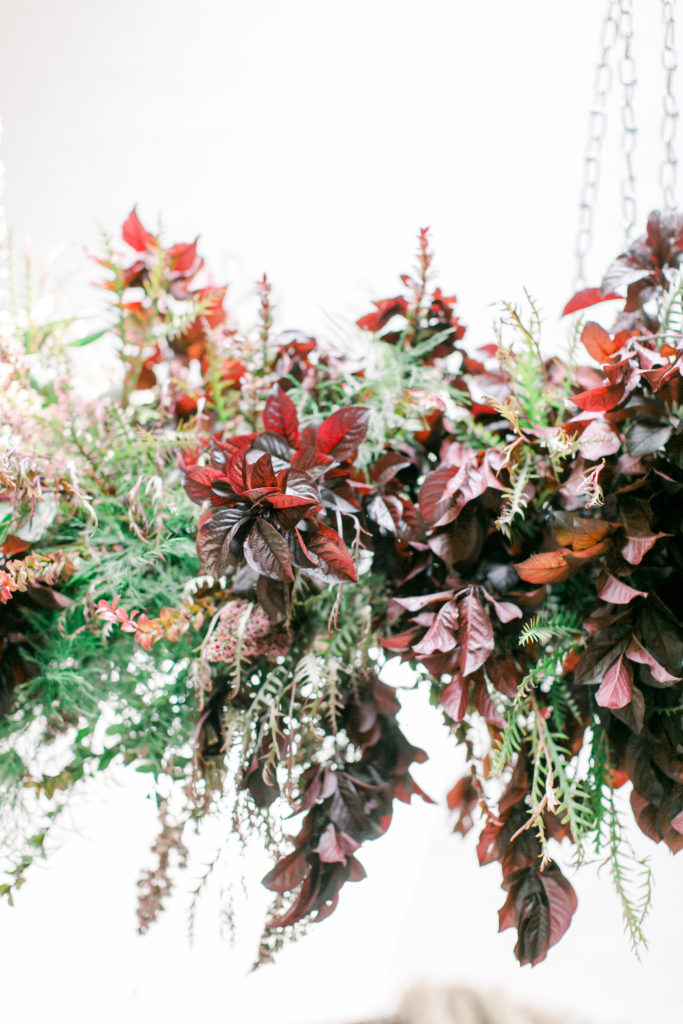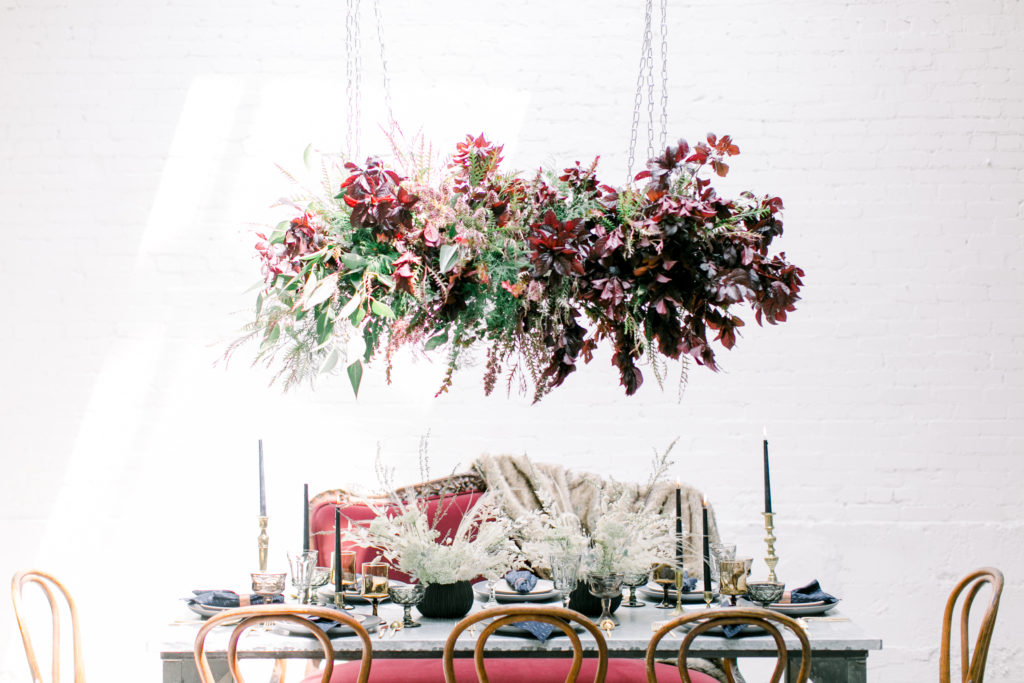 I was so in love with those floral arrangements, exactly what I had wanted for the table and Paige of The Mad Florist brought it to life!!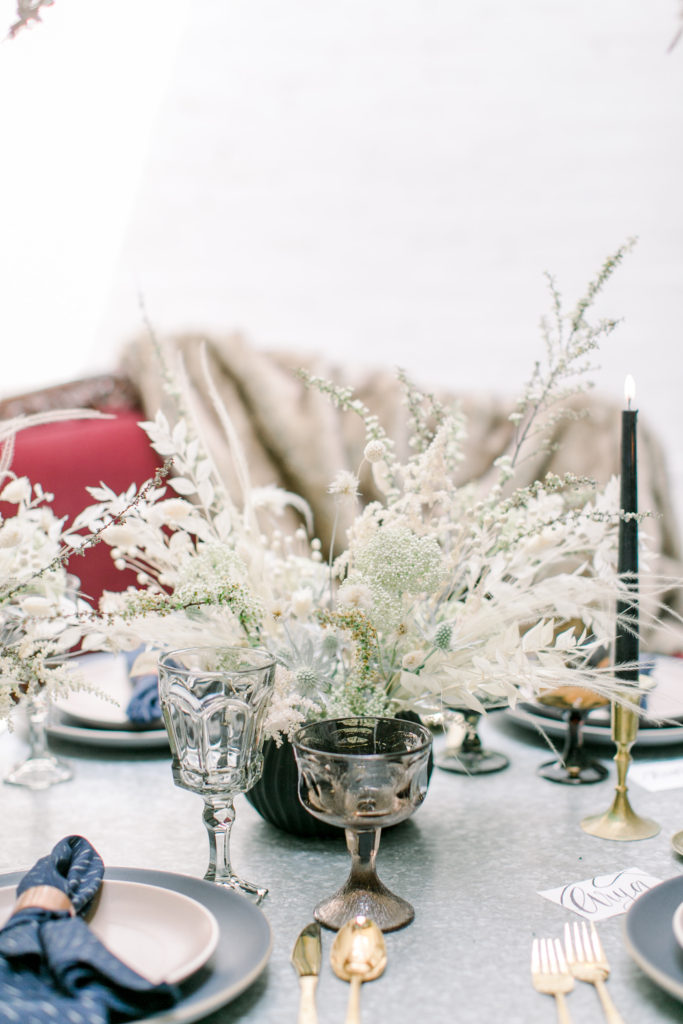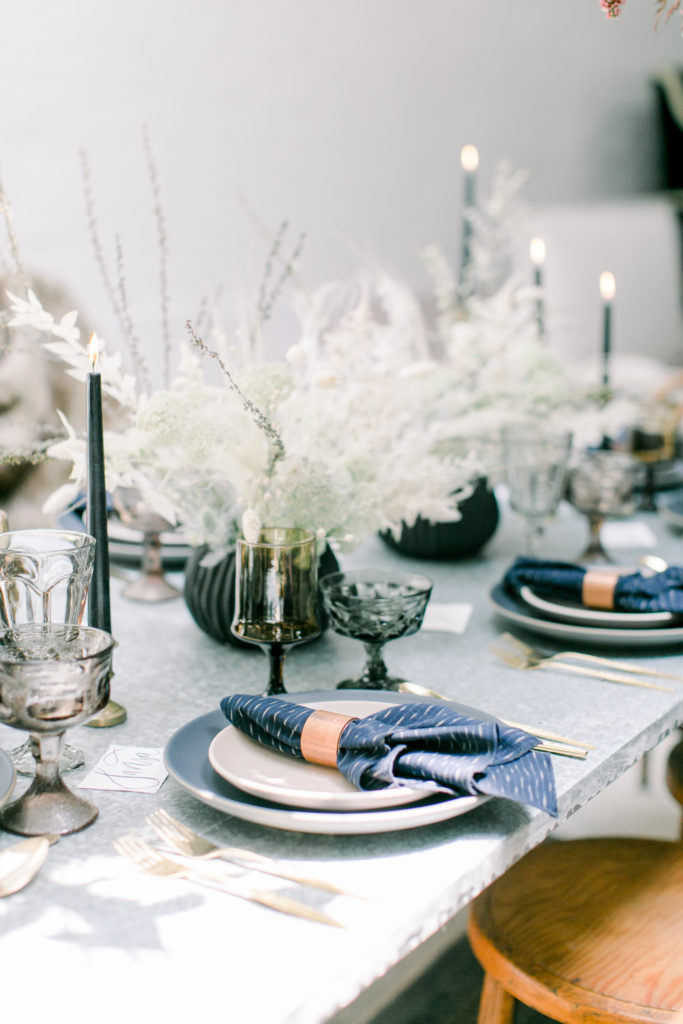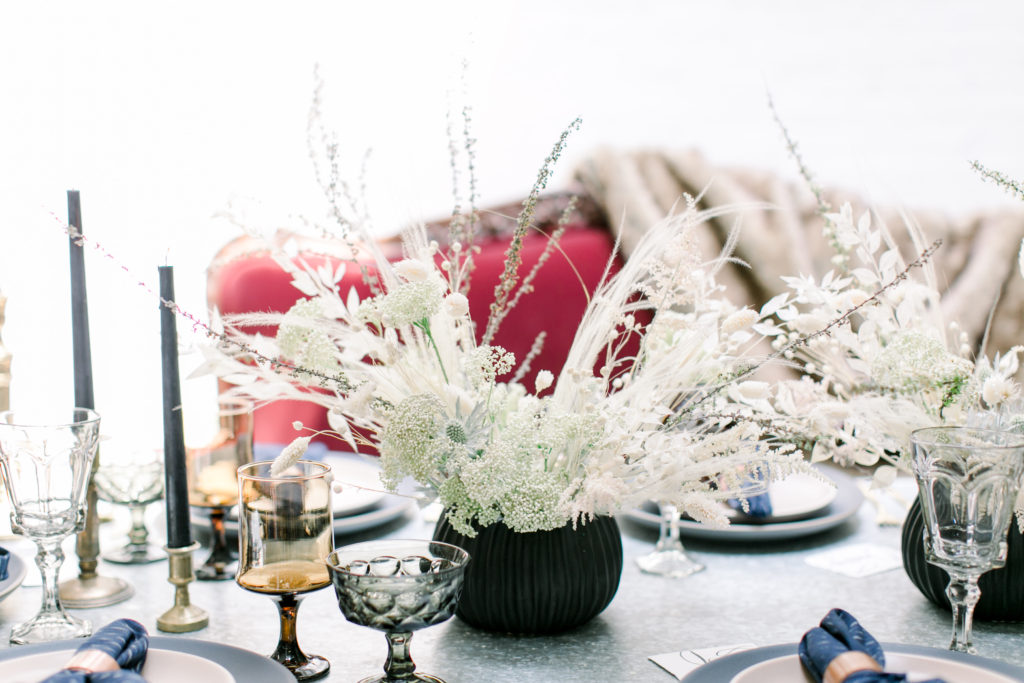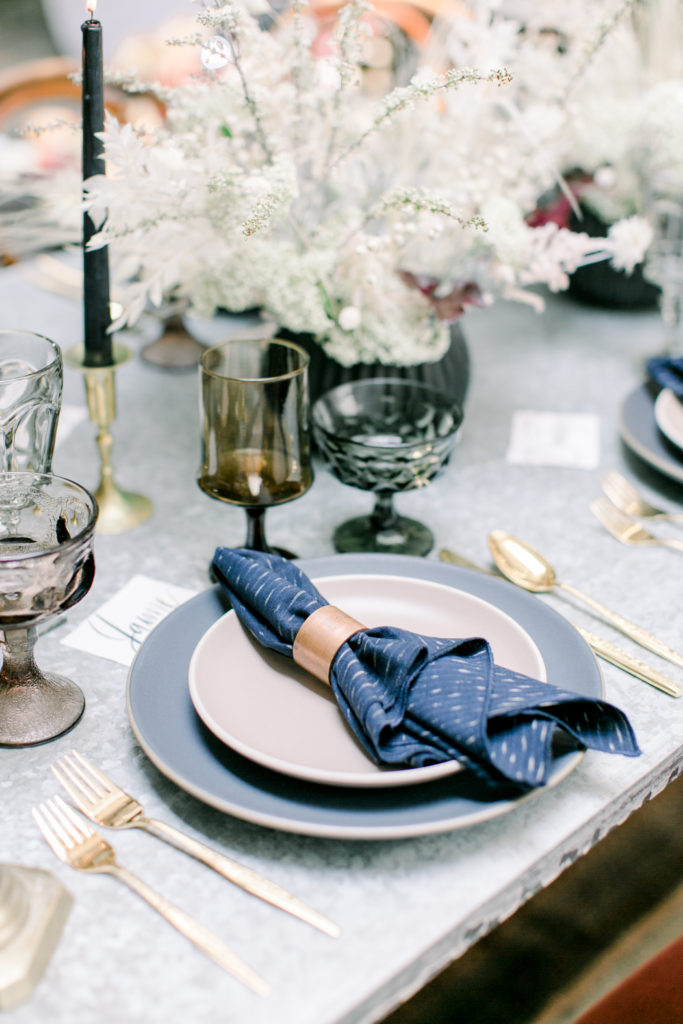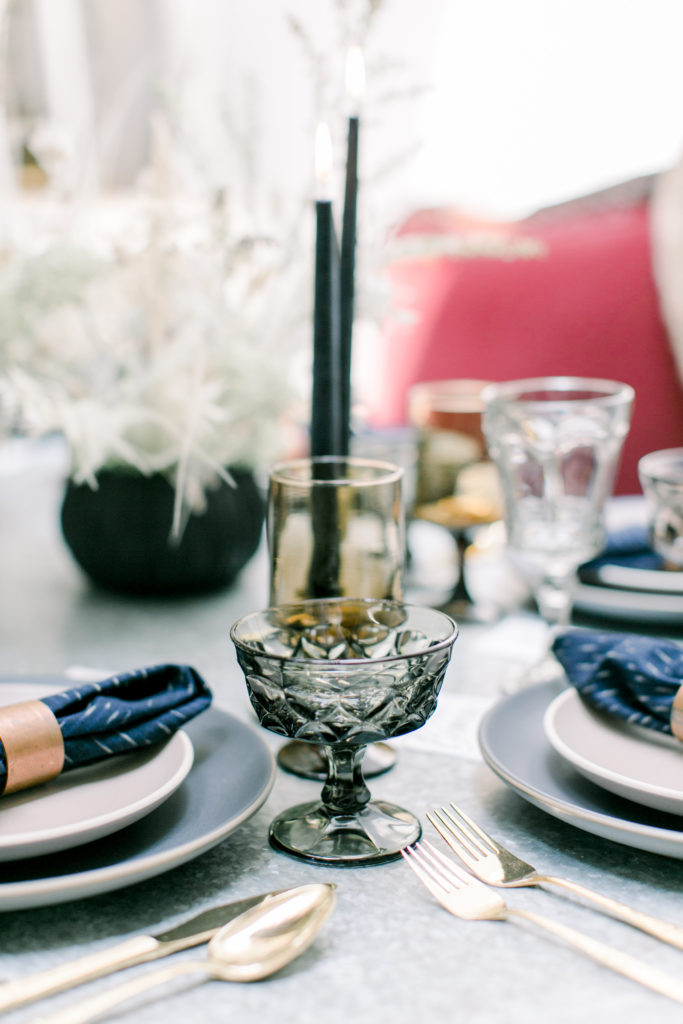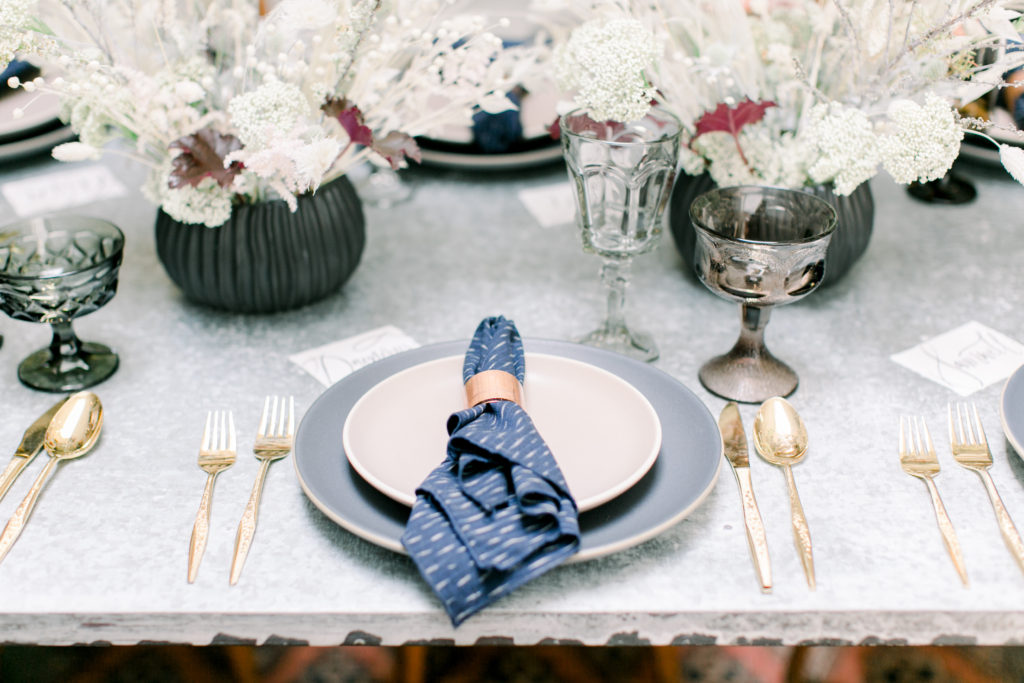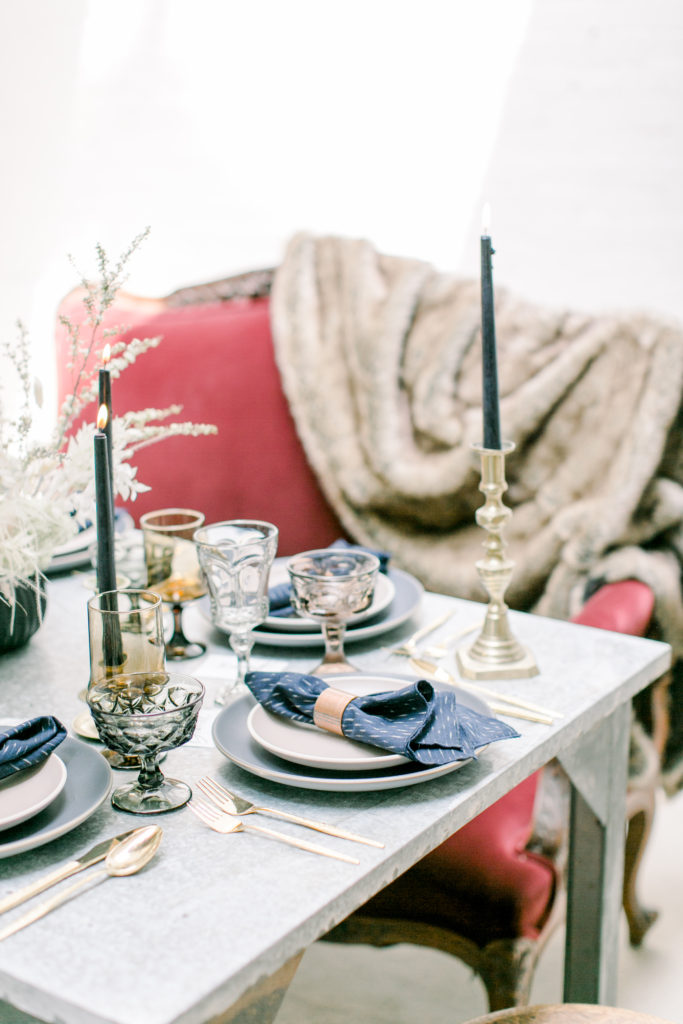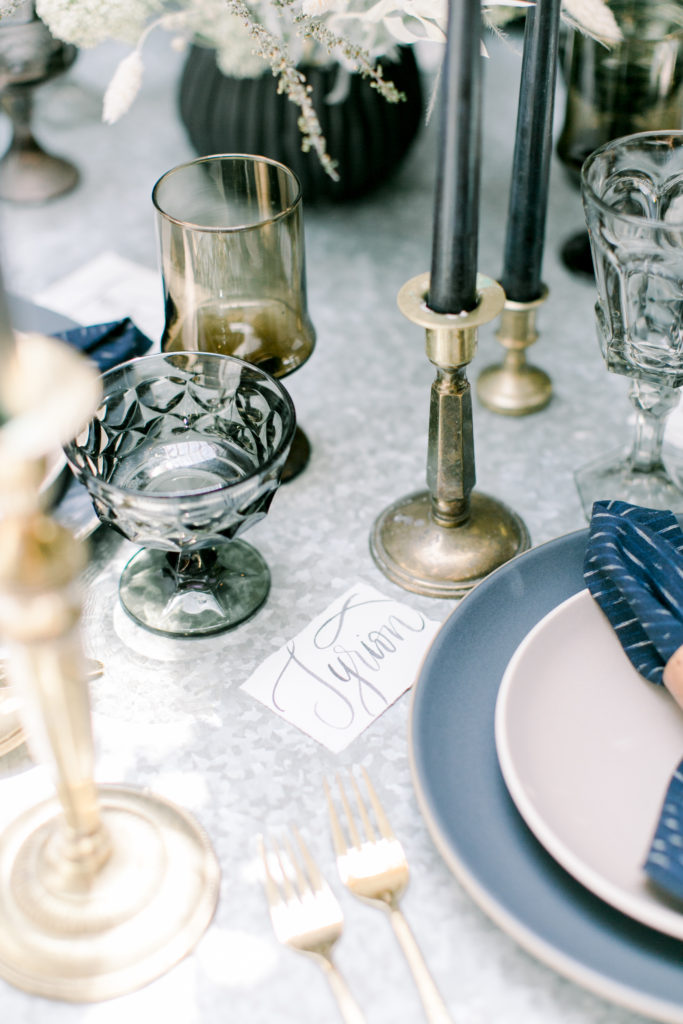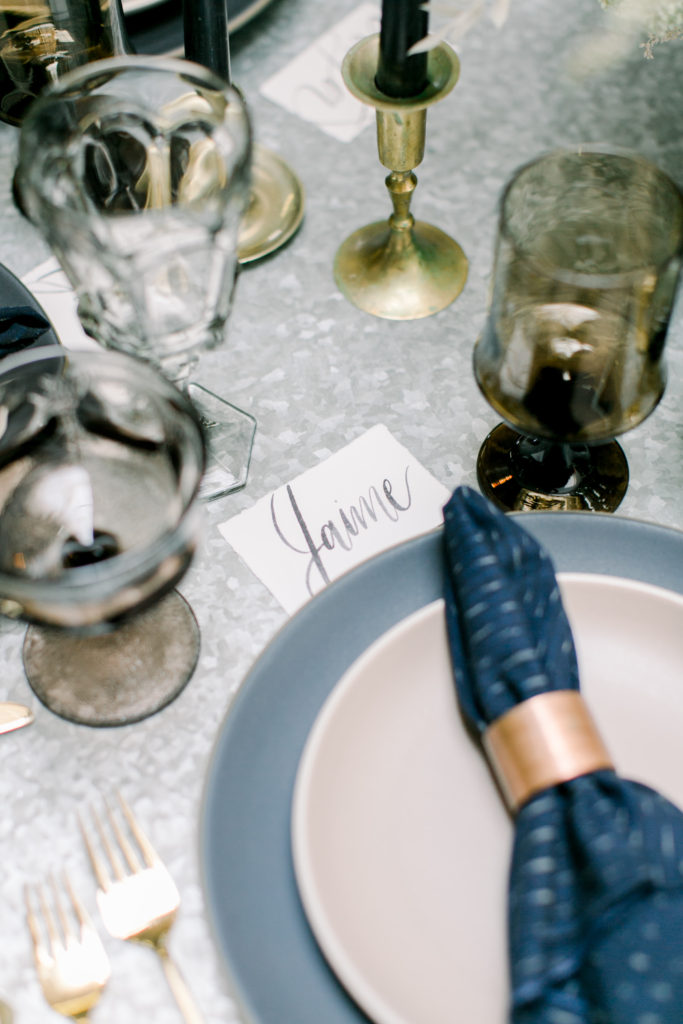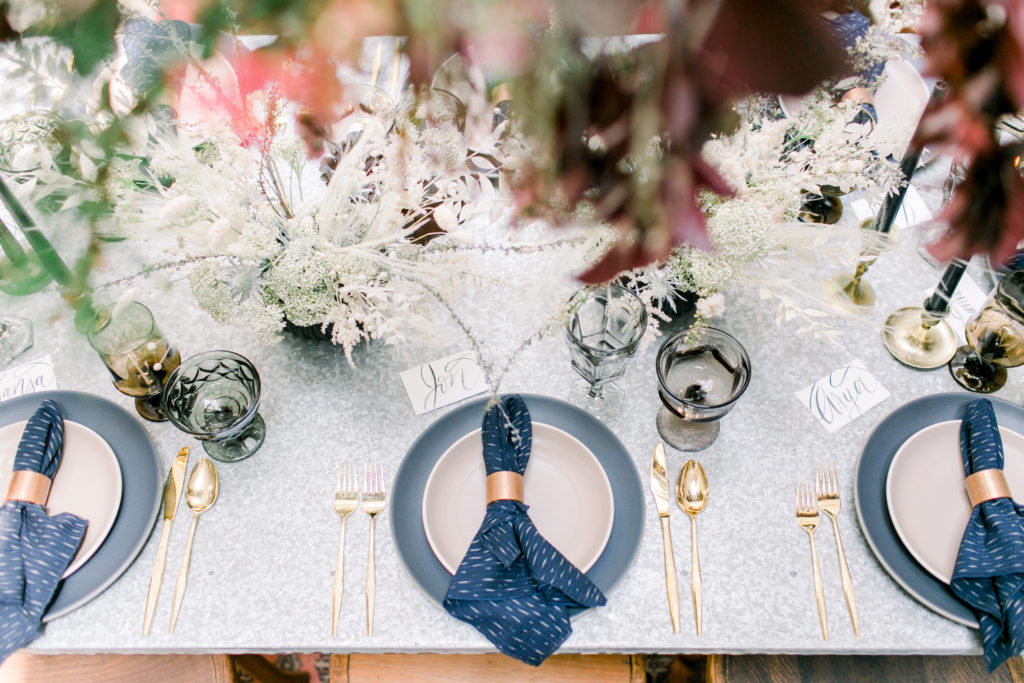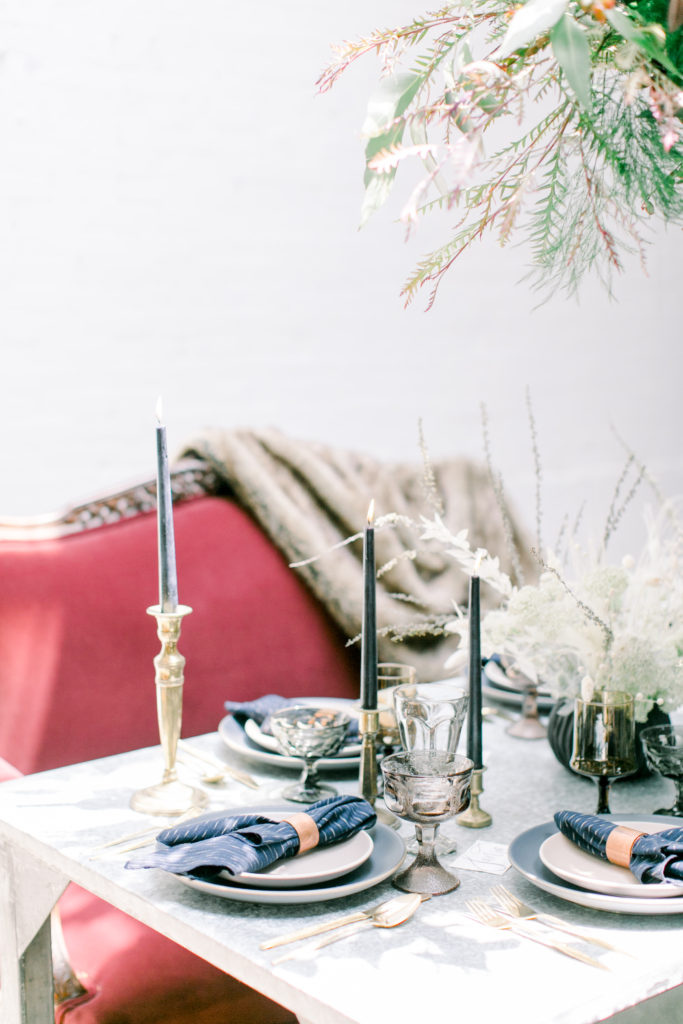 Lastly our beyond beautiful spread of food and wine. One Hope had their dark wines on hand, Cabernet and Merlot were the choice for this meal and I think our friends at Winterfell would be happy with that.
The team at Colette's Catering are big GOT fans and went all out for us! The black slate platter they used represents dragon glass, the cheeses they used each represent a character or place. The Port Wine cheese represents our favorite drunken dwarf Tyrion, the Green Sage represents Wildfire, the Ash Brie represents Castle Black and the Point ReyesBlue represents the White Walkers. Of course the sliced meats of Calabrese, Capicola and Porsciutto represent House Baratheon – and can we get a shout out for the bacon in the glassware as well?! I'd definitely let my dire wolf have a piece – gotta love Ghost!!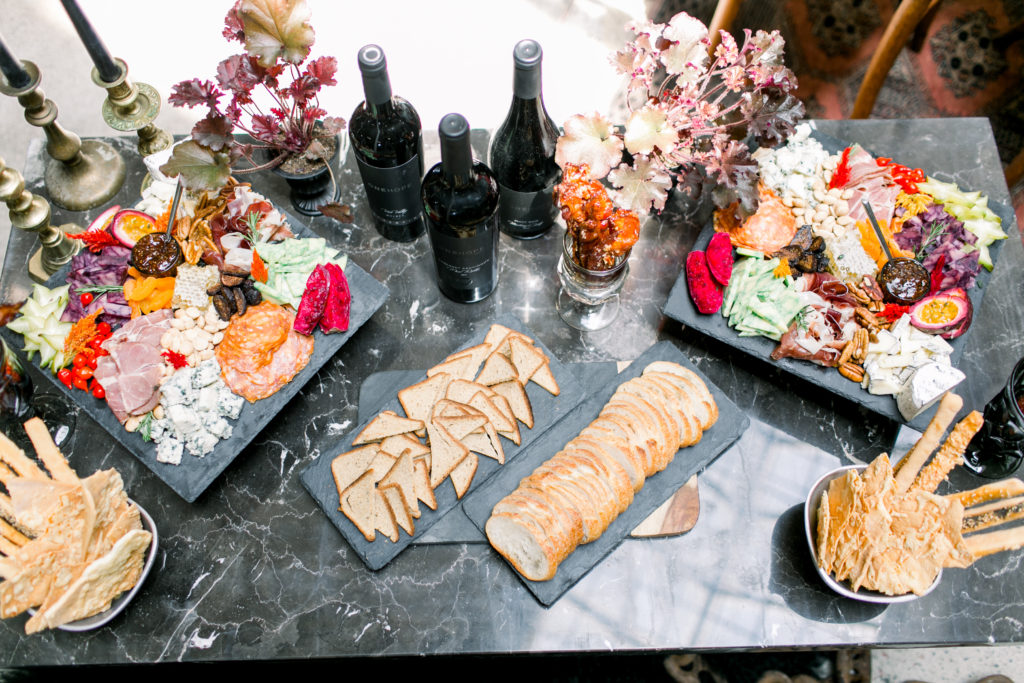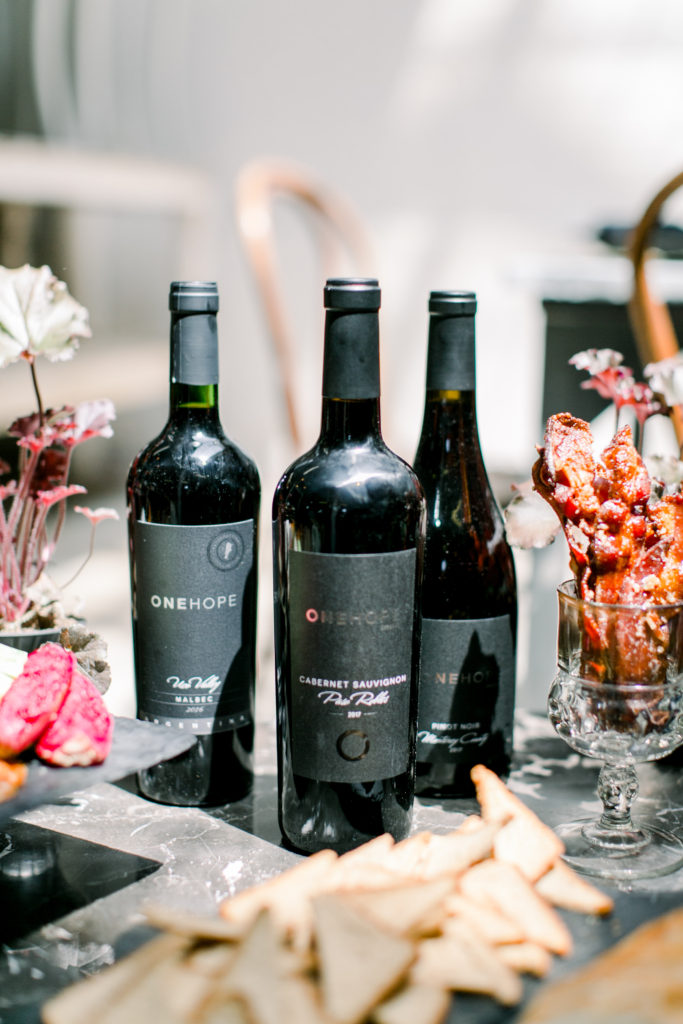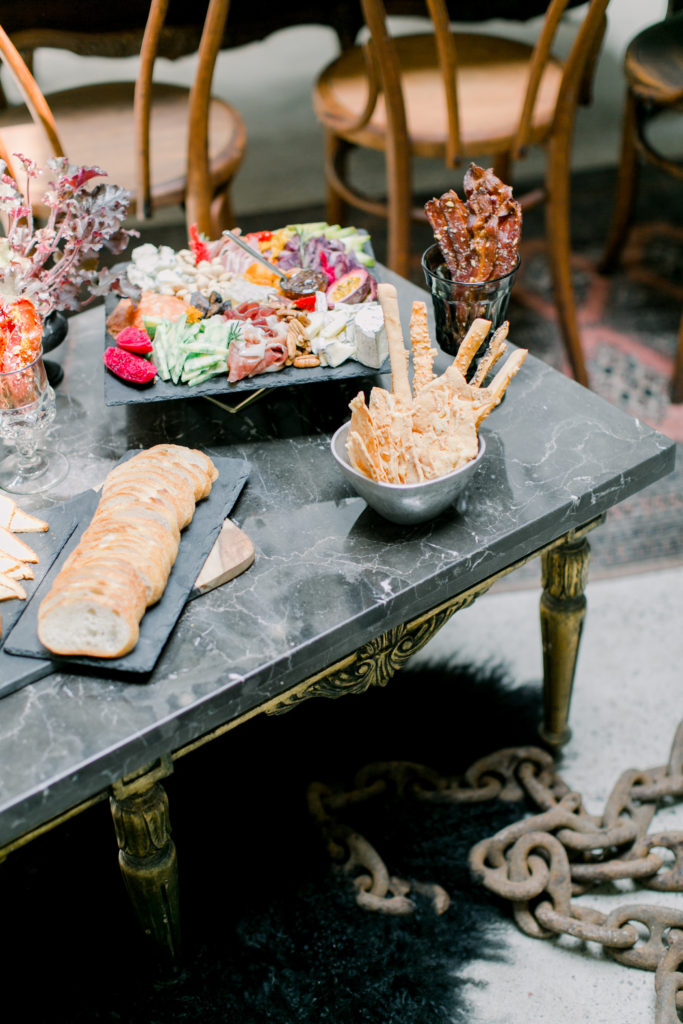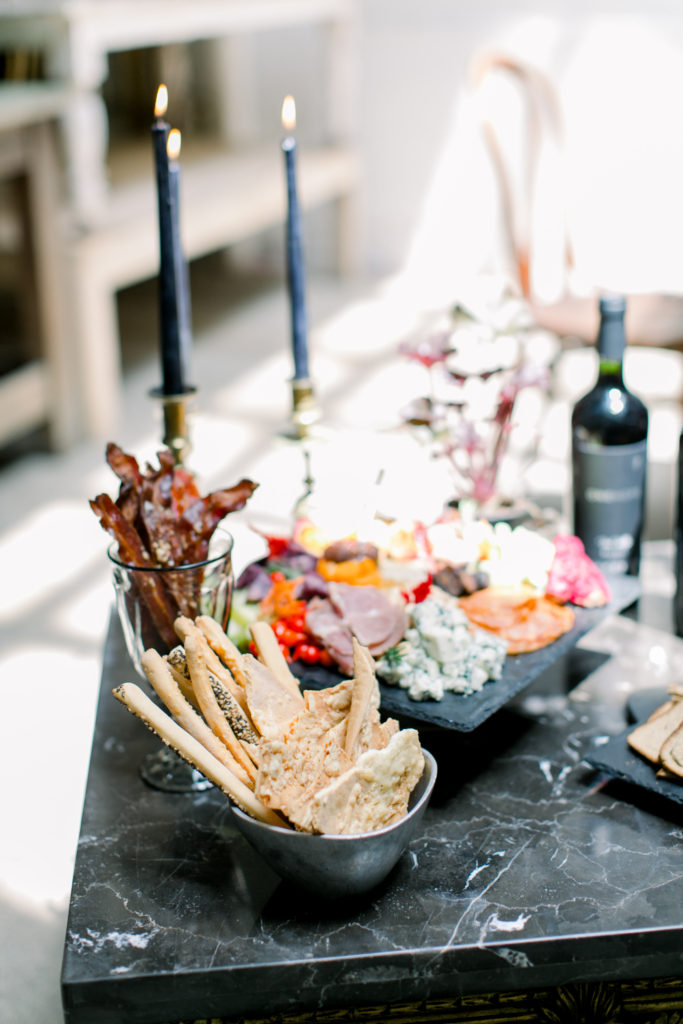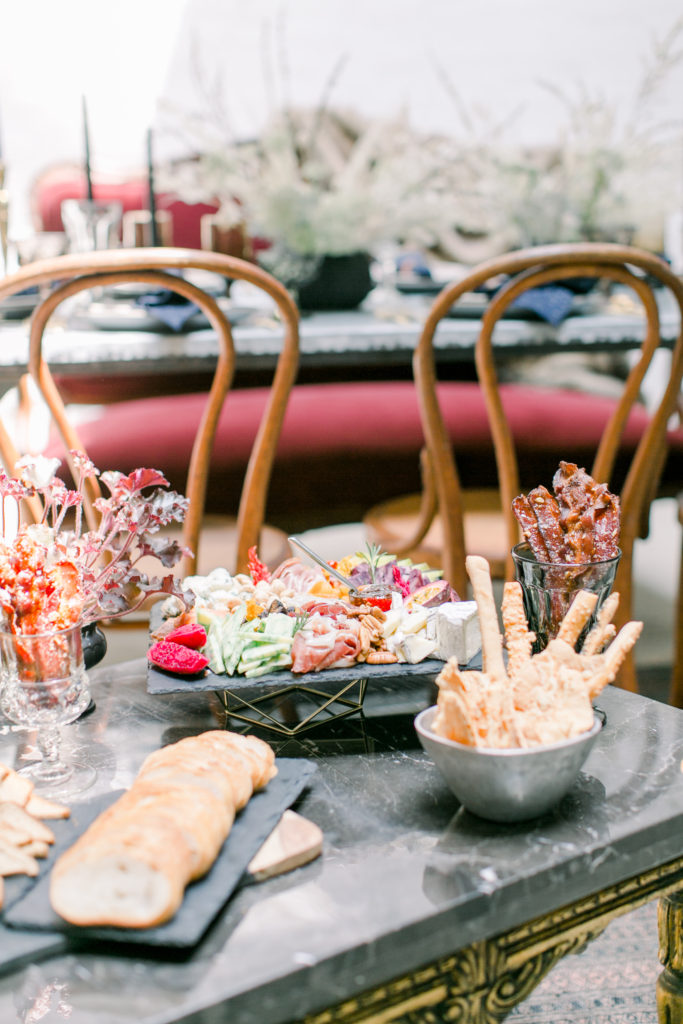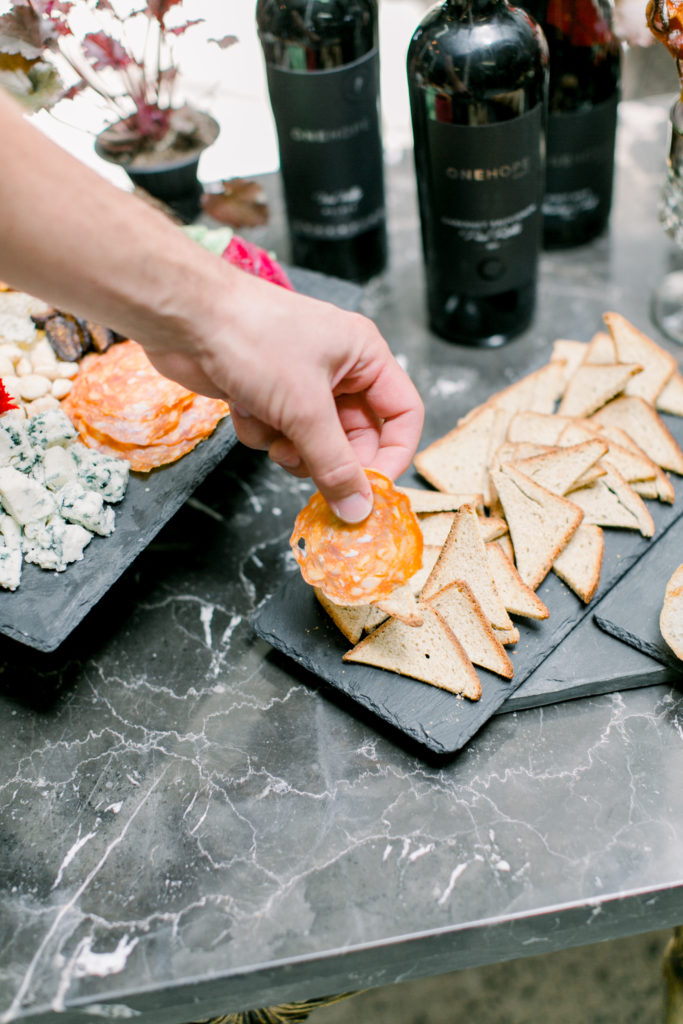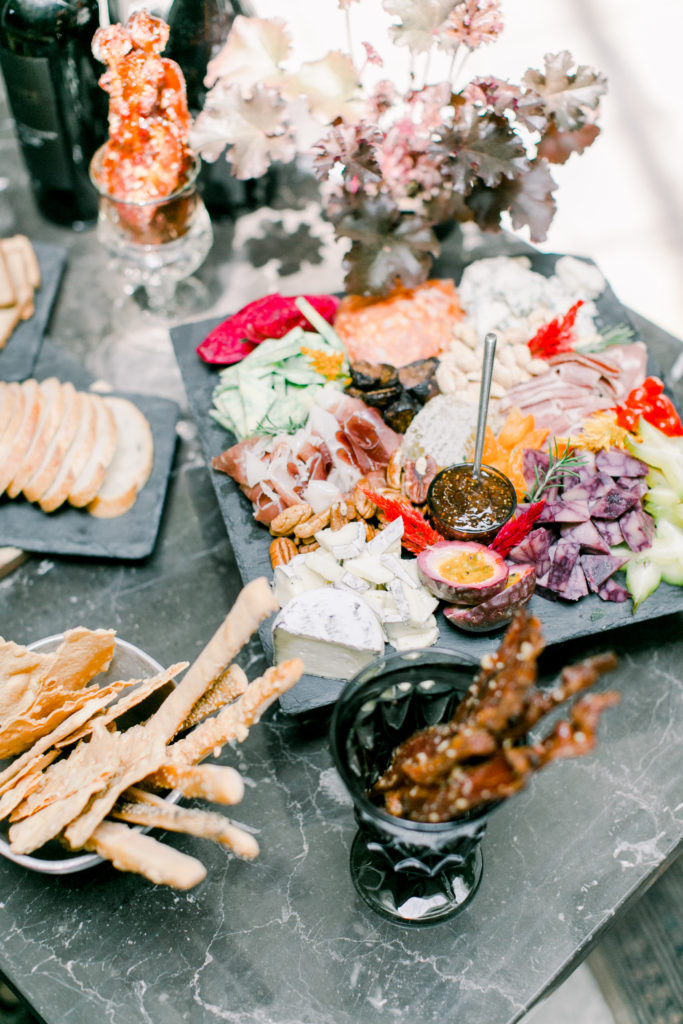 You may have noticed that I put chains near the table and food table because Dany is the breaker of chains… Nailed it!!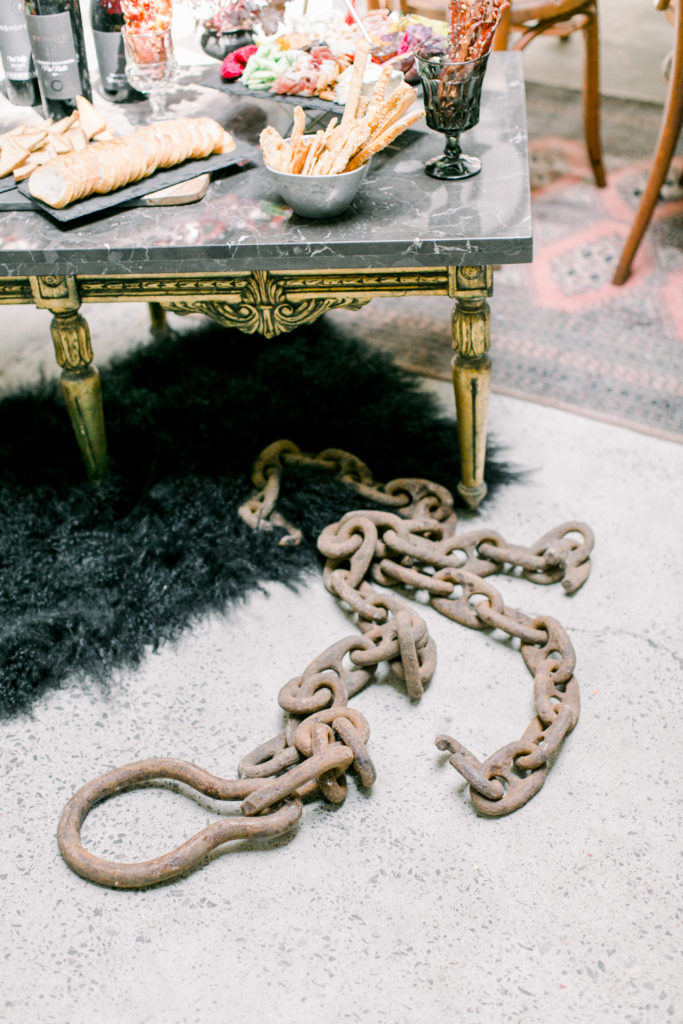 And no meal is complete without dessert, ours was of the dark kind. Frost Your Cookie created a dragon scaled cake that Dany would definitely appreciate!!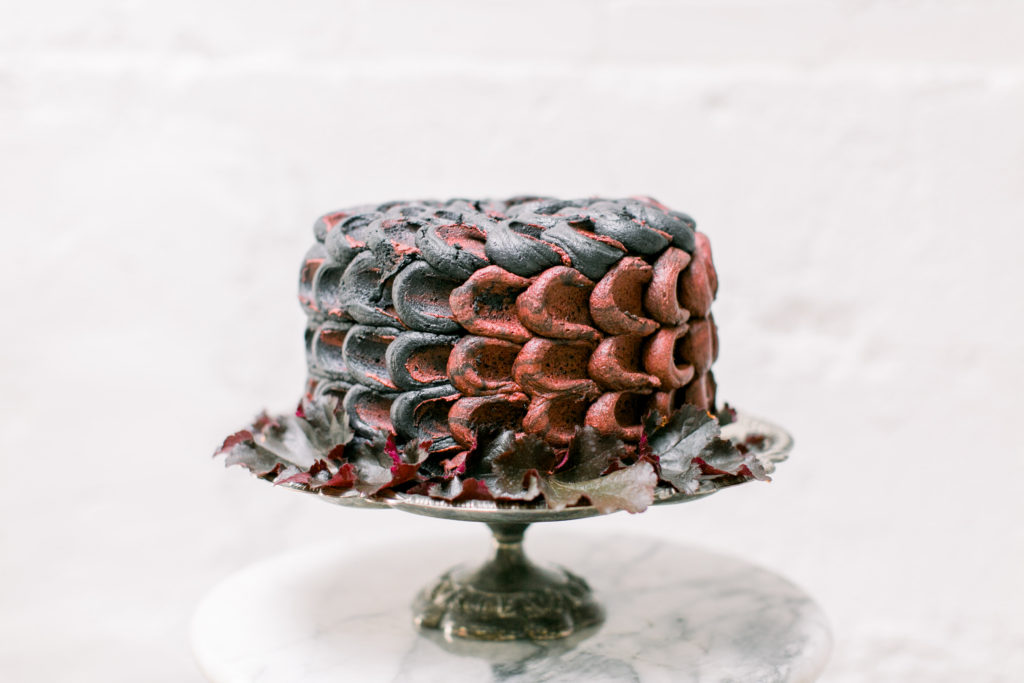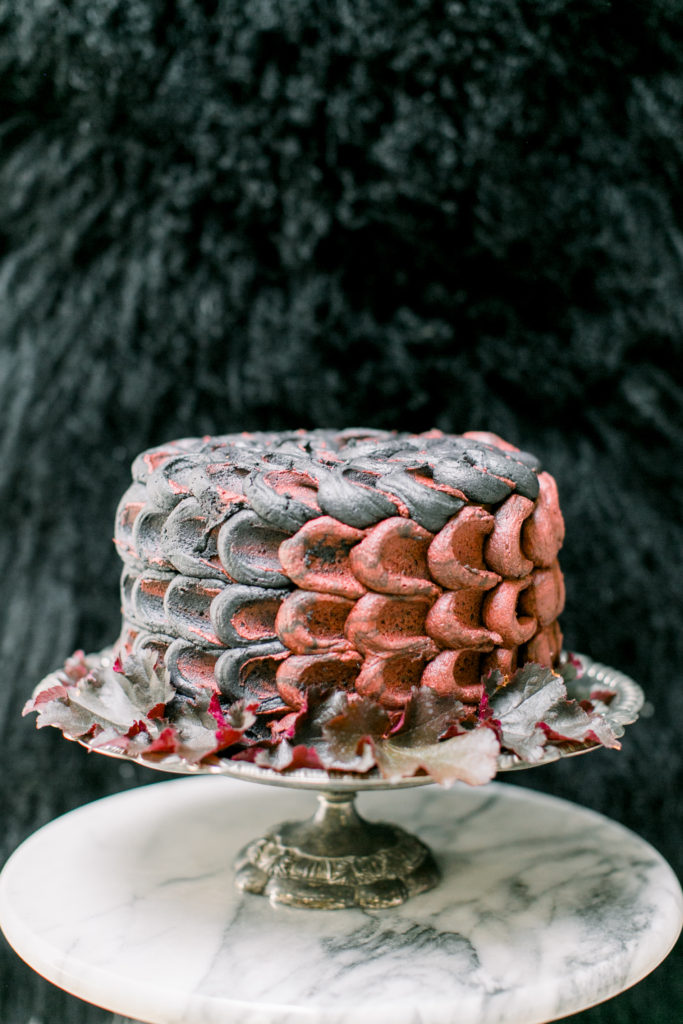 I hope you all enjoy the last episode!!! Cheers to a great series!! Drakarys!

God, I'm such a dork…

xx

Jacquelyn