The witching hour is upon us and Halloween is creeping up! I decided that I would get a few little witches together this year for one big bash. The cauldron was bubbling and all the little ladies were dressed in black. Treats were passed out and cackling ensued… Witch please, you know we throw a good party so it was tons of fun! Get your brooms ready!!
See all the cuteness captured by Corrie Lynn Photo below…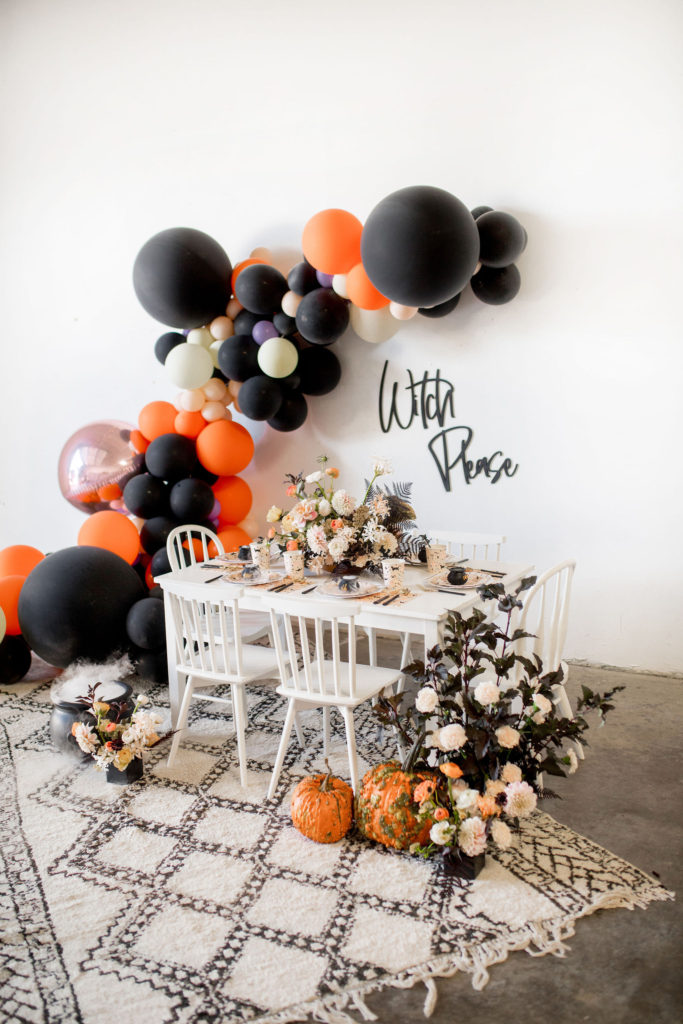 Don't be batty, you gotta send an invite to all your witches! And this one by Pirouette Paper is perfection! Along with amazing details by Creative Amme and laid on a Chasing Stone styling mat, this is Halloween at it's best!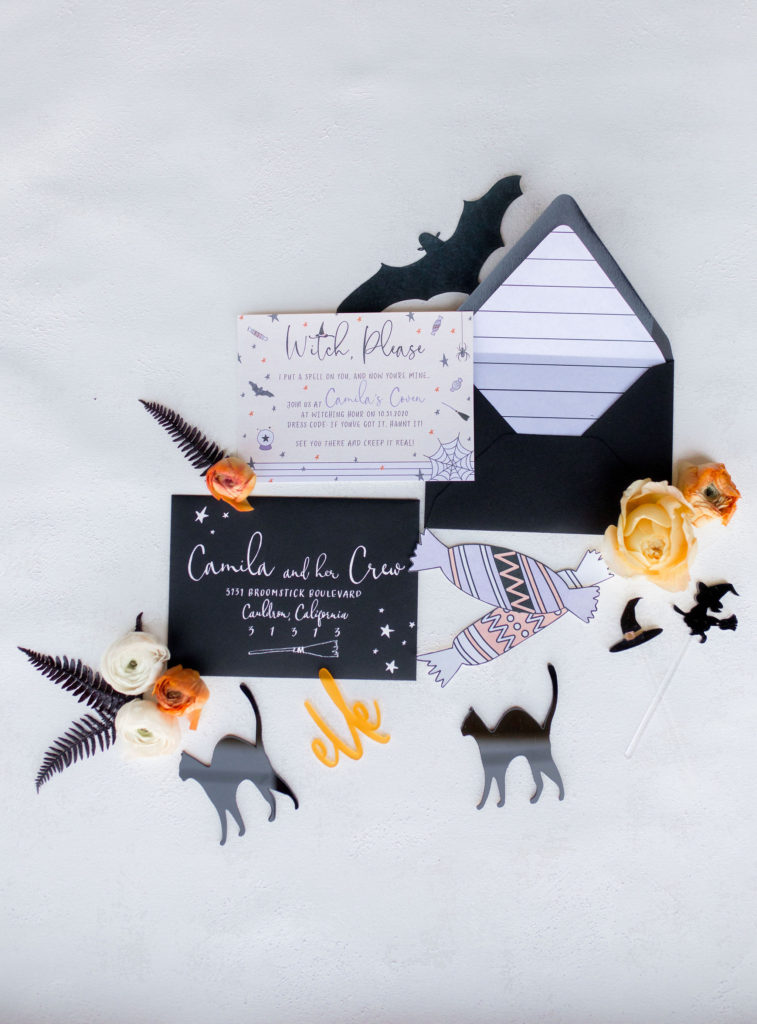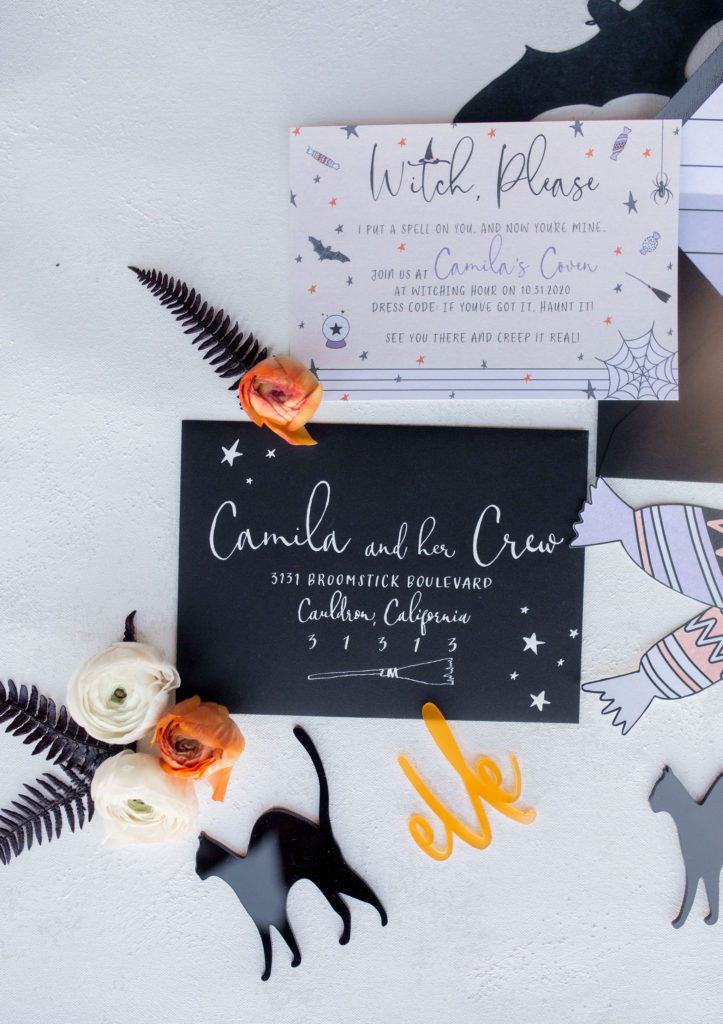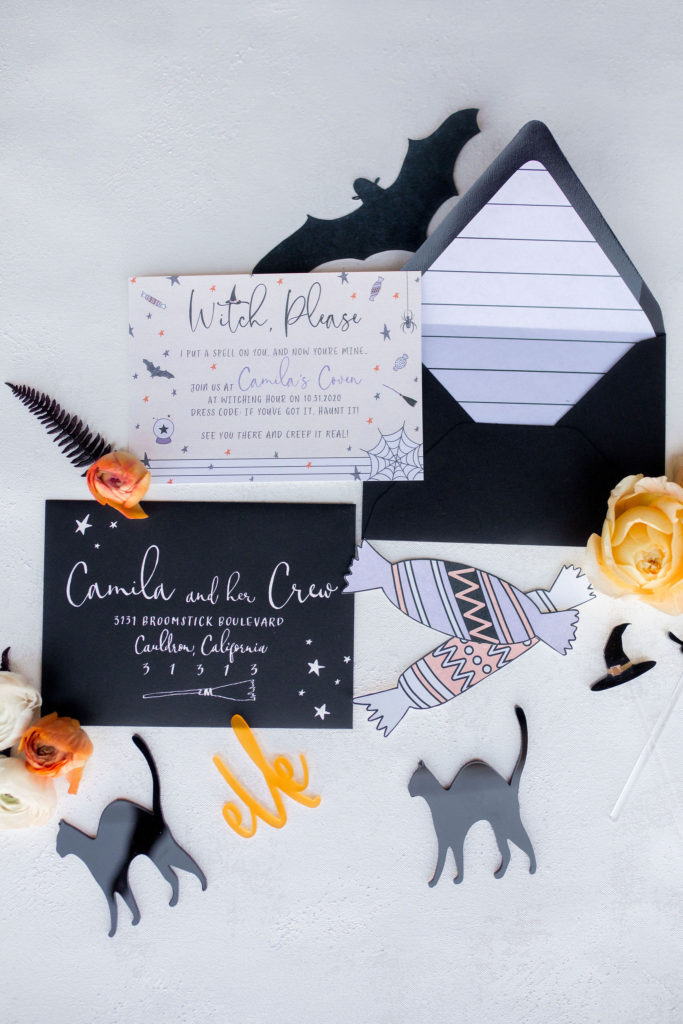 And there's the tabletop collection from Daydream Society that inspired it all! Major cuteness…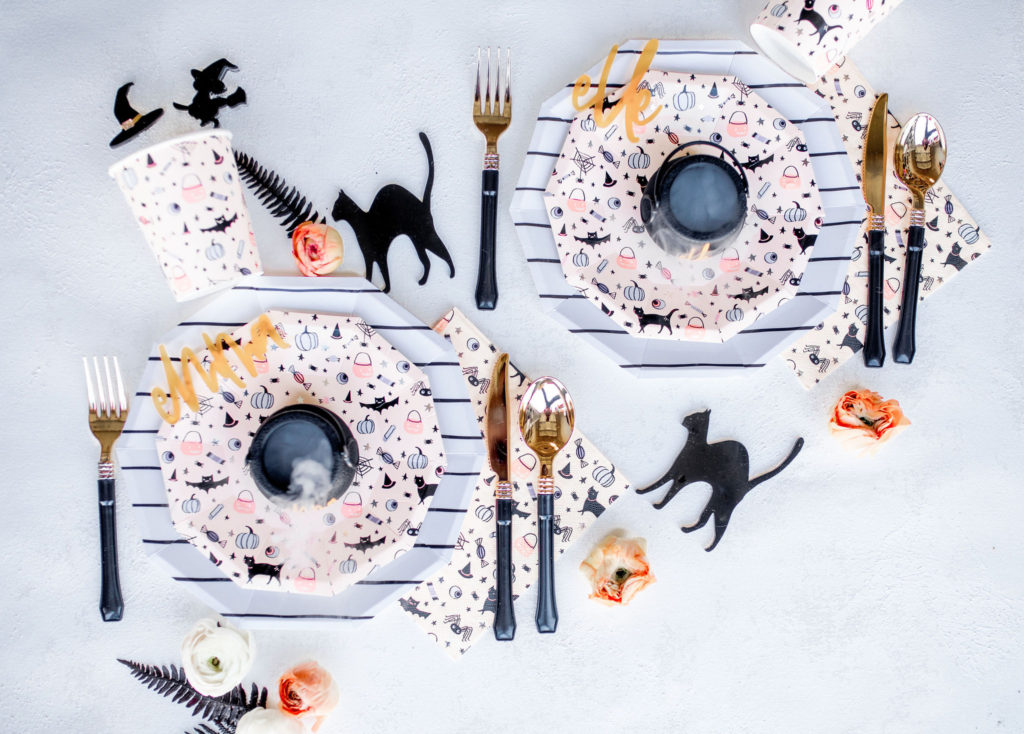 Our fun set up is looking oh so festive and fun! Balloons are always a must at a Beijos party – and our go-to girl The Pop Shop made this beauty that I'm obsessed with! All the right colors and just so perfect from top to bottom. Add in the cutest table and chairs from Pottery Barn Kids and a rug from Sweet Salvage Rentals makes it complete!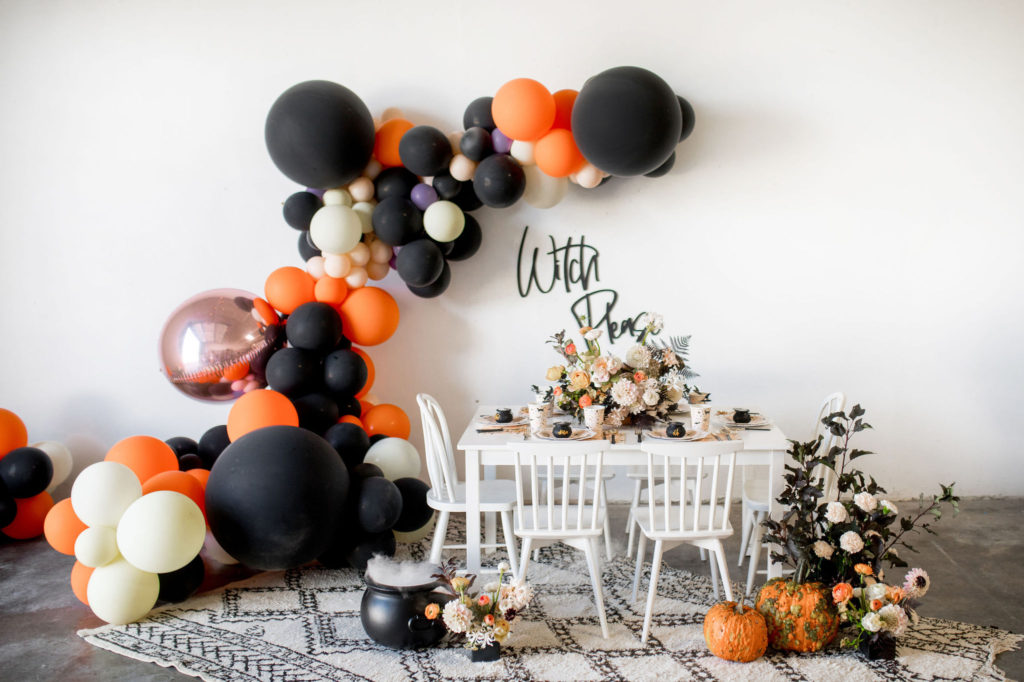 As I mentioned earlier, the table was set with Daydream Society's Hocus Pocus collection along with their black and white striped. The gorgeous flowers were by Not Just in Novels and details by Creative Amme. How adorable are the mini cauldron place cards? With dry ice no less!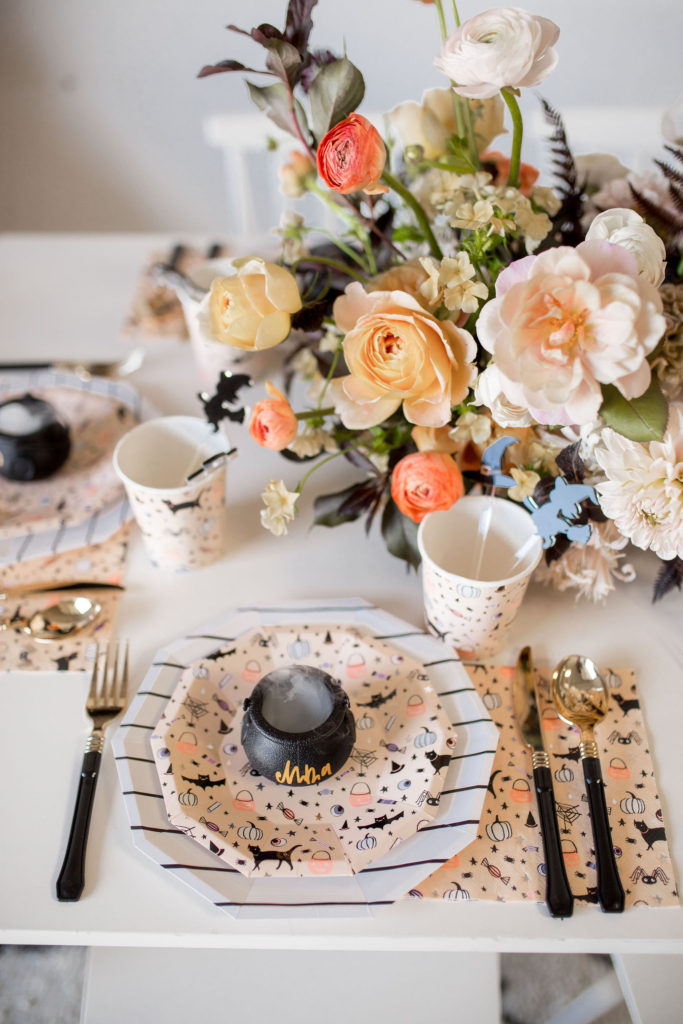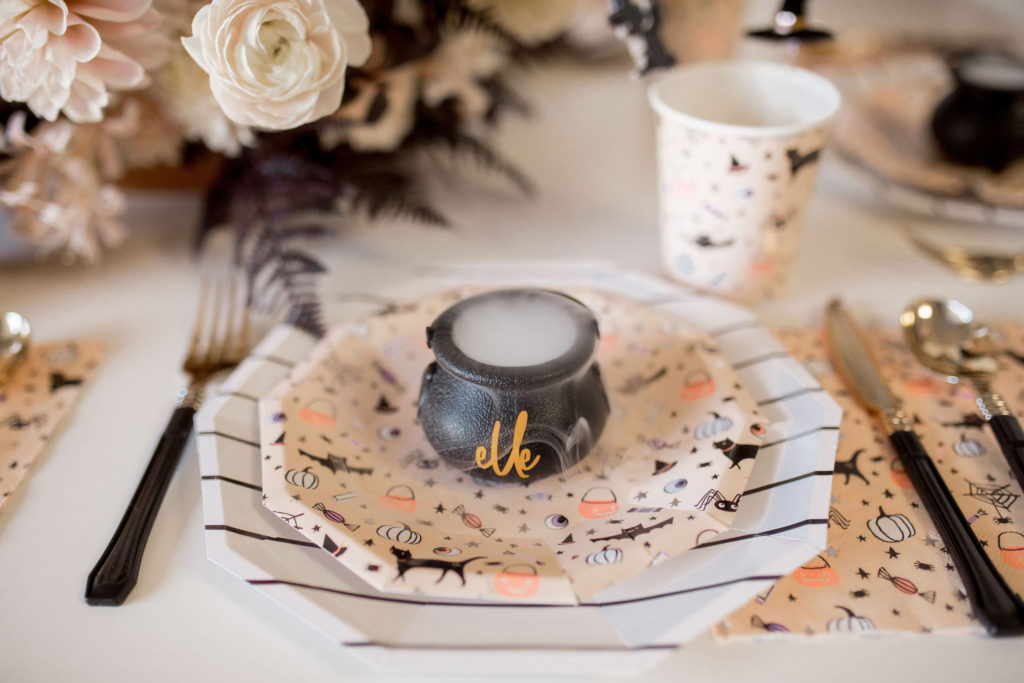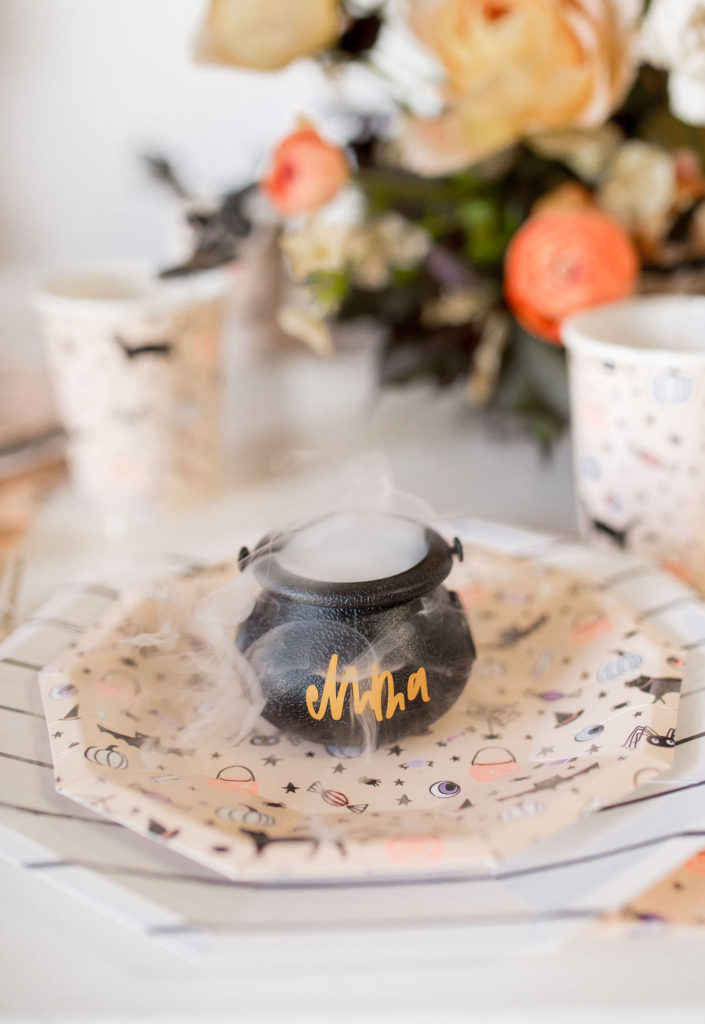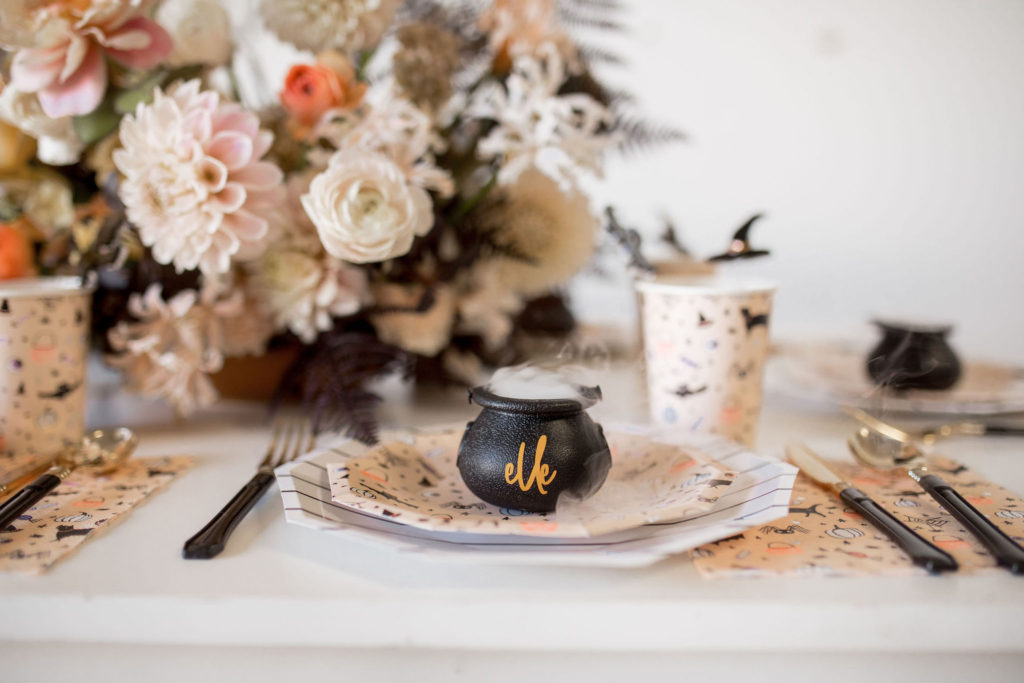 Our big cauldron had it's moment too!! What kind of spells could these witches be brewing?!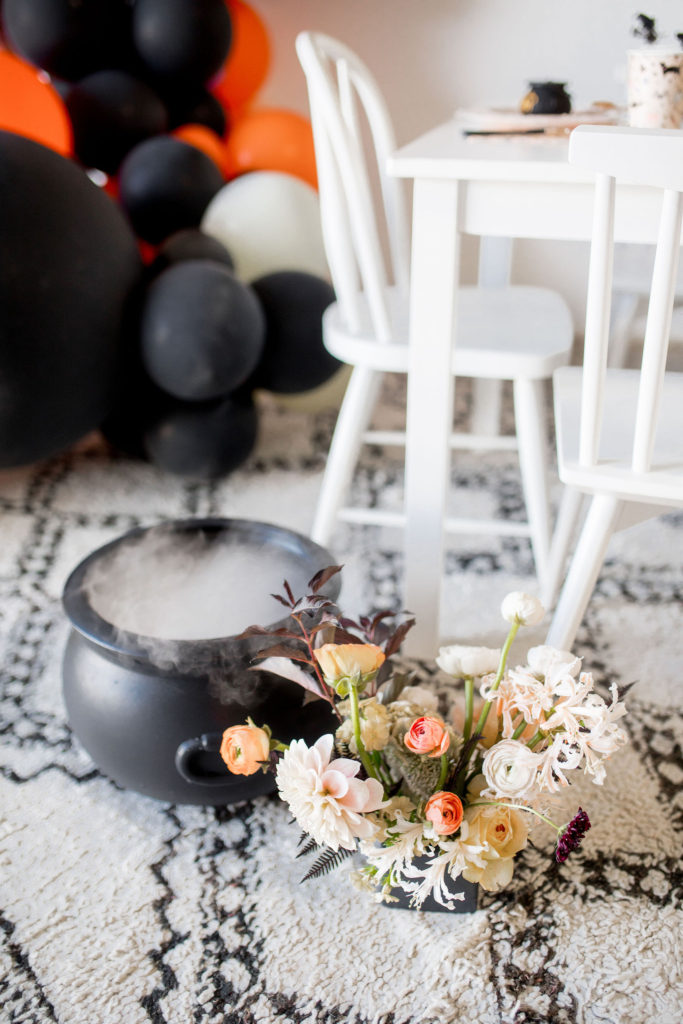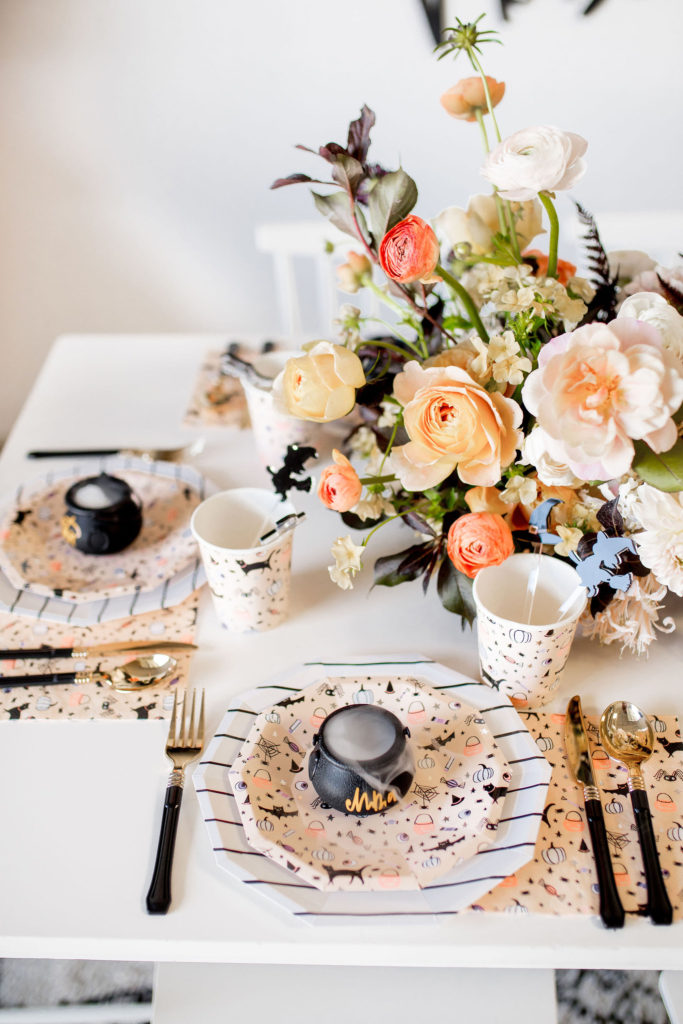 Such a cute little set up! I think we'll be witch and famous for this one! The signage by Creative Amme really sets the tone.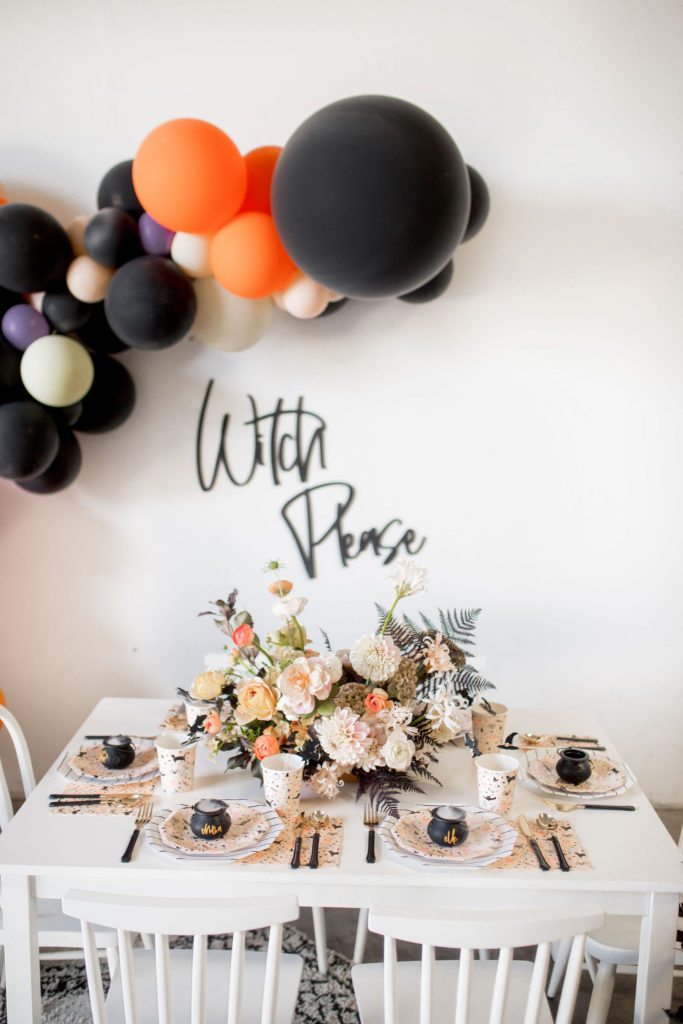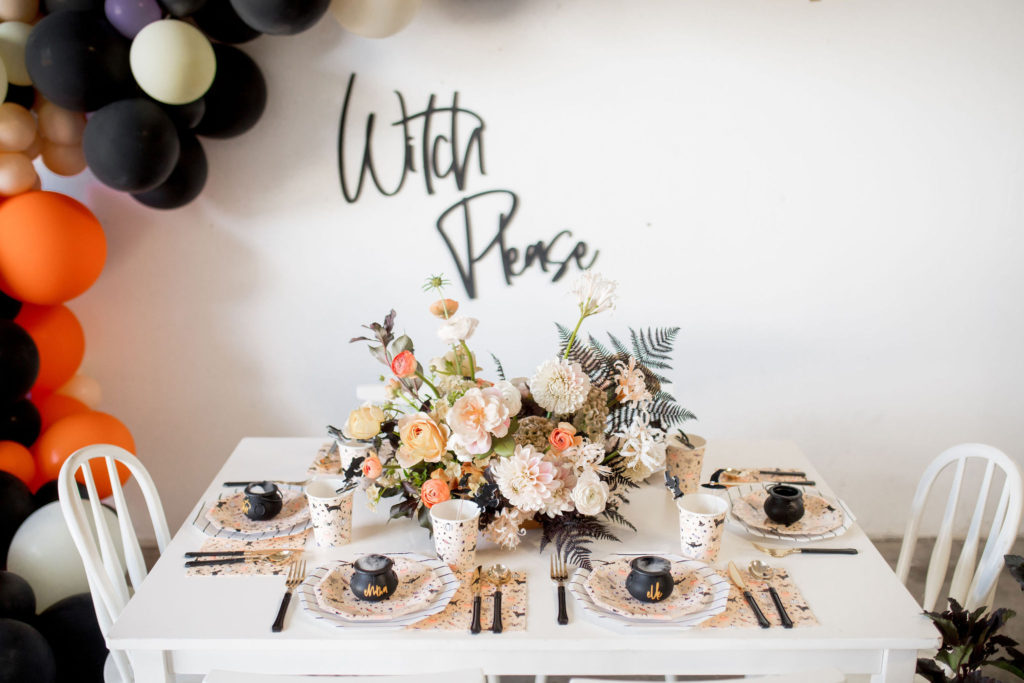 Pretty florals, brooms, and pumpkins with witch's warts – the perfect touches to any brewtiful party!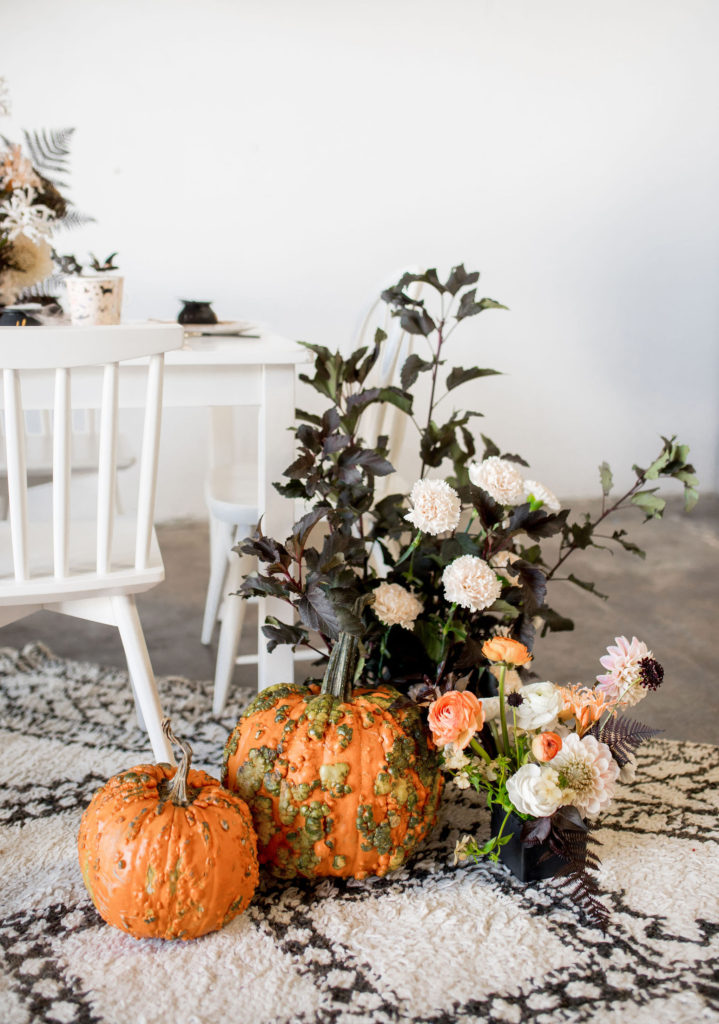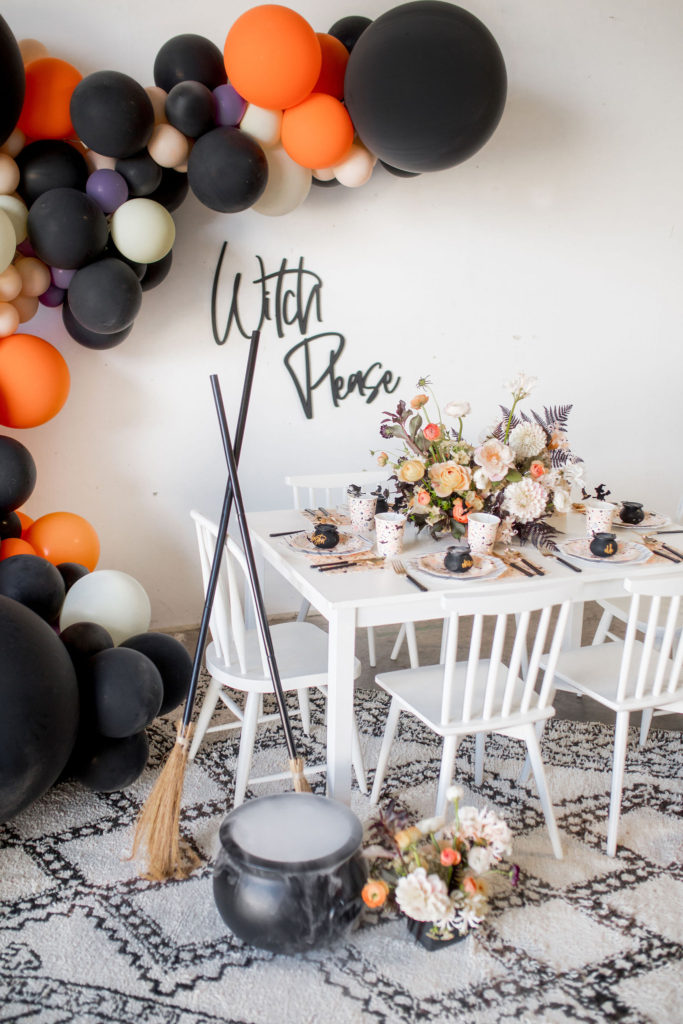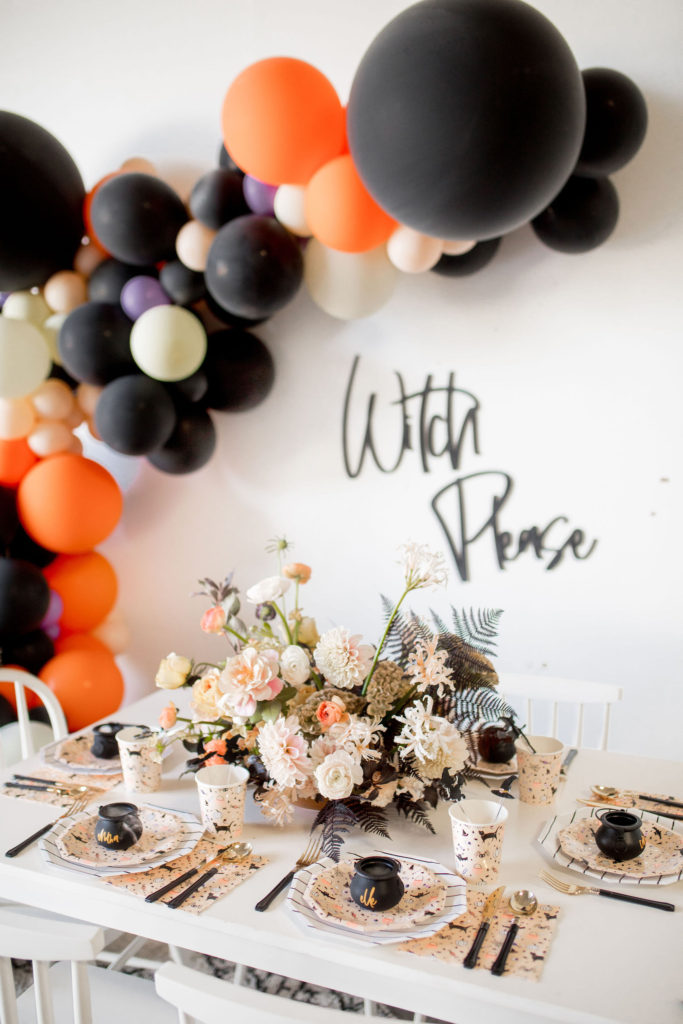 More of those details because they are just so pretty… I love working with Creative Amme and Not Just in Novels – they are both so incredibly talented!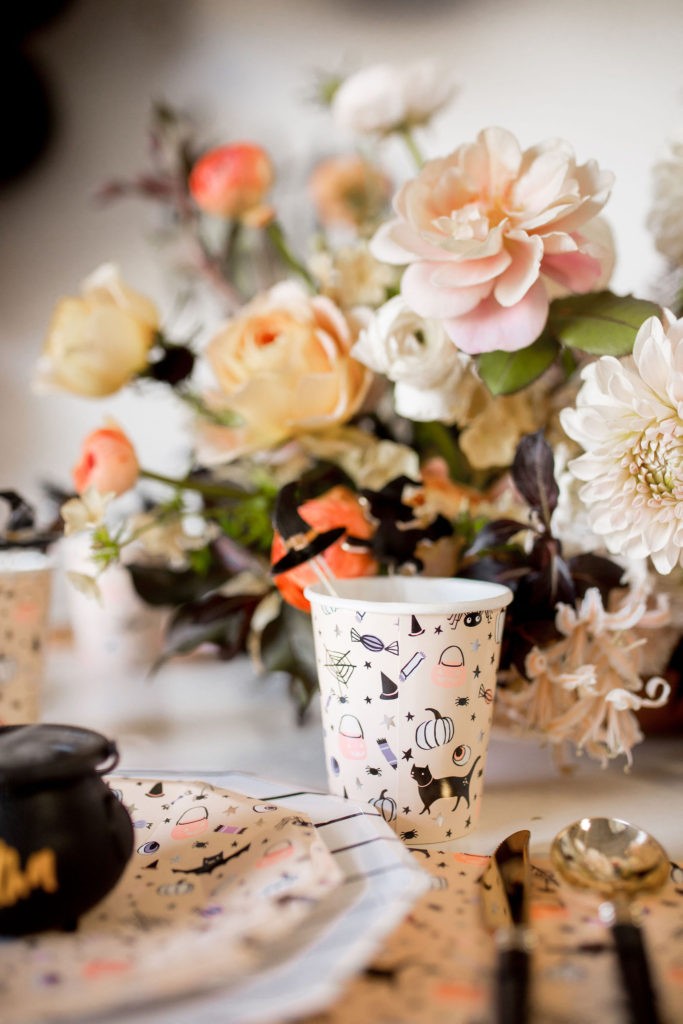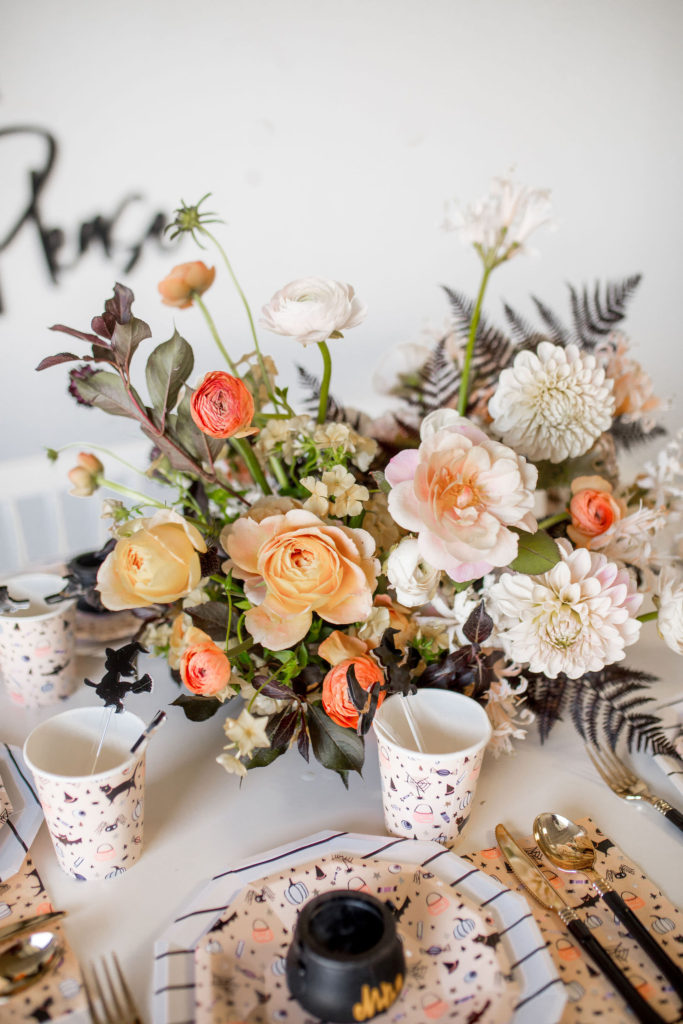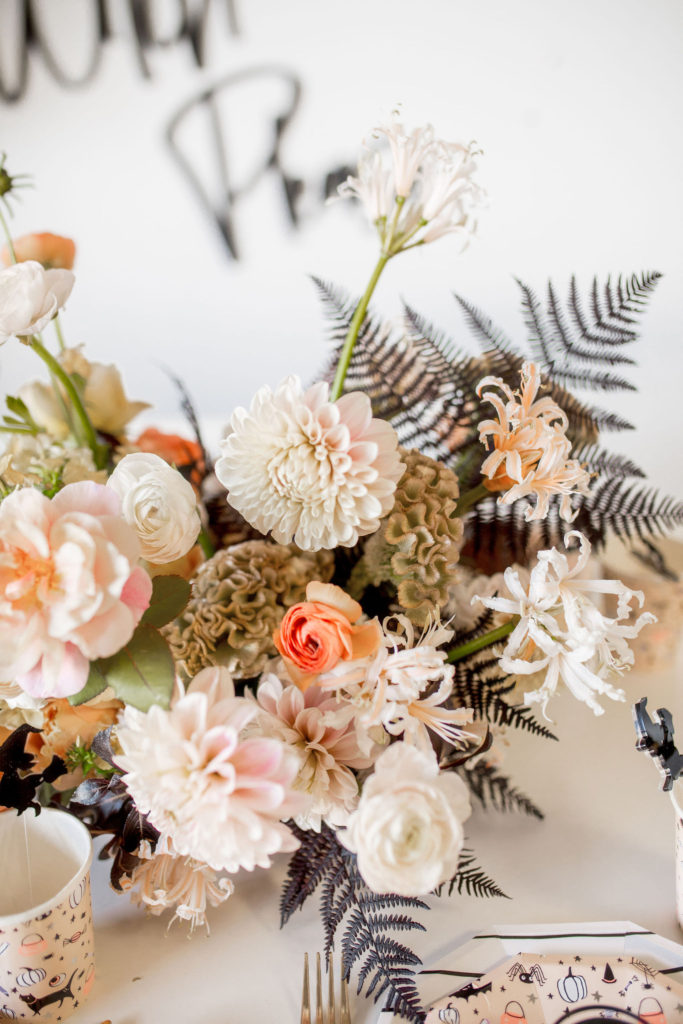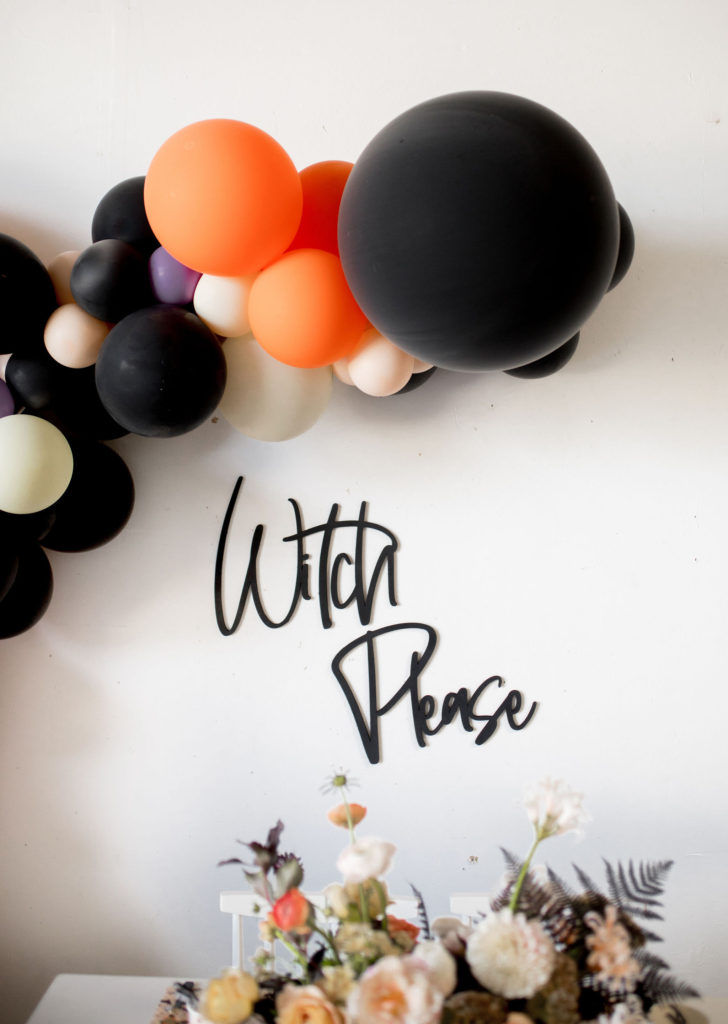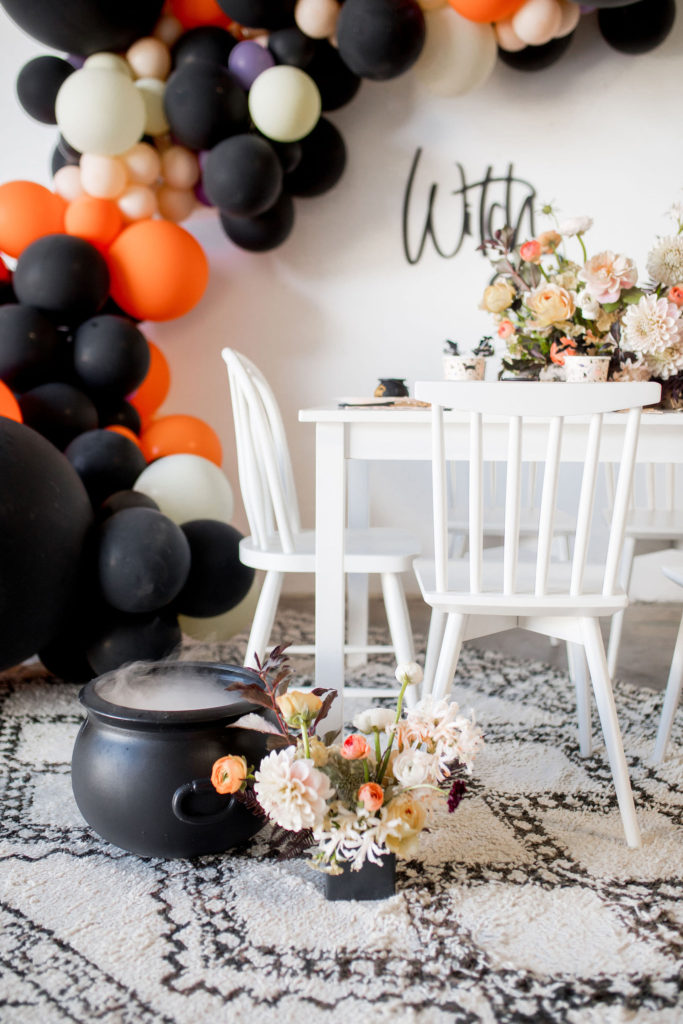 Now where are those witches…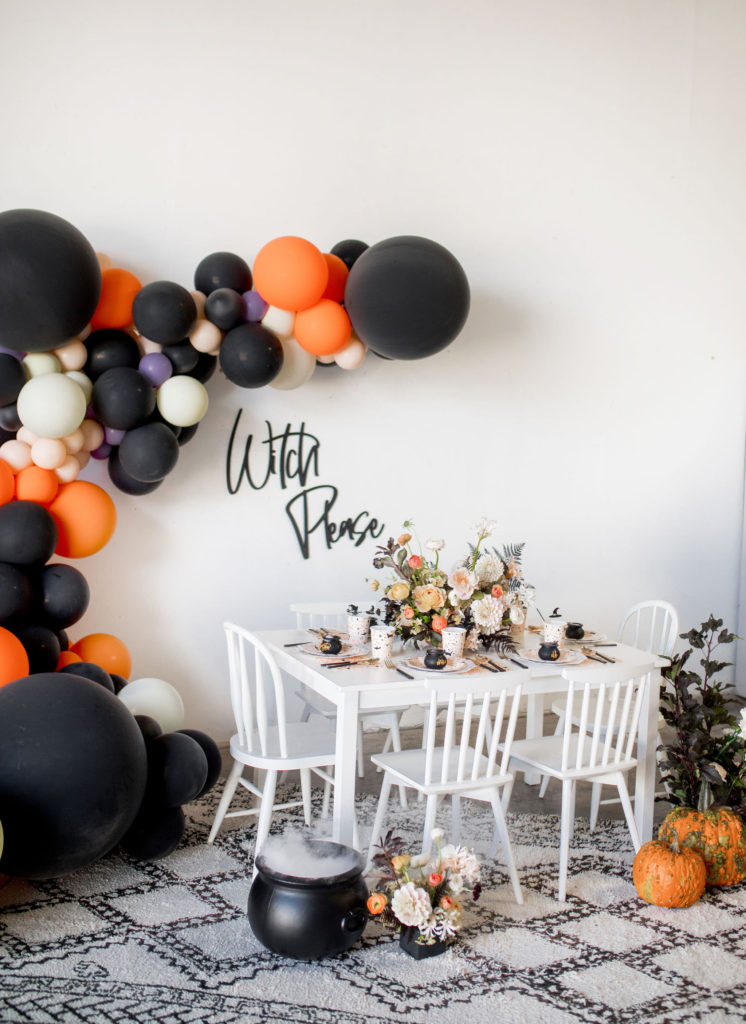 This little coven of cuties are looking oh so adorable!! They gathered around the table and said Cheers Witches! And wait till you see their adorable outfits…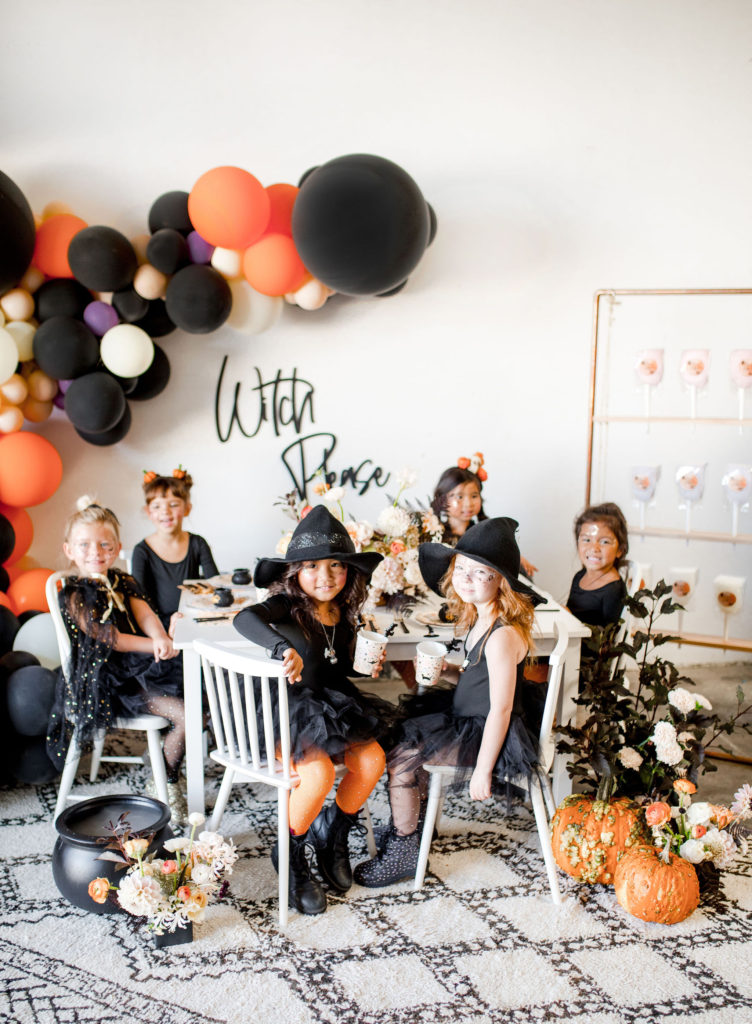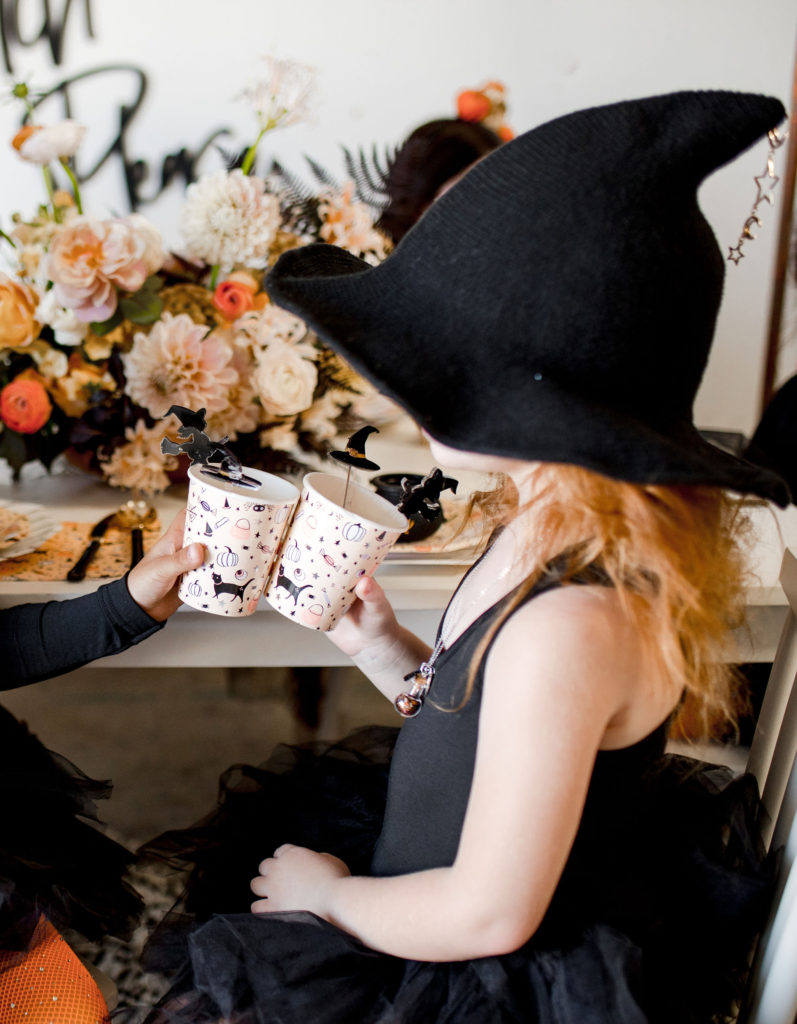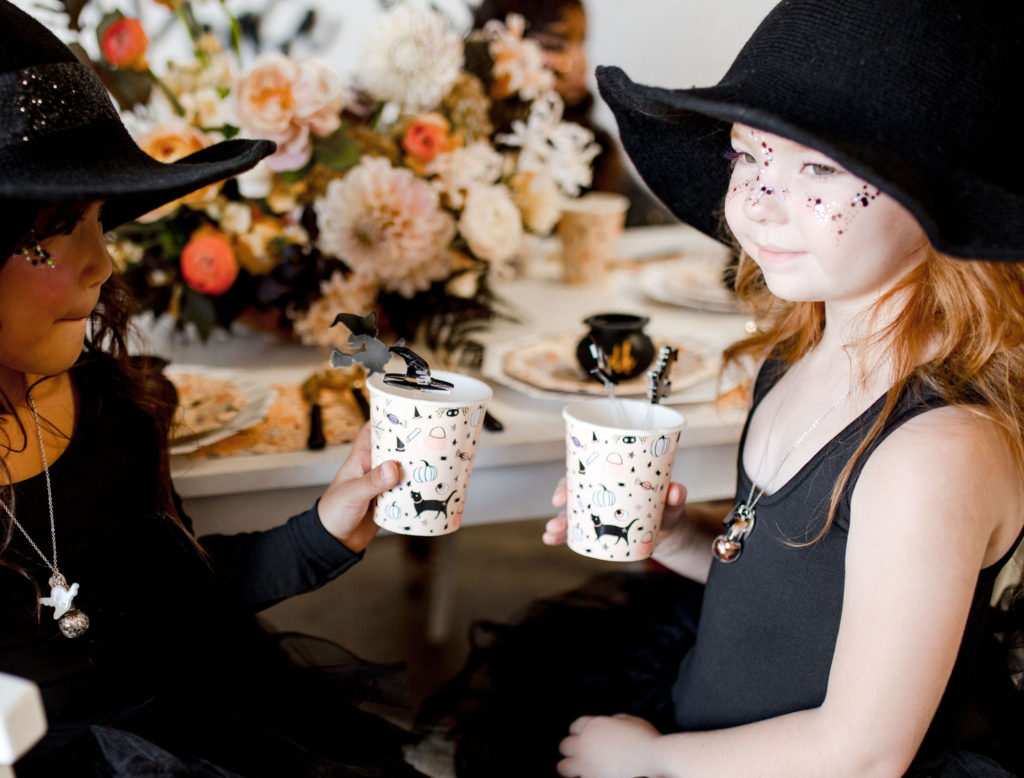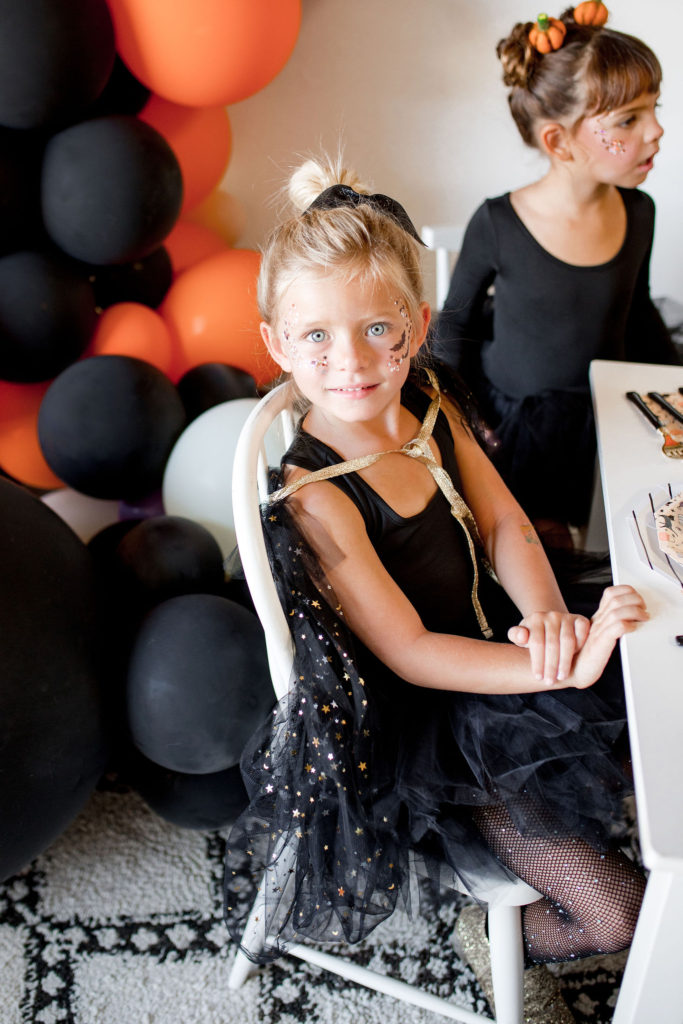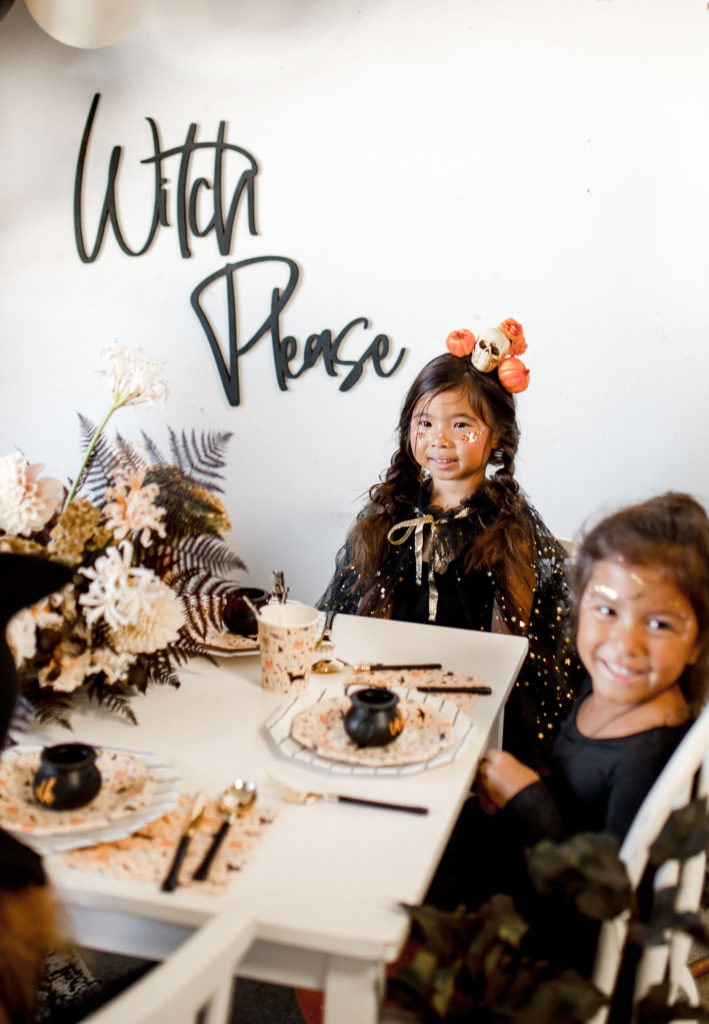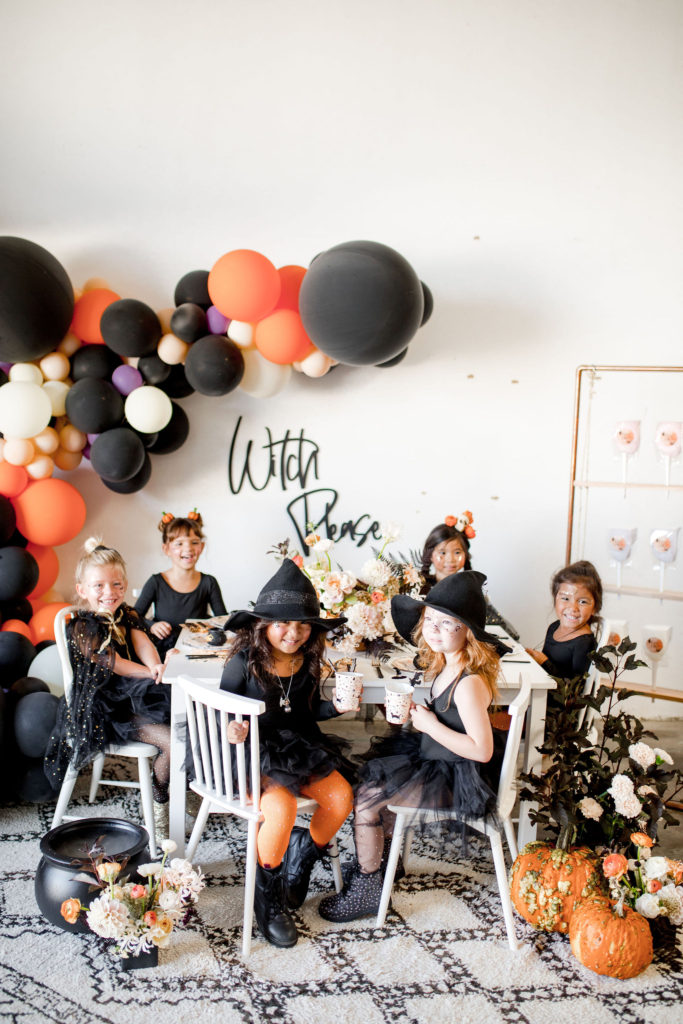 Each witch was in a Plum NYC tutu and they are truly the perfect little outfit for Halloween. You can do so many different things with these tutus, lots of costume options for sure! See how my friend Carissa, owner of The Daydream Republic, styled each girl to perfection with her accessories. The girl's hair and makeup were done by none other than Erica of 1011 Makeup and I'm dying over how adorable they each look!
Starting with sweet Emerald, isn't she so cute with the pumpkin pig tails?!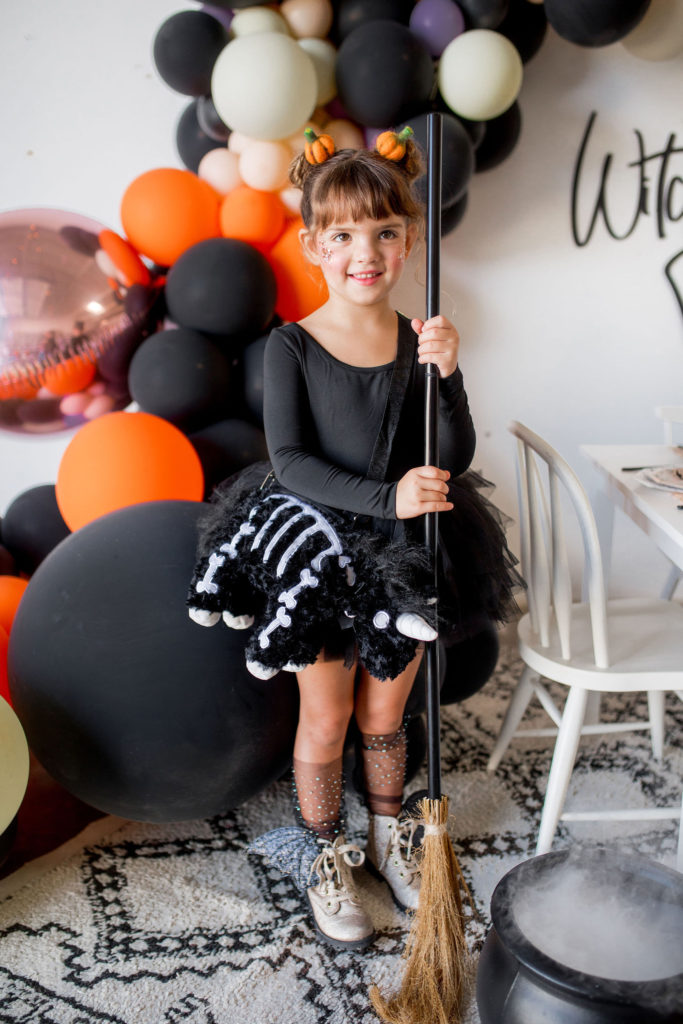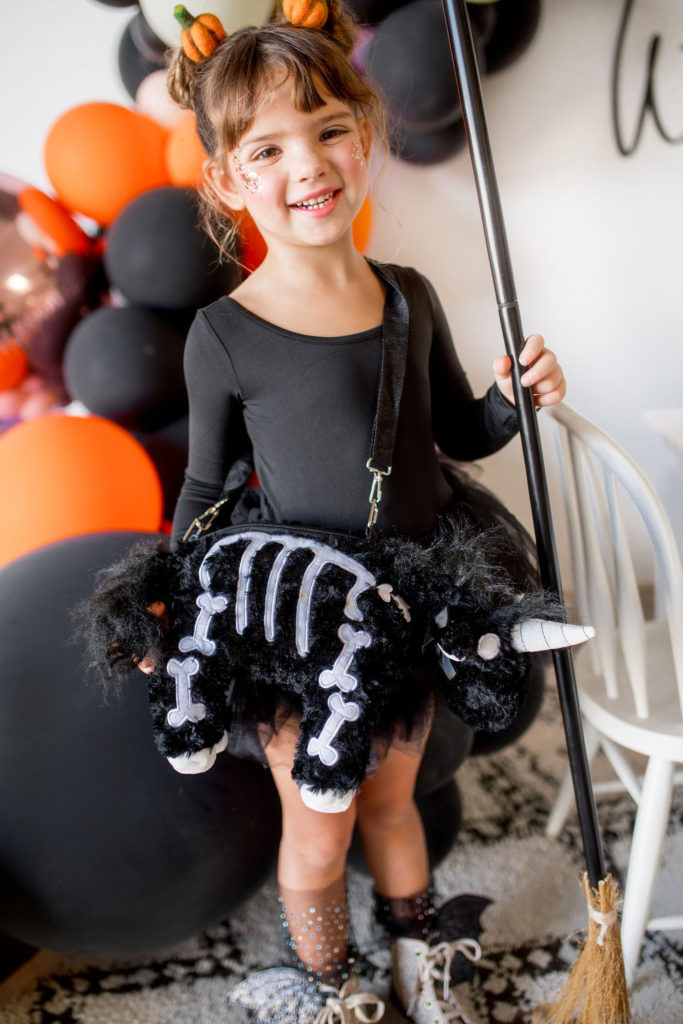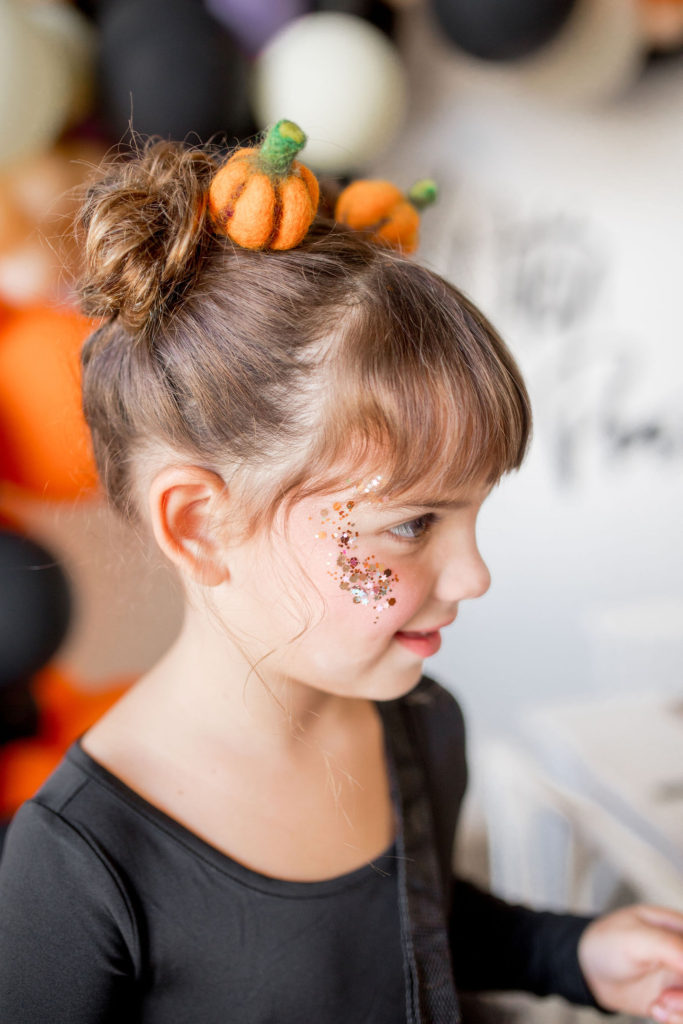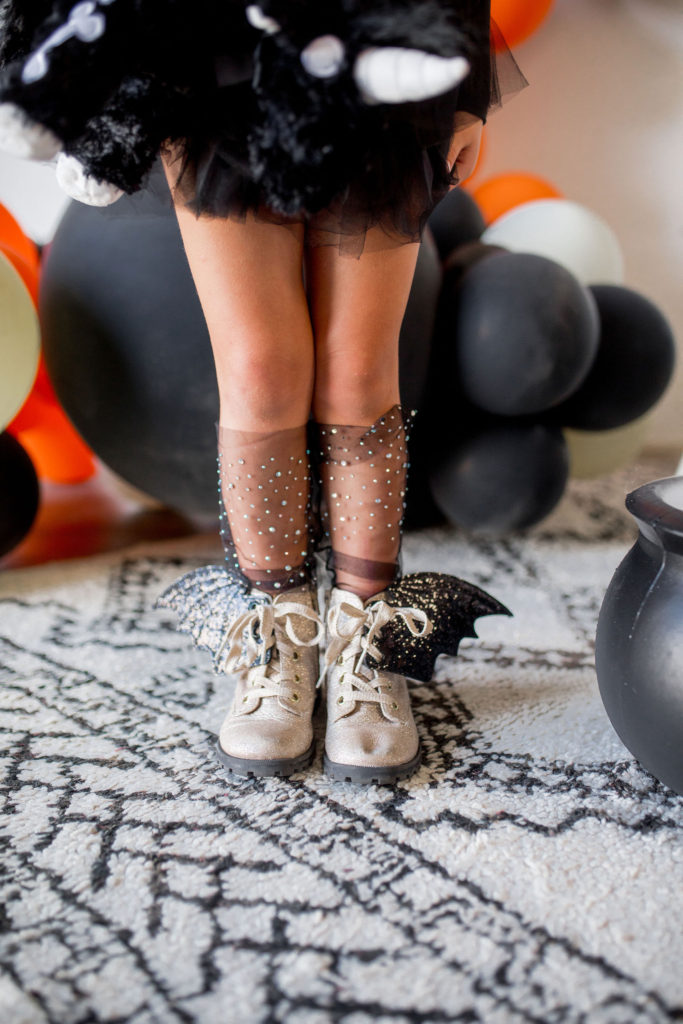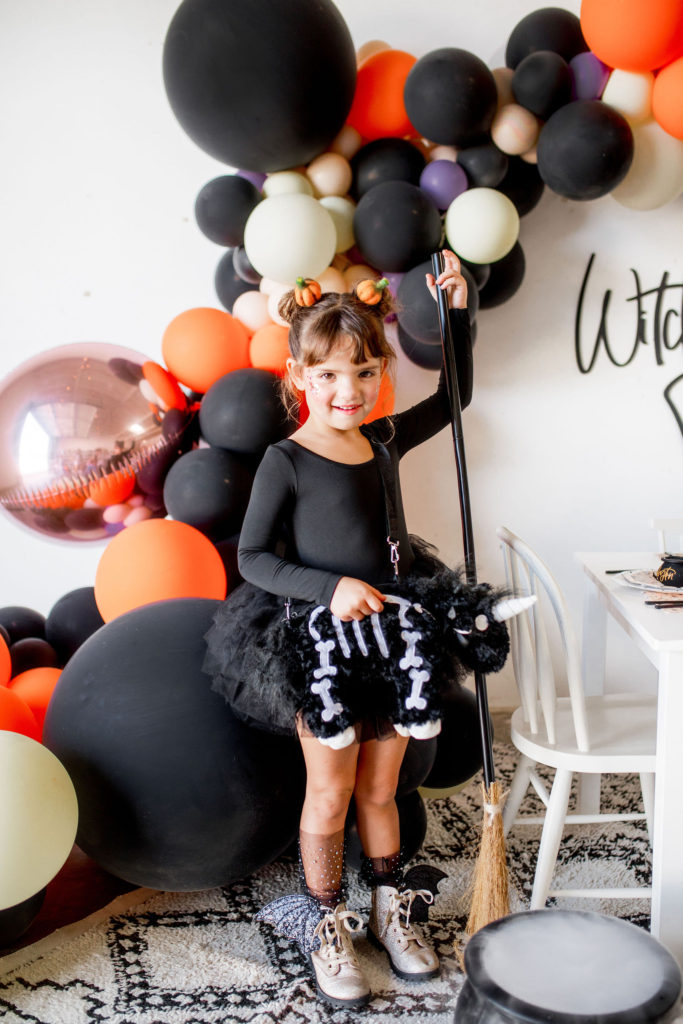 Pretty Camila with her amazing hair! How gorgeous does it look with the skeleton hand clips in it?!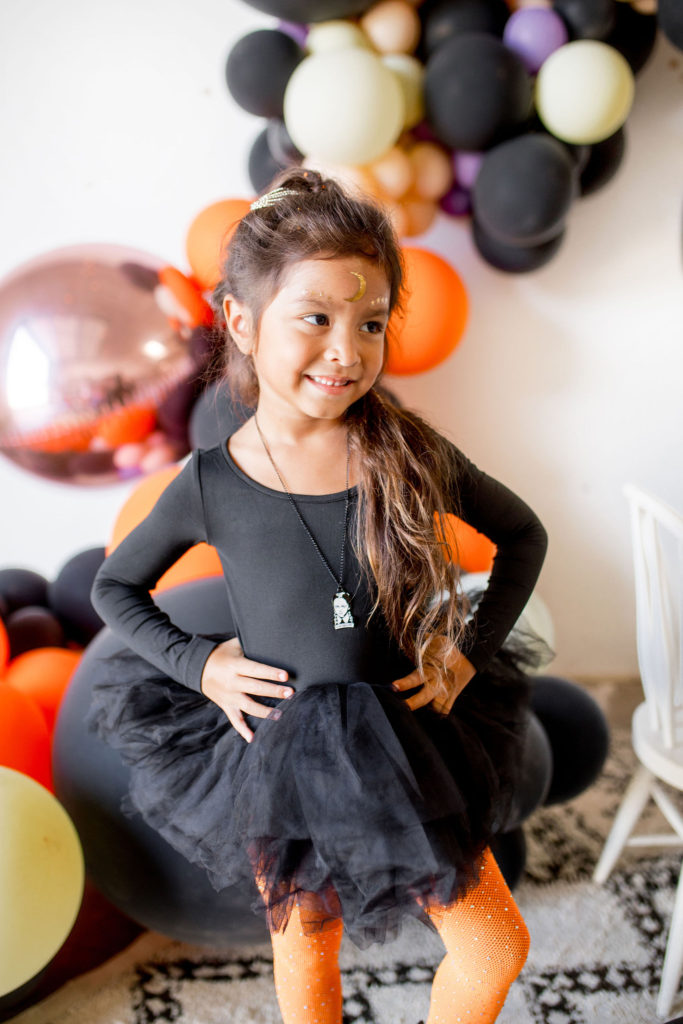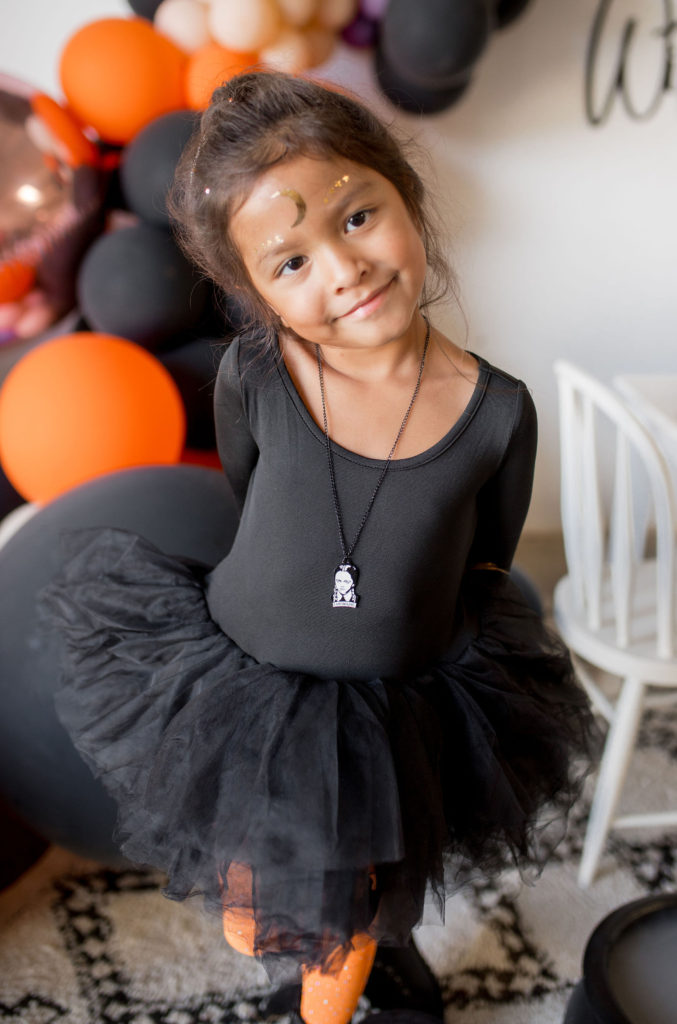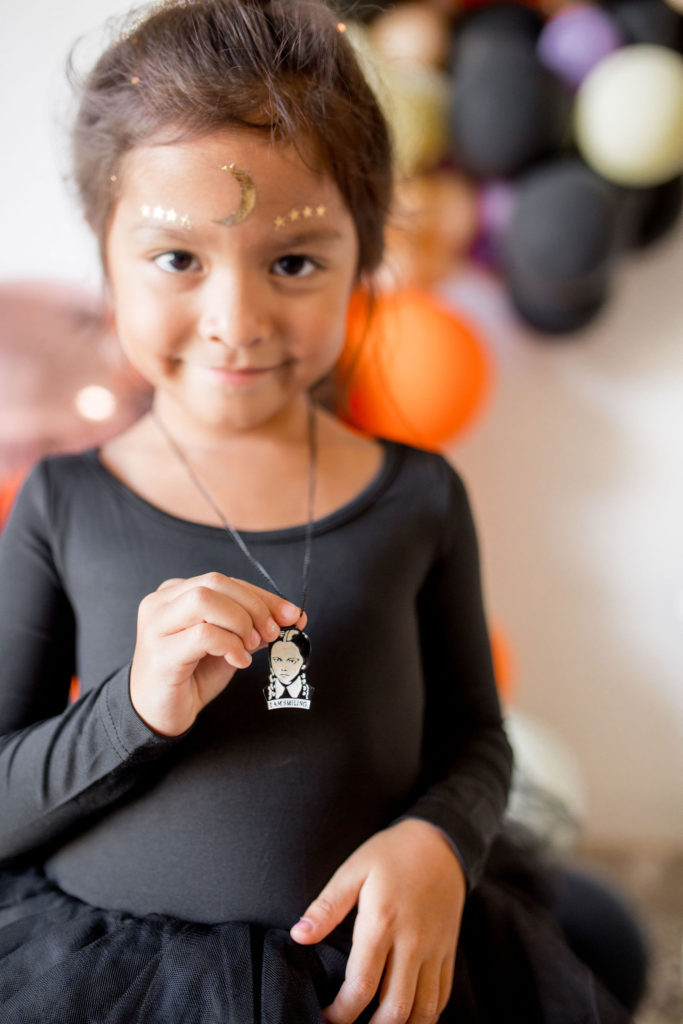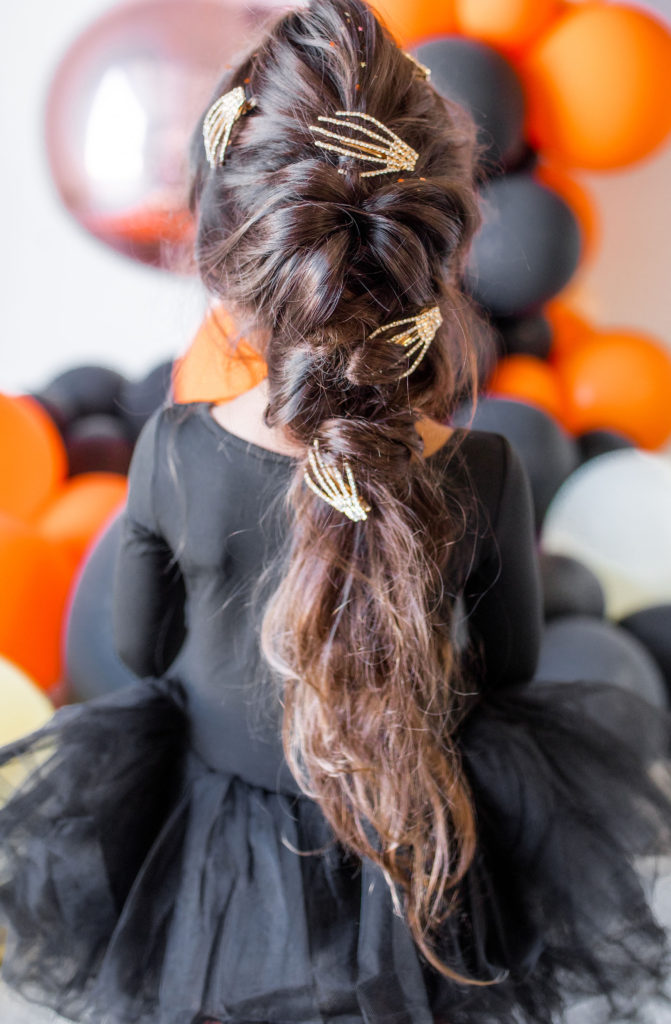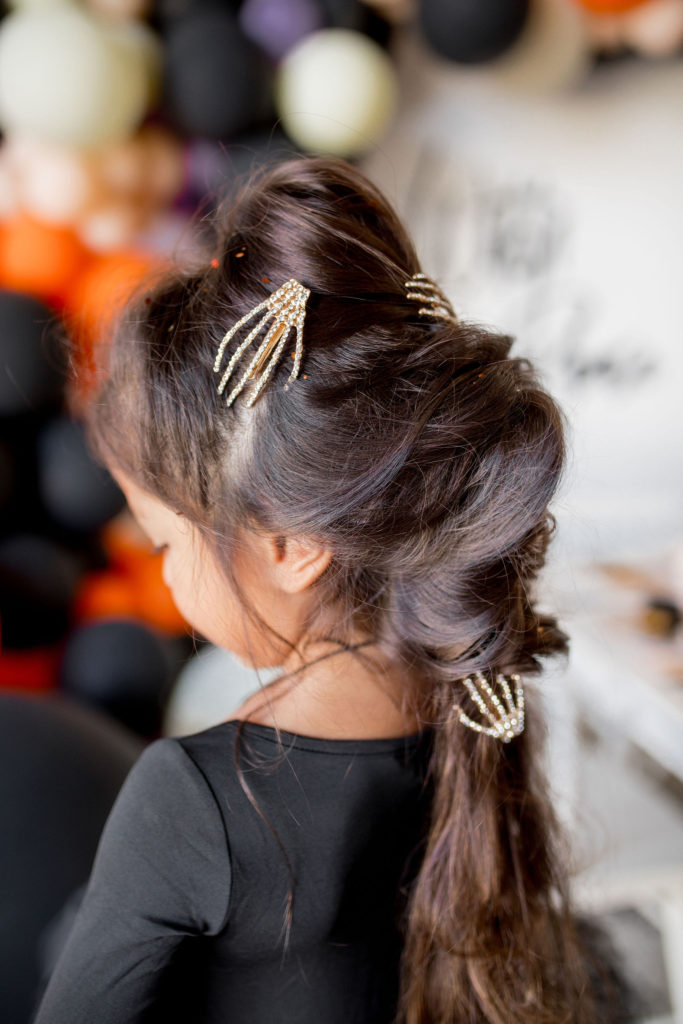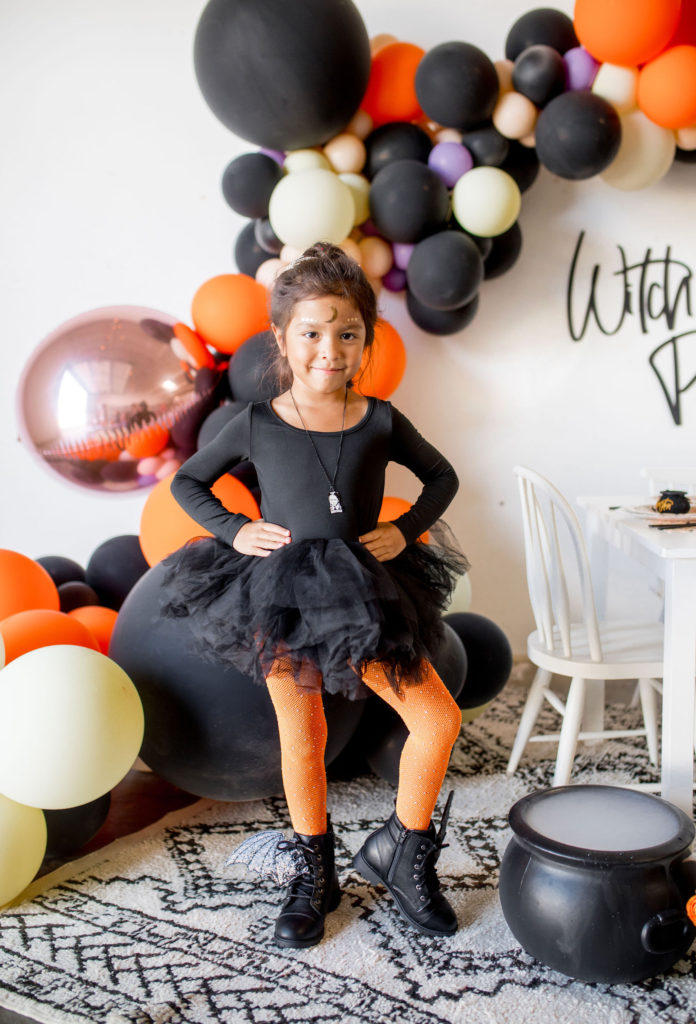 Obsessed with my girl Kennedy!! She is always so cute in our shoots and this was no exception! Everything about this girl sparkles!!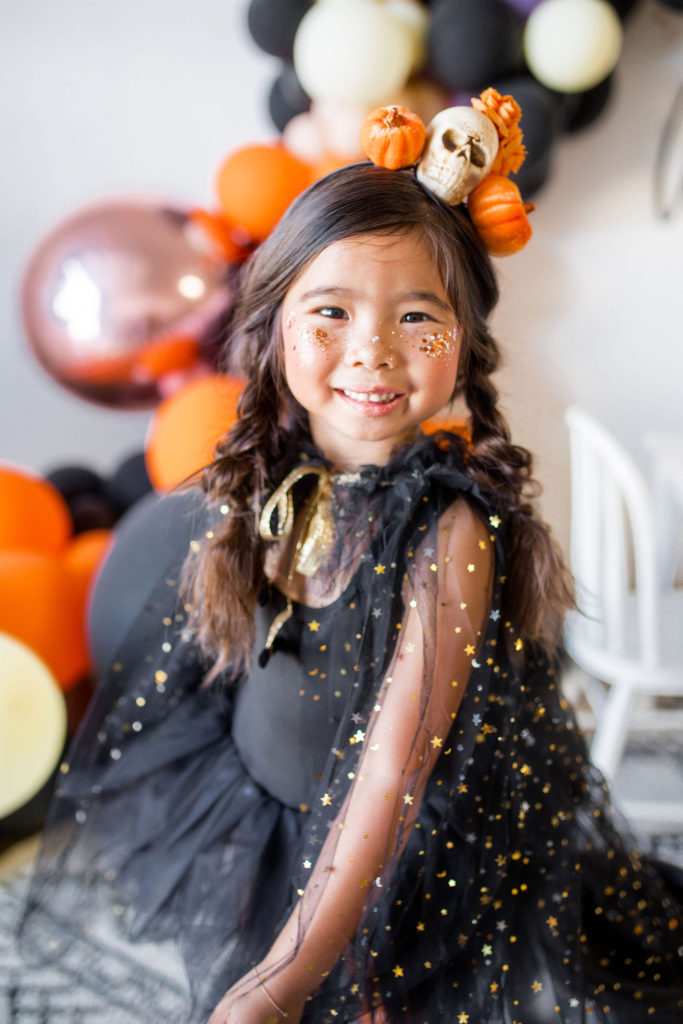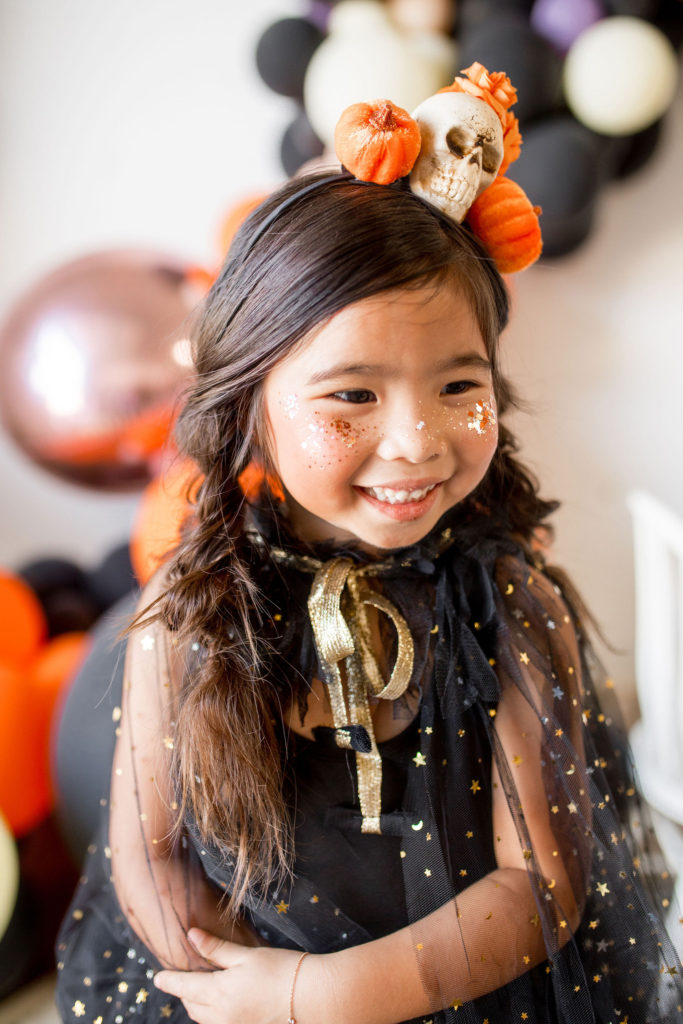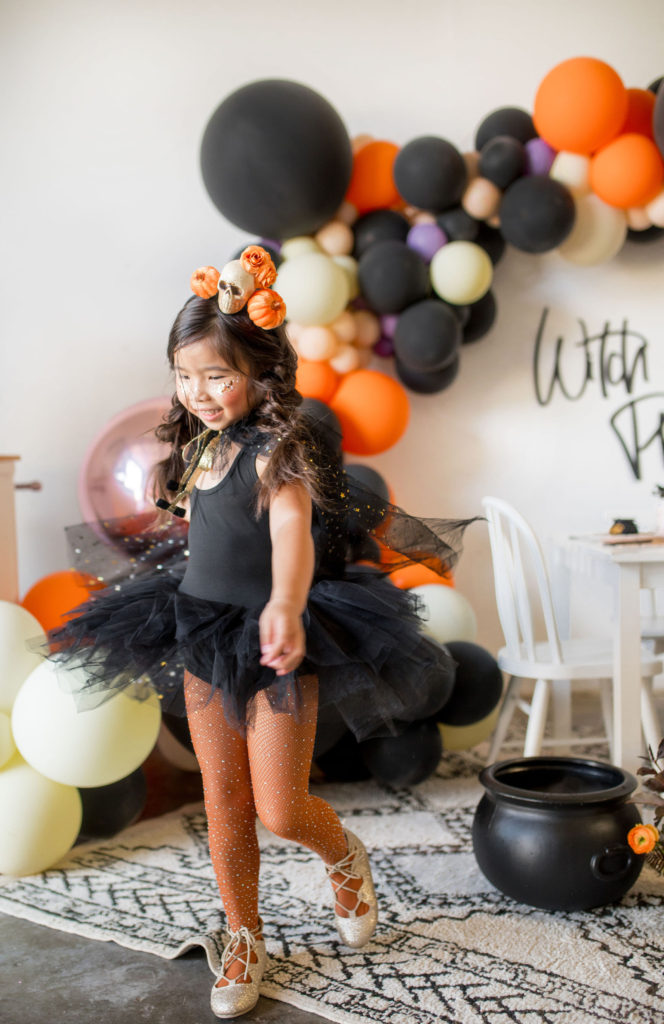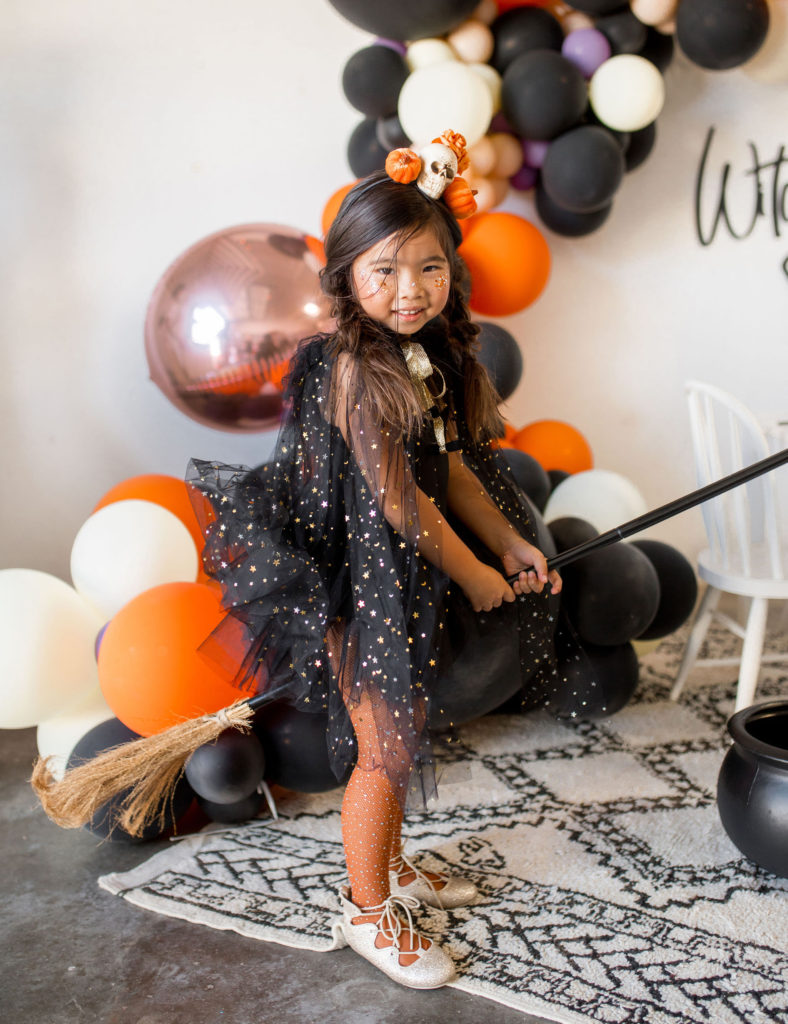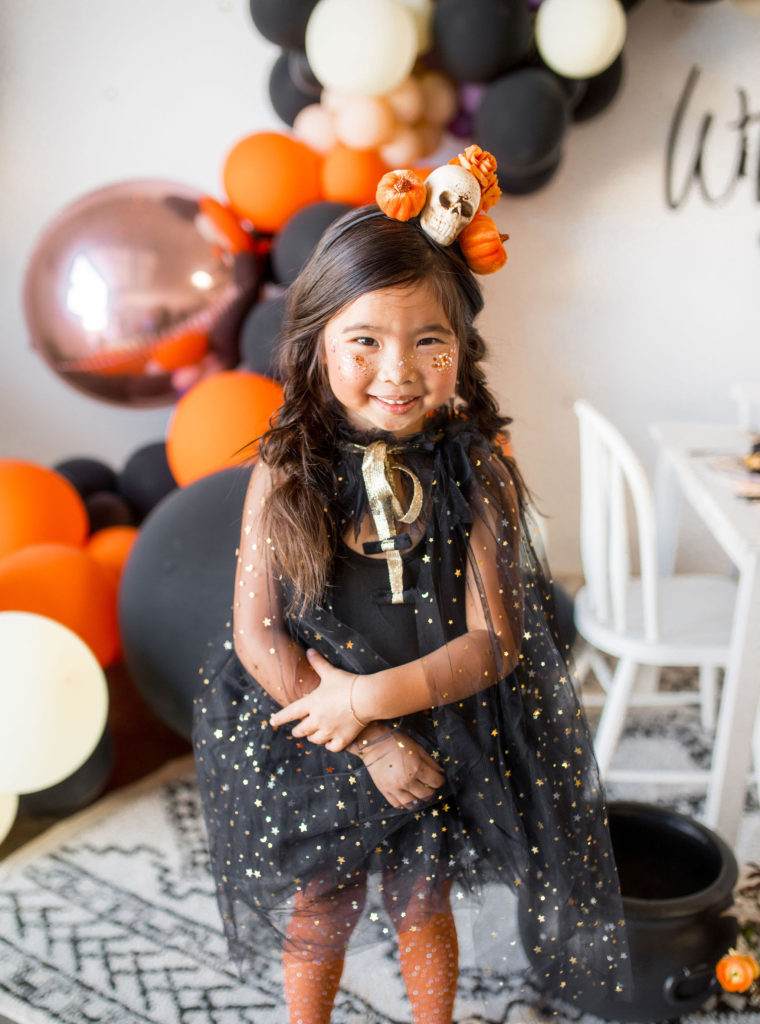 Adorable Elle made the sweetest little witch and I'm obsessed with that hat on her! Speaking of sparkling, how about her eyes?!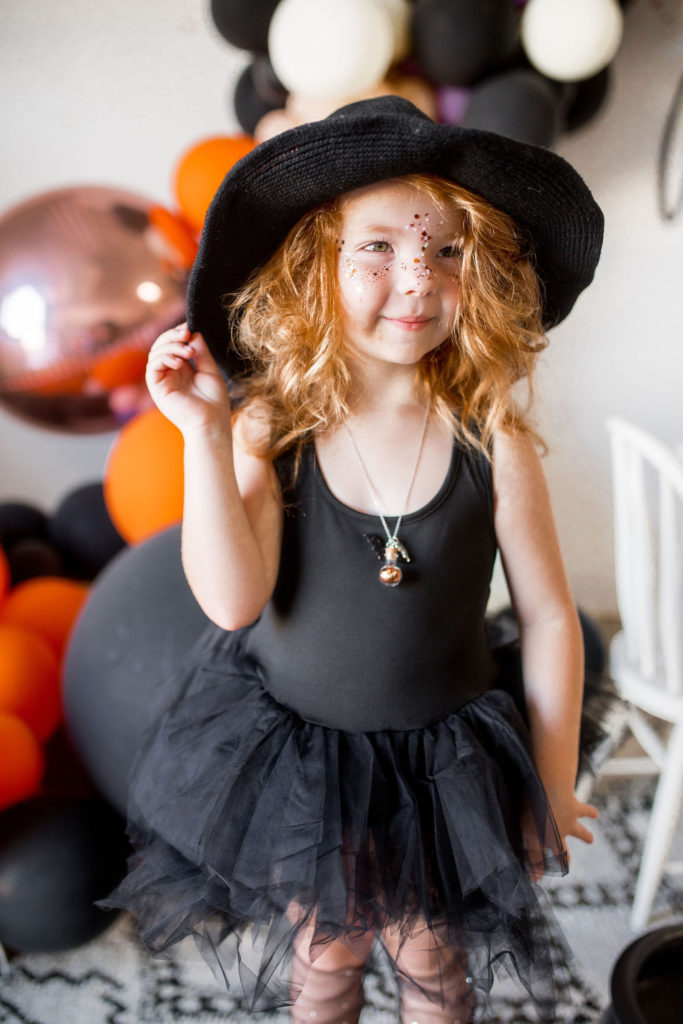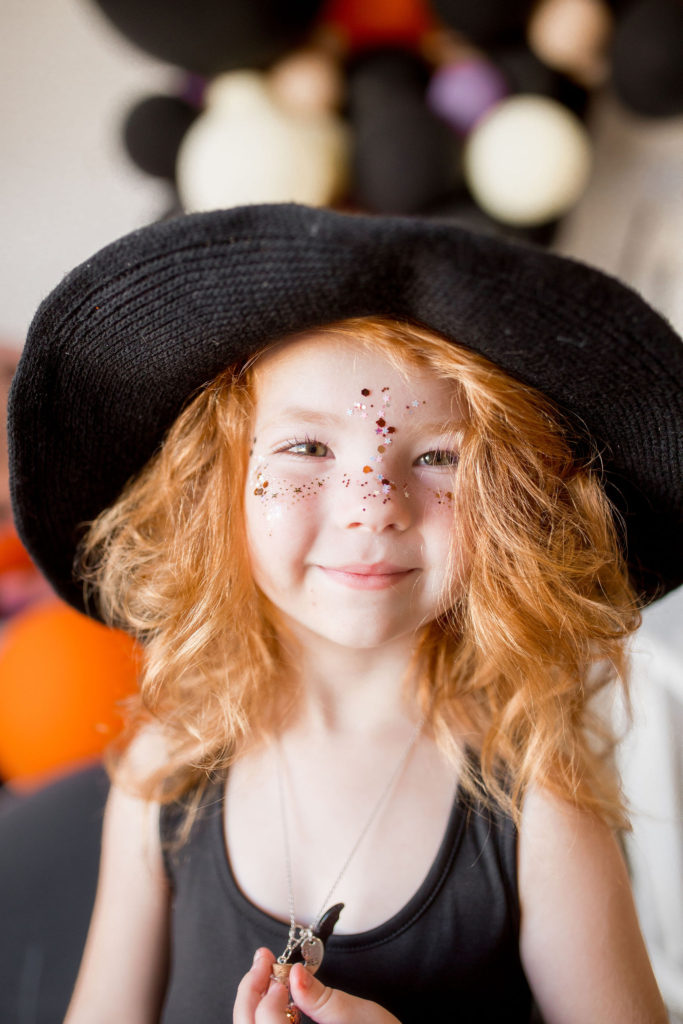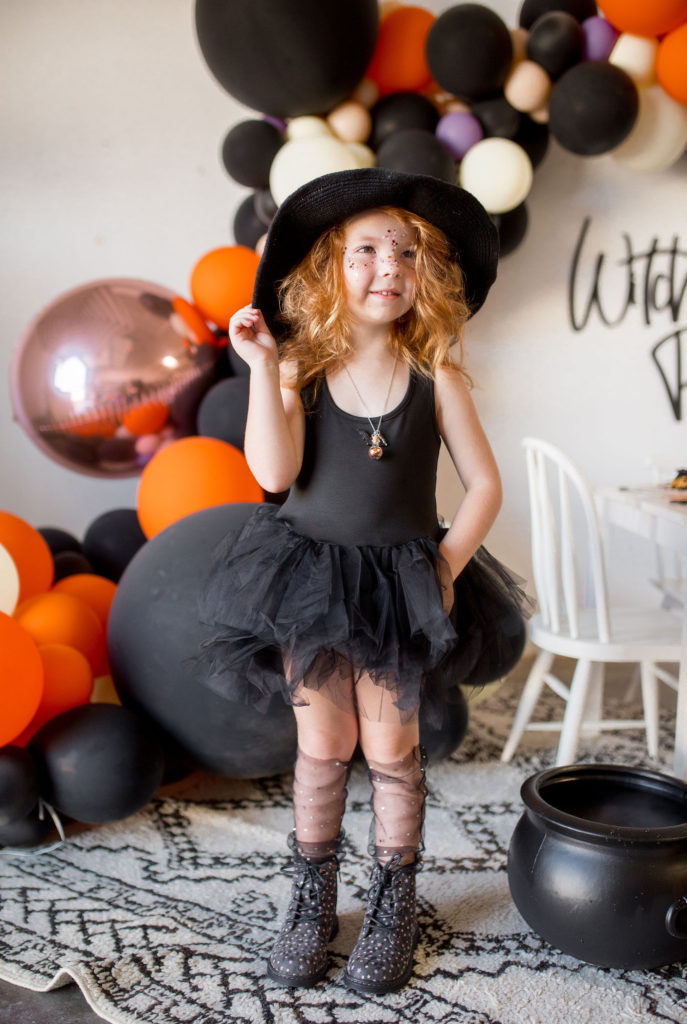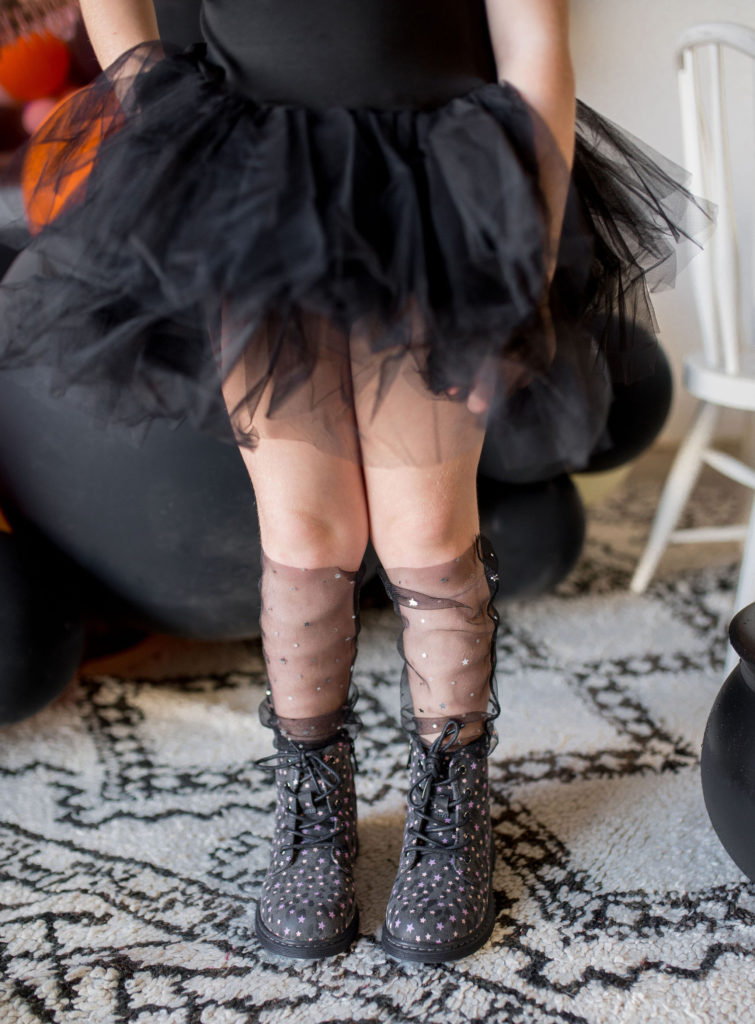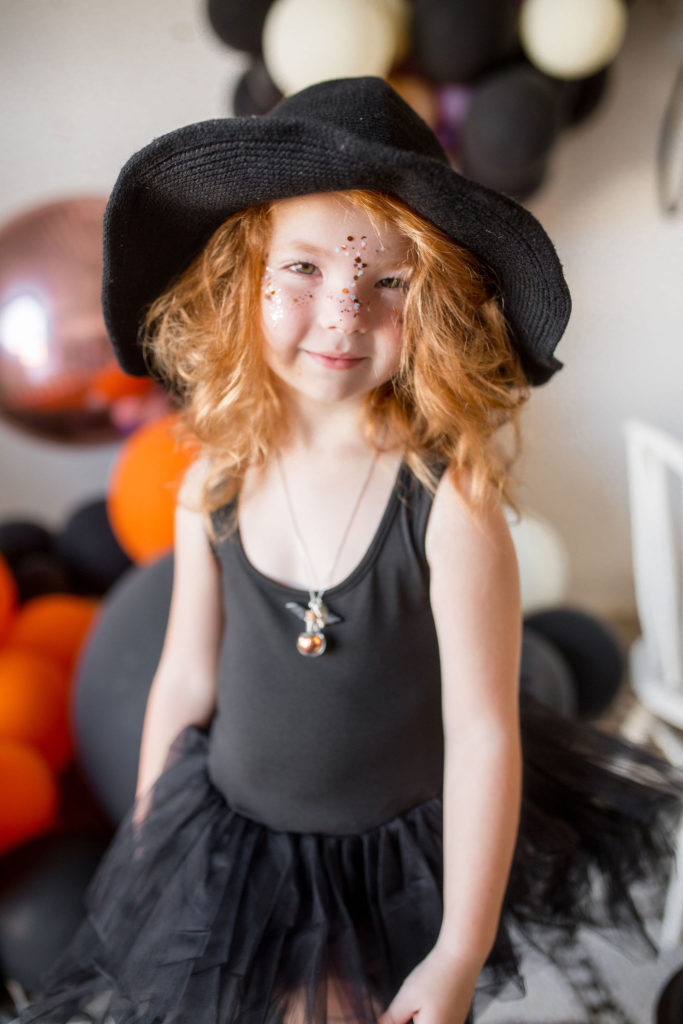 Another witchy woman! Emma is just gorgeous to begin with, but look how adorable she is as a little witch! Brewtiful!!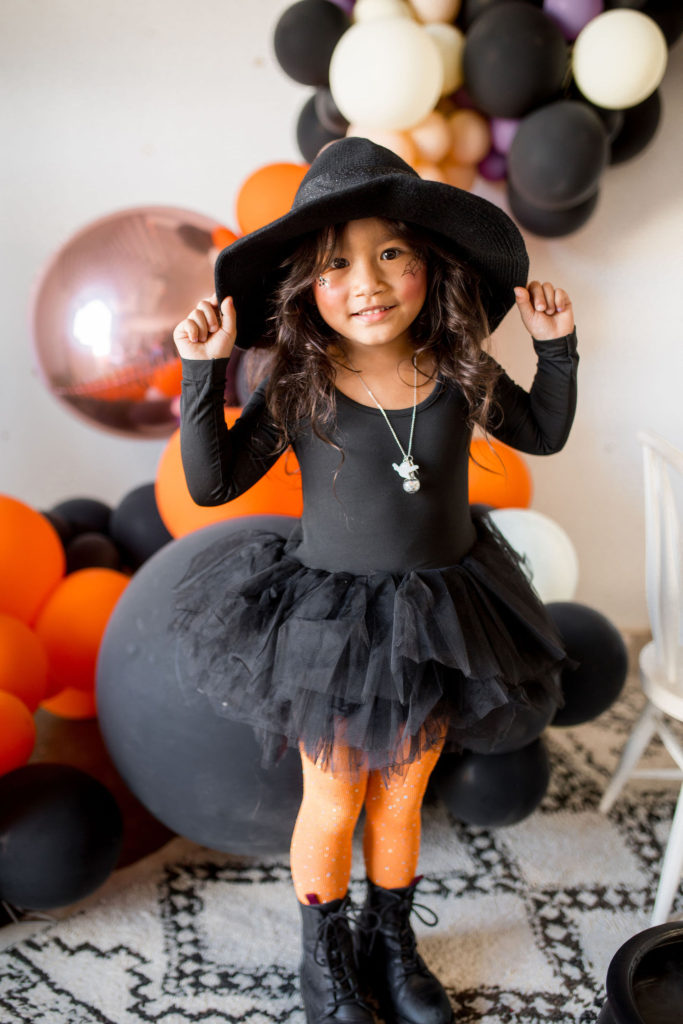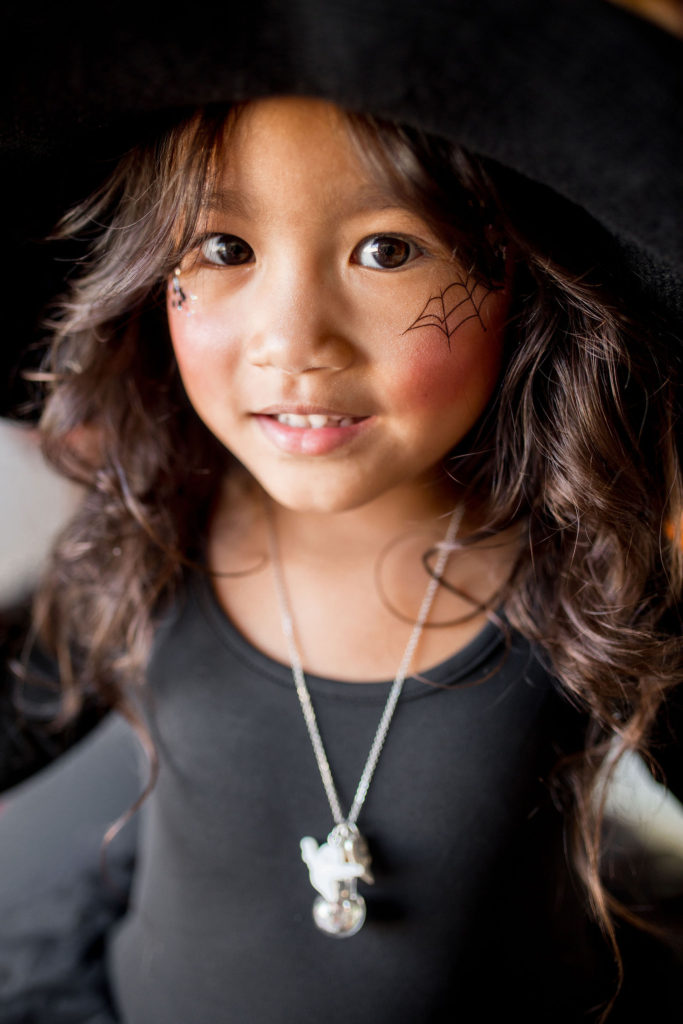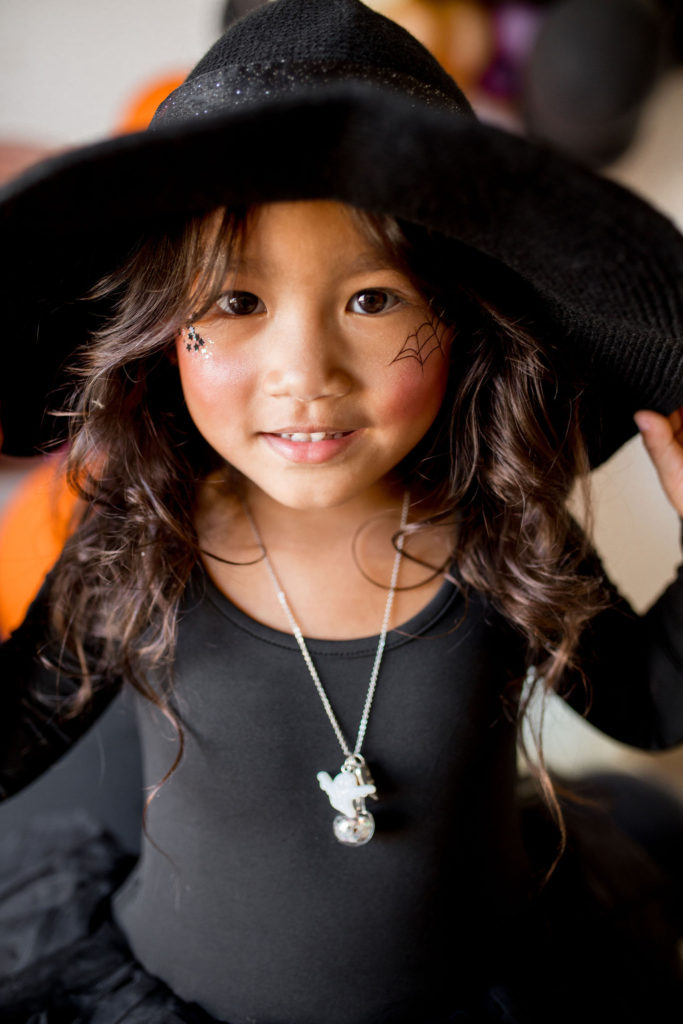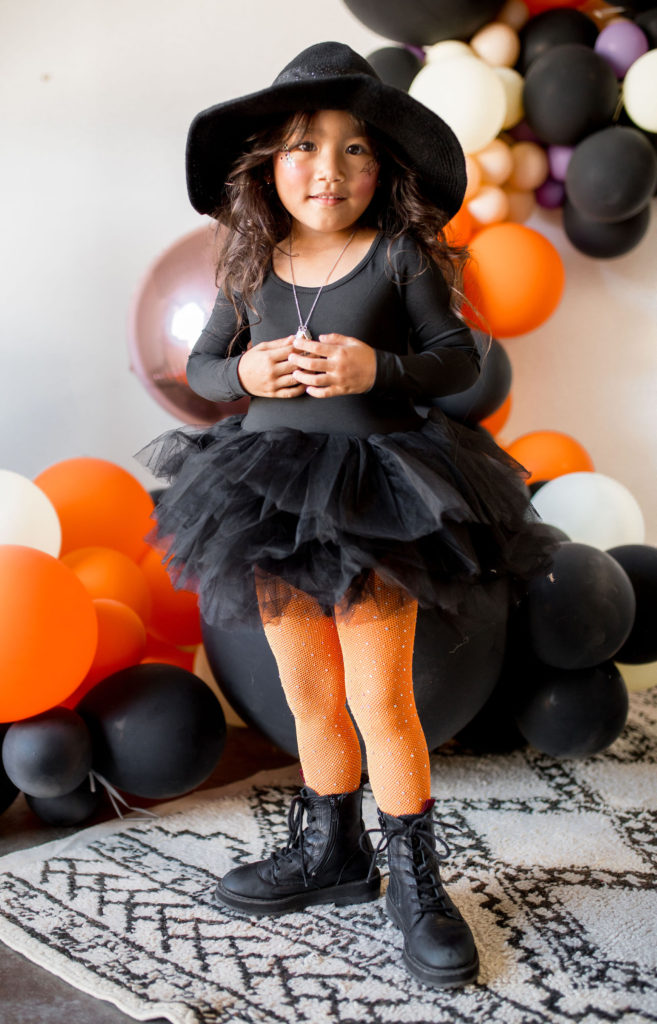 Last but not least, Miss Ellington just stole the show! She twirled right on through this shoot with her magic cape. Hey, if you've got it haunt it!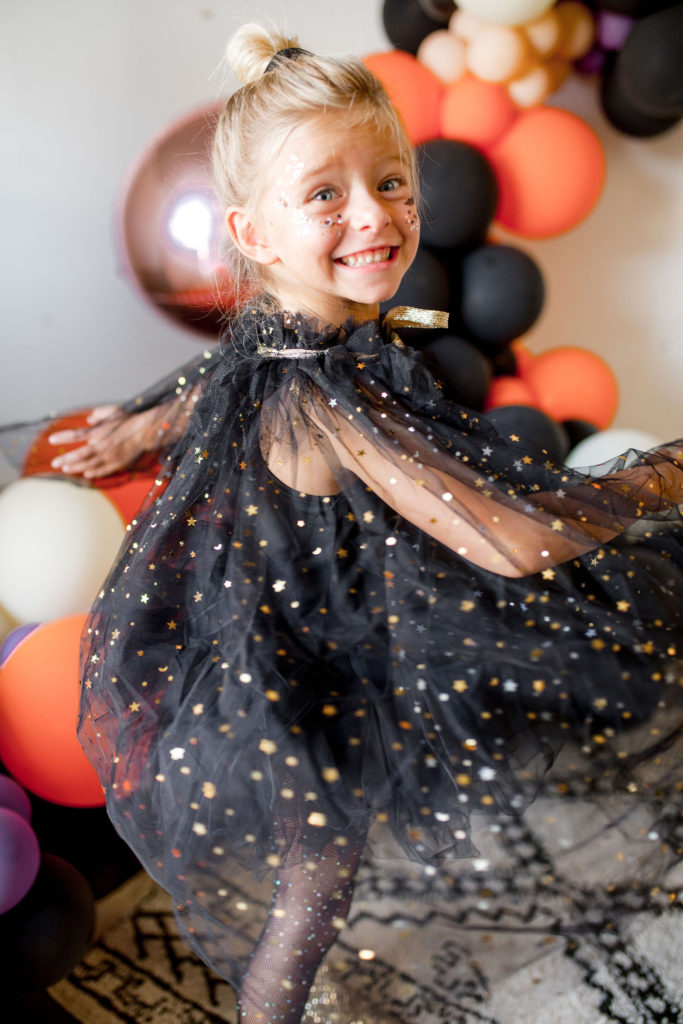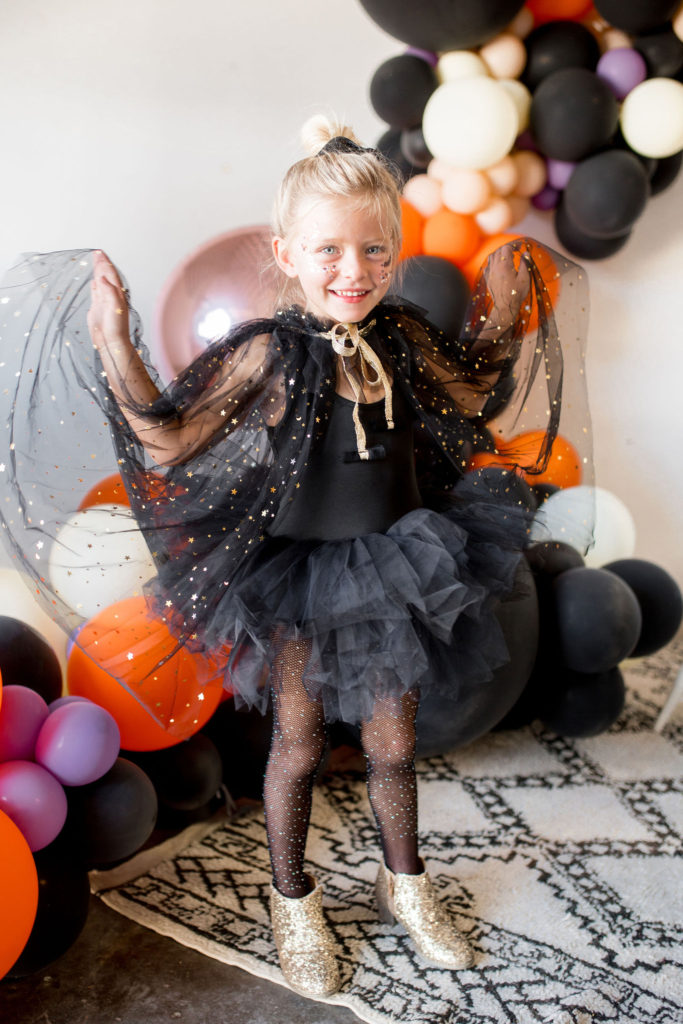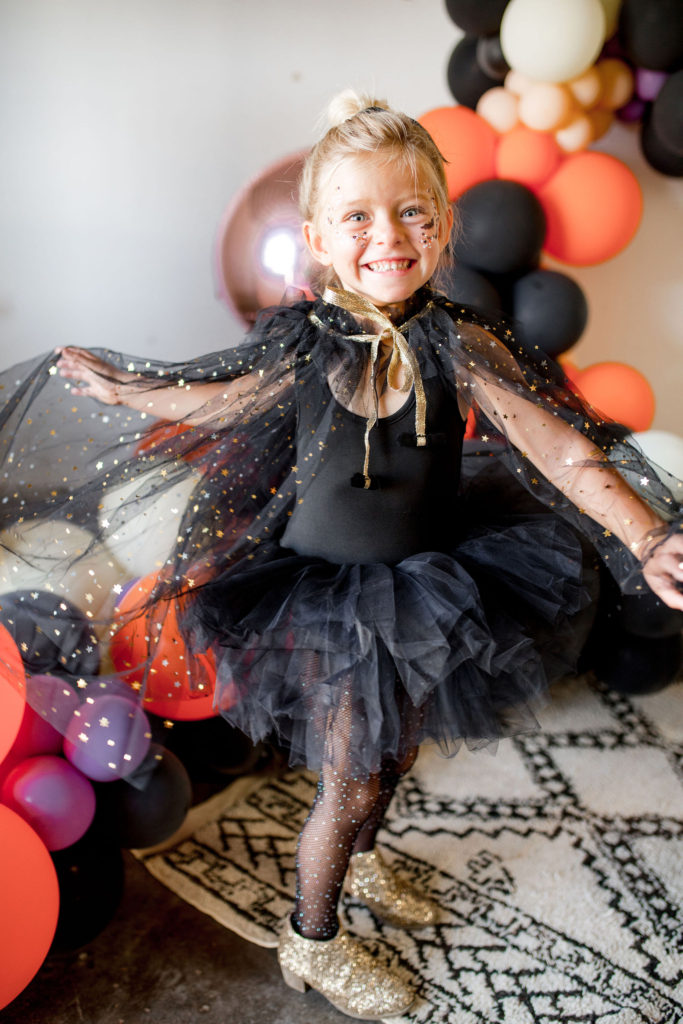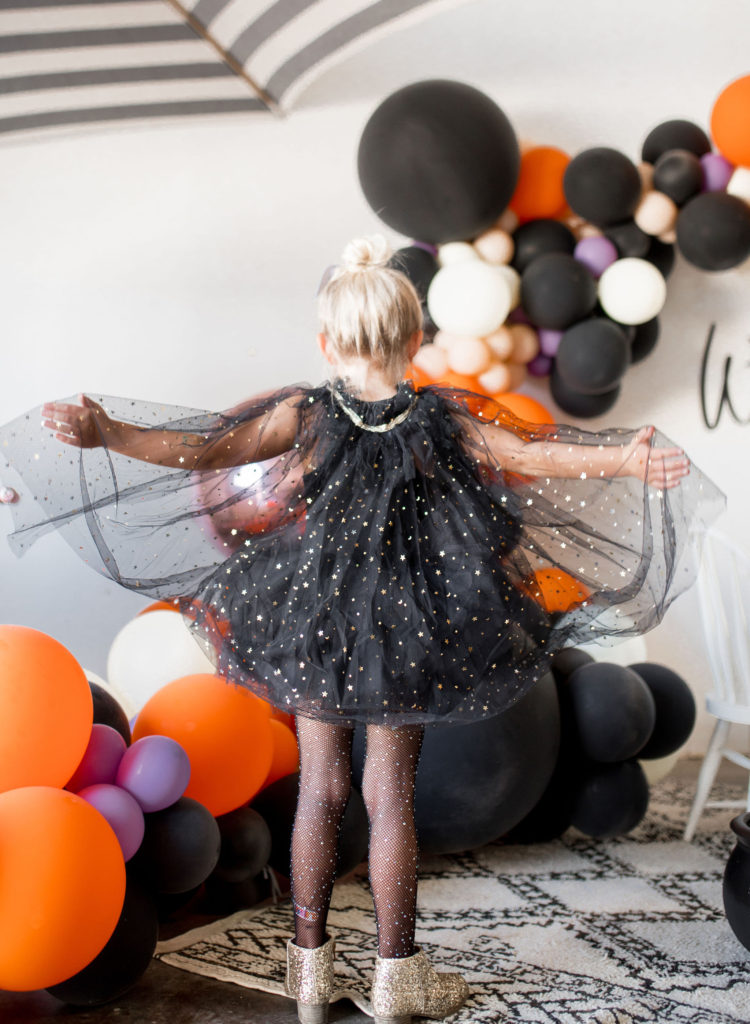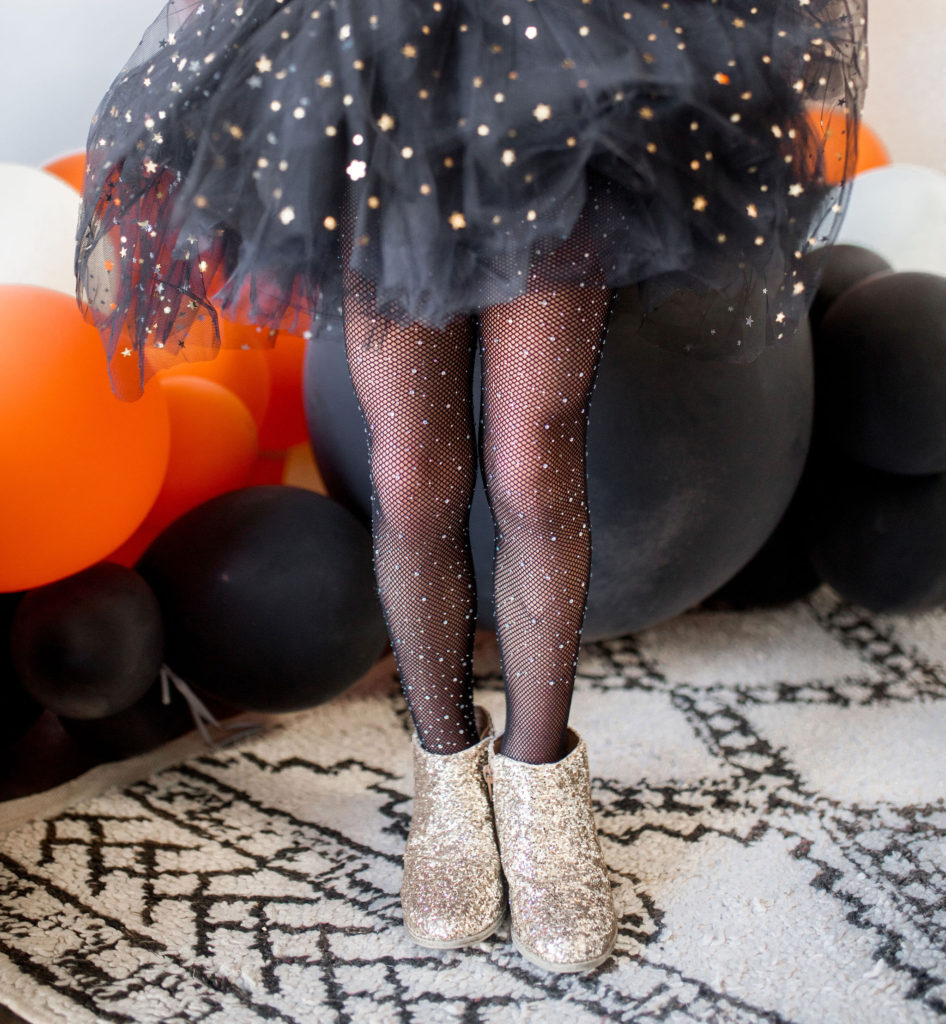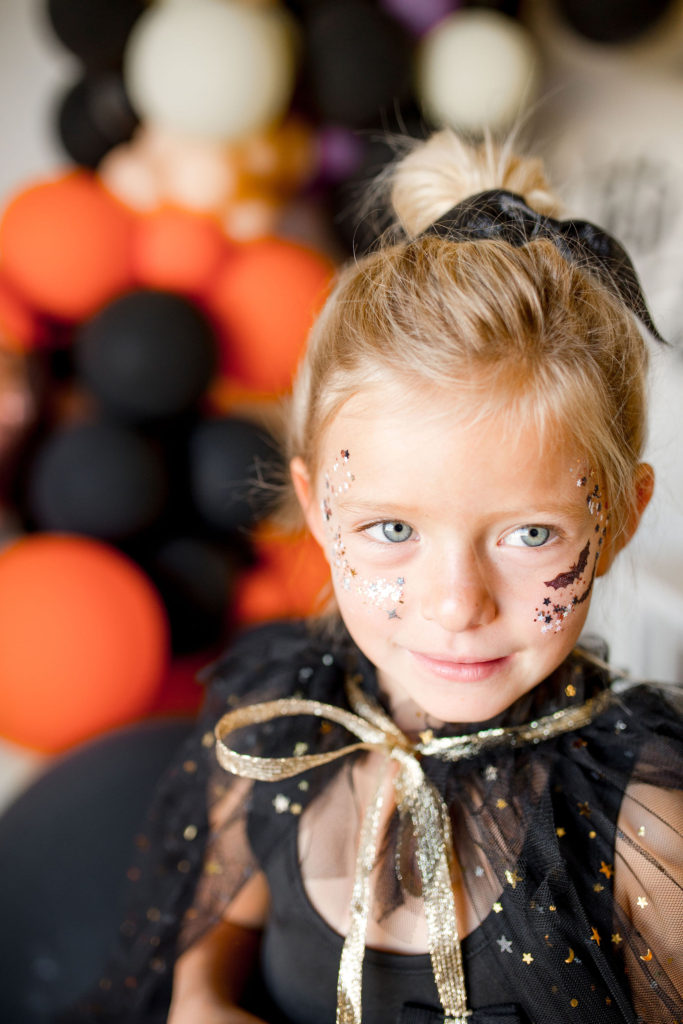 The witches joined forces in cuteness!! Nobody is safe from their powerful spells – they are just way too adorable!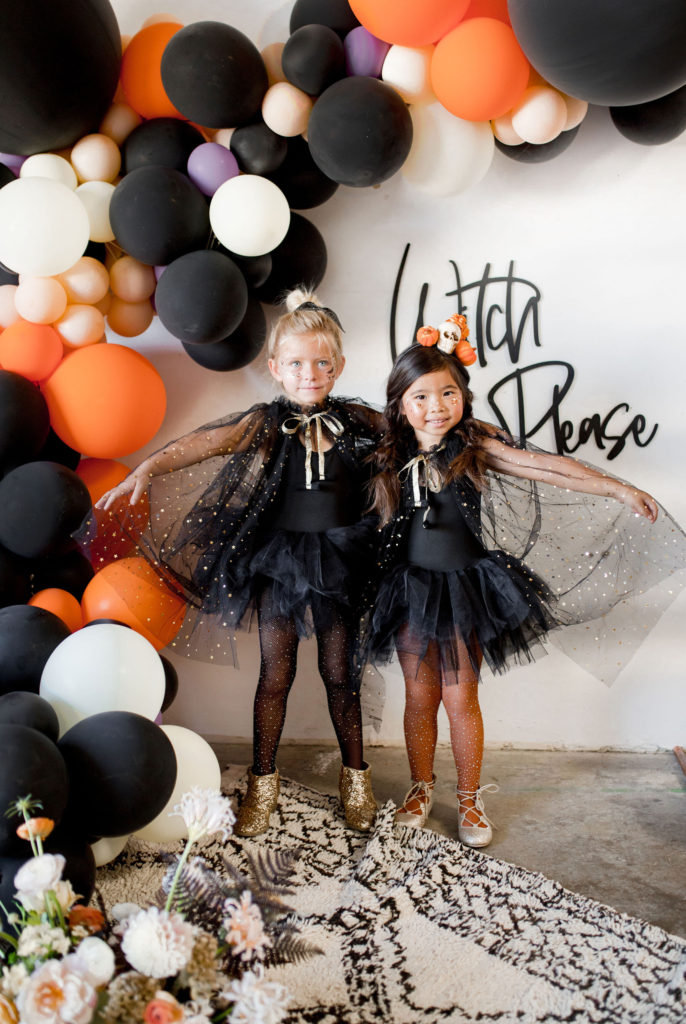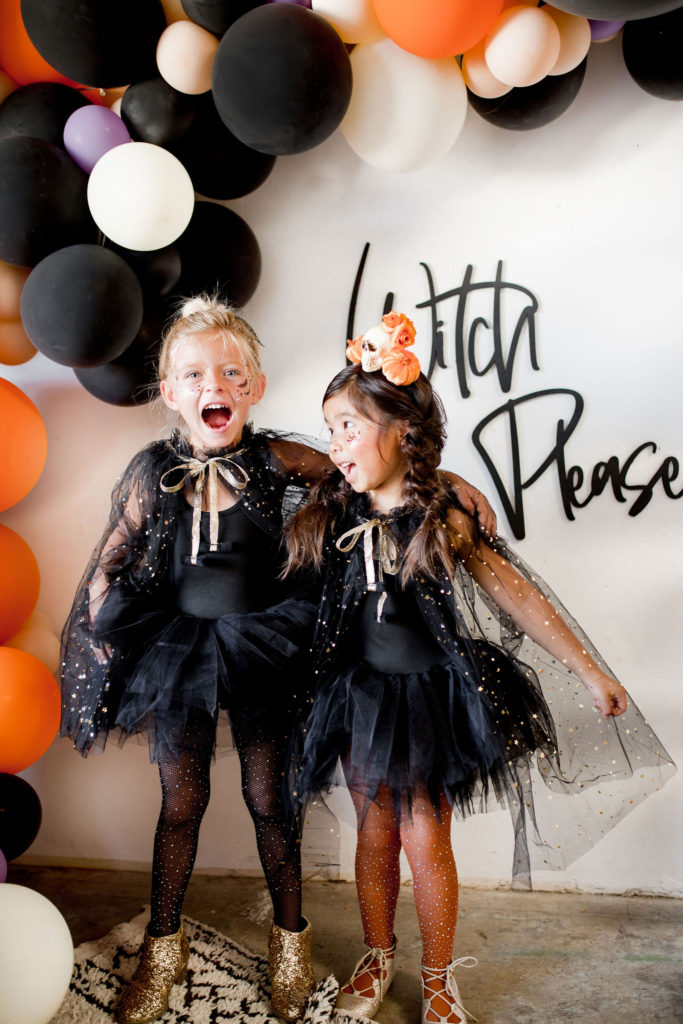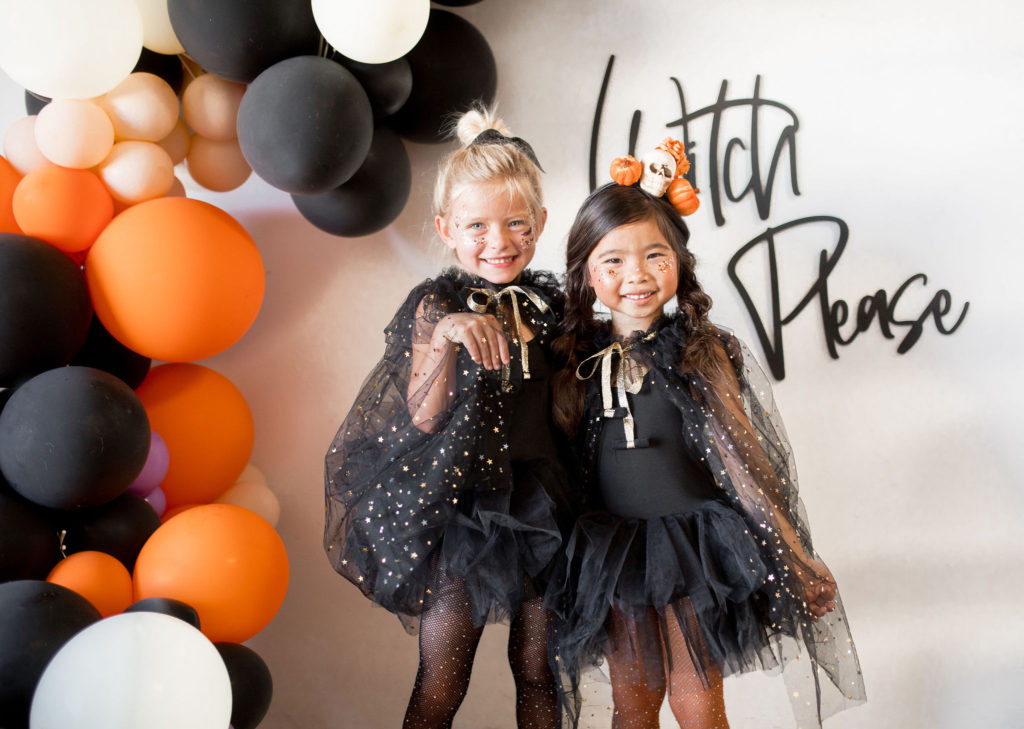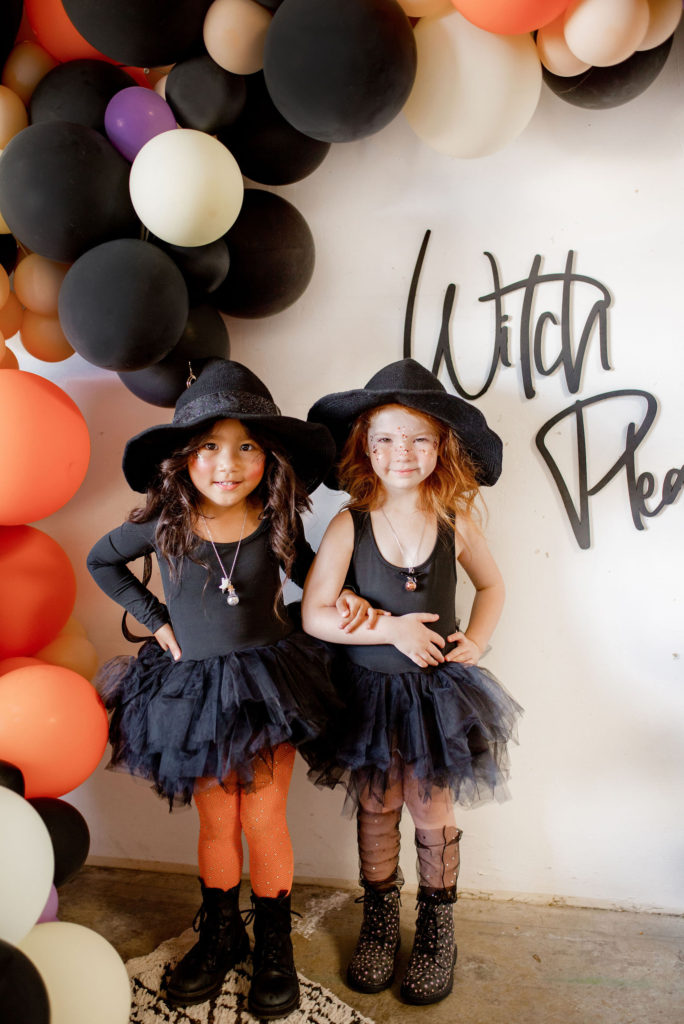 What kind of spells do you think were cast?! You never know… Witches be crazy…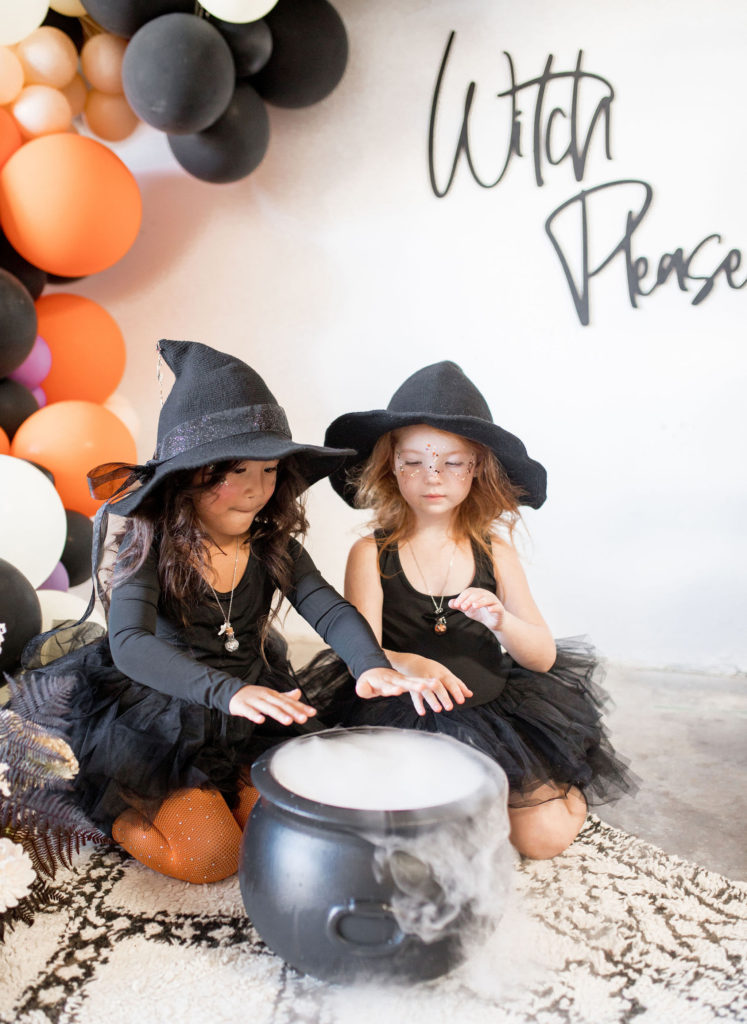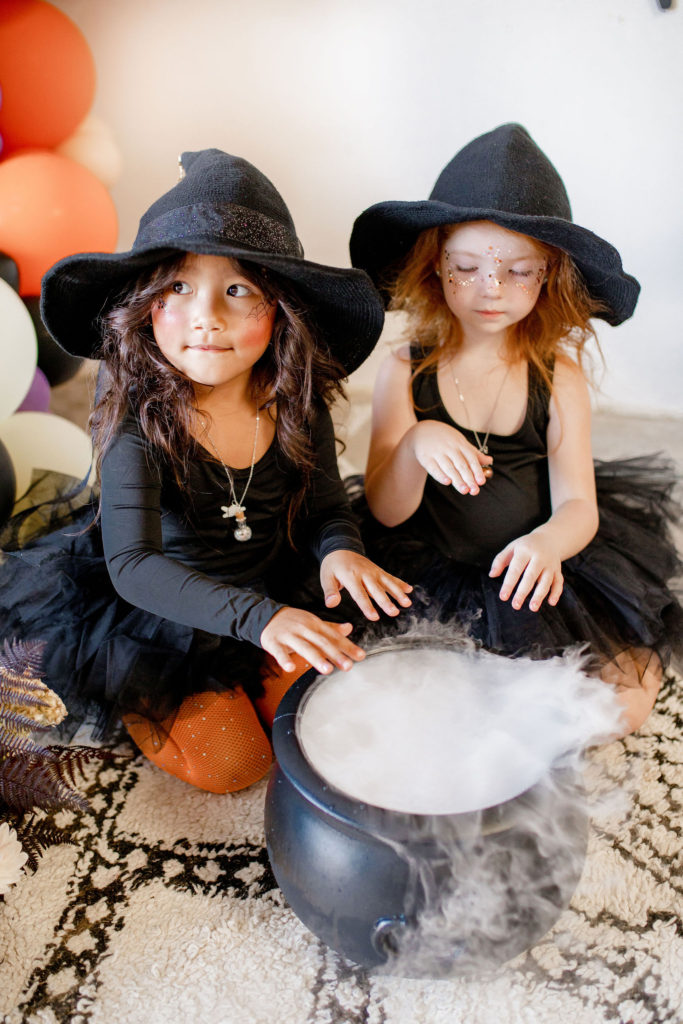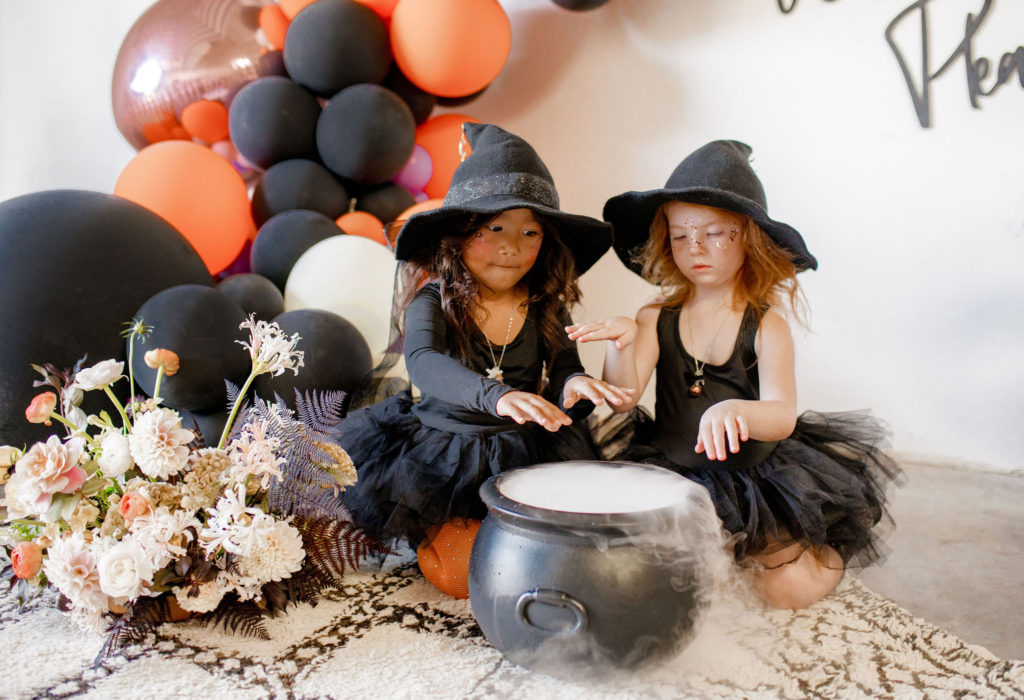 Time for the treats!!! Starting with the prettiest cotton candy set up from The Jolly Sheep. How fun is that for a social distanced set up as well? Nothing touching, just grab and go! Which color would you choose? And check out the sticker we had customized to go on them from Creative Amme, gotta have those details!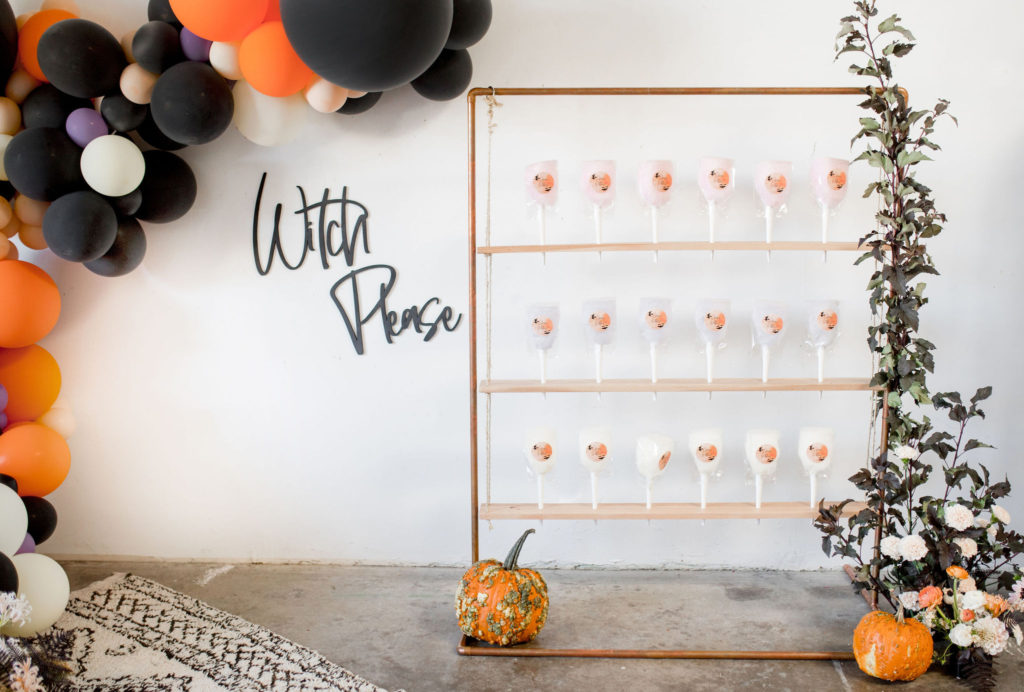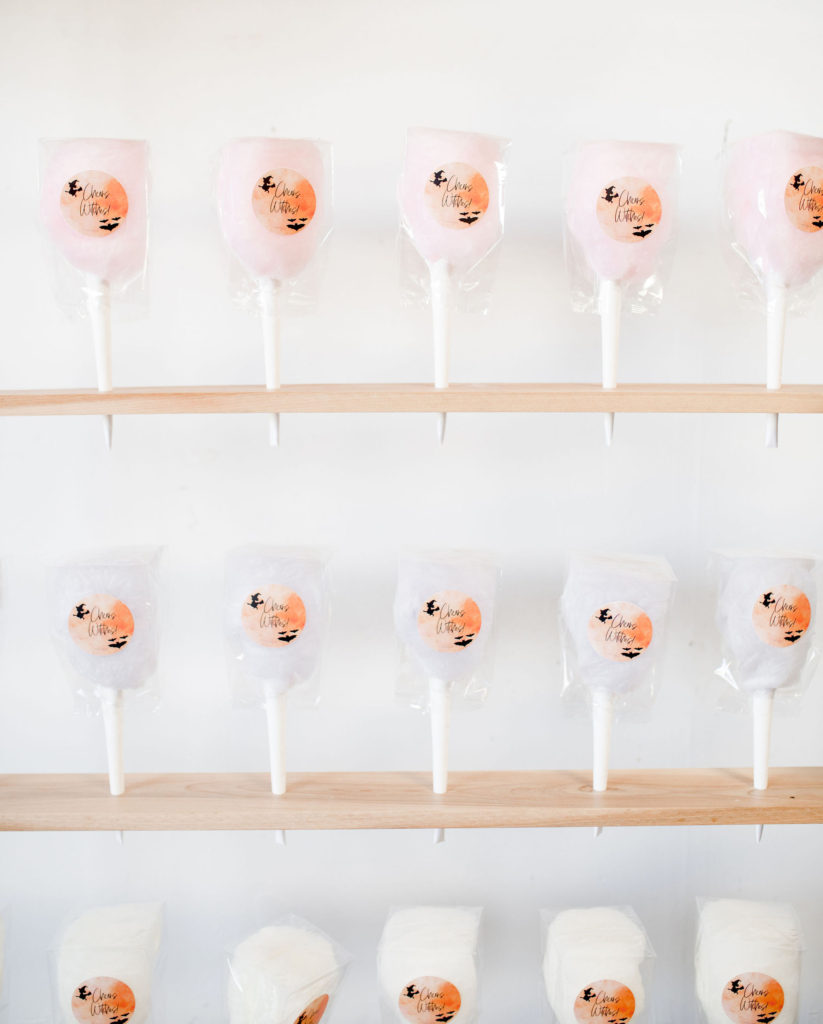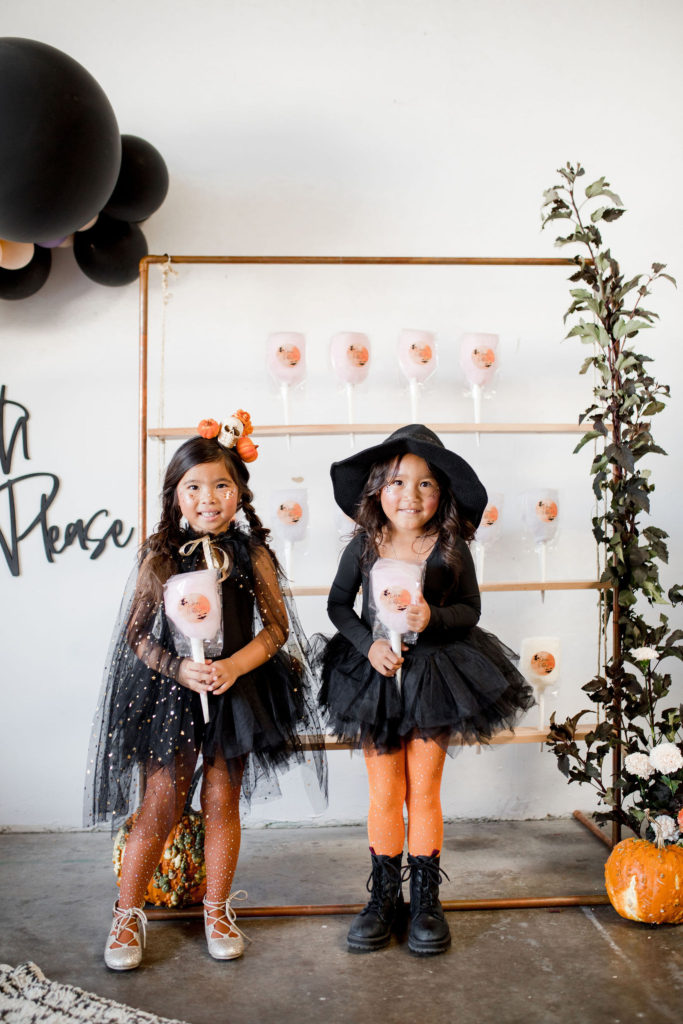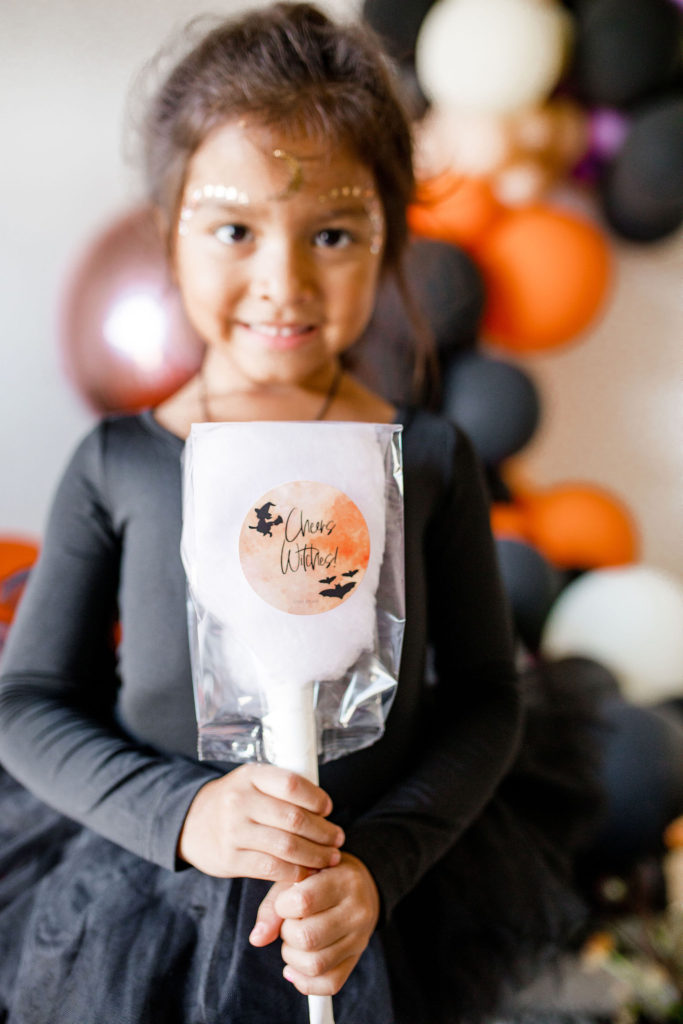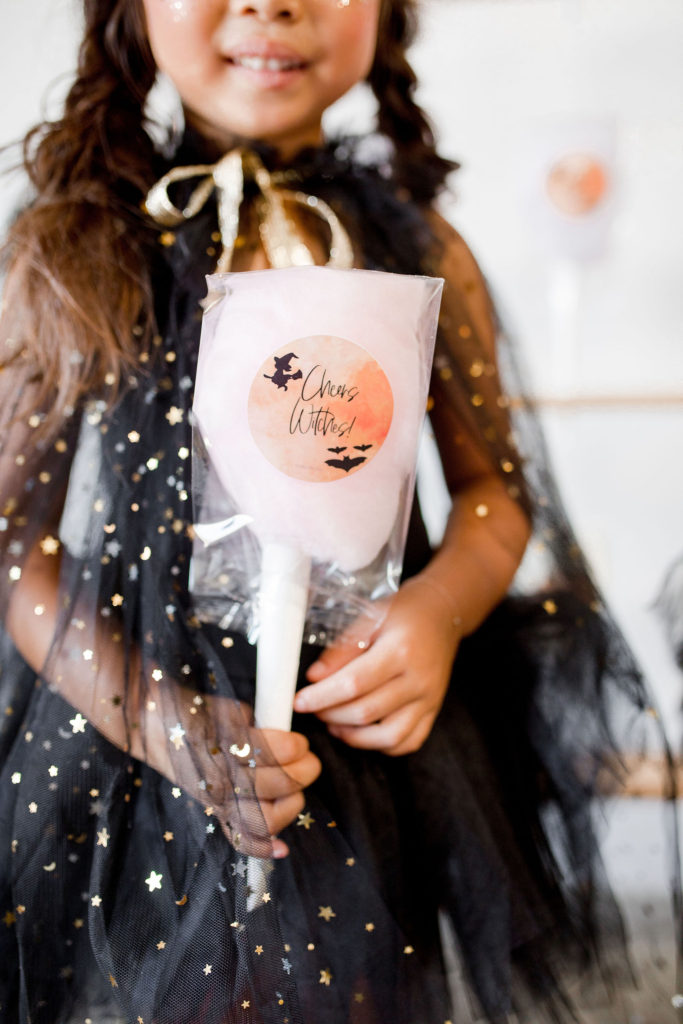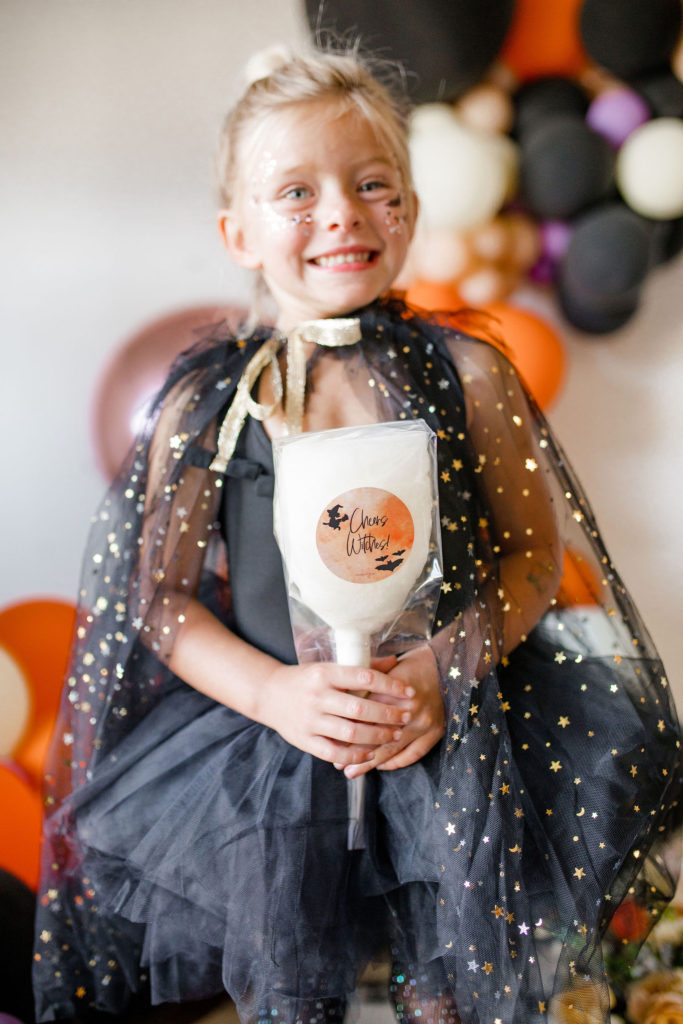 You may remember The Jolly Sheep from my son Cruz's birthday party. Not only are they experts at cotton candy but their cart can also do popcorn! So instead of choosing one, we did both! And if you don't like popcorn I don't think we can be friends, because I love it!!
And again with those awesome details from Creative Amme… I mean, that signage, the stickers, I could go on and on…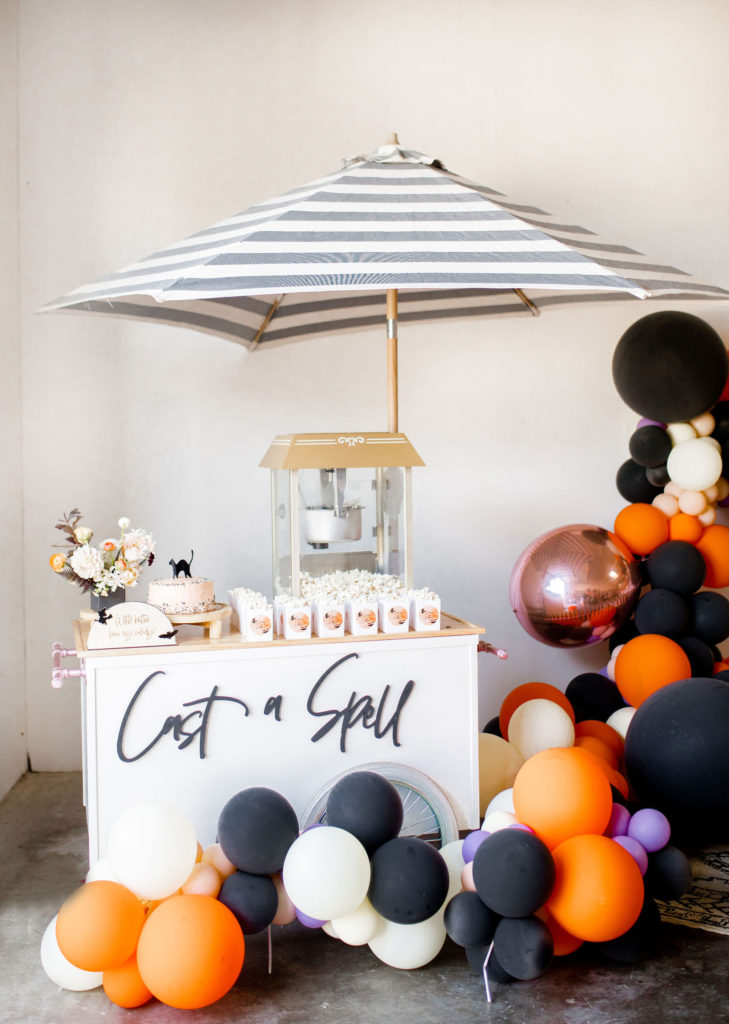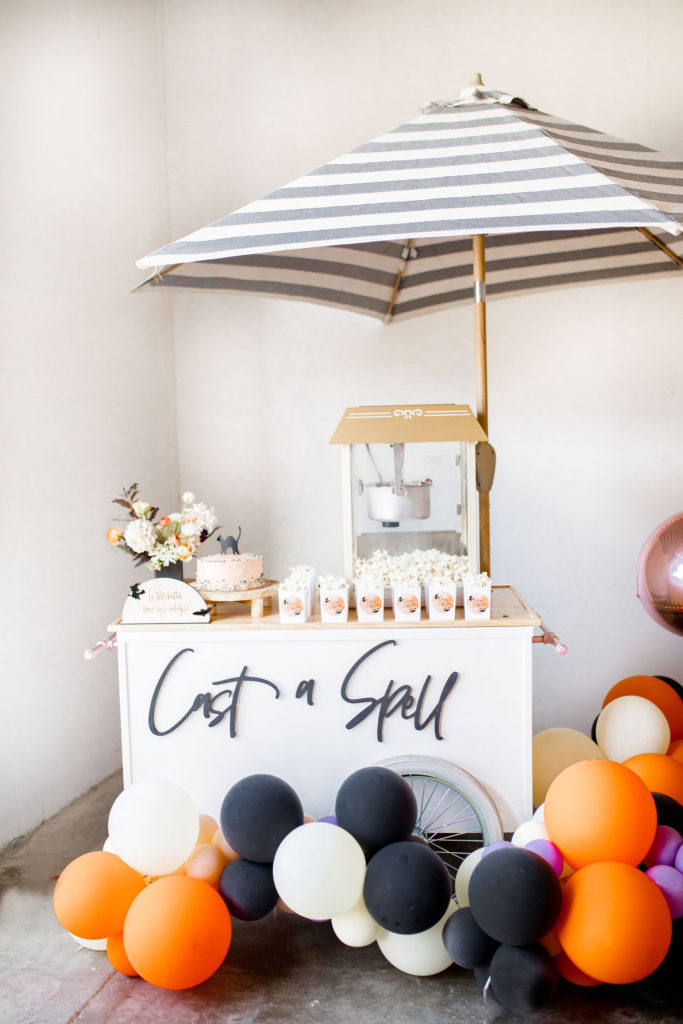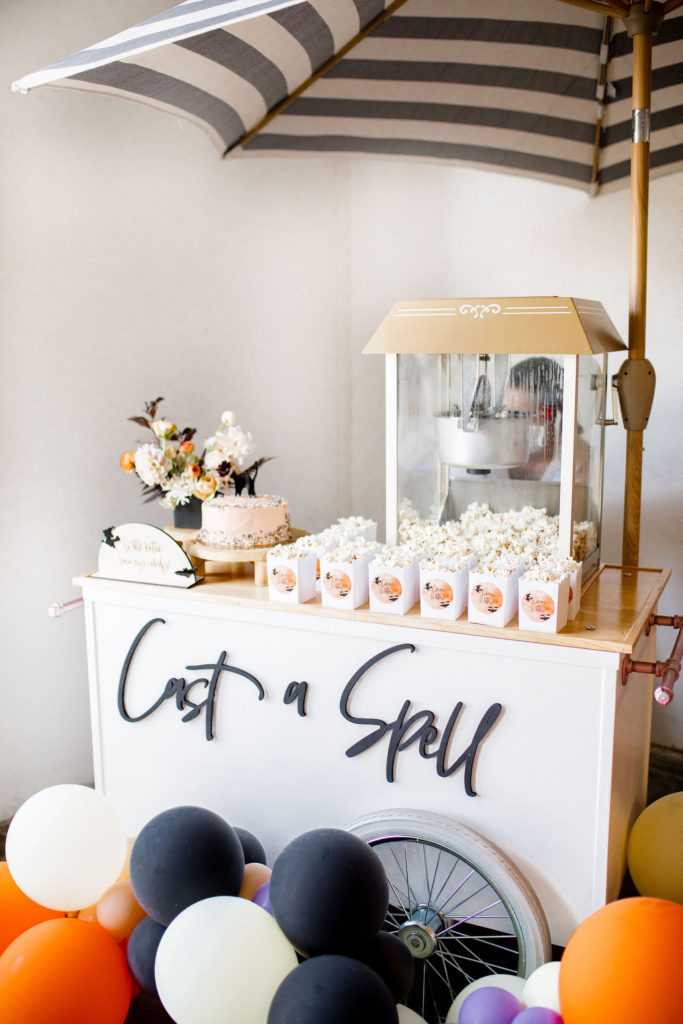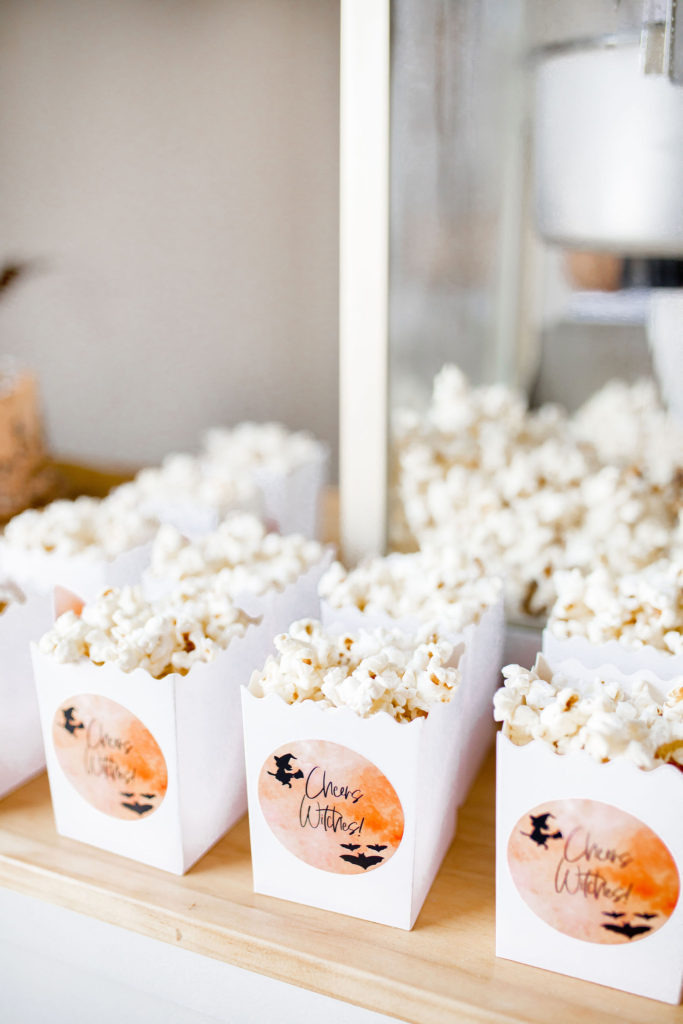 A pretty little cake is a party necessity!! Frost Your Cookie took care of that, and I'm really digging the peach vibes for Halloween! Don't forget the black cat topper too… Nothing unlucky about that one!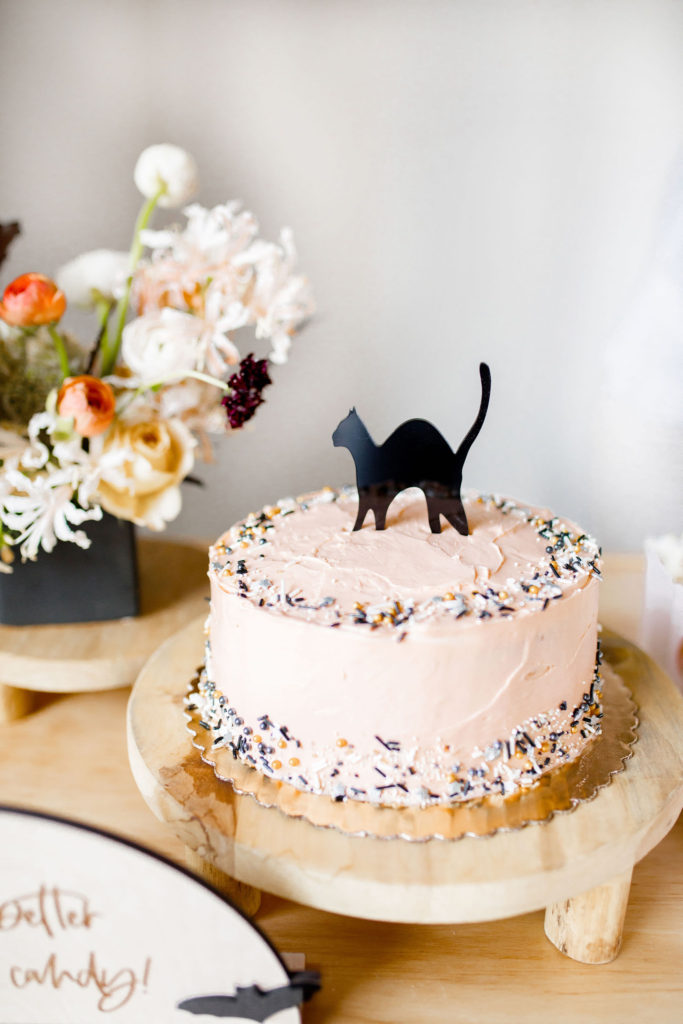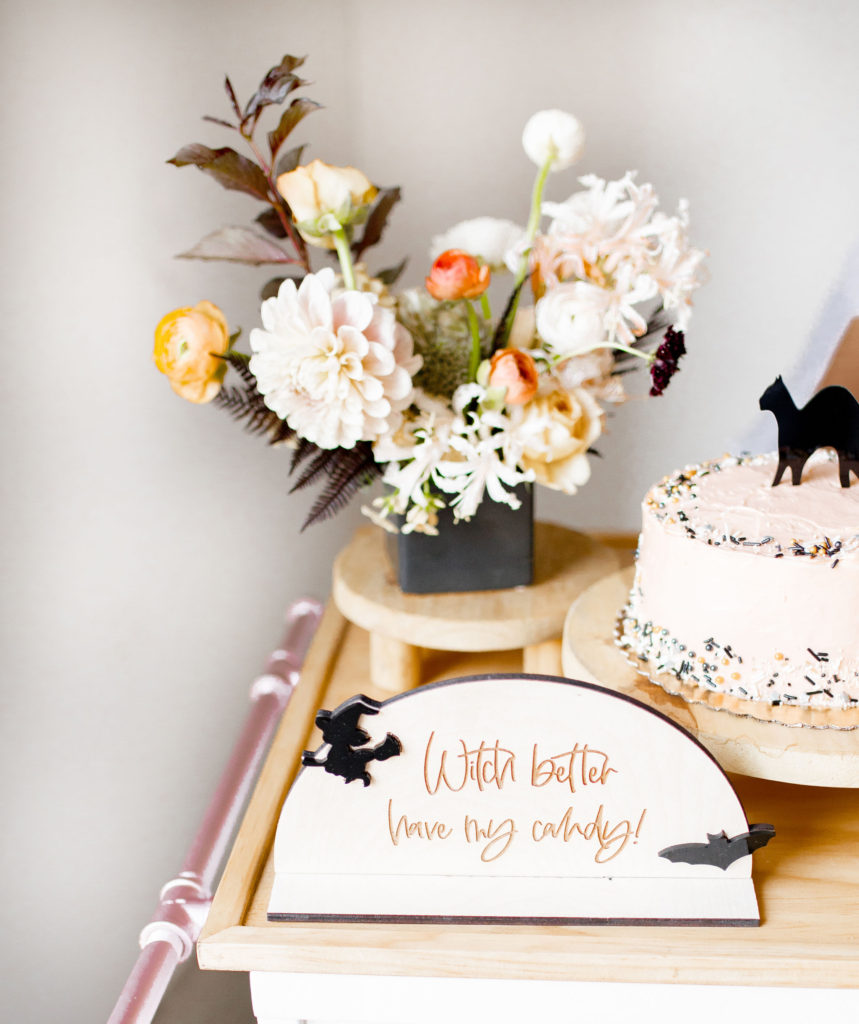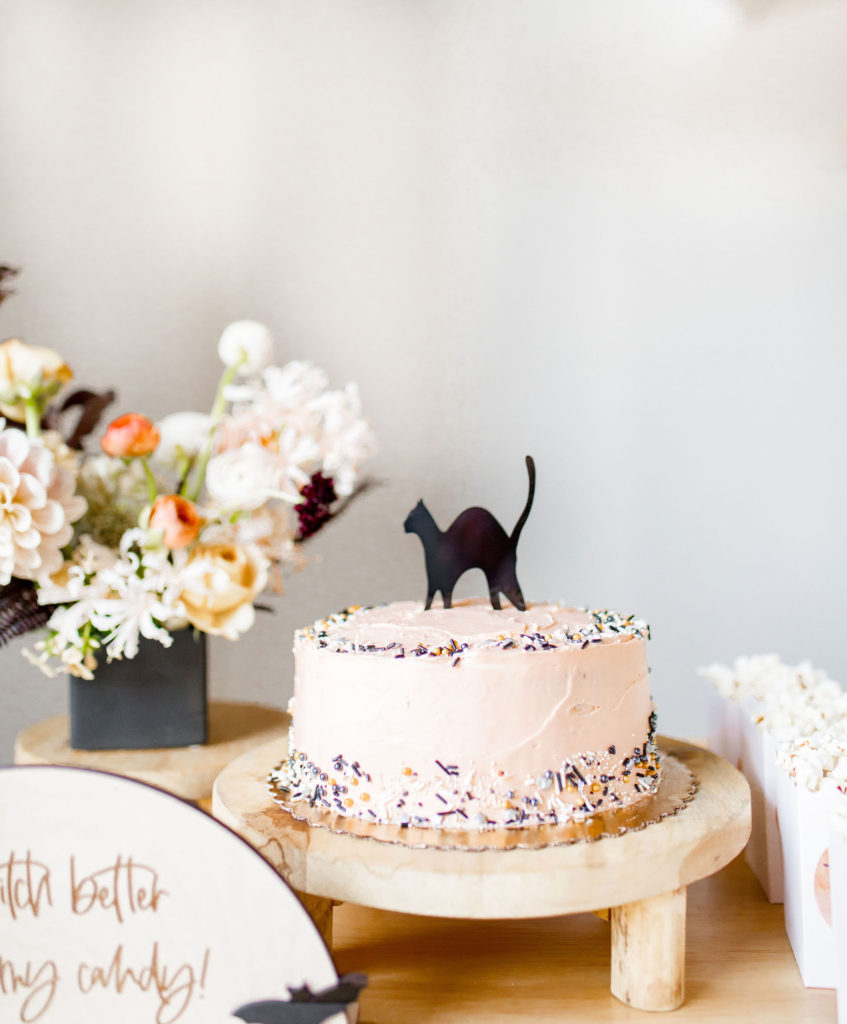 And all of a sudden the party was popping!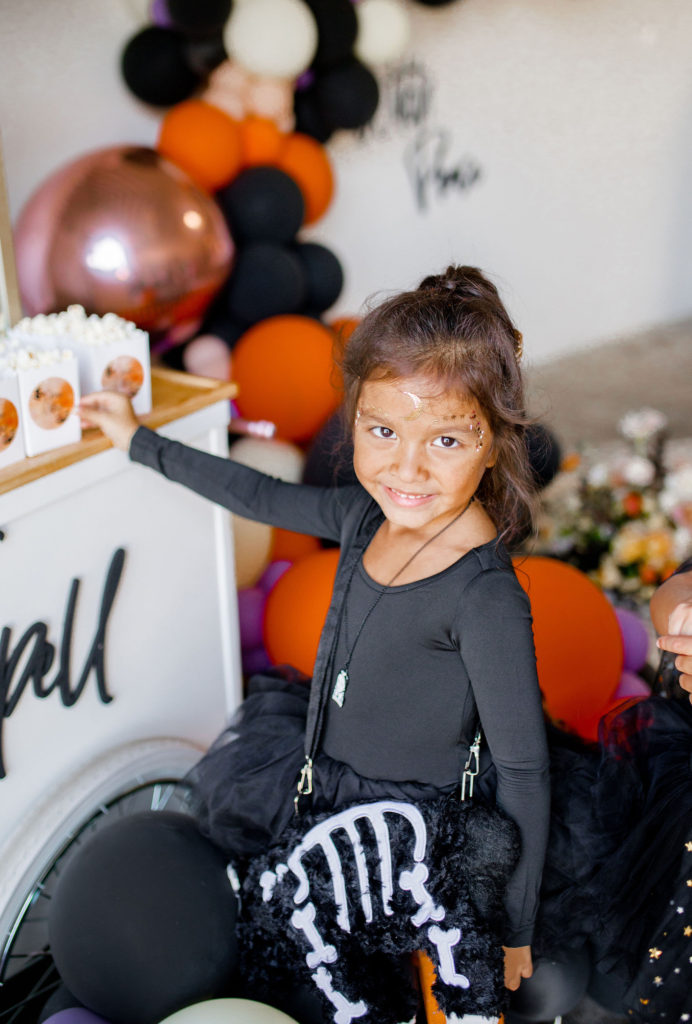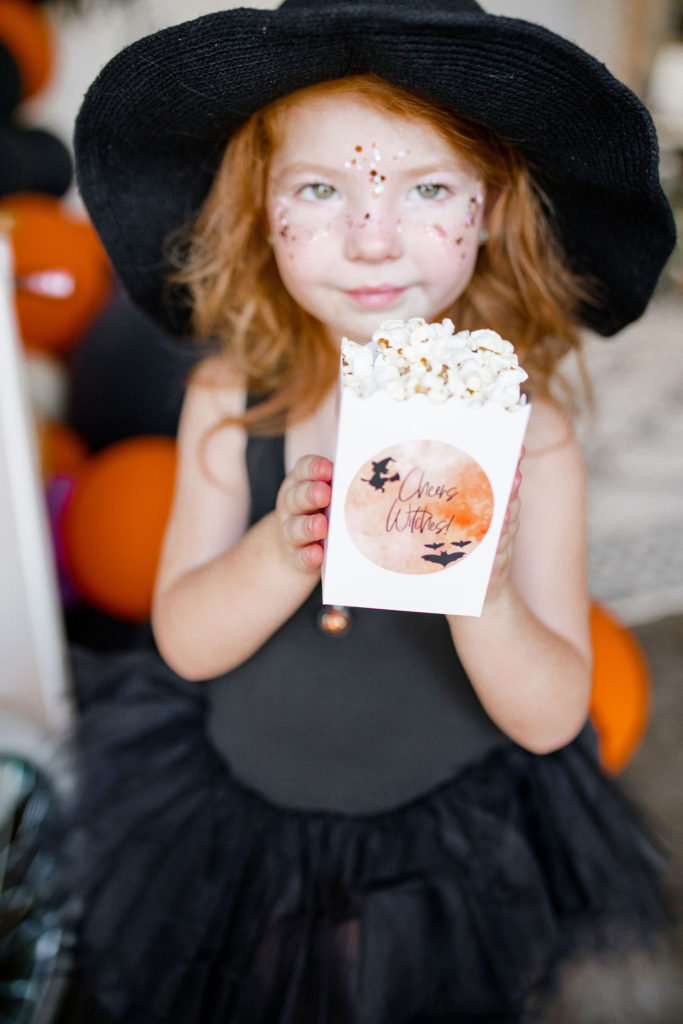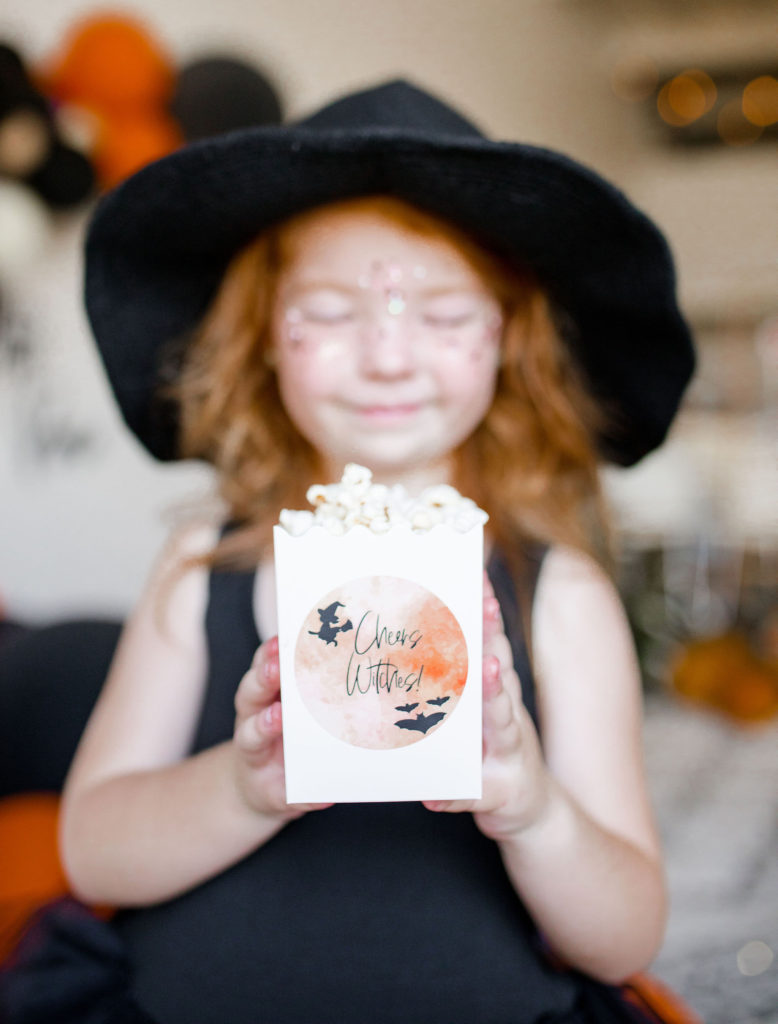 You didn't think Frost Your Cookie would come to a party without her signature dish, did you?! The cutest Halloween cookies came and went – they are just too yummy not to snatch up!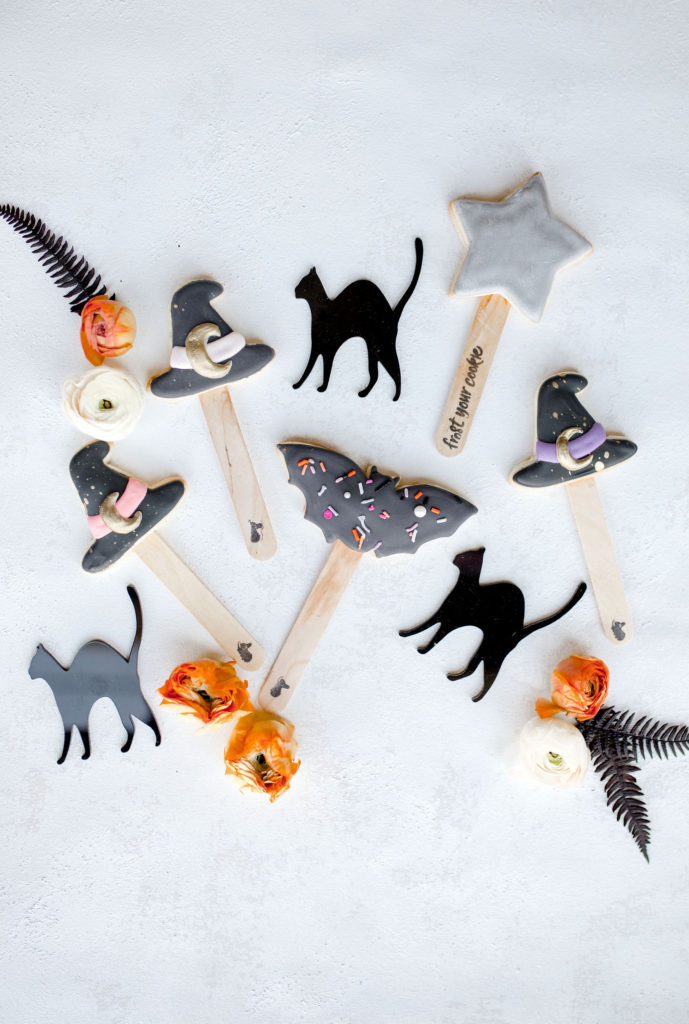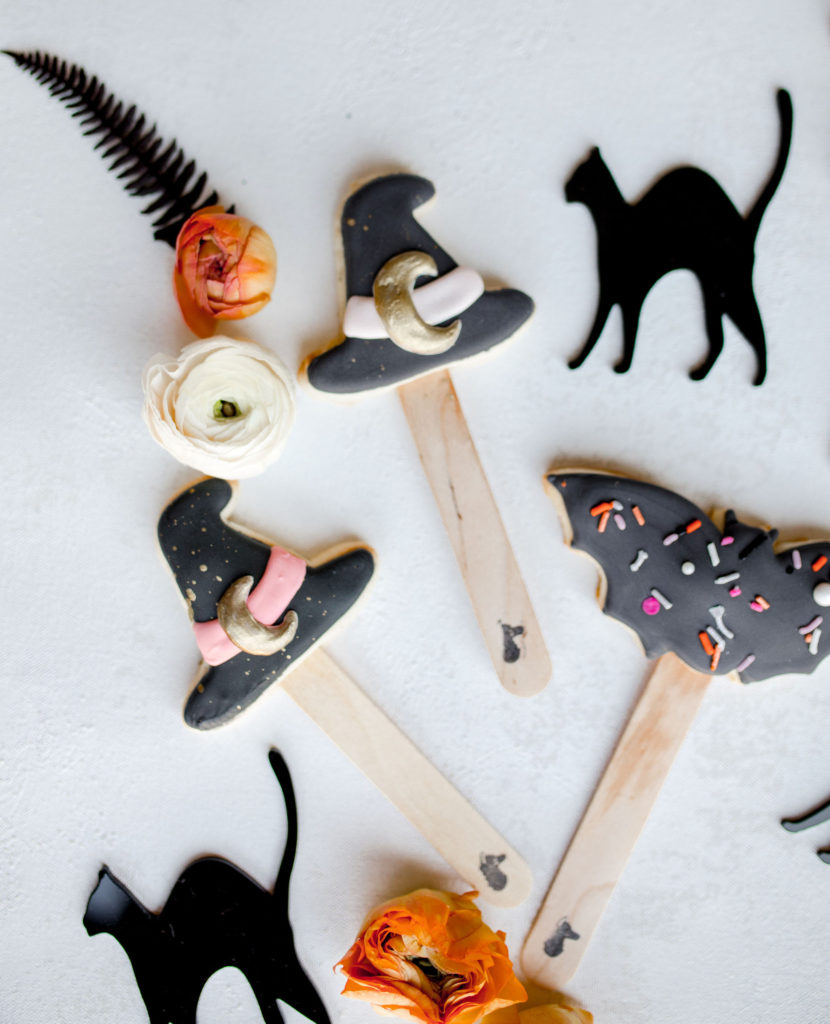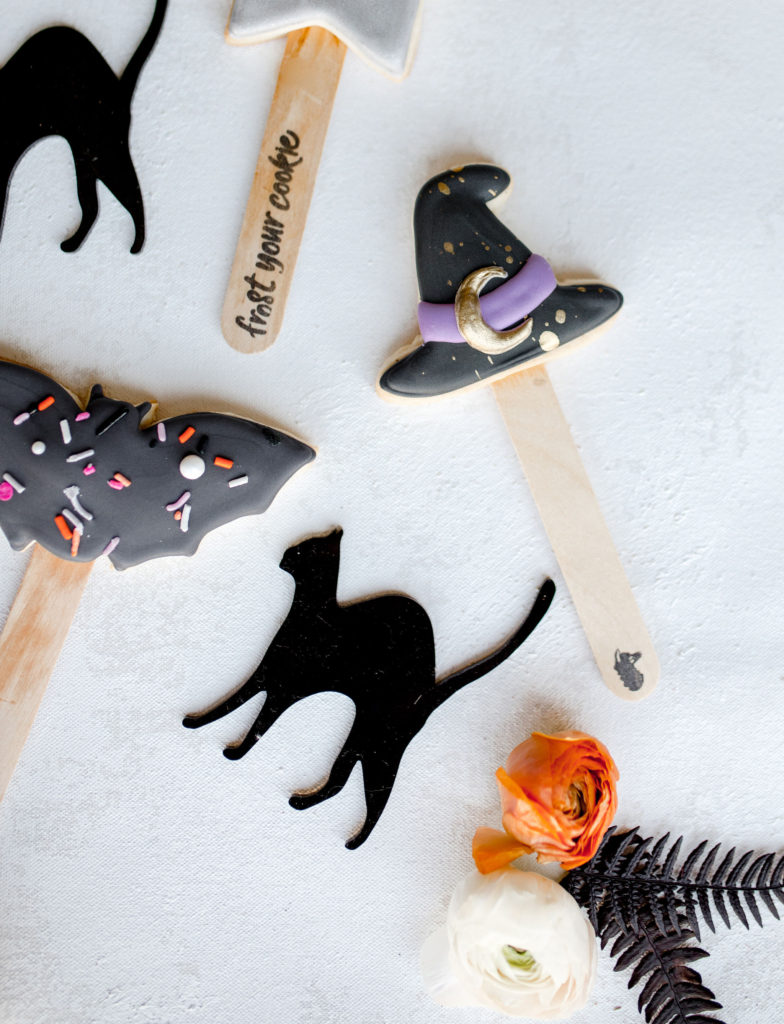 These witches are happy now!!! Desserts will do that to ya!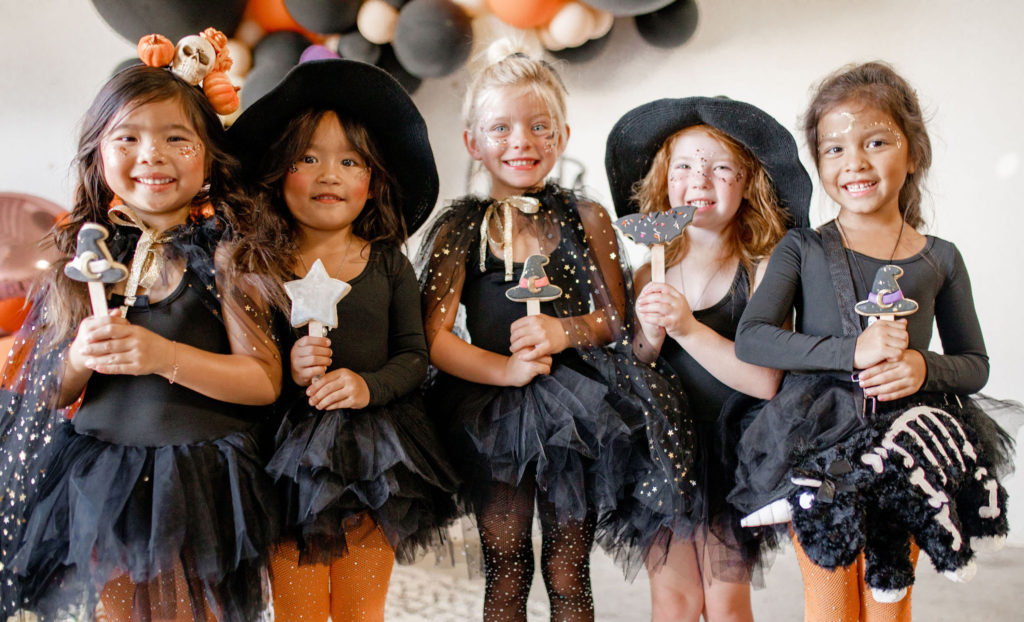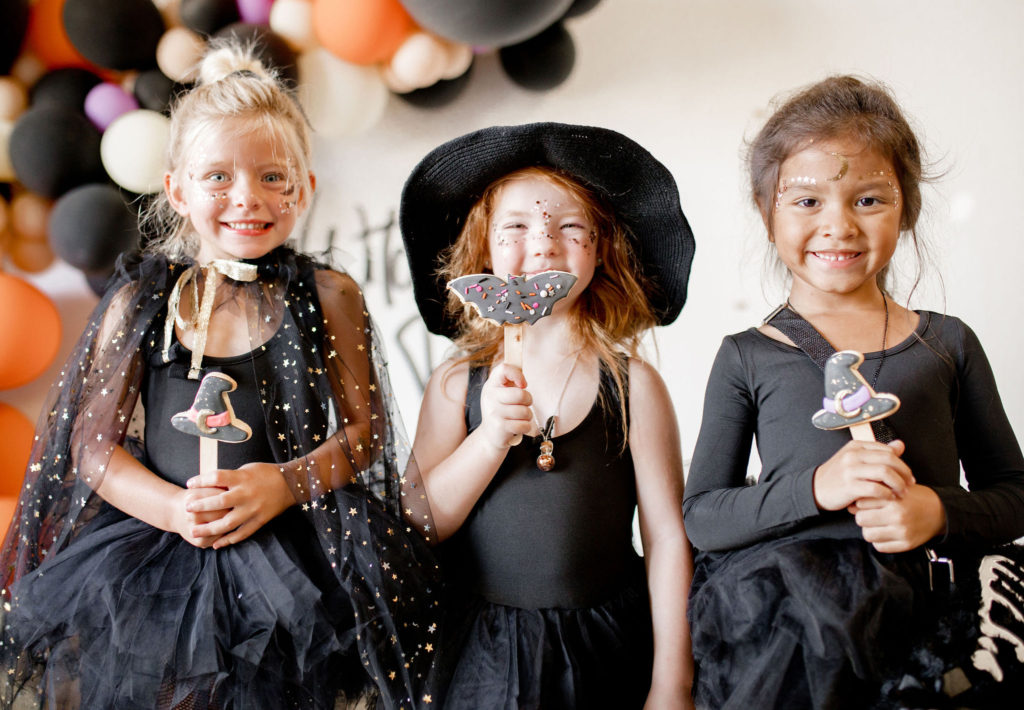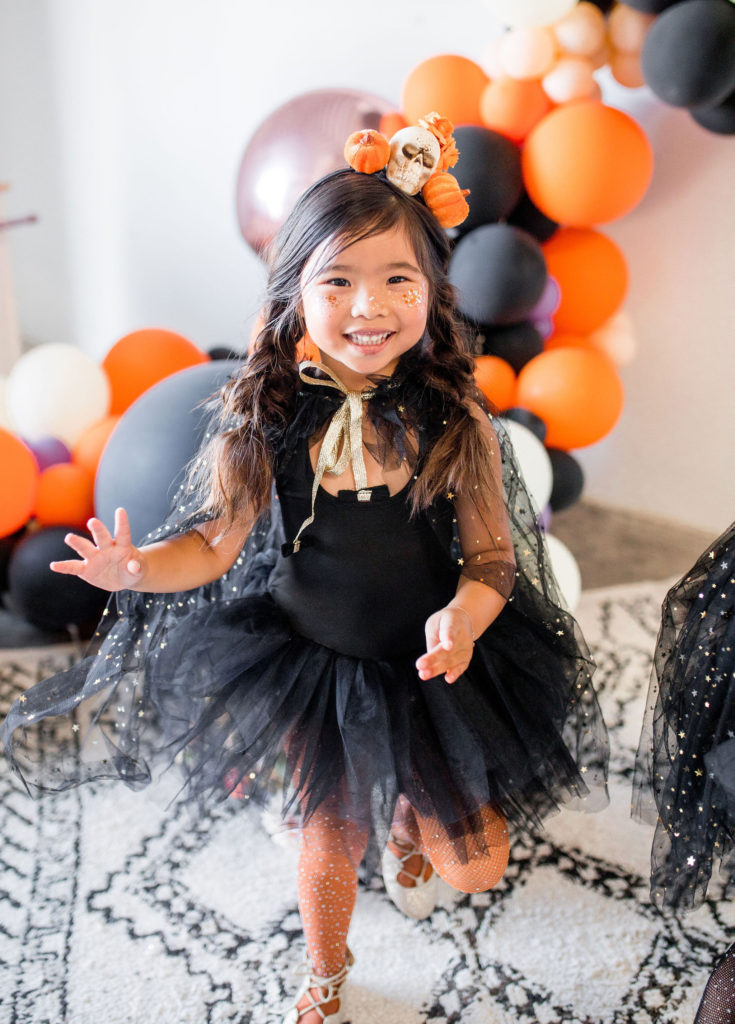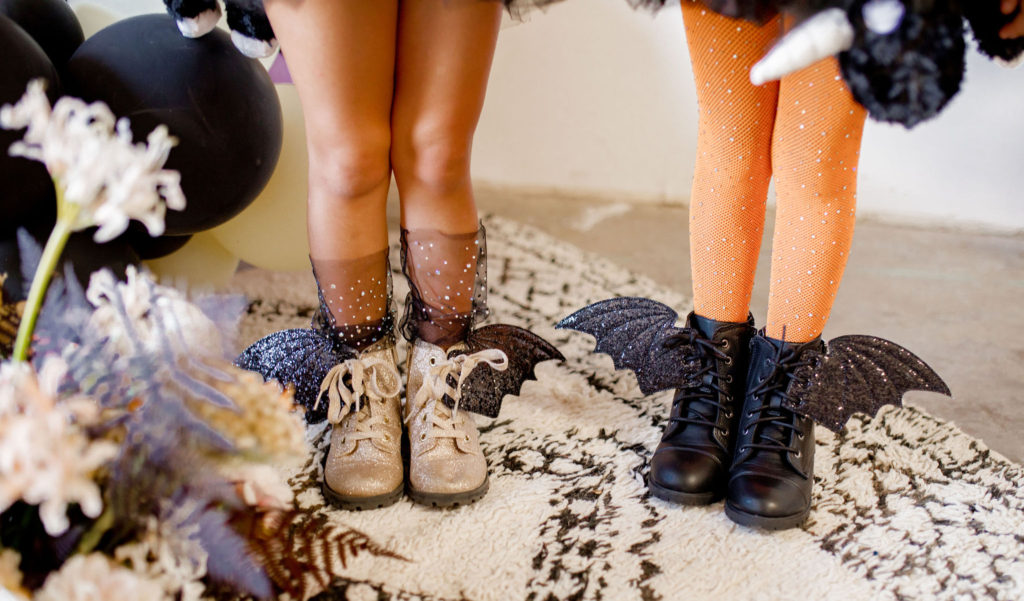 So much fun with this coven of witches! And truly, does it get any cuter?! No way…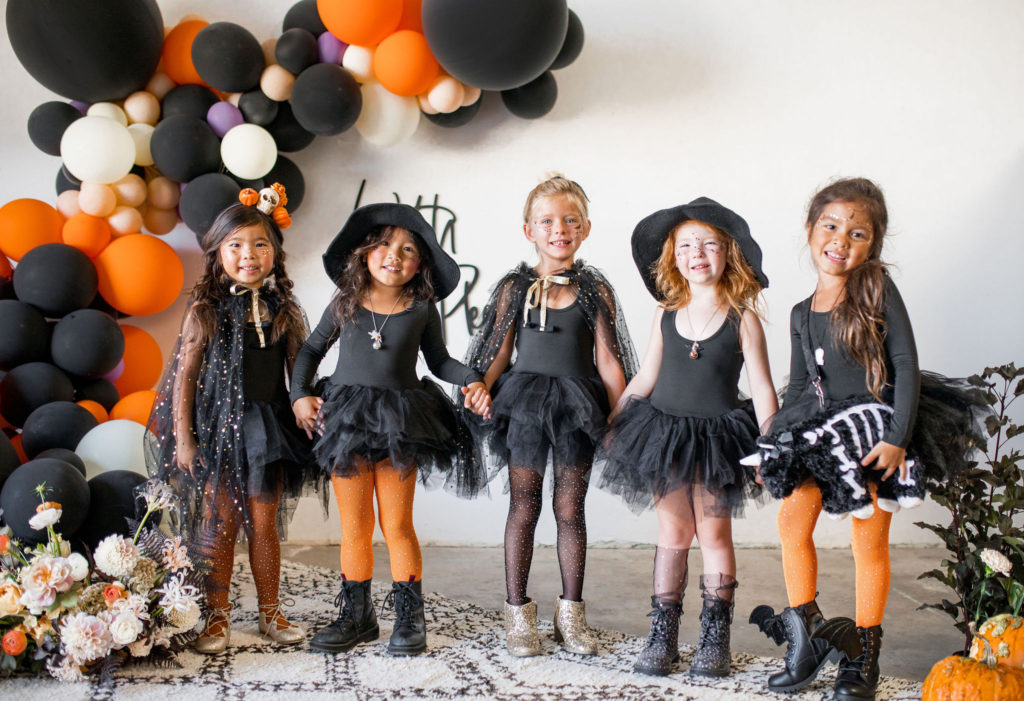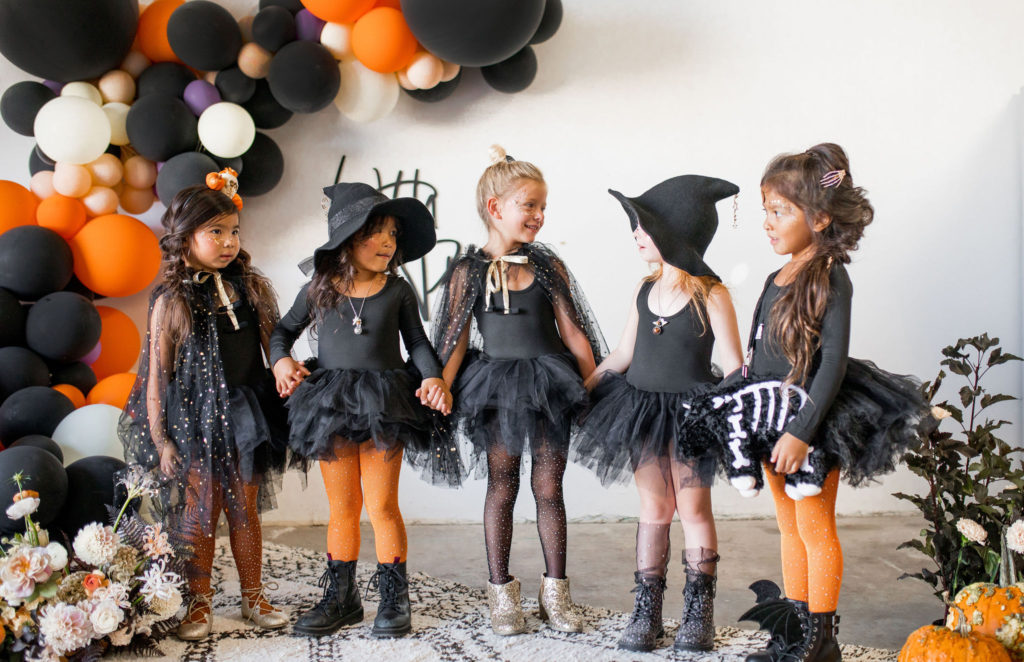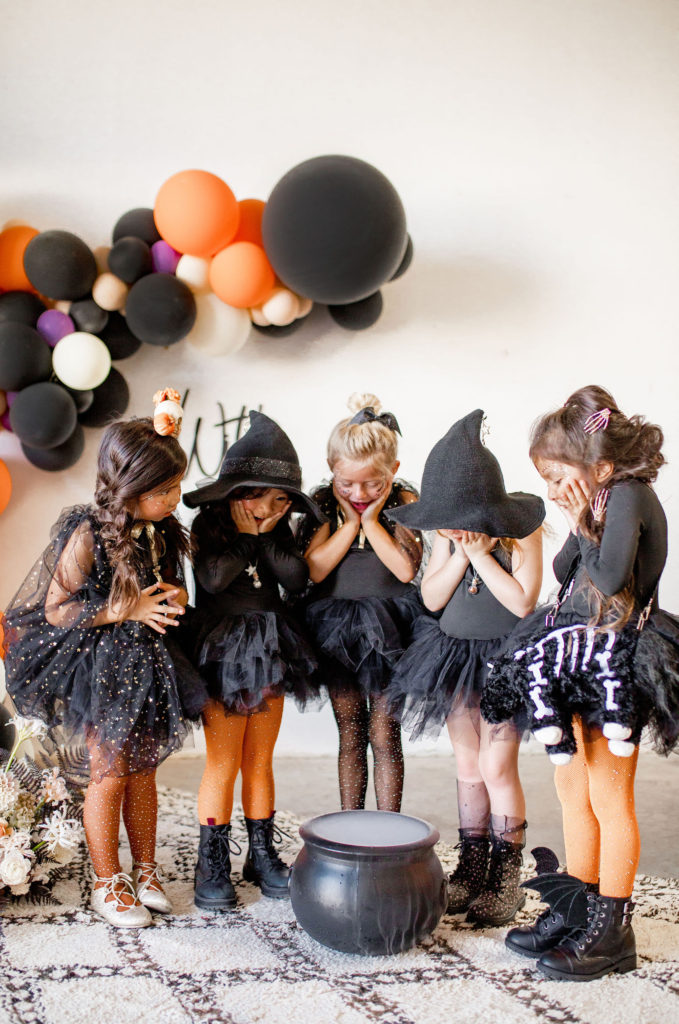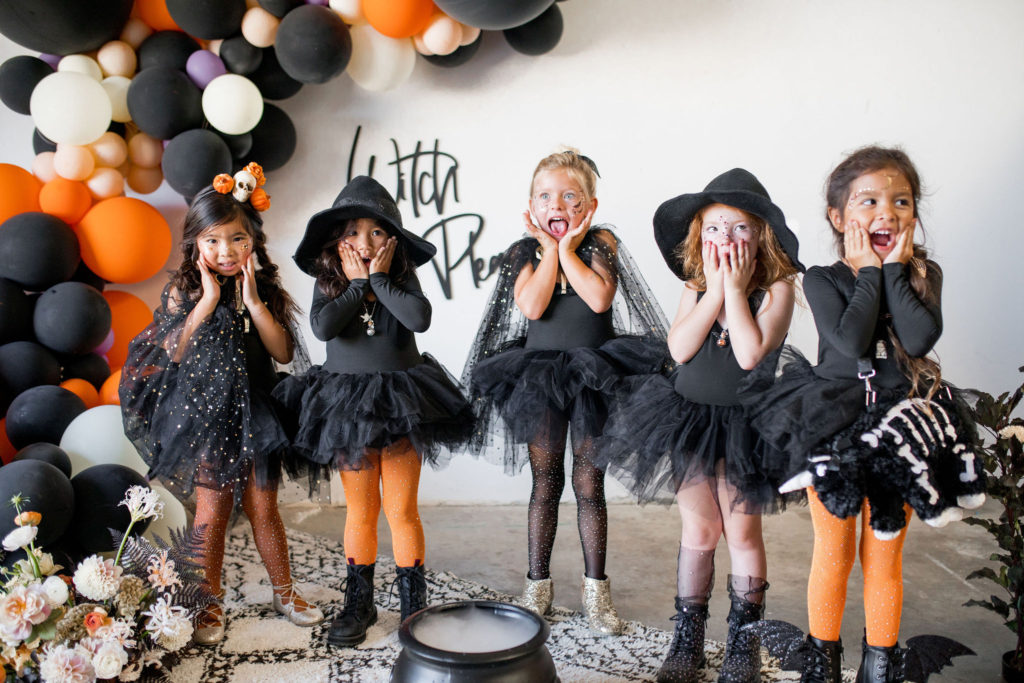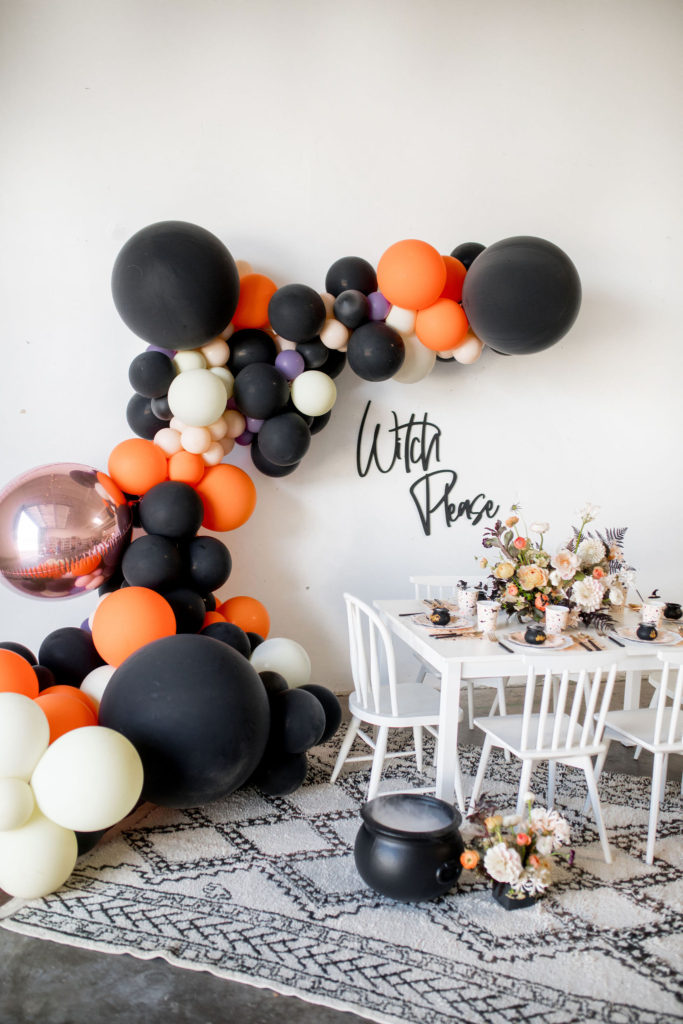 Witching you all a Happy Halloween – more cuteness to come!!!
xx
Jacquelyn