How many days are left to Christmas? Mom!? Mum! Mommy!!
(in Stewie voice)
I'm sure I'm not the first mama who has had this problem, pretty sure this is the exact reason the advent calendar was created. 25 days of some peace  until the big day is here! But also one of the best memories of the holidays that children have.
Do you remember those red and green felt advent calendars filled with a collection of holiday ornaments when you were little? You would put an ornament on the felt tree and then look inside that numbered day and find a surprise? As a child, I would get so excited over putting a one legged nutcracker right next to the angel that once had a head. No one would dare change a thing, so headless angel and one legged Ned the nutcracker hung proudly on the felt tree.
Now as a mama, I wanted to create those memories and traditions for my beijinhos just like my mom did for us. I couldn't find any headless angels or Ned the nutcracker so a new advent calendar was in order.
I turned to our wood wizards at The Duo Studio to help create an advent calendar that would create traditions and memories for my little ones, and of course be Beijos worthy. All I had to say was white + copper, and they took it from there. And boy did they come thru!
Lets start with what it looked like before…. we found this on Amazon. You know that is why they called it Amazon cause its Amaz-ing! You can find everything on there. Mothers best friend.
Before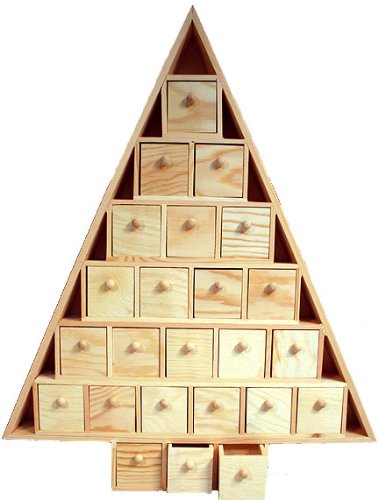 After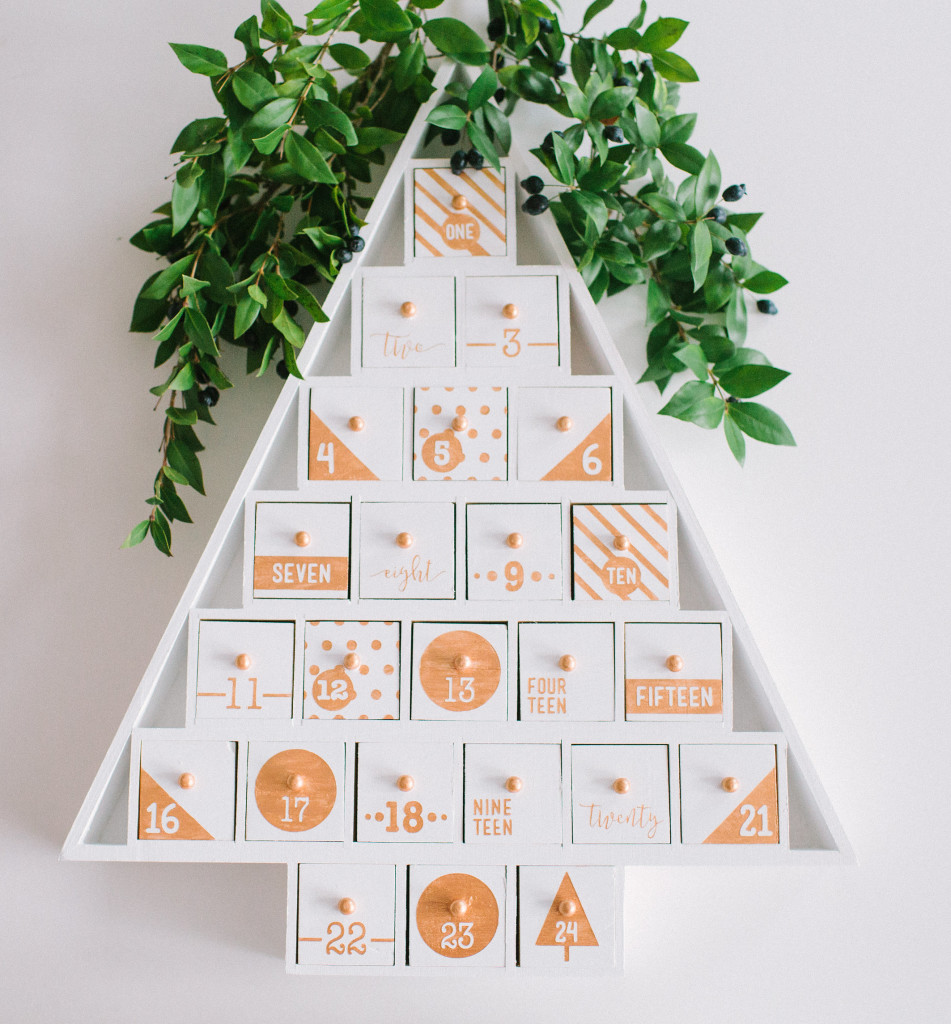 So sweet right?!? This advent calendar got a makeover starting with an all crisp clean white base. Each little box was designated its own number in copper and given a holiday touch.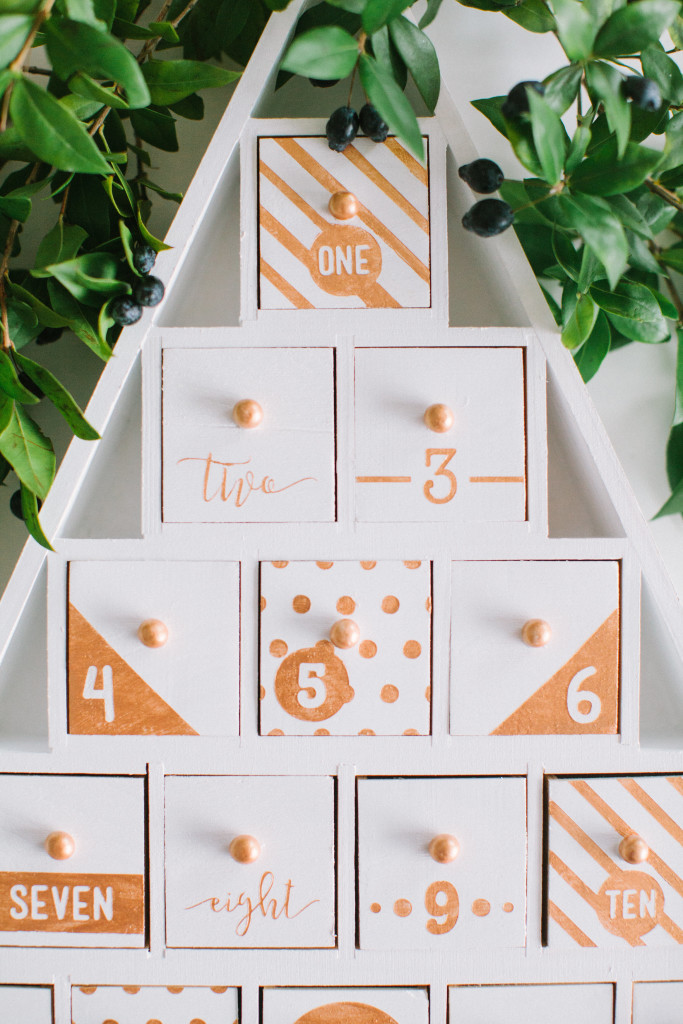 The Duo Studio gave us the step by step on how they created this copper beauty.
First, we painted the frame and drawers with two coats of white acrylic craft paint (Wedding Cake by Martha Stewart). After drying, we applied 2-3 coats of copper to each of the knobs (Copper Metallic by Martha Stewart). While the knobs dried, we created the artwork for each drawer in Illustrator and saved them out for our Silhouette Cameo. After trimming down all the stencils and applying transfer paper, we applied each stencil to the drawer and painted the same copper color as the knobs. After drying, we peeled off the stencils and touched up any imperfections by hand.
Voila!!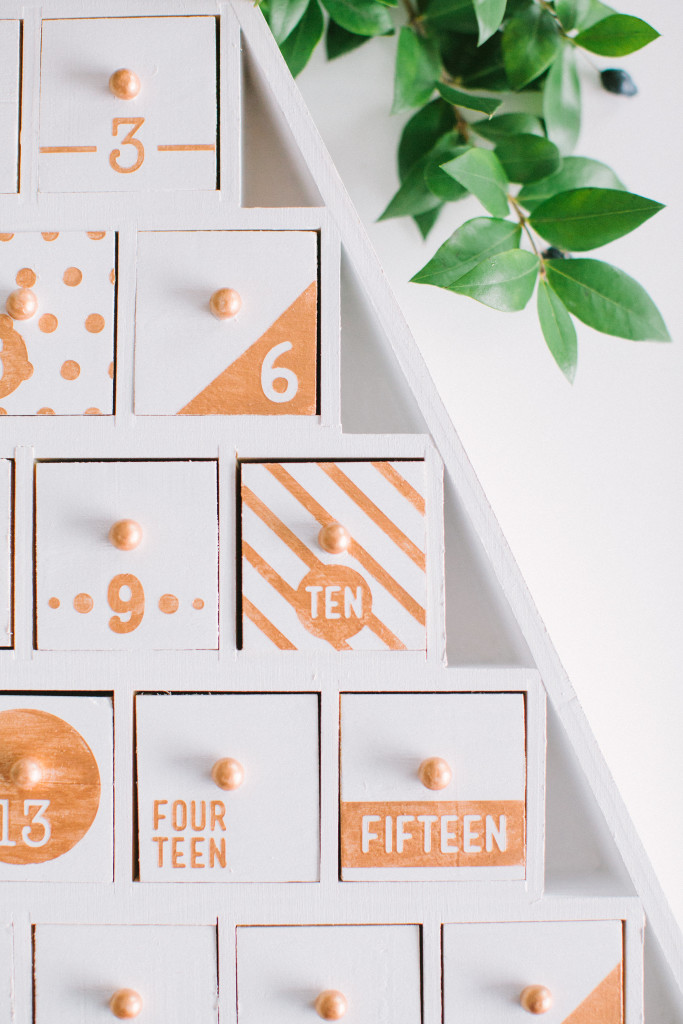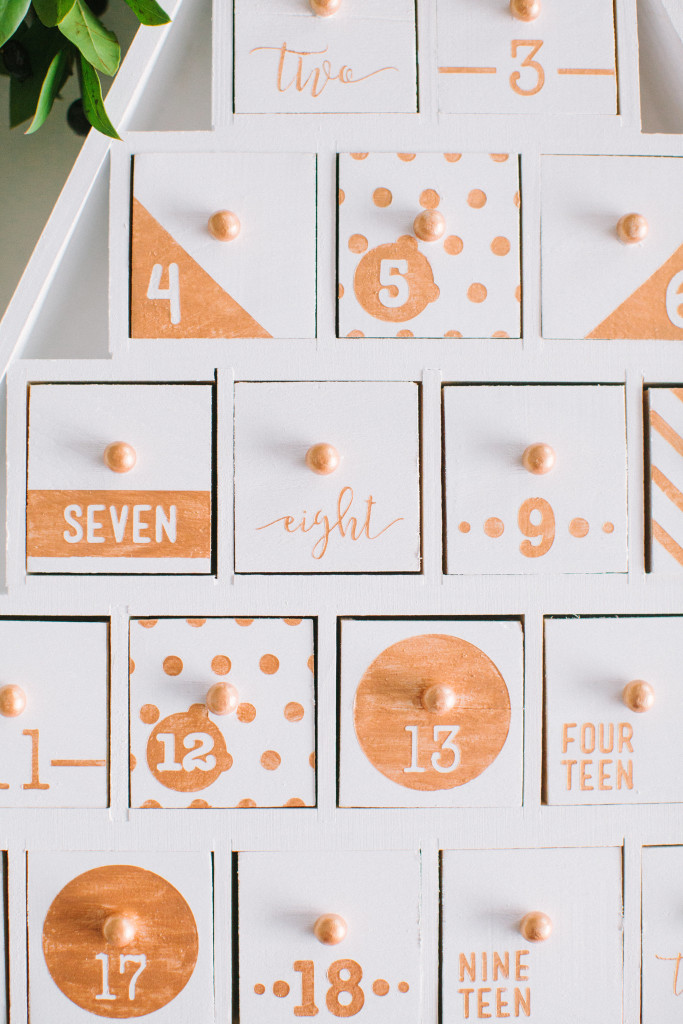 So good right! I love that each square is unique and different.
Now the most important part for the kiddies is the whats inside! I went to my second home, World Market and got some various items to fill the boxes. From gold chocolate angel and coins to little holiday snow globes. I filled most with chocolate, but threw in some fun items here and there so throw the kids off. Right when they though it was going to be another gold angel, bam! hit ya with a white nutcracker snow globe.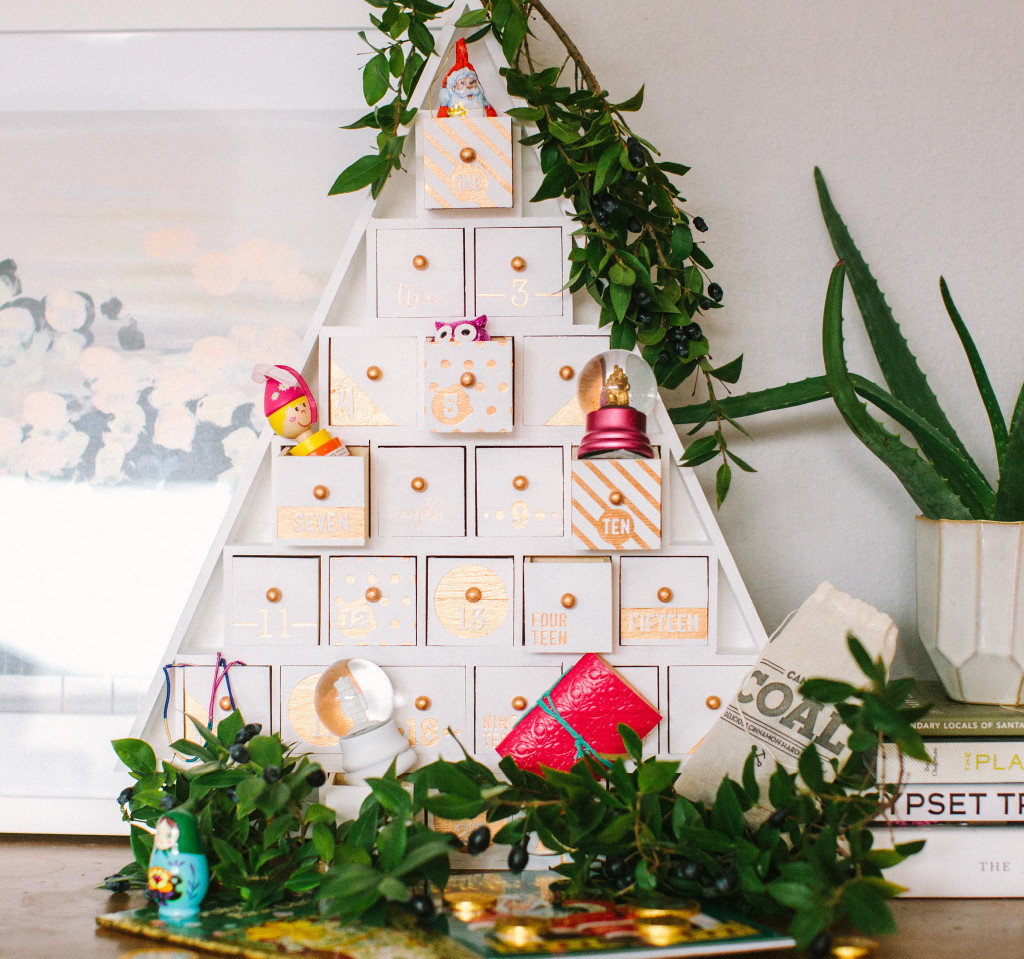 For the items that couldn't fit in the box, I simply would place it above the night before they woke up.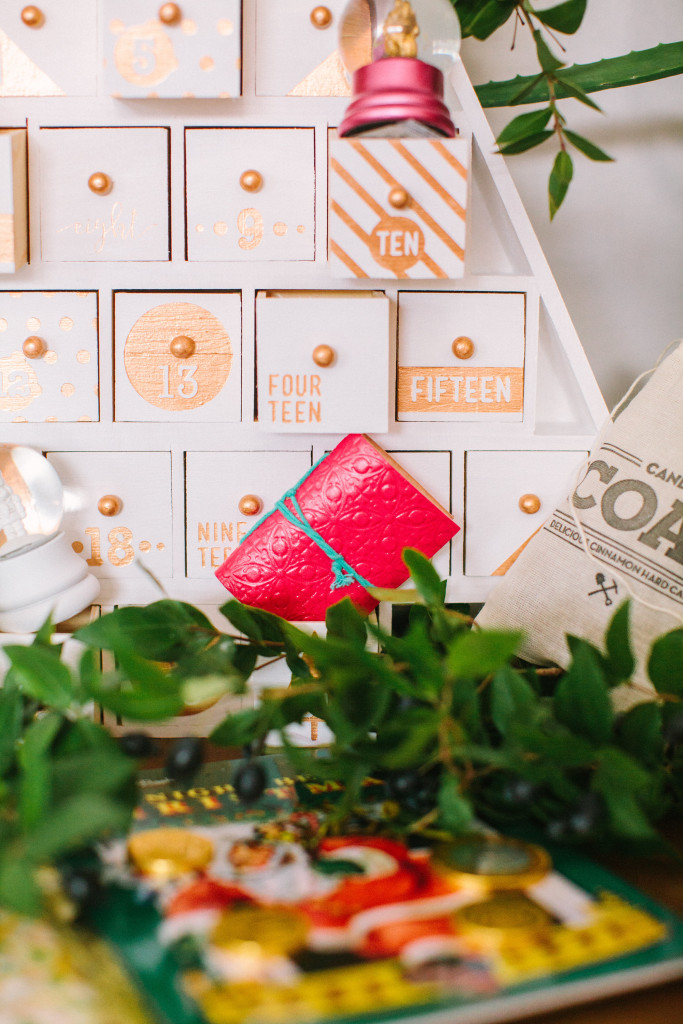 I loved this little pink journal for my daughter. With having two beijinhos, I simply bought two of each and put it out as well the next morning.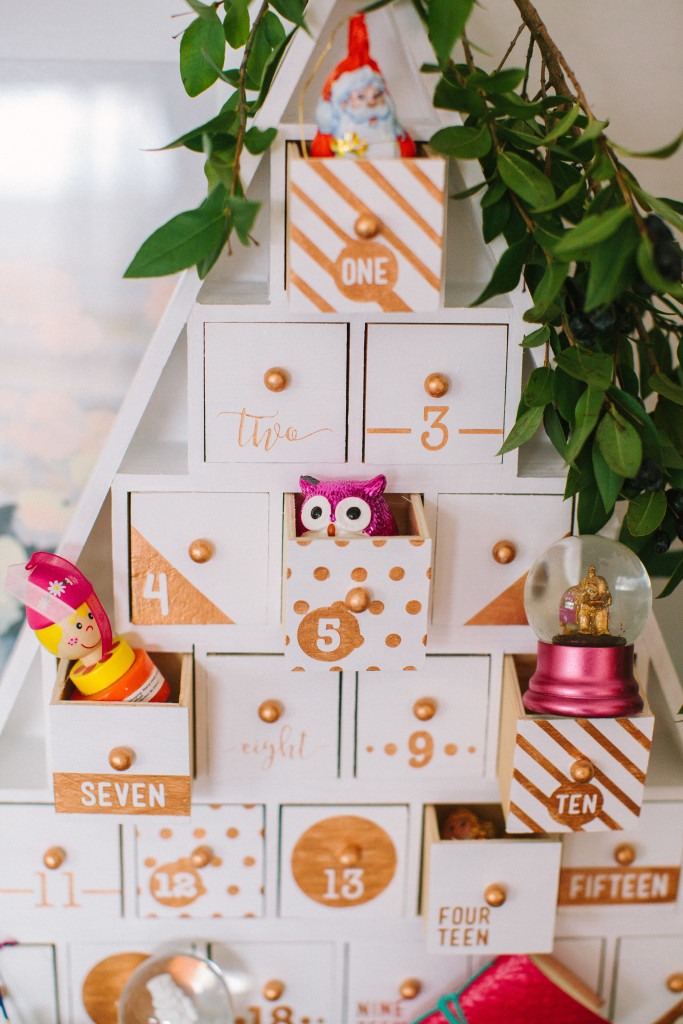 Wooden People Stamp| Mini Holiday Snow Globes | Owl Lip Blam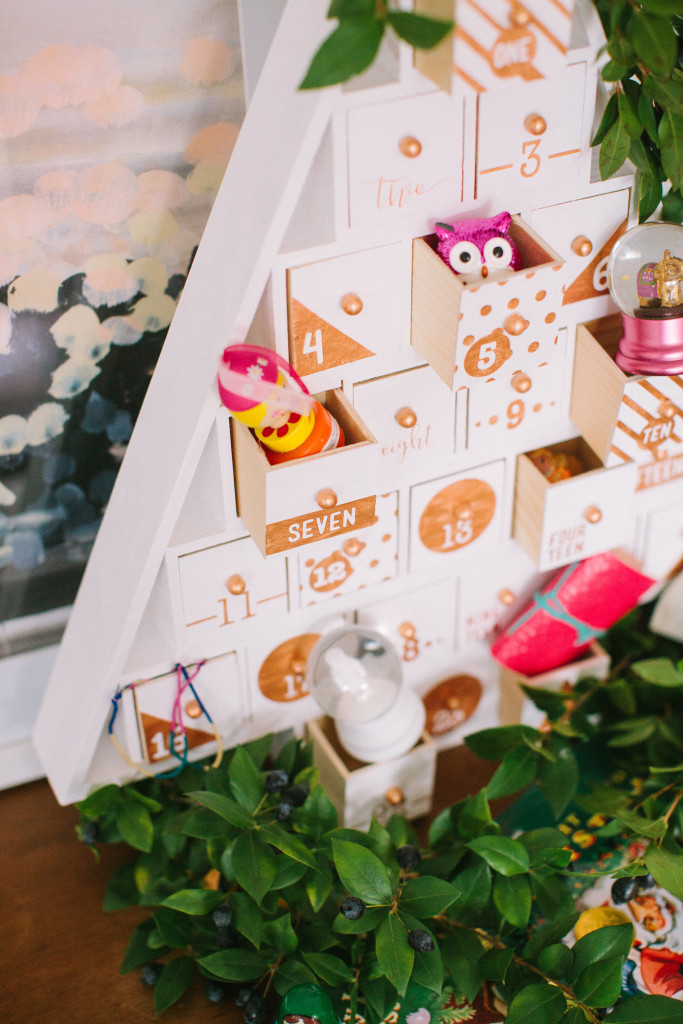 Mini Angel Chocolates | Bag of Chocolate Christmas Foil Coins | Milk Chocolate Santas | Cinnamon Coal Candy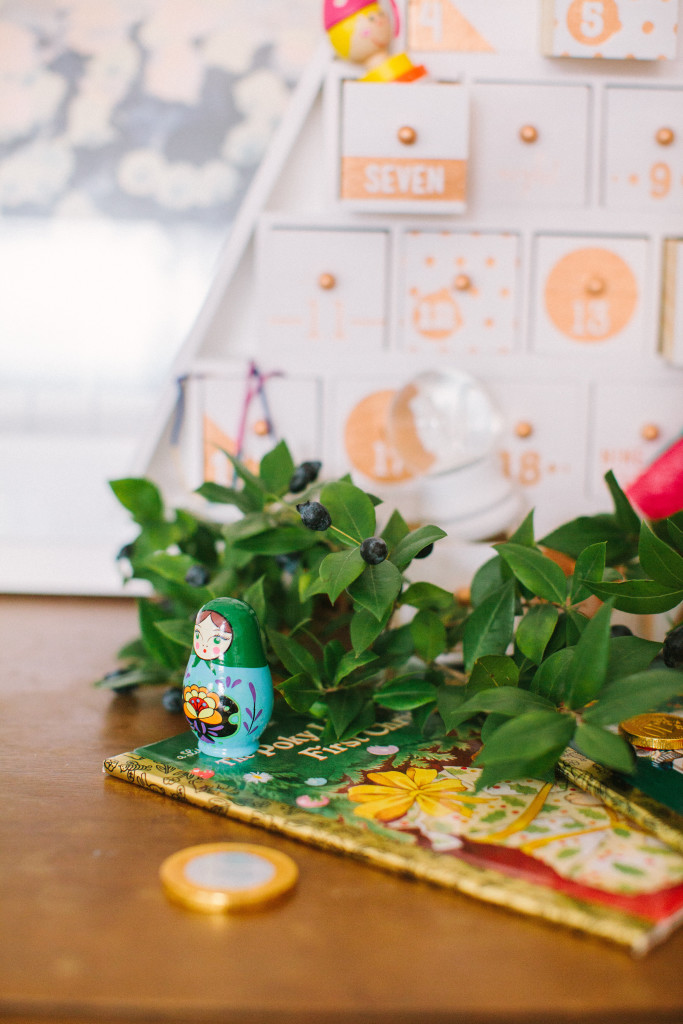 For the 24th day, I always get them each a Christmas book and sign the inside. My mother did this little gesture for as children and now as a mom, that little gesture sets big memories in my mind. I only hope they enjoy that little message when they get older just as I do now.
World market has a great selection of books. A little Golden book is a favorite in our house, so it was a given they would get, The Night Before Christmas and Poky Little Puppy's First Christmas.
I don't know who loves these traditions more, the kids or me? It might be me!
Happy Holidays!
xx
Abby