How many of you guys partake in the good ol' fashion holiday cookie swap? It has to be one of those top 5 holiday traditions that everyone looks forward to this season. I'm trying to up my baking game this holiday season. I can't get on the baking train no matter how hard I try. I can cook you anything, no matter how hard or even easy. Cocktails, I got you! But baking it's my nemesis. But I'm giving it the old fashion try this holiday season and starting the holiday baking season with these ombre tree cookies. I will say I did cheat a bit with not making the dough from scratch. During the holidays, you are allowed to cheat and focus on the garnish in our eyes. I whipped up a yummy icing frosting and gave it some pretty color, and we are set. And know that when you show up to that cookie swap, yours is just the cutest!

Photos by Dayna Studios
---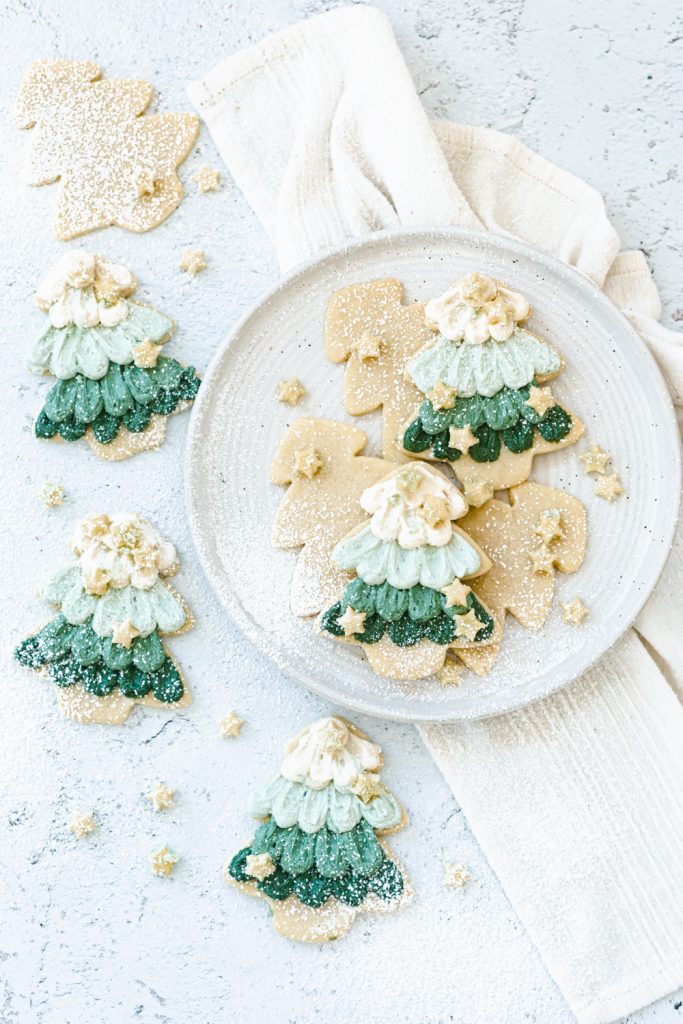 ---
OMBRE CHRISTMAS TREE COOKIES
SERVES: 2 1/2 cups frosting | COOKIES: About 20 | TOTAL: 30-45 MINUTES
W H A T Y A N E E D

COOKIE BATTER

Pre-made sugar cookie batter
*(I used Pillsbury sugar cookie dough, 30 oz. size)
Flour
Food grade safe food coloring

FROSTING

1/2 cup unsalted butter, softened
1 1/2 teaspoons vanilla extract
2 cups confectioner's sugar, sifted
2 tablespoons milk

B U S T O U T

Christmas tree cookie cutter
Small star cookie cutter
Edible glitter
Popsicle sticks
Small mixing bowls
Hand mixer or standing mixer
Cookie sheets
Parchment paper or silicone pads
Rolling Pin
Piping bags or ziplock bags
Piping Nozzle
---
I N S T R U C T I O N S
COOKIES
I used Pillsbury sugar cookie dough mix. It is the limited edition size, perfect for those cookie swaps! Also, my kids loved that it is now safe to eat raw, haha.
STEP 1
For the cookies, heat the oven to 350ºF (or 325ºF for non-stick cookie sheets).

STEP 2
For cut-out cookies: Knead 1/2 cup all-purpose flour into the dough. Roll on a floured surface until 1/4 inch thick. Cut with your cookie cutter, in this case, a Christmas tree, and place it on the cookie sheet. Bake 8 to 11 minutes. With your leftover dough, you can use a small star cookie cutter and make little cookies to use a star on the tree. Bake them a couple of minutes less. Take out to cool for a few minutes, and then place on a wire rack to fully cool.

LET'S OMBRE THESE TREES UP!

Time to frost! Once your cookies are cooled, you are ready. If you don't wait until they are properly cooled down, the frosting will melt off, and you will have sad Christmas trees. You can also do the baking ahead of time, put the cookies in a loose ziplock bag, and place them in the fridge.

STEP 1
Cream room temperature butter with either a hand mixer or the paddle attachment of a stand mixer. You can also use a wooden spoon until it is smooth and fluffy. Slowly, beat the powder sugar until fully incorporated and nice and soft. Then beat in vanilla extract.
STEP 2
Pour in the milk and beat for about 3-4 minutes. Frosting should be nice and fluffy.
STEP 3
Take three bowls, take half of the frosting, and separate evenly into the three bowls. With the remaining frosting in the mixer, take about 6-8 drops of green food coloring and 3-4 drops of red food coloring and mix in. You will achieve a pretty sage green color. Now, take about a tablespoon or two and add to one bowl of the white frosting. Mix in. Next, add a tiny bit to the 2nd bowl of frosting, and mix in. Leave the last bowl plain white. Put the frosting into piping bags or ziplock bags. I used a small round pipping nozzle, but you can cut a small hole too.
STEP 4
Start with the darkest green and place dollops of frosting close together at the bottom of the tree. Then with either a popsicle stick or even your finger, spread the frosting towards the top of the tree. Repeat this pattern with each color, going from darker to lightest. Once you are done, you should have a pretty ombre tree. At the top, place a dollop for a fun star or leave plain. Dress up the tree with some edible glitter, and you are ready for that cookie swap.
---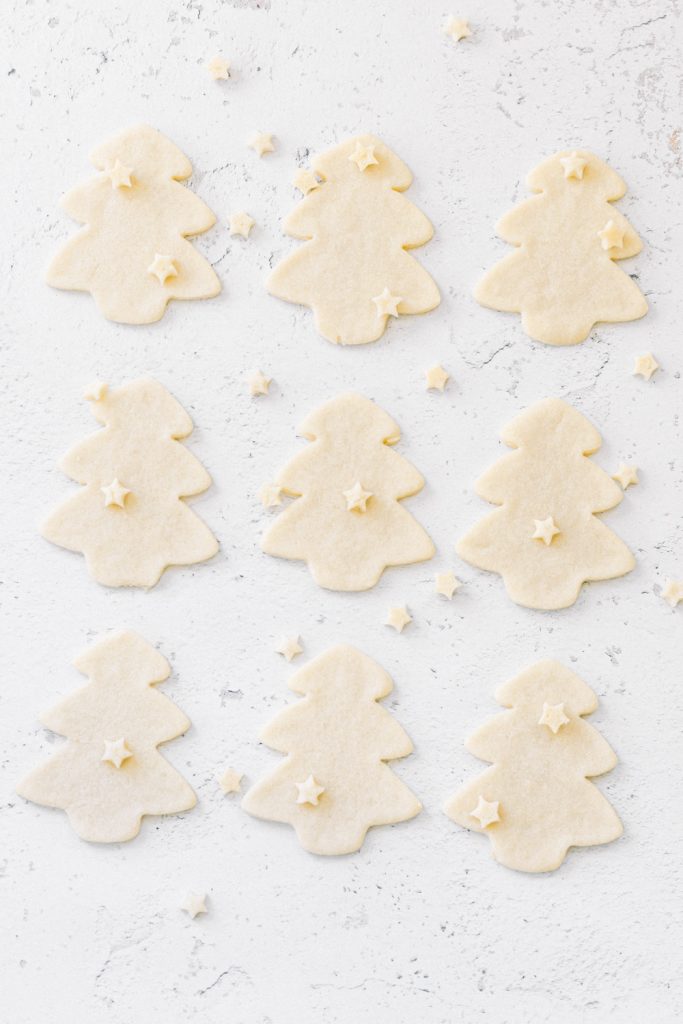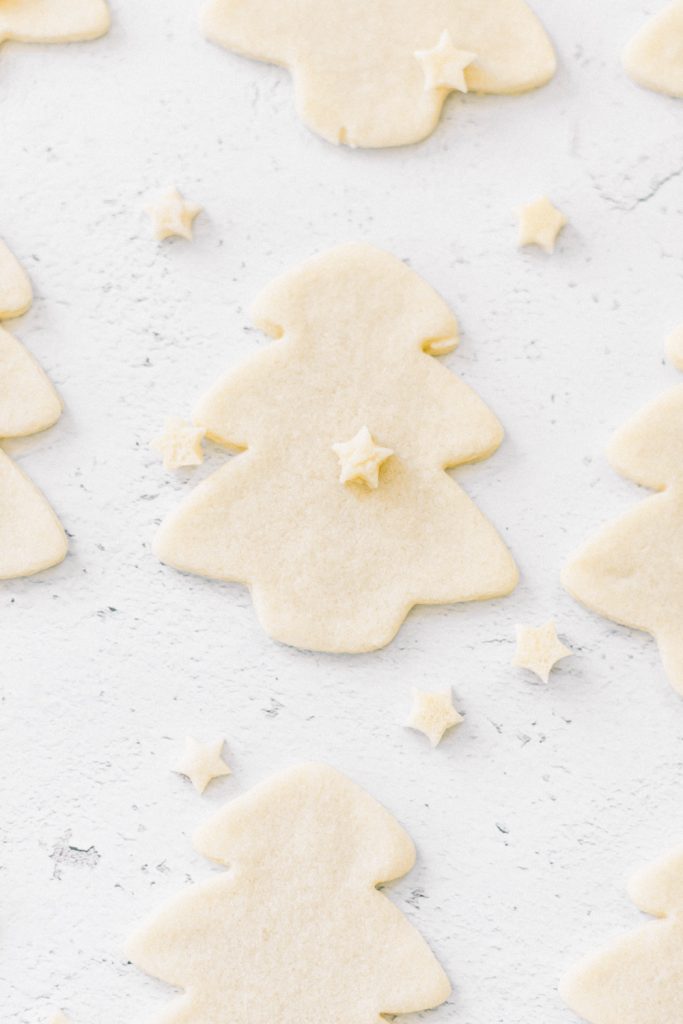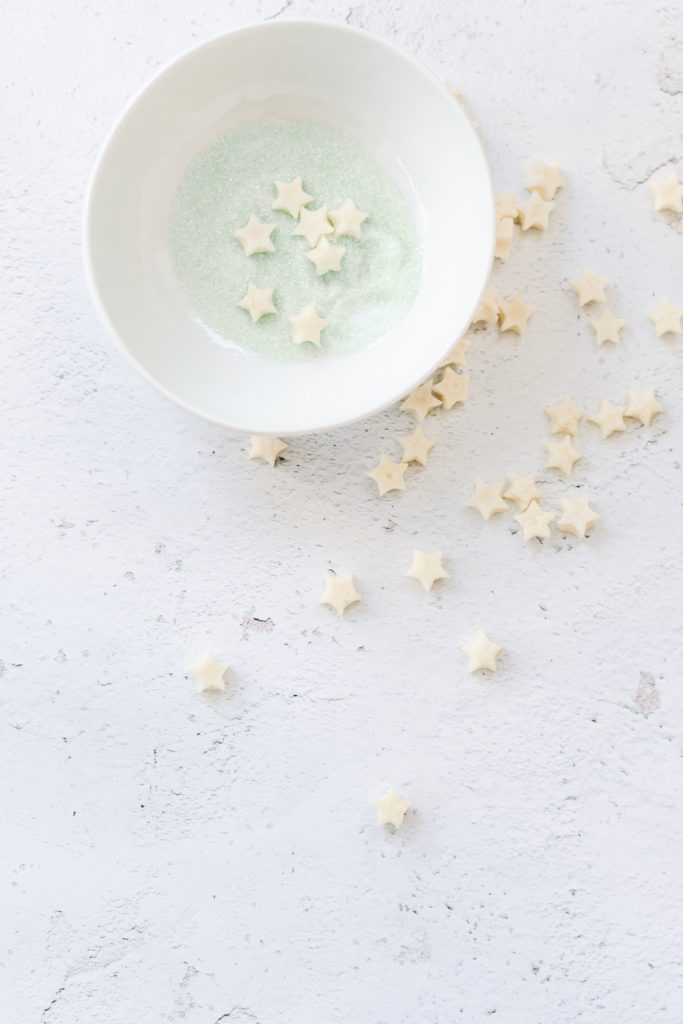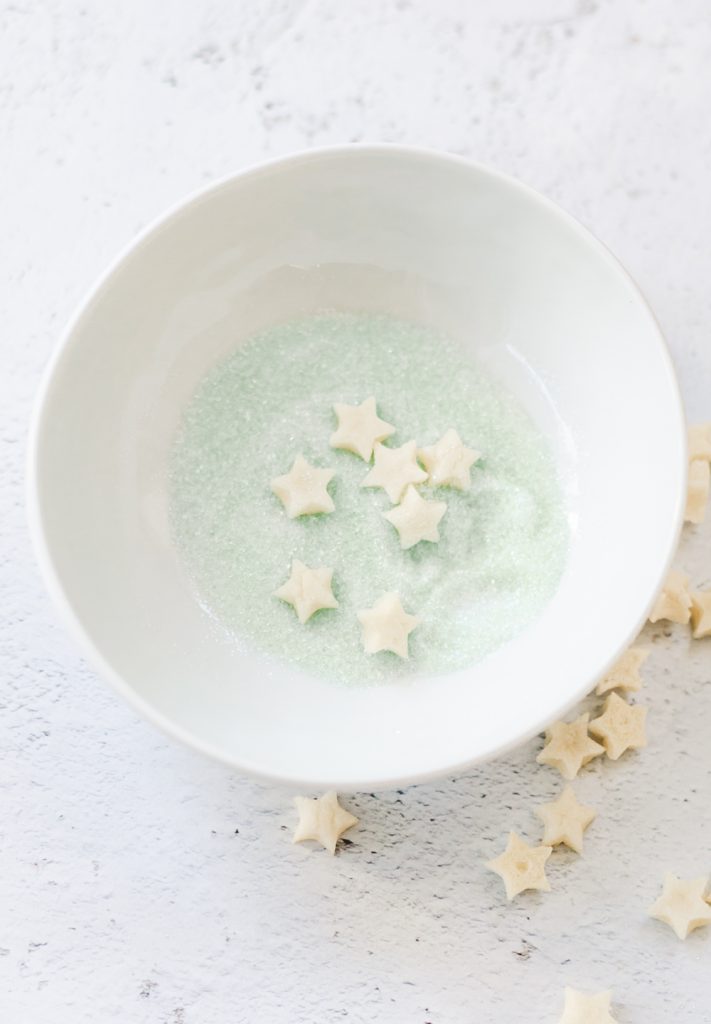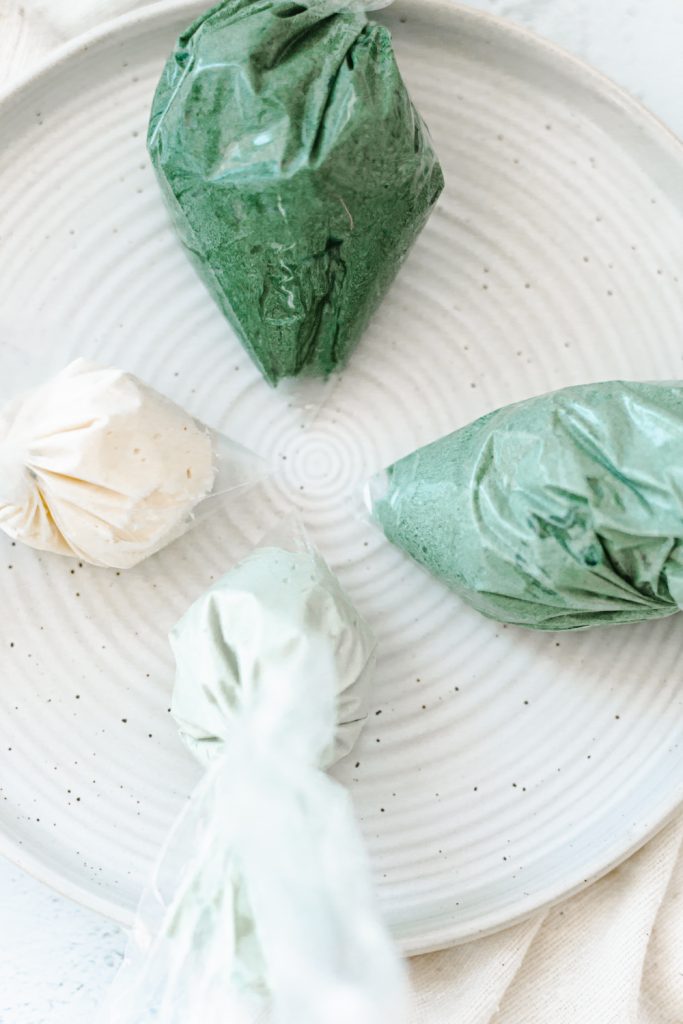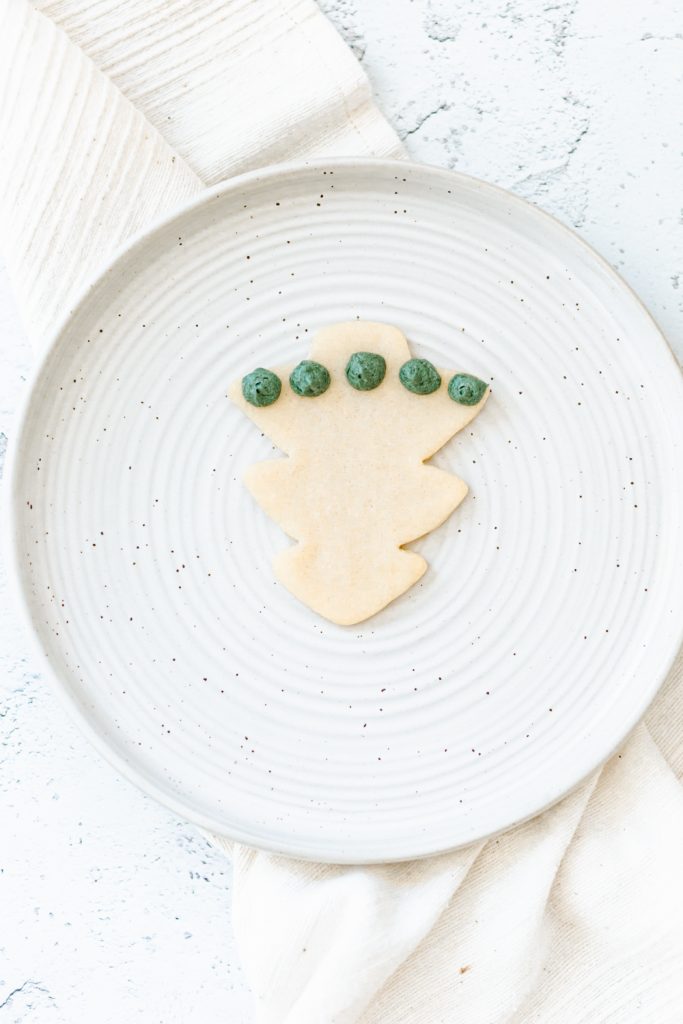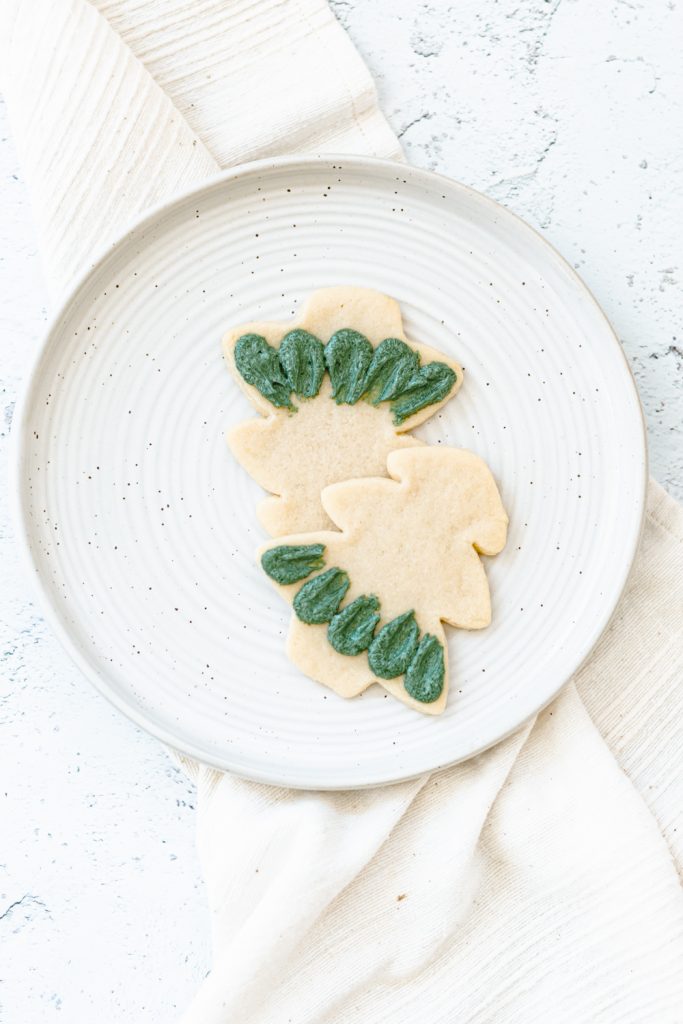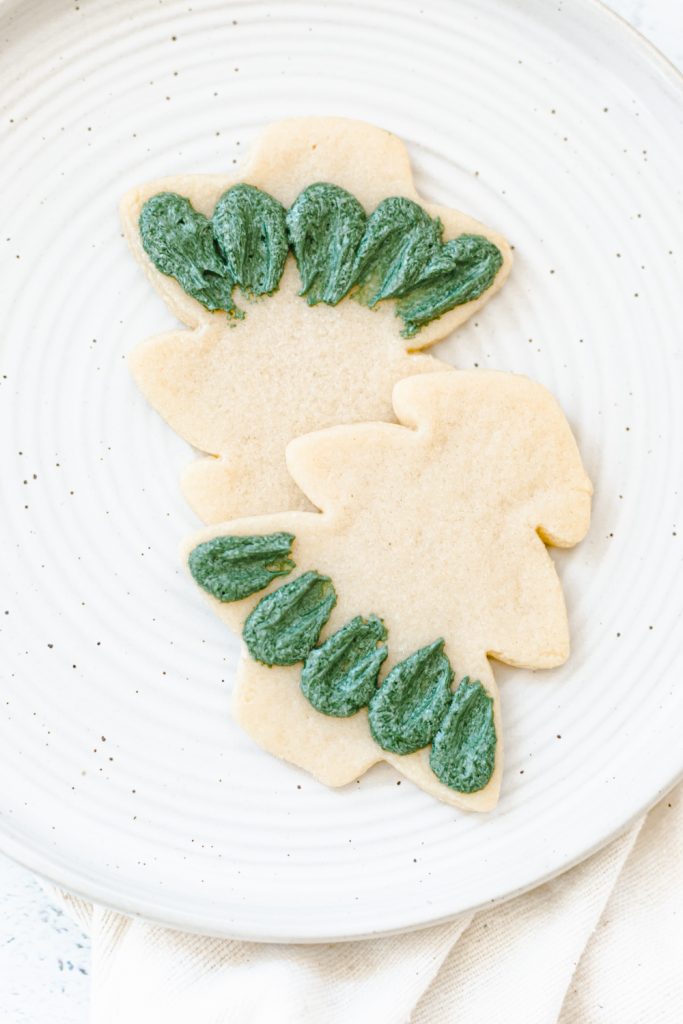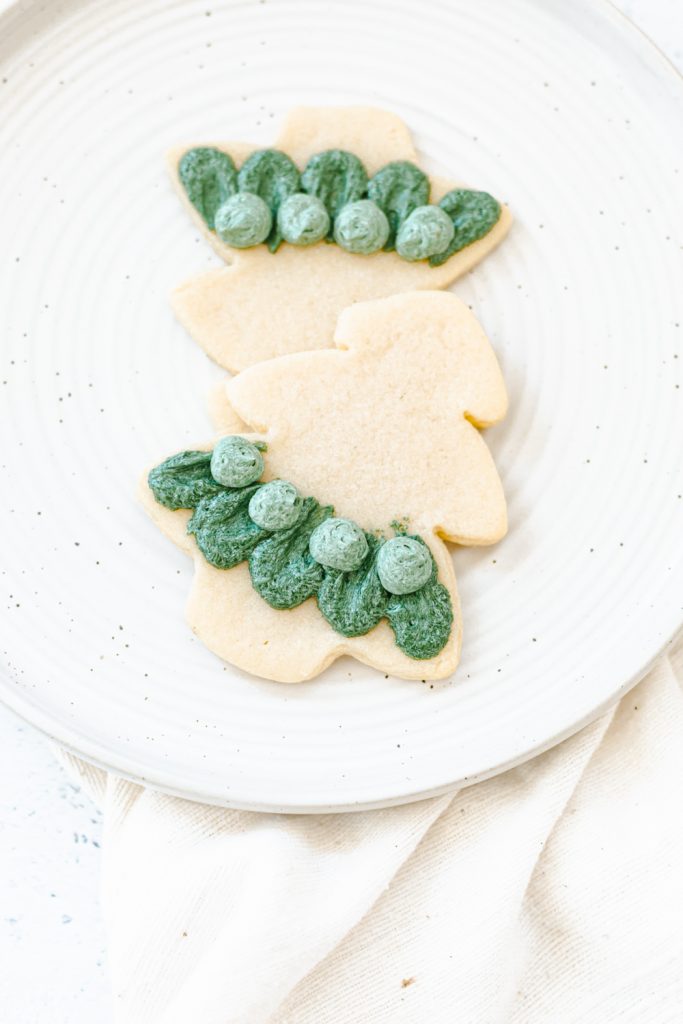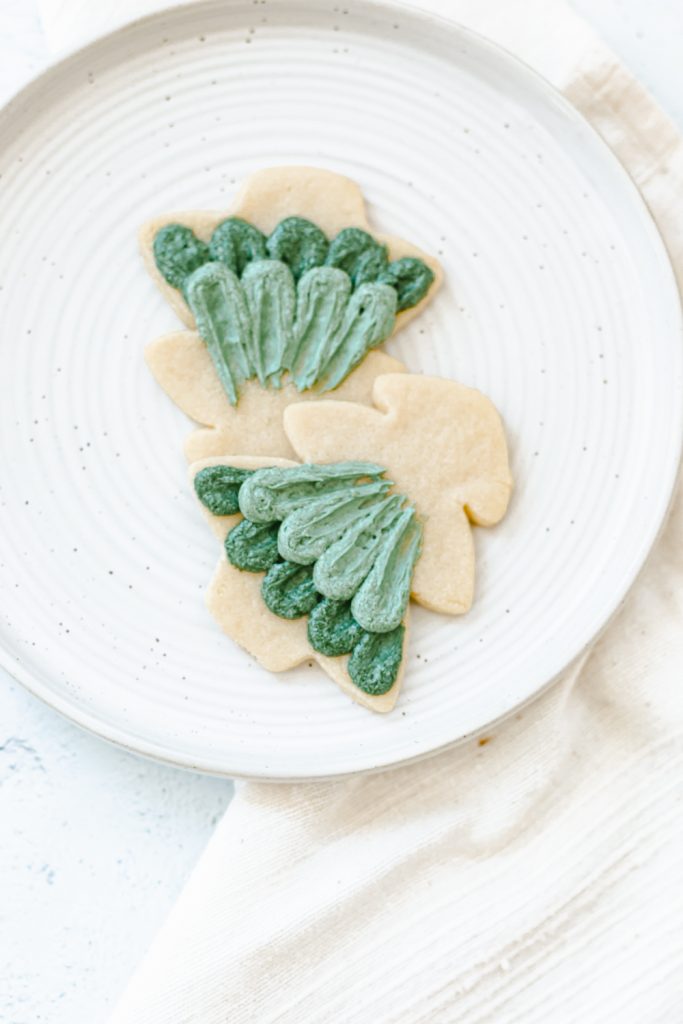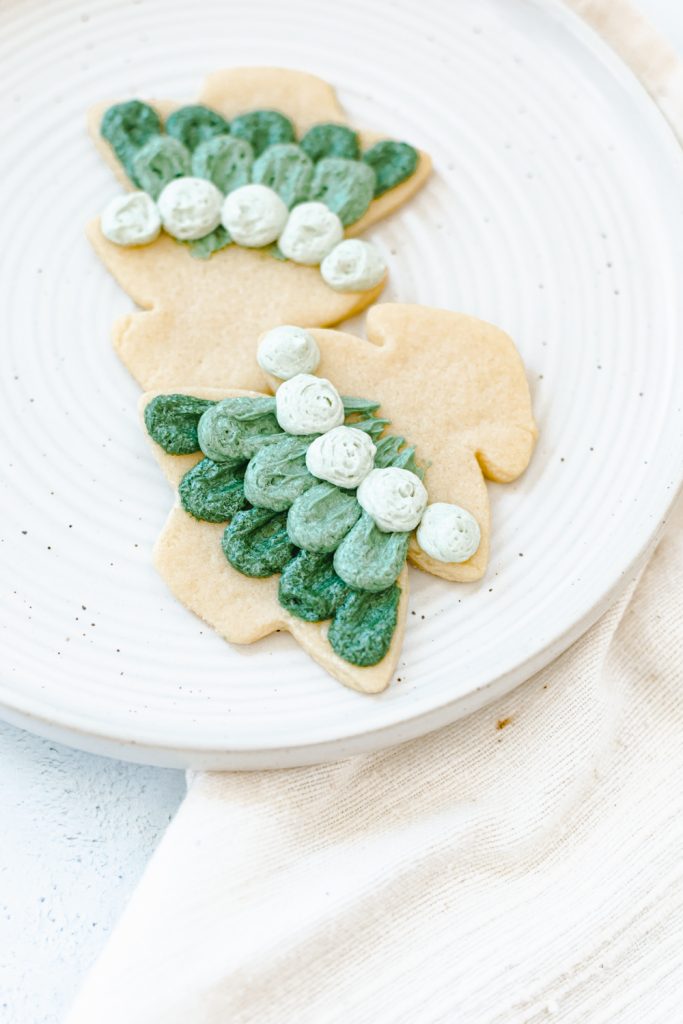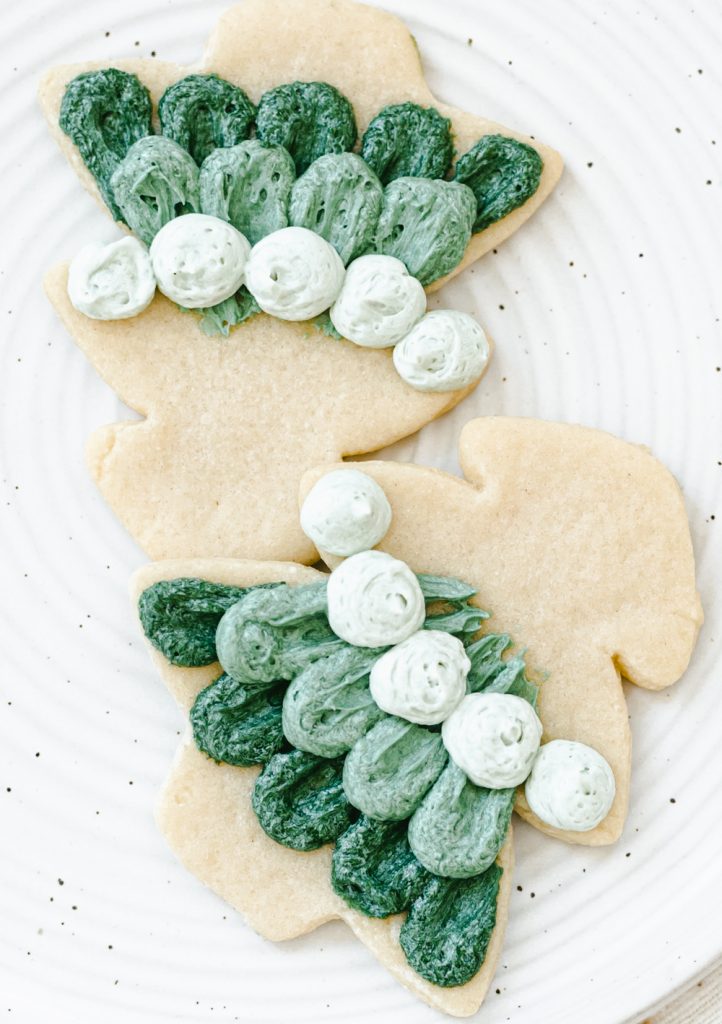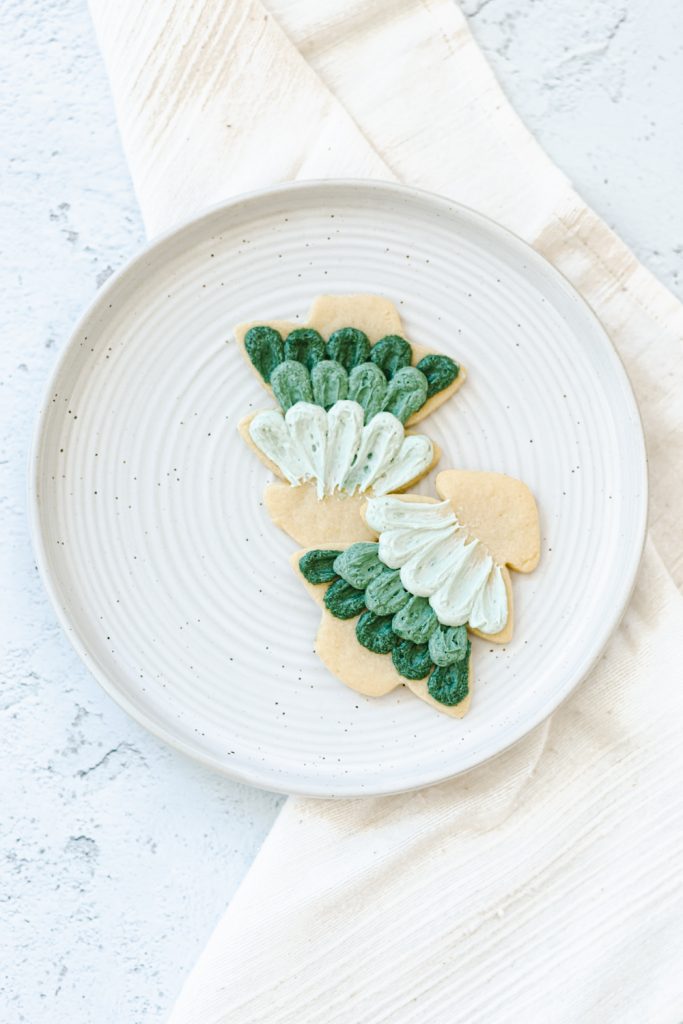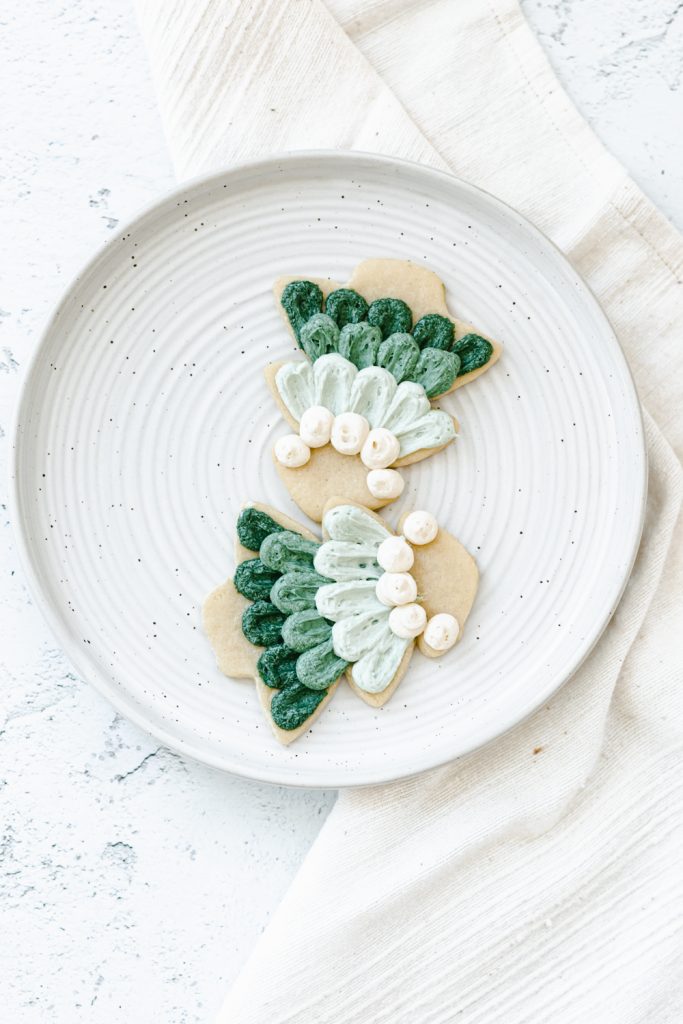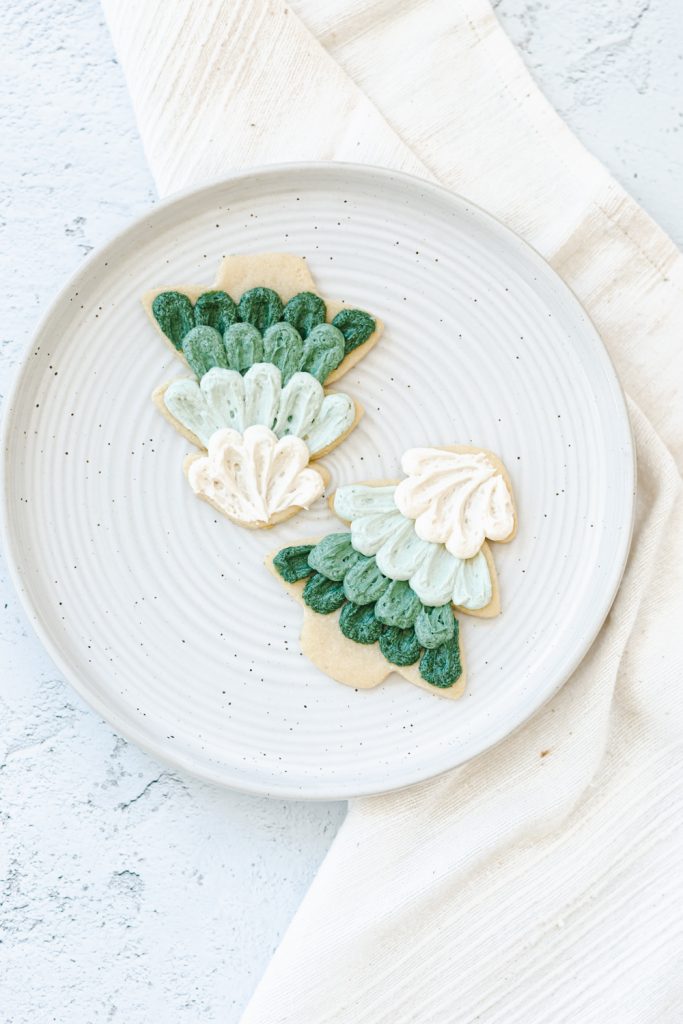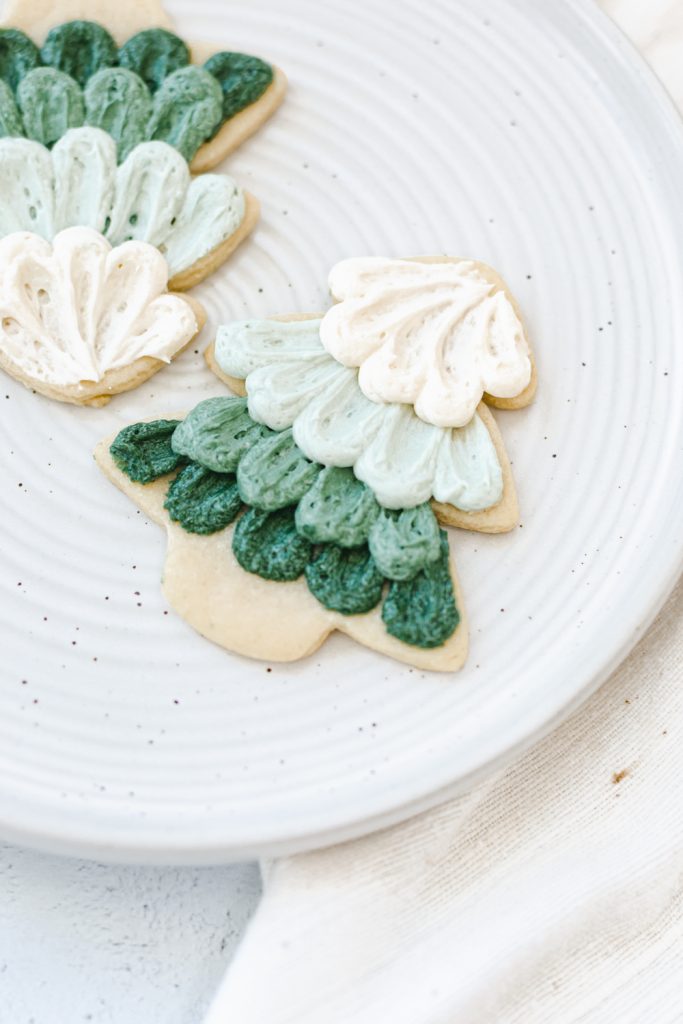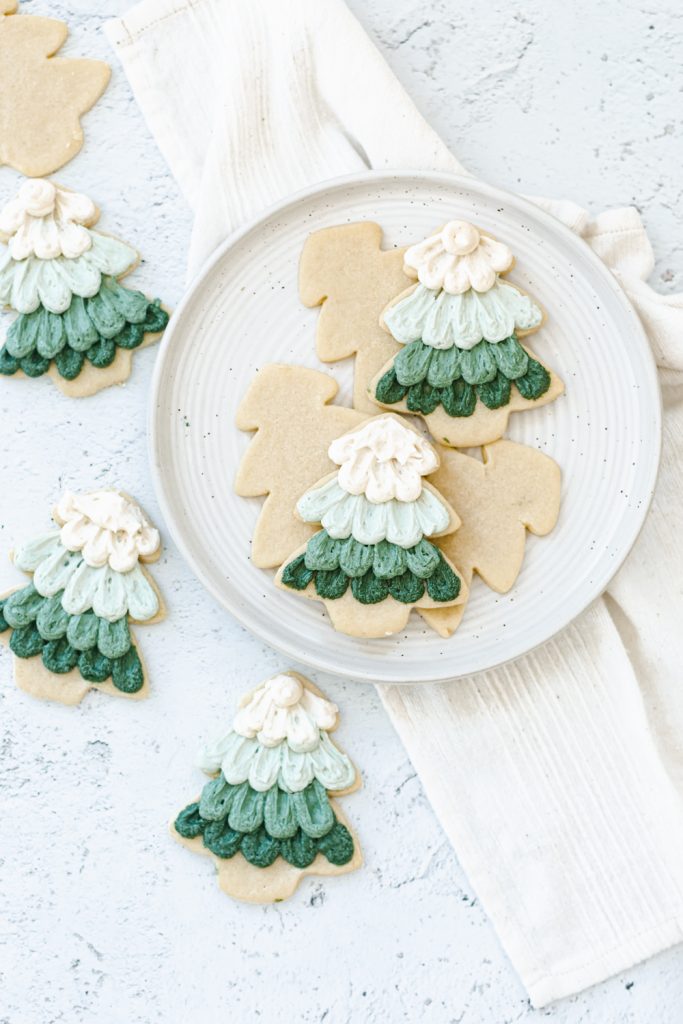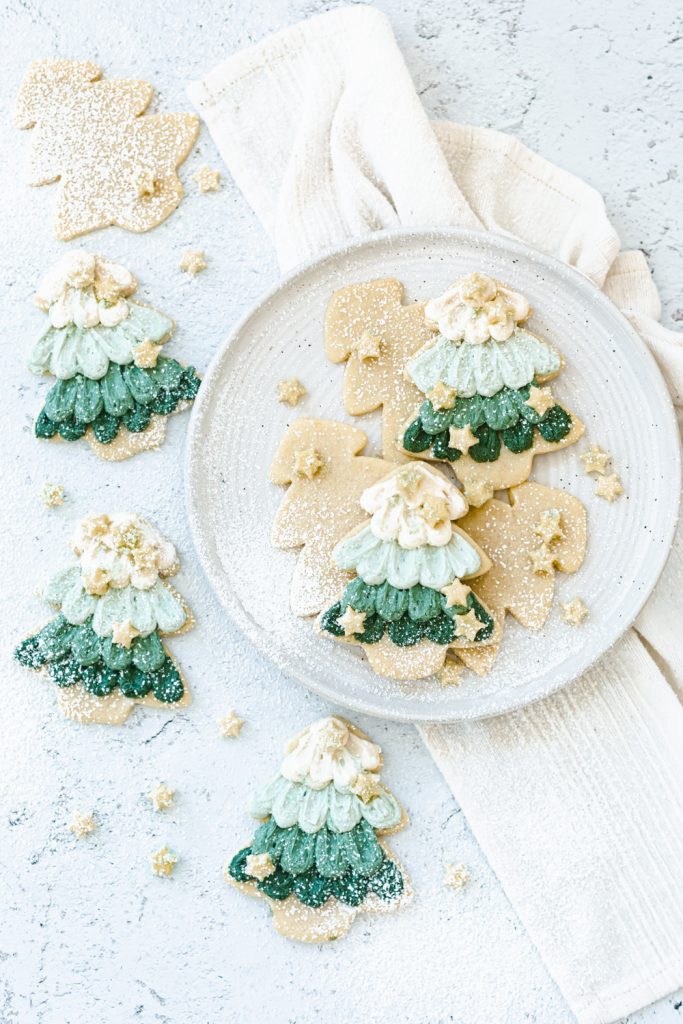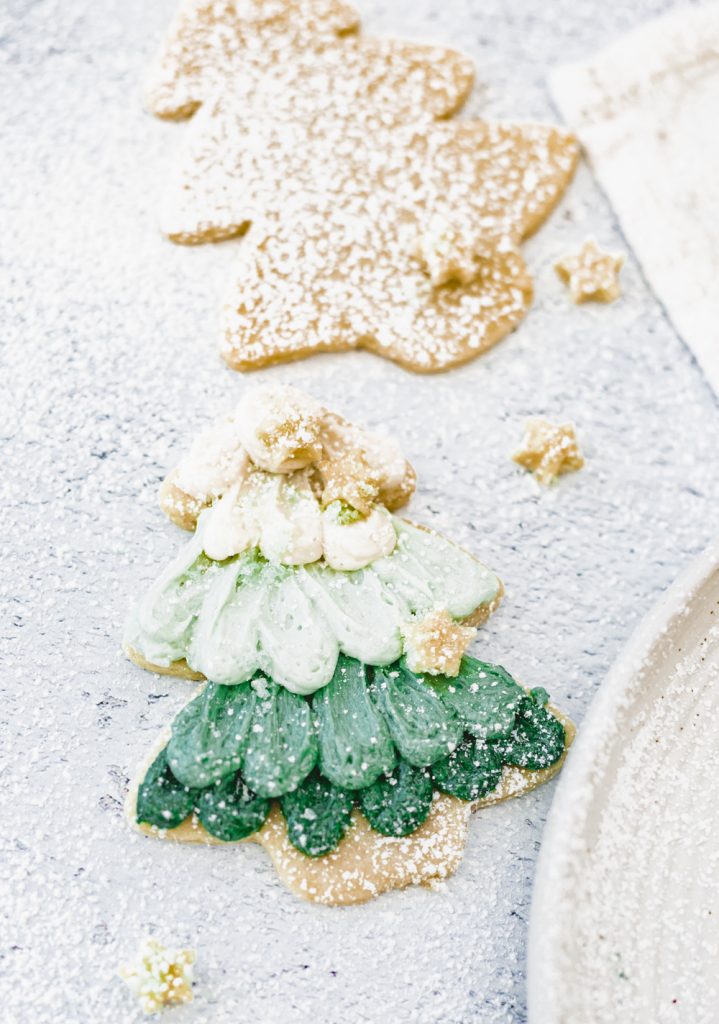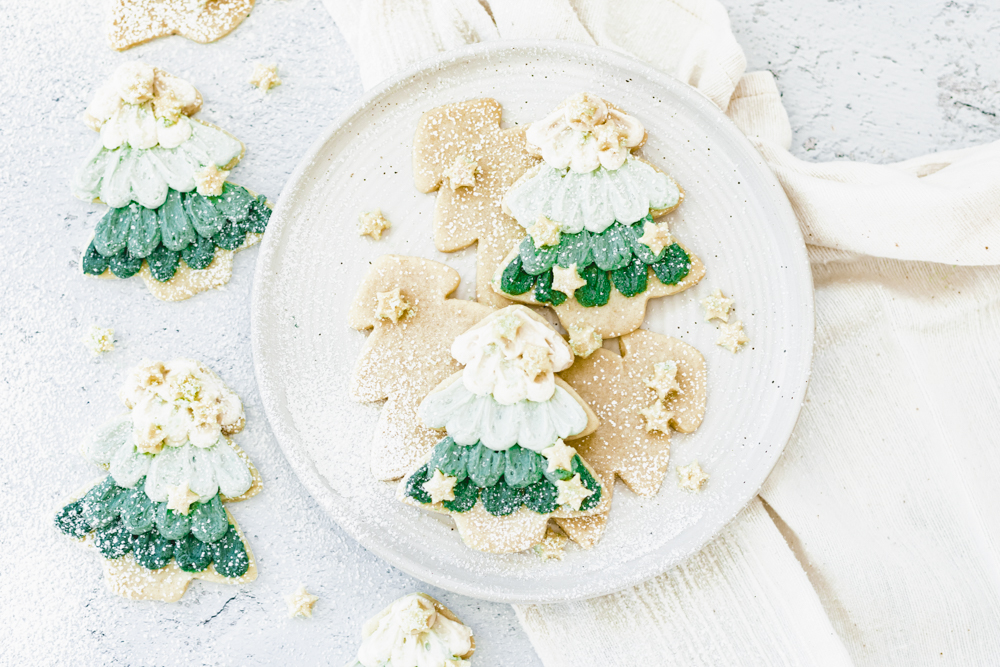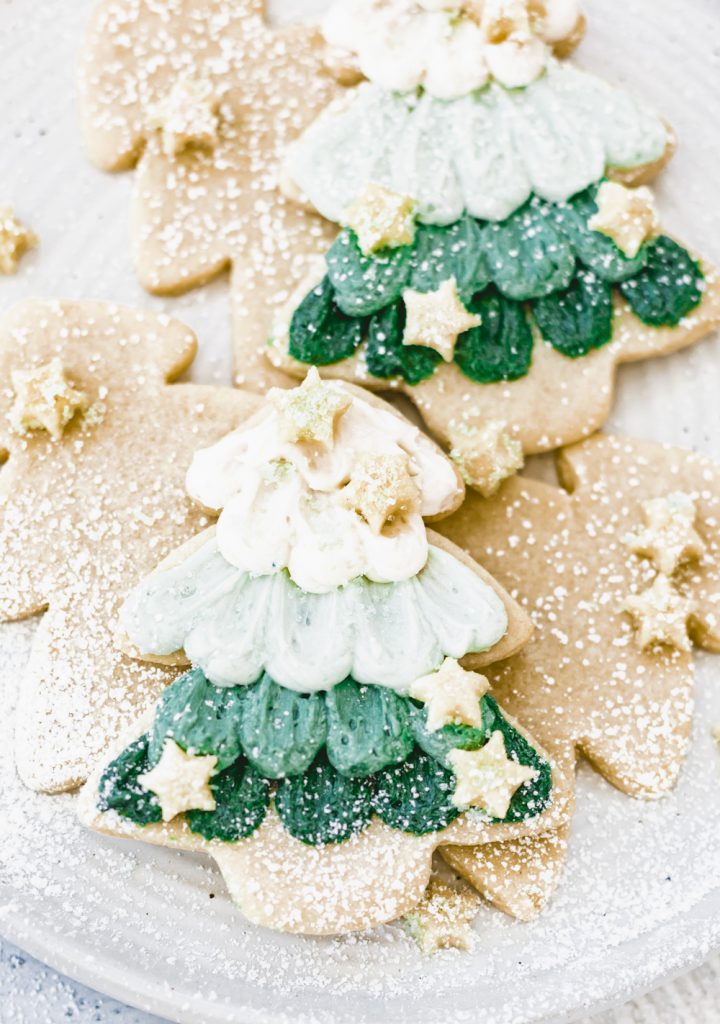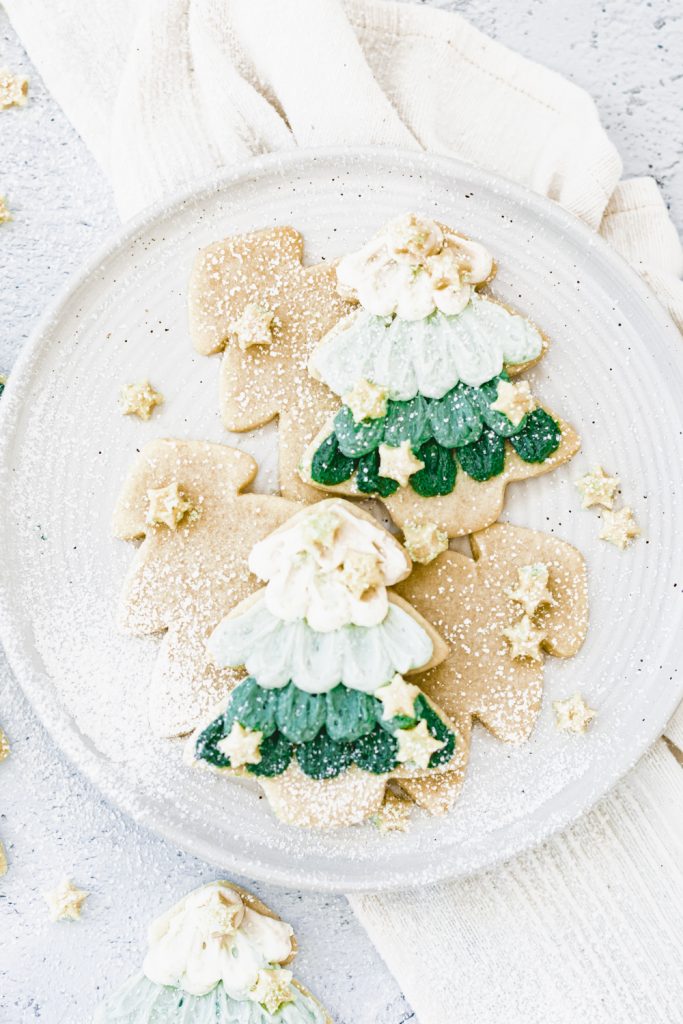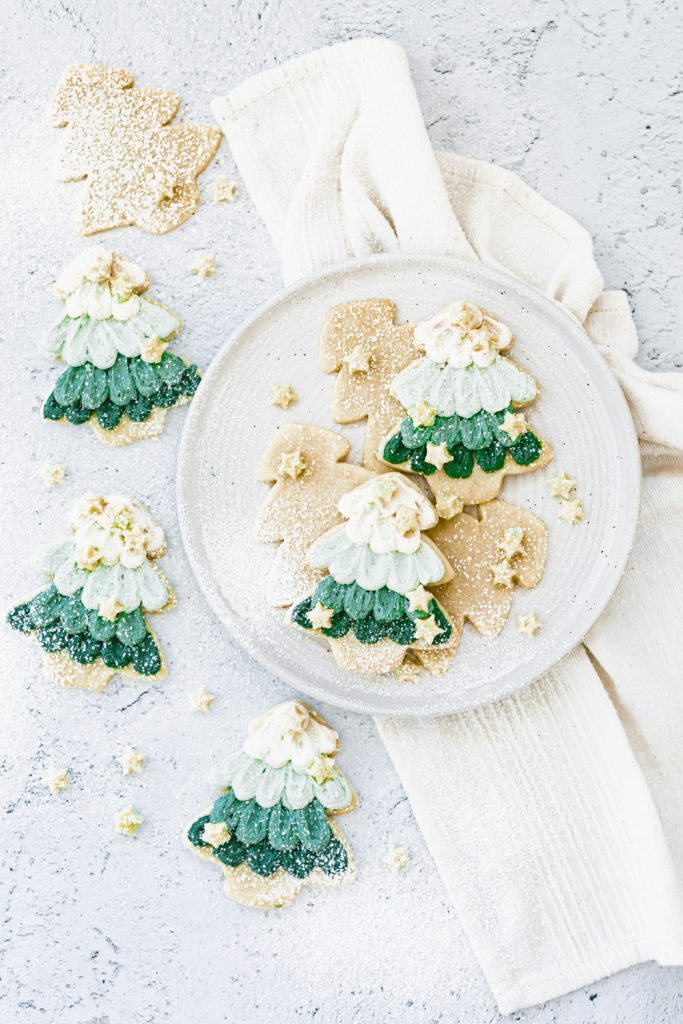 ---
B E I J O S K I T C H E N

xx
Abby