Ya, ya, Christmas is in less than a week – but guess what, New Years Eve takes a backseat to no-one!!! Can you believe a decade is coming to a close? A freaking DECADE you guys!!! Well we are sharing some fun ways to deck out your house for the holiday today with our friends at Minted!
As a mom of two little guys I have stayed home for basically the past 5 years, and I ain't mad about it. We do an early NYE celebration with the boys and a few friends then put them to bed and the hubby and I celebrate with some drinks and a good movie.
So why not deck your home out and create fun little moments for you and your family?! Or maybe you are throwing a party, these would work for that as well! Keep scrolling to see how Abby & I styled a few perfect prints in our own homes!
Photos by Corrie Lynn Photo & Dayna Studios
---
F I R E P L A C E
Let's start here, shall we! I used the cutest print from Minted "Let The Good Times Roll" by Morgan Kendall, sort of perfect for New Year's Eve, right?! I plan on putting it in one of my boy's rooms after too. This saying sets the tone for any party and for a New Year Resolution!
My friend Ellen of The Pop Shop decked it out with a rad balloon install too, you know I'm always up for that!! The florals are by Not Just in Novels, because yes – flowers and disco balls should always be a thing – but ESPECIALLY on New Year's Eve!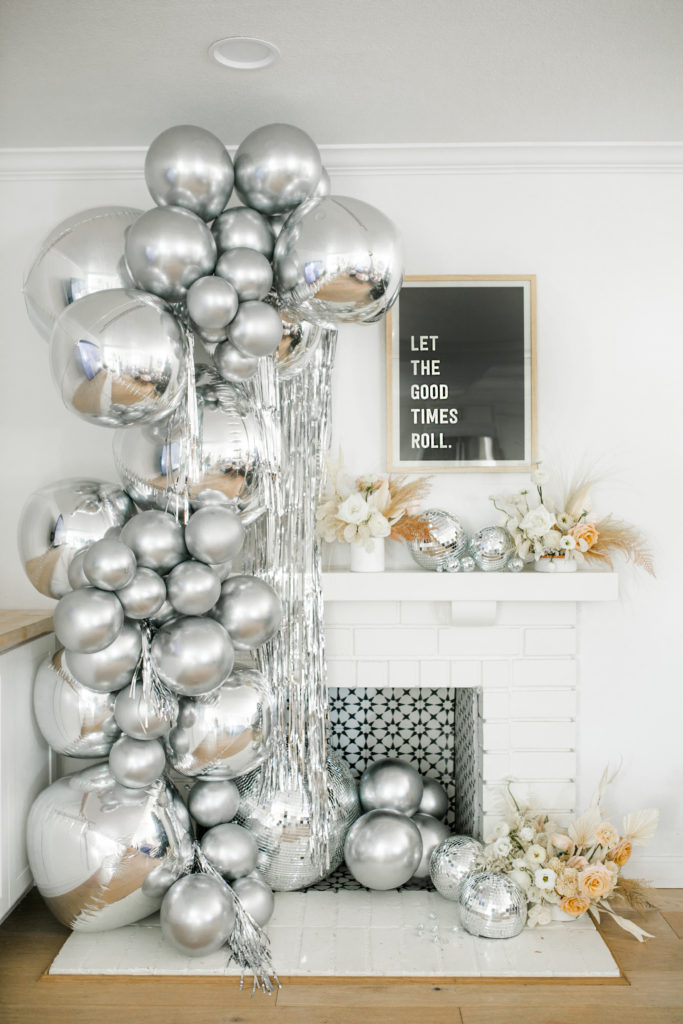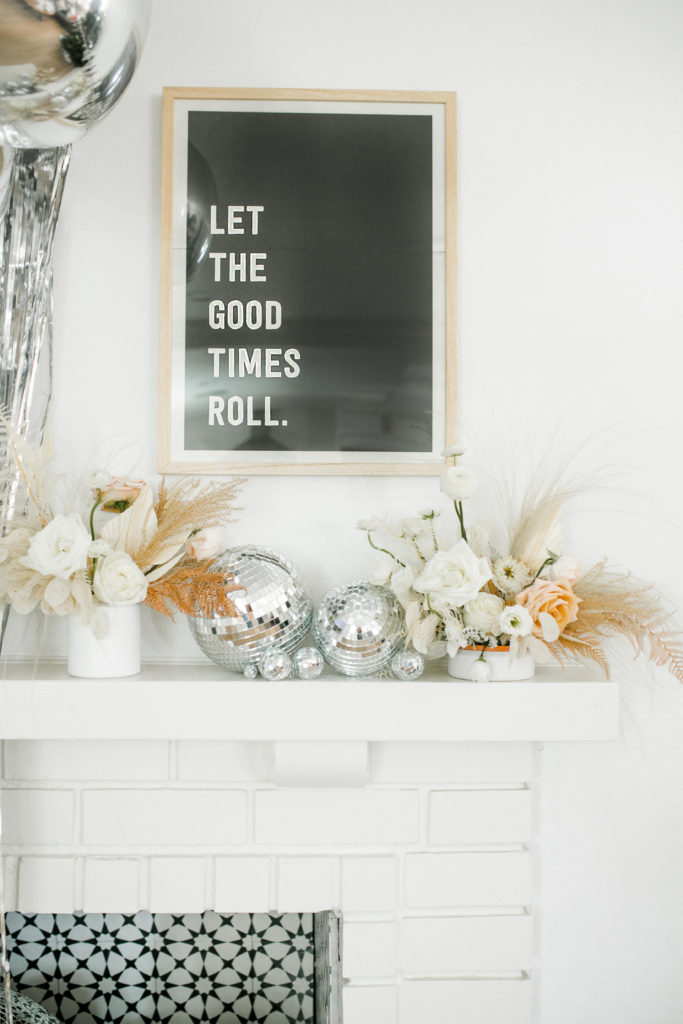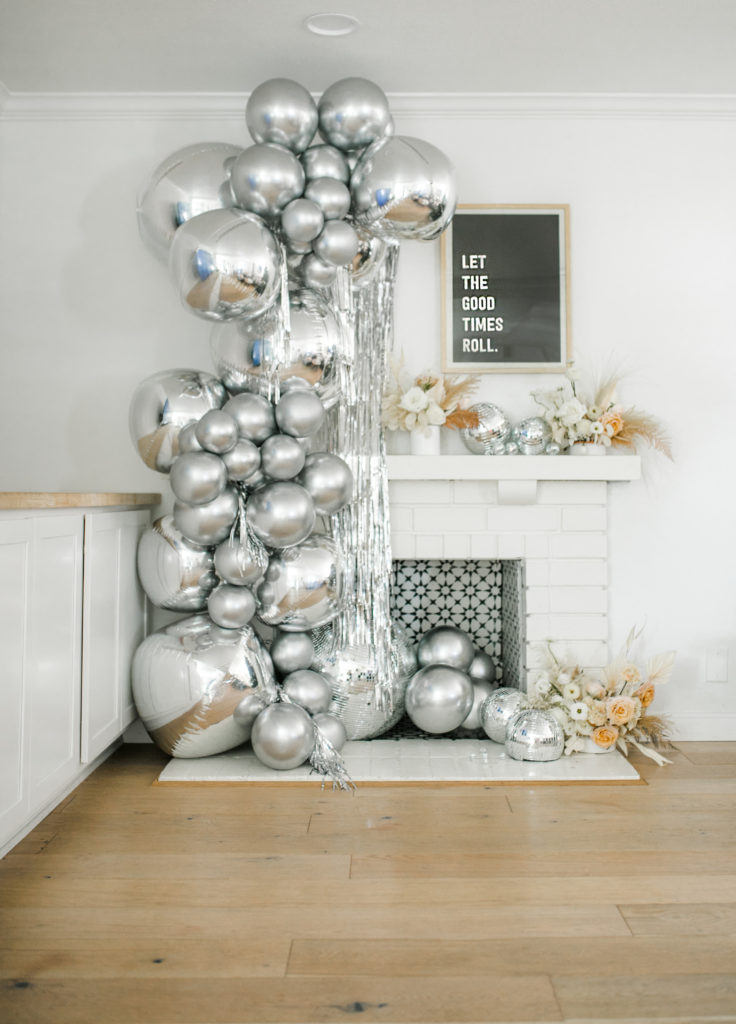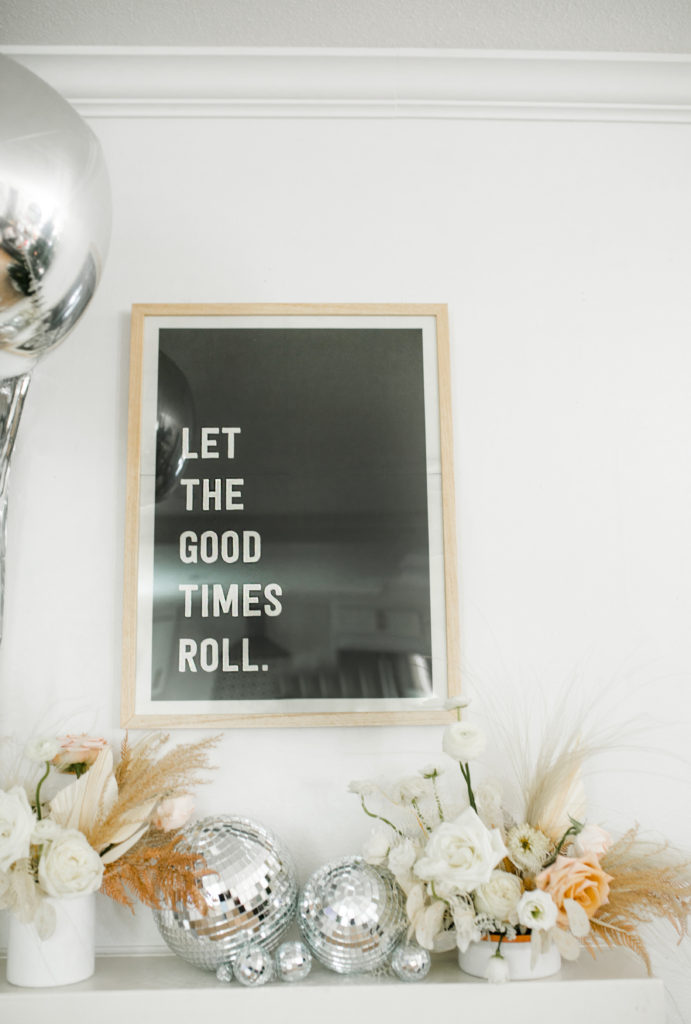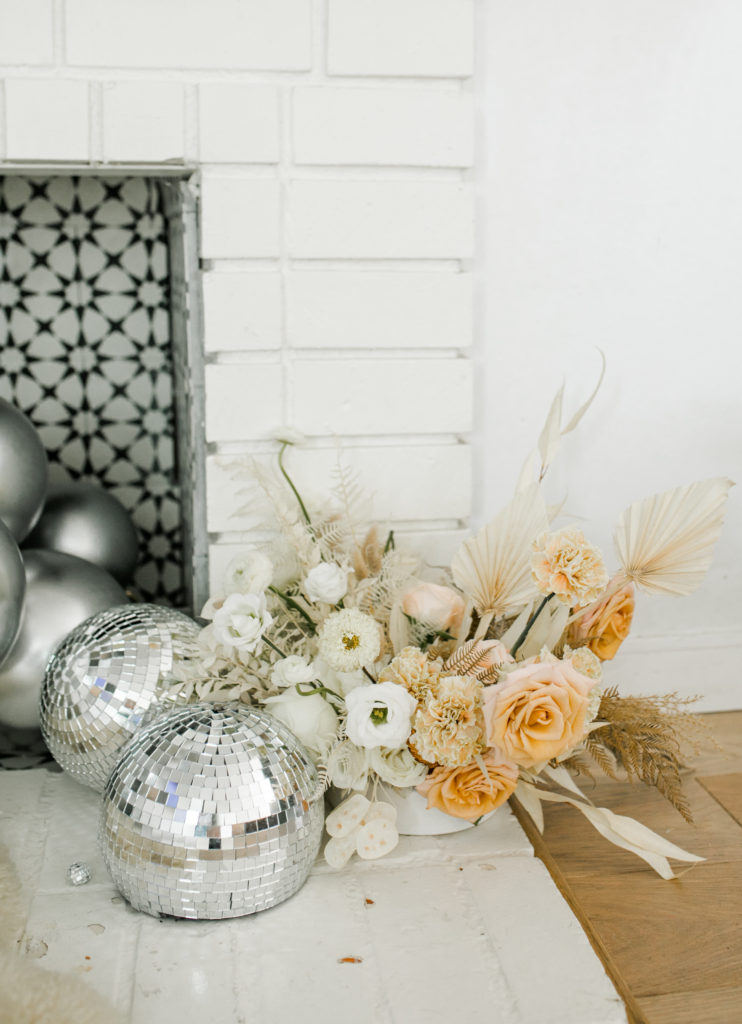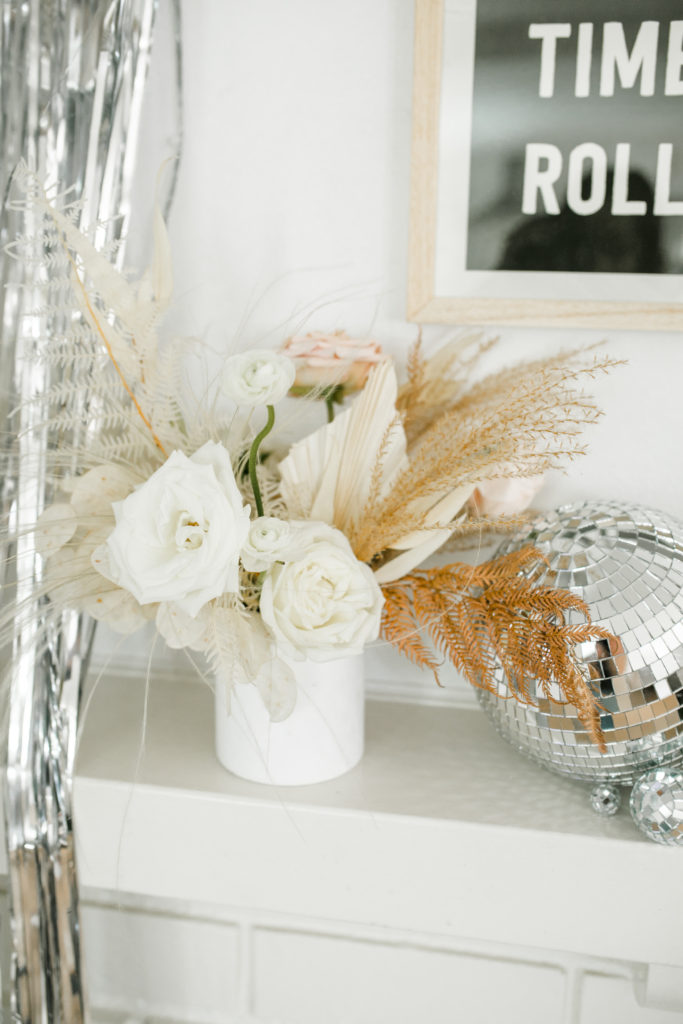 Cue the champagne!!! Yes, One Hope, our favorite, has these amazing shimmer bottles and you know you need them on 12/31! What better way to end a decade then with some champagne?! Pop those bottles people!!
I'm ready to party at home with my cute Saltwater Luxe Joanie Sweater, Daydream Republic Headband and my Chaser Graphic Tee – keep scrolling to see what it says…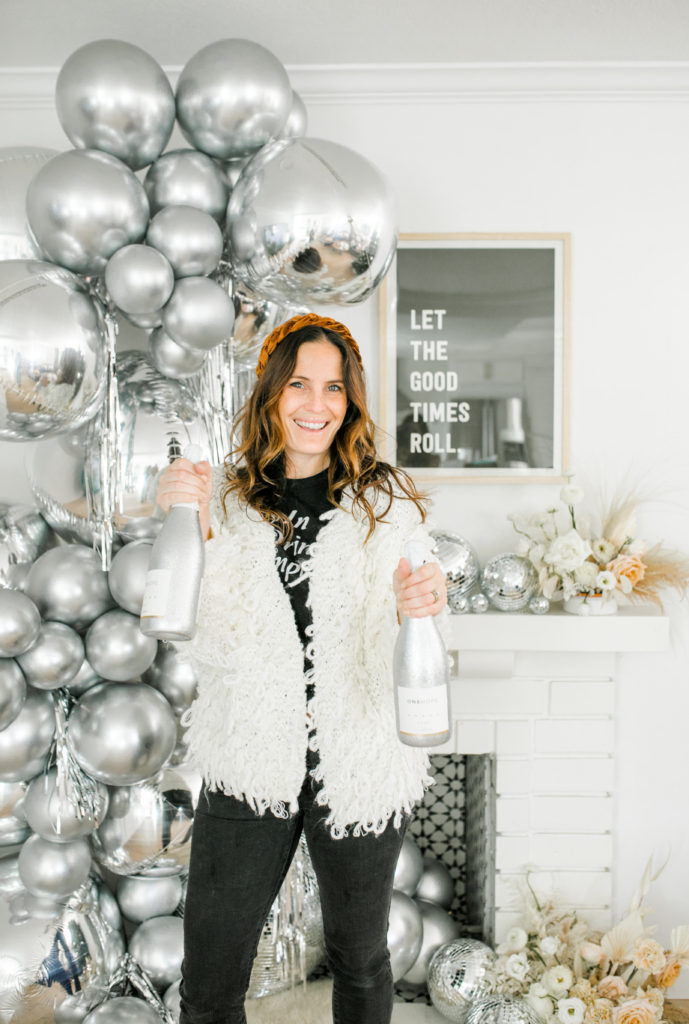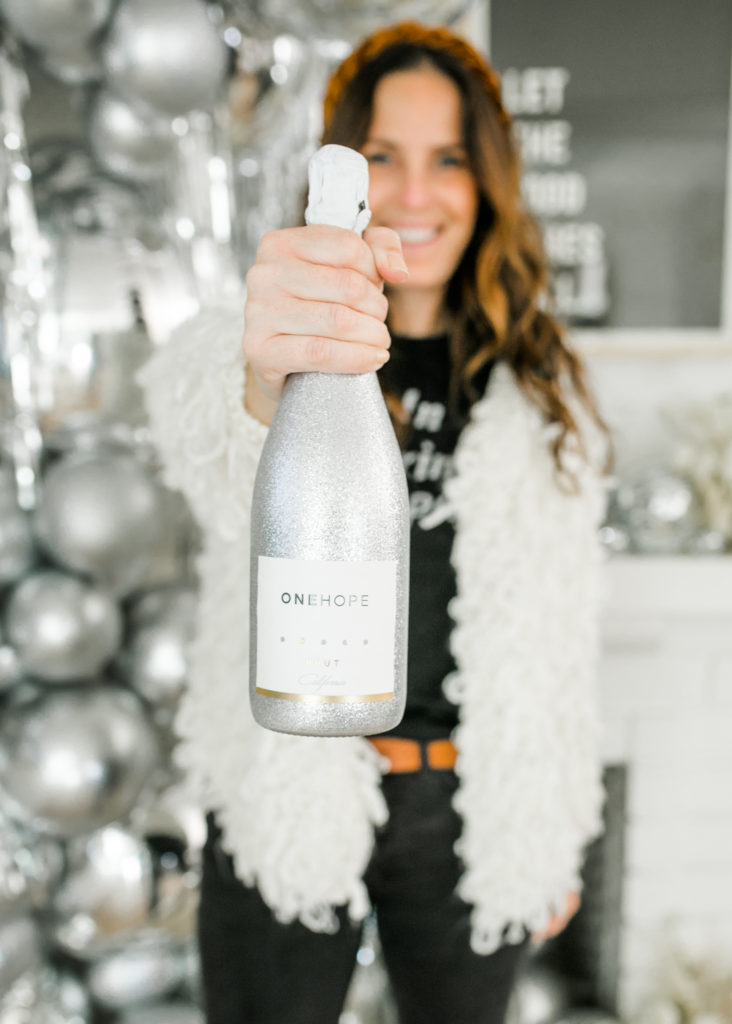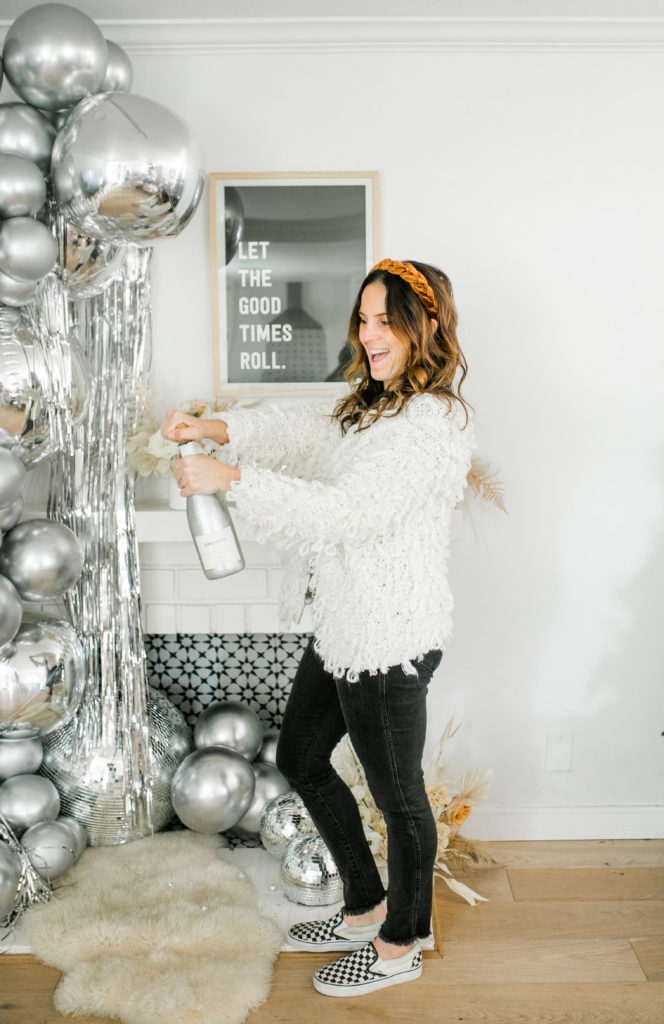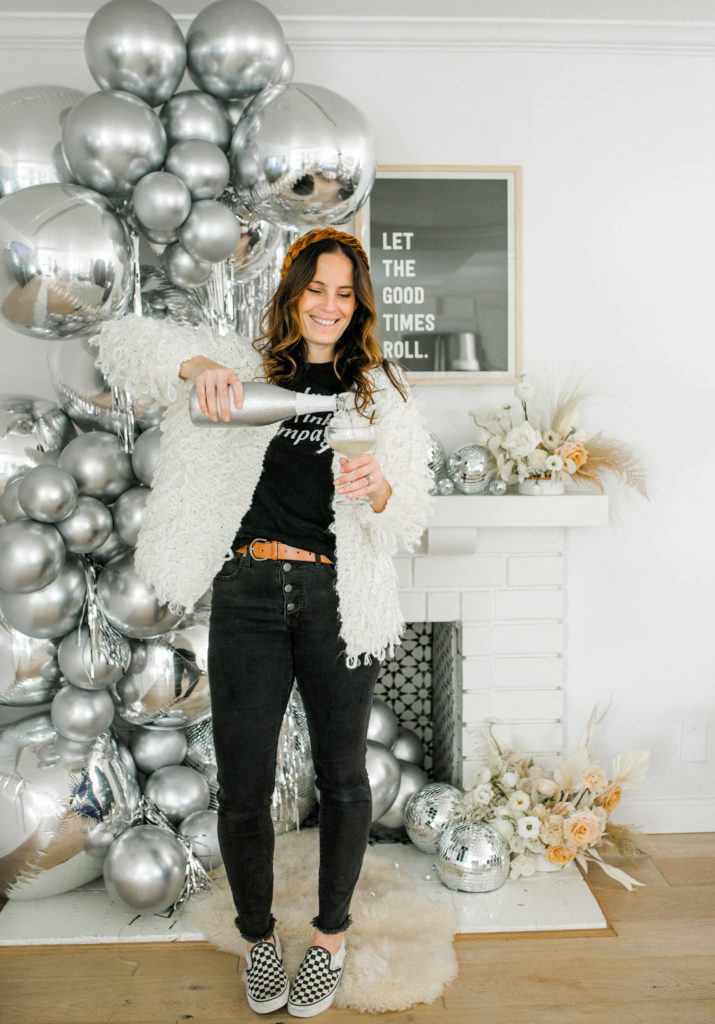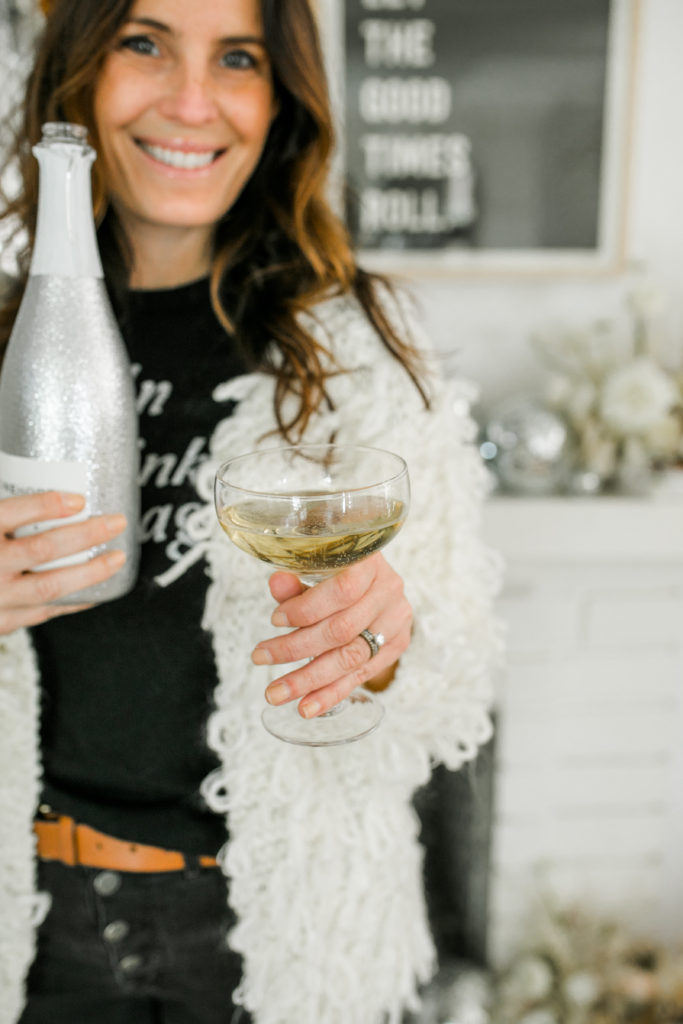 Oh ya, that's just what I plan on doing!!! Staying in and drinking all the champagne!!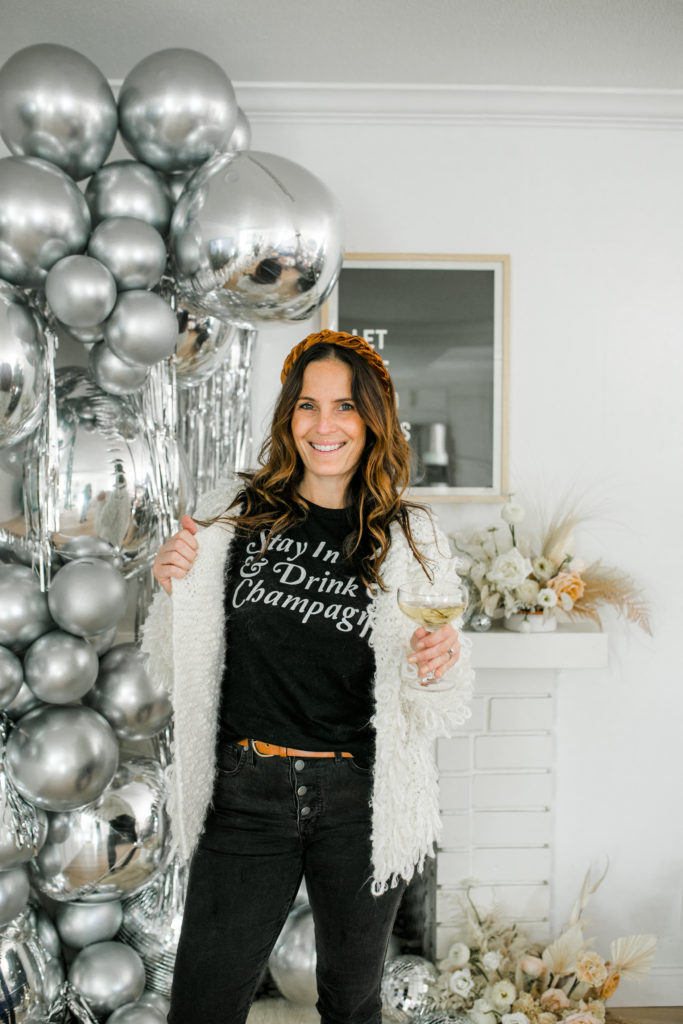 ---
E N T R Y W A Y
What better way to set the tone for a party or gathering then right as your guests walk through the door?! If you are having friends or family over to your home for New Year's Eve you've got to wow them from the get go! Abby decked out her bench with this "LA 213 Print" by Jennifer Morehead and the "Abstract Sparkle" Print by Smile Peace Love behind it.
The "LA 213 Print" represents the area code in Los Angeles, but is also the perfect nod to the countdown don't you think? And when you think of New Year's Eve sparkle is definitely in there – so what better piece than "Abstract Sparkle"?! It all ties in so well together!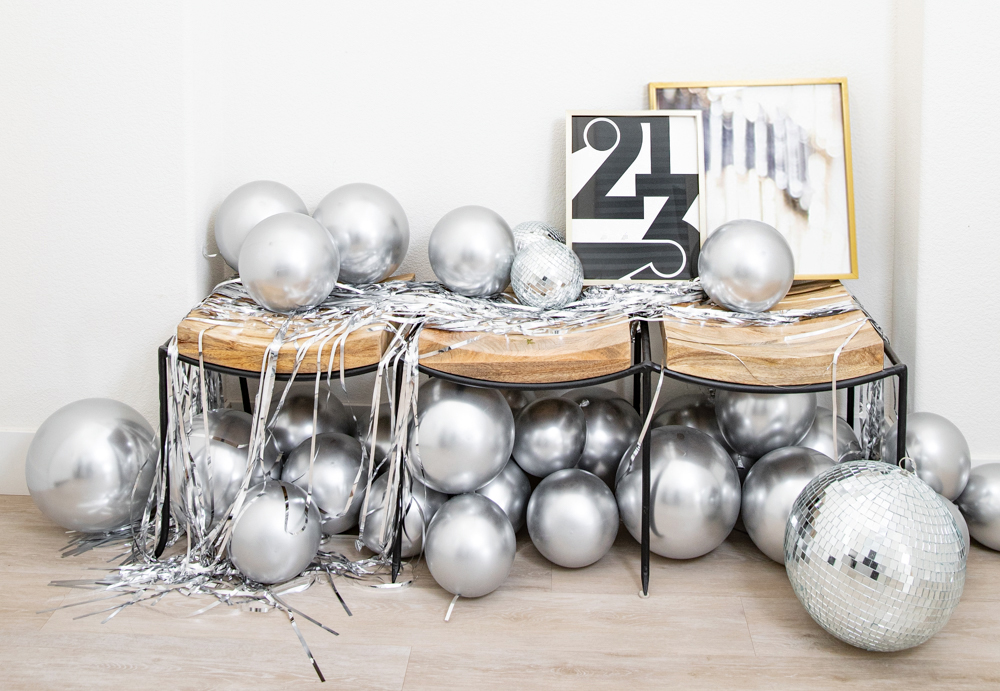 Gotta place those disco balls in the perfect spot!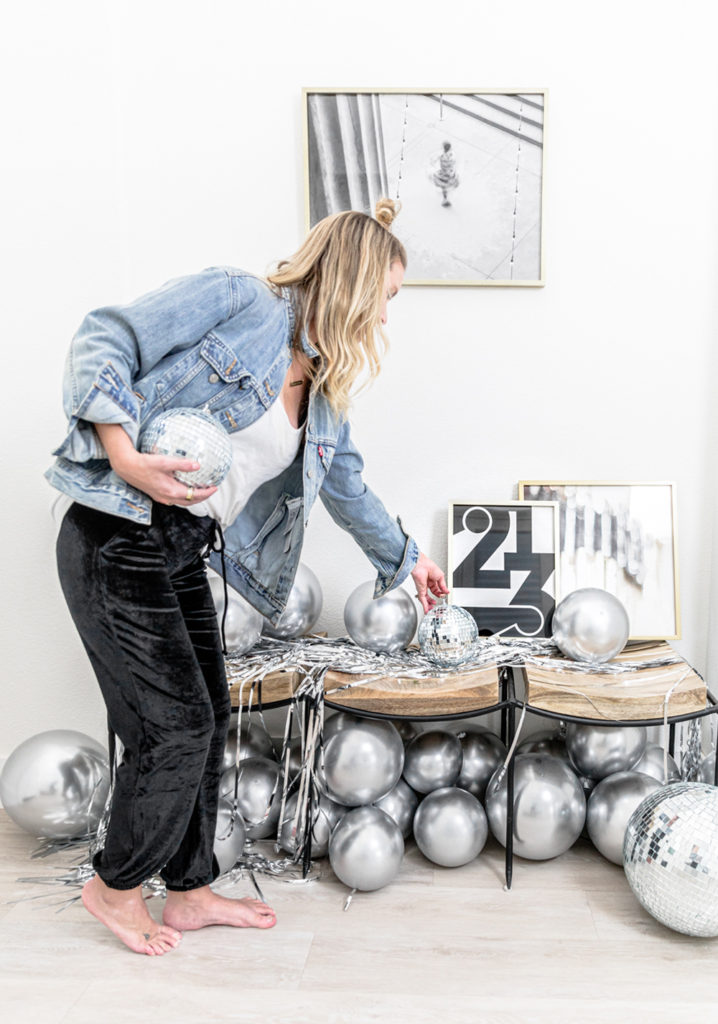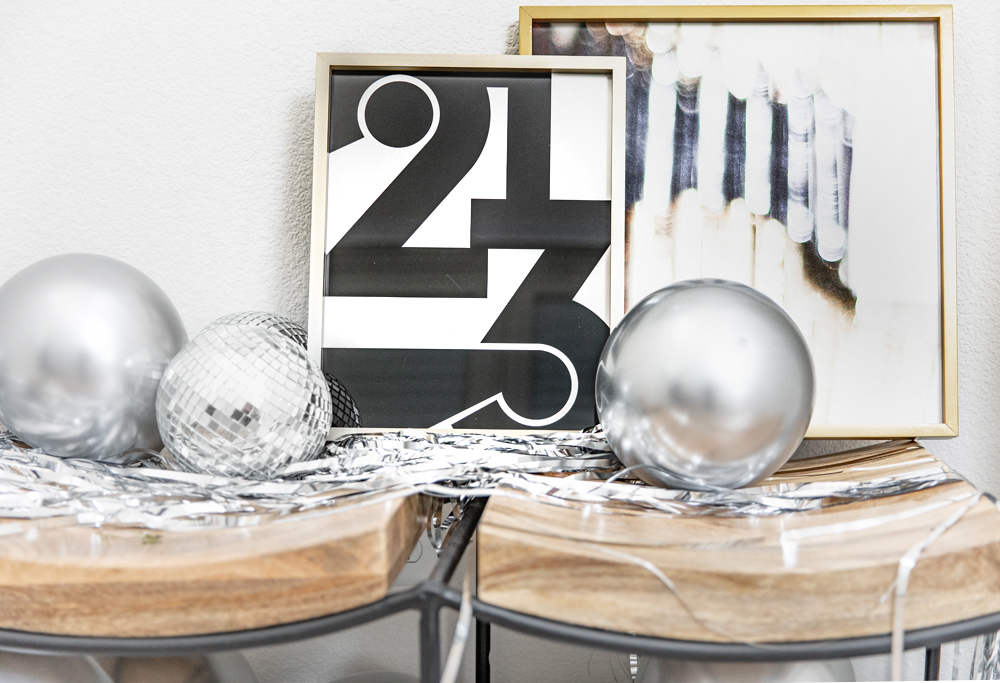 Above the bench Abby used the "Nobody Watching" Print by Nancy Lindo. We should all dance like nobody is watching on NYE right?! So yes, this print not only inspires us but looks so lovely on the wall! Love it!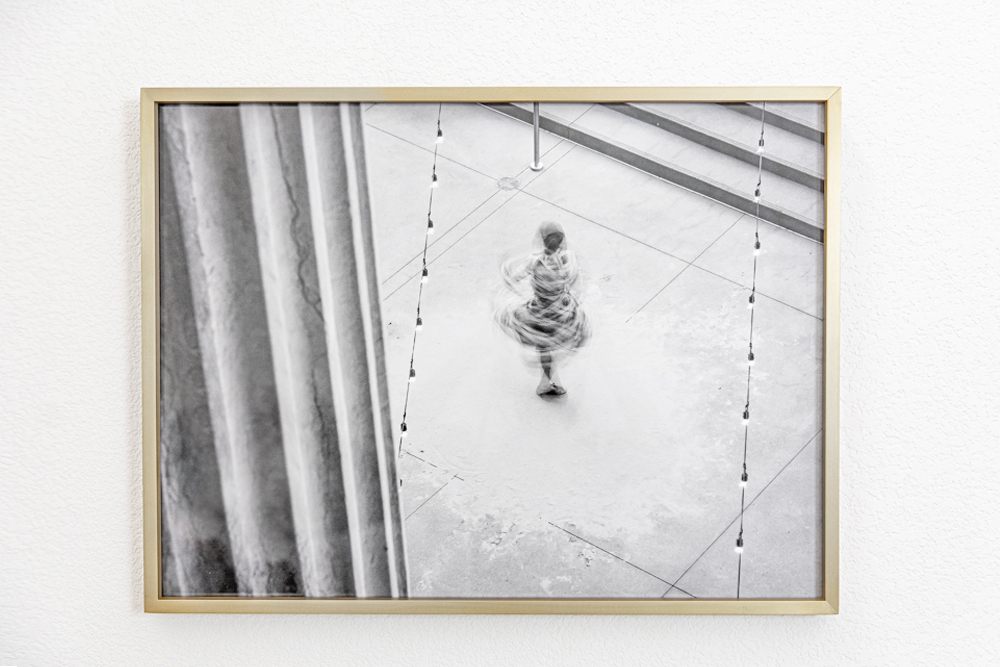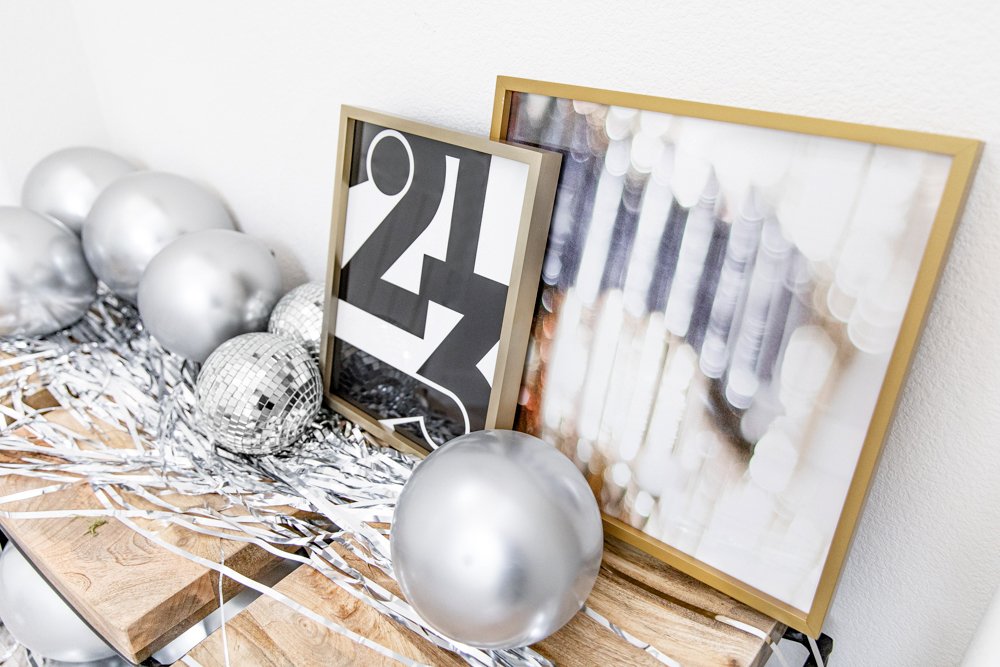 Again, don't forget the disco balls, the silver balloons and LOADS of fringe!! Abby also needed to dress the part! She found these cozy and fun velvet sweatpants from Chaser Brand which are perfect for a fancy night in!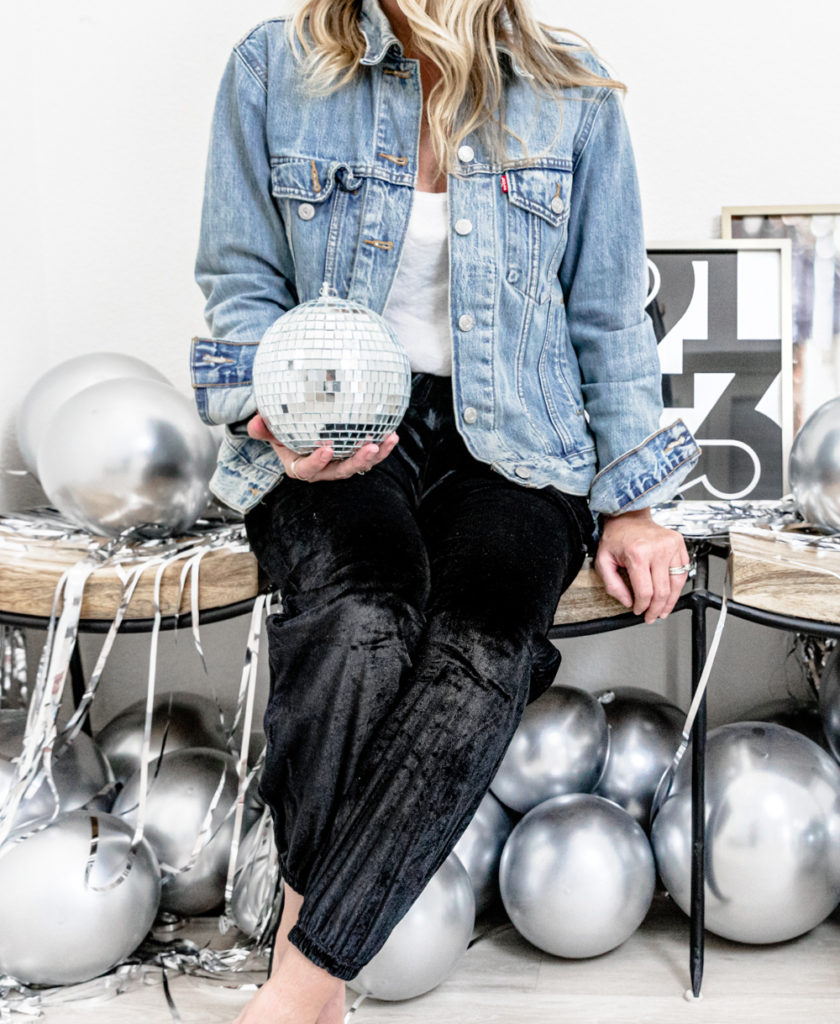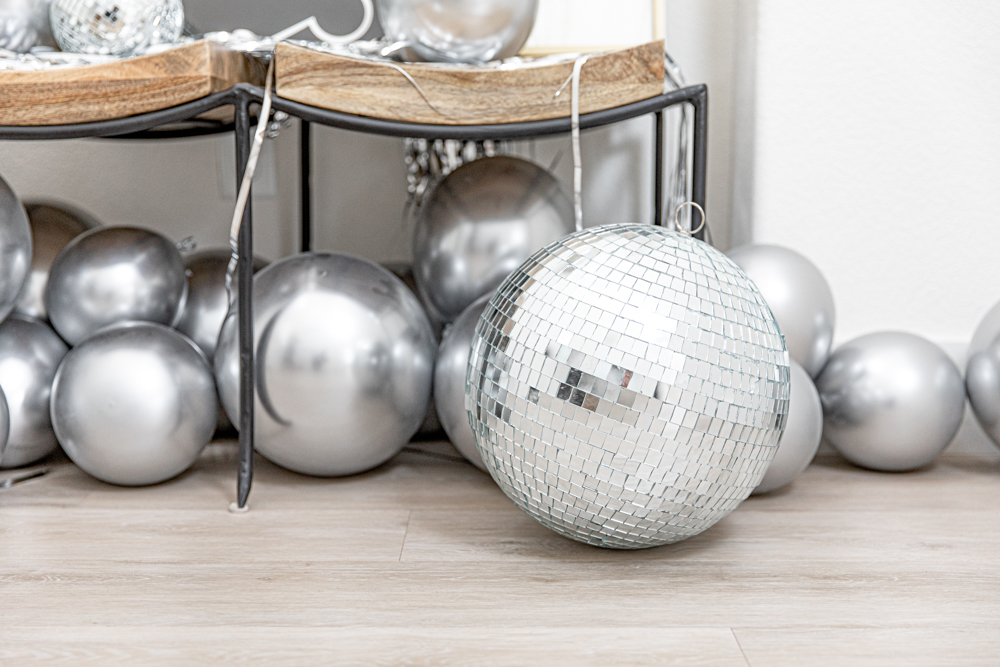 ---
S H E L F I E
Every home decor moment deserves a good shelfie!! And New Year's Eve is no exception. These are the shelves in my kitchen and I often use it as a bar at events as it's right above our wine fridge… Convenient, wouldn't you say?
The obvious choice for me was this "Open Crazy Late" Print by Raven Paper Co., and do I really need to explain why?! Then the other print, "Delicate Keys" by Smile Peace Love, was suggested to me by Abby. My husband plays the piano and it reminded her of our piano we used to have. We are hunting for a new one that fits in our new house, but this will have to do till then!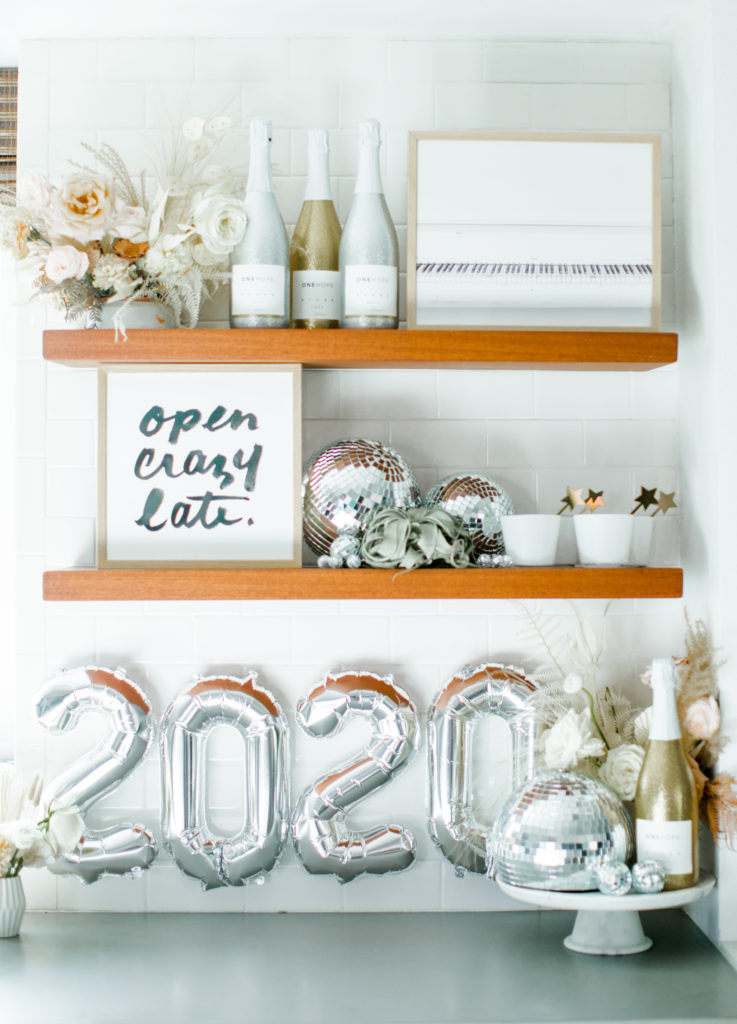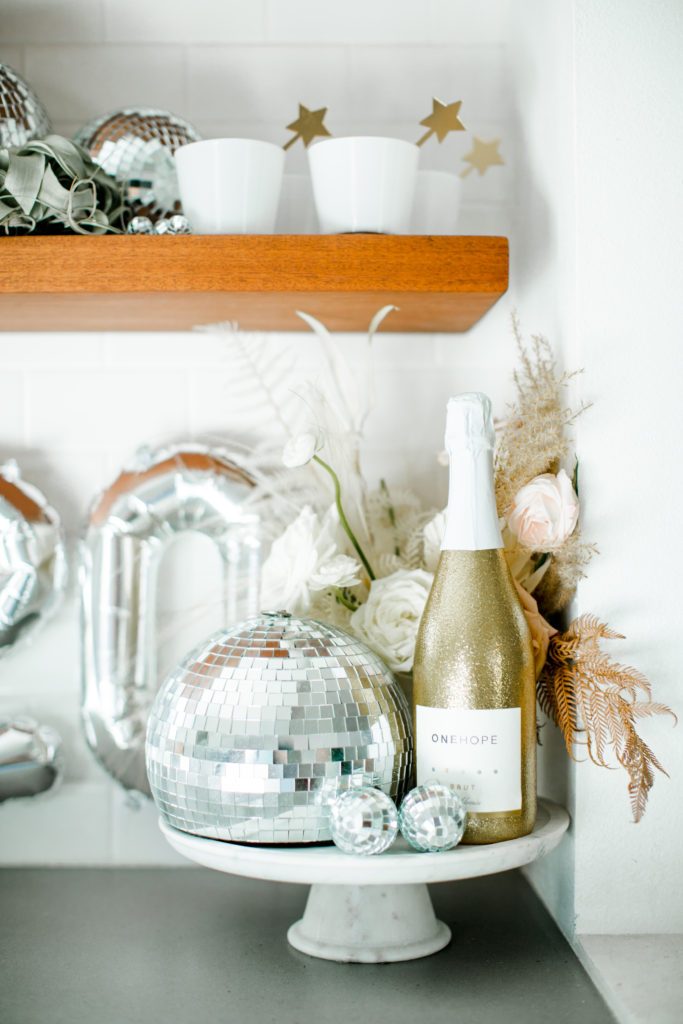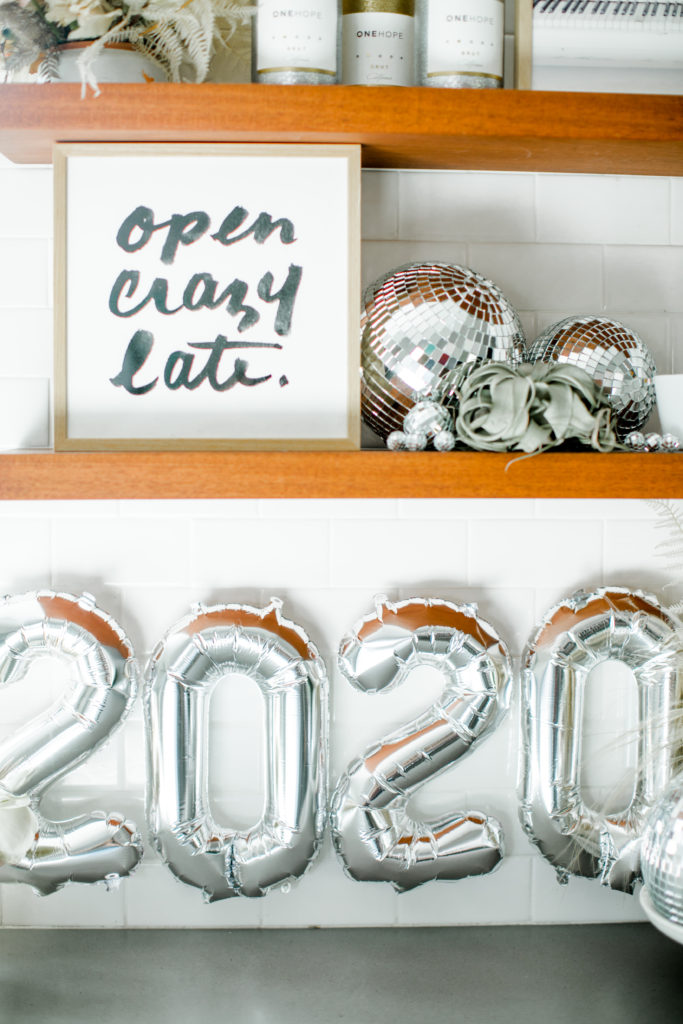 Don't mind me, I'll just be reaching for the champs all night long! In my cute Saltwater Luxe Lyla Blouse and another color in The Daydream Republic velvet headband. I'm loving her new chunky headbands, they are such a fun accessory to have for all the holiday parties!!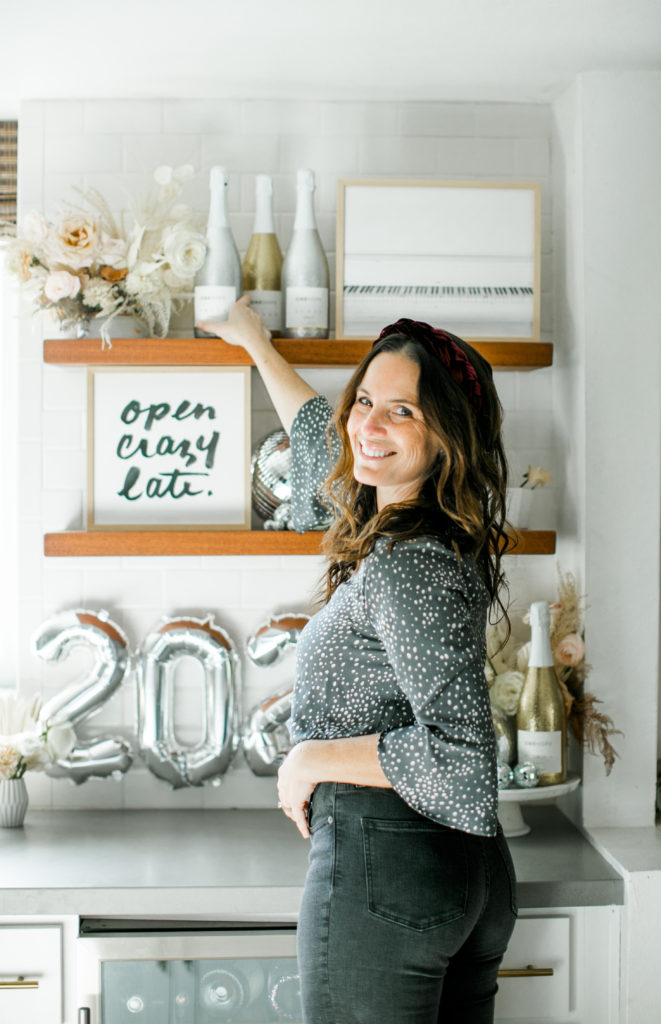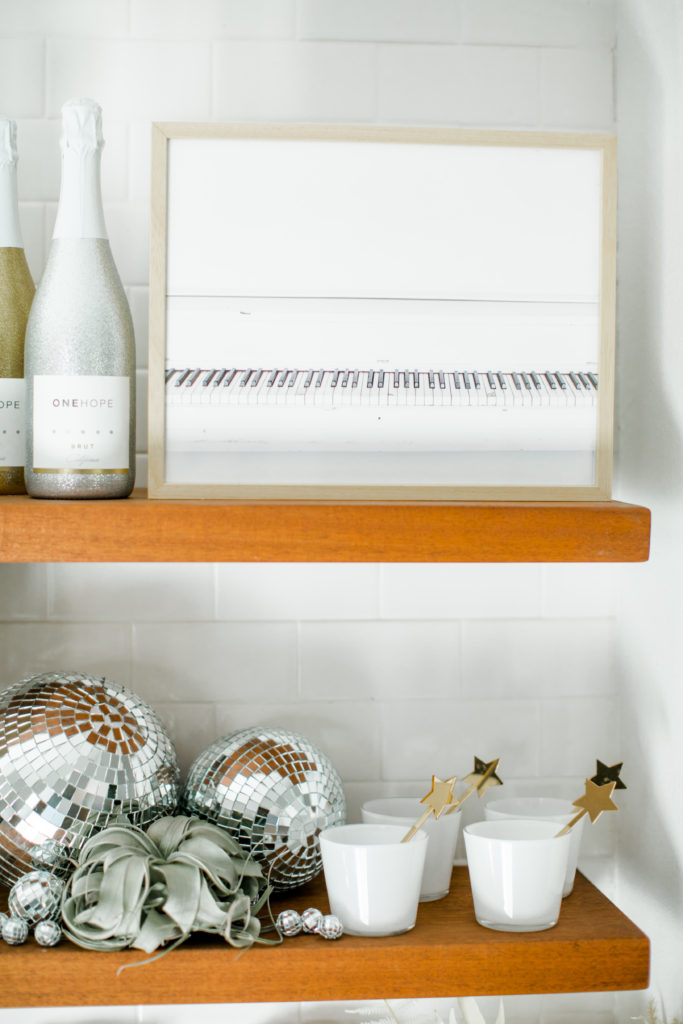 Again, gotta have the One Hope and disco balls, those are a given. But the other necessity has to be the 2020 silver balloons from Northstar Balloons. Just making sure you have all the NYE essentials you guys!! But that's a definite one!!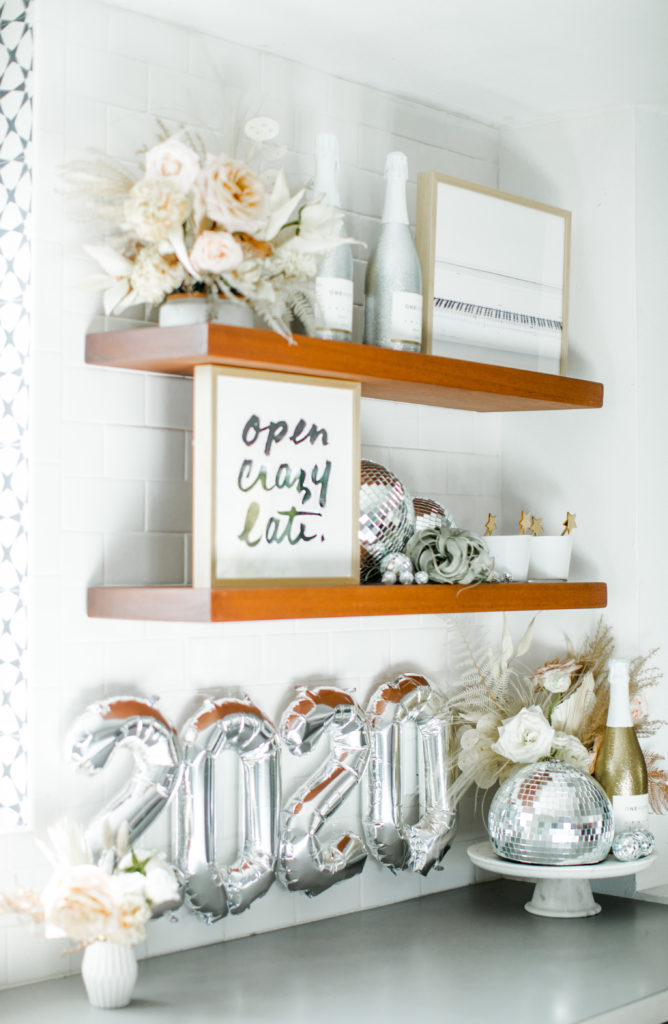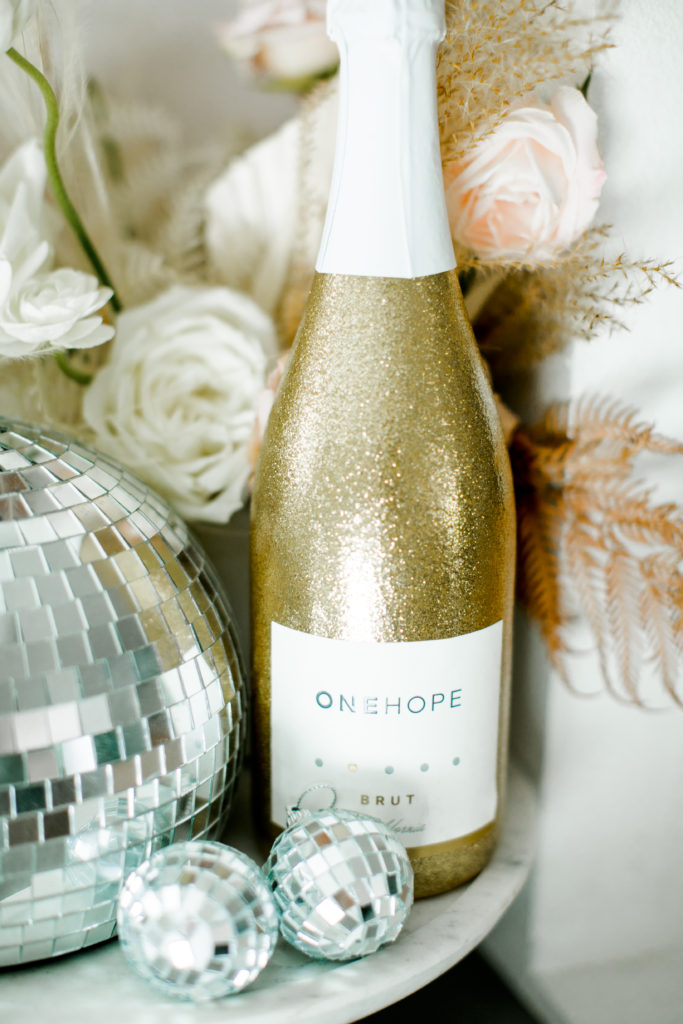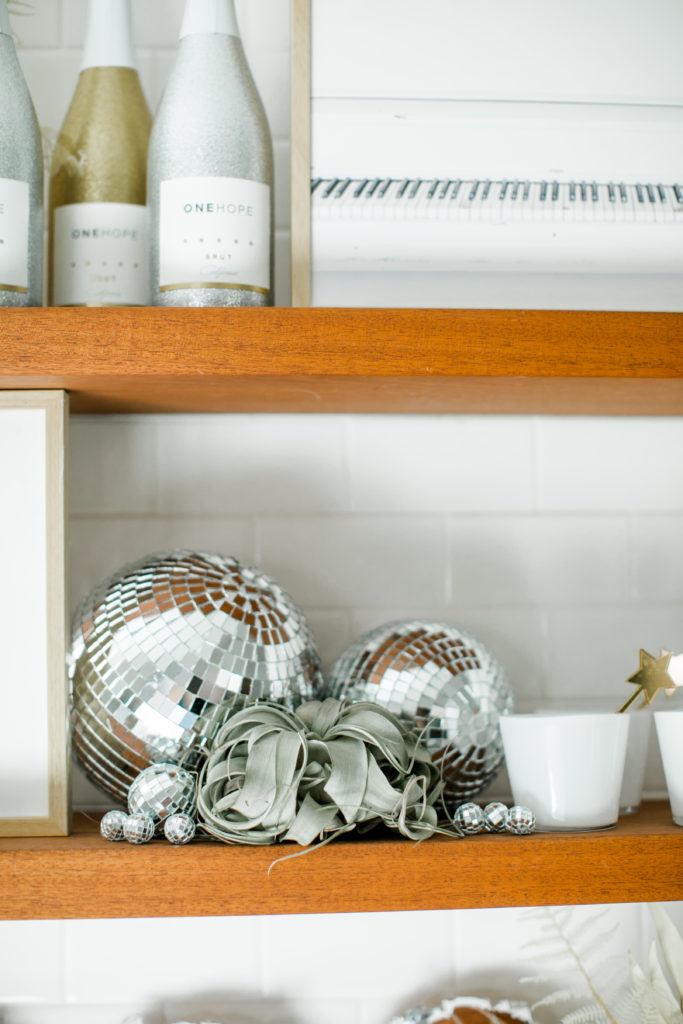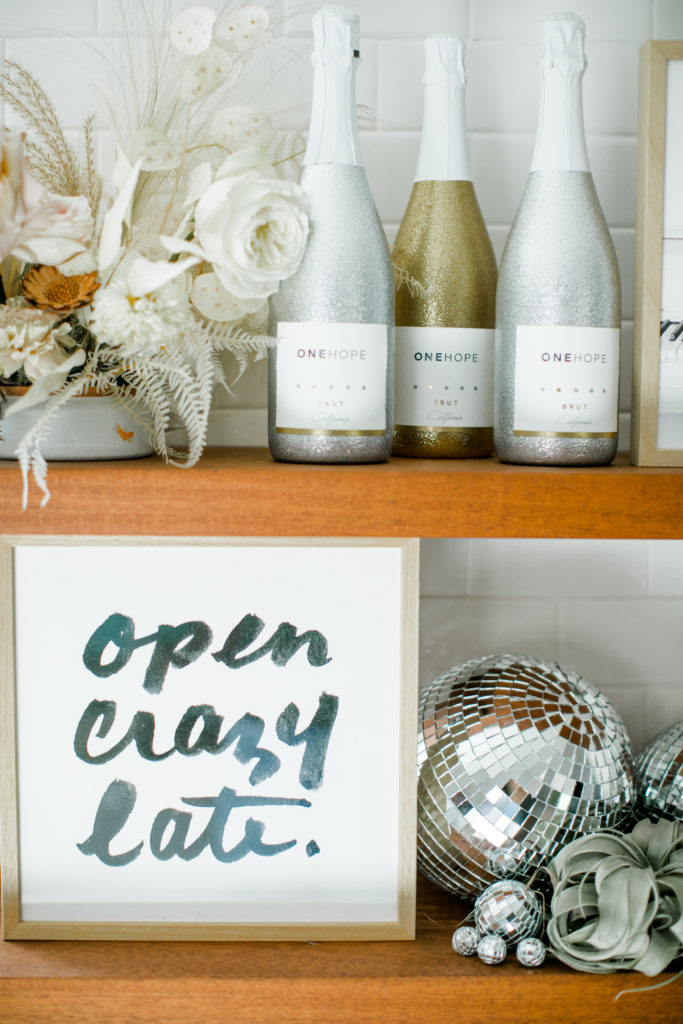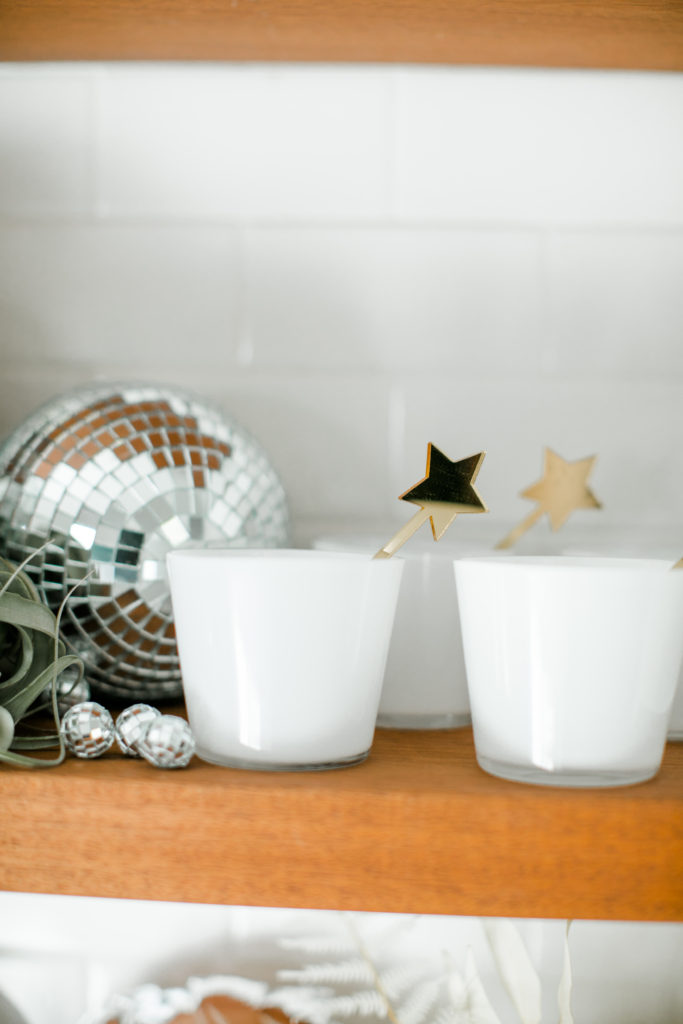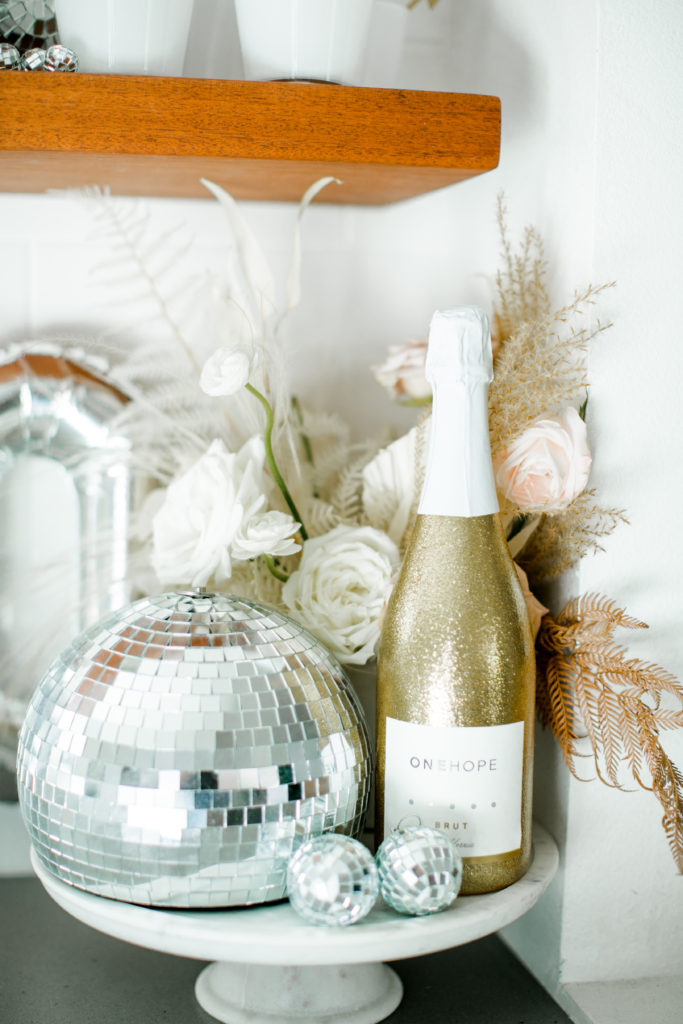 And there you have it! So how are you going to decorate your home for New Years?! It's such a fun holiday, you've gotta make it fun in your home!!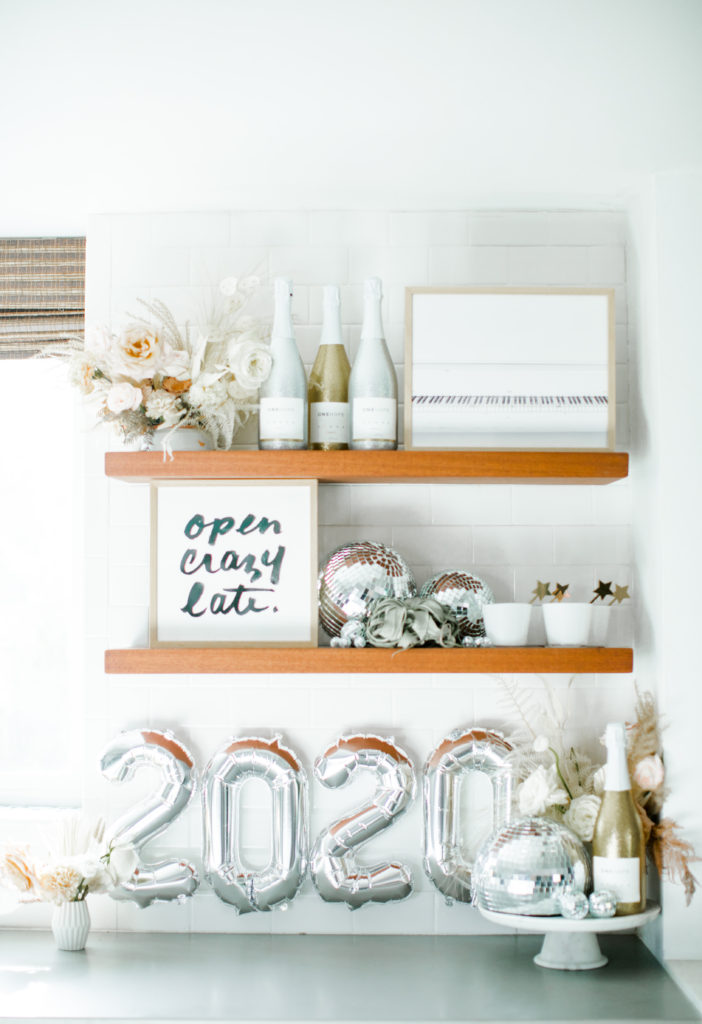 More New Year's fun to come!!!
Shop this post below…

xx
Jacquelyn