---
With Thanksgiving around the corner, we over here at Beijos have been giving you a ton of ideas, DIYs, tips, tablescapes; you name it to achieve the best turkey day possible. We showed you a yummy cocktail, how to make a pretty fall flower arrangement for your table, and today it's all about the appetizers. No matter how much you prepare, it always seems your just rushing to get those served as your guests are arriving. There is no guilt in getting a little help, are you with me?! This year, I'm getting some help from one of my favorite grocery stores, Trader Joes. You can't go wrong with anything from there. TJ's is the ultimate best friend for Thanksgiving.
Last Sunday, I used my "mommy" alone time and headed to Trader Joes. I picked up my favorite tea from Starbies, and I was off with the mission to find five appetizers that would be fast and easy, but of course pretty, pretty, pretty! I'm sure you all know, but you have got to get to Trader Joe's early, it just gets crazy there past 10 am. Grabbed my cart and hit the aisles. When doing anything food wise for Thanksgiving, I like to use what's in the season for Fall. Essential Thanksgiving food like butternut squash, cranberries, pears, pomegranates, herbs like sage and thyme.
Enough jibber jabber, let's get to it!
Photos by Alyssa Onaka Photography
4 Quick And Easy Thanksgiving Appetizers From Trader Joe's

Pastry Bites With Pears And Rosemary
I N G R E D I E N T S
Trader Joe's Pastry Bites with Feta Cheese + Caramelized Onion
Bag of Trader Joe's Fresh Cranberries
Rosemary Sprigs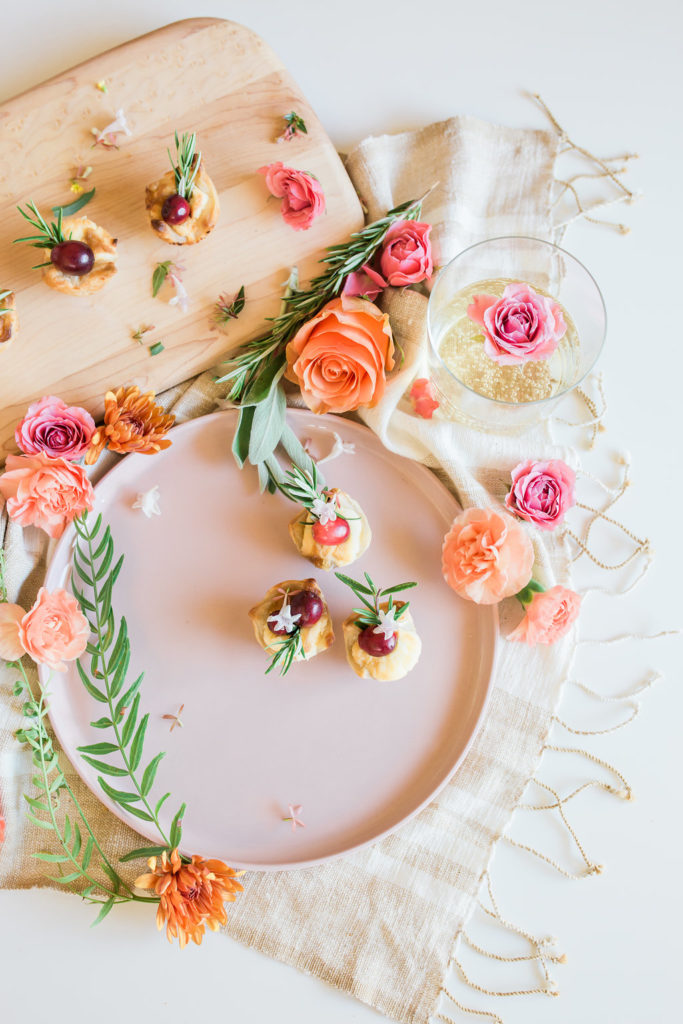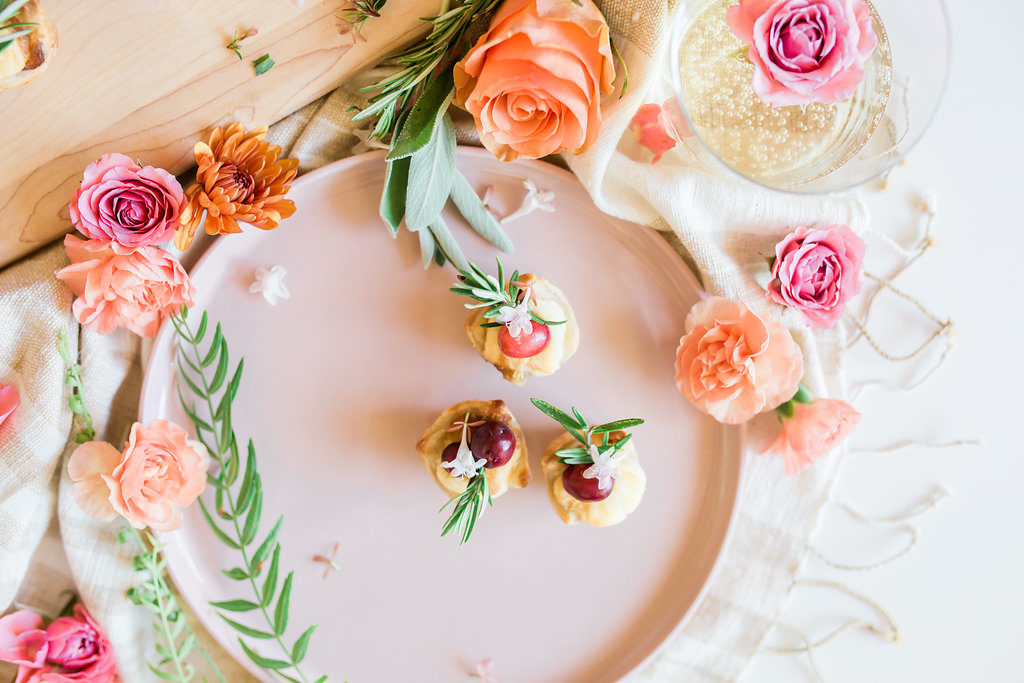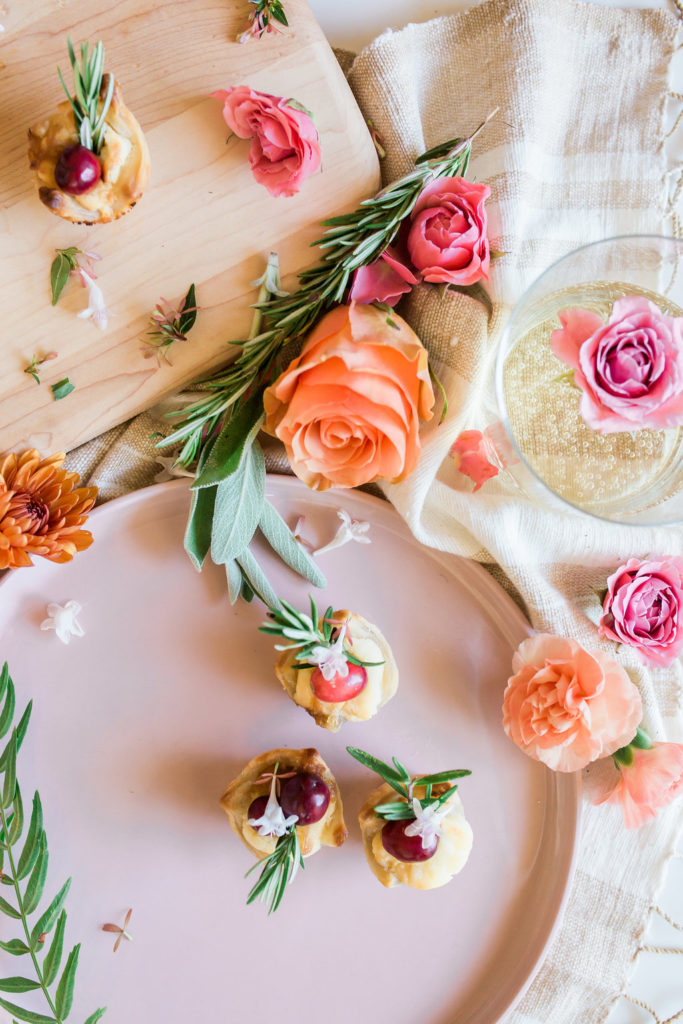 D I R E C T I O N S
Follow the directions on the back of the Pastry Bite Box. Cook as instructed. Before putting in the oven, add a fresh cranberry on top. Once out of the oven, allow to cool and place a fresh sprig of rosemary on top. Serve right away.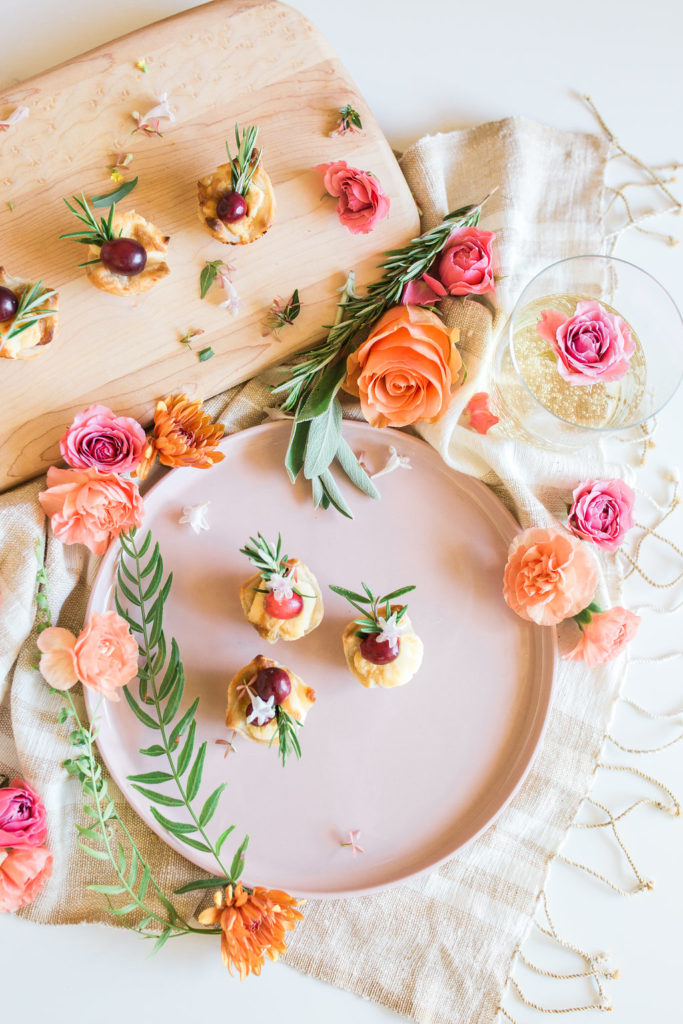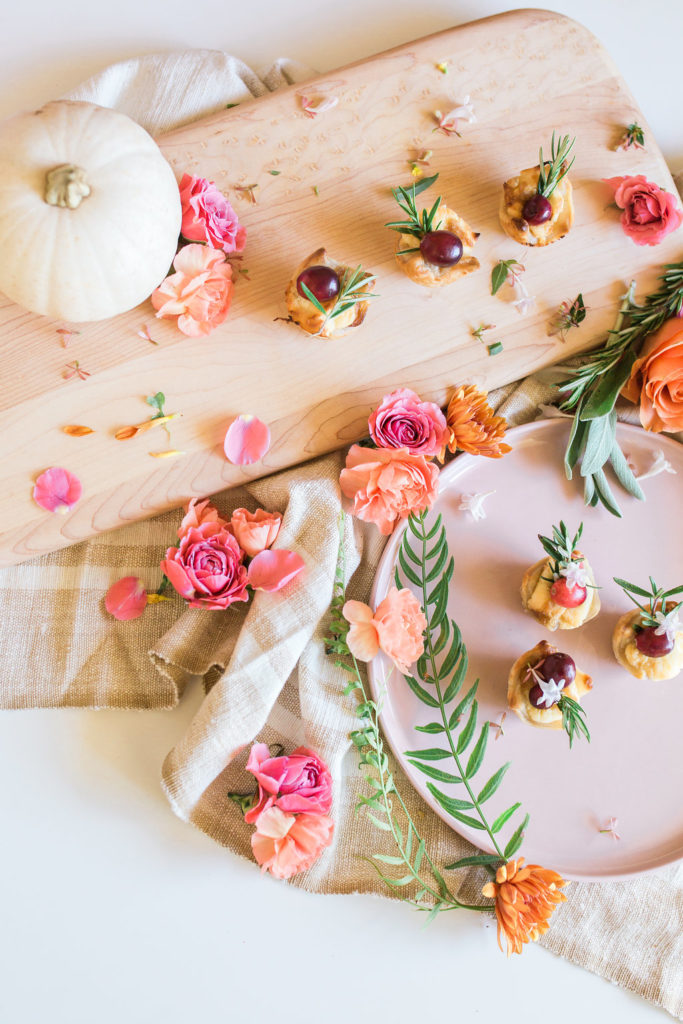 Butternut Squash Ravioli With Roasted Butternut Squash Slices And Olive Oil Laced Micro Greens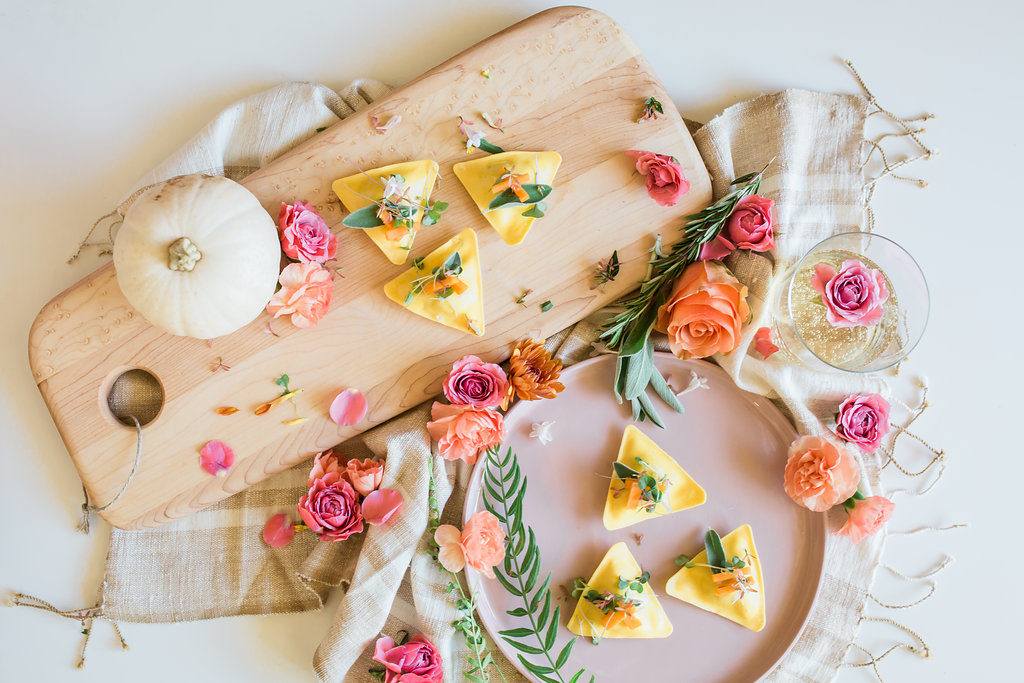 I N G R E D I E N T S
Trader Joe's Butternut Squash Triangoli Ravioli
Trader Joe's Bag of Butternut Squash
Micro Greens
Sage
Salt + Pepper
Olive Oil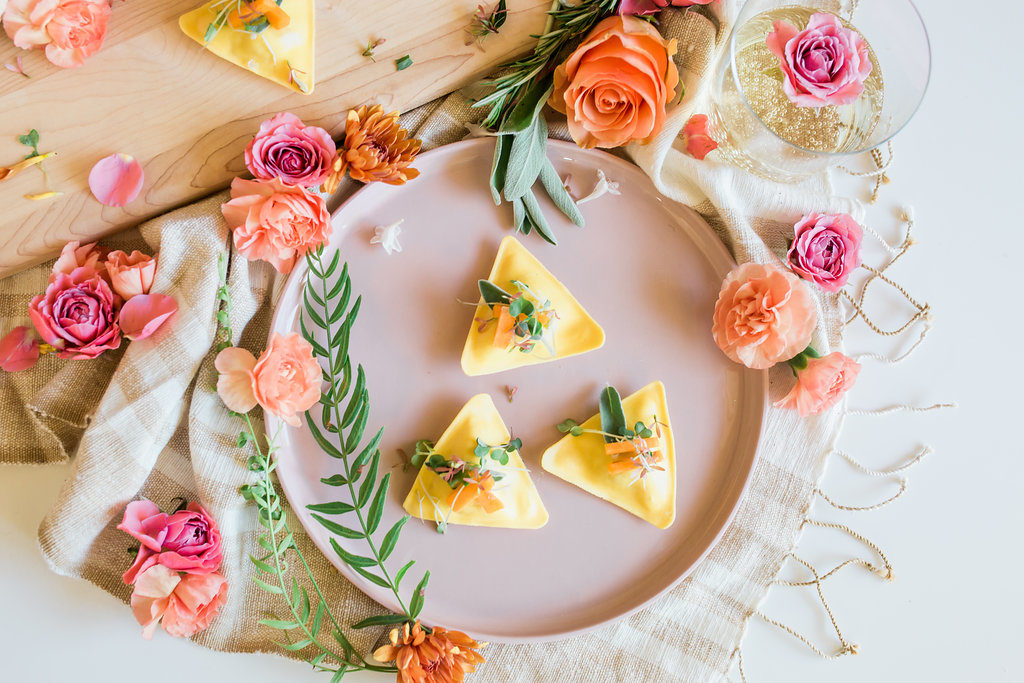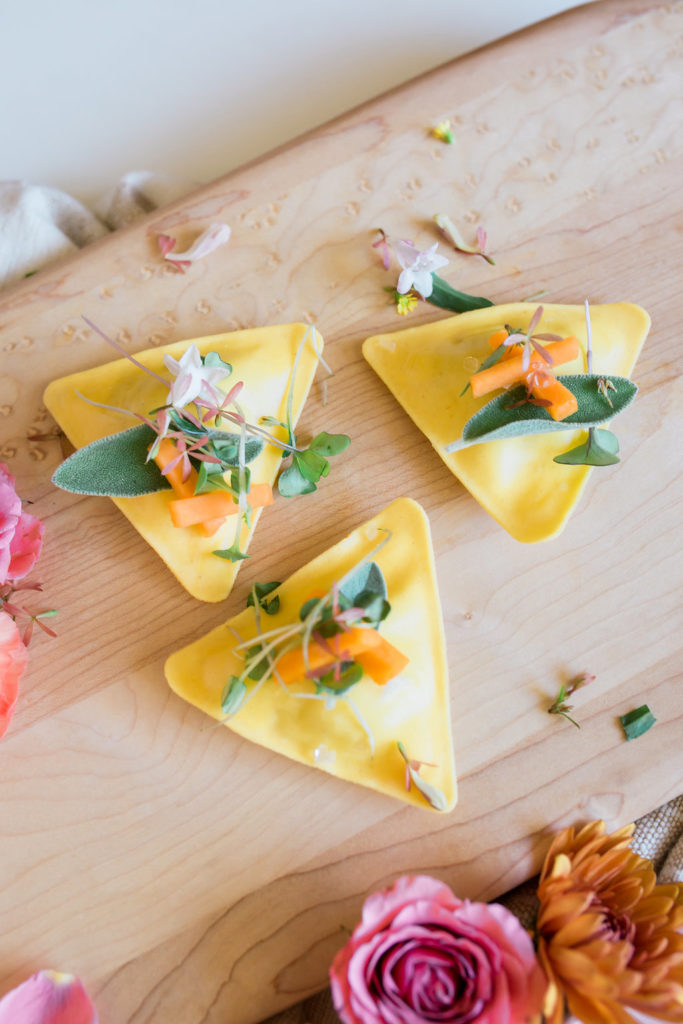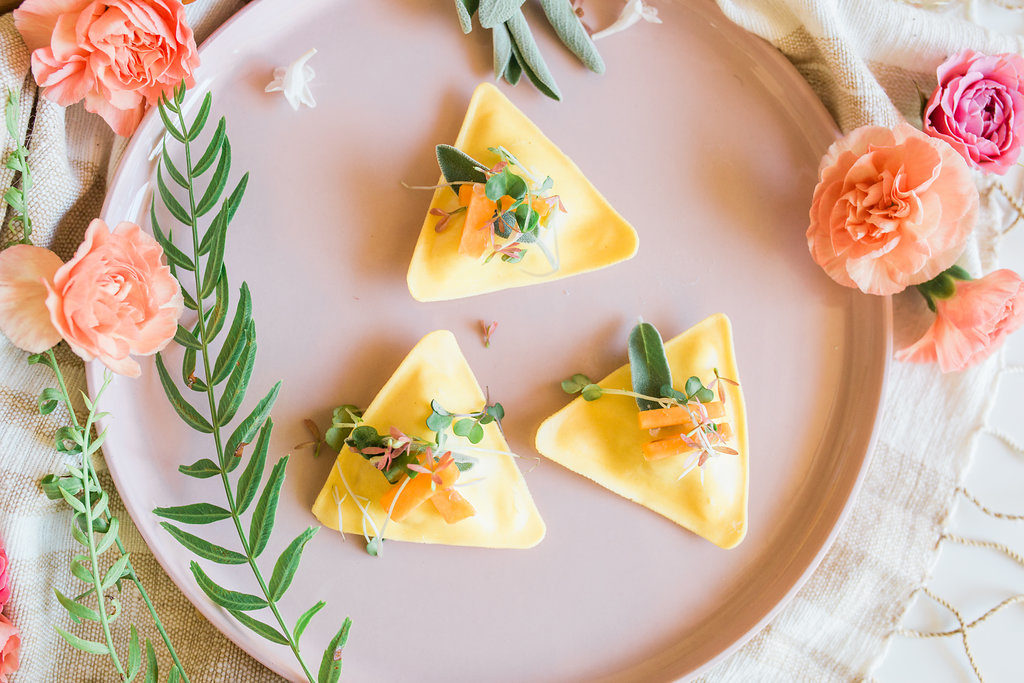 D I R E C T I O N S
Cook the ravioli as instructed. Roast some butternut squash with salt and pepper while the ravioli cooks. Sprinkle with salt + pepper. Cut into thin slices. Once cooled, place thinly sliced butternut squash onto the ravioli. Dress the micro greens with a little bit of olive oil and salt + pepper. Place dressed micro greens on top of ravioli. Finally, place sage on top and drizzel with olive oil and small sprinkle of salt. Serve right away.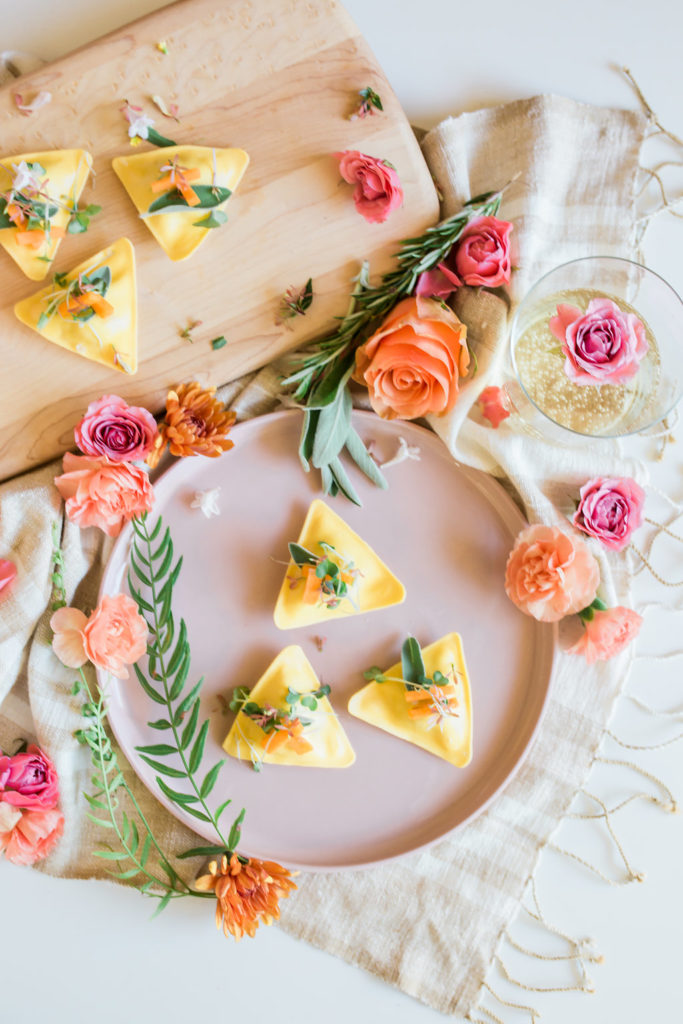 Beet Chips With Goat Cheese And Rasberry
I N G R E D I E N T S
Trader Joe's Beet Chips (found in the chip aisle)
Goat Cheese
Fresh Raspberries
Thyme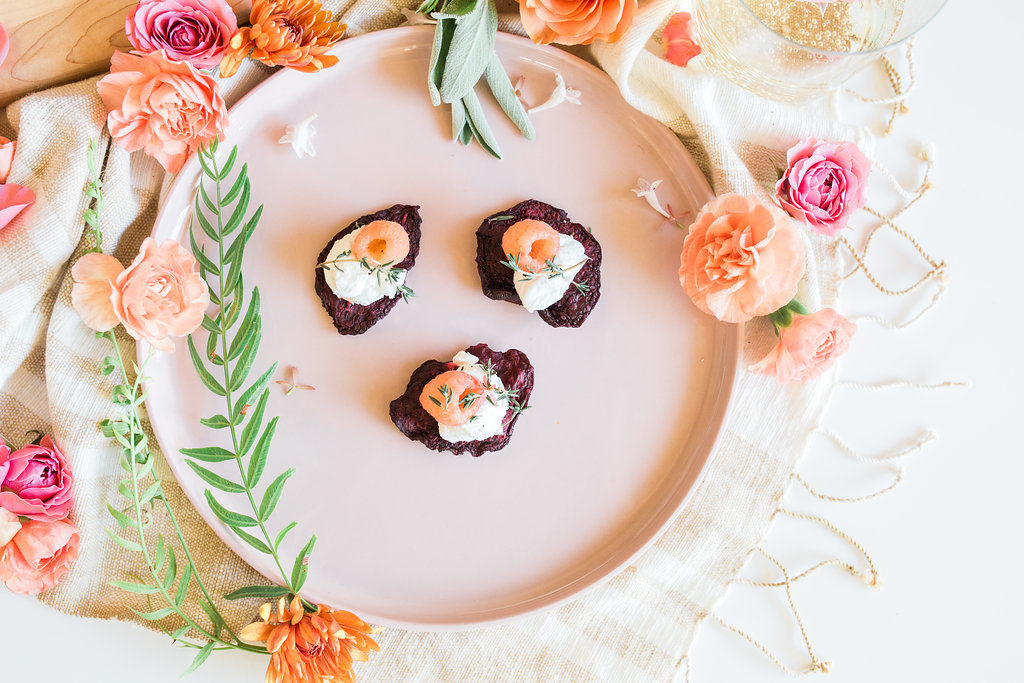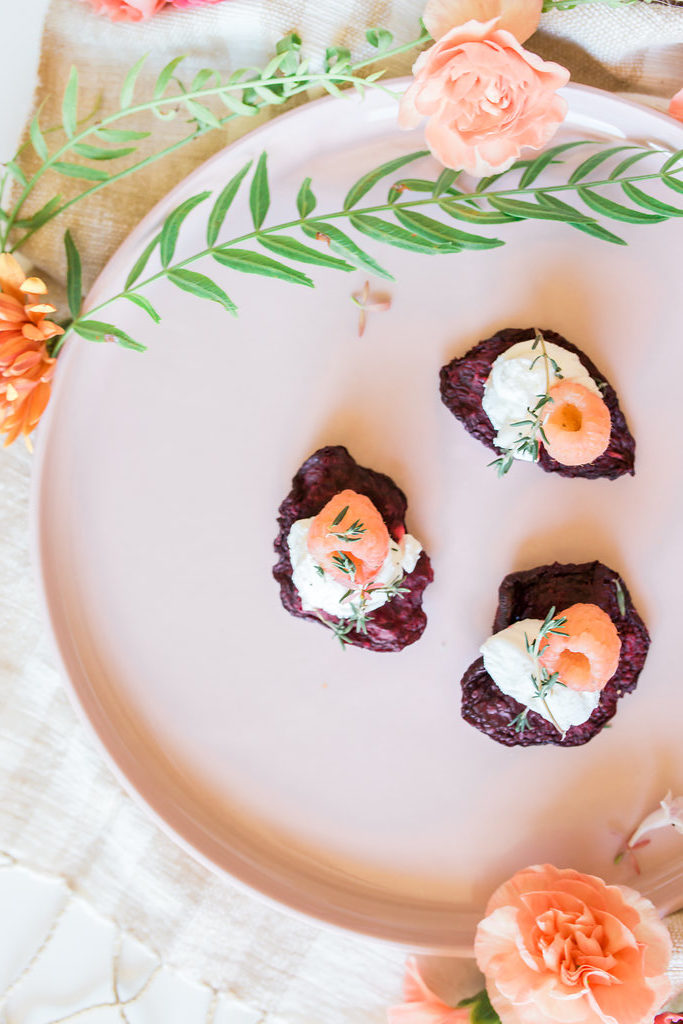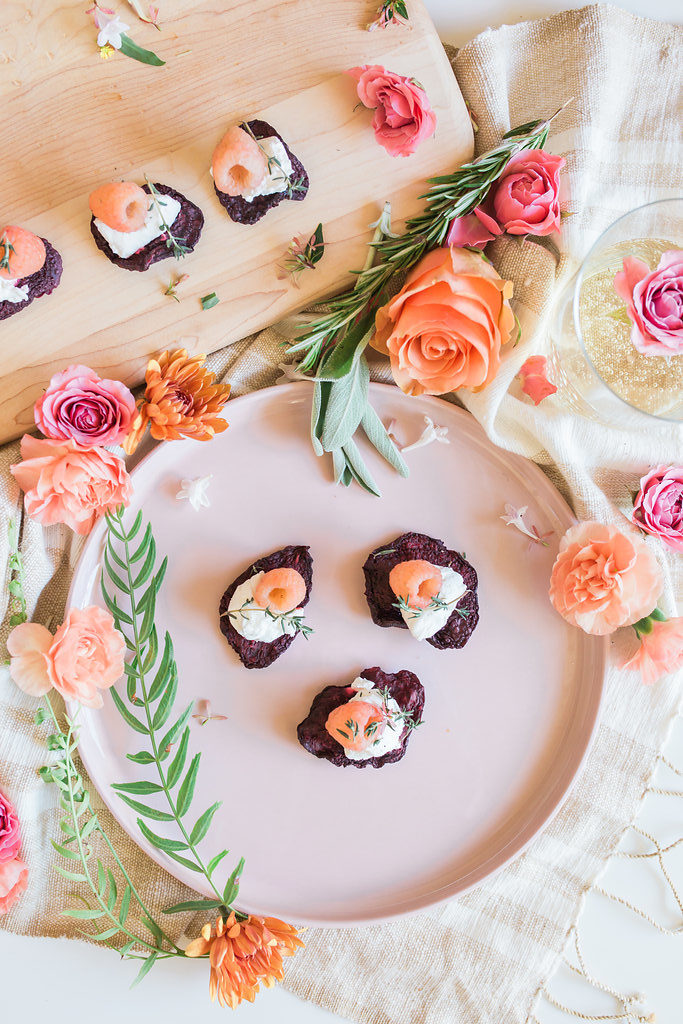 D I R E C T I O N S
Spoon goat cheese onto the beet chip. Place fresh raspberry on top. Garnish with fresh sprigs of thyme.
Toast With Brie, Pear, Candied Pecan, and Drizzled Honey
Trader Joe's Baguette Crisps
Brie
Pomegranates
Pear, Thinly Sliced
Trader Joe's Candied Pecans
Honey
Thyme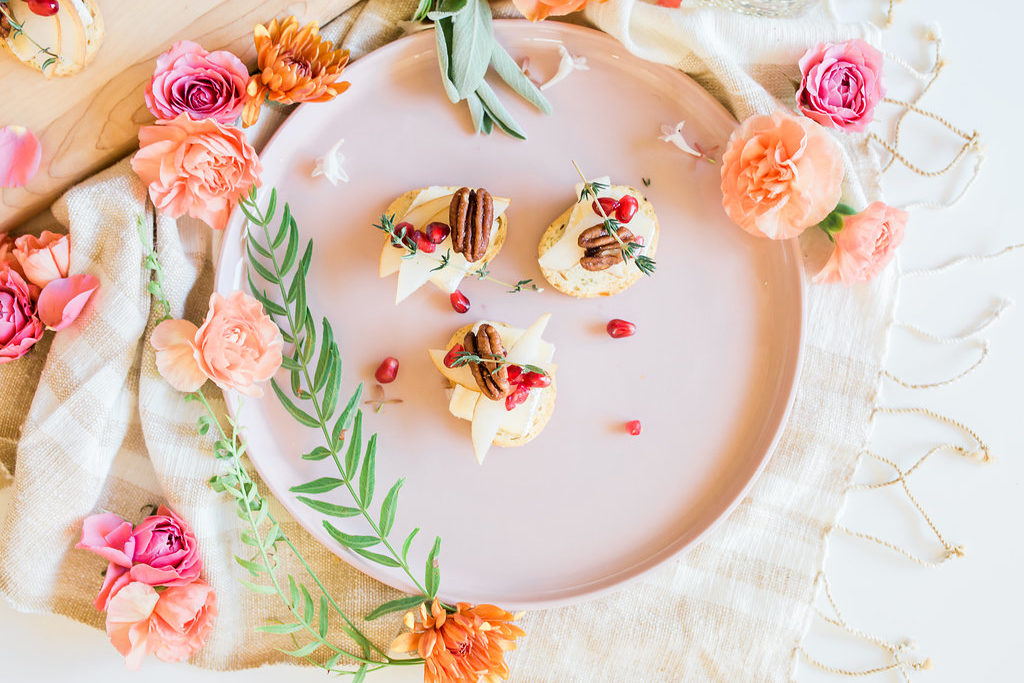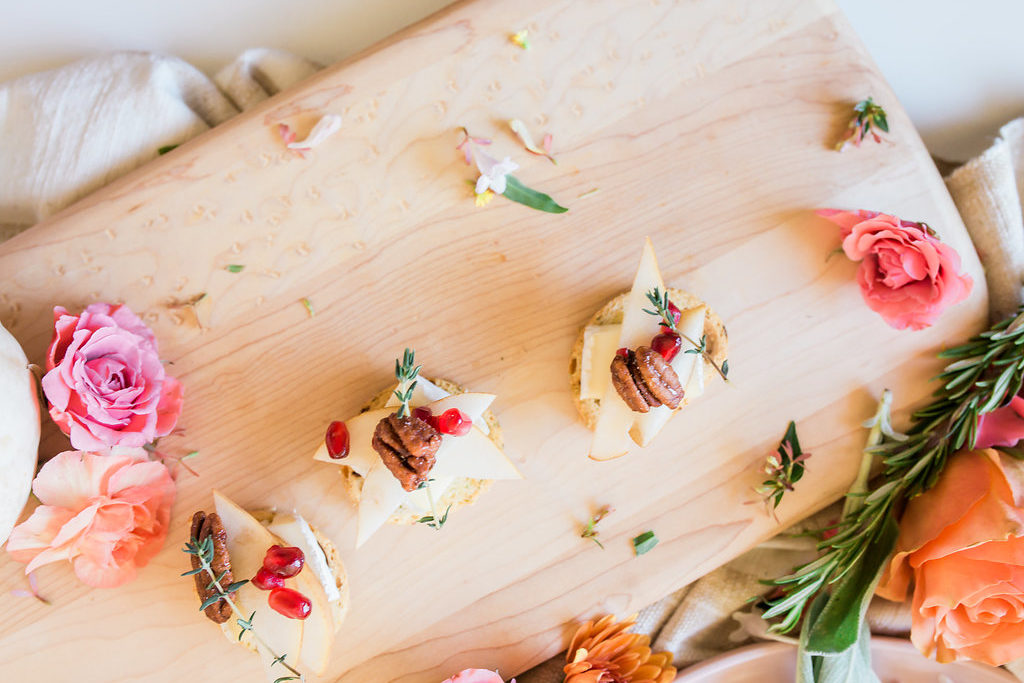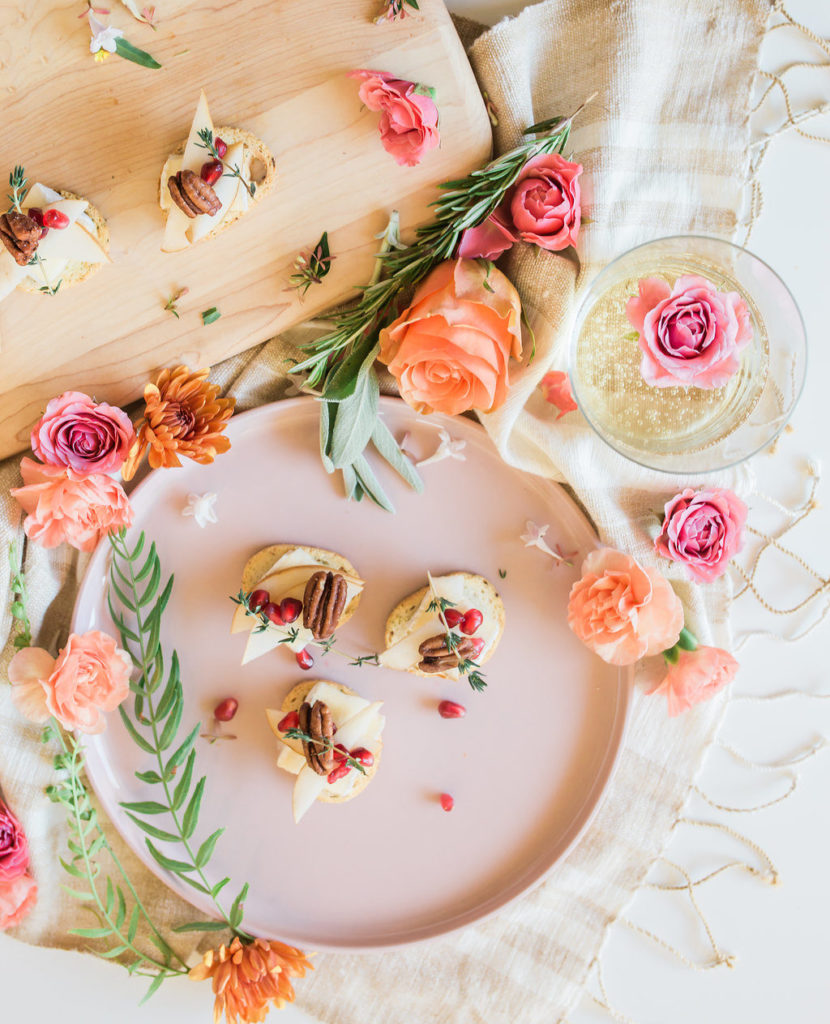 D I R E C T I O N S
Place a square slice of brie on top of your toast. Thinly slice pears and stack on the brie. Place candied pecan and garnish with thyme and pomegranates. Right before serving, drizzle honey on top.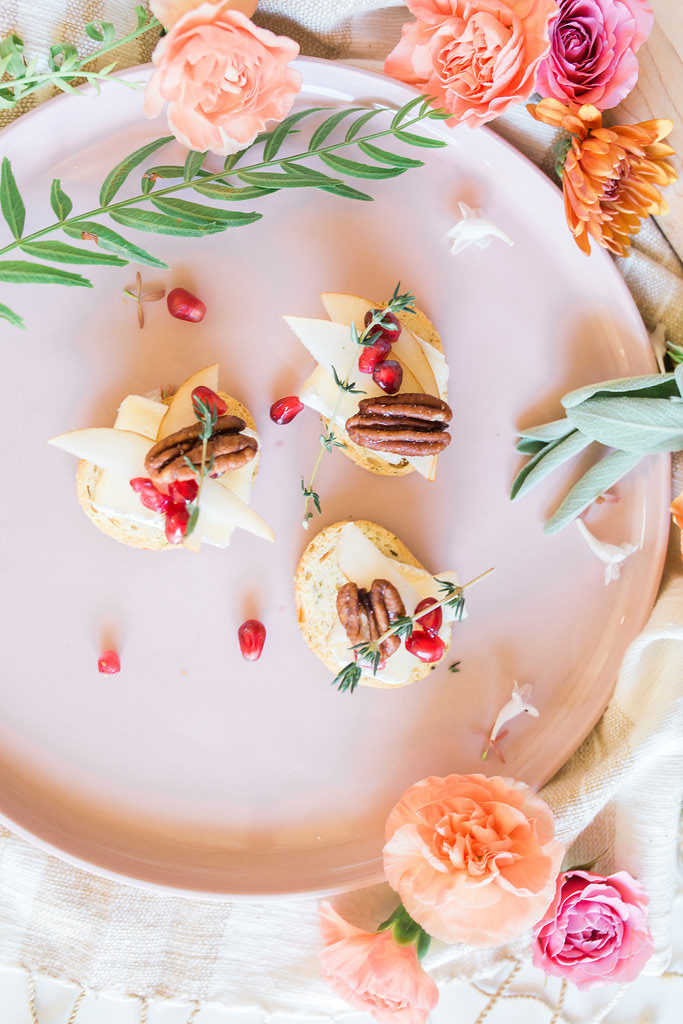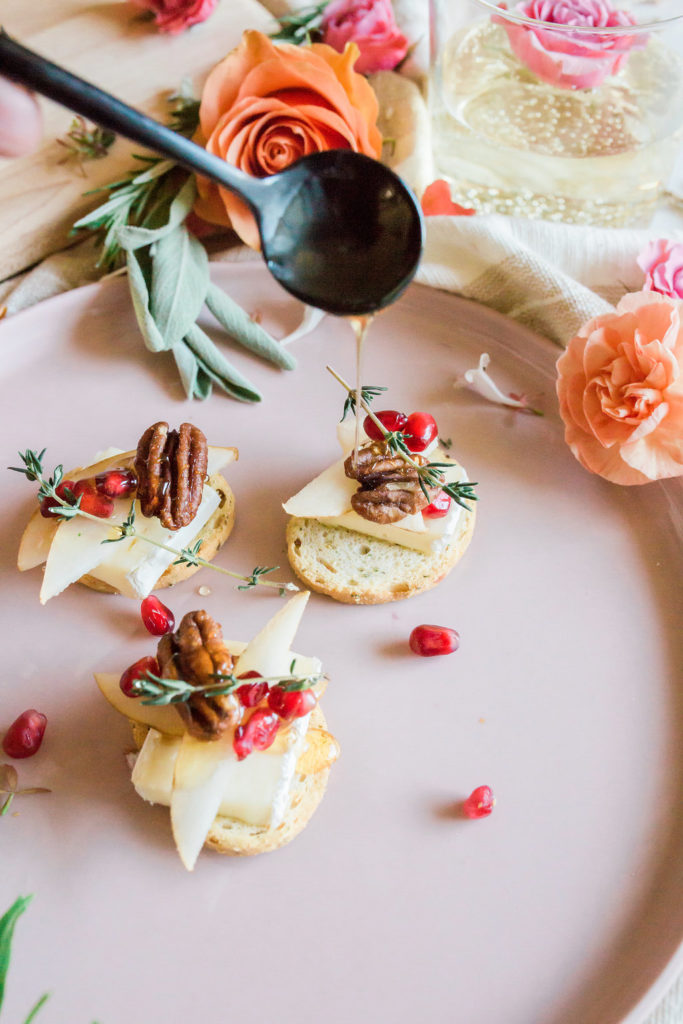 There you have it!
5 easy and yummy appetizers that your guests will love!
Happy Friday!
xx
Abby
SaveSave
SaveSave