---
Are you throwing an event for friends or family this fall? Perhaps a fall picnic? Today, I'm giving you some tips and tricks on how to throw a picnic like a stylist. Hosting can be challenging and stressful, but with a few tips from us professionals, you will will wish you had thrown more parties before.
Photos by Alyssa Onaka Photography
The location. A fall picnic if weather permits, its gotta be outside and scenic. Surround yourself with beauty. I chose Park Winters in Winters, Ca and as you can see its dreamy. Beauty surrounds you at Park Winters. We were surrounded by fields and fields of beauty. I could have been there all day. More to come with this beautiful property in the next couple months. If the weather isn't allowing you to hold your event outside, that's ok! Bring the fall inside. Add loose, colorful leaves to your tablescape. If you have a blank wall in your home, create some greenery garlands that you can hang on the wall.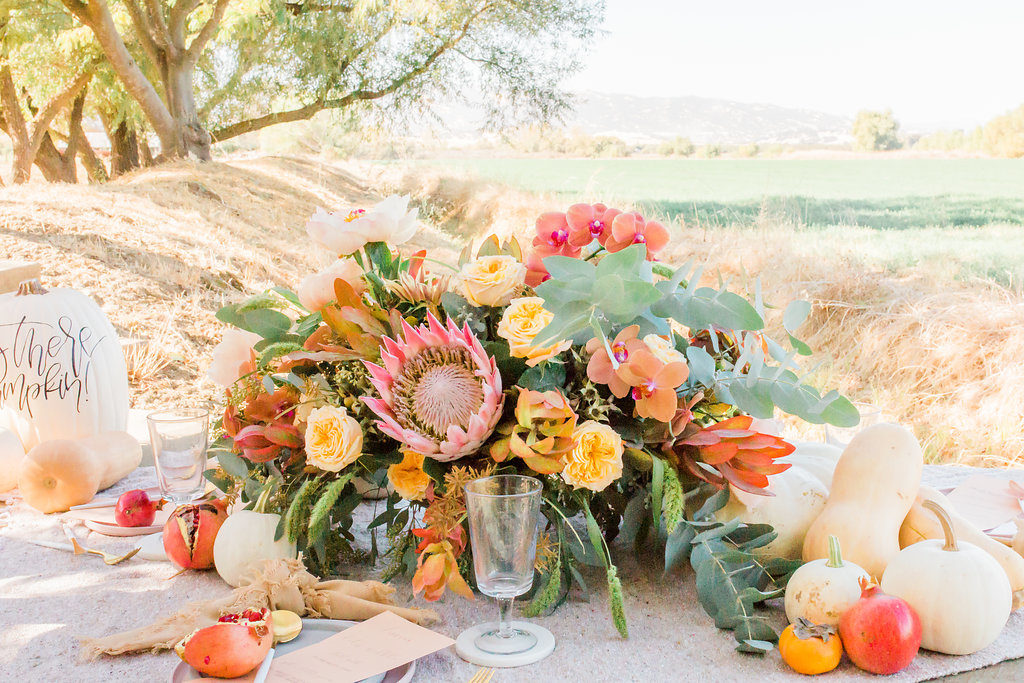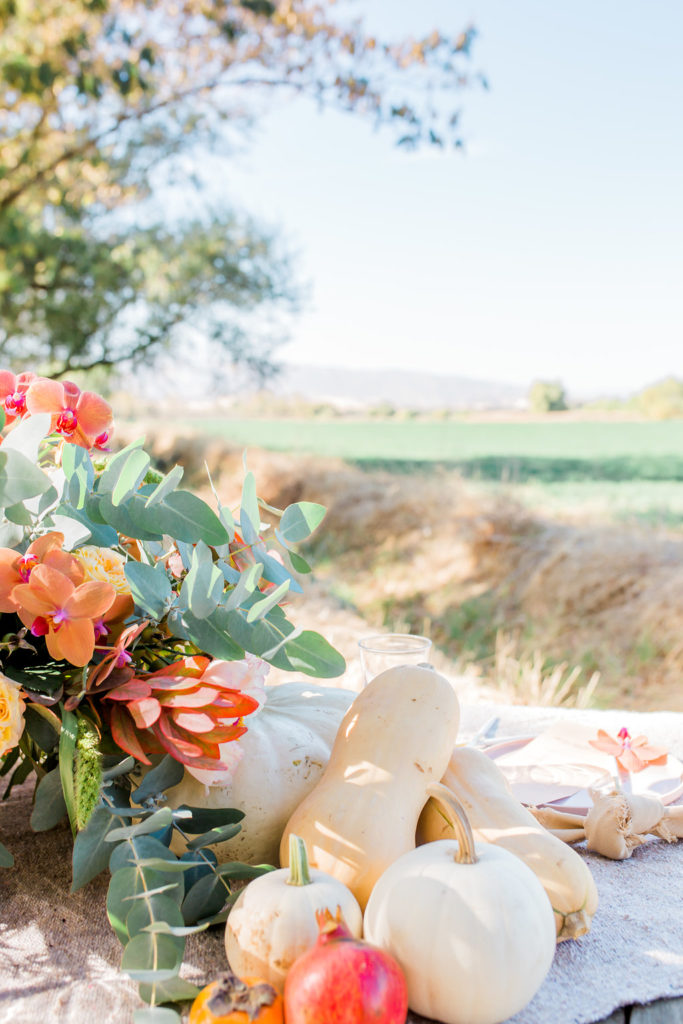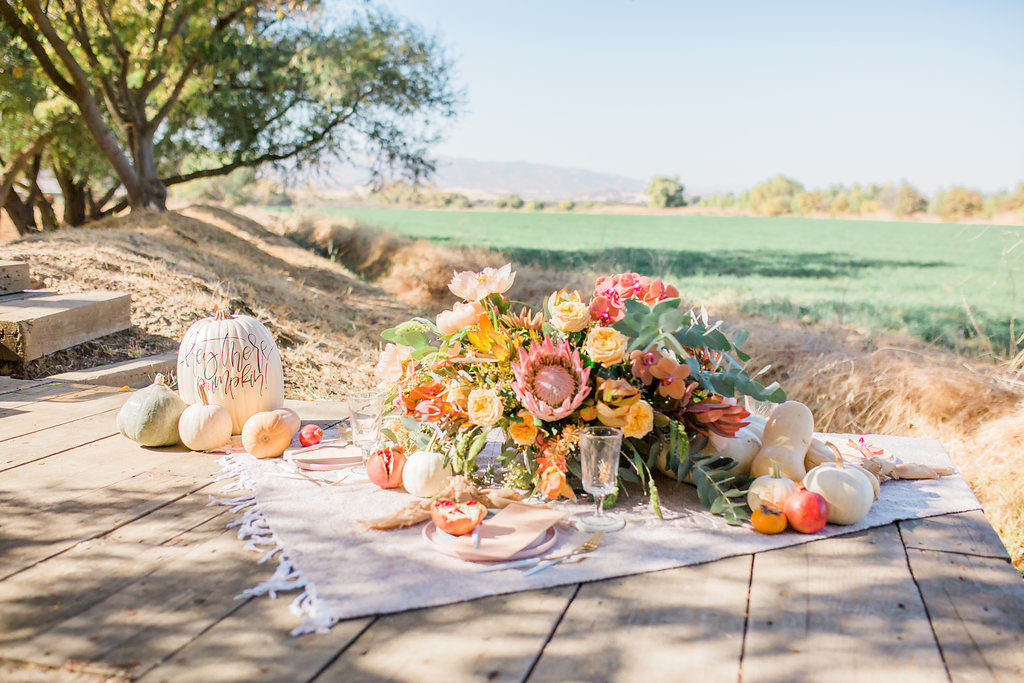 T H E F L O W E R S
Flowers are key!
It sets the table and adds a pretty color. Flowers make everything come together. If you can afford to have, a florist create an arrangement, awesome! If not, no biggie! You can do that yourself! Whole Foods, Trader Joes, and even some local grocery stores have great flowers you can create arrangements with. You can also create an all greenery garland by foraging greenery around your neighborhood. With it being fall, go with fall colors! Here I picked shades of blush, dusty pinks, neutral colors, and of course green from the greenery. Dixon Florist created this fantastic arrangement. I just love the pop of fall from the sunflower, and those dusty pink orchids are so dreamy.
Creating an arrangement yourself can be challenging, but it is doable. See our tips on doing it yourself here.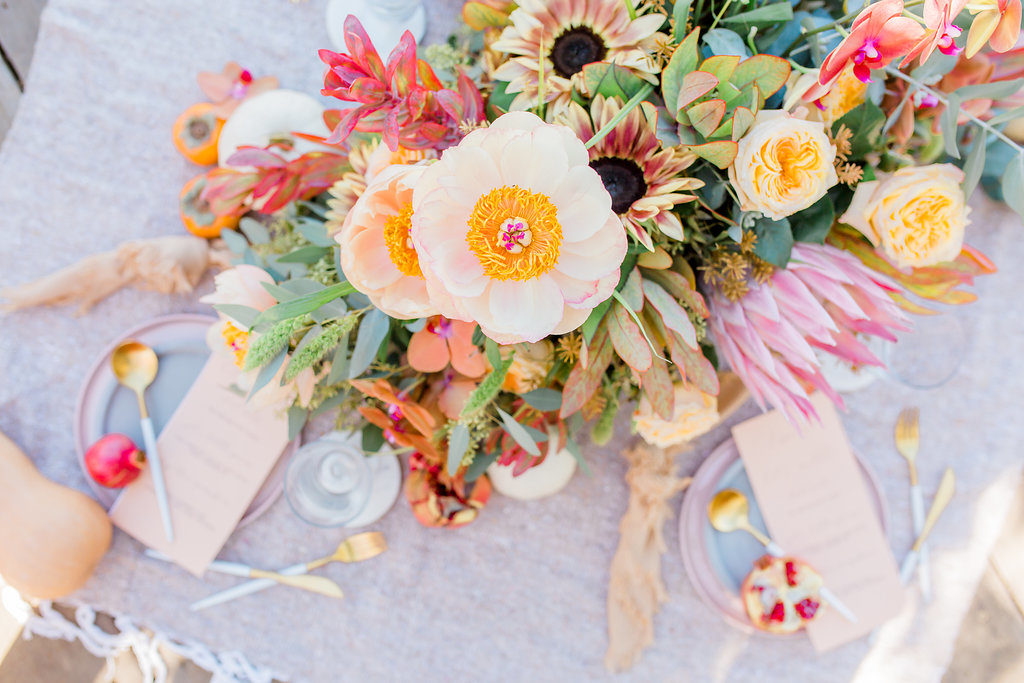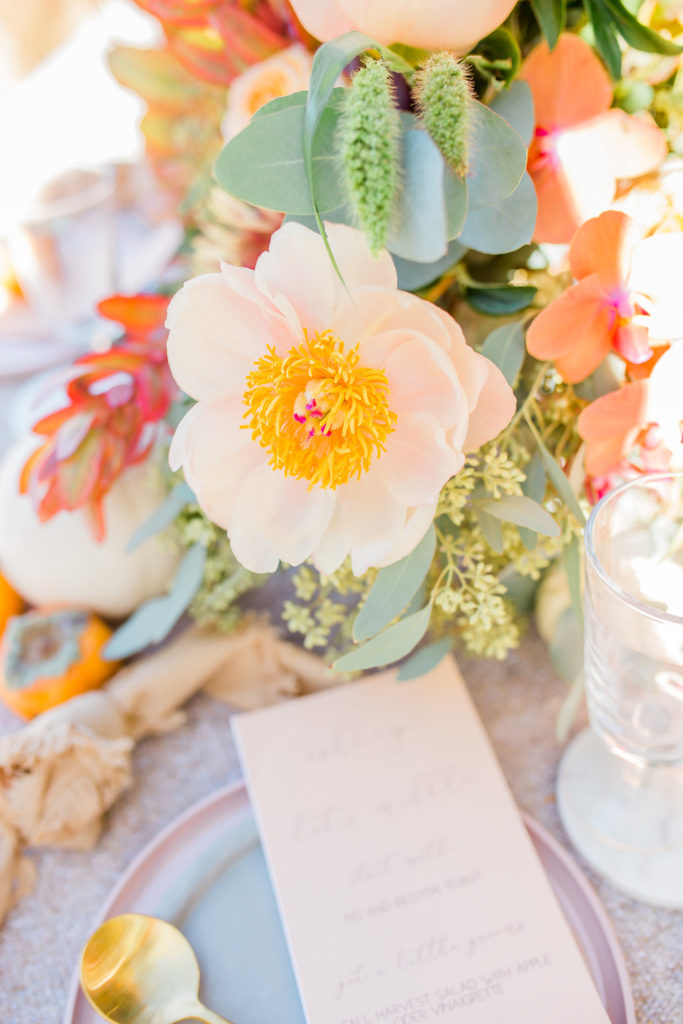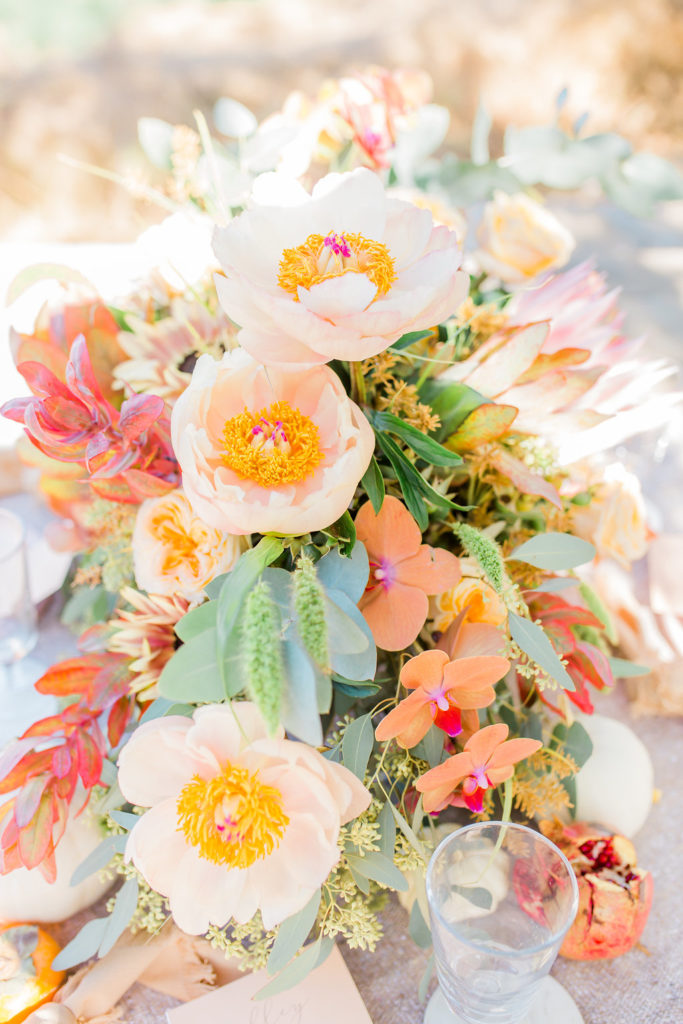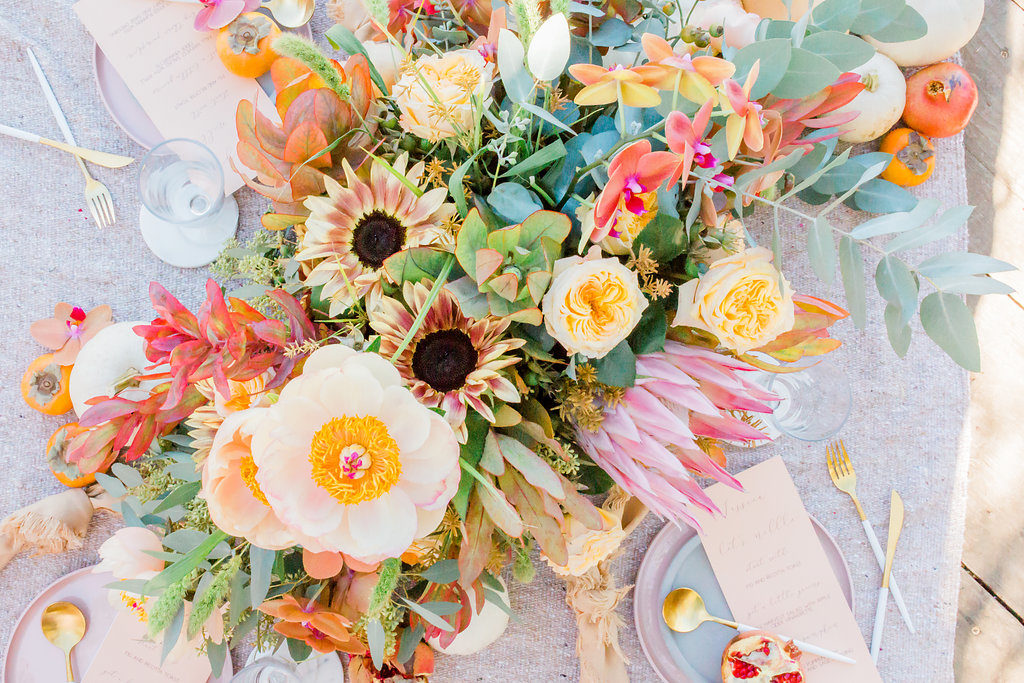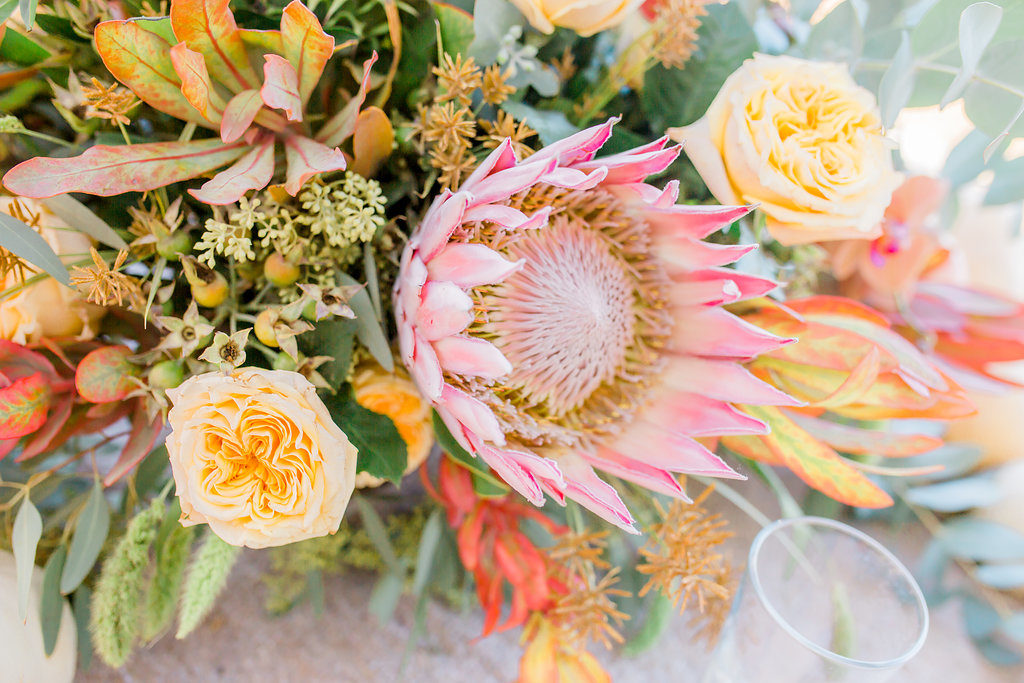 T H E T A B L E S E T T I N G
The table setting. Every stylist's favorite part. This is where the fun happens. You can go so many ways on this. You can add pops of color with your plates, cups, flatware, and linens. Use what you have! I'm obsessed with dusty pink right now, and I found these dusty pink plates at Urban Outfitters. I knew those would be the pop of color I wanted for the table. Accent with a napkin and fun flatware. You can also keep it simple with clean white plates, and clear glassware.
When setting the table, have some fun with it. Take your napkin and tie a knot in the middle, and place it above your plate, on top of your plate, or to the side. This is a fun detail that is different than the usually folded napkin under the flatware look. Place your flatware on top of your plate as I did here. Don't be afraid to try something new.
With it being fall, add fresh produce to your table. This is an inexpensive detail that will go far with your guests. Produce like mini pumpkins, gourds, squashes, pomegranates, anything fall will work. It adds a texture detail that lets your guest know its fall, and well… its a pretty feature. I like to add loose flowers to the table as well. Us Beijos ladies love loose flowers.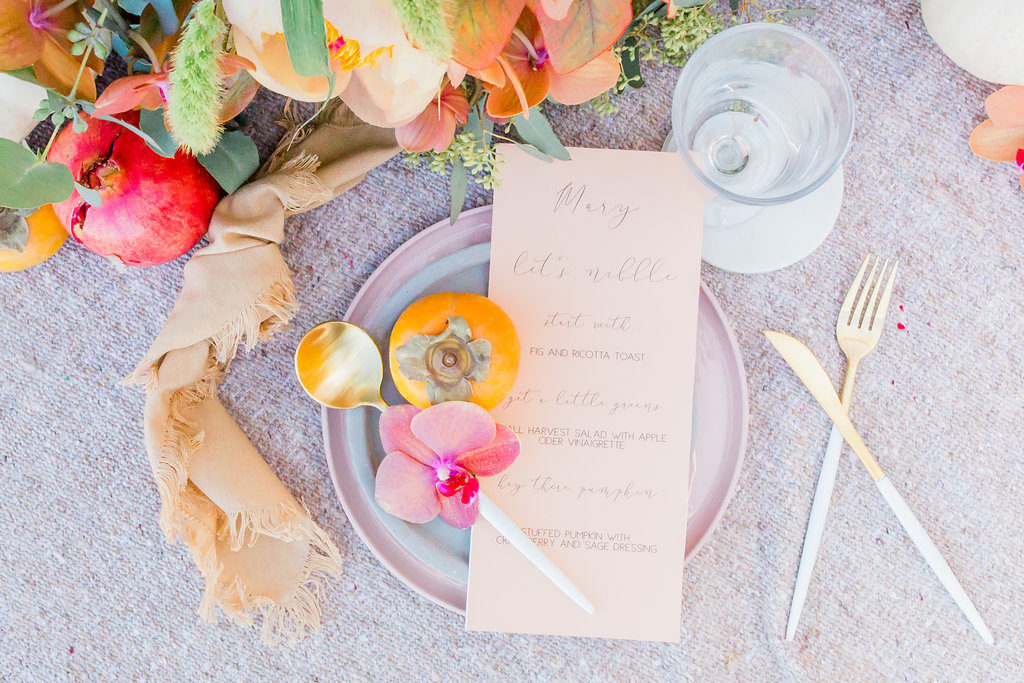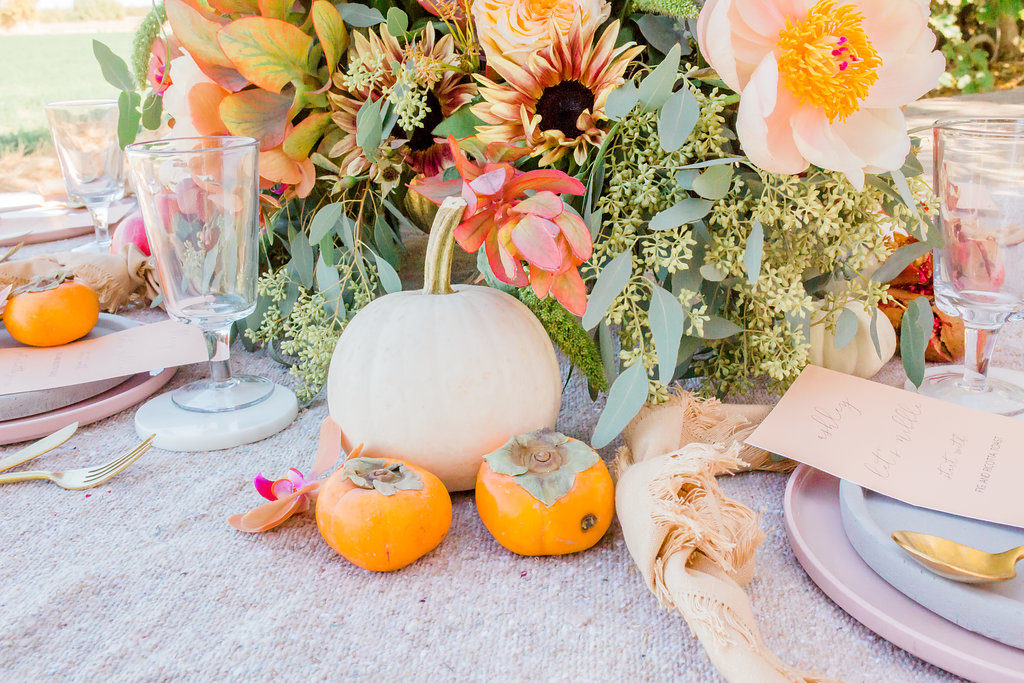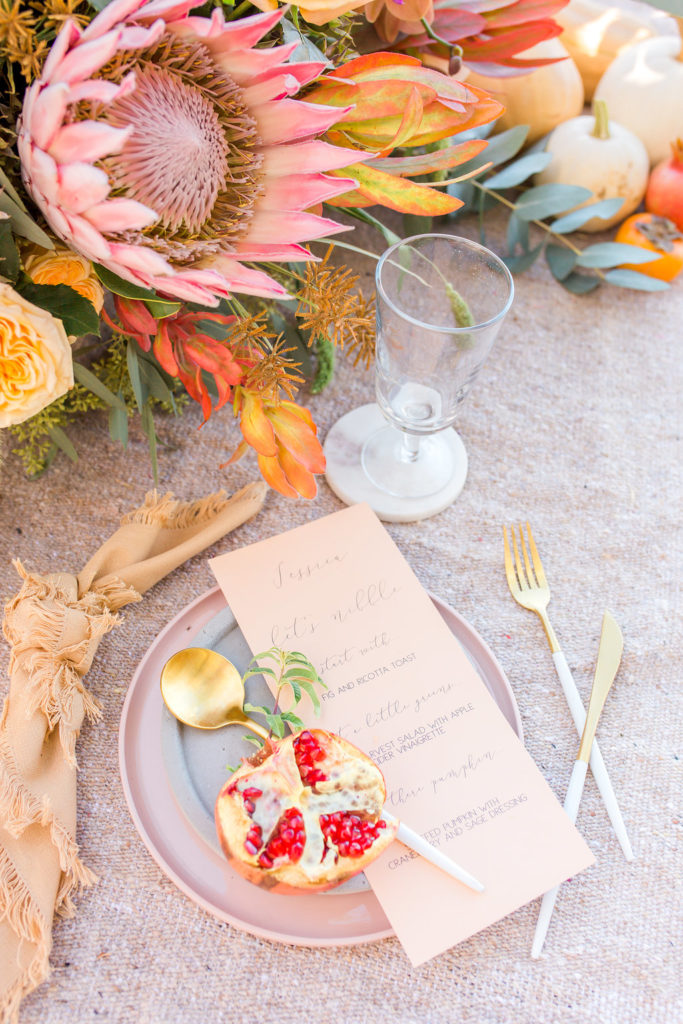 T H E F O O D
The food is one of my favorite parts of throwing a party. If you are going to be making the food yourself, keep it simple. No reason to add more stress on to your plate trying to create a menu that will have you in the kitchen all day. Go with fresh and seasonal food, keep it to a couple of appetizers, salad, a side, and an entree. Don't forget the dessert!
Create a menu for your guests. We often recommend to have a calligrapher create your menu, but this is something you can do yourself as well. Creative Market has a ton of fun fonts that you can use. Just download them, and using Photoshop or Word create your own. Print at home, and there you go! You can also look on Etsy for a template and just fill in. Another inexpensive personal detail your guests will enjoy.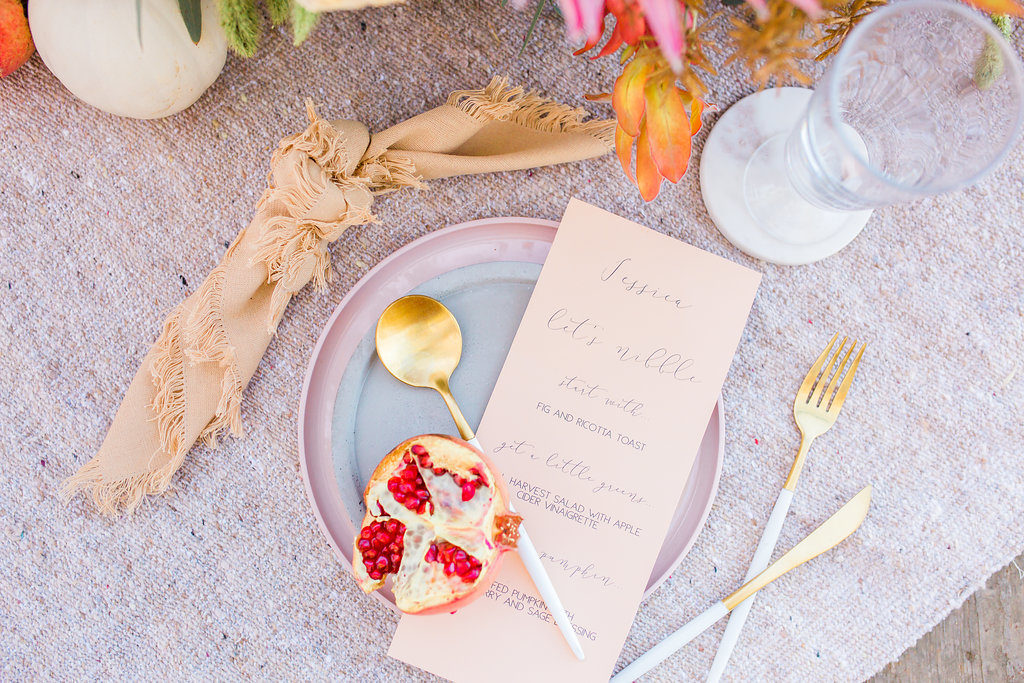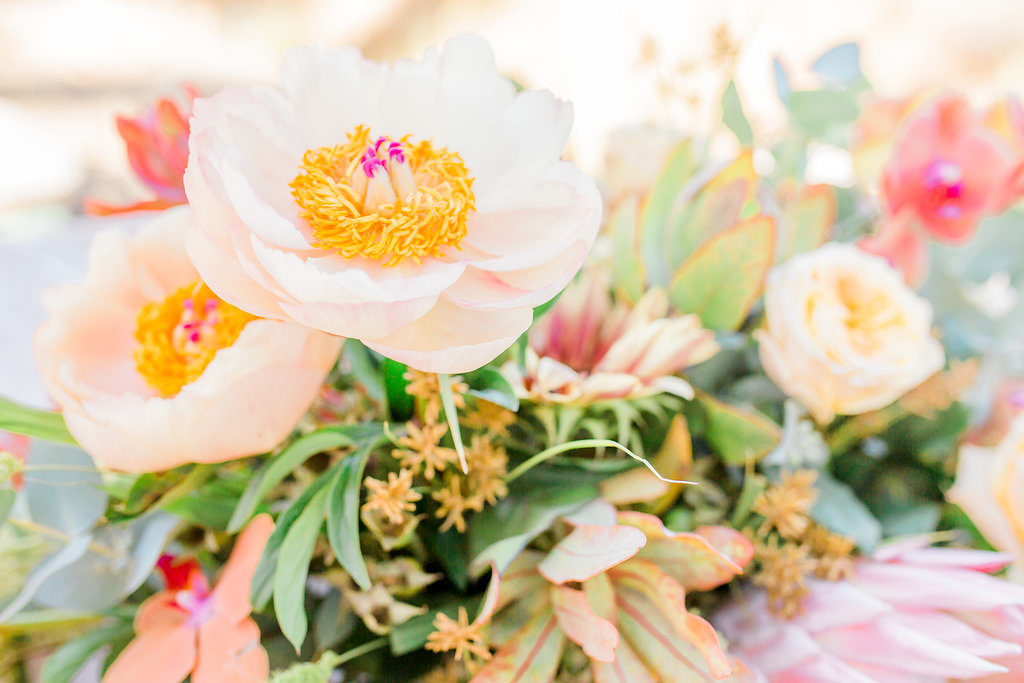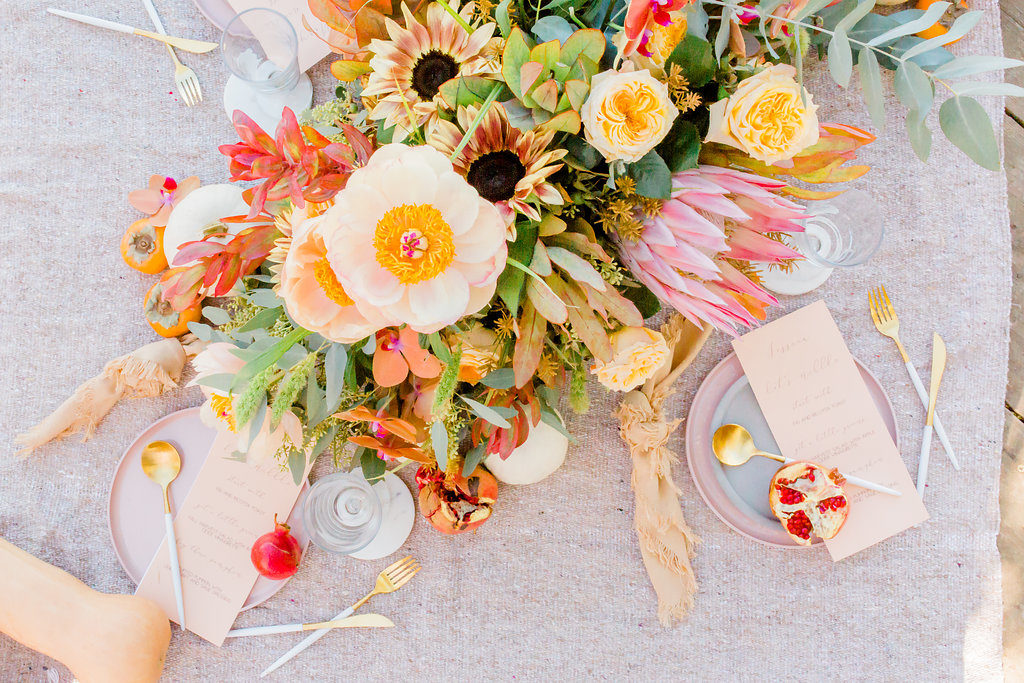 TIPS
Tip on affordable styling: Don't show people everything you thought of. Keep your idea pure and strong. All too often people take and copy ideas from too many sources without focusing on one strong idea.
For your food, no one will judge you if you get premade goodies from the market. Just reheat, and garnish. Garnish always create a fresh taste and adds a pretty detail. I like to add some loose flowers around my food as well, its all about beautiful details that will have your guests smile.
Don't be afraid to try something new or different! There are no rules. No one will judge you. Have fun with it!
Flowers, Flowers, Flowers! Flowers add pretty detail that makes your table all come together.
Follow all these tips and tricks, and you will be the hostess with the mostess!
xx
Abby