Another fun party in my backyard! What can I say, I love to host!! The time came for me to host another gathering for my book club. You may remember last year when I hosted around Thanksgiving. This time I hosted as Summer was transitioning to Fall and went for a vibrant color scheme, which went along well with our vivacious book – Verity by Colleen Hoover. Have you read it? My book club had mixed reviews, but we didn't have any mixed reviews about this fun night! It was a warm evening full of lots of prettiness, laughs, and even a sweet new baby that was just added to the mix! Check out how I hosted this fun dinner party and all the details that went into it below…
Photos by my friend and fellow book club member, Alison Bernier!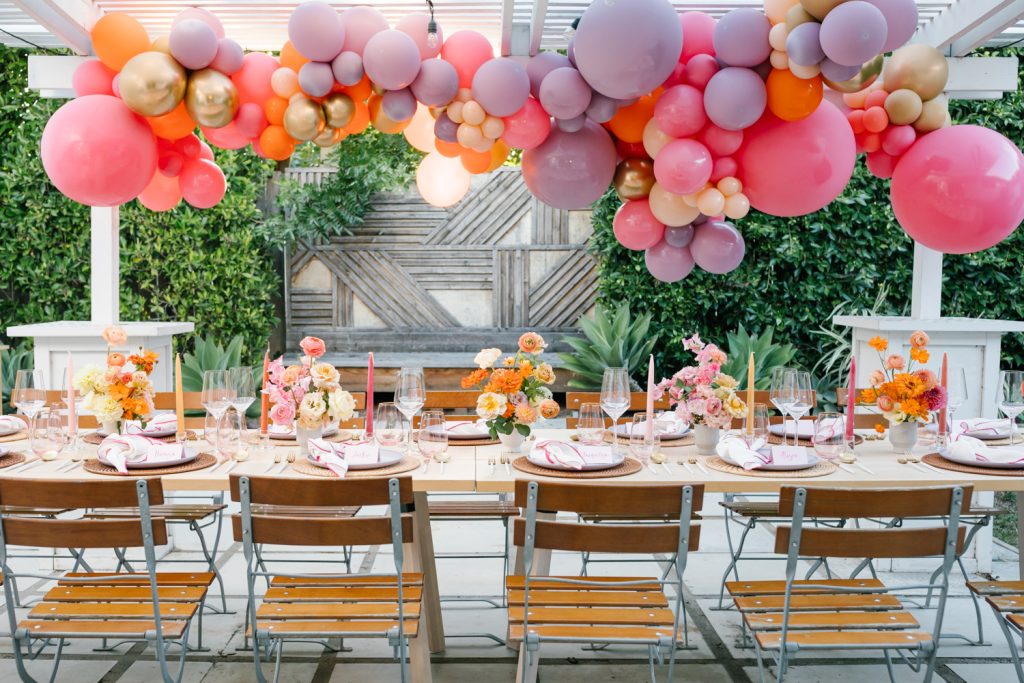 It all starts with the details! Chelcea Creative added the prettiest little invite along with all of the place cards and other fun details. These colors were so pretty and fun to play with! I styled it all on my Chasing Stone mat.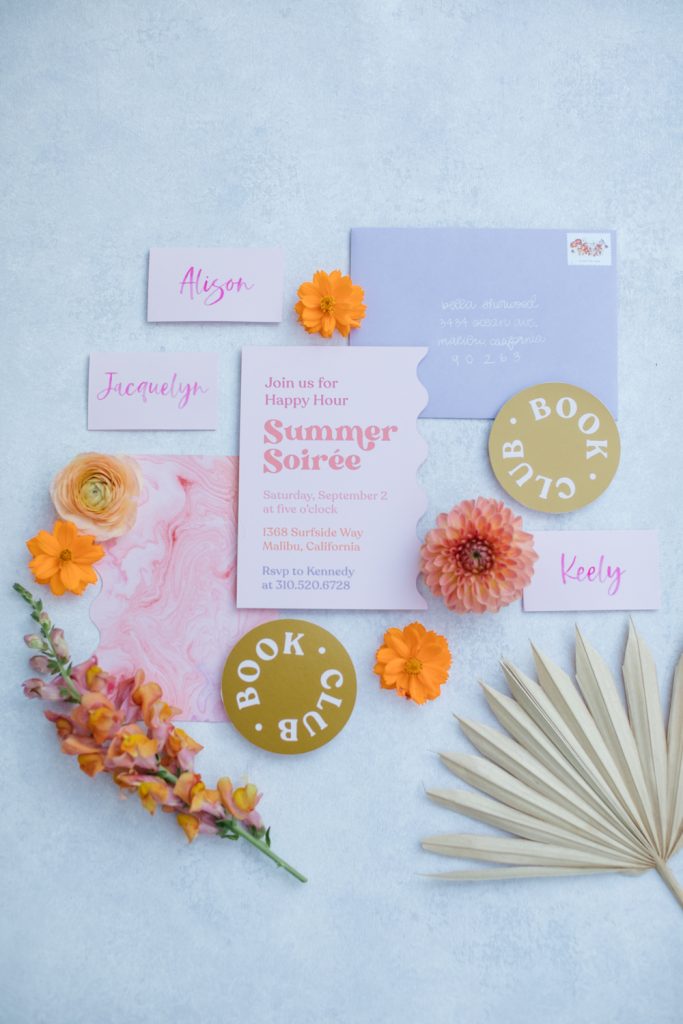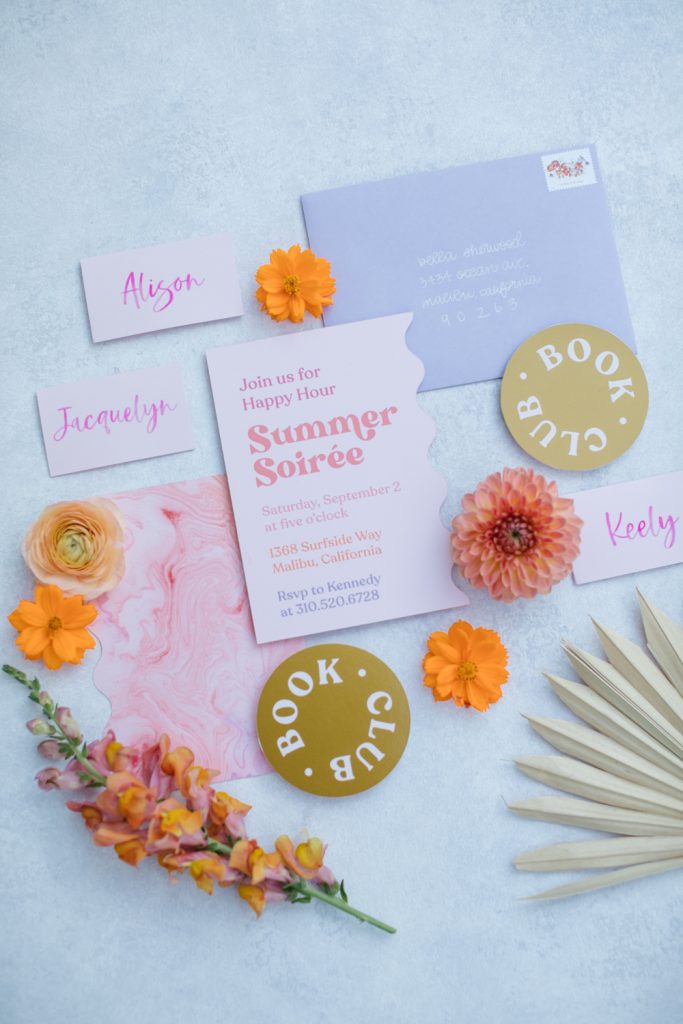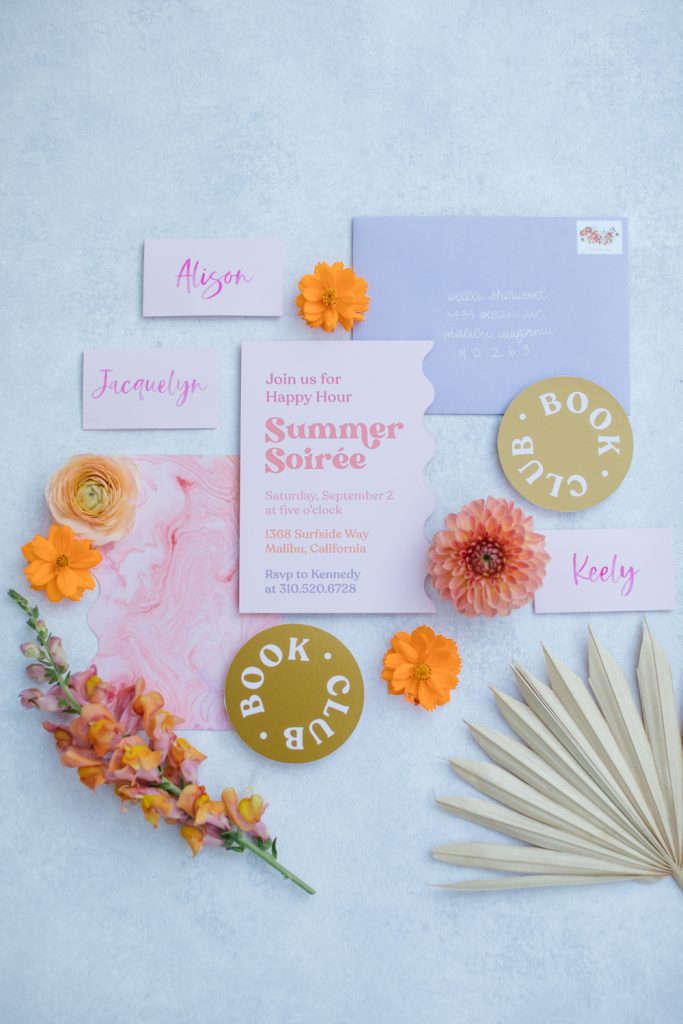 Now there is some color!!! Like I said, I went with vibrant colors for this one. Bright pinks & oranges mixed with purple and a few neutrals. You can see all of those pretty tones on display in The Pop Shop's amazing balloons that were set over our table. So pretty!! Of course Sweet Salvage Rentals brought the perfect tables and chairs for us to use. Our club has grown and we are now at 13 so we need two tables! The more the merrier!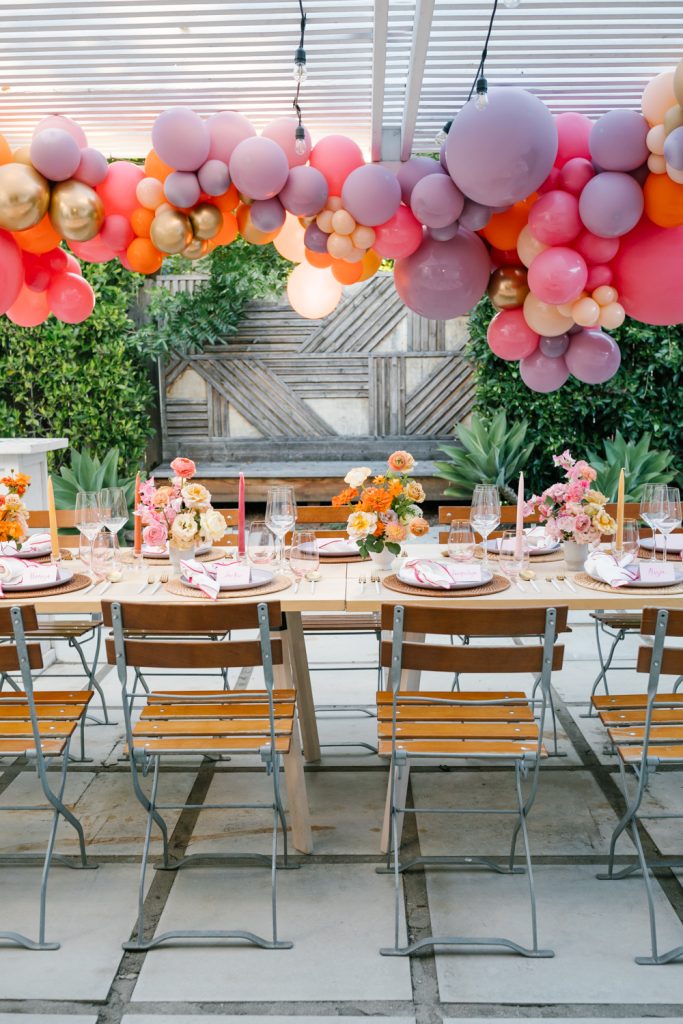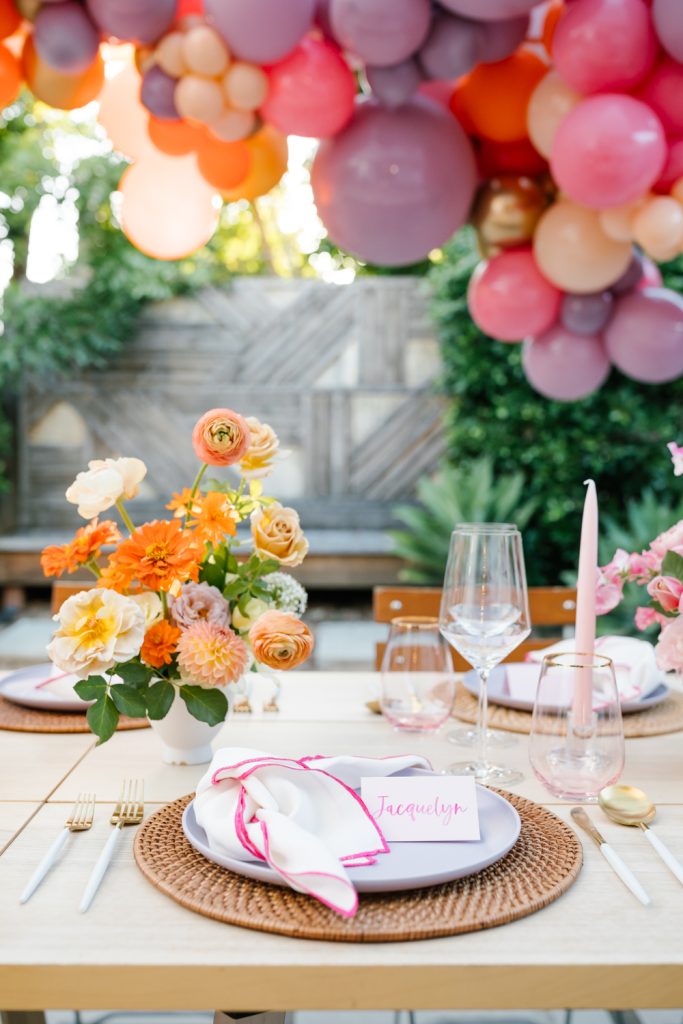 I set the table with a variety of goodies. My Sur La Table rattan chargers topped with a lavender Target plate and a Hostess Haven napkin with a fuchsia tip were the main stars. Then I turned to our friends at Signature Party Rentals for the essentials like modern gold flatware, wine glasses, and pink tumblers for water. The place settings turned out even better than I imagined!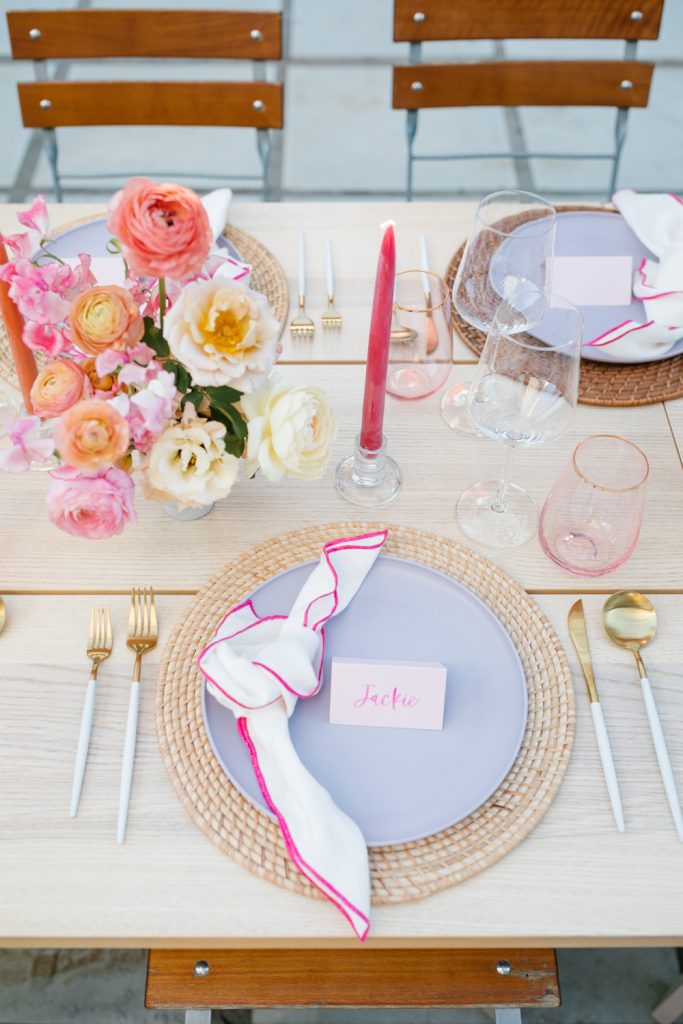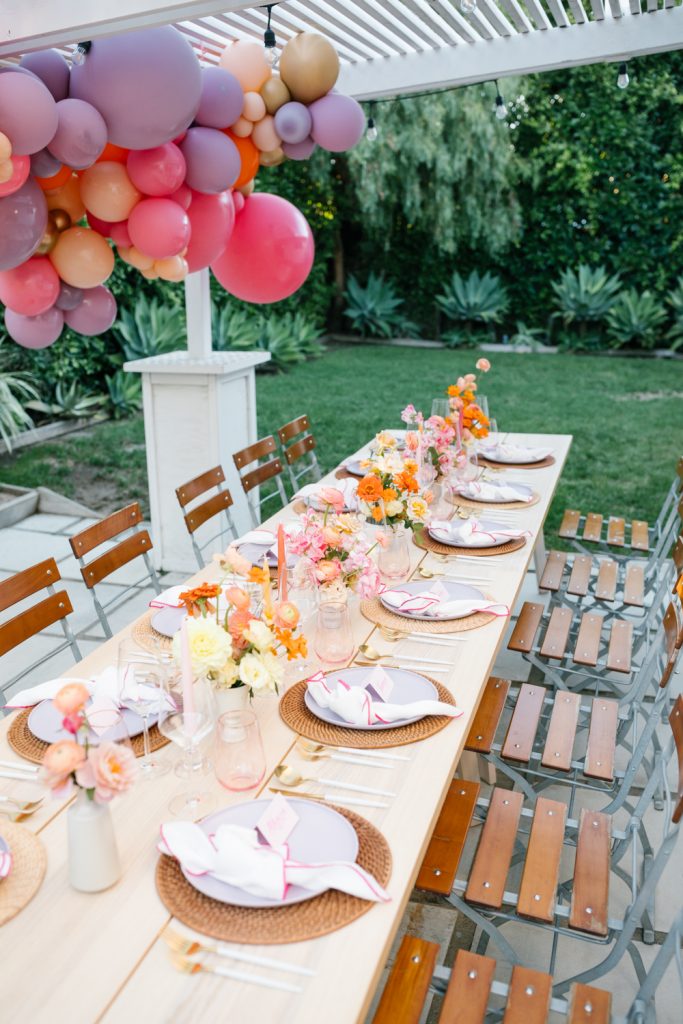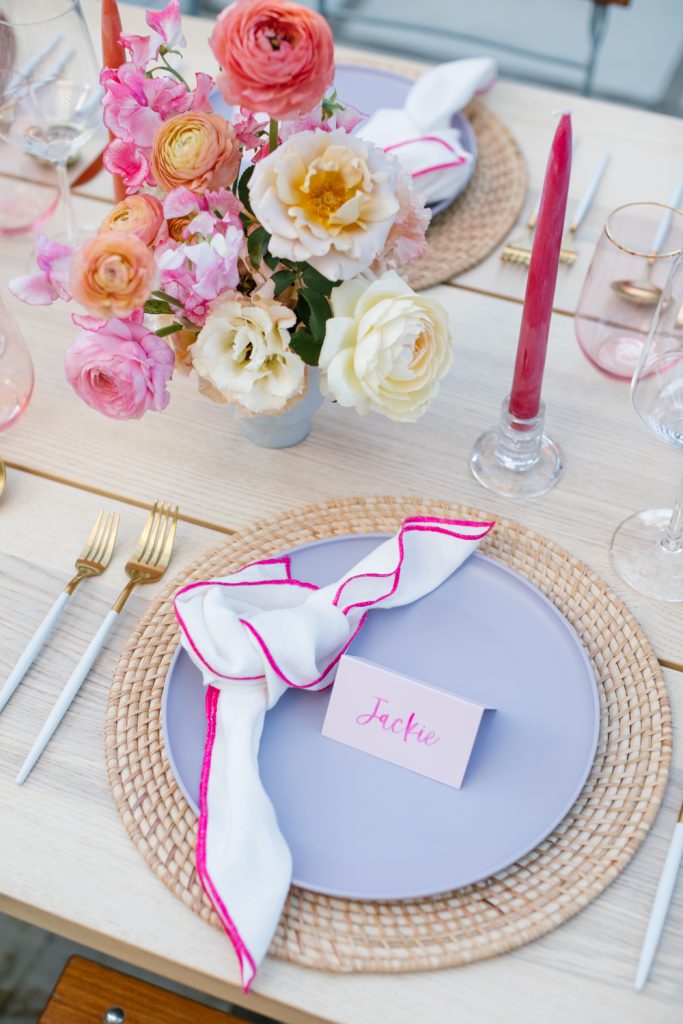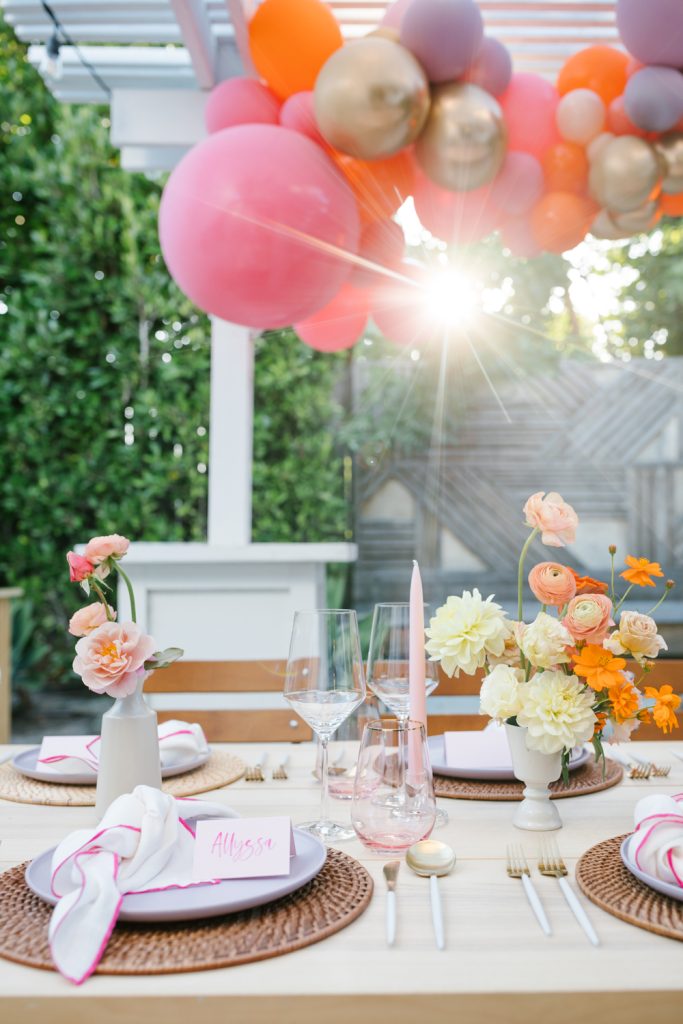 Chelcea Creative's water color place cards were stunning! I loved that pretty little touch!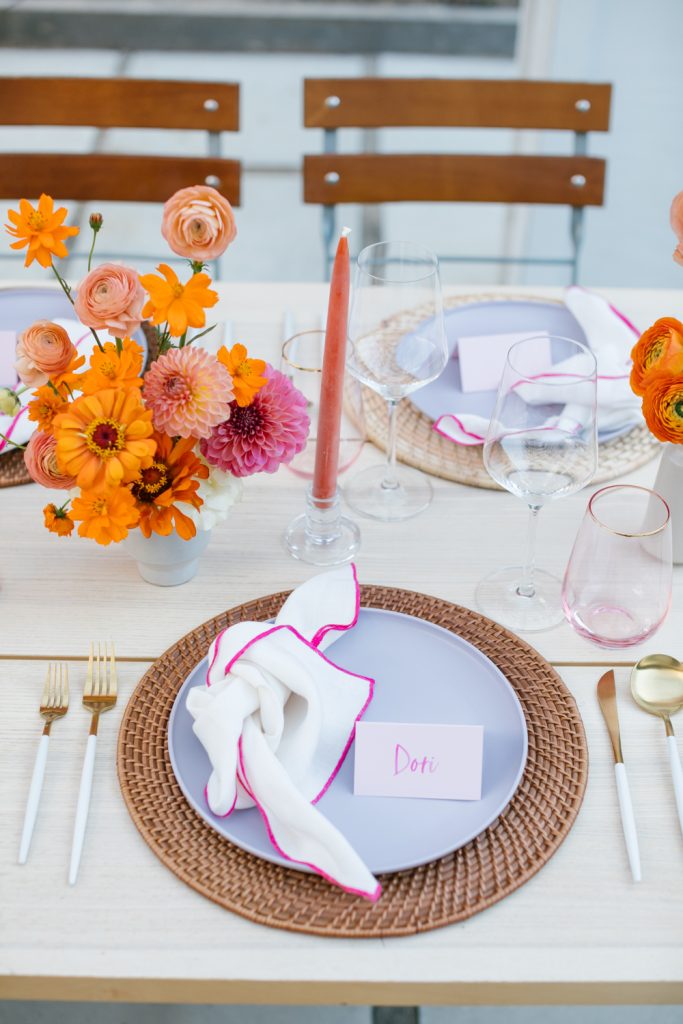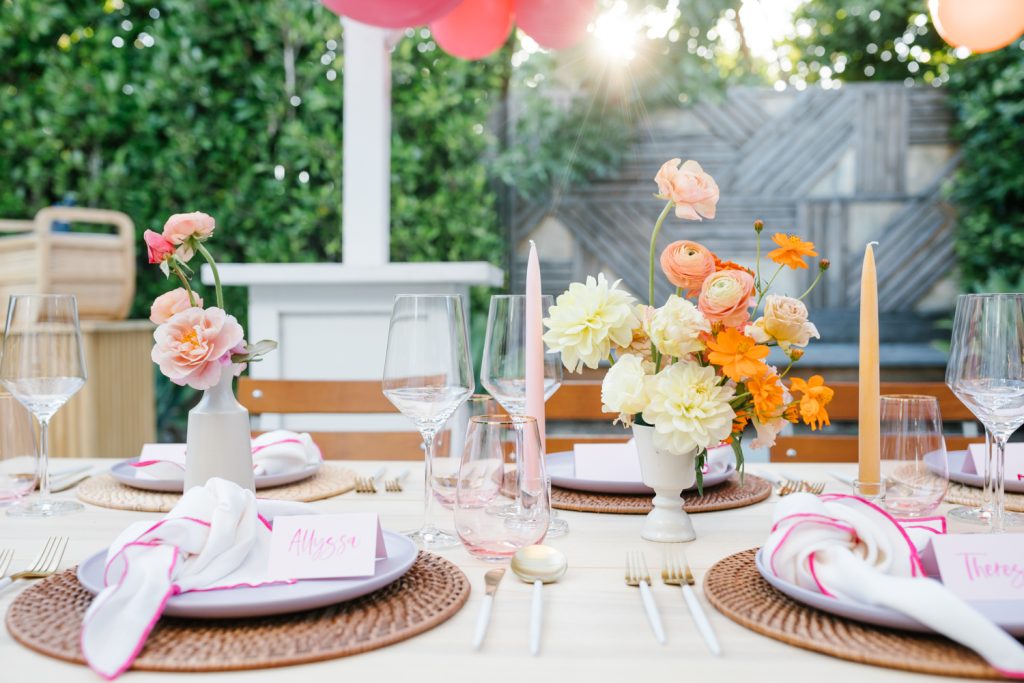 I found these candles on Shopbop, one of my favorite places to shop… I have a feeling I'll be using them a lot with that mix of gorgeous colors.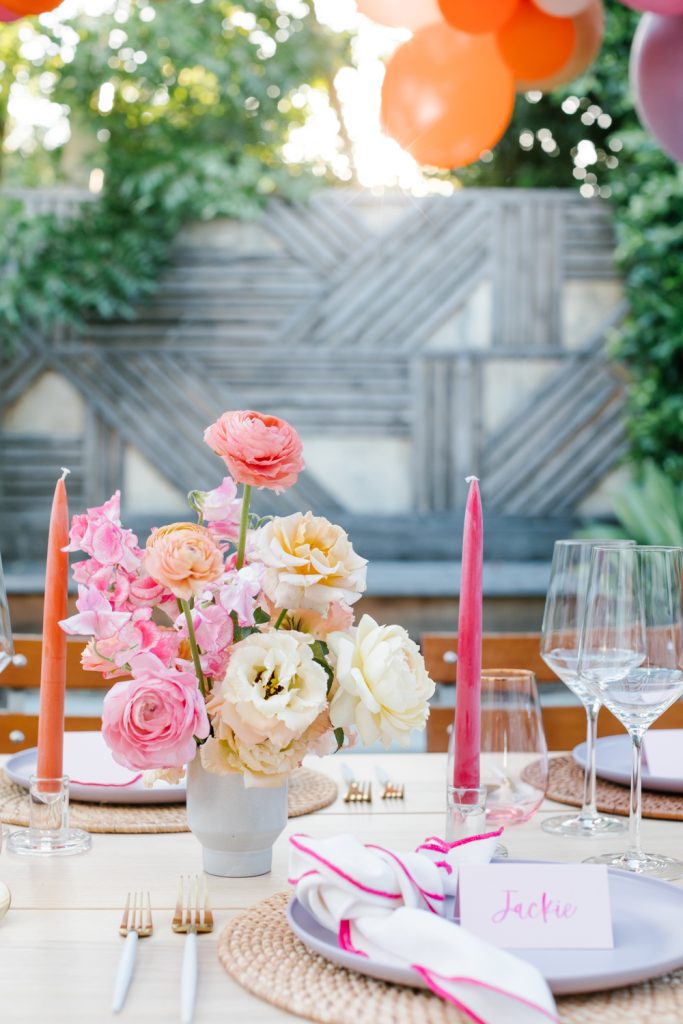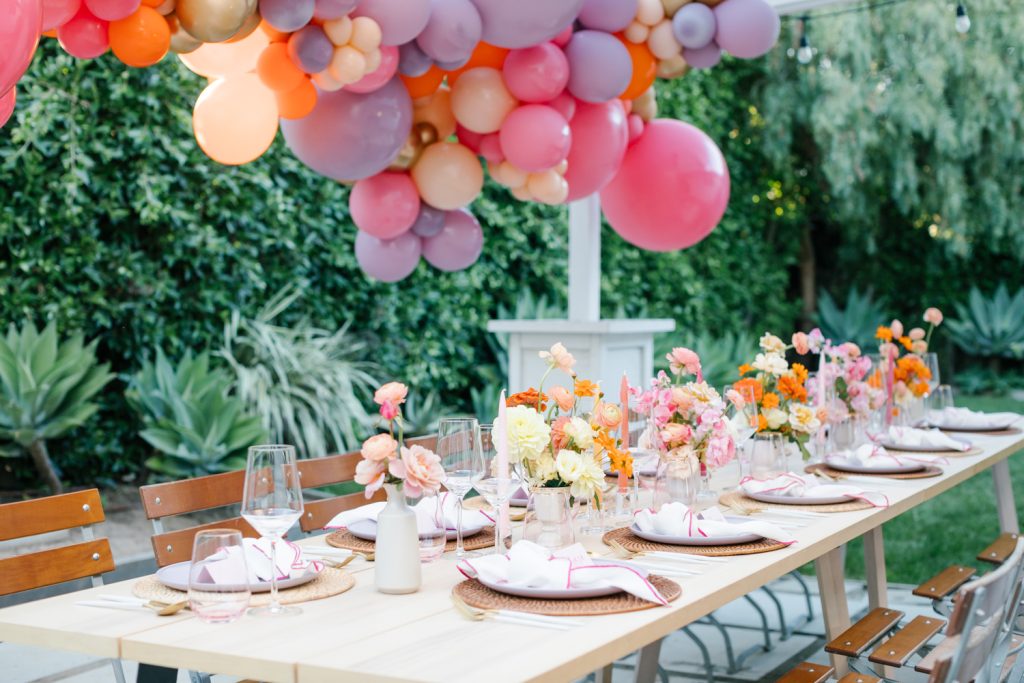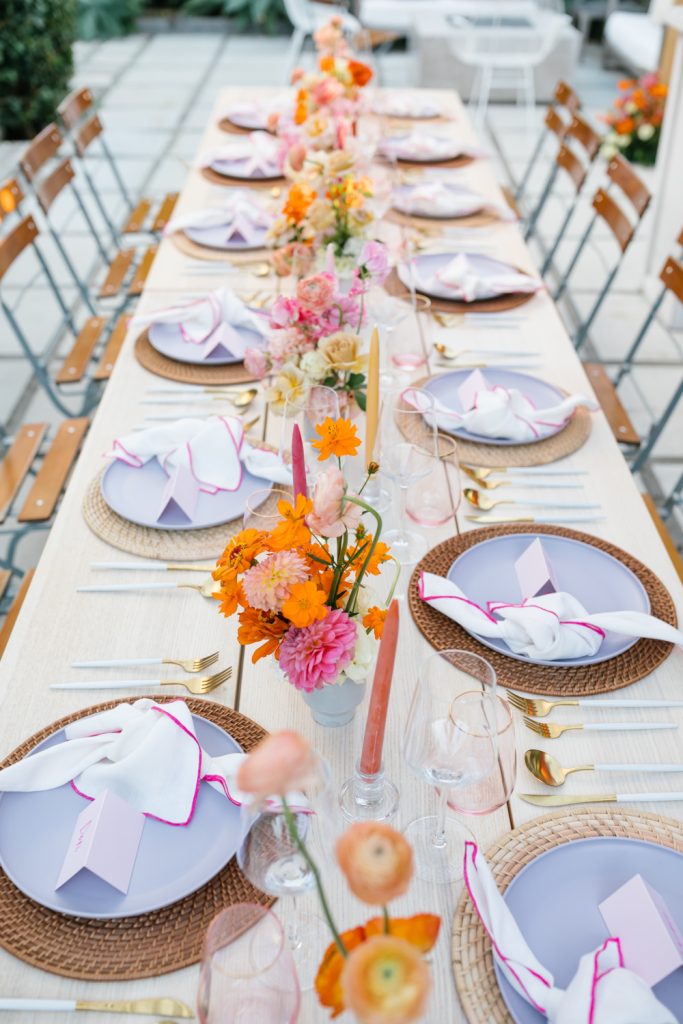 No Beijos tablescape would be complete without stunning flowers! Tanya at Earth & Grace always manages to spoil me and our clients with her talent. These colors of bright pink and vibrant orange were so beautiful, they were definitely the talk of the night.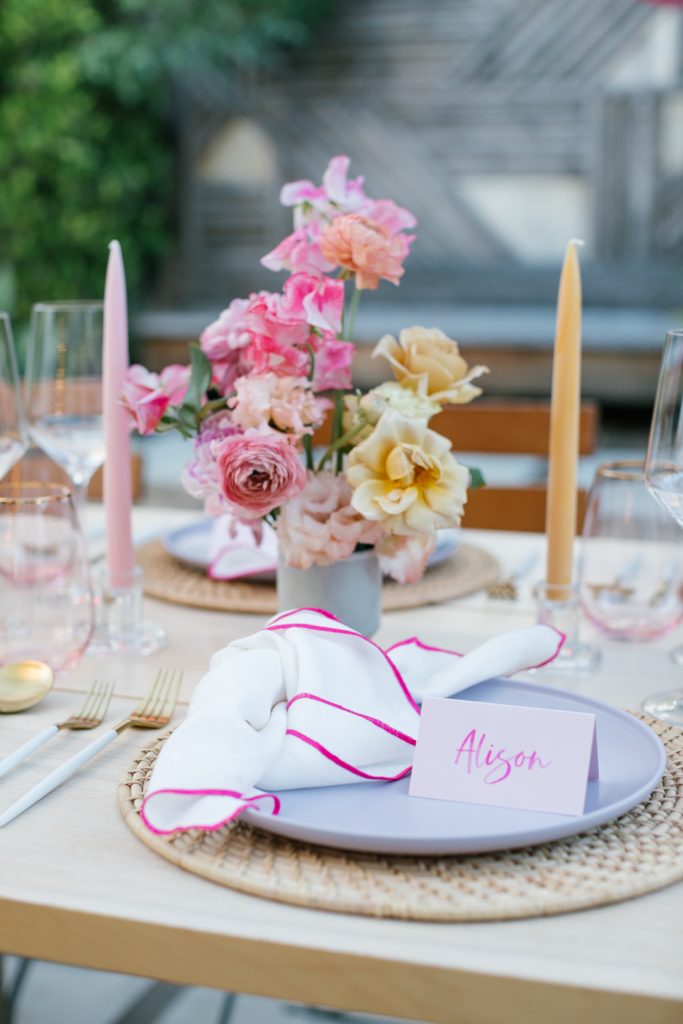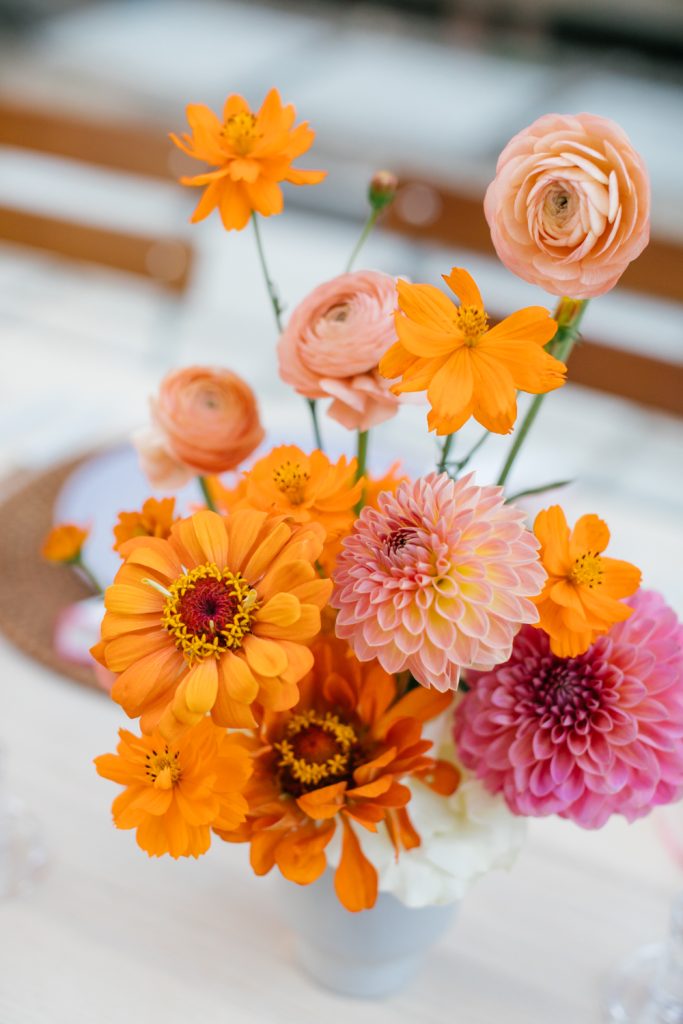 So much pretty in one place! I love dressing up my little backyard so much!!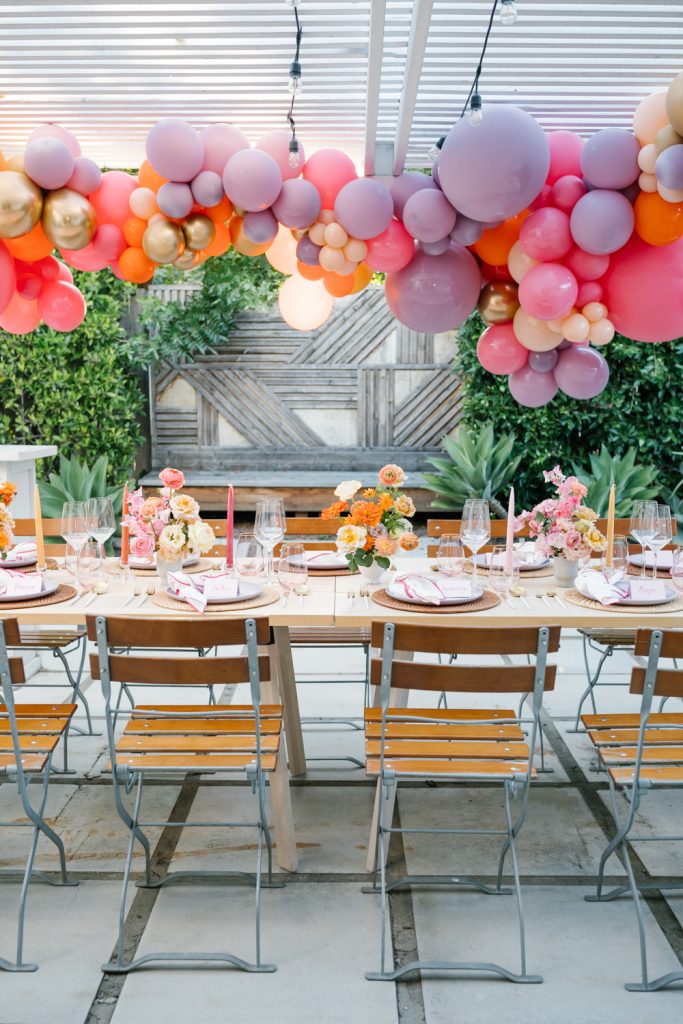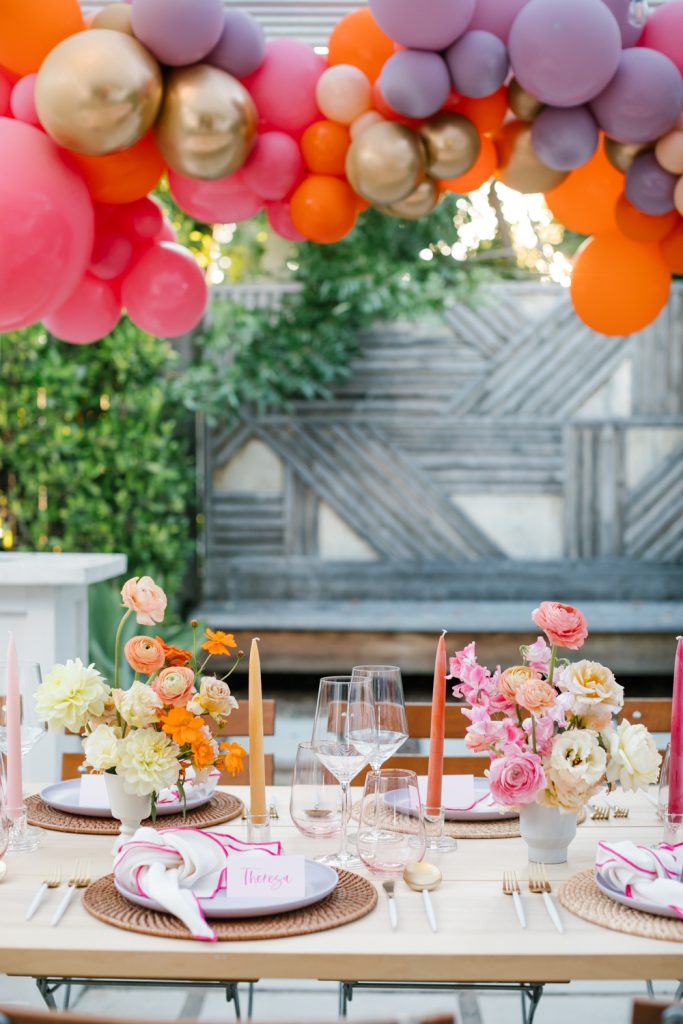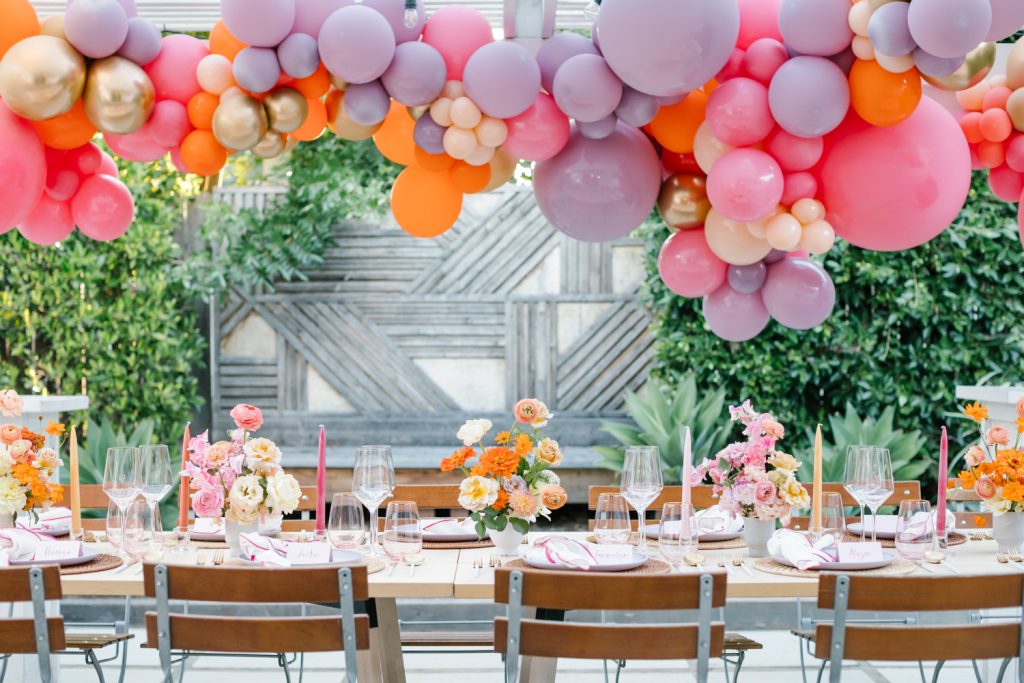 There's the book that inspired the evening… A lot of people had recommended it to me so I chose it. As I said, we had mixed reviews…. It was definitely a page turner!!! But in our book club we only are allowed to discuss a book once we've all read it so nothing is given away. We had a lot of fun talking about this one!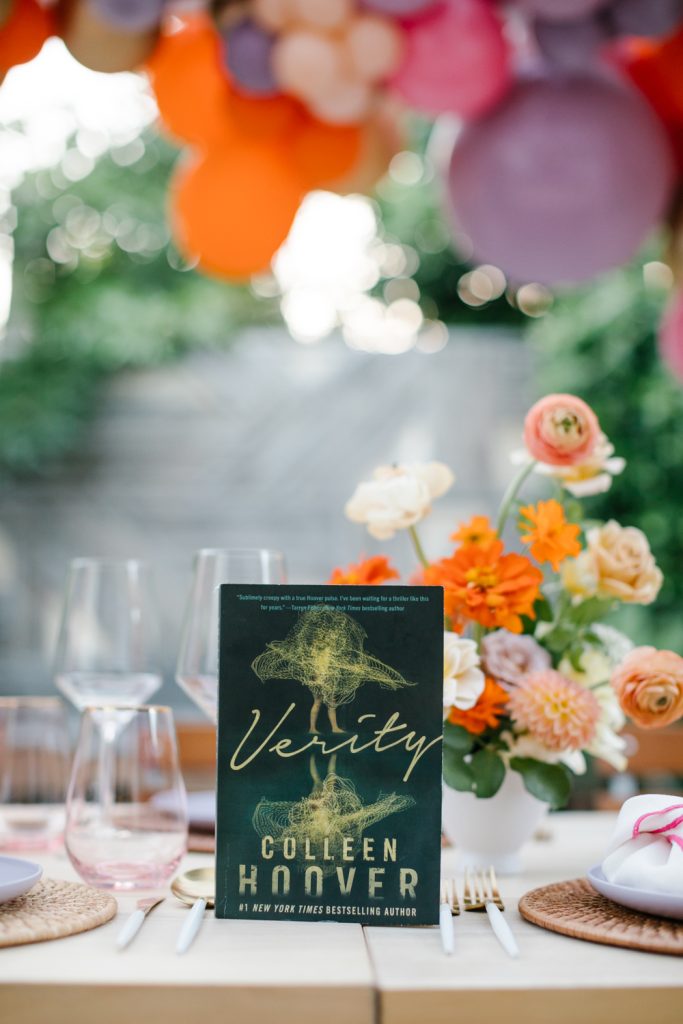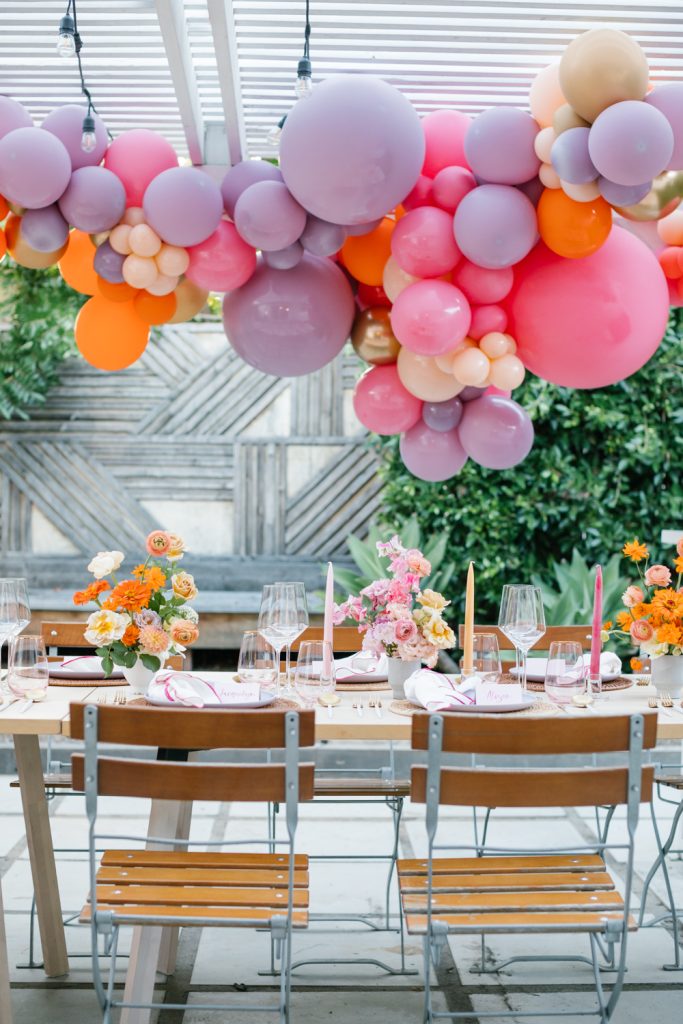 Here I am in my cute Cleobella dress that 100% matched the color scheme! Such a fun little dress to wear for any occasion – and I always find a reason!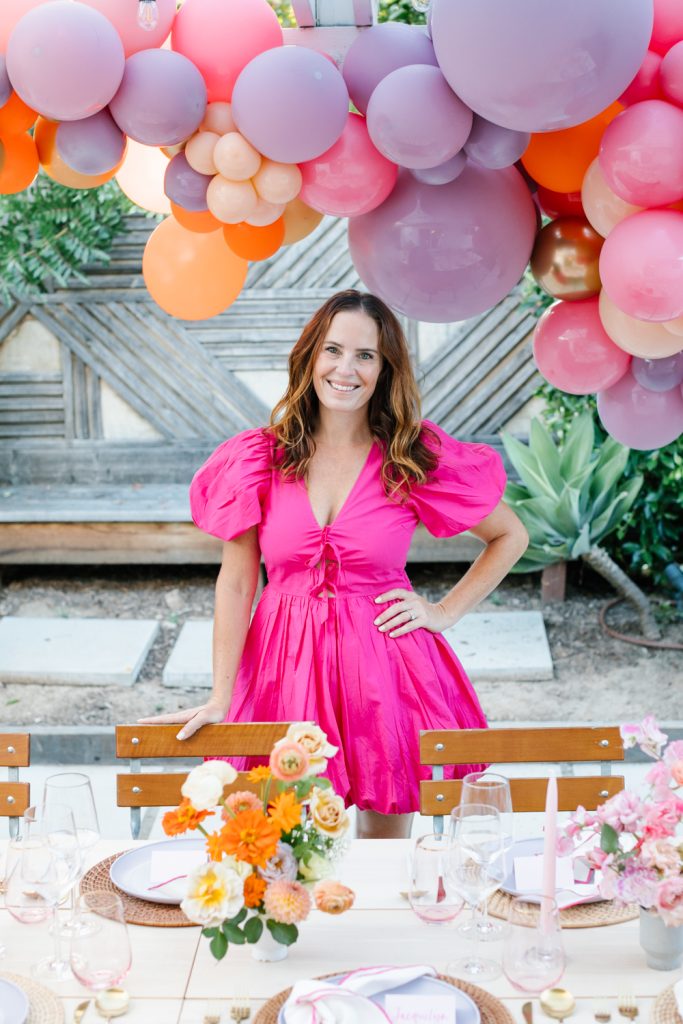 Another book club essential, a bar!! Everyone brings a bottle of wine so we had to have a fun set up for that! Sweet Salvage Rentals pretty new bar along with her wine tubs did the trick. I also had pitchers of water out because you gotta stay hydrated and it was a scorcher! To finish it off Chelcea Creative added the cutest little sign with the perfect pun ;)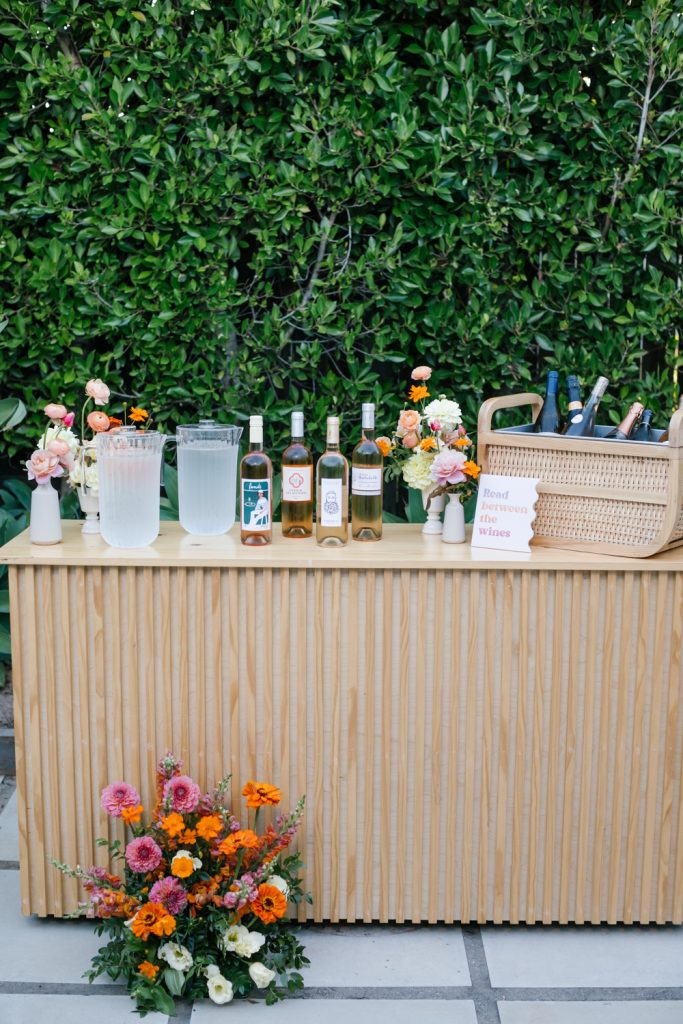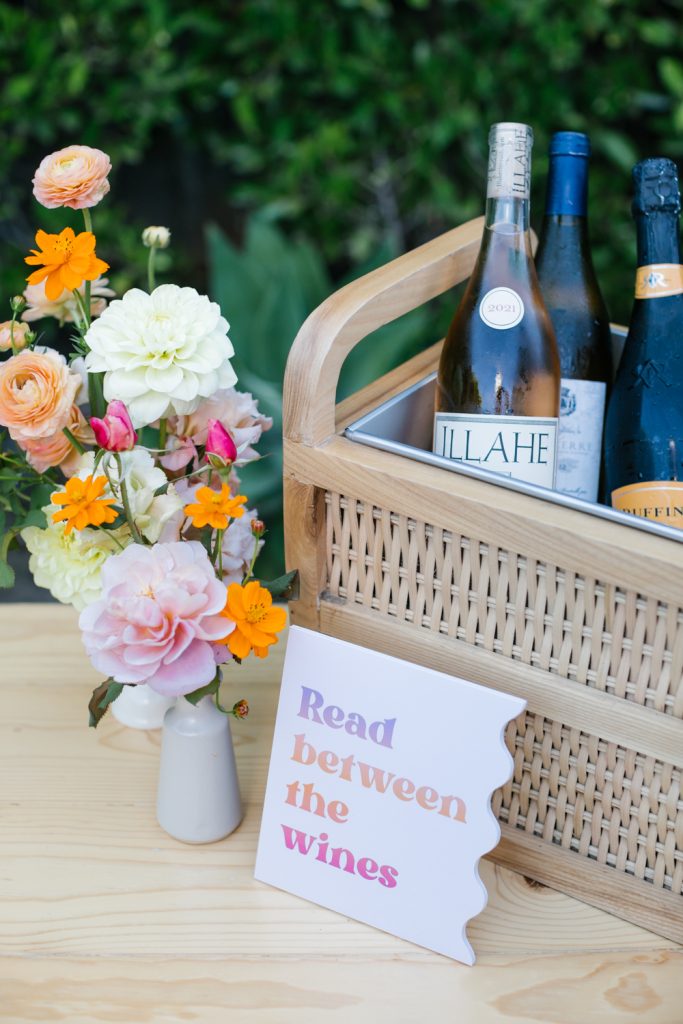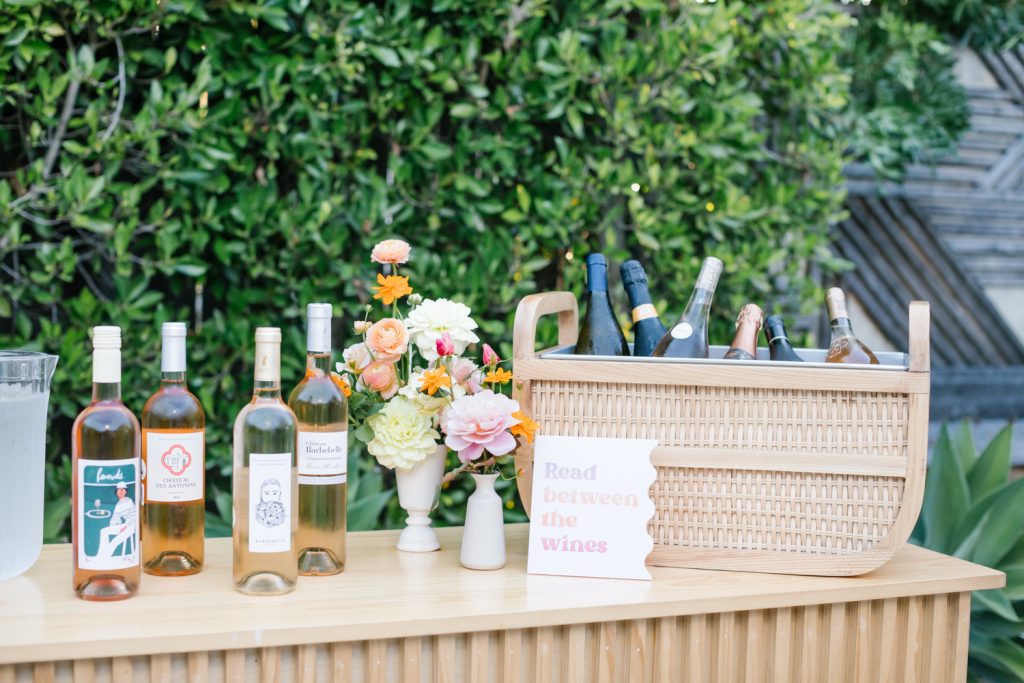 More stunning blooms from Tanya! Damn she's good!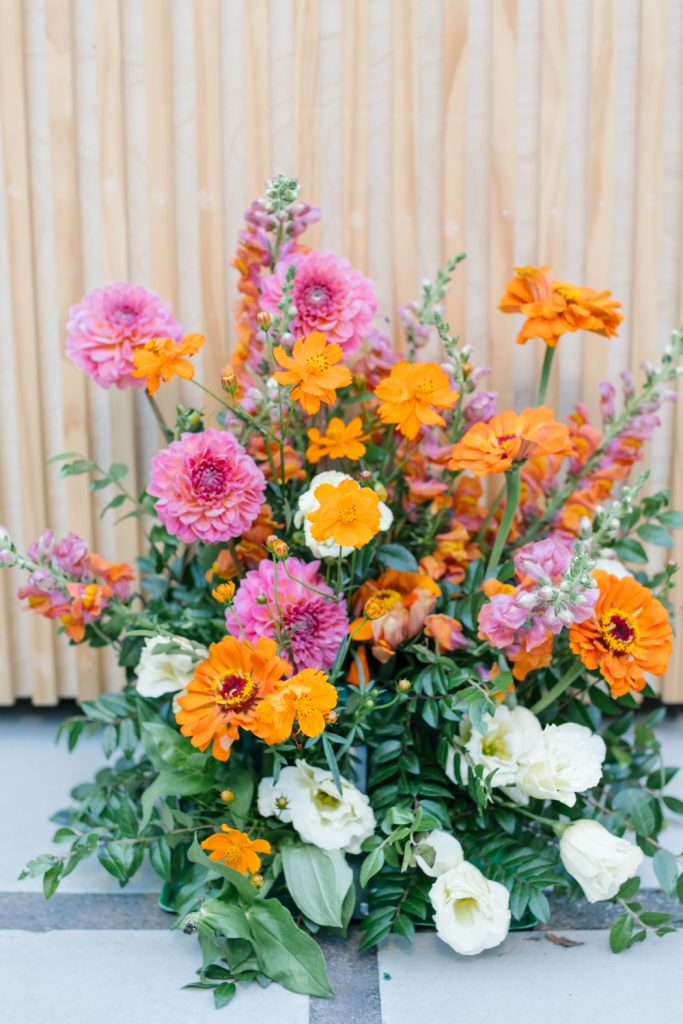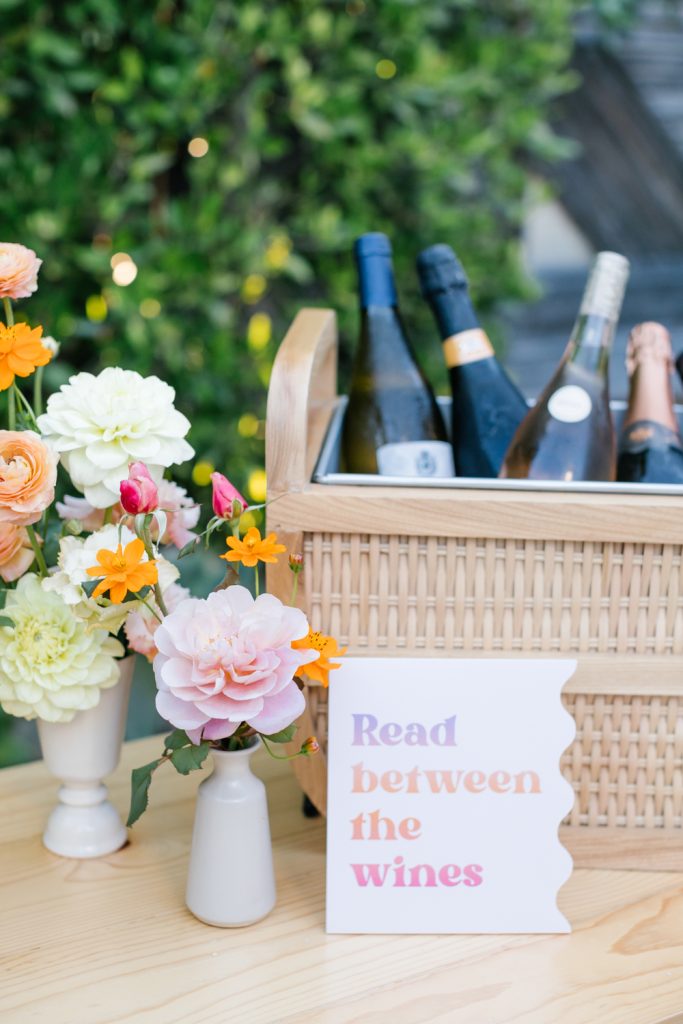 Every good hostess pours the wine!!! Don't mind if I do!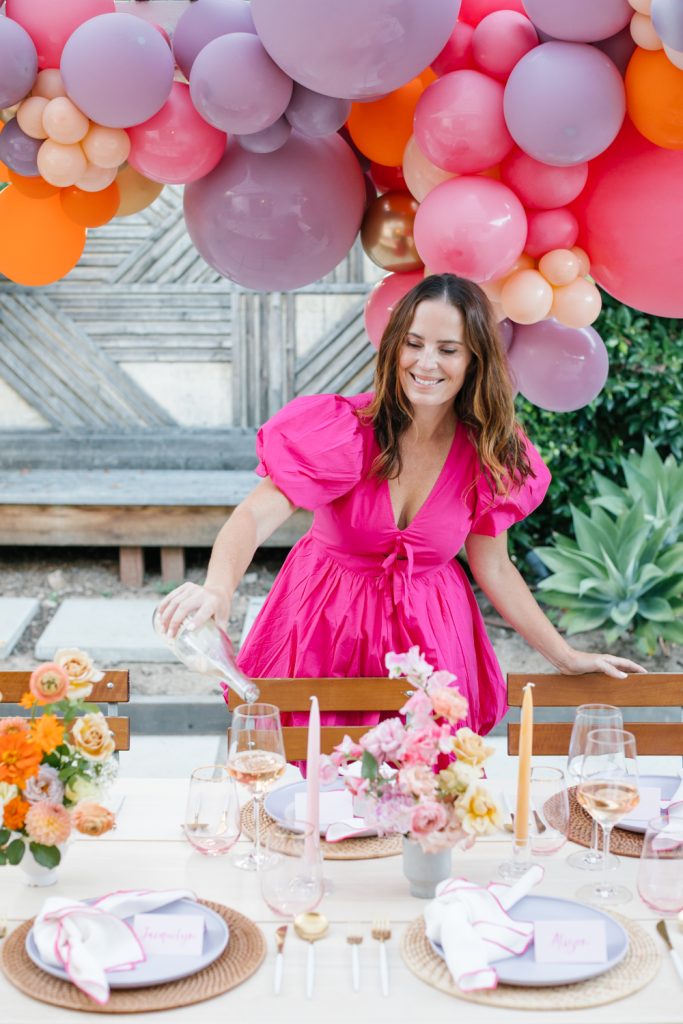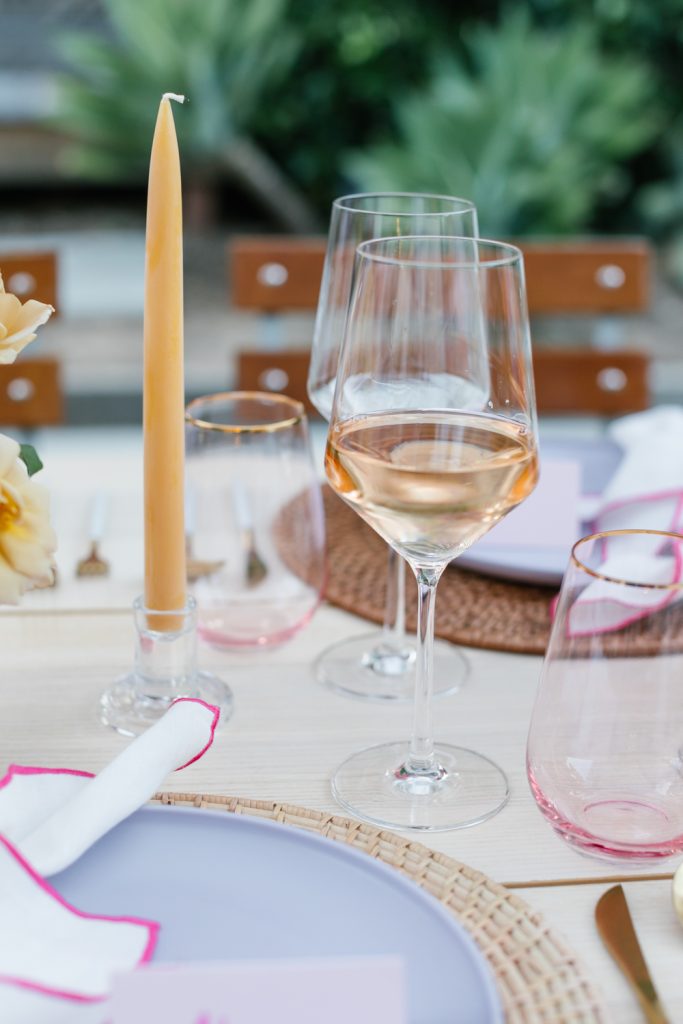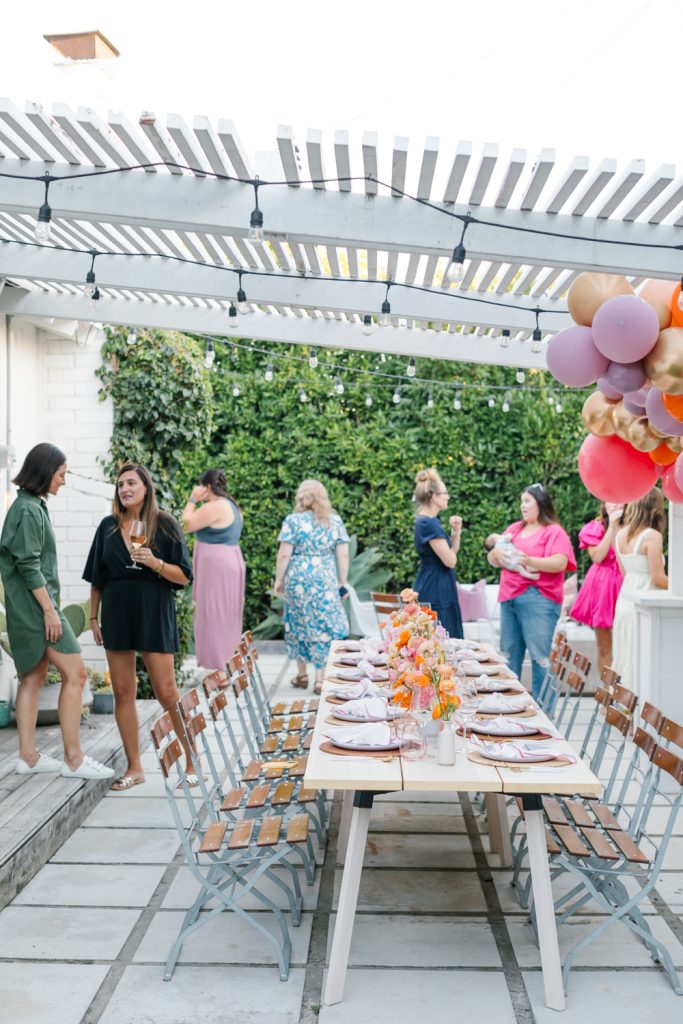 Cheers to all these amazing ladies and friendships that really fill your cup!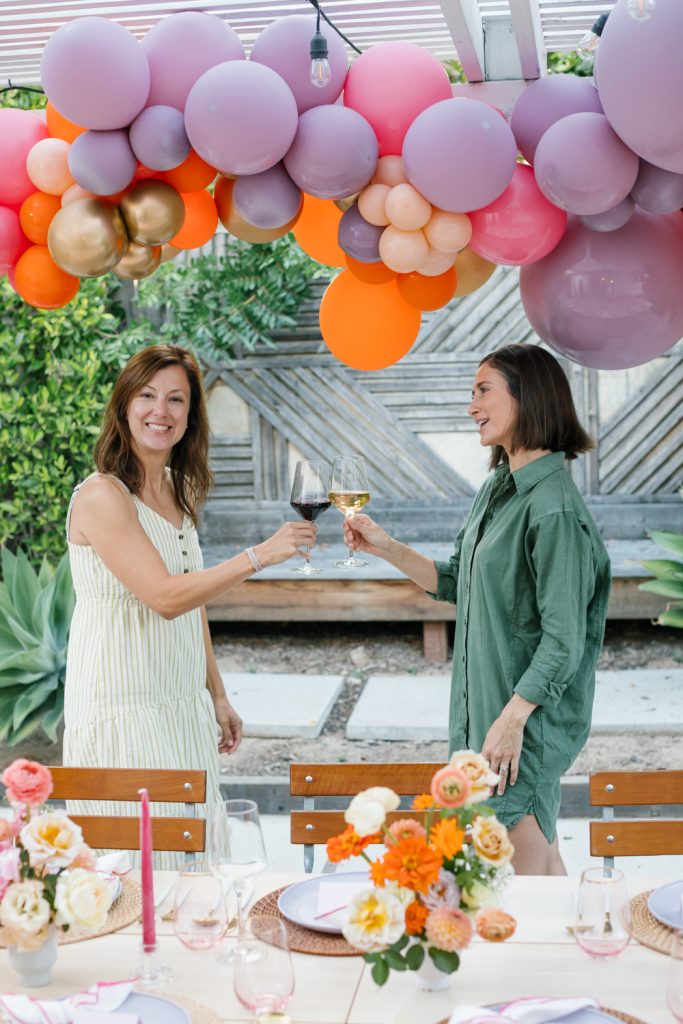 And to new babies that make a sweet appearance!!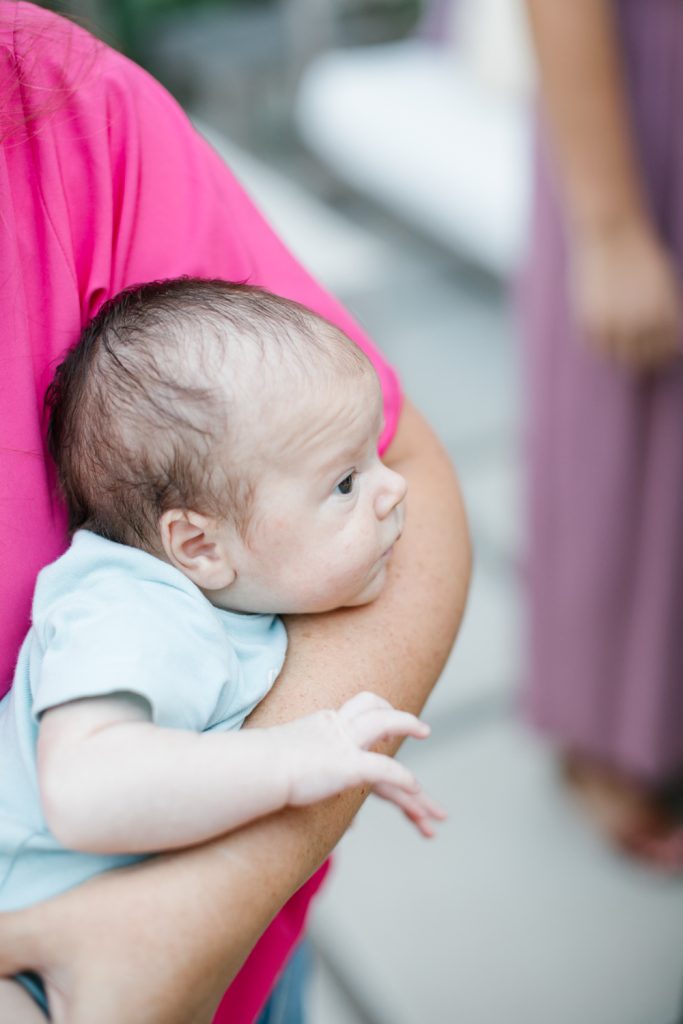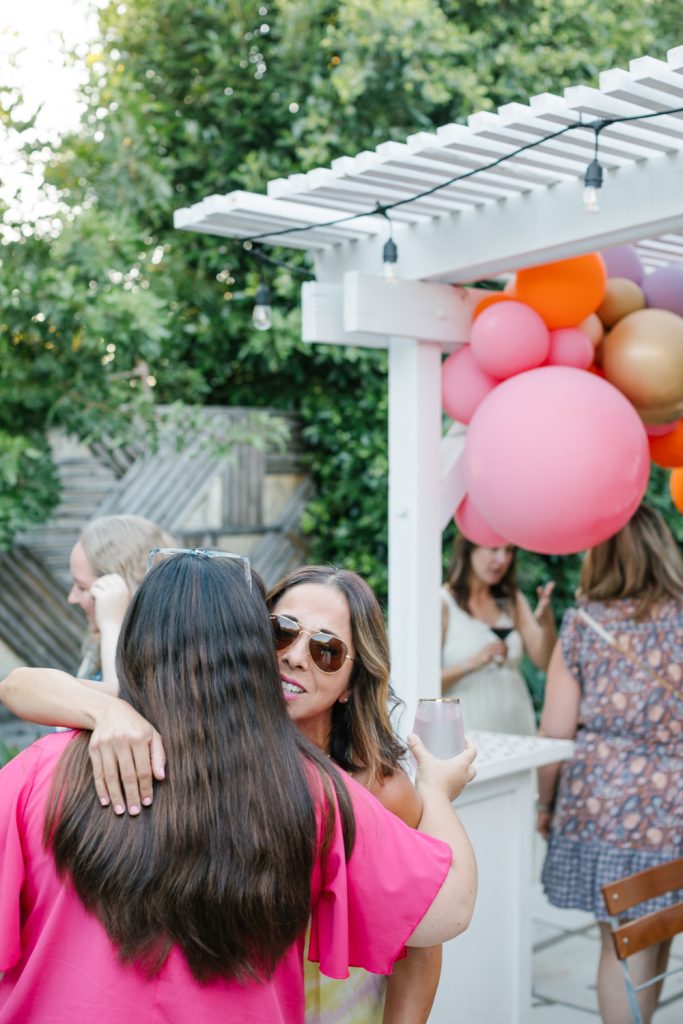 The perfect night!!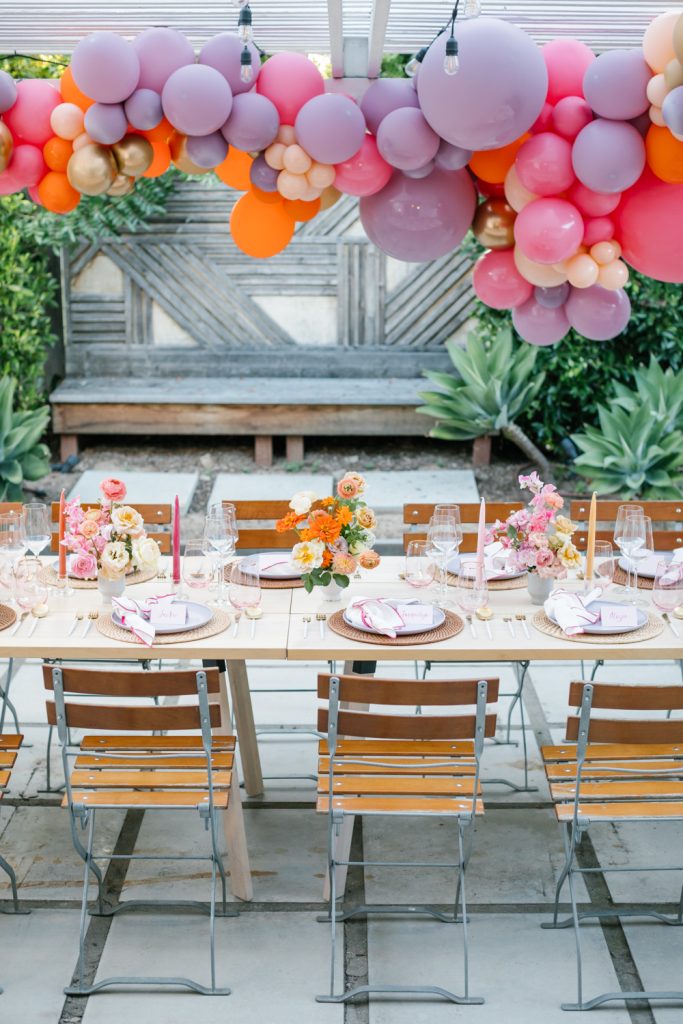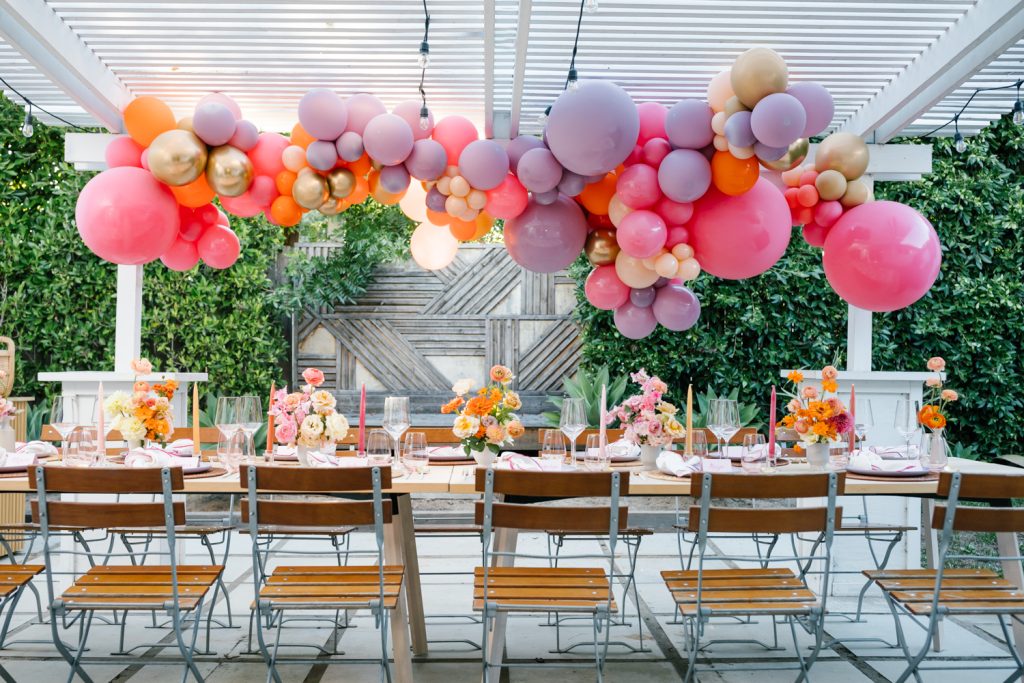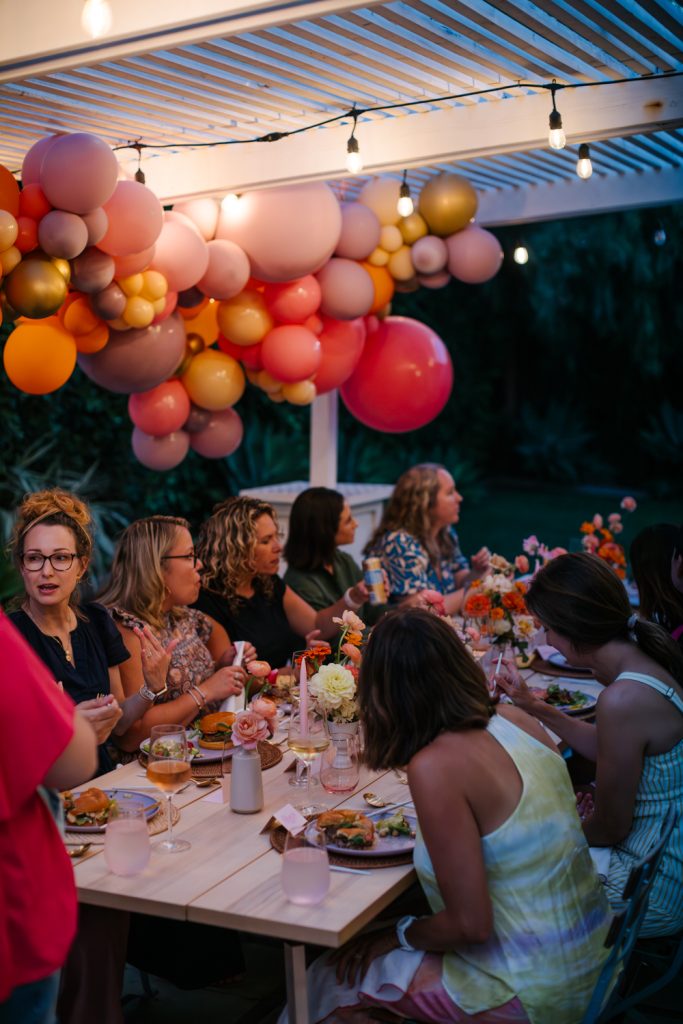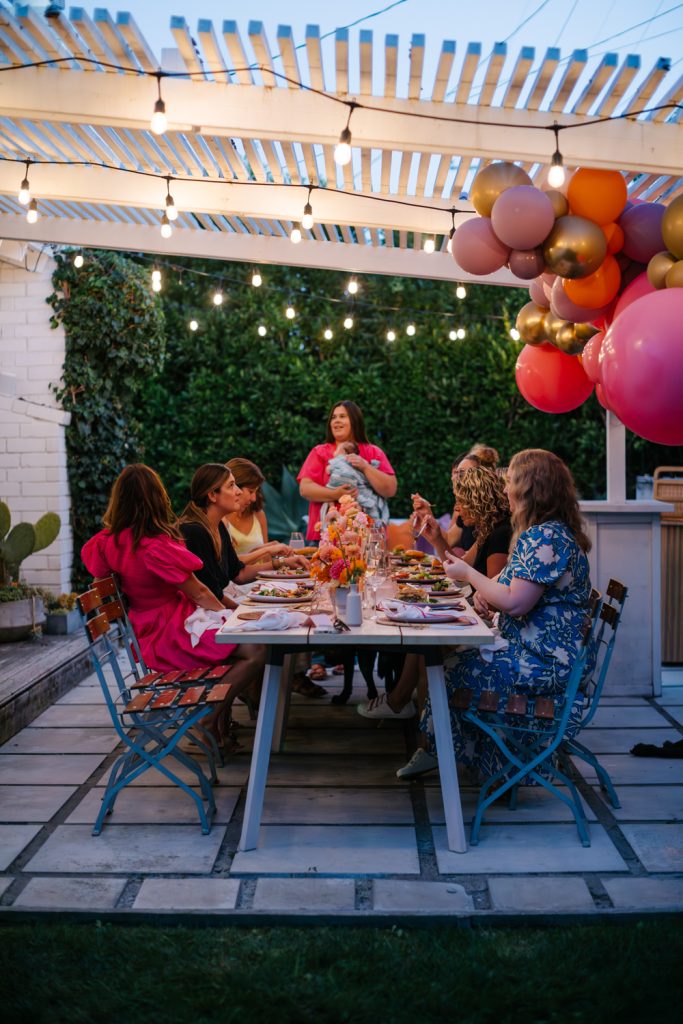 Can't wait till I host the next one!!!
xx
Jacquelyn