---
 I don't think any mother can say enough, how much time flies by with their little ones. I swear each year goes by faster than the last. It honestly felt like it was just a couple of months ago I was planning Dylan and Jett's shine on you crazy diamond birthday party. The time had arrived, and it was the big question in the house of what is this year's theme going to be?!?! After the demands of last year, I was a little bit concerned about what was going to come out of their mouths. I was imagining having to create a theme that had slime, squishes, pokemon, and Japanese cartoons. However, one thing that is always a sure thing, is that some kind of dance party will always be in their top 5 wants.
I will never forget when they both came running up to me telling me they had the perfect theme for their party. So I grabbed a pen and notebook in anticipation of having to write down a laundry list of ideas. They both yelled out, "We want a Michael Jackson birthday party!".
YASSSSS!!!
High fives all around! If you know my family, you know that Michael Jackson is a big deal in our home! My three sisters and I grew up rocking out to his music, watching his short films over and over, and even being able to attend one of his concerts. Thanks, mom, a definite bucket list experience! Oh, and I might also own a white glove that lights up, and I may perhaps take it with me to our casino down the street and wear while playing the Michael Jackson slot machine. (if you have not played this game or seen it, you are really really really missing out!) So I'm sure you imagine I was so stoked for this party!
Now, if you go onto Pinterest and look up inspiration for a Michael Jackson themed party… well let's just say it was not going to meet Beijos standards. So, I took the quintessential Micheal Jackson elements and gave them a modern look with a bit of vintage flair.
Thank you, Dayna, for capturing this special day for us!
Moonwalk your way over to 100 Layer Cakelet for more MJ goodness!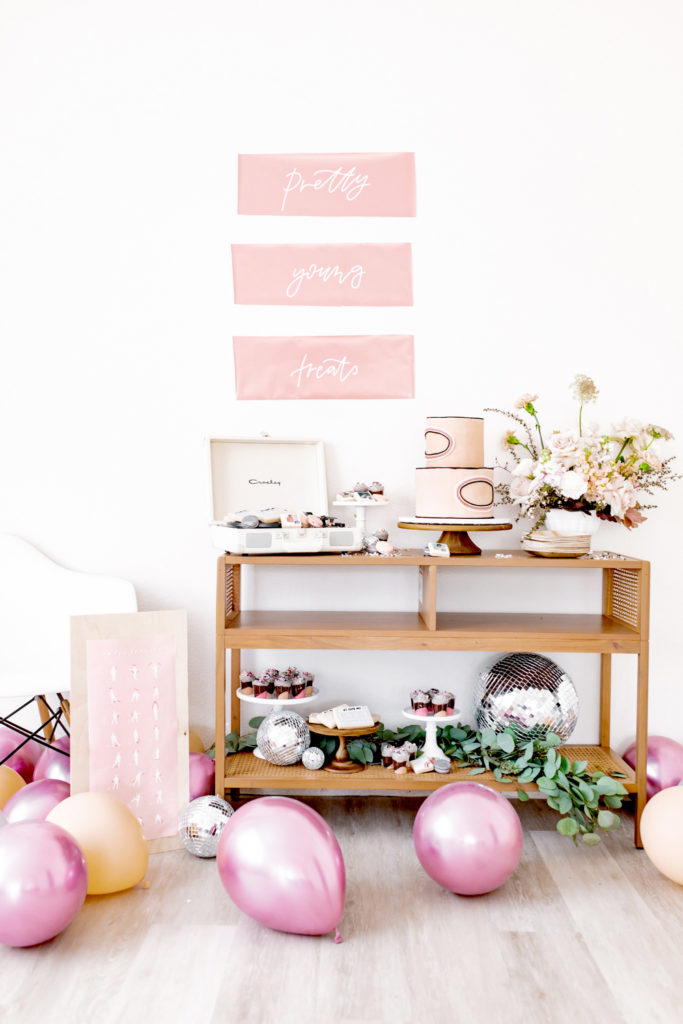 The dessert table is the 1st area I like to start with. I mean who doesn't like a good dessert table! I played off some classic Michael Jackson lyrics for the signage of the party, like doing "pretty young treats" for the dessert table on blush vinyl and adhering it to my wall. The true rock stars of this party were Leanna from David and Leanna and Amanda from Paper Heart Patisserie. They both took my vision and made it come to life!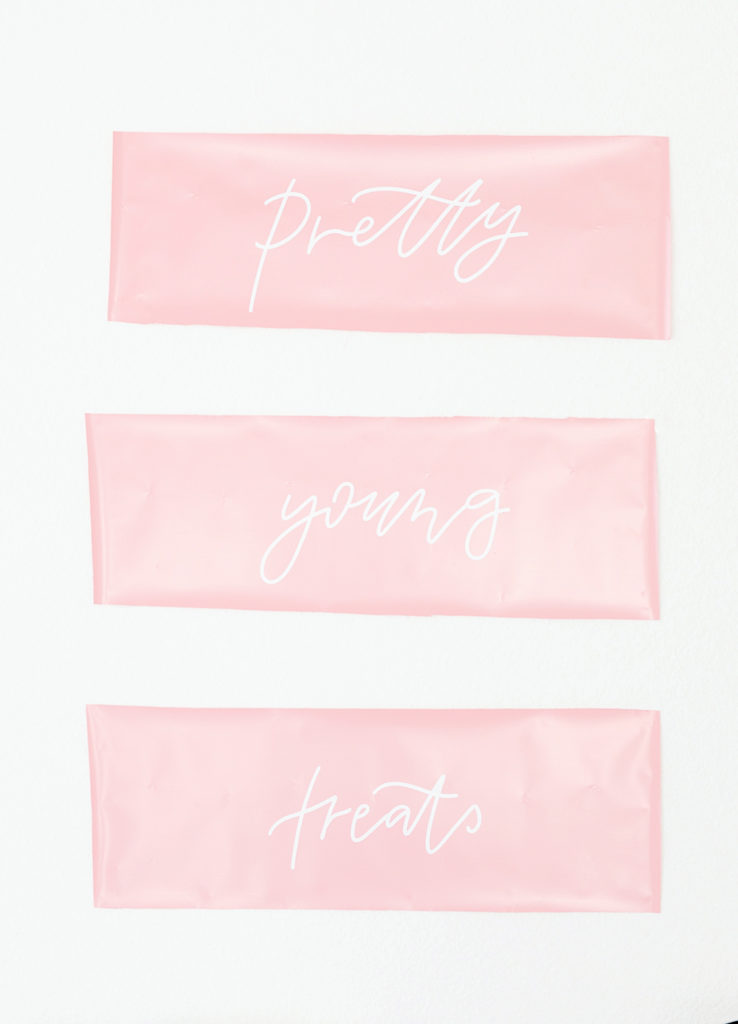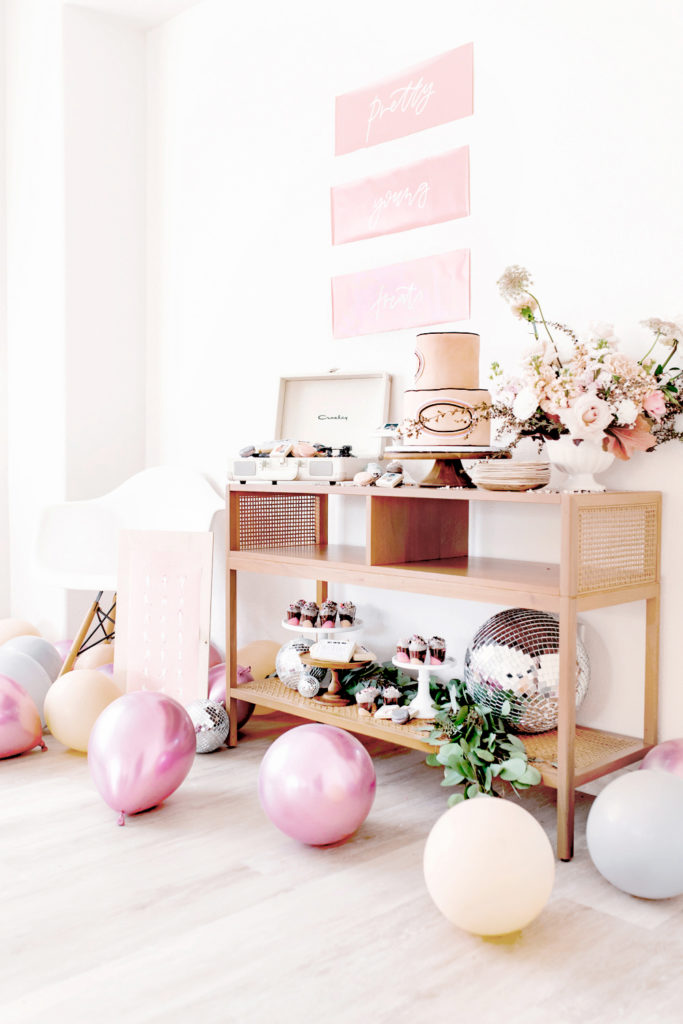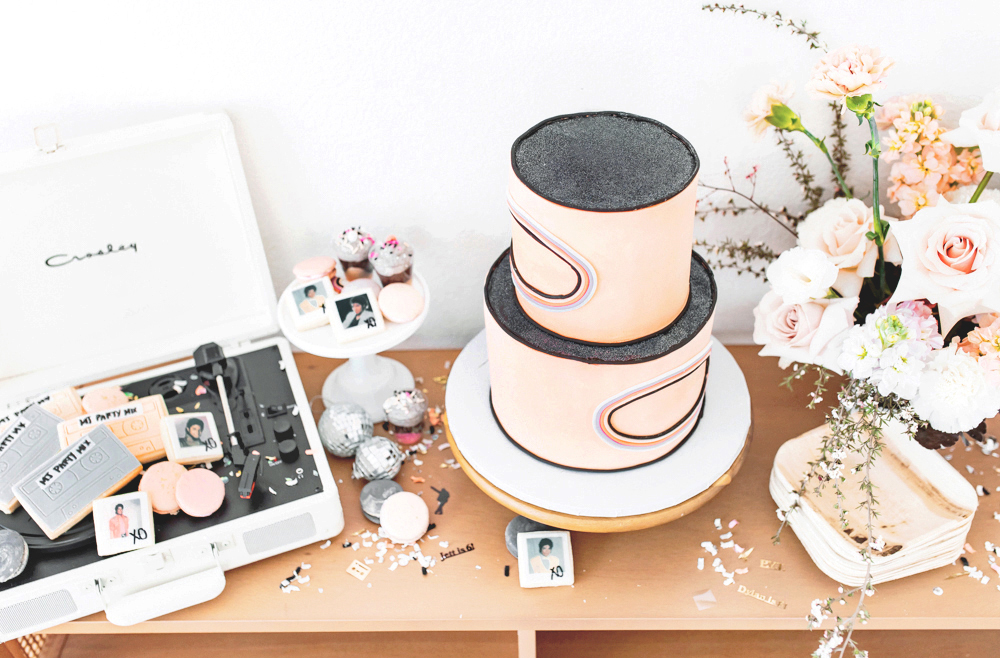 These desserts, where do I start!?! Amanda from Paper Heart Patisserie is just out this world crazy talented! We wanted to really play up the vintage vibe in the desserts. A soft peach cake with concentric ring pattern in mixed pastel hues with a glittery black top. Plus the most rad mix of cookies, macaroons, and cake shots. The cookies consisted of a mix of mixed tape cassette shortbread cookies and Polaroid styled autograph cookies. My Crosley acted as a cake stand, a fun alternative way for displaying some dessert, and of course, the white cake stands from Party Crush Studios. I added some disco balls and the custom confetti from The Confetti Bar.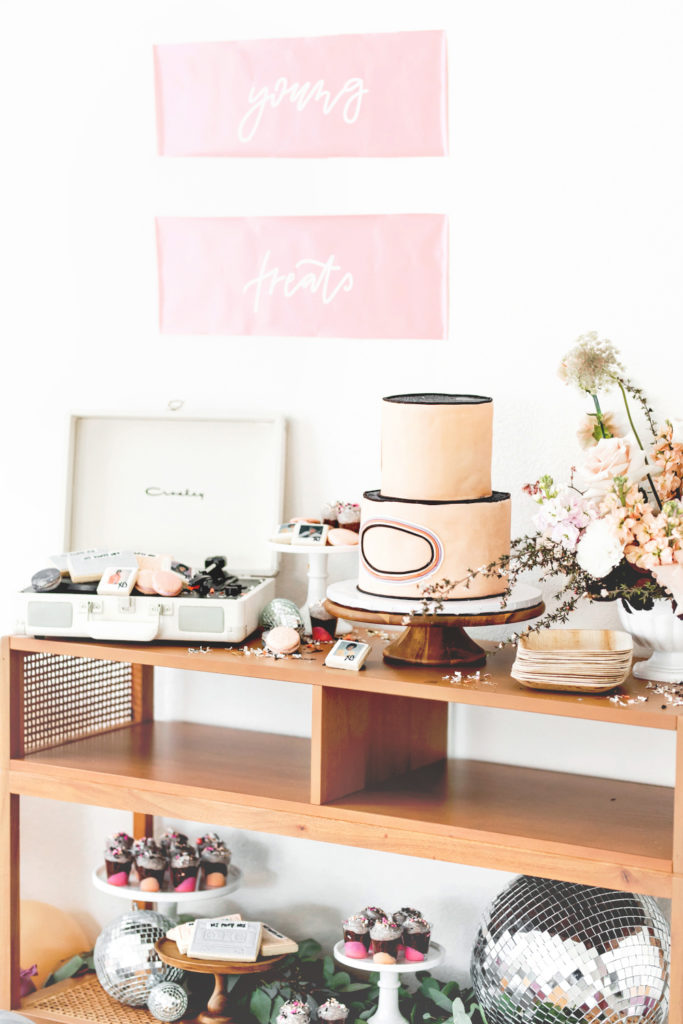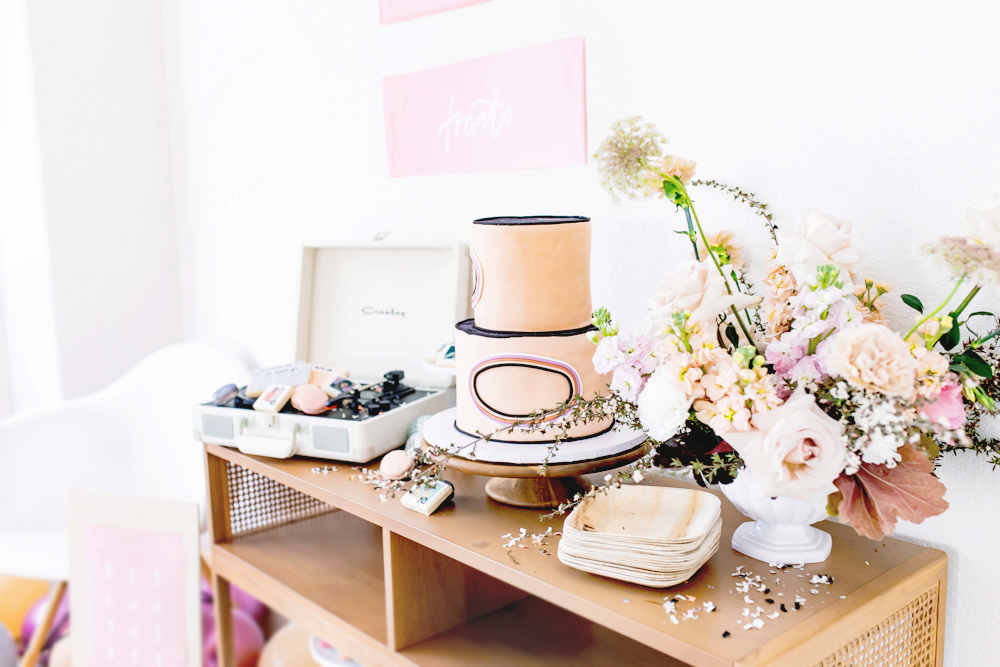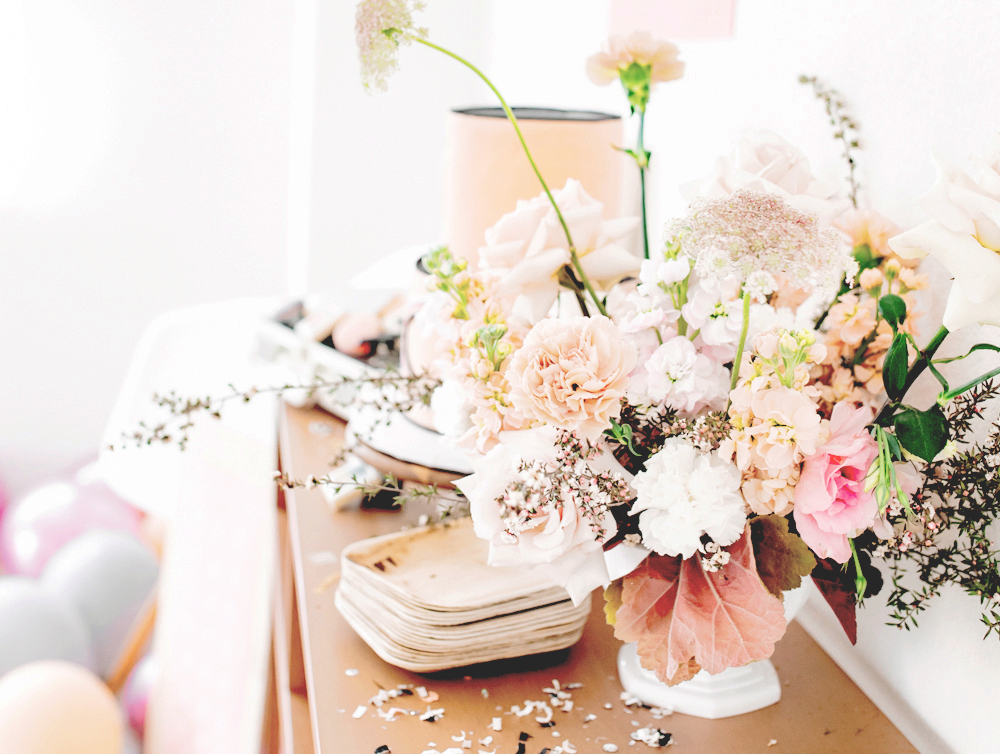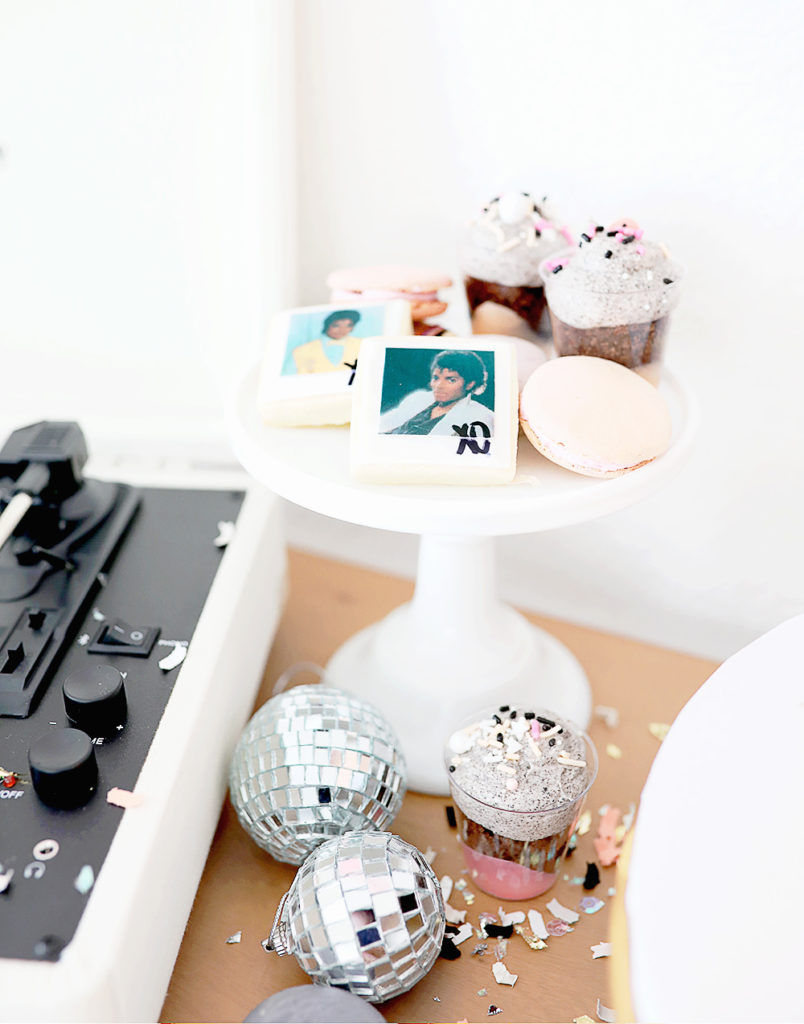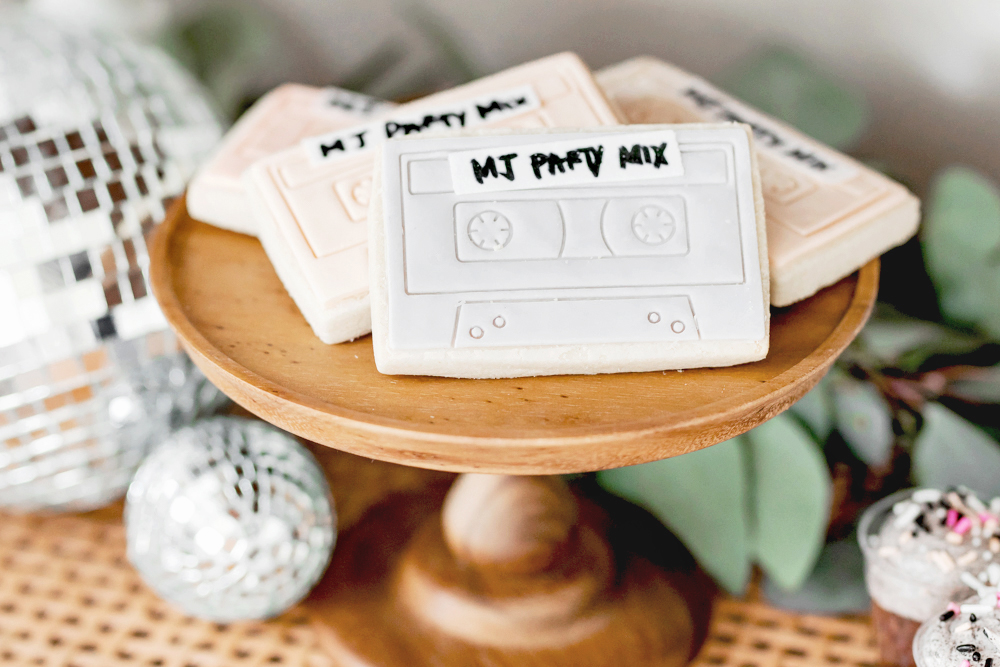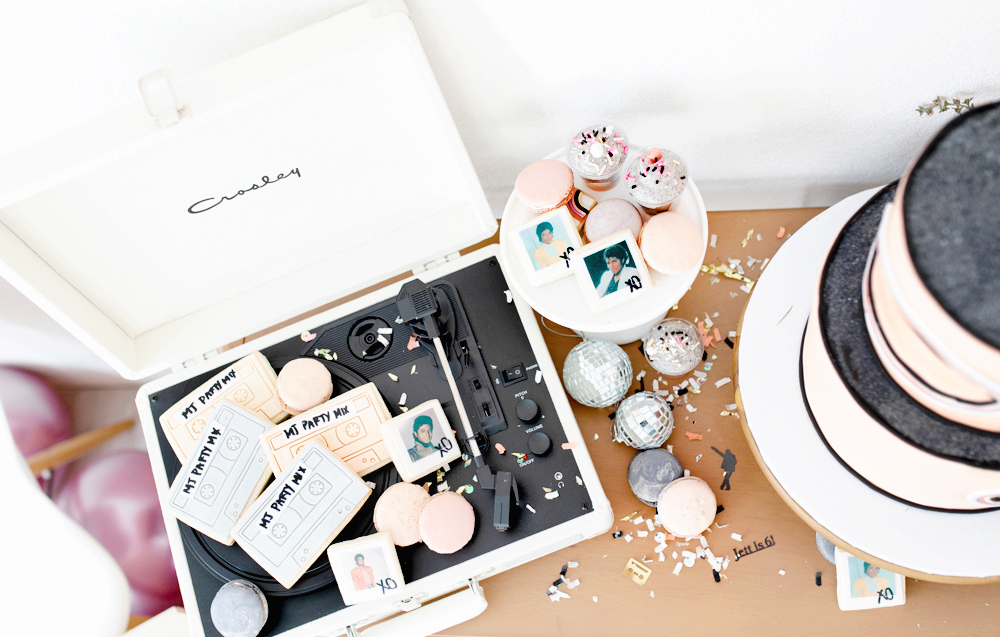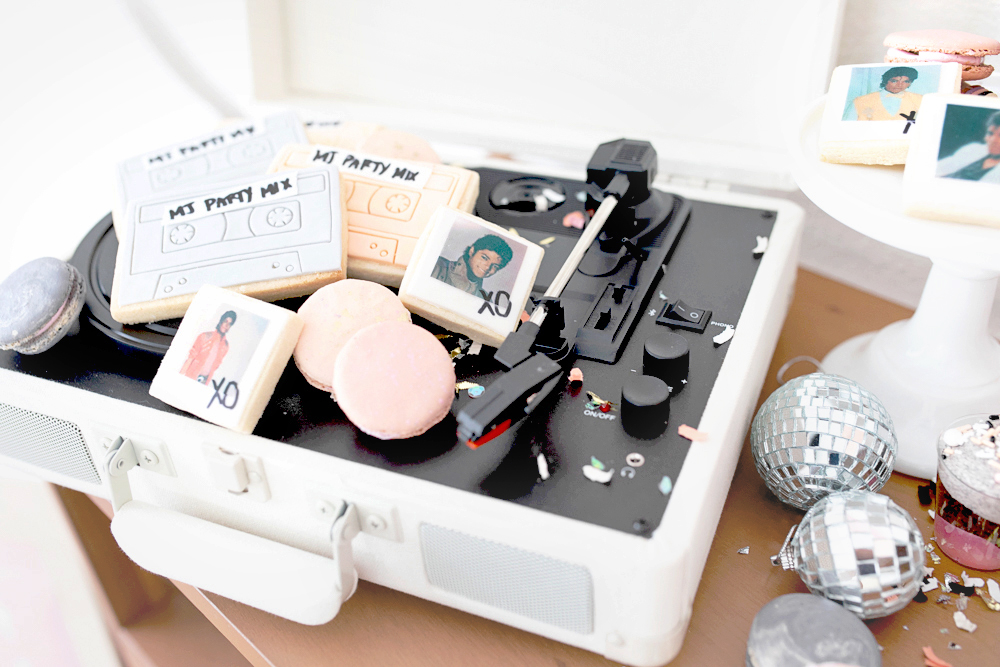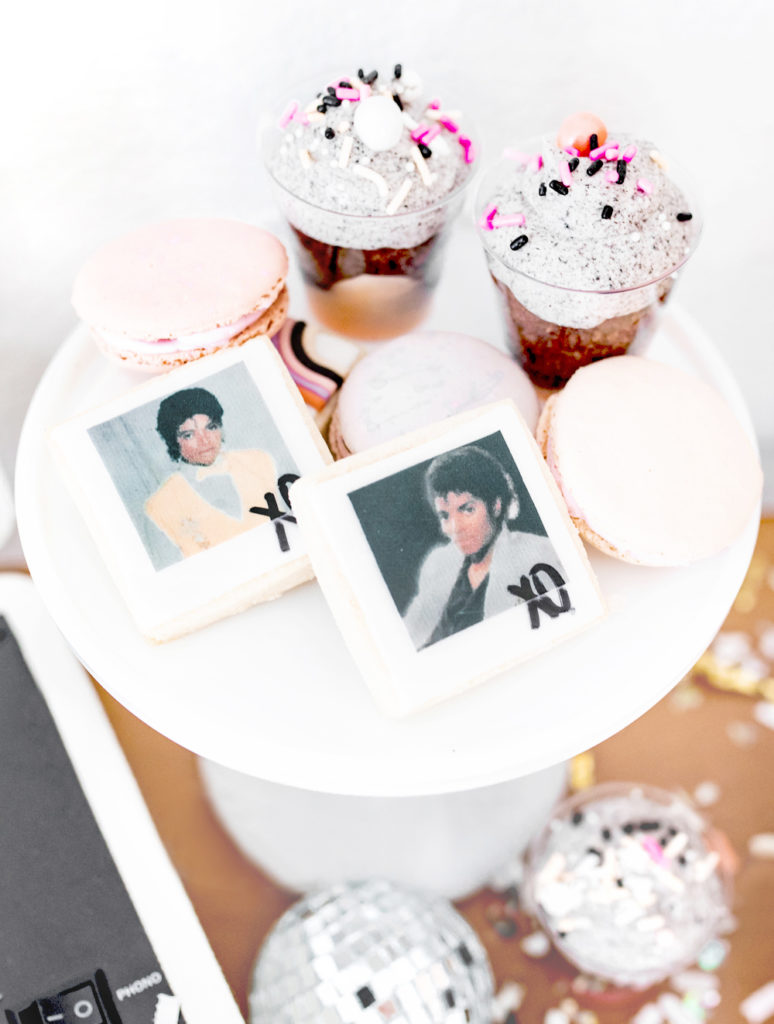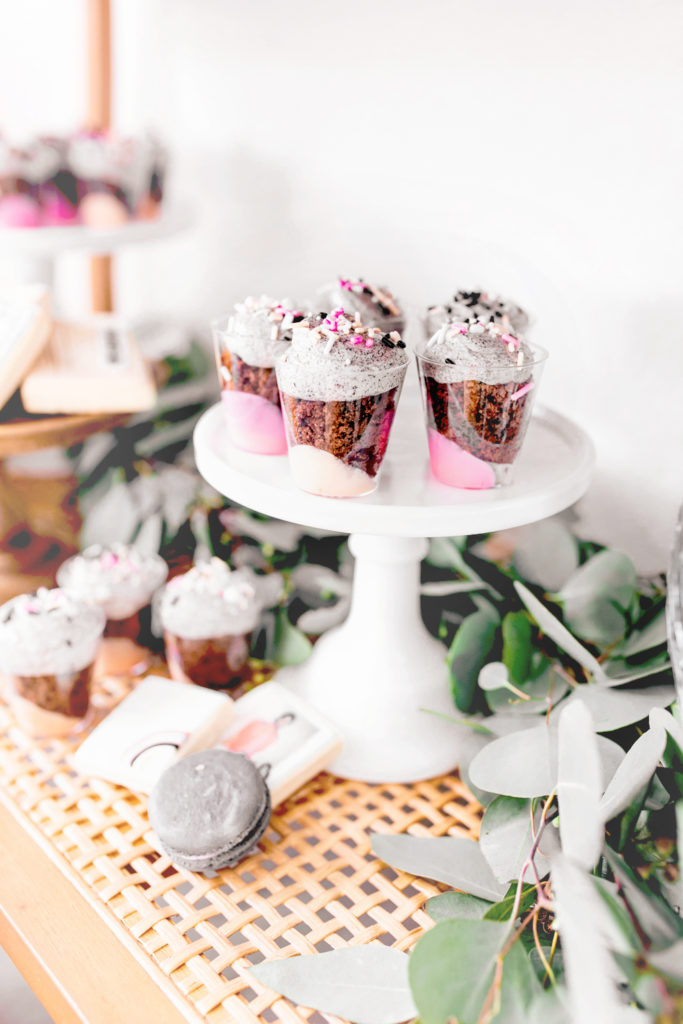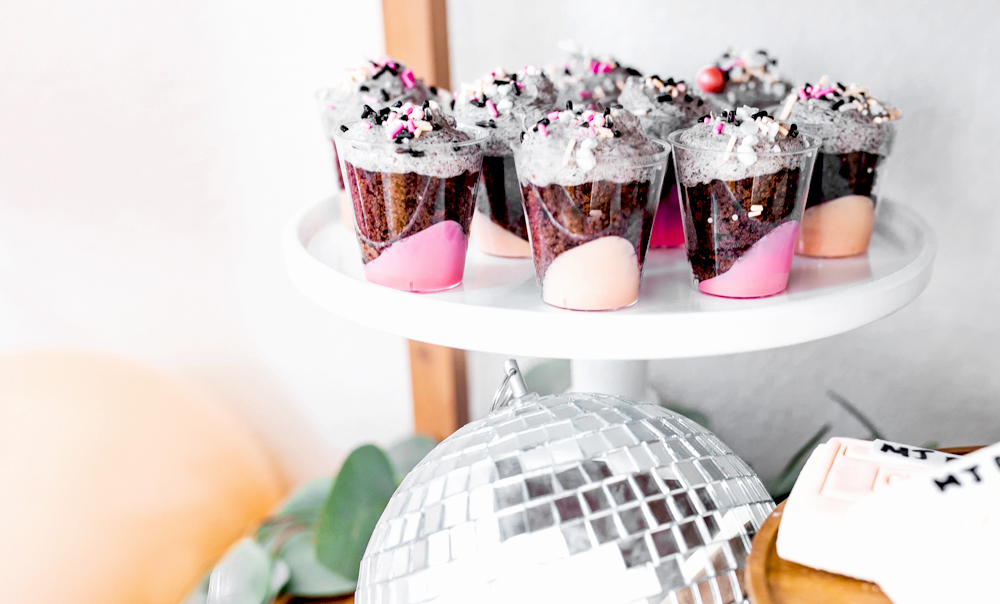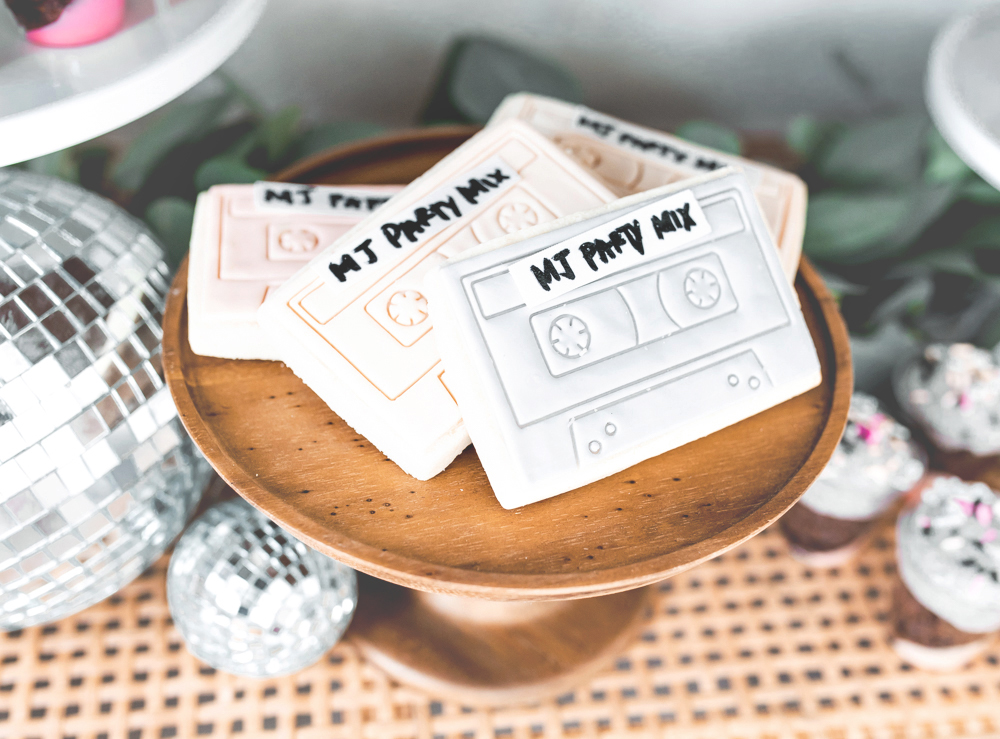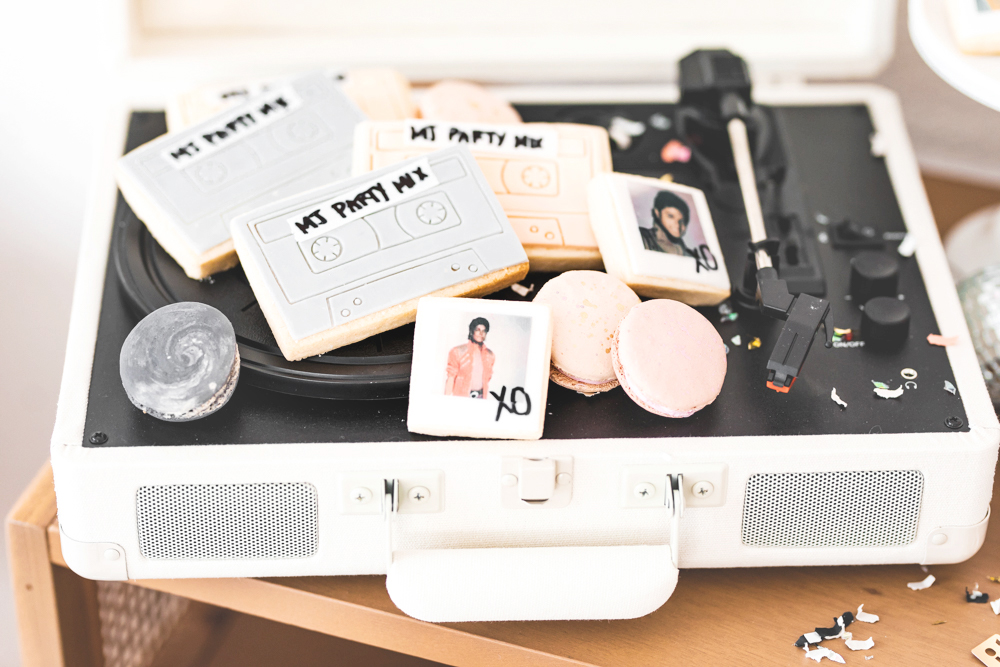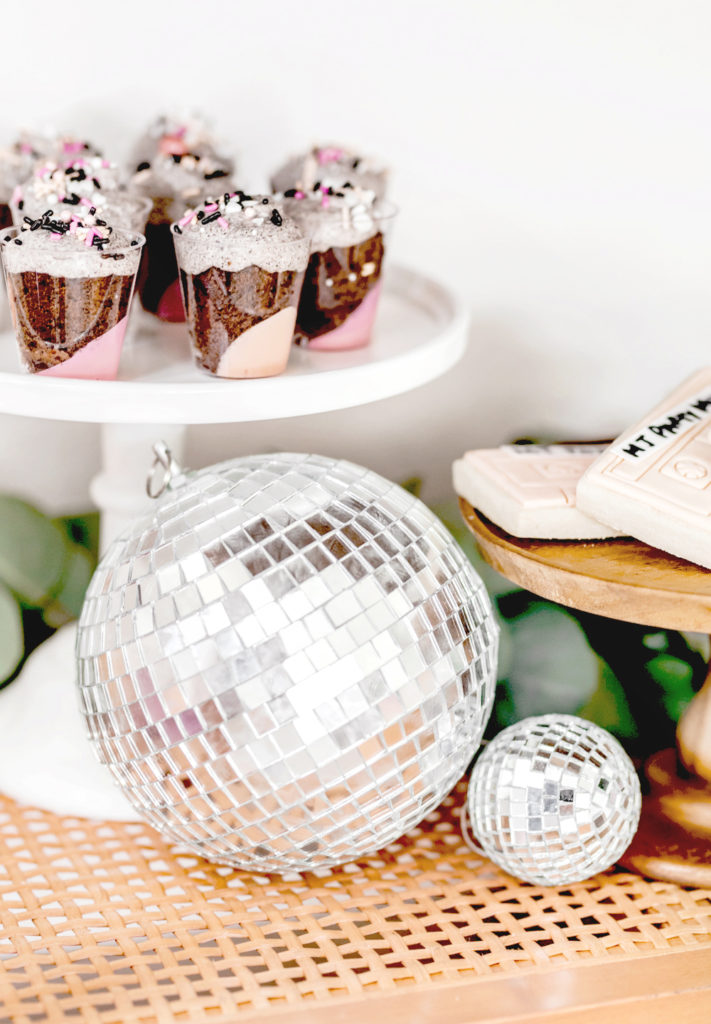 How cute is this "how to thriller" sign next to the dessert table?!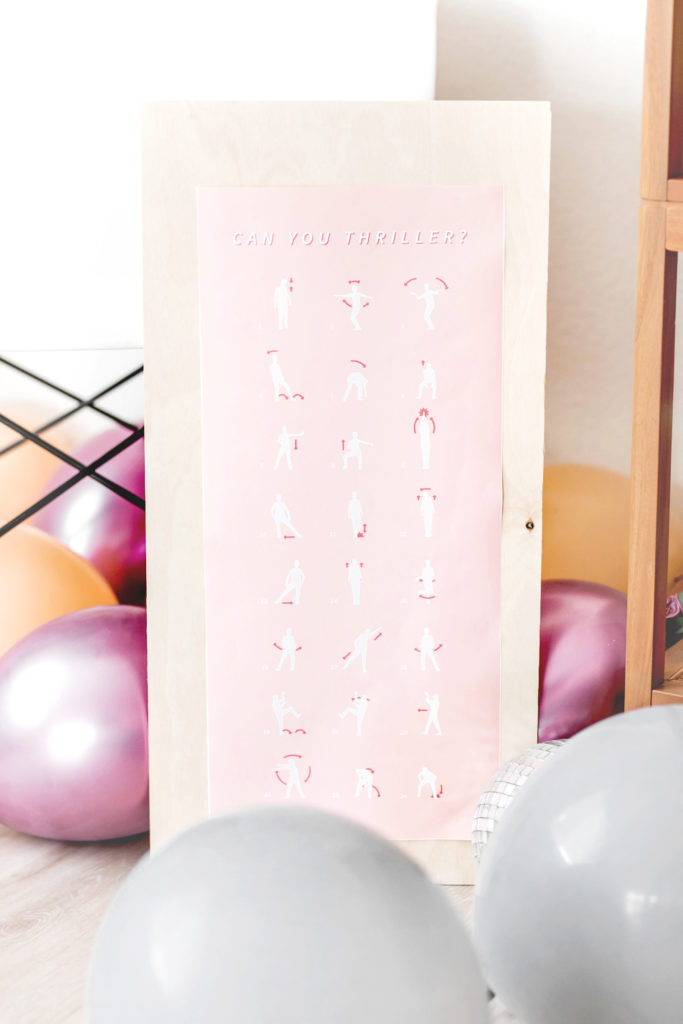 Ballons are an inexpensive way to add color to your event, just blow up and throw on the ground. I got the balloons at Oh Happy Day. I just love their selection of colors to choose from. And don't forget about the disco balls!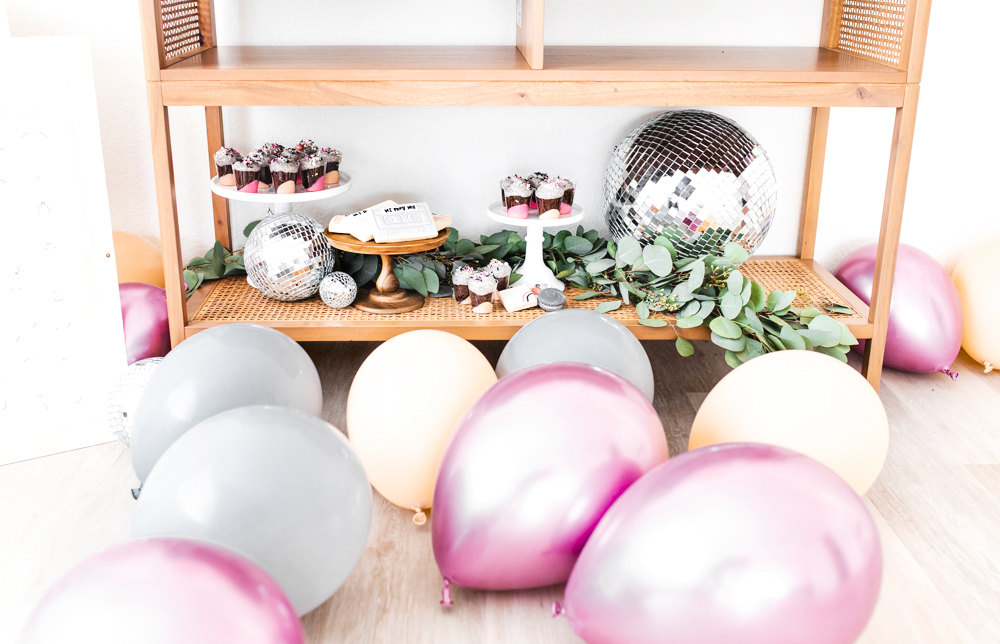 On to the tables! Our backyard is completely filled with just weeds and rocks right now, ha! So I layered my fav, Gunn & Swain blankets underneath the kid tables. I actually made those tables too! Super easy, just bought the plywood from Lowe's, and then attached the table legs that I got from Amazon to the bottom of the plywood.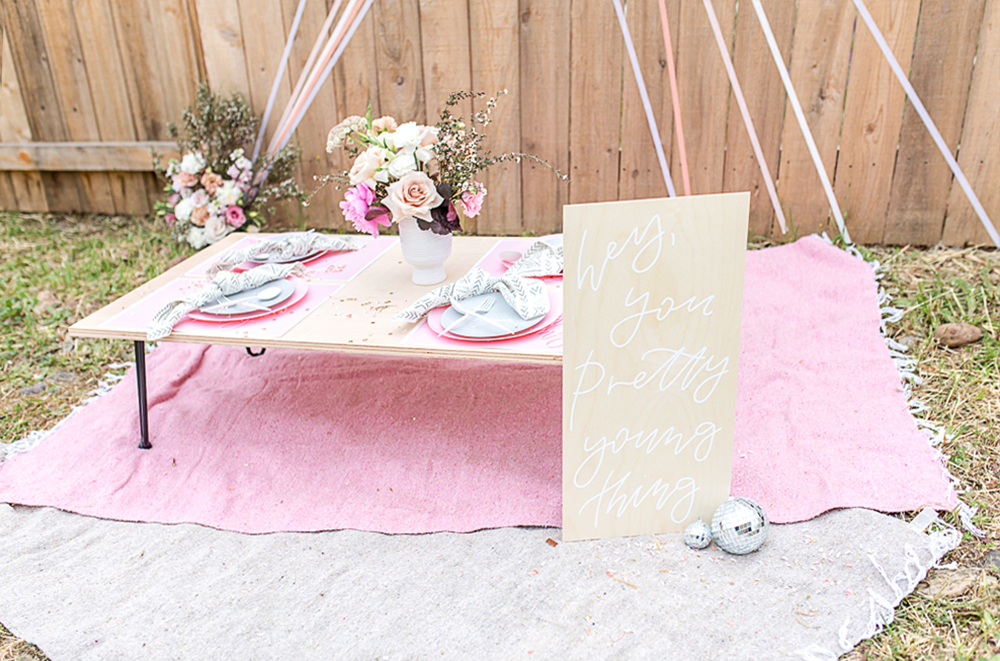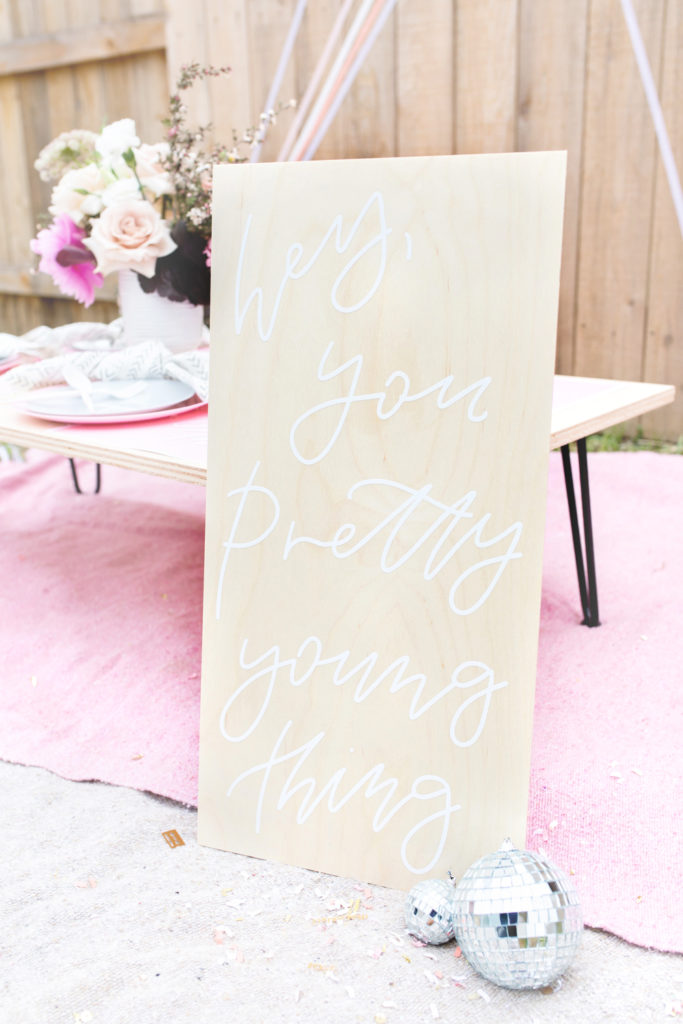 Now with it being a joint birthday party, there, of course, had to be a table for the ladies and then one for little dudes. For those P.Y.T's I did hues of pinks and a monochromatic touch to have it flow with the boys' table. I used L'entramise for all the tableware, and my world market mudcloth napkins to give that "beijos" touch. Leanna from David and Leanna created the Pretty Young Thing placemats and the lettering for the sign.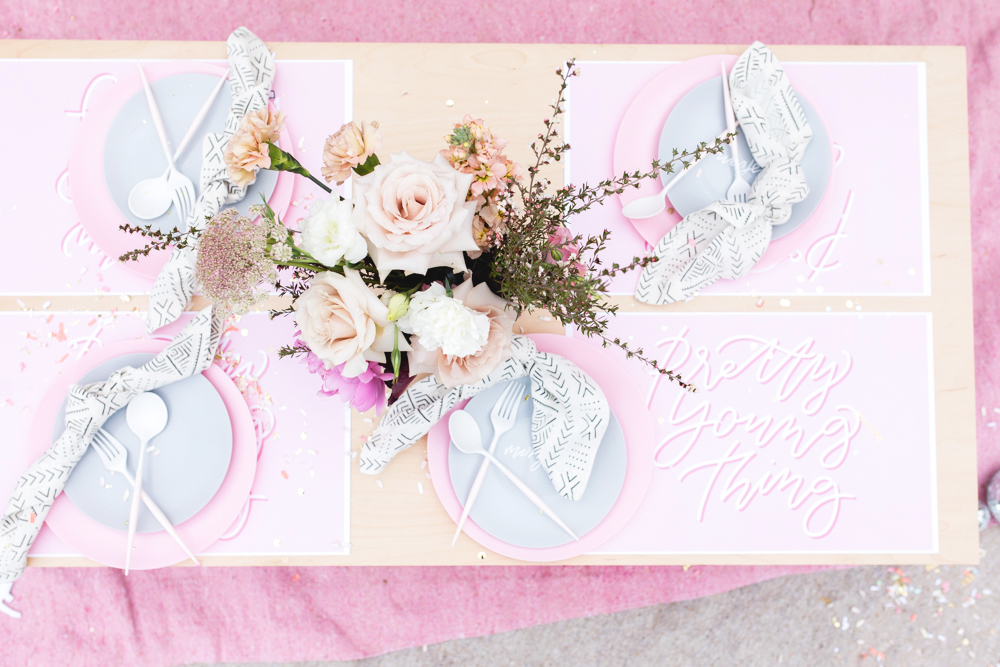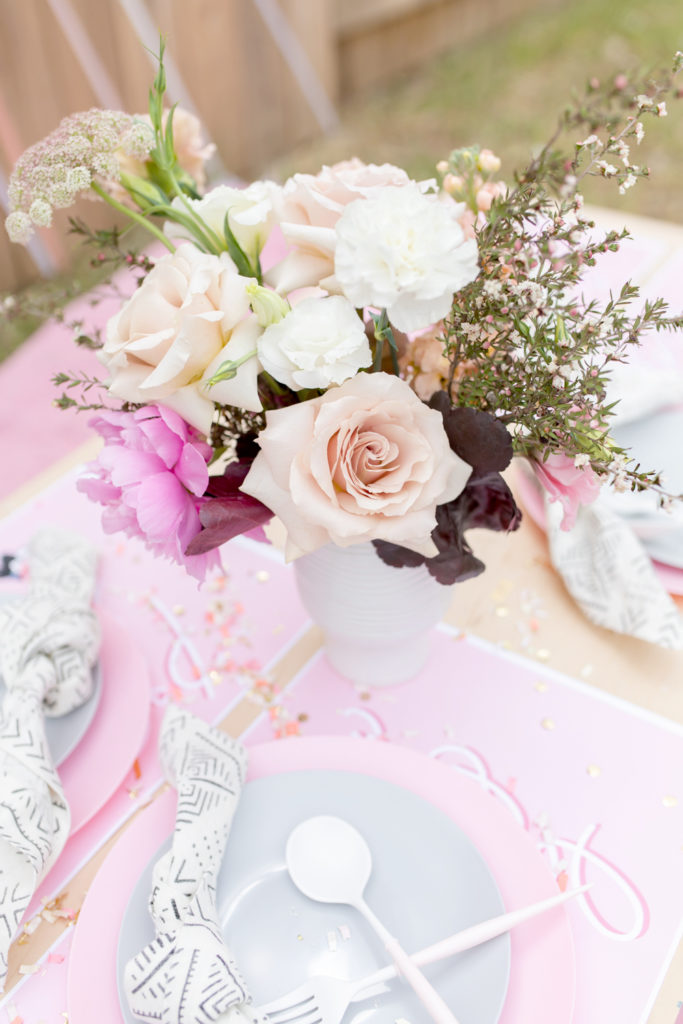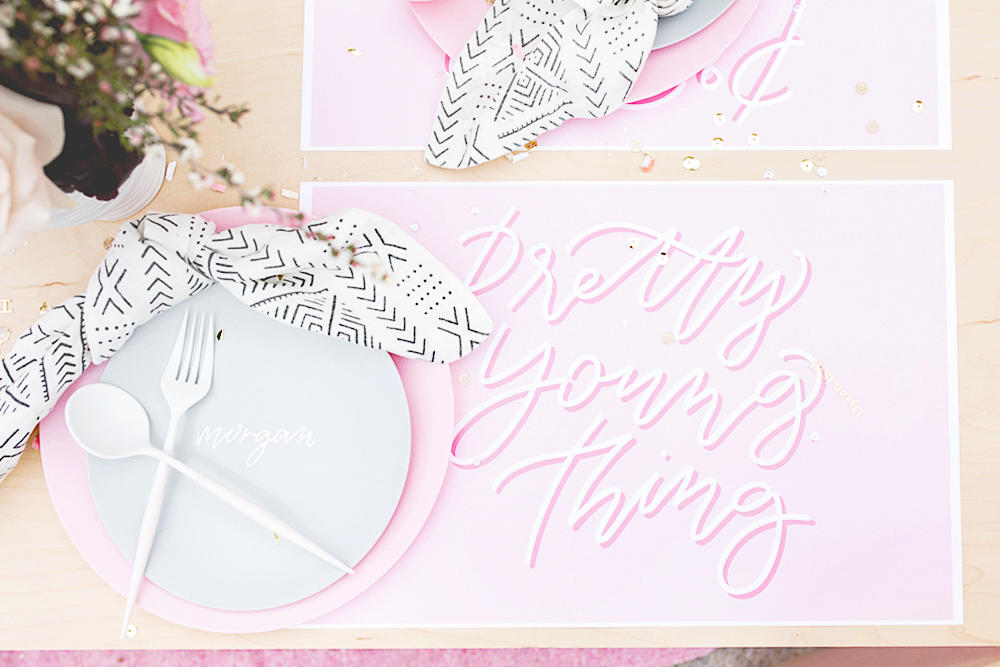 I added custom confetti from The Confetti Bar with sayings like "Dylan is 8", "PYT", a gold tape cassette, and of course metallic sequins. Along with that, a neutral blush toned floral arrangement from Fig & Vine sat on top of the table. Now, another one of my favorite parts was the washi tape backdrop for each table. It adds a fun detail, don't you think! Lastly, some Michael Jackson paper dolls for the little ladies to play with! Yes! Paper Dolls! Leanna created different wardrobe changes for them as well! So fun, right?!?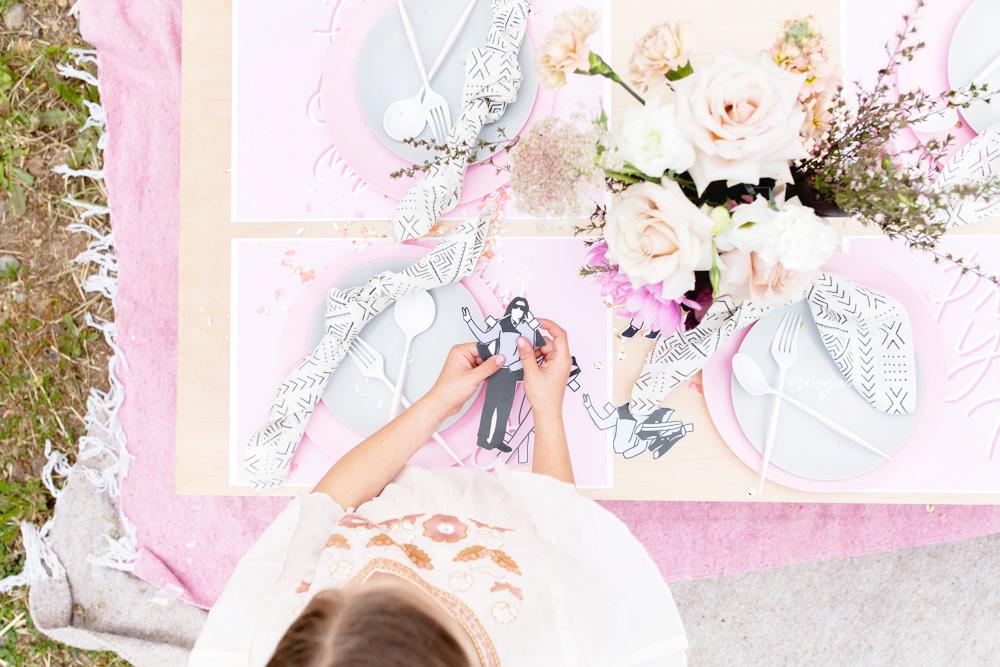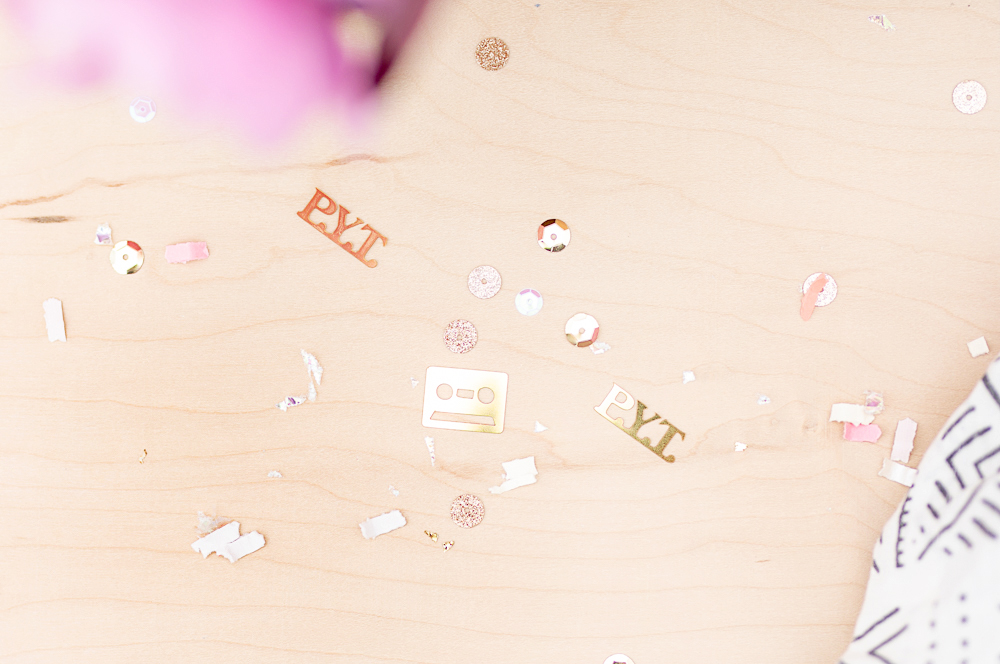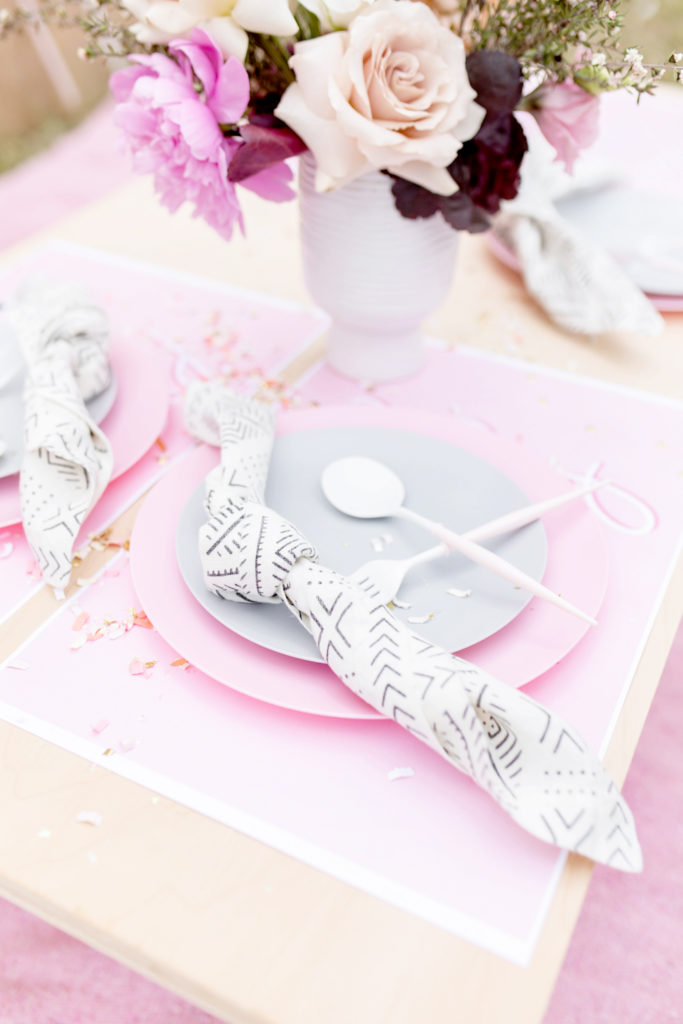 Now, for those smooth criminals! This was a fun table to do! The girls had those cute paper dolls, and the boys got aviators, just like the King of Pop had. These were a hit with every kid! A black and white theme that included placemats, the custom confetti but this time with sayings like "Jett is 6", aviators, "you're a smooth criminal" and my fav the Michael Jackson silhouette.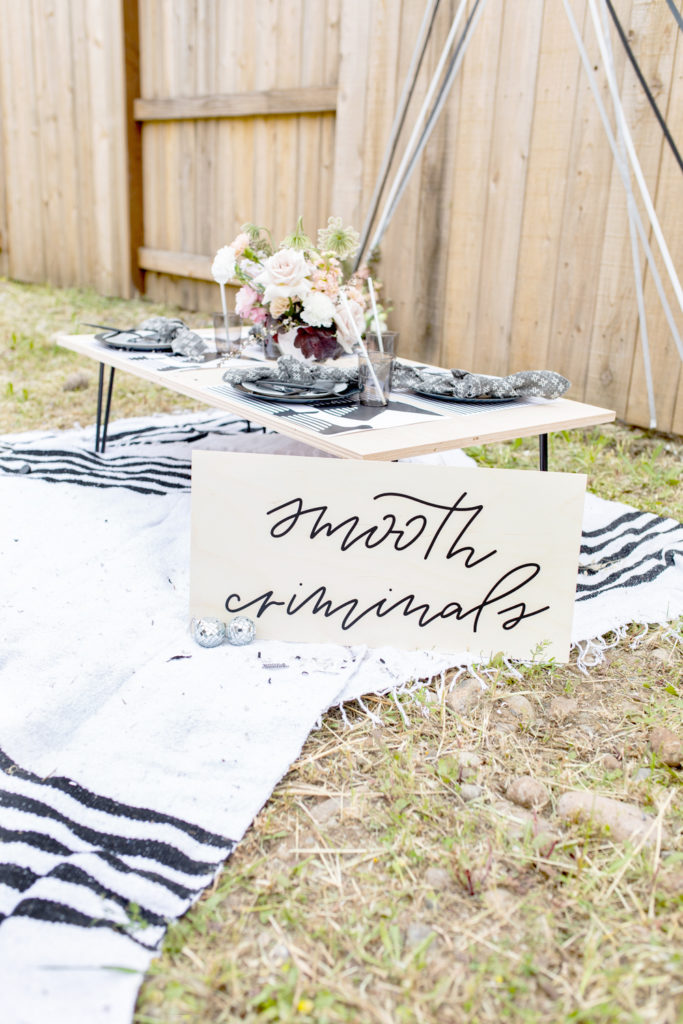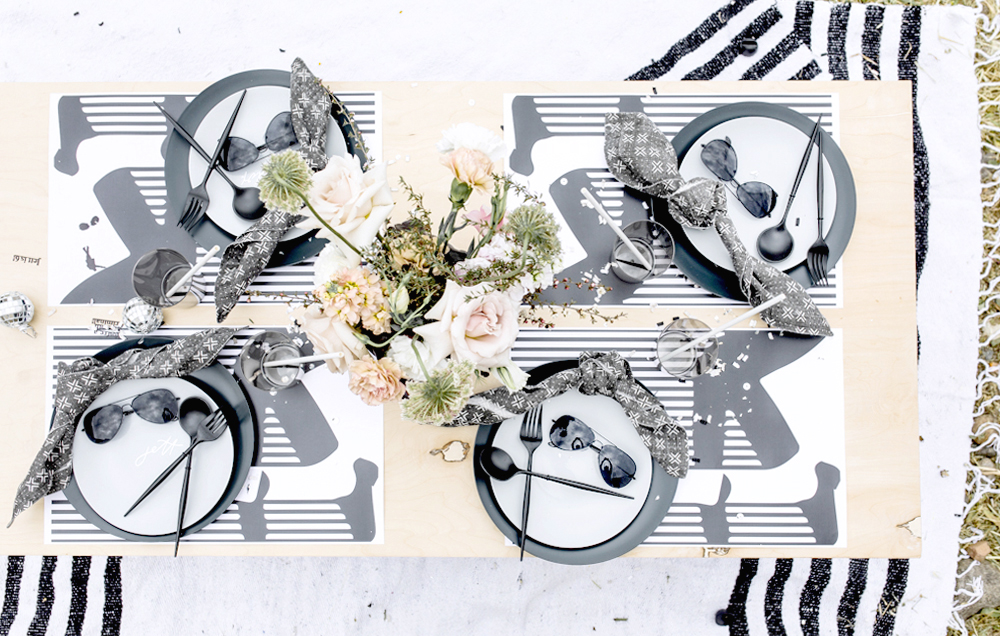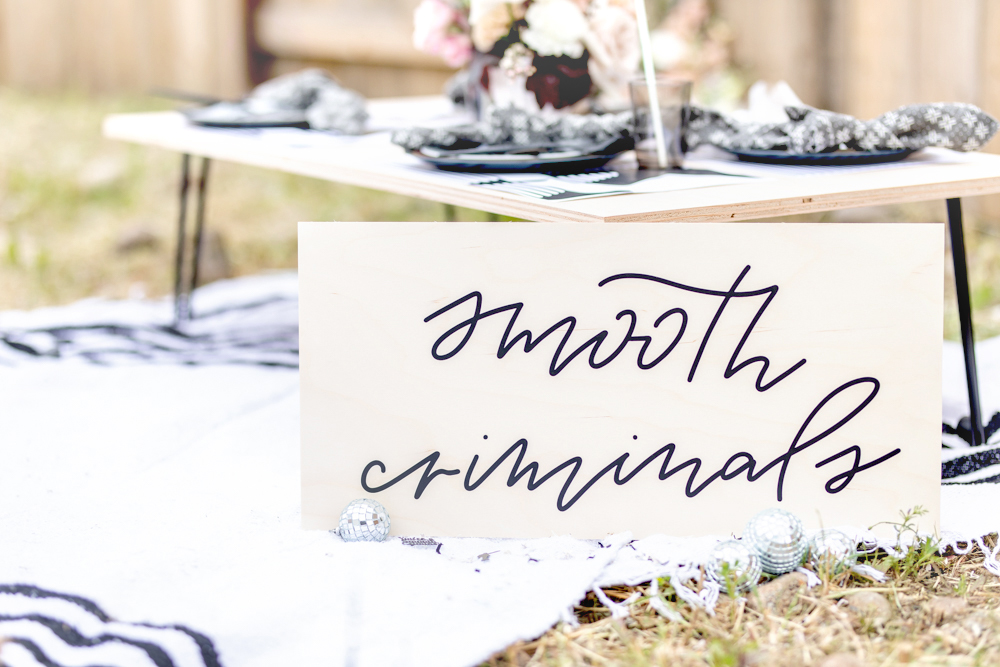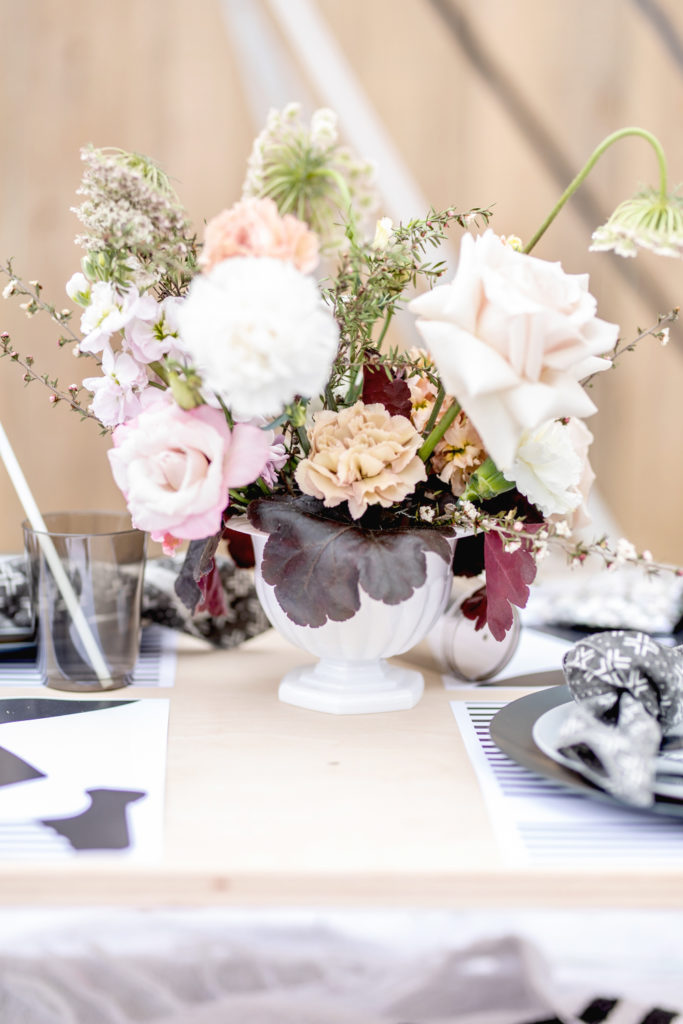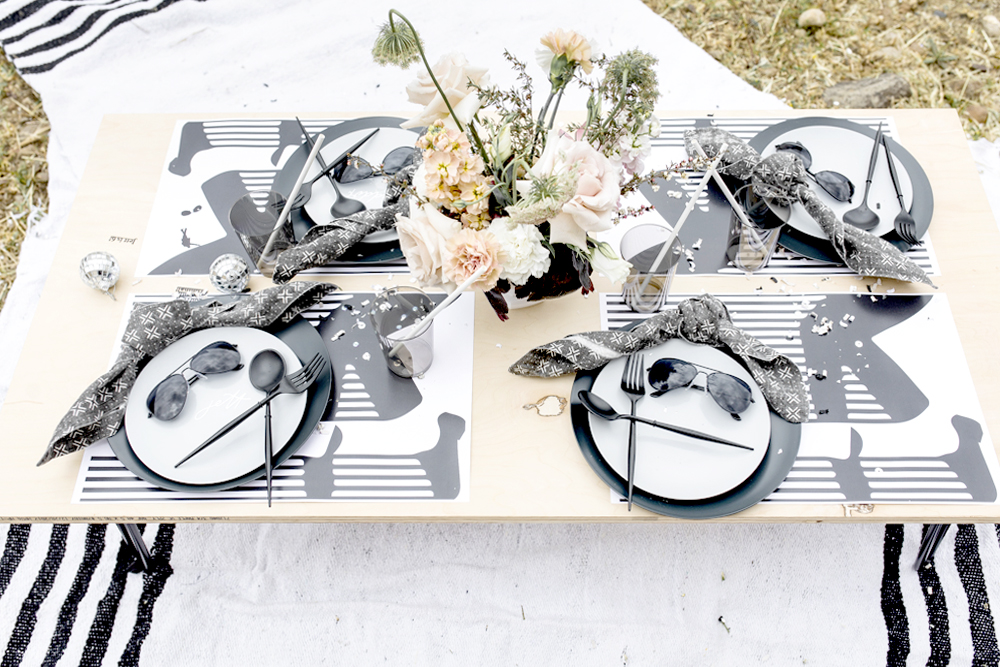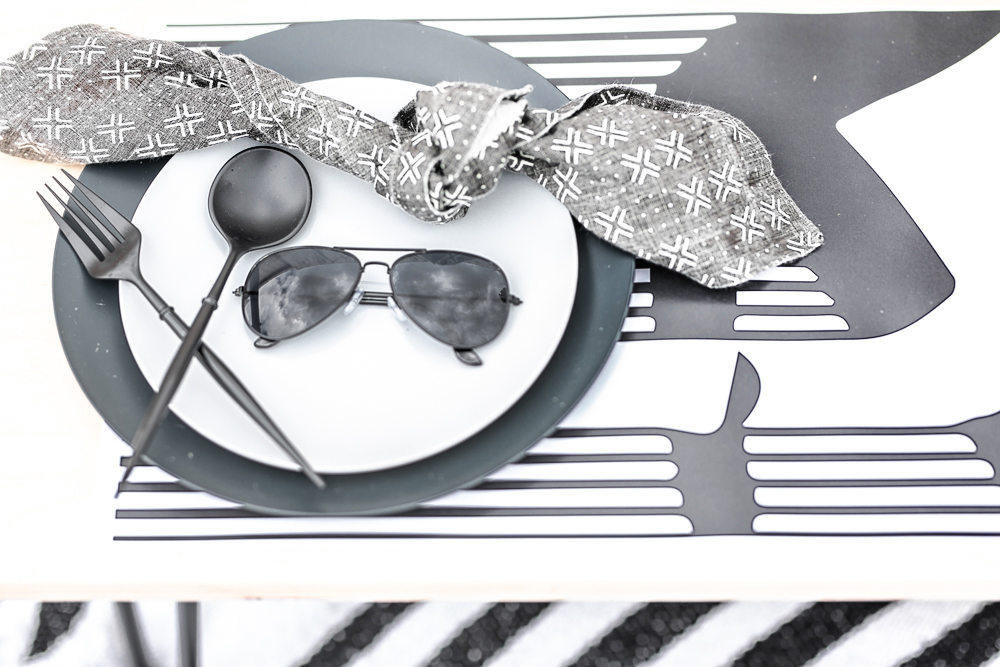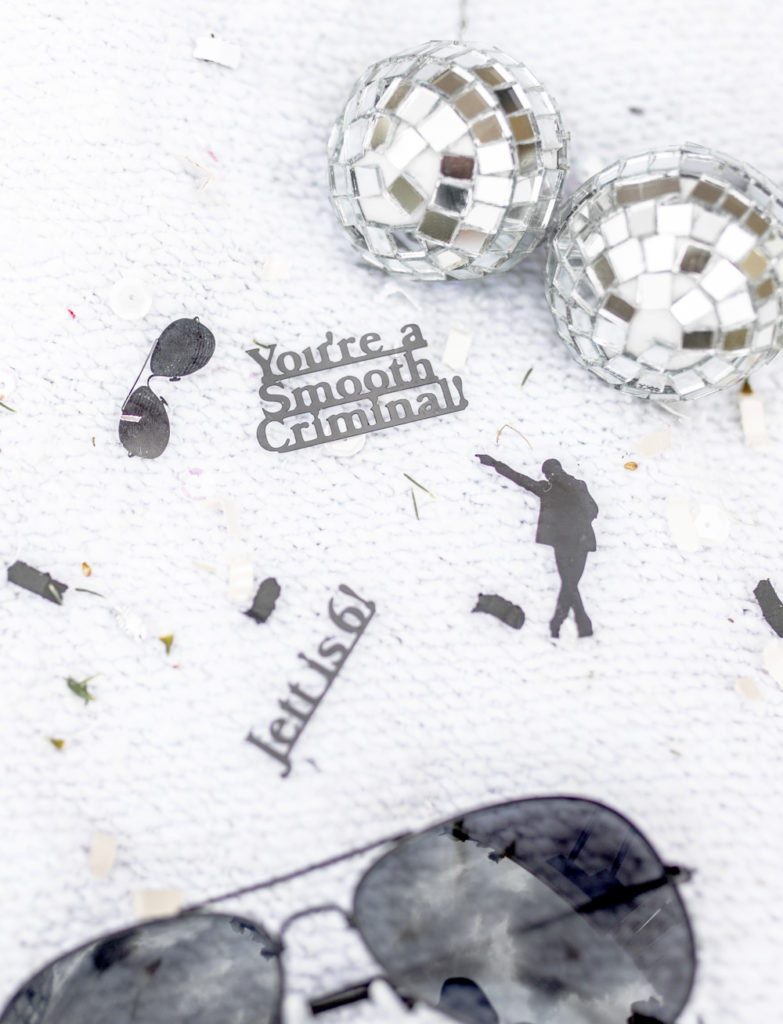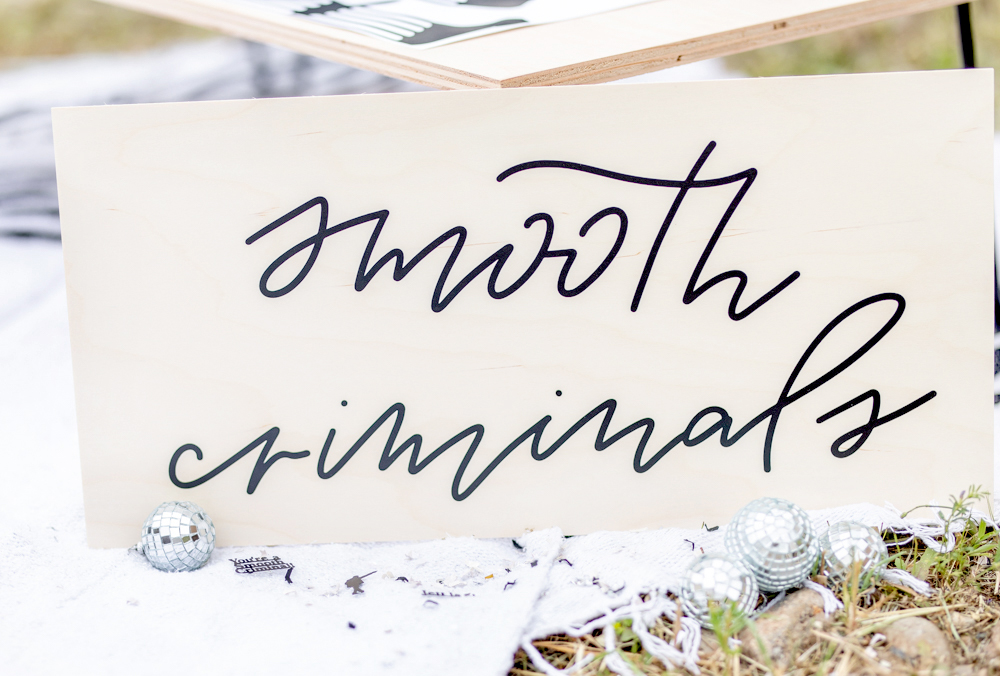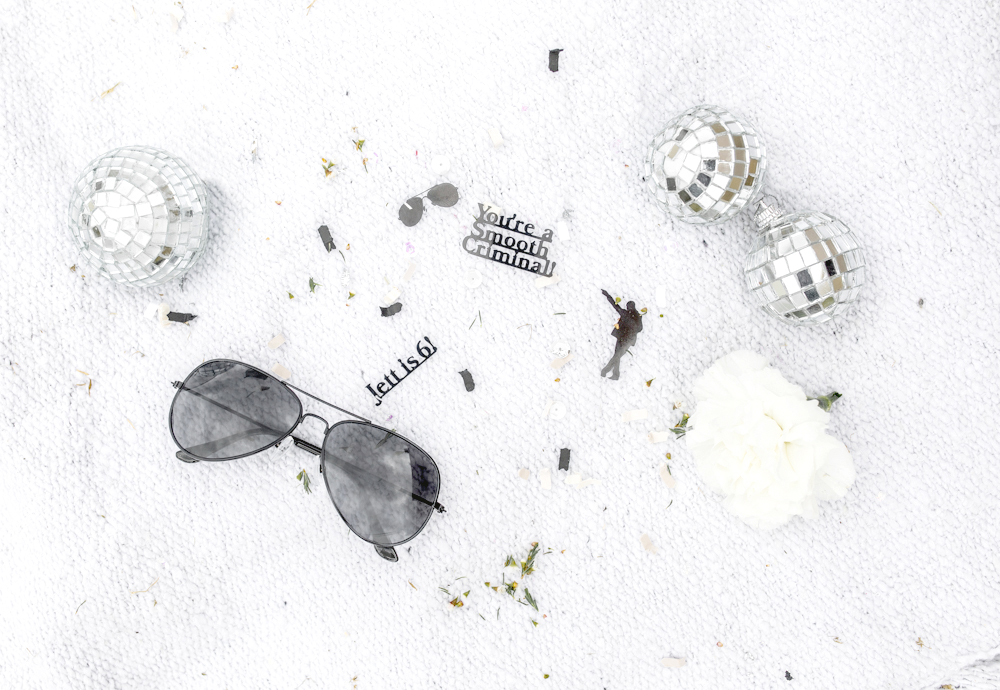 Kid parties need a couple crafts or activities to keep the little ones happy to allow mom and dad to grab a drink and have a conversation without interruptions! I bought white gloves on Amazon, and let the kids glue away! Everyone needs a sequins glove!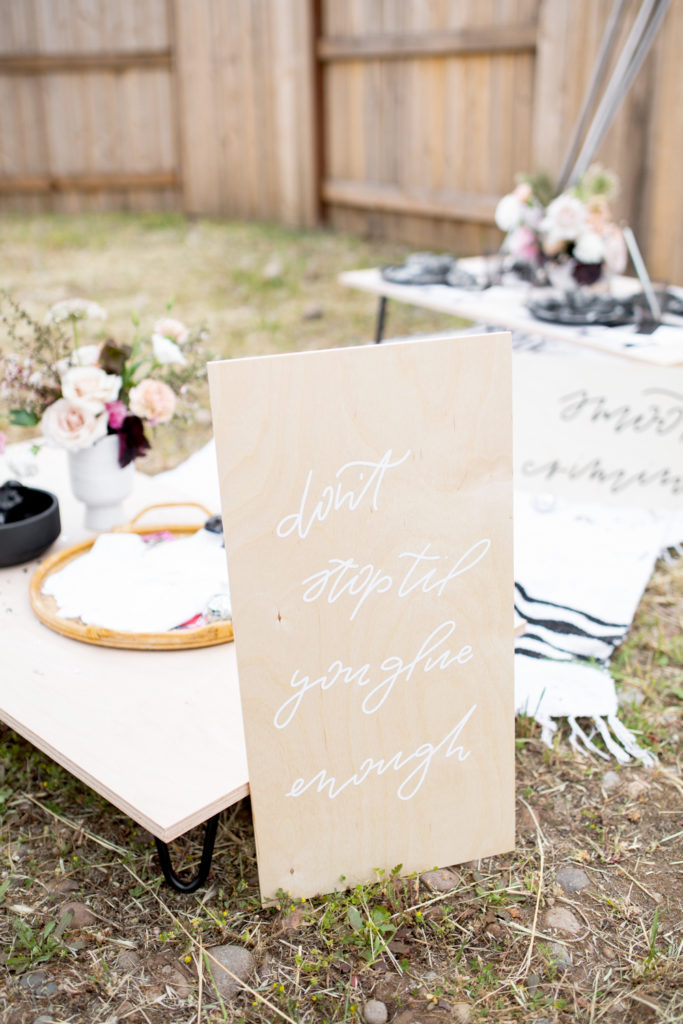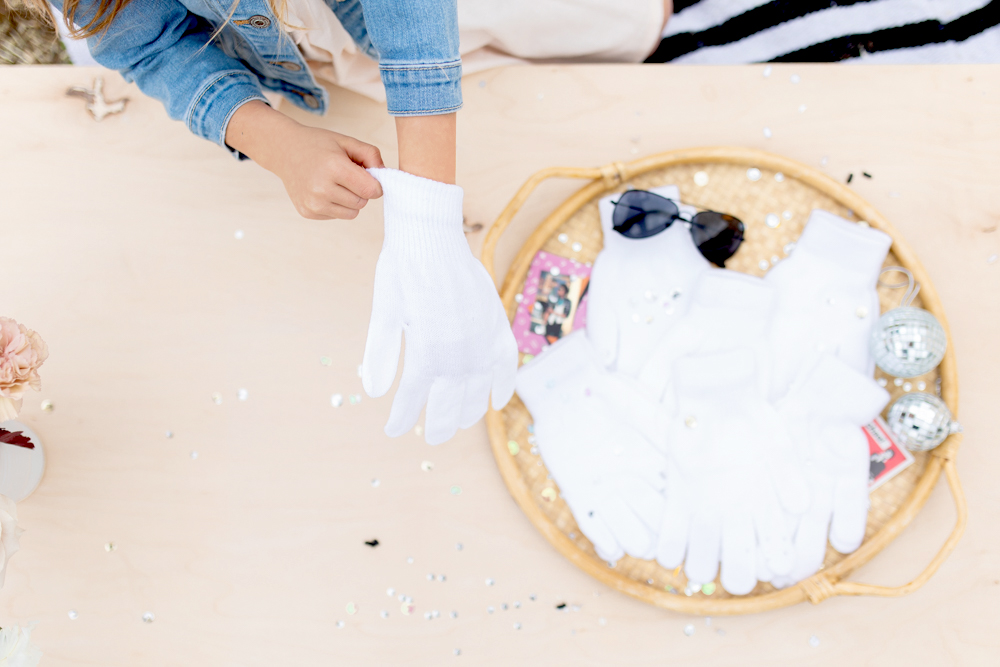 The birthday girl also had a custom denim jacket saying "pretty young thing"! She still wears it all the time!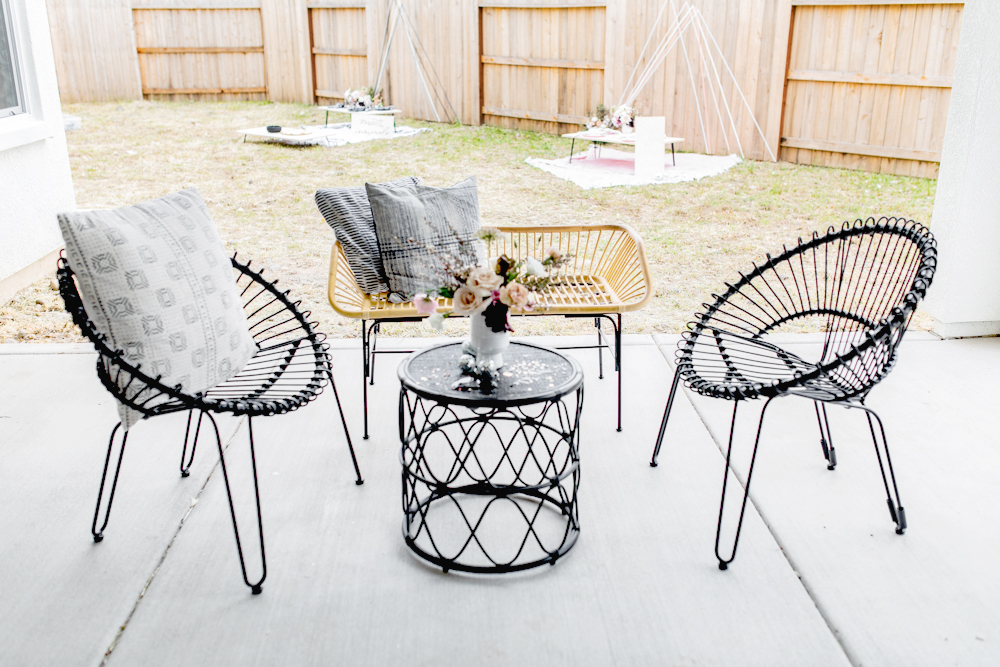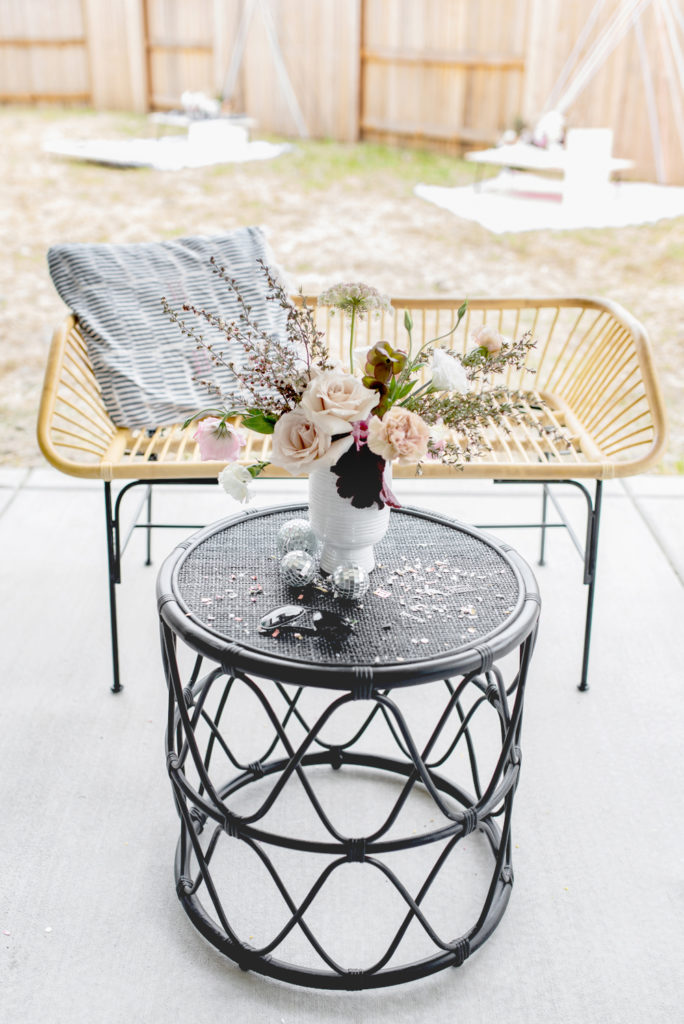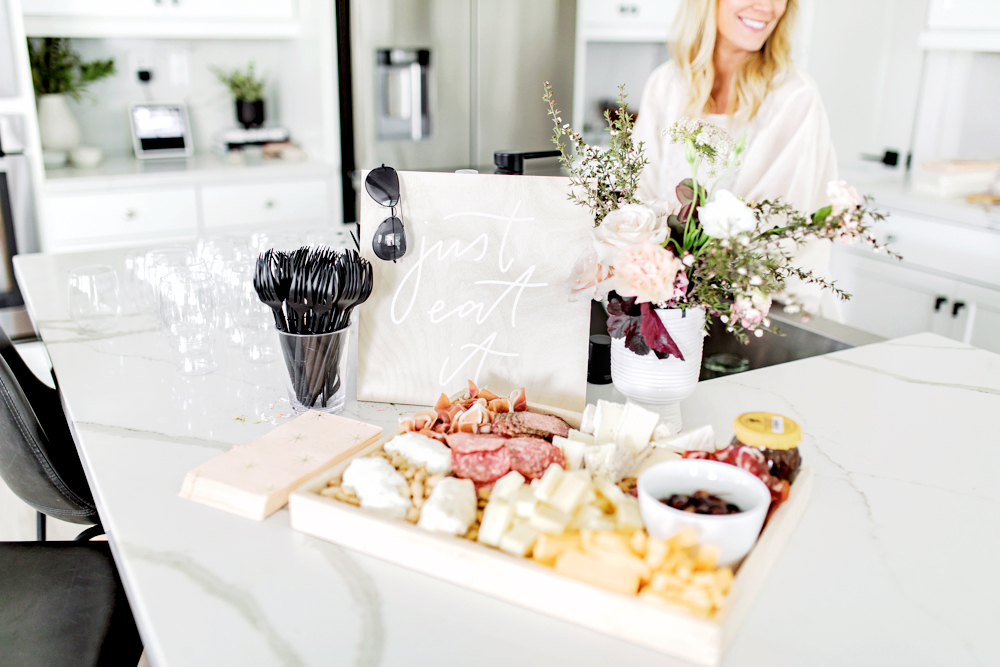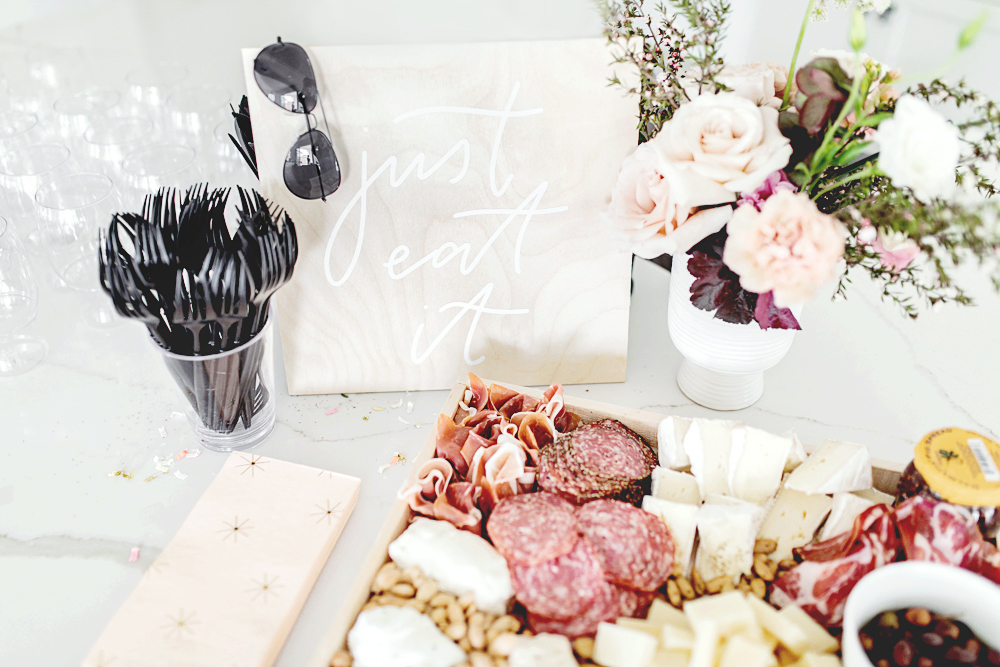 It was an awesome day with friends and family, new and old! It was our 1st party in the new house, and one for the books! The night also ended with the kids all trying to do the thriller dance!
Hope you like my version of a Michael Jackson party!
Thanks to this killer team of creatives to help make this party come alive!
Photography: Dayna Studios / Design & Styling: Beijos Events / Florals: Fig & Vine / Calligraphy, Signage, and Placemats: David and Leanna / Desserts: Paper Heart Patisserie / Tabletop: L'entramise / Cake Stands: Party Crush Studios / Blanket & Pillows: Gunn + Swain / Napkins: World Market (here + here)
xx
Abby
SaveSave
SaveSave
SaveSave
SaveSave
SaveSave
SaveSave
SaveSave
SaveSave
SaveSave
SaveSave
SaveSave
SaveSave
SaveSave
SaveSave