Wow, November has really flown by! I can't believe it's already Thanksgiving next week!! I myself am headed to a Friendsgiving this weekend and then traveling to see family for Thanksgiving next week! Love this festive time of year!
I teamed up with Serena & Lily to share a little Friendsgiving or Thanksgiving inspiration with you and I'm so in love with it. I'm a HUGE Serena & Lily fan and basically want everything they sell! So I was excited to pull this one together with a little help from my friendors!
See all of my picks for the perfect Thanksgiving and some tips on how to host your way through this holiday with ease!
Photos by Cyd Weeks Photography
Let's start with this table! I tend to do most of my gatherings outside at our house. There is just more room for everyone and I love being in our backyard. Plus, since we're in Southern California why not enjoy the gorgeous weather?!
Having your table set in advance really helps with the ease of the big day, so either do it the night before or get up early and have it set that morning. Less stress when it gets down to crunch time! Also, if you're hosting outdoors, think about your guests with details like a cozy blanket. If the temperature gets a little cooler they will be much more comfortable this way!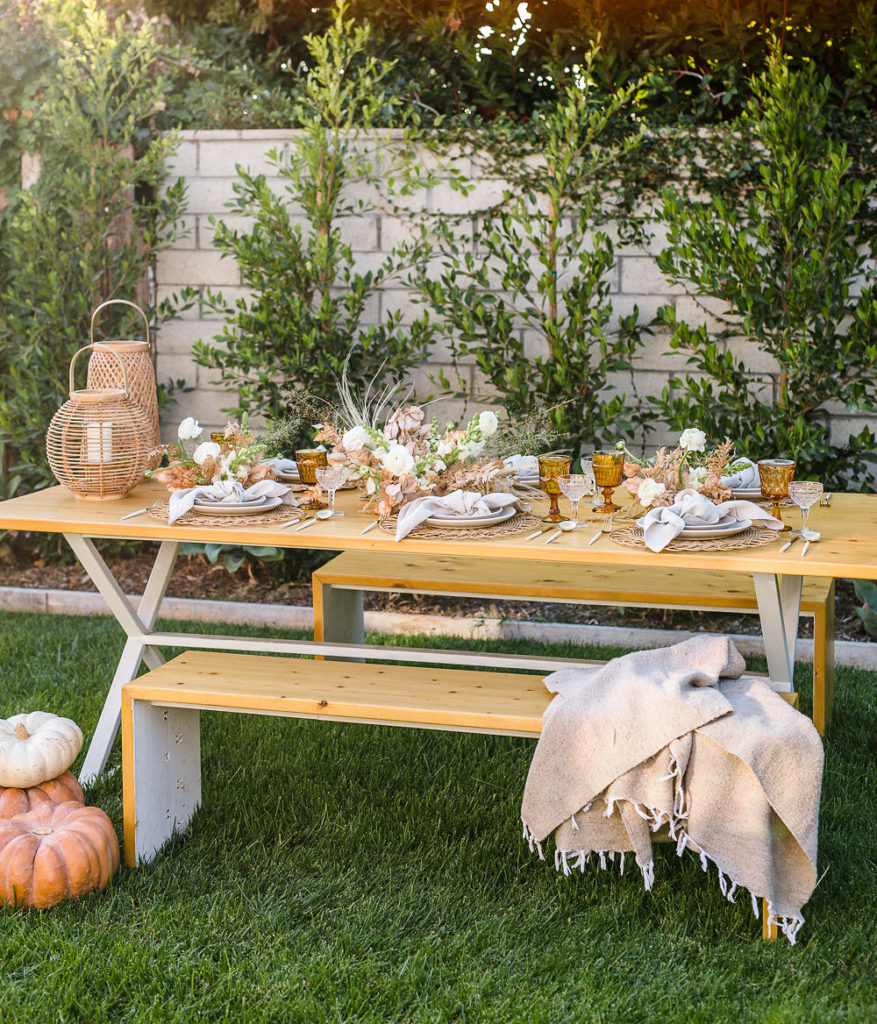 My first pick from Serena & Lily were those gorgeous Rattan Placemats. I had used them in this shoot earlier this year and was dying to call them my own! They are the perfect bohemian touch to any table. I also fell in love with their new Salento Linen Napkins. They are a classic tan color that I'll use over and over again!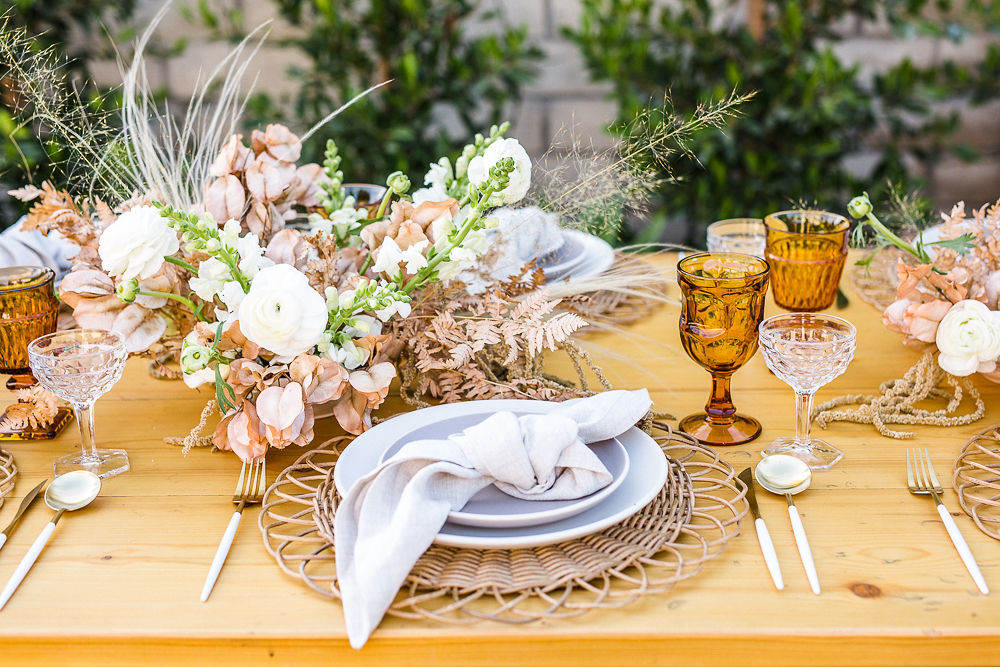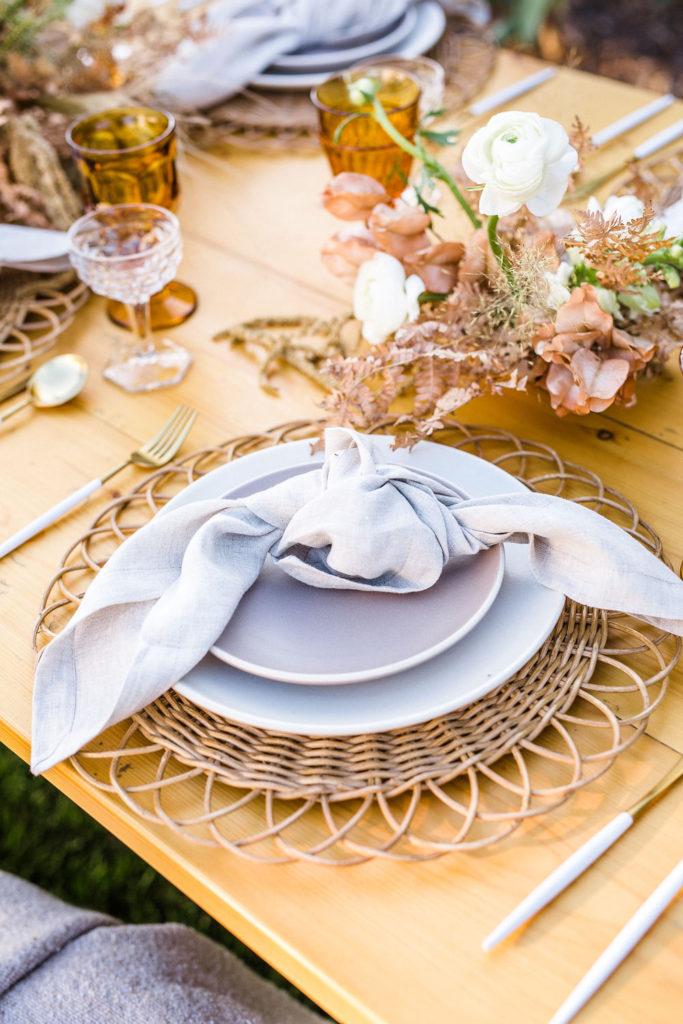 You may have noticed the "Beijos Knot" we tend to do with our napkins. It's our tried and true way to set the napkins at any table. You simply fold it into a triangle then take the long ends and tie it into a loose knot. I'll fudge with it a bit after that to make sure it looks just how I like it, then set it on the plate or in the top left corner of the place setting!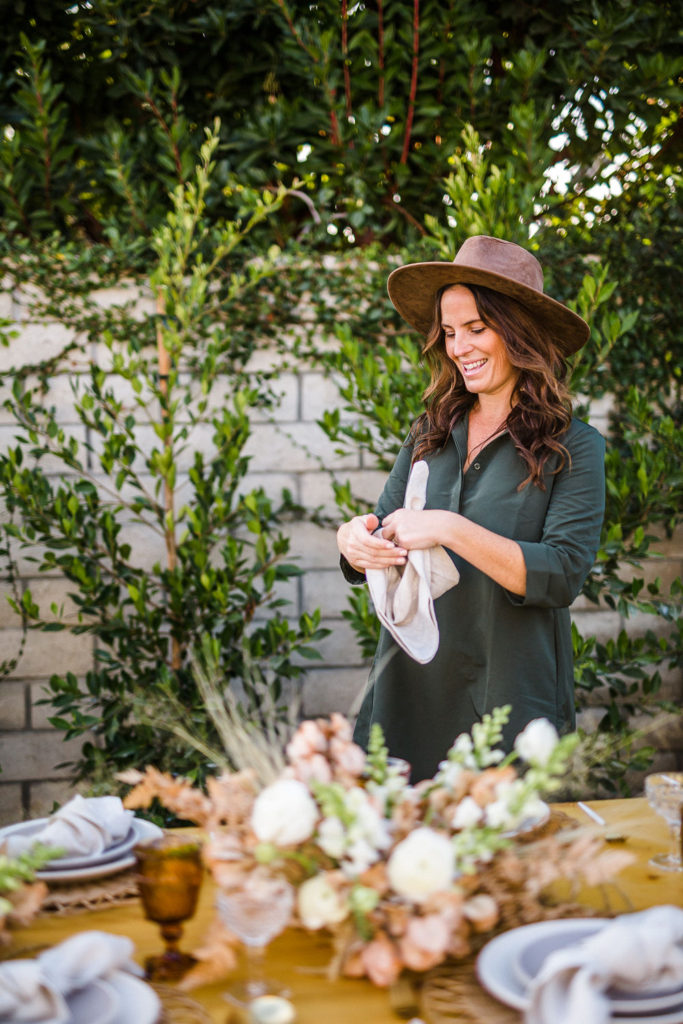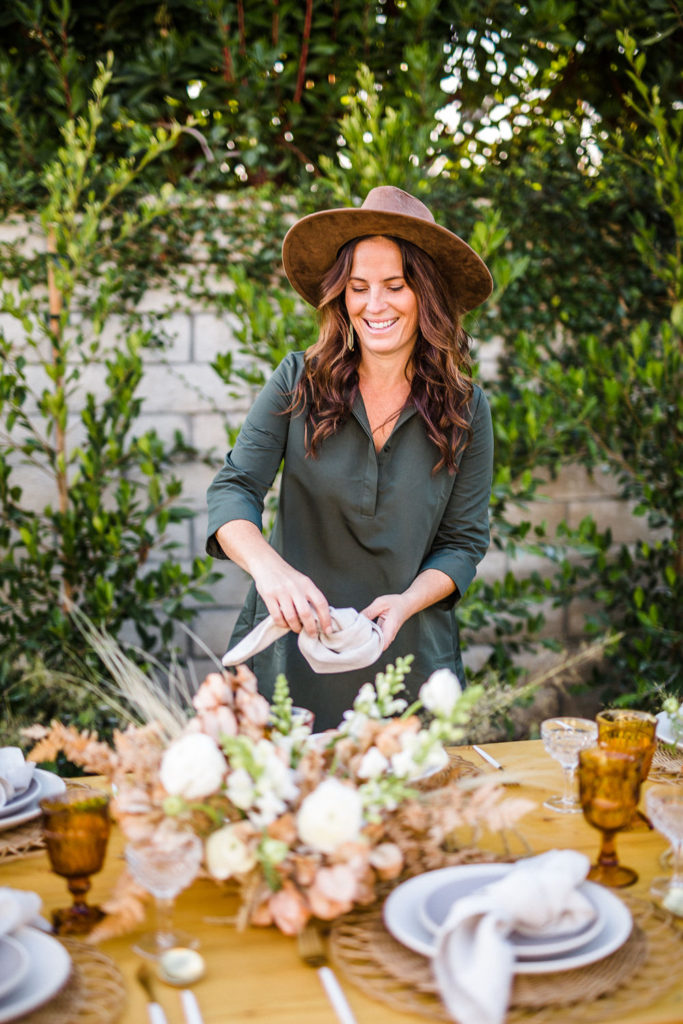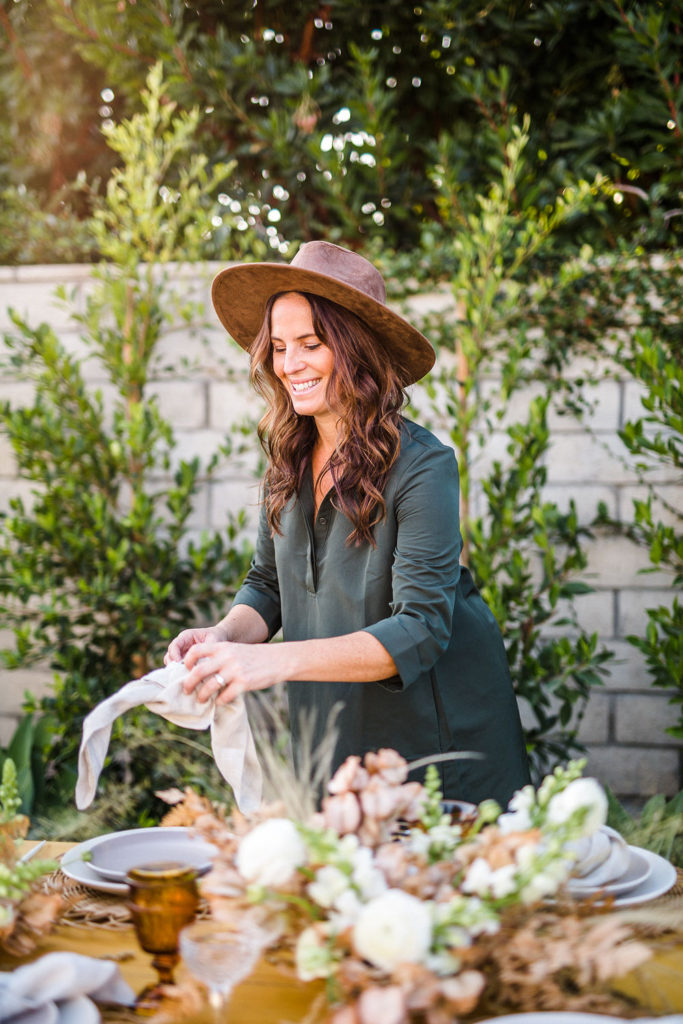 Ta da!!!!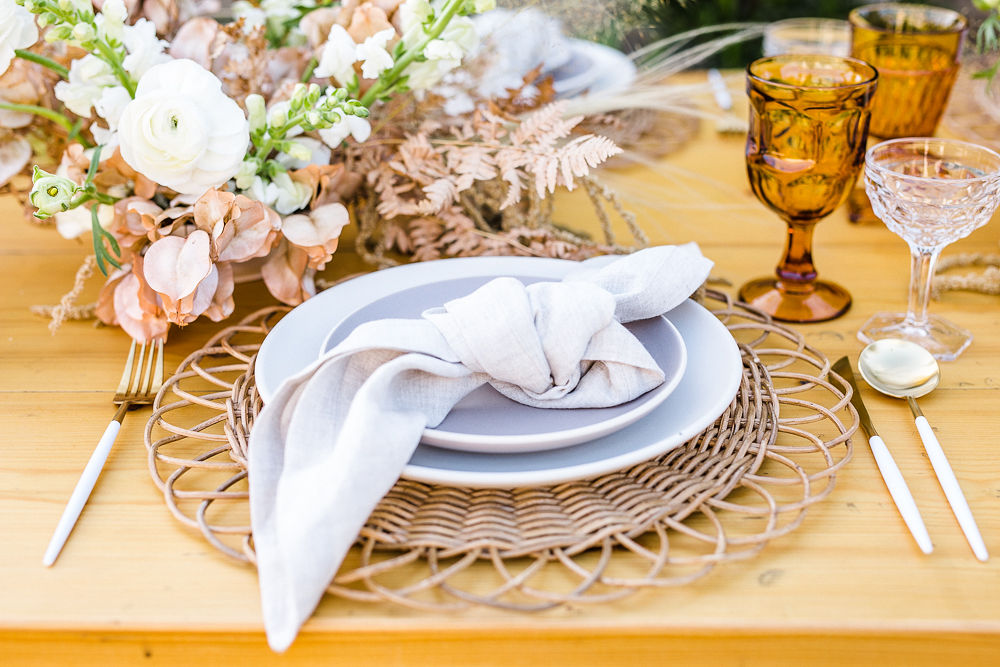 Of course with any event you have to have pretty florals! My friend Alex from Third & Park did it again with these beauties! I had originally wanted to have a bit of a pop with the florals but she talked me into this muted color palette and I'm really glad she did!! I love the pastel tones in the fall leaves, just gorgeous!!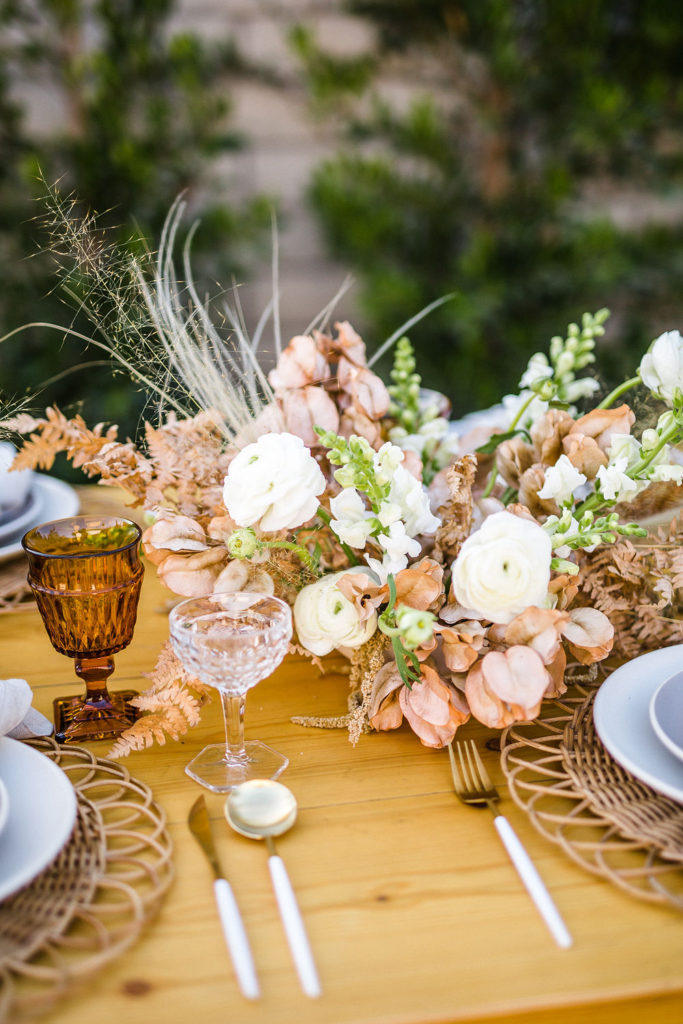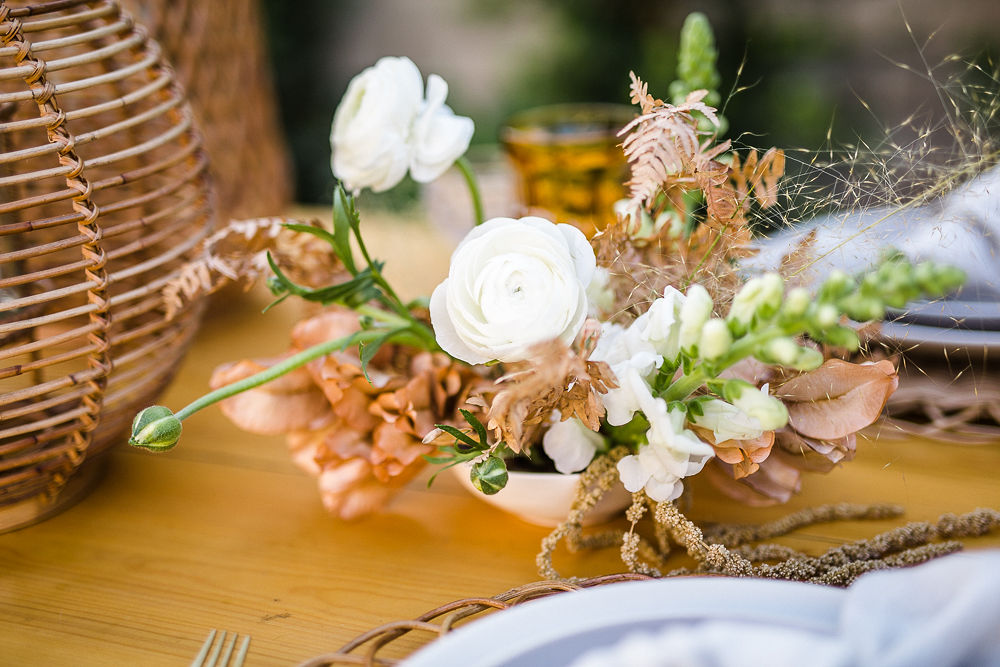 For the tabletop rentals I used Cherished Rentals. I love her heath ceramic plate collection and her stunning glassware! Pairing those amber colored glasses with everything else was so perfect for this fall setting.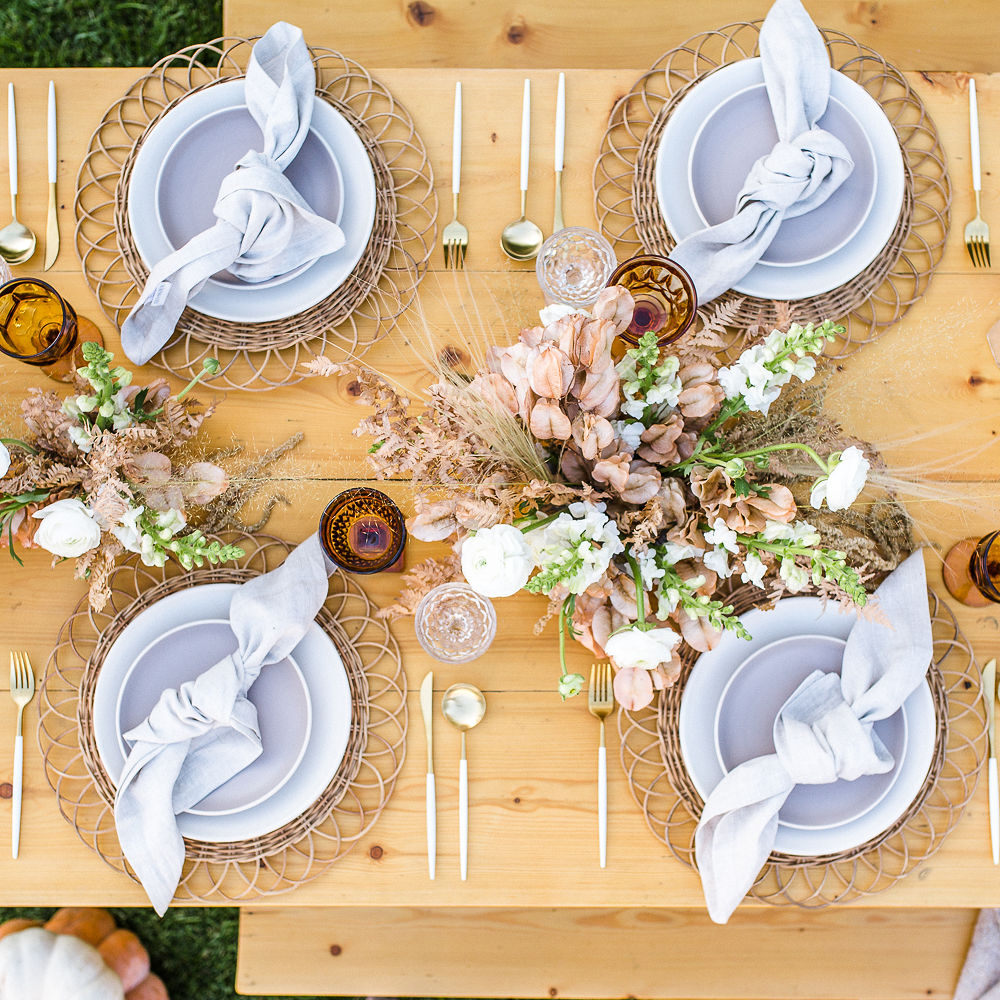 Another hosting tip, which I've said time ad again, add details. I always like to do that with paper goods or signage. In this case I had my friend Courtney from Poppy Jack Shop create a simple yet elegant menu along with place cards for each guest. It's the little, thoughtful details that go a long way with your guests!!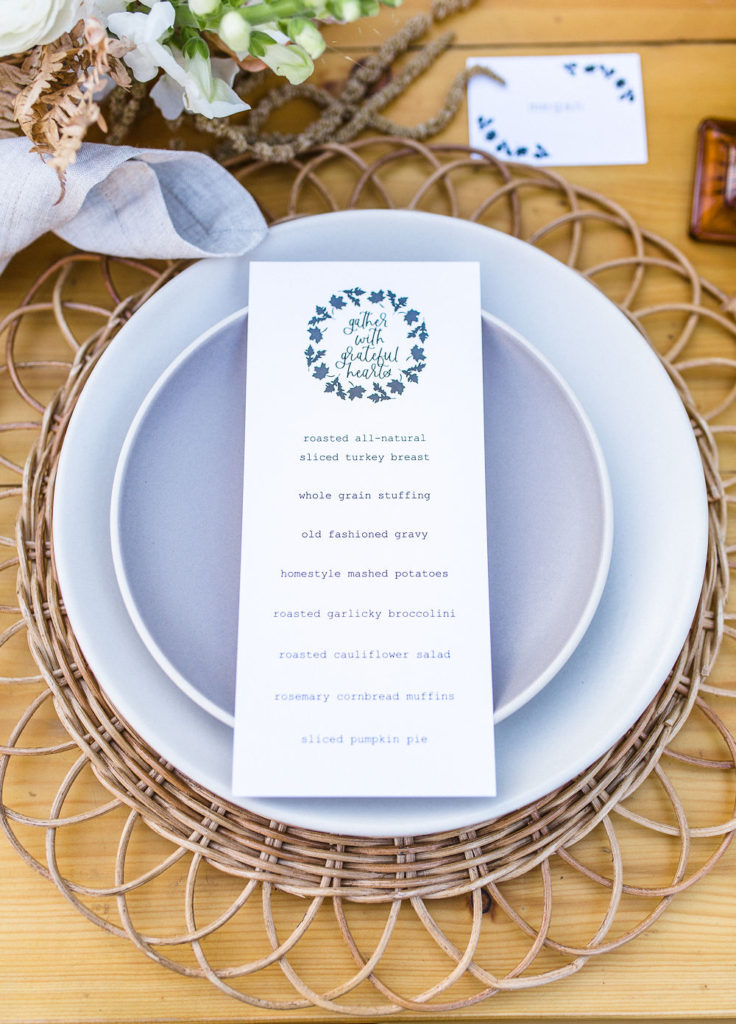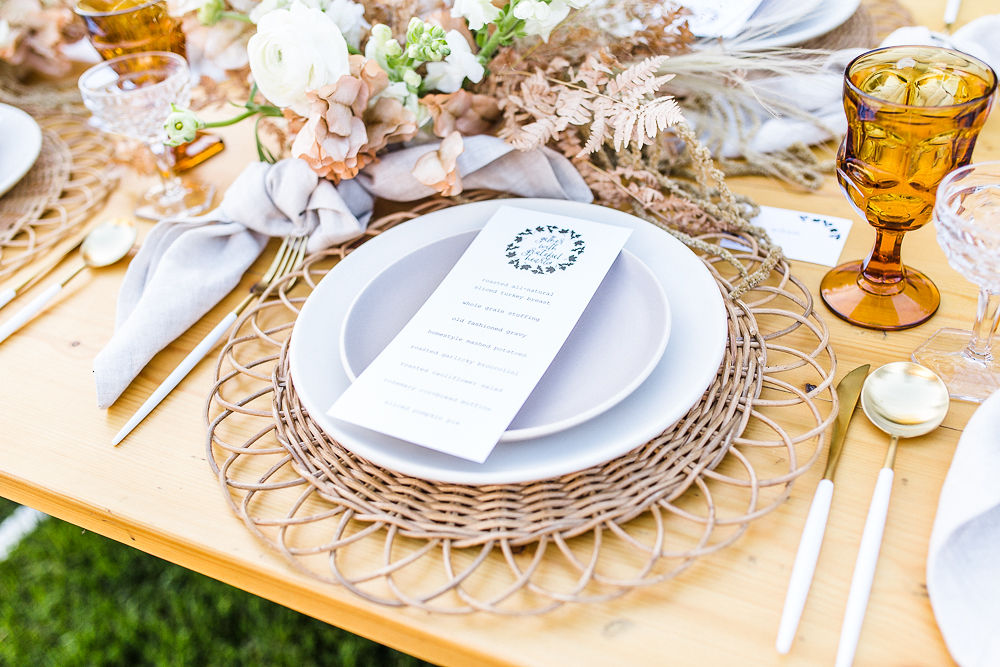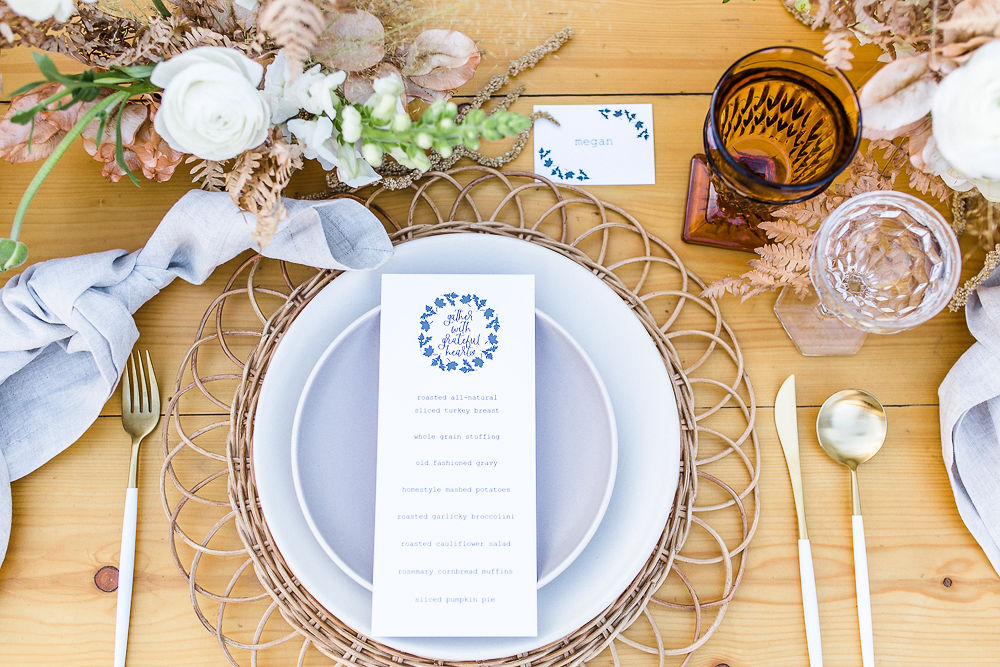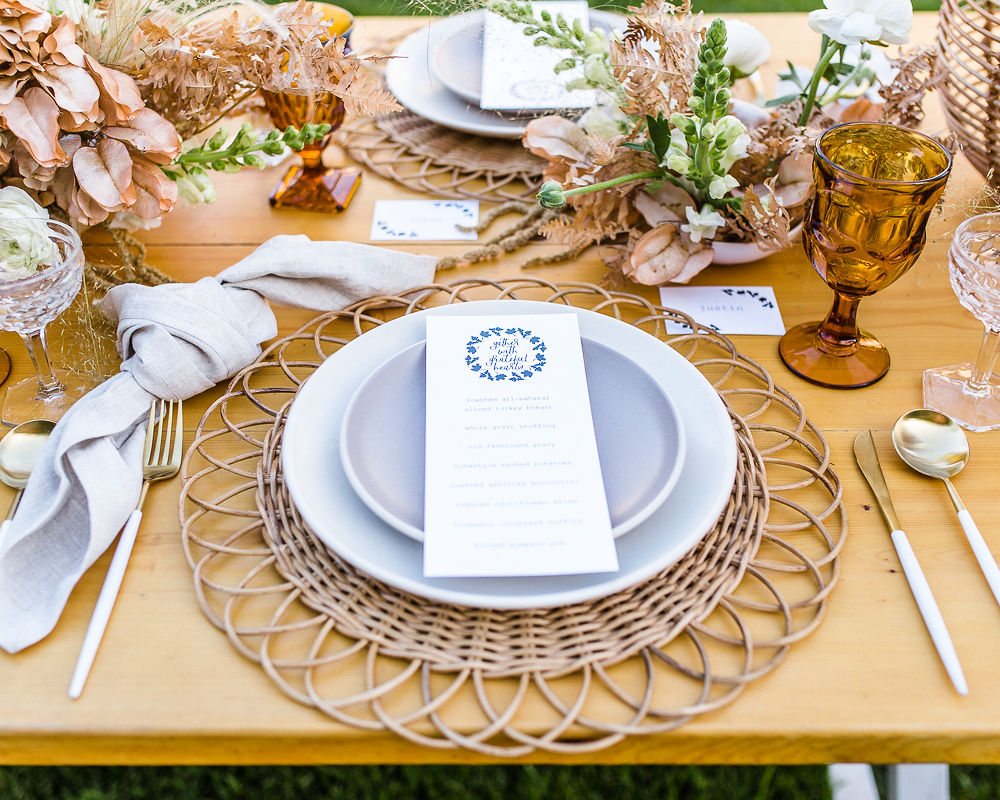 Such a pretty table!!!
Another must have from Serena & Lily has to be this beautiful Bedford Tray. Now this can be used in just about any room in your home, but I used it here for our charcuterie board. Having something for guests to munch on while they wait is a must at any event! With Thanksgiving in mind, you don't want them to fill their belly too much, so a grazing board is the perfect solution! This one by Graes Platters has the best touches of fall to go along with all the yumminess on it.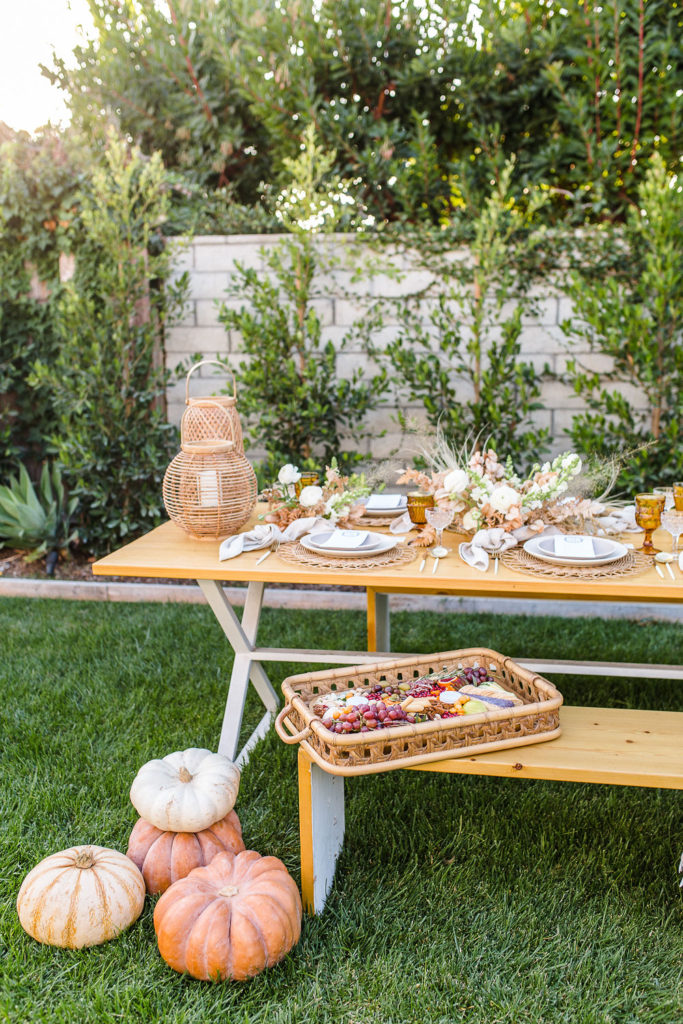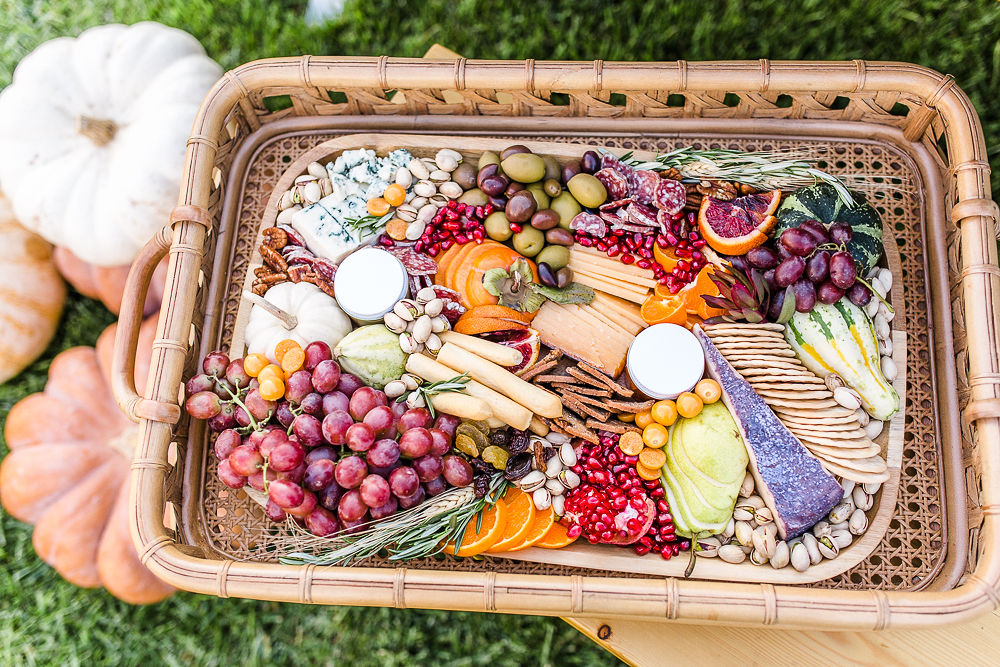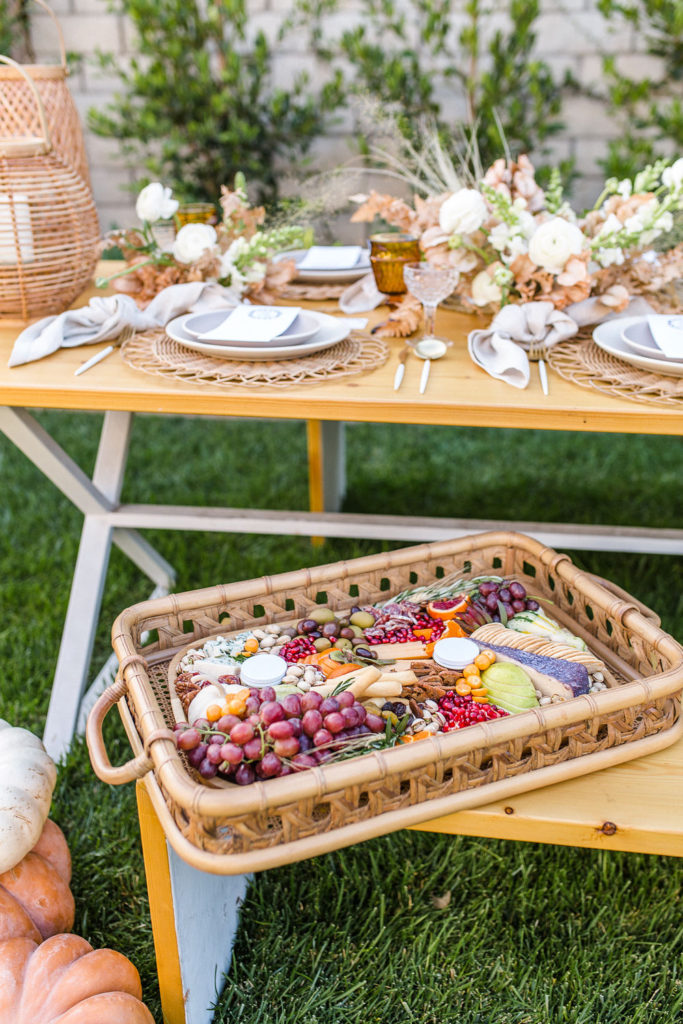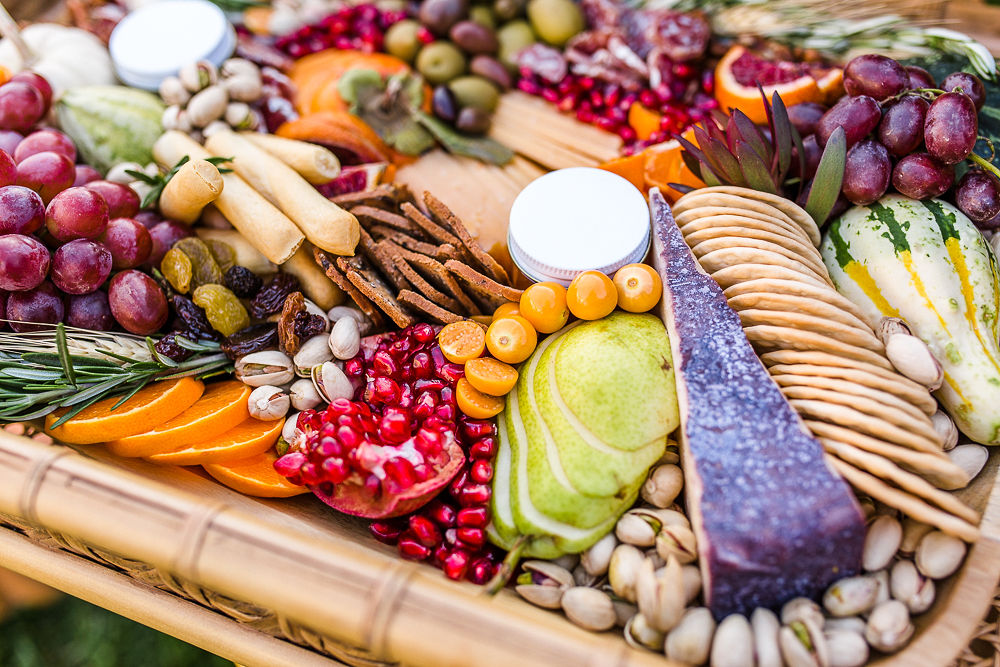 The option of walking around and serving it to your guests by holding those handles is pretty great too! Always good to mingle when hosting and make sure your guests are well taken care of!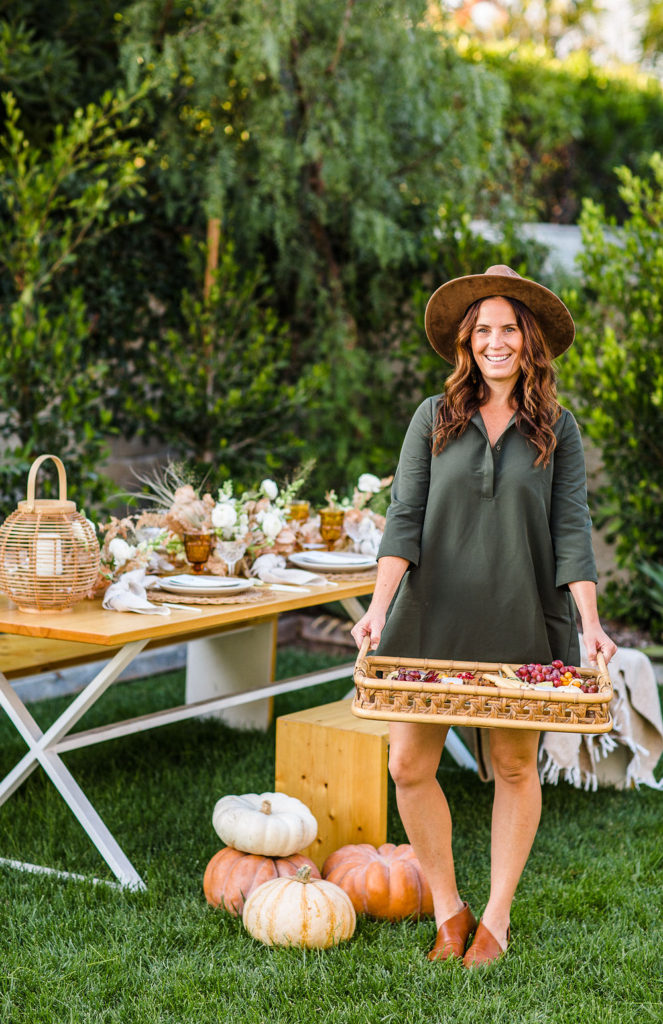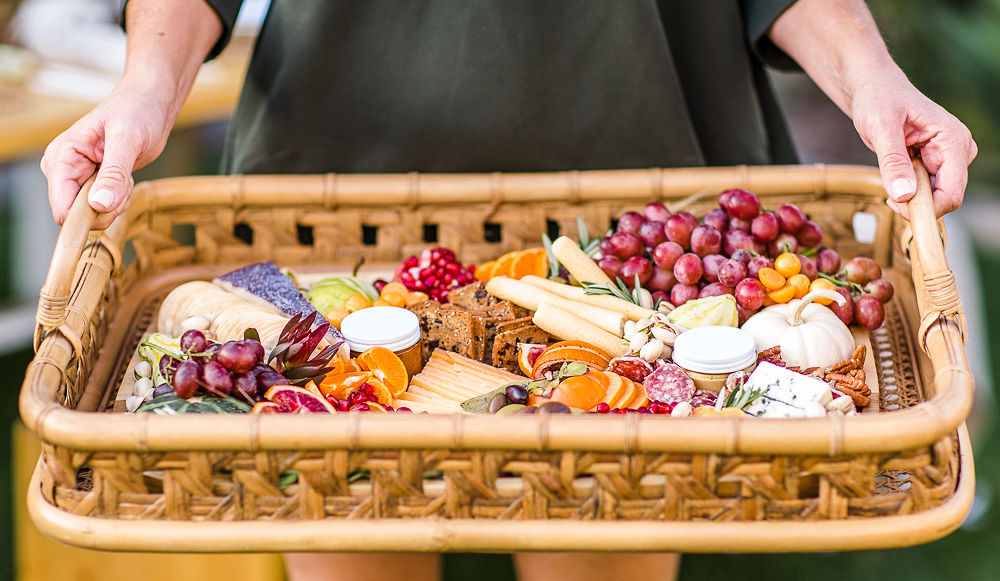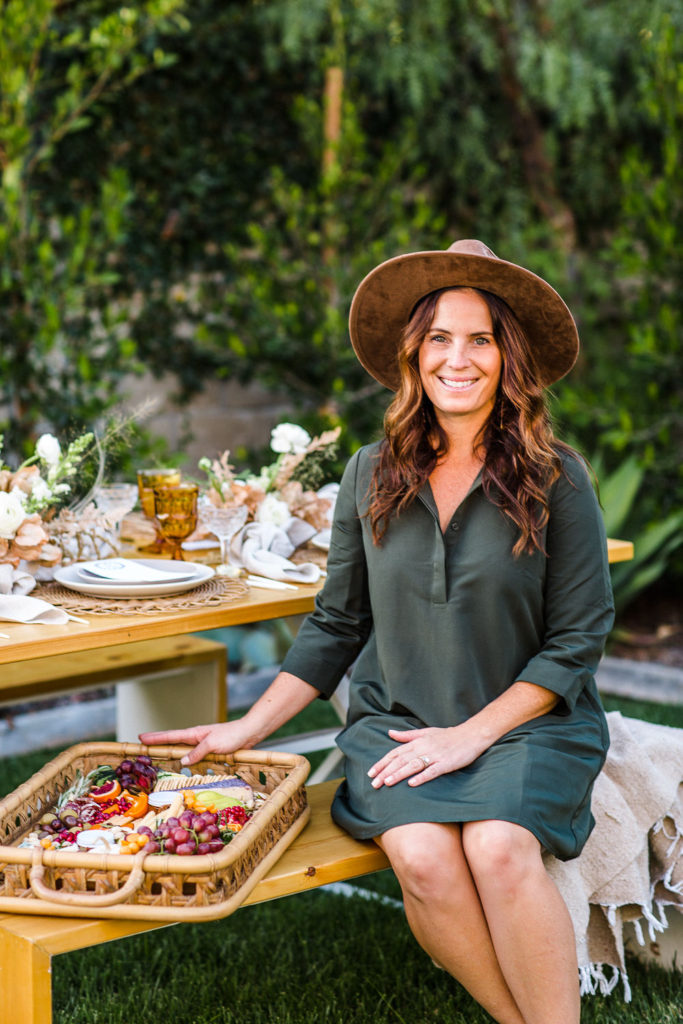 Again, love how this tray is easily movable so you can find a spot for it to please your guests all around the party!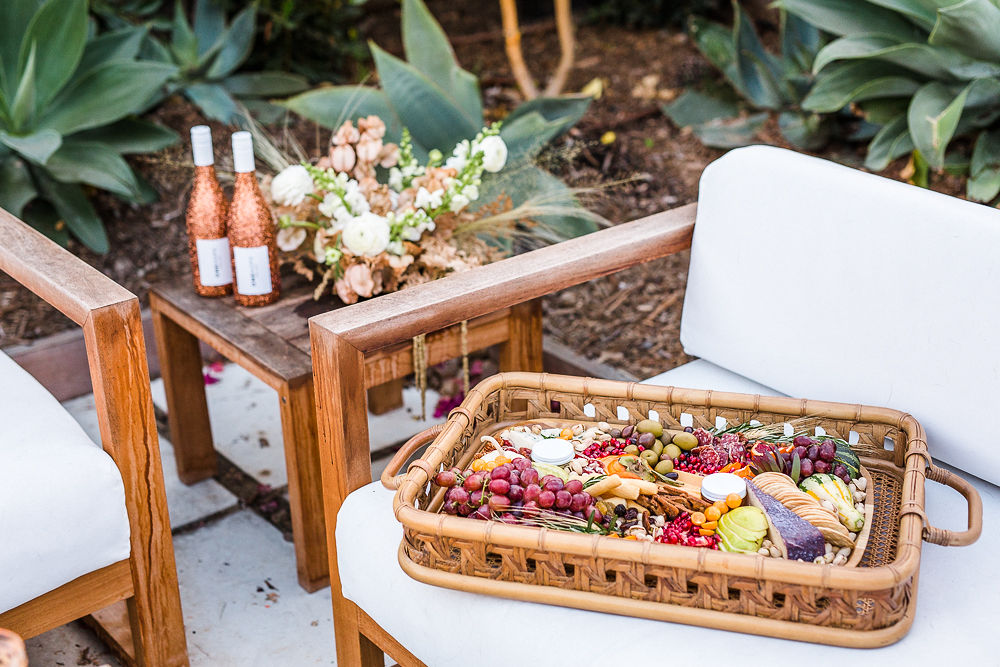 Of course any host knows you should have beverages, and you know we like the alcoholic type ;) Especially One Hope wine! And how cute are their new bronze sparkle bottles?! It's my favorite variety!! Pinot Noir, yum!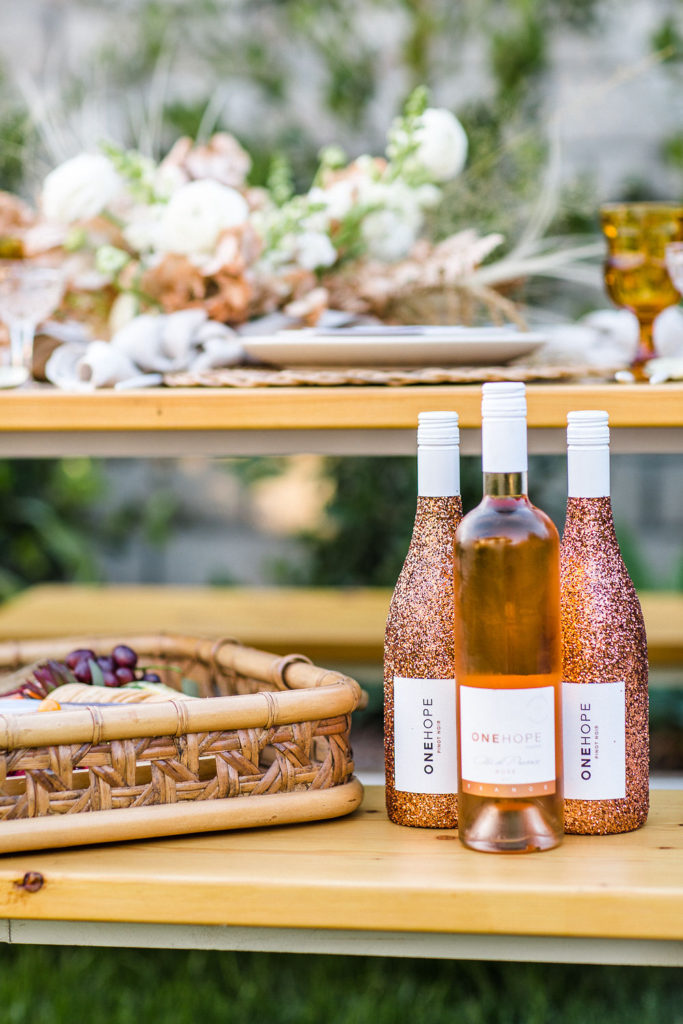 Having a few glasses already poured fro your guests let's them arrive and join in on the fun immediately!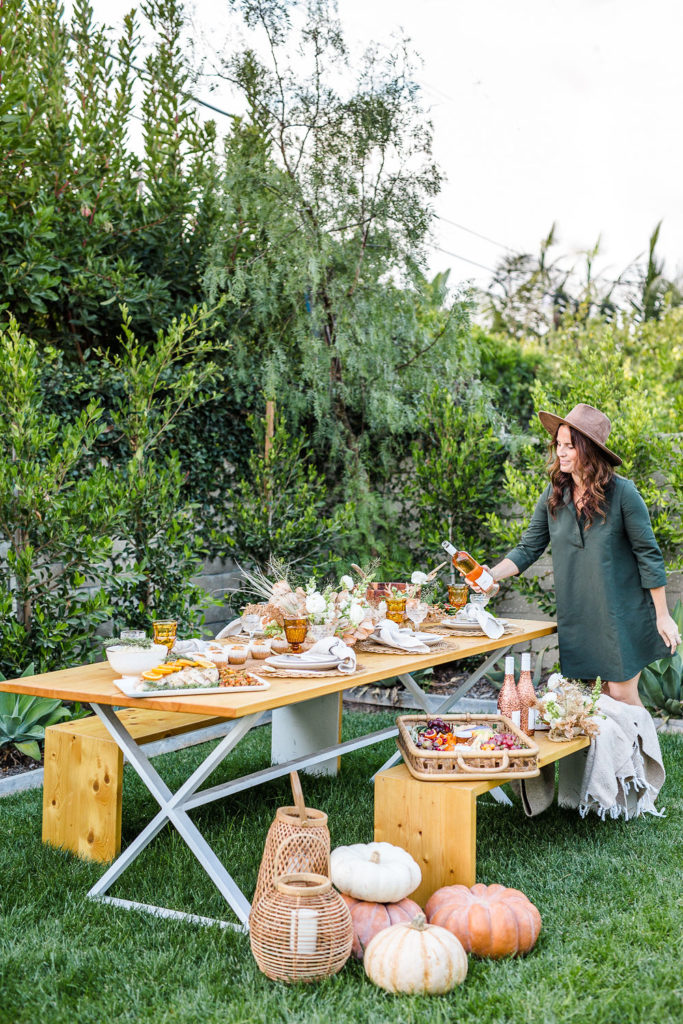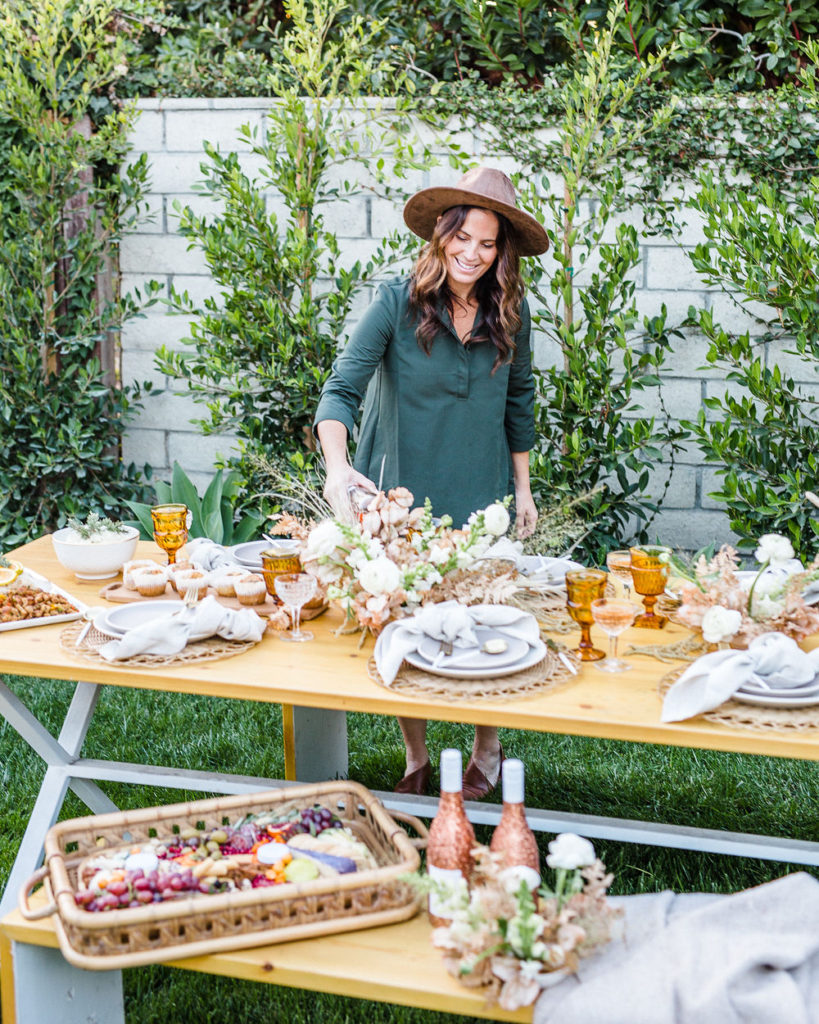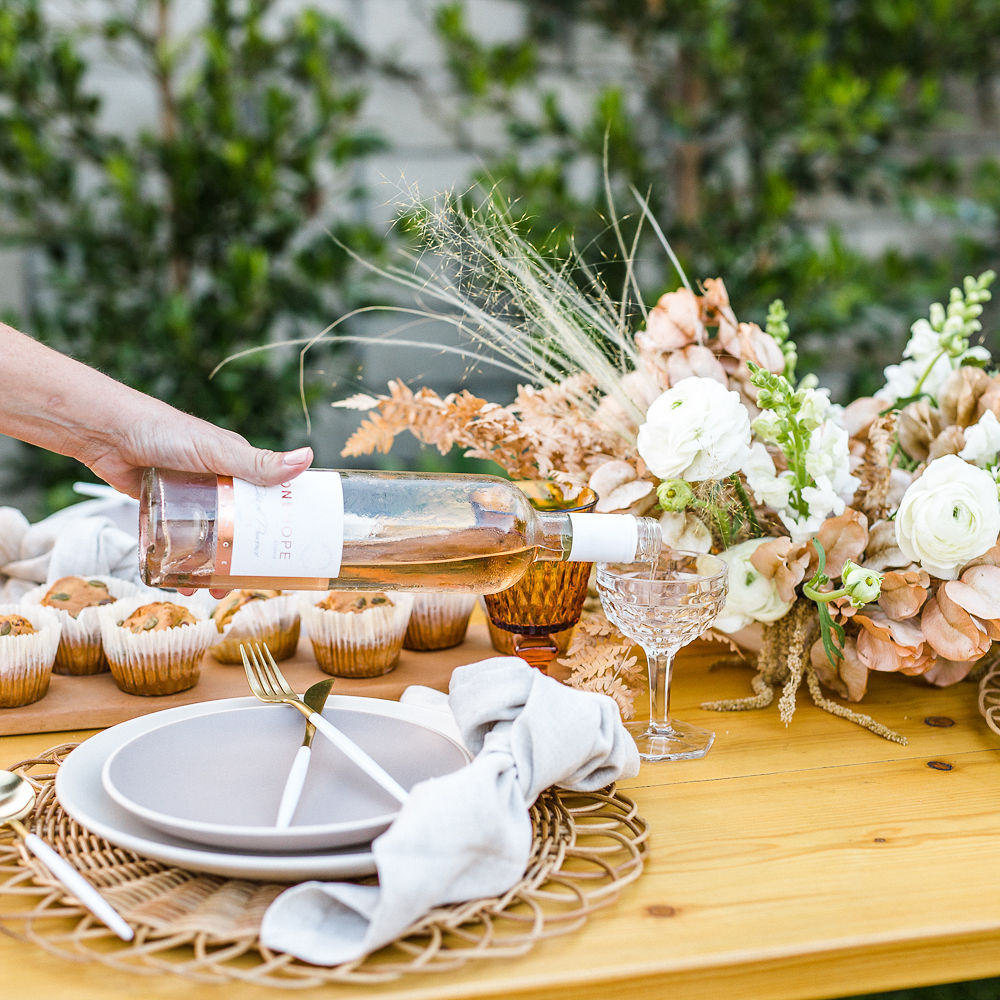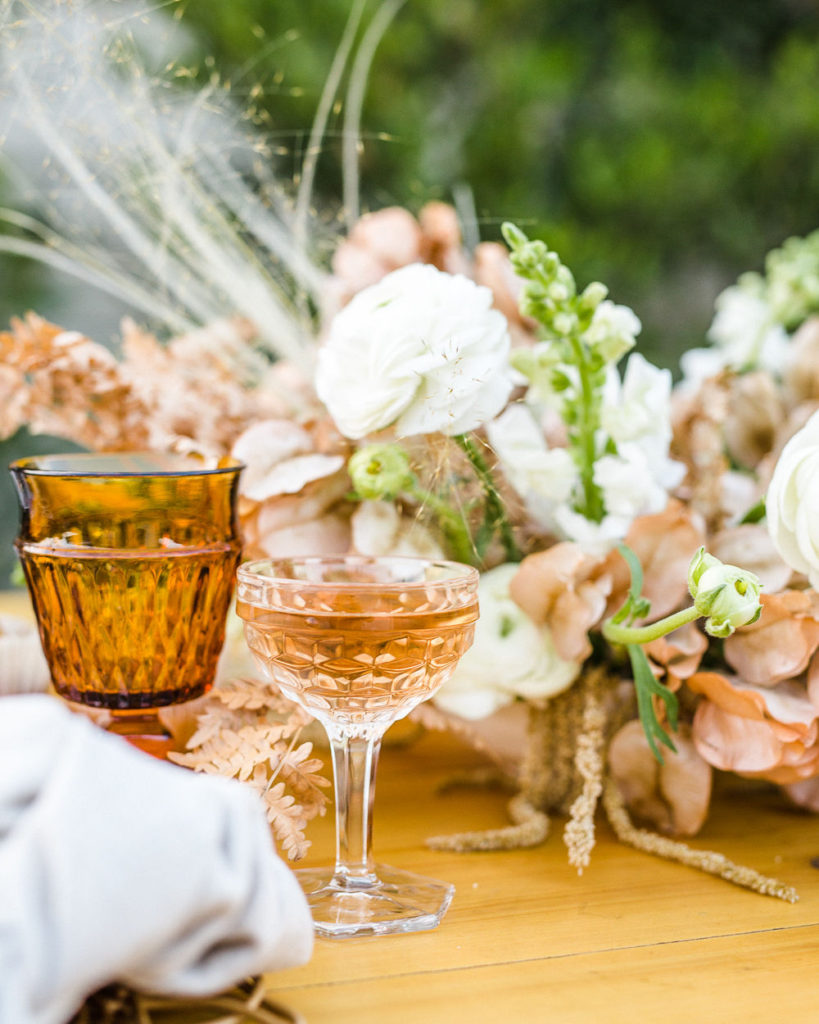 Obviously the main concern for Thanksgiving is… THE FOOD!!! Upon making my weekly visit to Greenleaf Chopshop for my favorite salad I saw their advertisement for a Thanksgiving Feast. With my hostess cap on I thought, wow, wouldn't that make everything SO much easier?!
Don't get me wrong, I love to cook, I'm no Abby though when it comes to that. So why not make my life insanely easier and pick up Thanksgiving dinner?! That's just what I did guys, and it was delicious!!! Everything was cooked to perfection, the instructions for reheating were simple and we all loved it!
I highly recommend Greenleaf Chopshop for any catering needs, I mean, if you can get Thanksgiving perfect, you're basically gold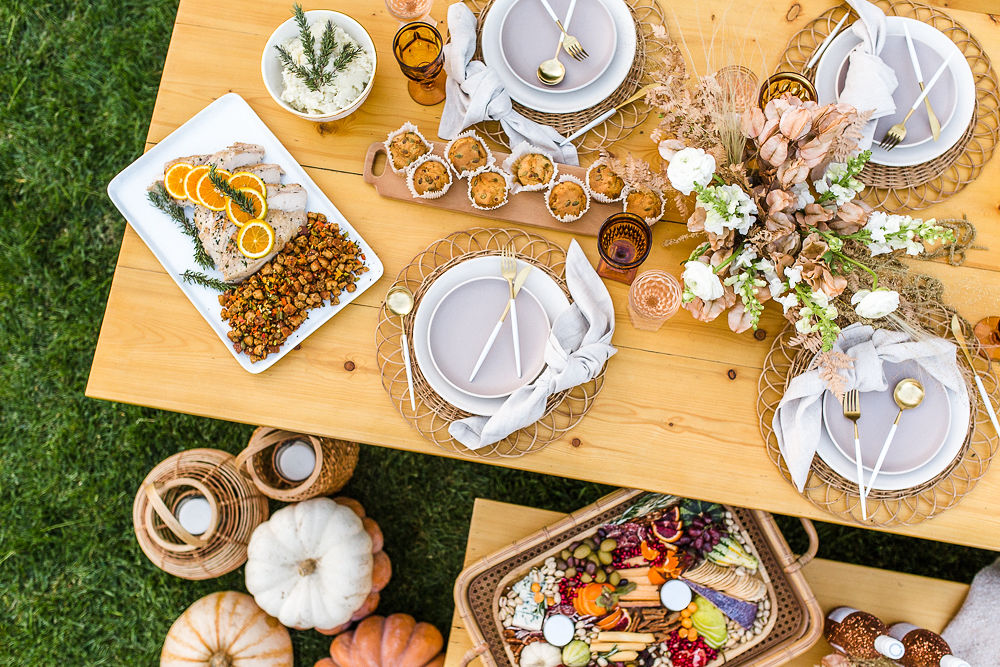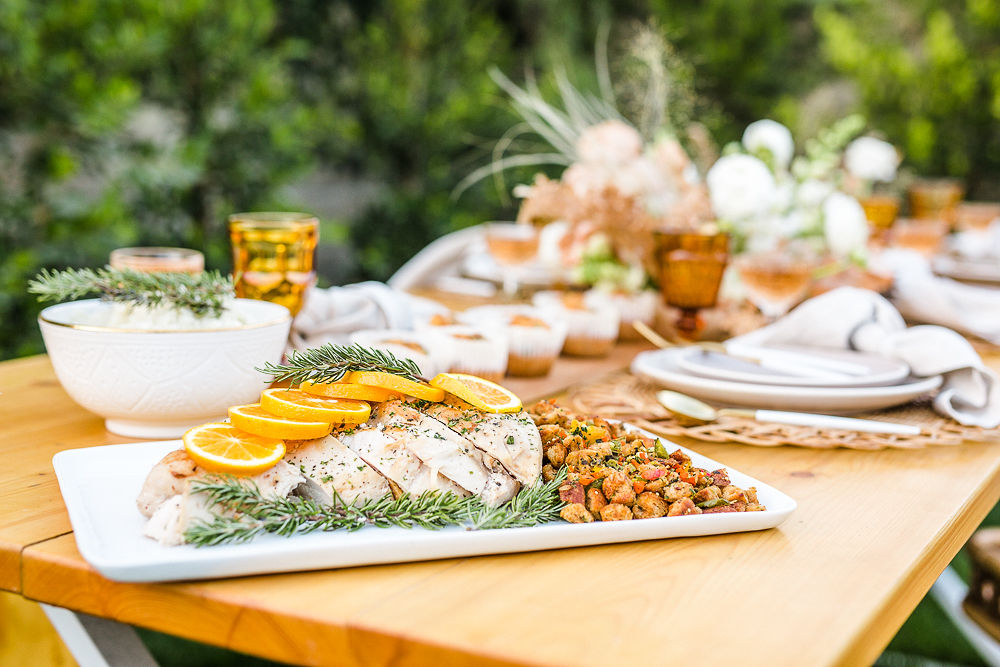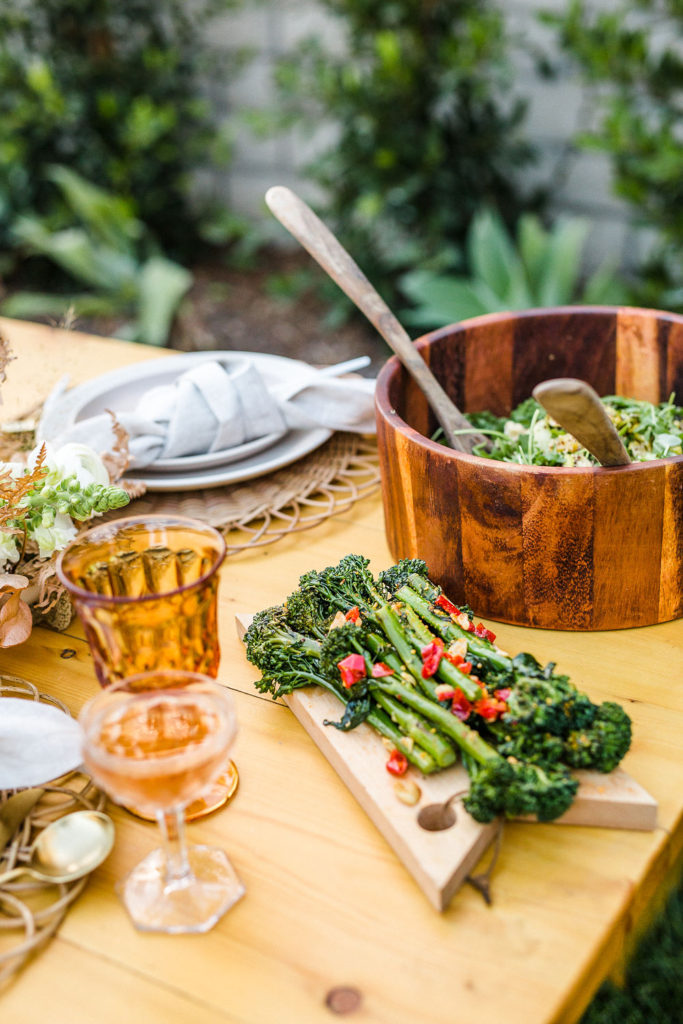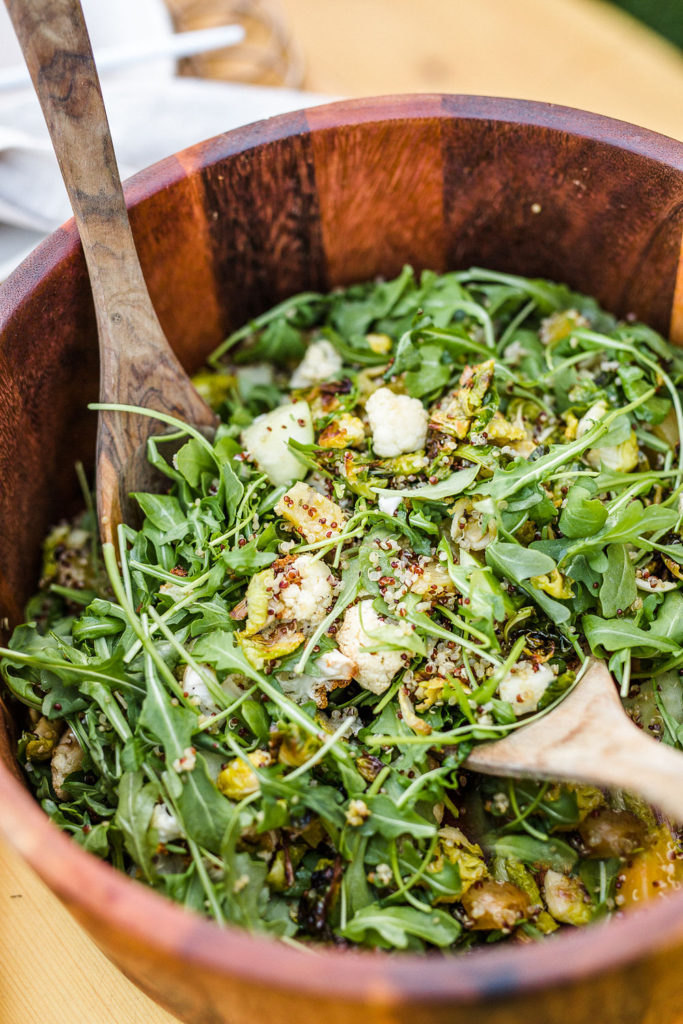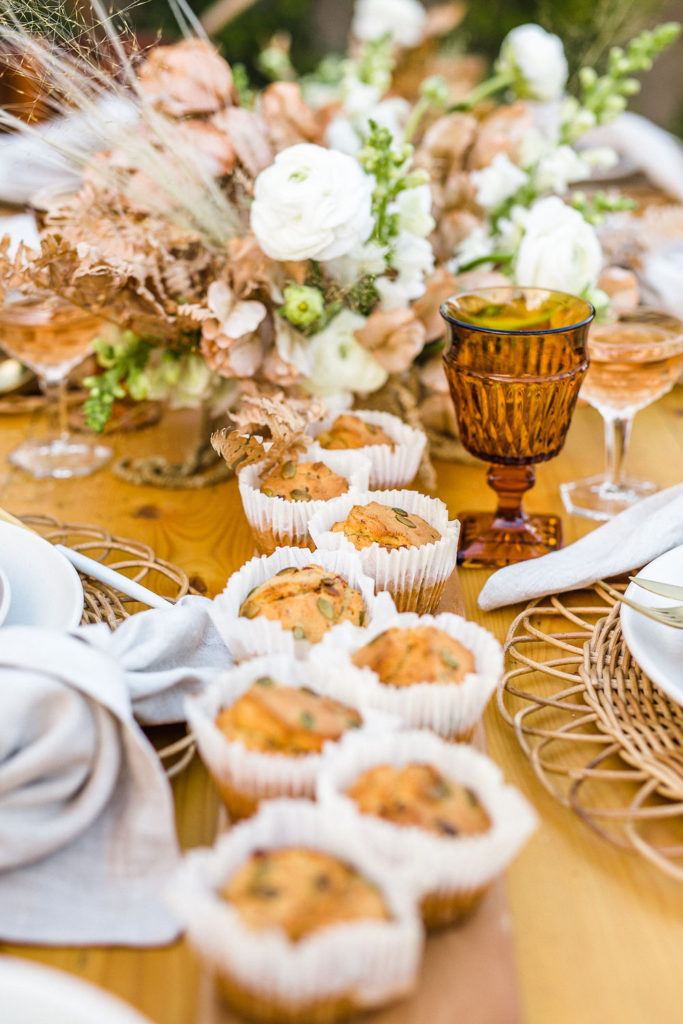 My forever favorite on Thanksgiving… The mashed potatoes!!!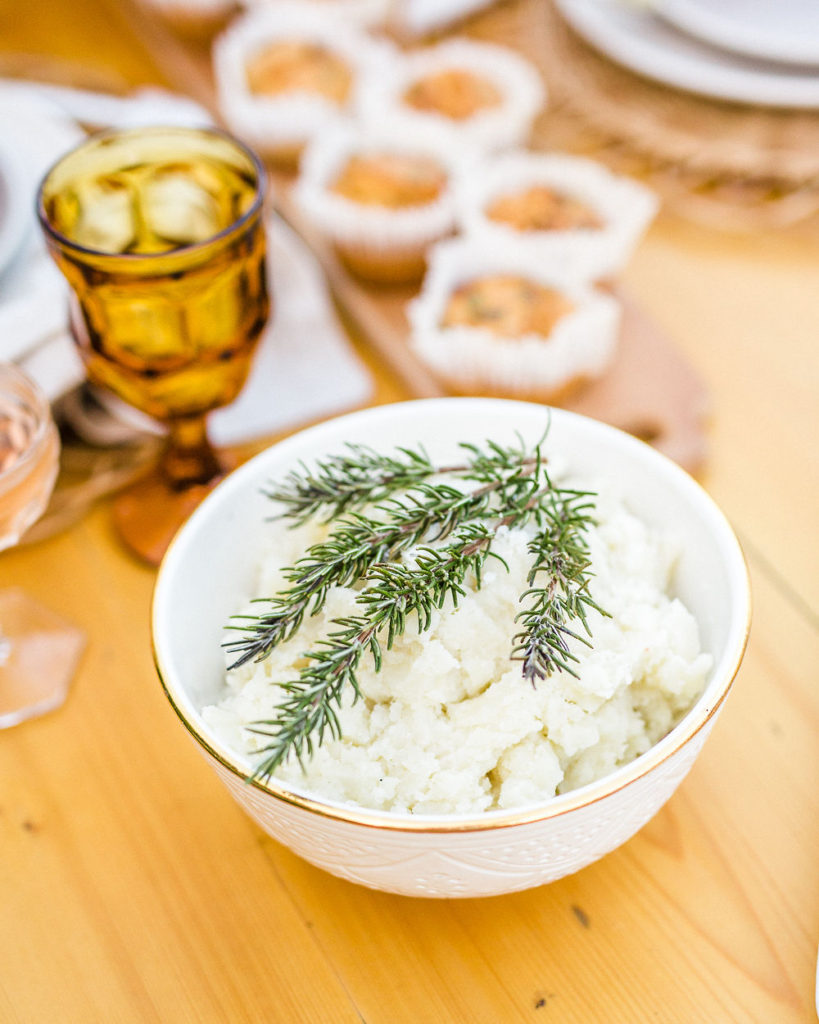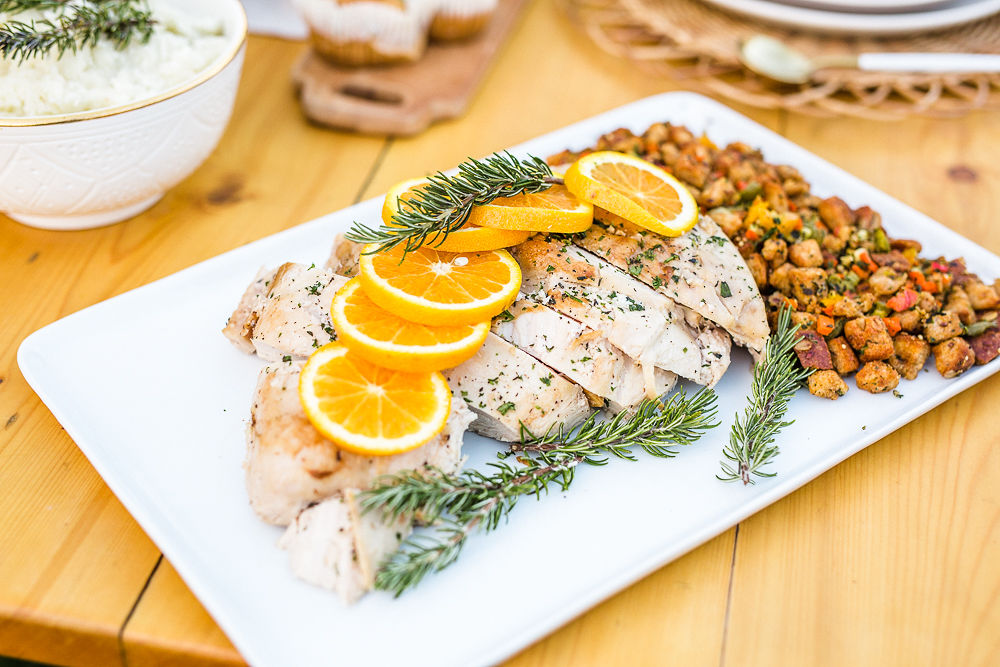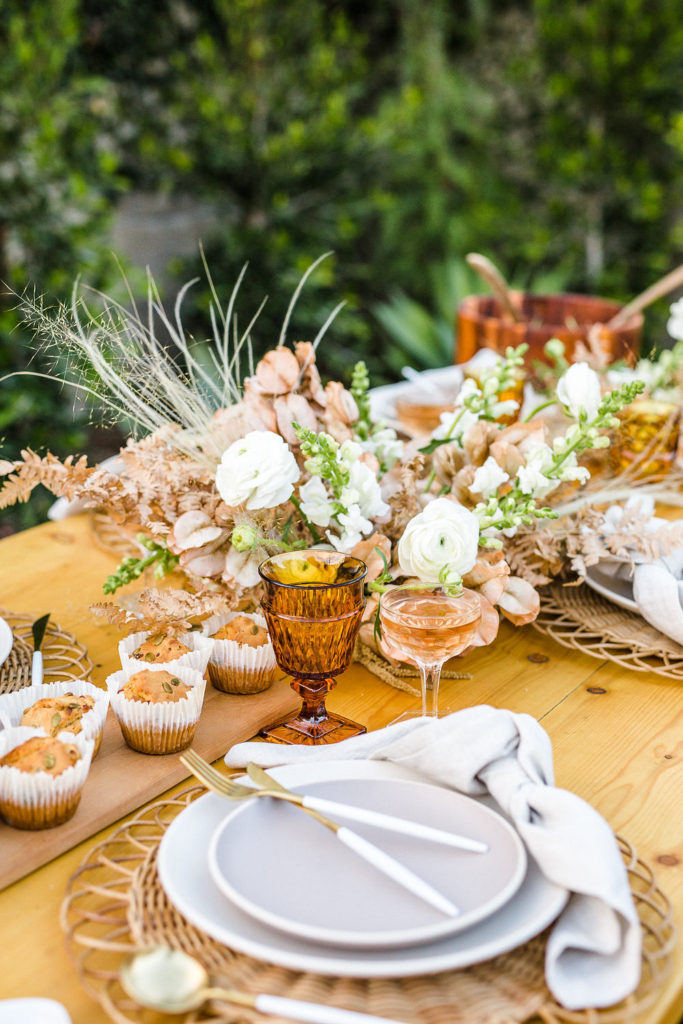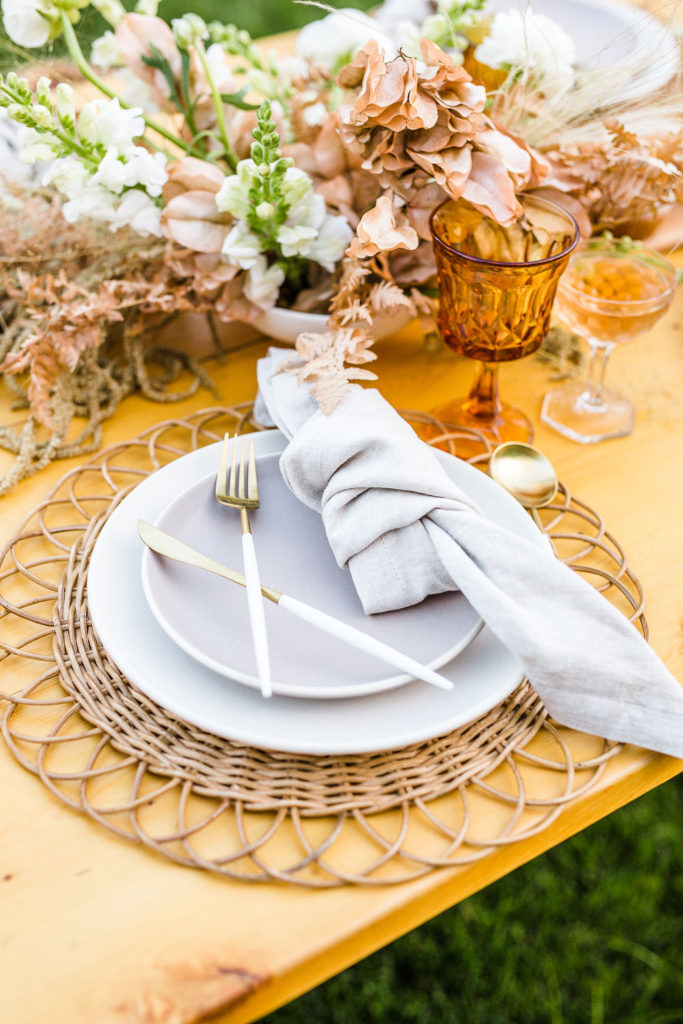 This spread looks pretty darn good right about now!! Anyone else ready for next Thursday yet?!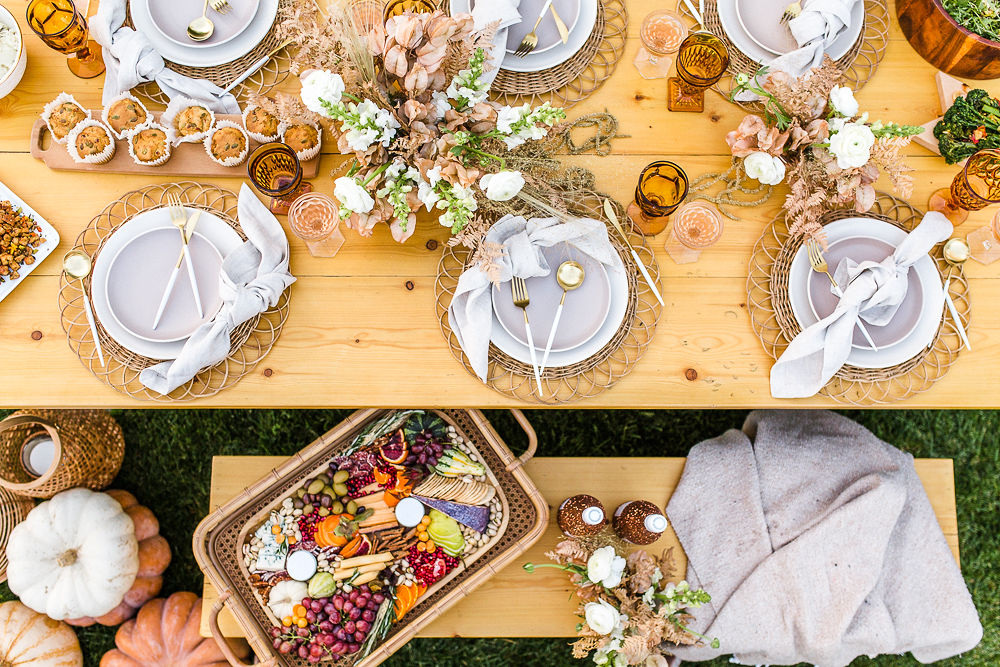 Greenleaf wouldn't forget the dessert! Pumpkin pie is obviously a must on turkey day! We just made ours extra pretty with some help from Third & Park!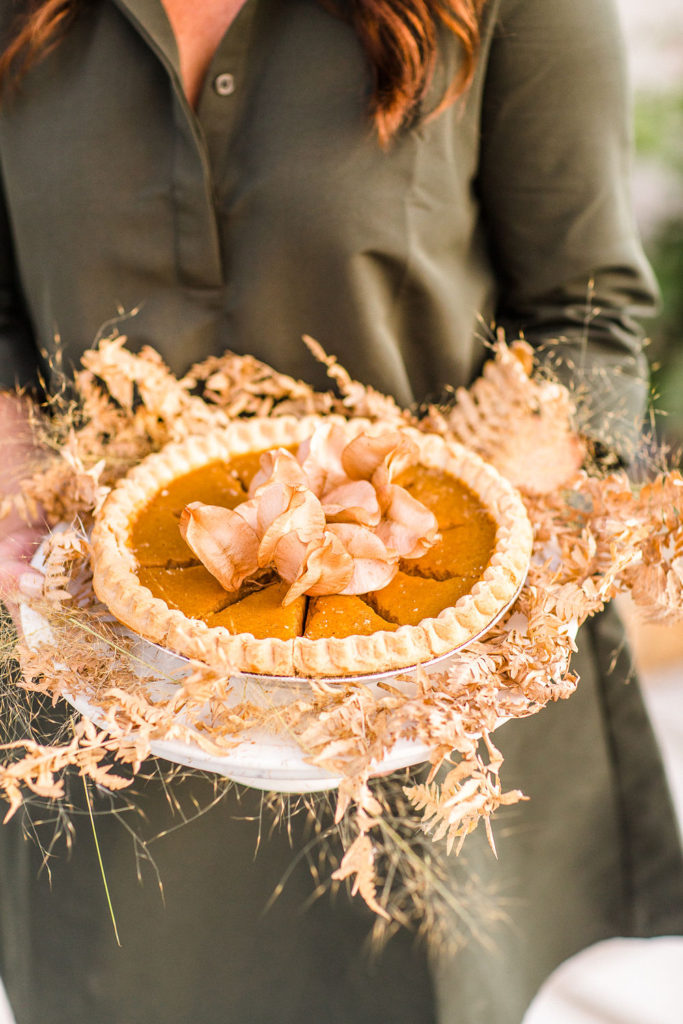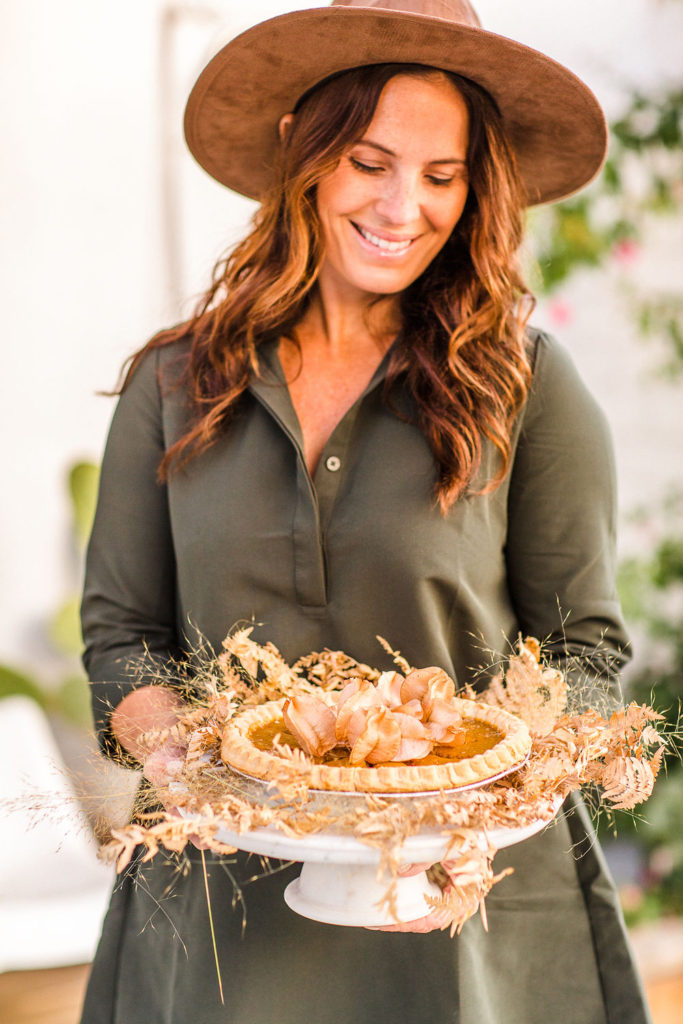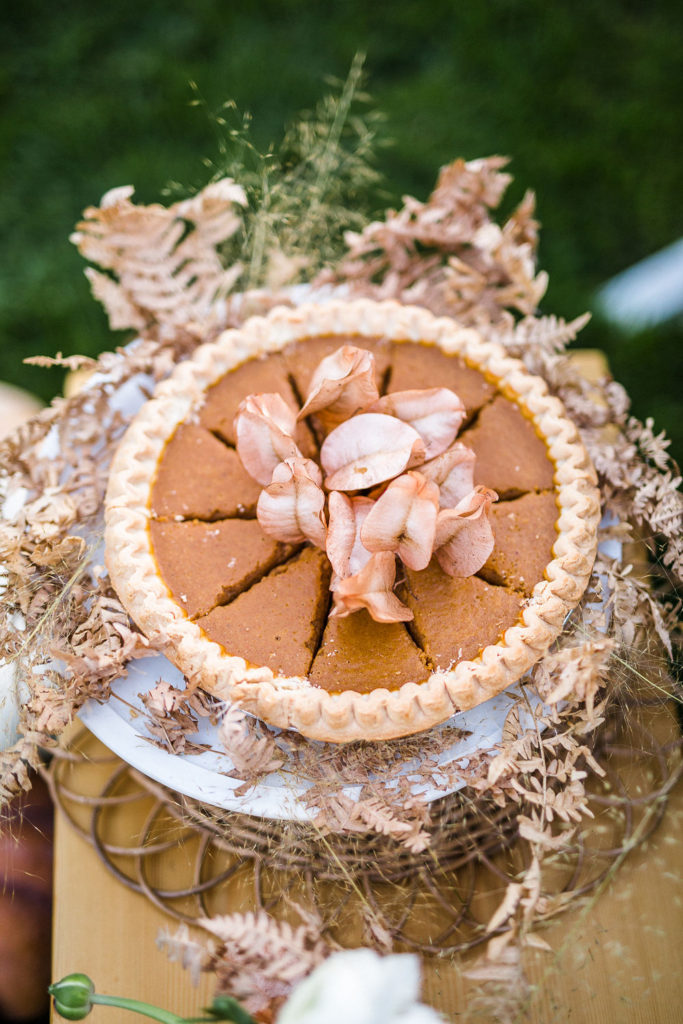 We had a great little after dinner set up by my fire pit. See those lanterns?! They are the icing on the cake to this Serena & Lily shopping spree, and possibly my favorite purchase. I have been eyeing them for some time now and I'm so happy to call them my own.
They were on the table and then in this pretty spot. Such a great decor piece that I'll use over and over again!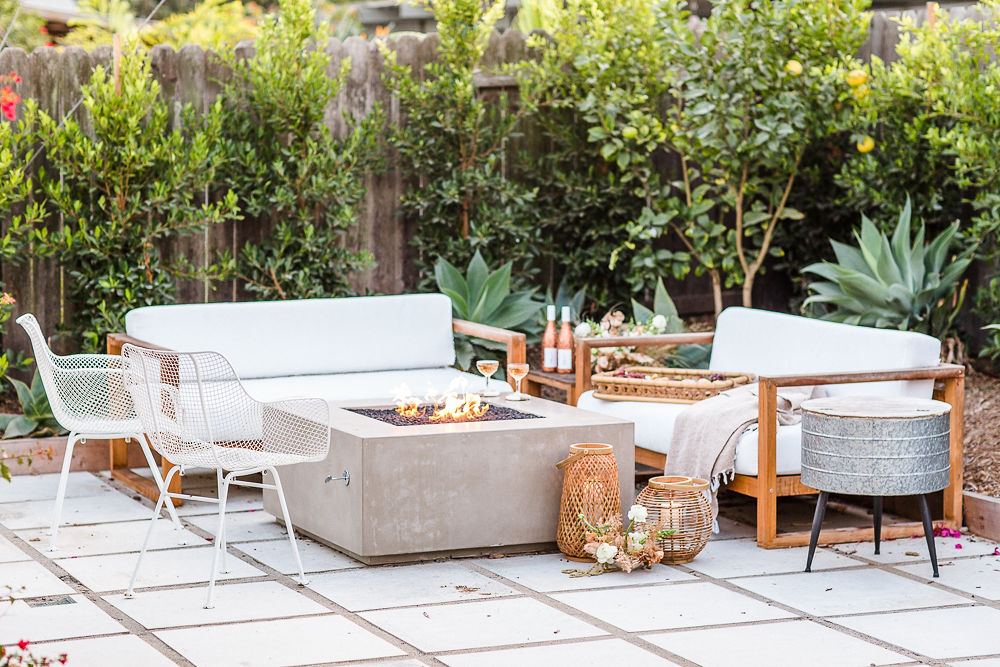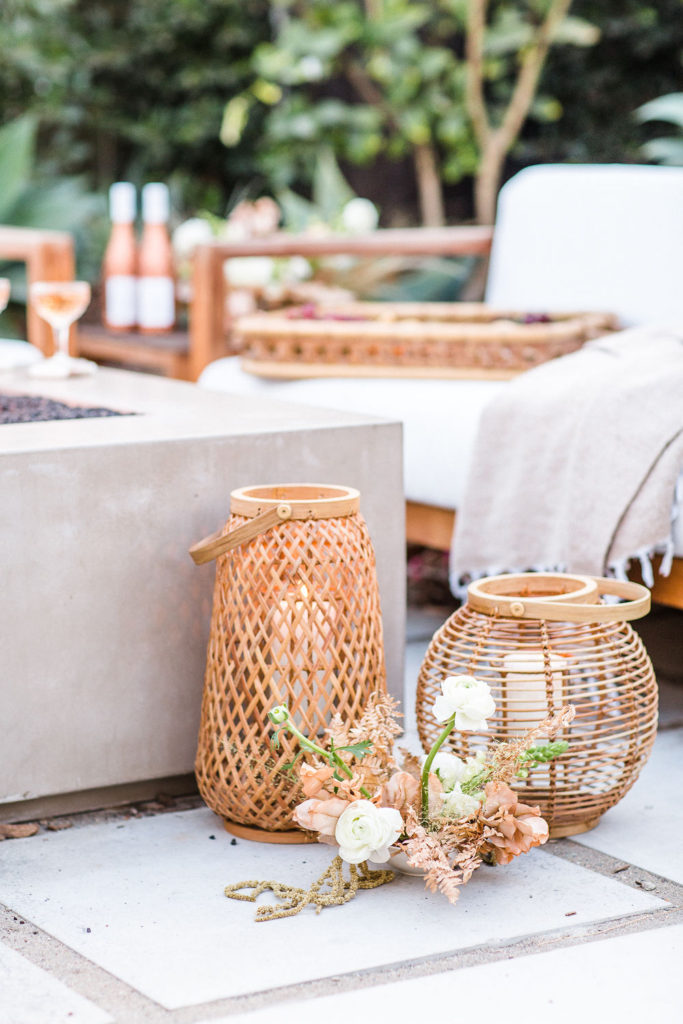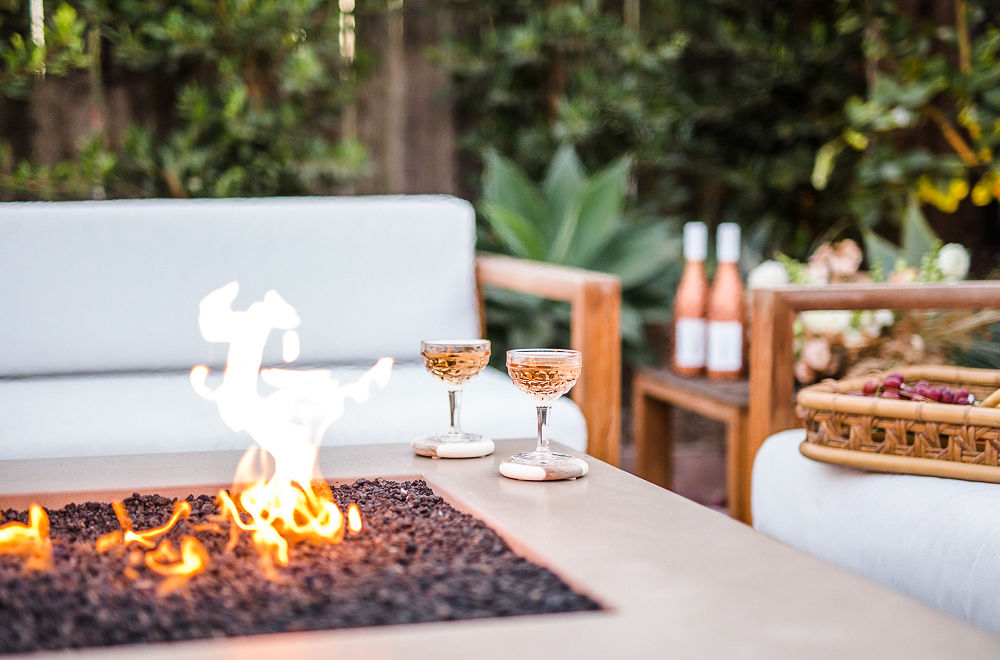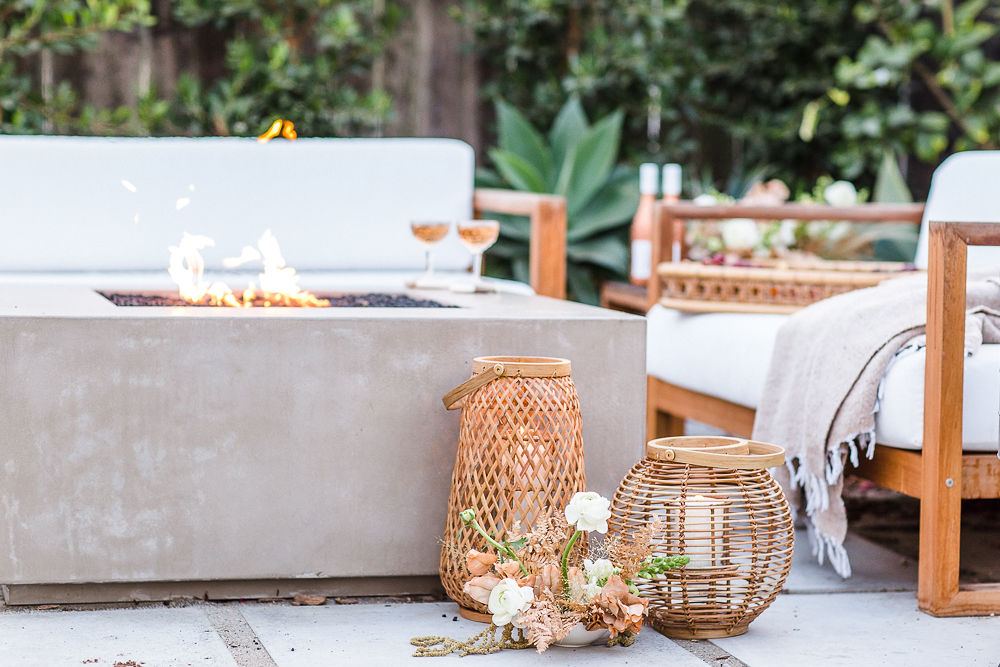 And that's a wrap! Oh, one more thing – when hosting, dress the part! I got this beautiful and super comfortable dress, along with the cute suede hat, from Tuckernuck. I recently discovered this brand and I love it! Such great quality pieces and they are classic, so they'll never go out of style!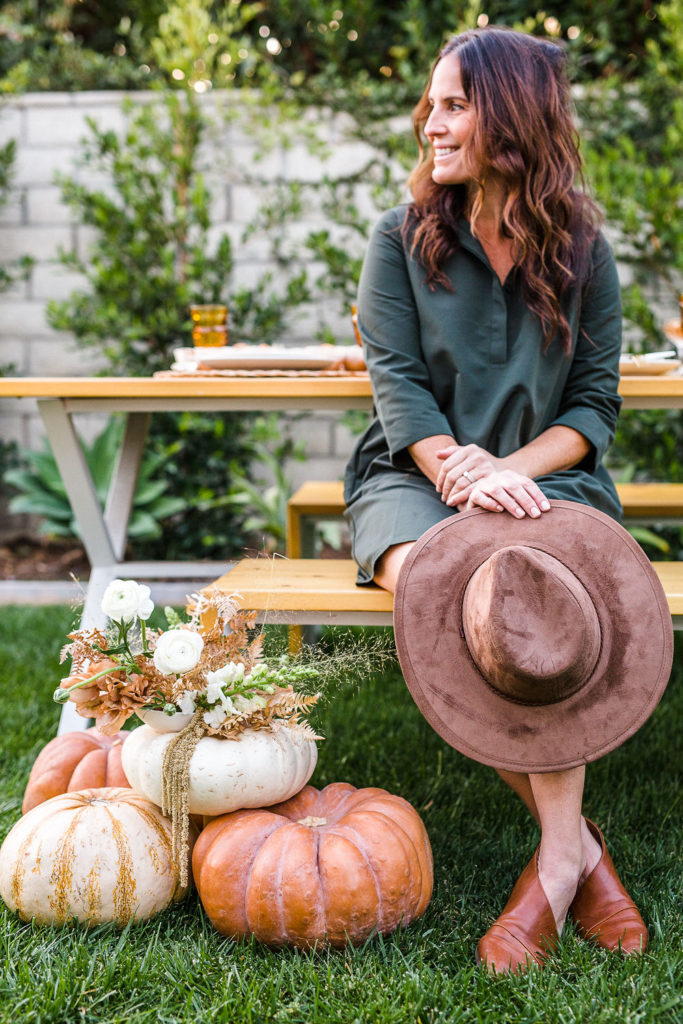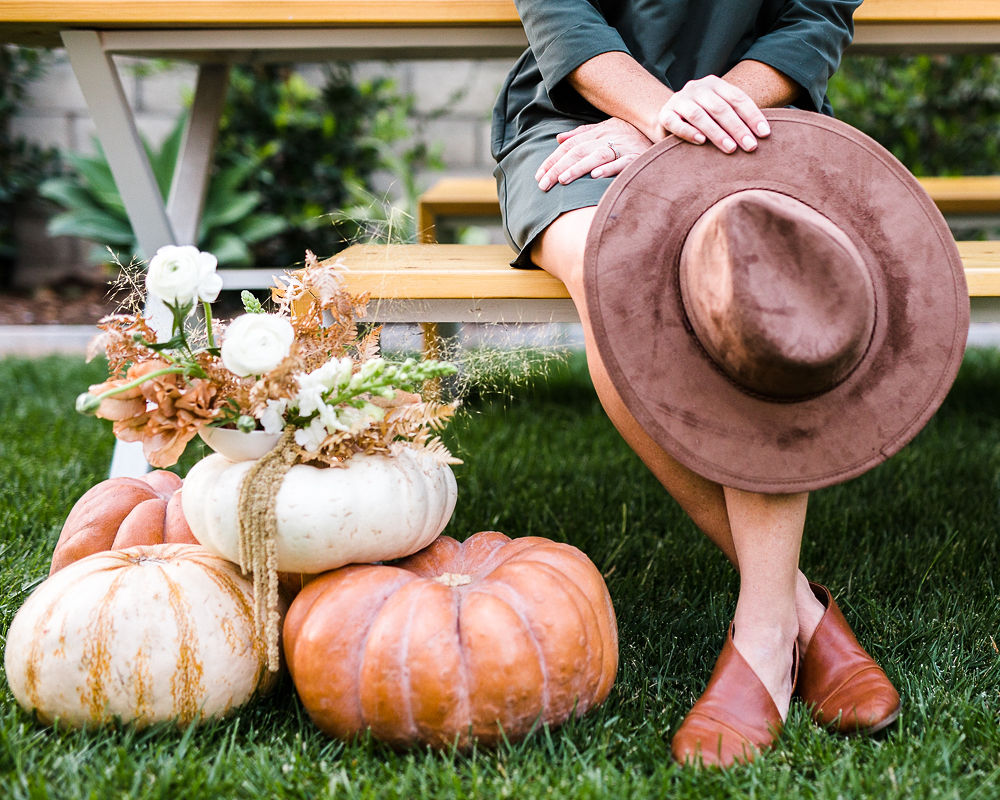 Shop the post below!

xx
Jacquelyn