---
It's that time of the year again, our annual curated Beijos Easter baskets! Yay! This year is our 4th year, can you believe it?! Where does the time go? Picking out Easter basket goodies, that is where the time goes! Ha! Now if only I did my own Easter basket, next year! This year, it was all about that little flower child and a black + white geometric collection of goodies for that future architect. As the kids are getting older and developing their style, it's becoming pretty fun to curate these baskets.
When it comes to choosing items, I typically do the same things each year but just adjust towards the theme. You have your usual suspects: a swimsuit, sandals/shoes, reading + coloring books, fun tees, and fun little trinkets. These were the same items I got in my basket from the Easter bunny when I was little, so I just keep it the same for my kids. Except I'm pretty sure their stuff is way cooler compared to the fantastic clothing options in the 80's and 90's.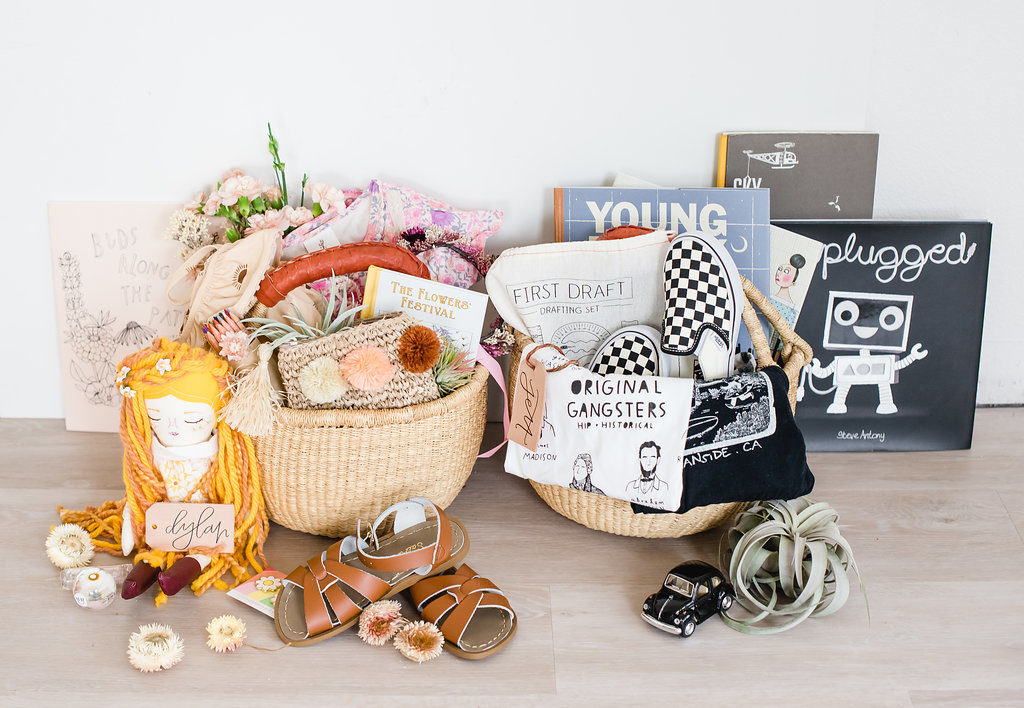 Photos by Kylie Compton Photography
Let's start with that little flower lady in my life. Dylan is going to be 8 in just a couple weeks. Holy Moly! So you can imagine the things that she is into these days. Besides, large amounts of slime and squishy DIY crafts, she is really into coloring and drawing flowers. If you know us Beijos ladies, we have a floral obsession, so I honed on this flower love and created this adorable basket for her, filled with all the boho floral pretty I could find. I have to say I'm obsessed with this color palette this year.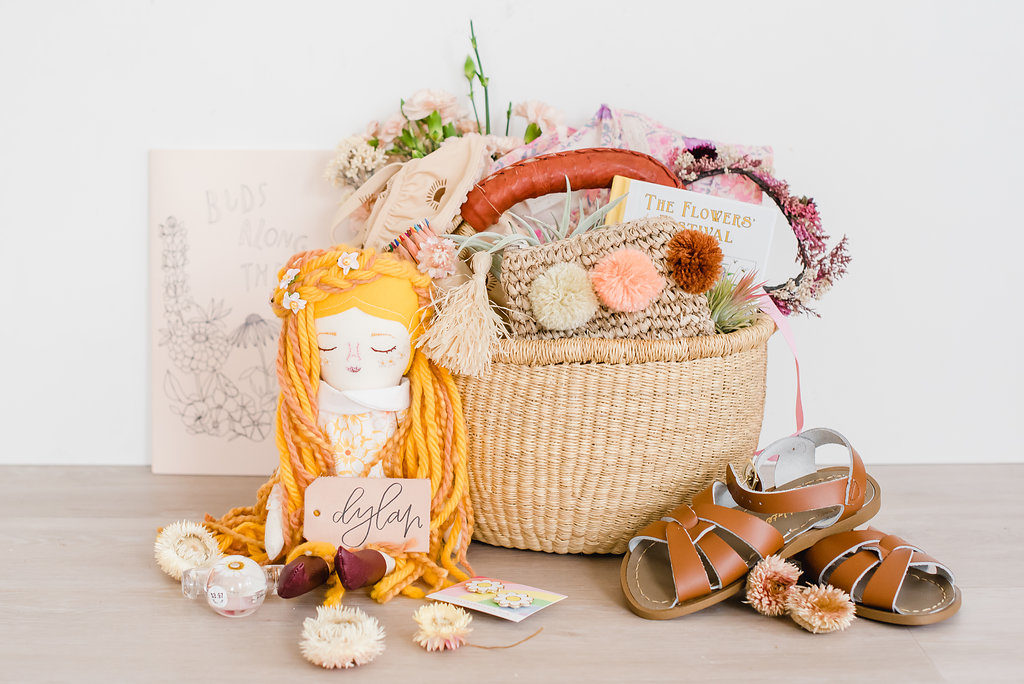 Each year for the past three years, I have been getting her handmade dolls from MandarinasDeTela on Etsy. You might remember these cute unique dolls from some our previous features. Each year, I have an idea of what I am looking for, but Isabel always goes over and beyond. She created the cutest little flower hippie doll that I secretly want to keep for myself. The embroidered floral detail under the eye and on her feet have all the heart eyes! I mean cmon! And the flowers in her hair, too cute!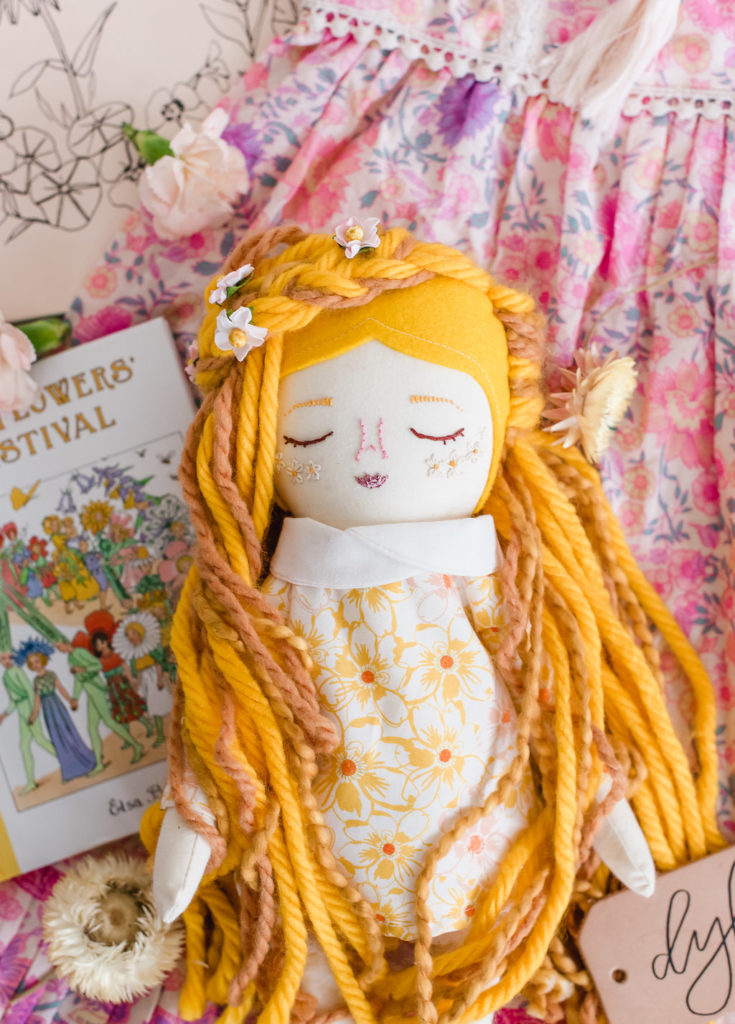 Now any flower child needs a floral dress for spring, and this brightly colored dress from Spell & The Gypsy Collective is where it's at! They have a little girl collection called Little Gypsies, and I'm obsessed! The dress is currently sold out, but you have just got to see the other cuteness they have going on. Can you say matching mama and little outfits? Beyond! Rounding up the cuteness with Rylie + Cru's Sunset one-piece swimsuit. Of course, no little girl's boho style is complete without saltwater sandals. Oh, and a woven straw pom clutch I found on my last trip to Maui.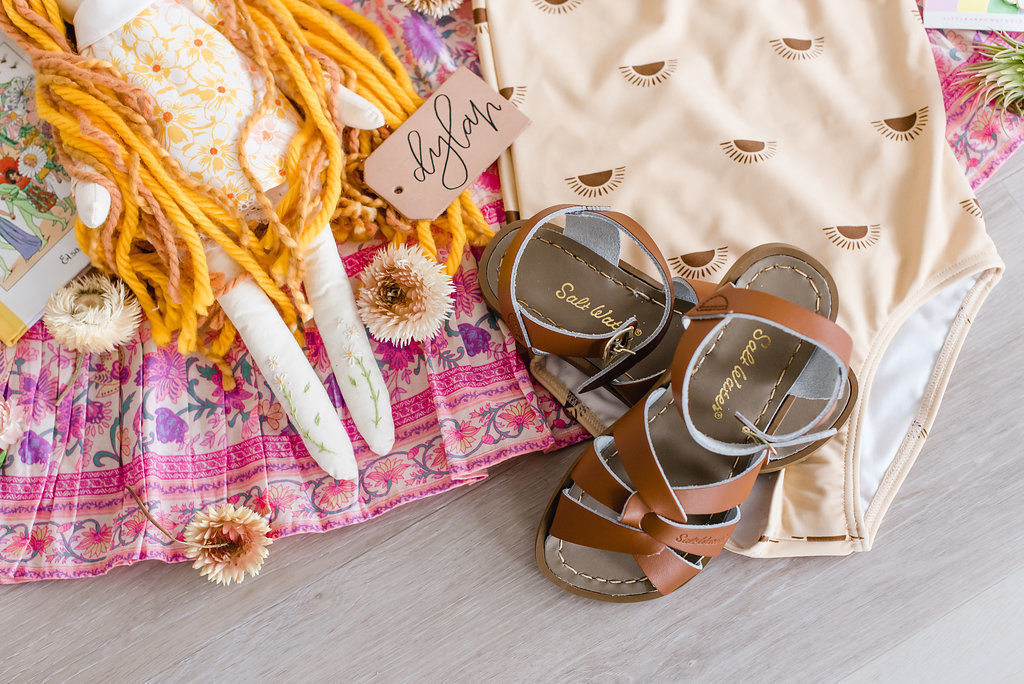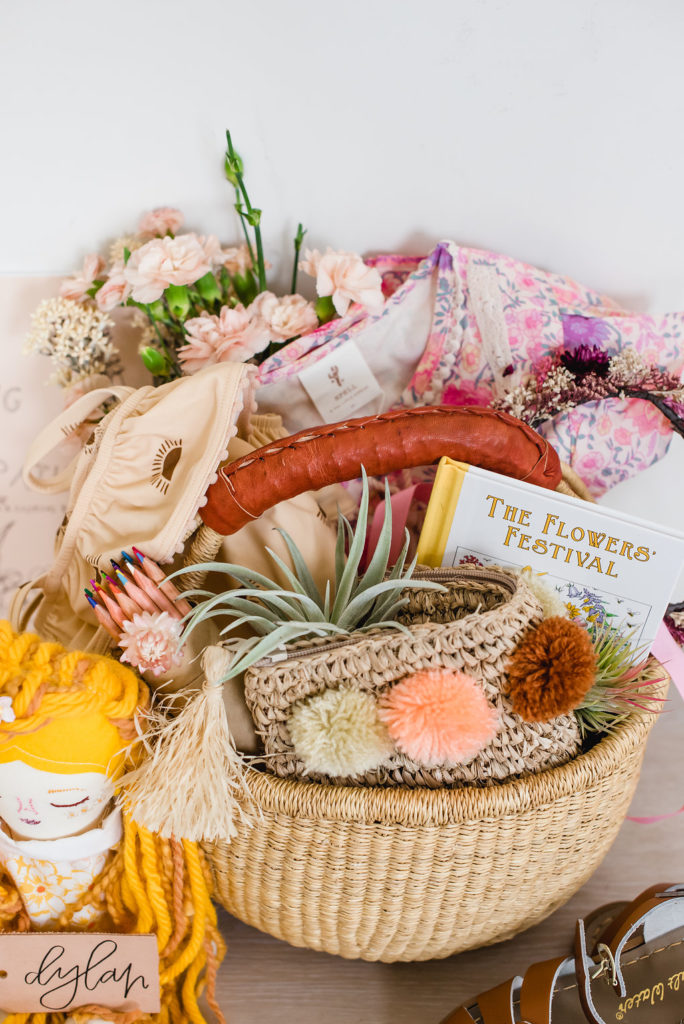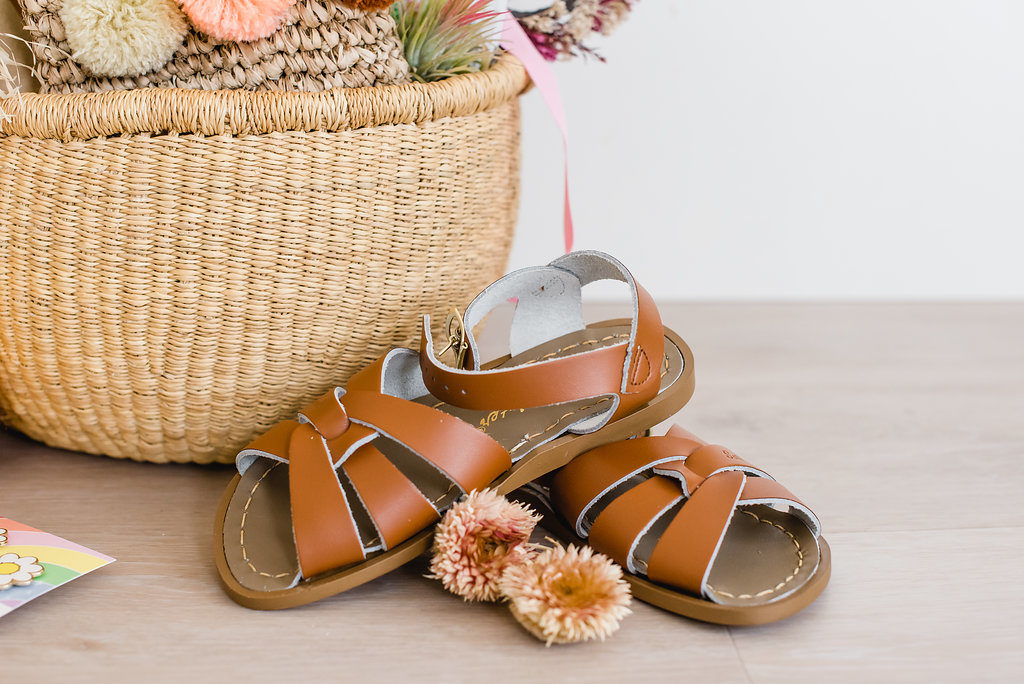 One of my go-to places that I know I can always find the cutest kid stuff is Pigment. That is where I scored the swimsuit and sandals. They also are doing dried floral crowns which were perfect for this basket! Seriously the cherry on top! Also, the cutest daisy pins to add to a plain tee to pretty it up. Another fantastic kid store that I recently found is Shop Merci Milo. They have an excellent selection of vintage books for kids. The flowers festival mini book fits right at home with the rest of the floral-inspired goodies. Finally, I found a coloring book that is all about flowers, along with wooden coloring pencils. And, the last minute finds from Nordstrom Rack was some dried flower lipglosses. All presented in a natural color basket with flowers and air plants.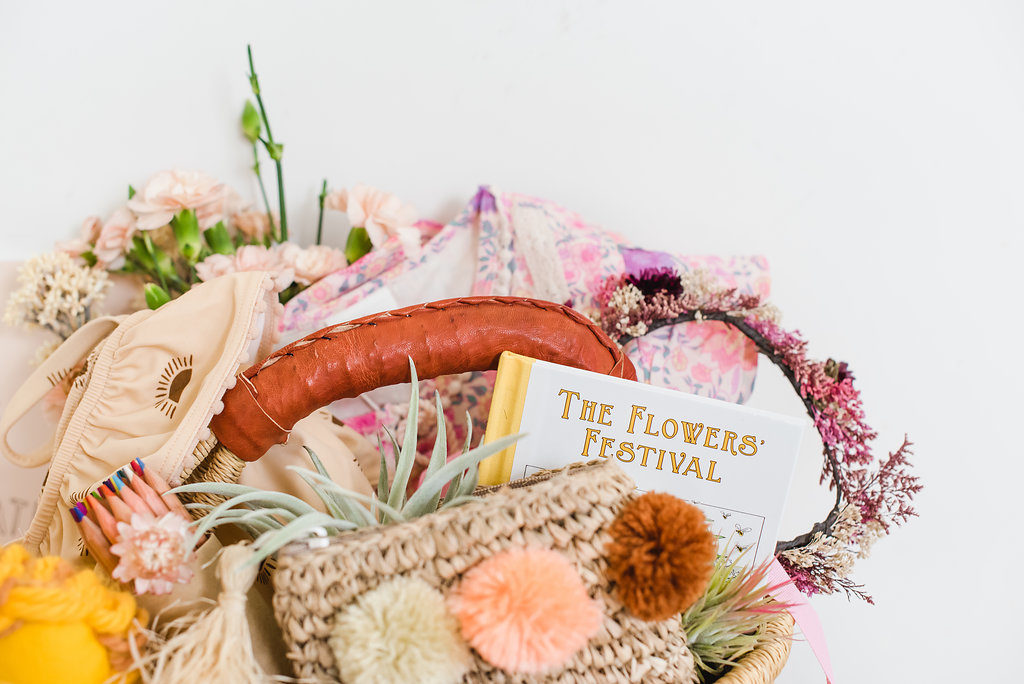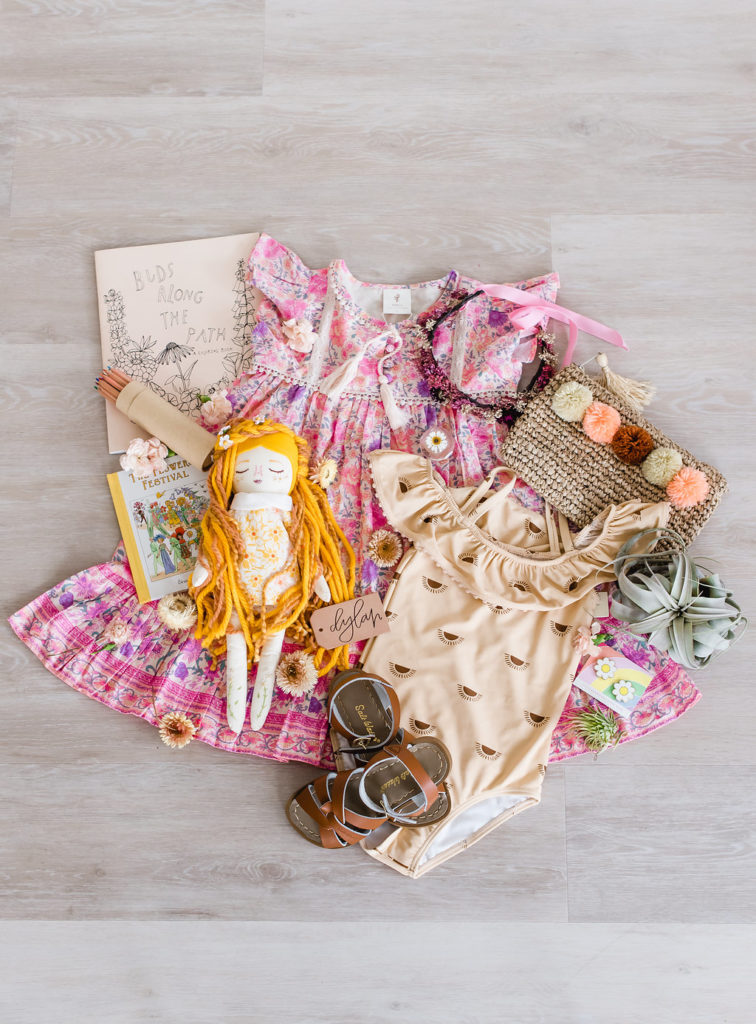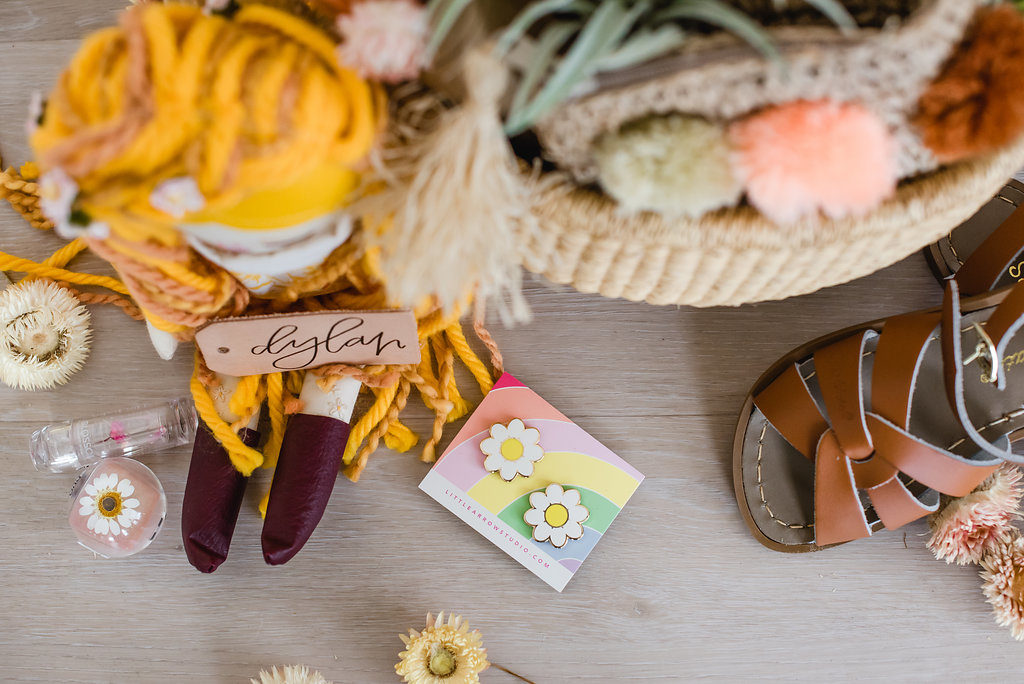 Shop our current favorite floral inspired coloring books below.

Now, for Jett my 5-year old that will only wear black and white, and is obsessed with shapes, building towers and designing patterns from blocks. We are working hard on reading in Kindergarten, so I went a bit overboard on getting him some fun books that are all about building and learning. If you have a little Jett on your hands, he or she will love these books. Shop below! These are current favs right now in the Guido House.
This kid is pretty stubborn in his ways as he knows what he likes and wants, so basically don't mess with it. This holds strong with color choices and shoes. Black is his number one choice of color. I'm hoping this is cause I'm really into monochromic and he wants to be just like his mom, and not an emu in training. Ha! So a must for him is a good pair of ankle bitters from Sunny and Cheer, and cool tees like this Orignal Gangsters Tee from Wee Rascals, an empowering kids clothing line. And because we will only wear Vans, a new pair of checkerboard Vans to hit the ground running for Spring.
(no joke, I just introduced some new balances, and that was a big step!)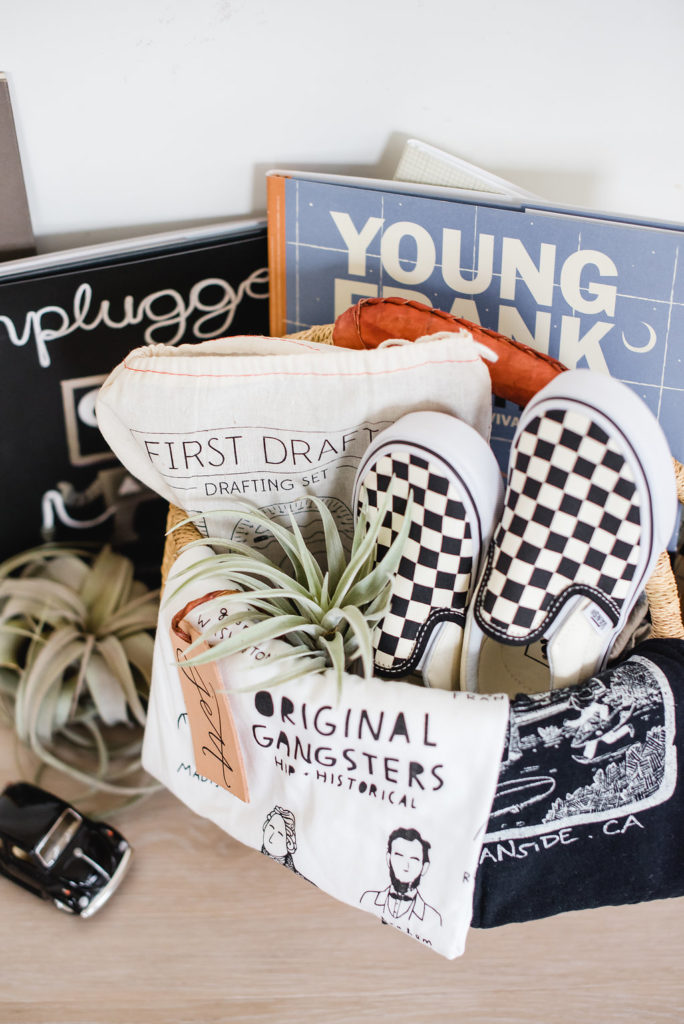 With his love for building and creating all sorts of towers, robots, and structures, this 1st drafting kit from Merci Merci was a must for his little engineer mind. Lastly, a cool vintage VW (black, of course) bug car.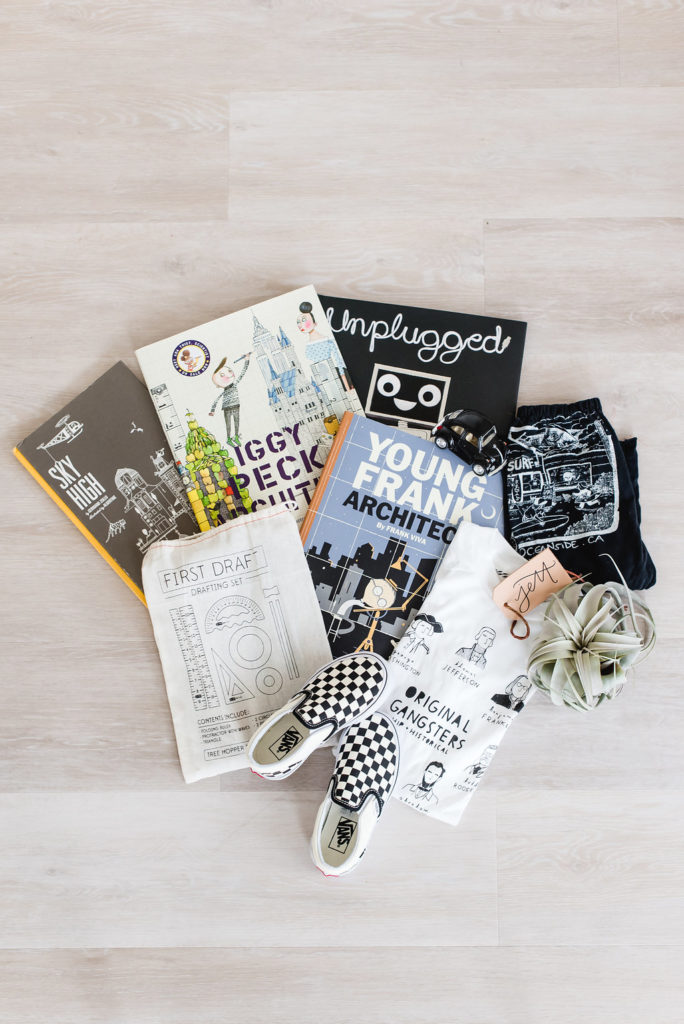 Pretty cute huh?!?! If this doesn't bring up my cool mom meter, I don't know what will! Till next year! I'm already thinking of next year, I'm definitely considering a Mama/little and Daddy/son duo baskets, cute??
xx
Abby
SaveSaveSaveSaveSaveSaveSaveSave