New year usually means new ideas, resolutions to allign with our lifestyles and most certainly new products!  We decided to share some of our must haves that are constantly in our bathrooms, showers and makeup bags.  We can't live without these products and neither should you!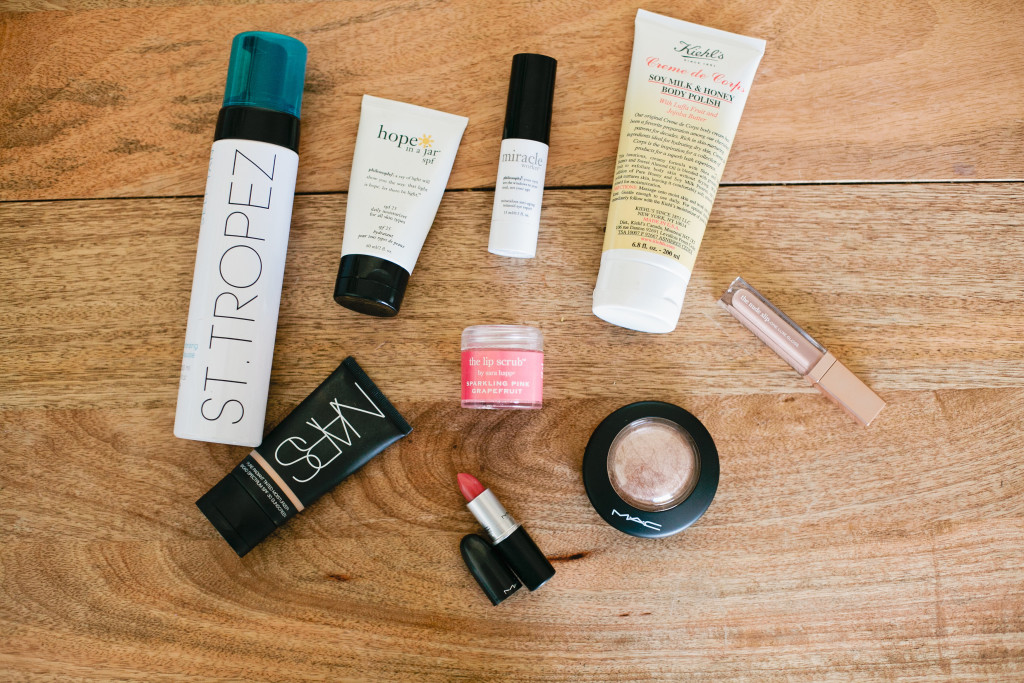 Lets begin with the Nars tinted moisturizer.  This product is like heaven, erasing all redness and dark spots your skin may have.  I love it because it's super light on your face, but the converage is remarkable.  For those who don't like a heavy foundation, but need the coverage this one is a must have.  Added bonus is that it's 30 SPF too!
Next is a sheer lip stick from MAC called SEE SHEER, which is great to have in your makeup bag at all times.  It adds a hint of a coral/pink hue to your lips and doesn't really require a lip liner.  It's perfect for women on the go and moms with limited time who want to look put together with a couple swipes of this color on your lips to brighten up your face!
Another amazing product is The Lip Scrub by Sara Happ, lip exfoliator.  This product feels good and smells good in the sparkling grapefruit flavor.  Apply it to your lips after you wash your face and before you apply your gloss or color.  It rejuvenates the natural lip color and exfoliates at the same time. You'll end up with soft, sultry lips and wonder how you ever lived without it!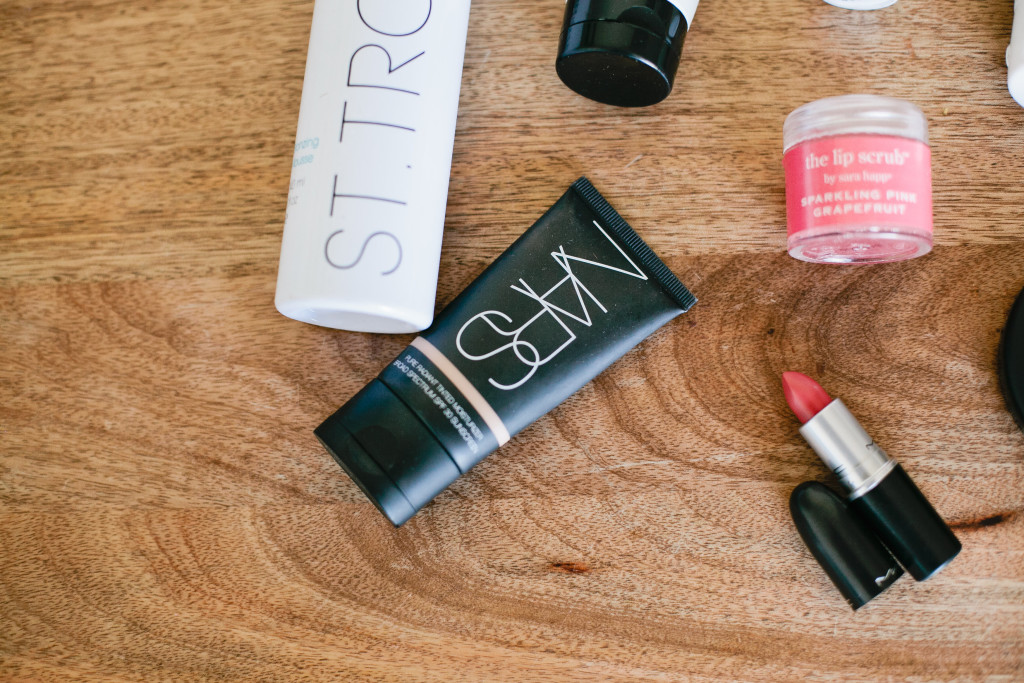 Another one of my favorite products always in my makeup bag is this mineralize face shimmer by MAC called Soft & Gentle.  I apply it to my face around my cheek bones over my blush daily to give my skin highlight, illumination and soft sparkle.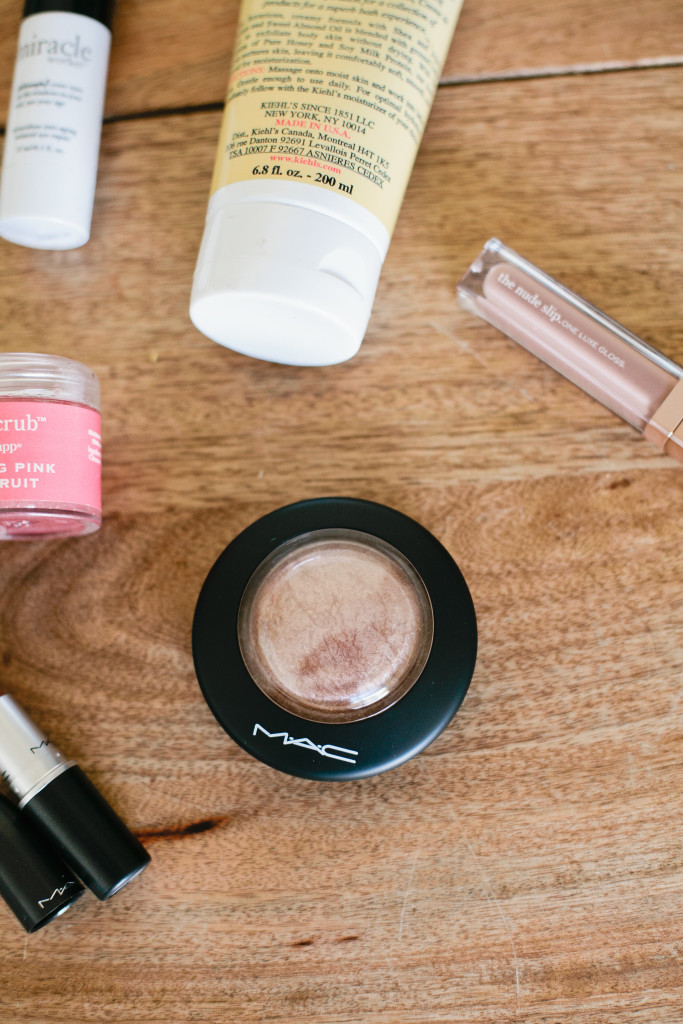 Next is my favorite body scrub/moisturizer of all time by Kheils called Soy Milk & Honey body polish.  It's part of their Creme de Corps collection, which all of us love as a staple lotion.  This body polish is incredible, smelling so good while exfolitating and moisturinzing your whole body.  Love, love, love it!!
Another amazing product by Sara Happ is her Nude gloss called The Nude Slip.  Again, great to apply after you use her lip scrub. With your lips super soft and pink with their natural color, this is the perfect gloss to put on.  It's not sticky, shines amazingly and stays on for a while!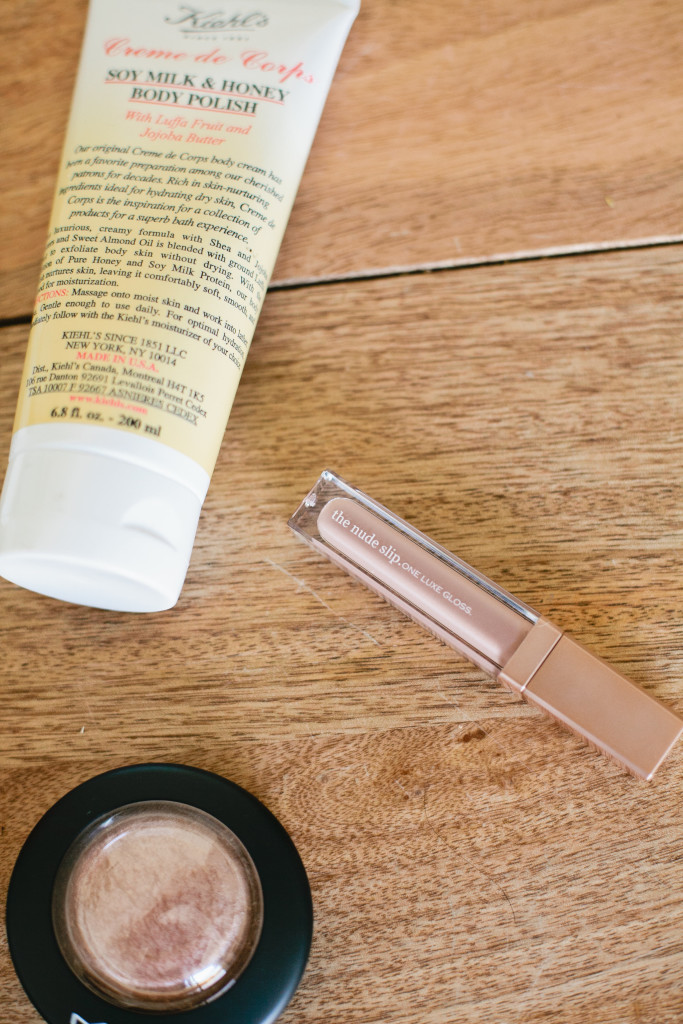 Moving on to moisturizers, I've tried many and I always come back to Philosophy's Hope in a Jar with SPF 25.  It's great for all skin types and light eventhough it has SPF.  For most moisturizers with SPF, it tends to make them heavier, which in turn makes your makeup seem heavier…which is no fun.
Another amazing Philosophy product is The Miracle Worker anti-aging retniod eye repair. It feels amazing to put on, not super thick and works very well on puffy eyes and dark circles.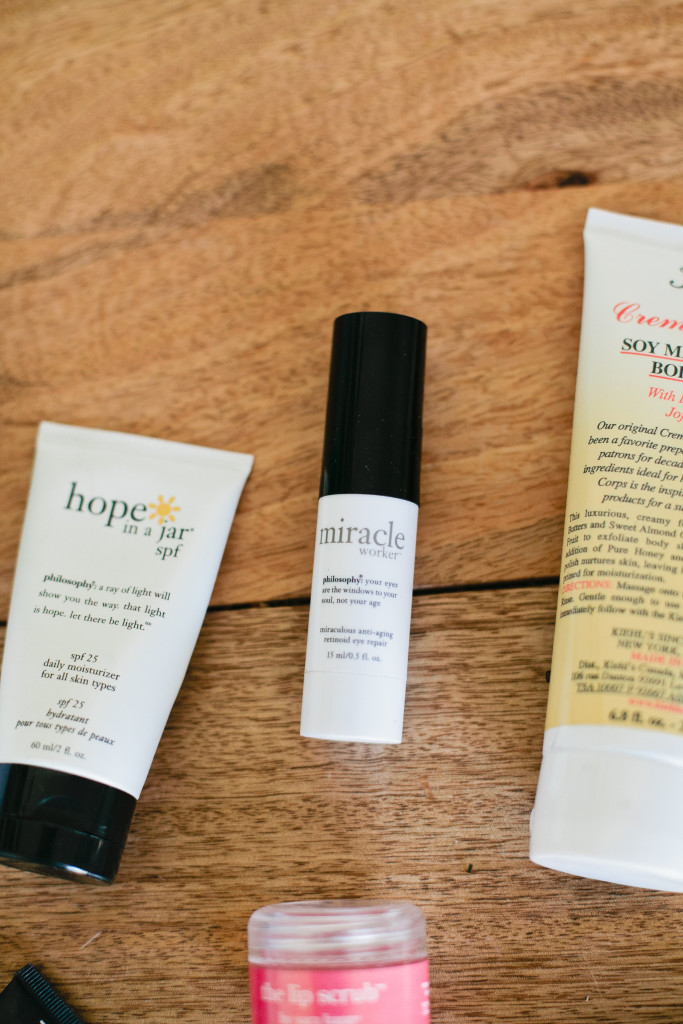 Last but definitely not least, is one of my favorite products ever. If you don't have this product already, you need it.  It's a self tanner bronzing mousse by San Tropez.  I don't know about you, but I dread putting on self tanner for fear of looking un even with an un natural color. This product makes it so easy beause it's easy to apply and gives you just the right amount of color to look radiant and tan!  A mit is sold separately which I highly recommend.  It will allow you to evenly distribute the color on our body and keeps your hands free from the bronzy mess.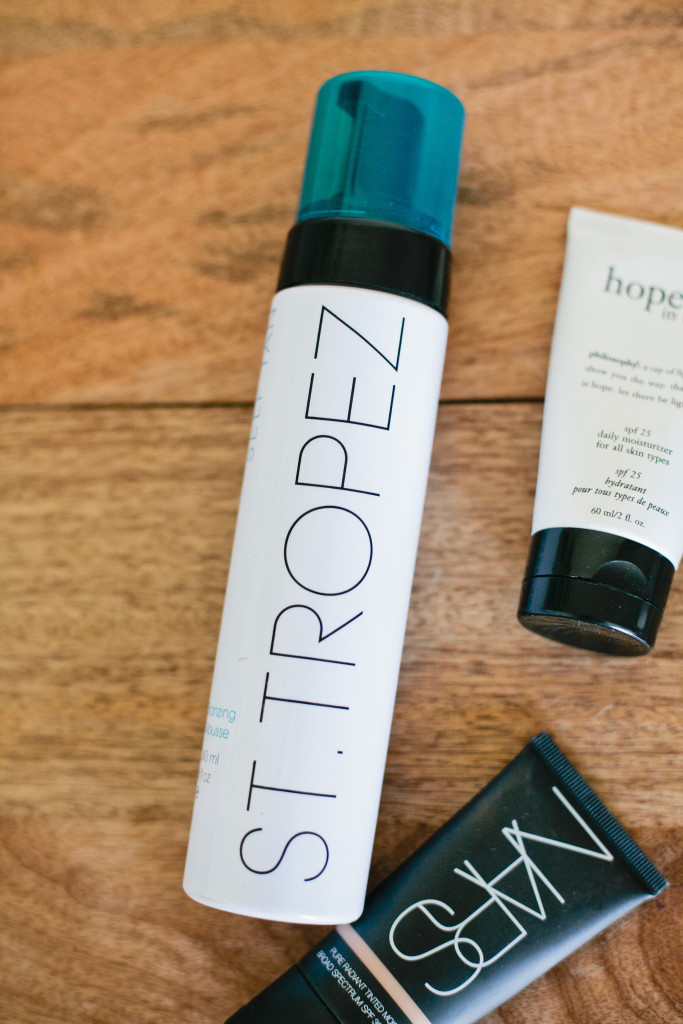 All products highly recommended by the Beijos gals.  They also make amazing gifts, so if your looking for something to get for your friend with "everything" these products will not dissappoint!
All product names are directly linked to where they can be purchased online.