The fun part about decorating is getting all your ideas and pieces down on paper.  Starting from a piece you love, a color that won't escape you or an art print that inspires you.  My daughter Isla Jean is due to be born in a little over a month and here's where I started with her…
I put together this Nursery Inspiration Board starting with the rug from West Elm.  I loved the bright to light pink mixture with the contrast of grey and orange.  I'm using my white classic crib from my first daughter Edie's room, and an antique brown dresser that was mine when I was growing up.  I like mixing textures and patterns all the while keeping the same color scheme and most importantly keeping it light and bright.  We are wallpapering one wall with the print on the right from Serena & Lilly, Mid Century Rocker from Land of Nod, Hamper from Anthopologie, and Moroccan Leather poof .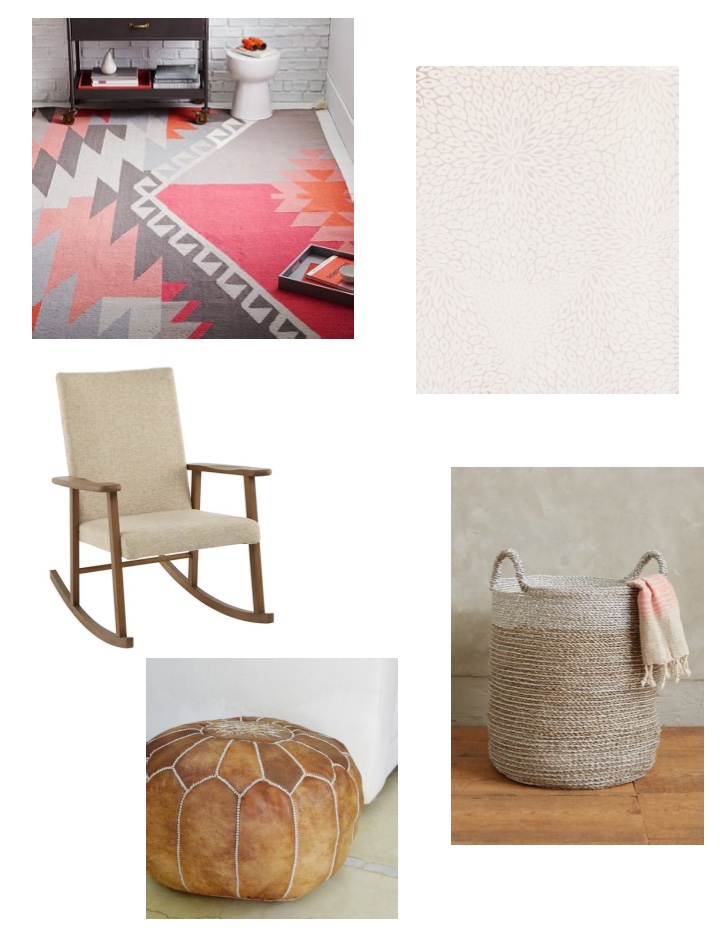 I fell in love with the Swallow Ornaments to use as Isla's mobile from Dot & Bo along with the Hexagon Shelves (My handy hubby actually duplicated them and you can find them on Etsy here). The light box was a must, It's sold out everywhere and I finally found it at an online shop in Australia.  The Elephant hook, white & gold shelf, throw blanket and heart night light are from Land of Nod….LOVE that place. Rocking horse find on Etsy.  Amazing chandelier from Serena & Lilly (actually named Isla chandelier…it was a sign)!  I want to put a pretty plant in the corner of her room and I thought this large gold pot from Anthropologie would look best. I'm in love with Stevie Wonder's song "Isn't She Lovely", so I found this print appropriate on Etsy. Last but not least, this amazing throw pillow from Urban Outfitters.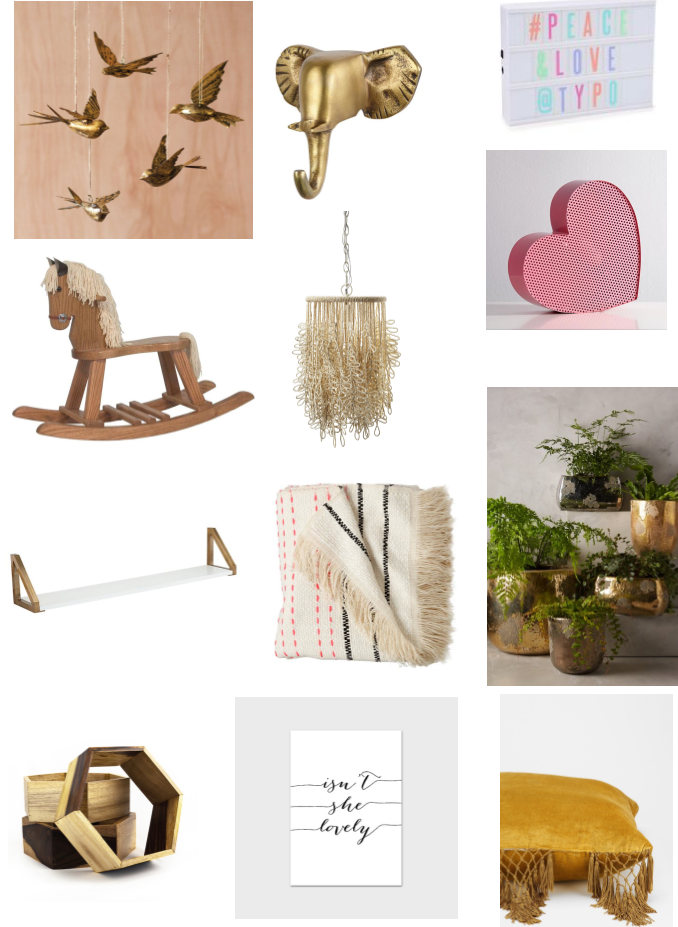 I'm beyond excited for her room to come together, and can't wait to show you the finished product!  Thank you to my partners in crime Jacquelyn and Abby for helping pick all of these pieces and putting them together on a cohesive palate!