There is nothing better than a giant warm and gooey chocolate chip cookie to share with your pals. Aka, the Pizookie, you know the Pizza + Cookie hybrid?! Oh, wait, yes there is! Throw every kind of Easter Candy on top, and your Easter dreams just came true. Now, I'm not a huge candy freak or chocolate person. I know, how can someone not love chocolate. Just wasn't in my DNA people! But I can't pass up on a bite of a warm chocolate chip cookie. BRING. IT. ON. Now, when it comes to Easter candy, I love it all. I love buying it for the kids and the house. I will always have candy out for any holidays. And Easter has the best ones! Mini Cadbury eggs, peeps, robin eggs, and could go on and on! I mean how could you not love the mini Cadbury eggs that come in a small egg carton. So cute! But think about all those on top of a giant cookie!
YES PLEASE!
So here you go, friends! Your kids might wonder what trick you are playing on them to deserve the best of both worlds. Just tell them it was those Beijos ladies fault!
Photos by Dayna Studios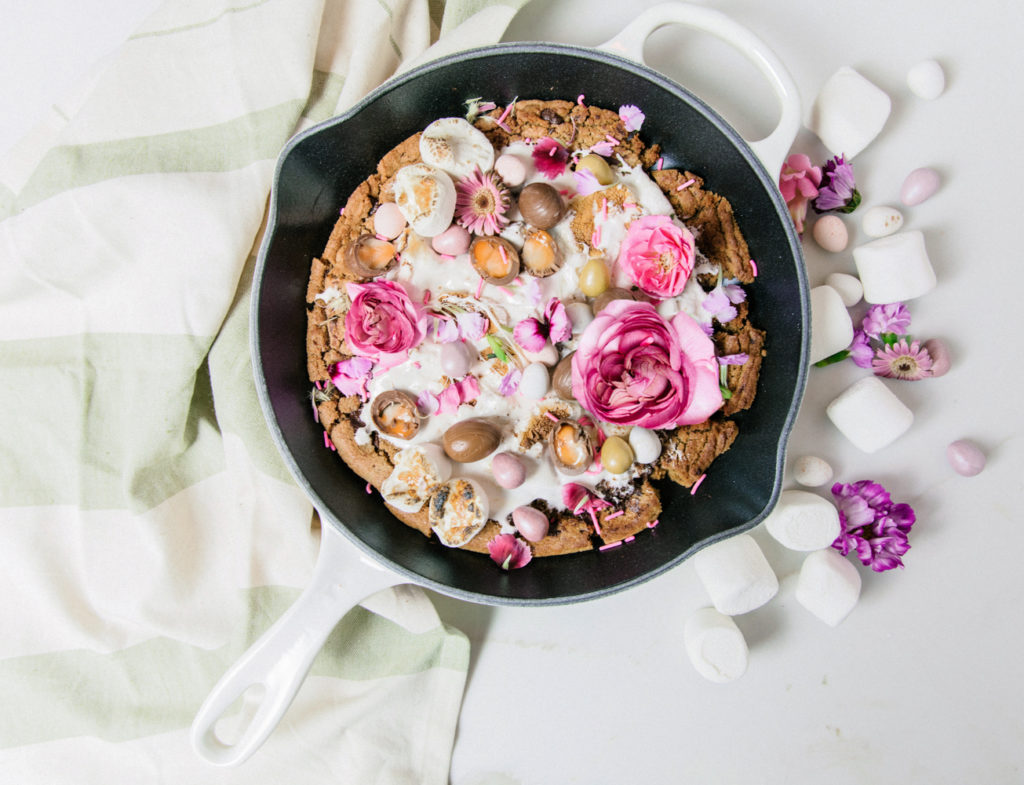 AN EASTER CANDY PZOOKIE
A little tip from the Beijos Kitchen, use a cast iron skillet. It cooks up perfectly and comes right out of the pan. I love to cook our giant cookies in my Le Creuset Cast Iron. The Signature Skillet in white is one dreamy lady, isn't she! If you are in the need of a new cast iron, this skillet is the way to go! A must in the Beijos kitchen!
SERVES:4-6 people  | PREP: 5 MINUTES | COOK: 25 MINUTES
W H A T   Y A   N E E D!
Frozen Chocolate Chip Cookie Dough (I got mine at Trader Joe's)
Jumbo marshmallows
All the Easter Candy you love
Edible florals for garnish
B U S T   O U T:
Cast Iron Skillet 
---
I N S T R U C T I O N S
Make this when you are ready to serve!
Follow the directions on the back of the package for your chocolate chip cookie dough. You can use any premade ready or frozen cookie and just place in the cast iron and smooth down to fit the skillet.
Once out of the oven, keep the oven on! Take your cookie out, and immediately place your marshmallows on top of the cookie. Slap some foil on top so the marshmallows don't burn, and throw it back in the oven until the mallows have become nice and gooey.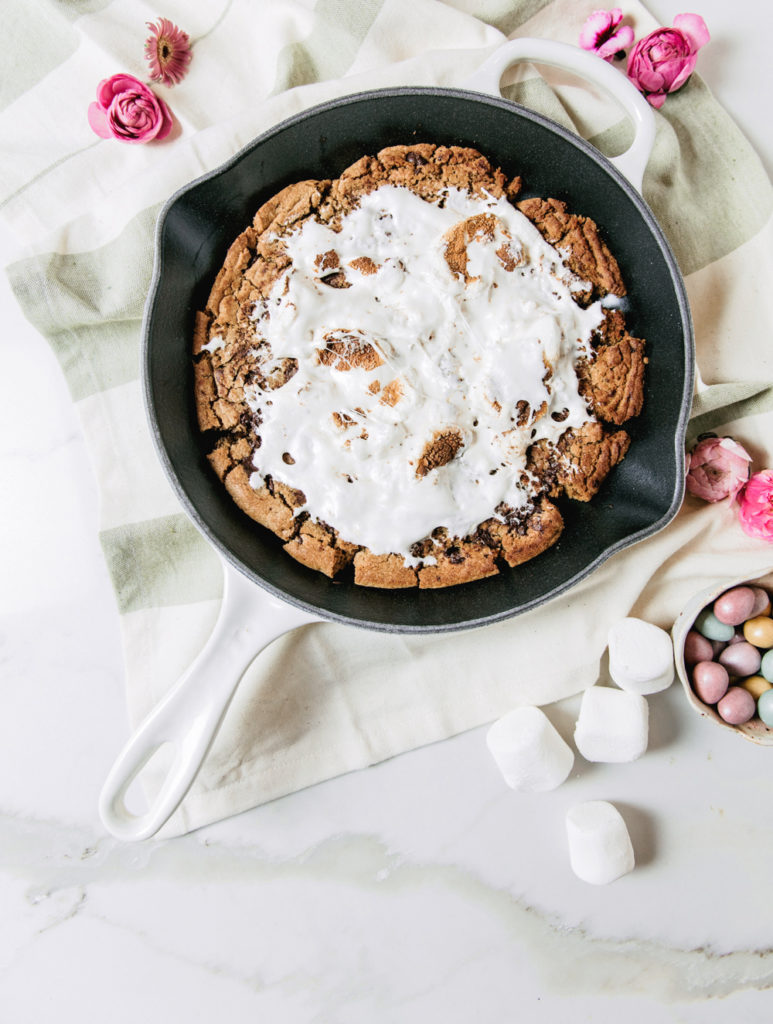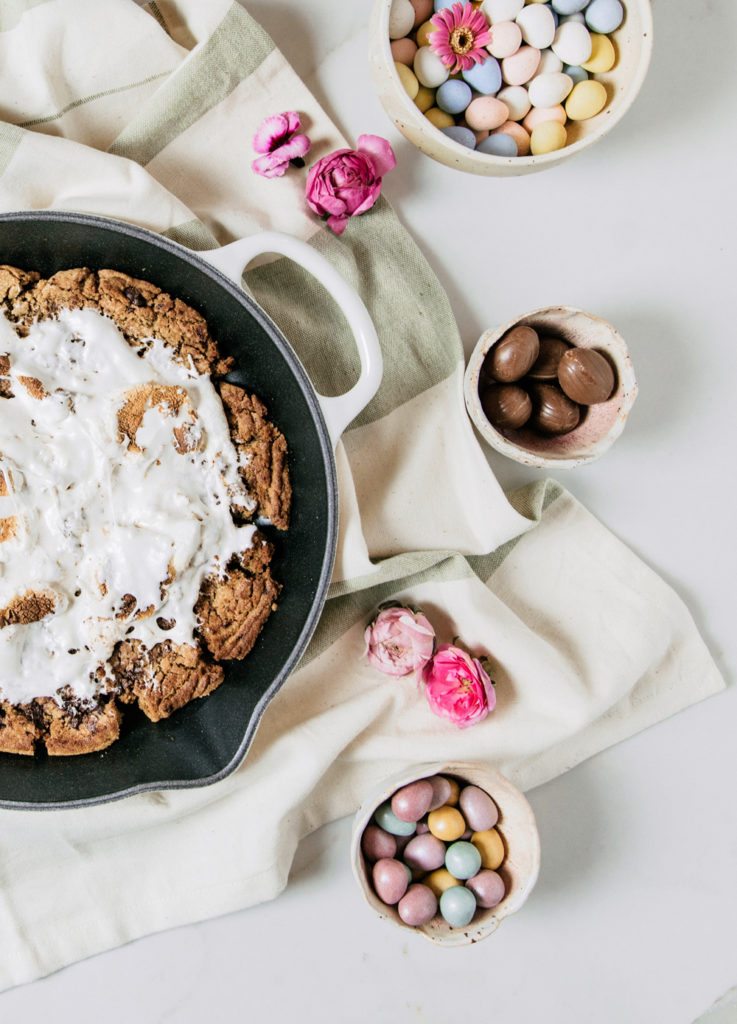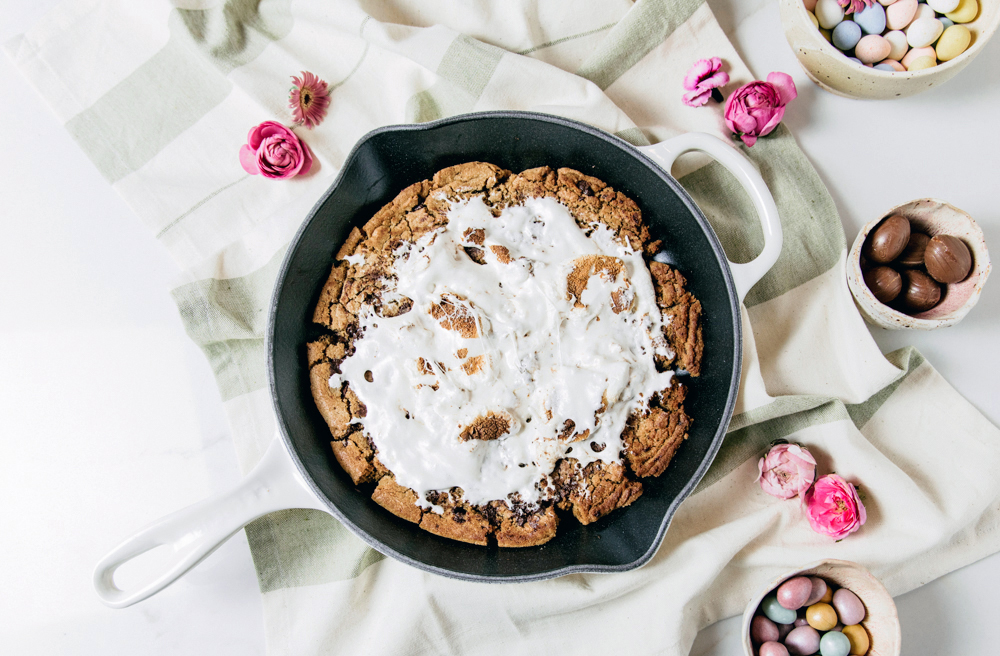 Then have your Easter Candy ready and place them on top of the gooey mallows. Let cool a little bit, and then place your edible flowers on top.
Cut and serve up just like a pizza!
---

xx
Abby