A few weeks ago we shared our favorite gifts for the little ladies, today we are talking about the gentlemen… Well in this case, our little guys are ALL boy!
We love shopping for our littles, and while some may say that girls are the most fun to shop for, we beg to differ!  There are so many great items out there for boys, and our guys have a similar theme this year… CARS!!
Let's start with Jett, who's name should have been a sure sign that he would love himself a speedy toy car! His mama Abby found him some fun new vintage cars to add to his collection!  The foldable car is from one of our favorites, Le Petit Society, and you can find it here!  Abby found the VW Van at another favorite place, World Market.  Their toy selection is really one of the best and we love going there for stocking stuffers!!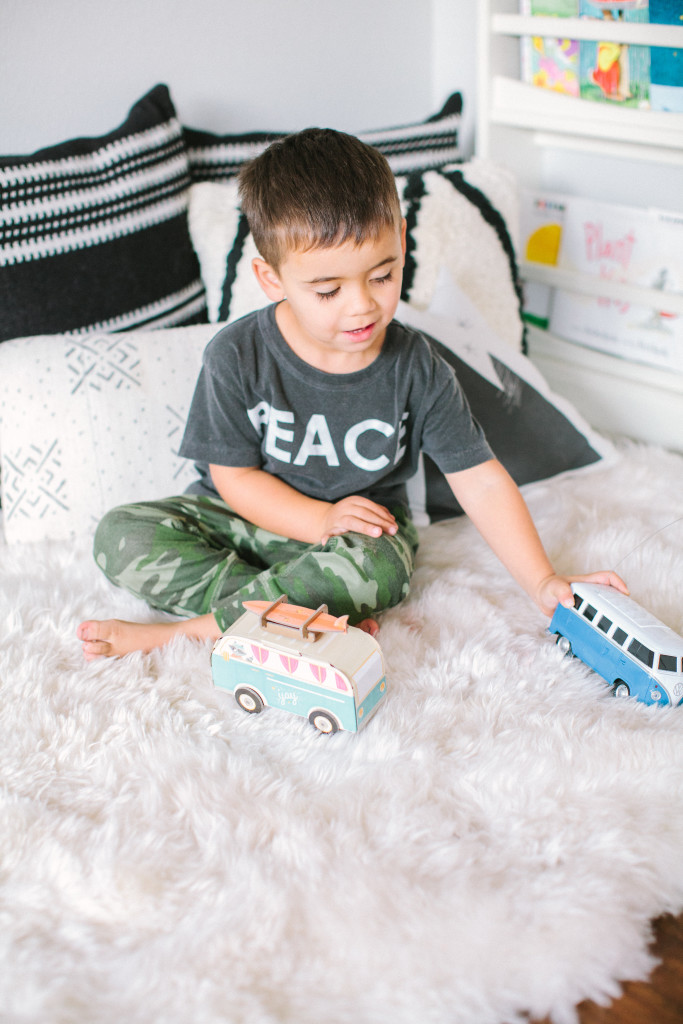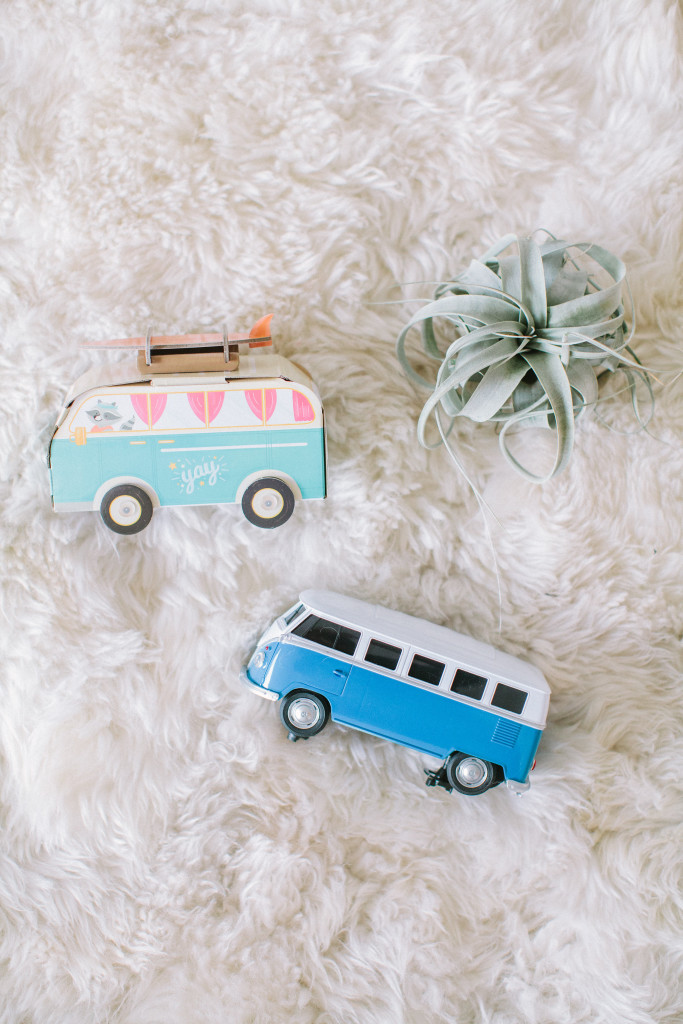 Now let's see what little Court James will be getting from his Mama Jacquelyn!  This little guy is also completely obsessed with cars and "momo's" – aka motorcycles in toddler terms.  Any time a truck goes by it has to be pointed out too, because you definitely wouldn't want to miss seeing the mail truck, the ups truck, the garbage truck, I mean, the list goes on people!!
Well, he was SO excited when he saw his brand new VW tent!  As a matter of fact, whenever anyone comes over he has to bring them into his room to show them, and then force, I mean kindly ask, them to go inside ;)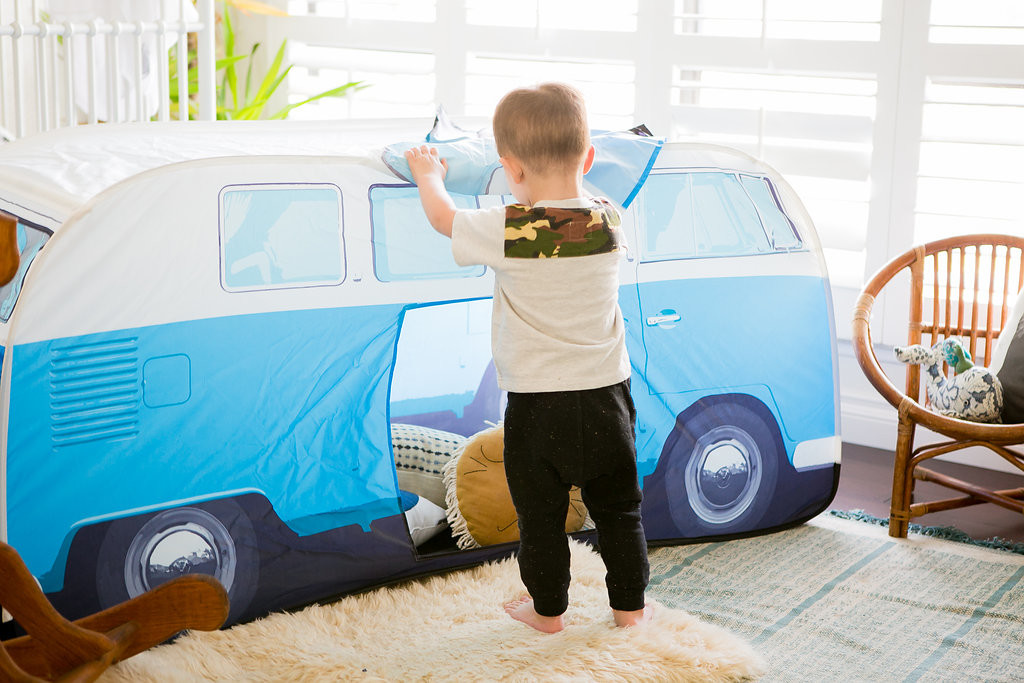 We saw this awesome guy at a boutique in Austin, TX and searched for it on our favorite shopping website… Amazon!!  Yes, I said it!  I live for Amazon Prime and love shopping it, honestly, it's a parent's best friend!!  Especially around Christmas time because a. it has everything you can think of, and b. FREE 2 day delivery!!
The tent is awesome because we can use it indoors and out, and he loves to pretend in it, which as a parent is one of my absolute favorite things, watching him use his imagination!!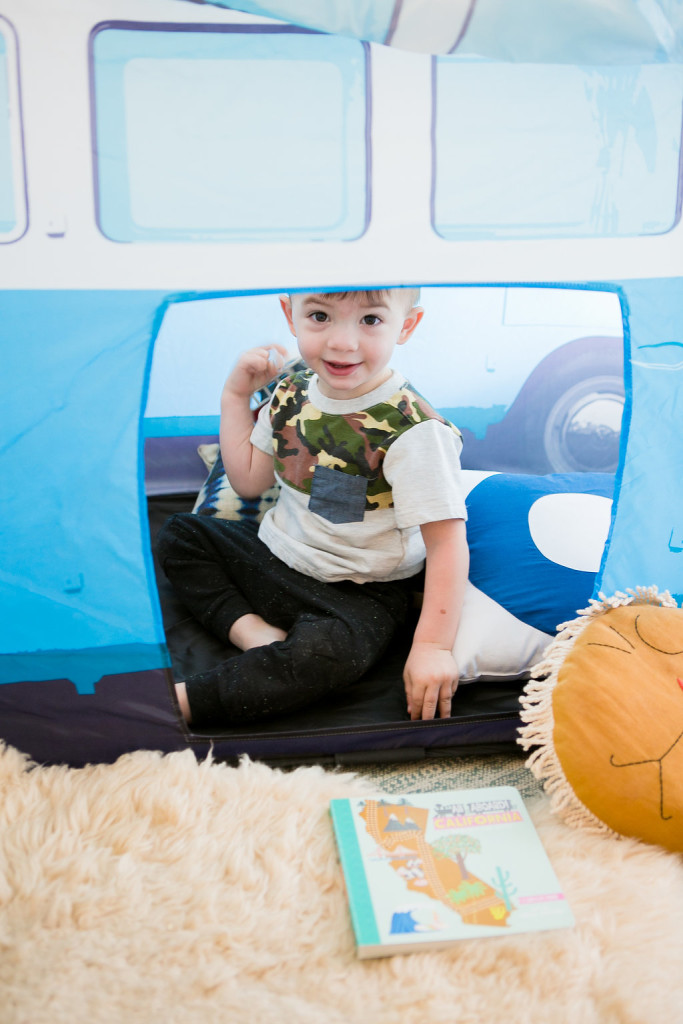 And it wouldn't be complete without a VW Van of his own to play with, also found on Amazon!  We also got him this super cute California themed book from our pals at Sweet Threads in Long Beach, CA. (it is currently sold out there but they have a GREAT book selection here)  We plan on doing some road trips and camping this year so we want to get Court ready for everything he's gonna see!!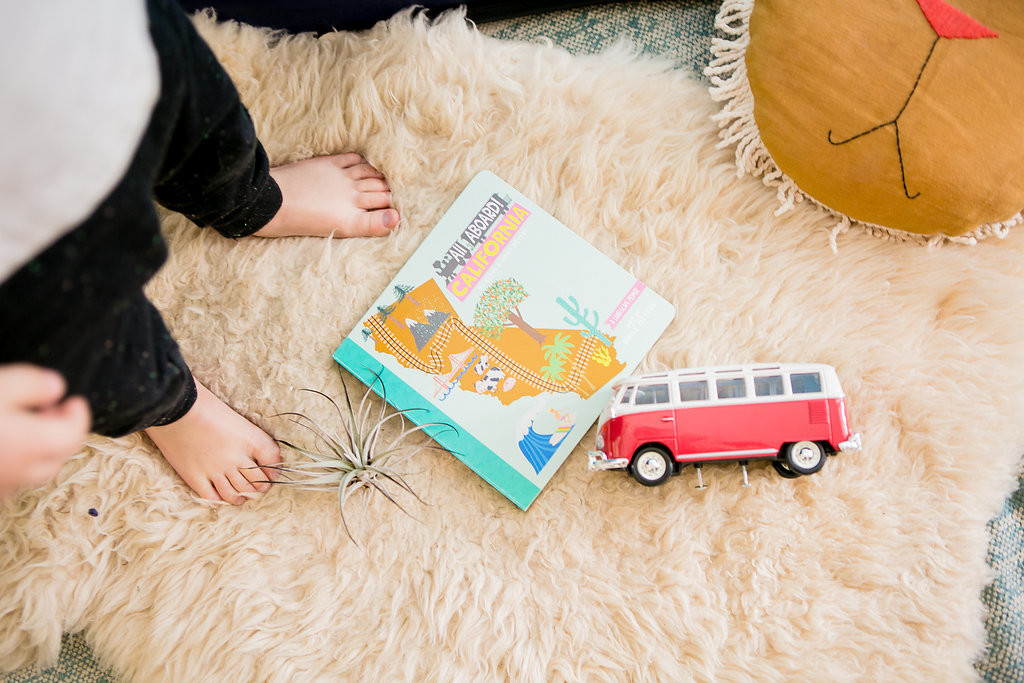 Hope we gave you some more inspiration on the gifting front!
Photos by Yasmin Sarai & Ariane Moshayedi
xo!
Jacquelyn