Yes, it's the holiday season but hey… Don't you think you deserve a little holiday of your own? As in a vacation my friends!! Since we aren't really doing BIG trips because of that crazy little thing called Covid, why not take a trip nearby… Perhaps Palm Springs?! It's one of my favorite Southern California destinations, especially in the Winter or Spring.
Who doesn't love lounging by a pool and enjoying a cocktail? Well, I have the perfect place for you to do just that in Hey Casita! A brand new Airbnb that was perfectly designed by Caitlin Forrest. Here is the link to book Hey Casita! I'd suggest booking ASAP since it's so new, this place will be completely booked in no time, I'm sure!!
Photos by my dear friend and lucky duck for staying in this beauty, Alison Bernier. Keep reading for more info on this spot from Caitlin and all the pretty photos!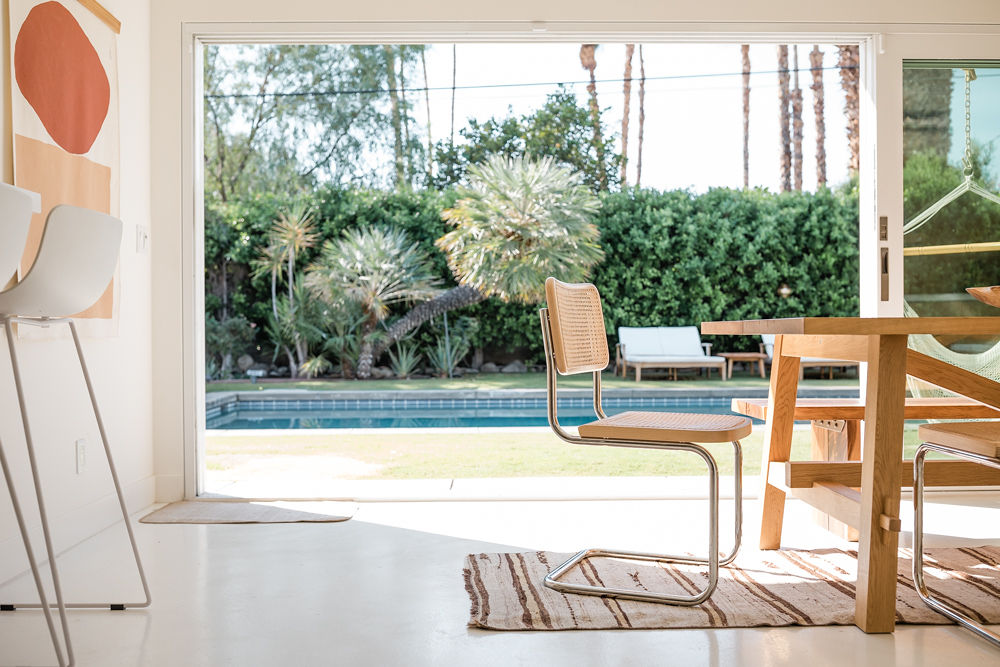 We love this beautiful home! Why Palm Springs? Do I really need to ask…
Thank you so much, I love Palm Springs also! I find the desert so calming, the mountains so beautiful, and the surrounding areas like Joshua Tree and Pioneertown endlessly inspiring. Living in Los Angeles can be stressful, weekend trips to Palm Springs are truly an escape from all of that.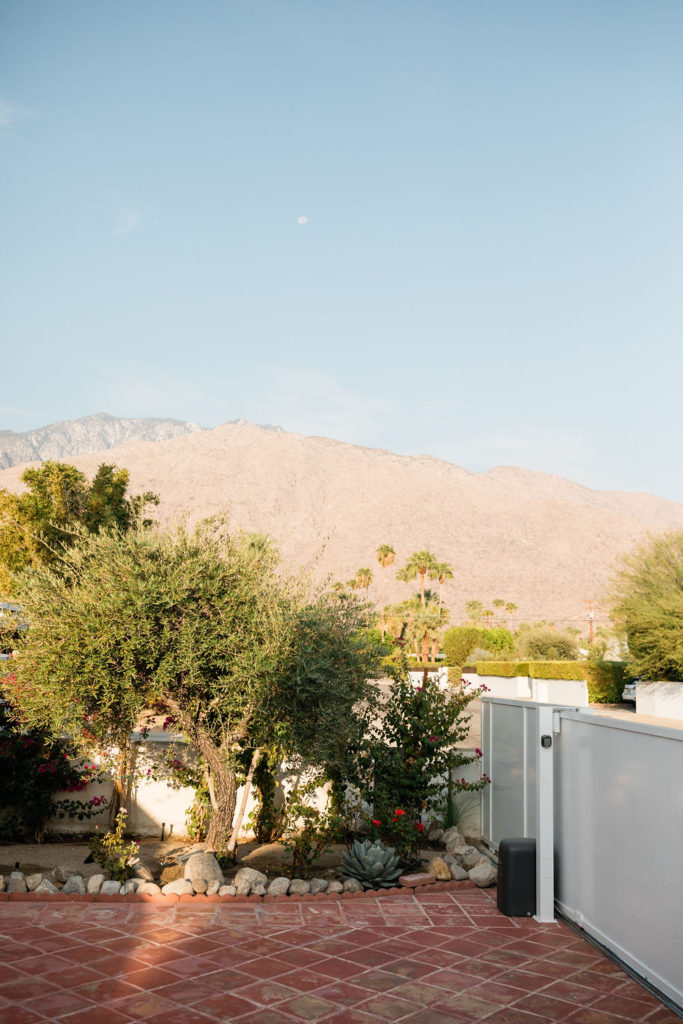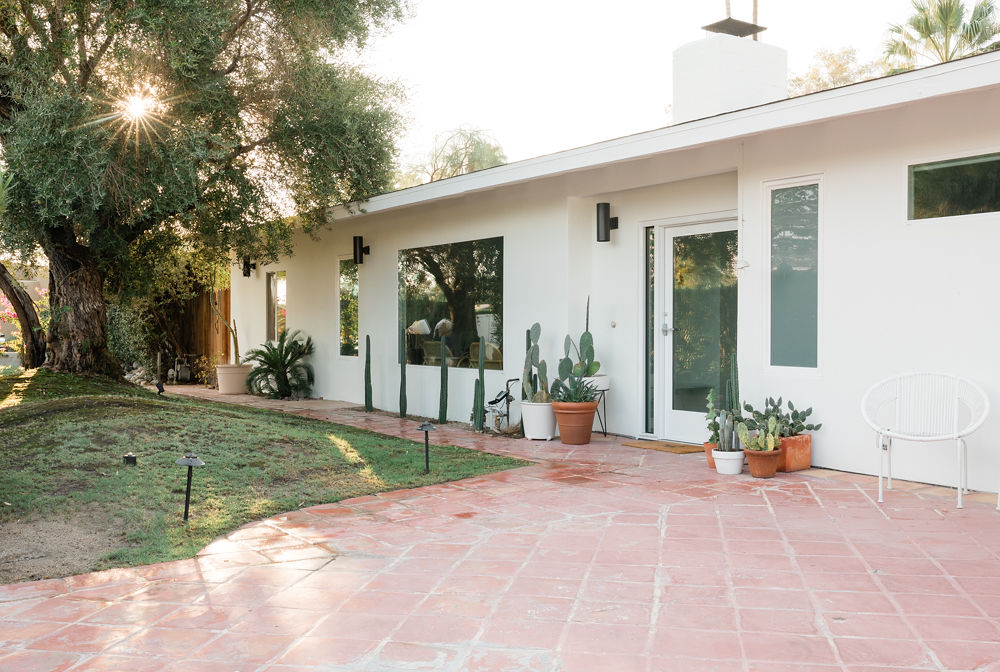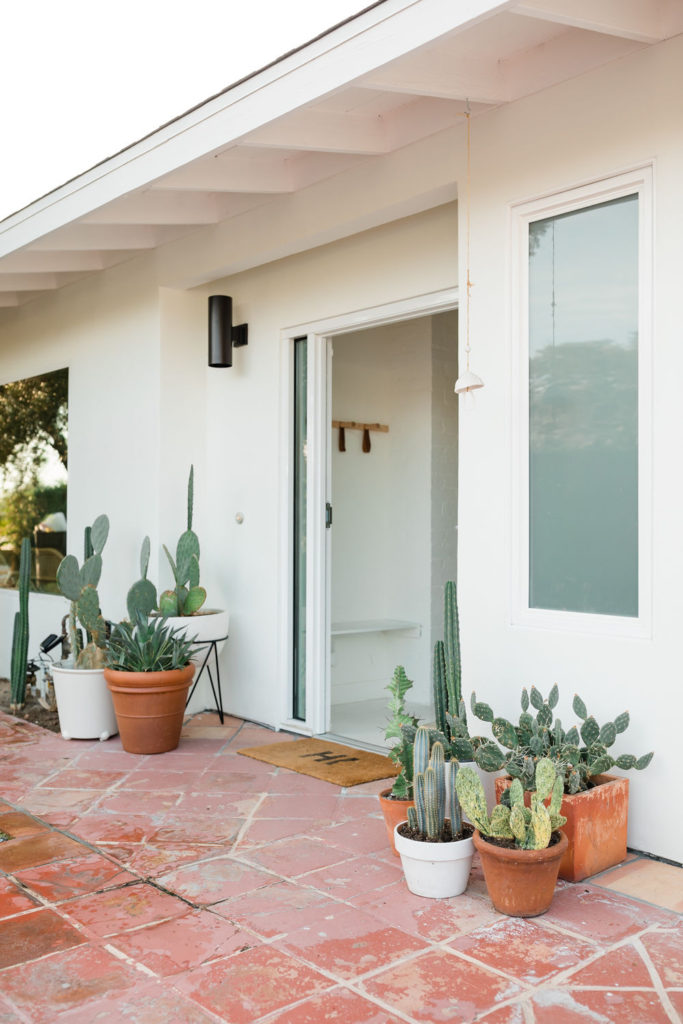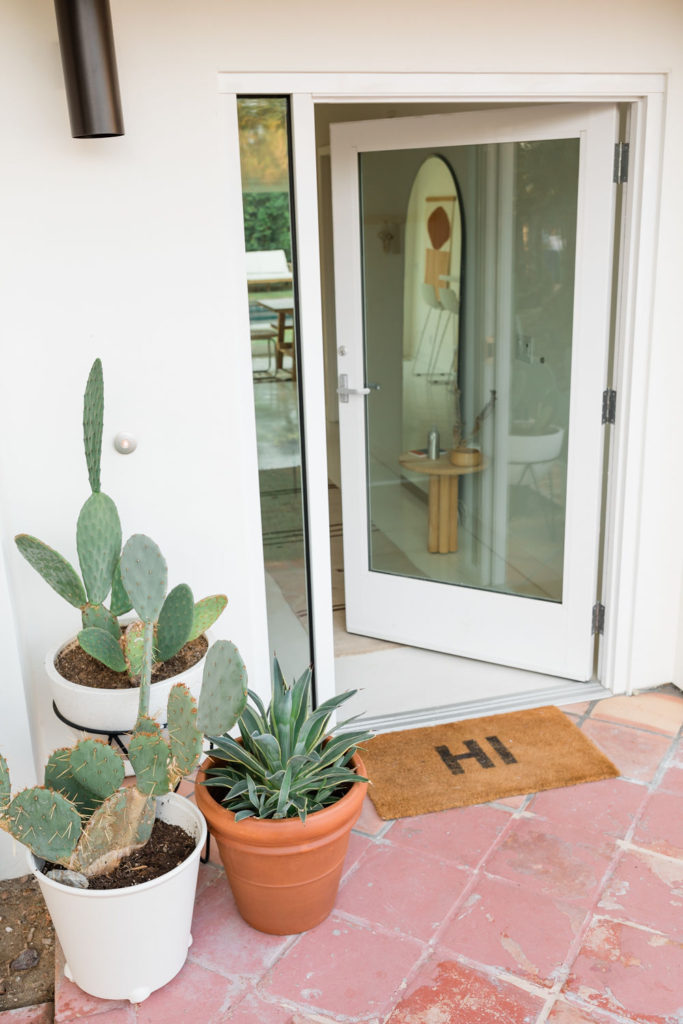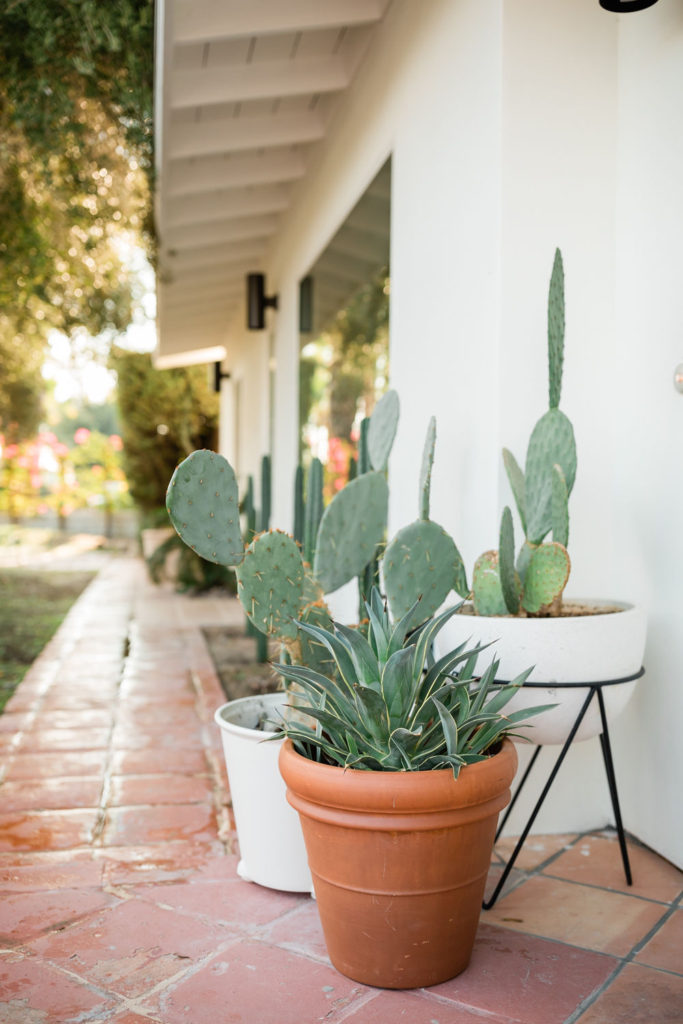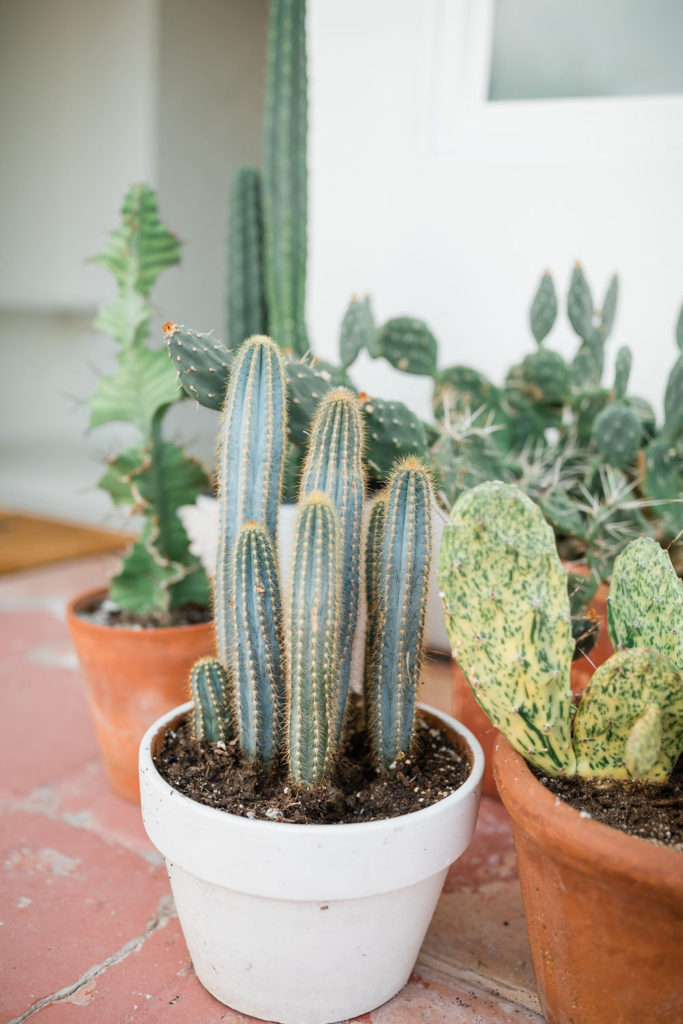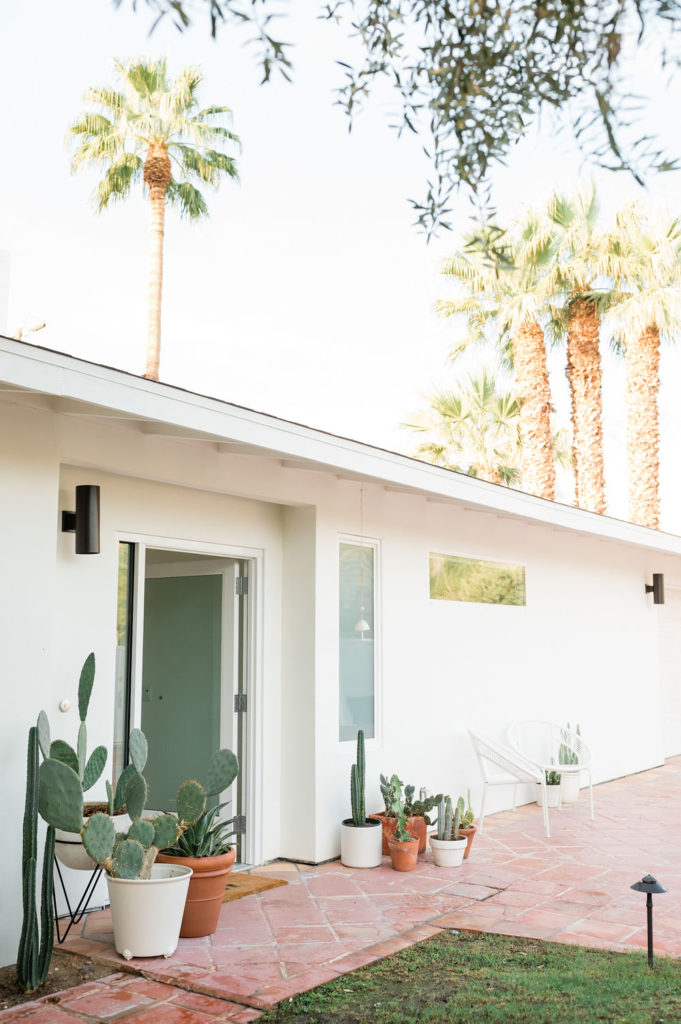 Where is your favorite place to spend time in the house?

When I'm not in the backyard hammock I'm on the couch in the living room. I love that it's so bright and airy in there, and so centrally located to all the bedrooms and the kitchen. It's such a natural gathering place whenever we have people over, and the working fireplace is such a cozy touch in the winter. It's my favorite place to be!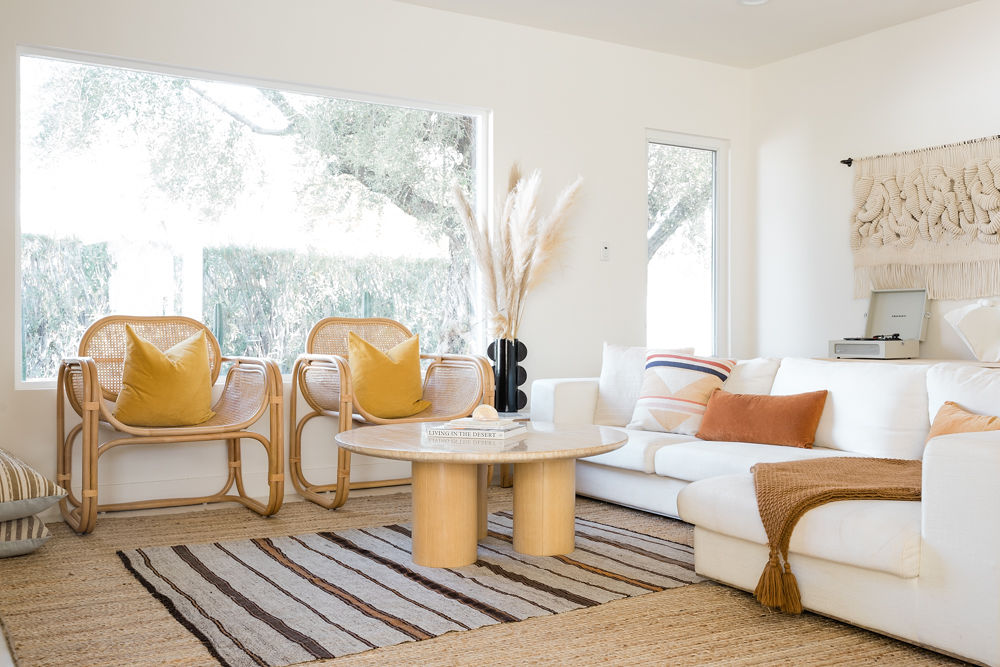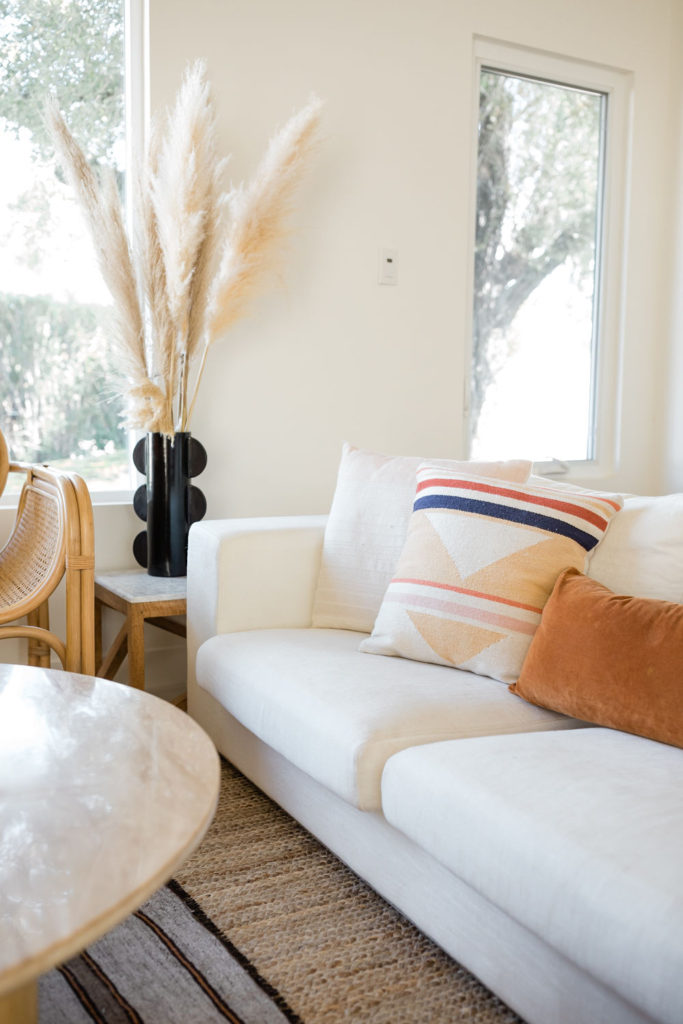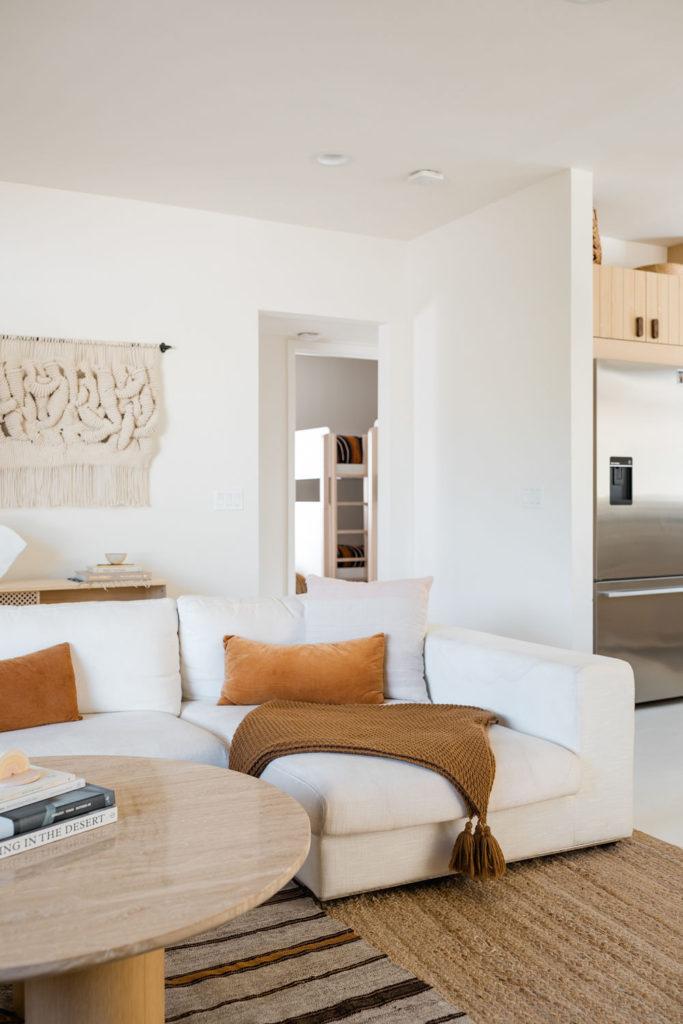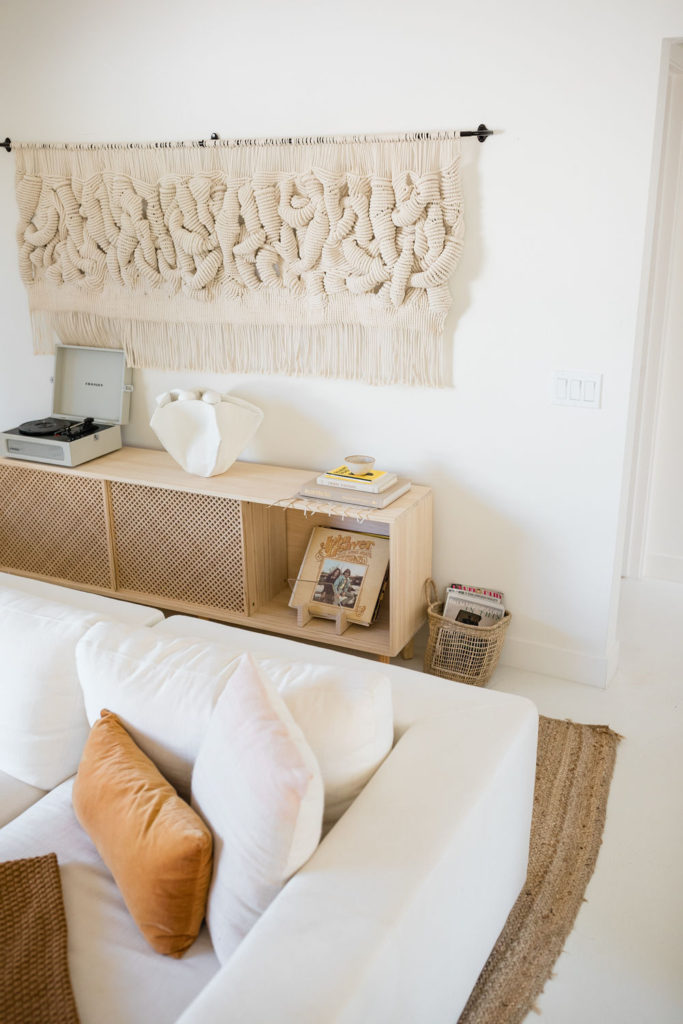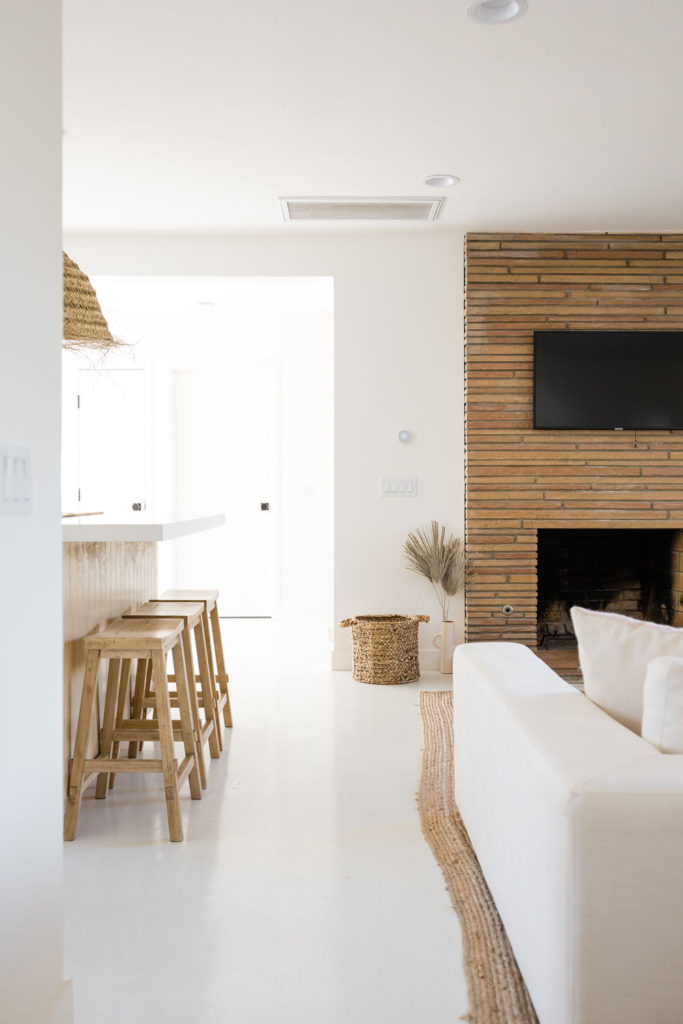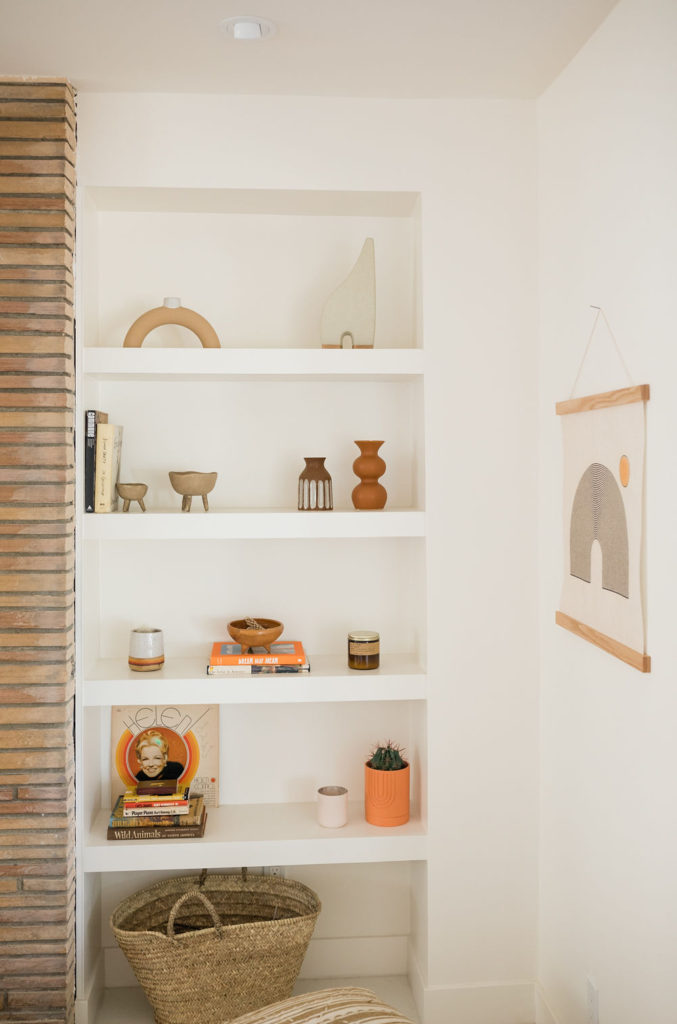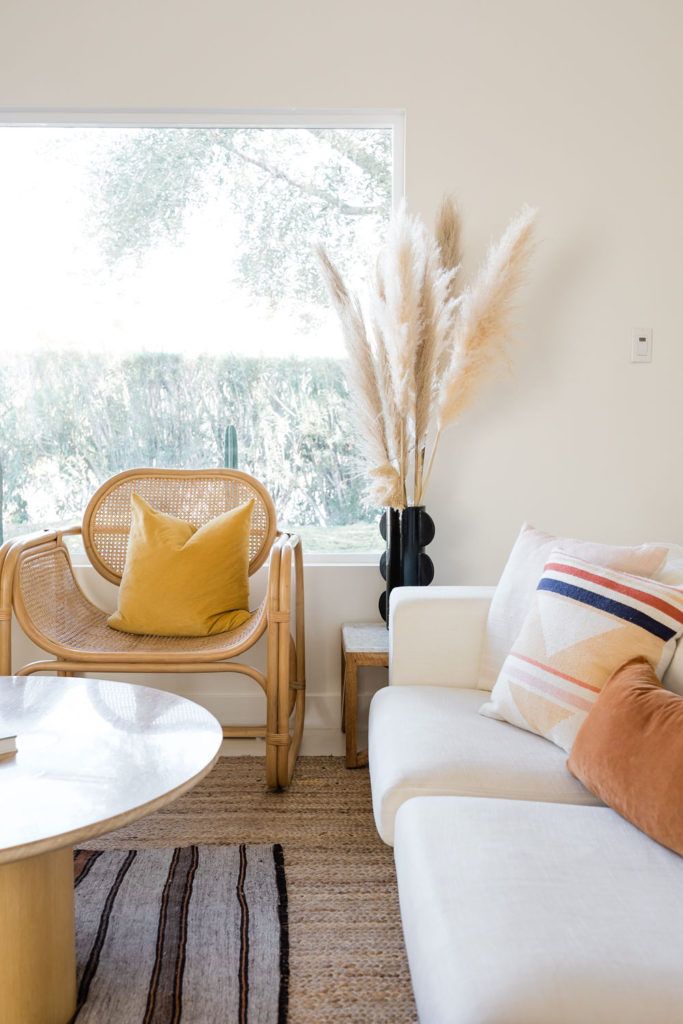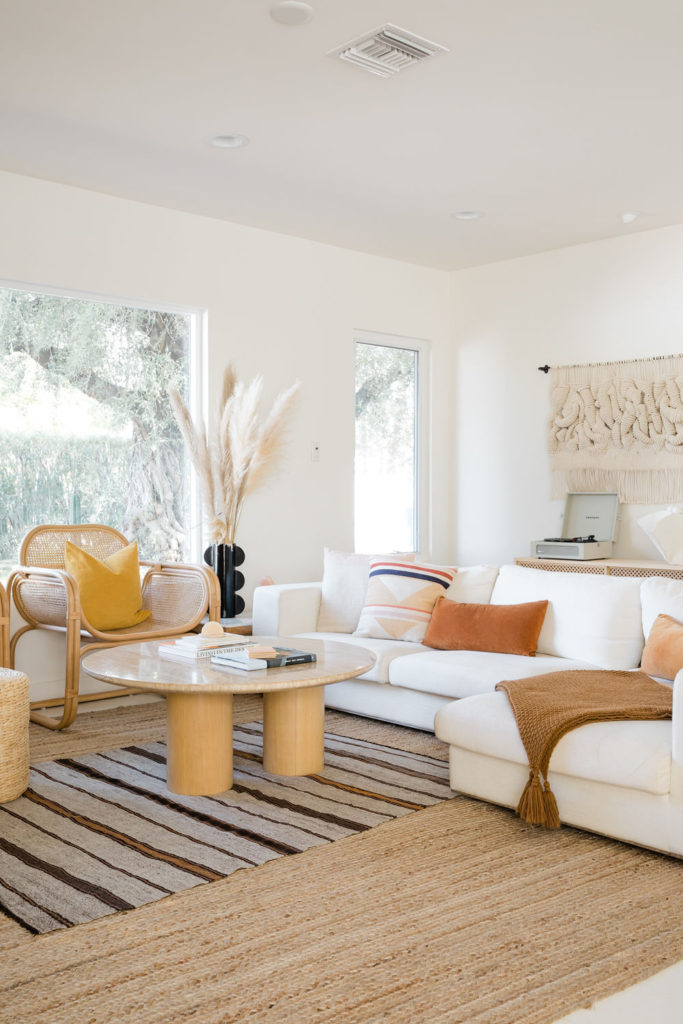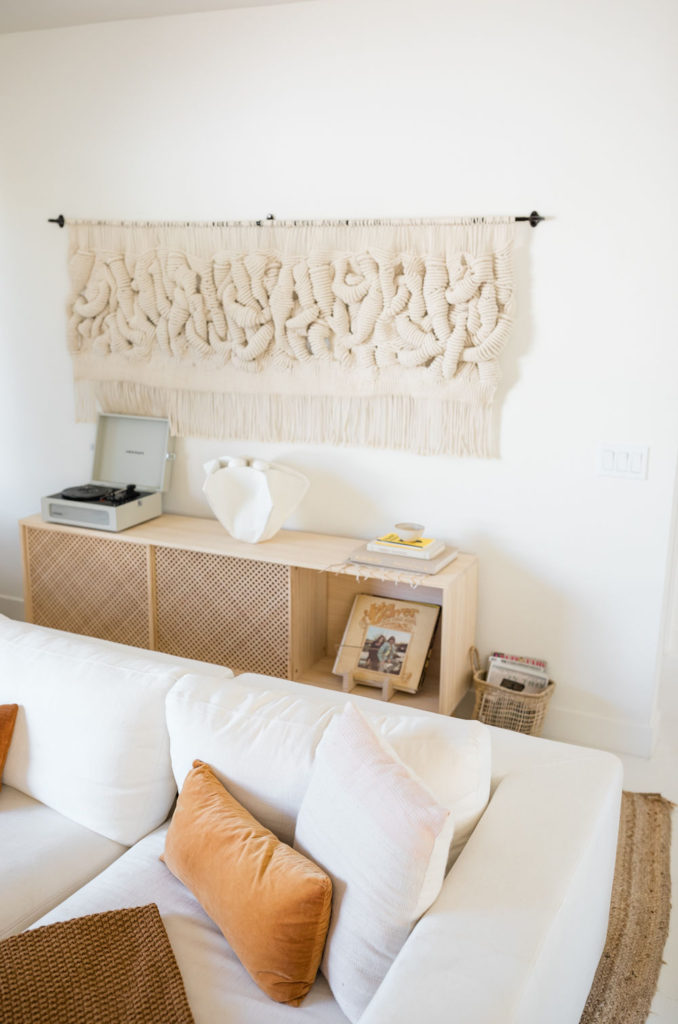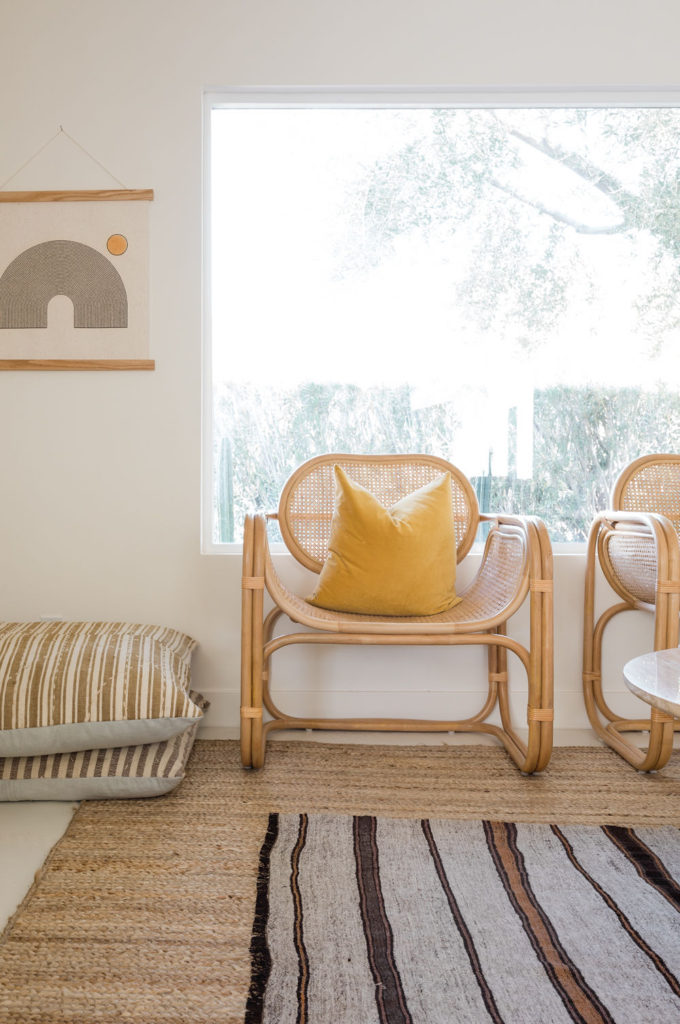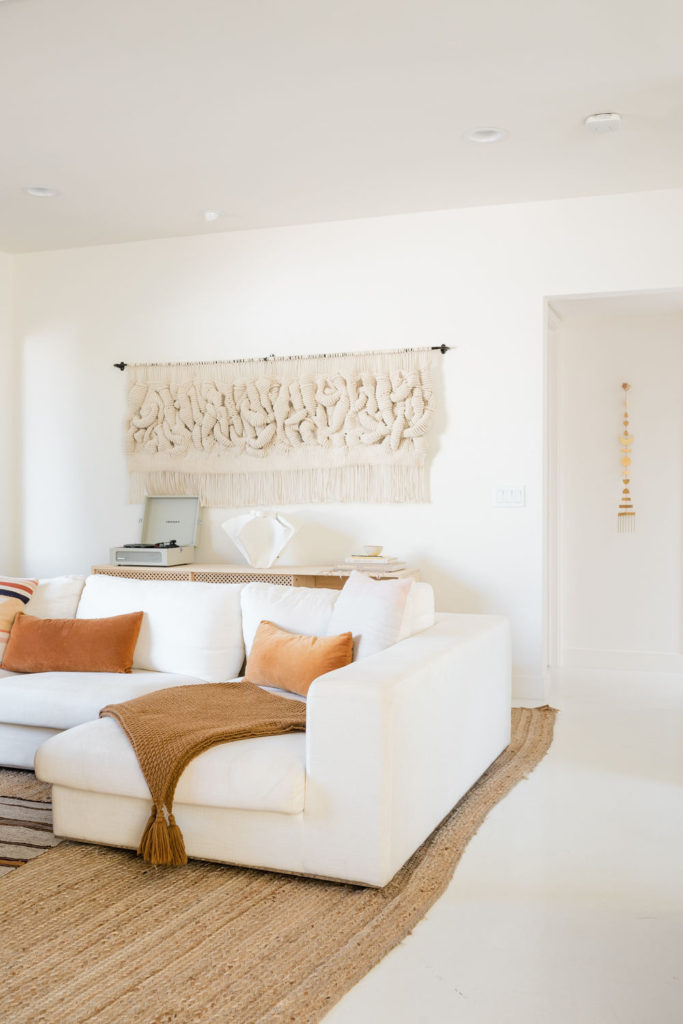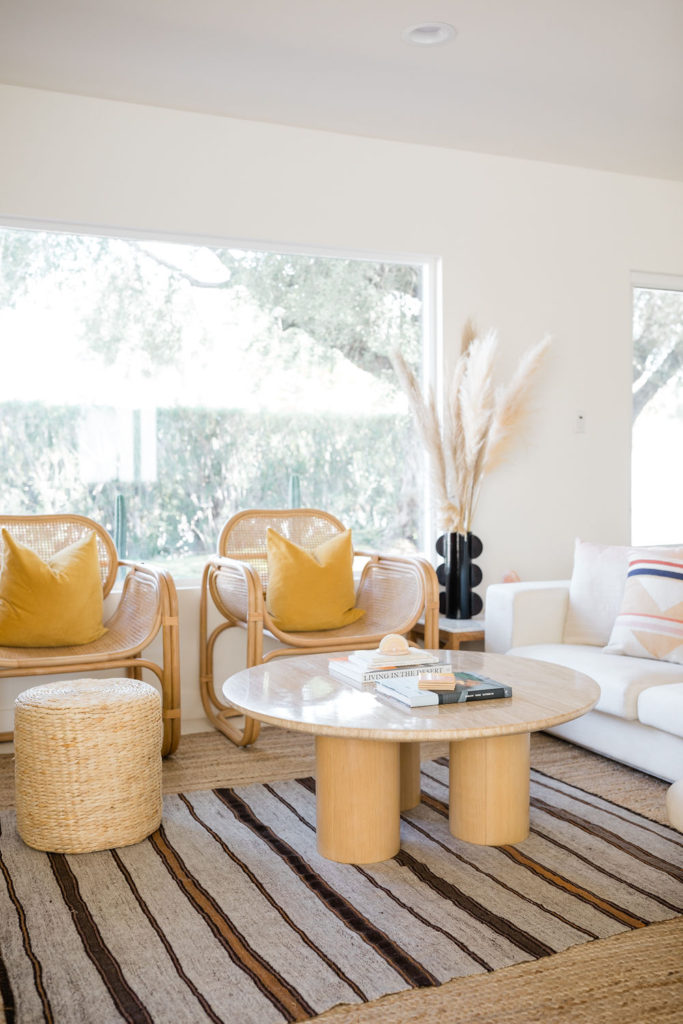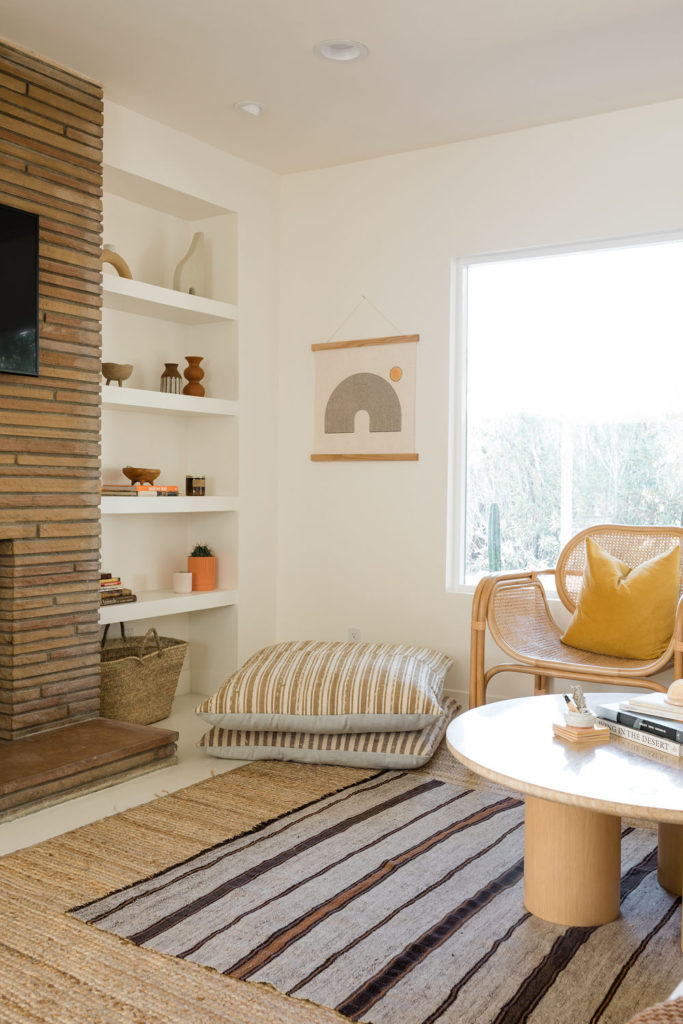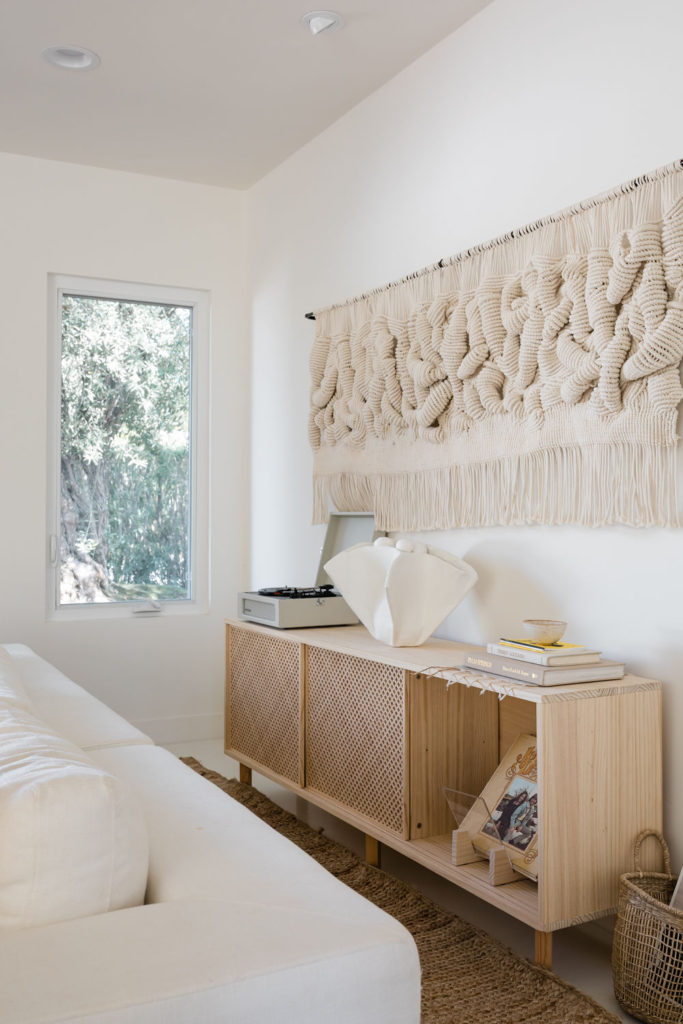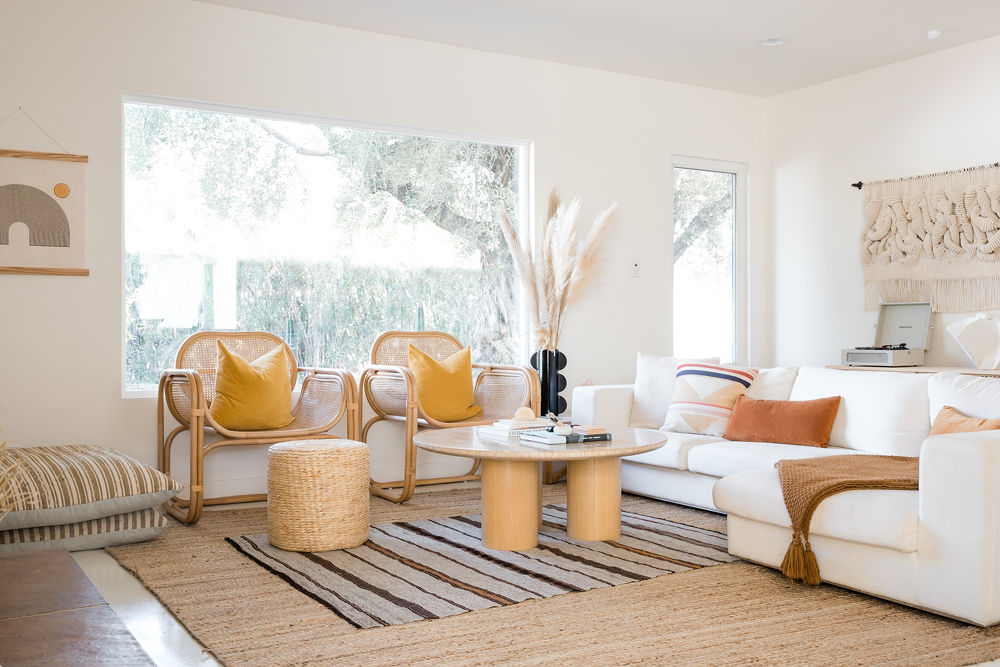 We love how you always have your homes looking clean yet stylish, talk to us about your minimal approach?

When we originally bought the house it was really dark and stuffy, party due to lack of windows but partly because it had so many visually competing elements – red Saltillo tile floors, teal and purple walls, black chandeliers. I wanted the outdoor space to be the focus of the house, so we had to pare back the interior elements significantly to allow that to shine through. By making the walls, trim, ceiling, and even floor a neutral white, we were able to give it a clean and airy look that we could build upon. For decor and accessories, we chose mostly neutrals with a few pops of terracotta and light wood to mimic the surrounding desert environment and keep the white from feeling too stale.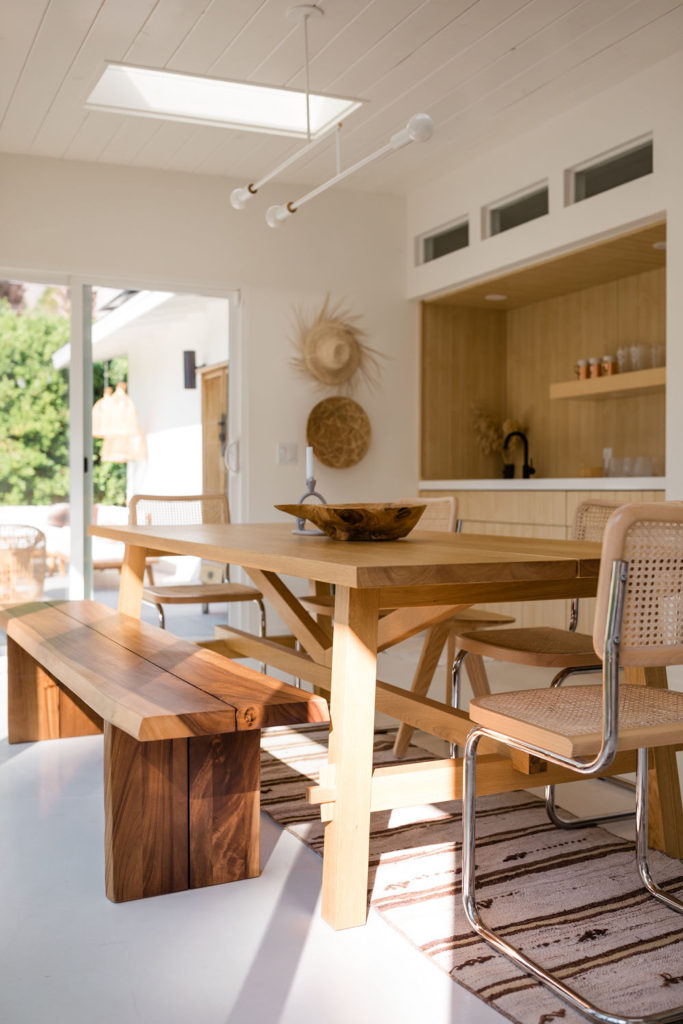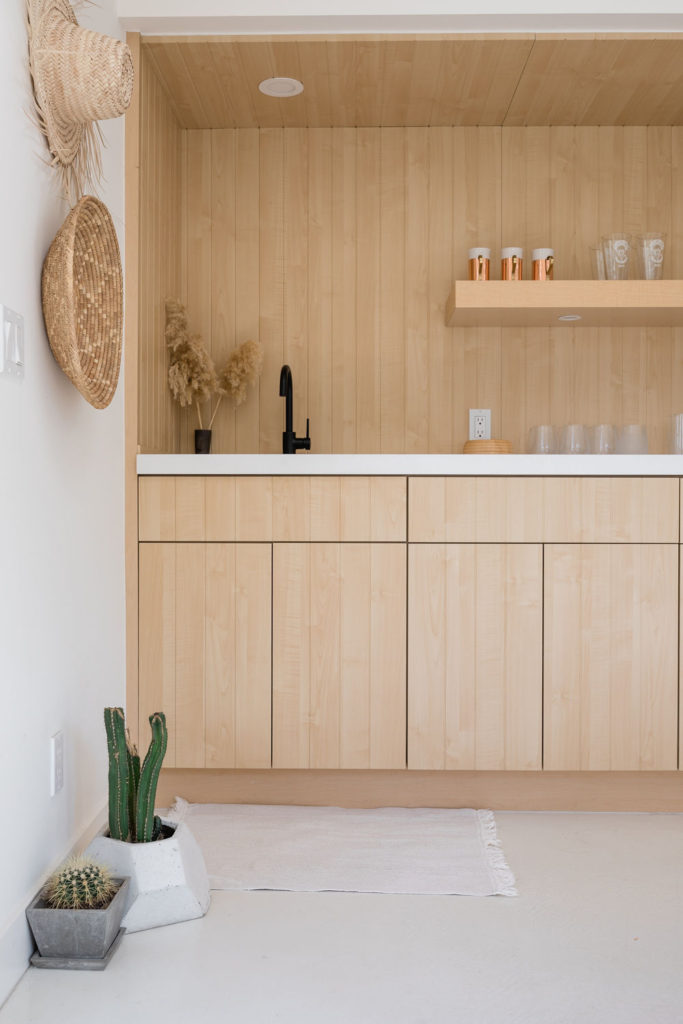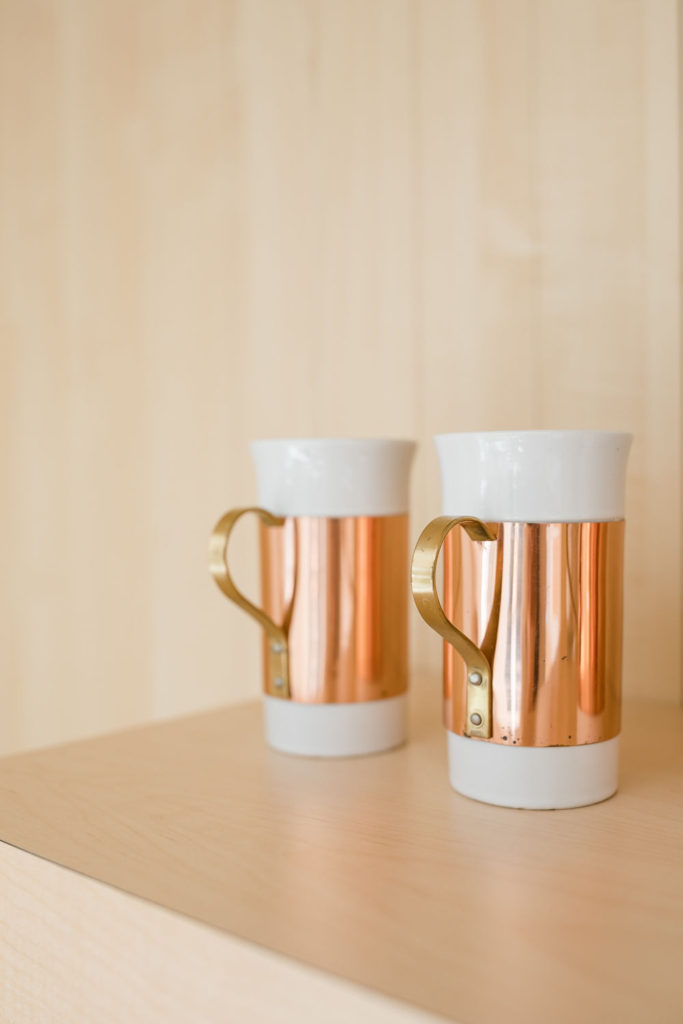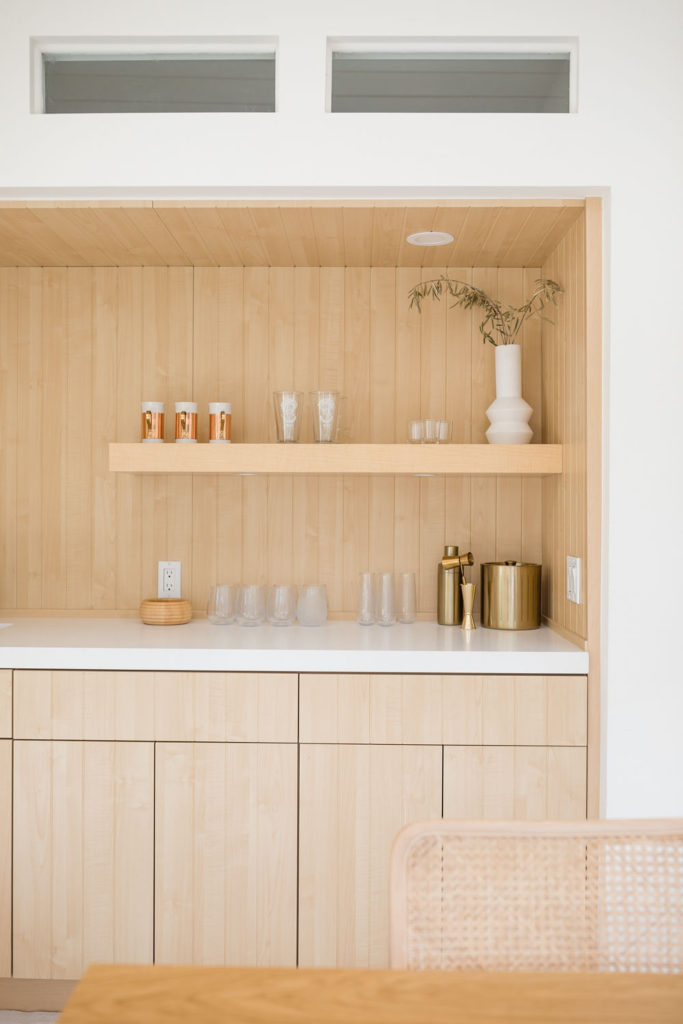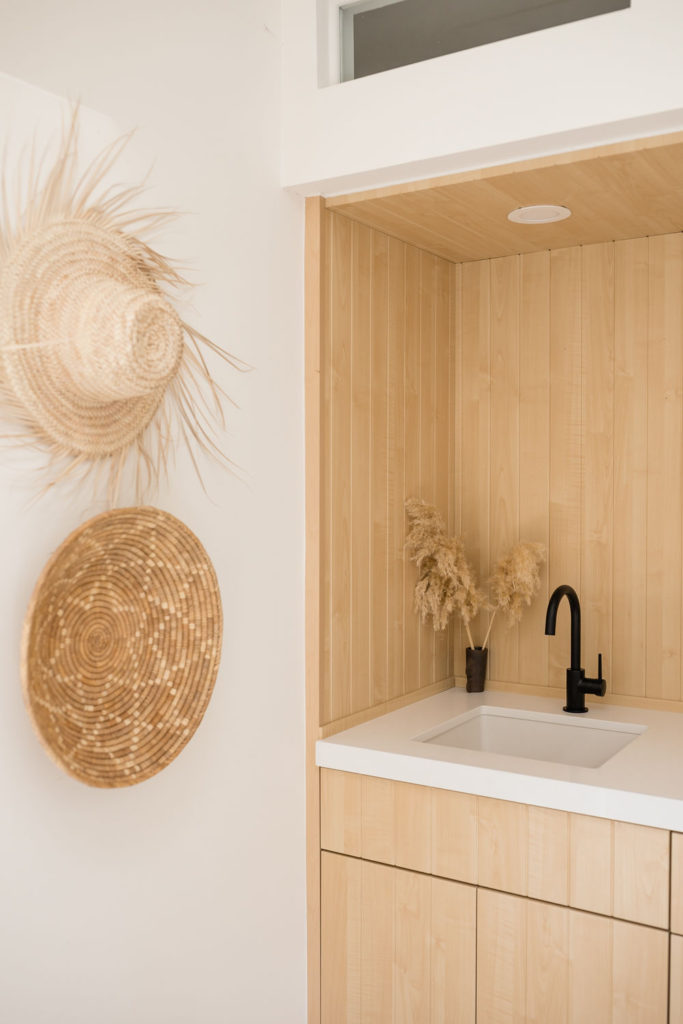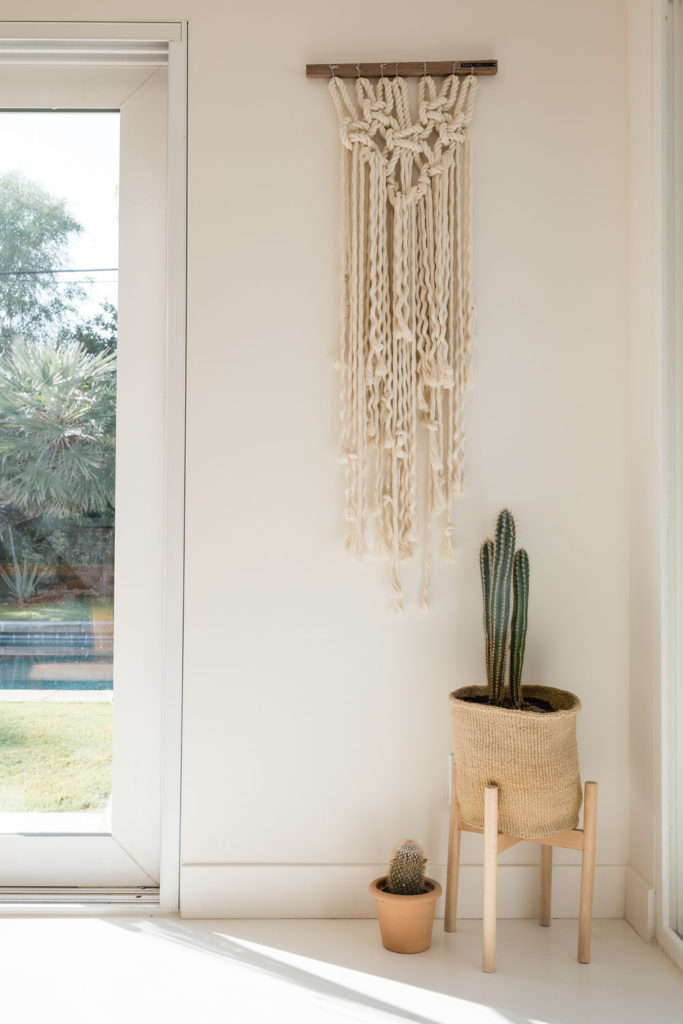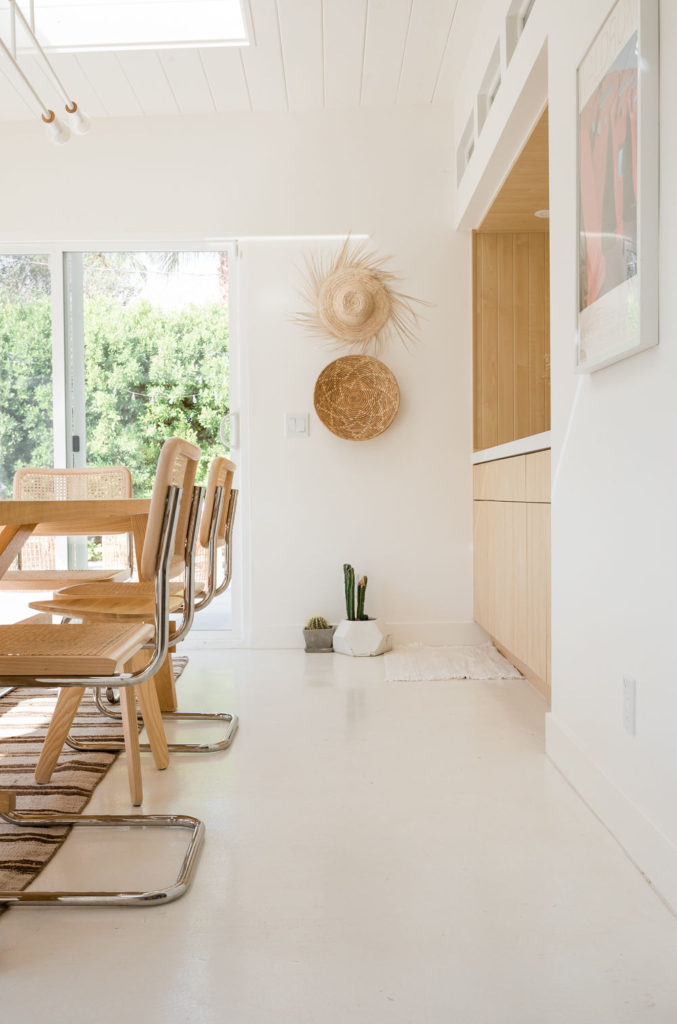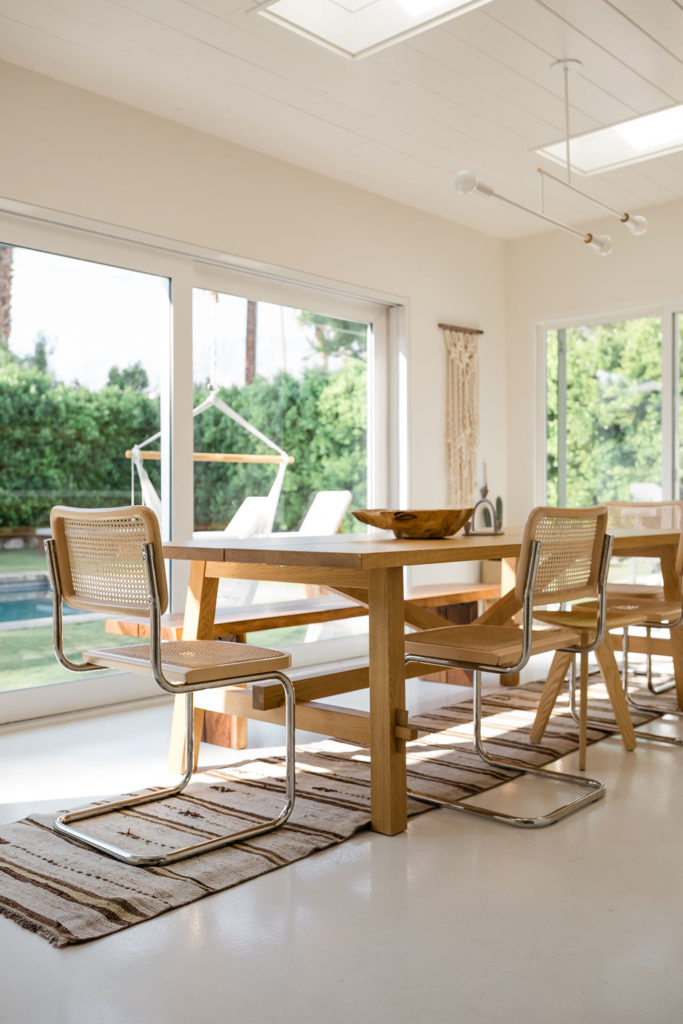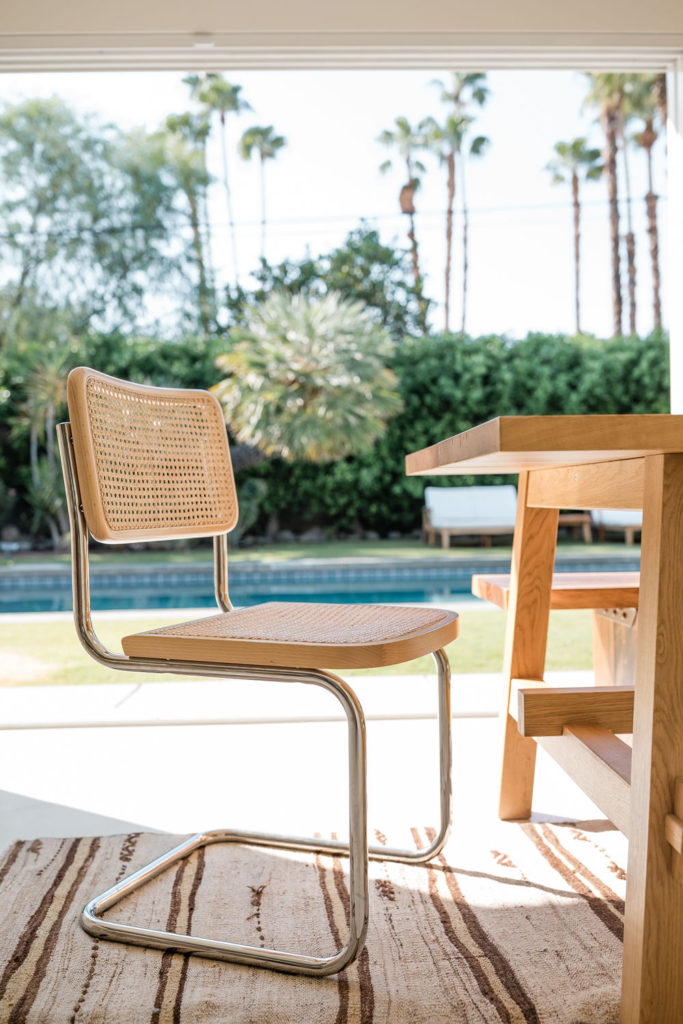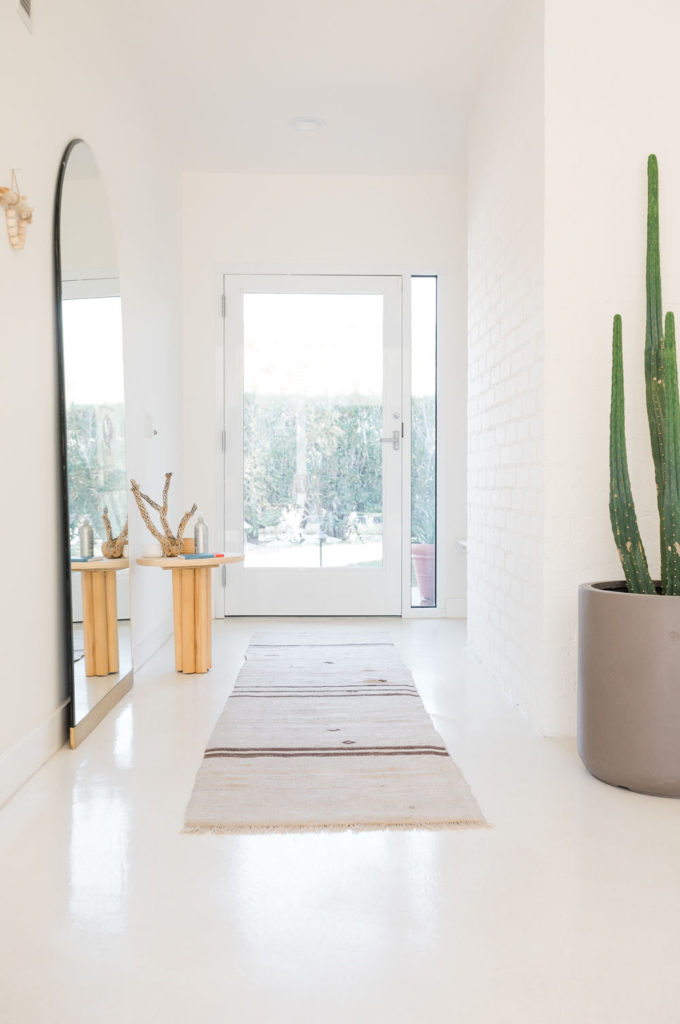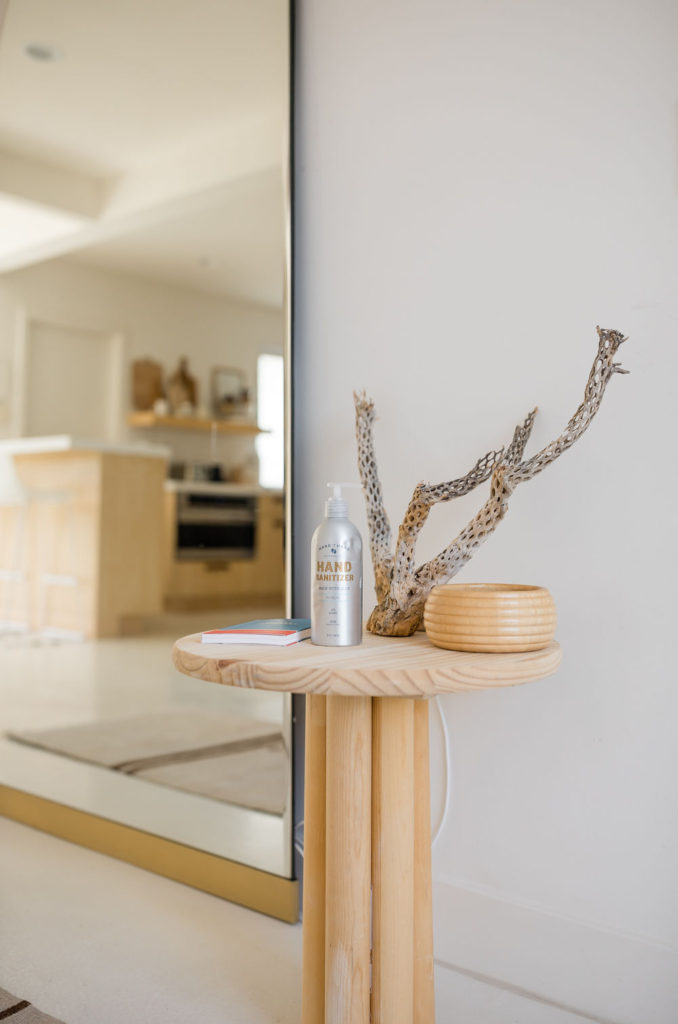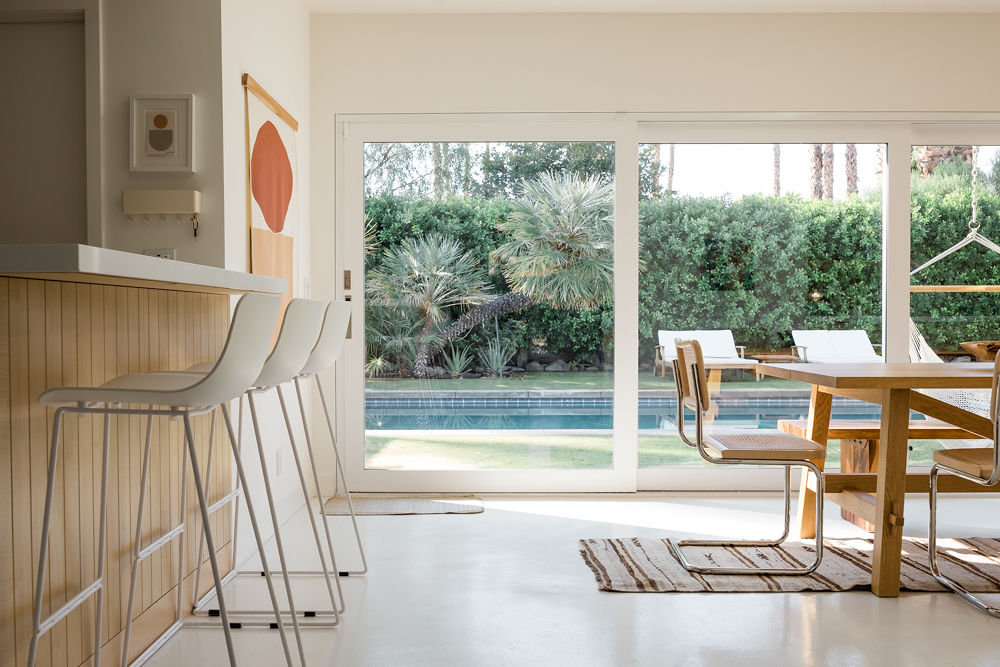 What is your favorite design feature?

I love the pass-through window in the kitchen that opens up and lets you serve drinks or food to whoever is out by the pool. I also love the wall of sliding doors in the dining room. I grew up in such a cold place (Montana), that the concept of indoor/ outdoor living was foreign to me. Now that I live here I want all my windows to be open all the time. The more natural light and breezes, the better.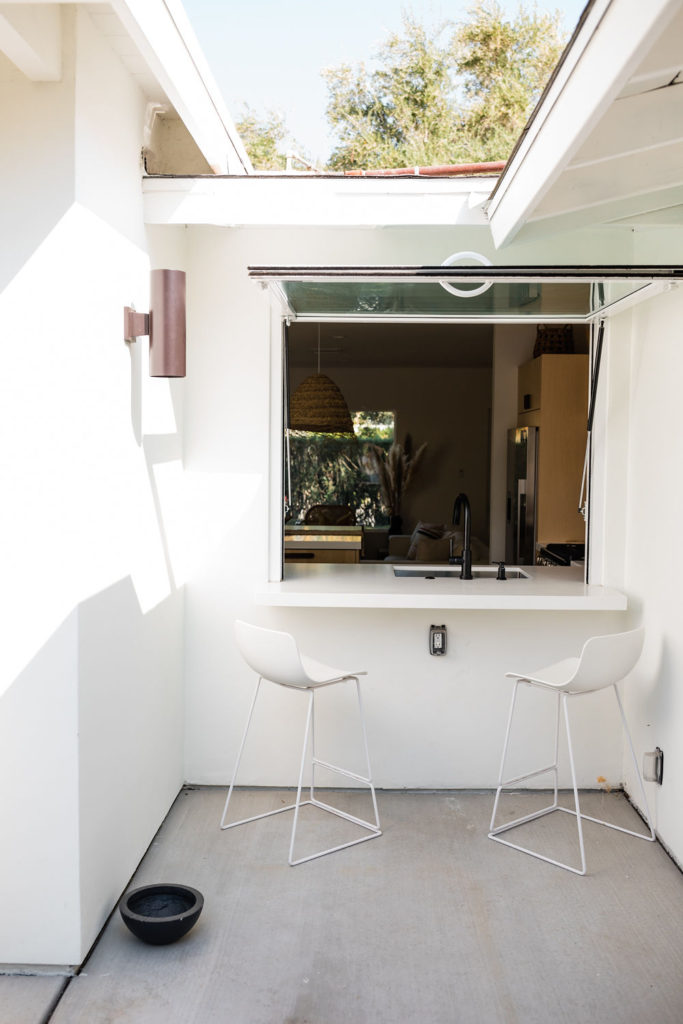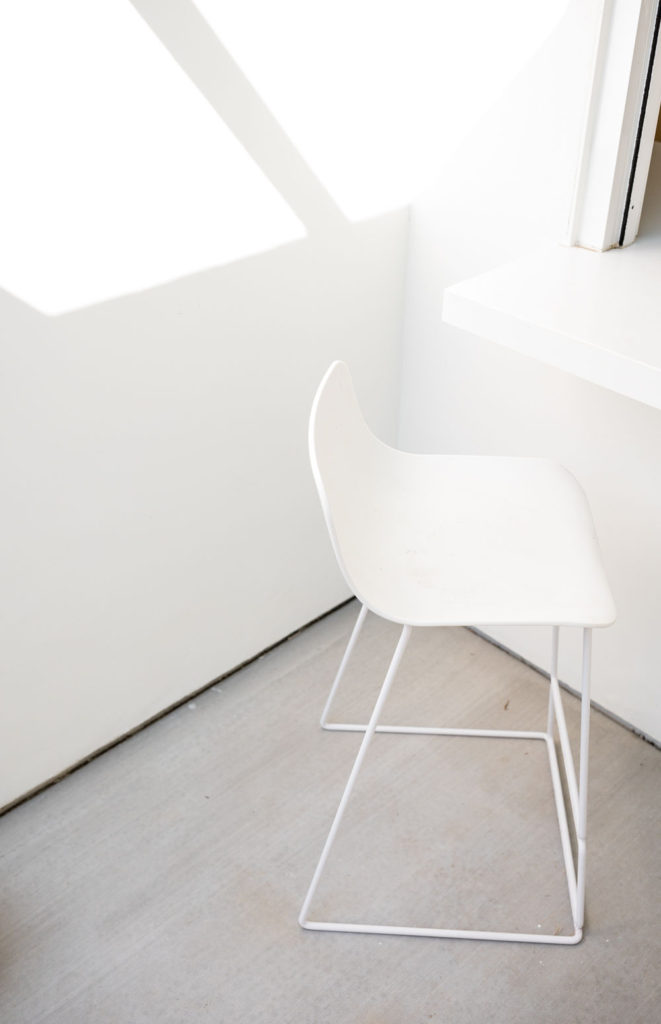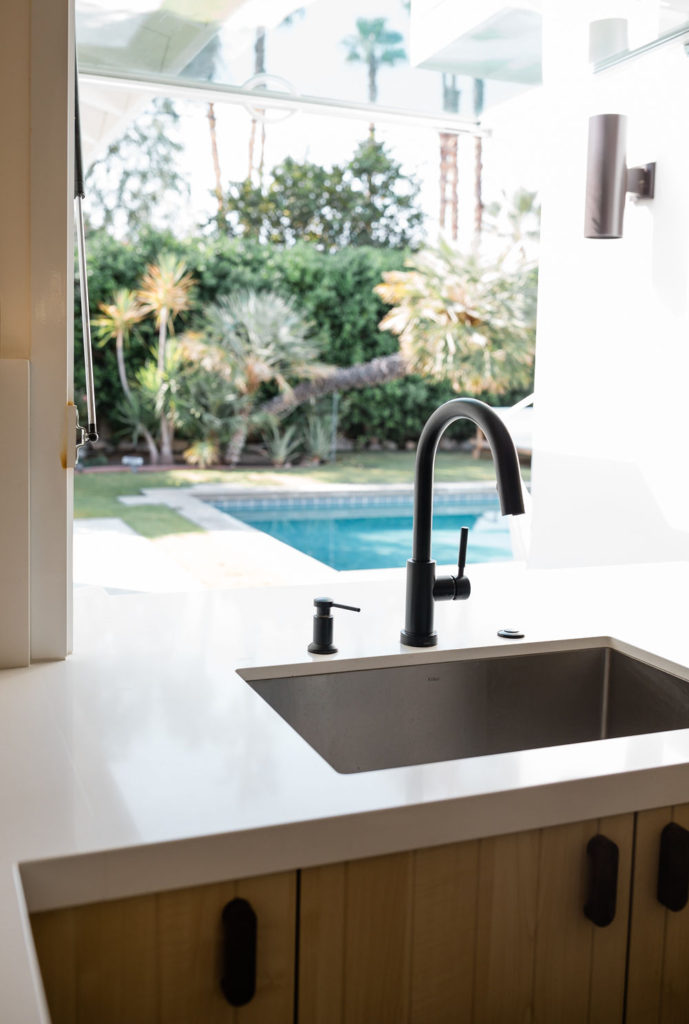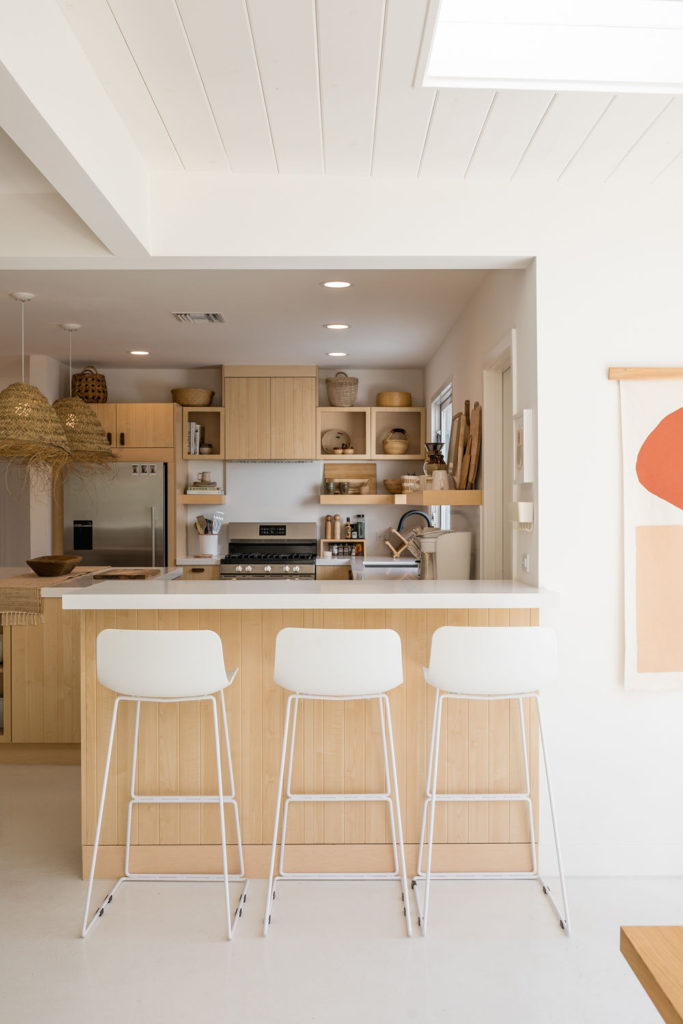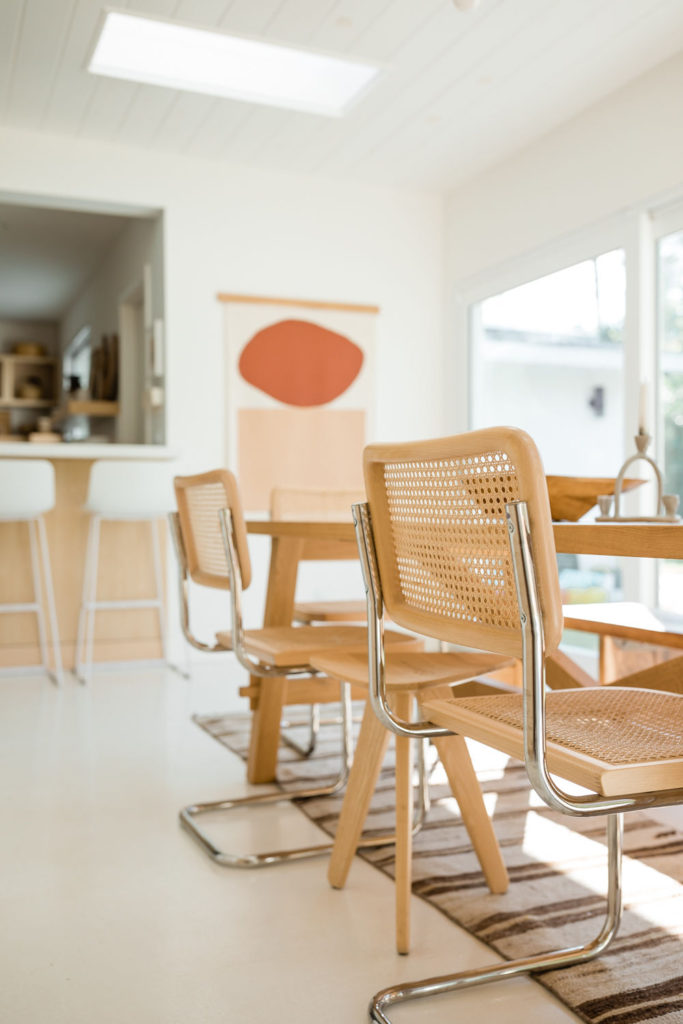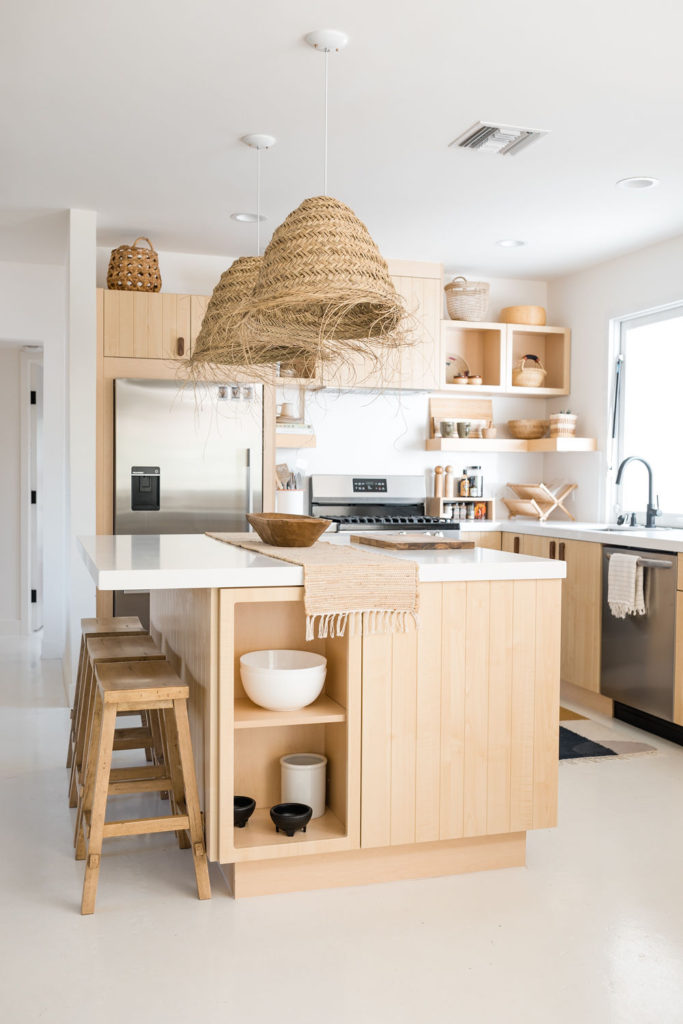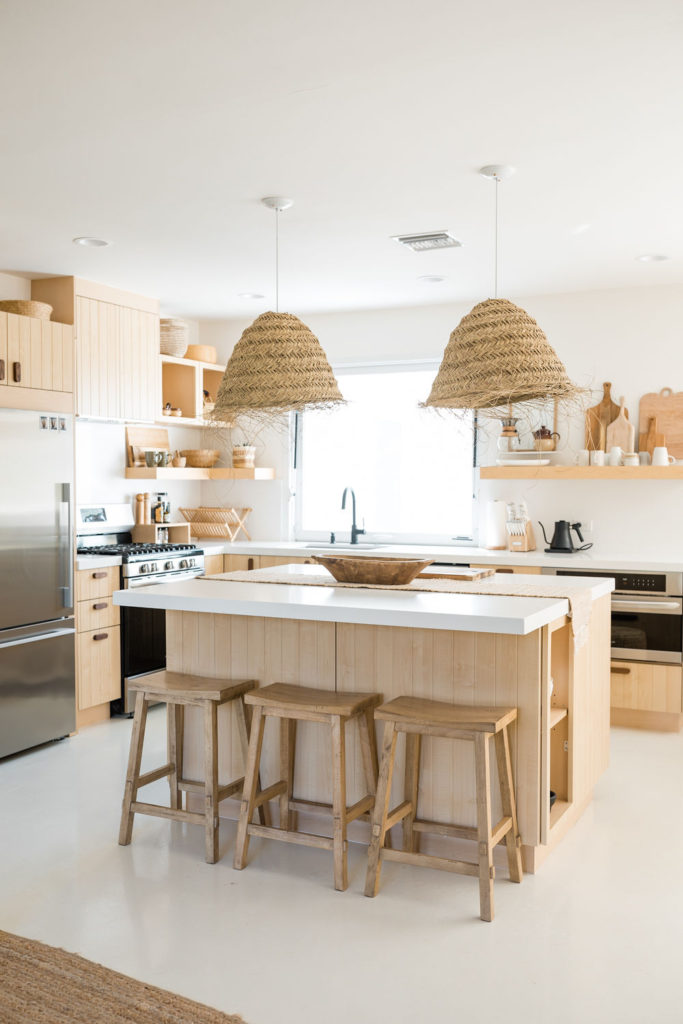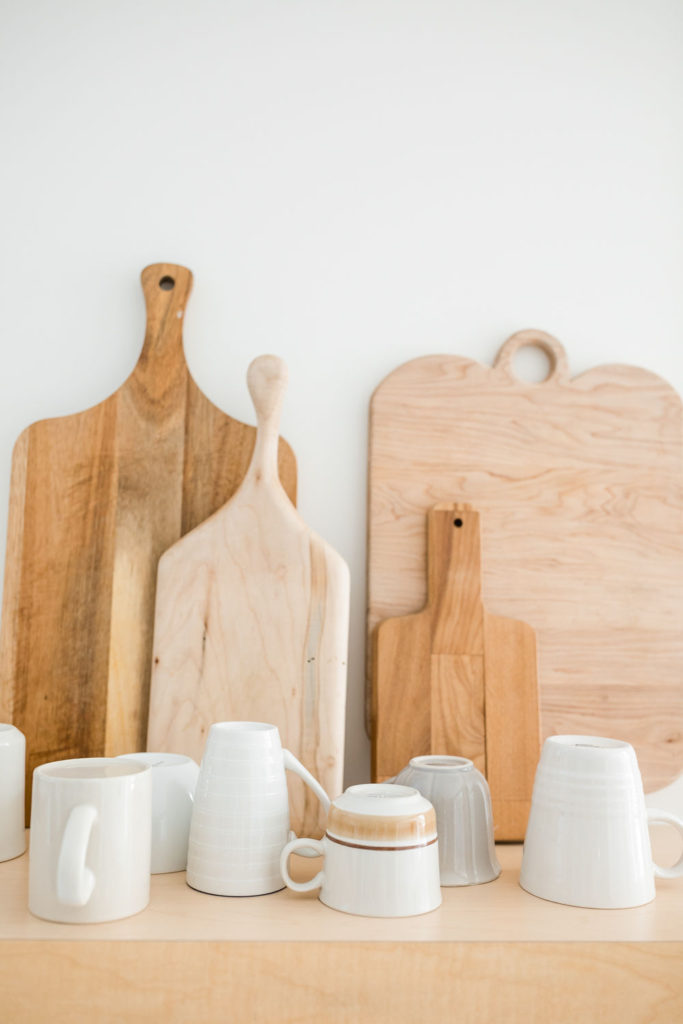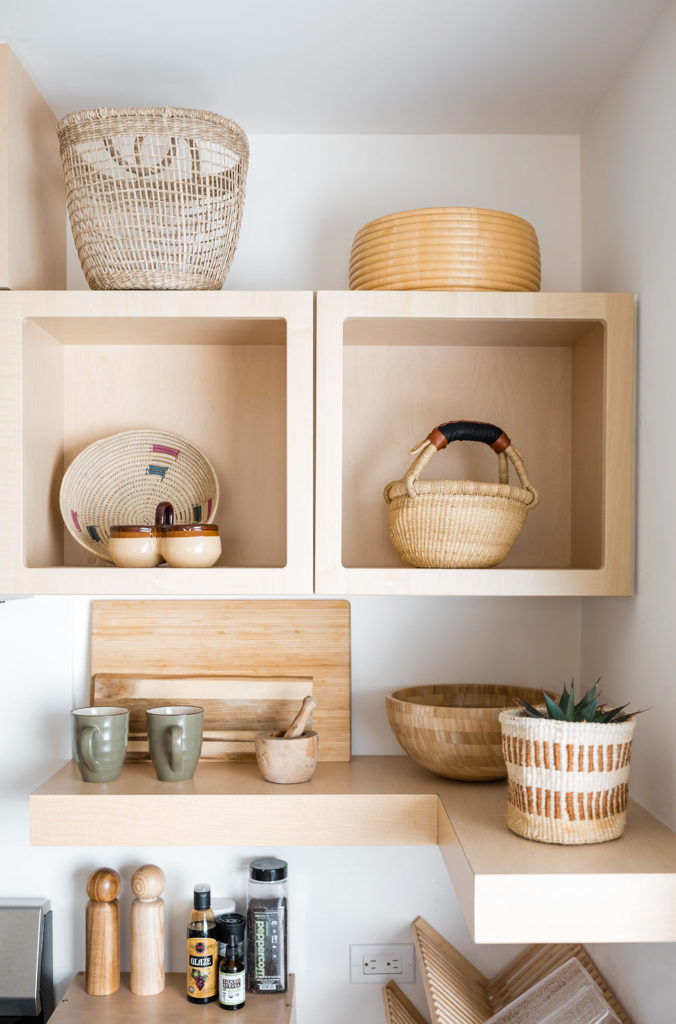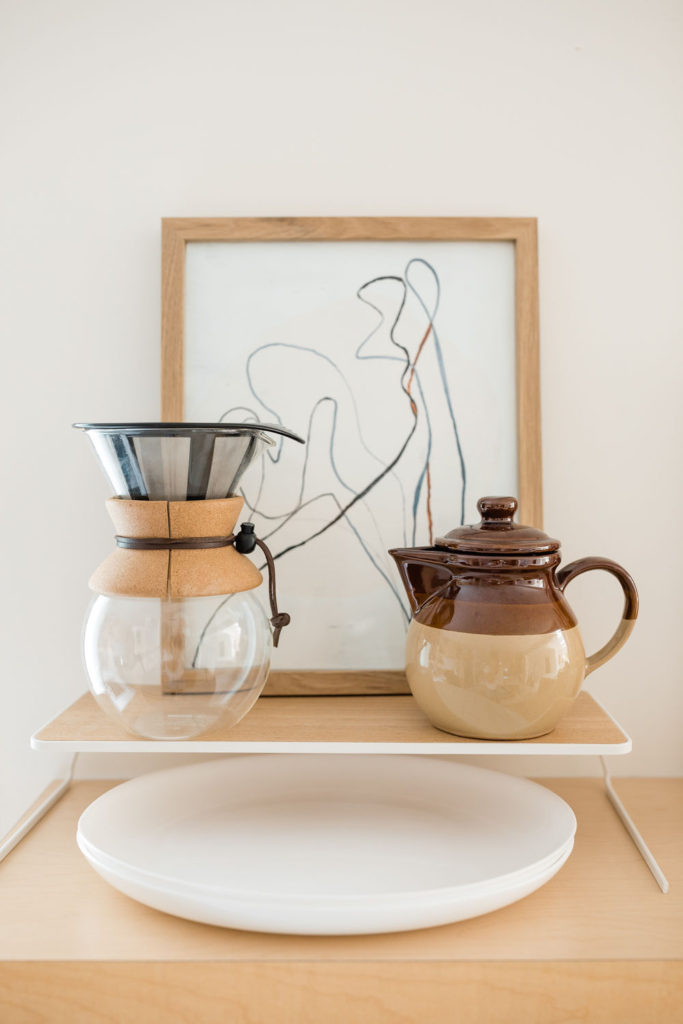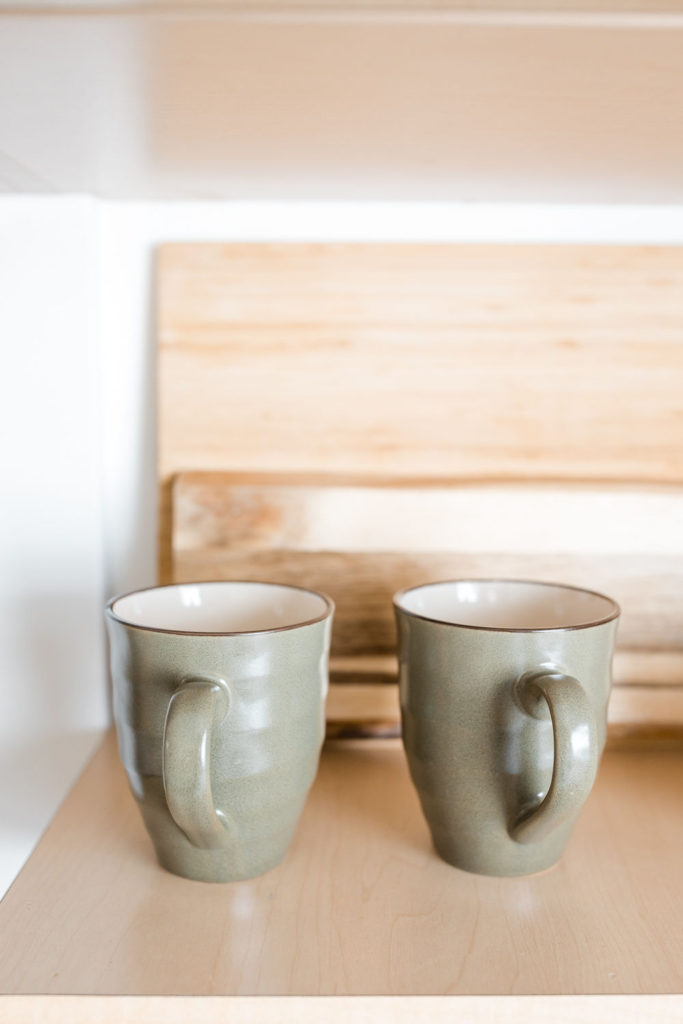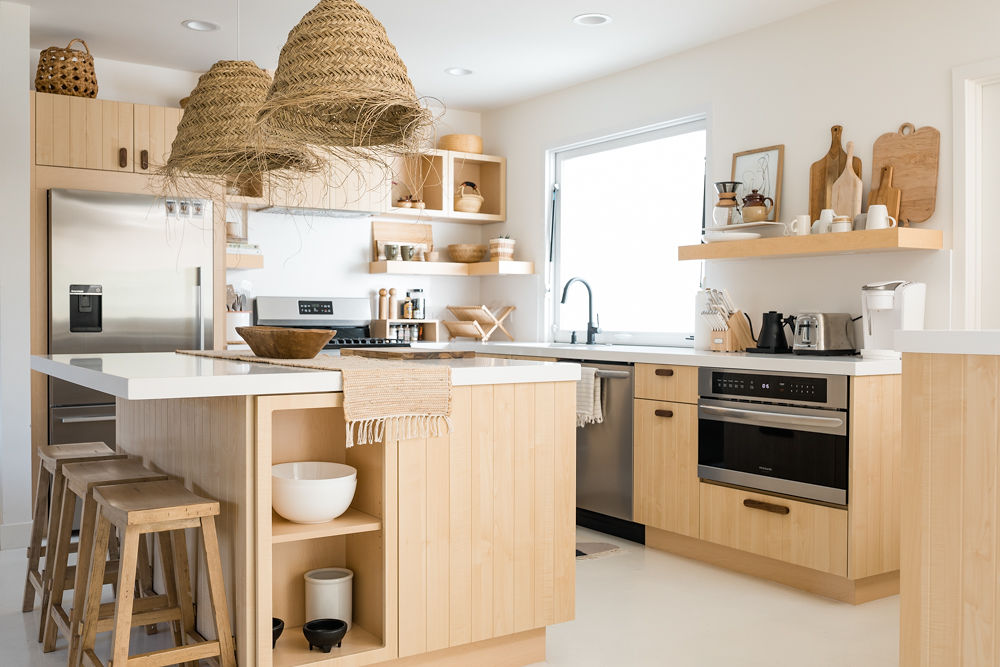 Where are a few of your secret shopping spots for these beautiful homes you design?

Etsy! I found most of the rugs and pillowcases and even linen sheets from independent makers on Etsy. The Wrinkles Shop has great linens, searching for "kilim rugs" or "basket lamps" will bring up tons of options from all over the world. There is a beautiful handmade macrame piece in the living room that I commissioned from an artist I follow on Instagram @twohandstextilestudio, and a beautiful plaster bowl from @okkenhousestudios who is in Palm Desert. We love prints from @realfunwow, @upton_home , and @blockshoptextiles. And we love supporting local business wherever we can, so most of our furniture comes from area vintage stores Revivals and Angel View (multiple locations all over the valley), or amazing Yucca Valley mecca for all things boho – Acme 5 Lifestyle.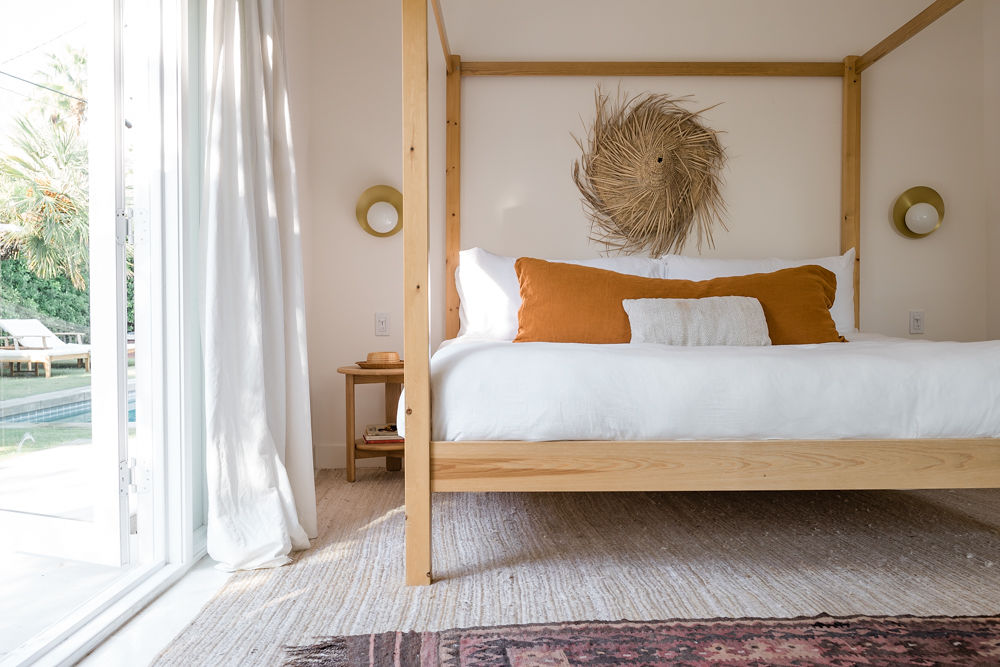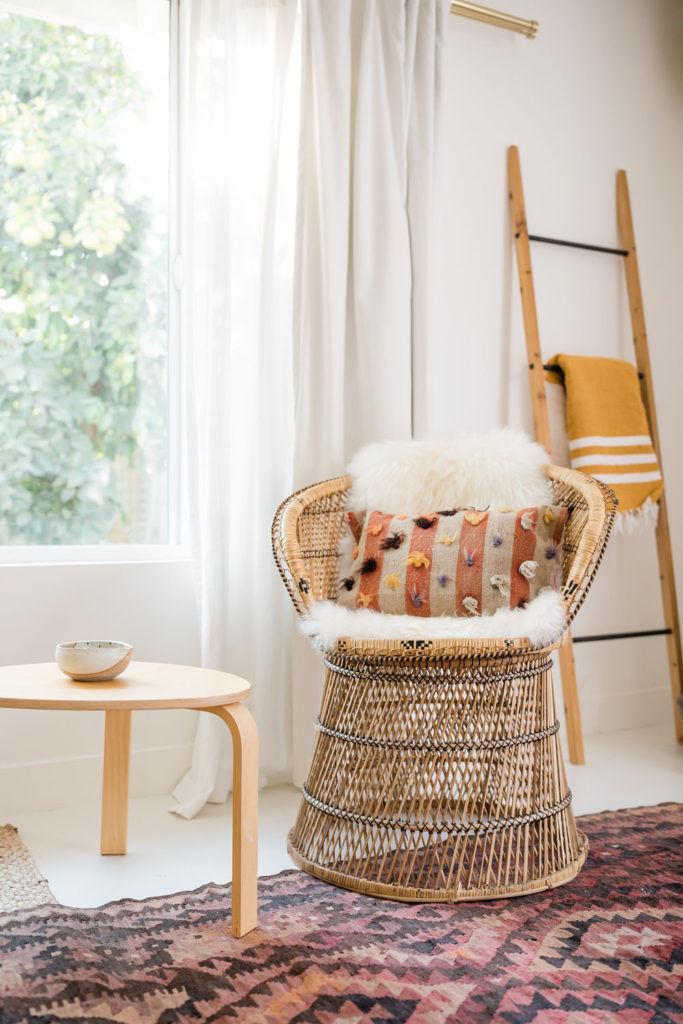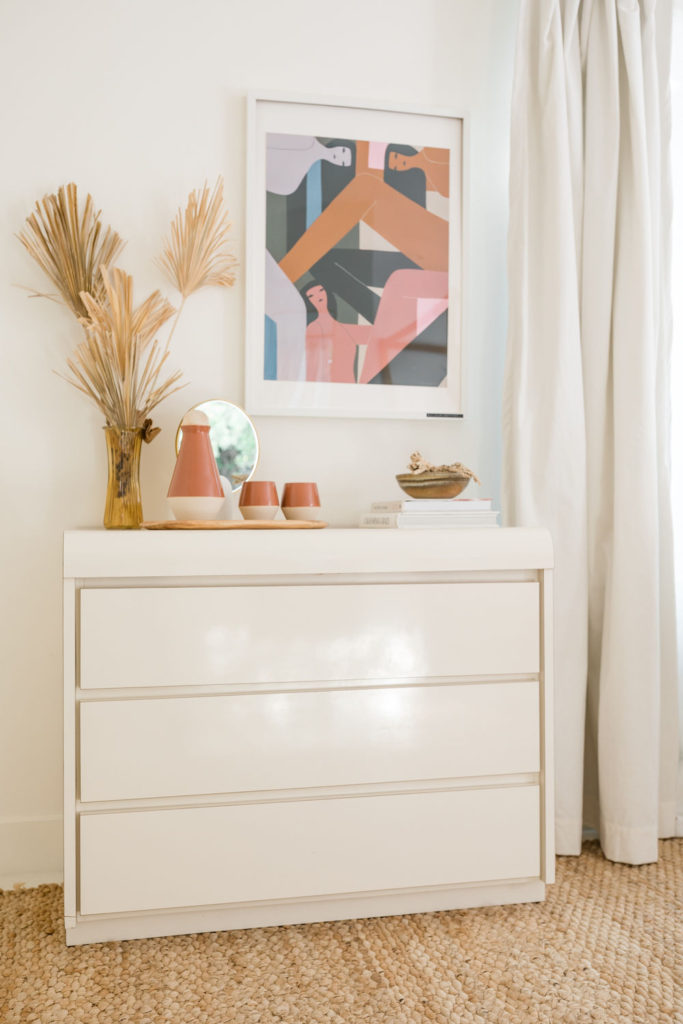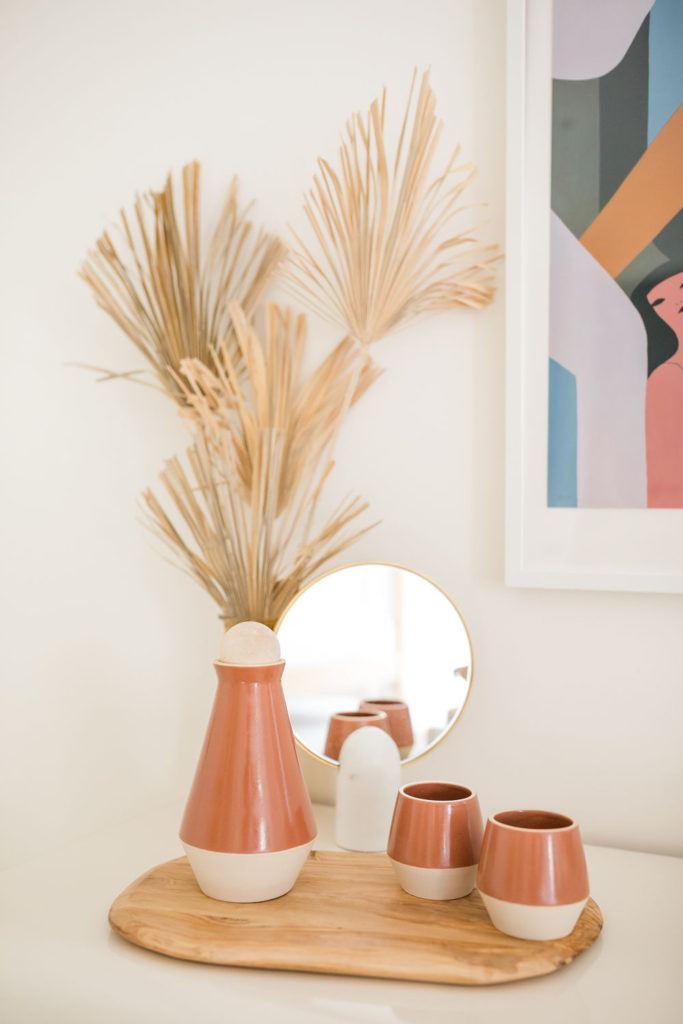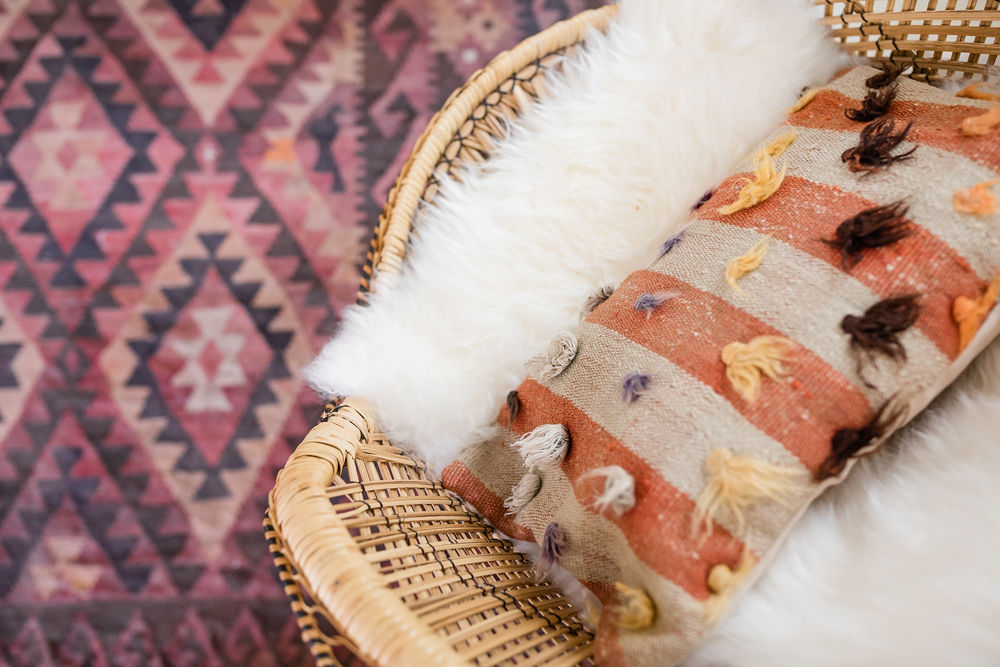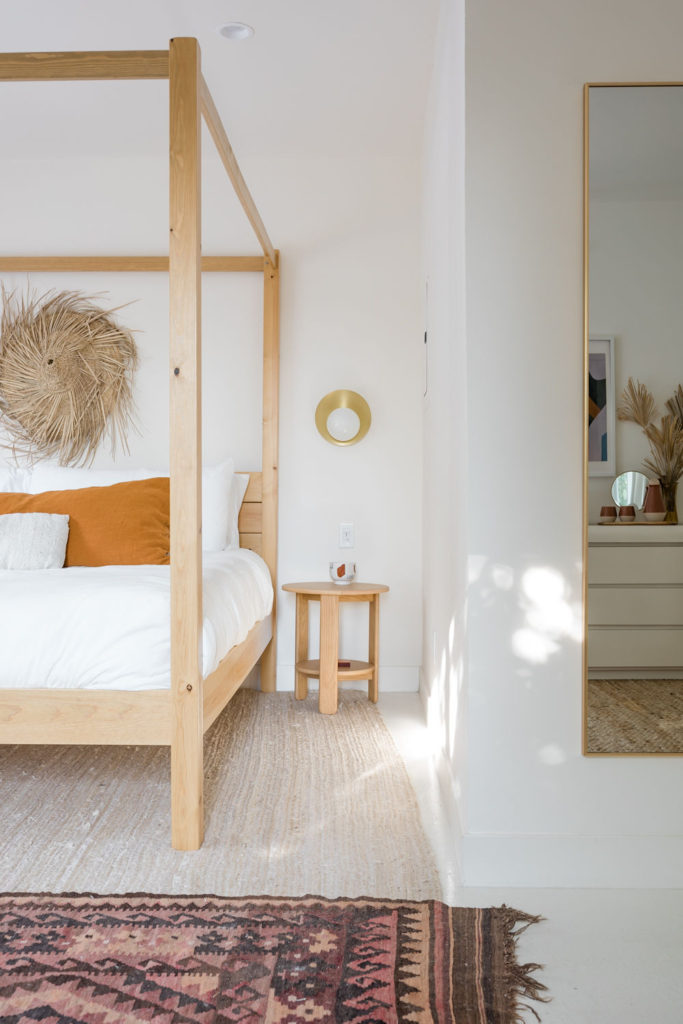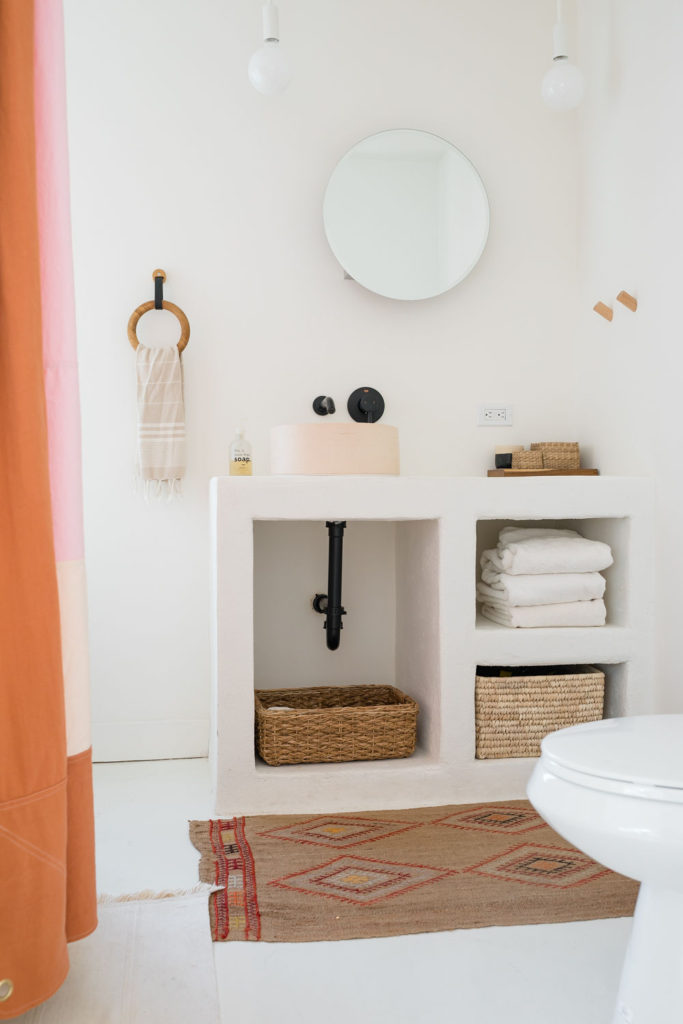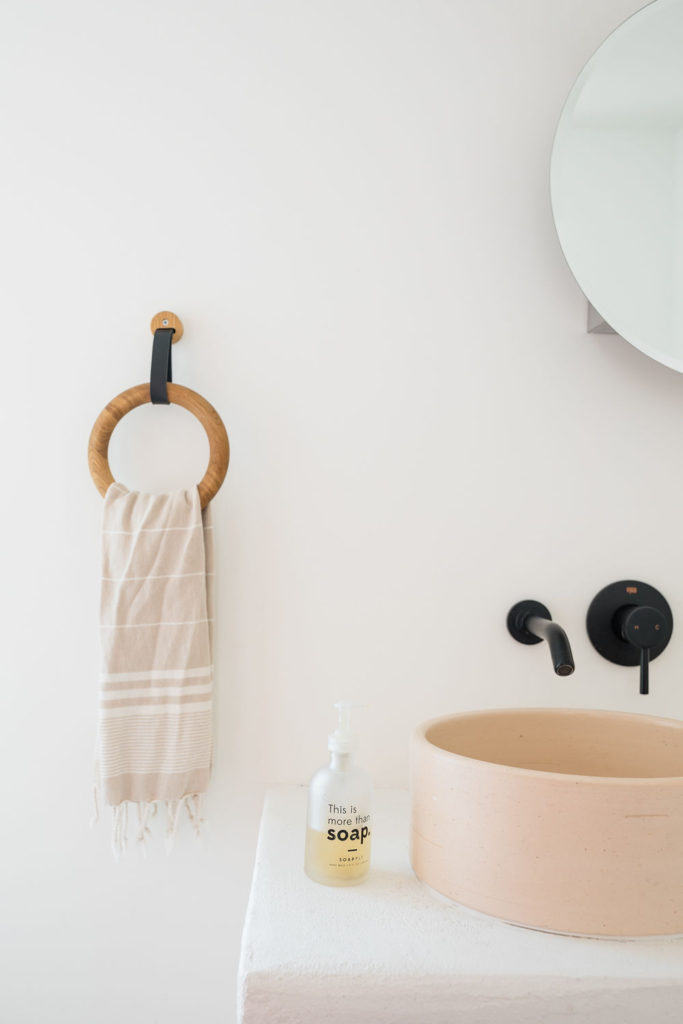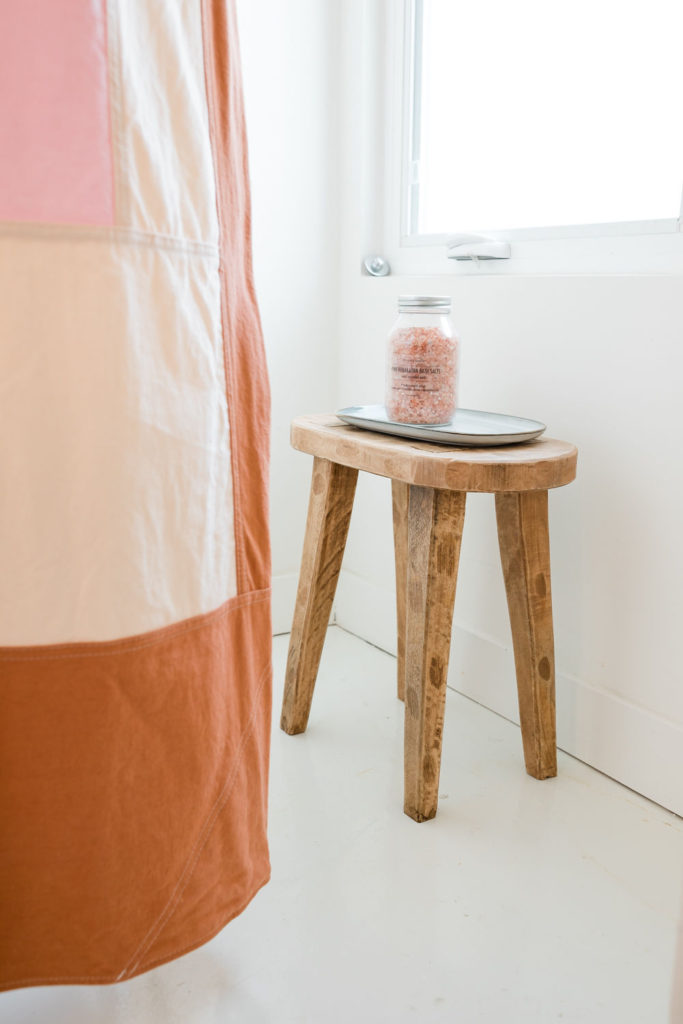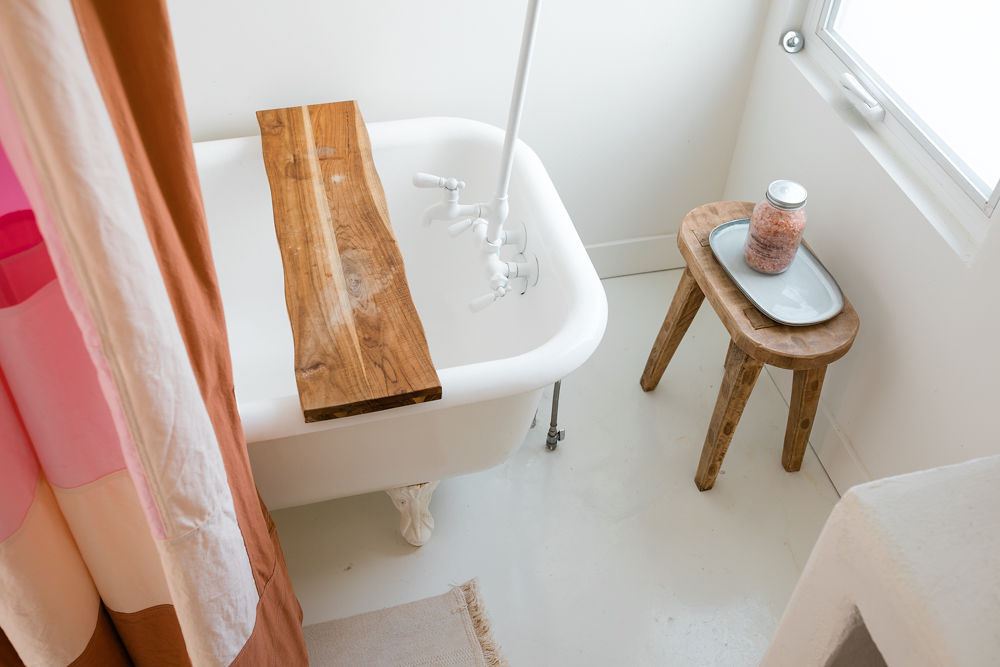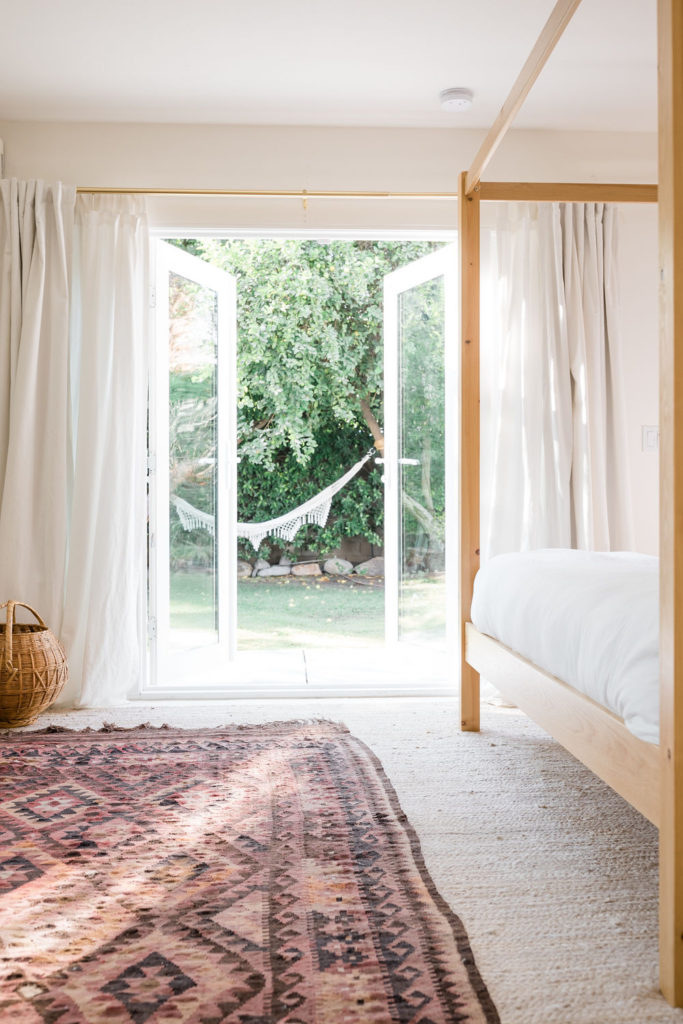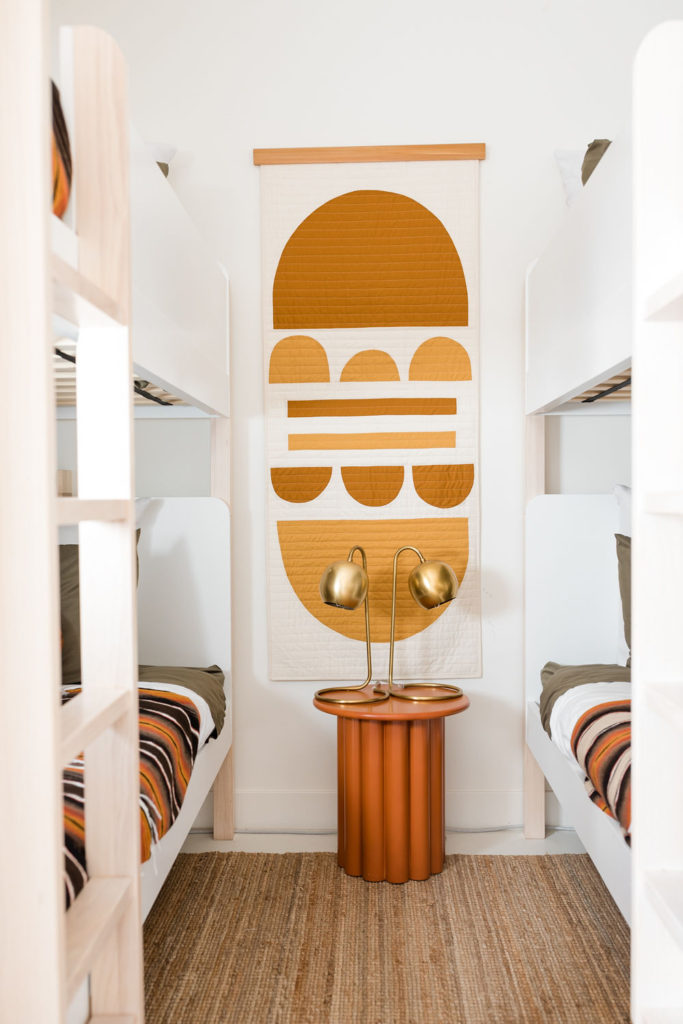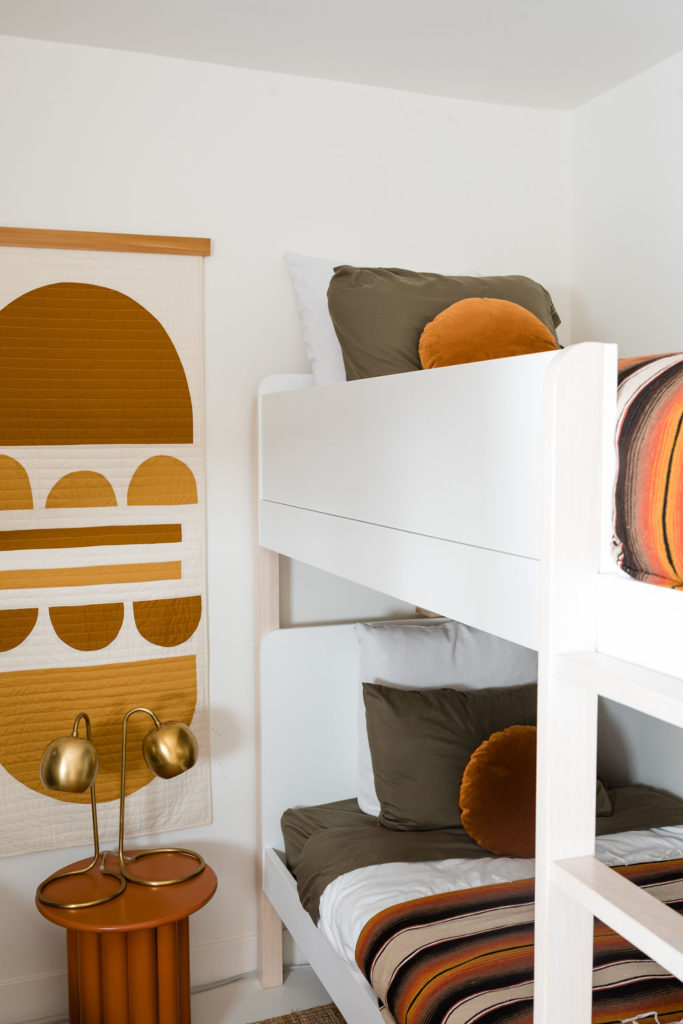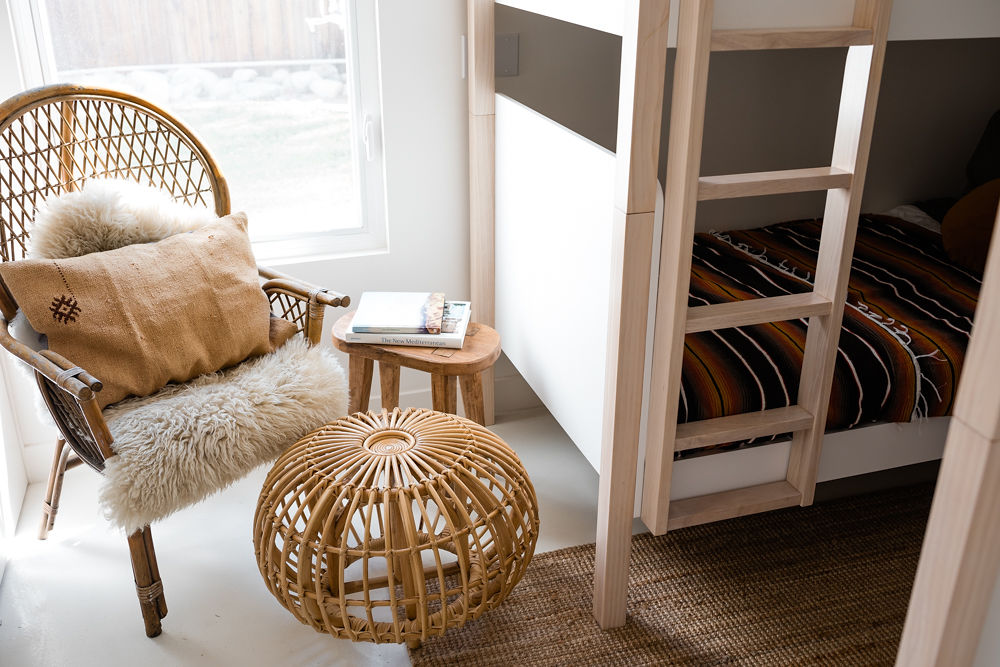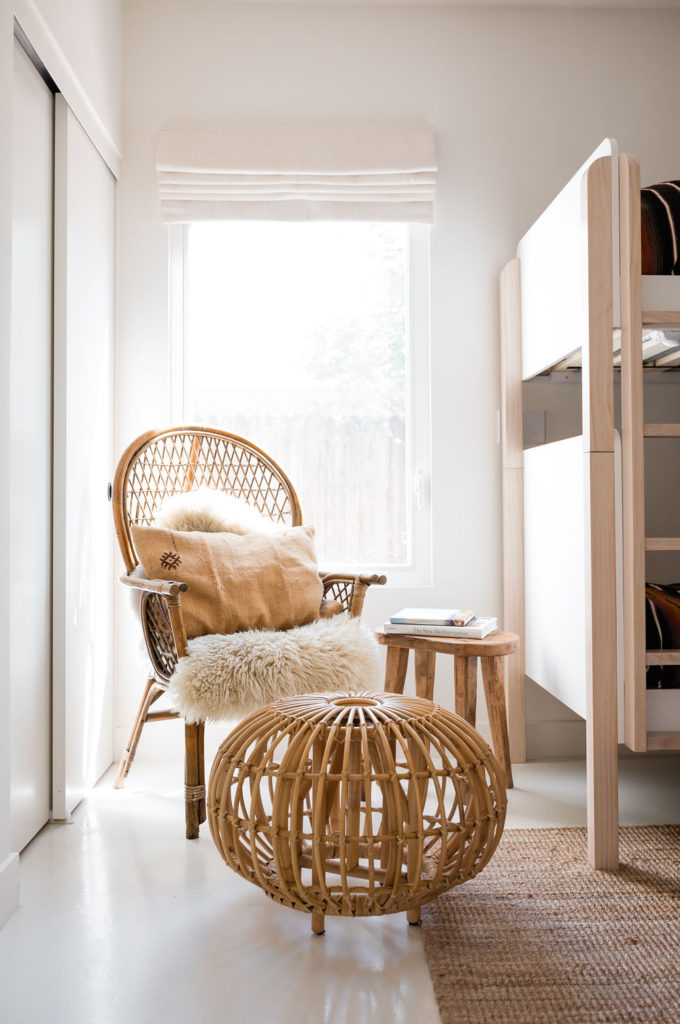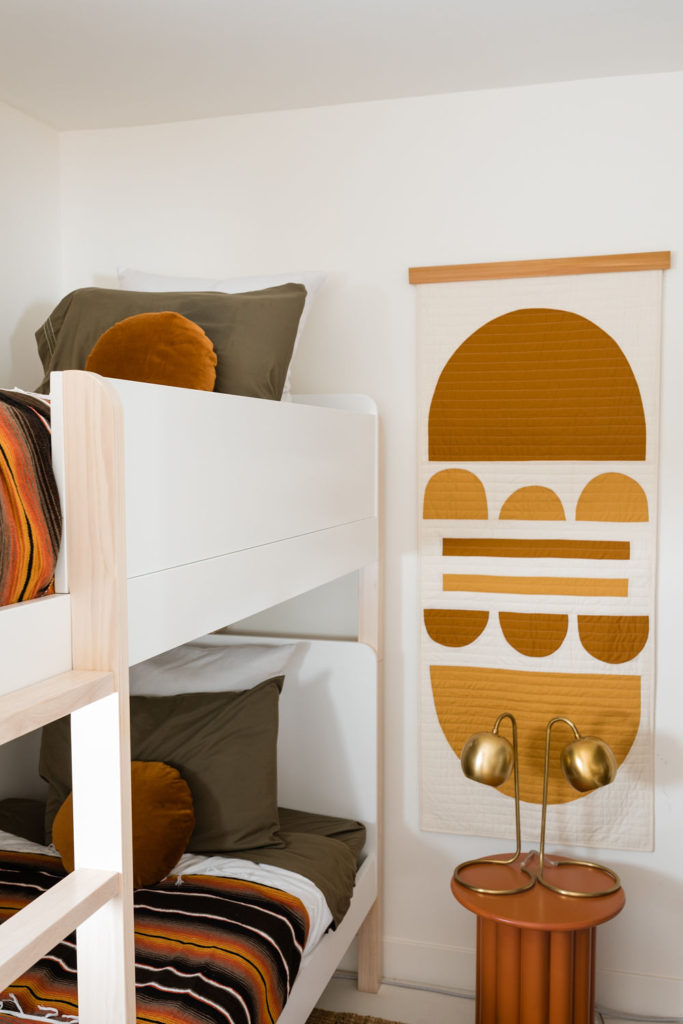 Give us a few of your favorite destinations in Palm Springs….

We love thrifting in Palm Springs! Definitely check out Revivals, Angel View, and Gypseyland for that. For incredible pieces by local artisans look no further than the Shops at Thirteen Forty-Five. And Acme 5 Lifestyle is definitely worth the trip to Yucca Valley. For food & drink, we love El Jefe at the Saguaro (5 mins from us) and Tac/Quila in downtown Palm Springs. The bar at the Ace Hotel is also worth checking out.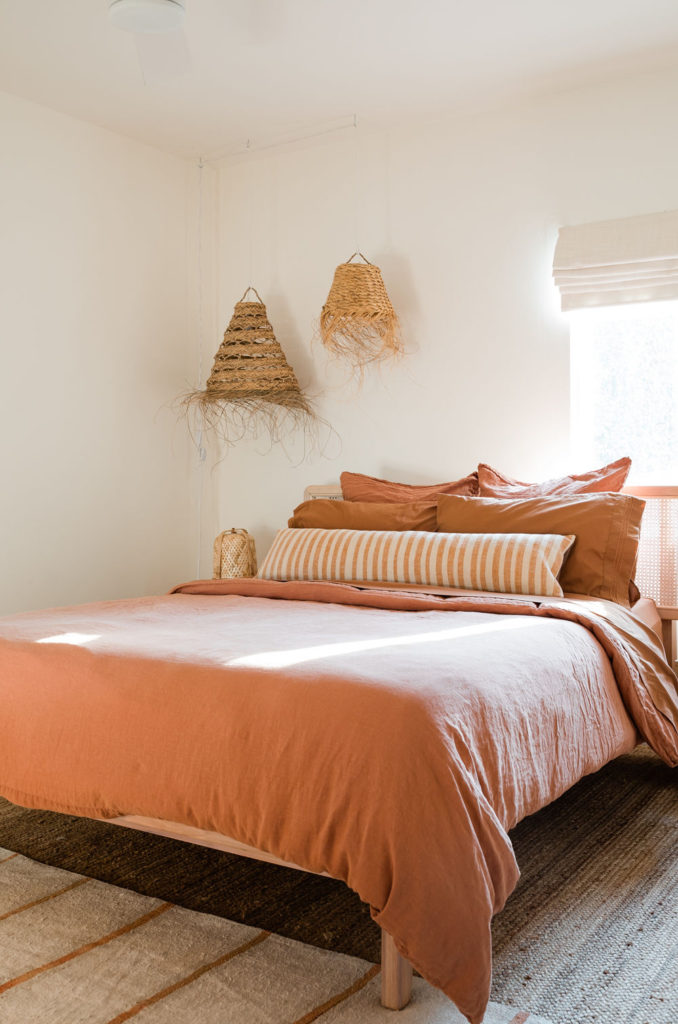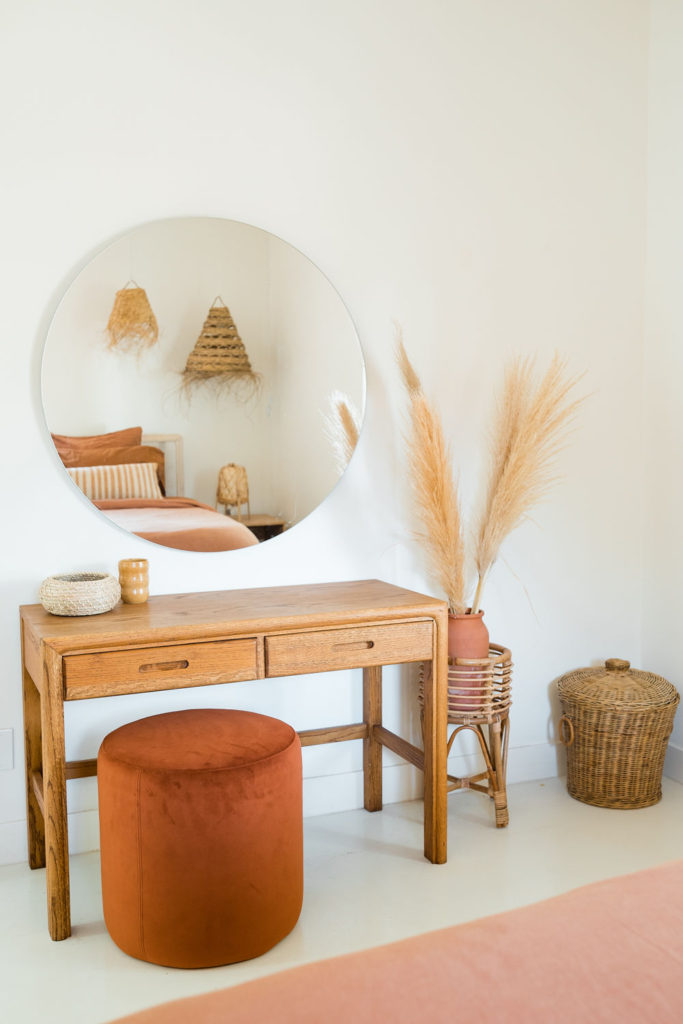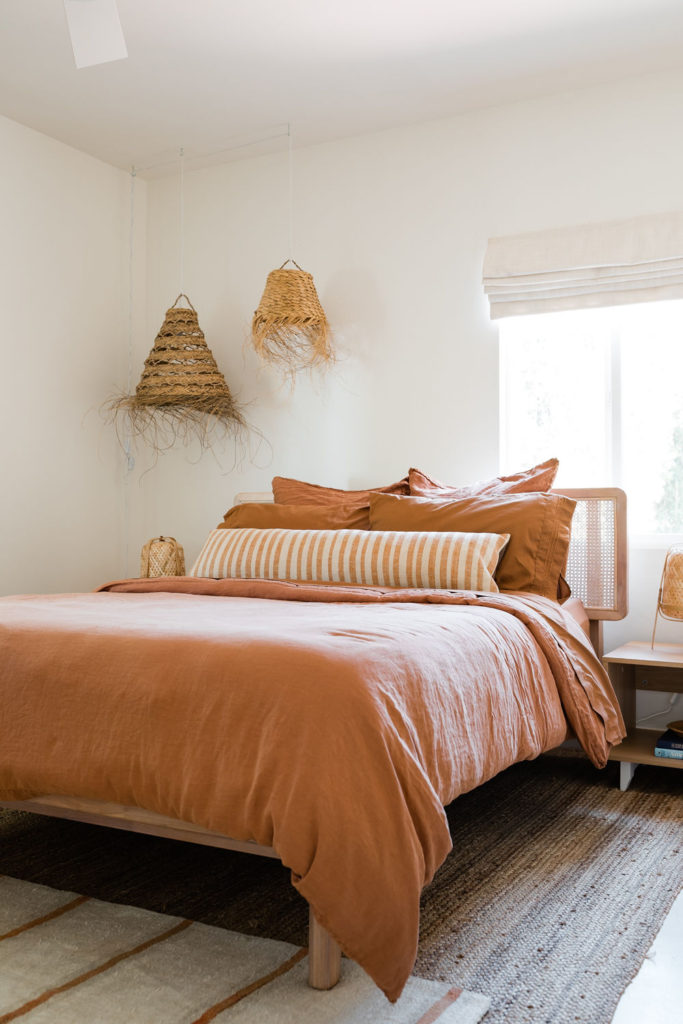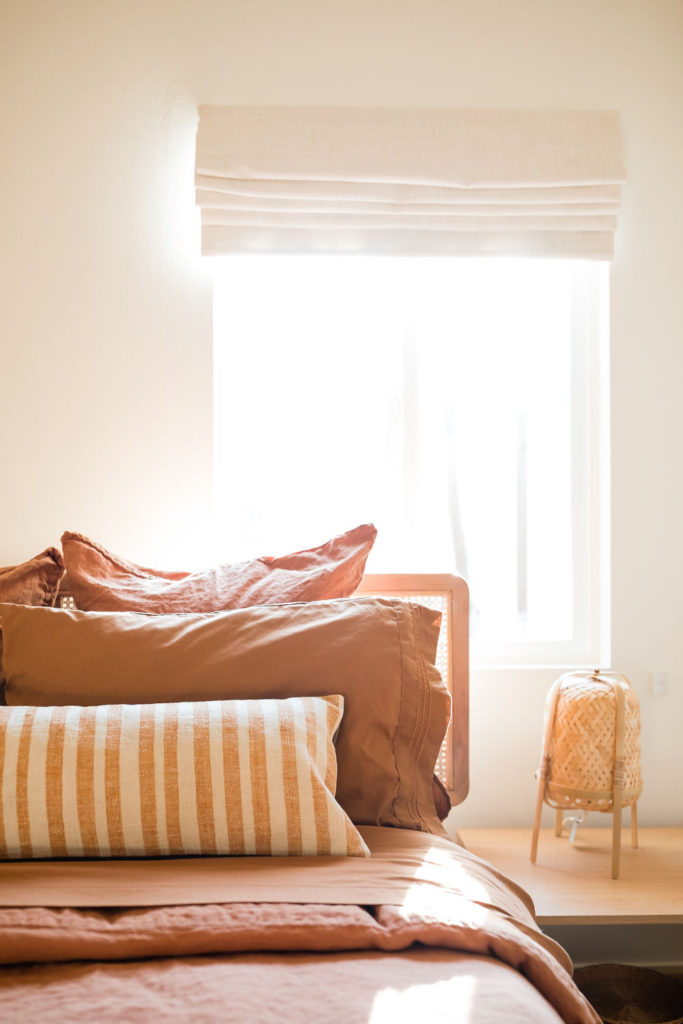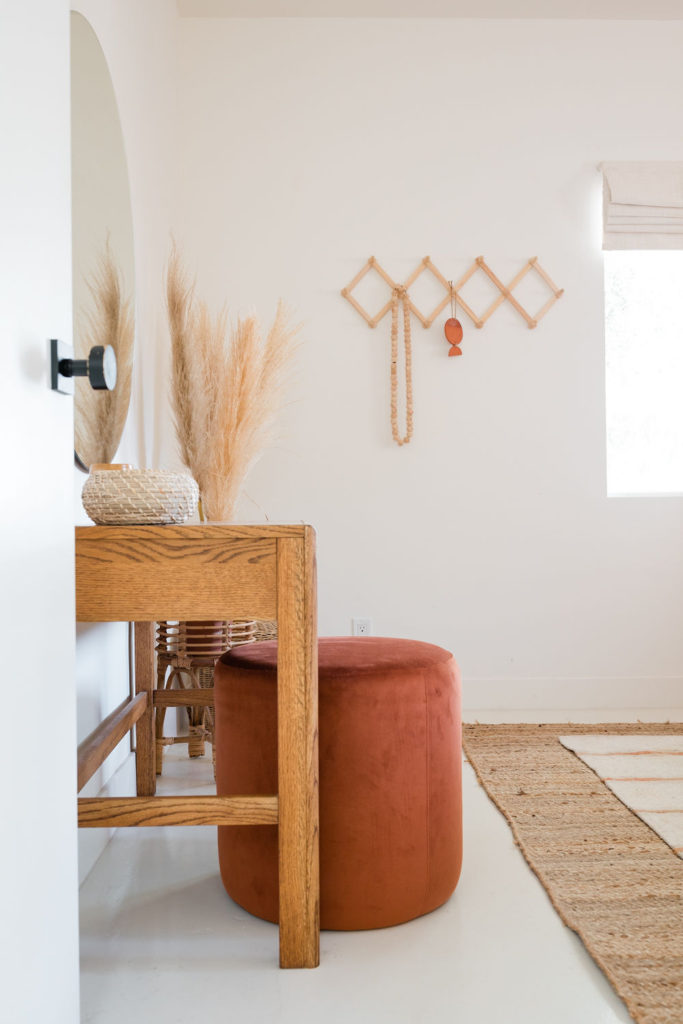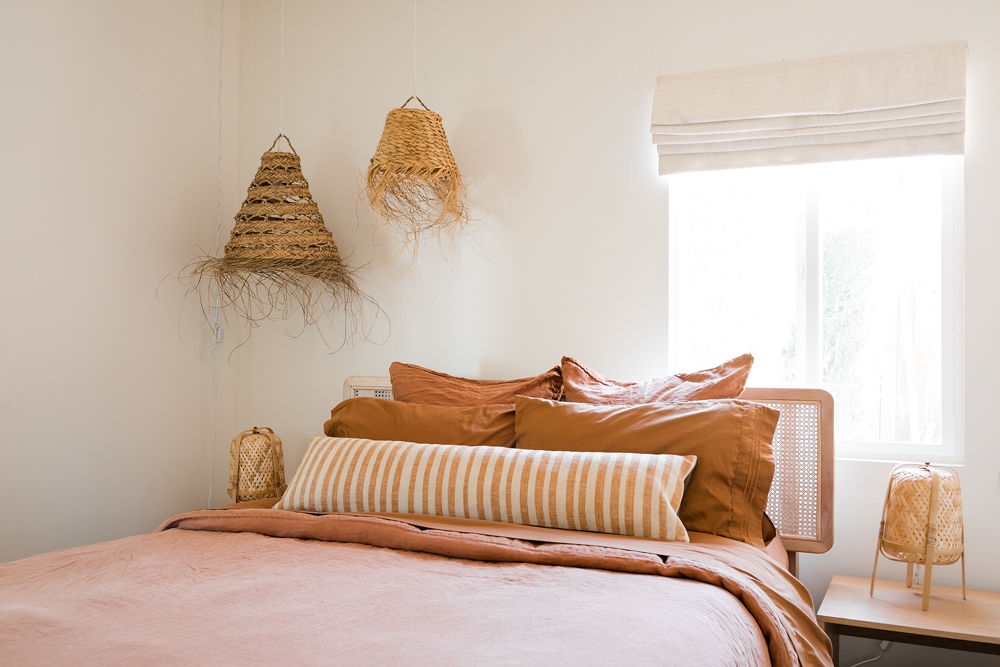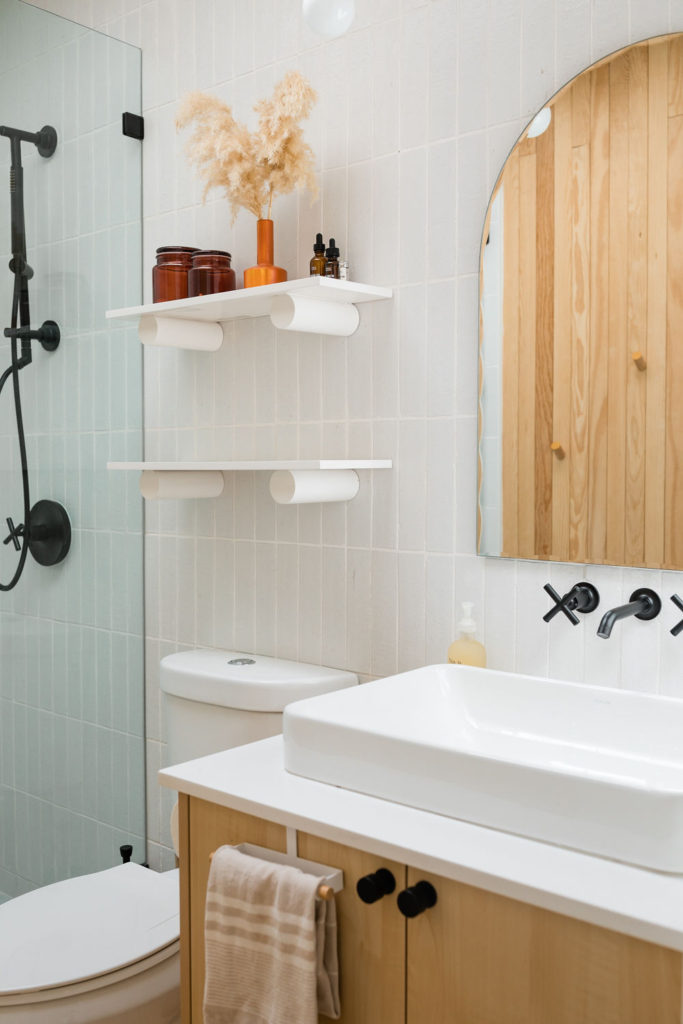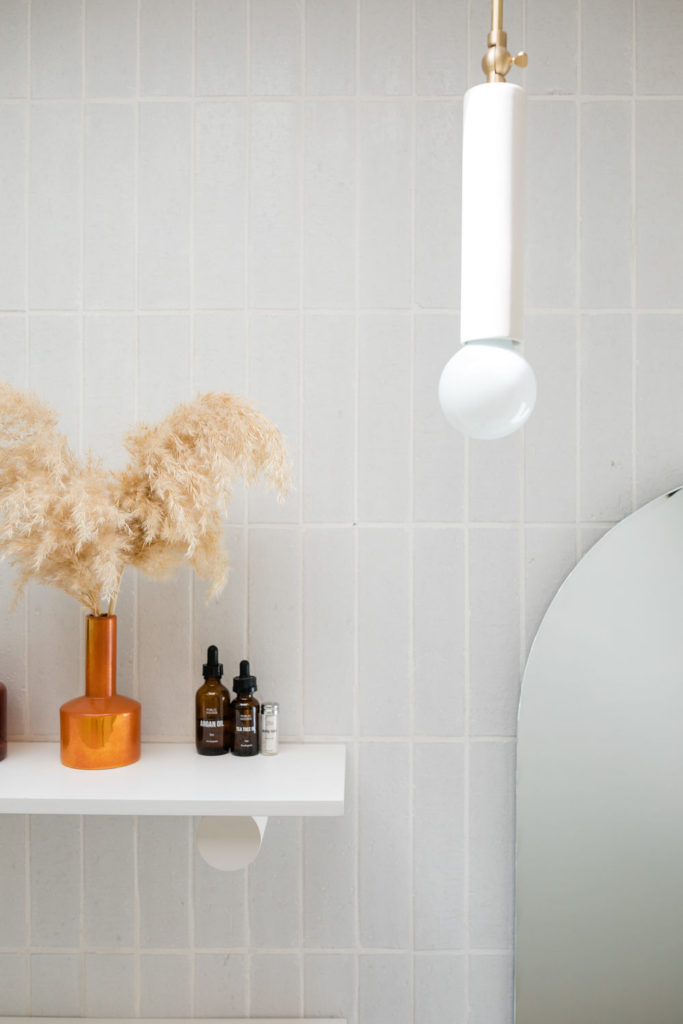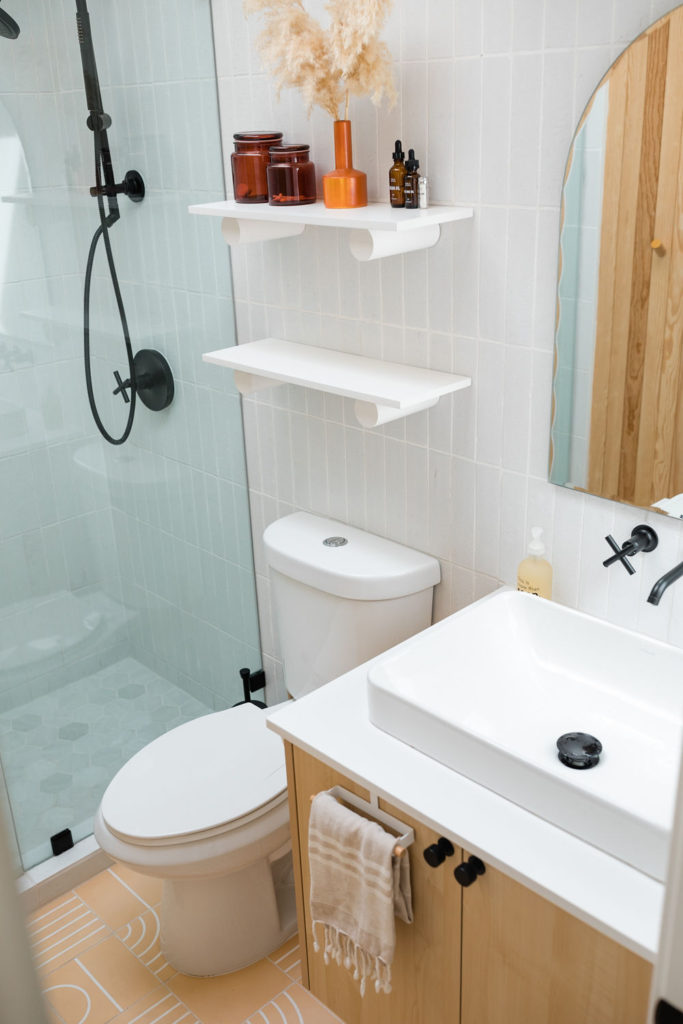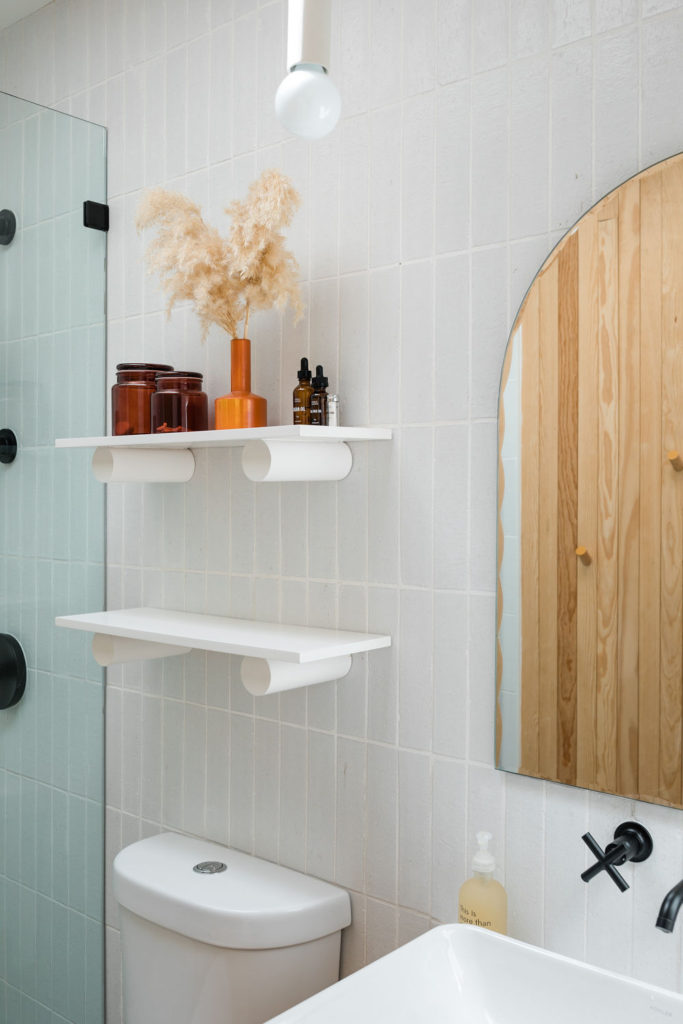 The backyard area is amazing, talk to us about it…

I truly love the backyard, it's so rare to find a house with such a green and private backyard space in that area. When we bought the house, we really bought it for the backyard. We had to rebuild so much of the inside, but the outside was stunning with huge old Ficus hedges, beautiful mature fruit trees, and drought-tolerant grass, plants & flowers. We didn't have to change a thing.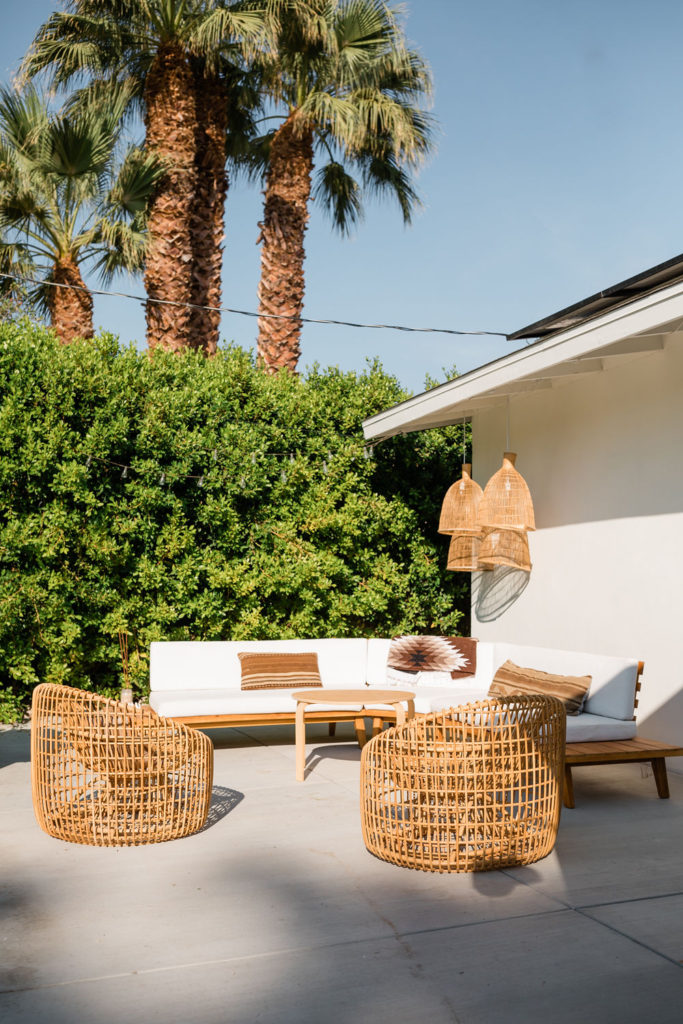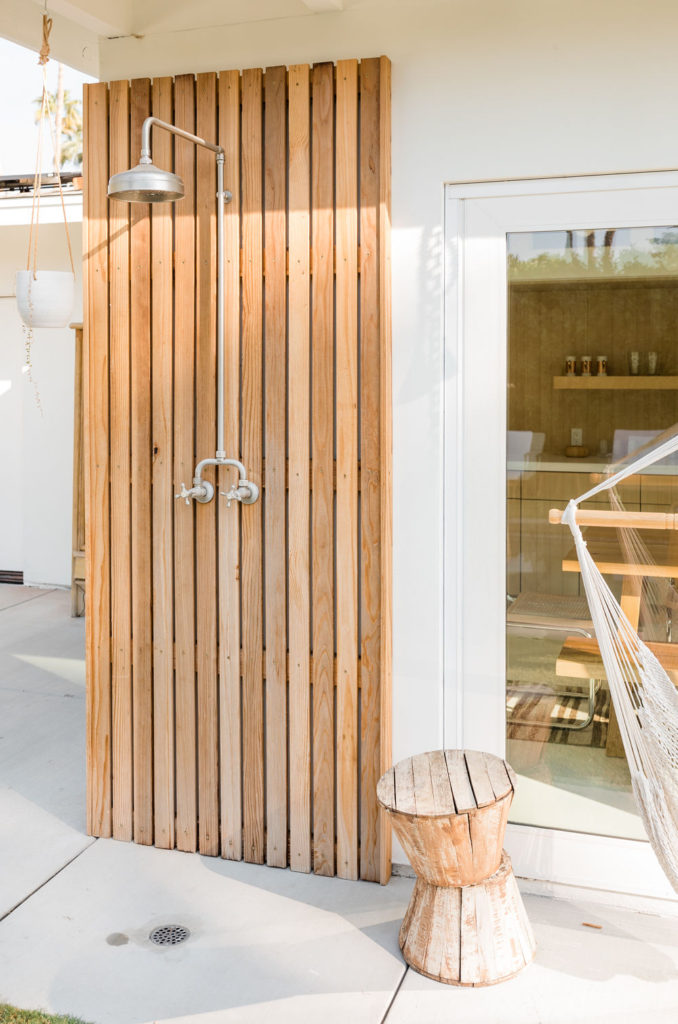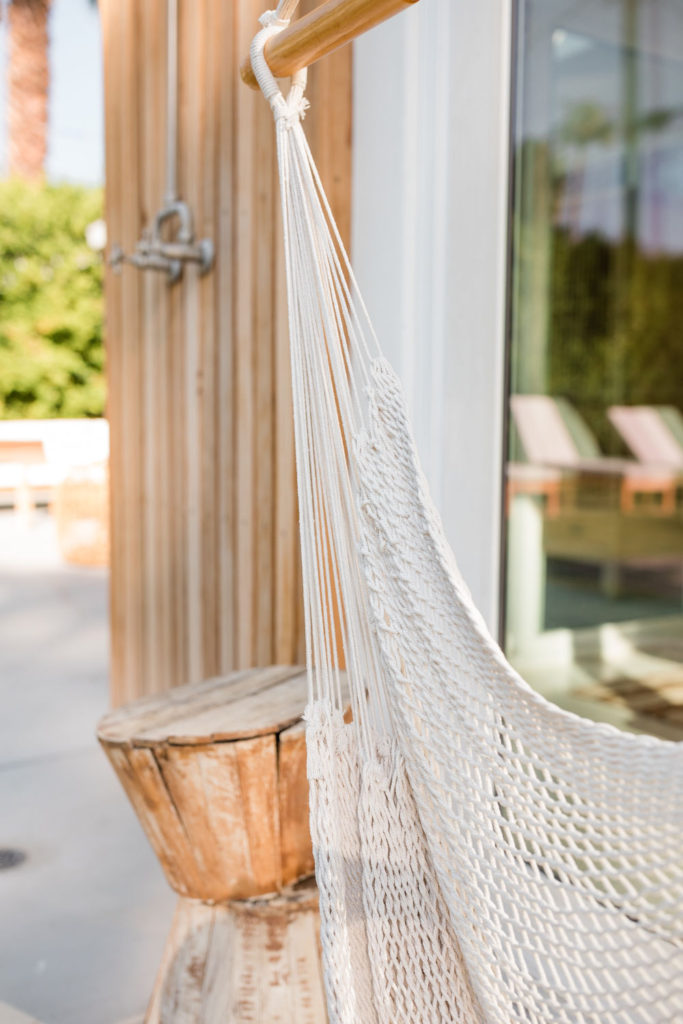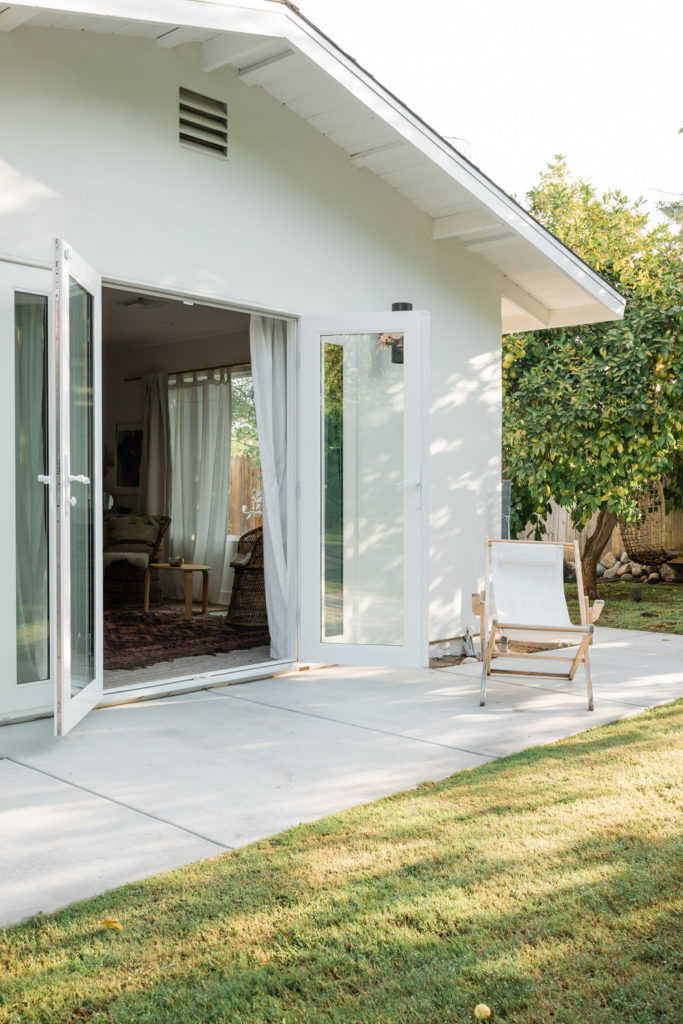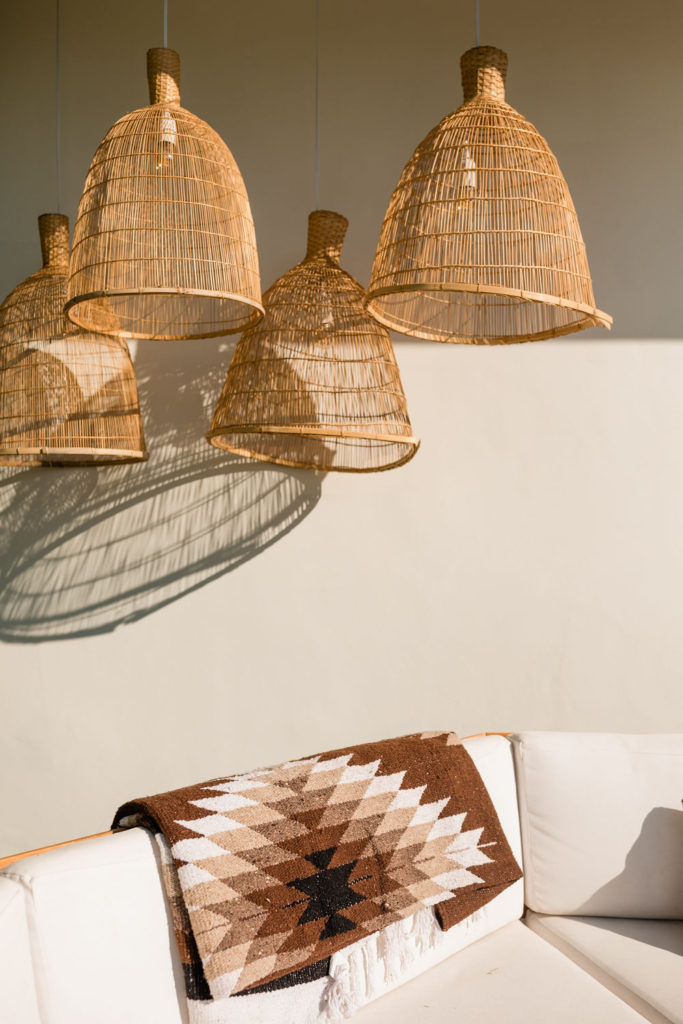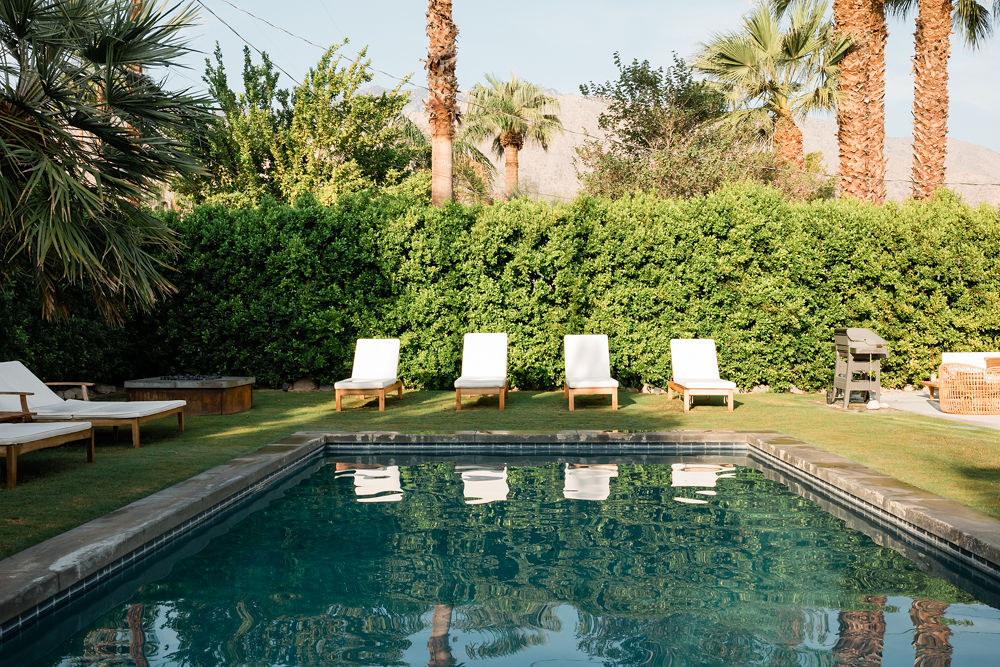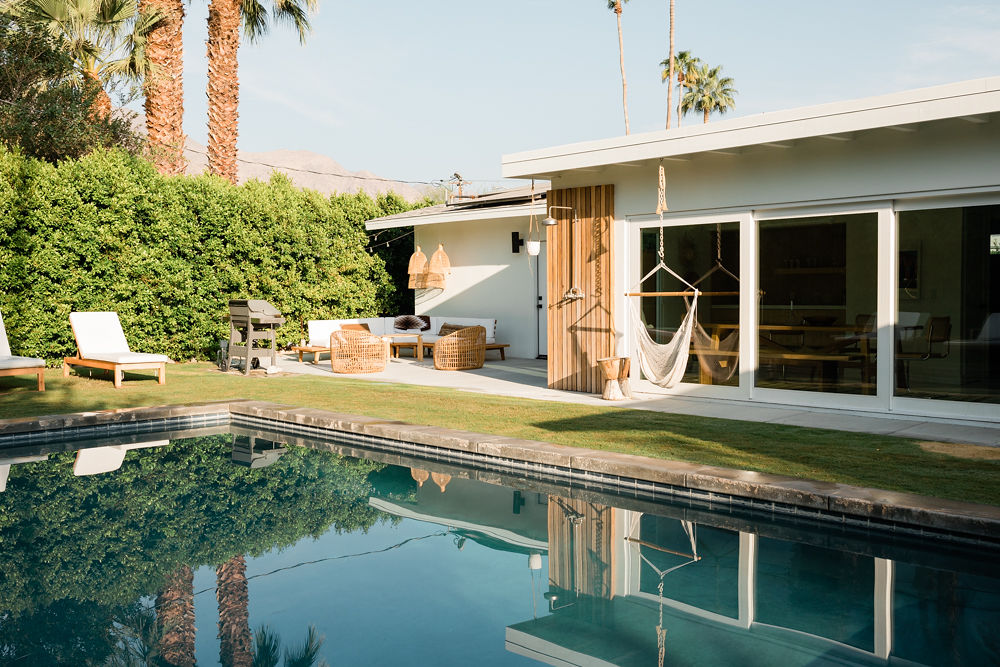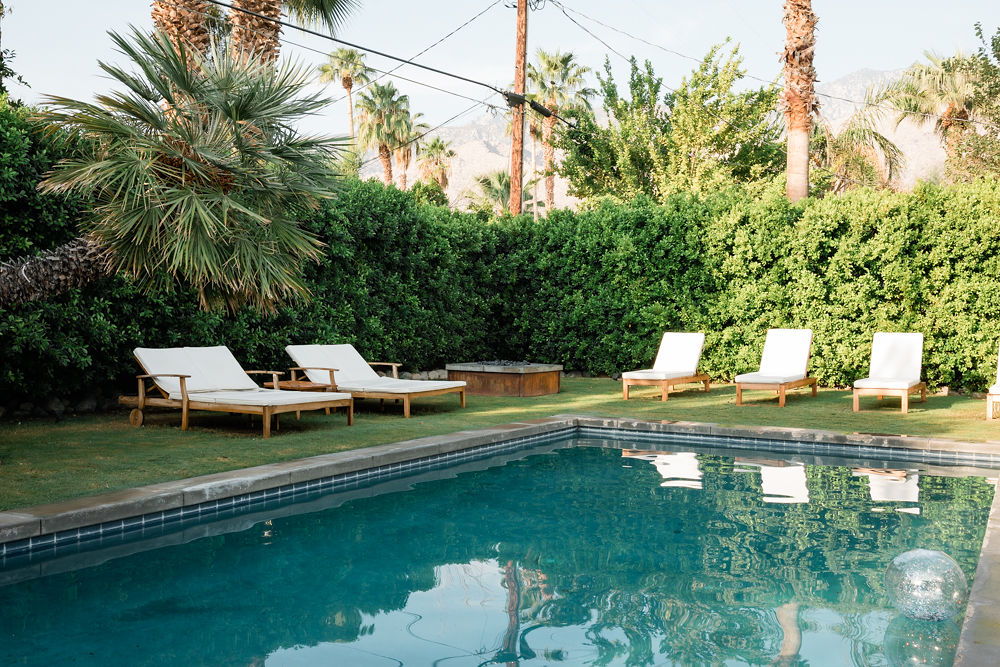 Can I be transported there right now?! BRB, going to go book ASAP!!!
xx
Jacquelyn