With Easter just in a couple of days, I bet you need some help with your Easter table setting? If weather permits, an outdoor Easter brunch is a must! Easter is a holiday that I love to host for the family. It's spring which means all the beautiful pastel flowers are in bloom, and your tablescape is going to be filled with lots of bright, colorful spring beauty. Today, I'm sharing with you tips and tricks on how to throw an outdoor brunch that won't leave you questioning why you decided to host this year. I love hosting brunches because it allows time before guests coming, and once everyone has left you still have part of your day to enjoy with your little ones. We have partnered with Pottery Barn and a couple of our favorite vendors to create the perfect outdoor Easter table. And the best part is that you can do this yourself! So cmon, and let's have some fun!
Photos by Erin Milink
This brunch beauty is also being featured on Inspired by This today! Check it out, here.
Tip: To throw a perfect Easter brunch that your guests will love, it's all about planning ahead. This is the most important thing! If you plan ahead, everything will be a breeze. Create your menu and guest list. I always find out from family members what time will work for them. Easter is one of those holidays where people are busy throughout the whole day. I love brunch cause it gives you time before family members arrive, and you will still have part of your Sunday after. Prep your food the night before, so all you have to do is garnish and set out before your guests arrive. The same goes with your tablescape. This will leave you time in the morning with your family to enjoy Easter baskets with the kids.
Creating a tablescape can be daunting for some people, in particular for a holiday occasion. You feel the need to go out and get all new things to wow your guest. But you don't have to! Pottery Barn has beautiful everyday items that you can use for your festive decor. When adding festive decor to your table, you want to be limited on the amount. I know it's exciting and everything is super cute but too much of a good thing and it can start to look crowded. You want pops of Easter throughout the table. I used The Emma Egg Cup which comes in a mixed set of seasonal pastel colors at each place setting. I placed fresh farmers market eggs into each cup. Another easter element among this pretty table is the pierced ceramic egg that was placed right beside the floral arrangement.
Idea: A cute idea for your eggs is for you to write your guests name on each one for their place setting. A custom touch your guests will love.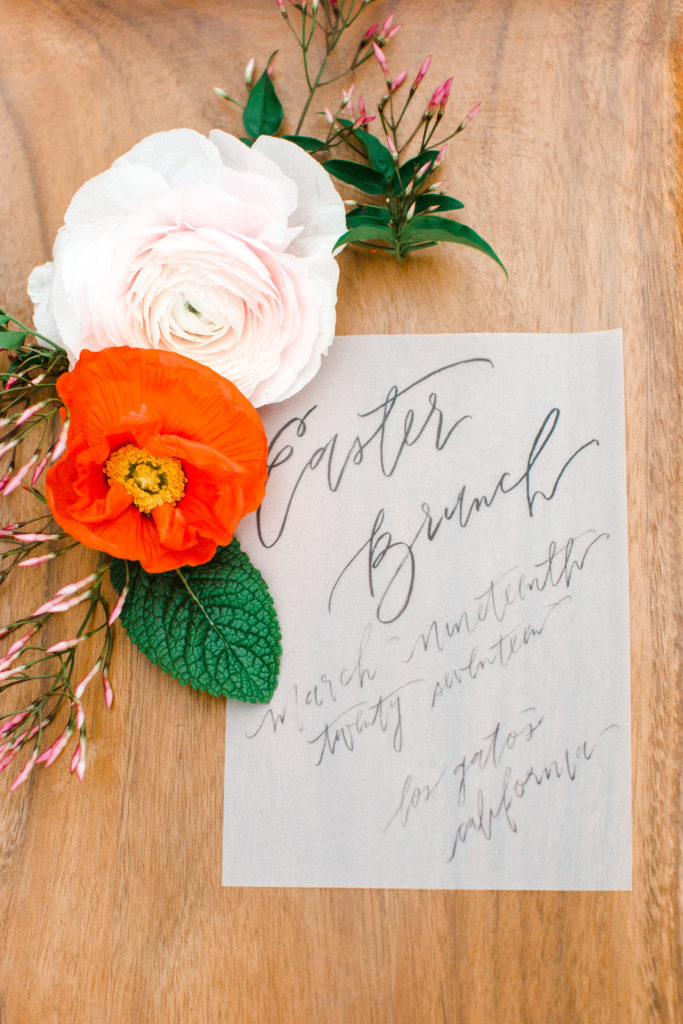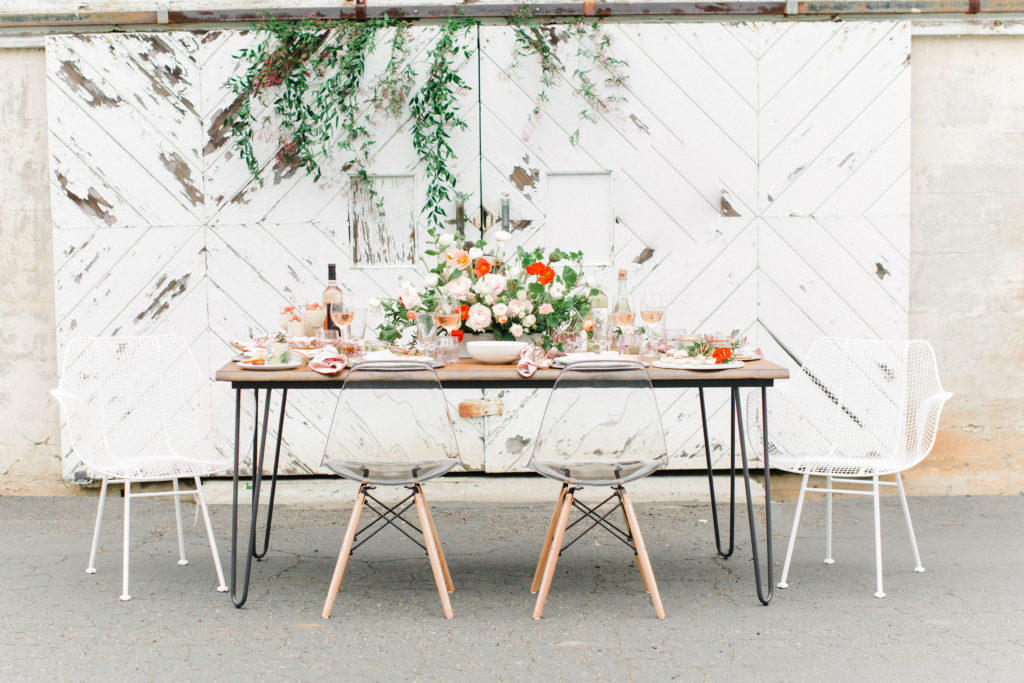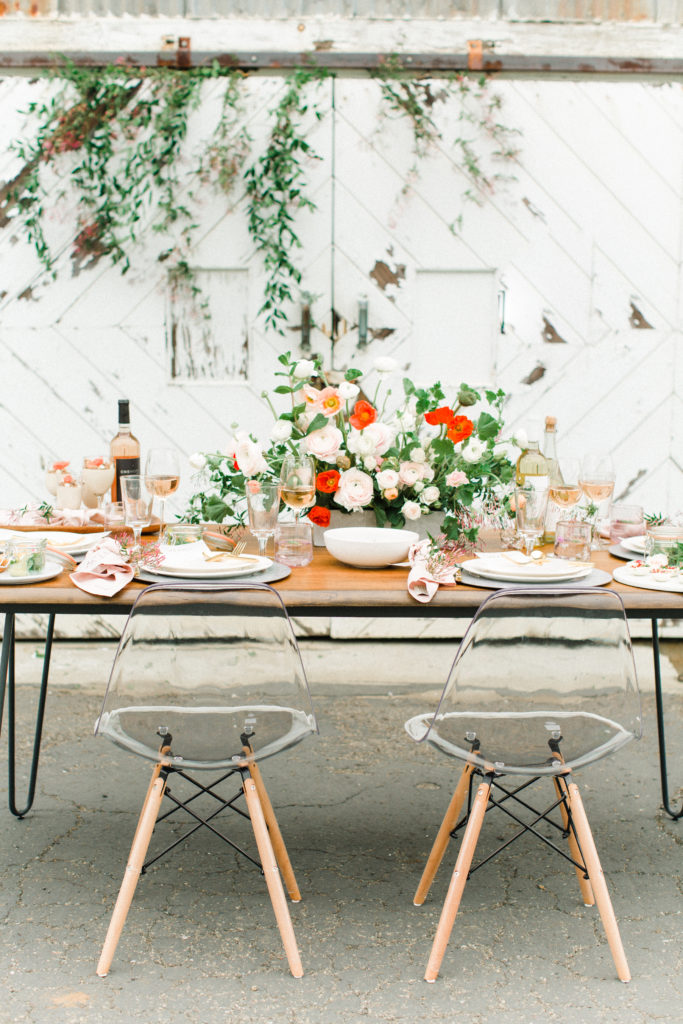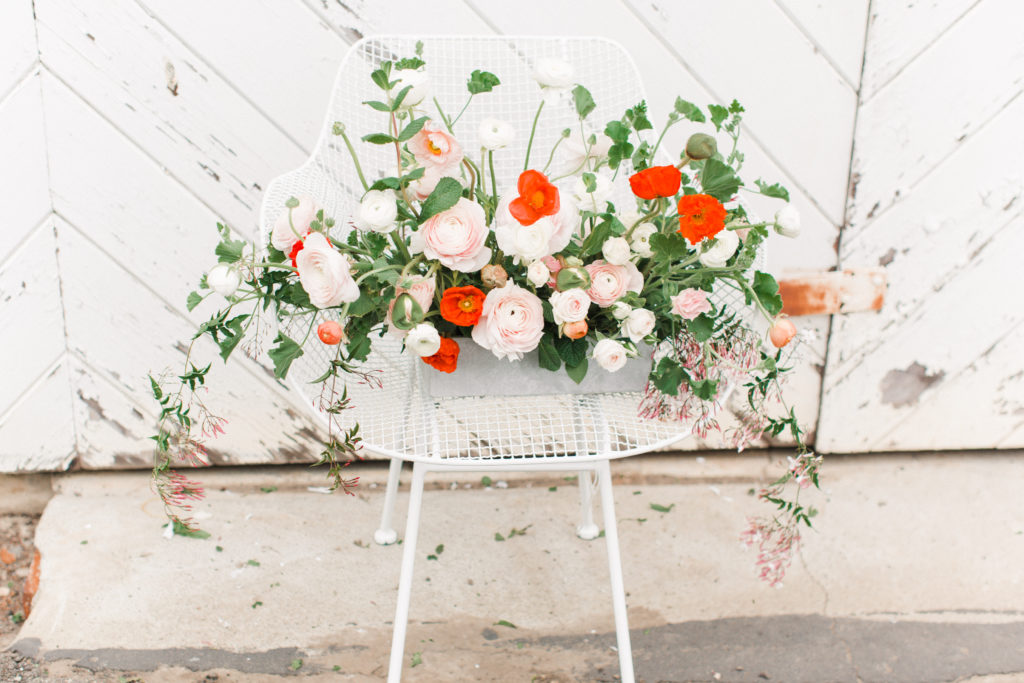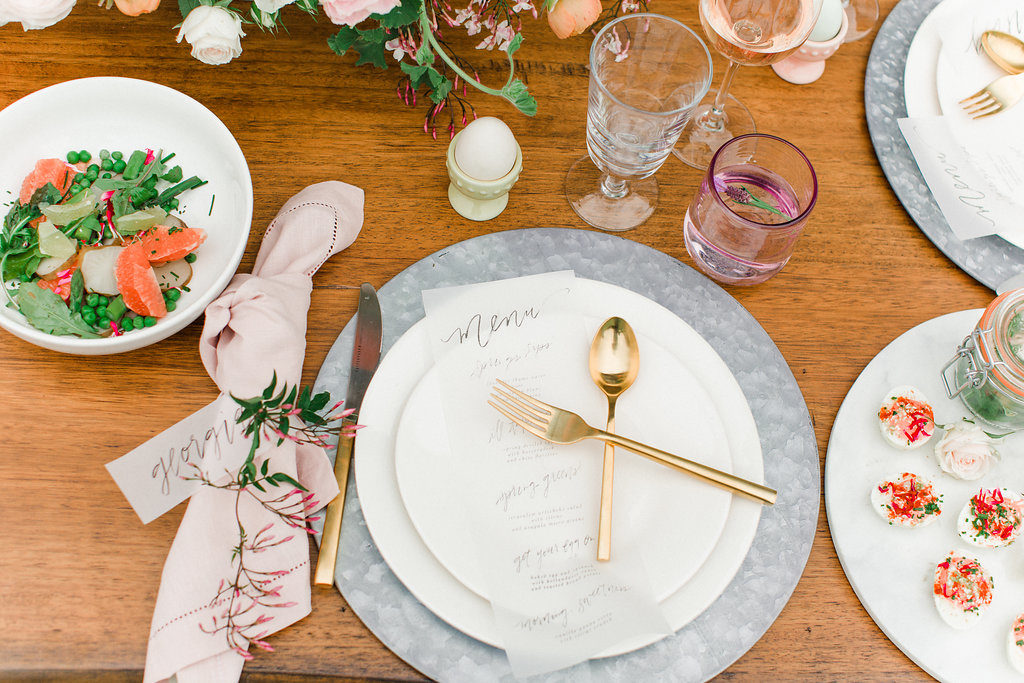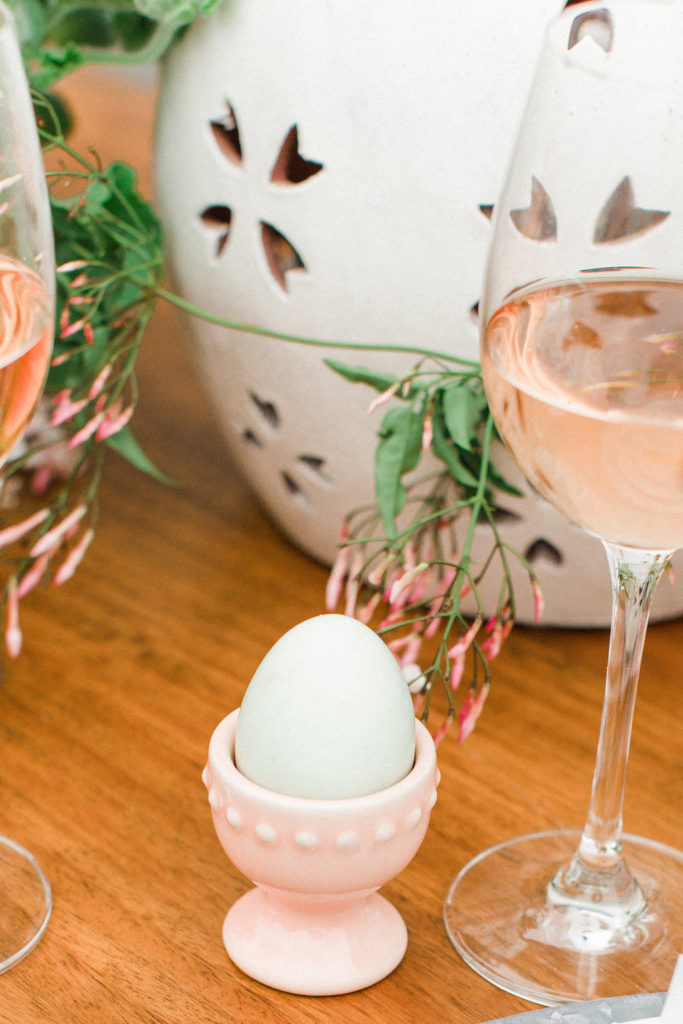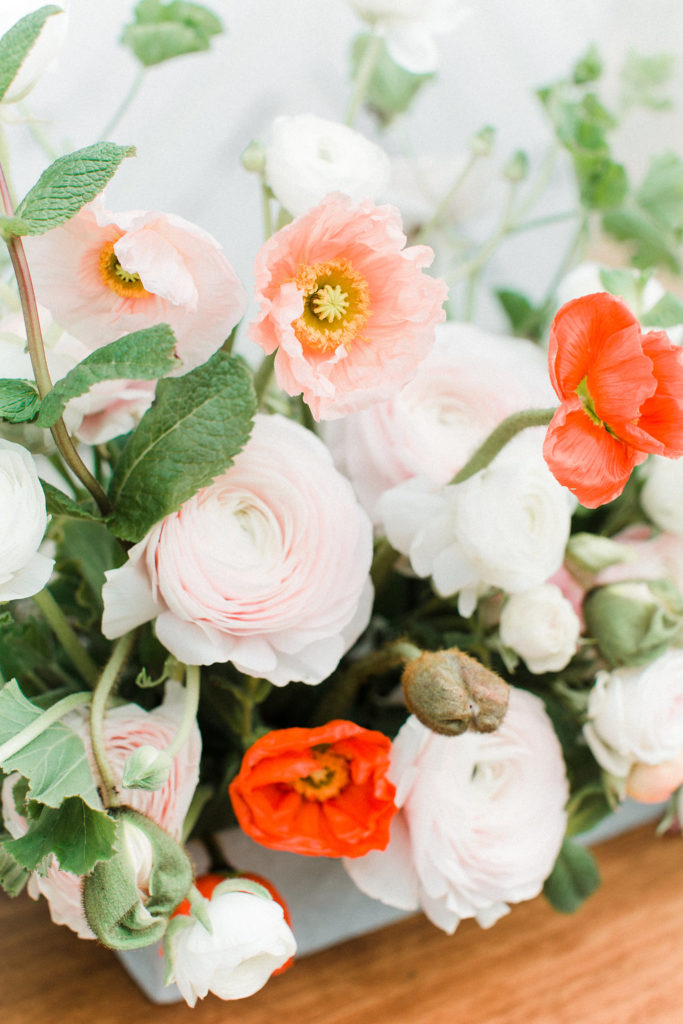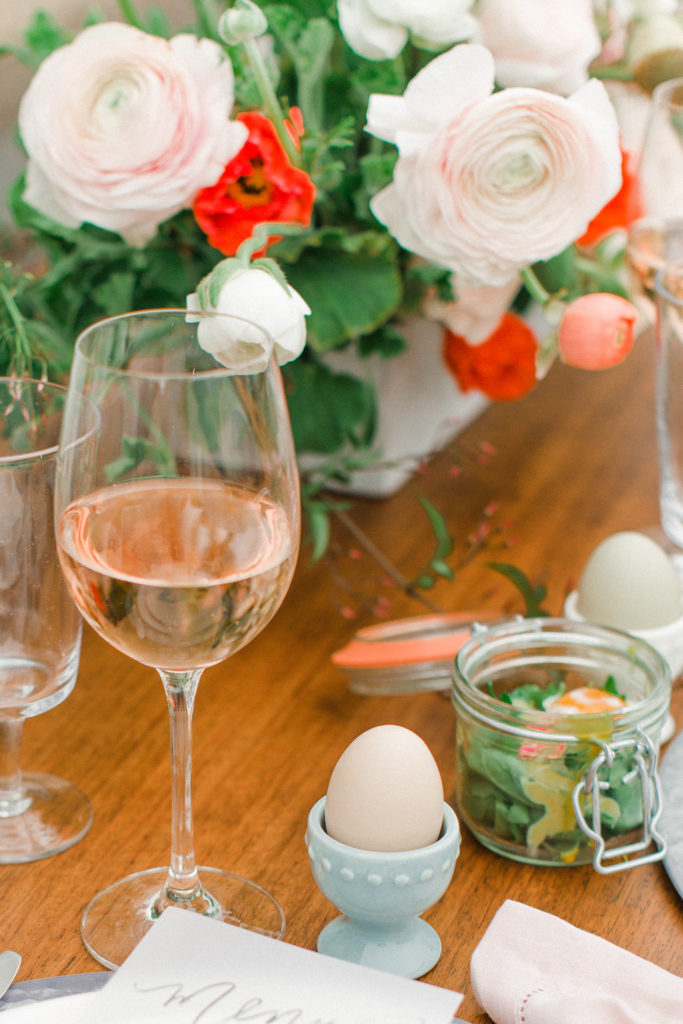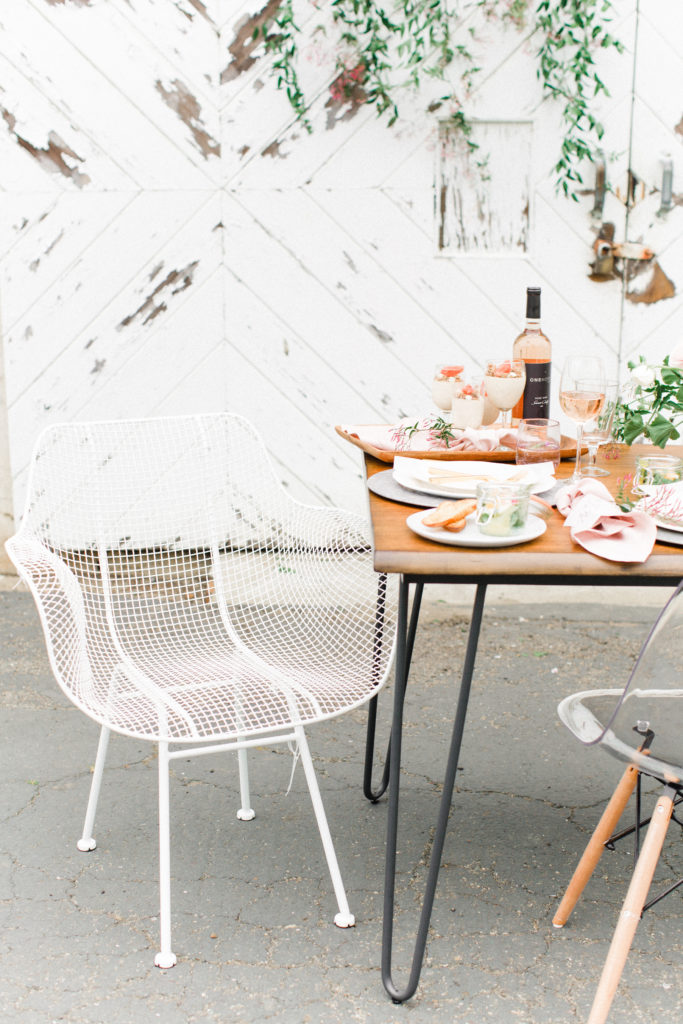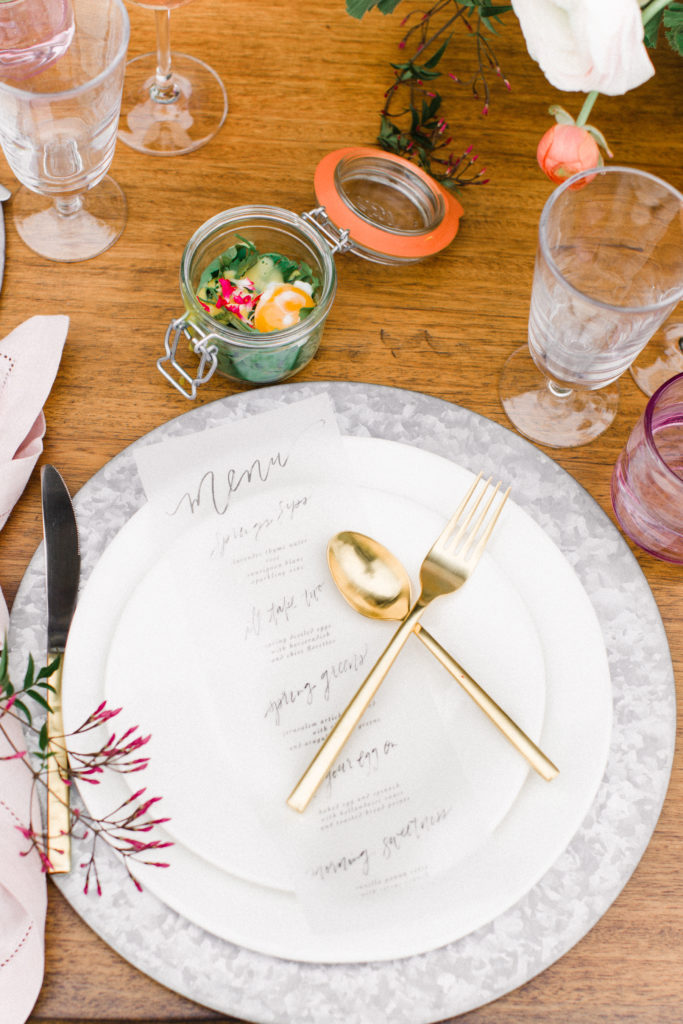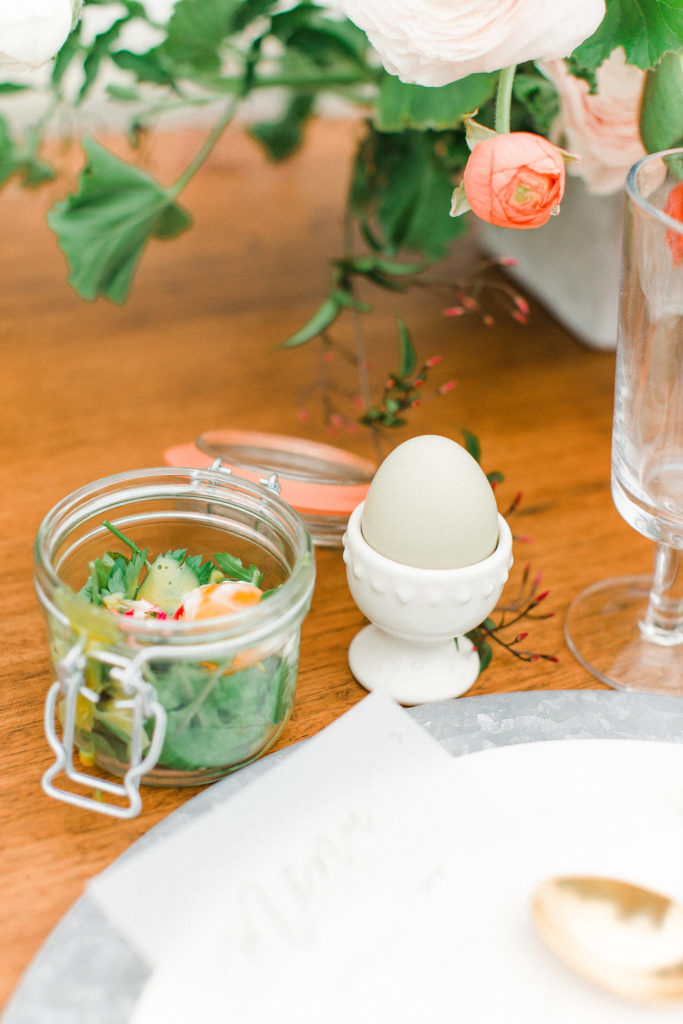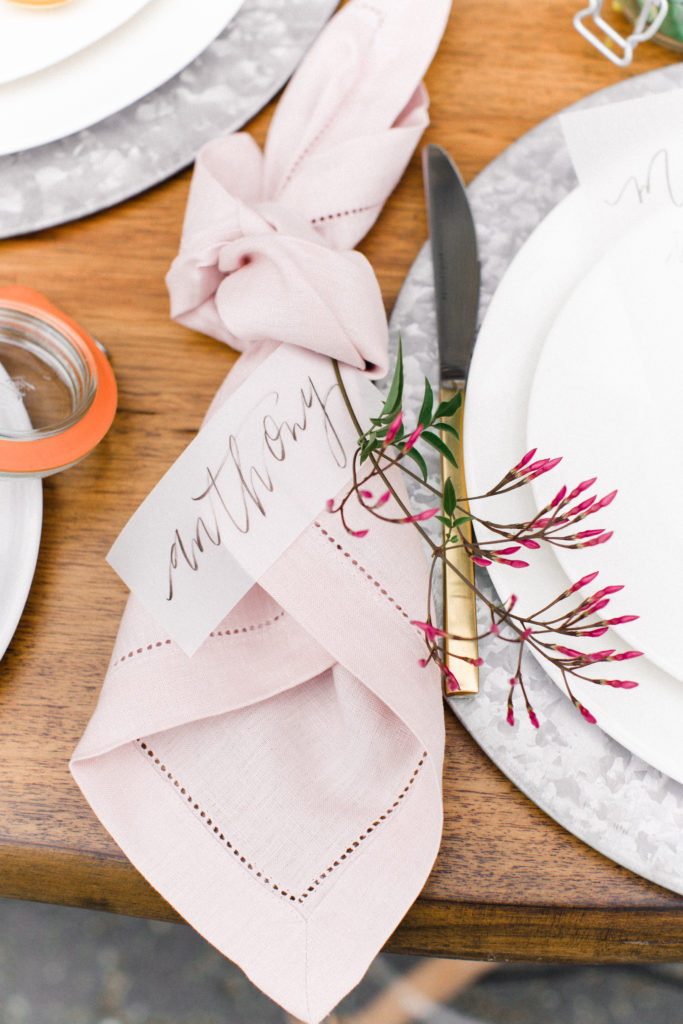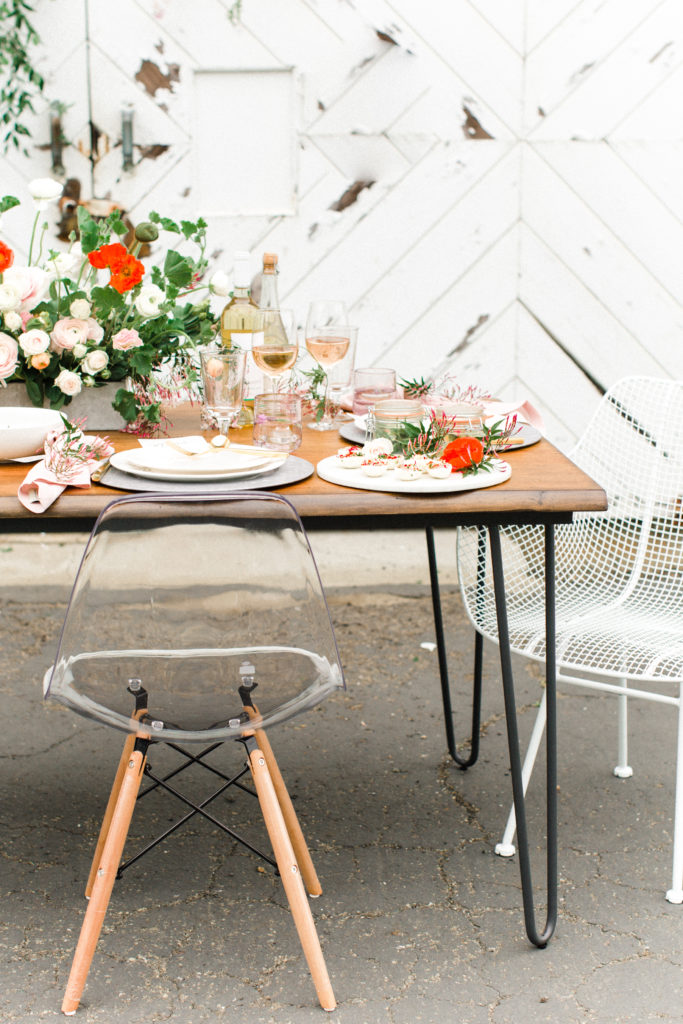 For the place setting itself, I went with natural colors so I can bring in the pops of pastel in the textiles and glassware. I fell in love with the plum tumbler that was accompanied with a white and red wine glass. It is sadly sold out, but you can add a pop of color with the outdoor Fresca Acrylic Drinkware. I love the Montego red wine glass cause you can either use of course for wine or even for water or juice. My everyday Au Naturale Stoneware plates set on top of a galvanized metal charger which the metal reminds me of summer days outside. For Easter, you have to have a pretty blush textile in the mix. I tied the napkin in a knot to add another fun element to the table setting. Gold flatware to top it off!
Tip: Have fun with your flatware placement, get creative and place it in new places. Placement of flatware and new ways of folding or placing napkins bring your guest's attention to the table. People love to see things done differently, its refreshing and fun. Meghann Miniello created a simple yet elegant menu on vellum that was seated on top of the salad plate. She also created matching name cards and invite. I love for guests to know what they are having. If your table allows, serve family style. It's an imitate way of spending more time with your family and enjoying each other instead of having people constantly be getting up and down from the table to get more food. As well, throw a couple bottles of your favorite wine on top of the table.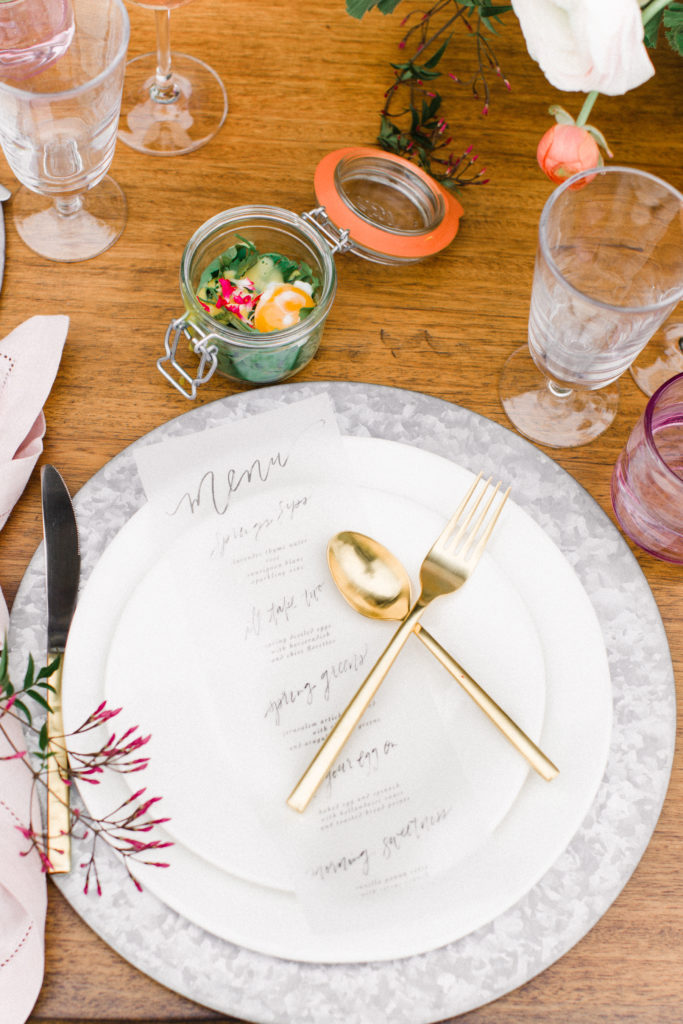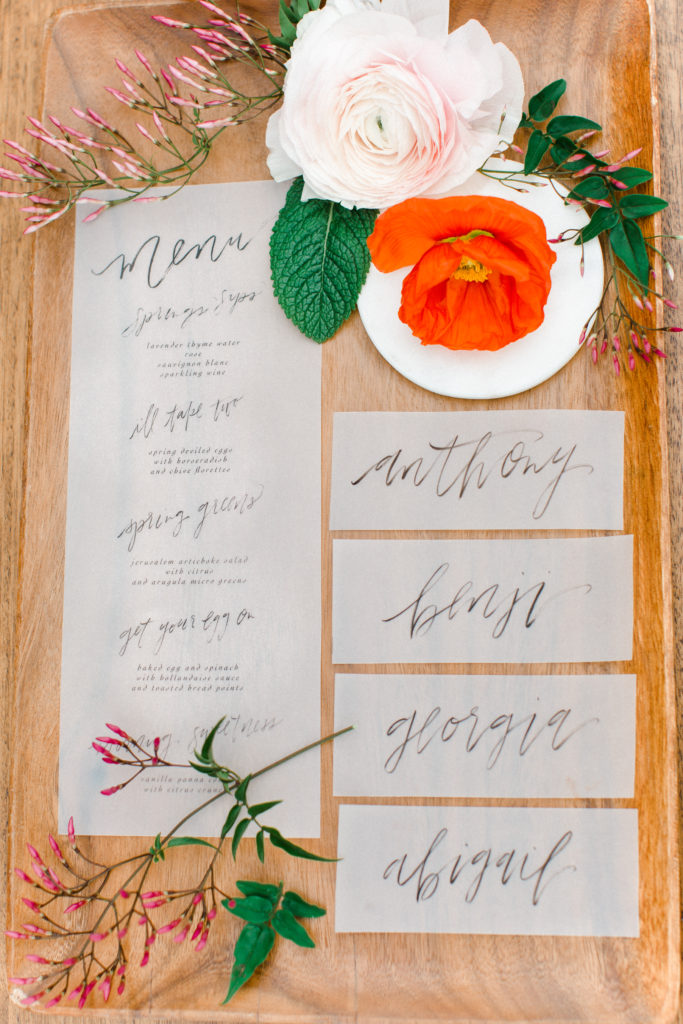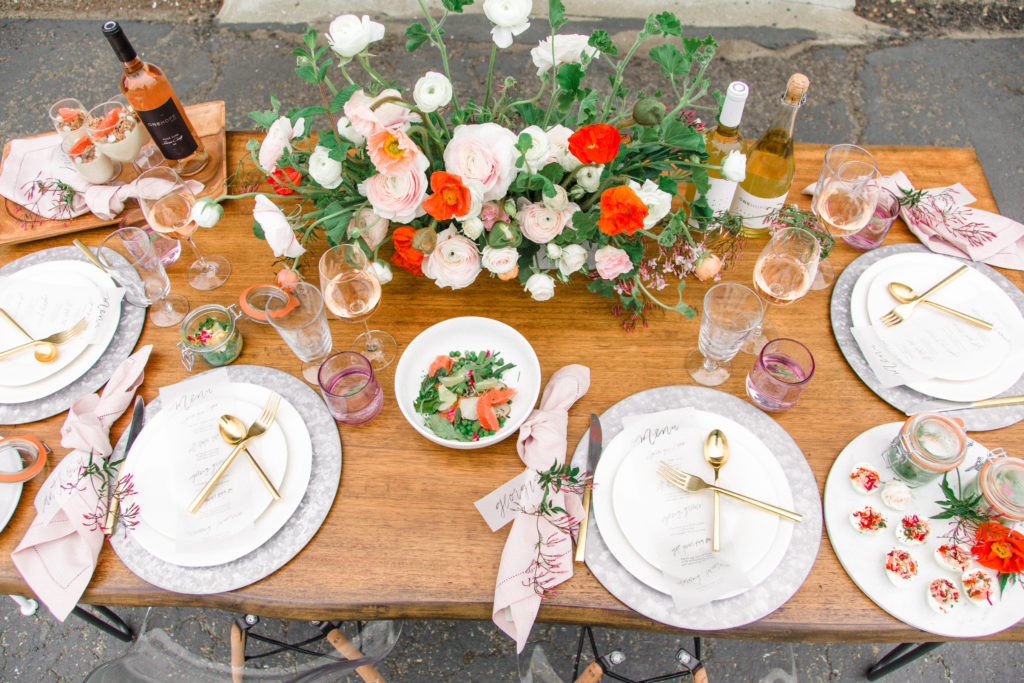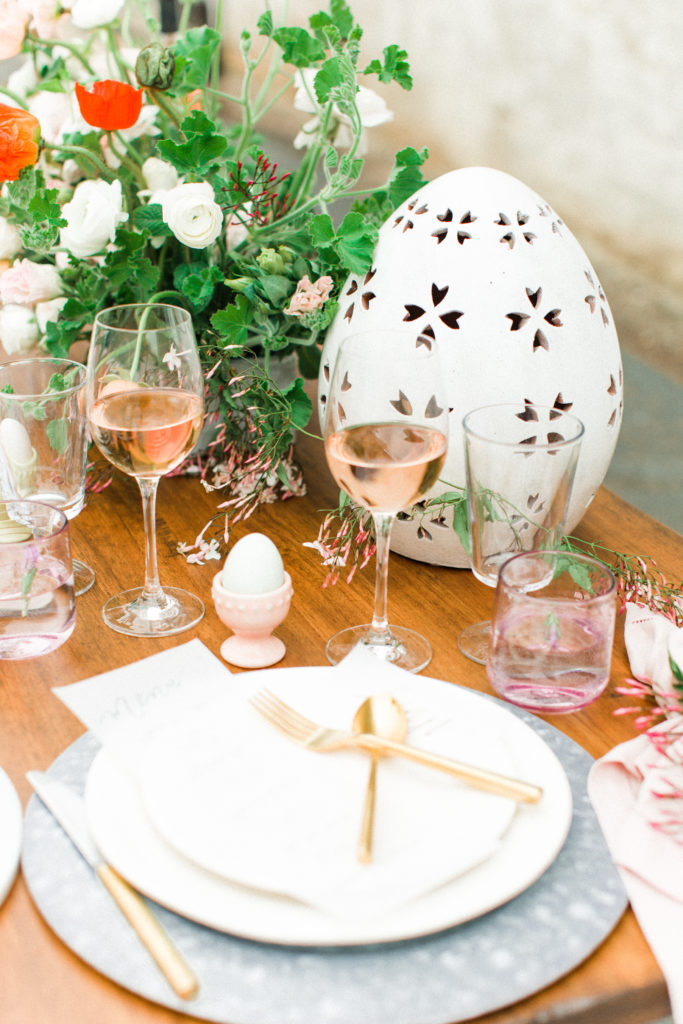 Now, one of the most important parts of the table. The flowers! This is where all your spring and pastel dreams come true. Have fun with it! Natasha Kolenko created a beautiful spring arrangement that consisted of out of this world huge ranunculus, poppies, fragrant pink jasmine, and mint. Nothing better than having an arrangement that smells as good as it looks.
Last but not least the food! I created a spring filled menu that I think my guests will love. Nothing is more spring then a citrus salad, deviled eggs, baked eggs and arugula, and an amazing panna cotta that is out of this world. We will be sharing all these recipes with you! If you haven't seen, here is the recipe for the egg dish. So yummy!
Tip: Premake all your food ahead of time. I created a spring menu that would allow me to prep the night before. All I had to do was garnish and prepare the baked eggs.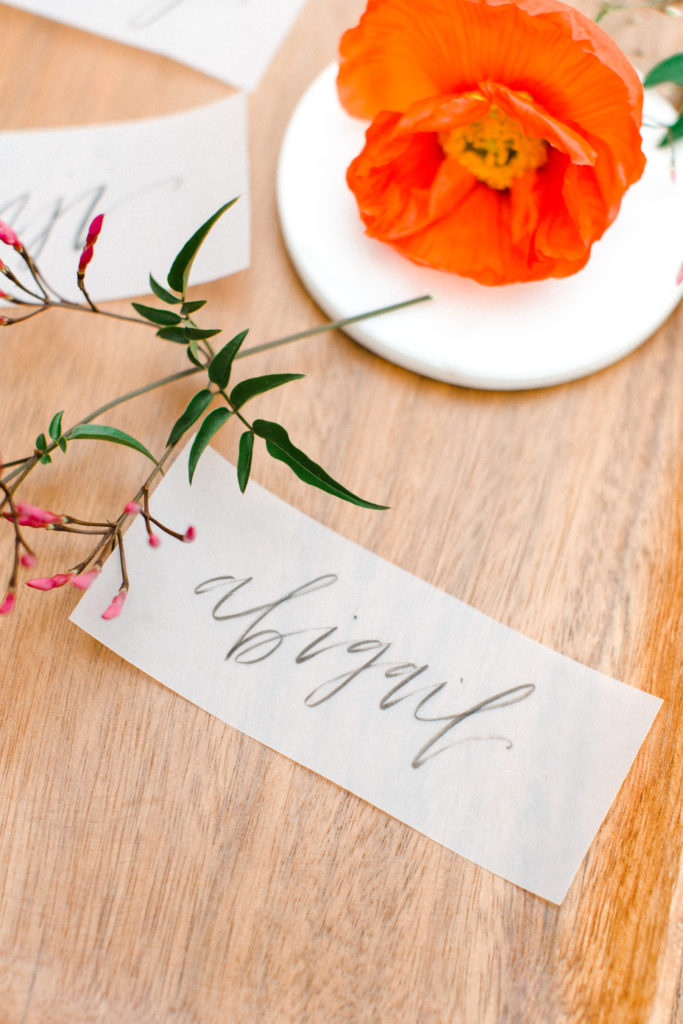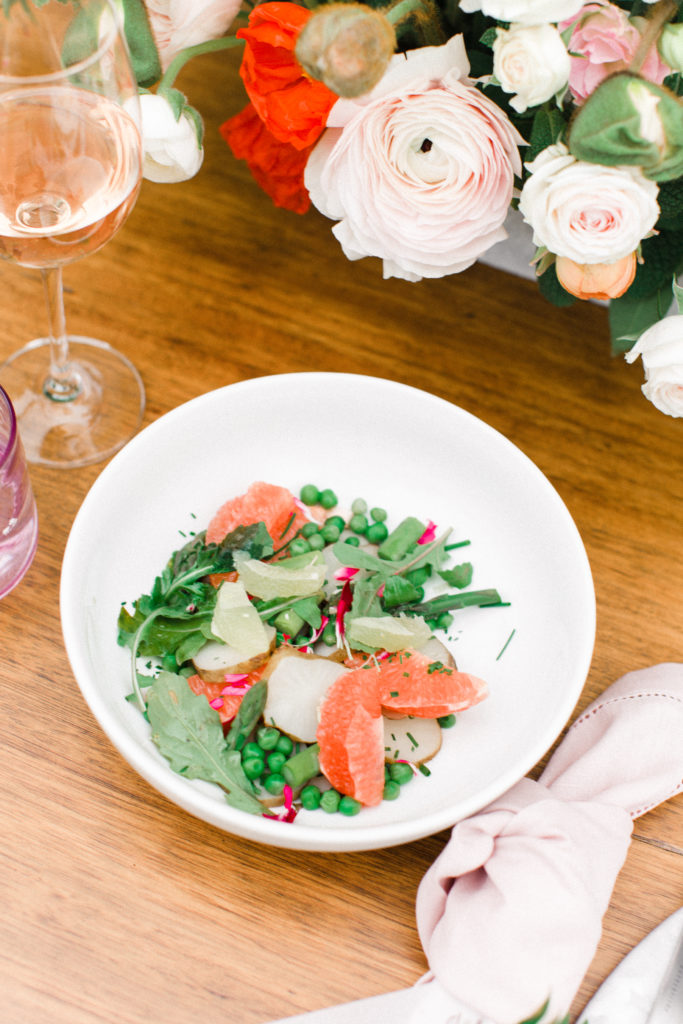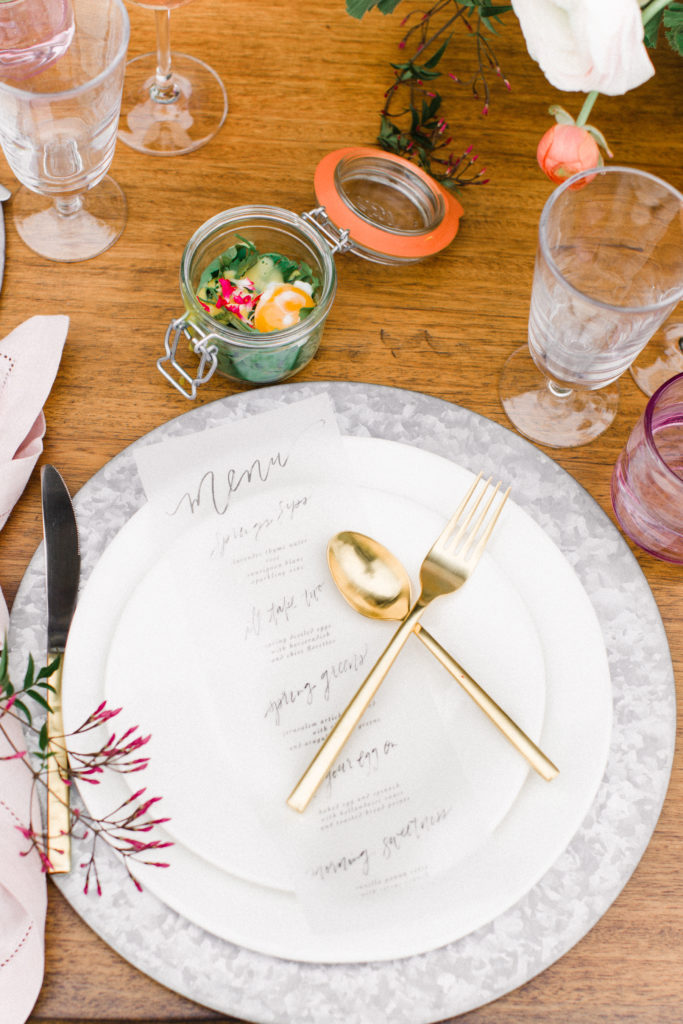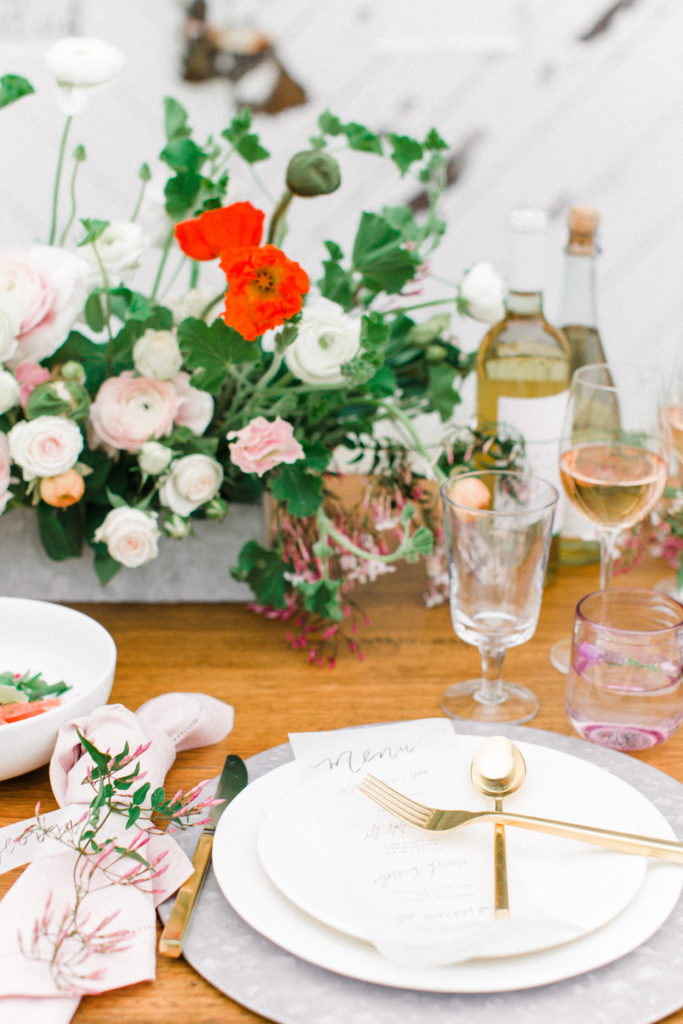 Idea: Use the Montero red wine glass as a parfait glass and place among your glassware. Unique and unexpected detail.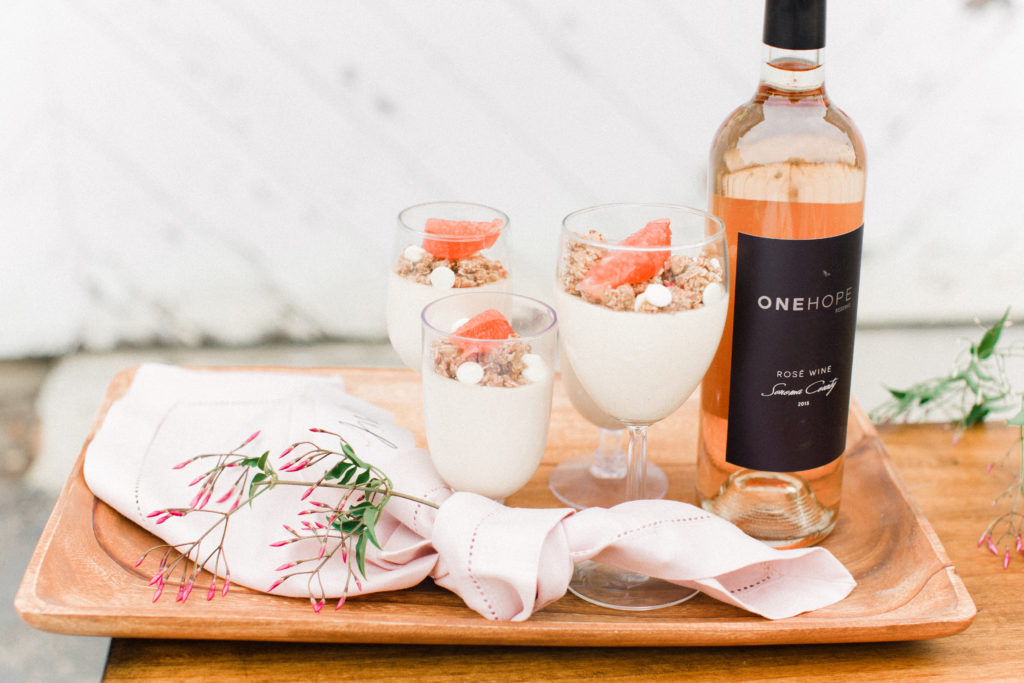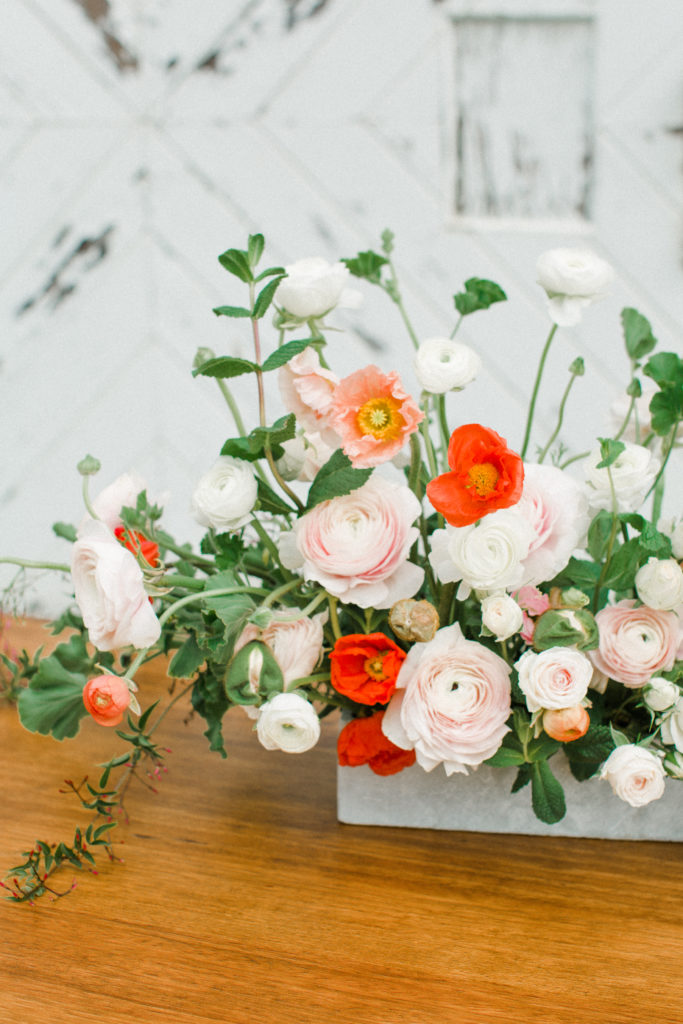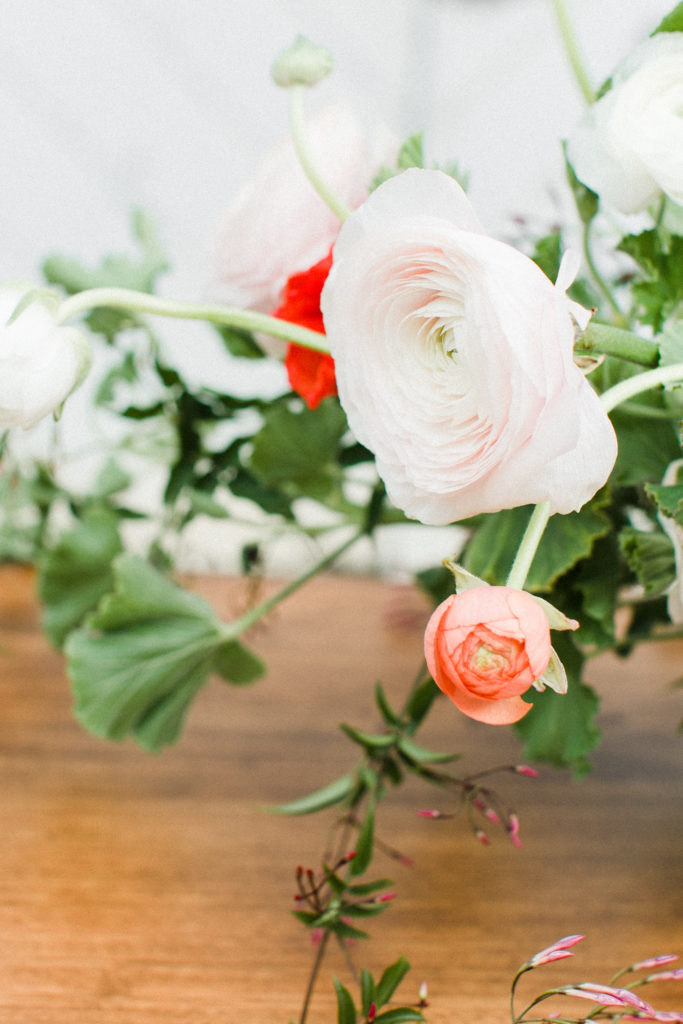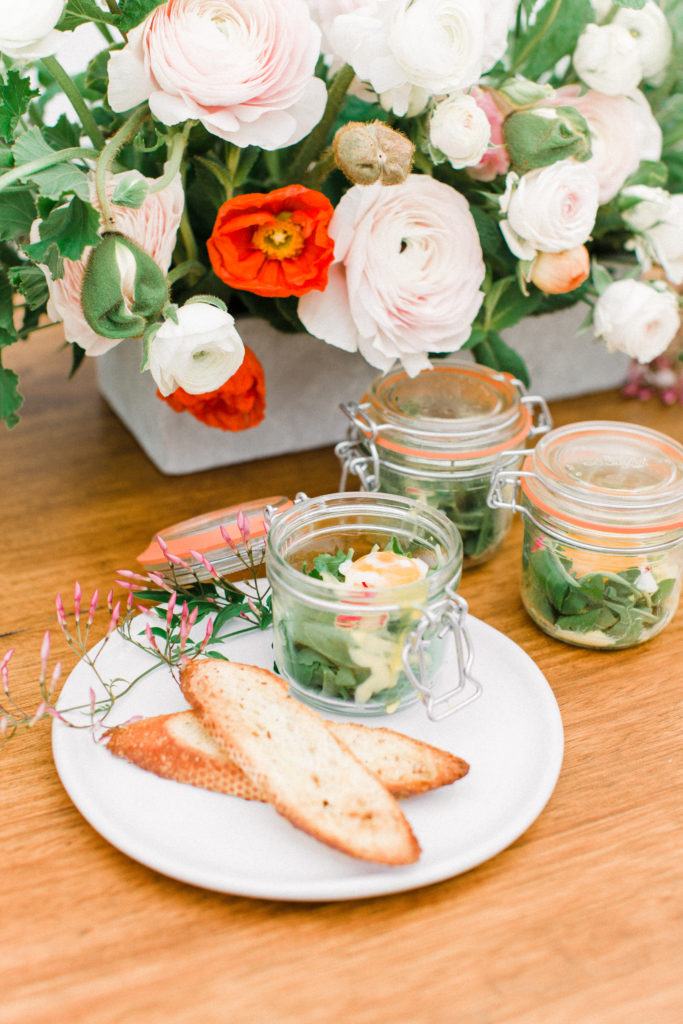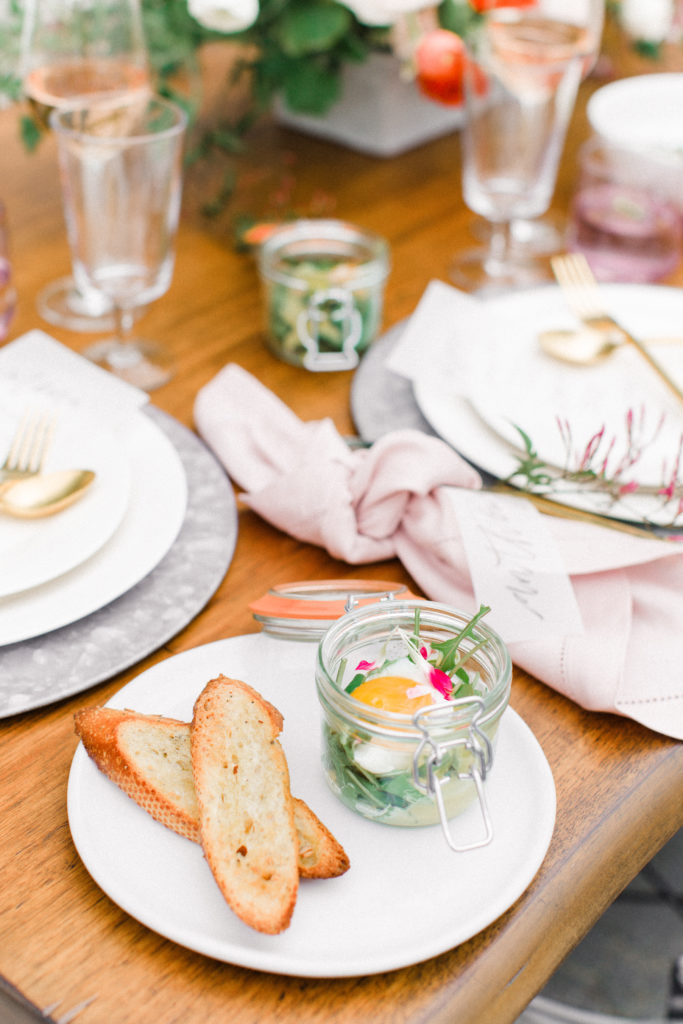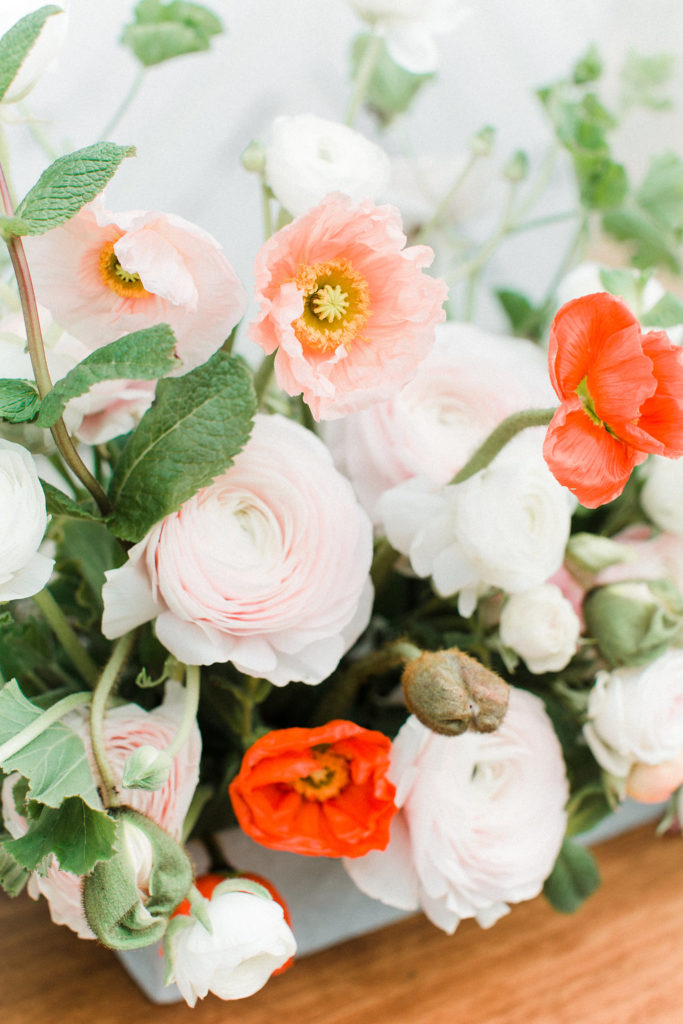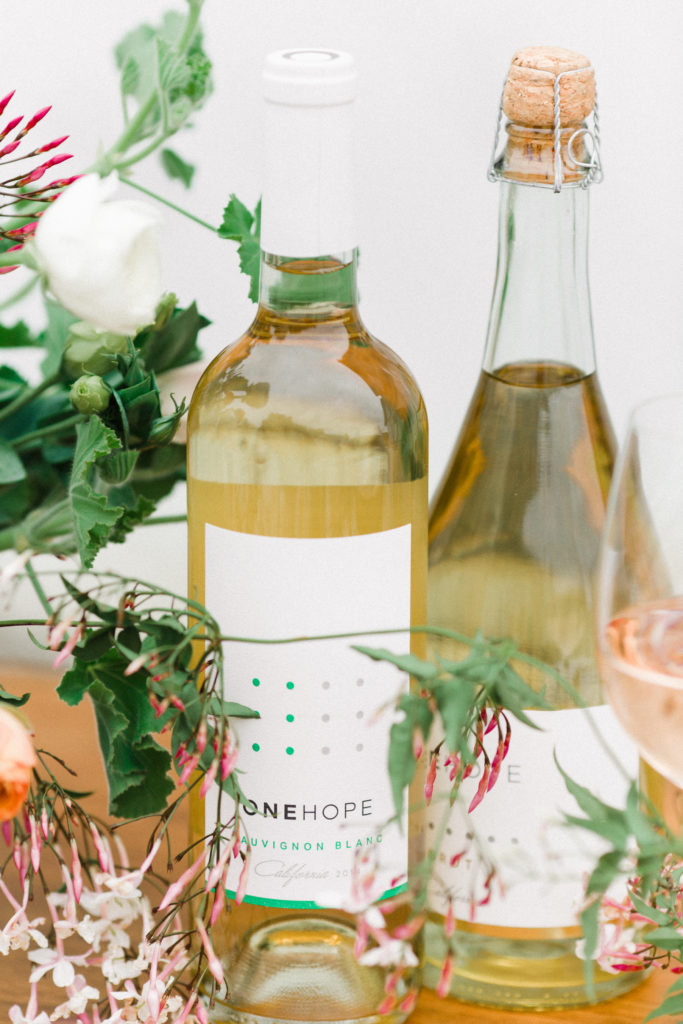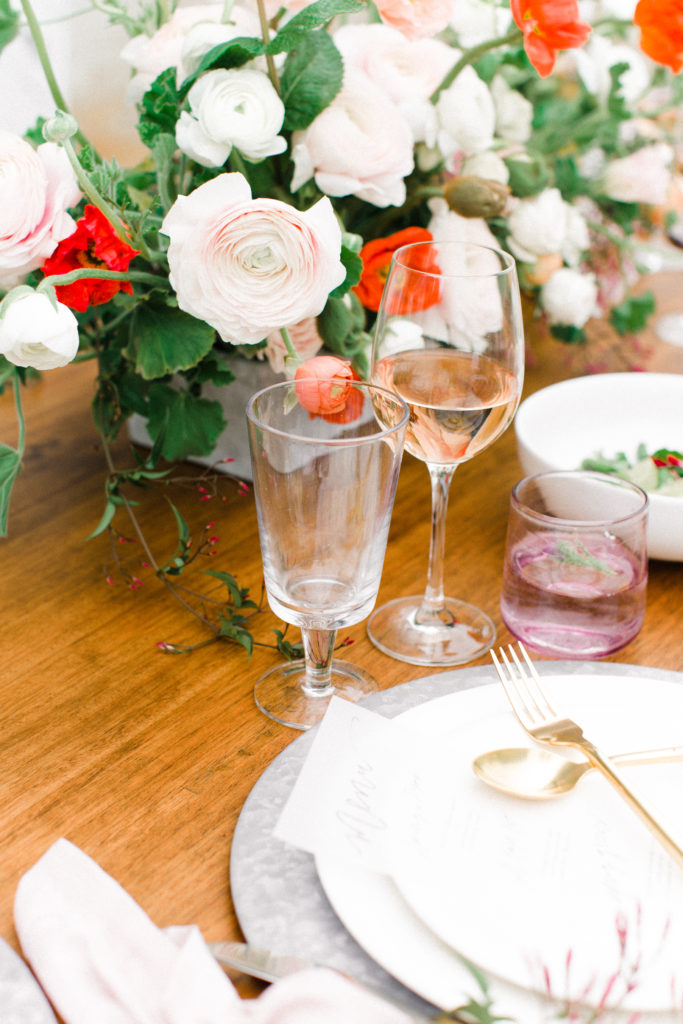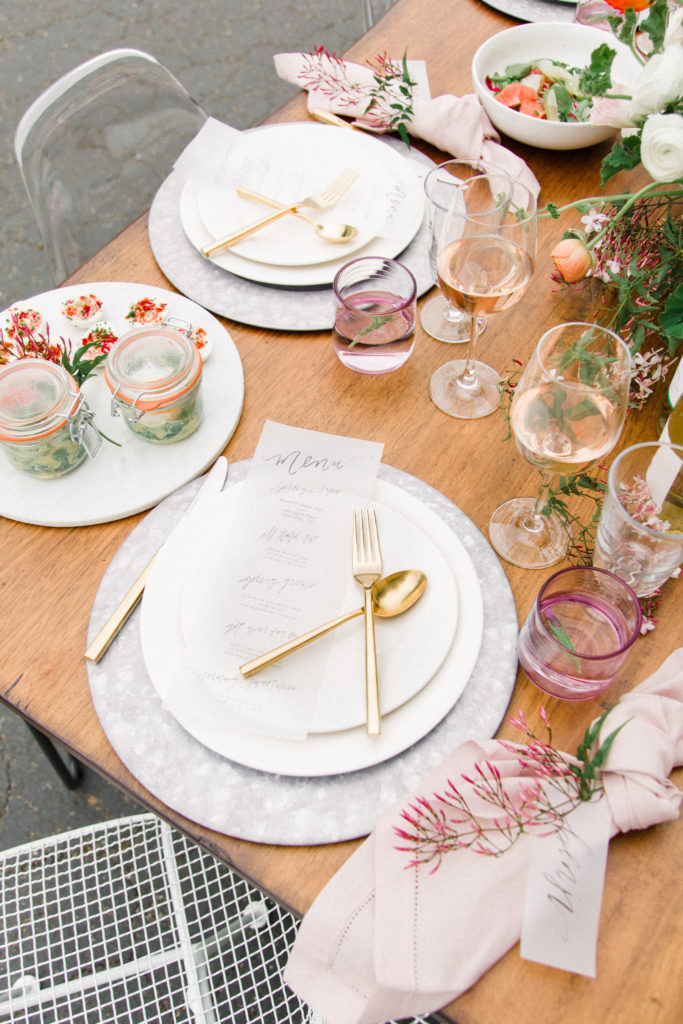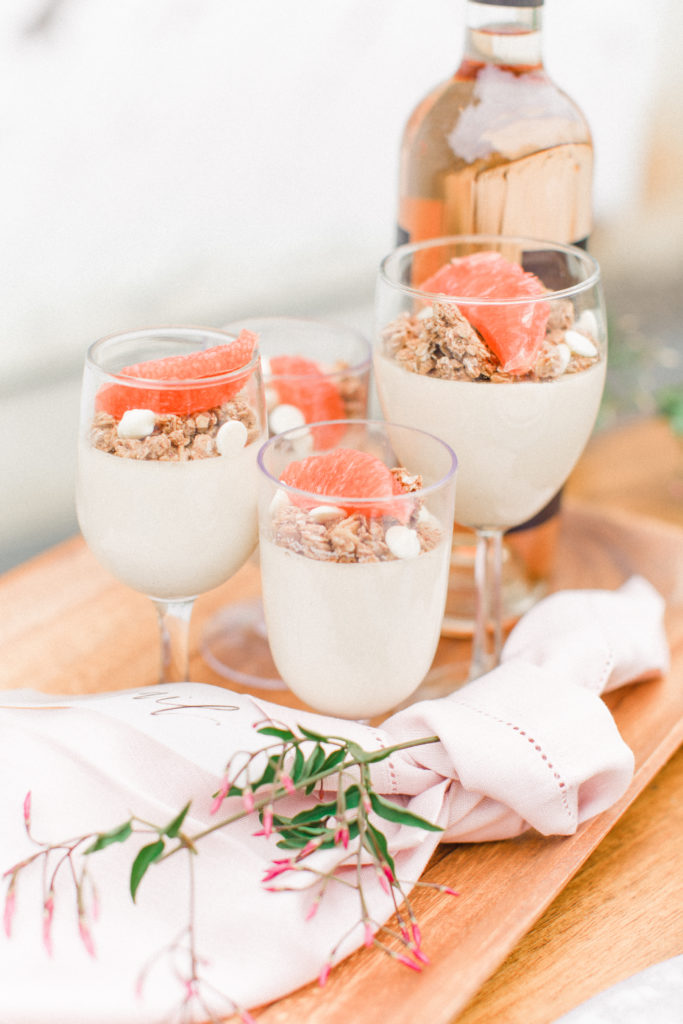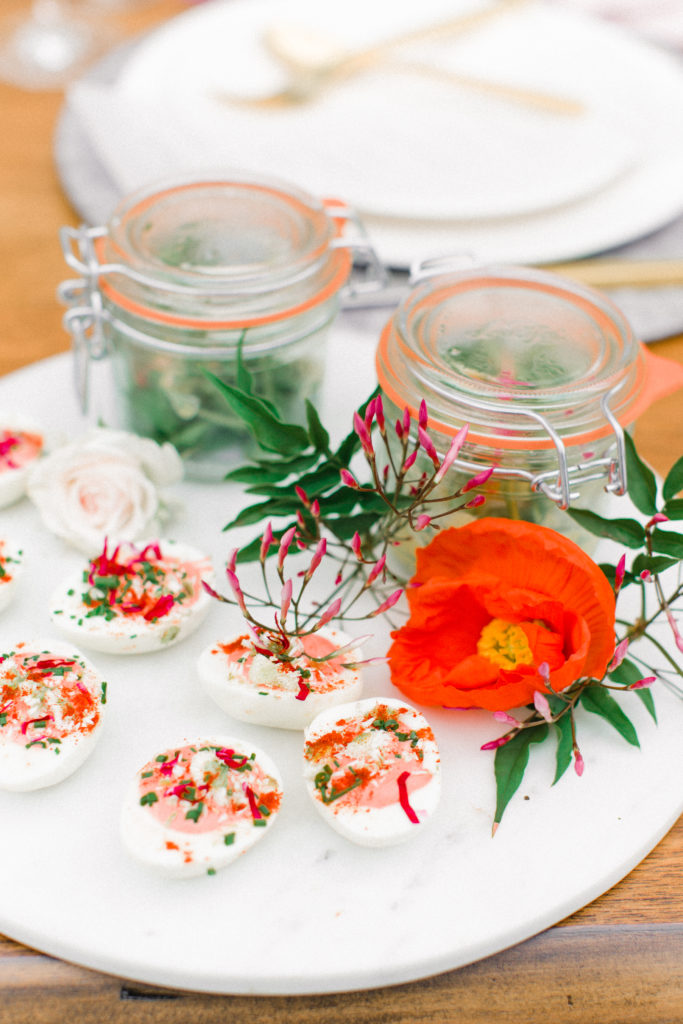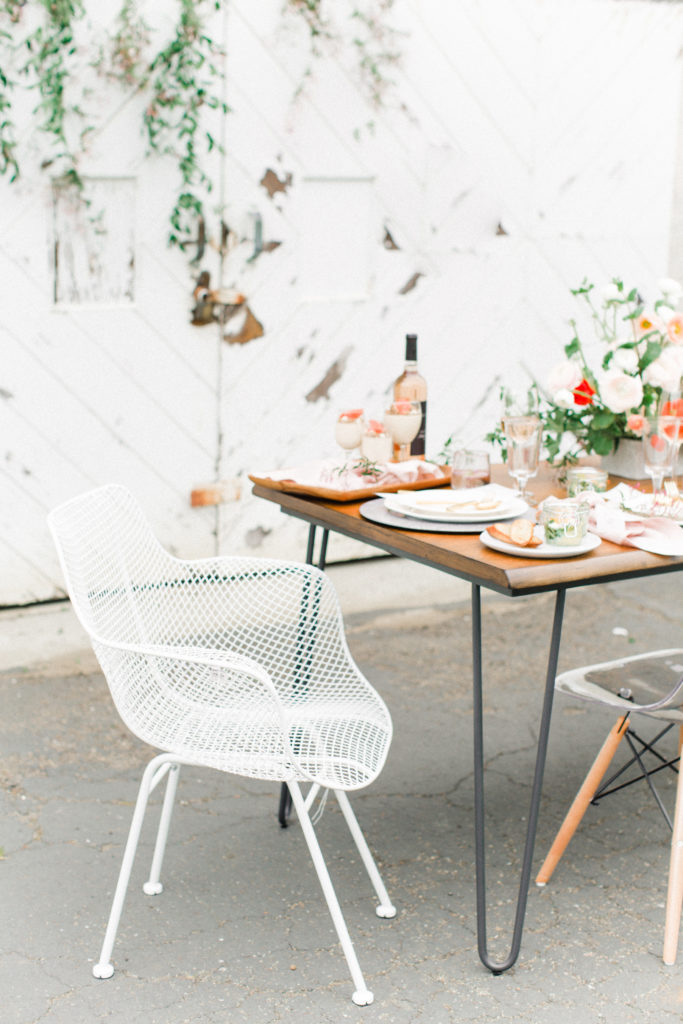 Idea: If you place your table in back of a wall, adorn it with trailing pink jasmine to add another layer of decor to your setting.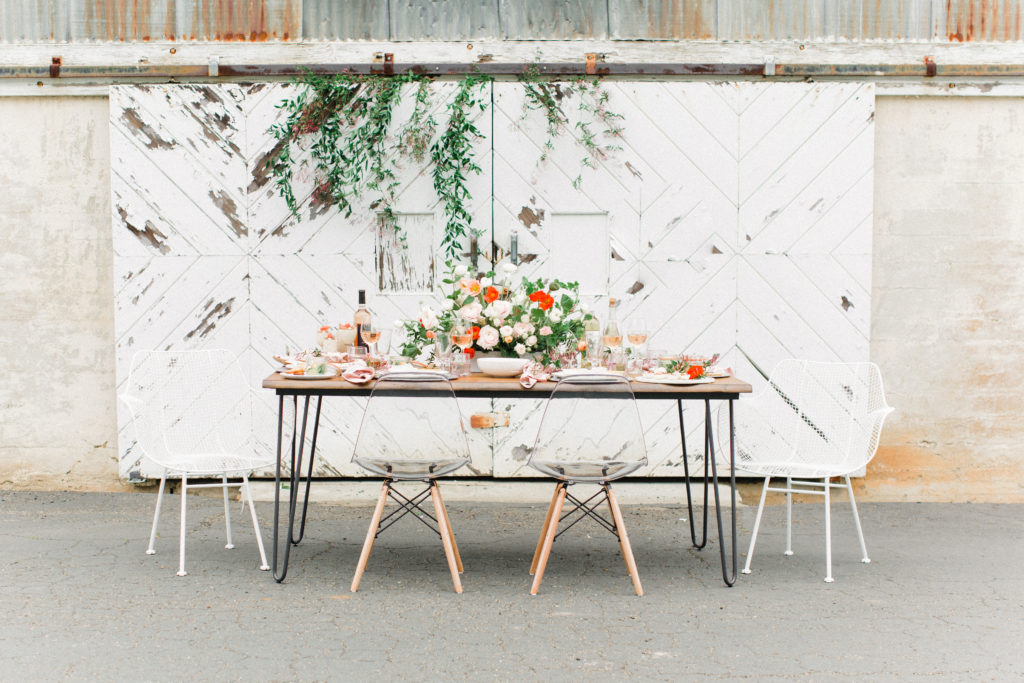 Hosting should be fun! I hope this gave some beautiful inspiration for your Easter Sunday!

Vendors:
Design + Styling: BEIJOS EVENTS
Tabletop: POTTERY BARN
Photography: ERIN MILNIK
Location: TESTAROSSA WINERY
Flowers Design: NATASHA KOLENKO
Flowers: TORCHIO NURSERY
Paper Goods: MEGHANN MINIELLO
Food: ORGANICOPIA
Wine: ONE HOPE WINE
xx
Abby