Happy Monday! How was everyone's weekend? Flew by too fast for me, as it always does. Last week, we did our Real Talk, and let you in on some fun news that Jacquelyn and I were getting to design our kitchens in our new homes this year. We are both so eager to start this process of creating our new space. It all starts with the most important room – the kitchen. The area where you gather around the most, where you entertain, talk about your day over dinner, the place you probably make the most memories. This was important for us to produce an atmosphere we would love to spend time in for years to come. Today we are giving you a little peek of what these rooms will soon look like. We can't wait to show you the final product! Till then, we will share and document the process through our Instagram Story.
Let's start with Jacquelyn's Inspiration!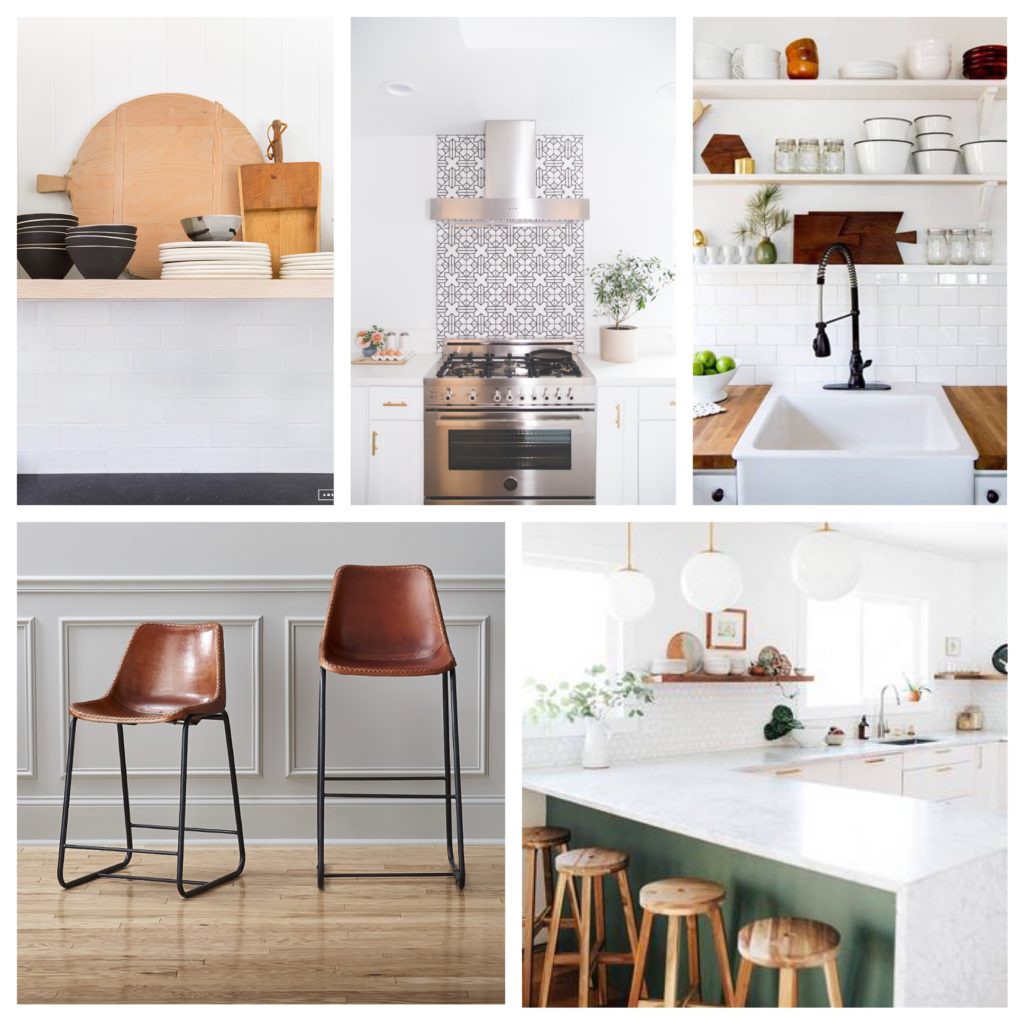 When we closed escrow on our new home earlier this year I was beyond thrilled but totally not prepared for all of the big decisions I was going to have to make.  We decided to redo our kitchen before moving into the house because we didn't want to deal with all the mess while in there. We are also taking out a wall, which is a whole other story!
I've been pinning ideas for my kitchen for years, but when the time came to design my own, it was very daunting. My husband has had to bug me to make decisions or even go look at things; I think I was a little apprehensive about making such permanent decisions. Plus, I'm so busy with my day too, I guess I was worried about adding more to my plate.
At first, I wanted to go in the direction of doing more modern beach wood cabinets. I still love the idea and look, but ultimately a few things changed my mind. One, I was worried I would get sick of them and they would just be a fad. Two, they aren't in stock and would take 8-10 weeks to deliver, this isn't a huge deal but would slow down our moving process quite a bit. And three, I was worried they wouldn't match the wood flooring we are doing, and once everything was installed, I would feel regretful.
Ultimately I decided on classic white cabinets, they'll never go out of style, and my kitchen will always look nice and bright! Plus, they are in stock which is a huge factor! Haha! We are also doing a large island with leather bar stools. The island will be a granite with a Carrera marble look, and the countertops will be granite with a dark cement look. We plan on doing a white glossy subway tile backsplash and a Portuguese inspired tile behind the stove.
The main elements we love are clean white with some natural wood and blue Portuguese tile.  I'm really hoping it all comes together well and my vision works. It's exciting and scary all at once, and I can't wait to share the outcome with you!
Now for Abby's Inspiration!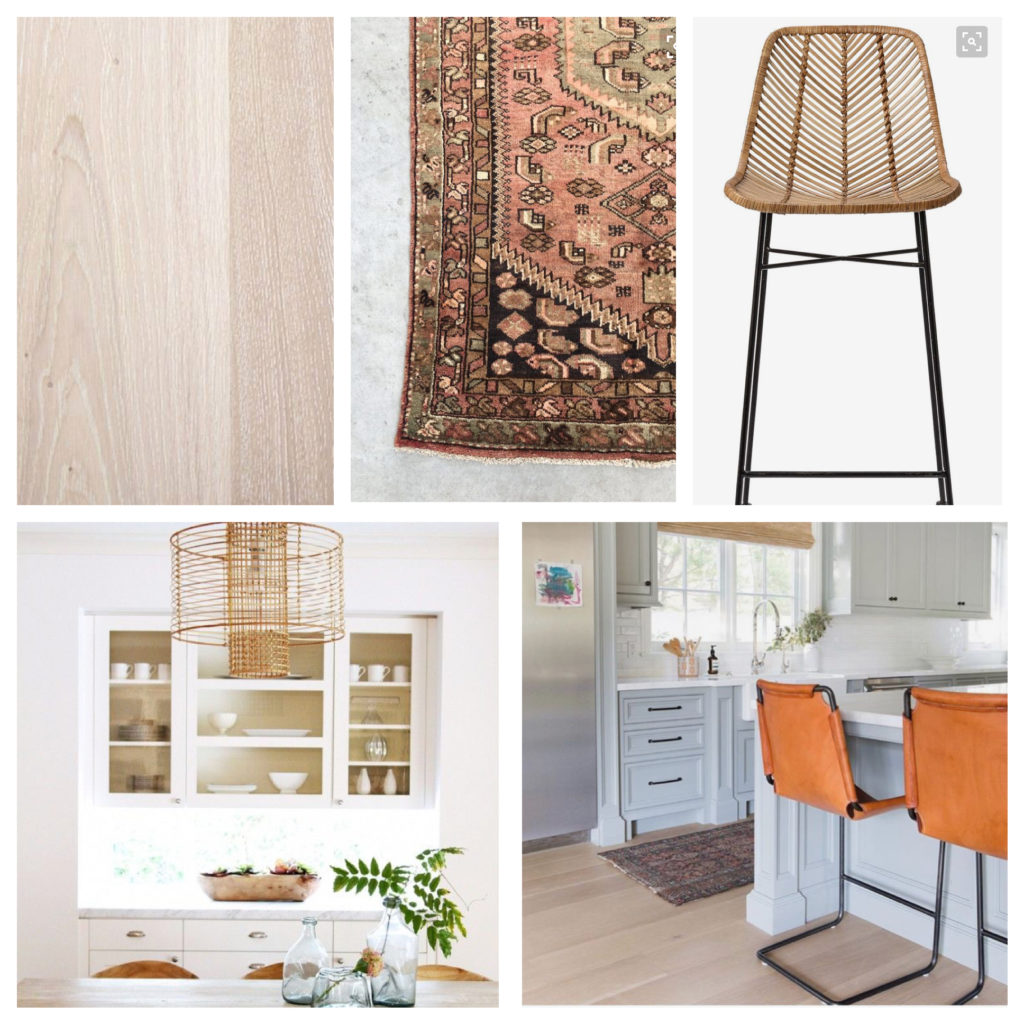 We are moving into a division in Rocklin, Ca that is called Whitney Ranch. This procedure is a tad bit different than buying a house already built, and even building a custom home on your terms. How it works is we picked the style of home from three different options. It ranges from classic to the Spanish style- which we picked. Inside the home, you already have the layout designed. It is your job to pick out all the design elements of the home in their design centers. We haven't gotten to that part of the process yet, and I do have to say I'm a bit nervous if I'm speaking honestly. What if they don't have the precise tile I want? Or what if I want the built in to go here and not there? It is so much to think about, and you want everything to be perfect. I mean this is probably one of the only times, well pretty much the only time that I will be able to design my home from top to bottom. March is when we start the process, so till then, I'm gathering all my ideas together.
The kitchen. The most important room in our home for our family. It is where we spend the majority of our time with each other. The kids are at the age where they have homework, so we are always at the kitchen table, soon to be island doing our homework. I love to cook dinner with them and have them hanging out near me. We always sit down together for dinner and take turns talking about our day. If one of us isn't there and able to speak on the phone, we FaceTime them to include them. It's something we have been able to keep going with my husband already up in Sacramento.
SO what is this kitchen going to be? For sure, I know that we will have all white walls. No doubt there. I didn't want to do straight white cabinets cause that would just be too much white for me. We love the look of a cabinet with a little hint of grayish green in it. My husband was shocked when I showed him the color. I don't actually play with any other colors in the house besides black and white. But this pop of color will be a great contrast to the rattan that I want to carry thru the house. I'm so in love with rattan. We will have rattan lighting above the dinner table and perhaps above the kitchen island. That is still out for debate. My husband isn't a huge fan, so I have to pick and choose my battles. Shouldn't he just say, "Do whatever you want love?" In a dream world, I suppose. Ha!
With the cabinets an off color, and white walls, we are going simple with the backsplash, a beautiful clean subway tile. The island will be a white stone top with hints of gray to bring out the cabinet color. We are doing light floors this time around. At our old home, we did a very dark color, and we didn't like it at all. Once the kids and the pets were around, it was dust city. You could see everything, and I was finding myself sweeping at least three times a day. I'm excited to get some light blonde wood tile in there. We saw this wood like tile at one of the model homes, and it was durable, clean, and requires less maintenance than dark hardwood floors. Lastly, adding wooden elements into the mix with open shelving, and areas to display all my glassware and dishes. I have collected quite a lot through these years with the blog content. Don't forget the bright colored runner that will make its way into the kitchen as well for that fun pop of color. I have been looking for the perfect one these days, quite the challenge to find it. I know she is out there somewhere!
What do you guys think? We would love to hear your thoughts!
xx
Abby