We haven't had the opportunity to share many weddings the past few years because well, we haven't done many due to Covid! 2021 we had the honor of doing two and this was one of them. Jessica & JP were getting married in a very intimate ceremony, or a micro wedding, the week between Christmas & New Years. They decided to do a small gathering of just immediate family at her parent's home in Corona Del Mar while both families were together over the Christmas vacation. Her lovely sister Kate enlisted our help just a month or so before he big day and we worked to make it as special as possible for them. The day of turned out so beautiful and JP & Jessica were a dream couple to work with, truly their whole family was! I'm so excited to share these amazing photos by Jessica Lynn Photo with you today and share that we were featured on Ruffled Blog a few months back. Take a look, this one is too pretty to pass up!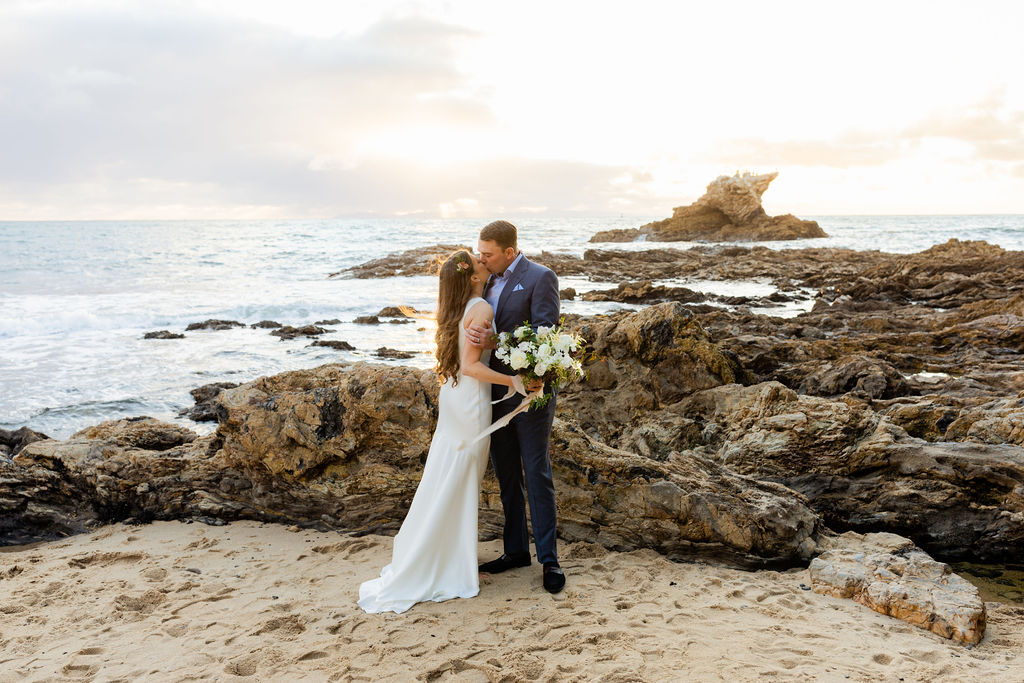 The ceremony was held in Jessica's parents living room in front of their gorgeous fireplace. Our photographer Jessica snapped a few details shots before everything took place.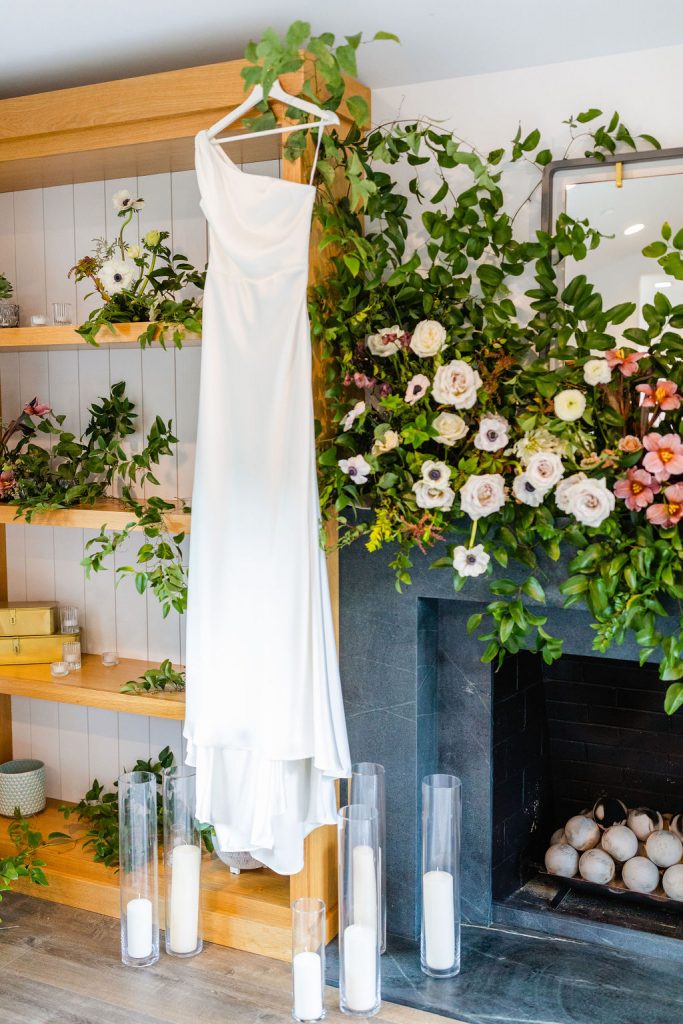 Jessica's stunning bouquet by Earth & Grace who did all of the gorgeous flowers for the big day.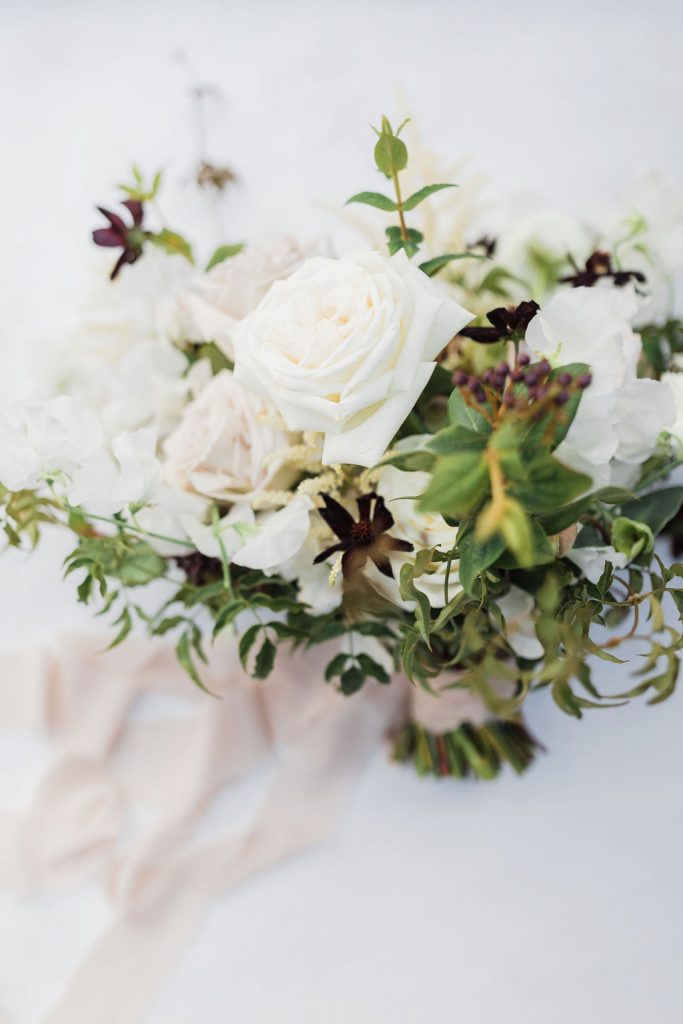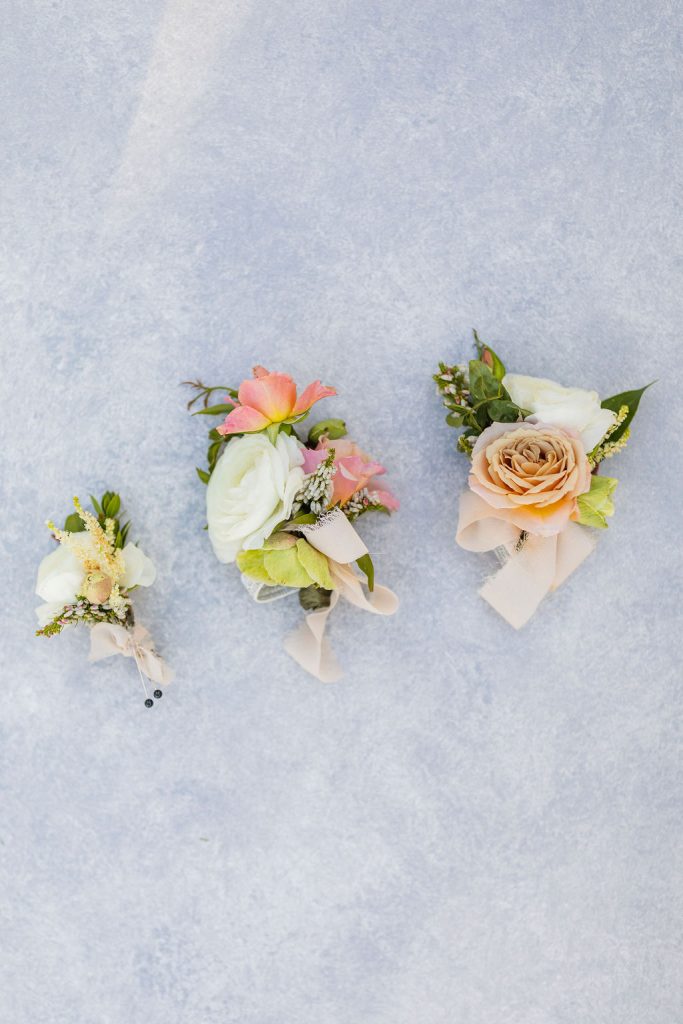 All the details!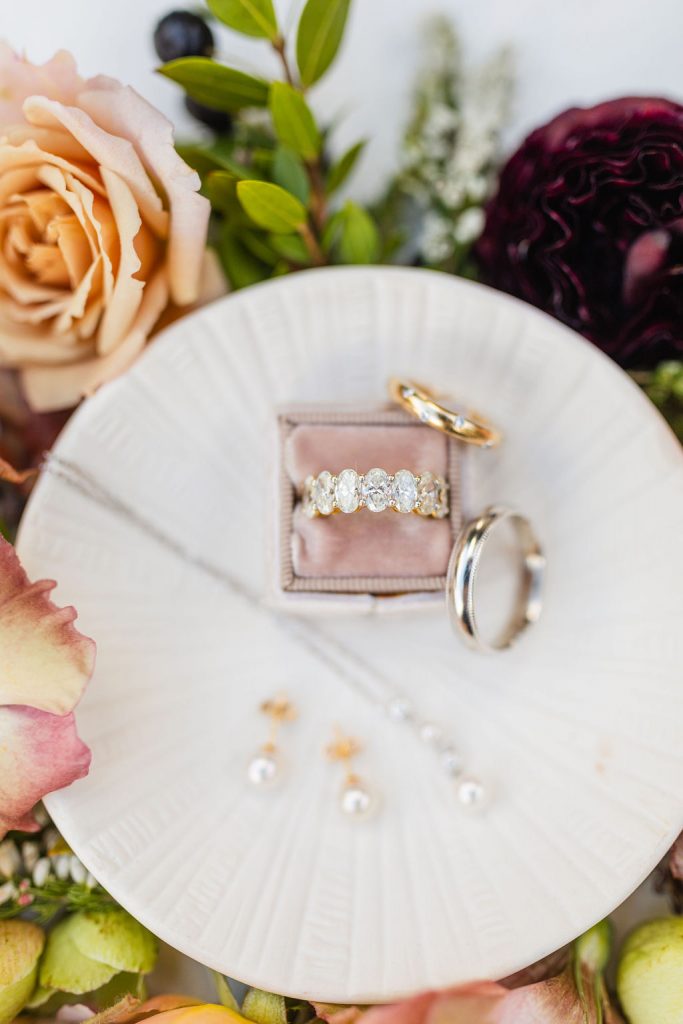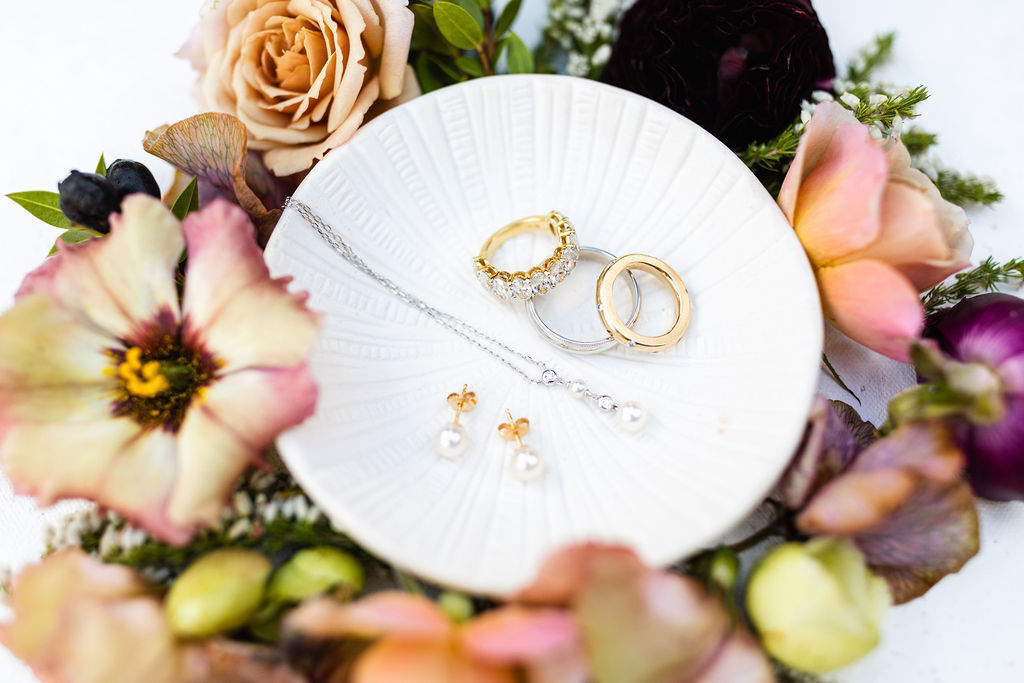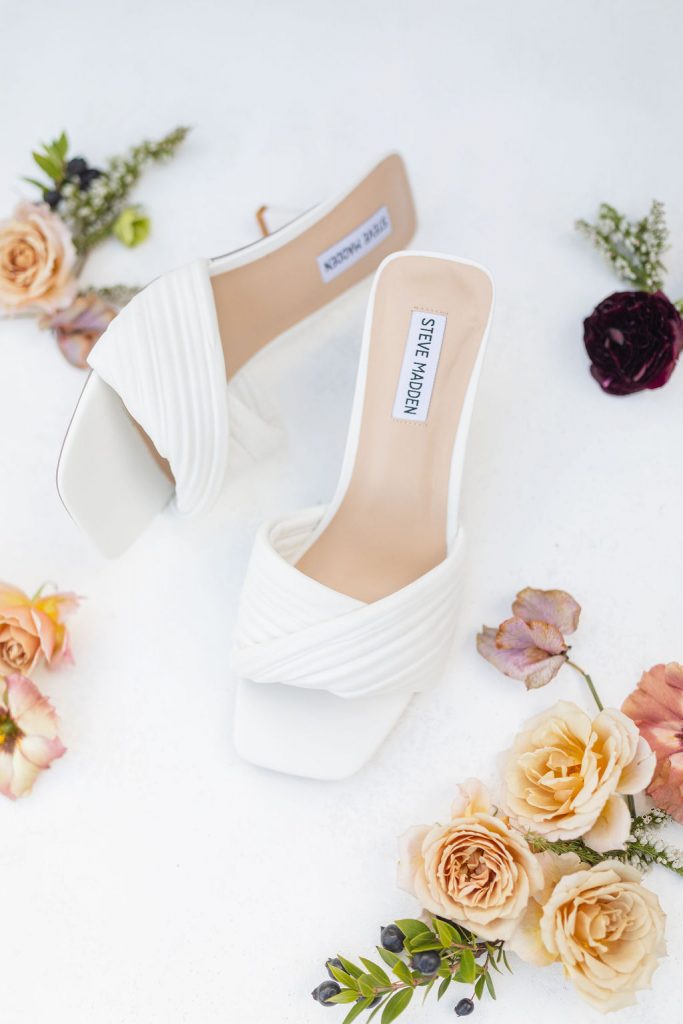 Lovely place cards by Pirouette Paper, more prettiness from her to come!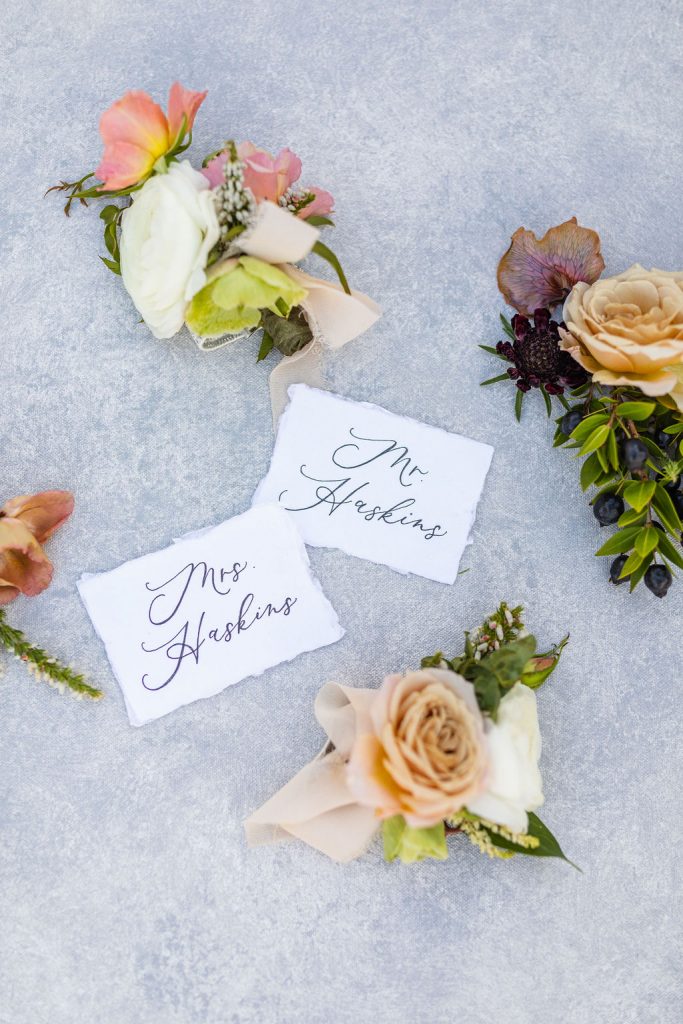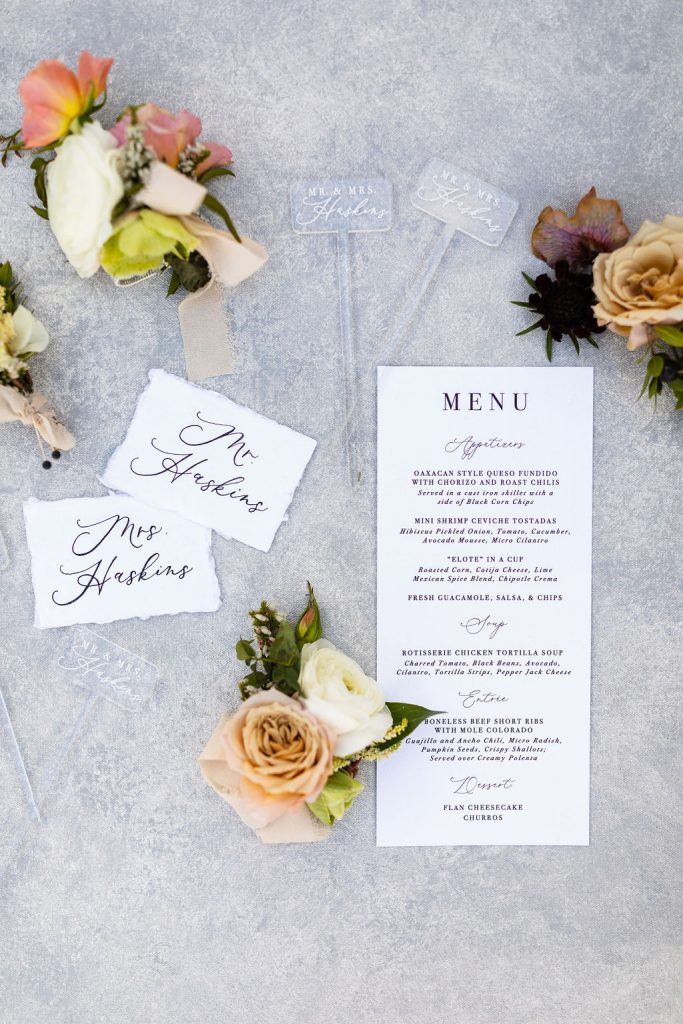 Jessica got ready with her mom and sister, isn't she a stunning bride?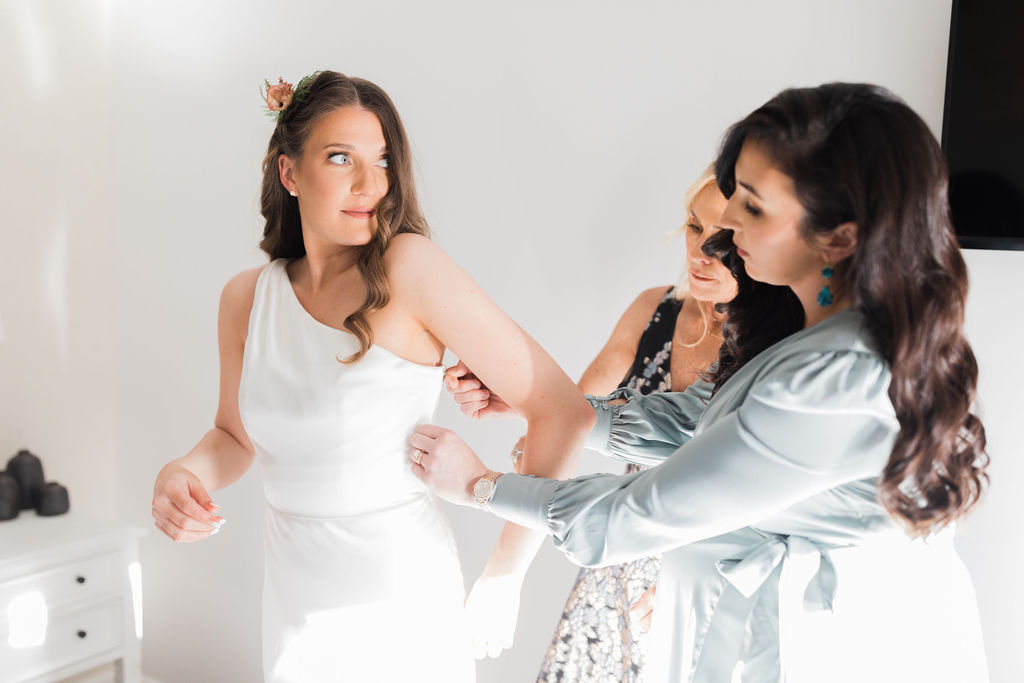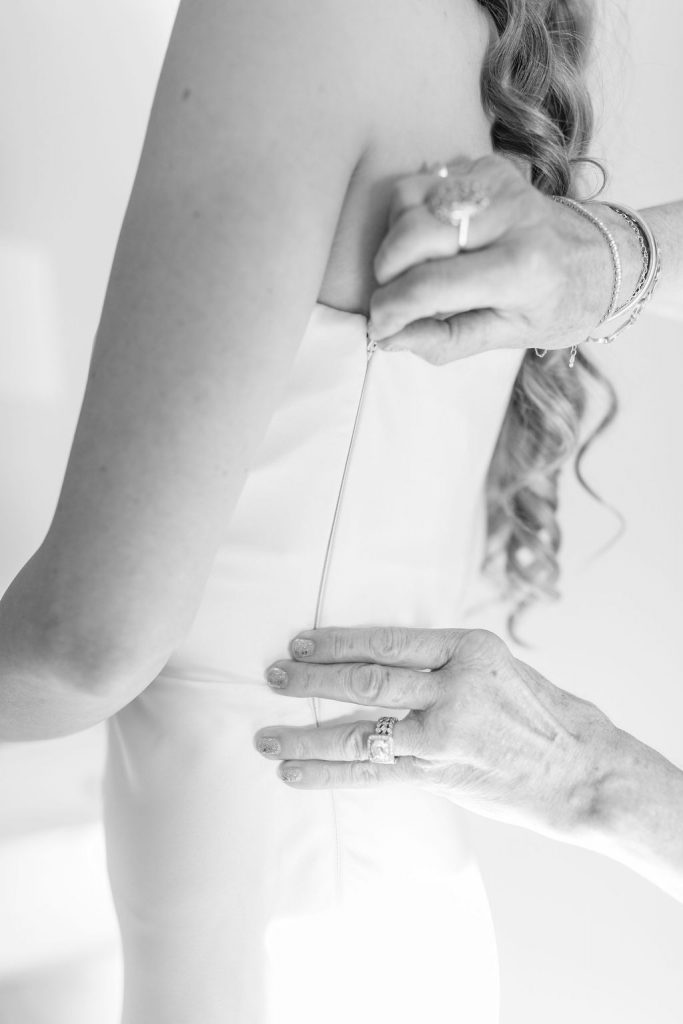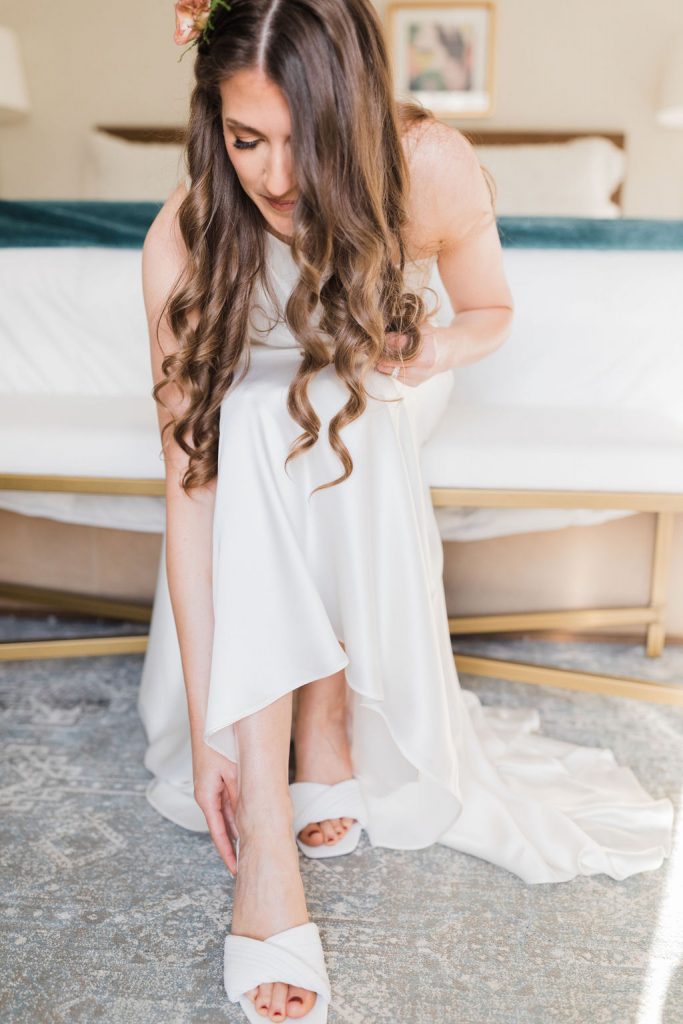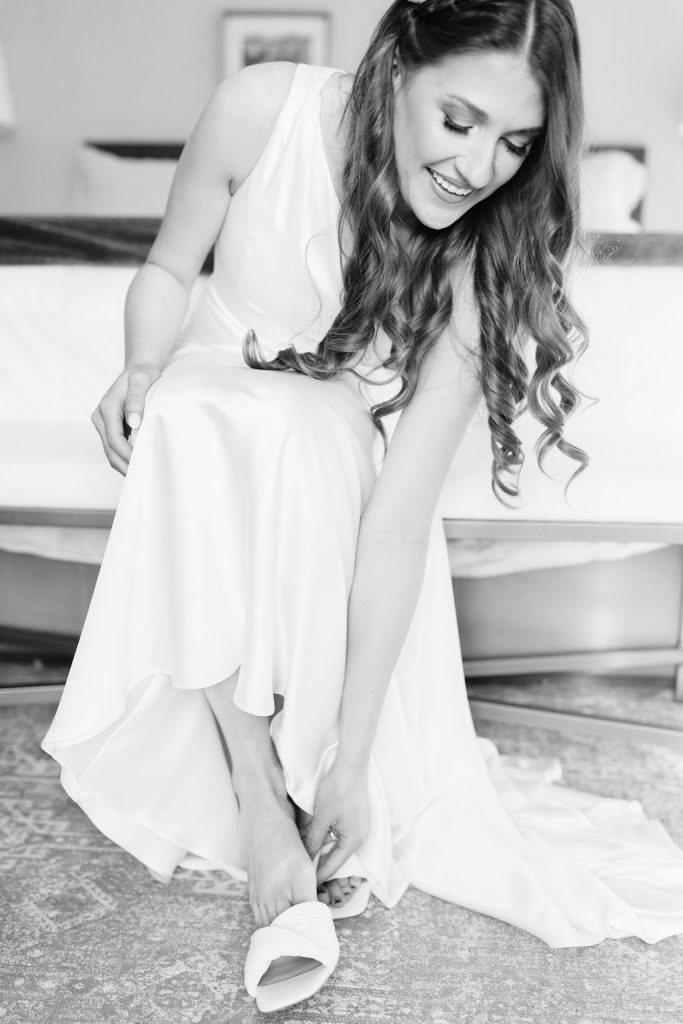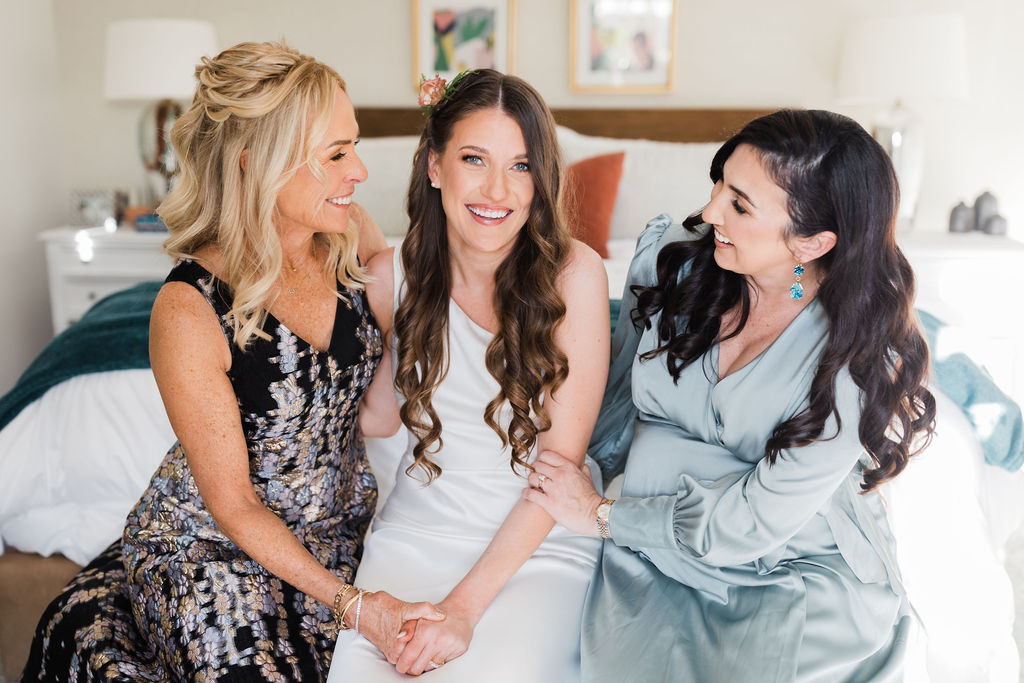 The couple brought their French bulldog Chancho who was the absolute cutest! Here's a bit about him from Jessica…
"Our furbaby, a French bulldog named Chancho, was the star of the wedding! We got Chancho in 2016, and he has been the biggest source of joy for us since then! A big perk of having a micro-wedding was being able to include Chancho in all the photos and festivities!"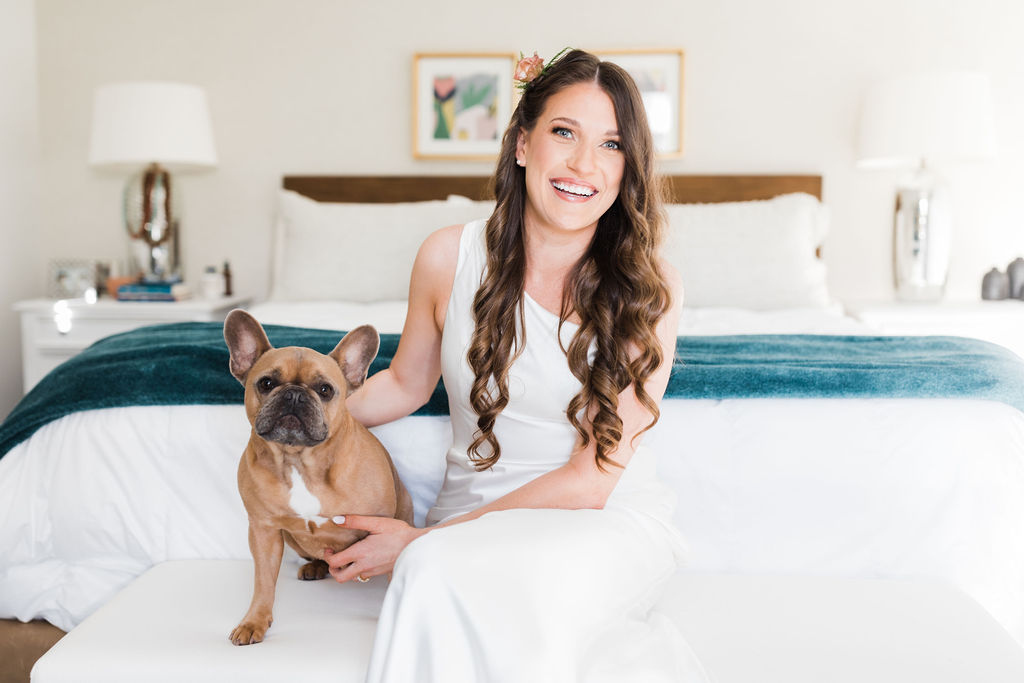 A pretty welcome sign was placed outside for our few guests to admire on their way inside. I love using clear acrylic because it's such a modern and elegant touch. Pirouette Paper of course did a perfect job of bringing this to life.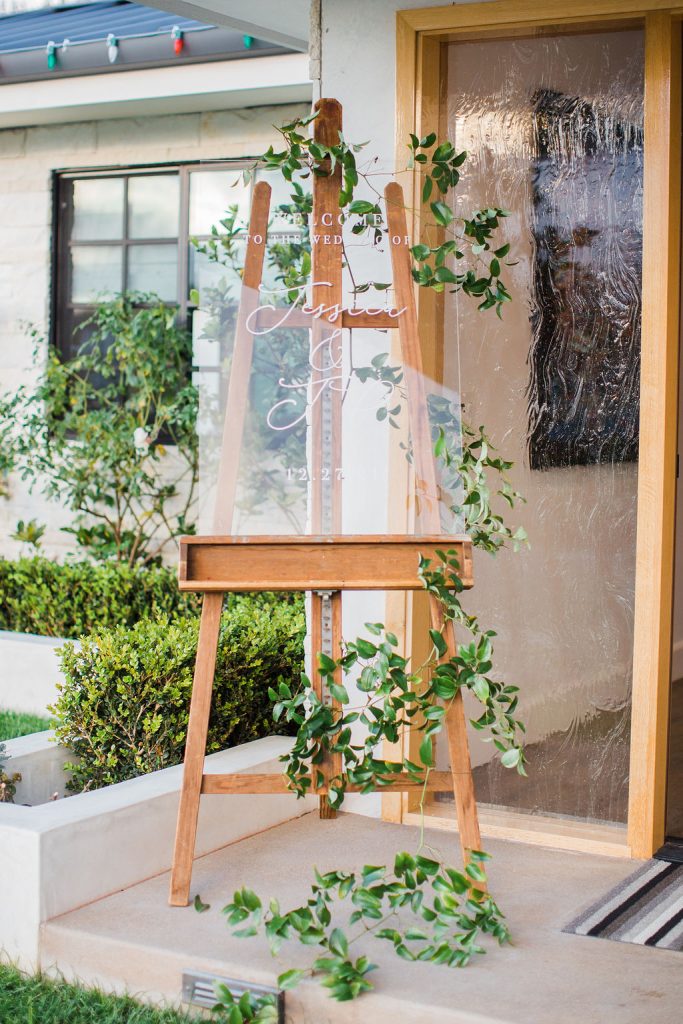 Talk about STUNNING! Earth & Grace transformed the living room and fireplace with beautiful florals and candlelight. It was the perfect backdrop for our ceremony and just the prettiest scene for the couple. The colors and textures were all so gorgeous together.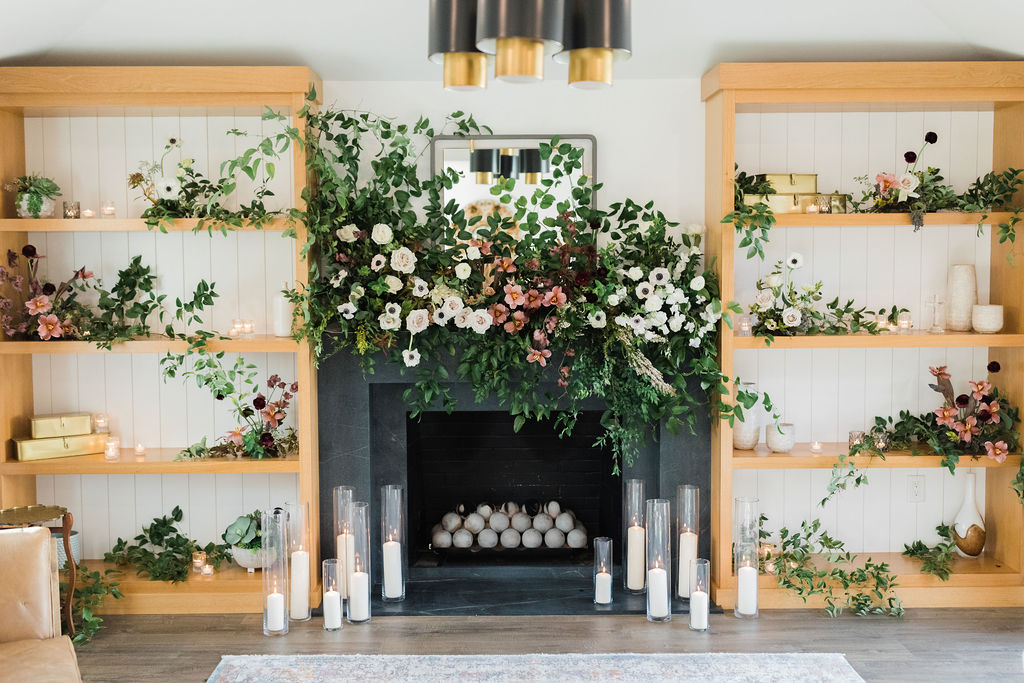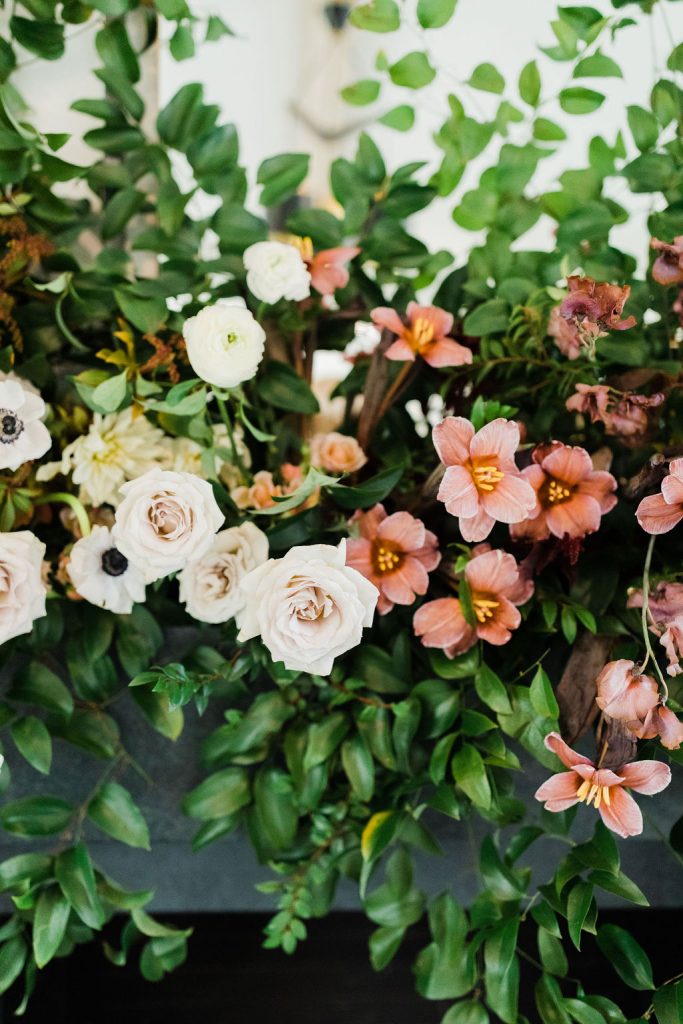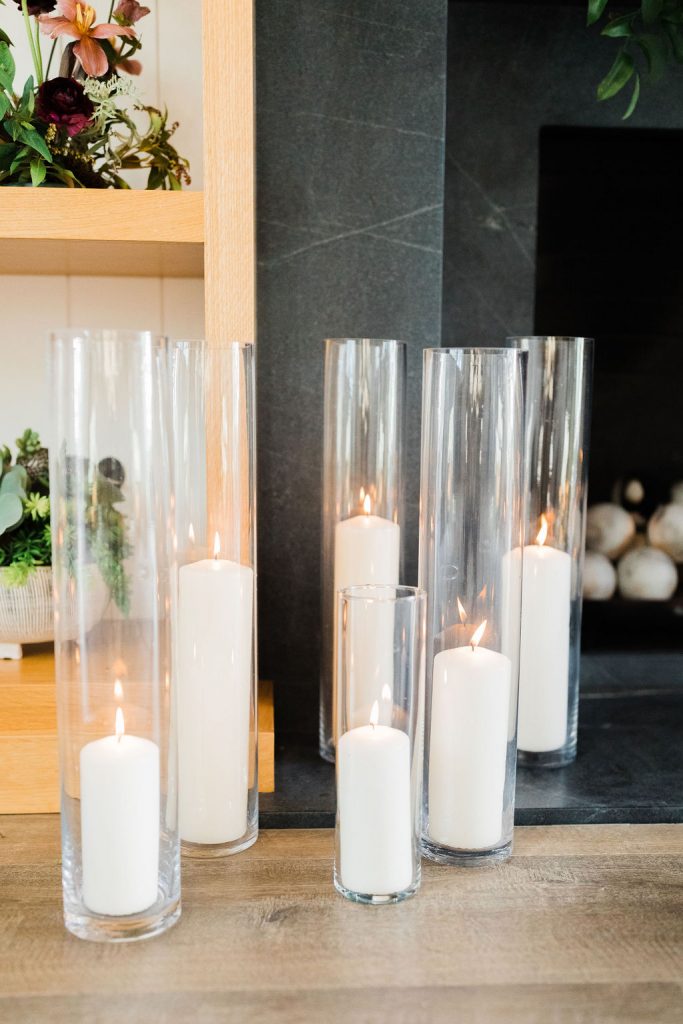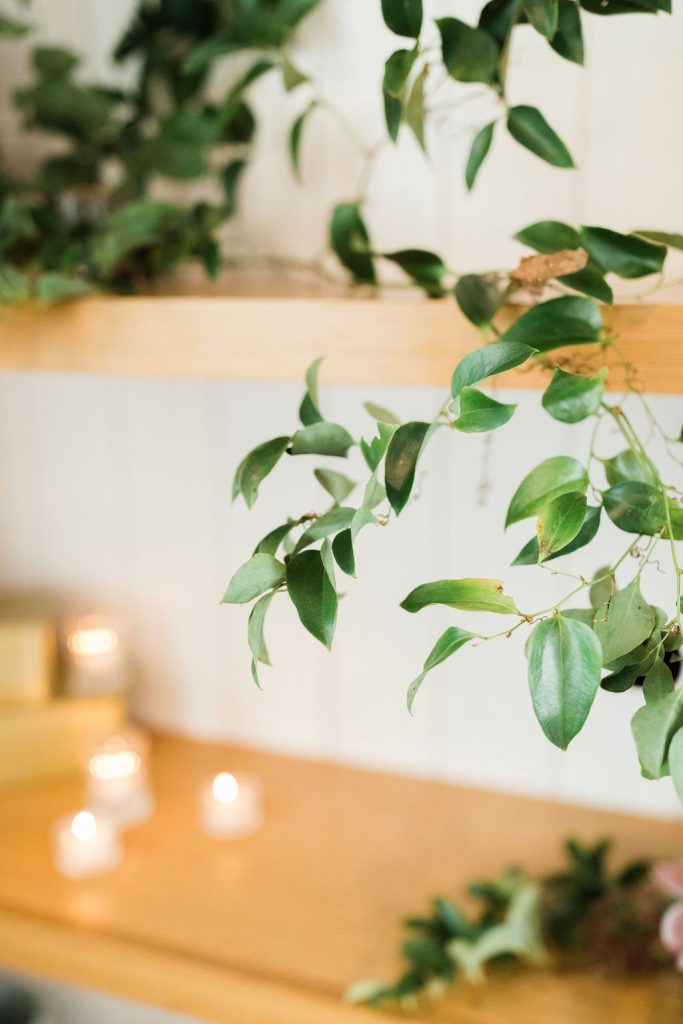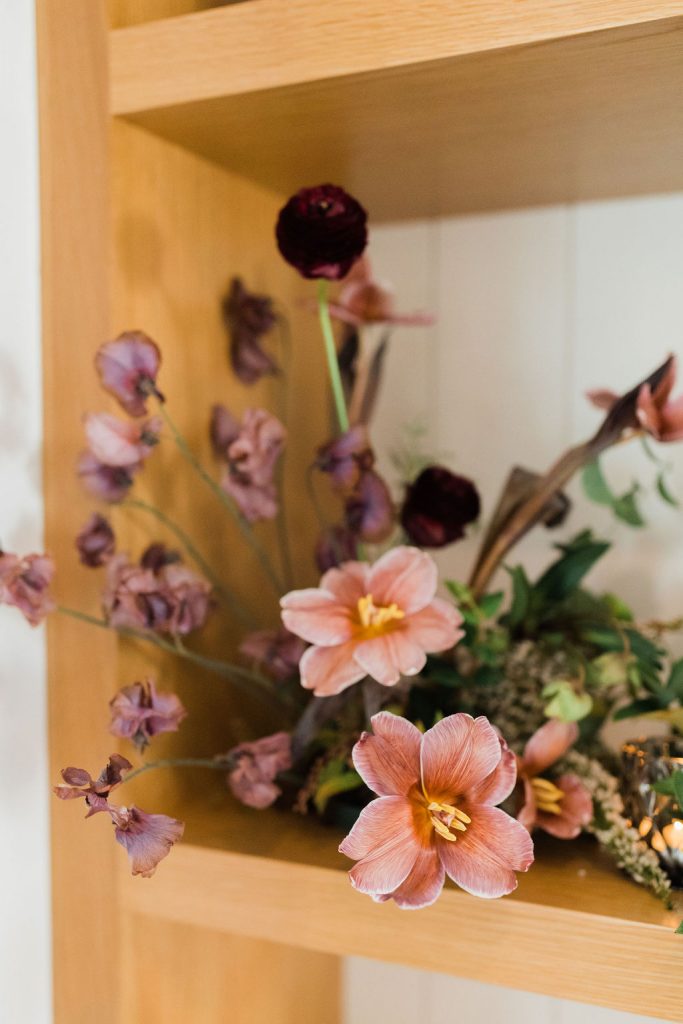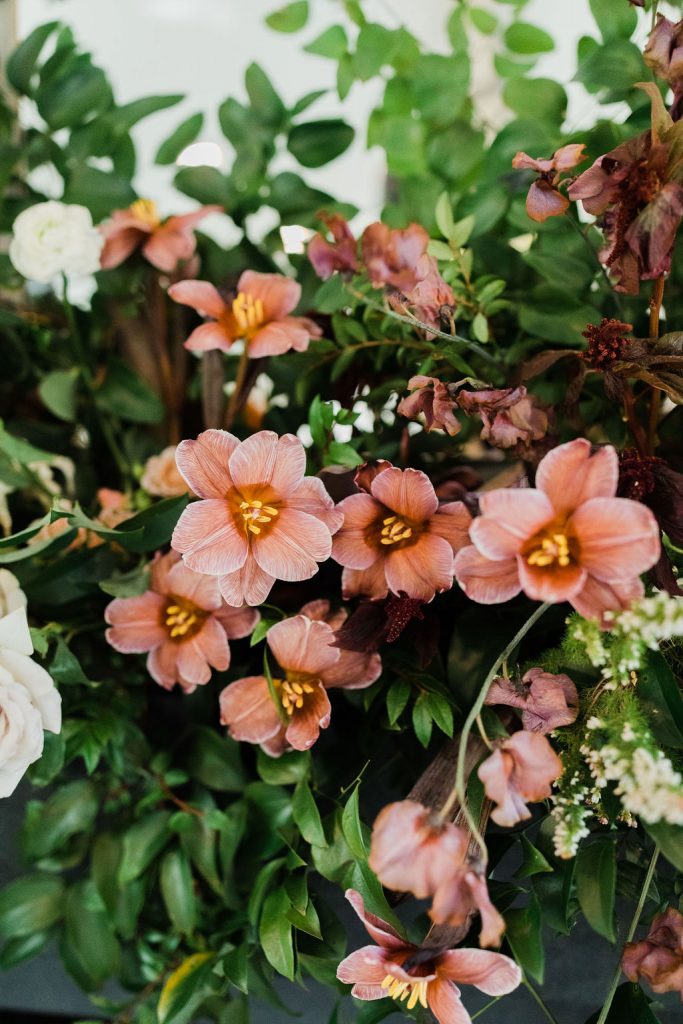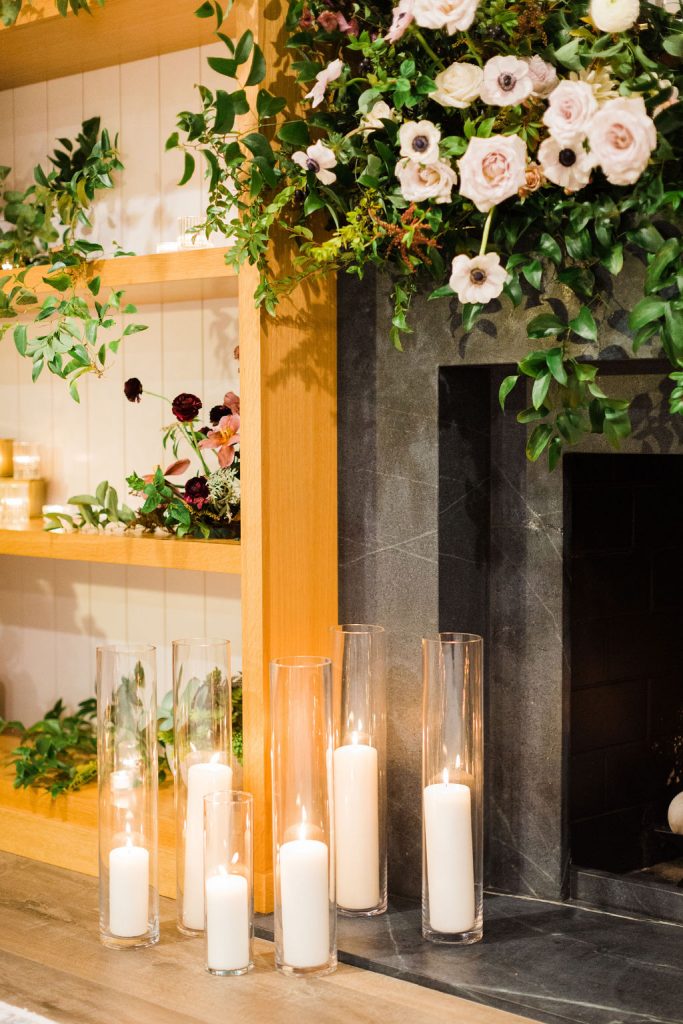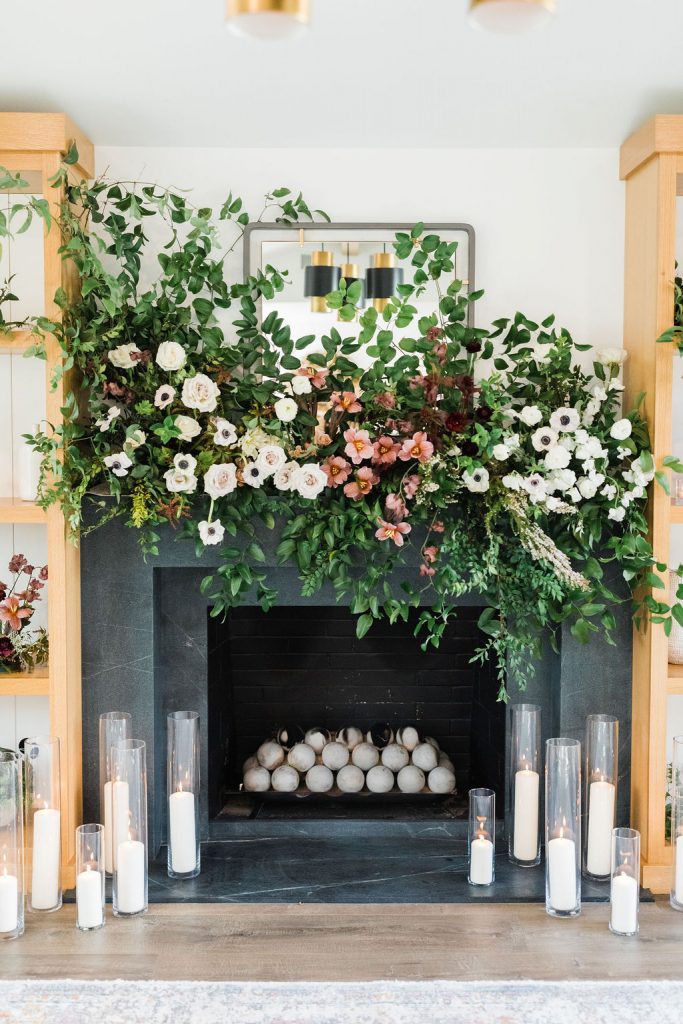 Jessica's nephews served as the ring bearers for the big day, aren't they the cutest?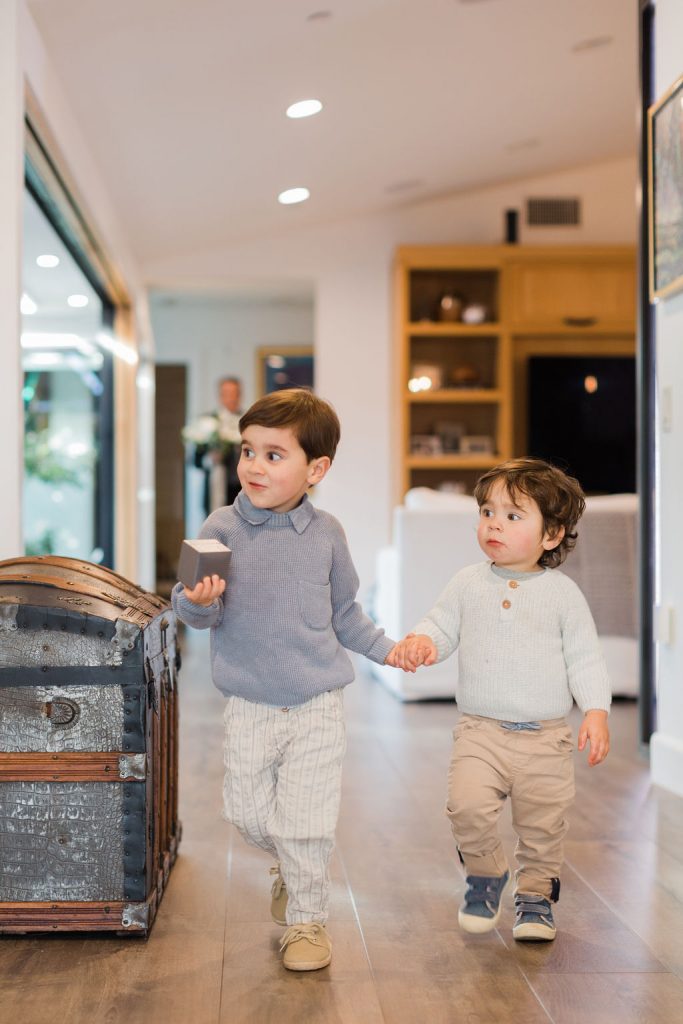 And you know Chancho had to play a part!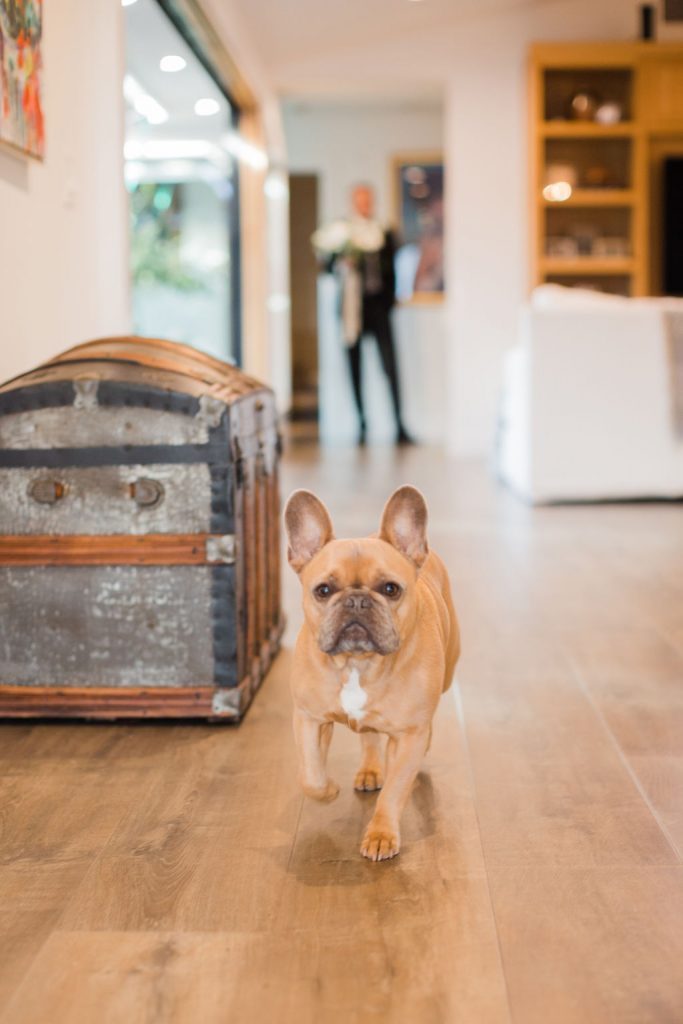 One of my favorite moments of any wedding day, the father walking his daughter down the aisle.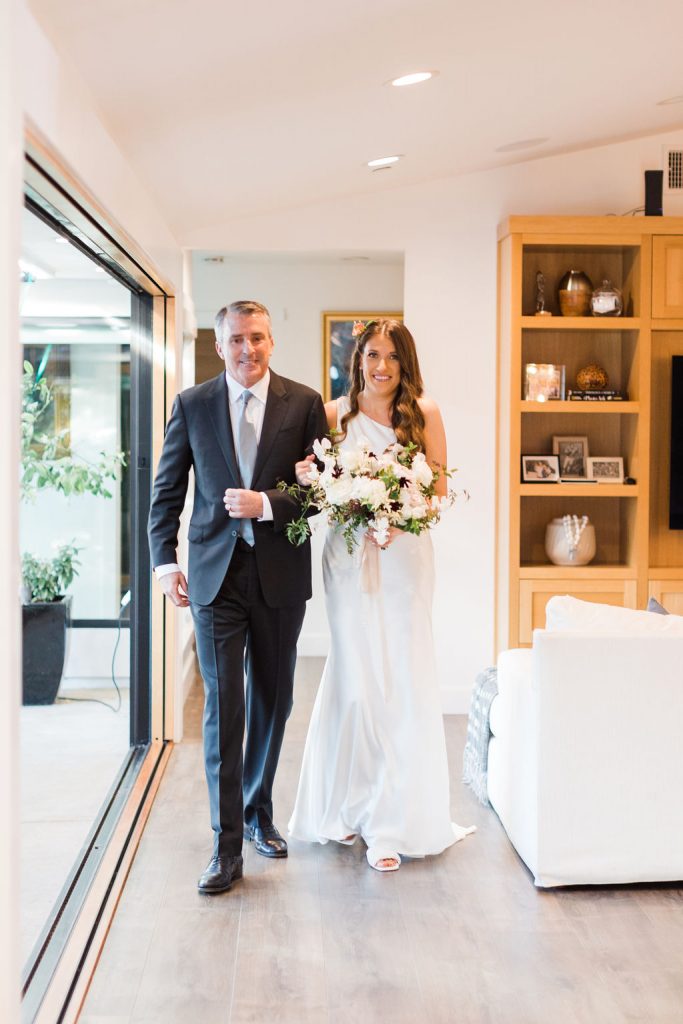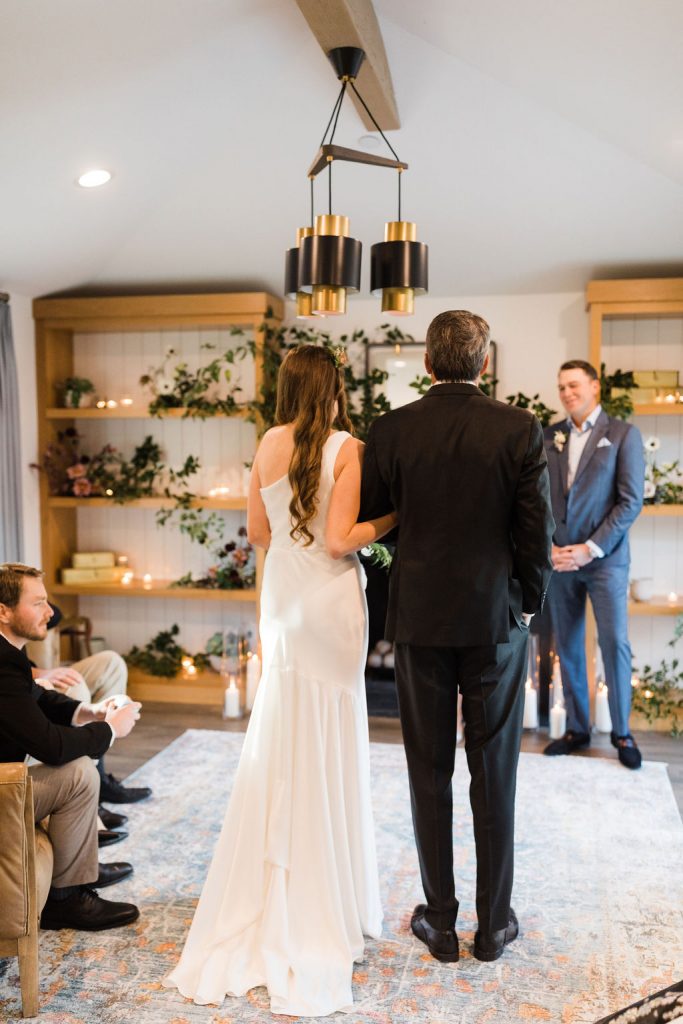 Jessica's sister Kate served as the officiant for the wedding, it was so special and sweet.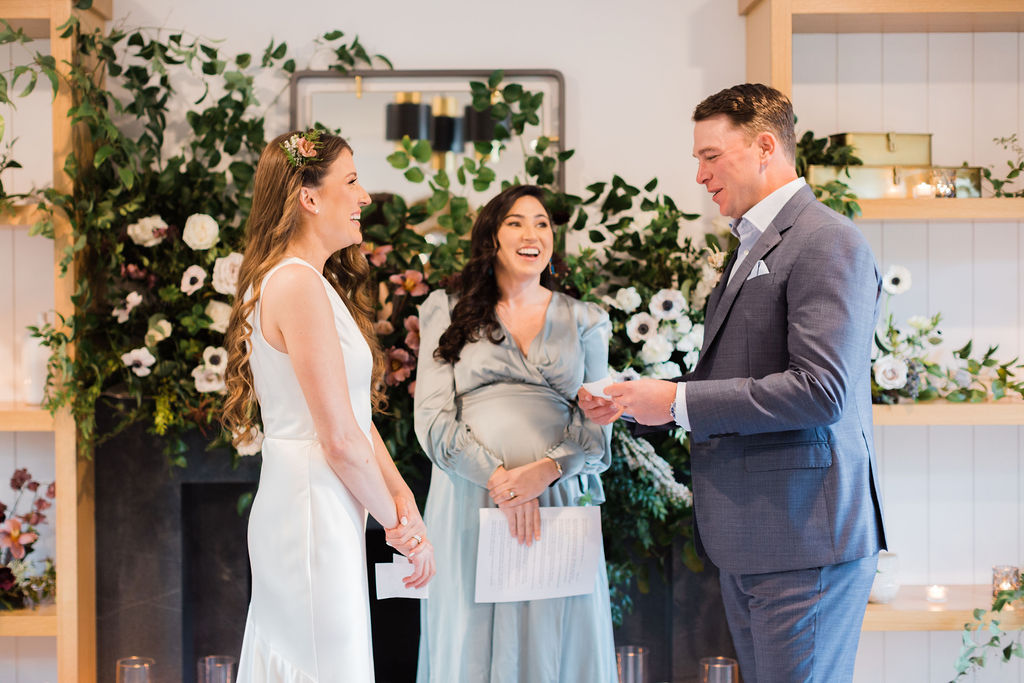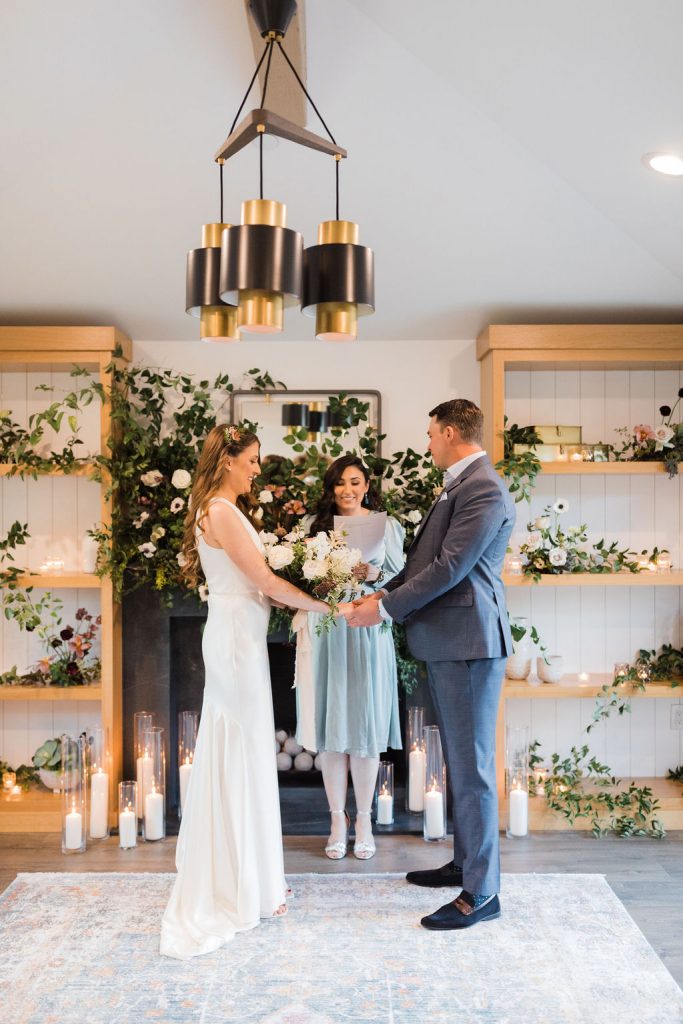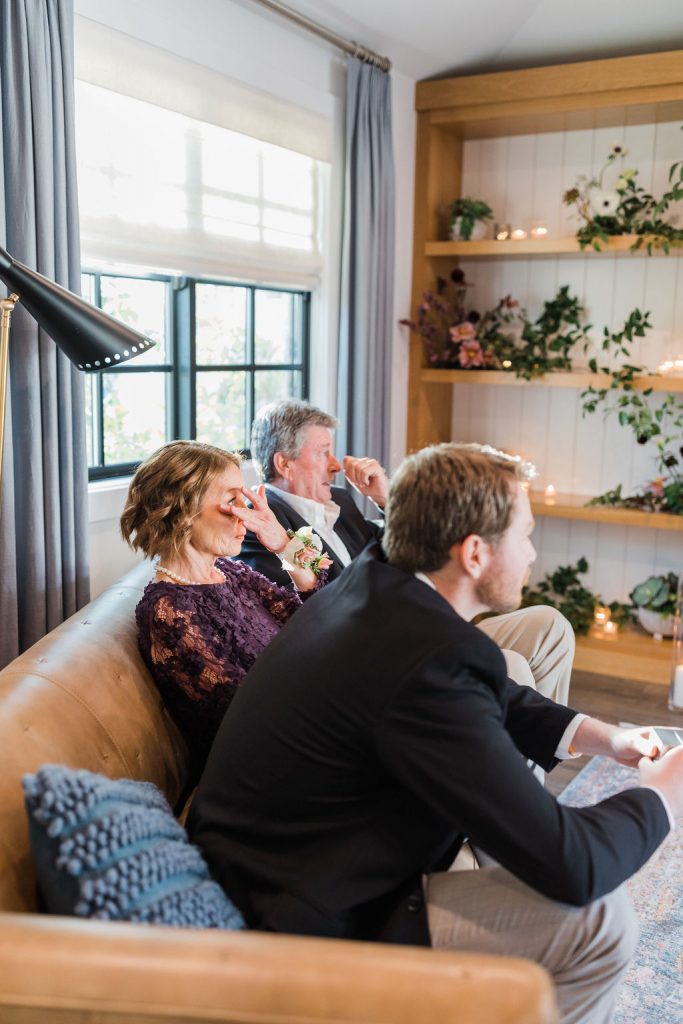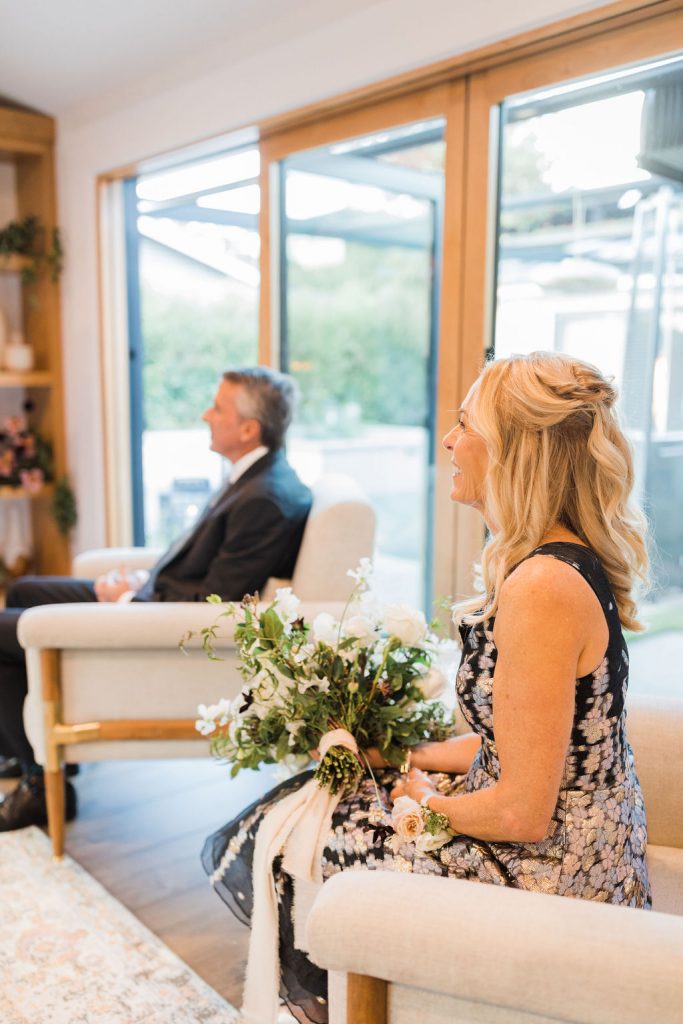 ADM Entertainment served as the emcee, DJ, and live musician through-out the night.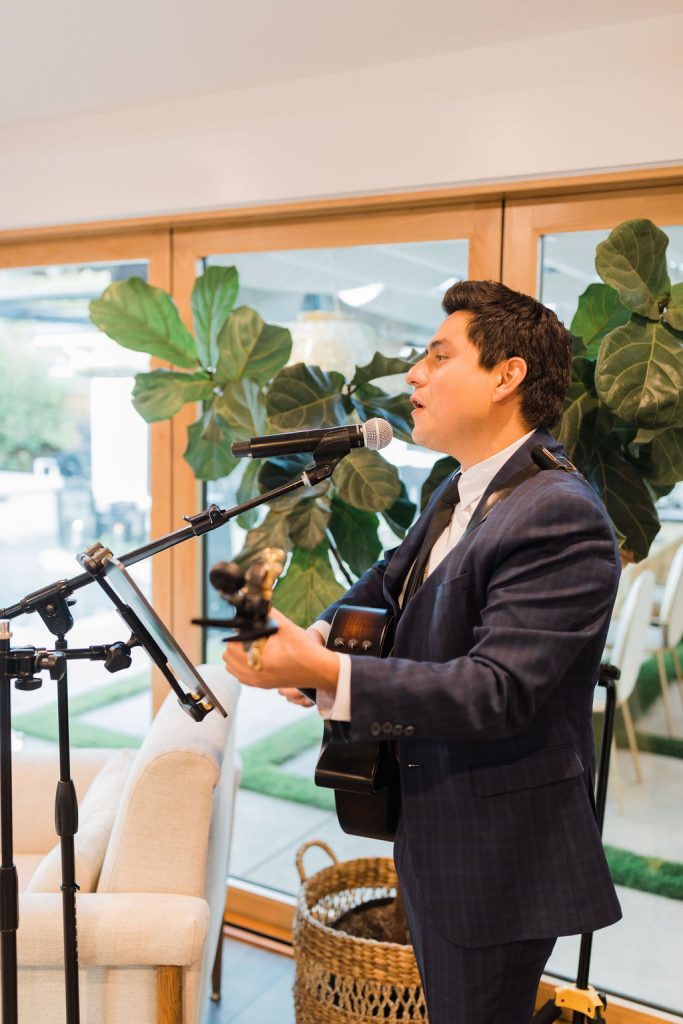 After the ceremony our newlyweds headed down to the beach for a few intimate shots with Jessica. These photos are so breathtaking, I'm still swooning.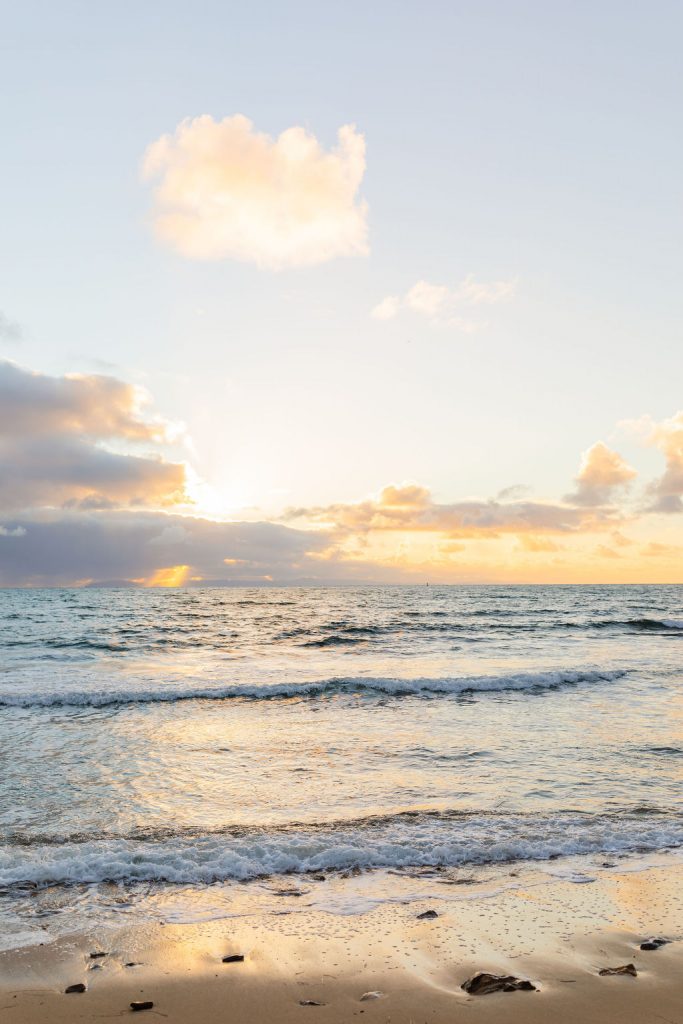 More from our bride Jessica…
"JP proposed while we were visiting my family over Christmas in December 2020. While on an evening walk on the beach in Newport, JP popped the question! (He actually proposed in the pretty beach location where we took our couples wedding photos). My only request for the proposal was for JP to do so when we were completely alone – no family, spectators, or photographers ?? As you may have gathered, I am a big fan of keeping intimate moments intimate!"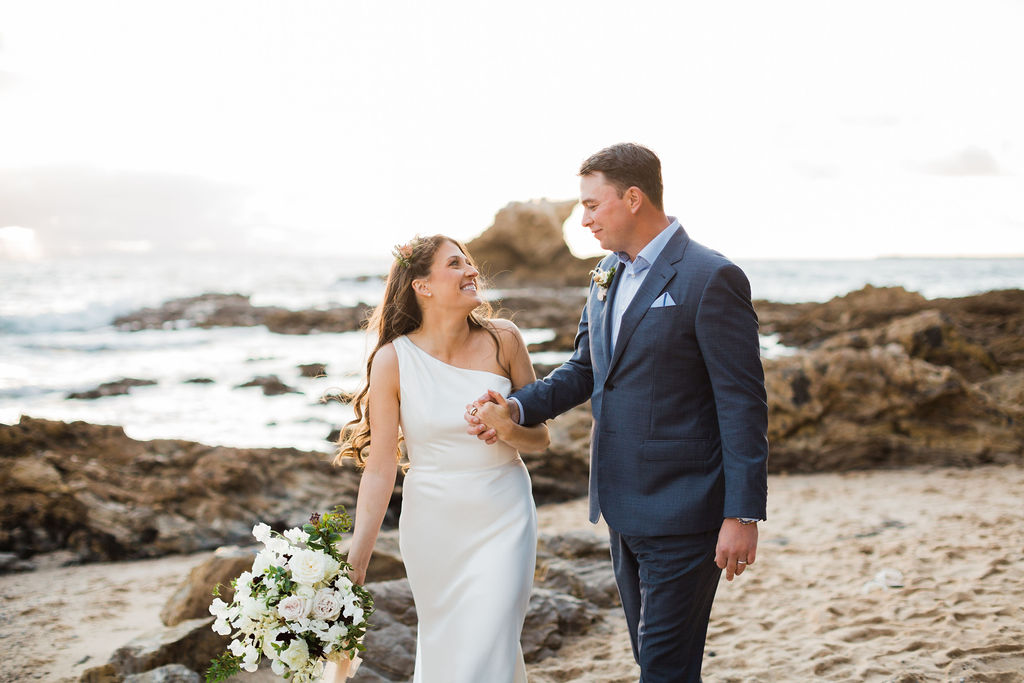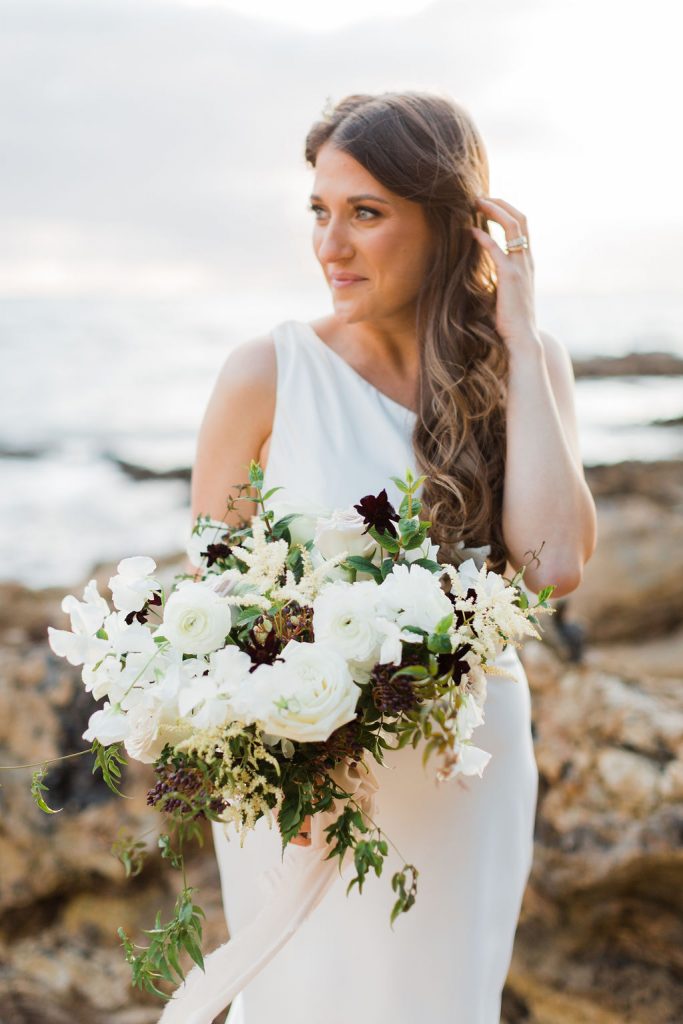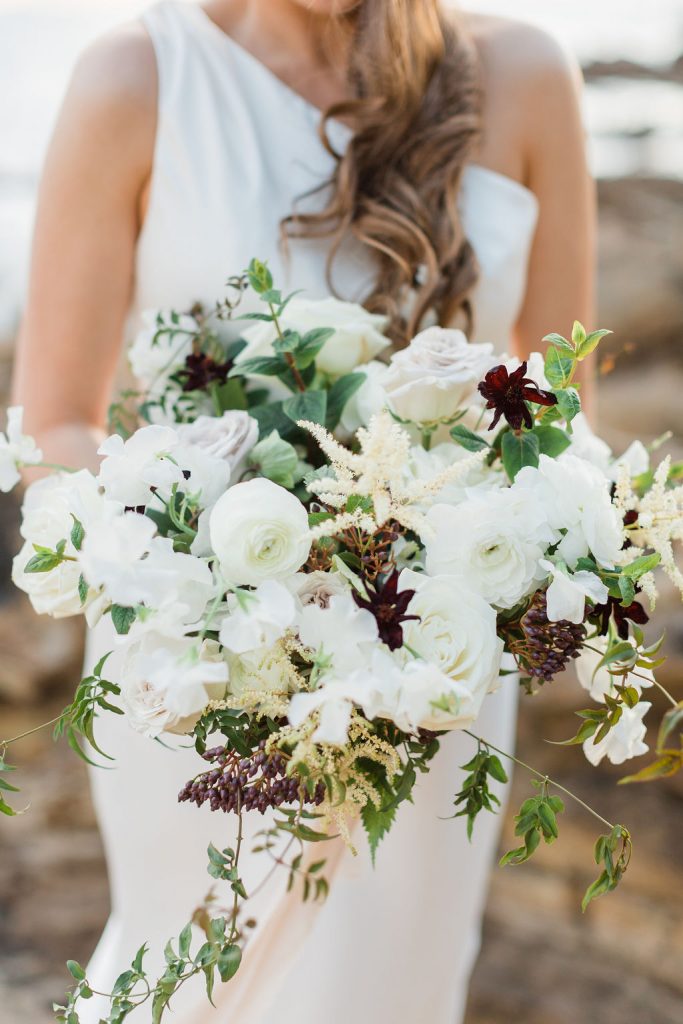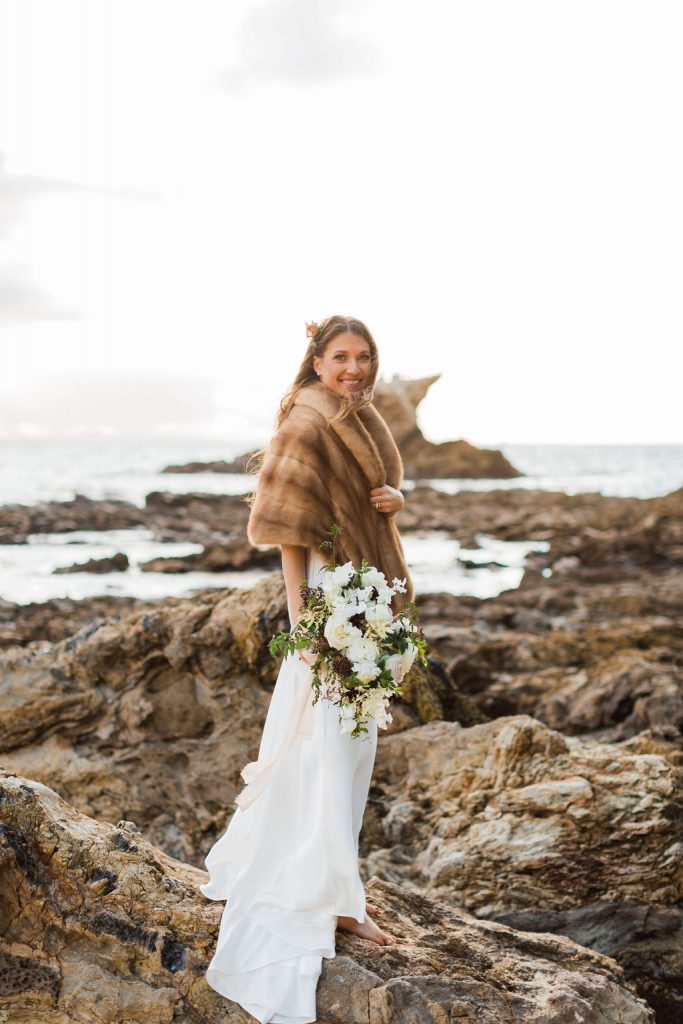 "JP and I are no strangers to big wedding celebrations. In fact, we attended over 25 amazing weddings together in just the two years before COVID. Although all of the weddings we have attended were gorgeous and special, none of them felt quite like "us." I never imagined having a large wedding, and (much to our parents' dismay) we even seriously considered just running down to the court house! Ultimately, we knew we only cared about a few things when it came down to getting married: (1) we wanted to be surrounded by just the people who love us the very most in the world, and those we love the very most, and (2) we wanted to be able to focus only on each other. JP's family is from El Paso, and they were planning to come to Newport Beach with us over Christmas 2021 so our families could spend time together. A month or two before the trip, JP randomly said, "Why wouldn't we just get married with our families over Christmas?" As soon as he posed the idea, I knew it was perfect. We were fortunate enough to find amazing vendors who could pull our vision together in a short period of time."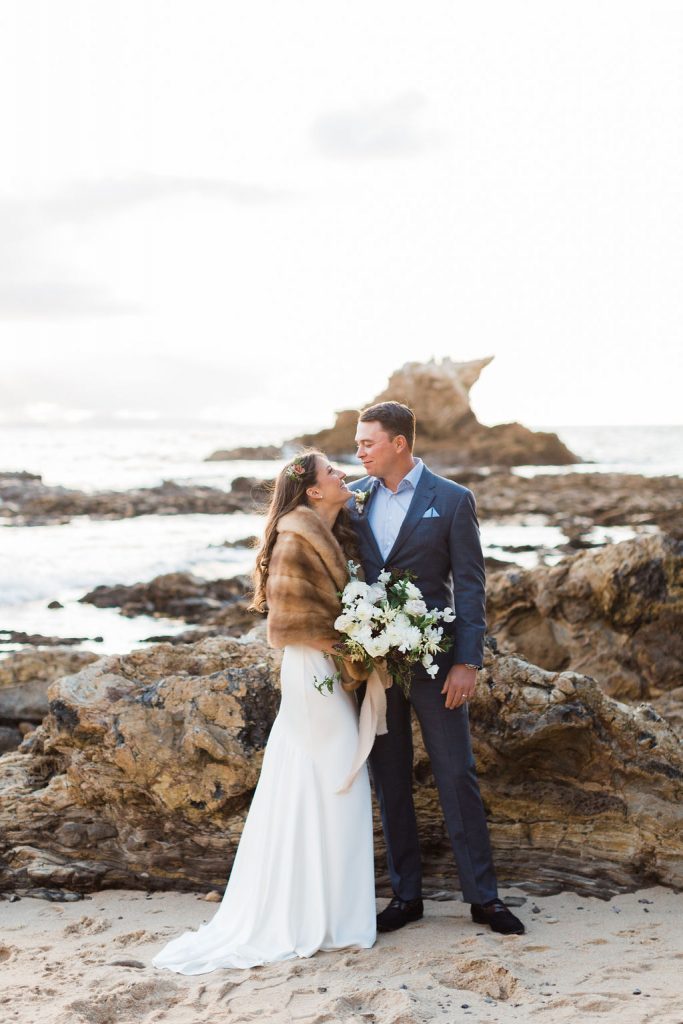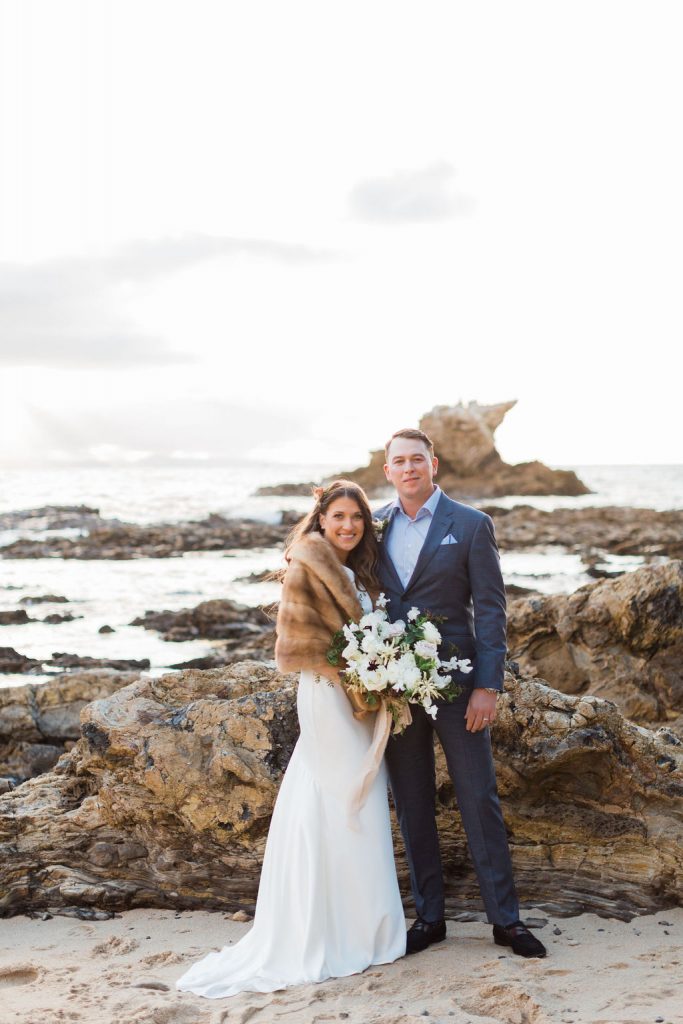 Onto the reception and this gorgeous table we put together for their family. With the help of Found Rentals we created and elegant and eclectic atmosphere for them all to enjoy. How gorgeous are Found's table and chairs along with their moroccan lanterns overhead? It was a really fun one for us to put together because we got to be creative in every possible way!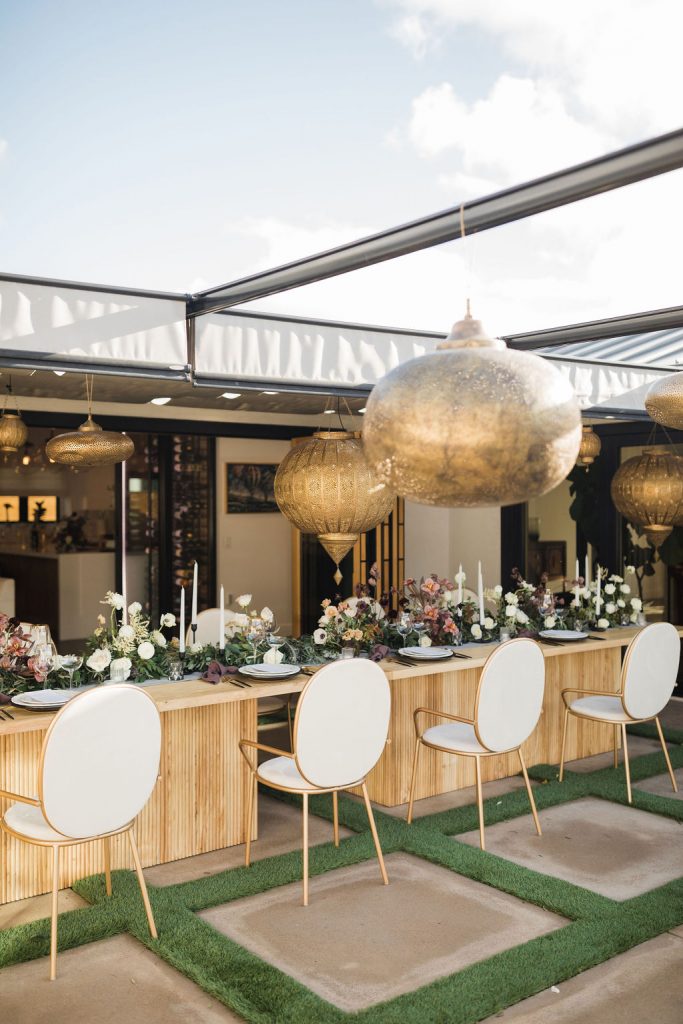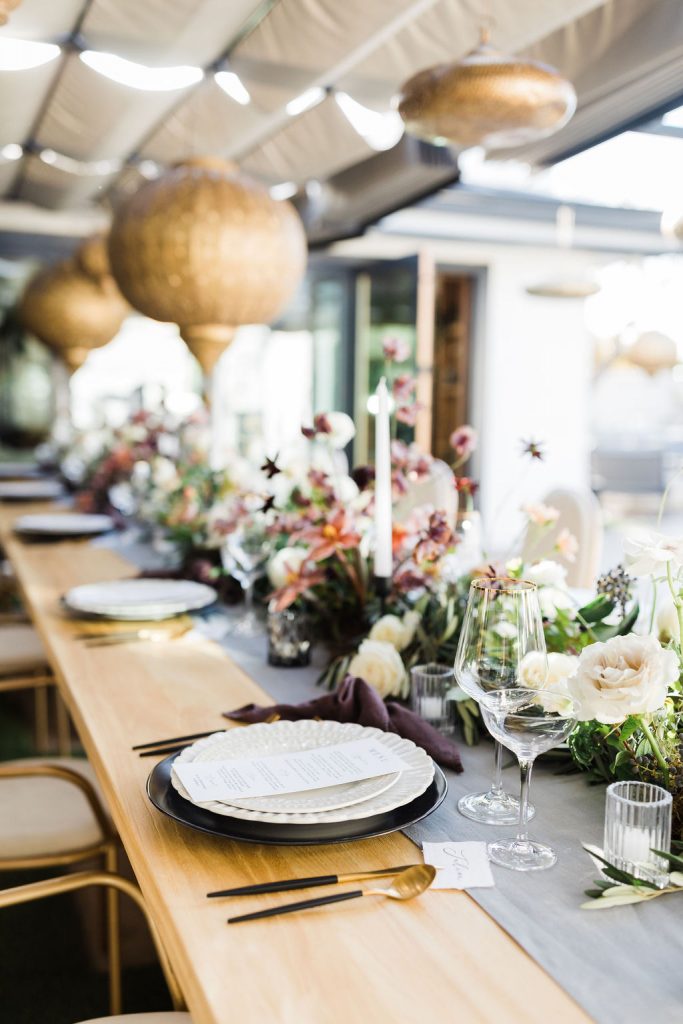 We set the table with elegant pieces from Hostess Haven and kept the palette of moody colors going with touches of black and gold. BBJ La Tavola linens were placed as runners and Earth & Grace created stunning floral arrangements and place them along the runner with votives. It was such a stunning setting, I still dream about this beauty!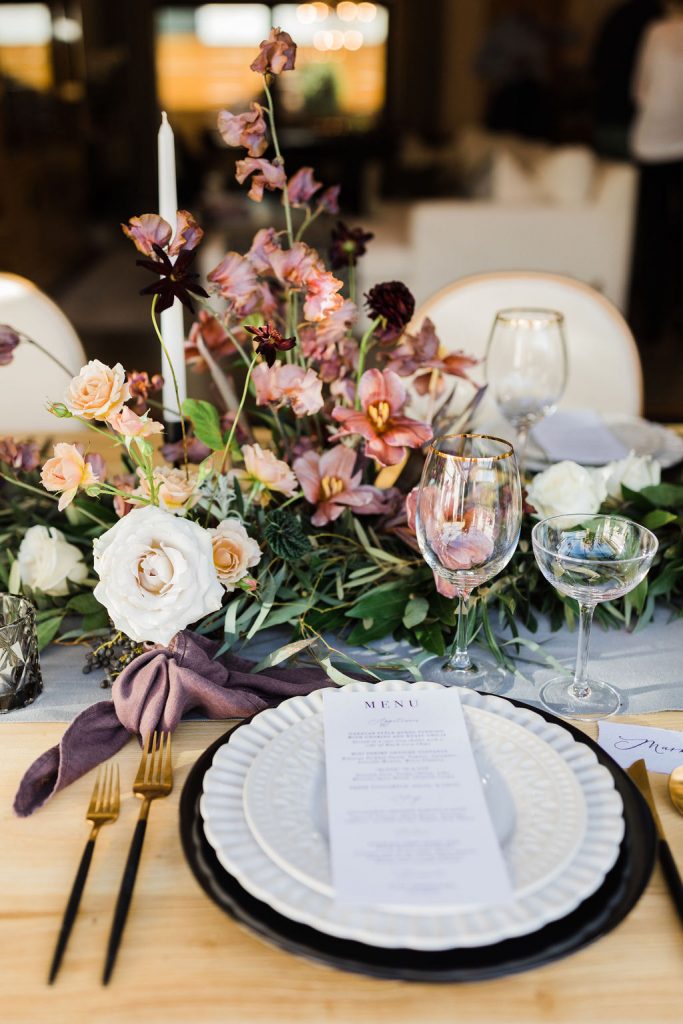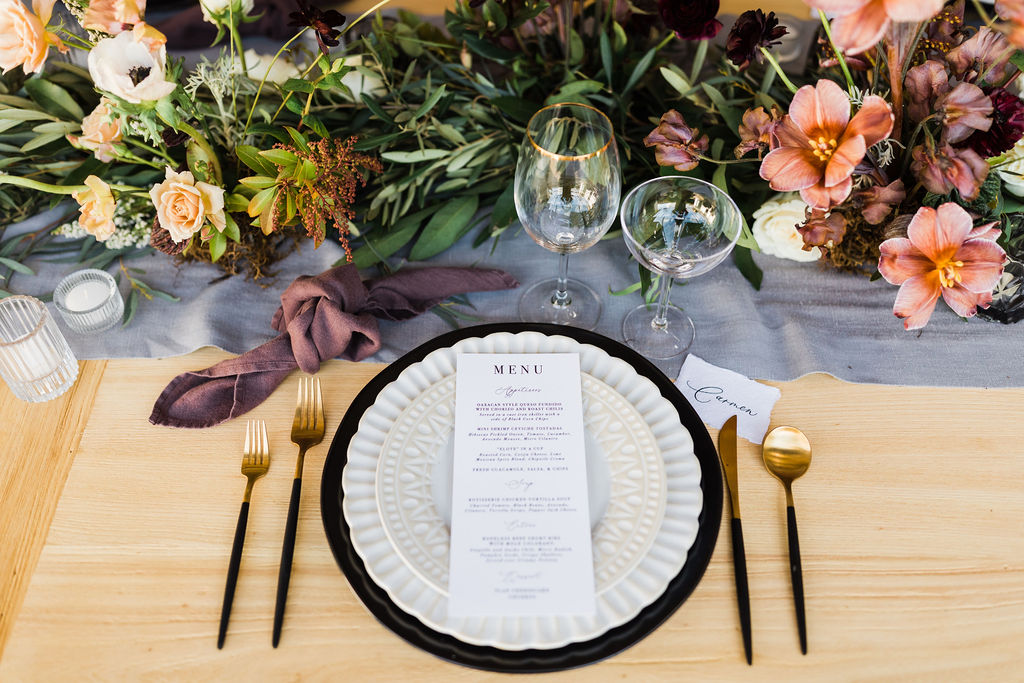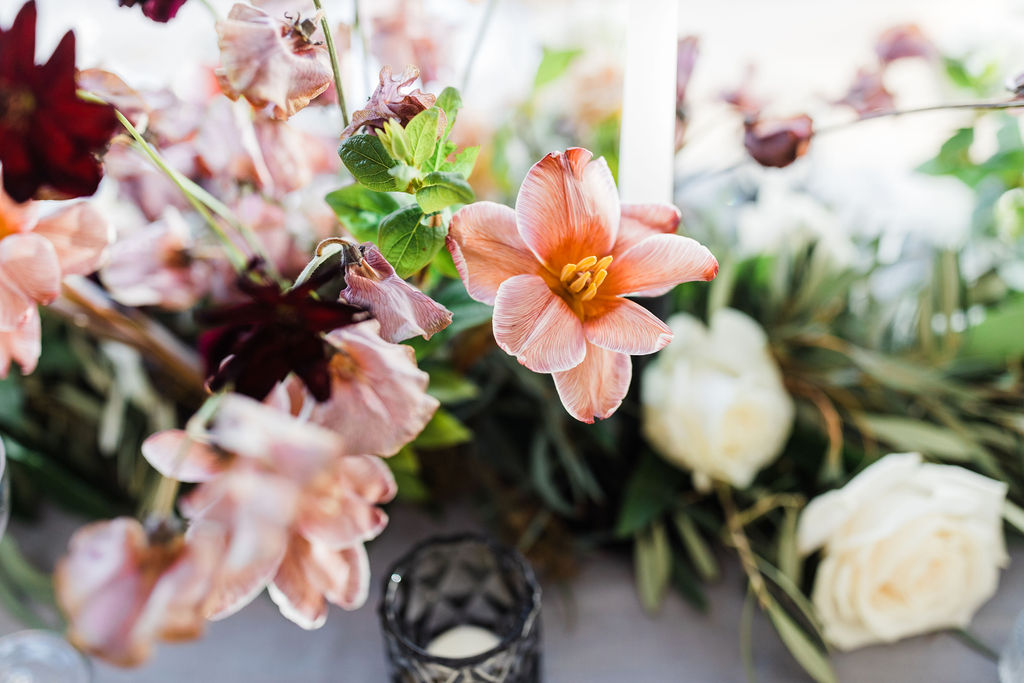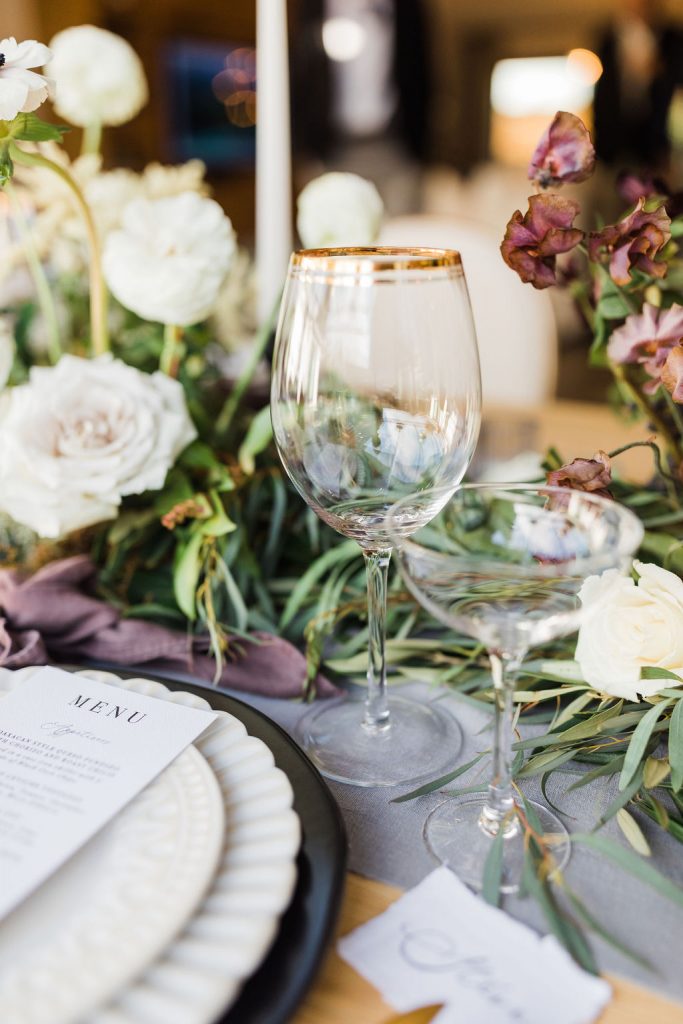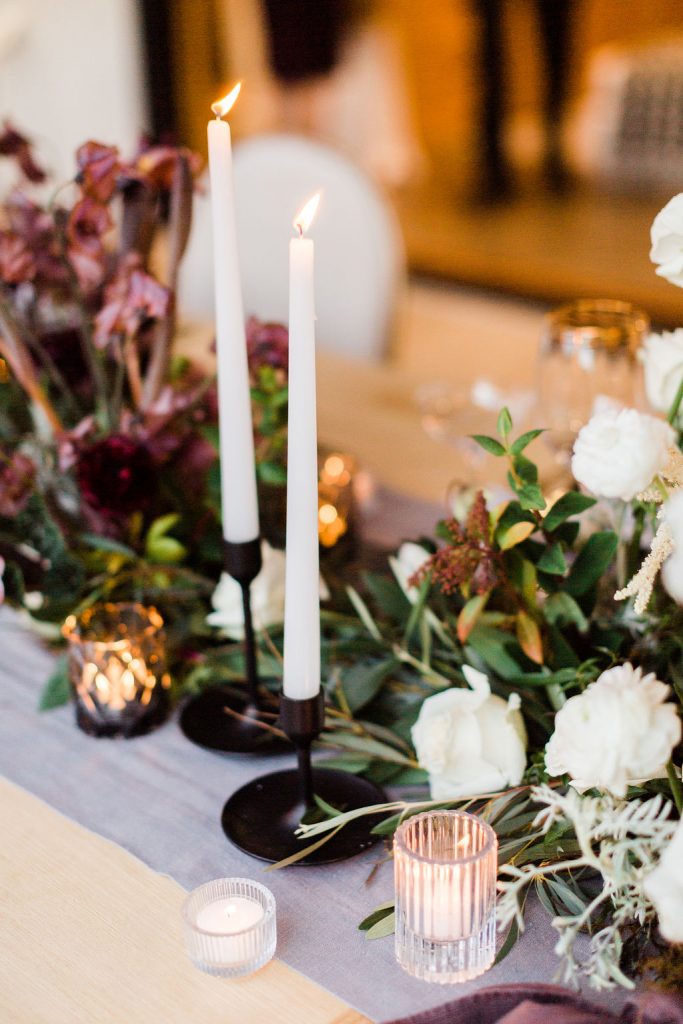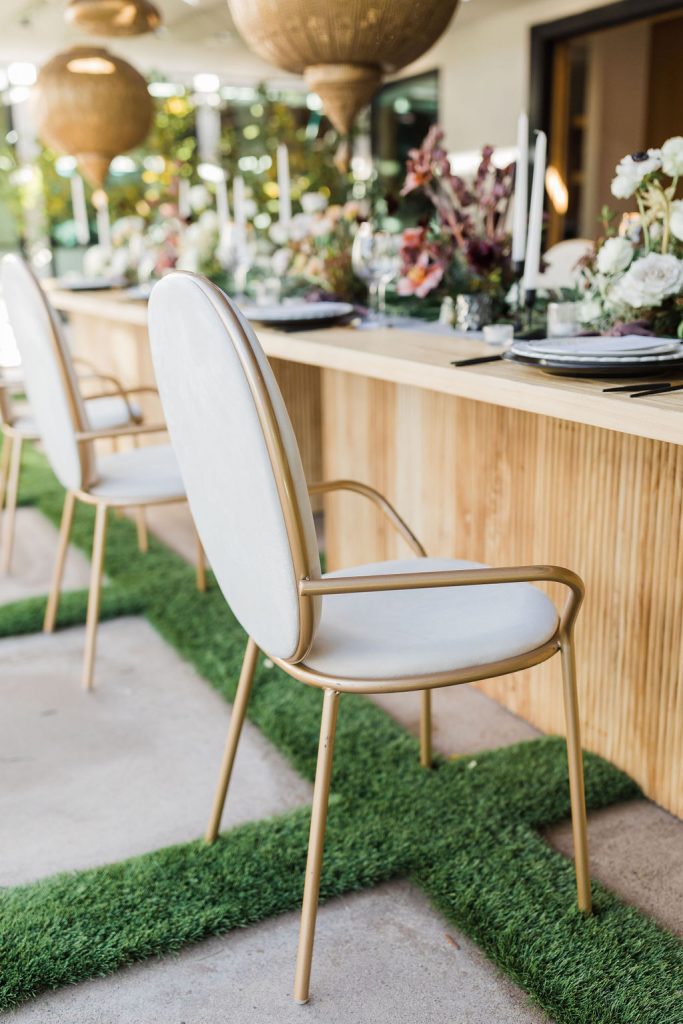 Pirouette Paper added the menus and hand written place cards. All of the details looked so elegant and classic with our pretty table.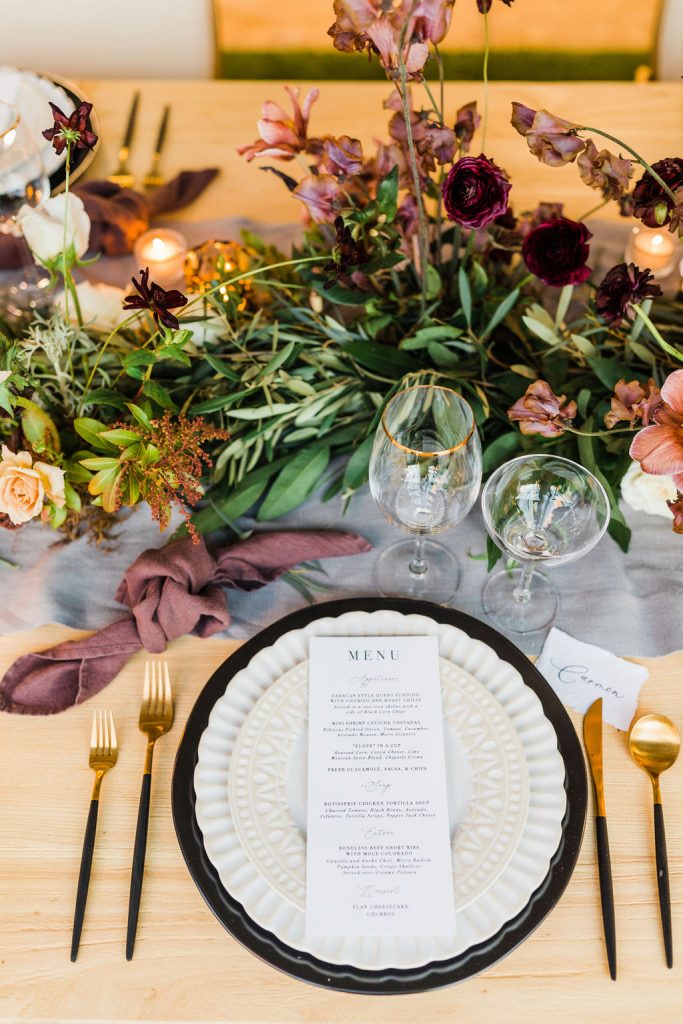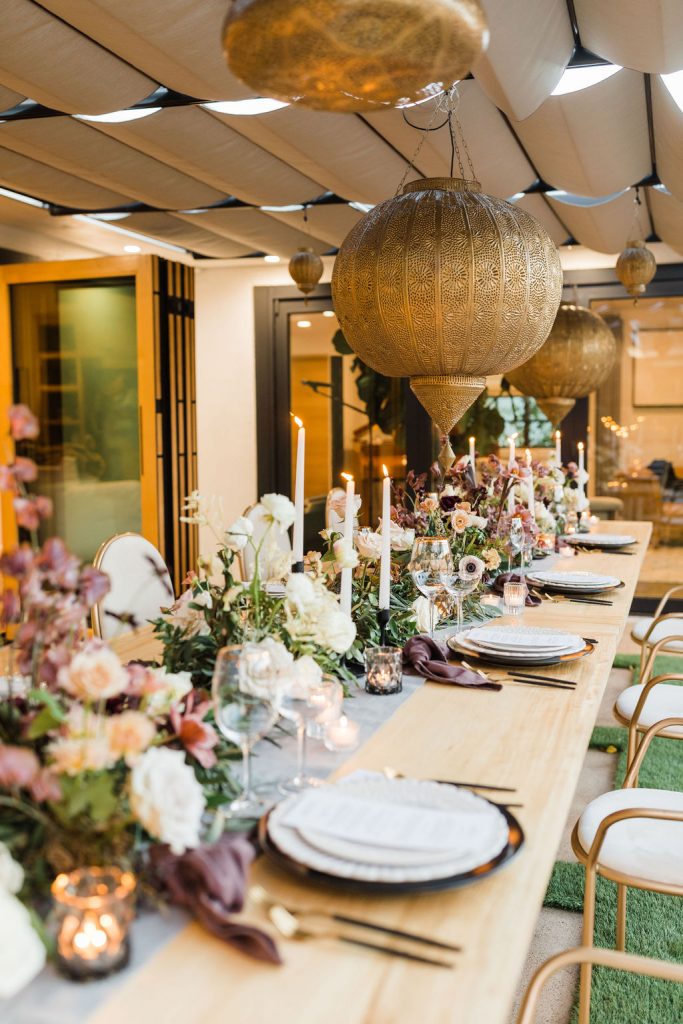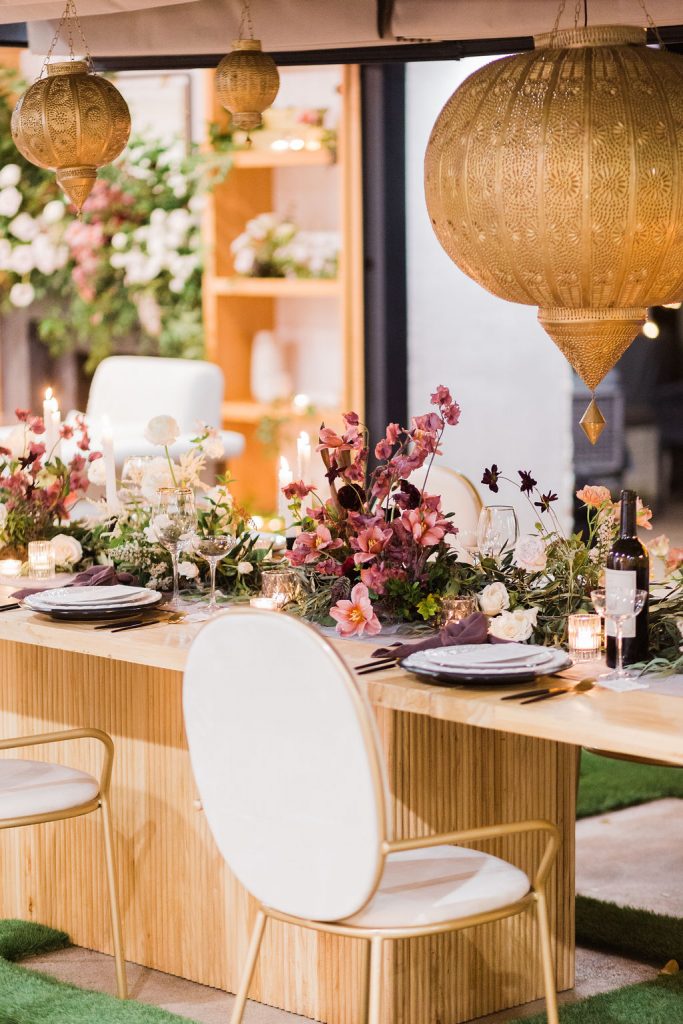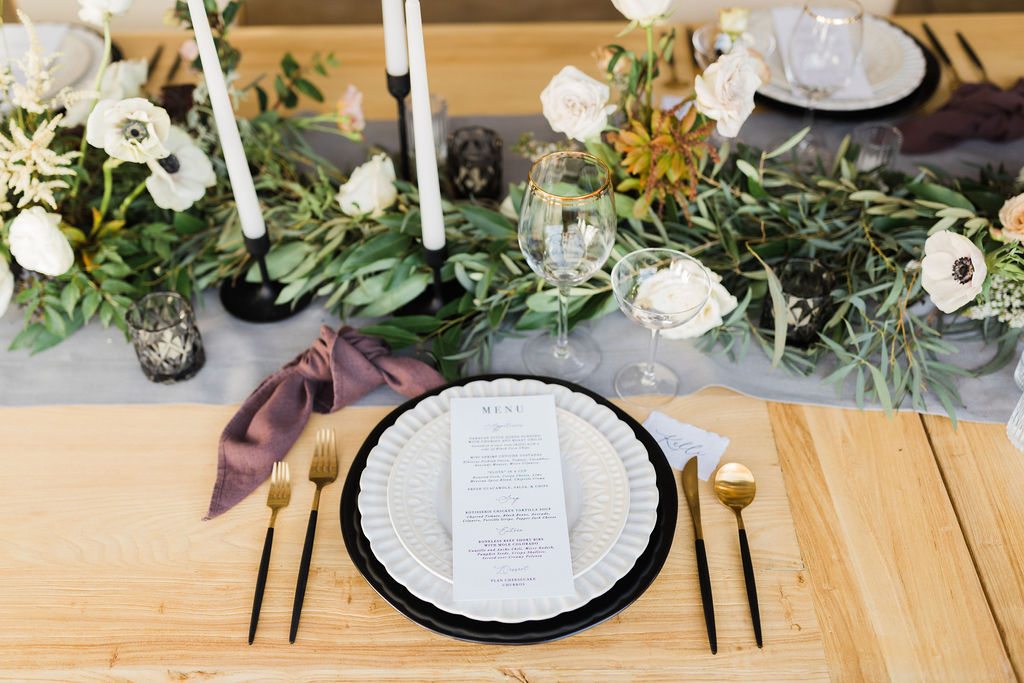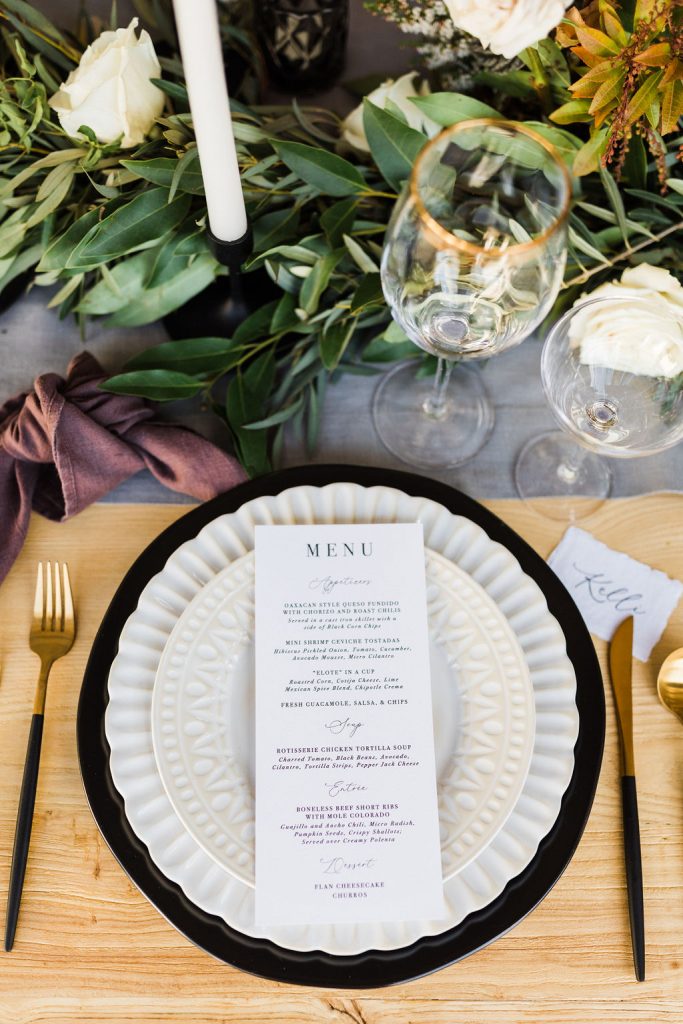 It's true, we are obsessed at every angle!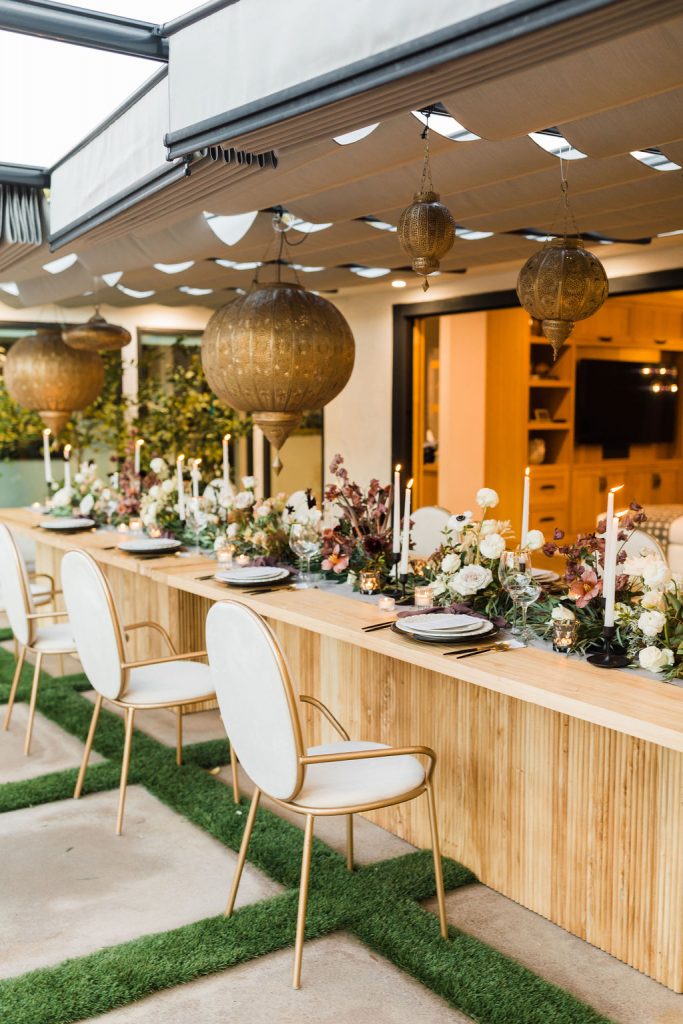 Guests were invited to grab a cocktail at the bar, even though it was an intimate affair we still made it as special as possible!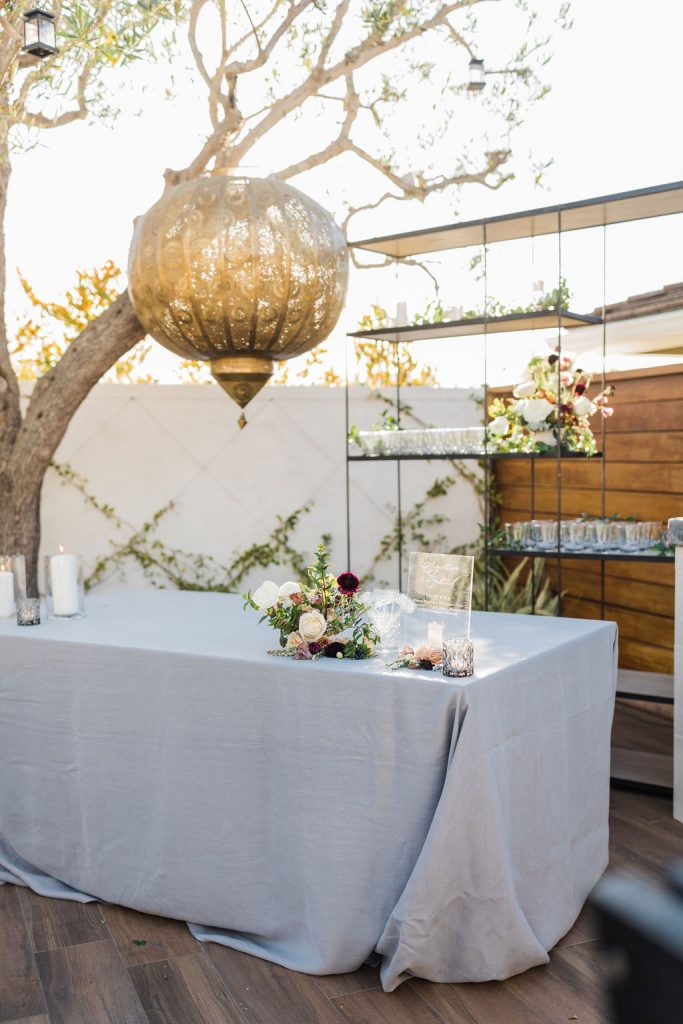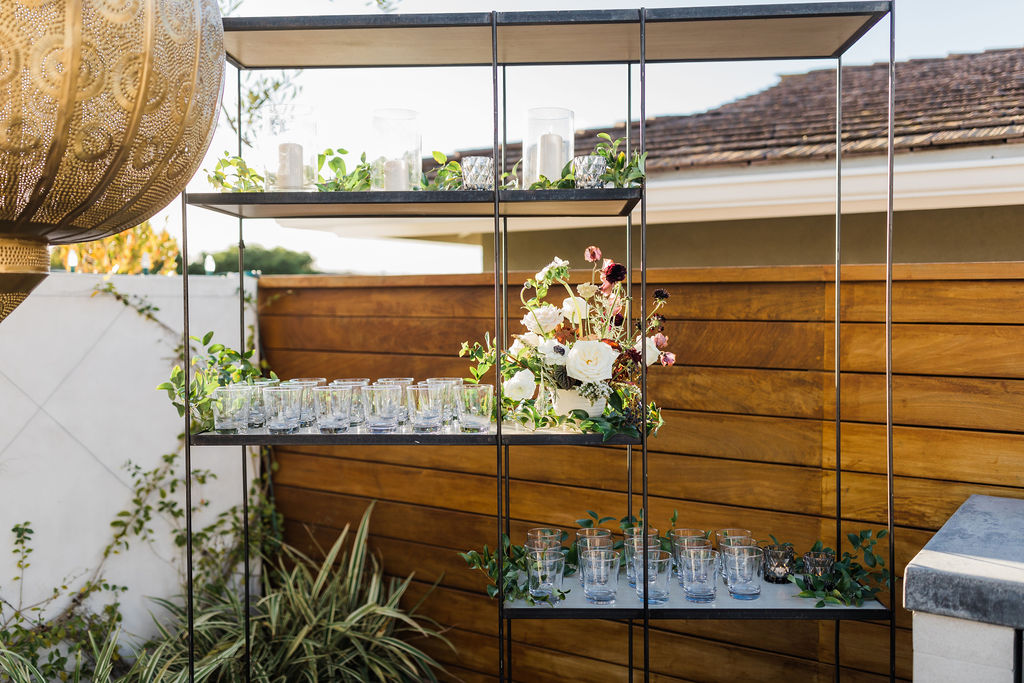 We also had Found Rental's lanterns around for ambience and it looked so pretty through-out the backyard.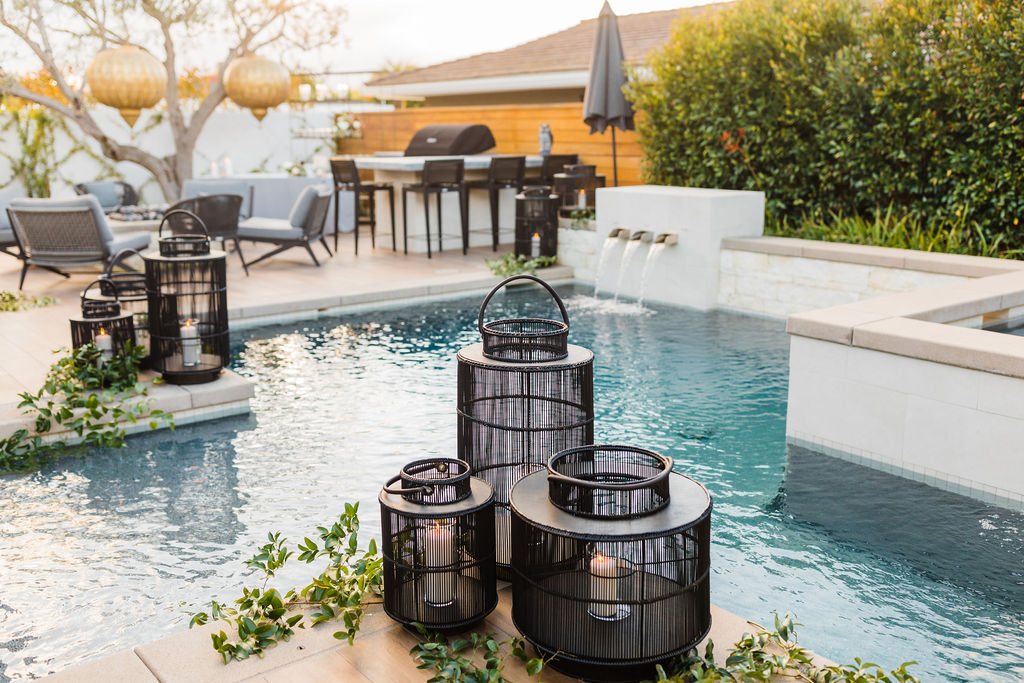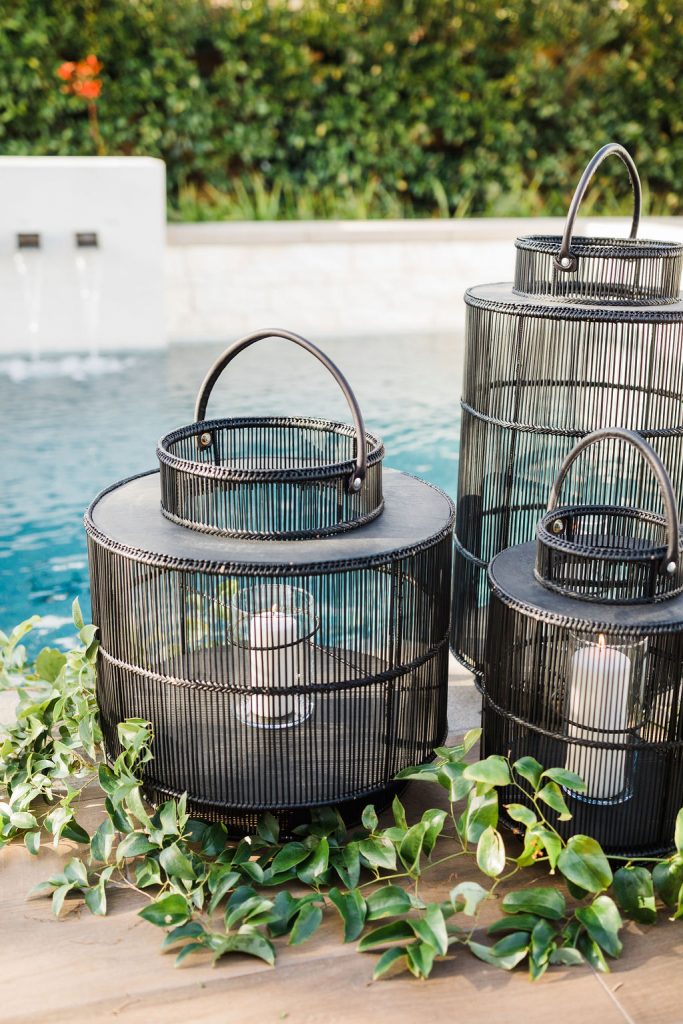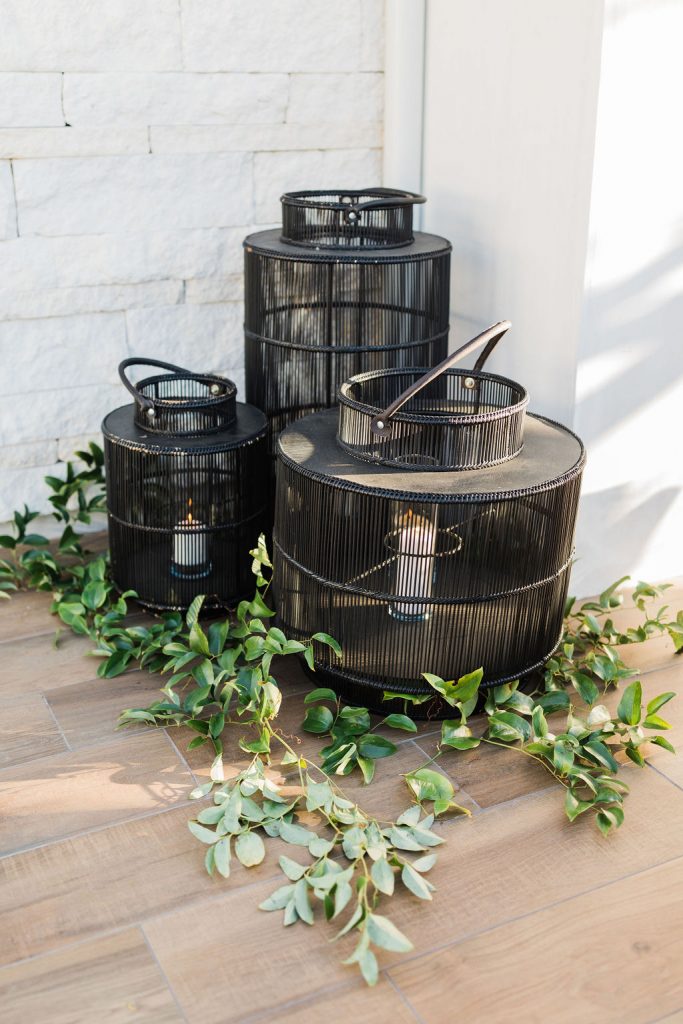 Cheers!!!!
Time for some dancing!!!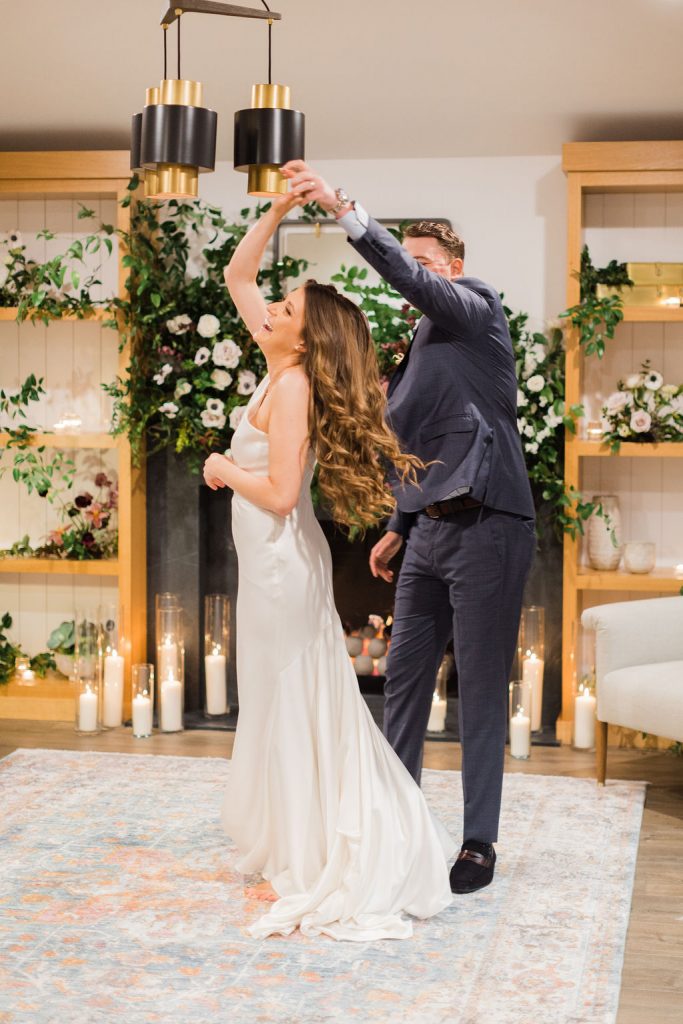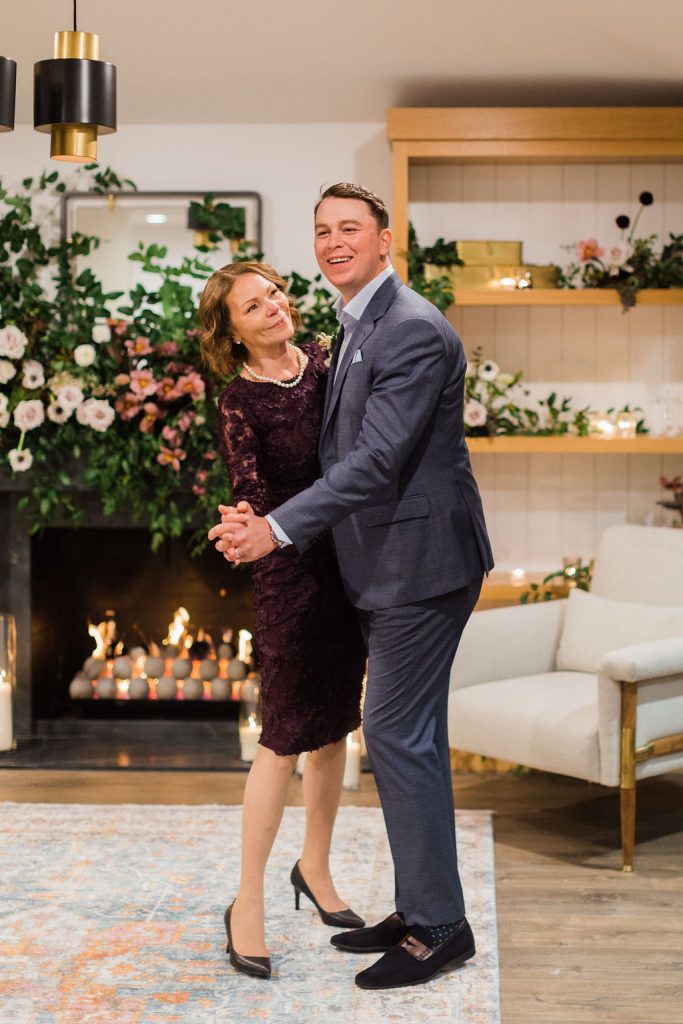 Time to cut the cake! Another tradition we couldn't pass up!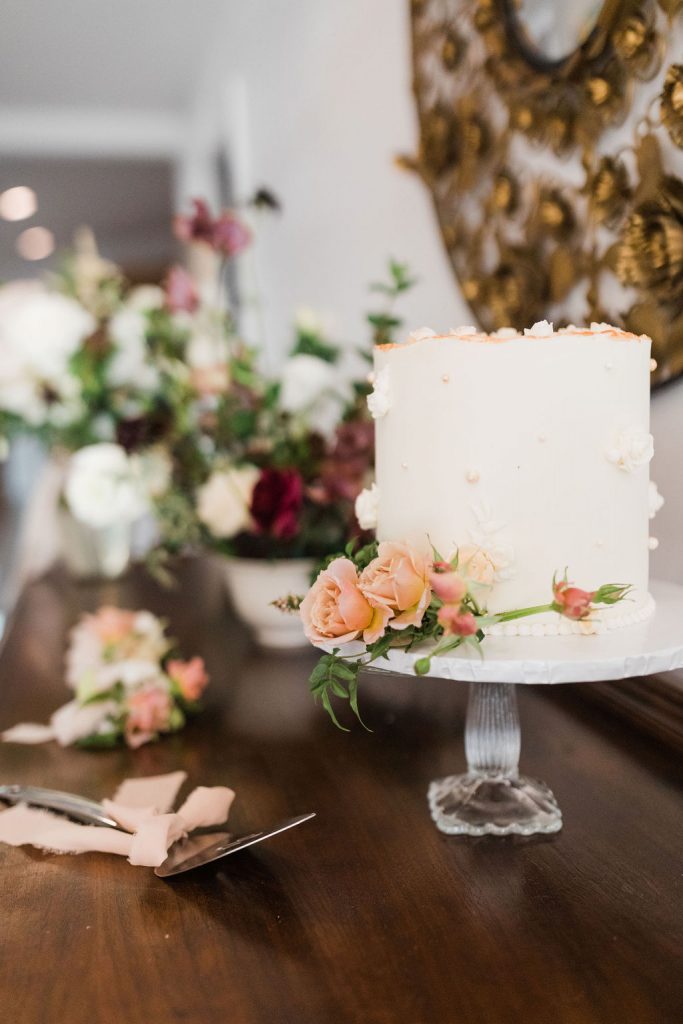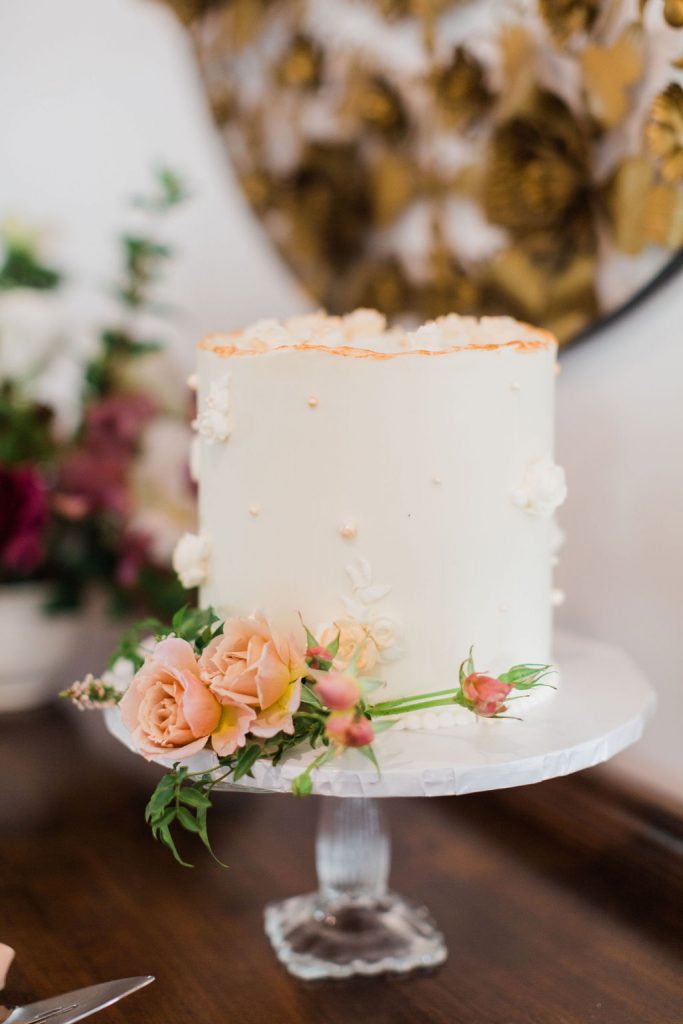 These two look so happy, I can't get enough of it!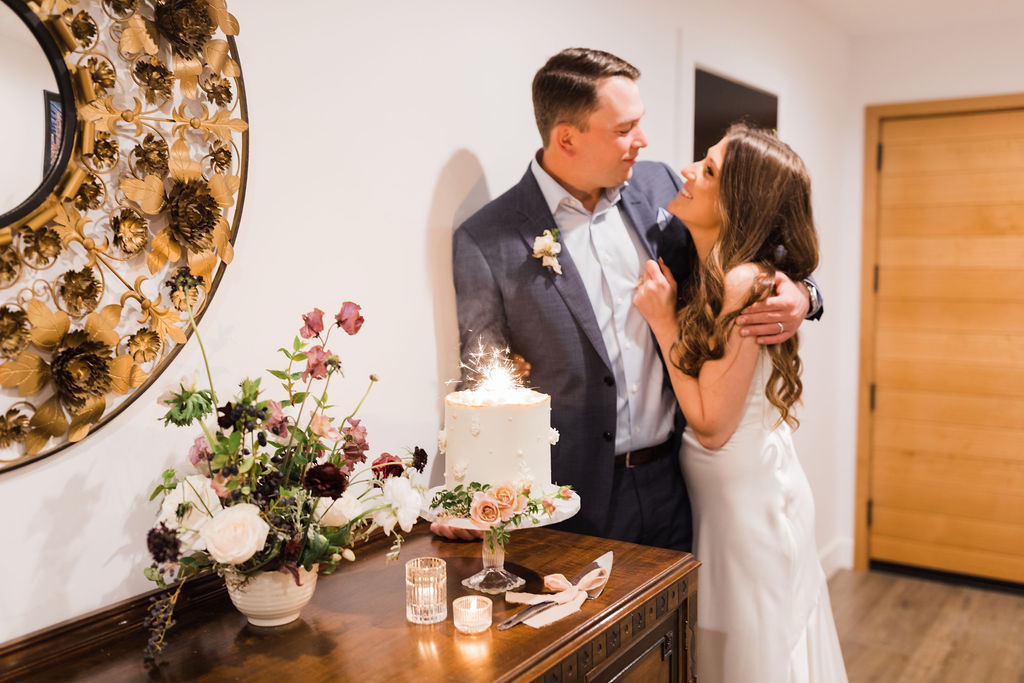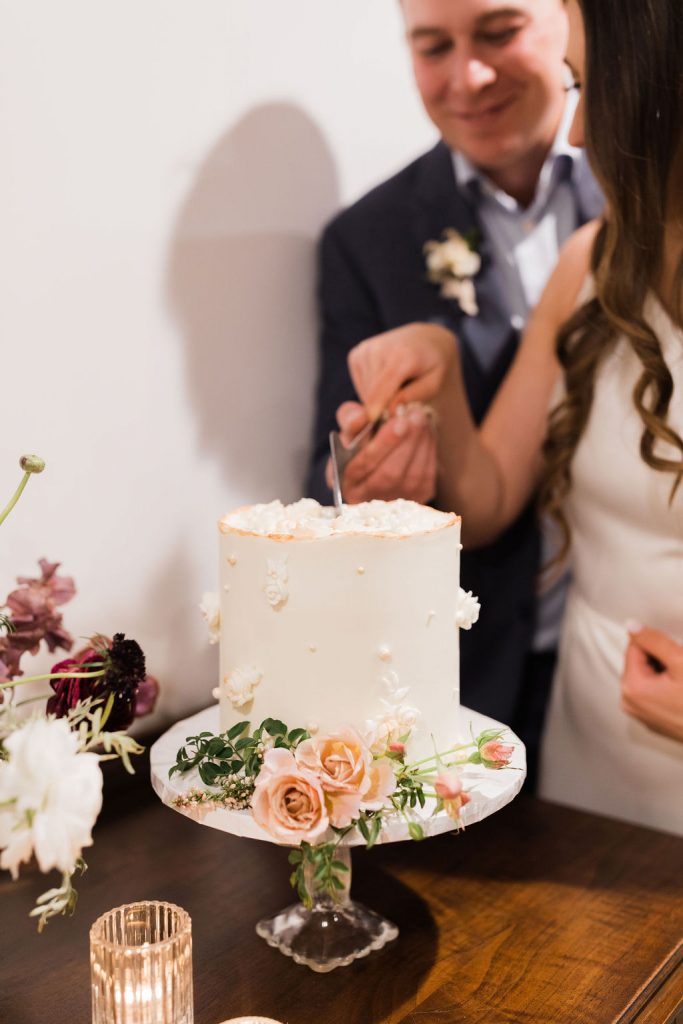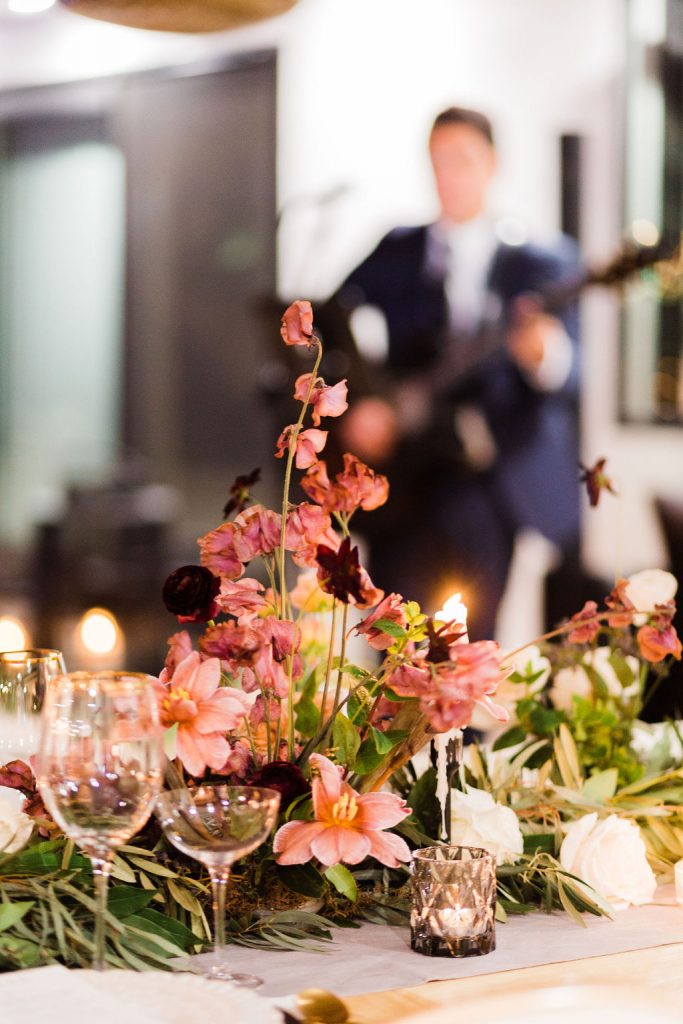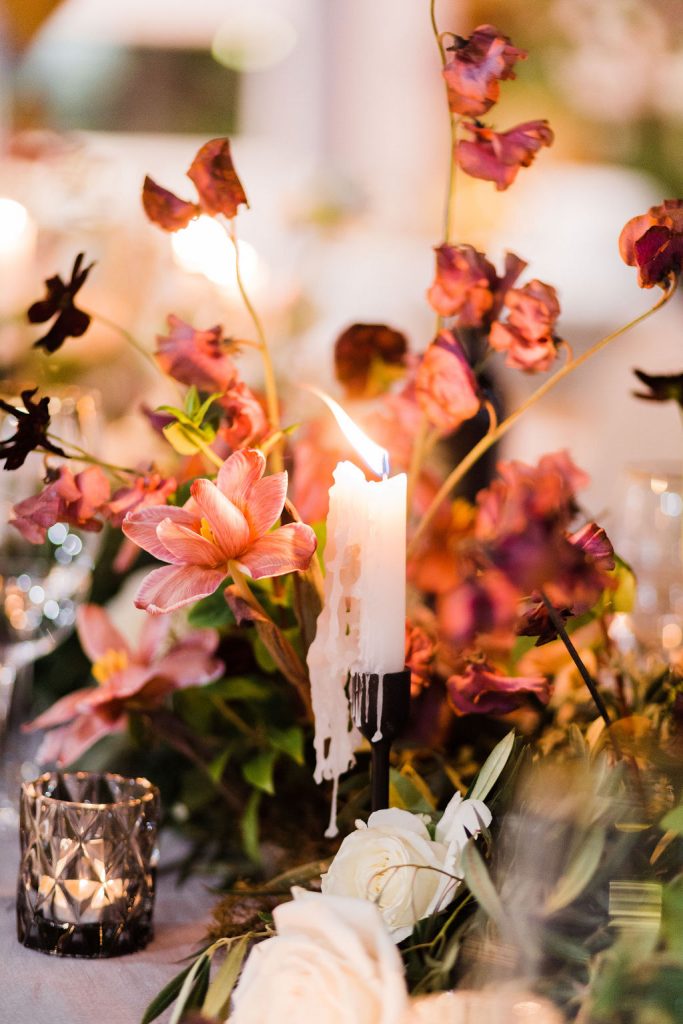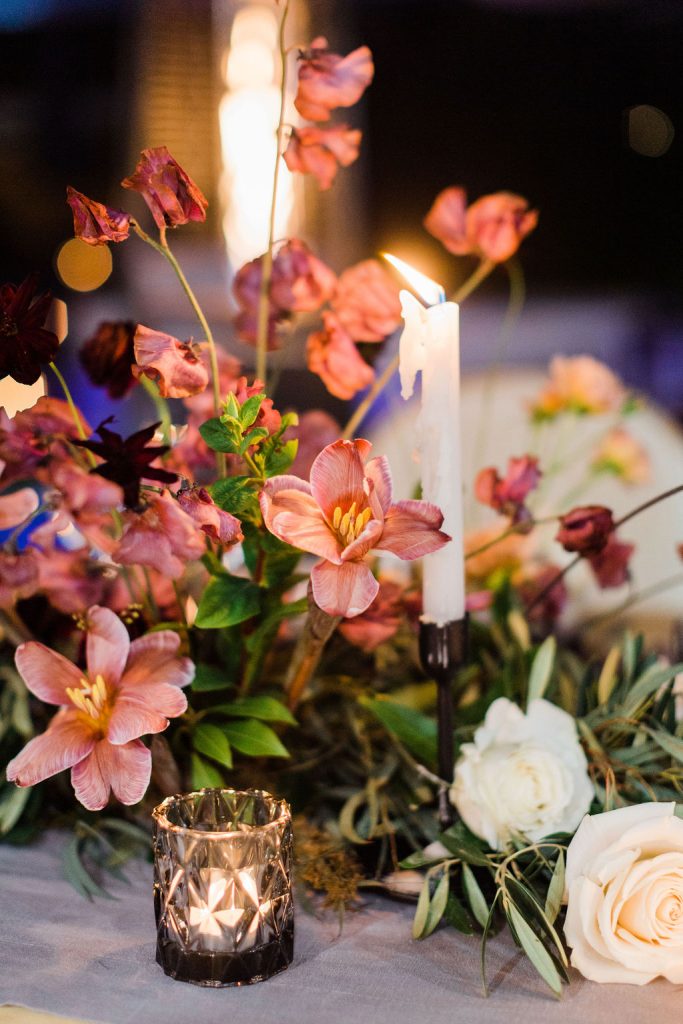 Oh what a night!!! Thank you for letting us be a part of your special day Jessica & JP – cheers to you and your beautiful future together!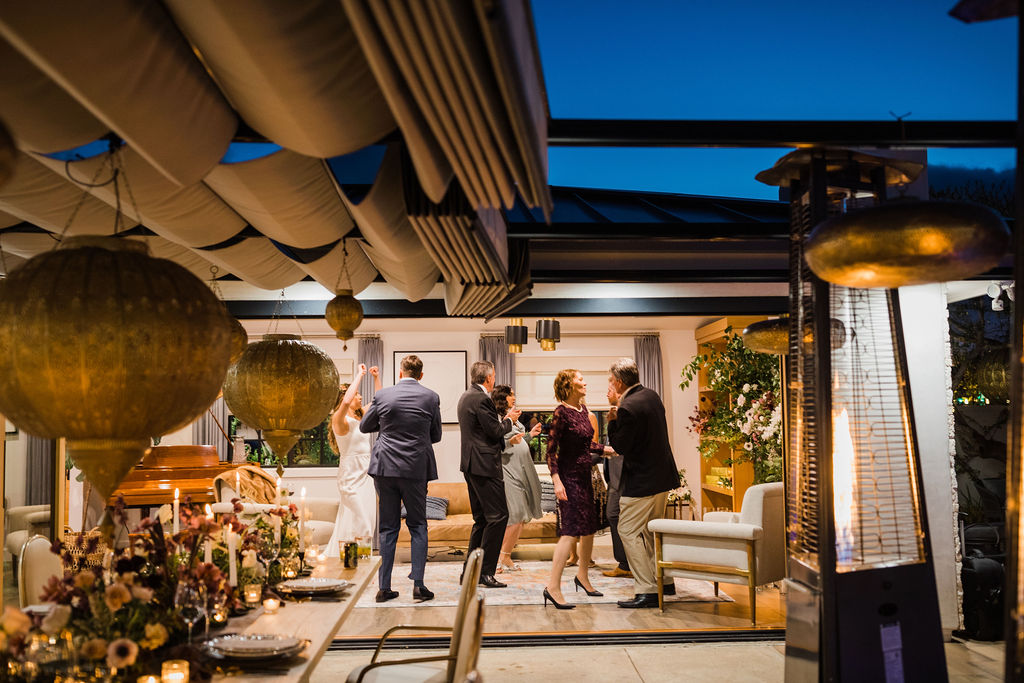 xx
Jacquelyn