It was about a year ago that we got to be a part of this magical day! Maggie & Stevie were getting married in Northern California at the most beautiful venue, Holman Ranch. I personally think it's the most beautiful because it's where I got married 11 years ago! Maggie is my brother in law's cousin and enlisted our help while she was searching out venues, of course she fell in love with this special place. With beautiful oak trees through out, a gorgeous California hacienda vibe, and a breathtaking view over Carmel Valley, this venue is truly exceptional. Maggie was such a fun bride to work with and we are so happy her and Stevie trusted us with their special day. Take a look at all of the stunning photos taken by Olivia Marshall and fall in love with this couple and this place just like we have!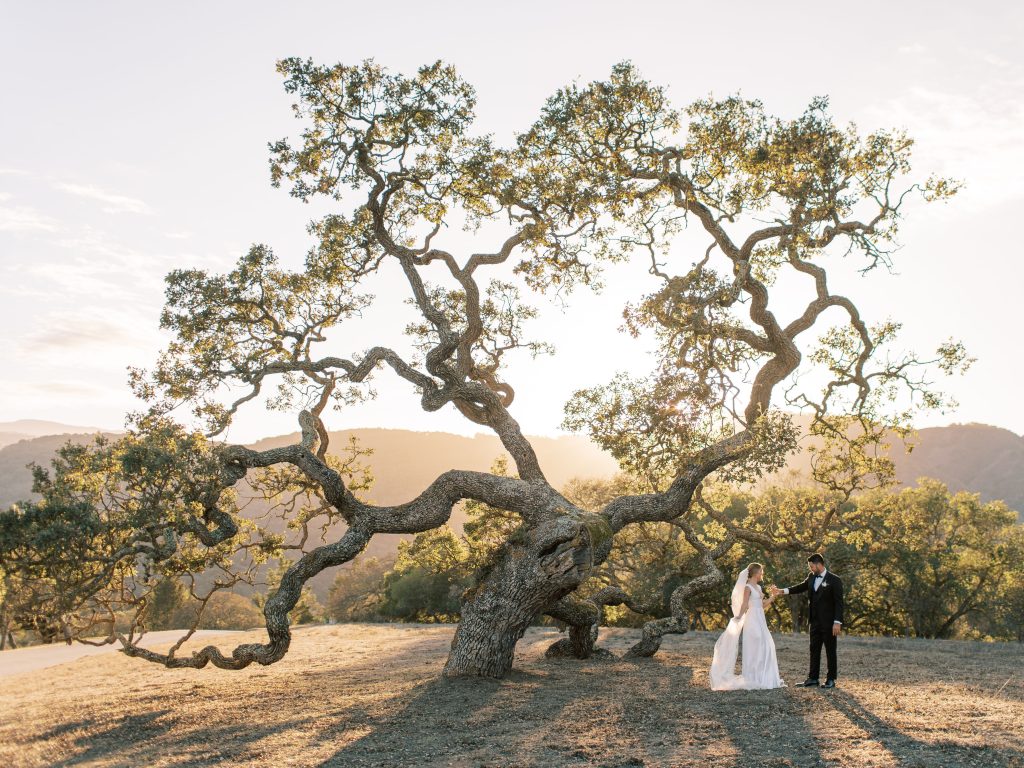 Here's a little glimpse of Holman Ranch on the big day! So gorgeous…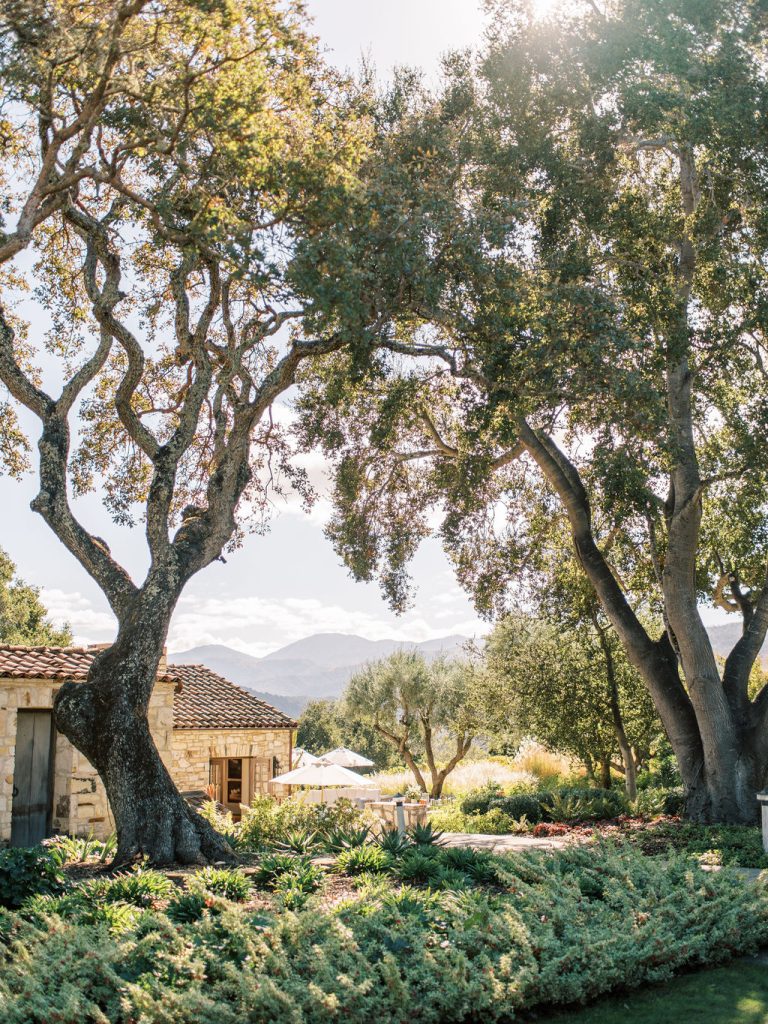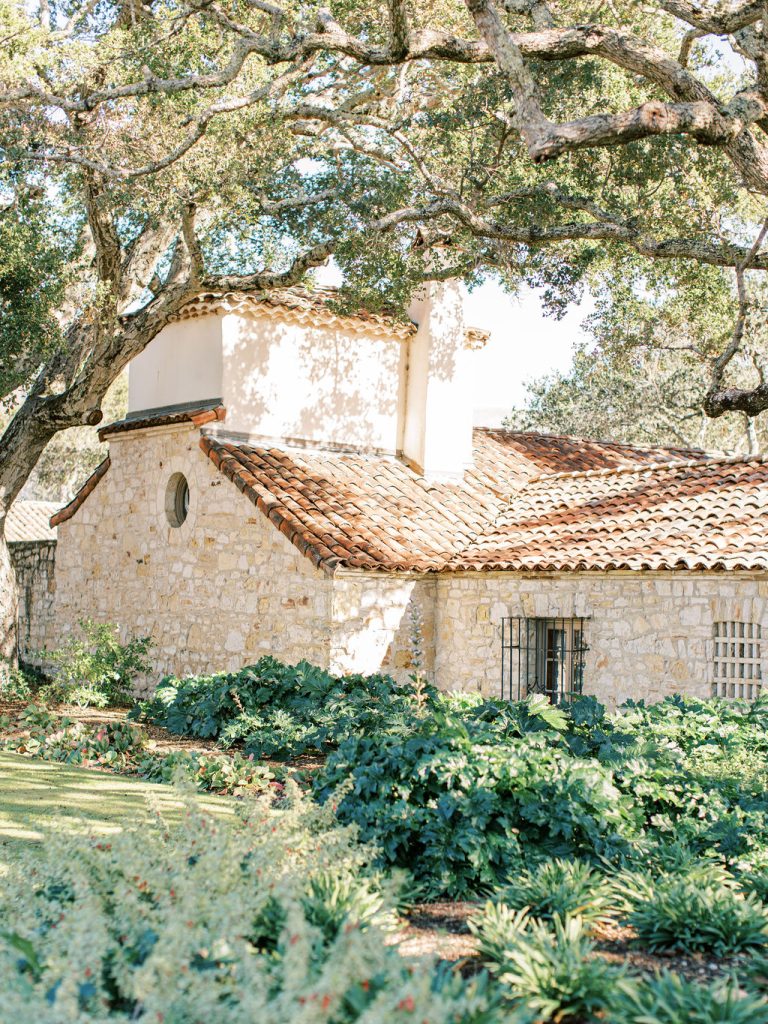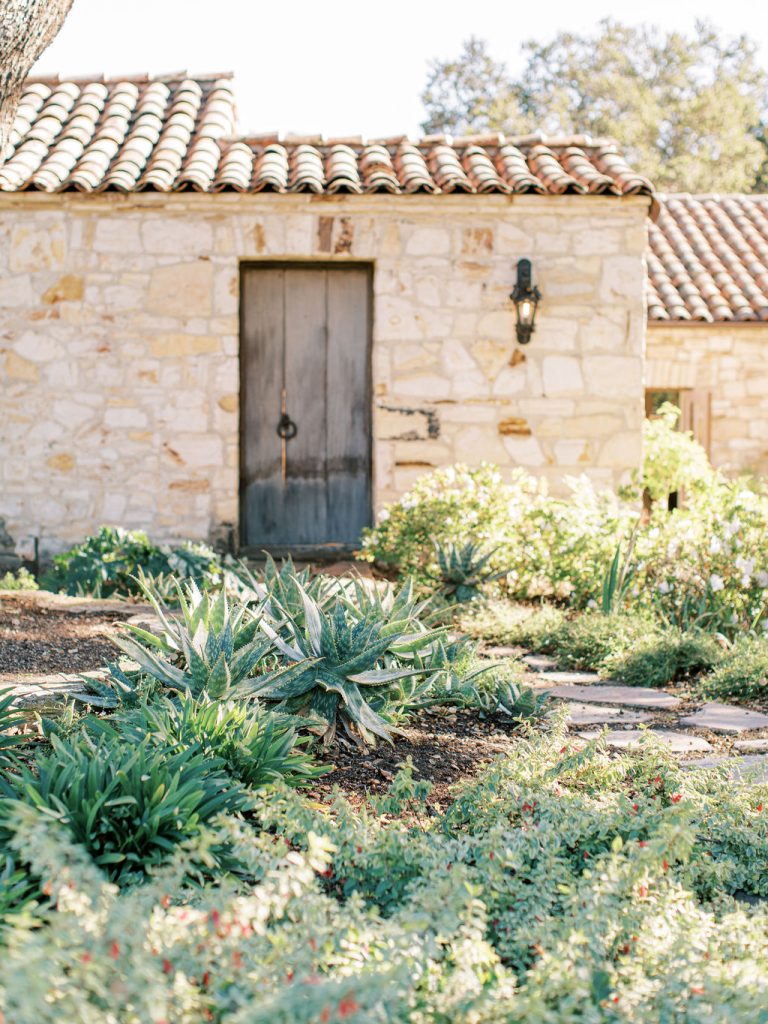 Olivia styled the beautiful invite suite by Pirouette Paper to perfection! I love how simple and elegant it all was and it truly epitomized the amazing day guests would be a part of.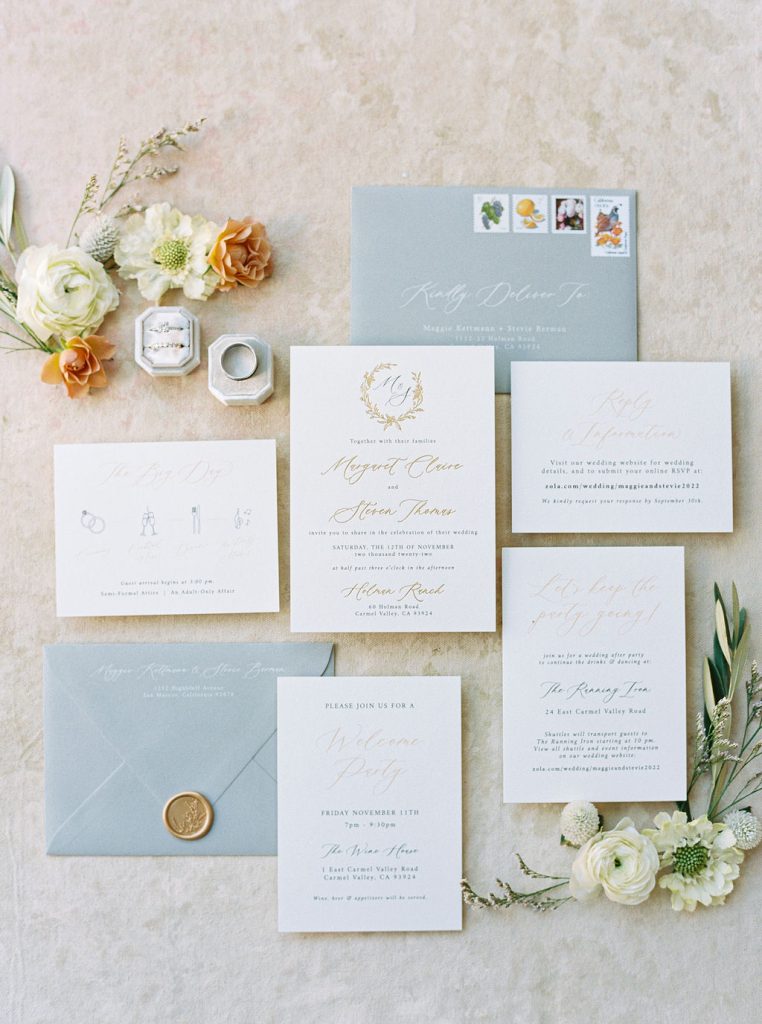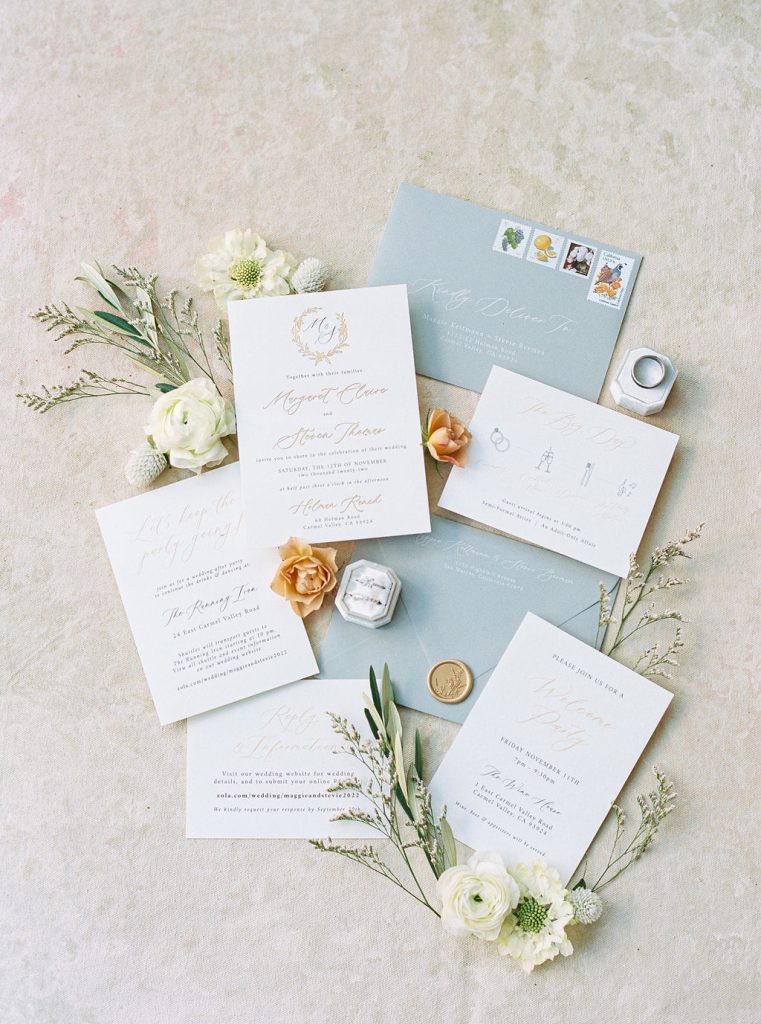 All the pretty details…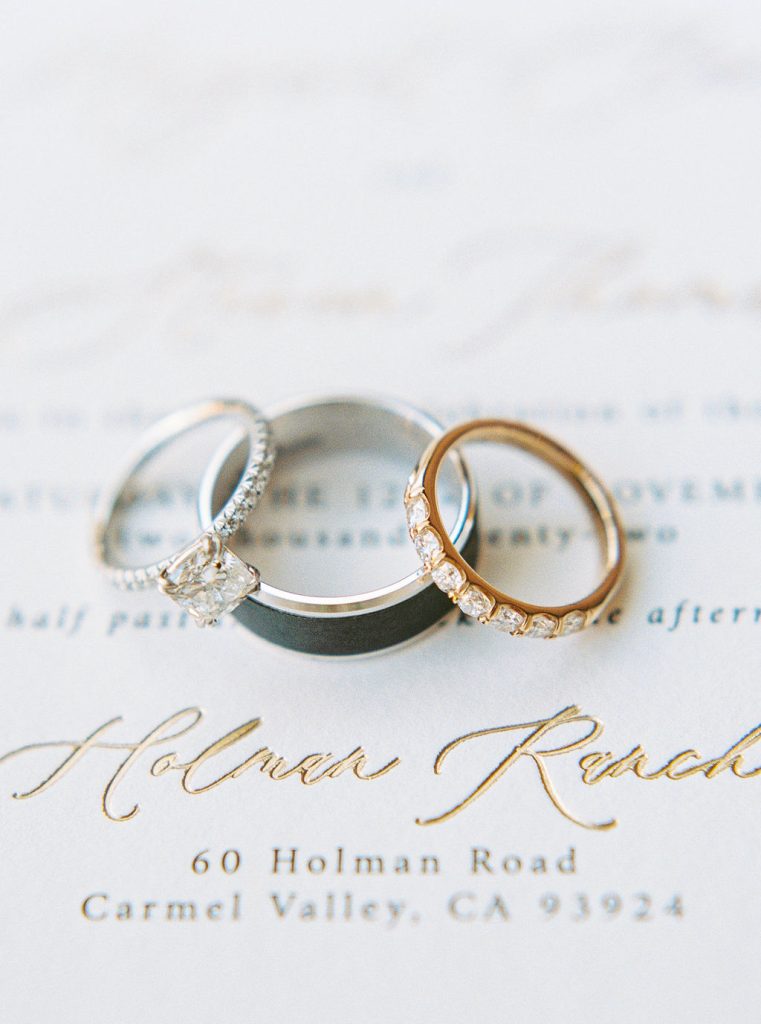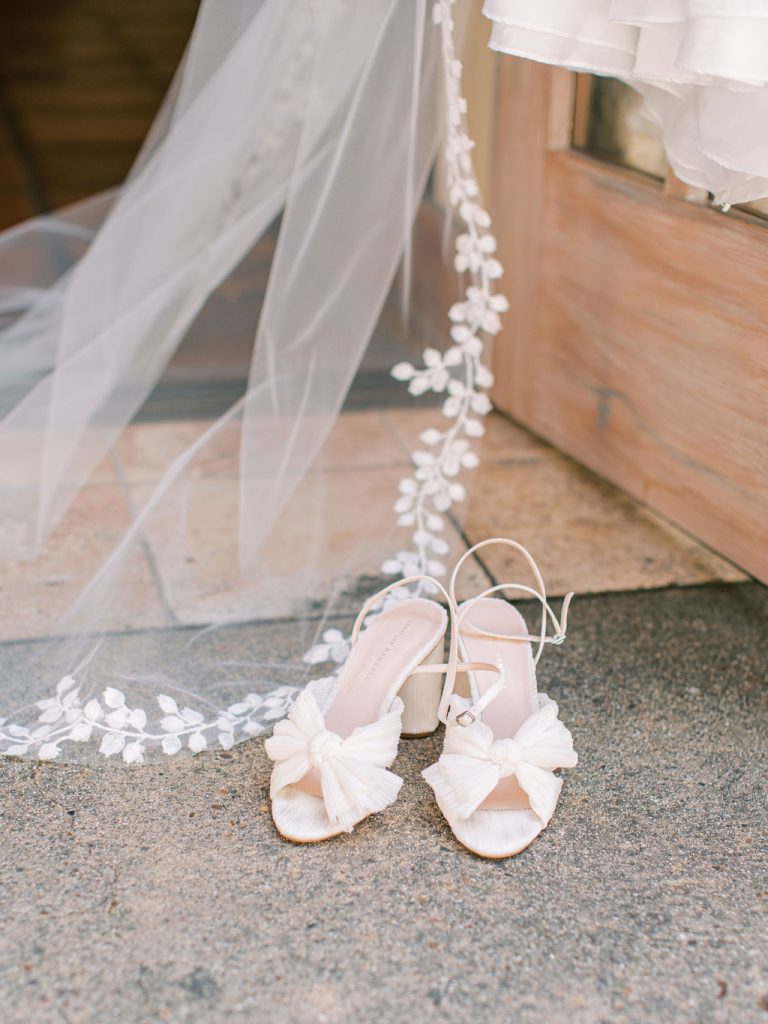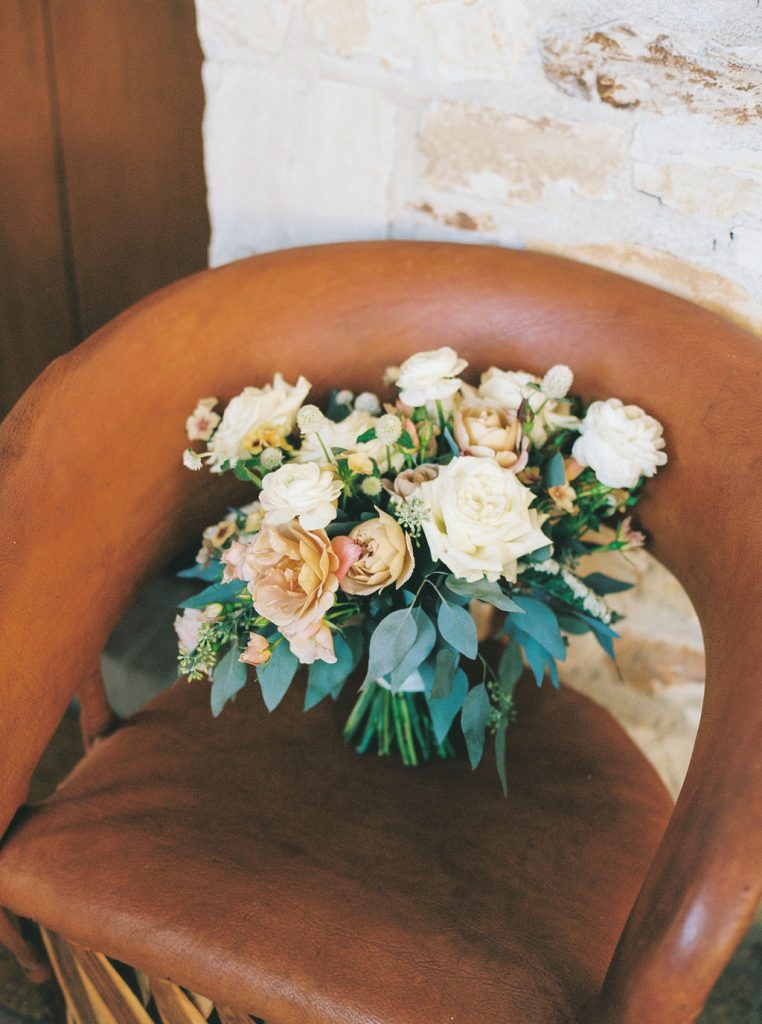 And there's our stunning bride! Maggie looked absolutely gorgeous and we couldn't get enough of her dress! Pure elegance. Her makeup and hair were done by Kelly Jo Beauty. It didn't take much to make this girl look good, she is already beautiful inside and out!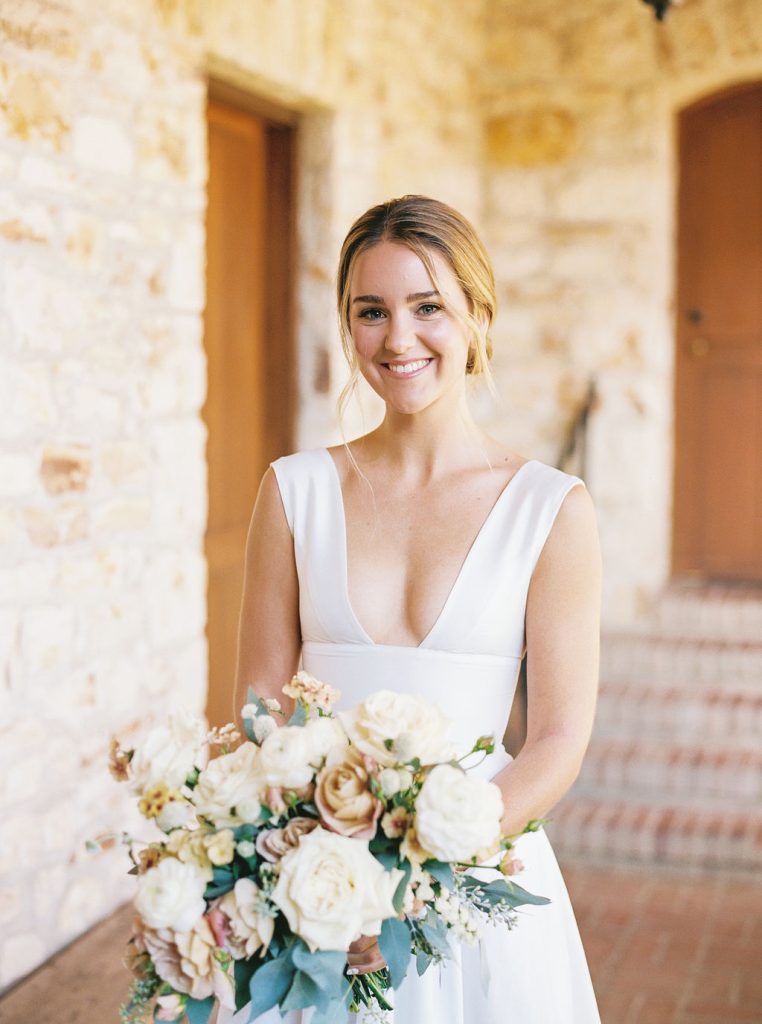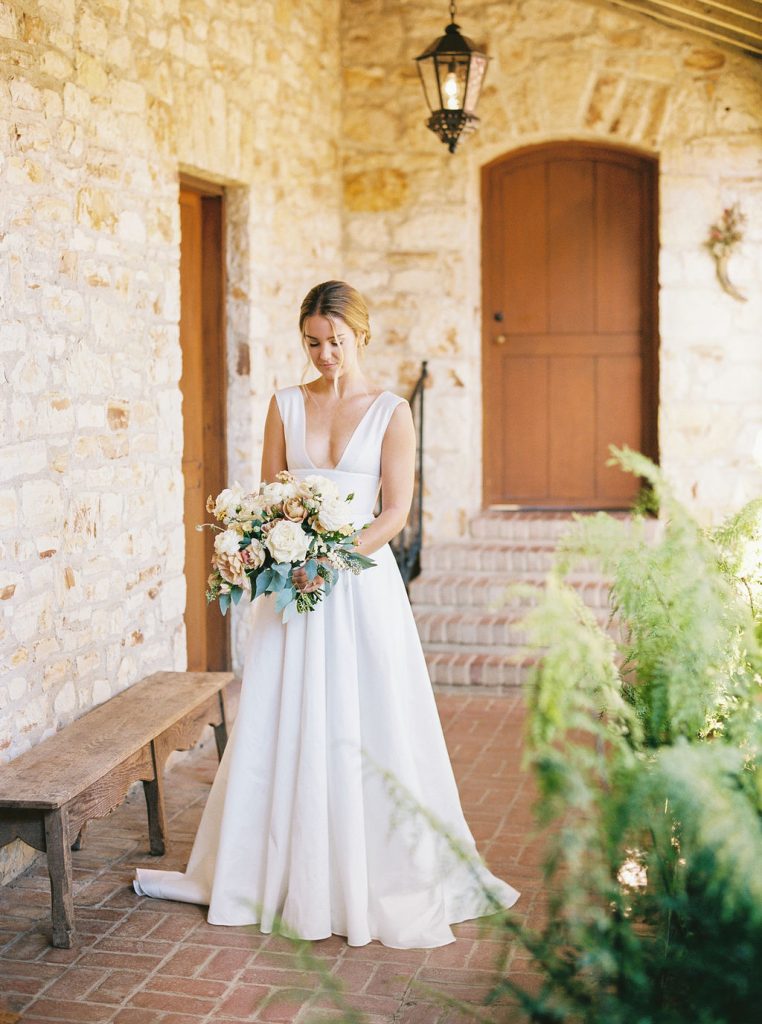 Her bridal bouquet was gorgeous, the perfect mix of neutral colors and an amazing mix of textures. Seascape Flowers is responsible for this beauty and all of the incredible florals you'll see throughout the day. They made our floral dreams come true!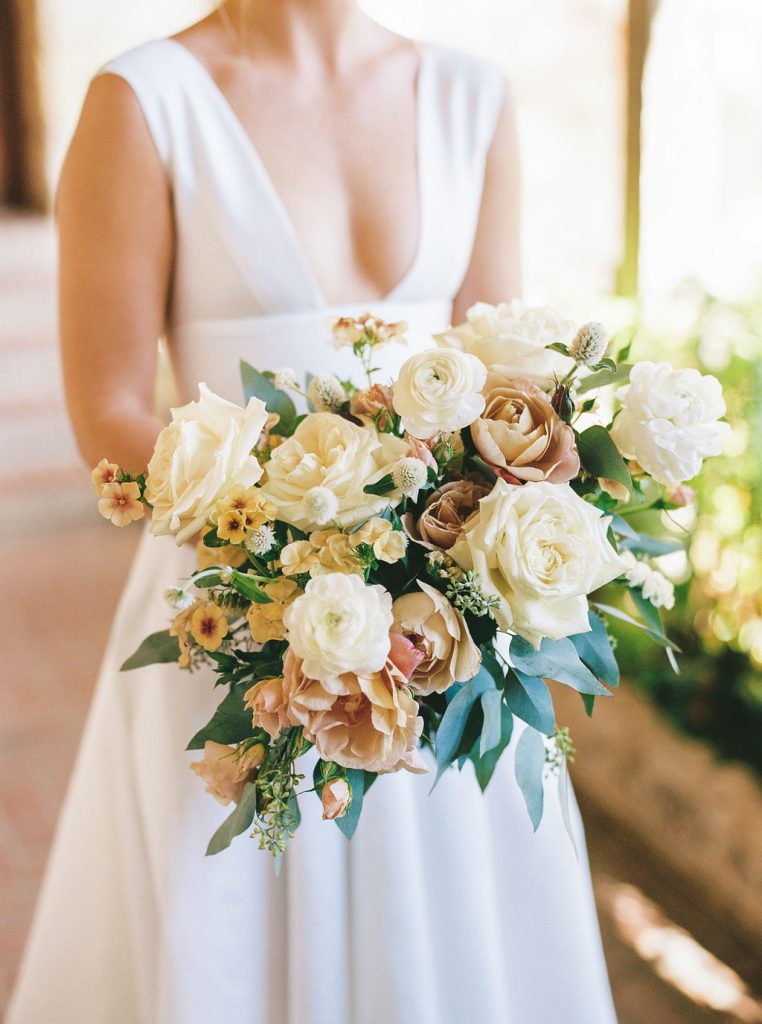 Mother of the Bride along with Sister and Maid of Honor making some final touches…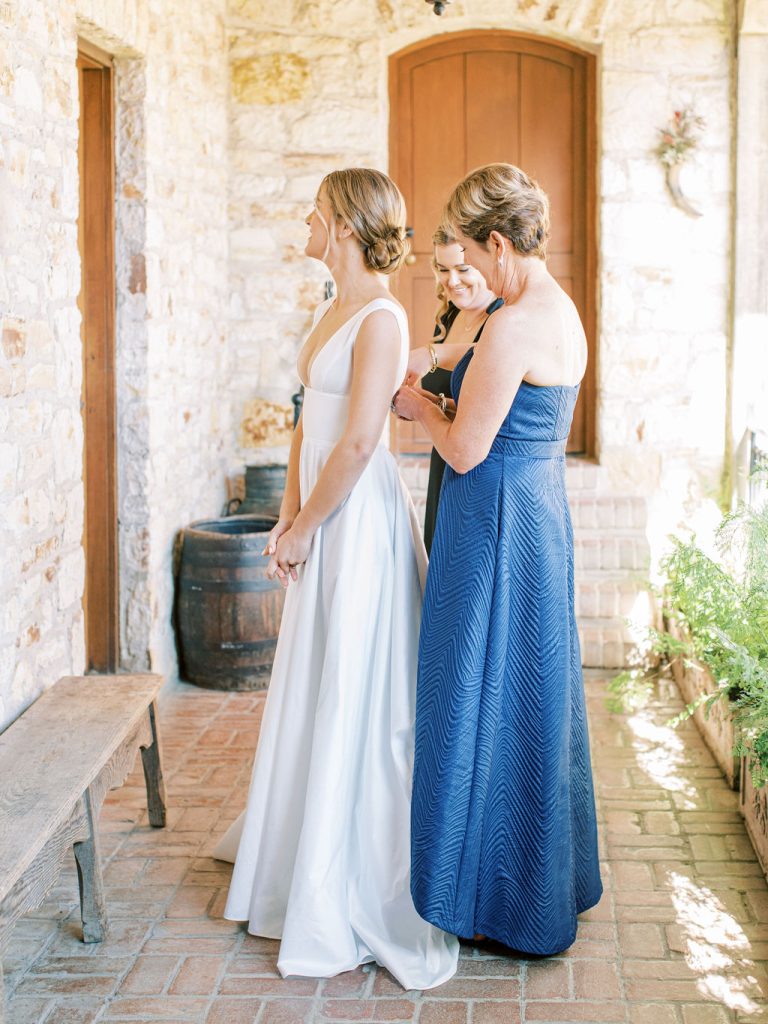 She is ready for that first look!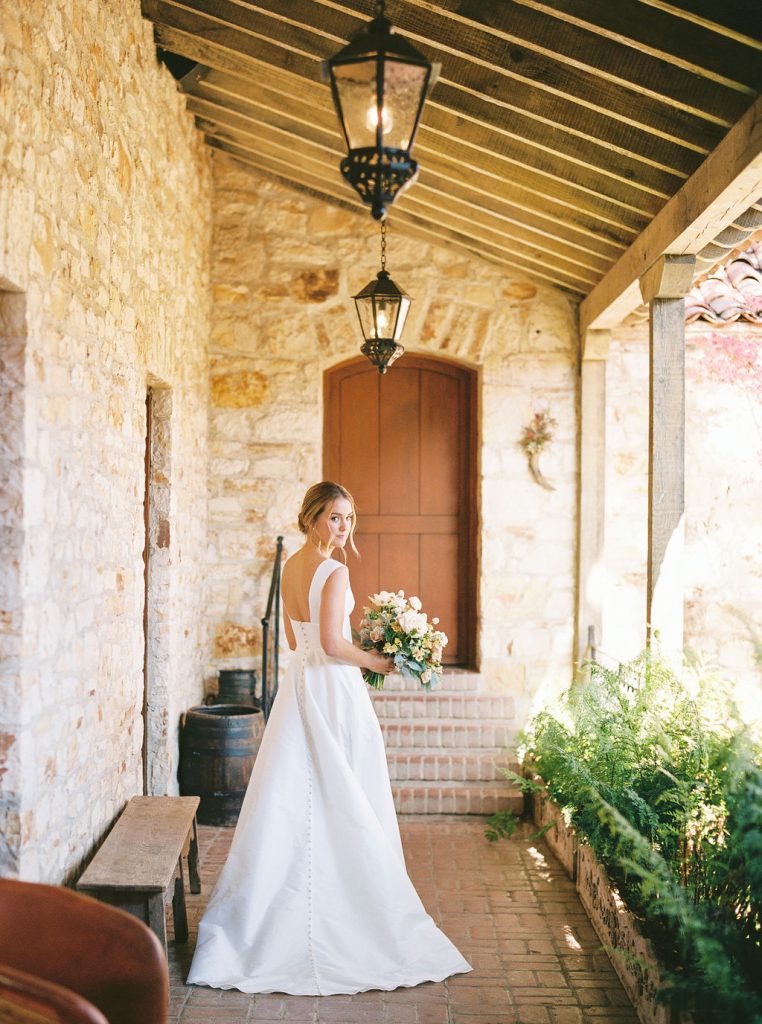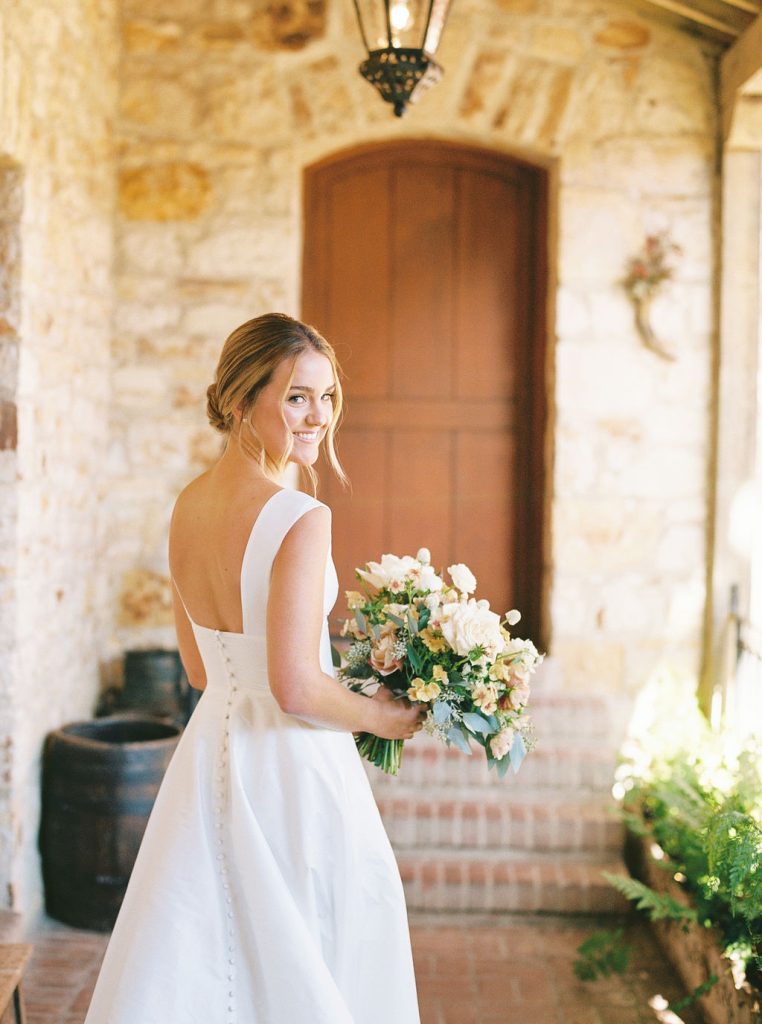 Meanwhile… Haha! The Groom and his groomsmen were having some fun! Getting Stevie ready to tie the knot!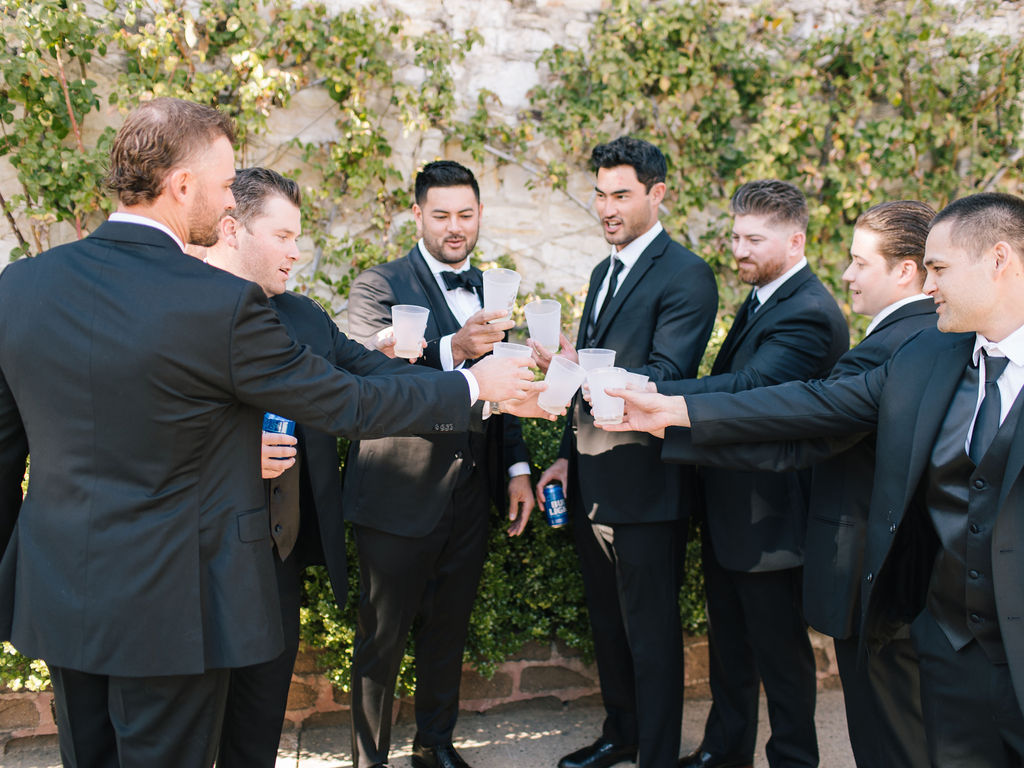 The sweetest first look!! These two are so happy together…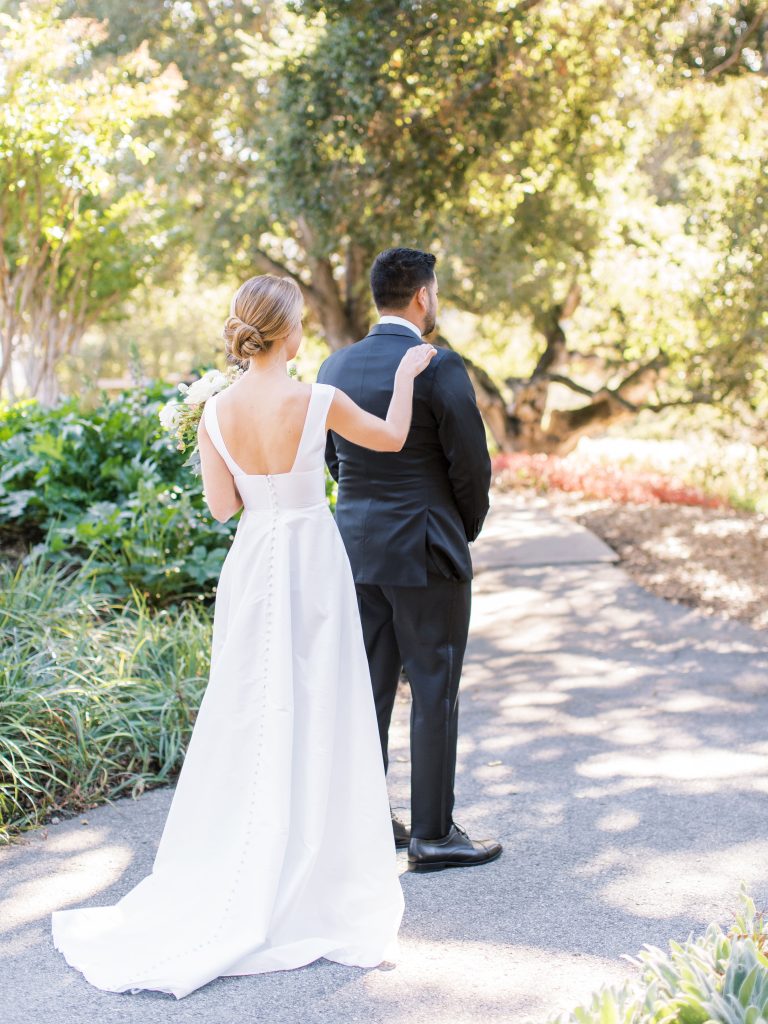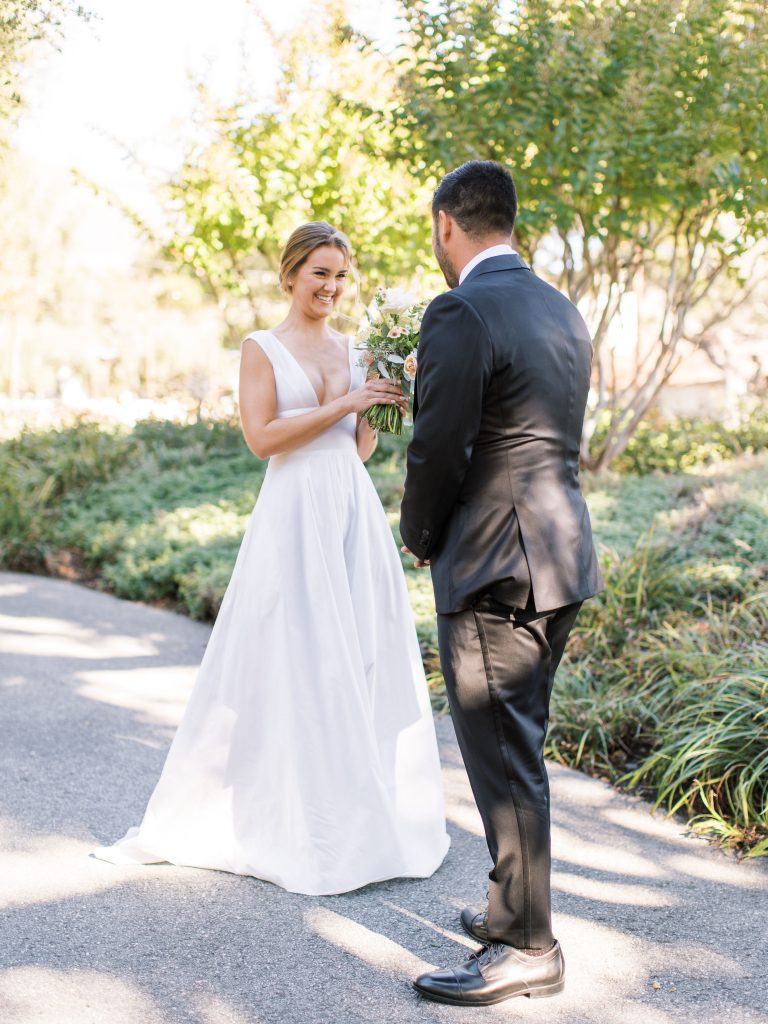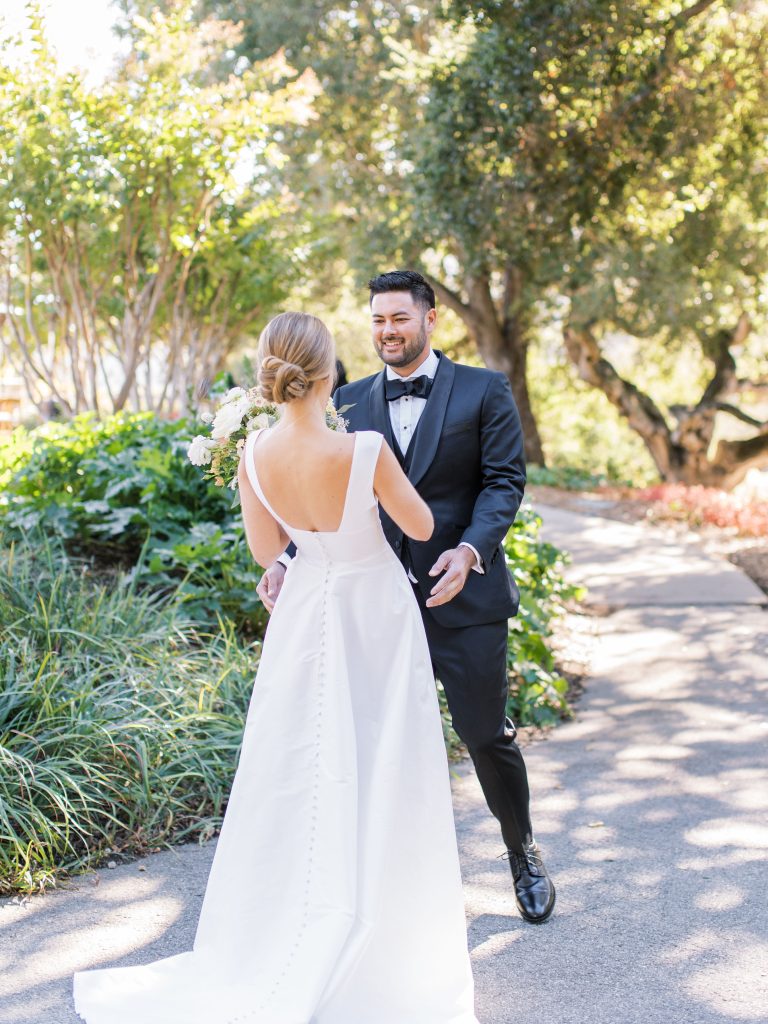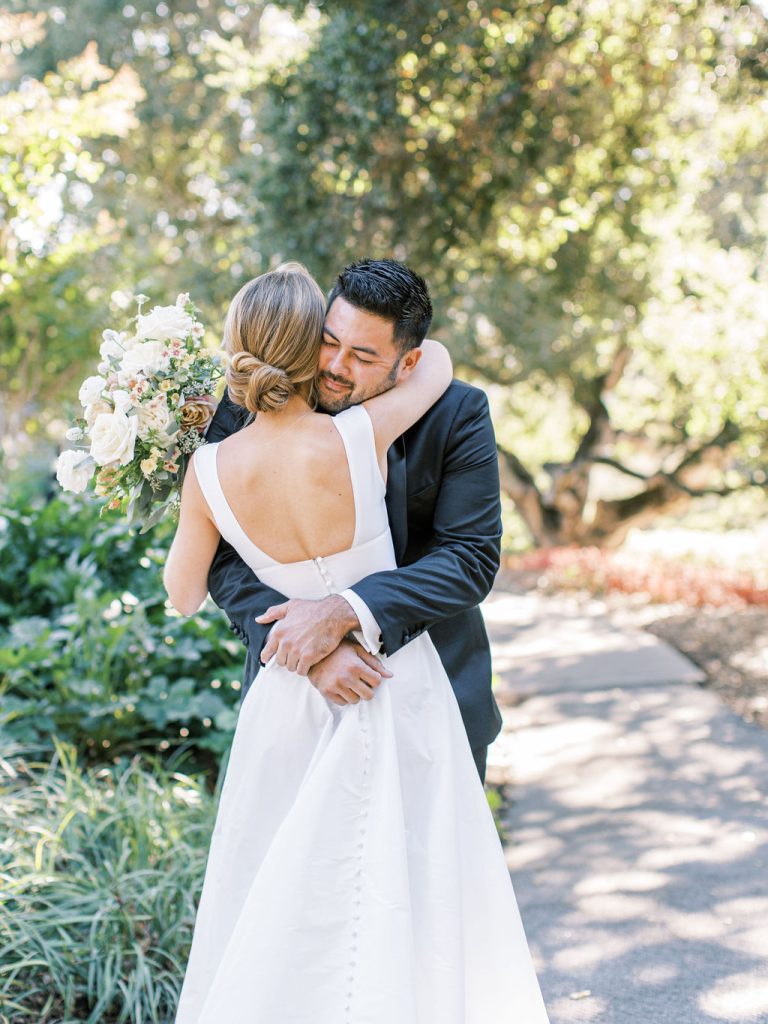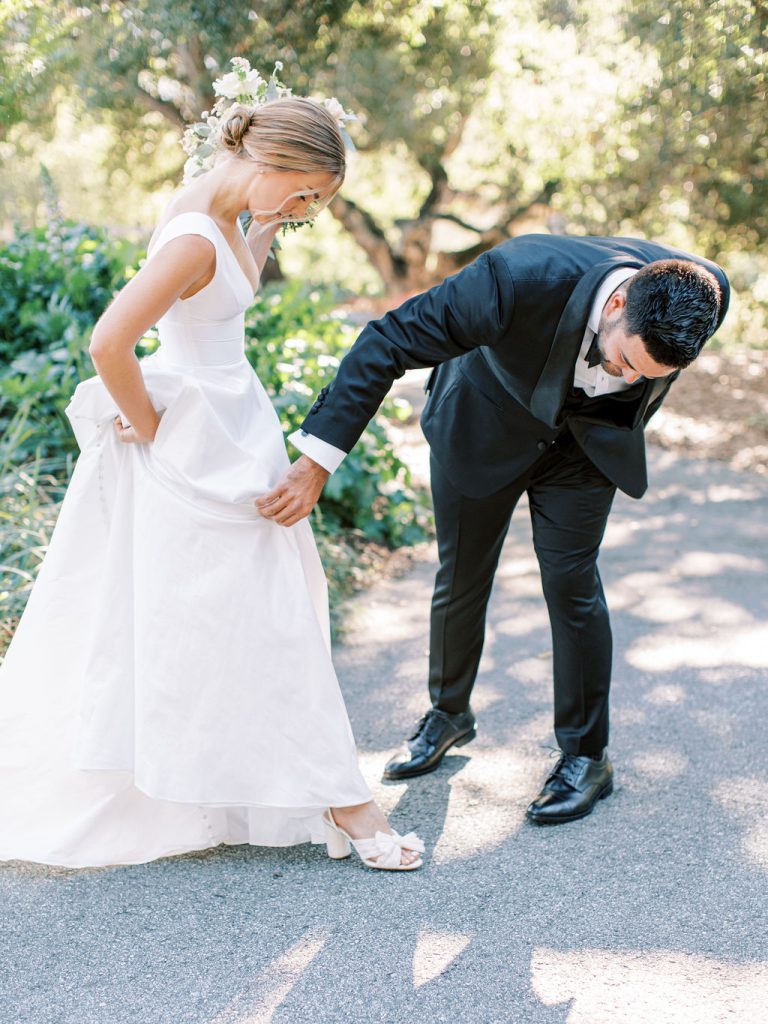 Such a gorgeous couple!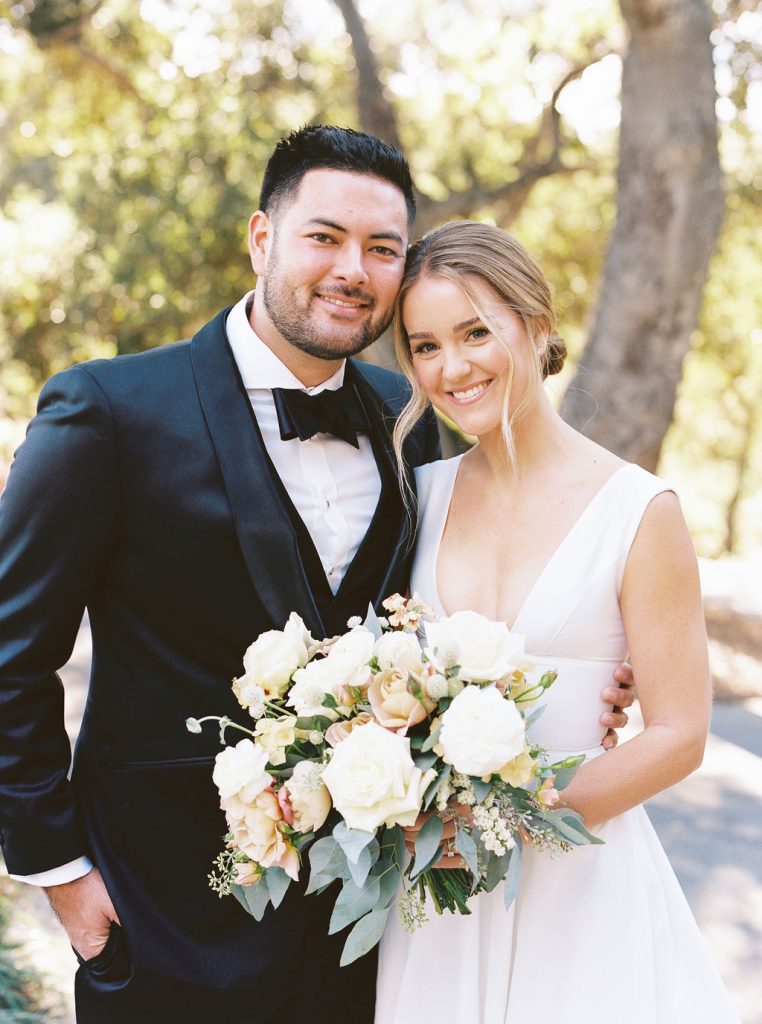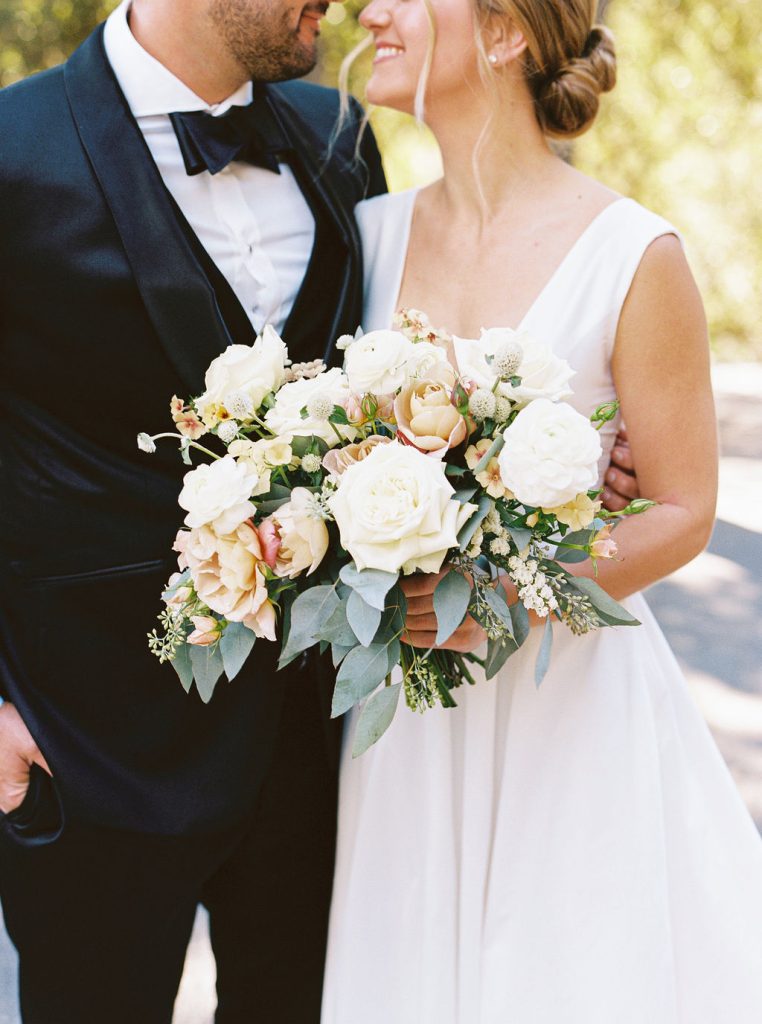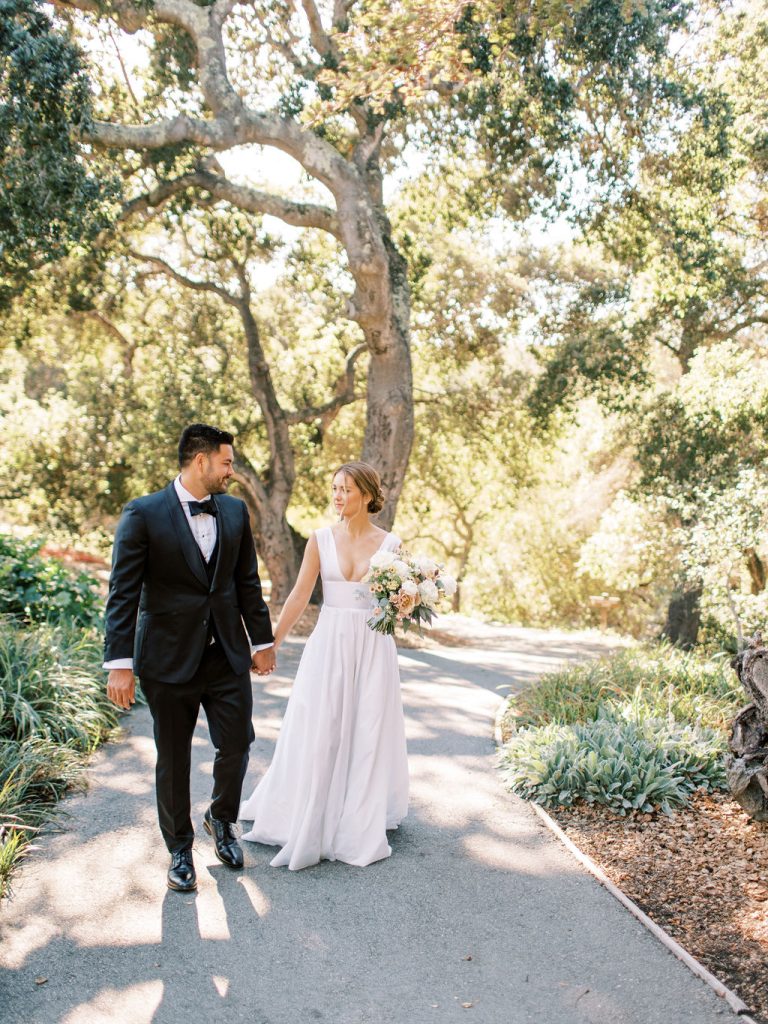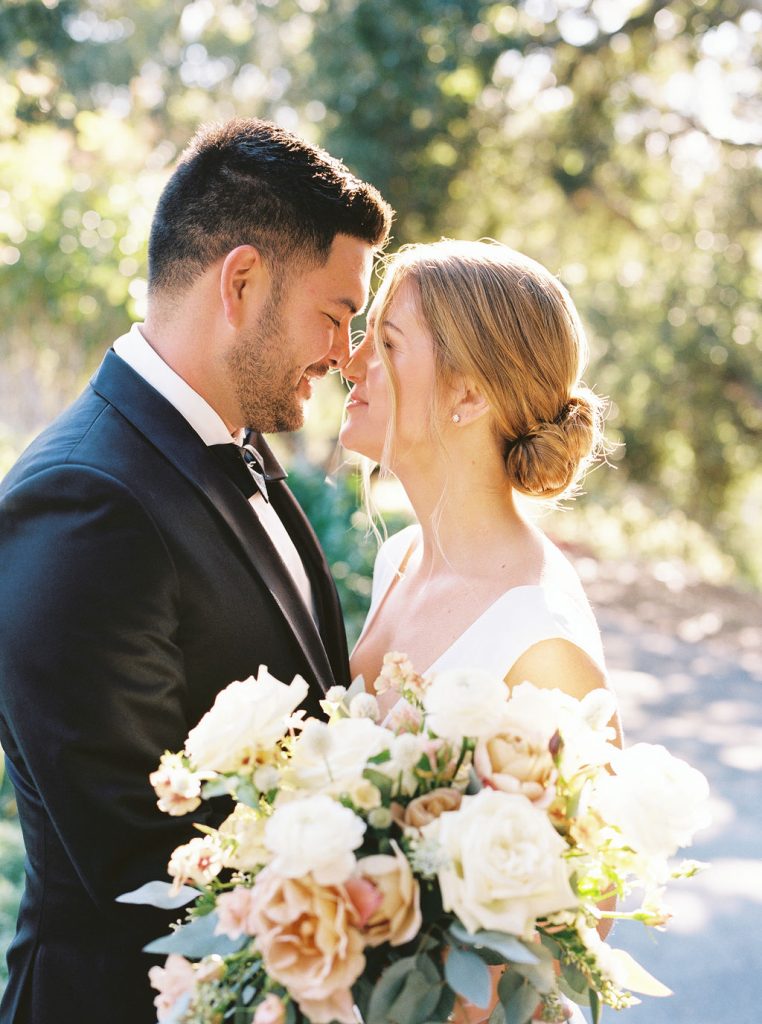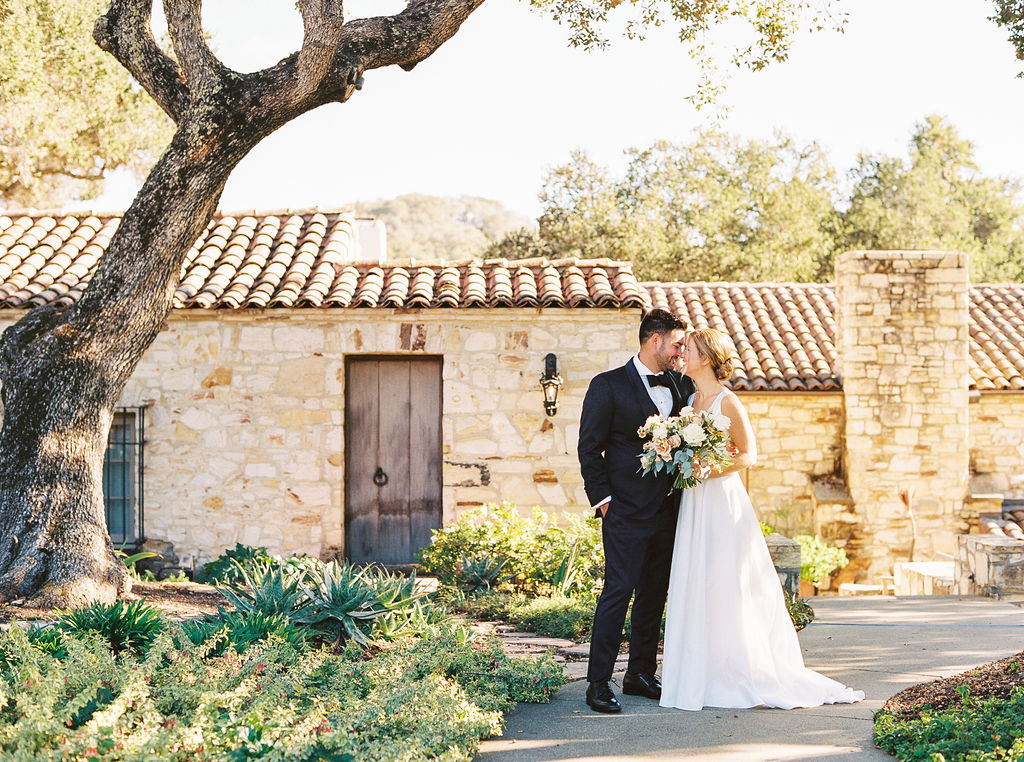 Time for a few portraits before the ceremony! Maggie's bridesmaids wore elegant black silk dresses which were perfect for this November wedding. Classic and never goes out of style!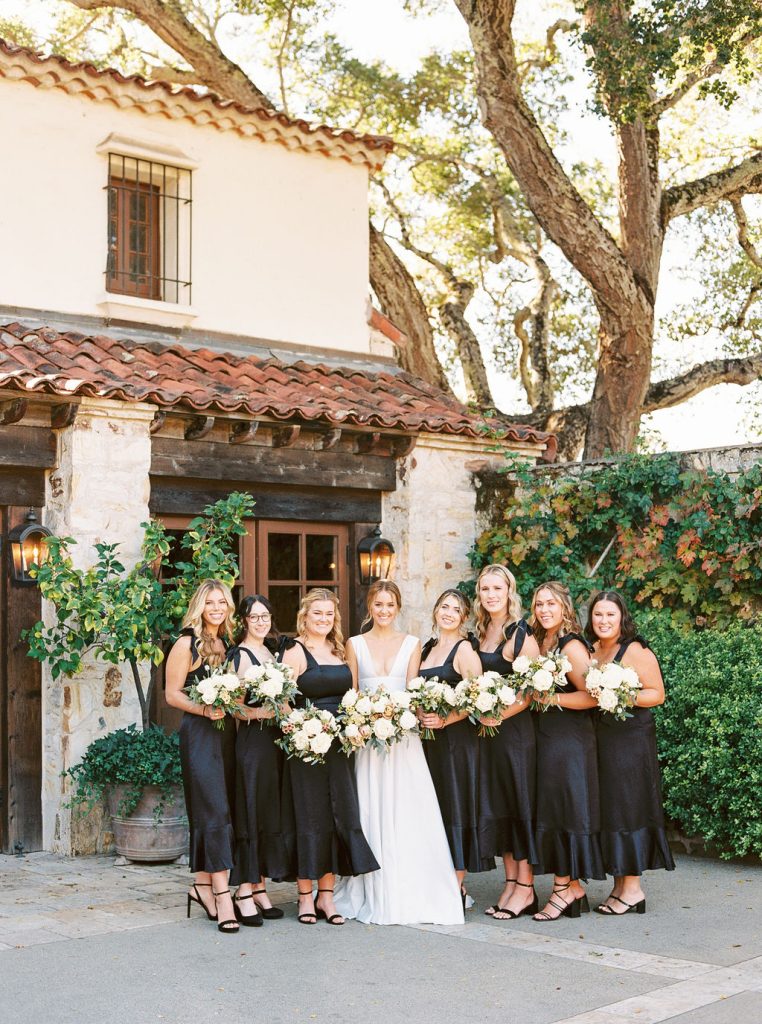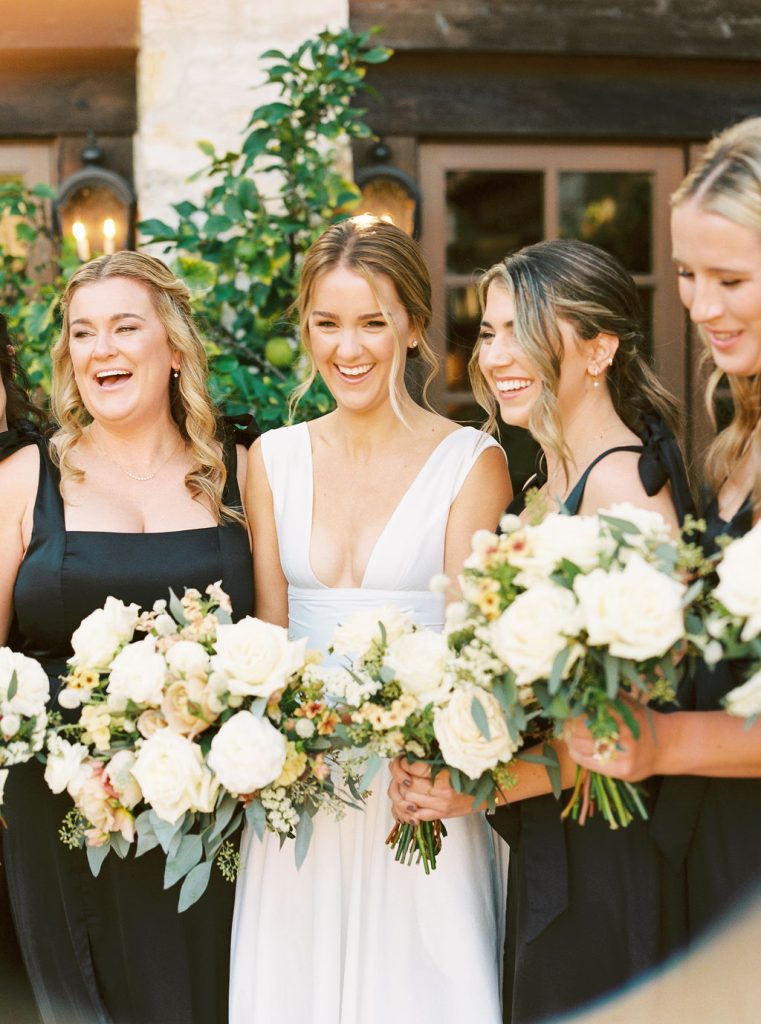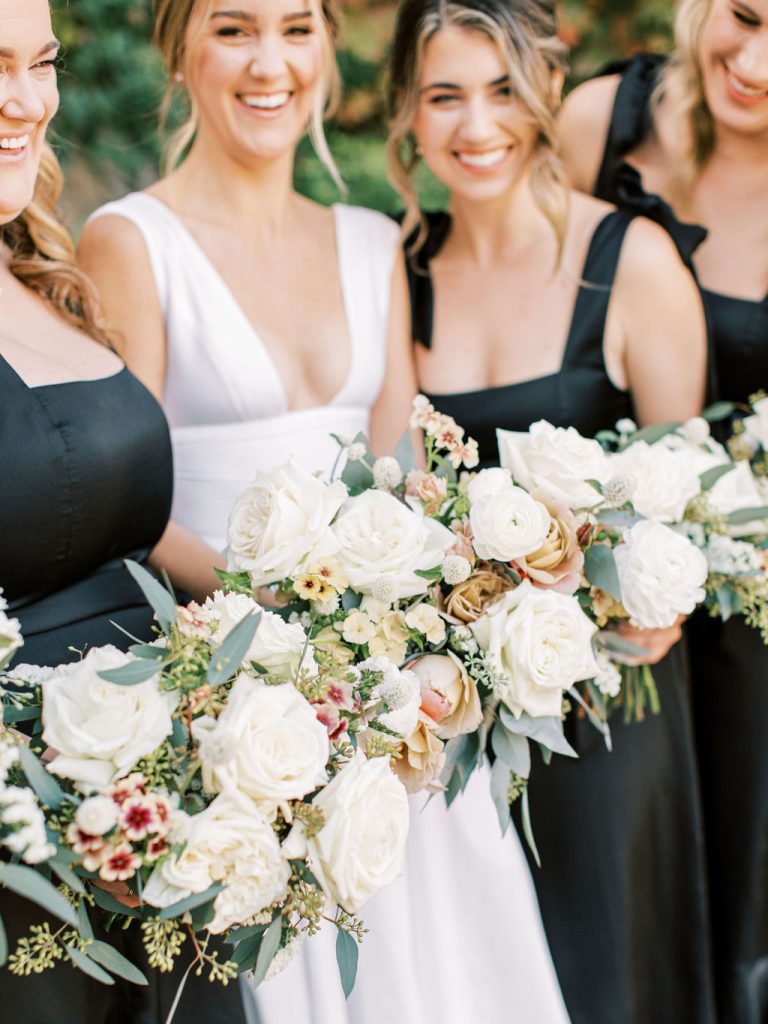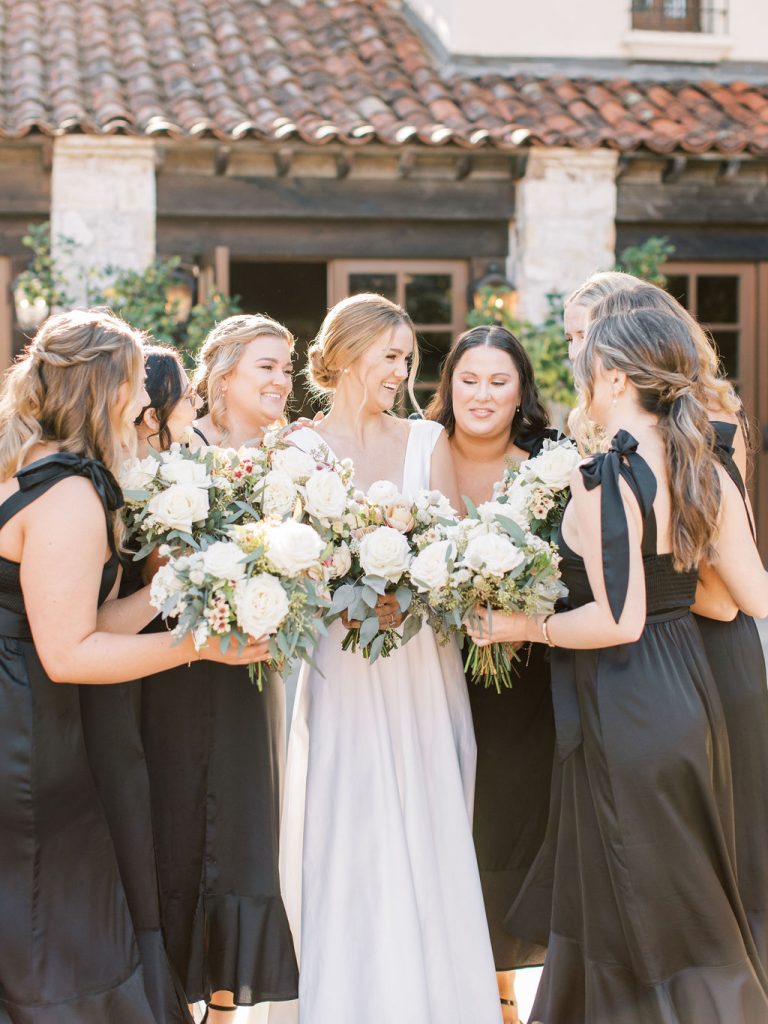 Some very handsome groomsmen if I do say so myself!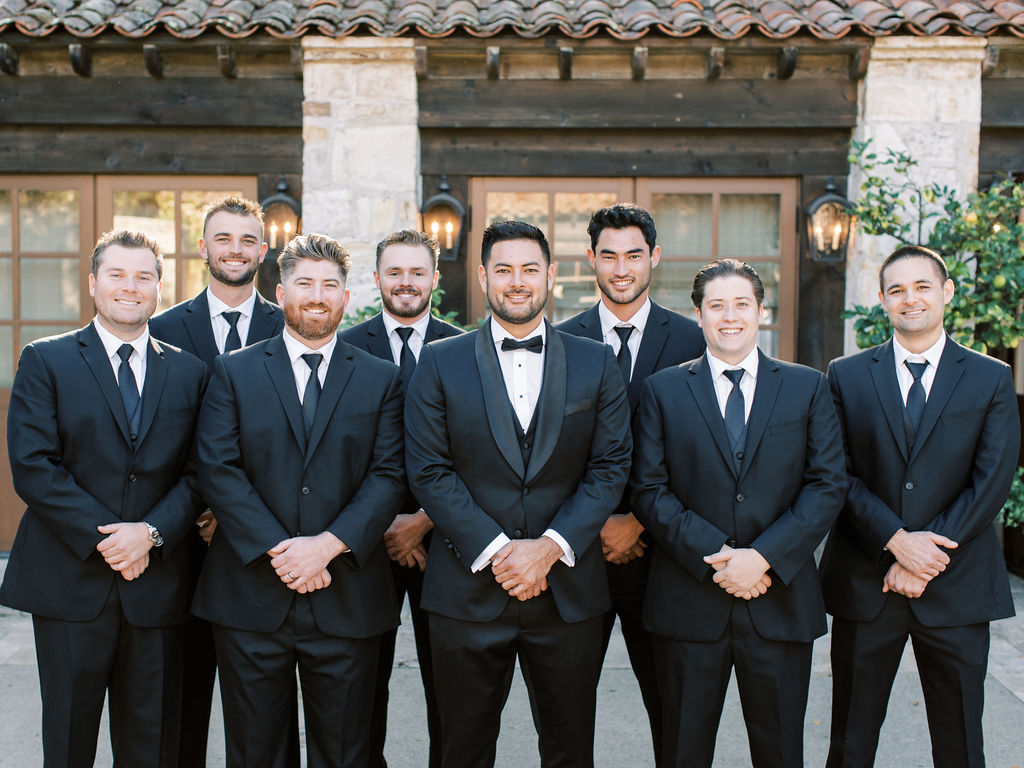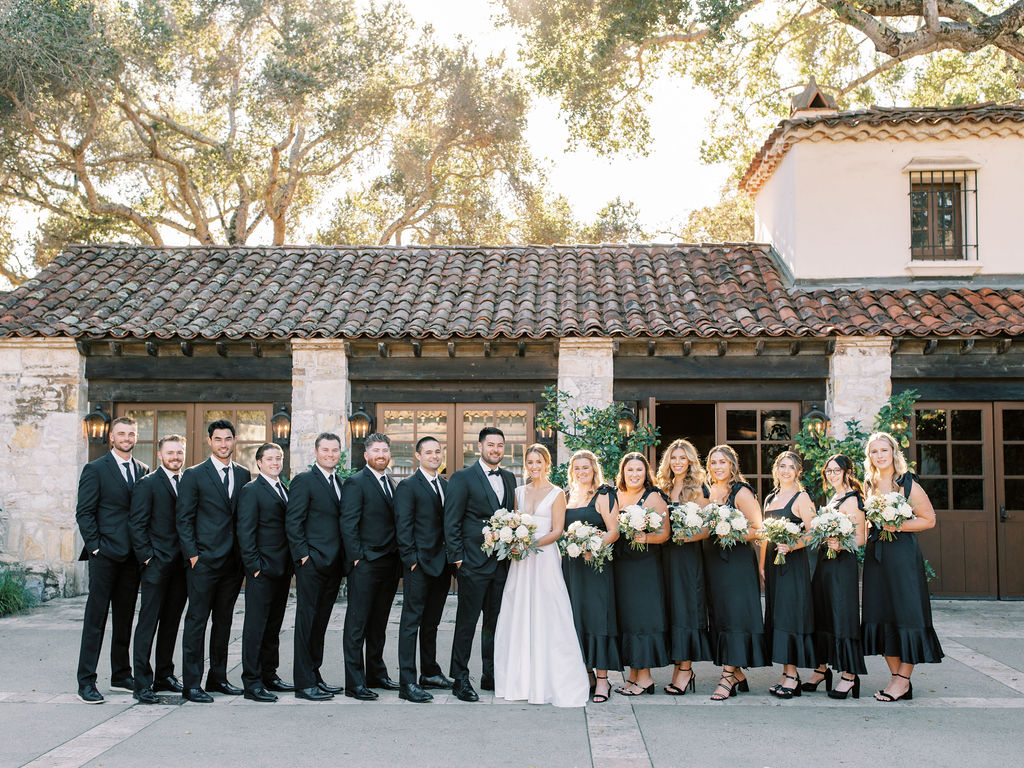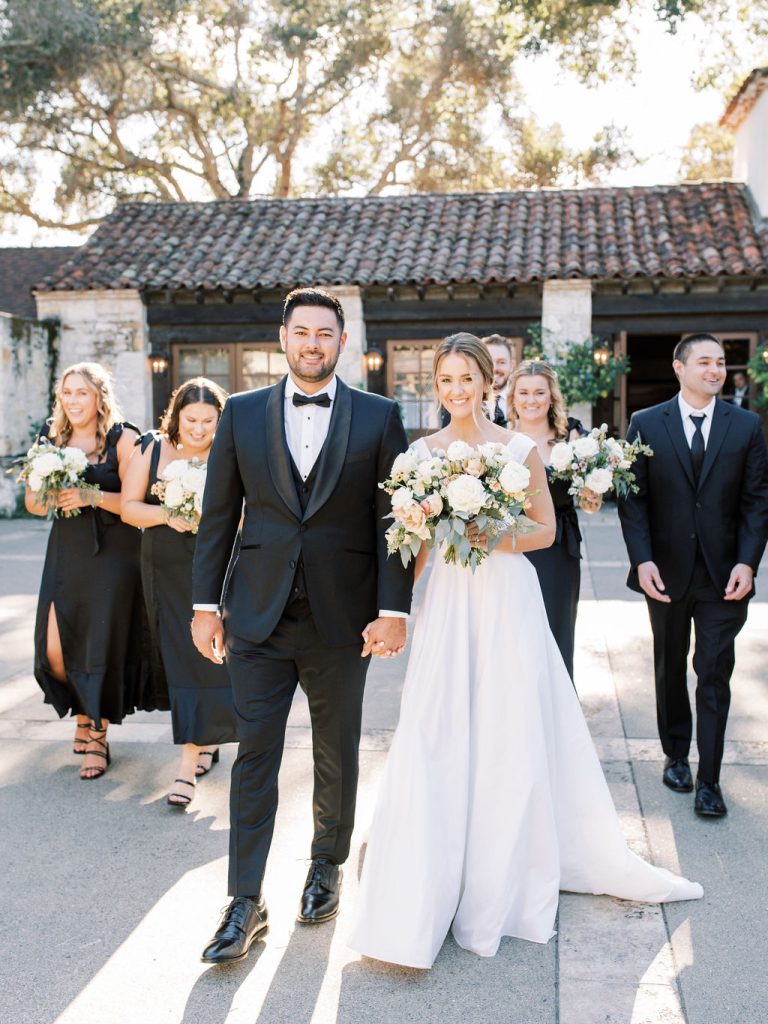 The sweetest two families, so much love in one place!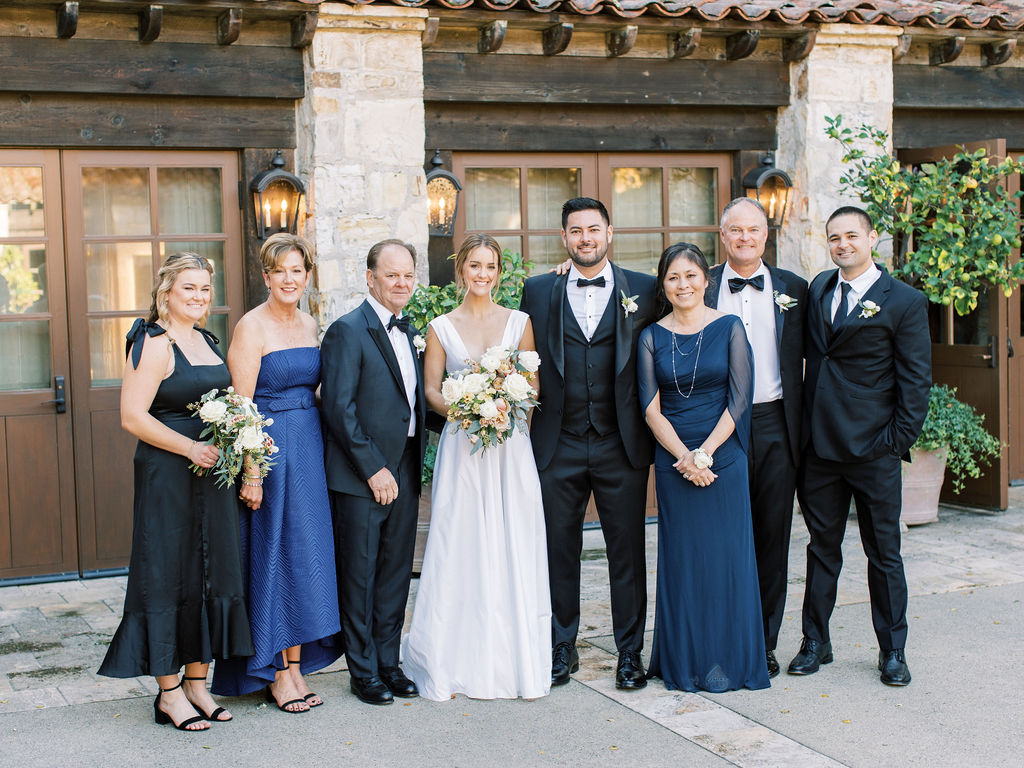 Time for the ceremony!! I love this location, right over the valley looking at the hills and grapevines along with the most beautiful Fall colored leaves. Stunning!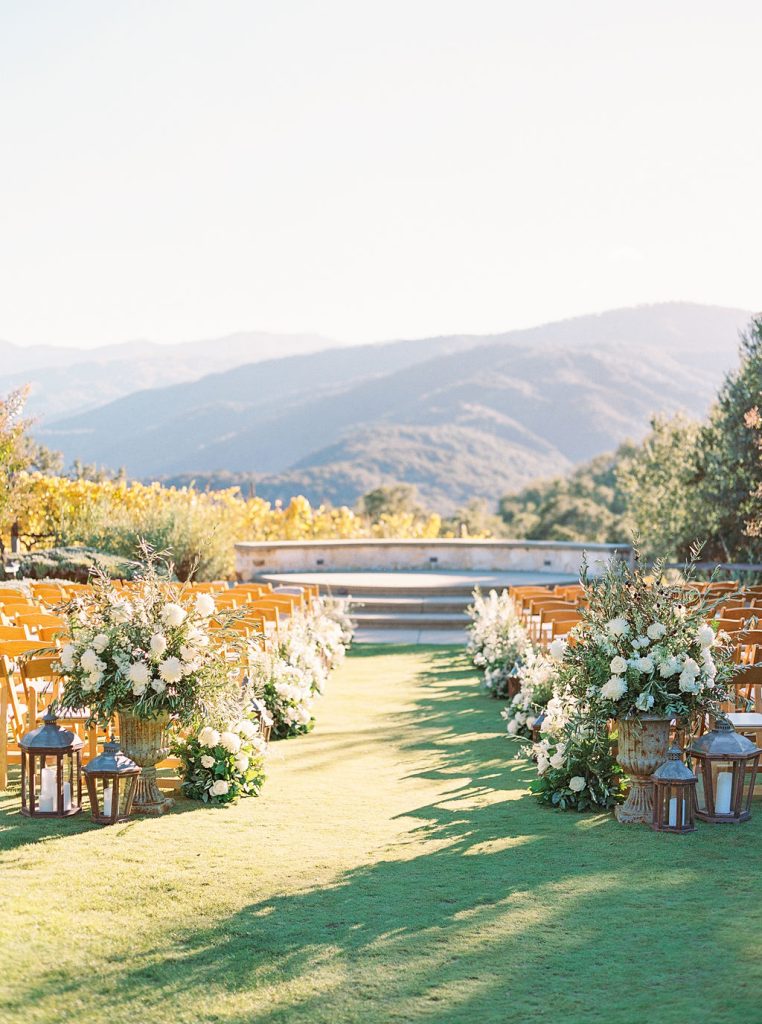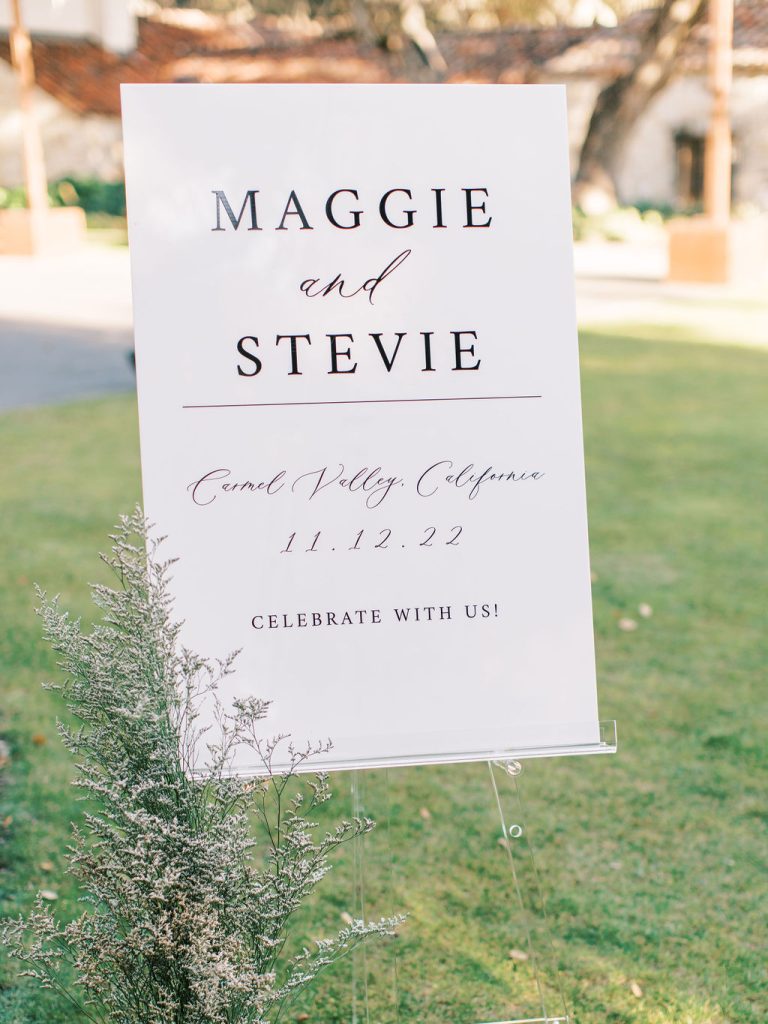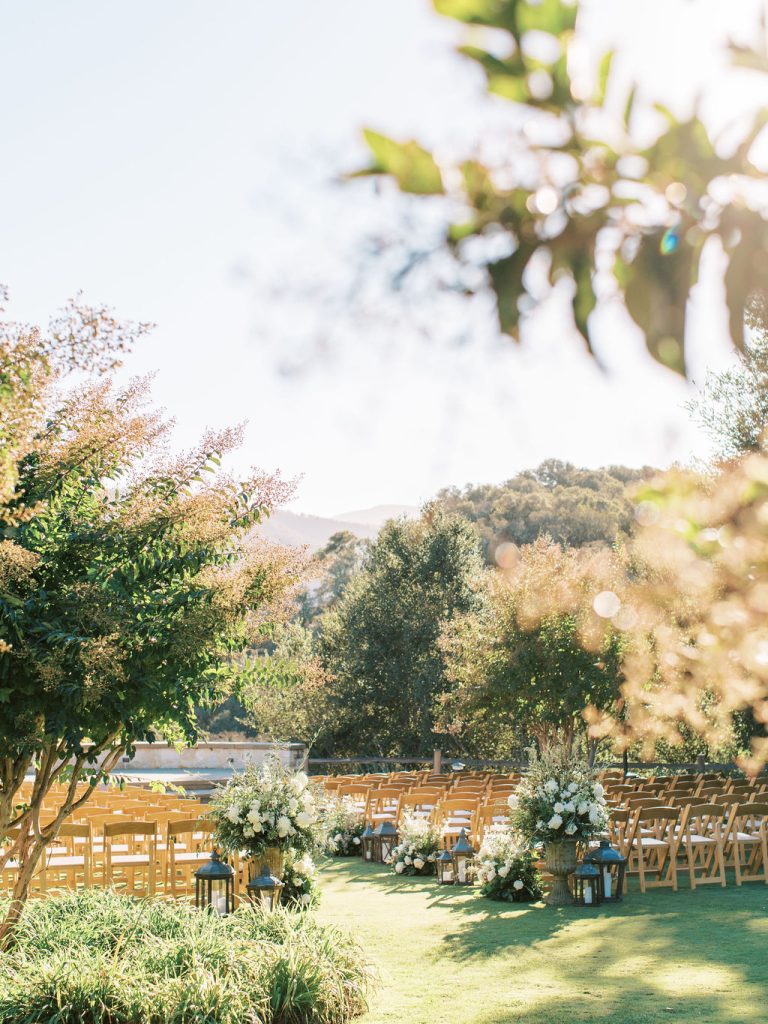 Seascape Flowers decked out the ceremony space with grand floral arrangements and lanterns. Such a beautiful scene.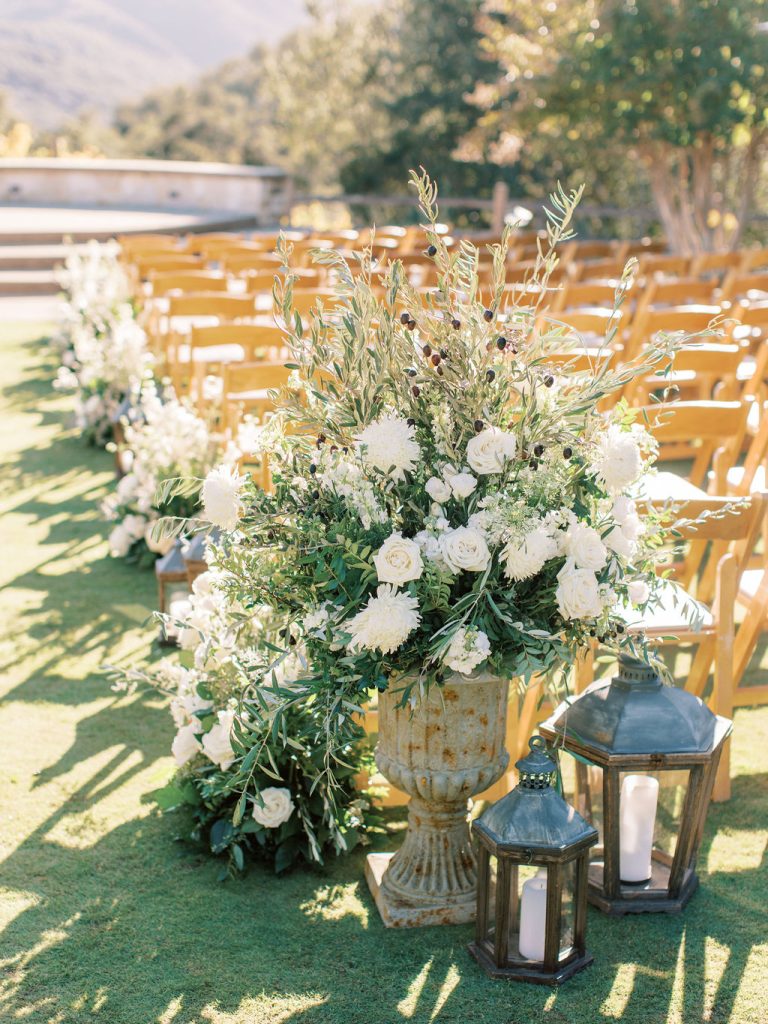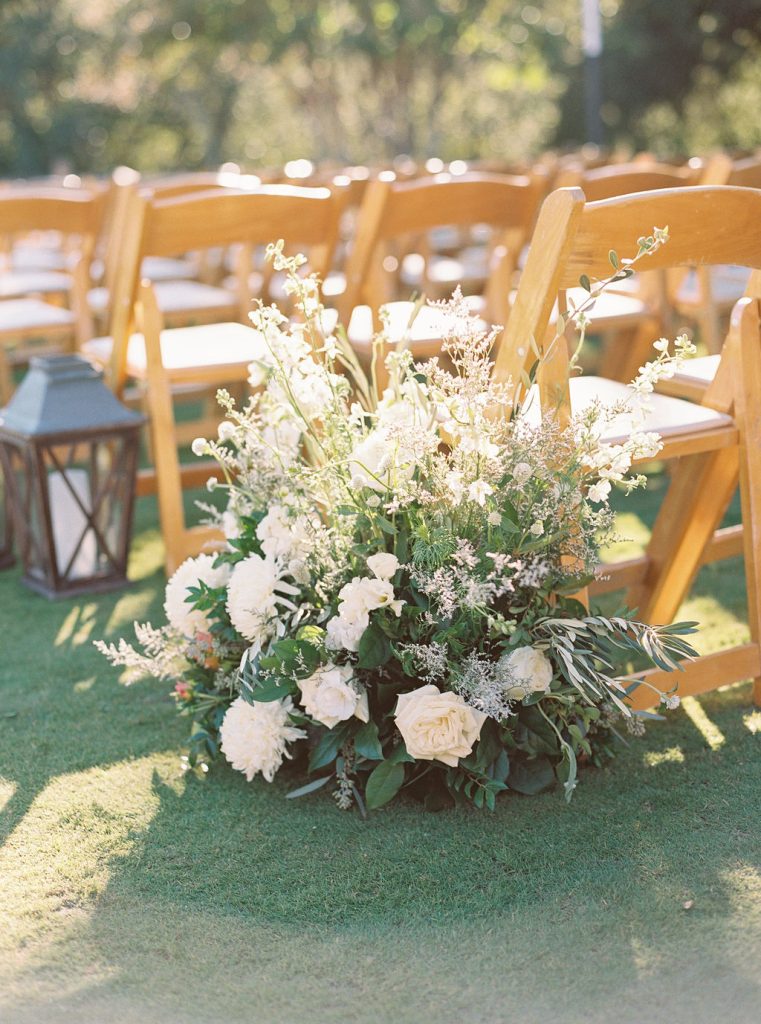 It's time…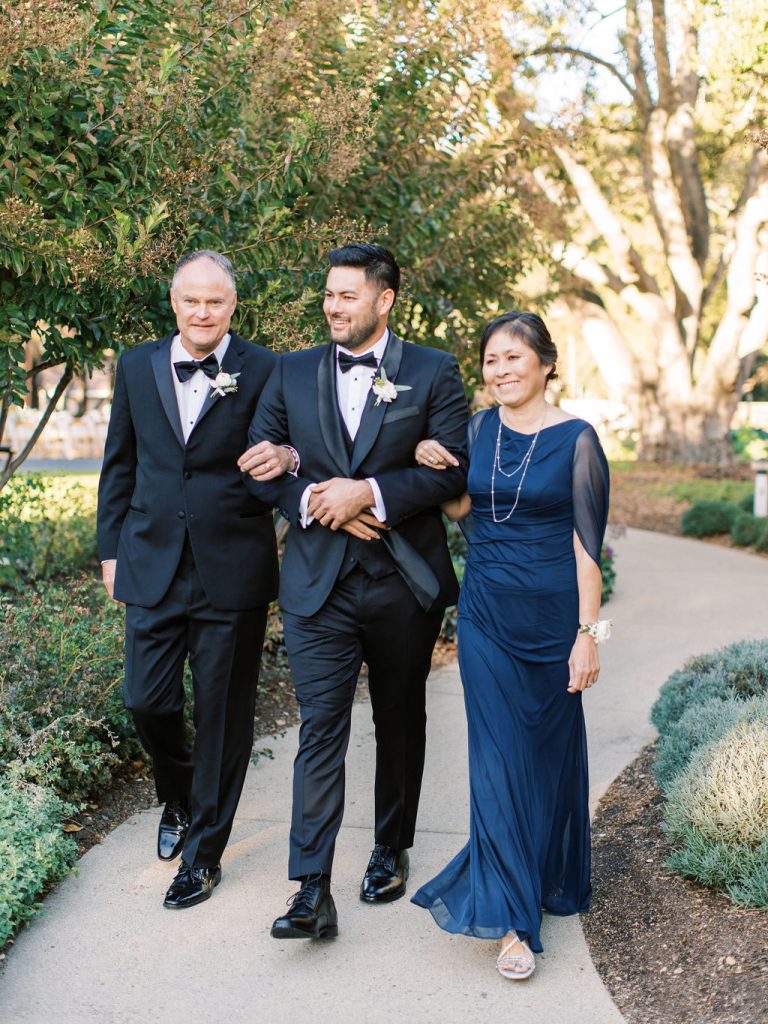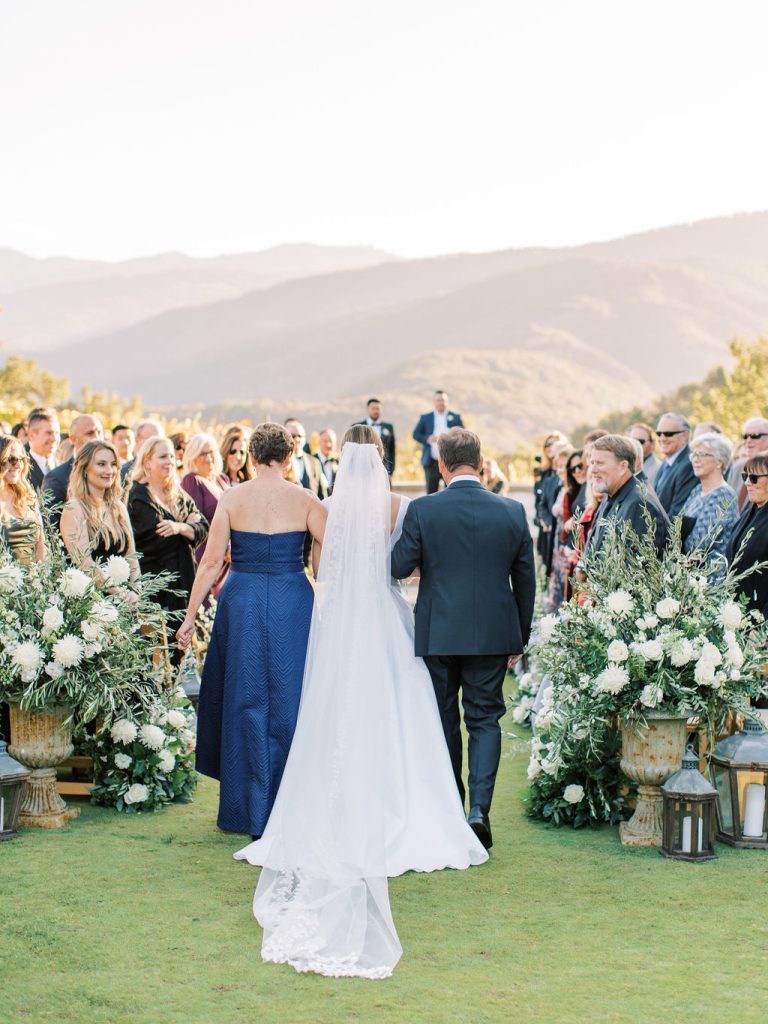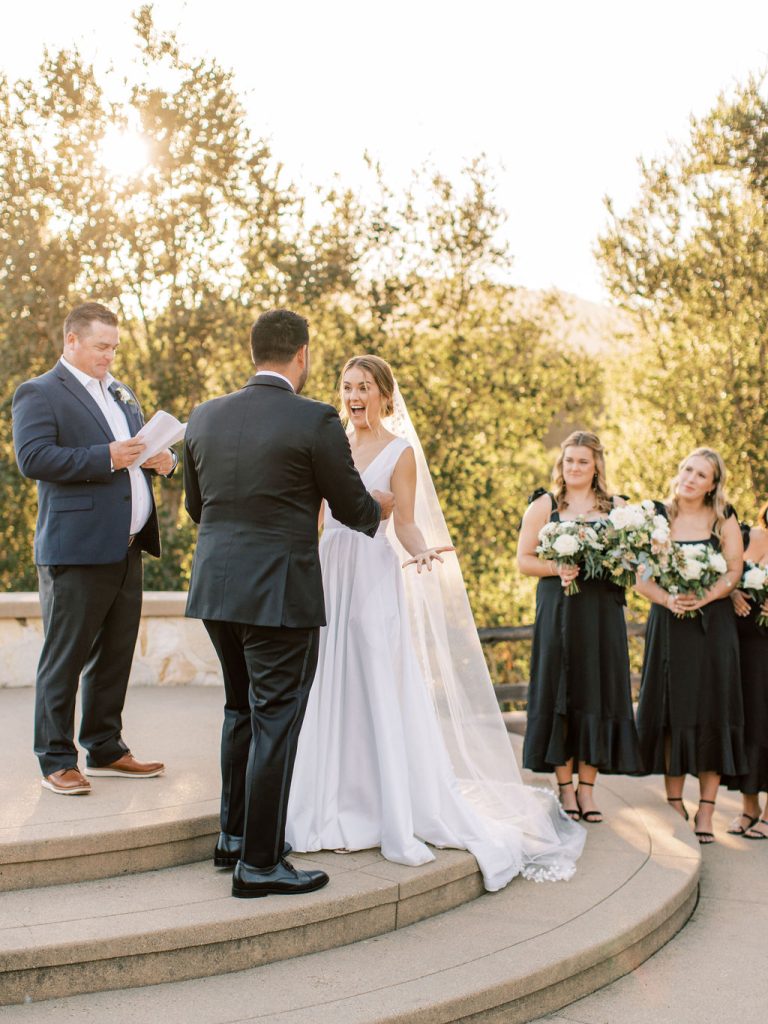 Husband and wife!!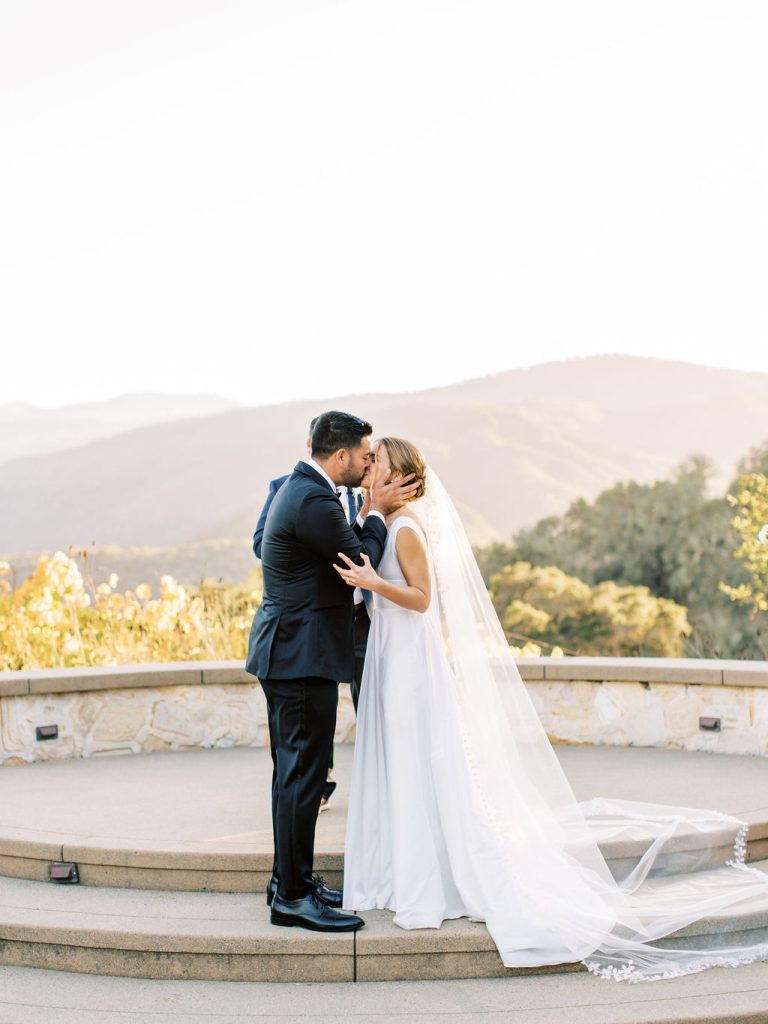 So happy!!!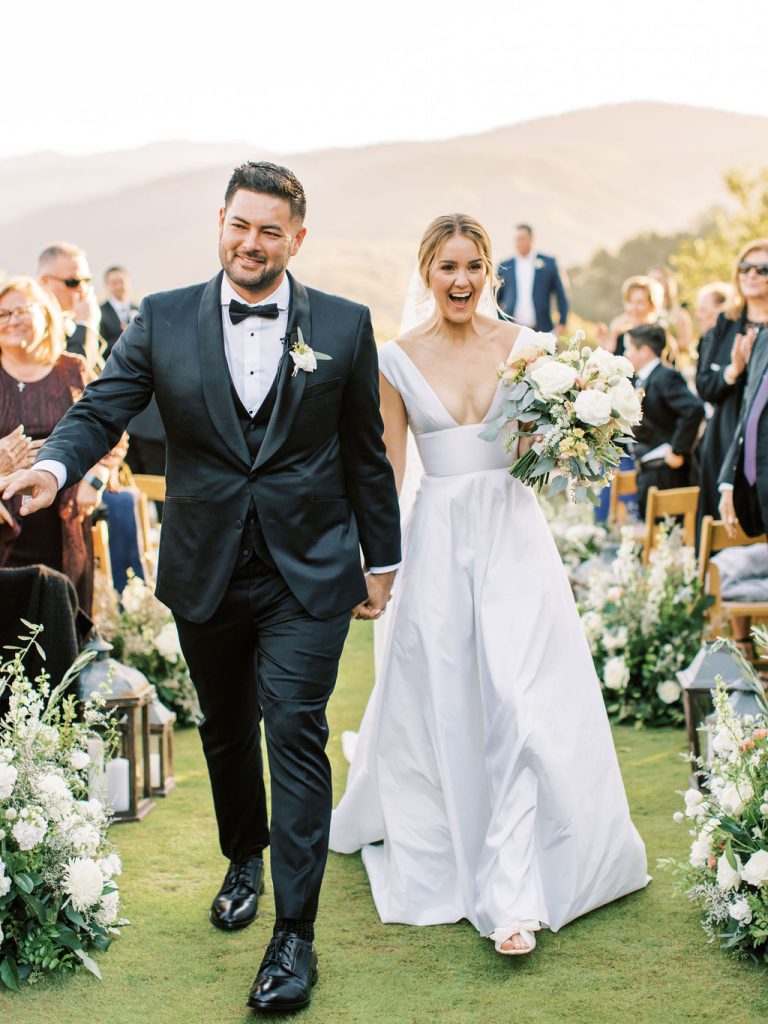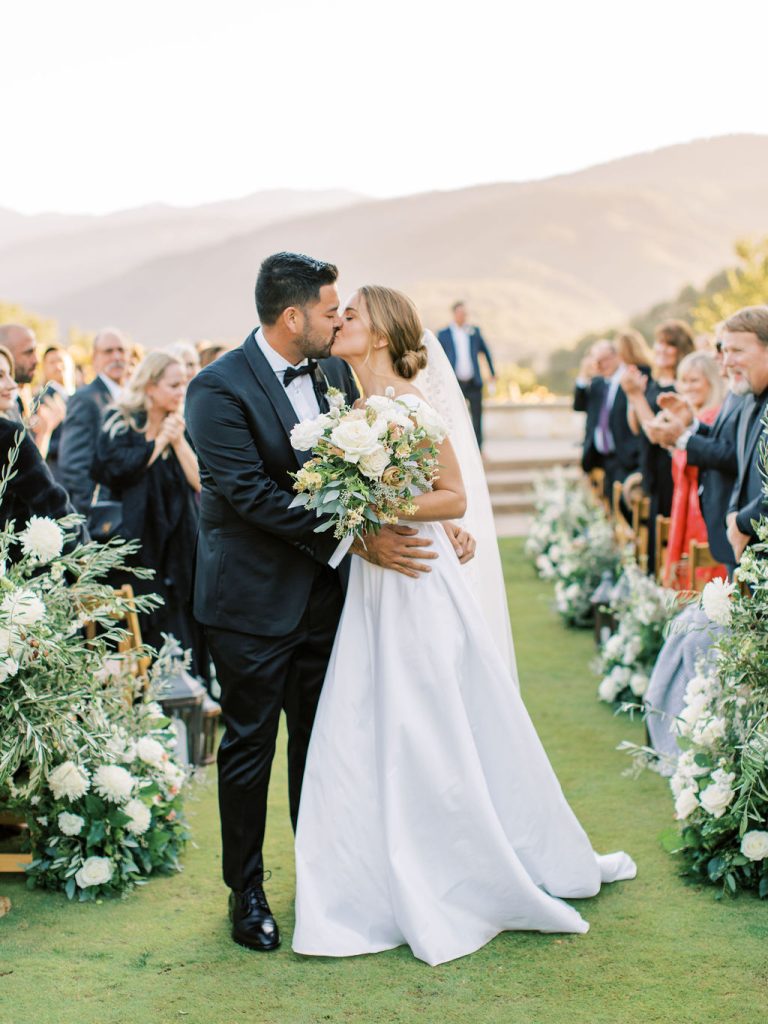 Cocktail hour was next by the hacienda. Guests were treated to signature cocktails and tasty bites. The cocktails were named after Stevie & Maggie's dog named Cashew, so cute!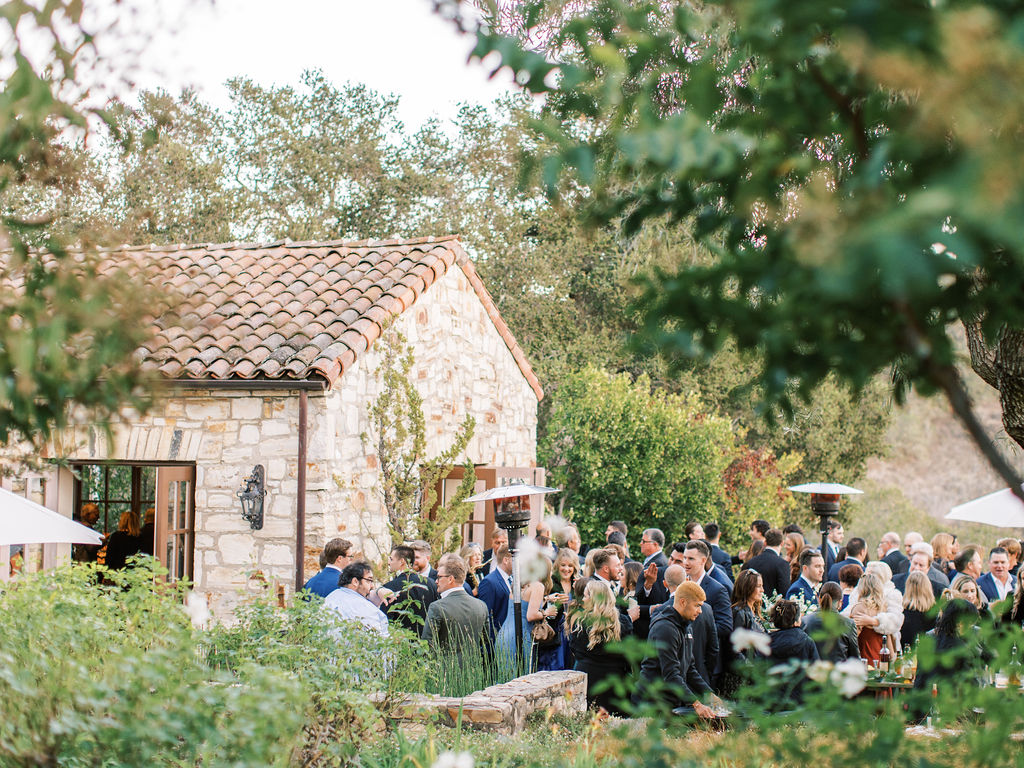 The perfect bar sign from Pirouette Paper of course!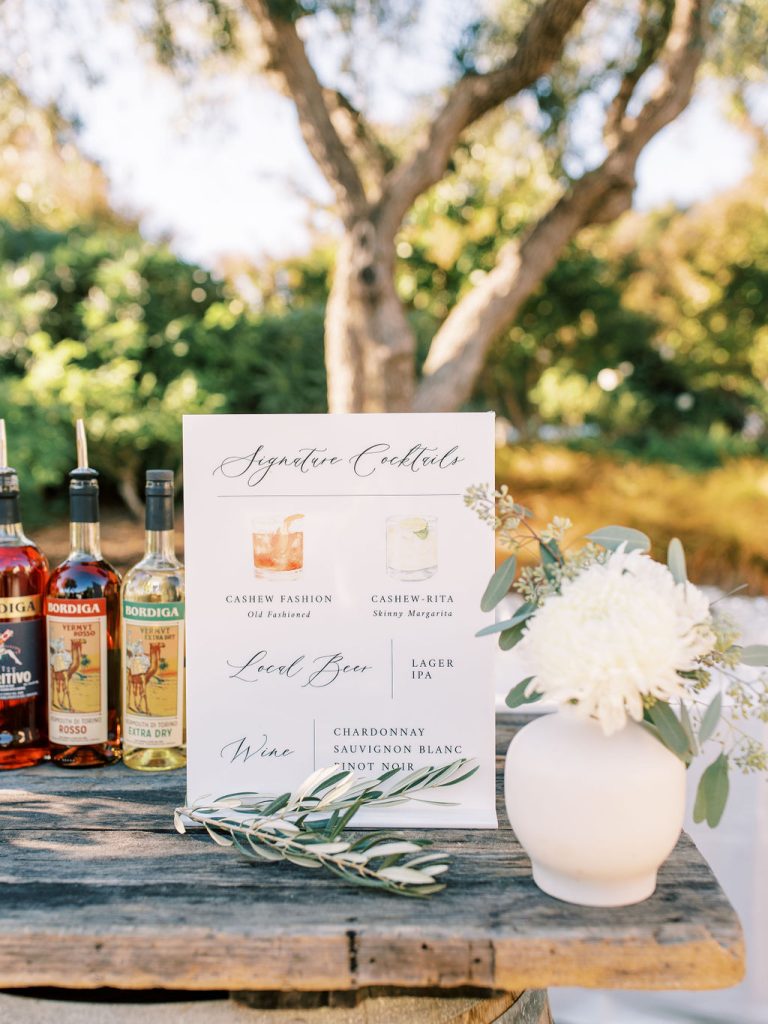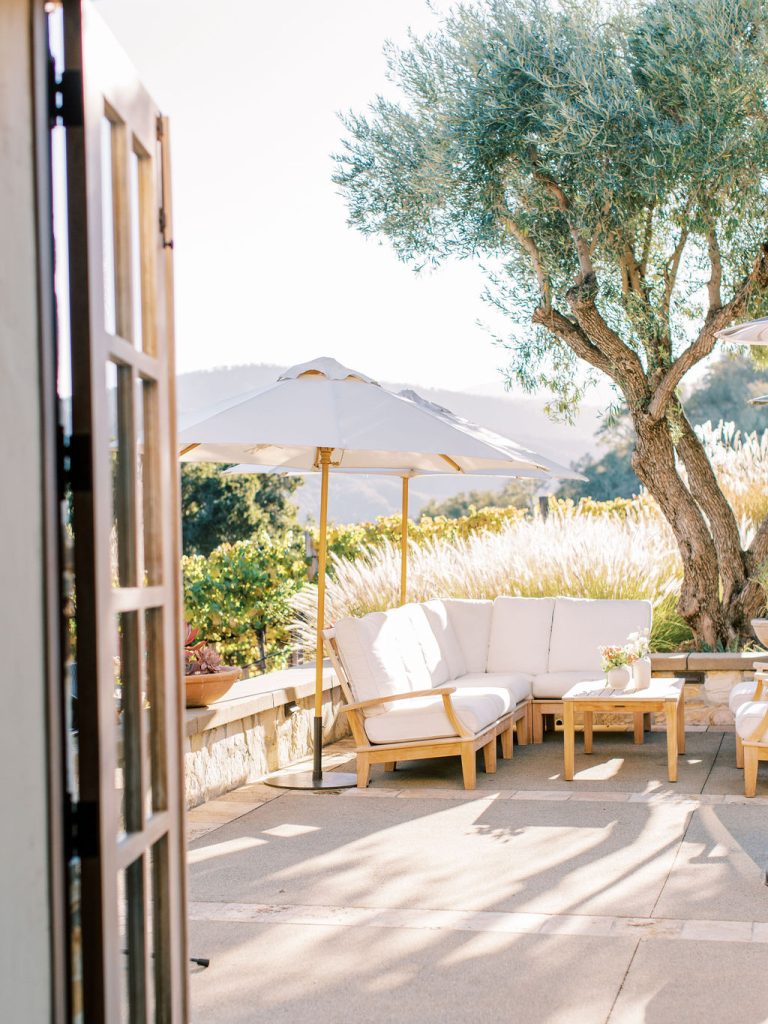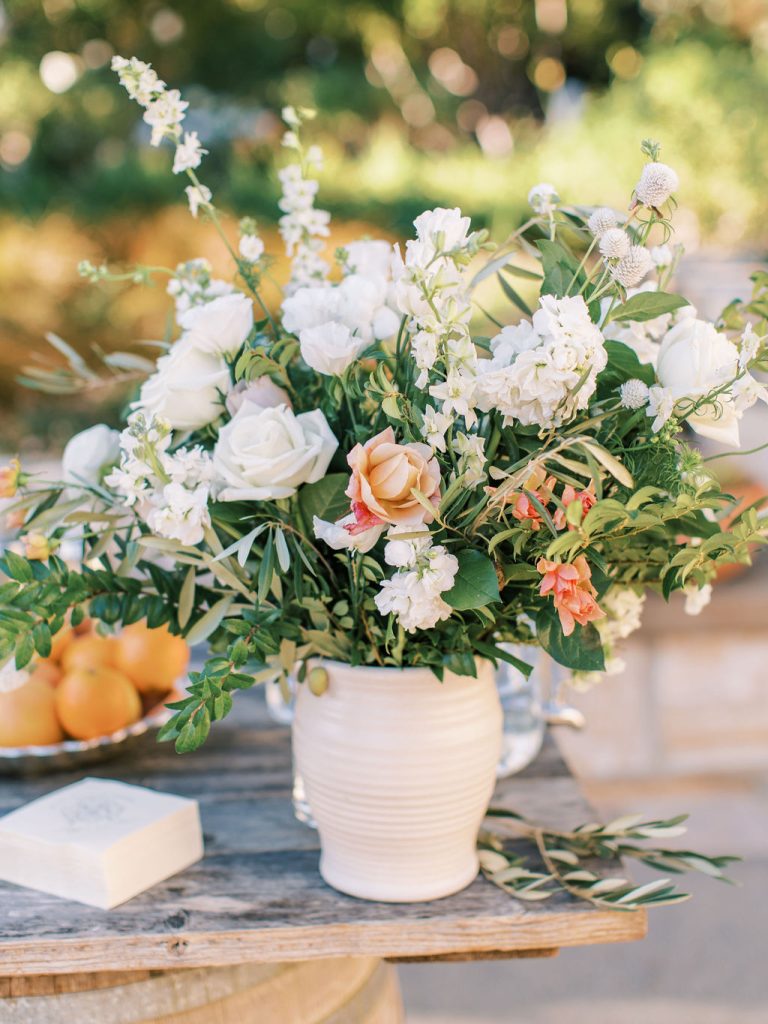 While guests were at cocktail hour we were making sure our dinner tables were ready! We kept things simple and elegant with wood rustic tables, elegant flatware and glassware, and simple touches like custom menus and place cards. The long tables were lined with gorgeous blooms from Seascape Flowers and lots of candles. It was such a pretty sight to see!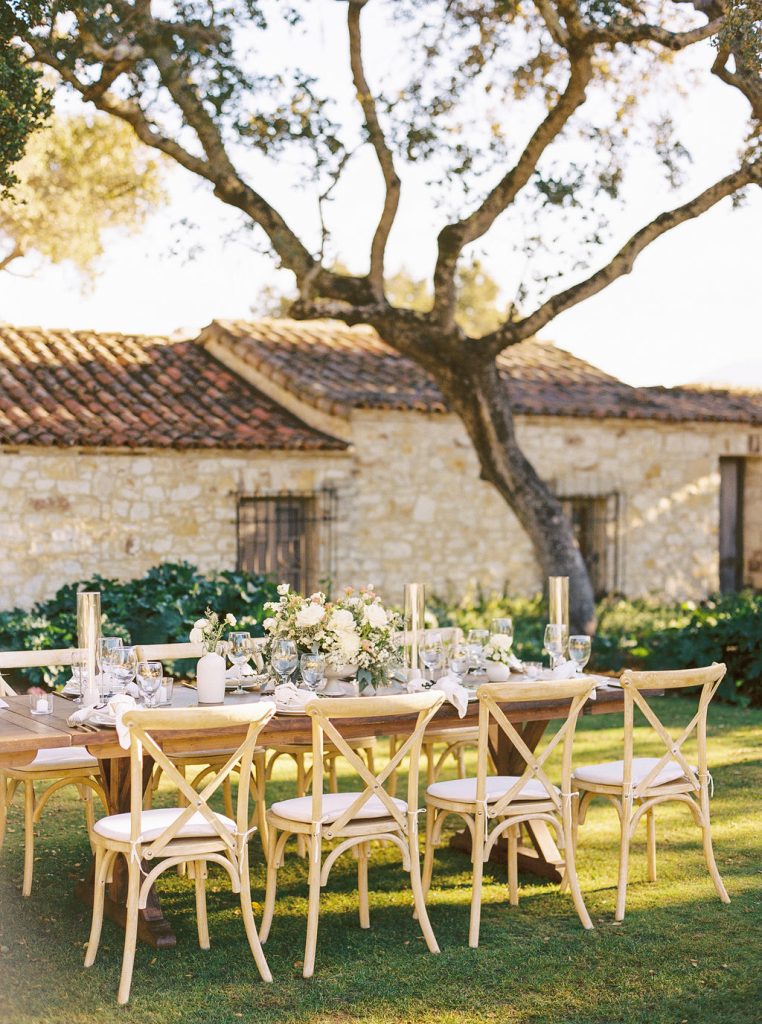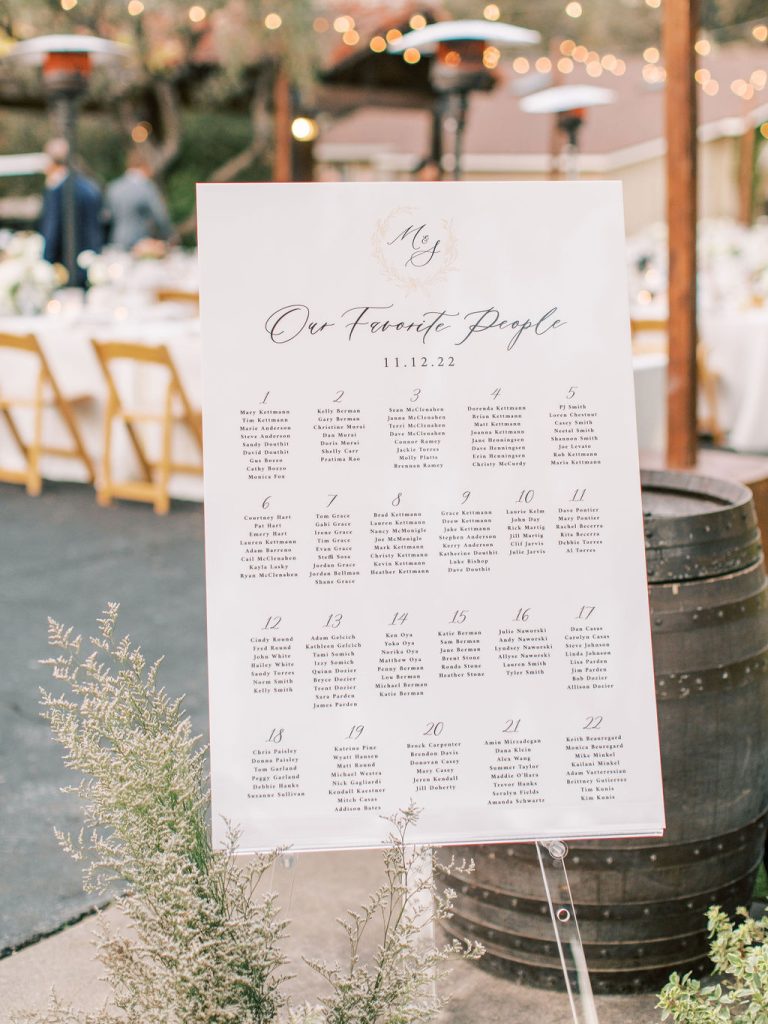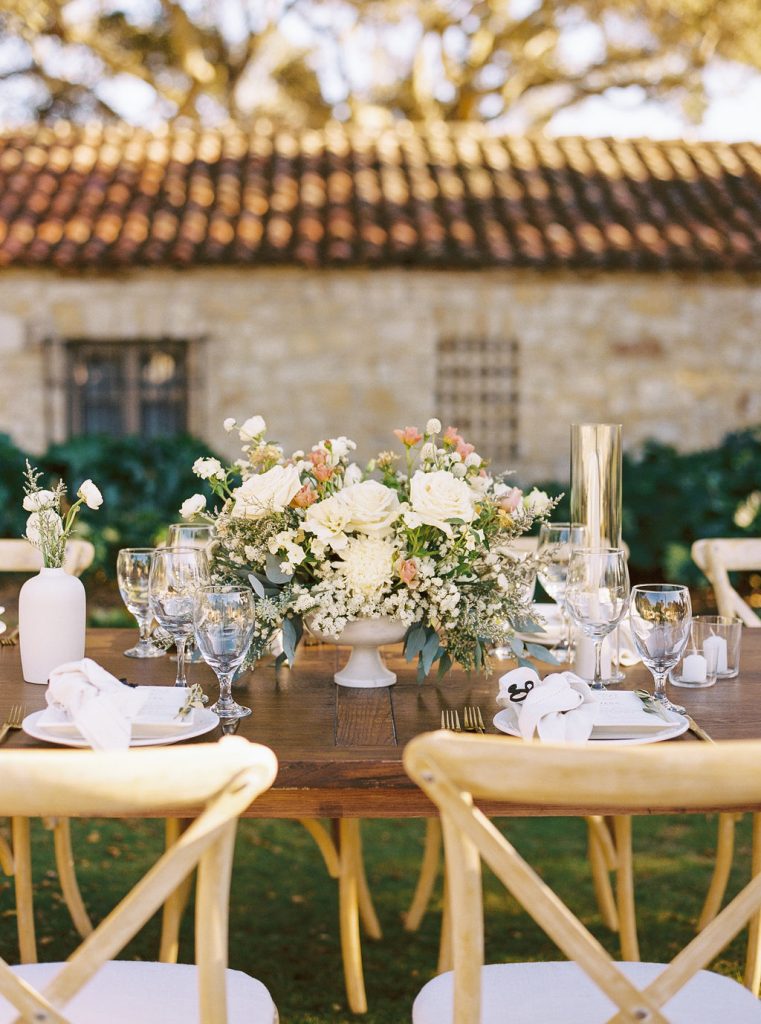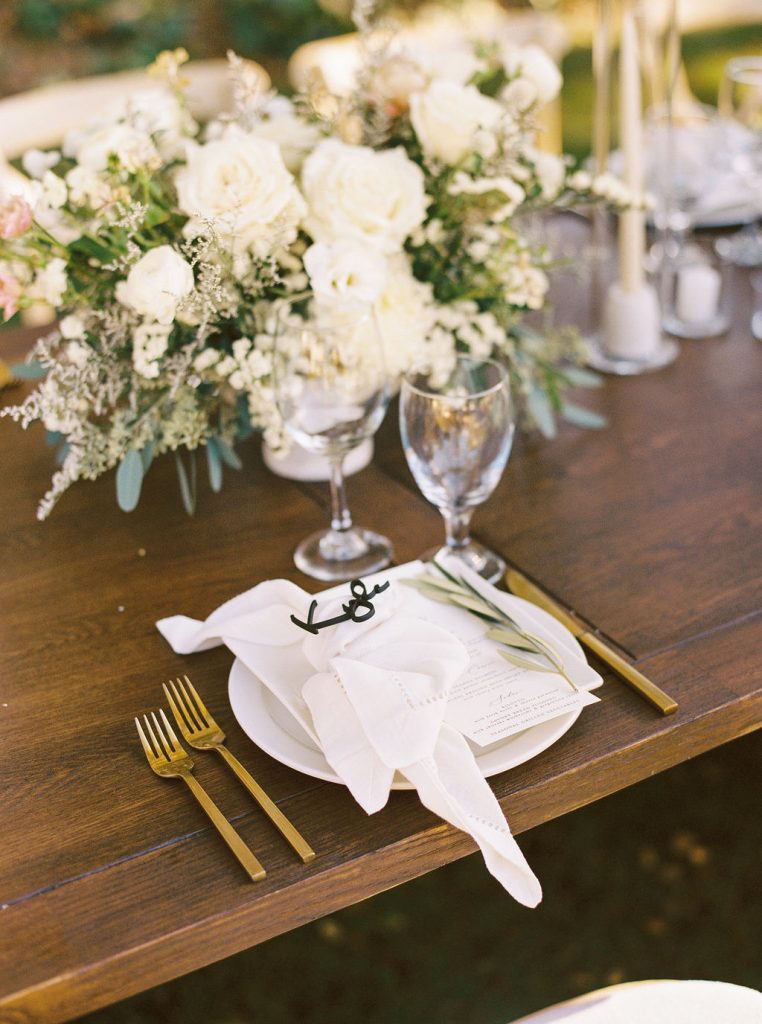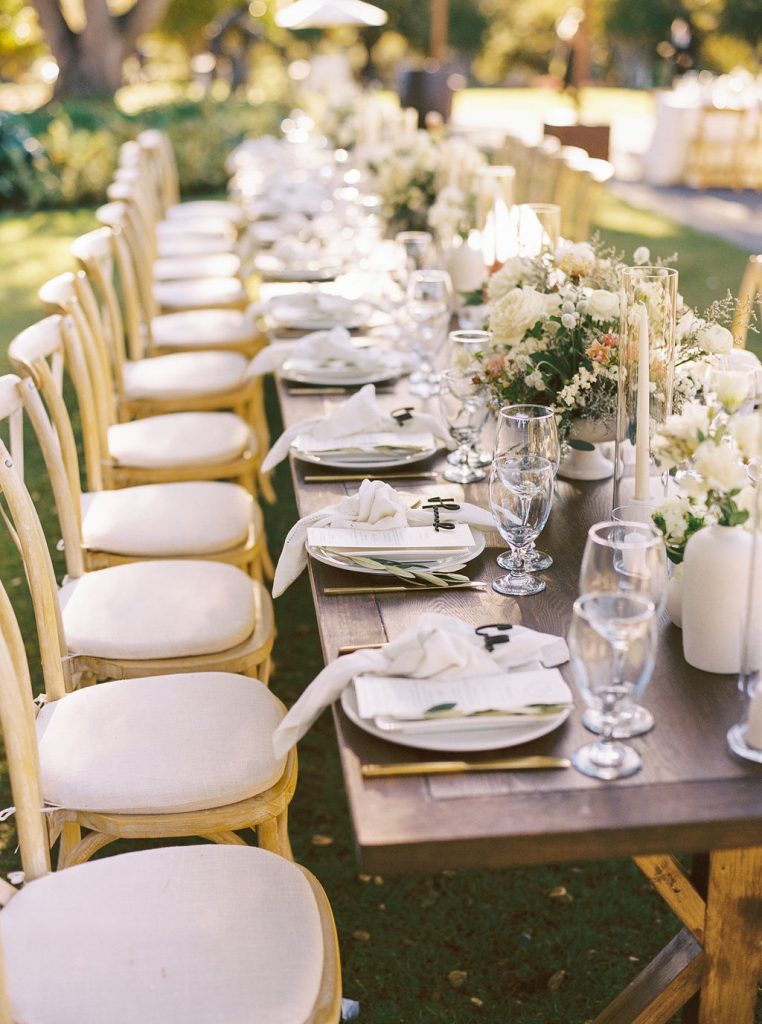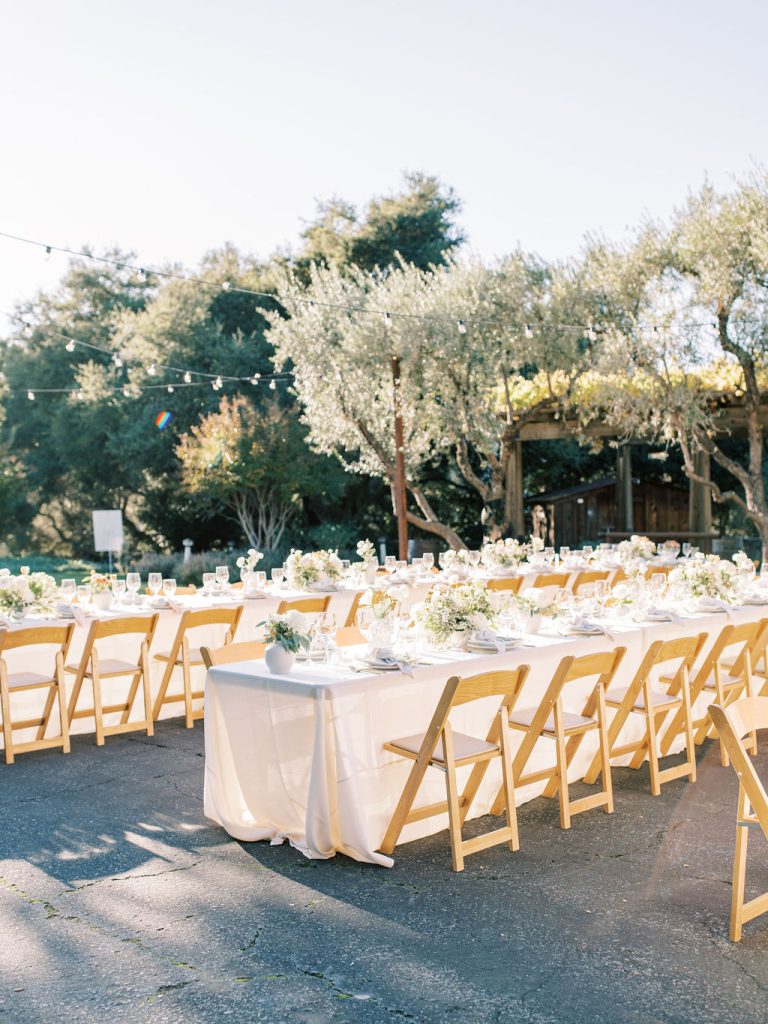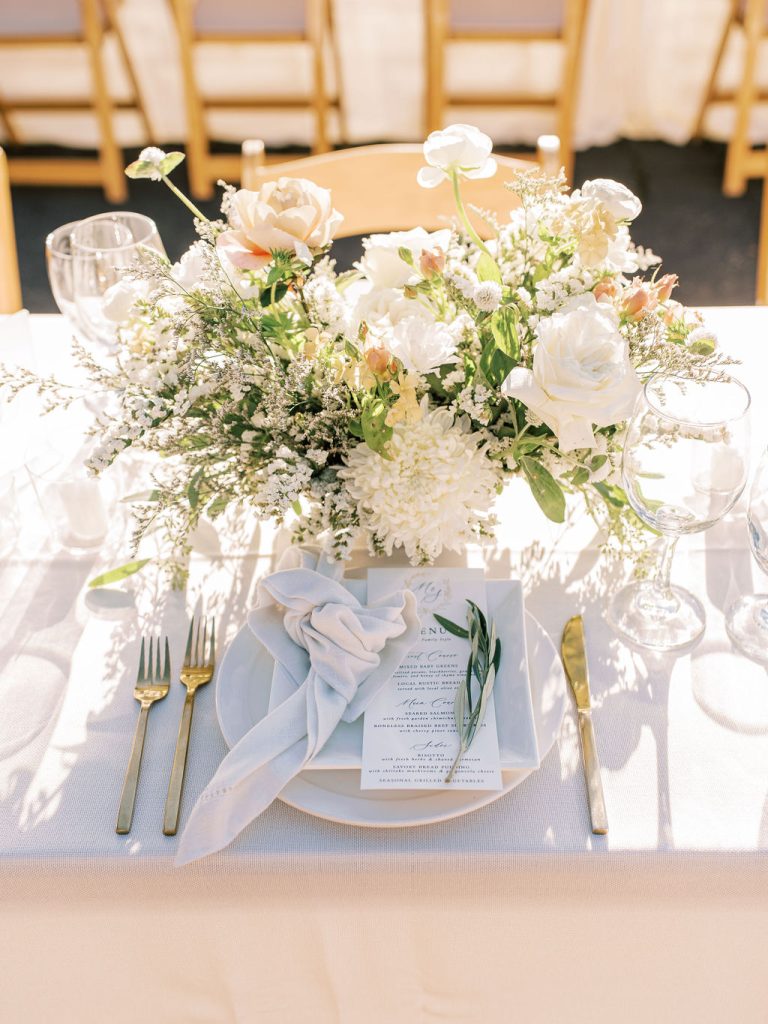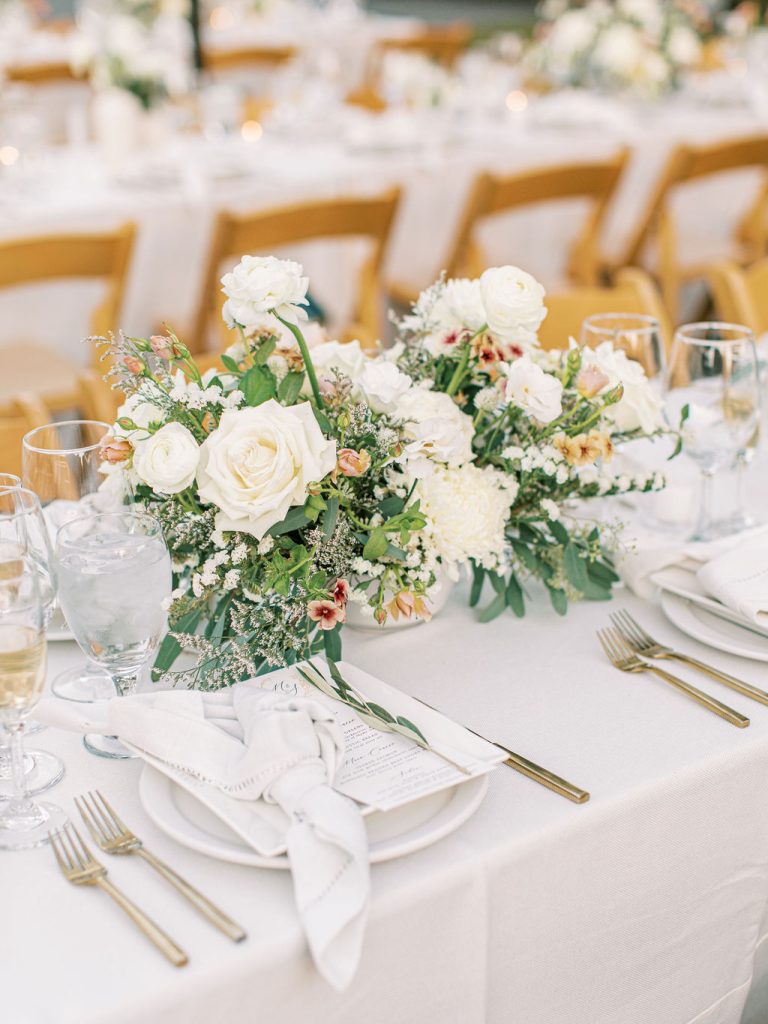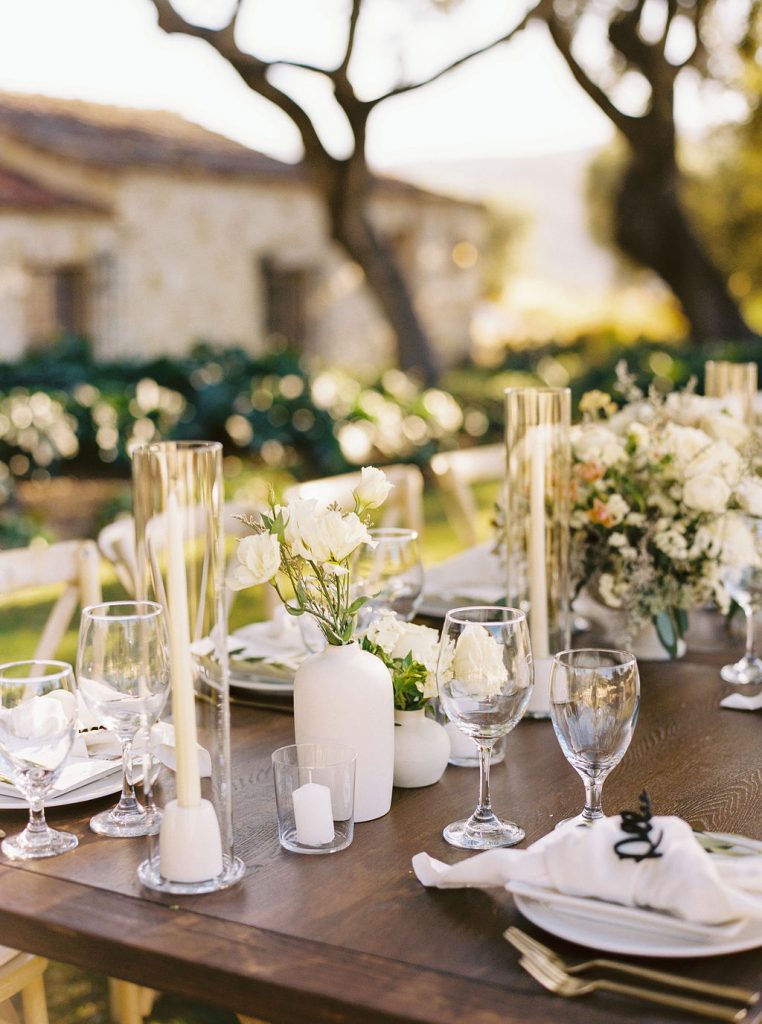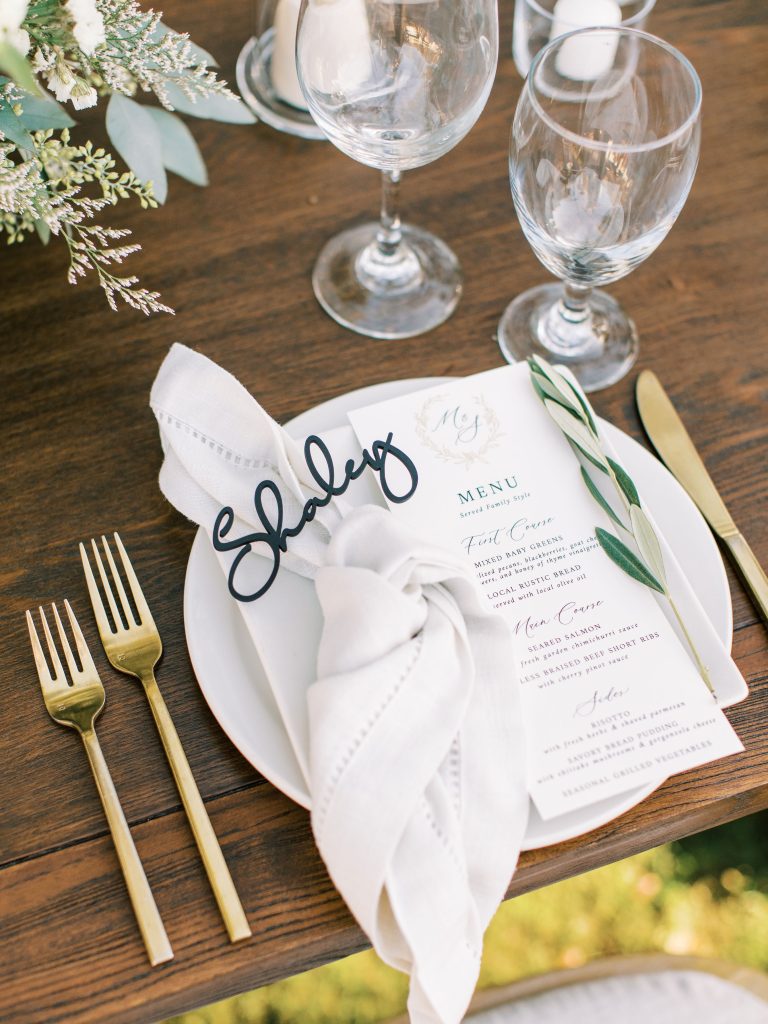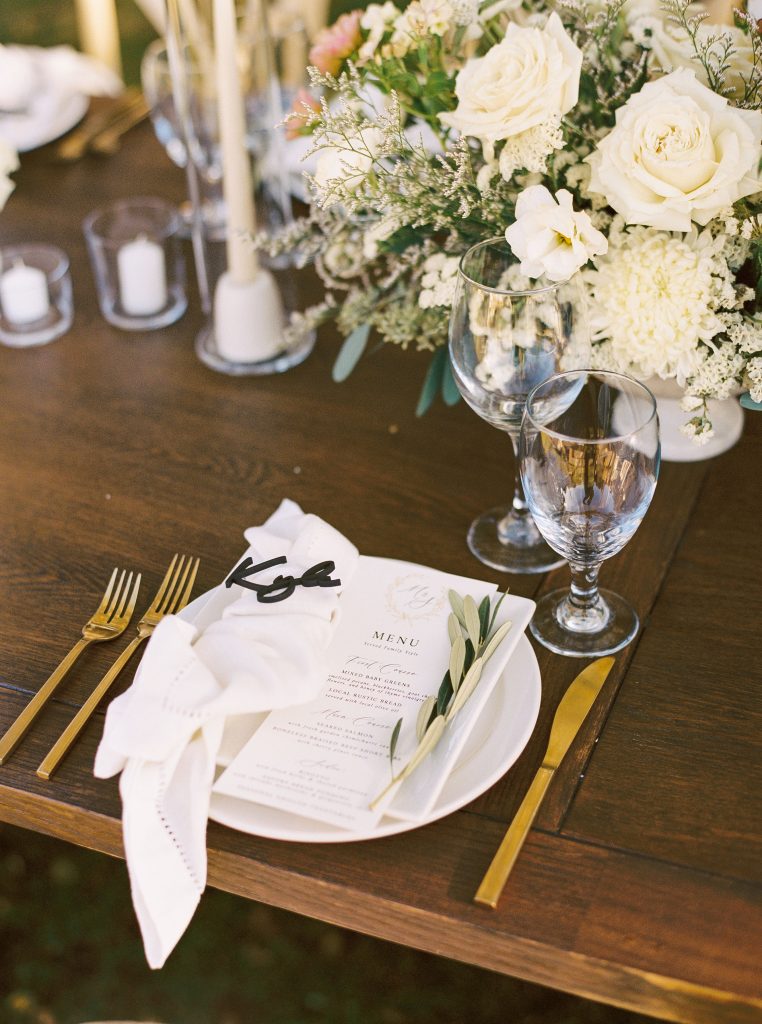 Holman Ranch is known for their barn where the reception took place. We set up an amazing bar from Theoni Collection along with a lounge for guests to relax and enjoy. The bar was such a beautiful focal point with Seascape's amazing flowers lining it all the way across. Such a wow moment on an already beautiful day!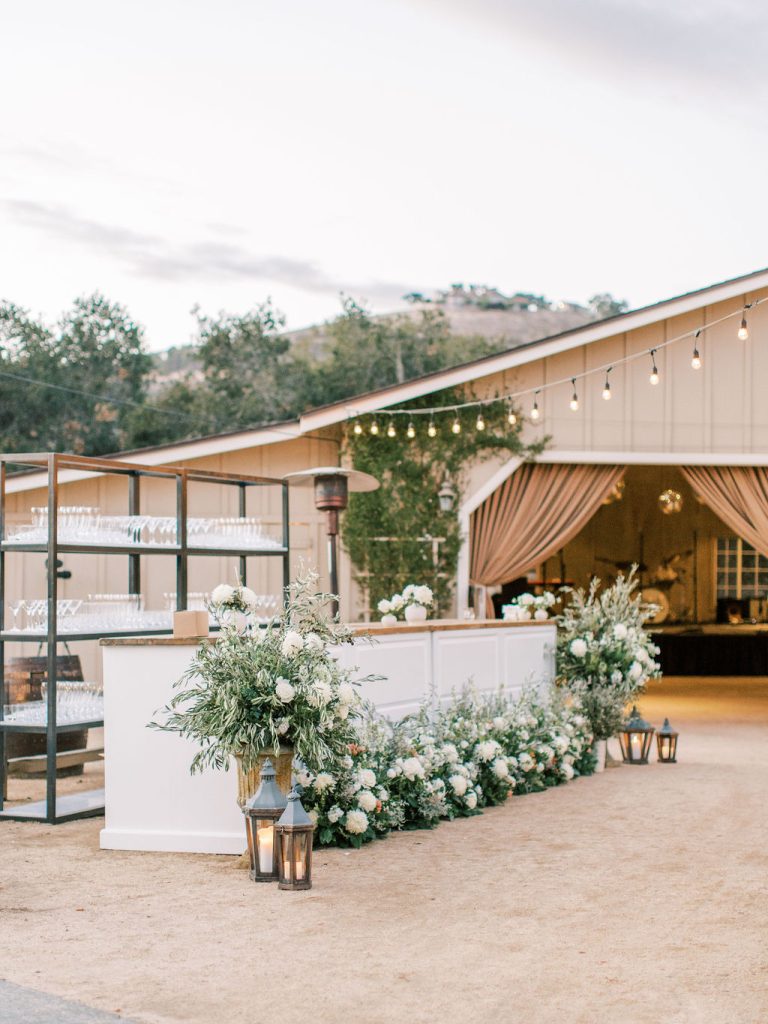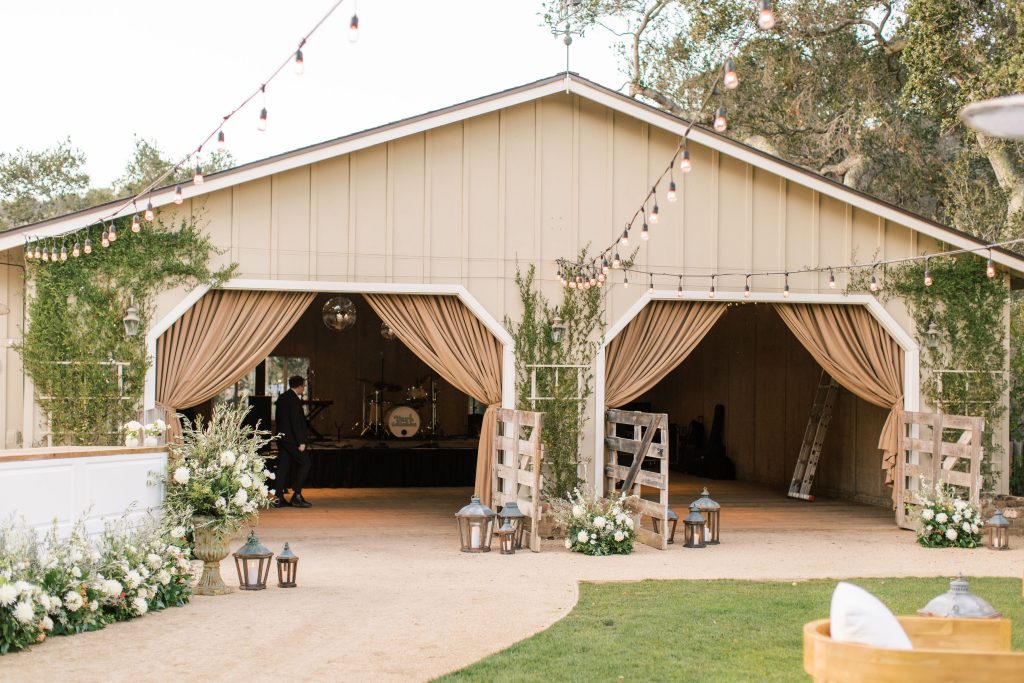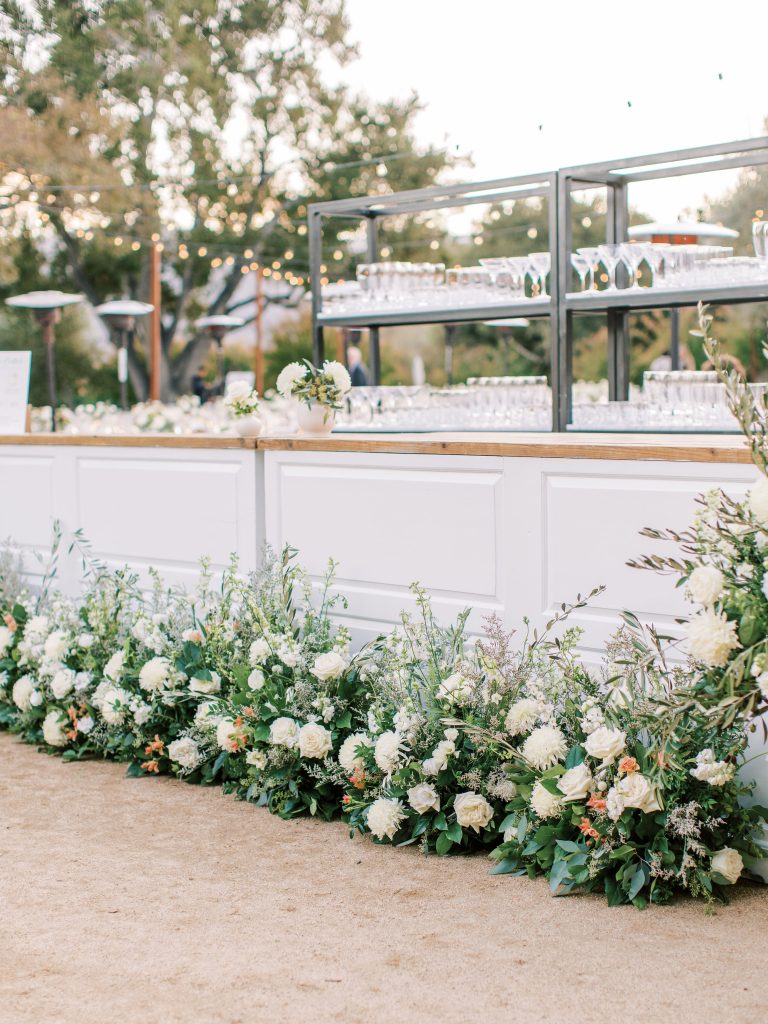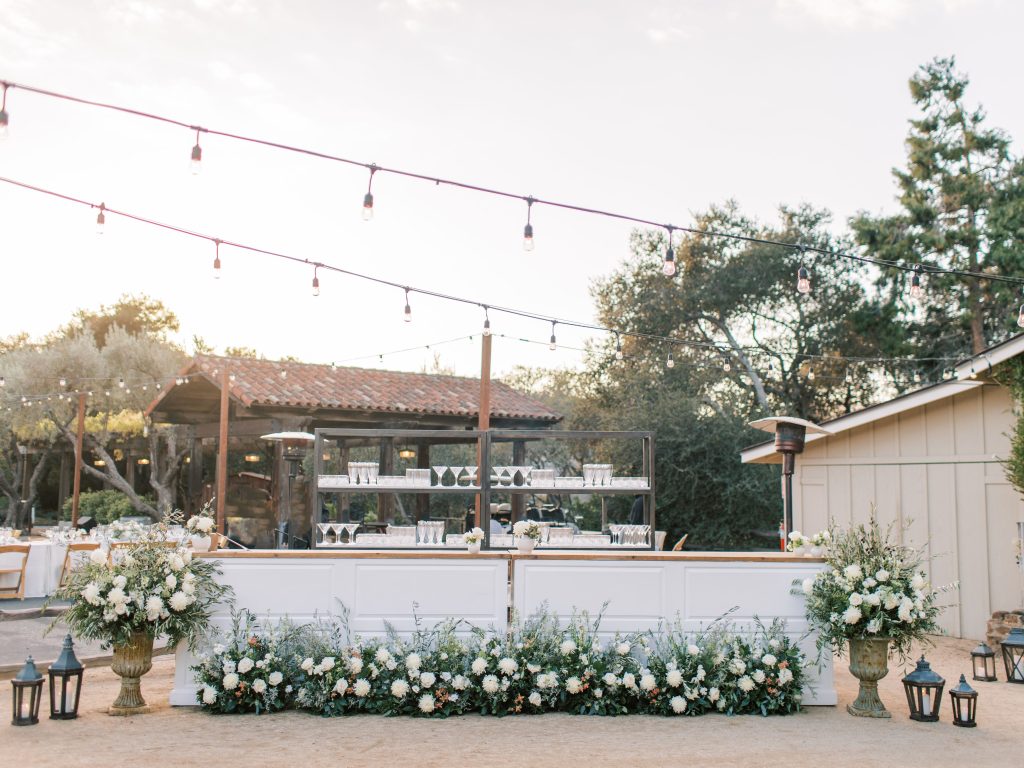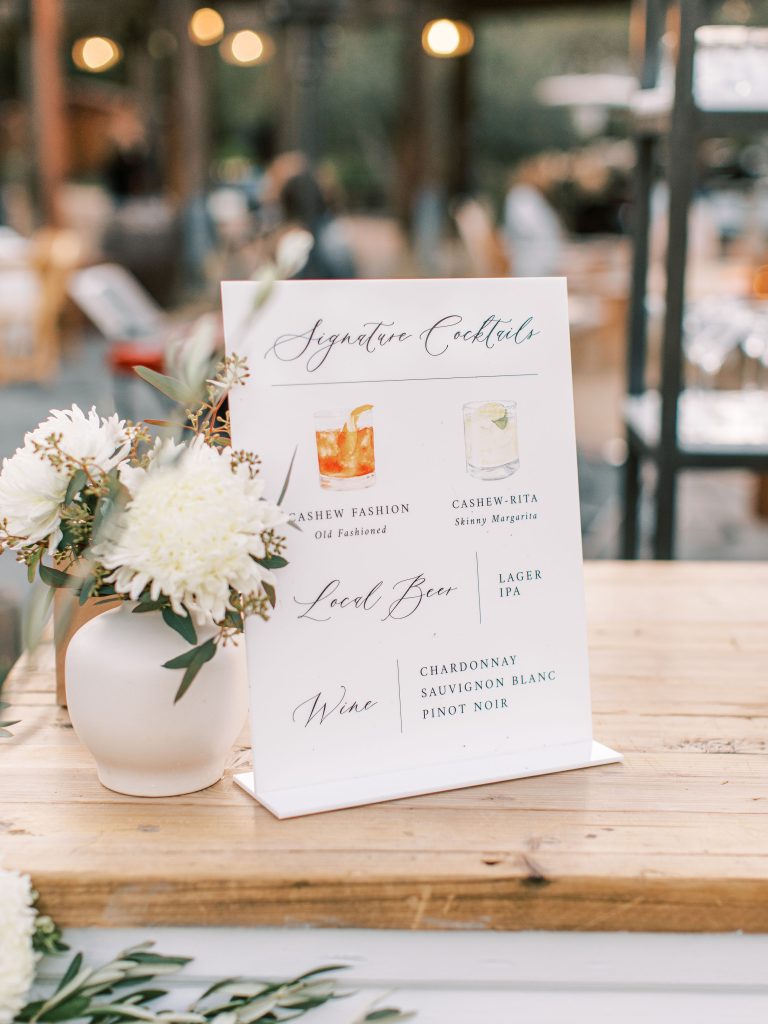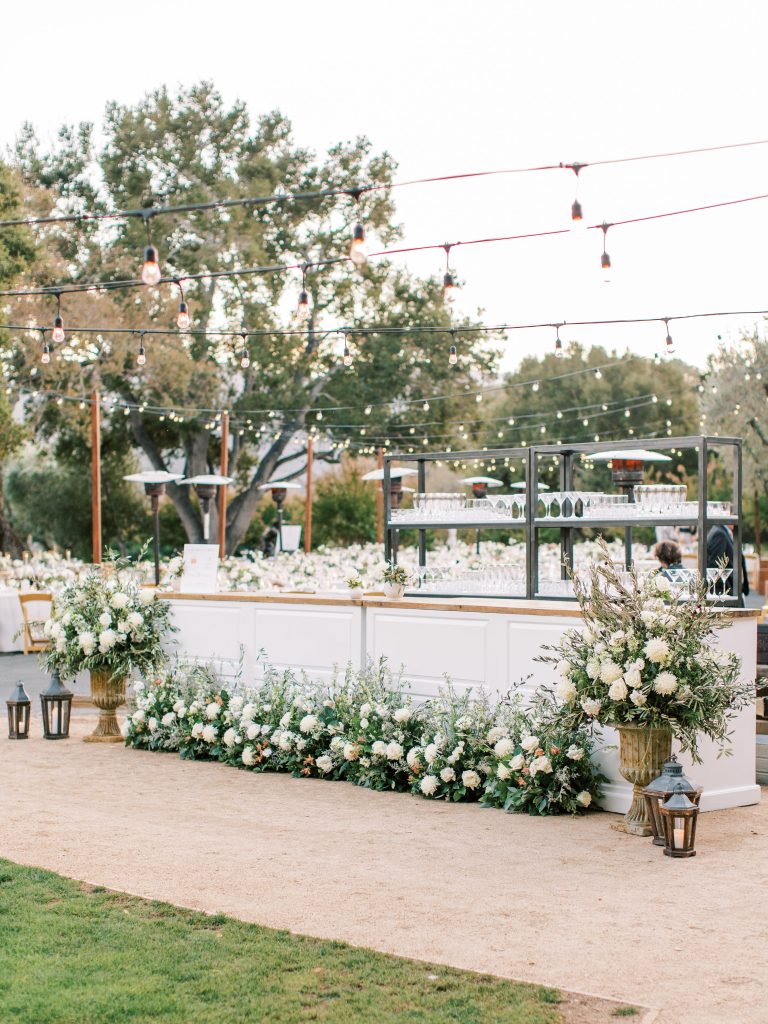 Meanwhile during cocktail hour, Maggie & Stevie were taking some romantic shots. This oak tree is the spot for photos at Holman Ranch and it didn't disappoint! That light behind them couldn't have been more gorgeous. I love all of these incredible shots by Olivia Marshall!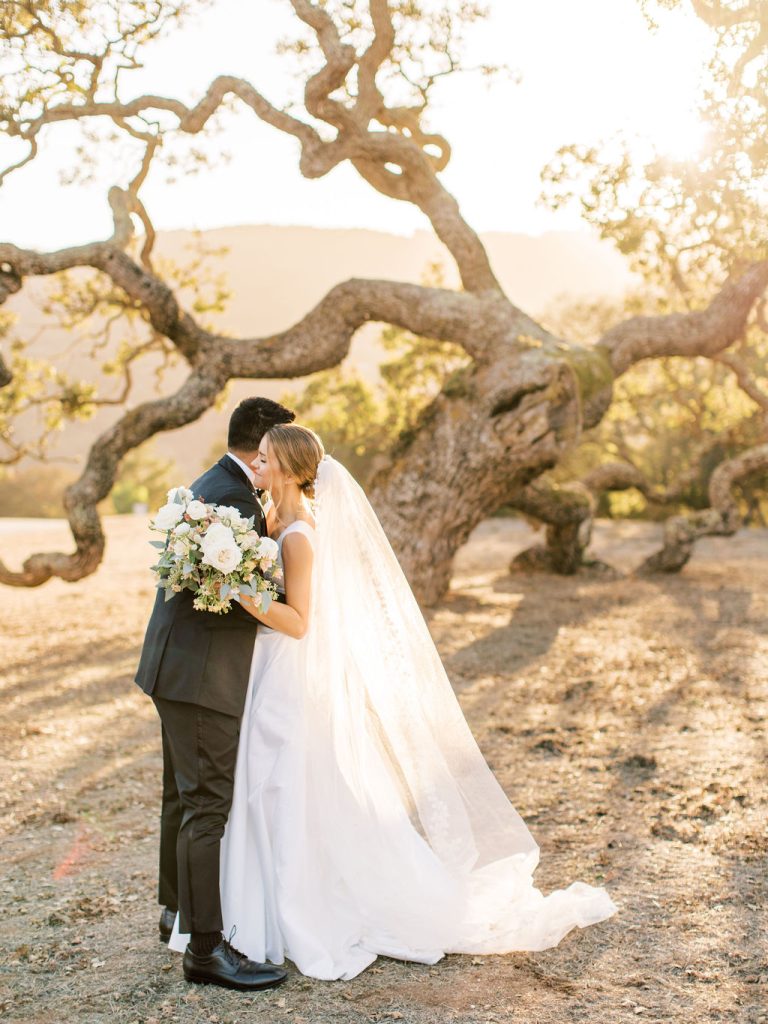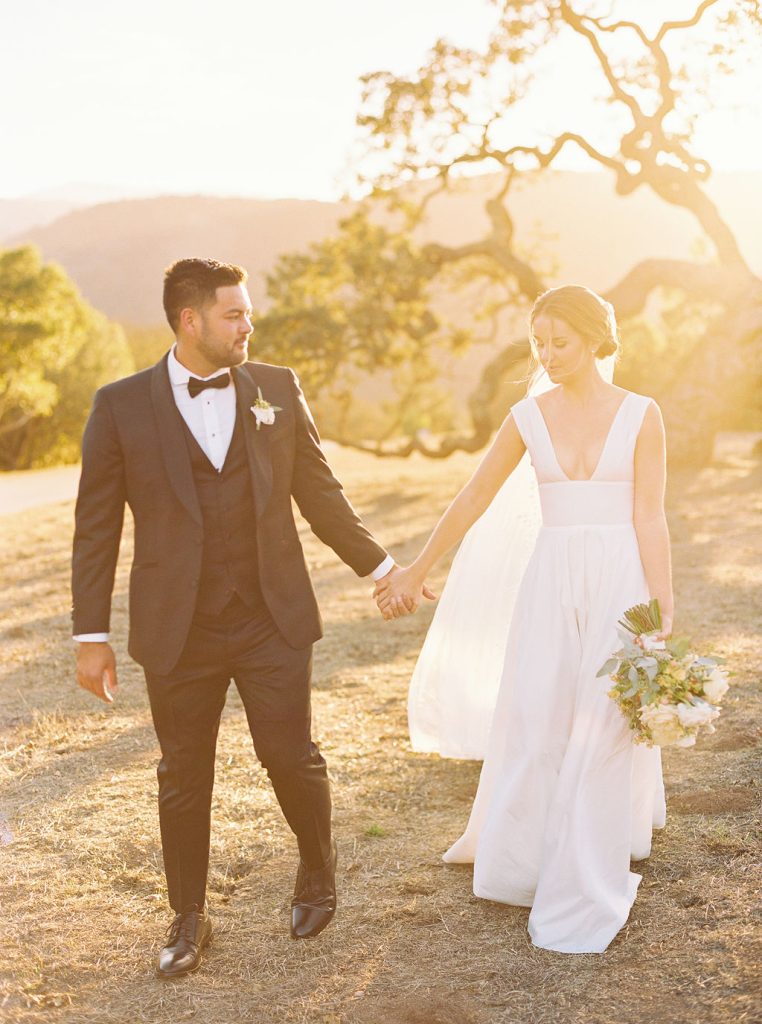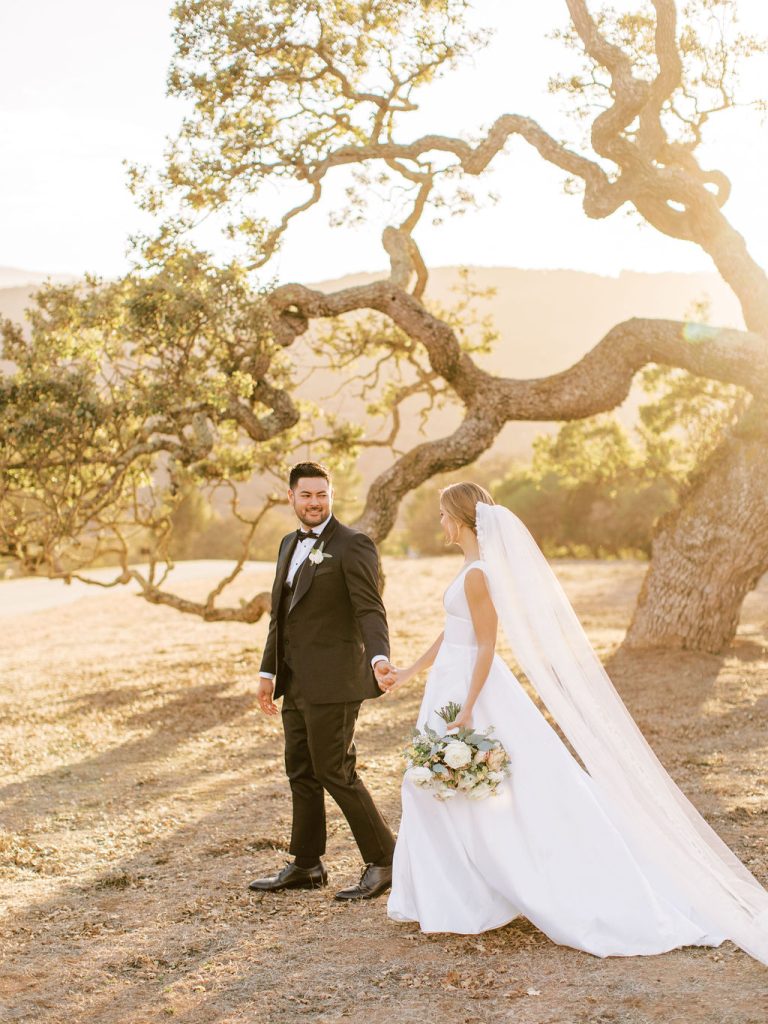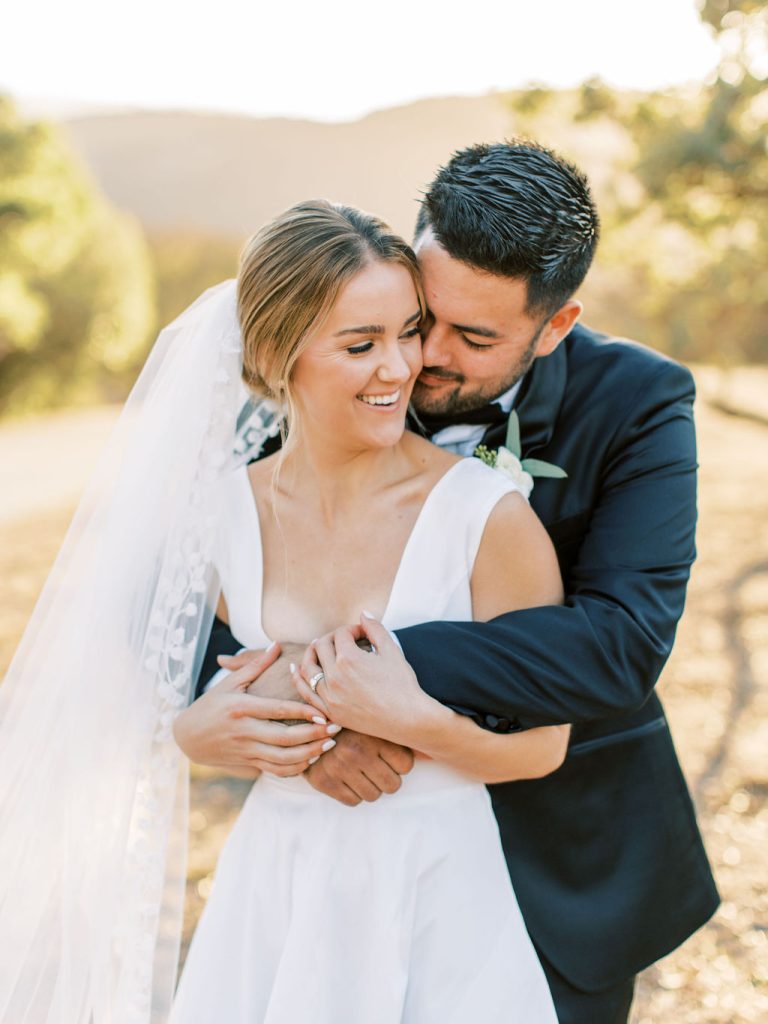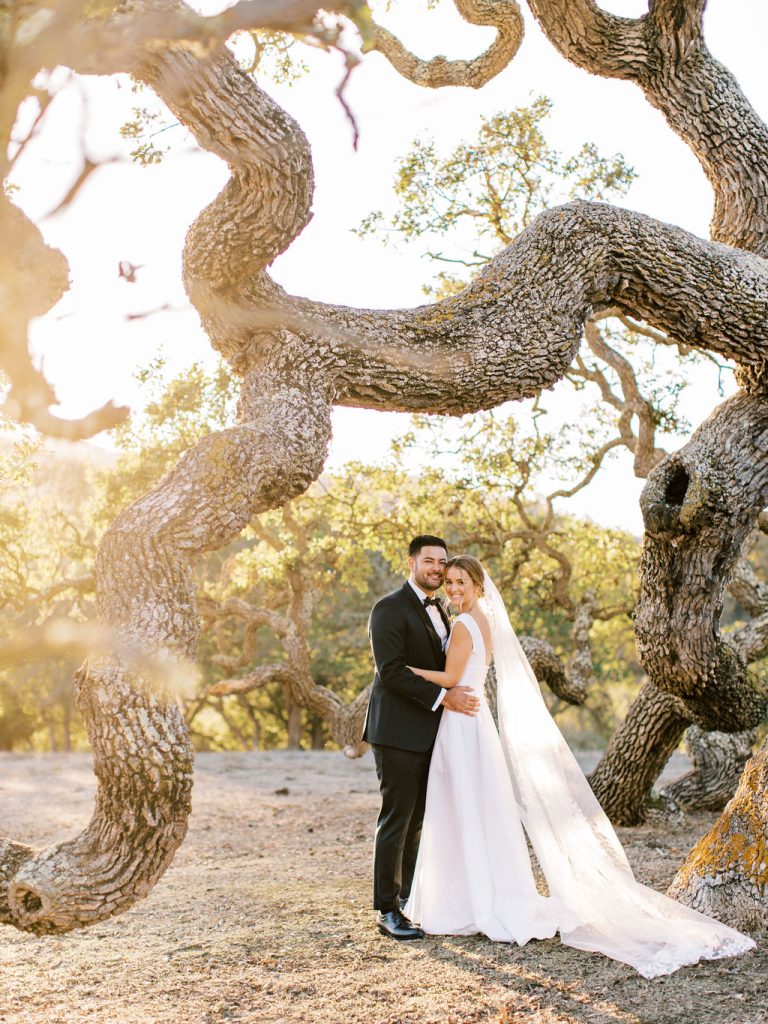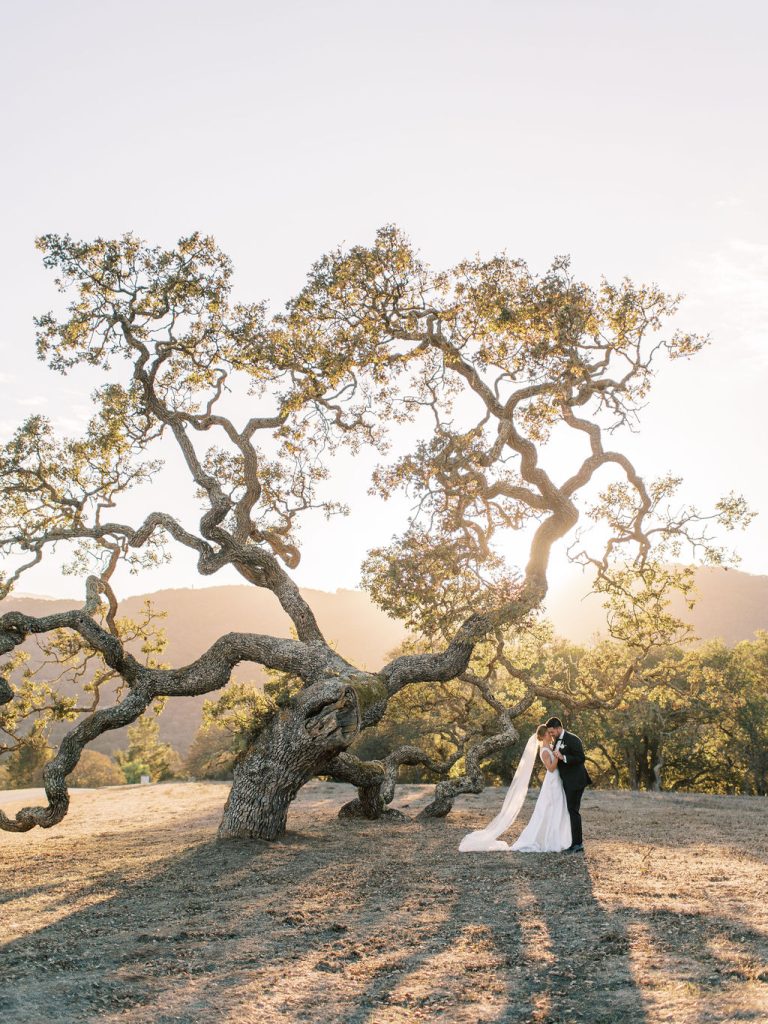 Another special touch we added were these Japanese cranes to honor Stevie's heritage. His mom folded 1,000 of them and strung them for us to hang by the reception. It ended up being such a lovely focal point for the day.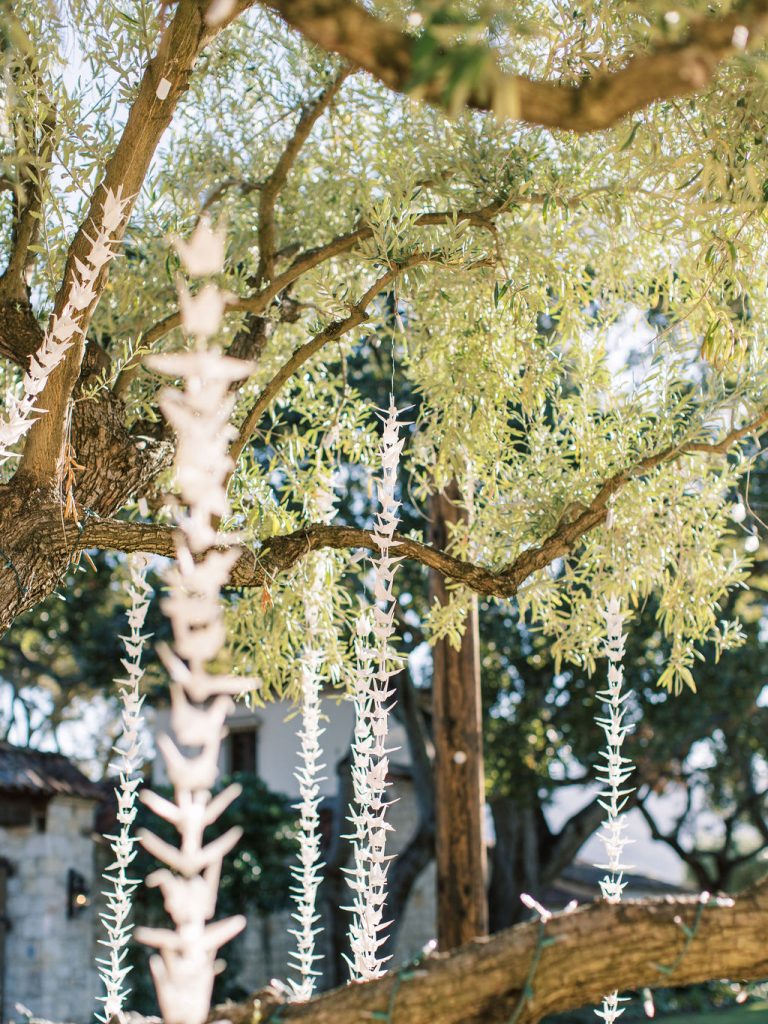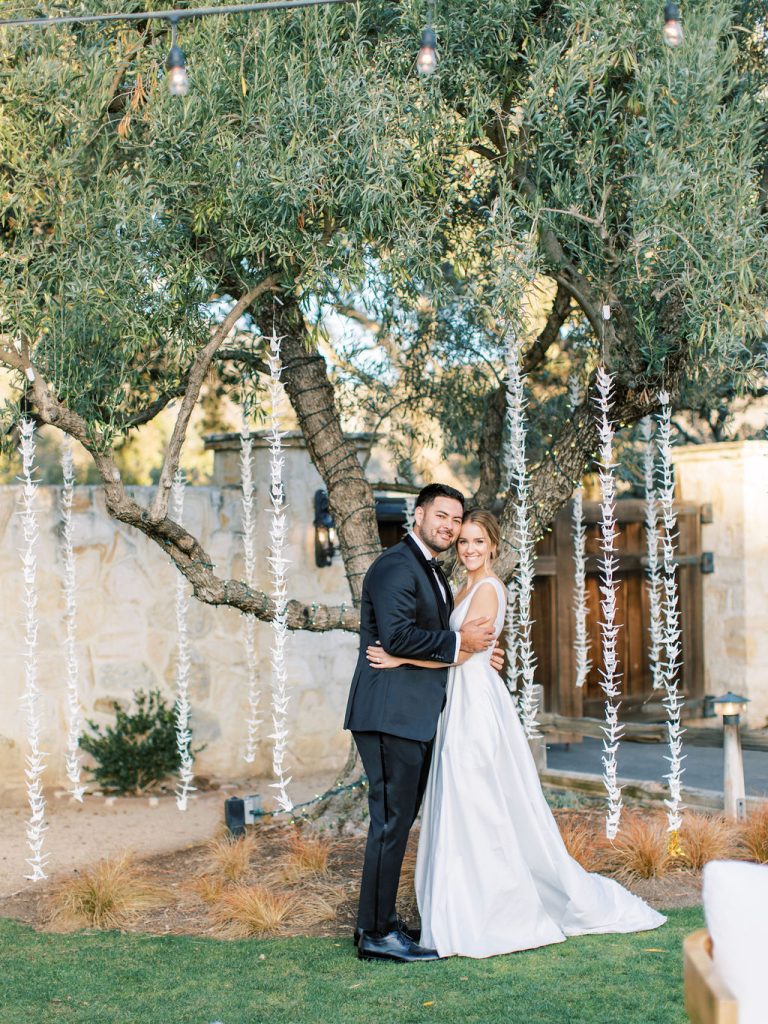 After guests took their seats it was time for these two to make their grand entrance into the reception and have their first dance! It was November and Maggie had the perfect fur shawl to wear as the night cooled down.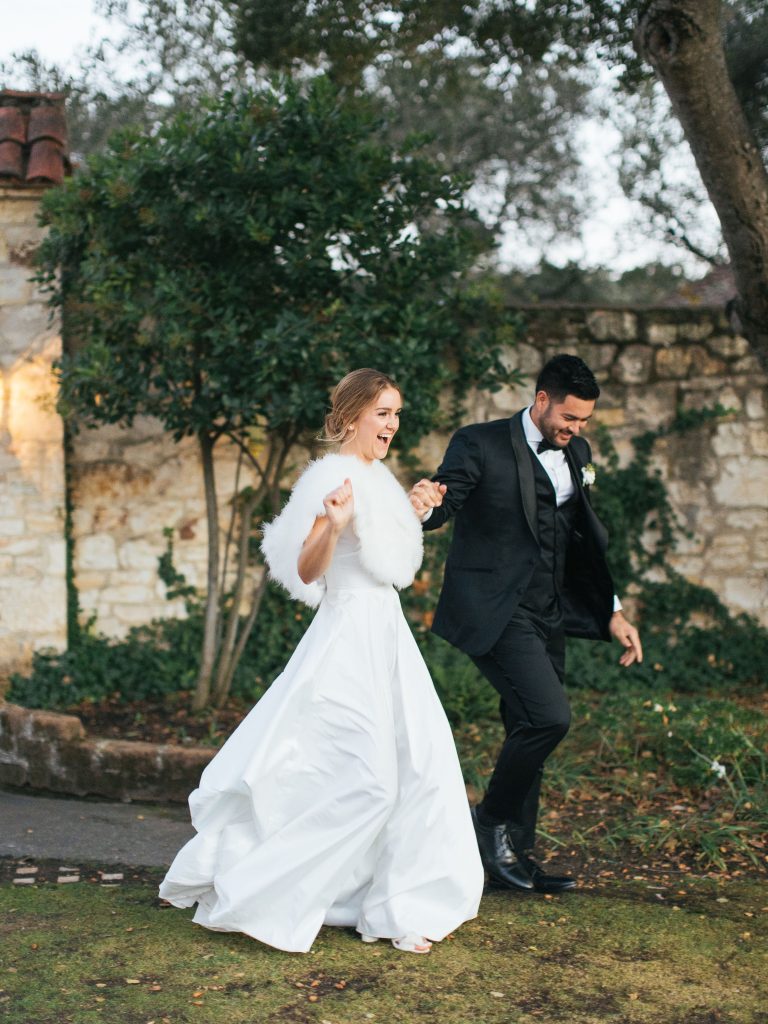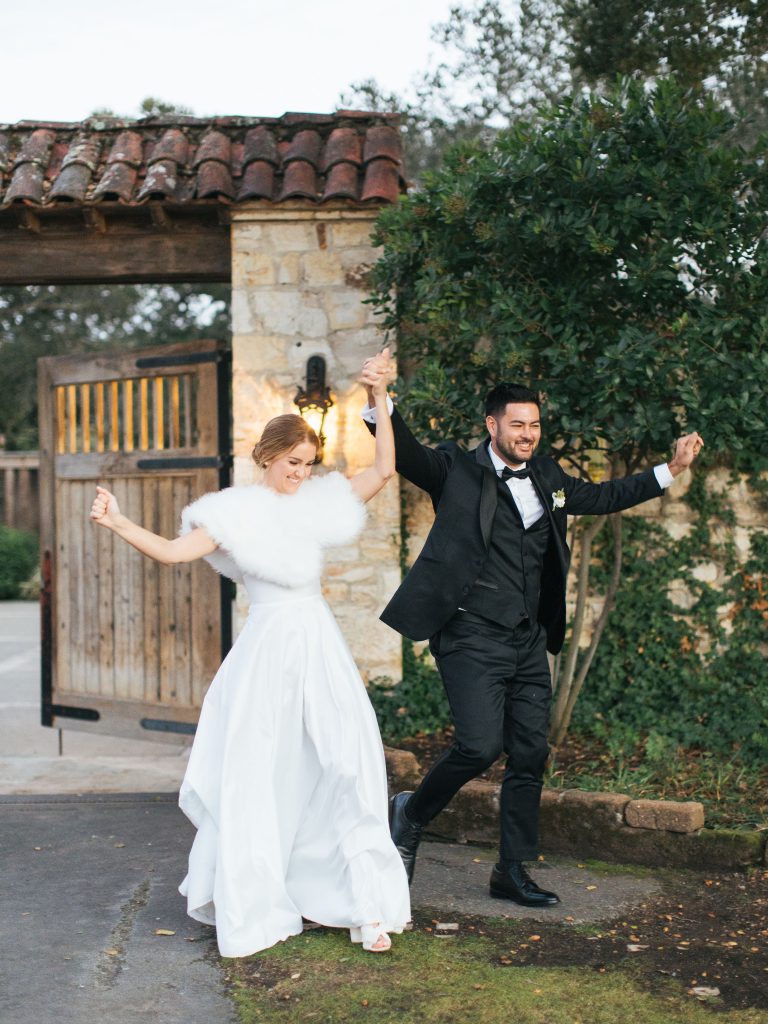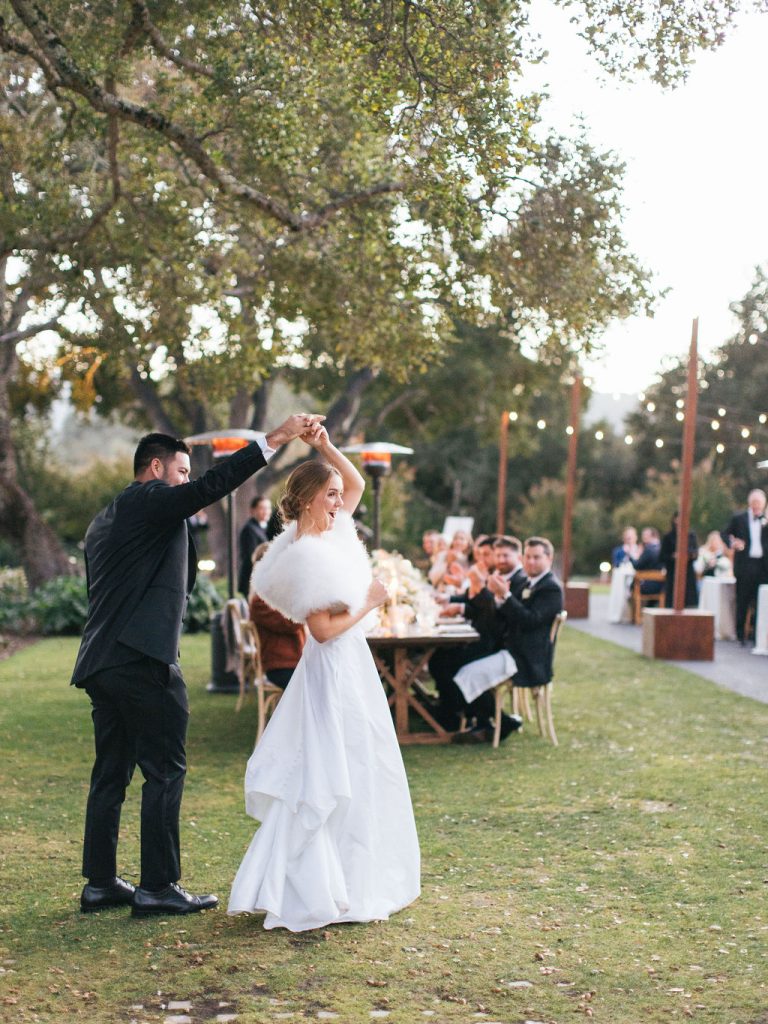 Time for that candlelit dinner! Paradise Catering took care of all of the food and it was not only delicious but beautiful as well!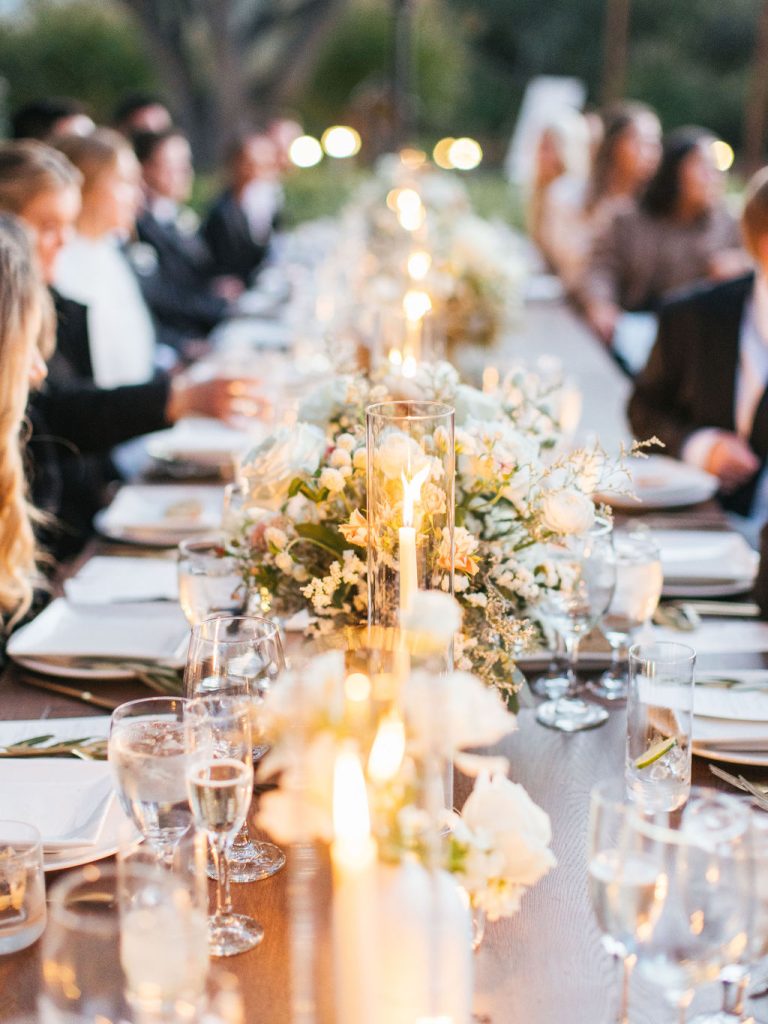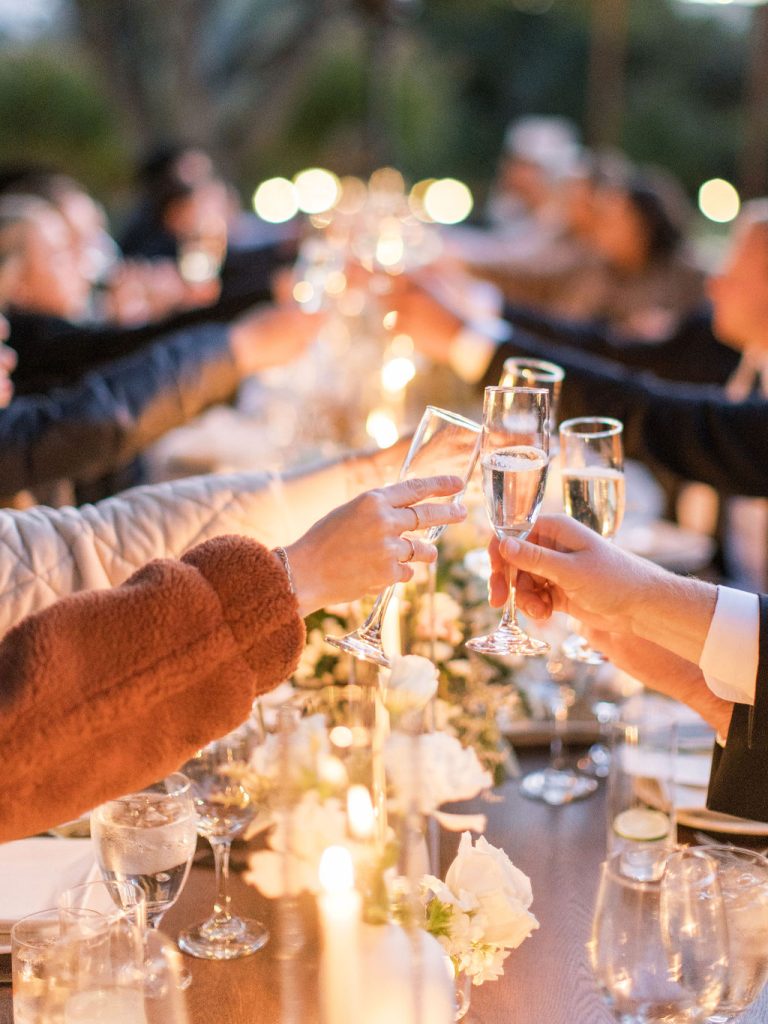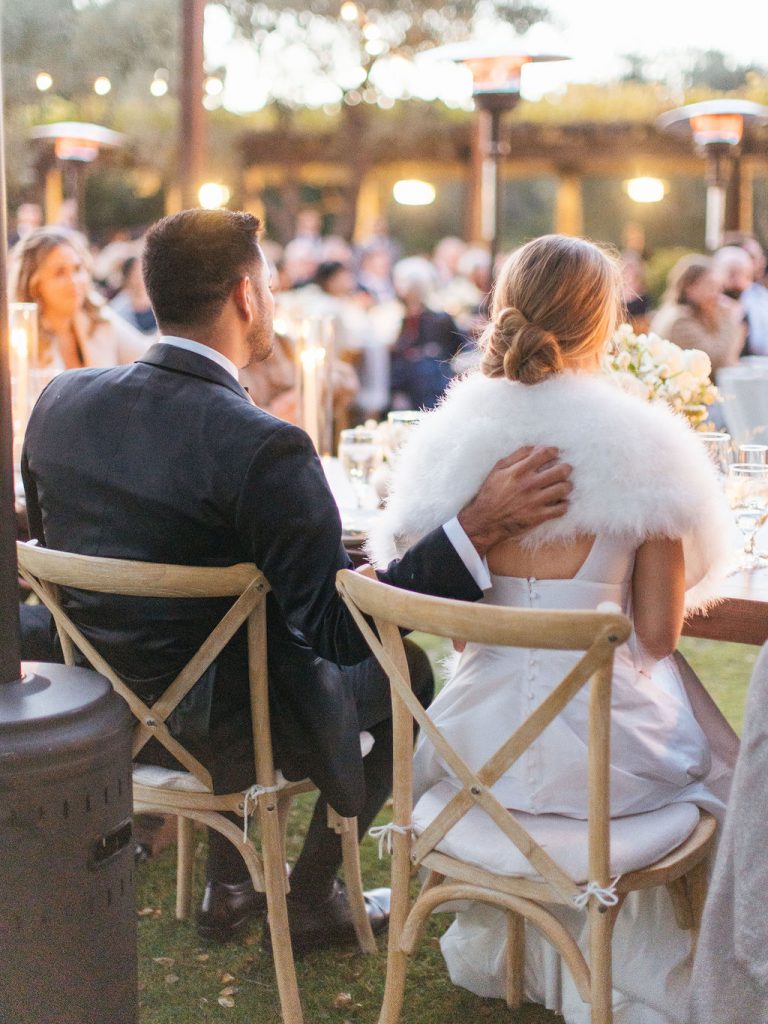 Memorable speeches were made and it was a beautiful night to say the least…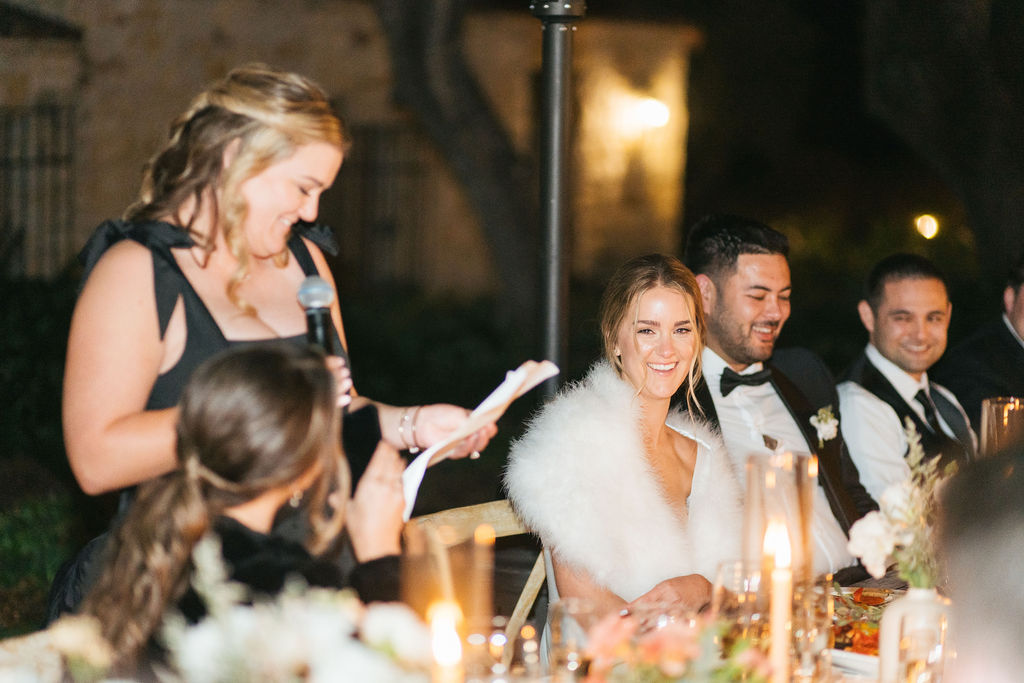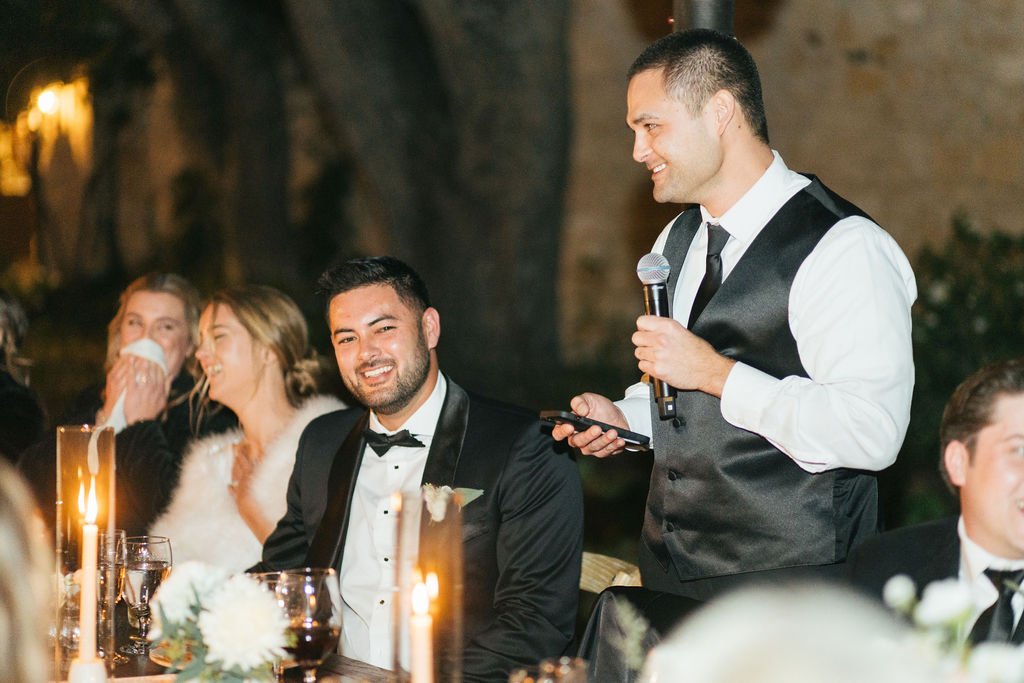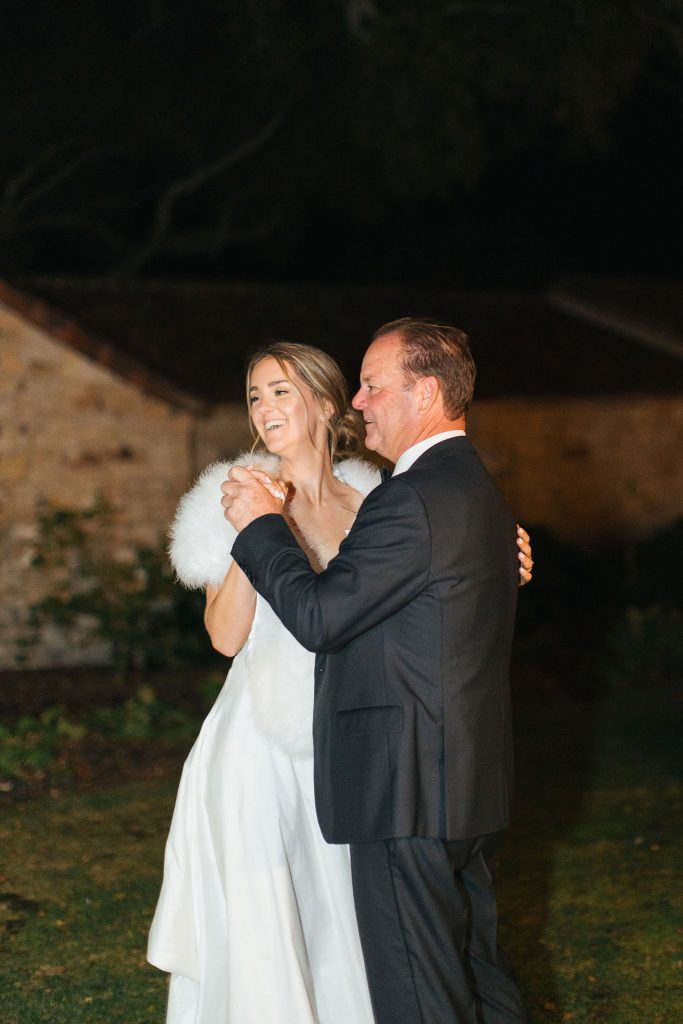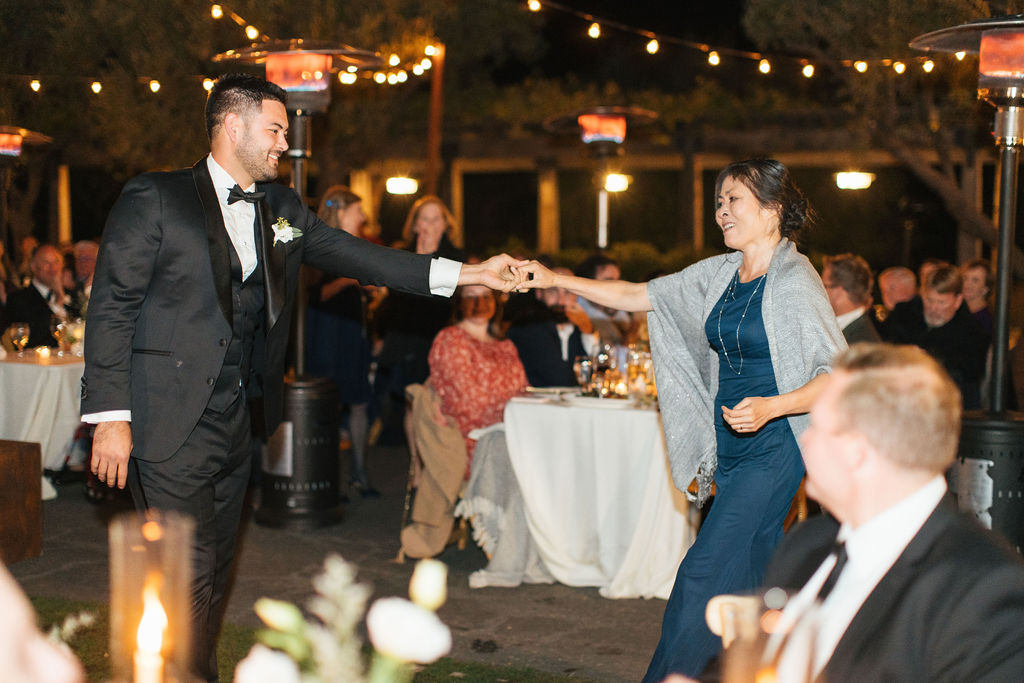 Moving things on to the dancing…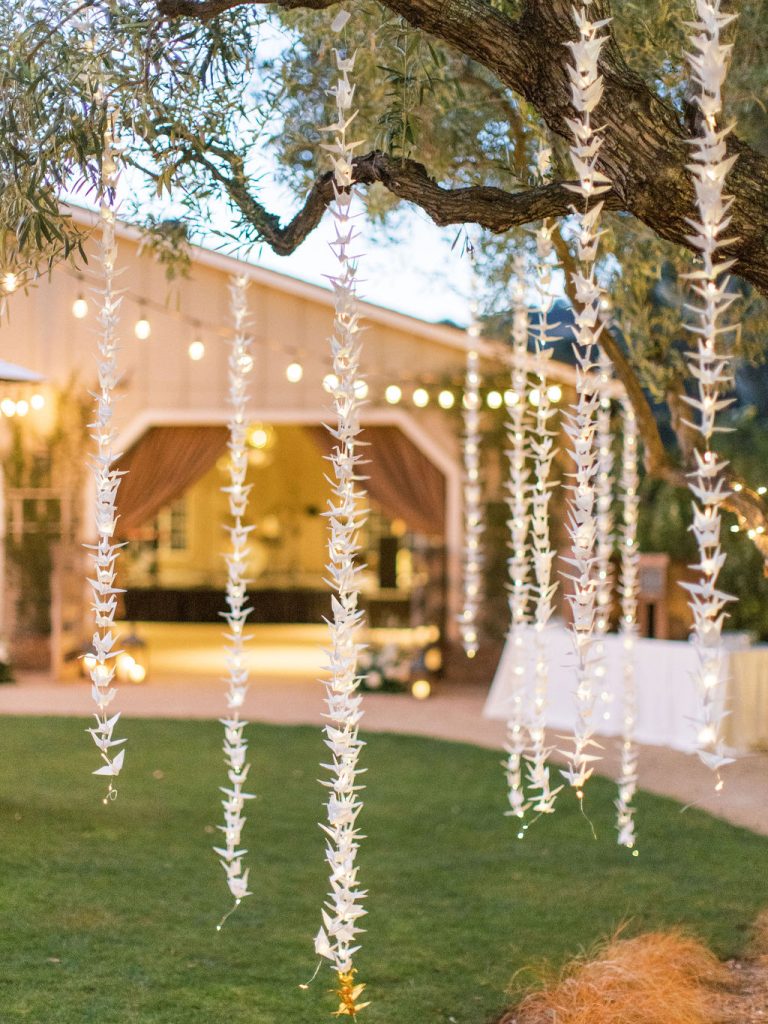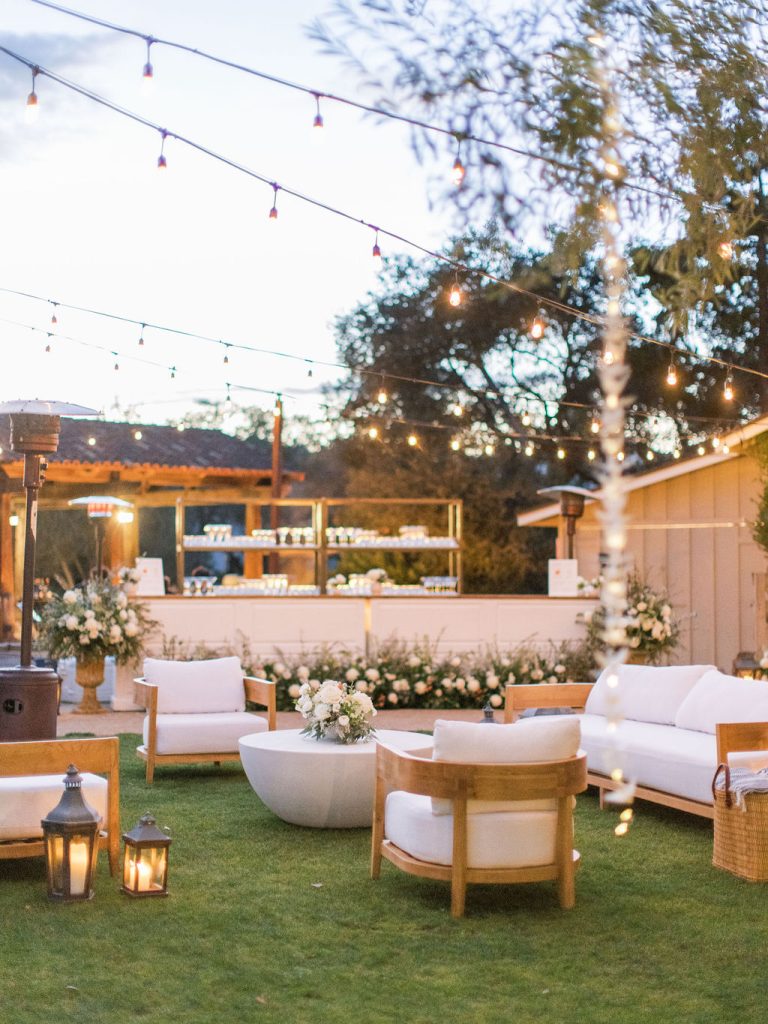 The barn was lined with disco balls over the dance floor and the guests were ready to get their party on!!!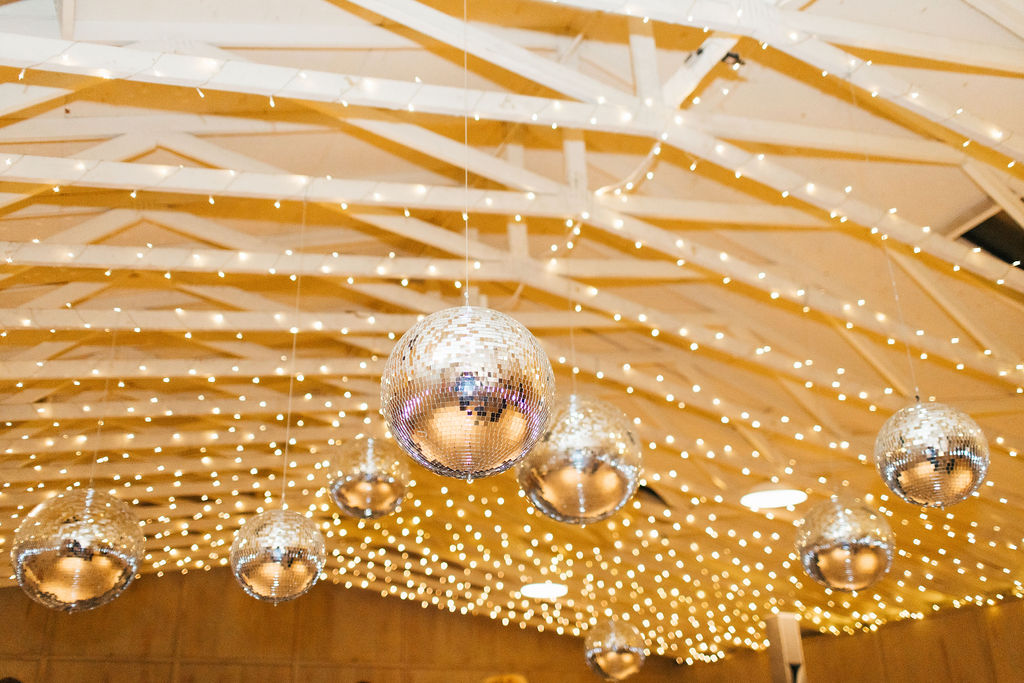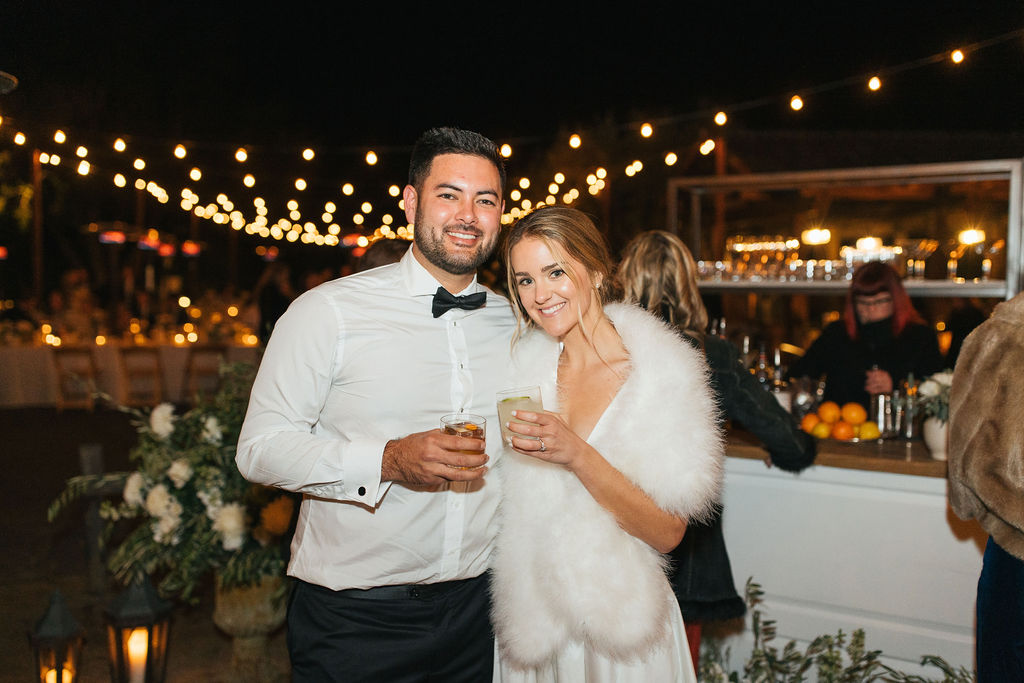 Maggie had the cutest outfit change into this little number! We loved it!!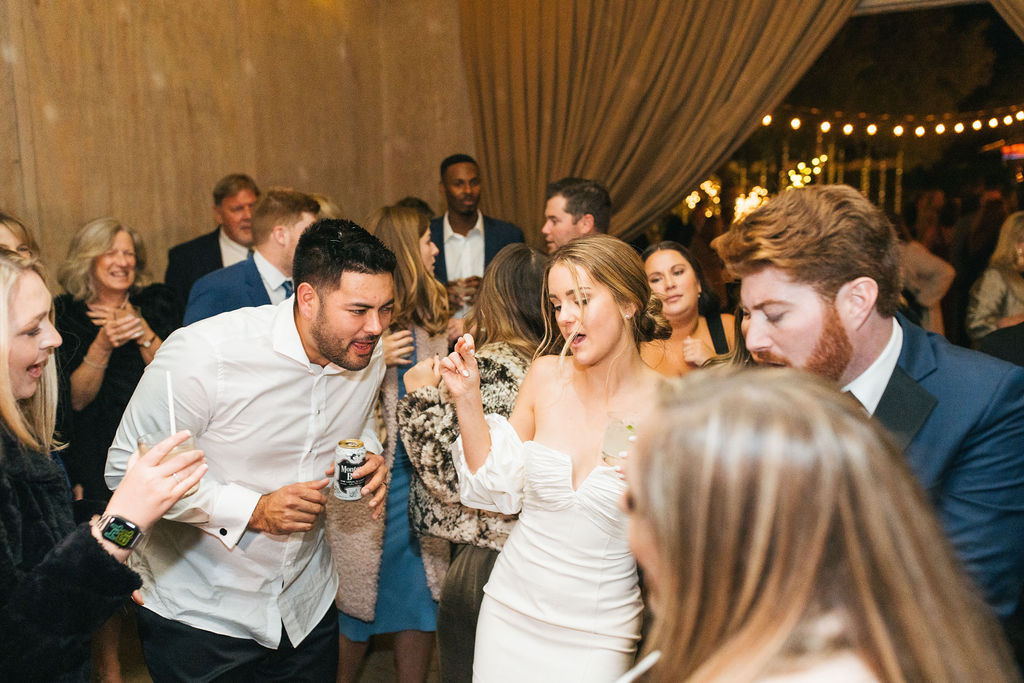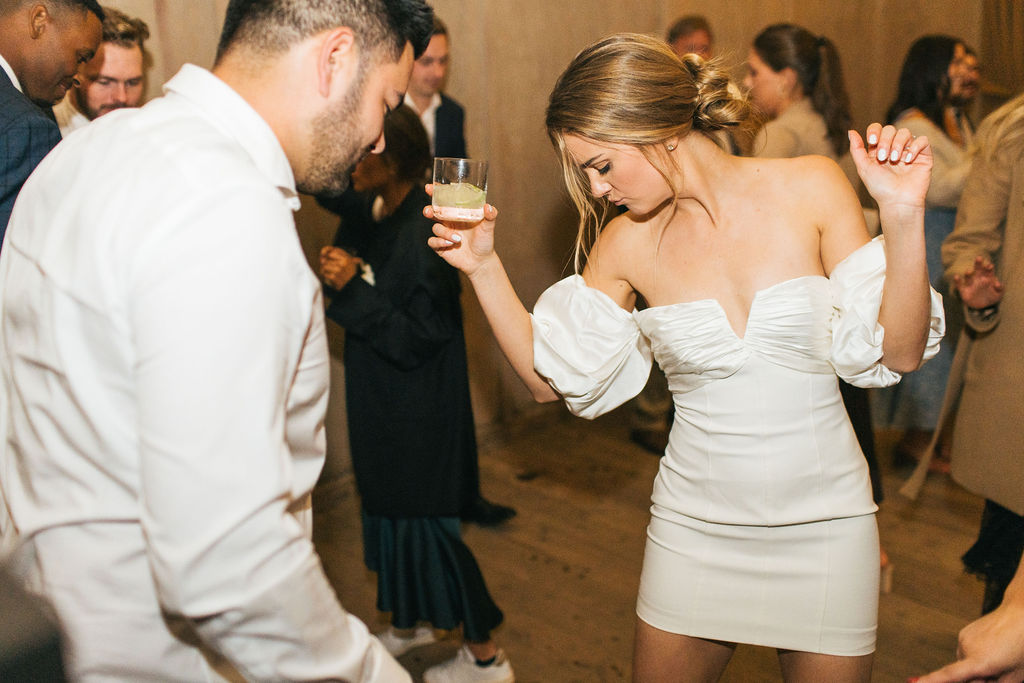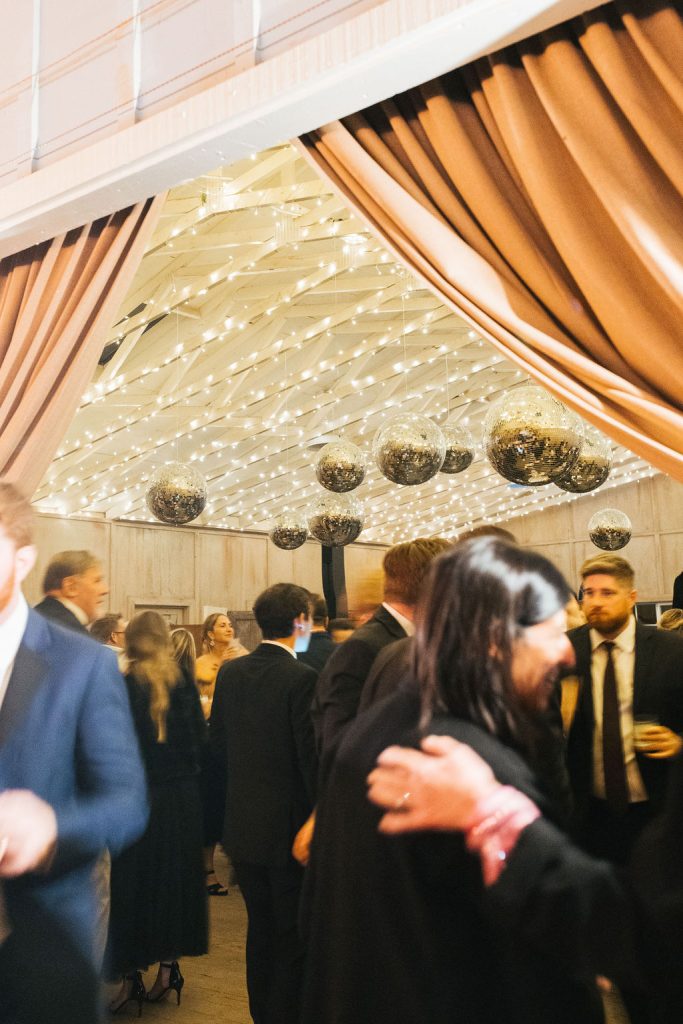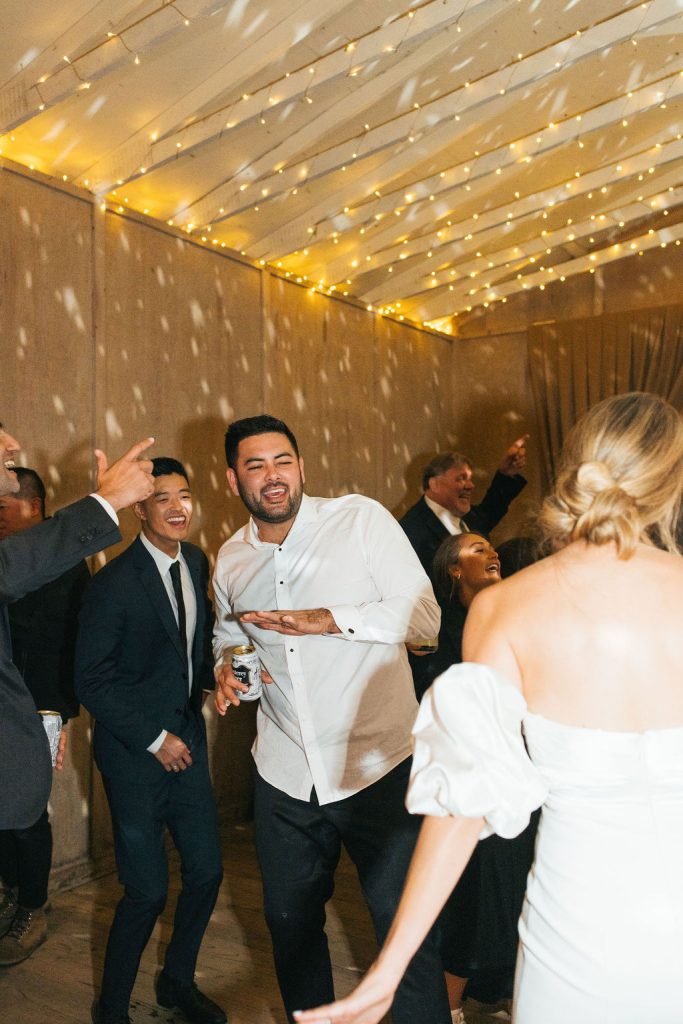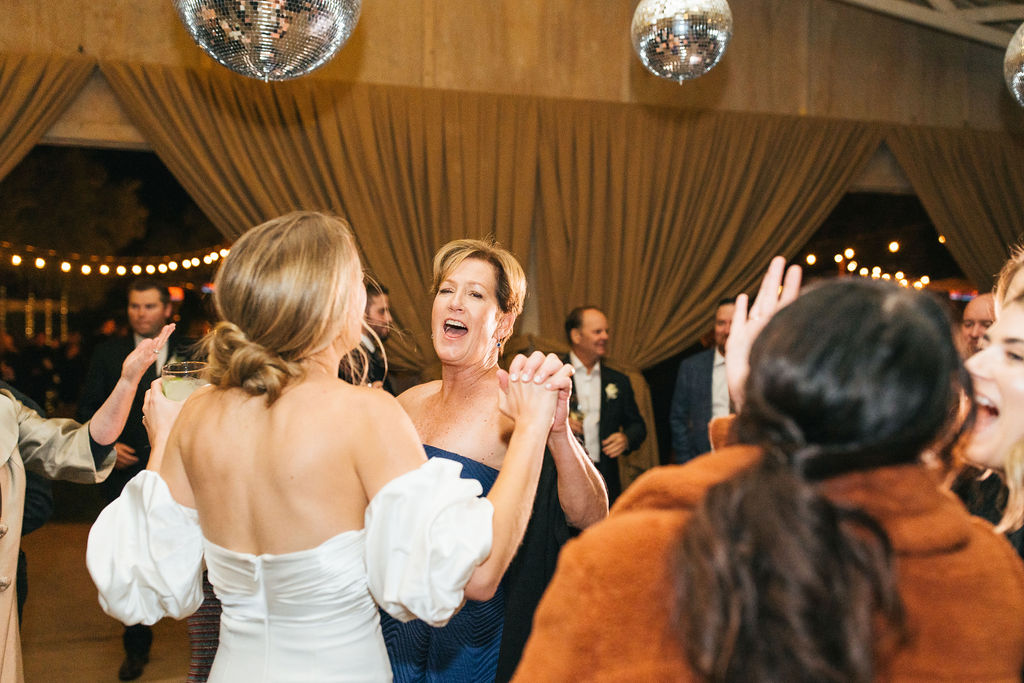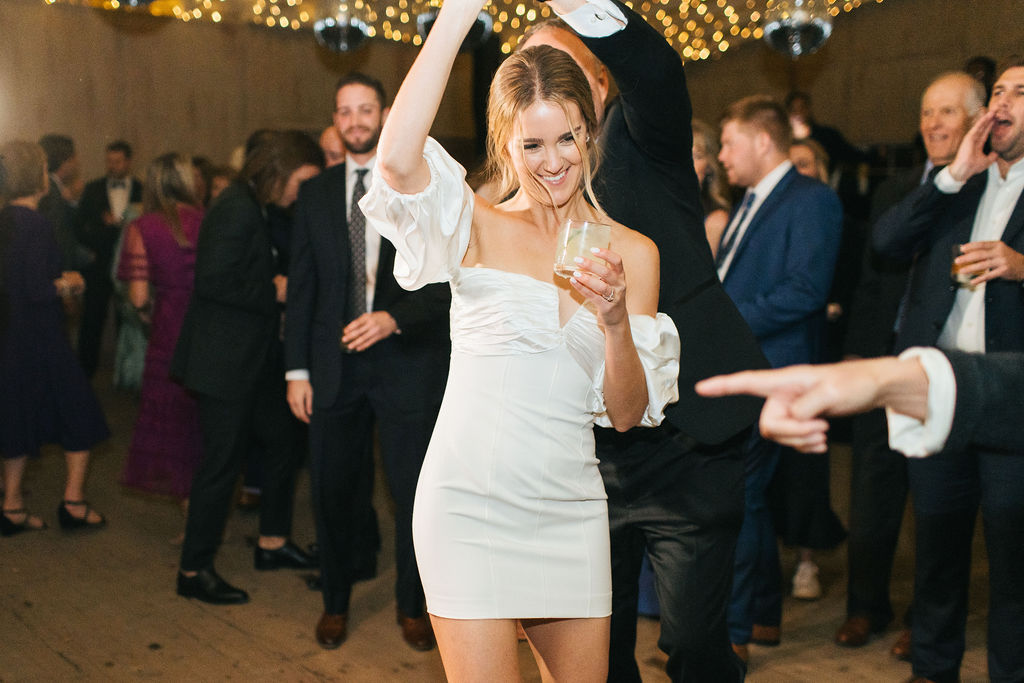 It was such an amazing day and night! We had the best time planning and designing with Maggie, she was the best bride! A big happy one year anniversary to these two and an even bigger congratulations as they have a little one on the way!!!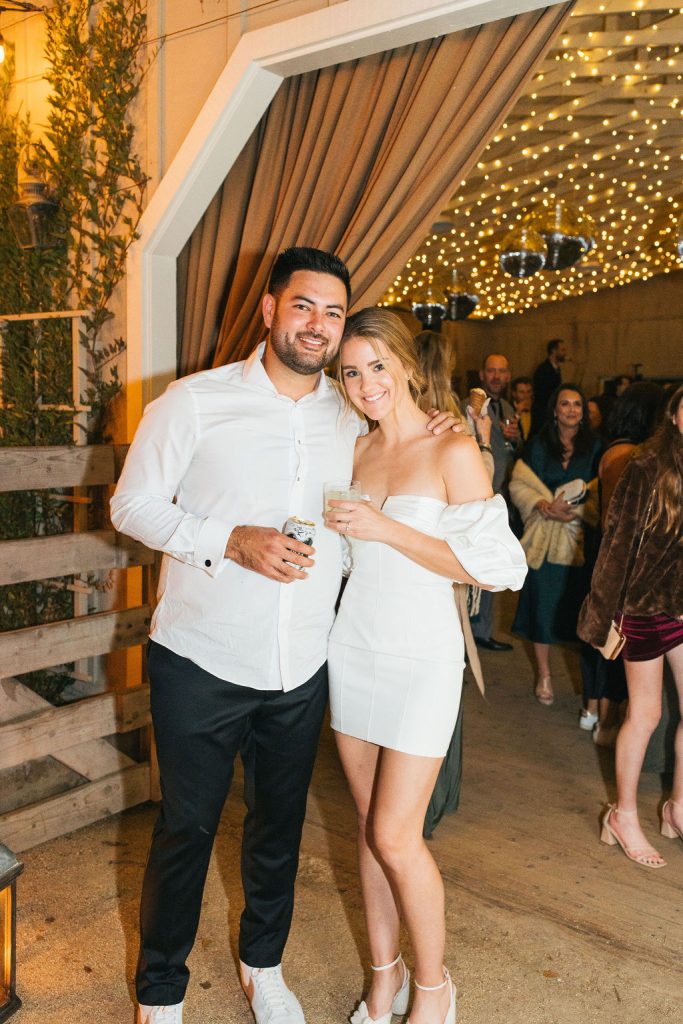 Hope you loved this one as much as we did!
xx
Jacquelyn