We recently styled a real gorgeous summer table inspired by our favorite summer drink… Lemonade!! What other drink inspired our childhood entrepreneurial dreams and is so simple yet so refreshing?! It's definitely been one of my pregnancy cravings, that's for sure! But the best thing about this table is that you can easily recreate it at home, thanks to our friends at The Little Market! We used all of their product for this pretty set up and just added a few touches from some of our favorite vendors… Keep scrolling to read our buying guide!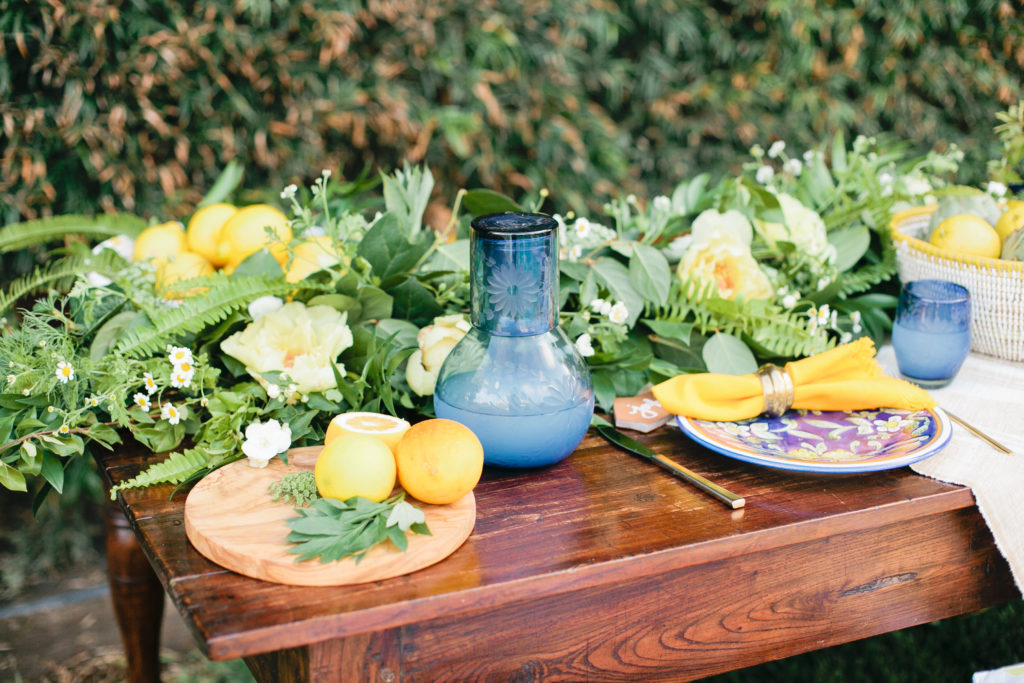 We are also featured on Style Me Pretty Living today as well, so head on over there to check it out!
All photos by our friend Megan Welker
Florals by MV Florals
Calligraphy by Poppy Jack Shop
Lemon Ceramics
This collection of ceramics is so classic but there is something about it that's also so fresh! We love the colors and the mediterranean feel to it, setting the table makes you feel like you are at a villa in Italy… Another plus to this collection is that it can be dressed up or down, it could be used for a casual family dinner or for an amazing dinner party in your own backyard. The colors are amazing and easy to use with items you probably have in your own home and they are timeless.
Items we used
Plates, Platter & Utensil Holder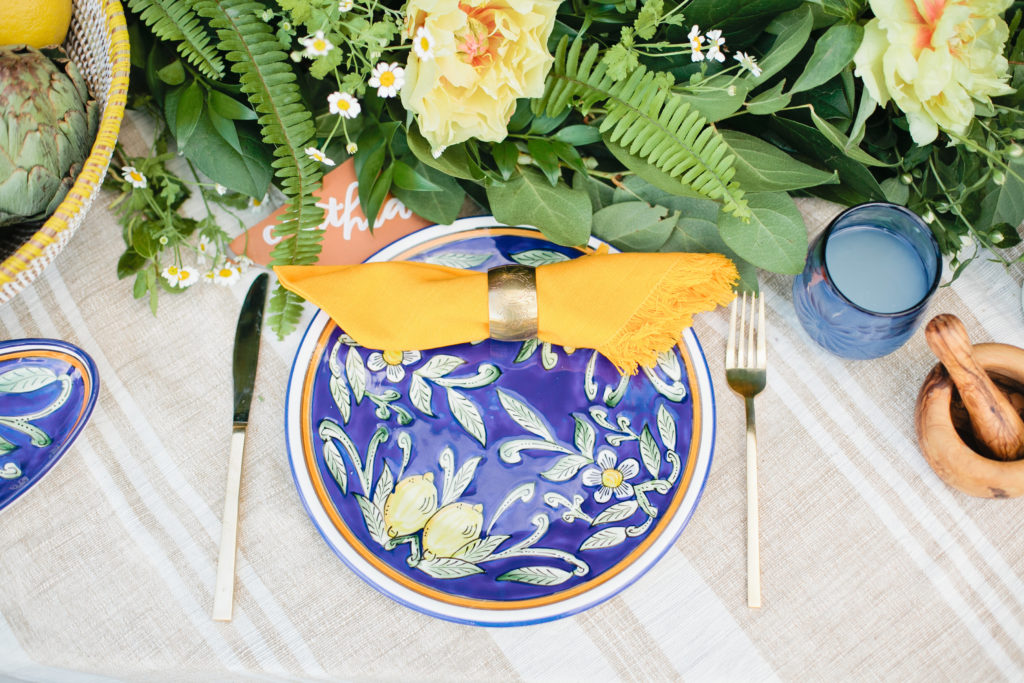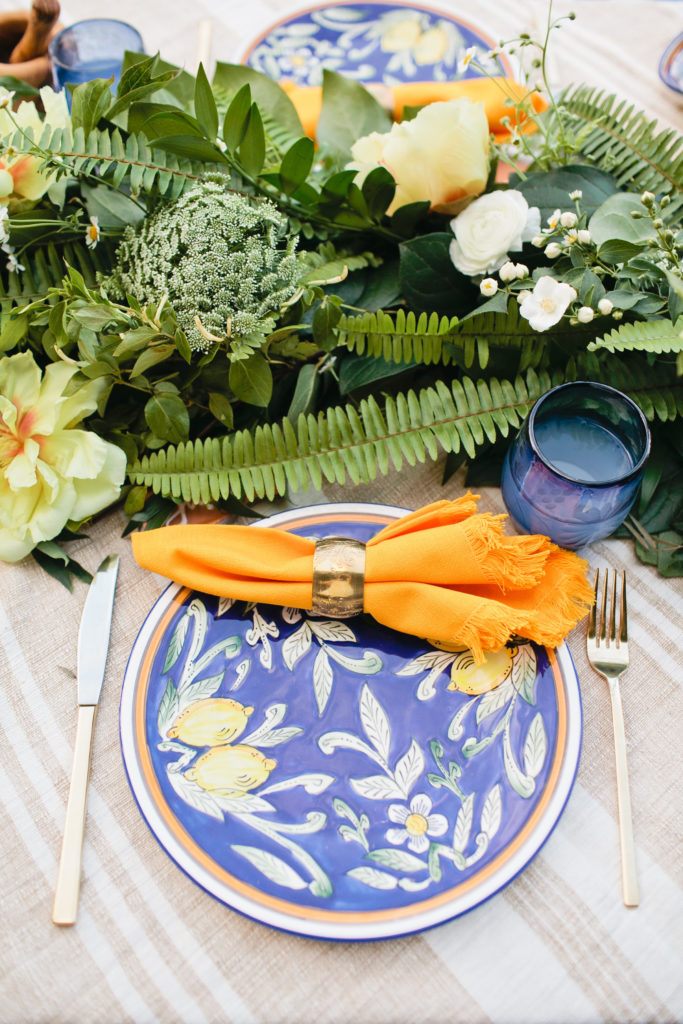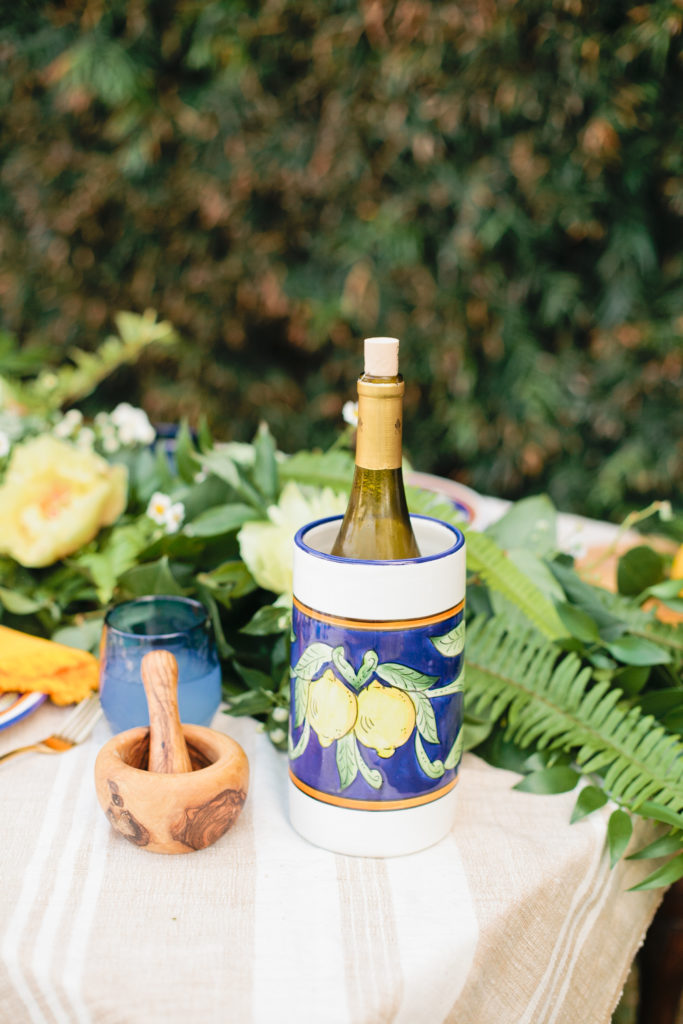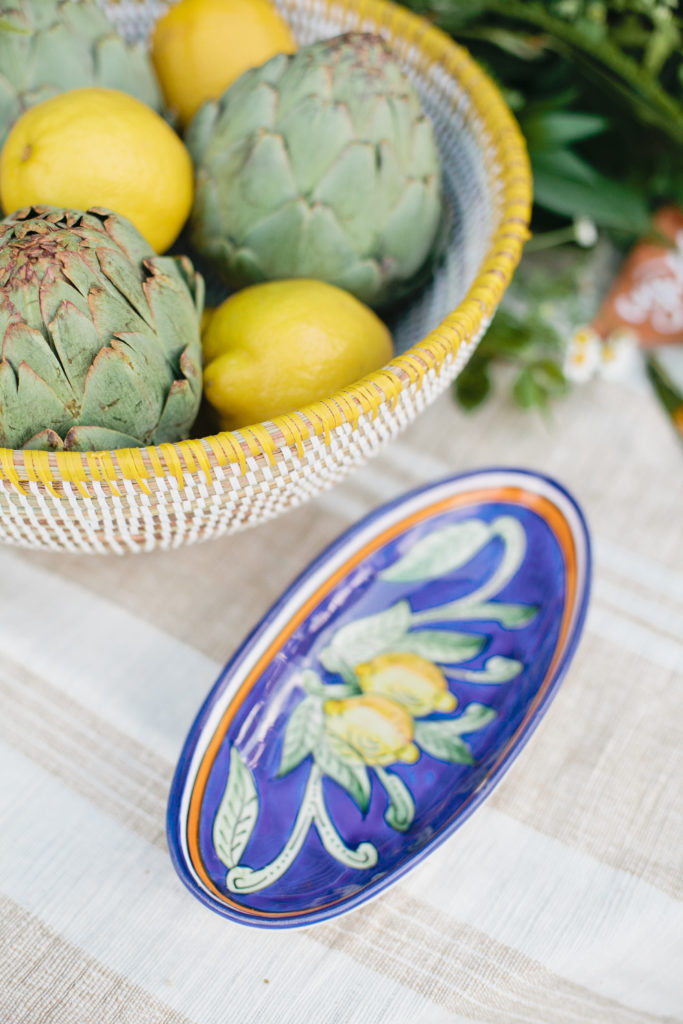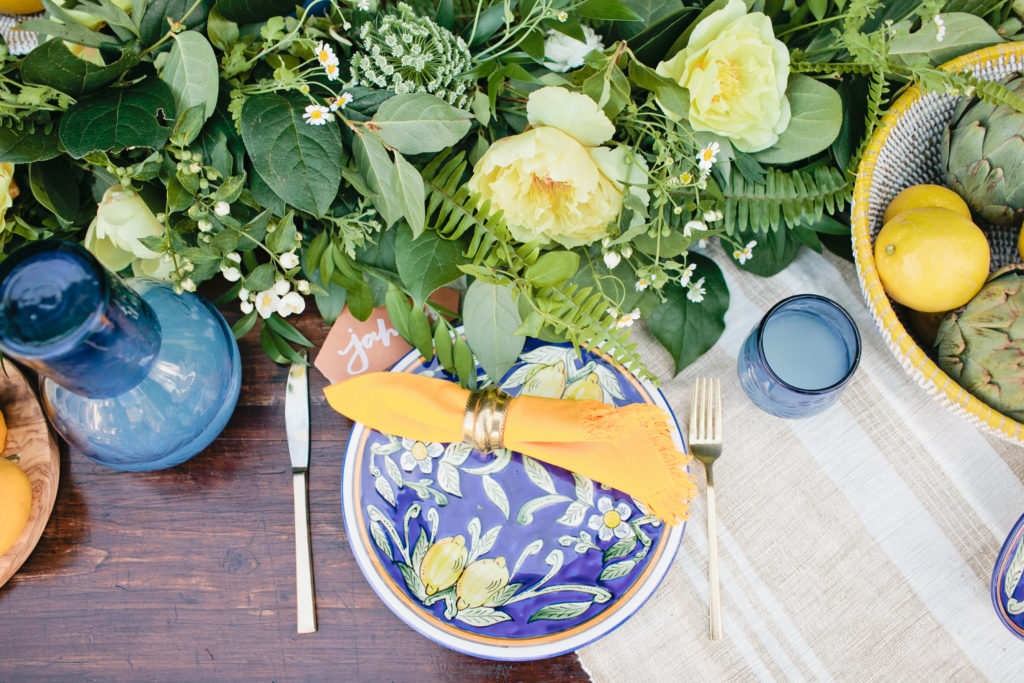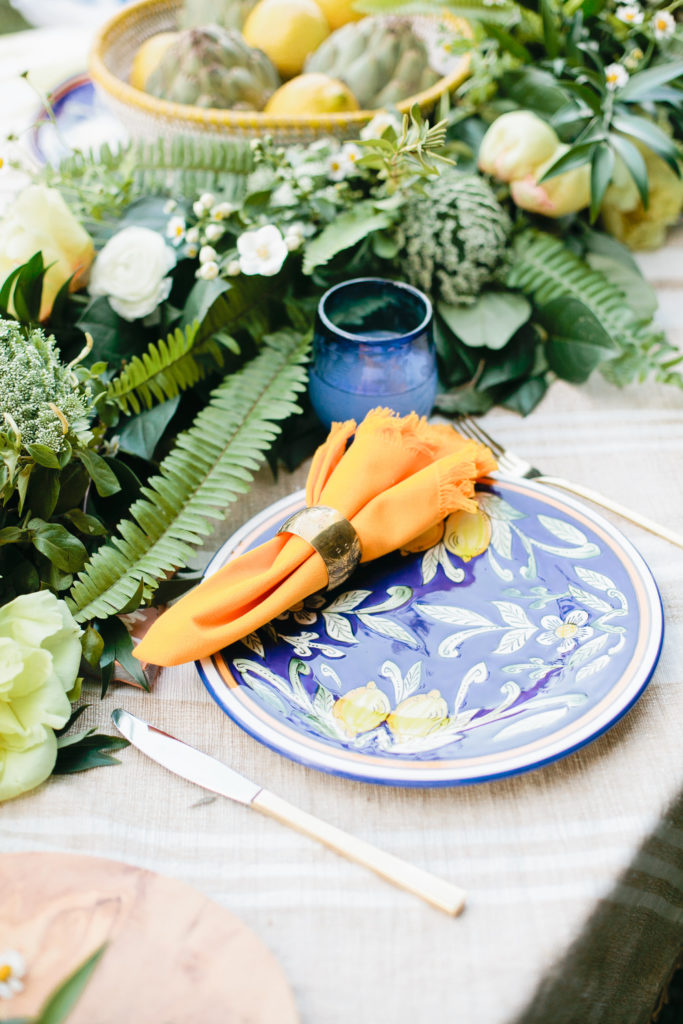 Glassware
We are in love with The Little Market's glassware, especially these floral pieces. The entire collection is amazing, but for this table we used the clear water glass and the blue stemless wine glass. The blue color is so vibrant and adds such a fun pop to your table and the clear is so simple yet really beautiful as a basic to your every day glassware.
The pitcher and glass set is a great addition to your glassware collection. We loved using it on our table but it would also be a great piece to add to your guest room, what guest wouldn't love this set by their bed side table or in their bathroom to use for water or refreshments, now that's a good host!

Items we used
Table Linens
For this table we used a basic tablecloth, this neutral color can be used over and over again in your home, and we love doing a tablecloth at an angle to have it be a little different and interesting. Since we went neutral on the tablecloth we had to have some fun with the napkin!! We love us some yellow, and this yellow was just too pretty to not use!

Items we used
Olive Wood
Everyone should have some pretty olive wood pieces in their home collection, they look amazing standing on their own in your kitchen and they are incredibly useful! We especially love the round olive wood board, it's just so pretty and can be used in so many ways!
Items we used
Baskets
These beautiful baskets add so much to your table or really anywhere in your home. You can add anything into them, for our table we added artichokes and lemons, simple as that but makes such a pretty statement. They are great to use on your coffee table or as an accent in your home with something pretty inside, it doesn't have to be anything extravagant, we got our fillers at the grocery store!
Items we used
Pillows
The Little Market just launched a new line of Otomi pillows this past Monday ad we are so in love with them!! They remind us of vacations to Mexico and we love everything about that! The pillows come in a variety of colors and for this pretty table we had to go with blue and yellow of course! But there are many colors to choose from and are a great addition to your home, we love how fun they are!
Items we used
Tray
This lemon inspired summer backyard dinner table wouldn't be complete without lemonade!! It just happens to be our favorite summer beverage! We wanted something to cater to our guests and this tray was the perfect fit. It could also be used every day on your coffee table or dinner table with florals or photos to add a layer to your decor.
Item we used