Now that Christmas is officially over there's only one way to deal with our heartache…. Start making New Years plans!!!!  That's right, 2017 is coming up and we've got you covered this week with tons of inspiration!!  Starting with this amazing New Years Brunch with Lulu & Georgia.  I was lucky enough to style and design the first birthday party of Vivian Mae, the daughter of Lulu & Georgia CEO Sara Brenner earlier this year.  I loved working with Sara so much I had to reach out to see if she would be up for some fun styled shoots.  Lucky for me, she was!
The idea of a New Years Brunch with my girlfriends just makes me smile!  After a night out of debauchery, spending the day lounging with your gal pals drinking mimosas sounds like heaven!  I had the best team of vendors on this one and I'm thrilled to have it featured on Glitter Guide today!  Keep scrolling to see all of the pretty details and get inspired to host a fab New Years brunch of your own!!  You're gonna flip over all of the amazing Lulu & Georgia goodies!!
Photos by the talented Heather Kincaid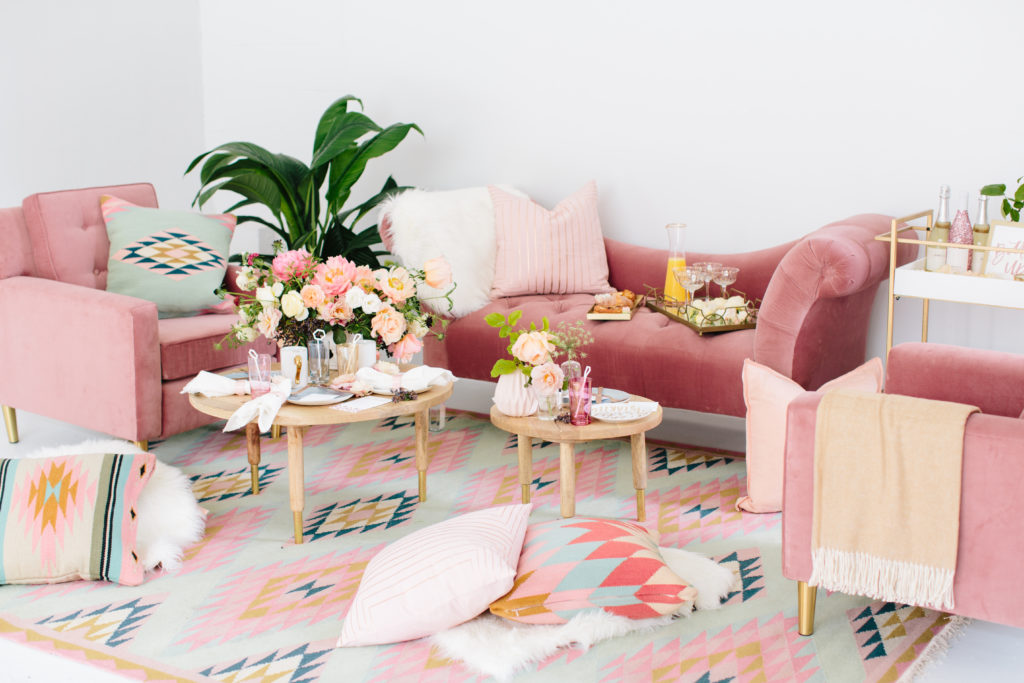 What pieces and details brought this party to life? 
 I have been a huge fan of the Elodie collection from Lulu & Georgia and Glitter Guide since the minute I saw it.  I love the mix of colors and print and thought it would be the perfect inspiration for this gathering at home!  I mean, who wouldn't love to have that rug in their home?!  All of the vendors involved had so much fun creating pieces inspired by the Elodie, I especially love the invite Twinkle & Toast created that used the print and colors perfectly!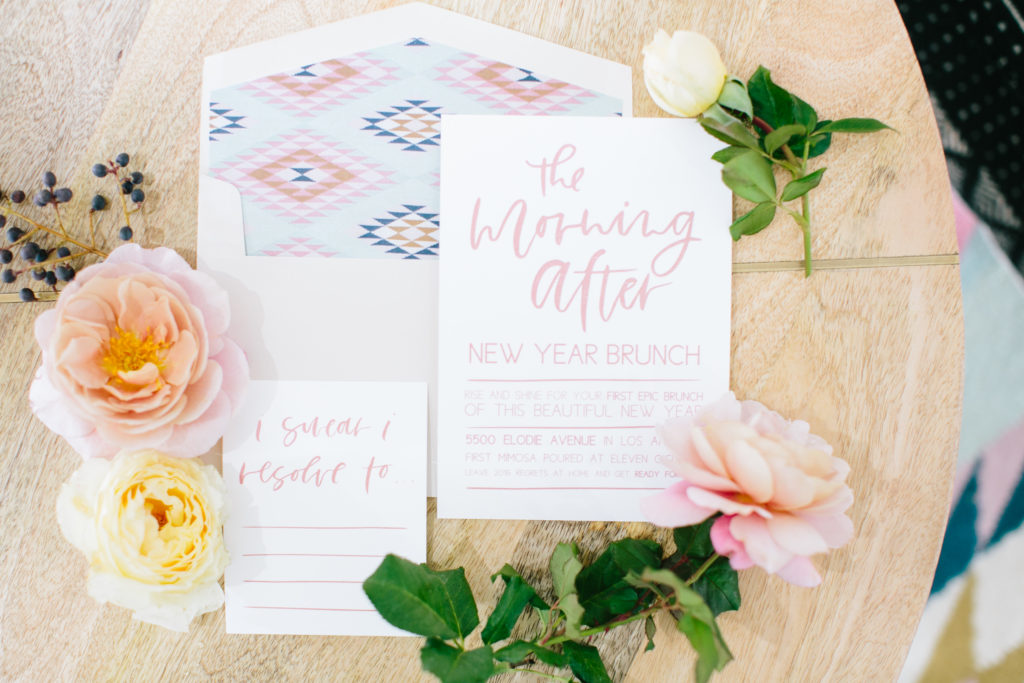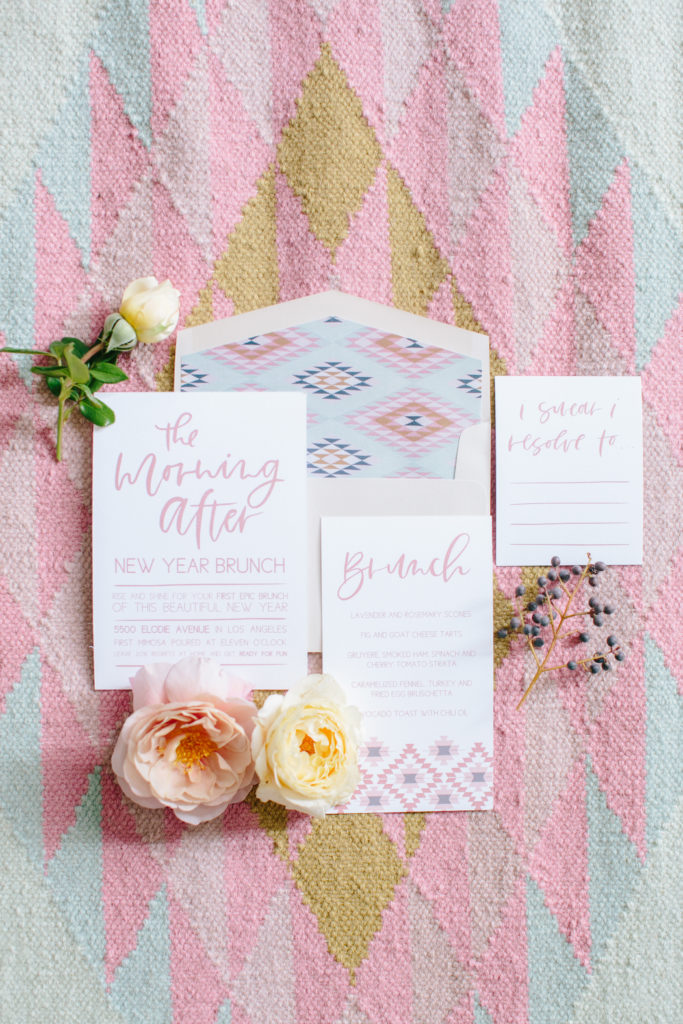 We love the concept of a New Year's Day brunch! What inspired this type of holiday celebration?
I love it too!  NYE is always an amazing celebration but I like to keep the party going and love the idea of having a girls slumber party with fun festivities to continue the next morning!  Plus, we all could use a little hair of the dog the day after such a fun filled cocktail infused night out :)  And lastly, you want to start the new year off right with close friends and fun times, so this is just how you do that!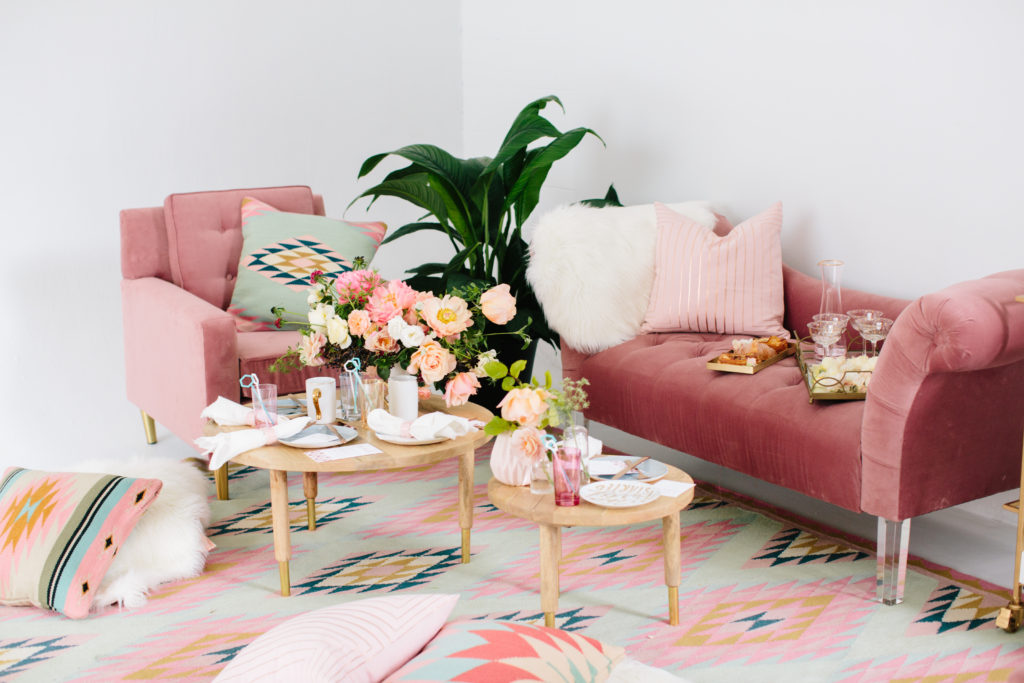 How gorgeous are the flowers by Bloom Babes?!  They go with the whole color scheme so well and they are exactly what you want to see to kick off a new year!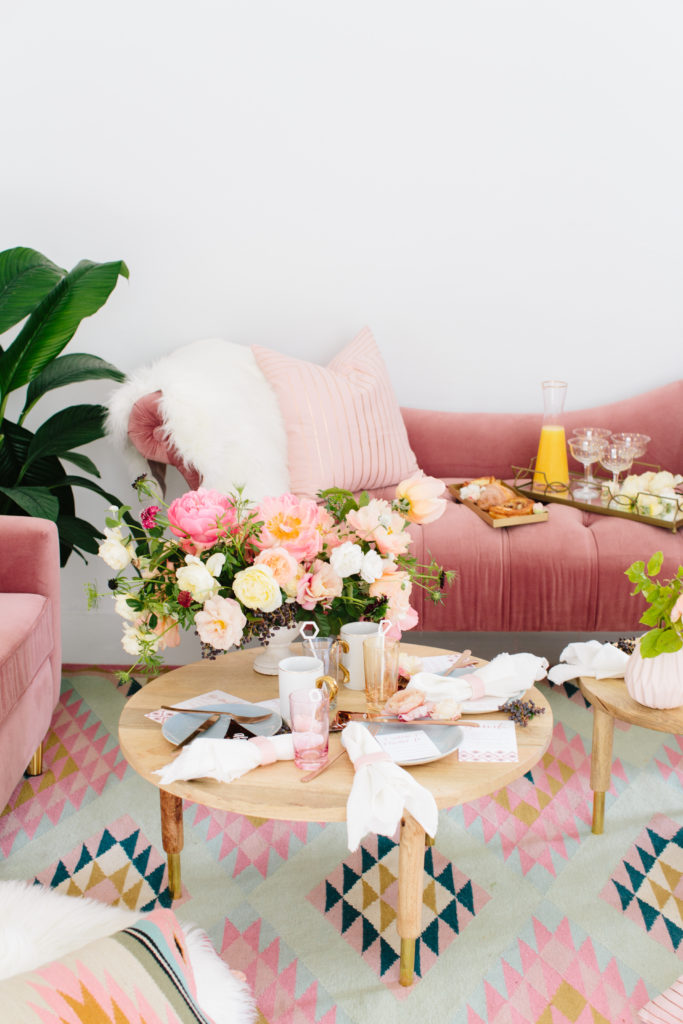 Tell us about the menu! 
I love brunch foods, to me that's the best meal of the day!  So for the menu I had to have something delicious but pretty as well!  There is an array of sweet and salty, which is also important to appease everyone's taste buds.  Plus, some good hang over options for the ladies who had a little too much fun the night before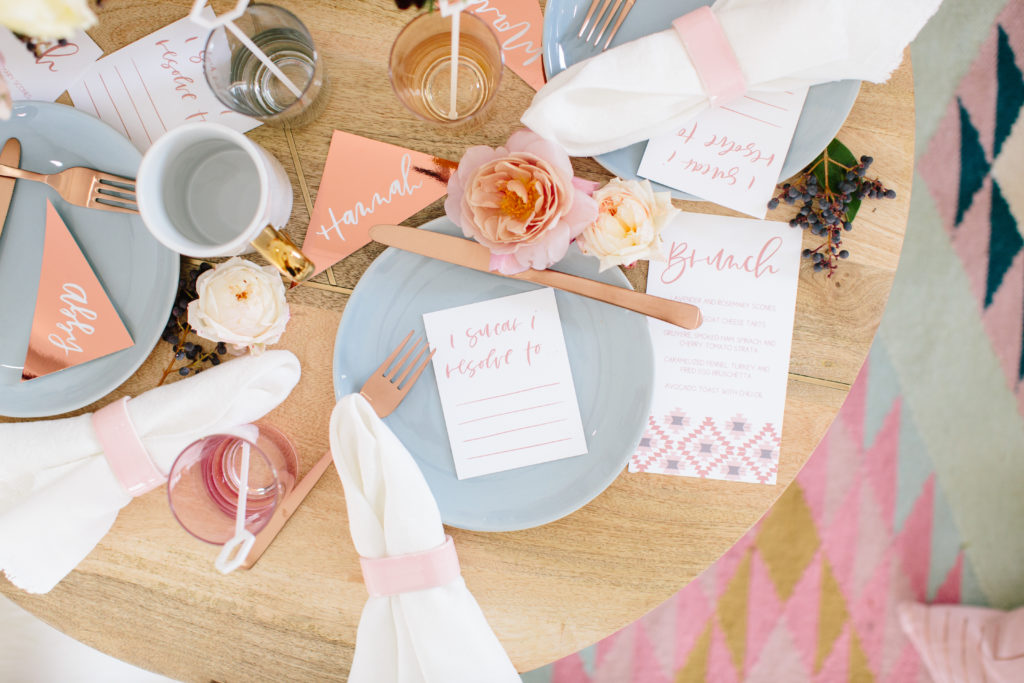 Custom menus, resolution cards, and really rad copper place cards by Twinkle & Toast.  Also, loving the custom cocktail stirrers from The Roc Shop!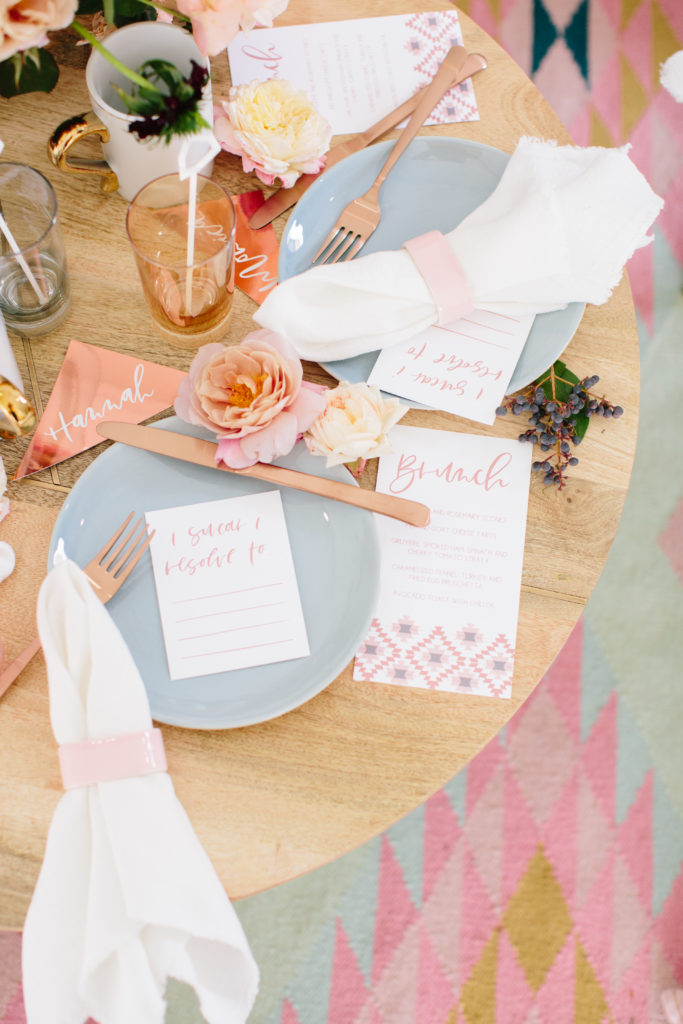 What are three things every holiday party has to have? 
Good food, yummy cocktails and festive friends!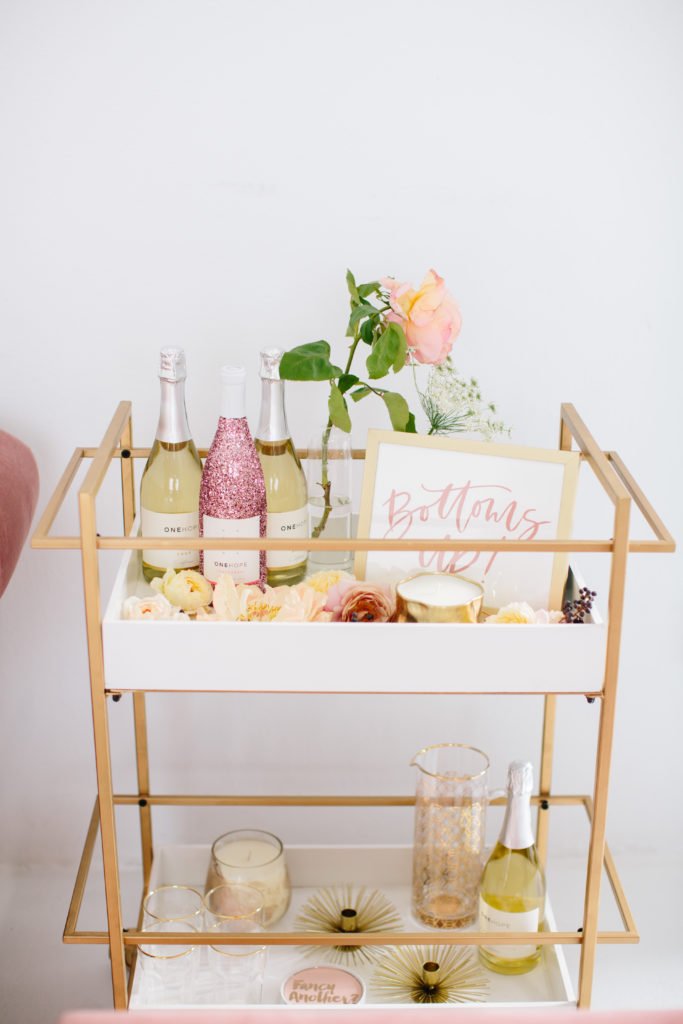 How did you settle on that pretty pink color palette for the party? 
I wanted something different for this NY celebration.  New Years tends to be all about black, gold and white but I wanted something different!  I love the idea of having a girls get together with these pretty hues and that soft pink really stole my heart!  The pretty pink Lulu & Georgia settee played off the colors of the Elodie rug so well and I just love the way it all turned out!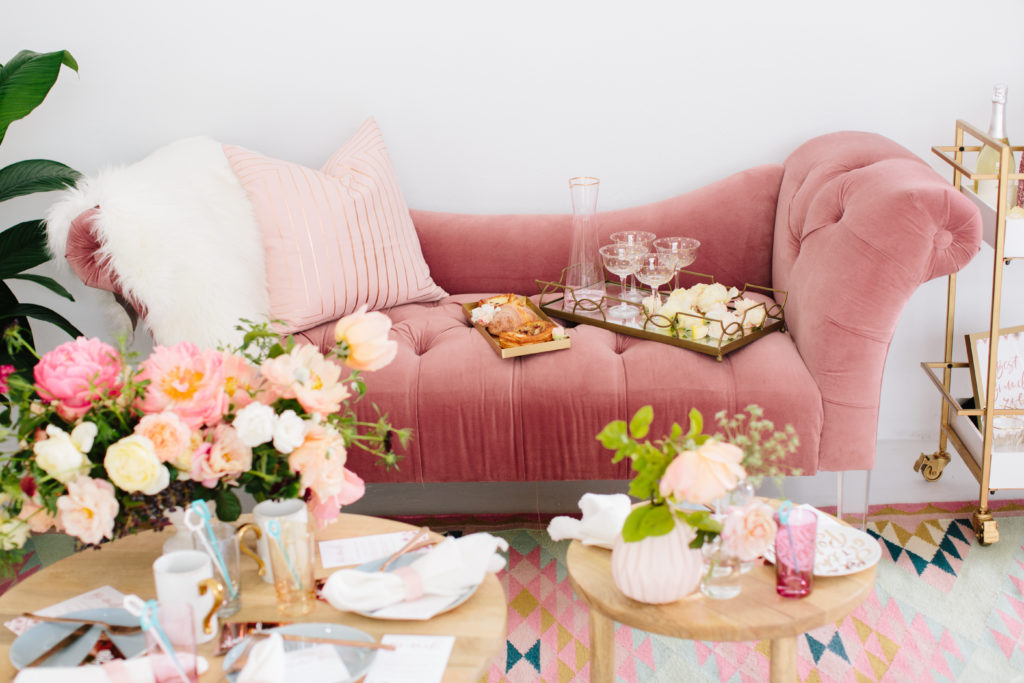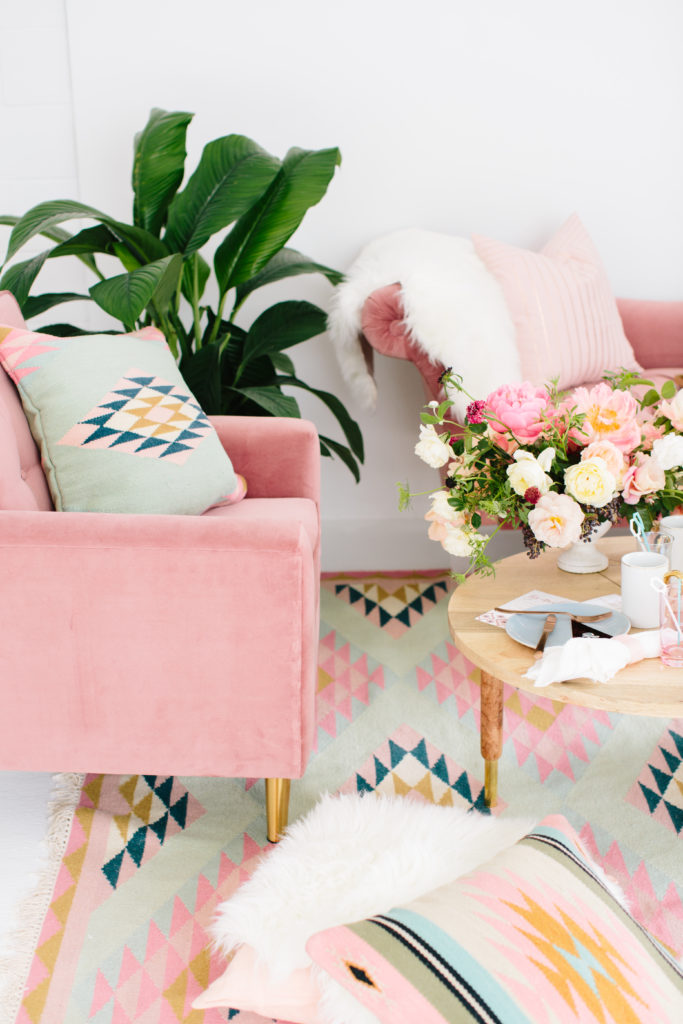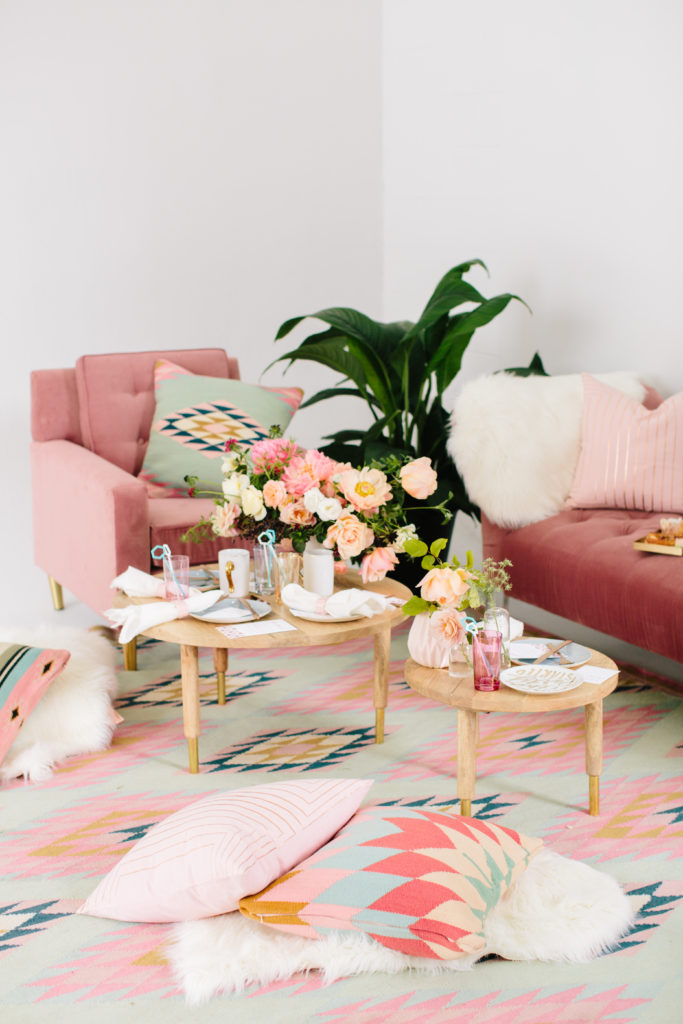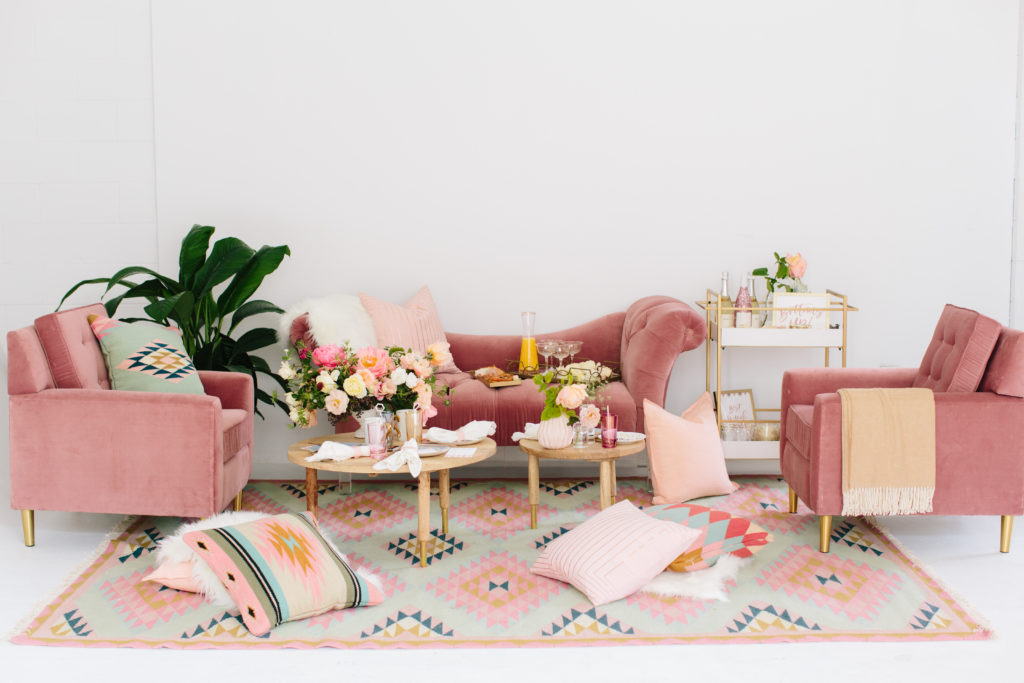 Now let's get our models in here, who really know how to party!!  Especially when some One Hope champs is involved!  Bottoms up!
I'm really feeling the new Bruno Mars album and gotta have some Bieber!!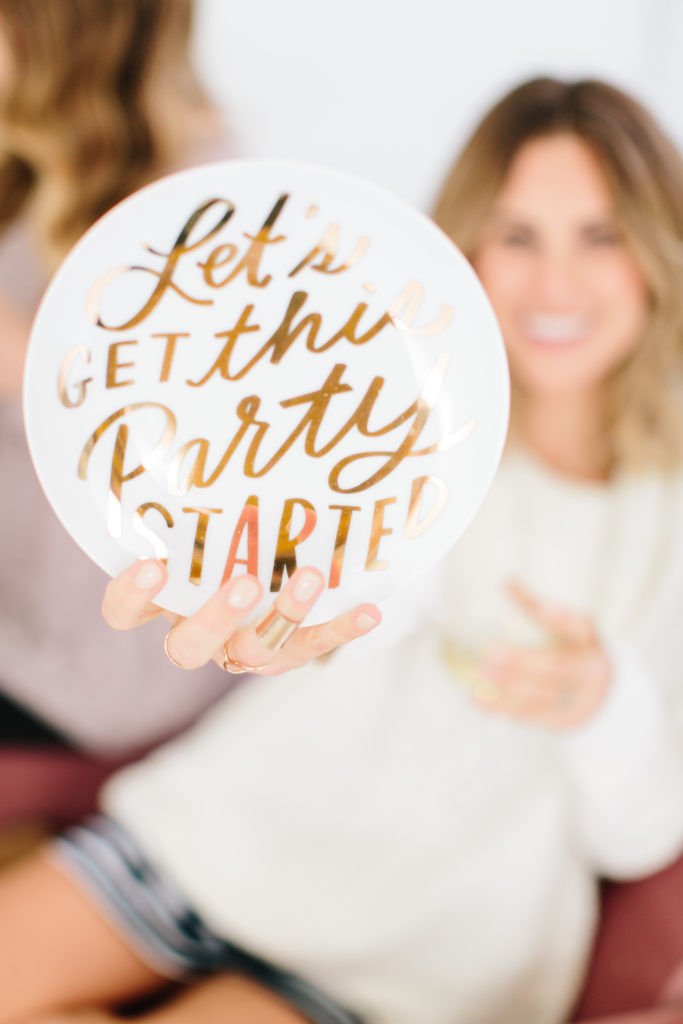 All of our models are keeping cozy in Show Me Your Mumu and looking pretty thanks to Fiore Beauty, and genetics of course ;)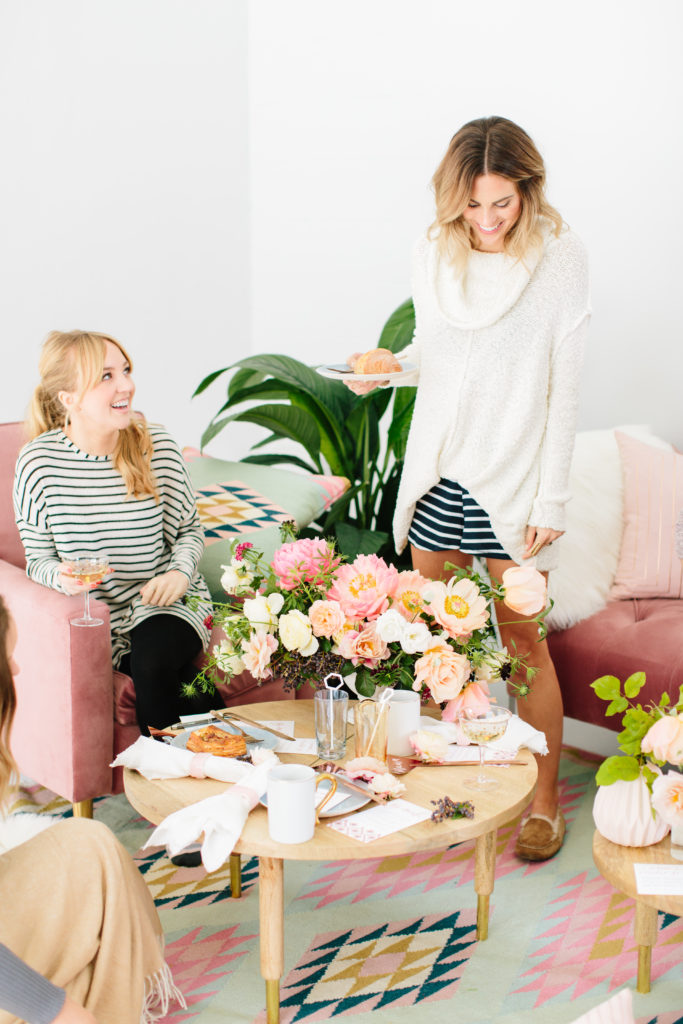 Do you have any stress-free party-planning tips to share? 
Do as much as you can the day before… Pre prep food, set up your home for everything you can, all of that tedious stuff.  The less you have to do the day of the more you can enjoy yourself and have fun!  Which is what planning and throwing an event is all about.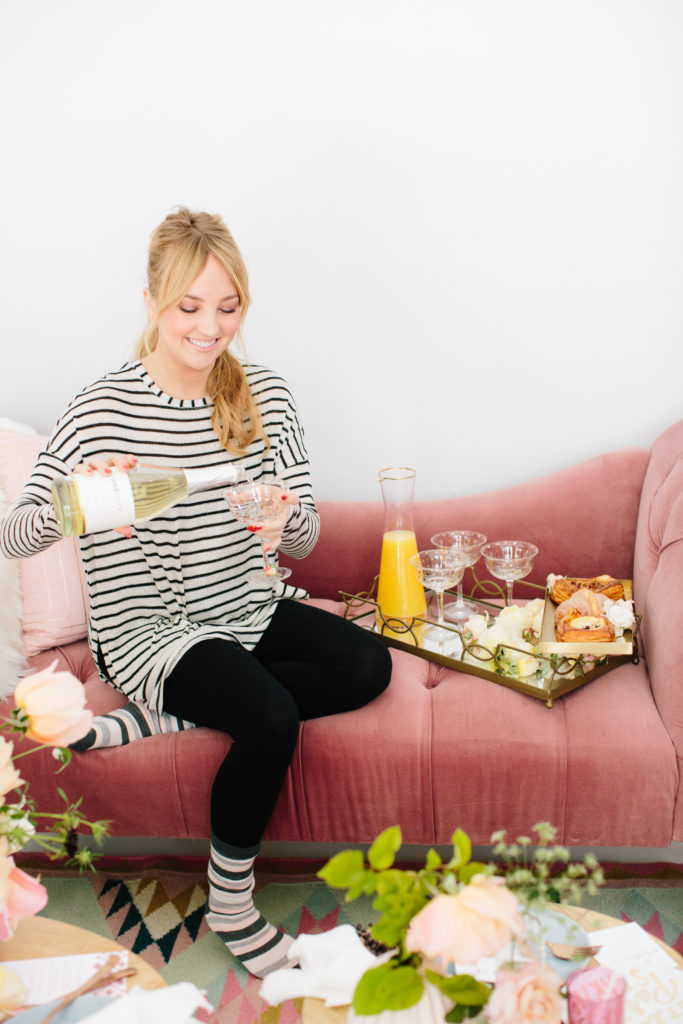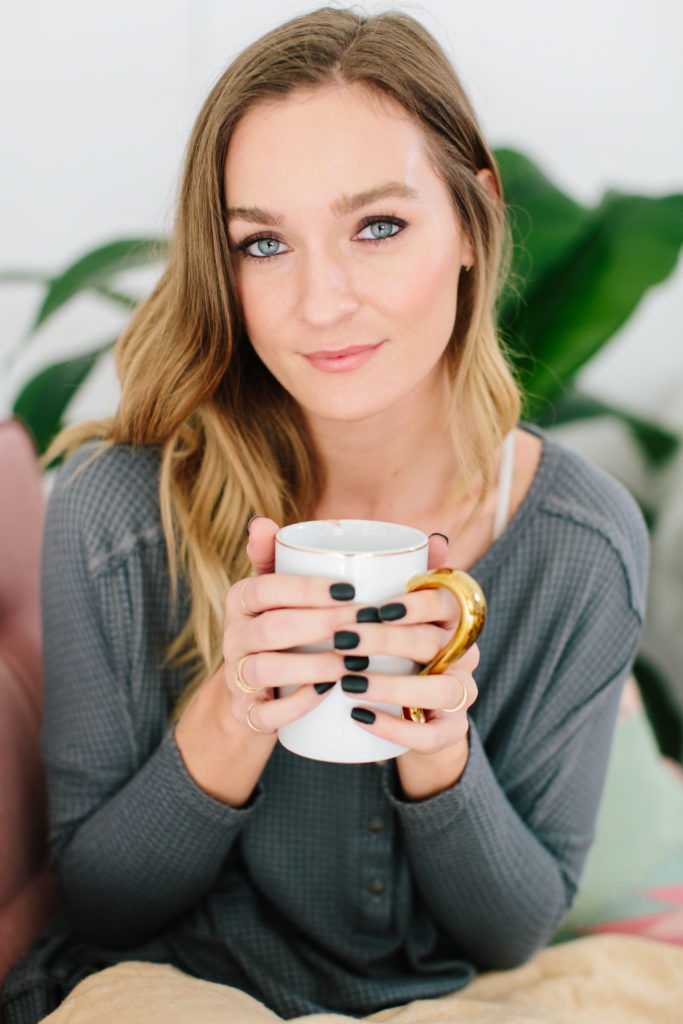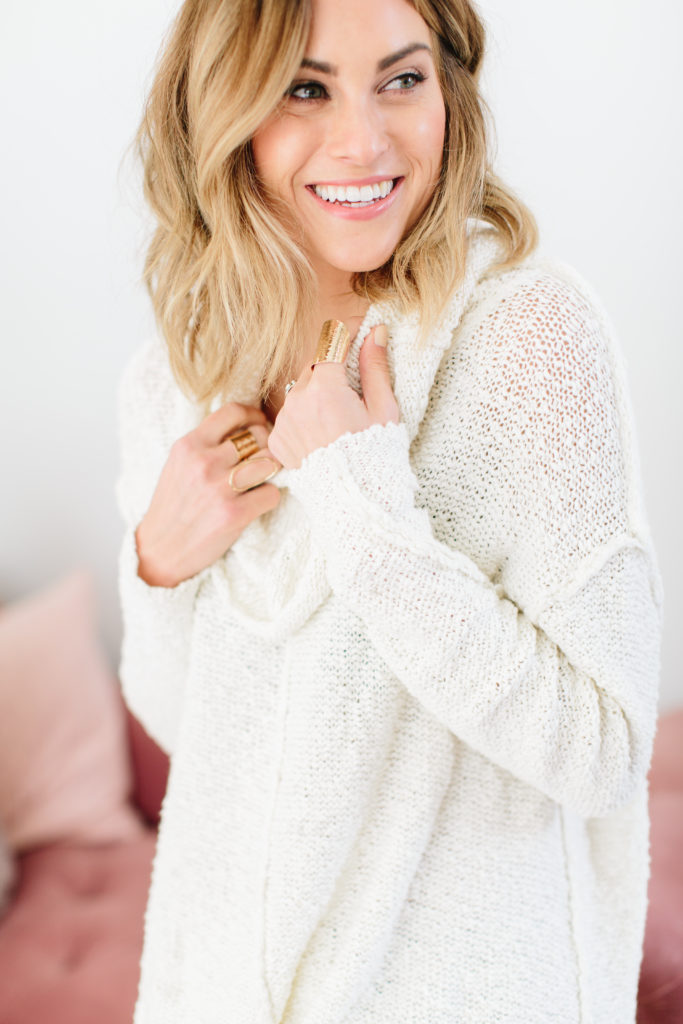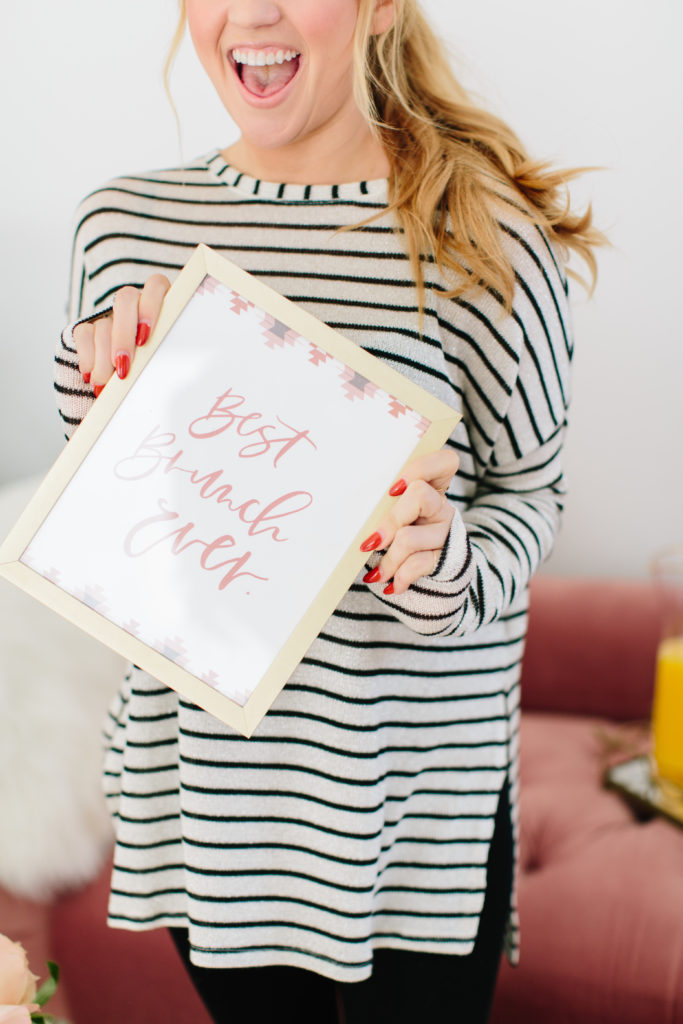 What are your New Year resolution for 2017? 
Something I want to focus on is more time on myself, whether it's working out, resting, reading more books.  Just finding time for me and taking care of myself!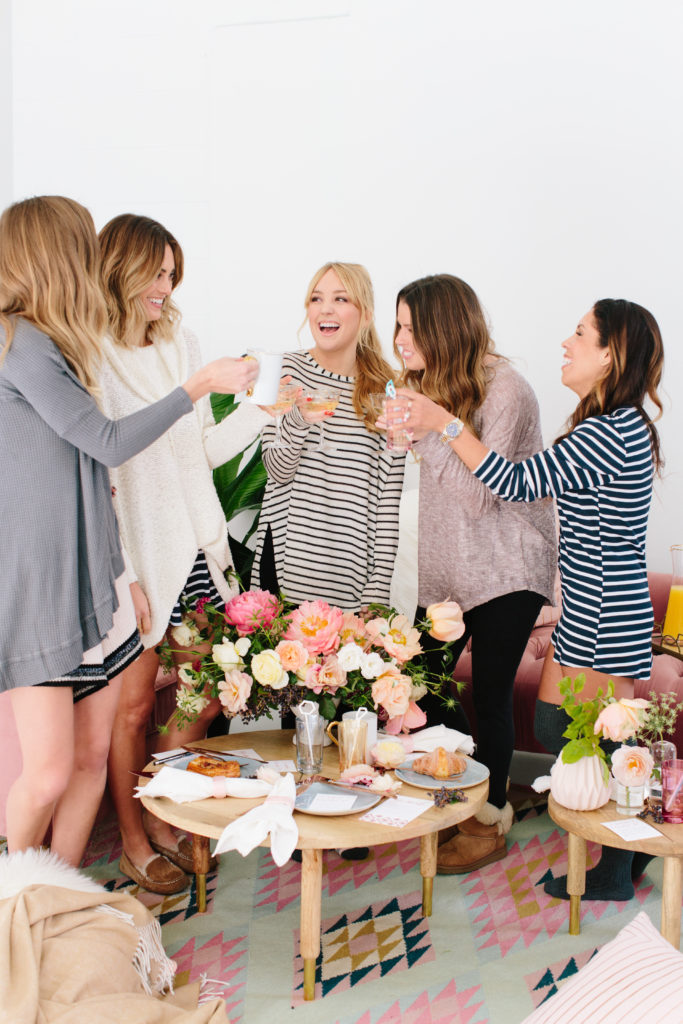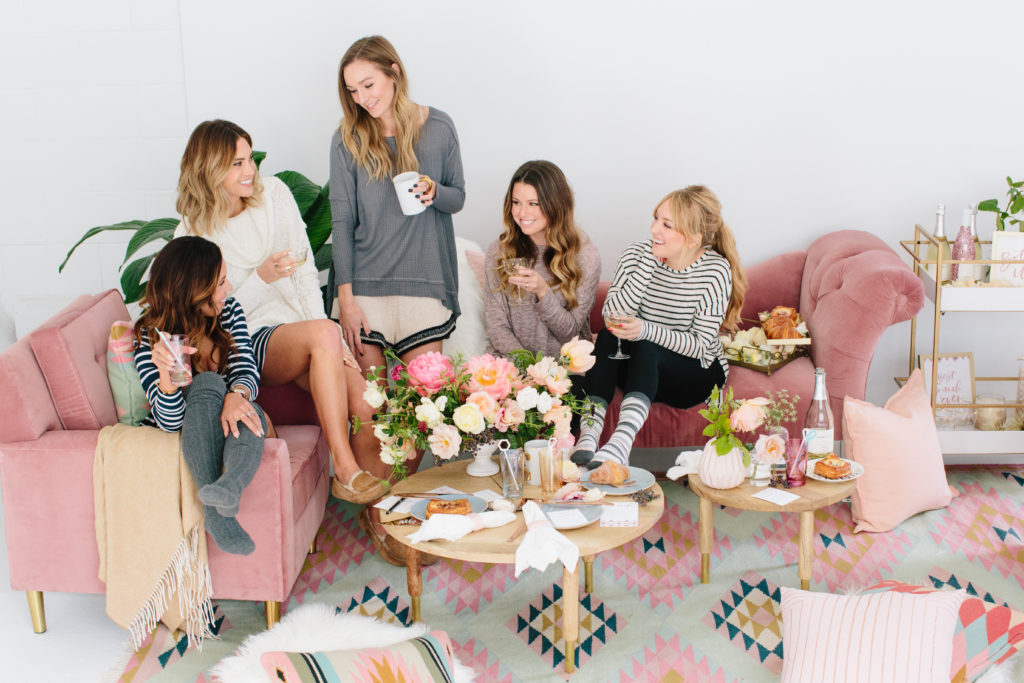 Hope you enjoyed this New Years Brunch with Lulu & Georgia as much as we did!!  Now go out and plan that brunch and make it a dreamy affair like this one!
xx
Jacquelyn
Vendors:
Design & Styling – Beijos Events
Furniture/Tabletop/Decor – Lulu & Georgia
Photographer – Heather Kincaid
Florals – Bloom Babes
Paper Goods – Twinkle & Toast
Hair & Makeup – Fiore Beauty
Wardrobe – Show Me Your Mumu
Champagne – One Hope
Cocktail Stirrers – The Roc Shop