If you haven't been living under a rock, then you know that the off the shoulder trend is one of this Spring's top styles. We saw it peak its head last summer, but it's making its way to the top pick this spring. We are under their spell, and loving every bit of it. A combination of sweet and sexy that has us craving more…. more… more!
Photos by Danielle Gillett & Megan Welker
Jacquelyn's Hair by 1011 Makeup
You can shop all our looks at the bottom of our post!
First, we have Jacquelyn wearing this flowy Maison Dress by MLM Label, and this spicy colored number is effortlessly perfect for this spring. Jacquelyn loves this dress cause not only is it timeless and can go from season to season, but it's also breastfeeding friendly.
Paired with her favorite spring essentials: Cleobella Mexicana Clutch, suede mules by Matisse, and her trusty Wyeth Eyewear Calyer.
Loving the mini off the shoulder as much as we do? Here are some other numbers we love for this spring.
Off the Shoulder Shift Dress | Self- Tie Off the Shoulder Dress | Casita Dress by Show Me Your Mumu | Dev Off the Shoulder Minidress
Next up, I'm wearing this Sheer Bliss Dress by Amuse Society in Black Sands that I bought on Revolve. I love Amuse Society case you find it on Revolve, Amazon, and even at Nordstrom now. The best part is that they are super affordable. Can't beat that!
Paired with my Wyeth Eyewear Baxter in Opaque Champagne and Lilac Gladiator Sandals. Yes, I have the same pair in different colors. When you find a sandal at Target that is stylish and affordable, you buy them in all the colors! I also got them when they were having their BOGO sale.
More flowy floral gems that we have all the heart eyes for!
Hacienda Maxi Dress in Poppy Daze | Joie Avatara Maxi in Dark Navy | Tularosa Henderson Maxi Dress | Samba Gown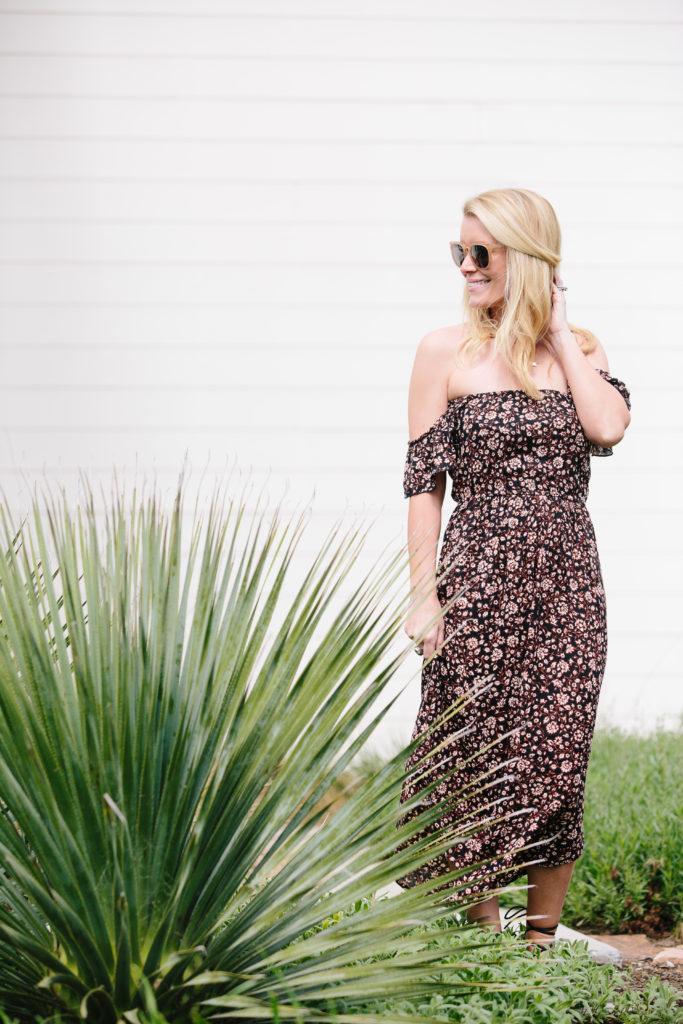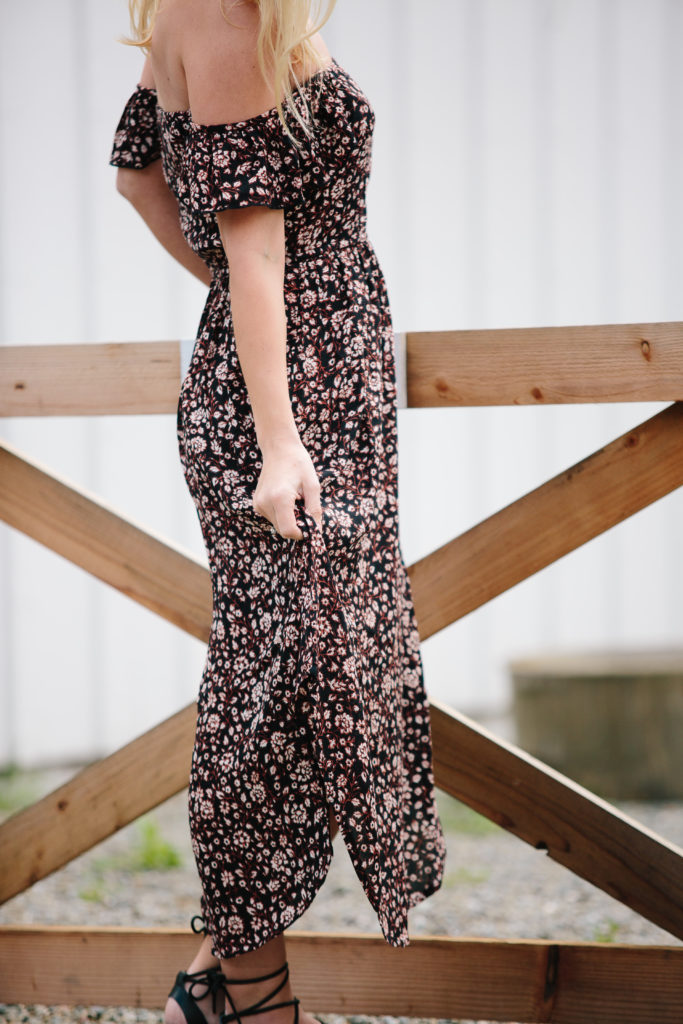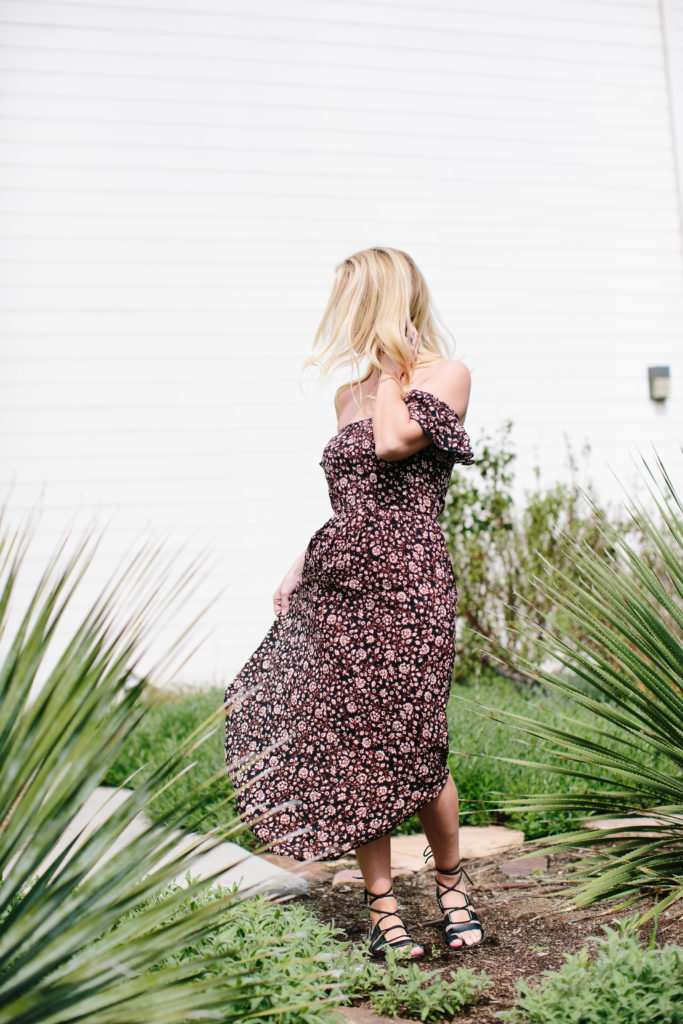 Now, I really love this little number on Jacquelyn. This embroidered Rebecca Minkoff Celestine top can be worn all thru spring. The eyelet embroidered pattern is also another spring trend, so you are double in style now! To complete the look, pair with some white denim cut-offs, nude sandals, and sunnies. Now you have a spring staple to add to your closet.
More eyelet off the shoulder tops!
Eyelet Ruffle Off the Shoulder | Eyelet Off the Shoulder Crop Top | Forever 21 Eyelet Top | Sea Eyelet Top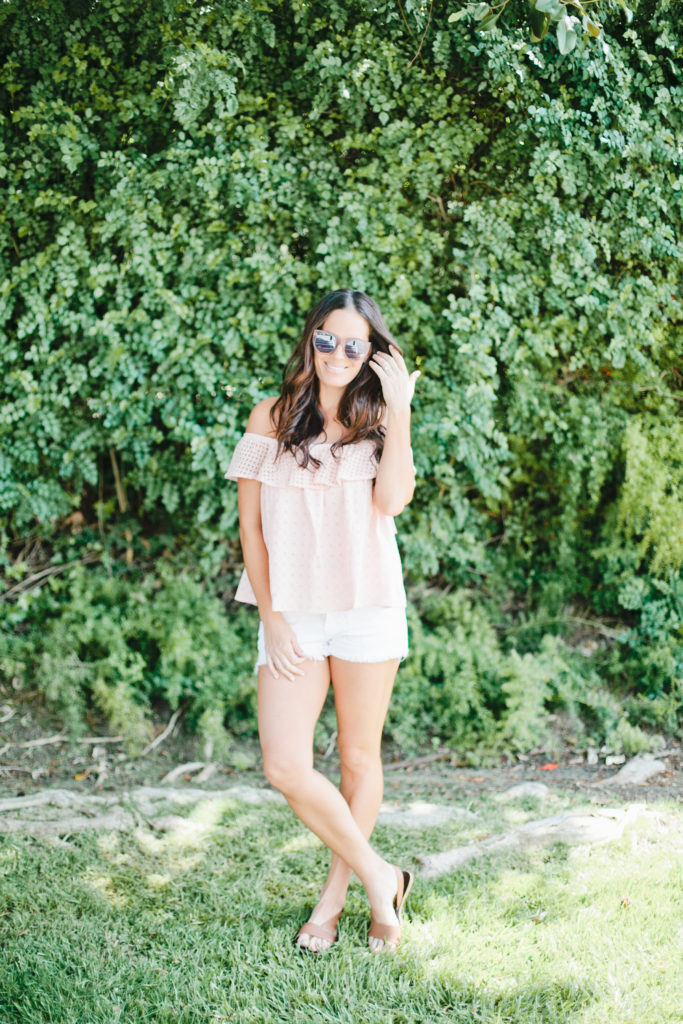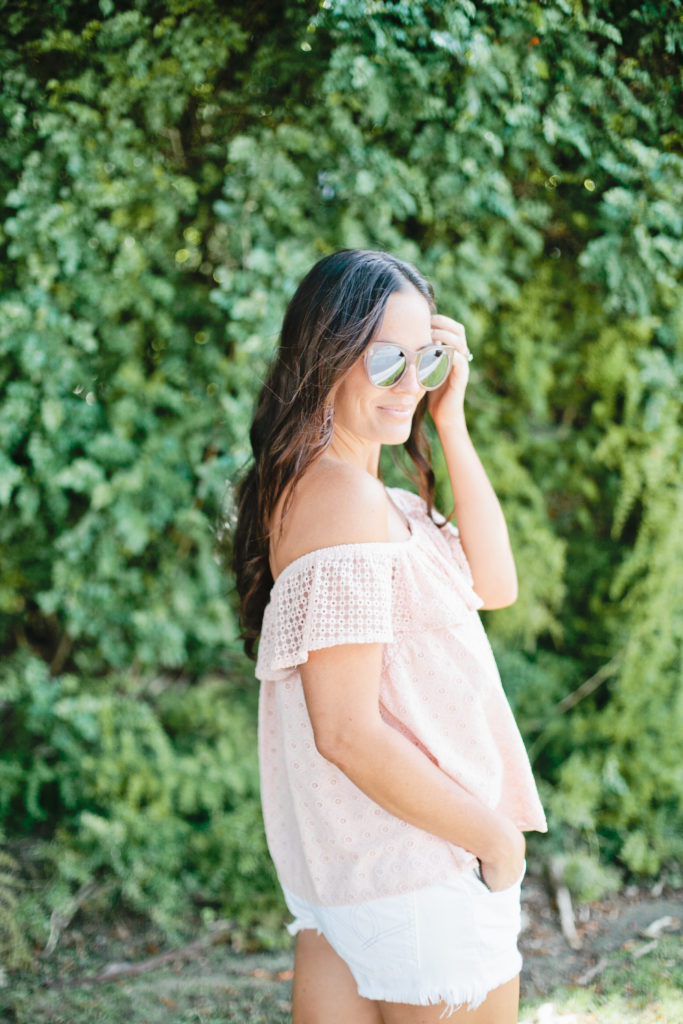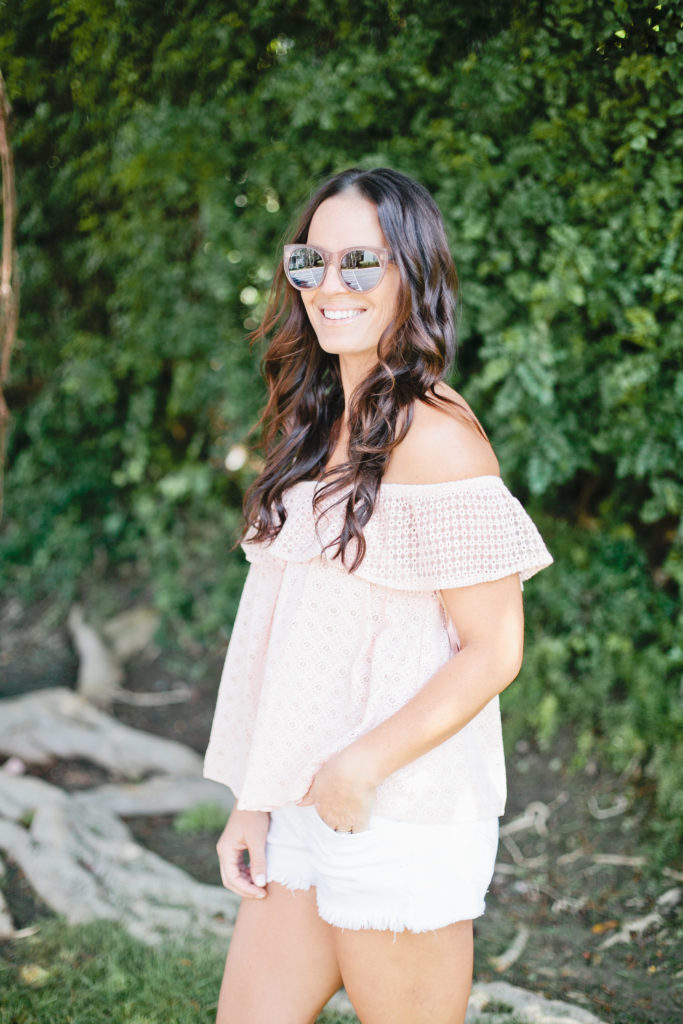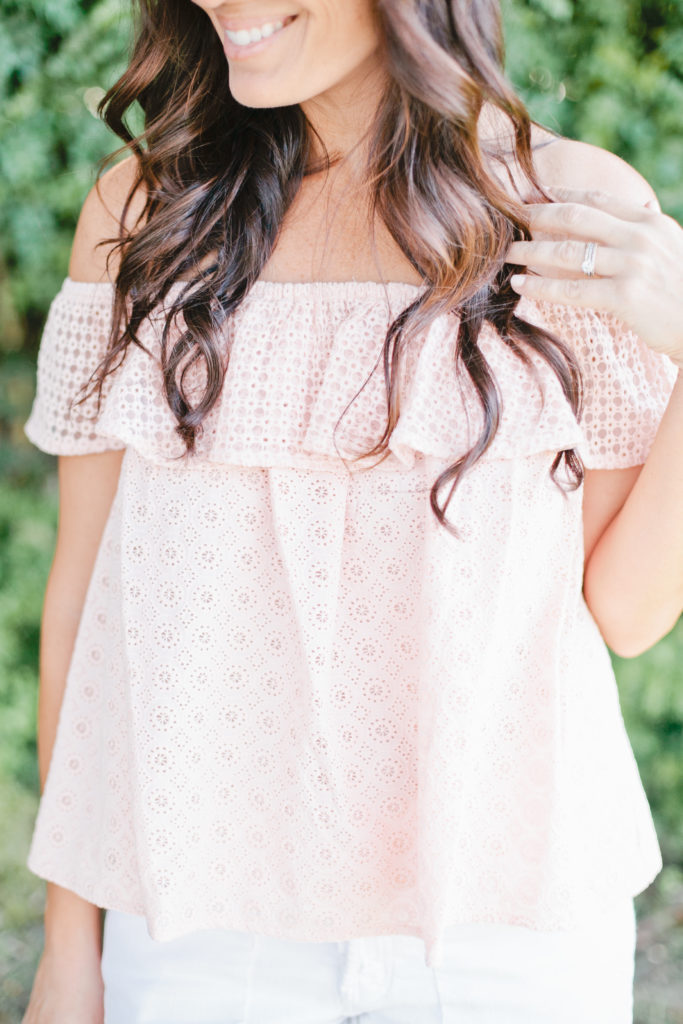 Now, our last look. Let's just talk briefly about mom jeans. When I was a young little know it all in the 80's, fluffy bangs and all, I thought mom jeans were worn strictly just to humiliate your child at school pickup. Well, now as a mom I had to give it a try right? It was time to come full circle. Being 5'2 1/2″ (yes! I count that 1/2 inch), there are a lot of styles I just can't pull off due to the lack of my stems. But, I gave it my all and wore those moms jeans like no one's business. I have to admit they are comfy. However, the debate is still out on them.
I paired those bad ass jeans with the flouncy Pretty Lady Tee by Free People. A perfect tee to cover that wiggle jiggle arm action I like to hide. I tucked in the shirt for full mom jean effect and paired with my Lilac Gladiators by Mossimo, and Wyeth Eyewear Dilworth sunnies. Easy off the shoulder action attire you can wear everyday around town, or show up to school and embarrass this generation's know it alls.
Some other favorite white off the shoulder tees if this one doesn't tickle your fancy.
Lush- Off the Shoulder Top | Clean Off the Shoulder Top | Amuse Society Copeland | Free People Love Letter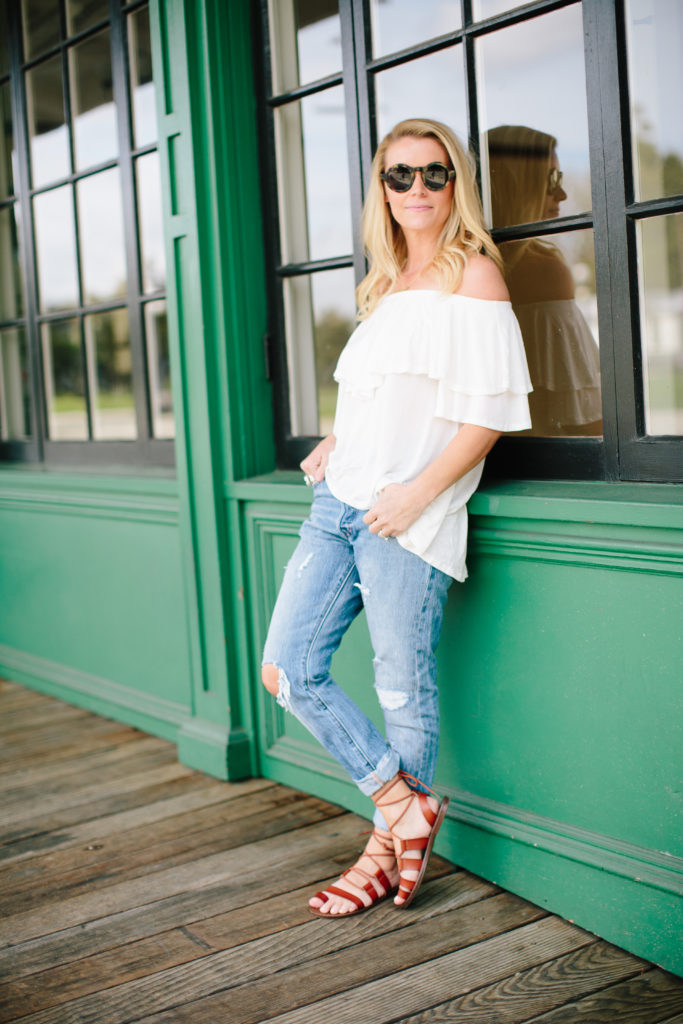 Let's go show off those sexy shoulders, ladies!
Shop the post!

xx
Abby