Everything in October in our house is full-blown Halloween-themed. It's my favorite holiday, and I take any opportunity to celebrate it. Last year, I was all about wasabi spiderwebbed deviled eggs, and this year it's all about the black pasta. I thought to myself, how cool it would be to do a black pasta. I got this idea from a color-changing pasta I did a couple of years ago; see it here. This is a fun idea for a Halloween dinner party and even makes some spooky fun for the kids. It's quick and easy and loaded with yummy flavors of chili oil and garlic.

Photos by Dayna Studios
---
---
WHAT IS SQUID INK PASTA?

Squid ink has a very neutral taste on its own, so its flavor comes mostly from its surroundings. Squid ink has a richness that brings truffles to mind while adding the saltiness of an oyster. When used in pasta, it is used mainly for dramatic color presentation and does not change the taste of the pasta itself.
---
SPOOKY BLACK PASTA
SERVES: 4 spooky ghouls | PREP: 5 MINUTES | COOK: 10 MINUTES
W H A T   Y A   N E E D

6 large garlic cloves
1 tablespoon salt
1 lb dried squid ink spaghetti
⅓ cup olive oil
1 teaspoon crushed red pepper flakes
1 tablespoon crunchy garlic chili oil

B U S T O U T

Large Pans
---
I N S T R U C T I O N S

1st, let's boil some water, add salt and cook the pasta to al dente. Chop up all the garlic and set it aside. Grab a large pan, and heat the olive oil and the garlic you just chopped up. Cook over low heat for about 4 minutes, frequently stirring to avoid burning the garlic. Add the red pepper flakes and cook for 30 seconds more.

Before draining the pasta, grab 1/2 cup of pasta water and add it to the garlic oil. Grab another cup of the pasta water and set it aside. Drain the pasta. Add the pasta to the garlic oil mixture. Toss and coat the pasta over medium-high heat. Add more cooking water if needed, then serve immediately. If you like it spicier, add the crunchy garlic oil and toss to combine.

Serve up!
---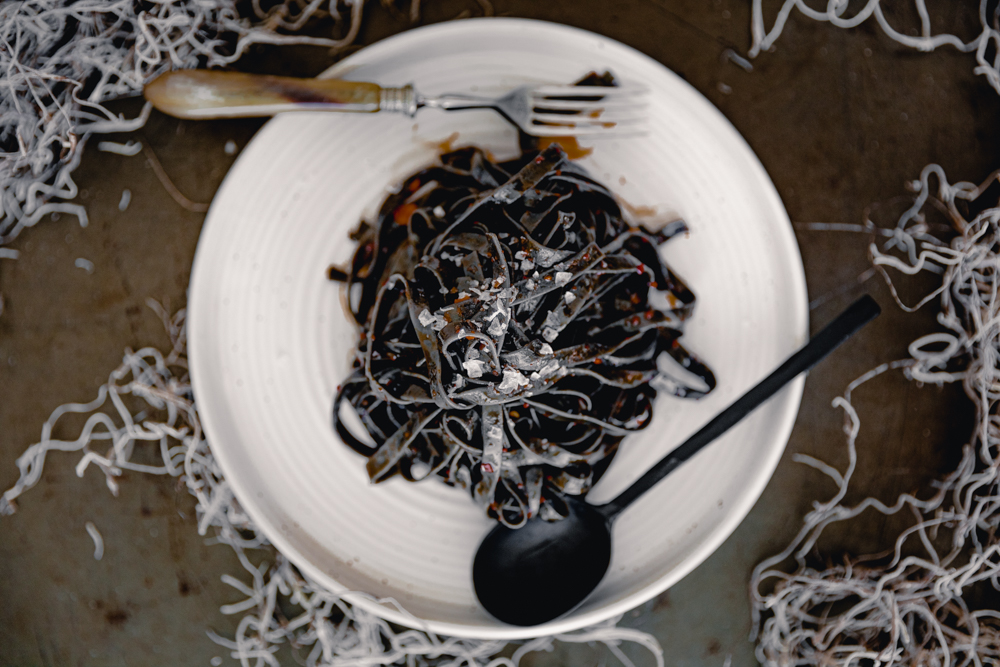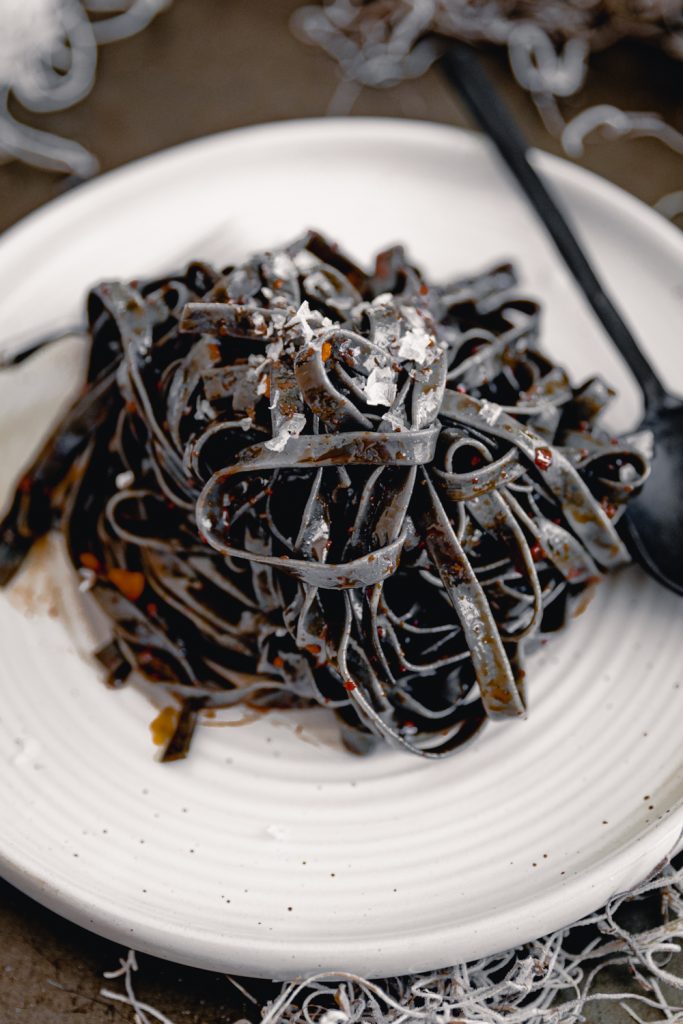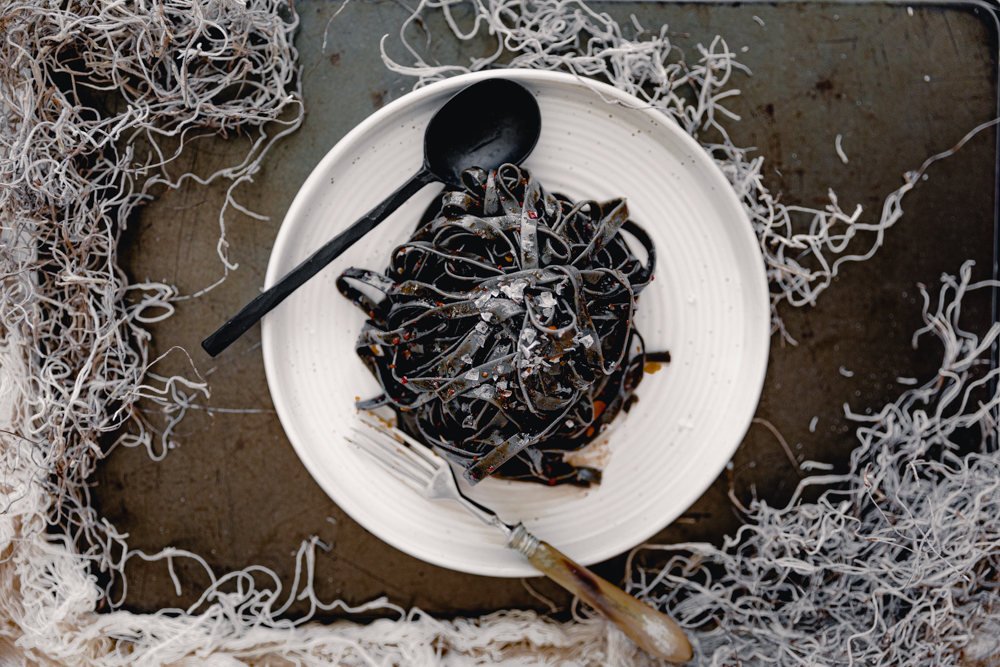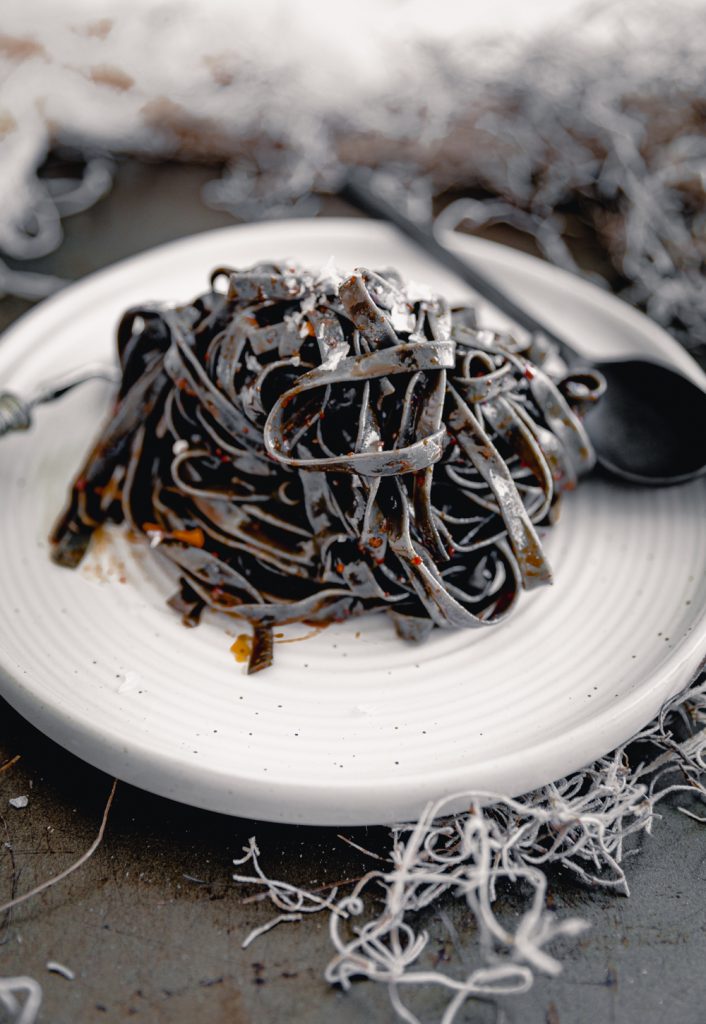 ---
B E I J O S  K I T C H E N  

xx
Abby