---
Calling all cactus pear lovers! Please stop what you are doing, and immediately consume this cocktail. The cactus lady, she is tropical, is a hot pink beauty, and is the hit of the party in her rose gold pineapple tumbler. Don't let this pretty cocktail fool you; it means business.
Cactus pears are in season right now, and we love using them in our cocktails. See the Prickly Pear Margarita we also made this summer. We are taking it up a step and adding a bit of a kick with some ginger. This changes the whole flavor around.
See how to make the palm frond cocktail here.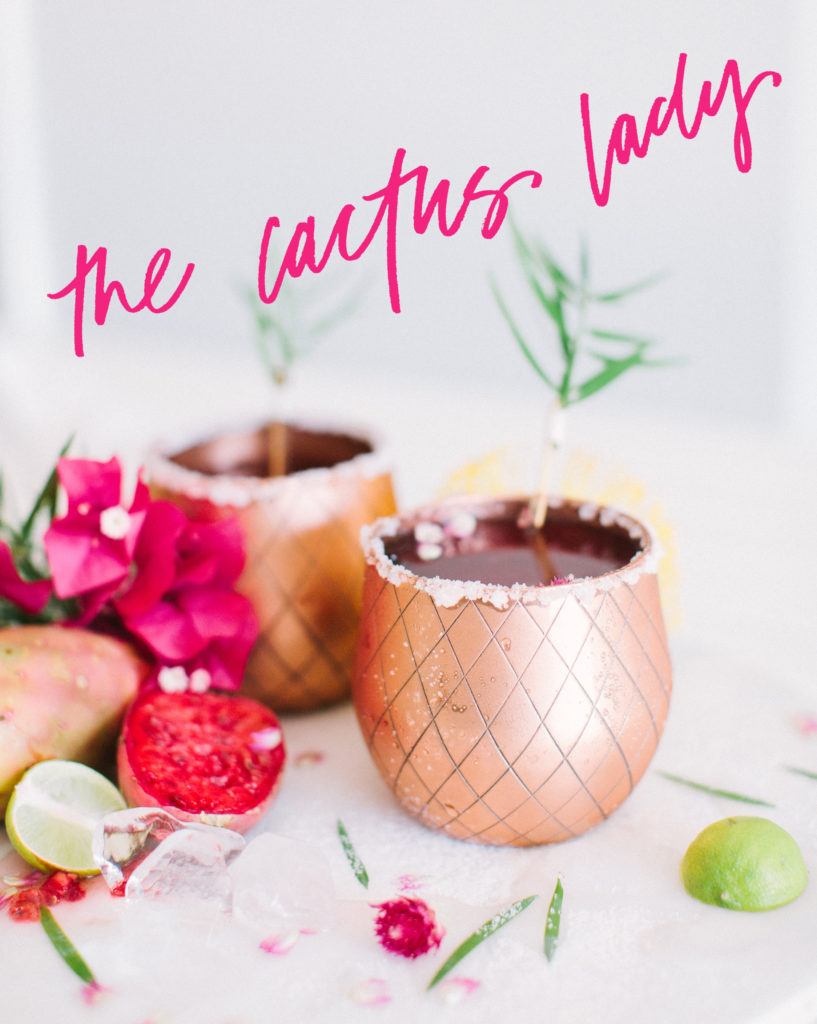 Photos by Yasmin Sarai
Now, you can go ahead and buy the prickly pear simple syrup, but cmon the real deal is just better. So get up and make the syrup, here is how we made it.
Cactus Pear Simple Syrup
Ingredients
2 1/2 pounds prickly pears aka cactus pears
1/2 cup water
1 cup sugar
One bunch fresh mint
One cinnamon stick
One vanilla bean, split lengthwise
Directions
With the tip of a sharp knife, scrape off the thorns of the prickly pears. Cut off the ends of the fruit and then make a lengthwise slit through the skin and peel off and discard the skin. Repeat with the remaining fruit. Cut the fruit into large pieces, transfer to a food processor and process until pureed. Strain through a fine sieve. There should be approximately 2 cups of liquid.
In a saucepan, combine the prickly pear puree, water, sugar, mint, and the cinnamon stick. Be sure to scrape the seeds from the vanilla, and then put both the seeds and the pod into the pan. Bring the mixture to a boil over medium heat stirring to dissolve the sugar. Reduce the heat to a simmer and cook uncovered for about 20 minutes. Taste to make sure that the flavors are balanced. Strain through a fine mesh sieve.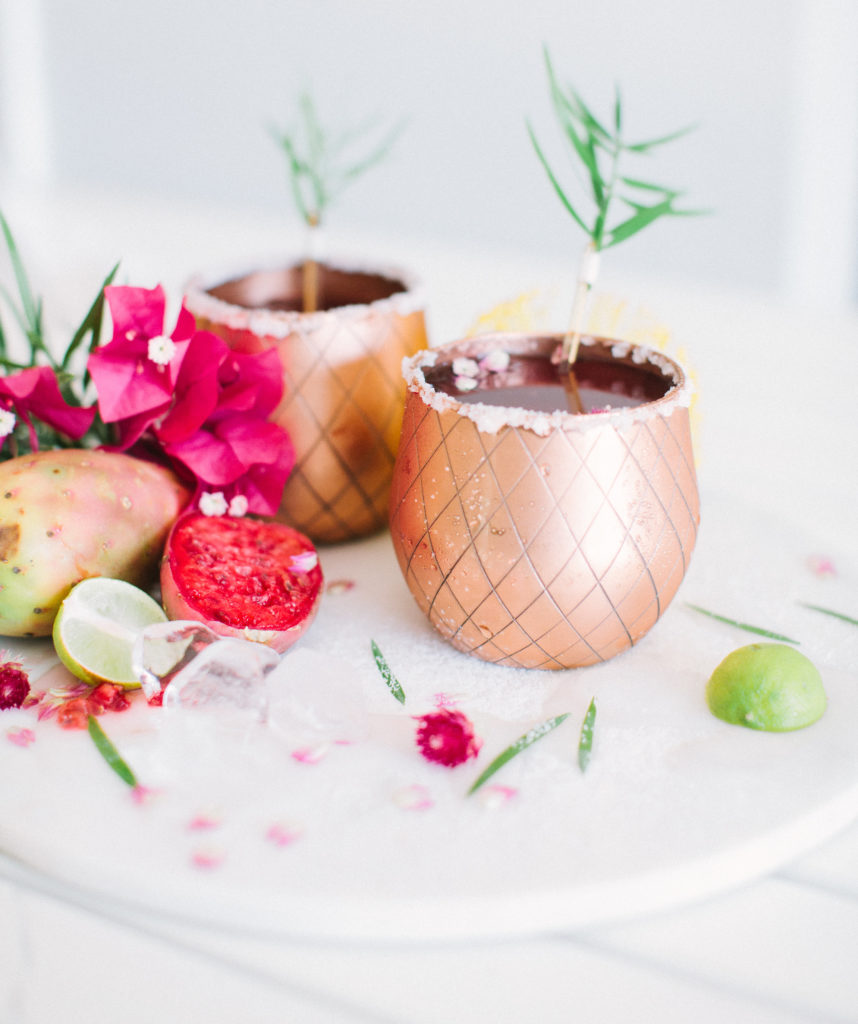 The Cactus Lady
Serving: 1 cocktail
Ingredients
Three tablespoons mezcal
*this will give you a nice smoky flavor
Two tablespoons ginger liqueur
1-2 tablespoons of the cactus pear simple syrup
* Adjust to your tasting, I like my cocktails a bit sweeter, so I added two tablespoons
One tablespoon fresh squeezed lime juice
Ice
margarita salt *optional
Lime slices for garnish
Directions
1st fill a small plate with some of the simple syrup, you will use this to rim your cup with salt. Dip in simple syrup and then your margarita salt. Fill your glass to the top with crushed ice. In a shaker, combine simple syrup, mezcal, and fresh lime juice. Shake! Pour mixture into the salted rimmed cup. Add lime slices and enjoy! For that extra Beijos touch, add some flowers for presentation.
Lets us know how your hang out with the cactus lady is! She is one of our favs!
xx
Abby