If you follow along with us and our blog then you know that my sister and Beijos blogging bride Janna is getting married, in fact she's getting married this Saturday!!! Eeek!!!!  It's here and I can't believe it!!  All of the planning is finally coming to fruition and I couldn't be more thrilled, I can't wait to share it all with you eventually.  Until then I am sharing her second bridal shower with you today, you may remember the first rosé inspired shower that I threw for her last Fall at my parent's home in San Jose, this one was held down in Los Angeles where she lives.
Now let me say this, when your best friend and only sister is getting married you really want to go all out, and when you are an event designer you really really want to go all out and that is how I felt about my sister Janna.  The first step in designing anything for me is getting inspired by a theme or color concept and since her first shower had been very pretty and a bit more traditional I wanted this Southern Cali soiree to be a bit more playful and fun.  Janna met her fiancee Sean up north and they actually went to high school together, but didn't date till much later after college and what not, to solidify the relationship he moved down to Los Angeles to live with her and the rest is history.  So I thought to myself, Southern California is where it all got serious, why not use that as my inspiration!  I was thinking palm trees and sunshine and that lead me to this fun and colorful event!  You can also see this shower on 100LayerCake today!!
Special thanks to Megan Welker for taking all the beautiful photos, all the lovely vendors who made it possible, my amazing mom and bestie/business partner Leah who helped me SO much, and of course her sweet bridesmaids who helped make it come together!  Now get ready for lots of sunshine, a whole lot of pretty and tons of bridal shower inspiration, here we go…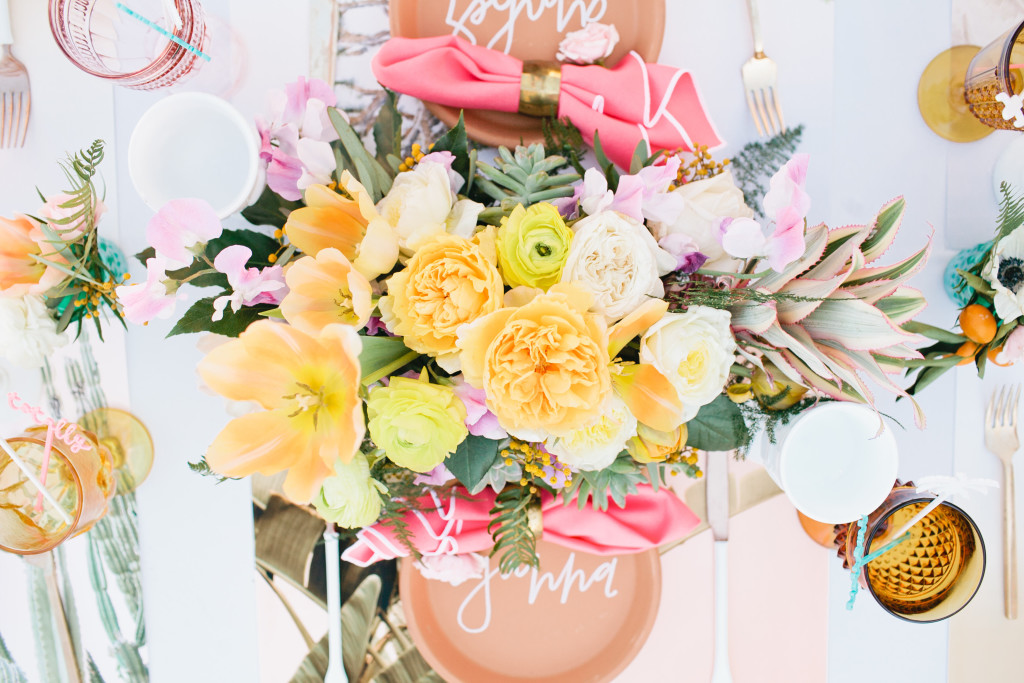 The first piece of inspiration was finding Wilder California, I am obsessed with her art prints and the colors she uses inspired me so much for this shower, I love all of the soft pinks and the landscape shots of California she takes.  I used her prints as placemats for each guest which added a pop of color at each setting.  And how about the names by Poppy Jack on the terra cotta plates for each guest's place setting?!  LOVE!!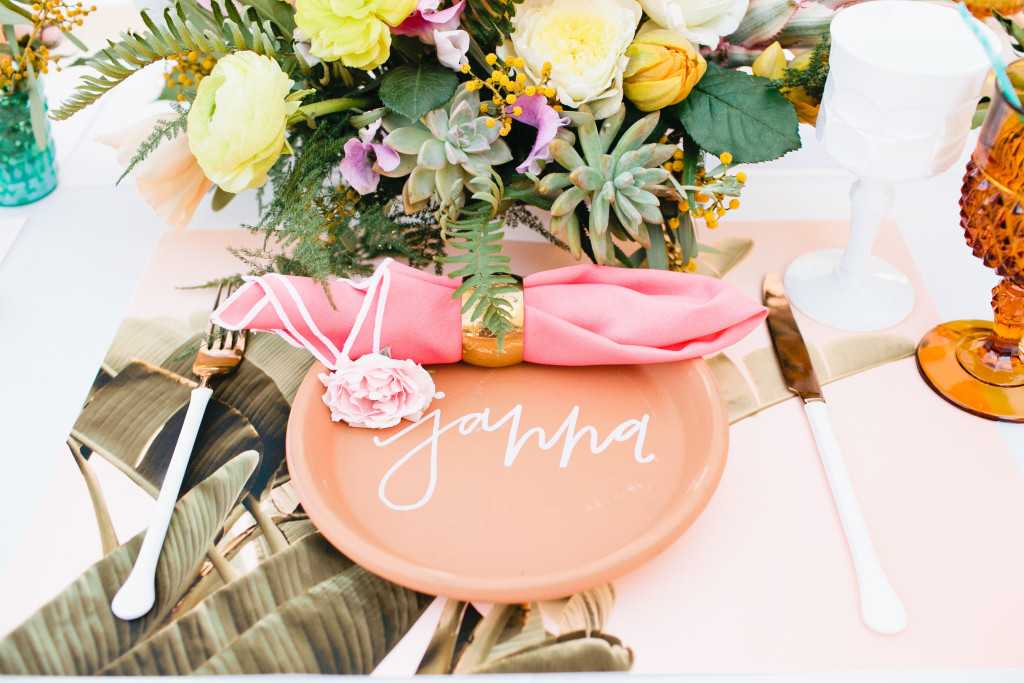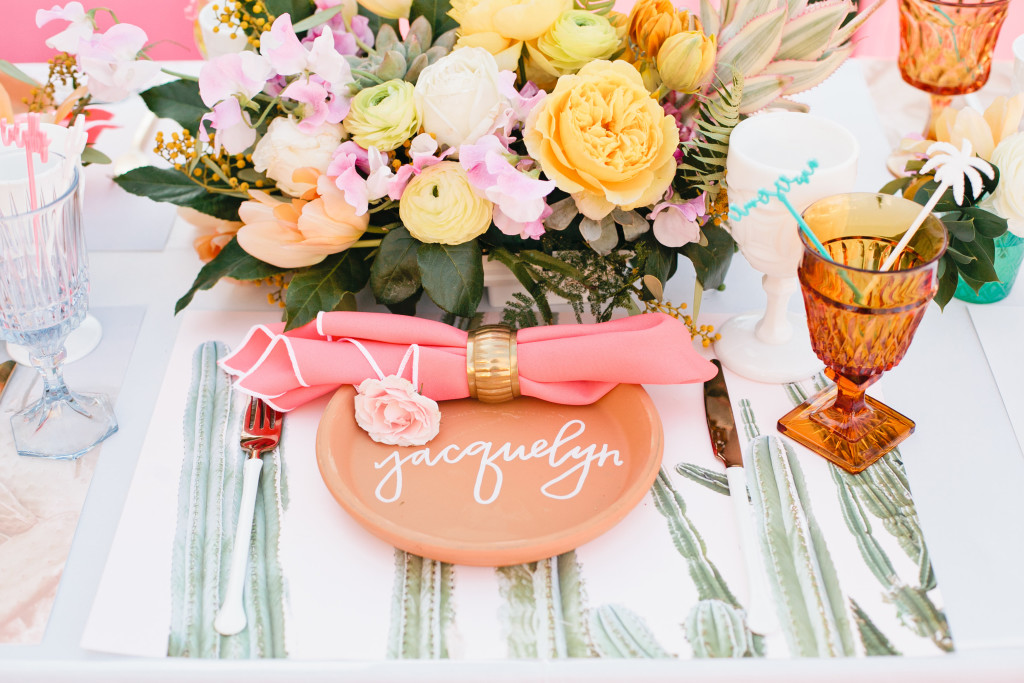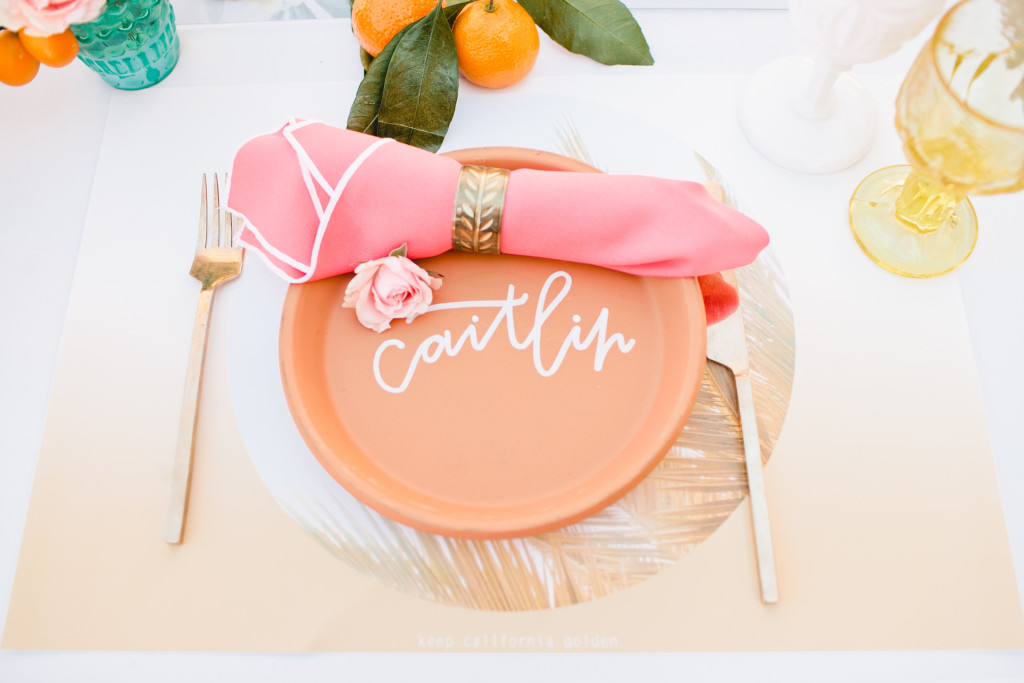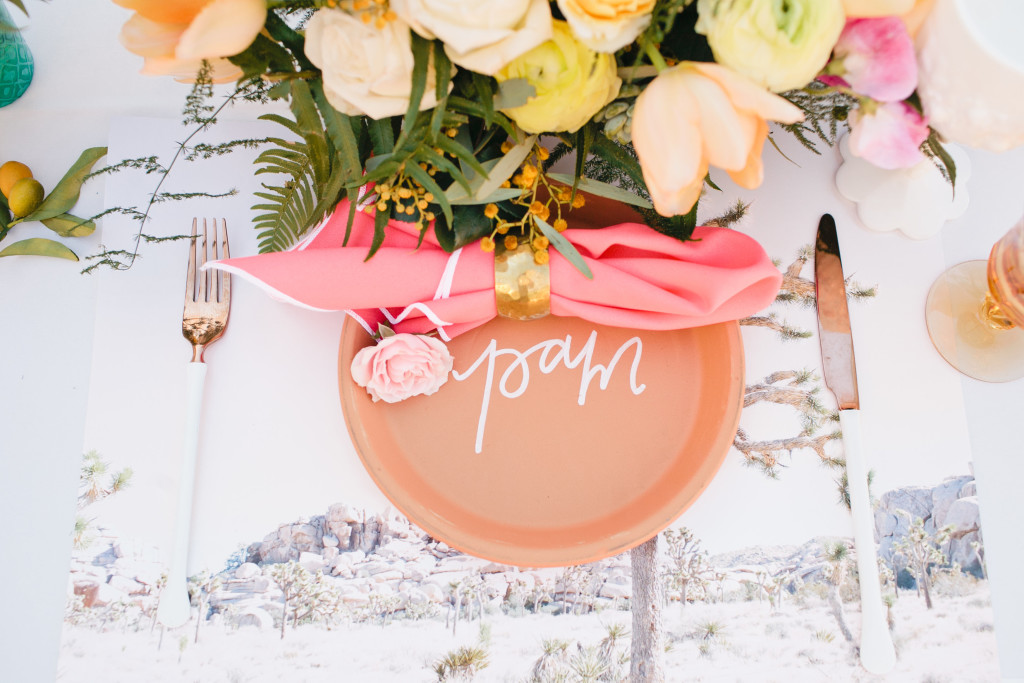 Right away I knew I had to have Bloom Babes do the florals, not only are they the sweetest to work with but they always wow me with their choices of flowers and color combos.  Everything they created was perfection for this one!!  I love how they took my sunshine and palm tree inspiration and made it through florals, looking at their arrangements just make me smile!!  I added things like oranges and succulents along the tablescape to bring some extra pops of color!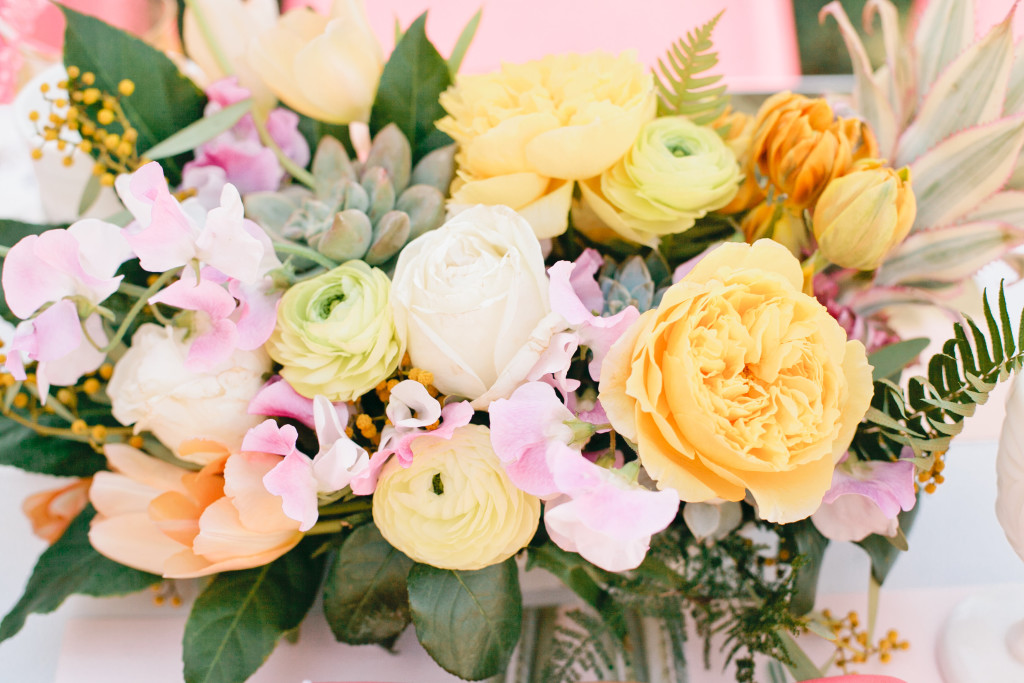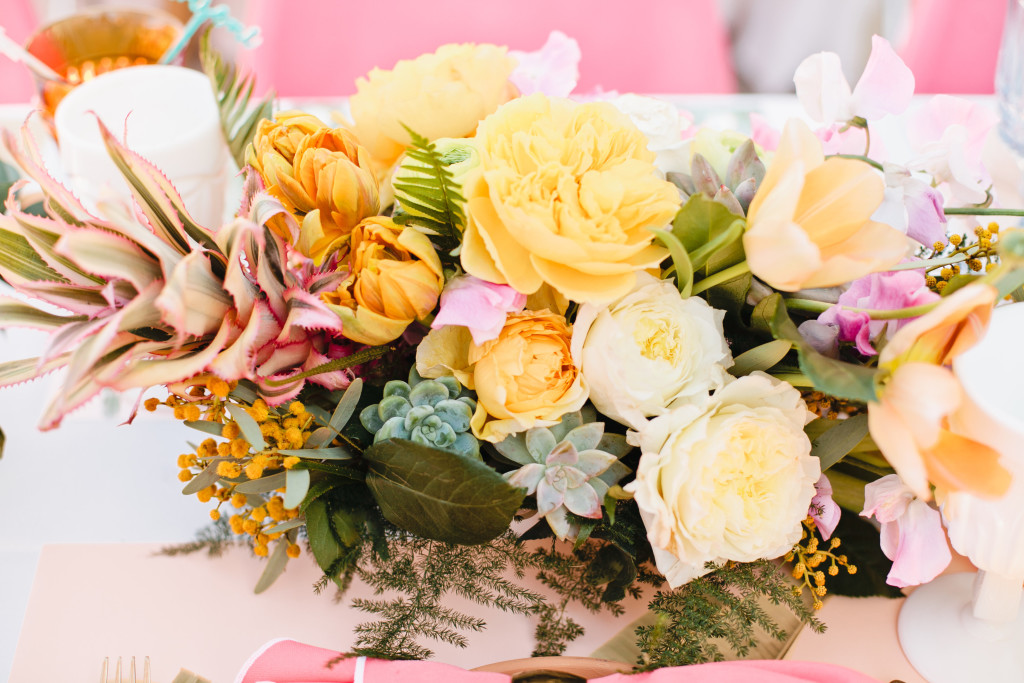 Prim and Pixie designed the perfect invite complete with the words "Totally in Love" which kind of became the catchphrase for the shower, haha, gotta love that So Cal slang…  Love the color scheme, I mean is this invite perfect or what?!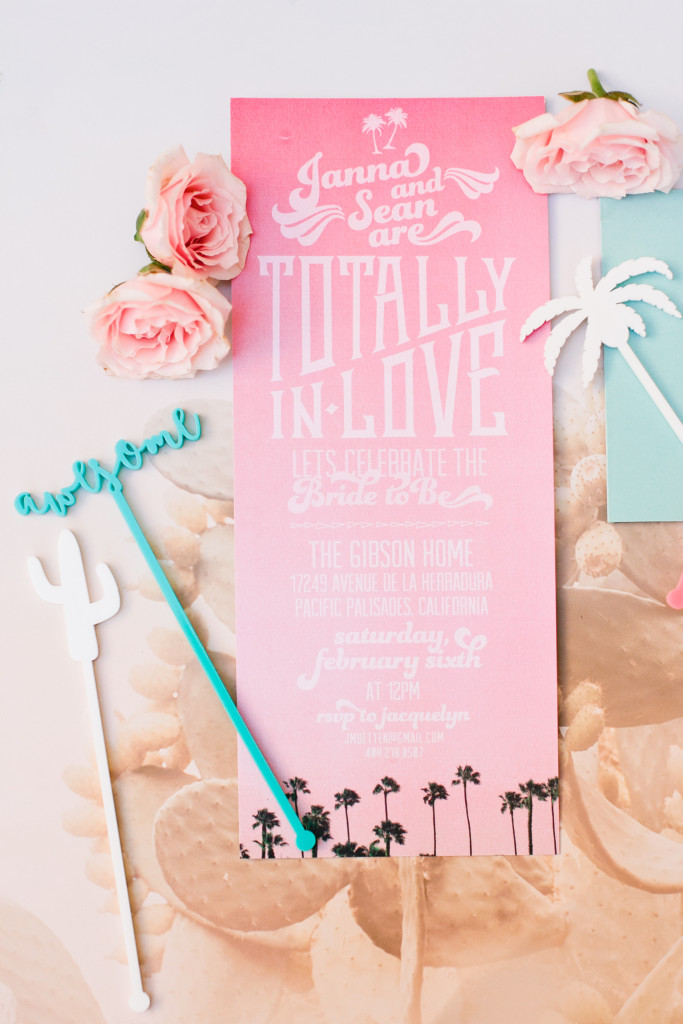 The lovely Courtney of Poppy Jack not only customized those amazing terra cotta plates but also wood signage with her pretty hand writing so each guest would know where they were sitting and what they were drinking ;)  We love her work, it's always so whimsical and fun!!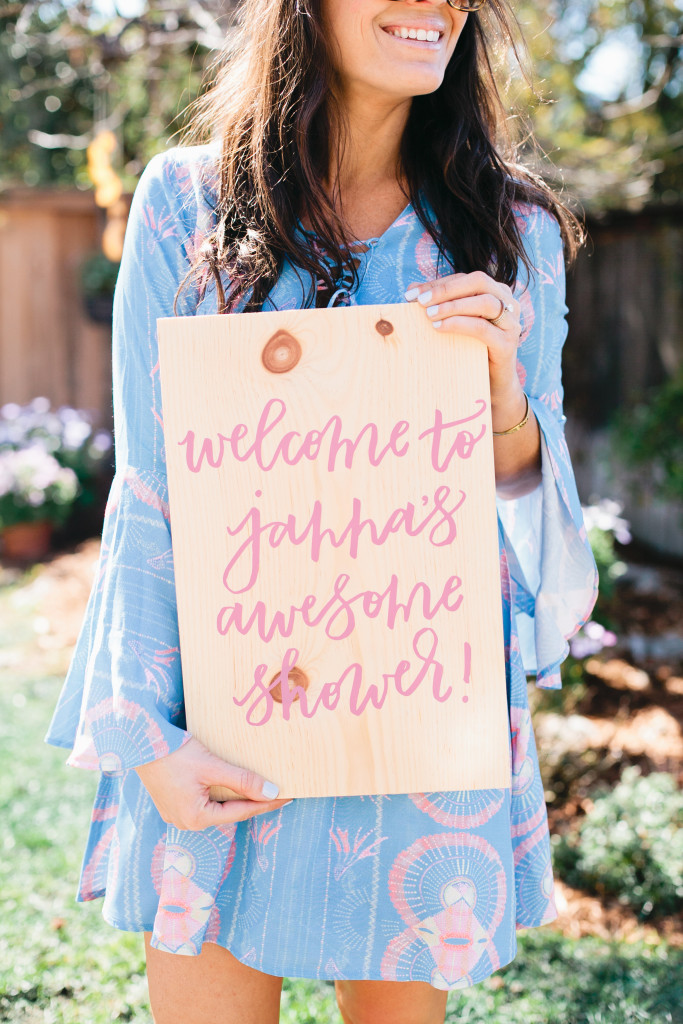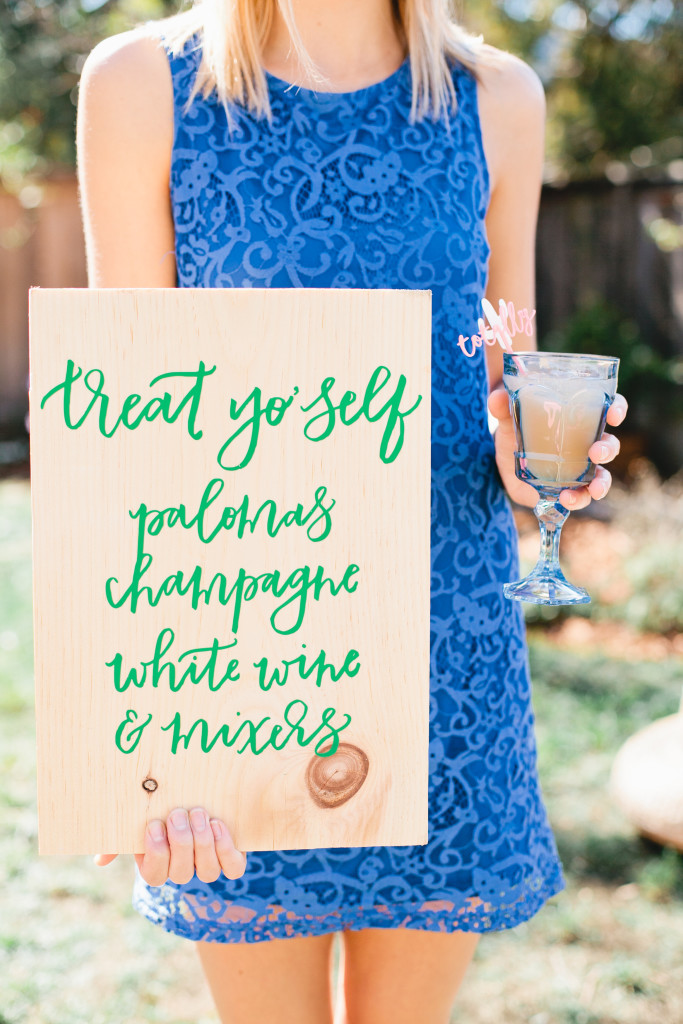 And there's the pretty bride to be herself!!  My beautiful sister Janna, looking just gorge!!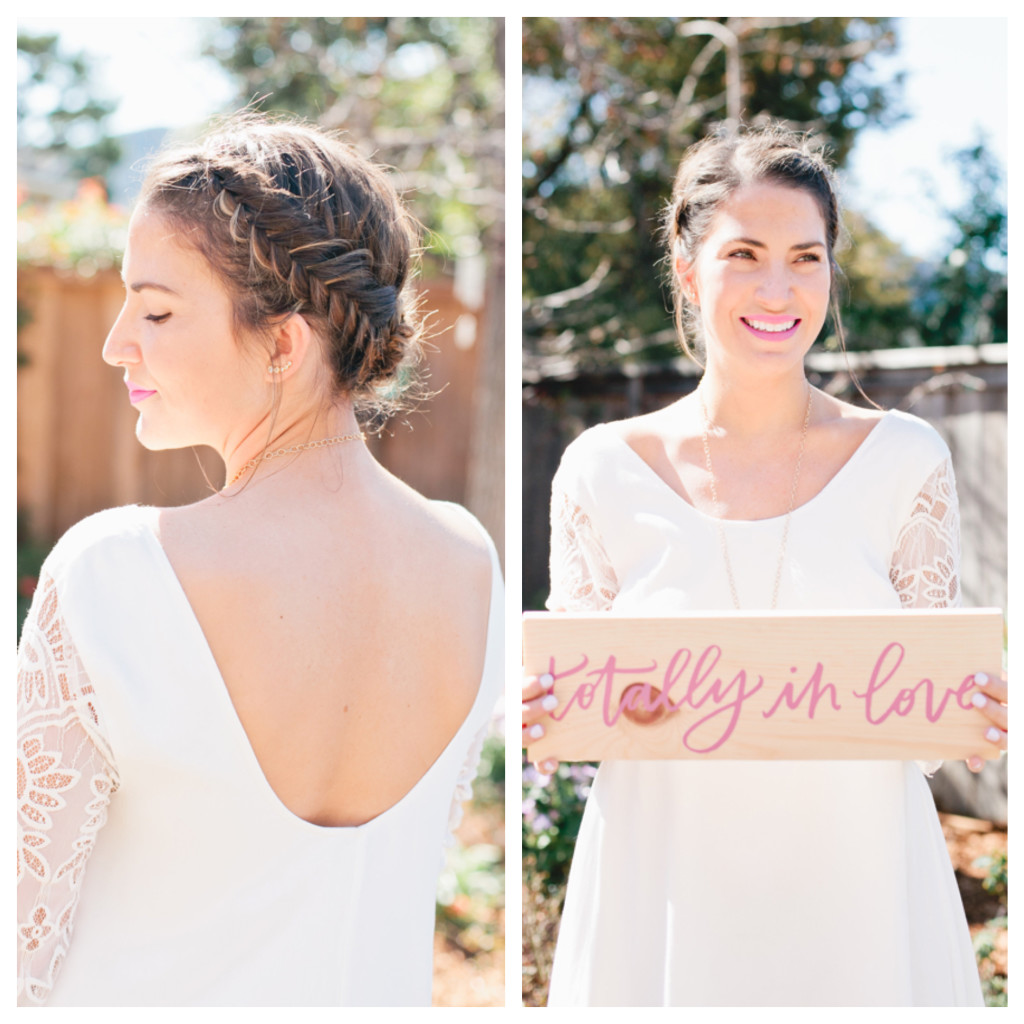 For the rentals I turned to Adore Folklore who has the perfect mixture of boho and mid century flare, plus those hot pink chairs just made everything pop!! And that lounge set up was so cute and perfect for this group of Southern California gals, we got to put our feet up and relax, with some cocktails of course!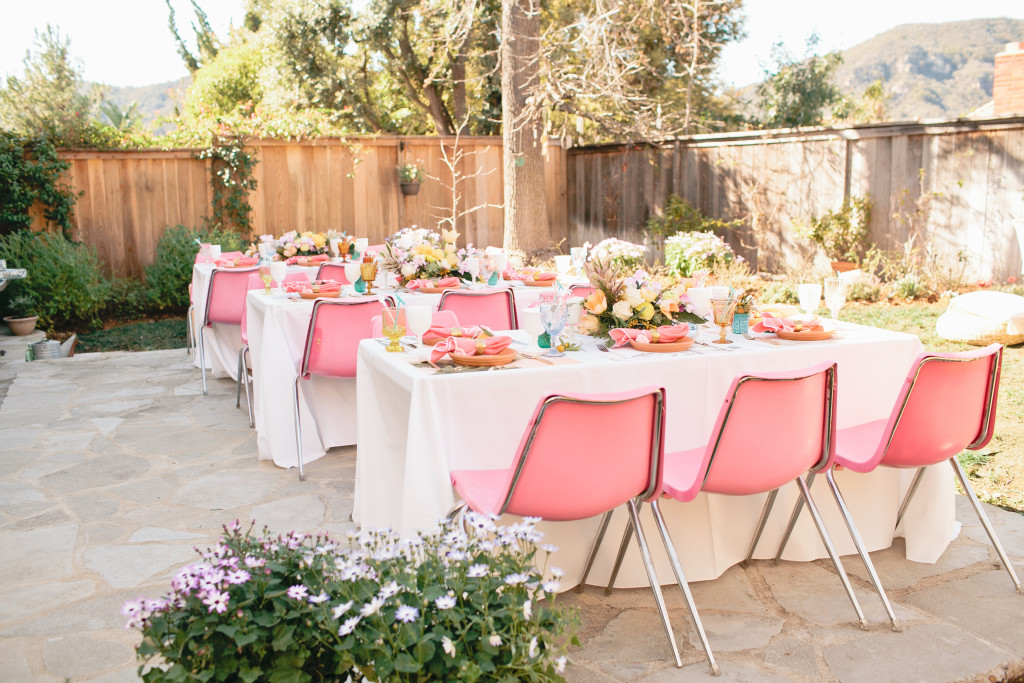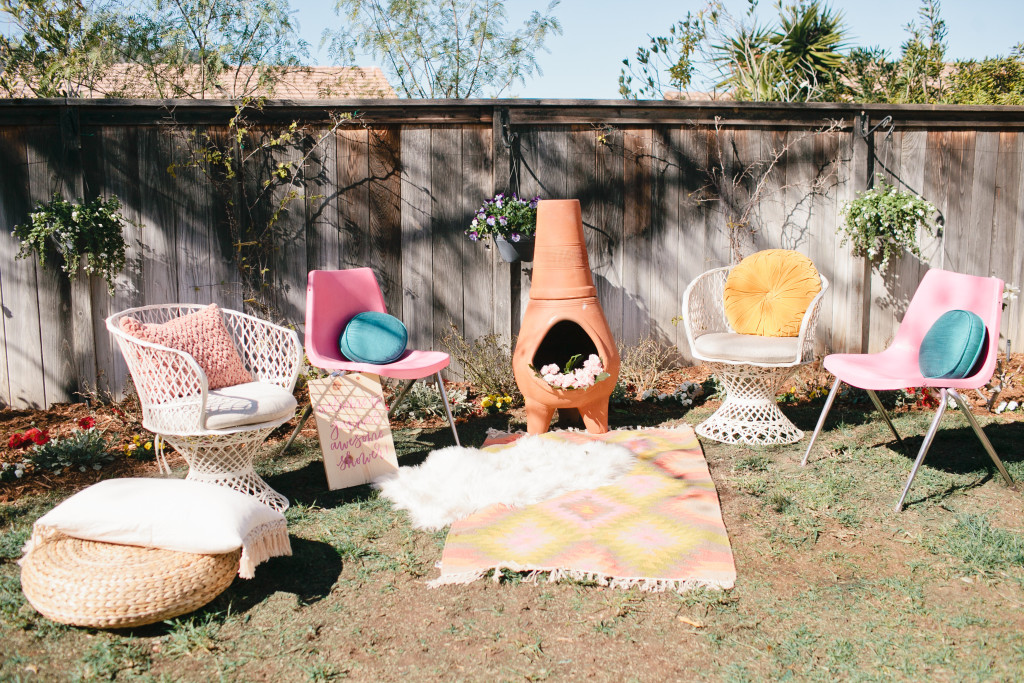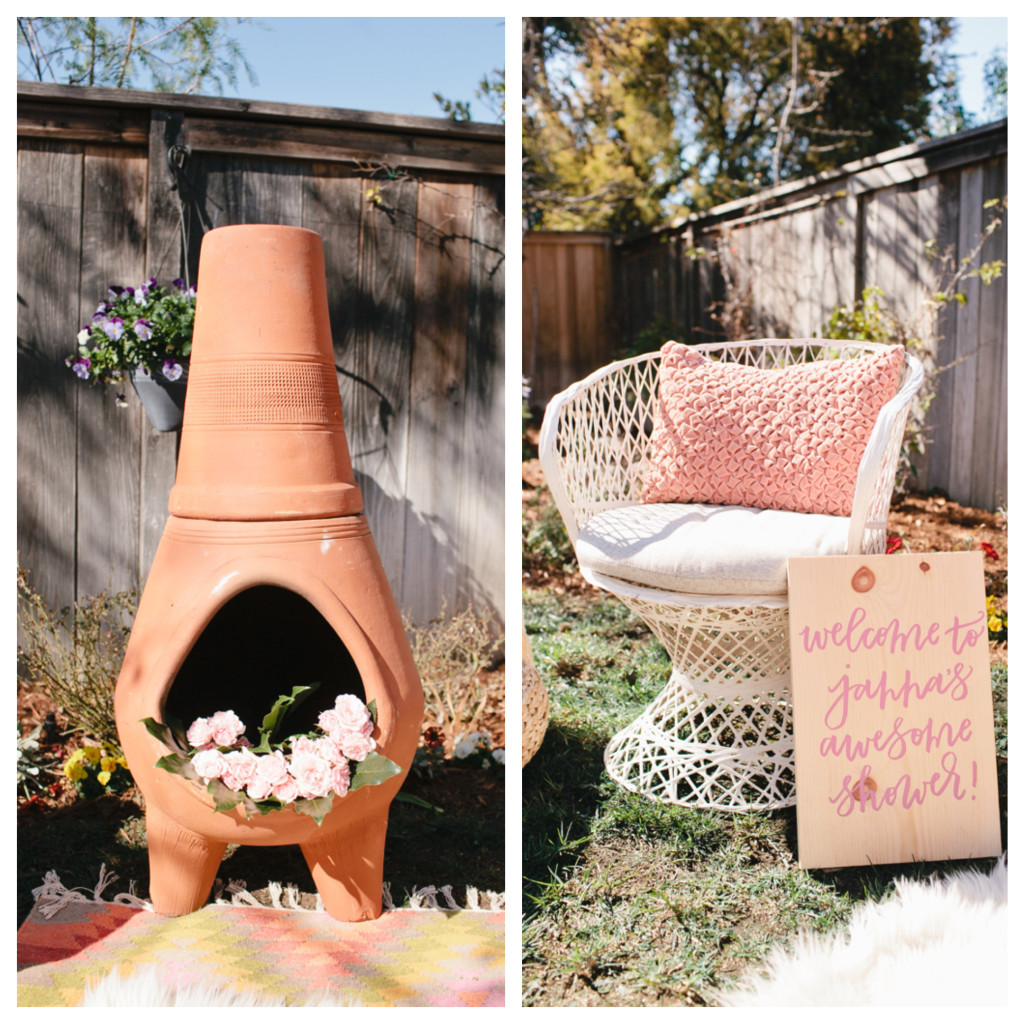 Hostess Haven provided the colorful tabletop and I love the mixture we used for glassware which really made everything pretty and interesting, plus adding Nic Roc's custom stir sticks in each glass was the icing on the cake.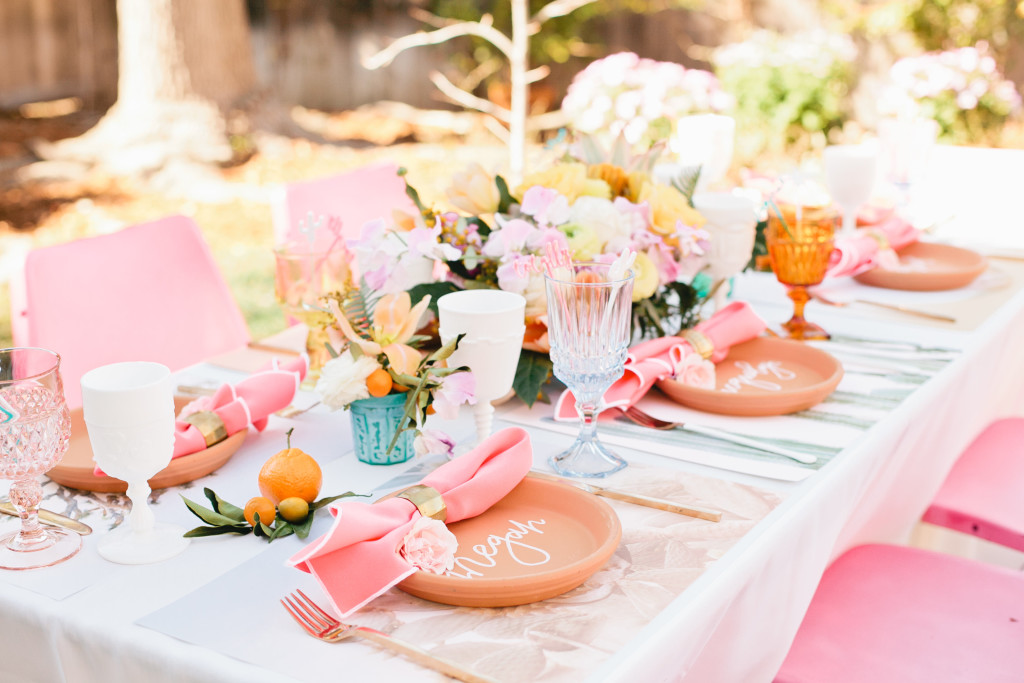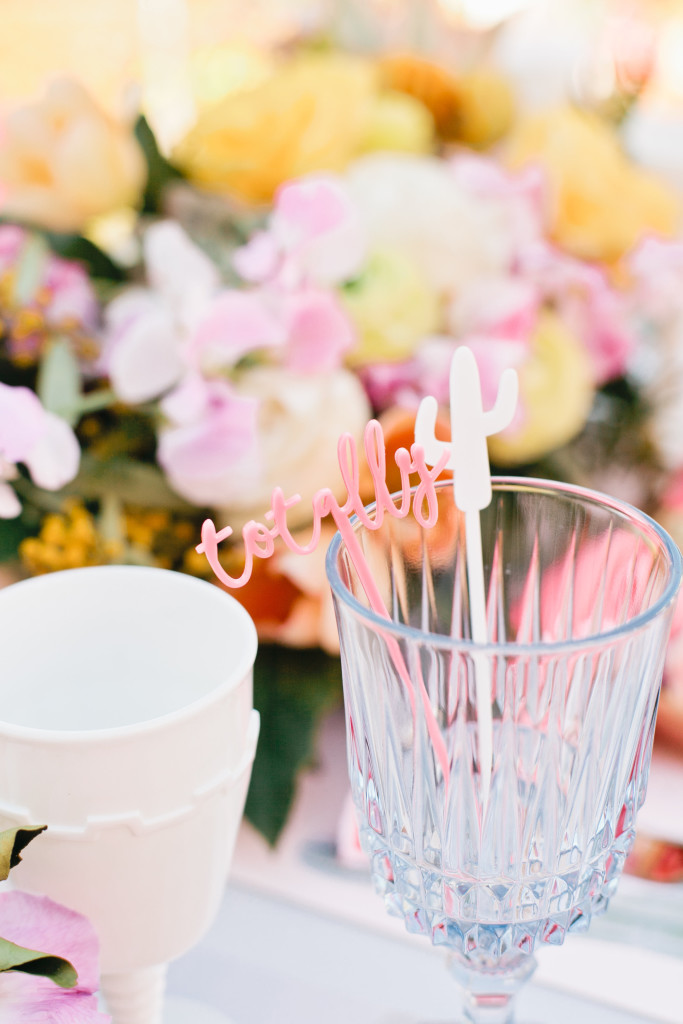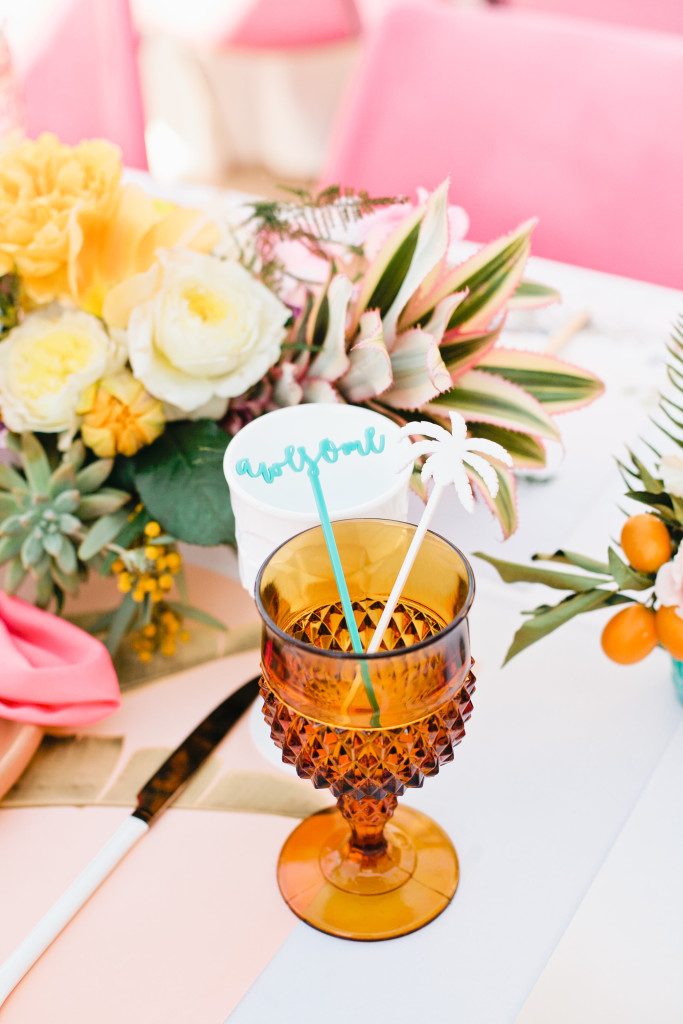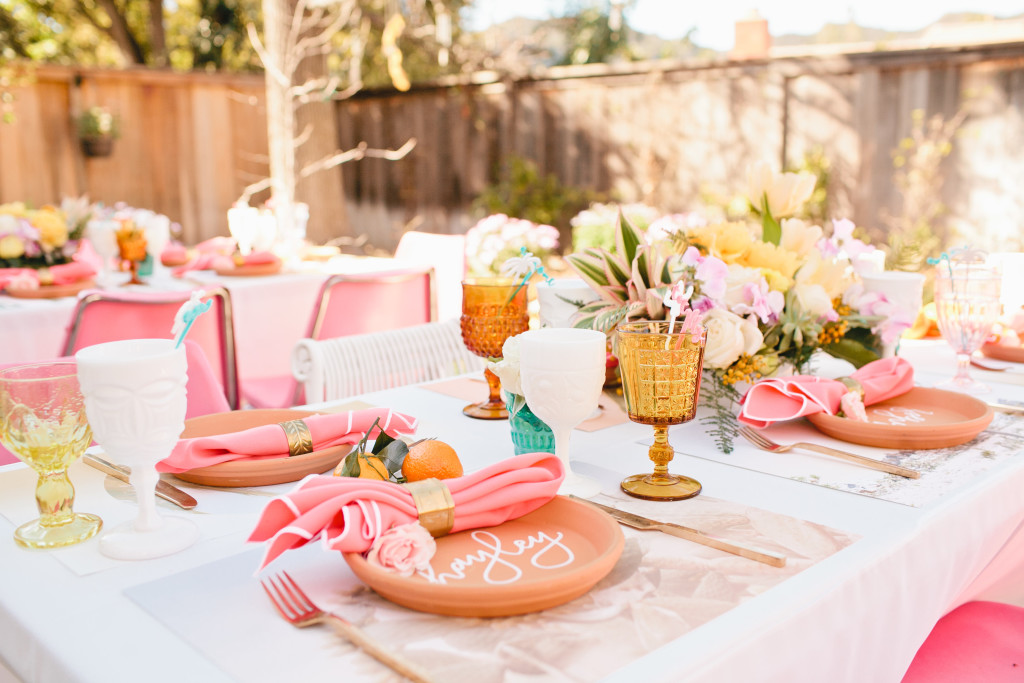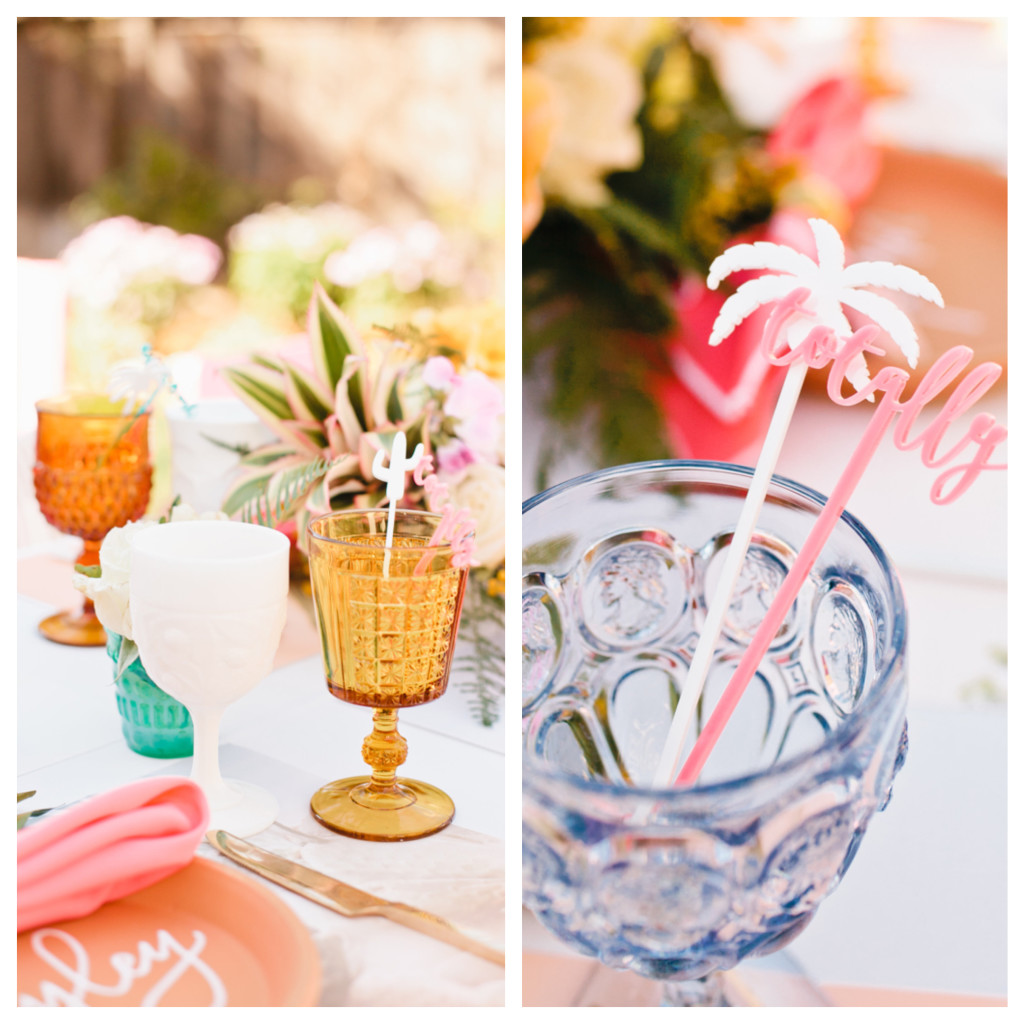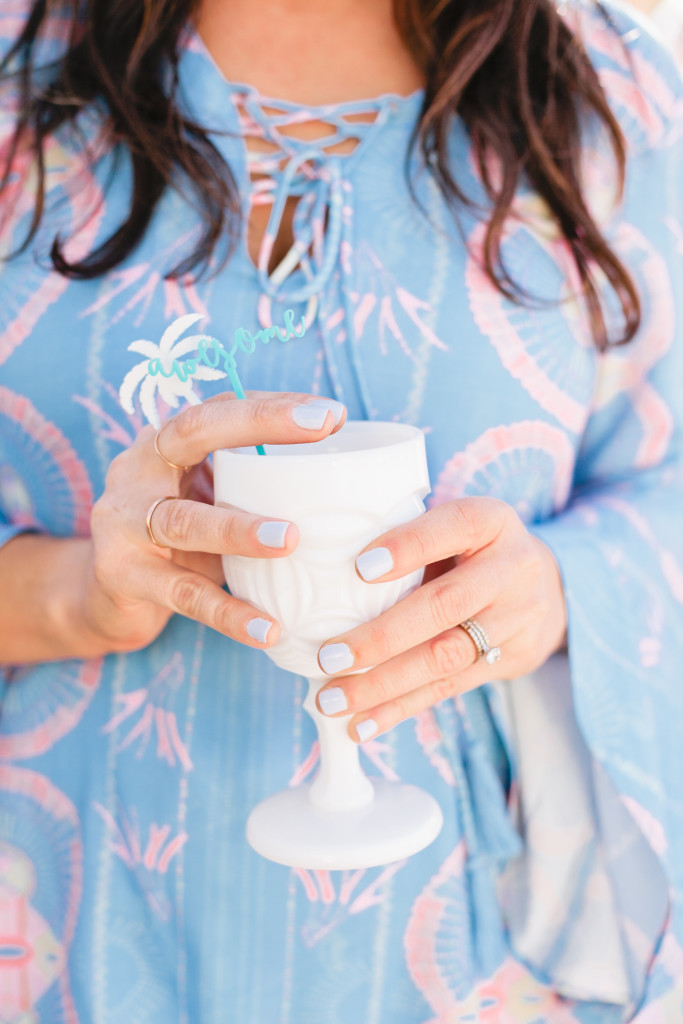 Speaking of pretty glassware, we needed something to fill it with!  Duh!!  And of course I served our favorite One Hope wine and champs!!  Plus we had some delicious palmomas, yum!!!  Everyone loved the sparkly bottles from One Hope, they were a hit!!  And how cute is that bar from Adore Folklore?!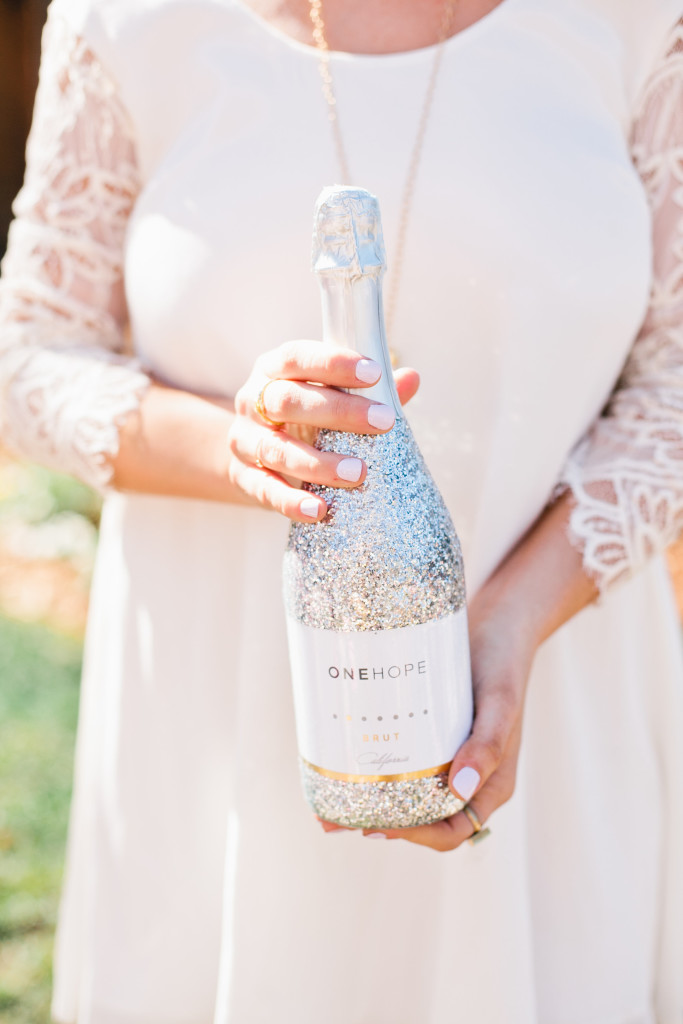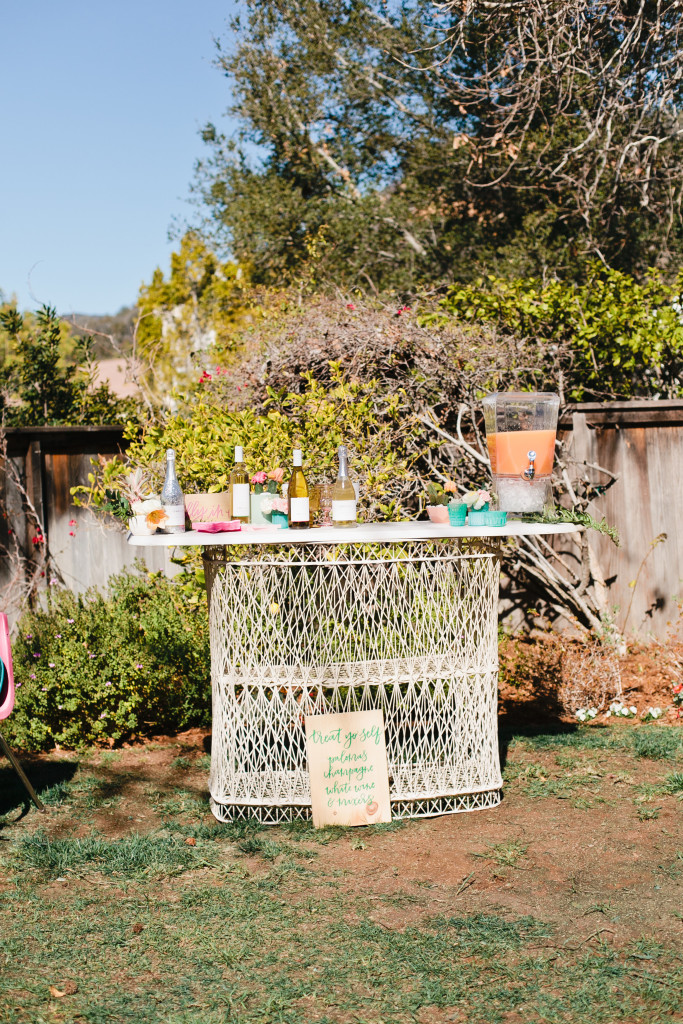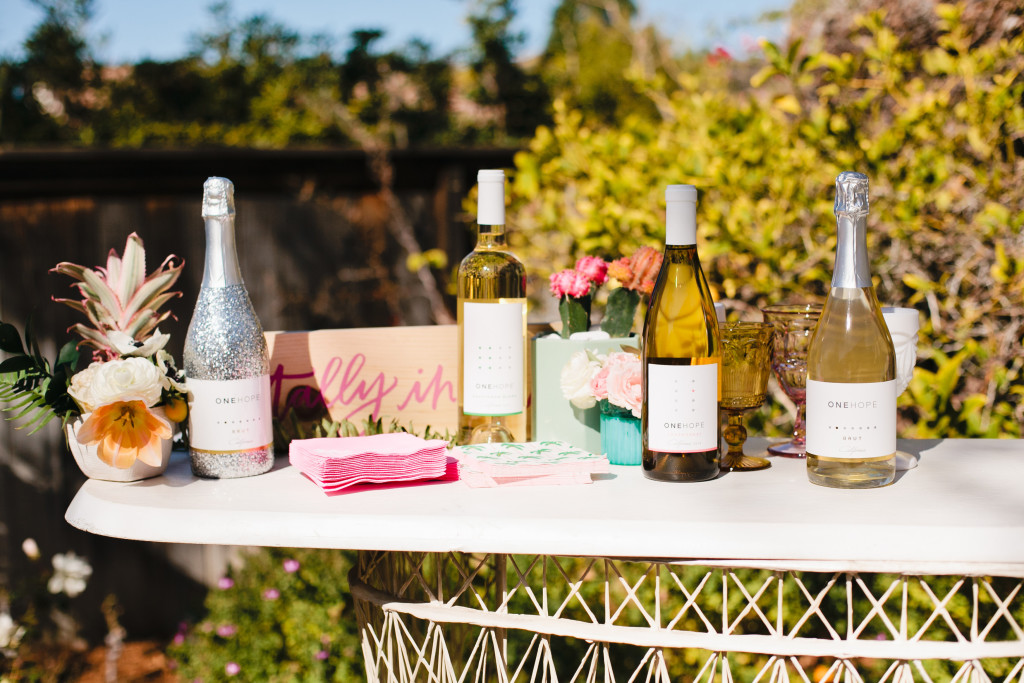 And of course we needed yummy desserts!!  I always love Hannah's Bananas, they are delicious and refreshing, and of course everyone was loving them!!  It's so nice to do something fun and different than the usual cake or cupcakes…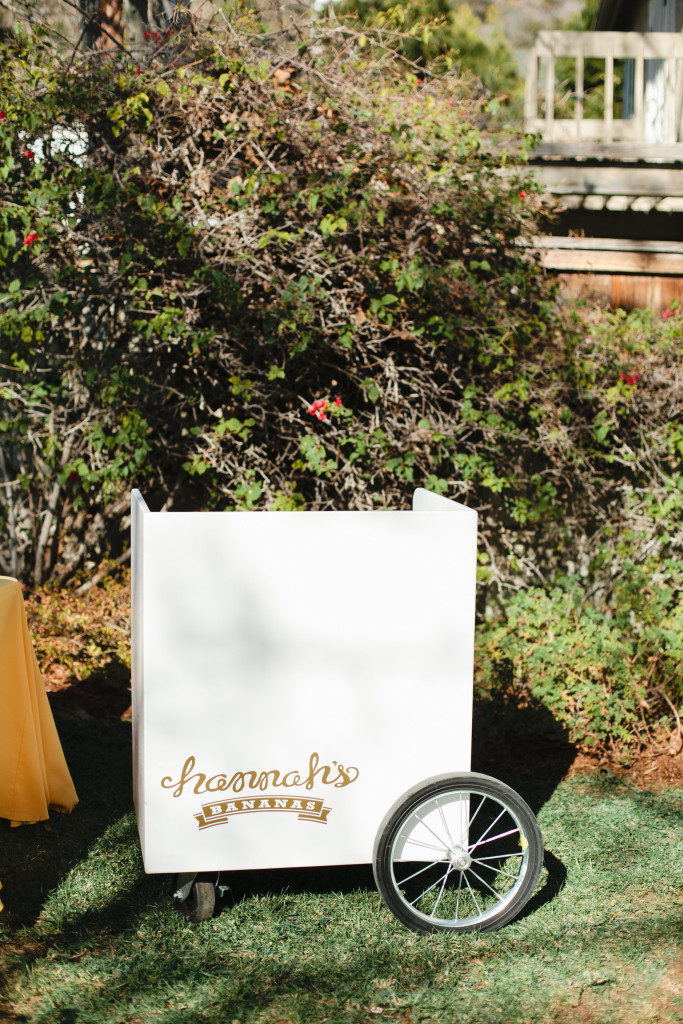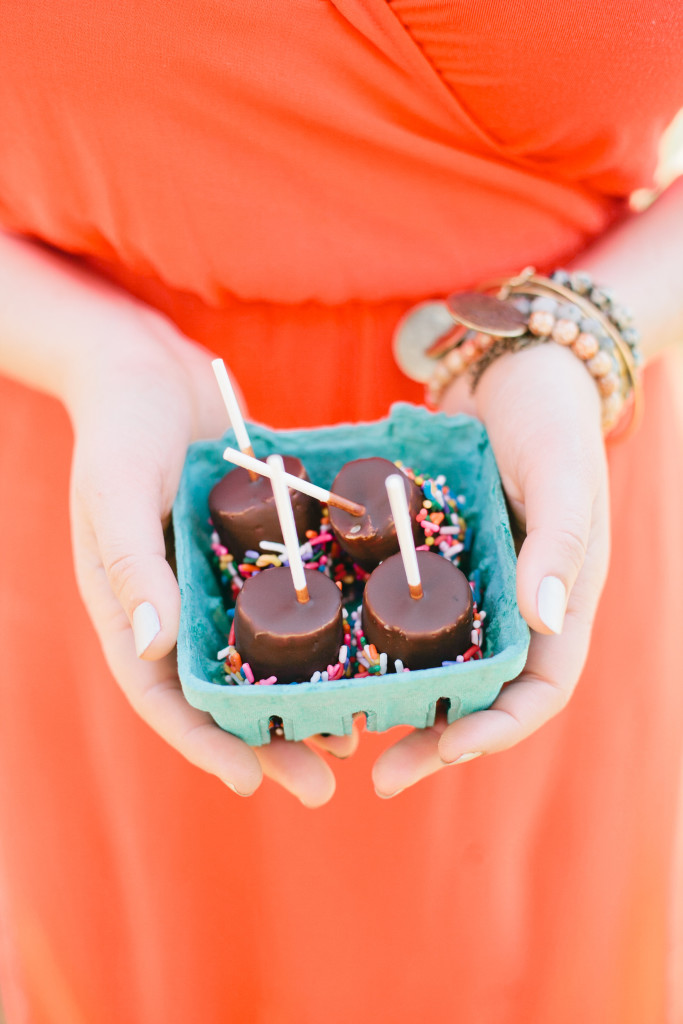 And now, a little bit from the bride and some more fun shots of this amazing shower!!
Here's what Janna had to say:
Having my big sister be one of the brilliant minds behind Beijos Events, I knew that my bridal shower was going to be a showstopper; but what Jacquelyn and Leah were able to pull off (with the help of my beautiful bridesmaids) was truly amazing!  The shower was stunning, and even more importantly, SO fun!
Everyone was freaking out, since just the weekend before LA was hit with a serious rainstorm that had trees falling over and power lines down.  We were so lucky that the weather cooperated and the shower was a hit!  It couldn't have been a more perfect Southern California day, to go with the Southern California themed shower.  My bridesmaids from New York and Chicago were especially happy to escape the winter weather and enjoy the sun!
I loved all the bespoke details – from the drink stirrers, to the chairs, to the terra cotta place settings…I could go on and on.  I've seen my sister pull off some incredible events, but even I didn't think a shower could be that beautiful!  The best part of the day was getting the chance to celebrate with all the ladies I love most.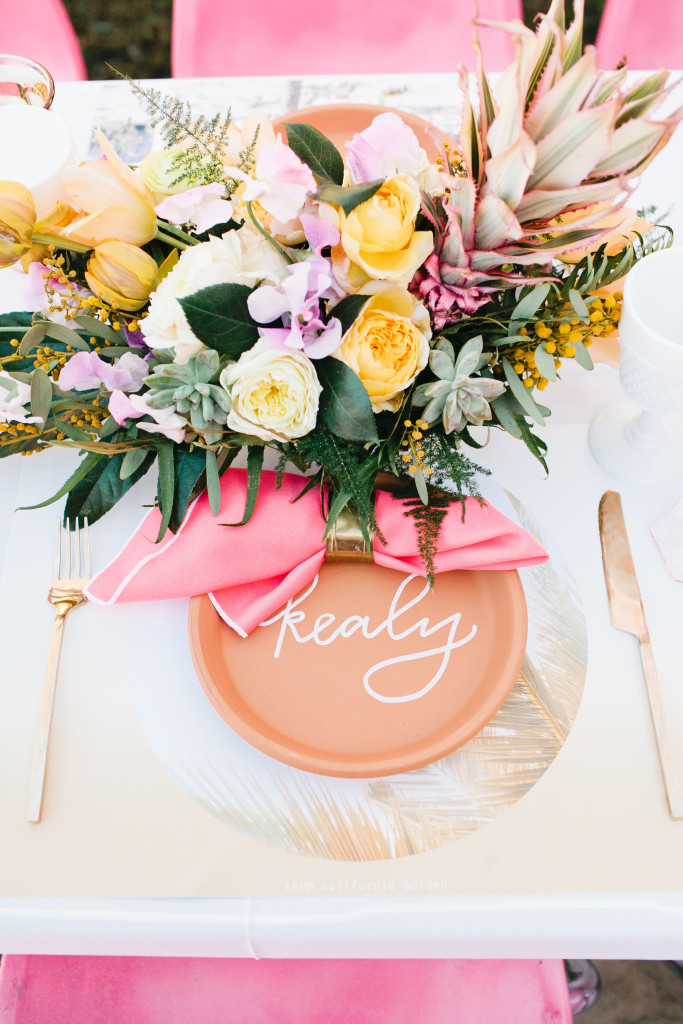 Bridesmaids with the beautiful bride!!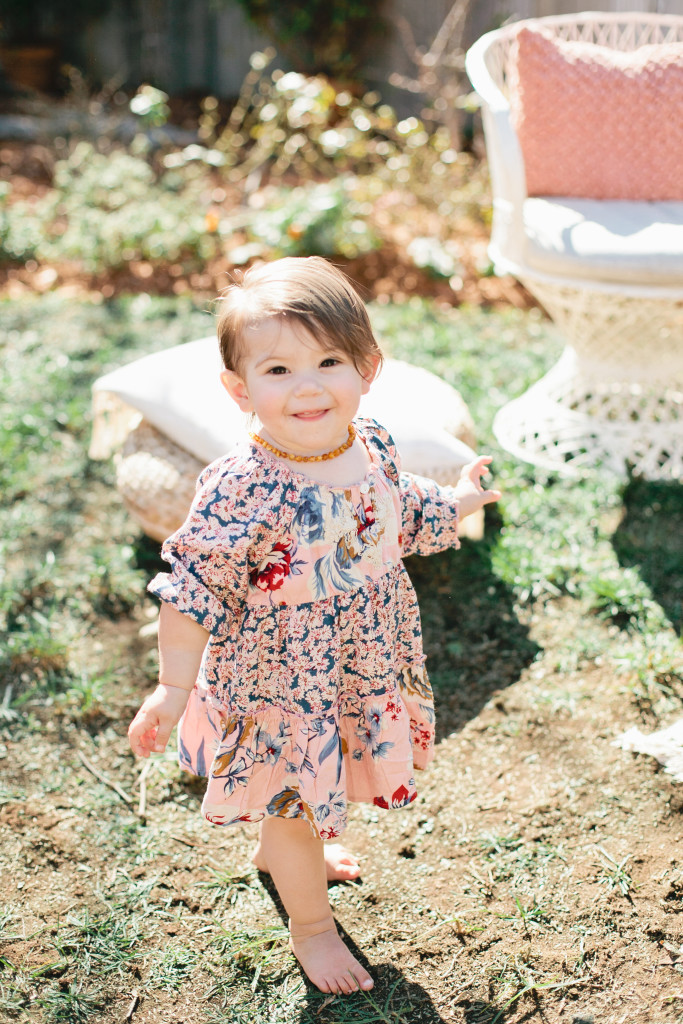 Custom napkins are always a good idea…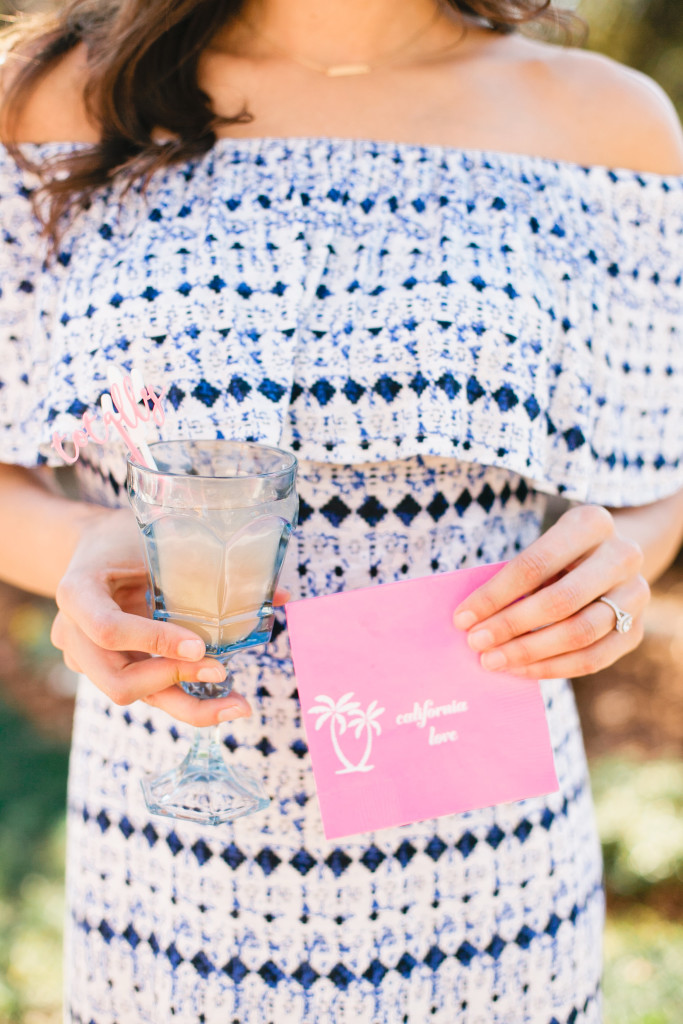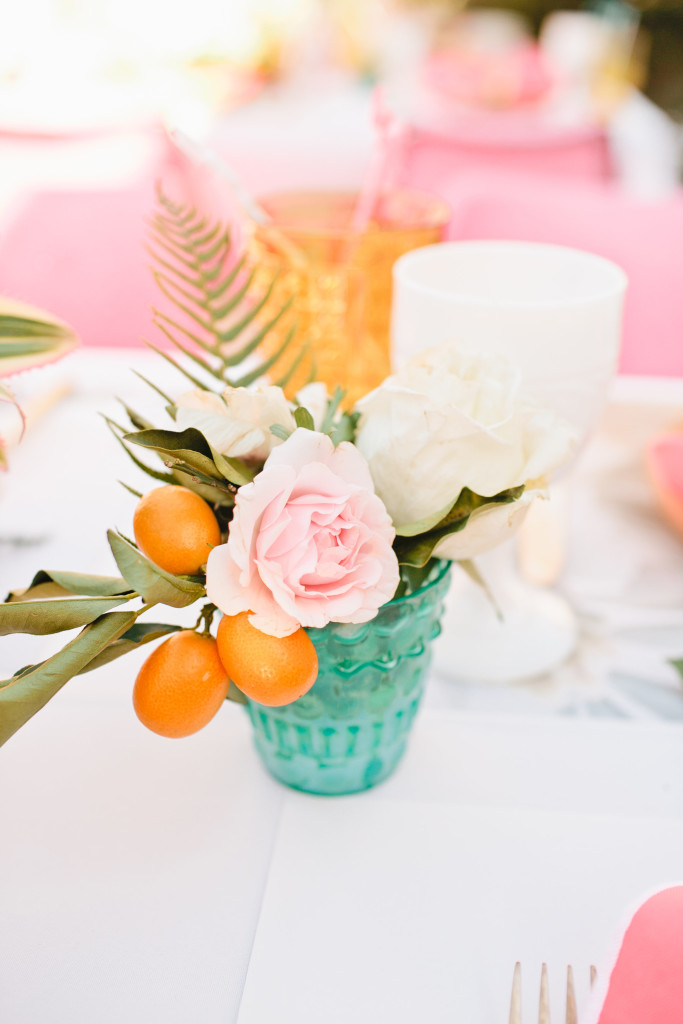 Gorgeous bride and mother of the bride!!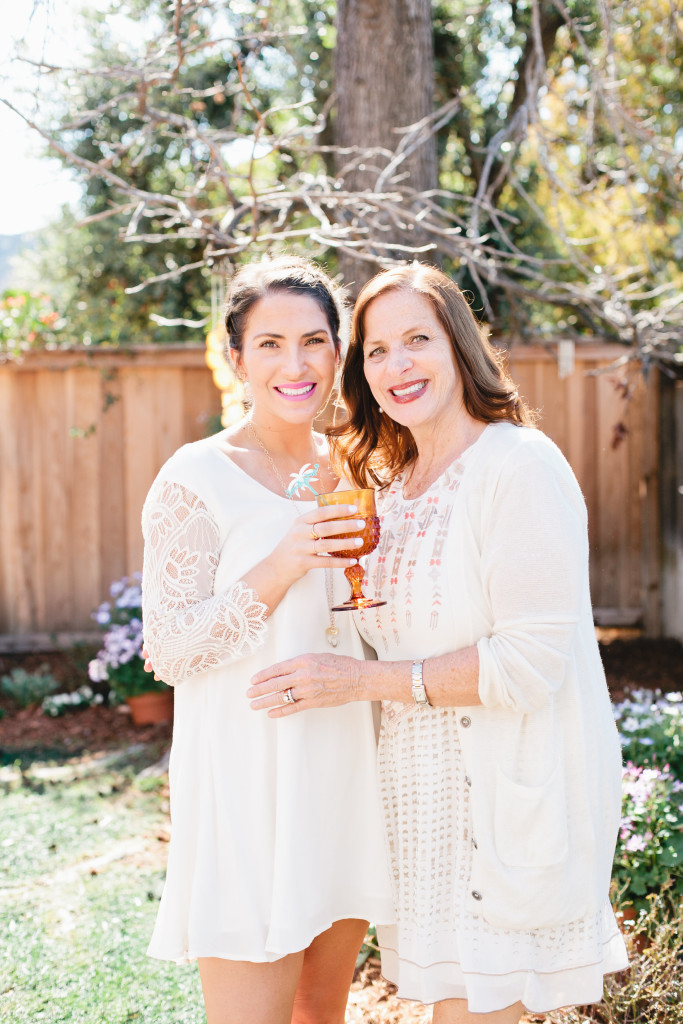 And there's the very very soon to be Mr & Mrs!!!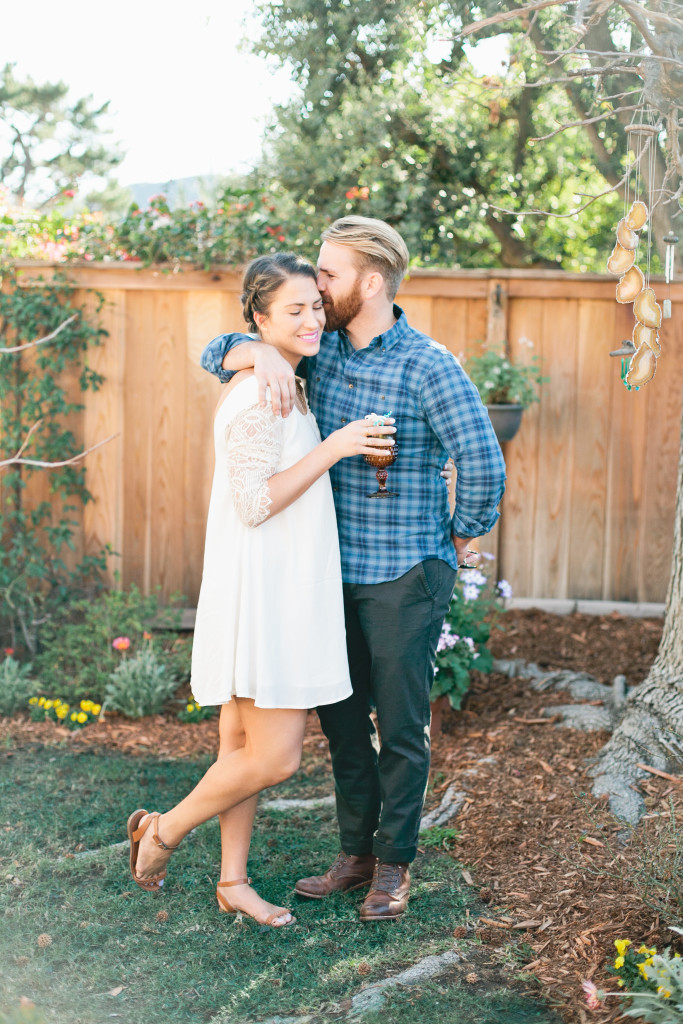 Hope I inspired you for your own upcoming showers!!!
xx
Jacquelyn