---
Welcome to summer! This week is the second week for my little ones of summer break! And since we aren't rushed to run off to school, breakfast is a bit more fun around here. With just coming back from Hawaii a couple of weeks ago, I'm still feeling all sorts of tropical. Last year, you might remember I did a little feature on how to throw a tropical brunch, see it here. I featured these banana nut macadamia mini pancakes, and today I'm showing you how I made them! I have a little secret too; I didn't make them from scratch! Don't judge, sometimes; some good old fashion frozen pancakes do the trick. I dressed them up pretty with some yummy tropical flavors that no one will ever know they were frozen.
Photos by Candiss Koenitzer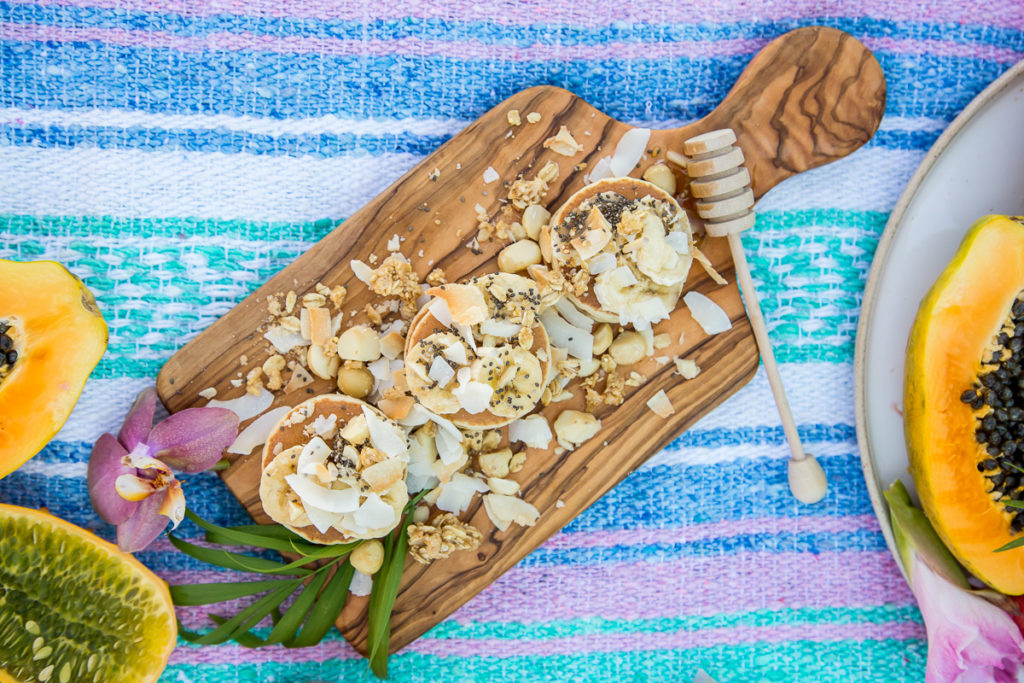 I N G R E D I E N T S
Frozen pancakes
Fresh bananas
Tropical Fruit
Macadamia nuts
Roasted shredded coconut flakes
Poppy Seeds
Granola
Honey
Mint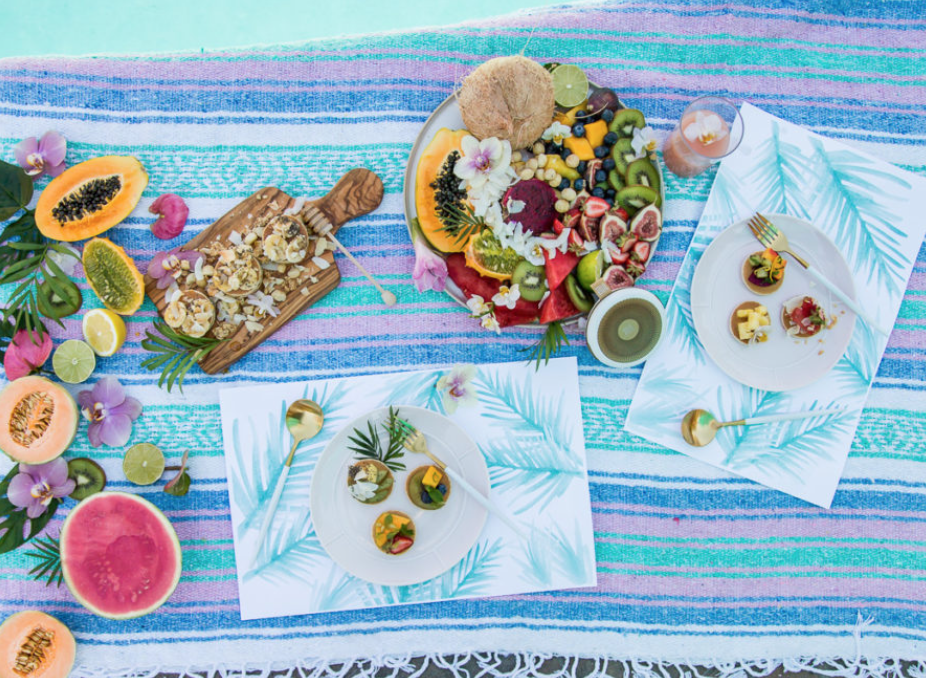 D I R E C T I O N S
Cook your frozen pancakes according to the directions on the packaging. Usually, I prefer to use the oven for everything instead of the microwave, but in this case, I feel frozen pancakes come out softer in the microwave vs. the oven. Pile your pancakes into stacks, you can probably do 3 or 4, any higher and it will be hard to eat. I like to place a stick in the middle so they can be picked up.
Next slice up your bananas. I like to slice right before serving, so they don't turn brown. I also love my bananas when they start to get brown spots on the peel. I like them sweeter, whereas my husband likes his bananas where the skin is more on the green side. Either way, make sure they are at the stage you enjoy them at.
Sprinkle the remaining ingredients on top of the pancakes. You are probably asking why I like to use poppy seed in a lot of my dishes? Well, I want to add a bit of crunch, and it also adds color. But more importantly, poppy seeds are an excellent source of minerals that are required for the proper functioning of organs. Some of these minerals include calcium, zinc, magnesium, and so on. Poppy seeds contain approximately 1584 grams percent of calcium. So get to sprinkling those seeds in all your dishes!
Serve on a pretty wooden tray like this handmade wild olive wood board from The Little Market. Drizzle the honey on top for that added sweet touch. Finally, add some tropical orchids for presentation!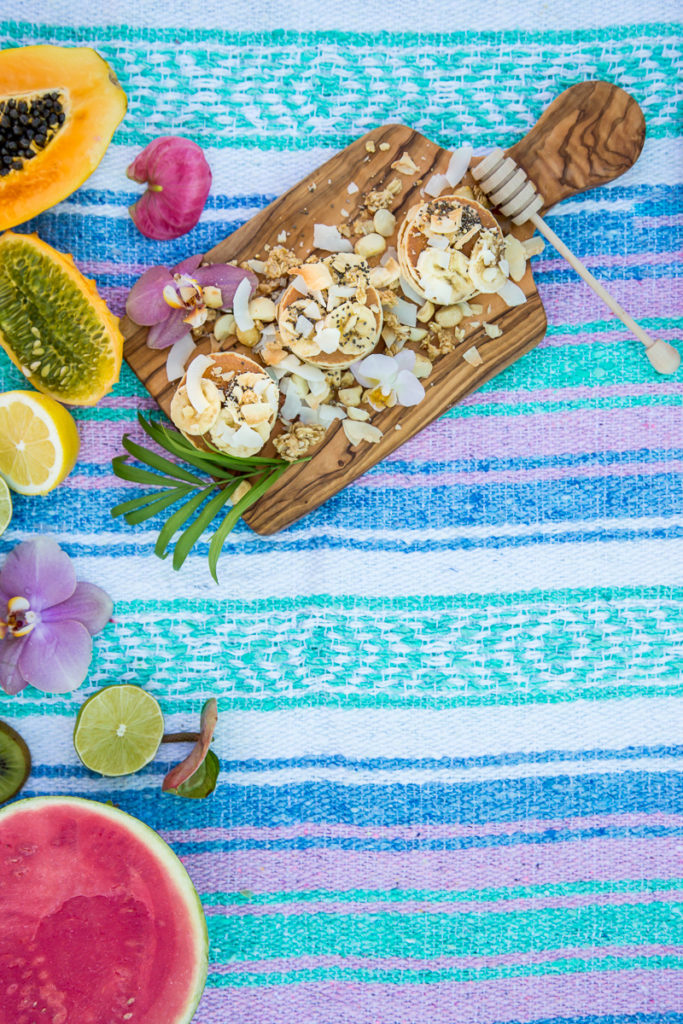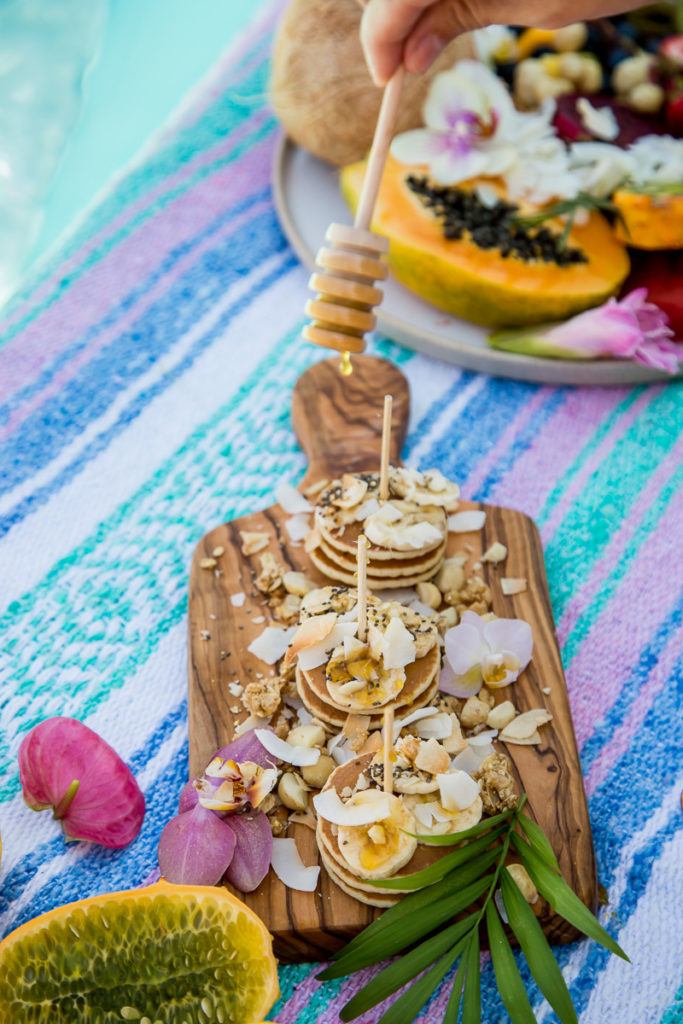 You can also change it up a bit, and serve with some tropical fruit on single pancakes, kind of like a crostini but for breakfast!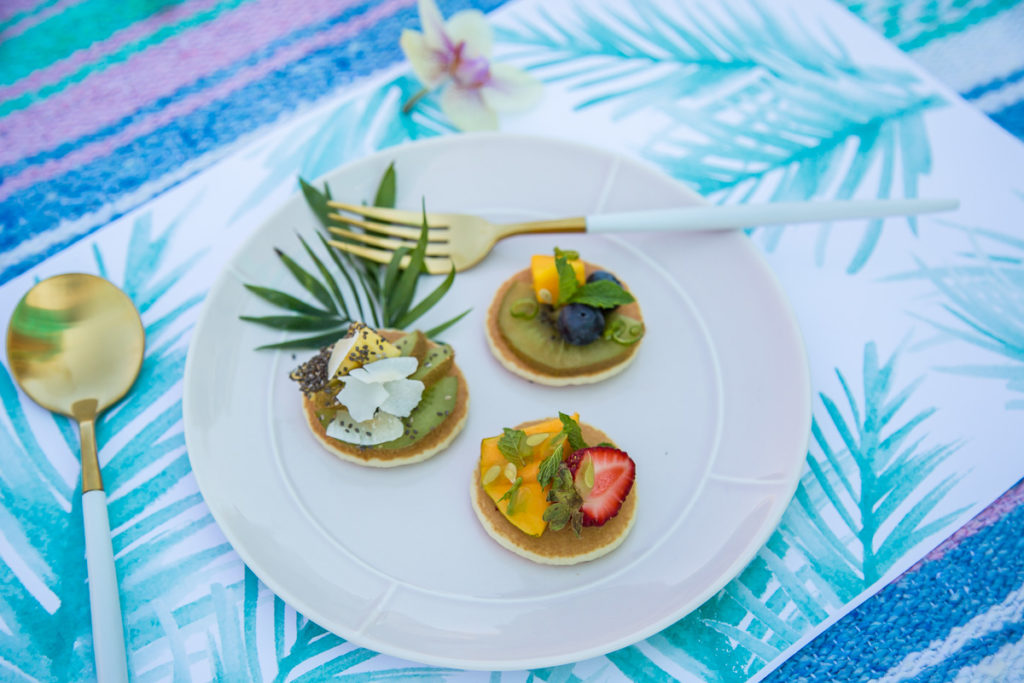 'ohoiho!
xx
Abby
SaveSave
SaveSave
SaveSave
SaveSave
SaveSave
SaveSave