We're rolling into our first Valentine's Day post for 2020 and I like it!!! As you guys know, we are suckers for any holiday, but especially when it comes to our kids! Just like last year we are sharing our favorite classroom valentines from our pals at Minted. It seems like each year they get cuter designs! Plus we found some fun art pieces to make our homes festive. So keep scrolling for all of our favorites and hopefully you get some ideas for yourself too! PS, you can shop it all at the bottom of the post!
Photos by Dayna Studios & Alison Bernier
Let's start with the ladies!!! From oldest to youngest…
---
Abby's daughter Dylan is into all the things you'd expect of an almost tween. Remember her bedroom post last summer? She's a VSCO girl and Abby found the perfect valentine for that! How cute are these little water bottle cards?! Sooooo VSCO. Abby paired them with a clear water bottle and cool stickers. Such a fun valentine to give and receive!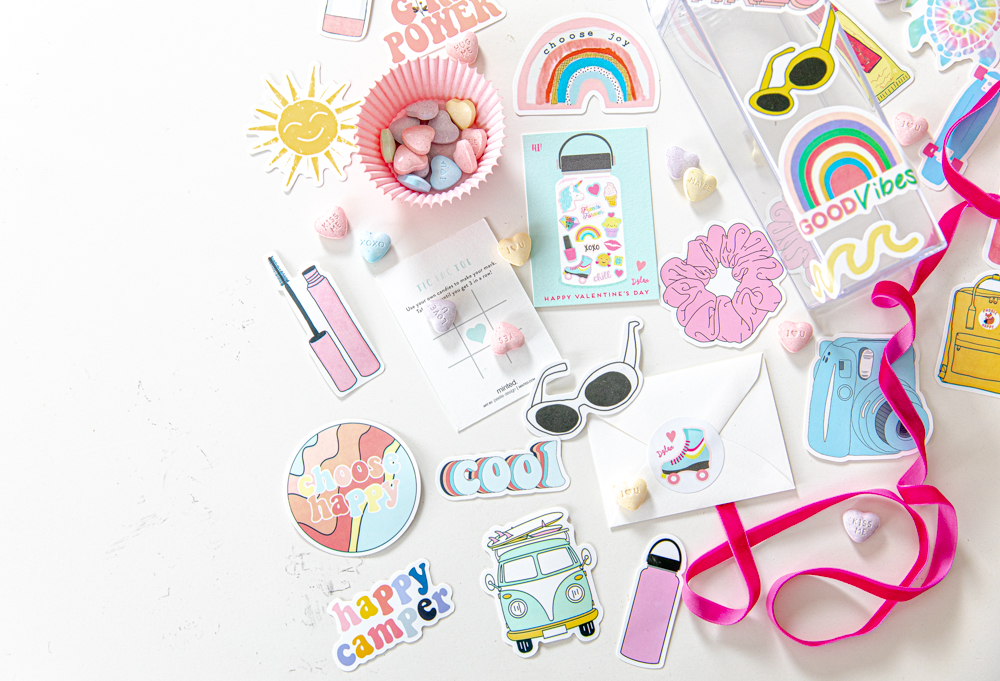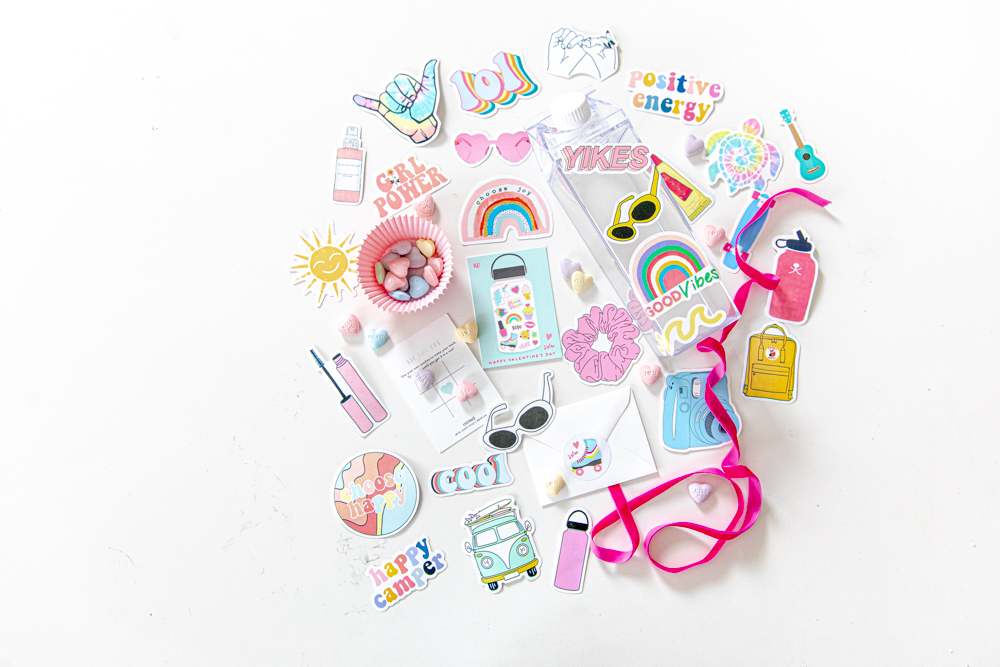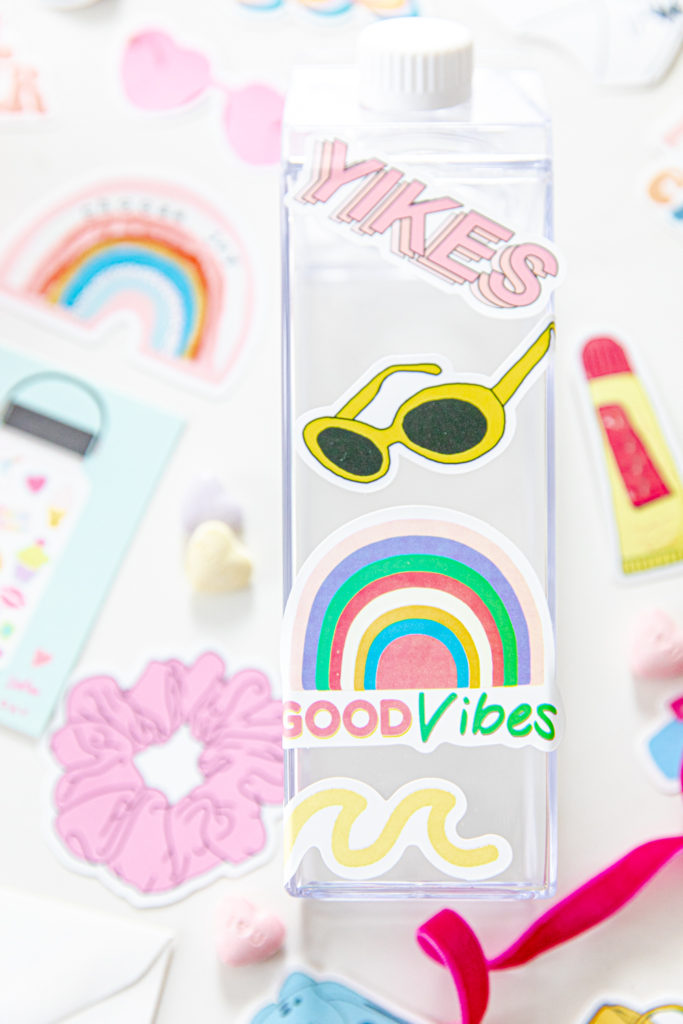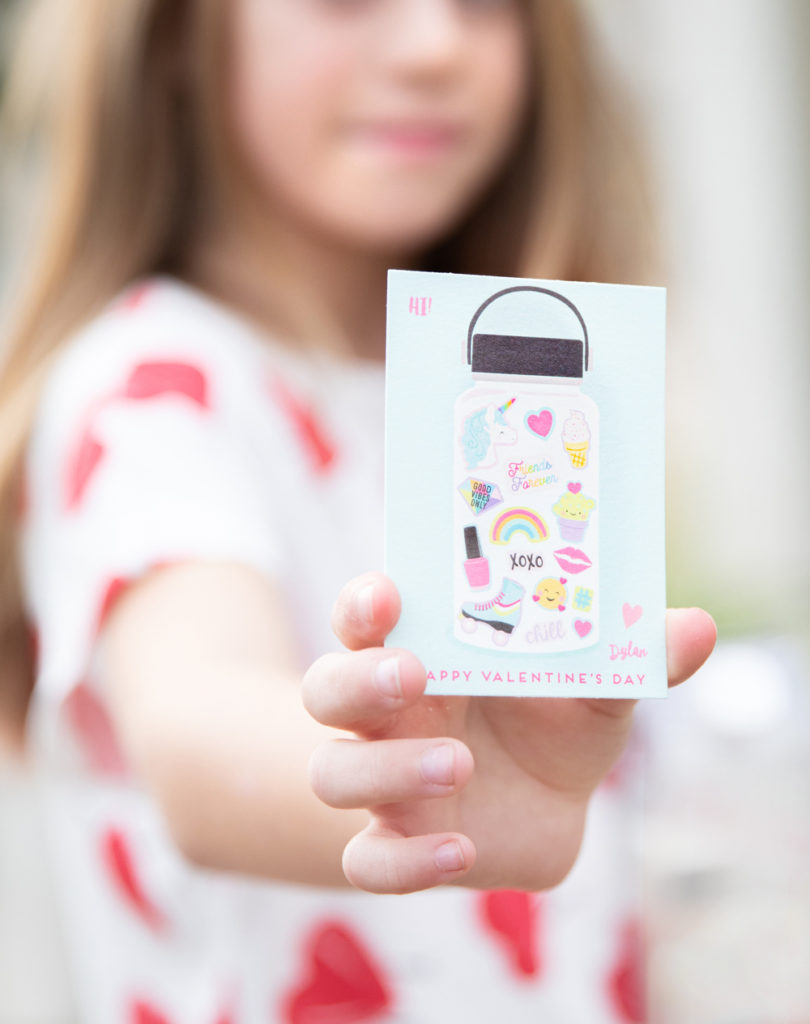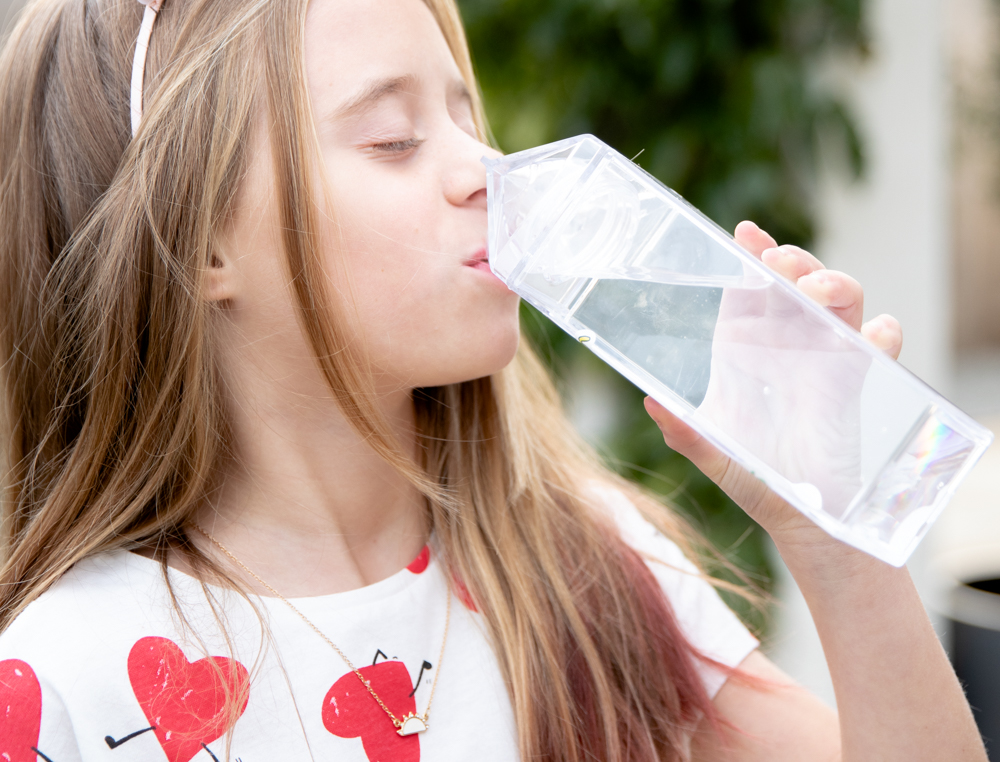 Onto Olivia, Alison's almost 8 year old daughter. Olivia is in the 2nd grade and chose this cute Sprinkle card, I especially love the gold foiled writing! Such a fun & fancy touch on a Valentine, really makes MY Valentine cards as a child that you had to punch out of a sheet… She plans out handing out baggies of sprinkles and I think she will be the most popular girl in the school after that!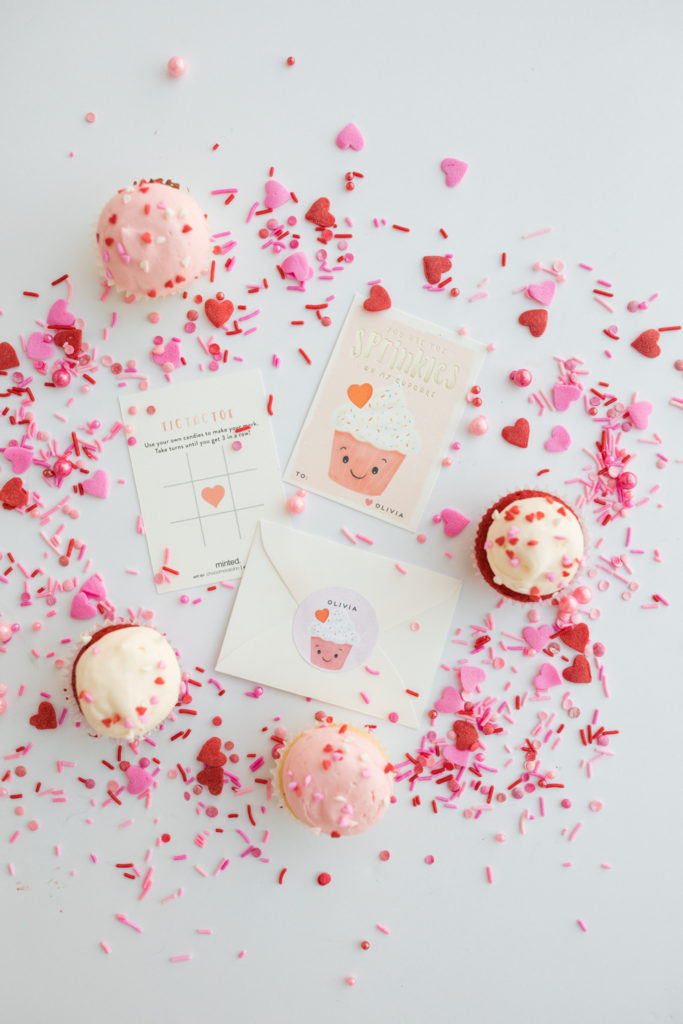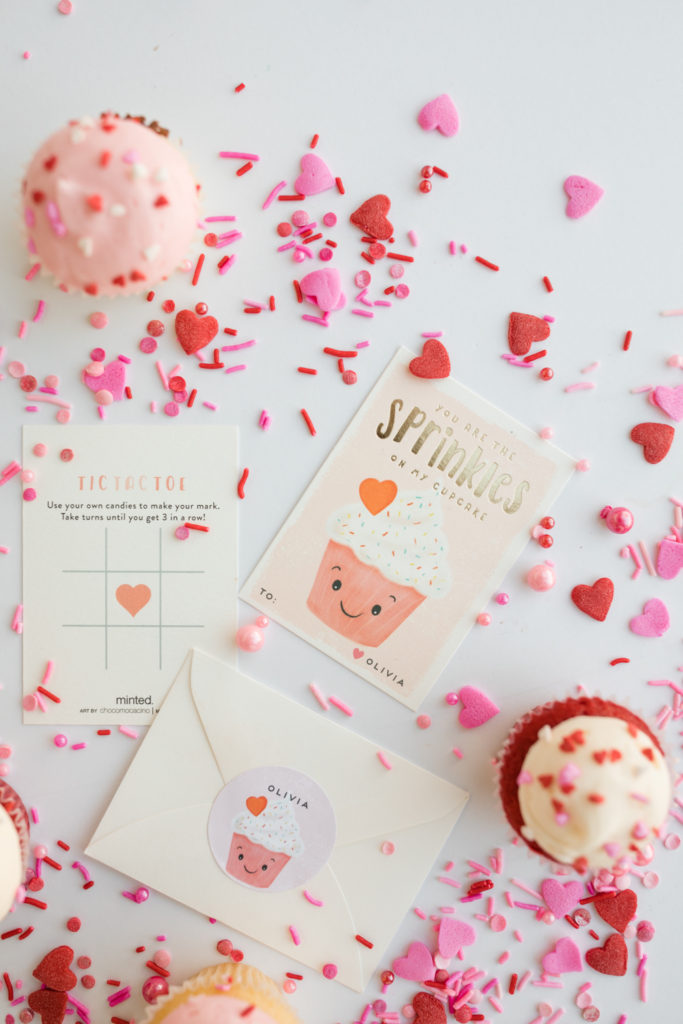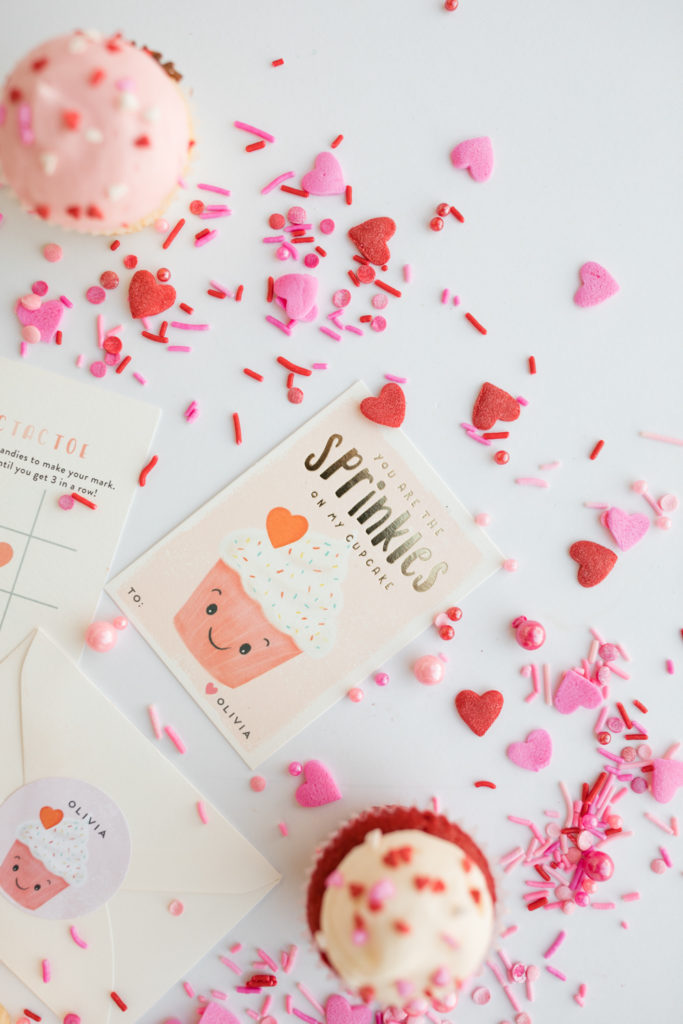 And how cute is Olivia in her brand new braces?! Adorbs!!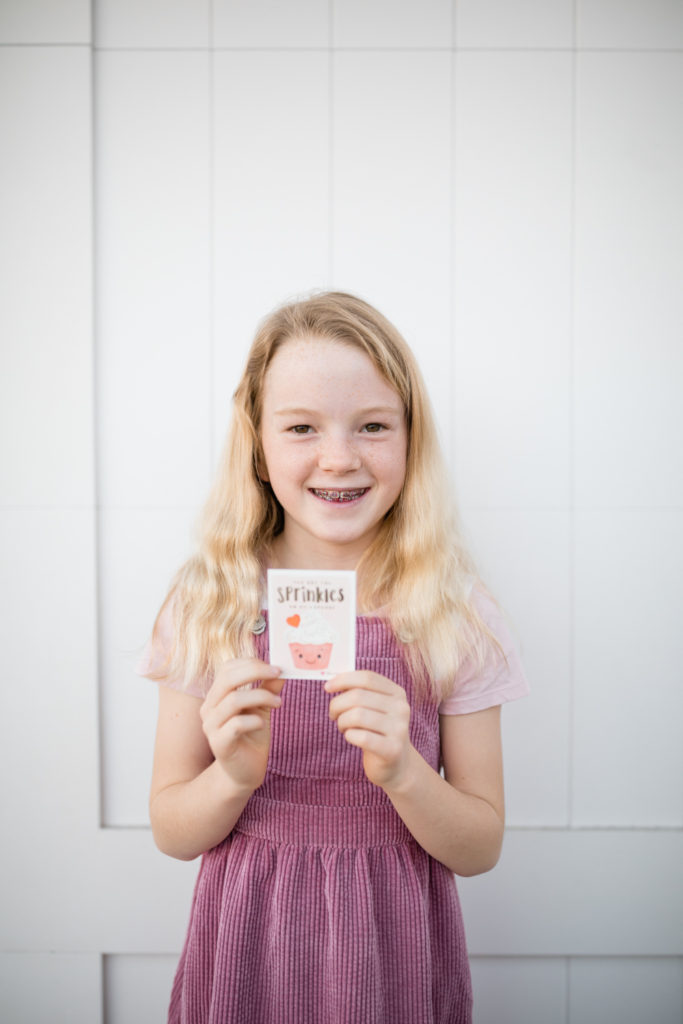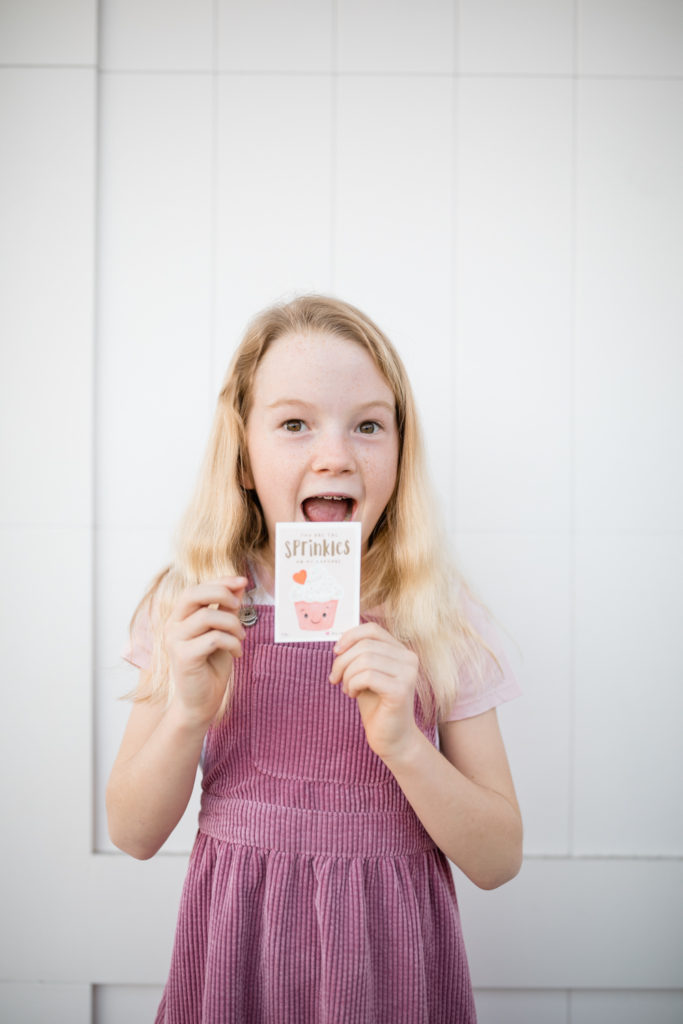 Olivia's little sister Penny who just turned 4 is ready to pop on over with her Valentines… Pop tarts were her treat of choice, of course her mama helped get the organic Trader Joe's kind! I love the turquoise and pop of pink (pun intended) on the card! Also, did you notice that all of the Valentines chosen so far have tic-tac-toe on the back?! Extra fun!!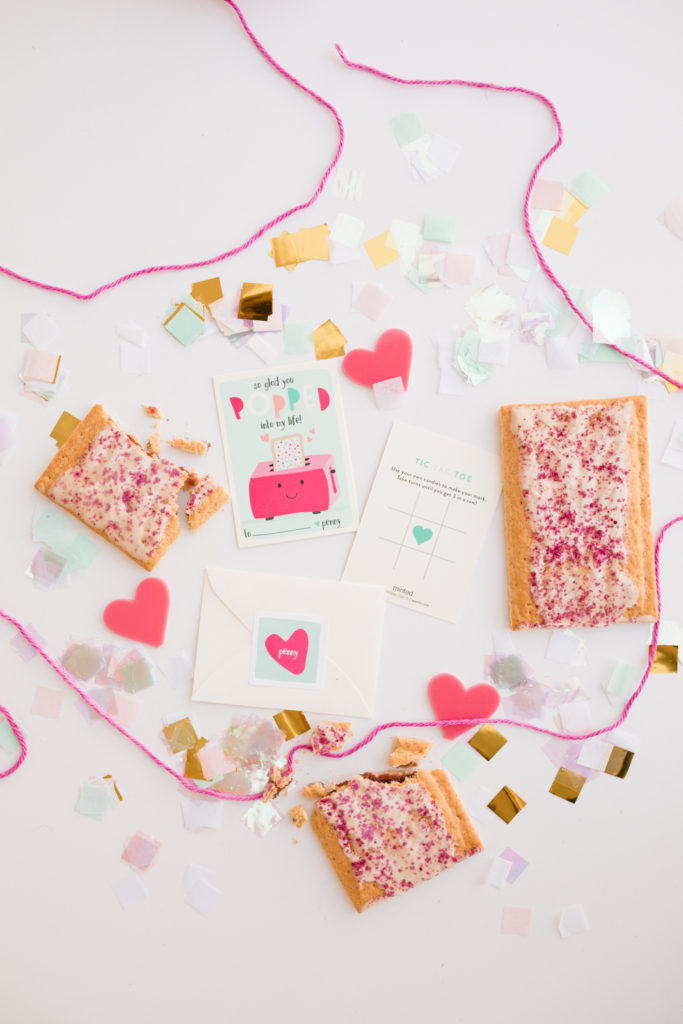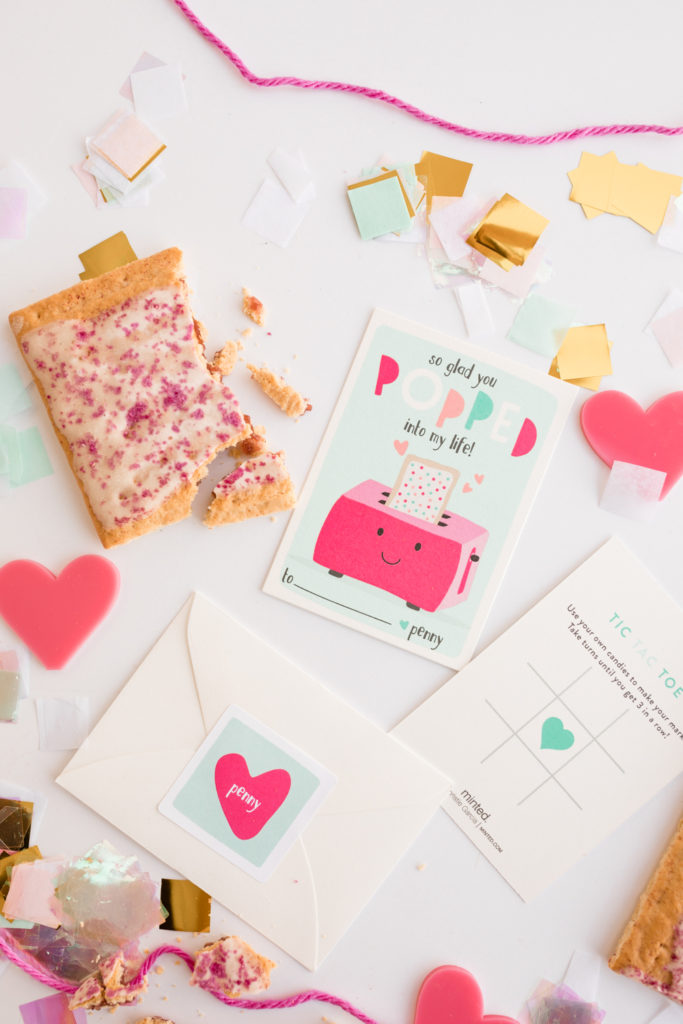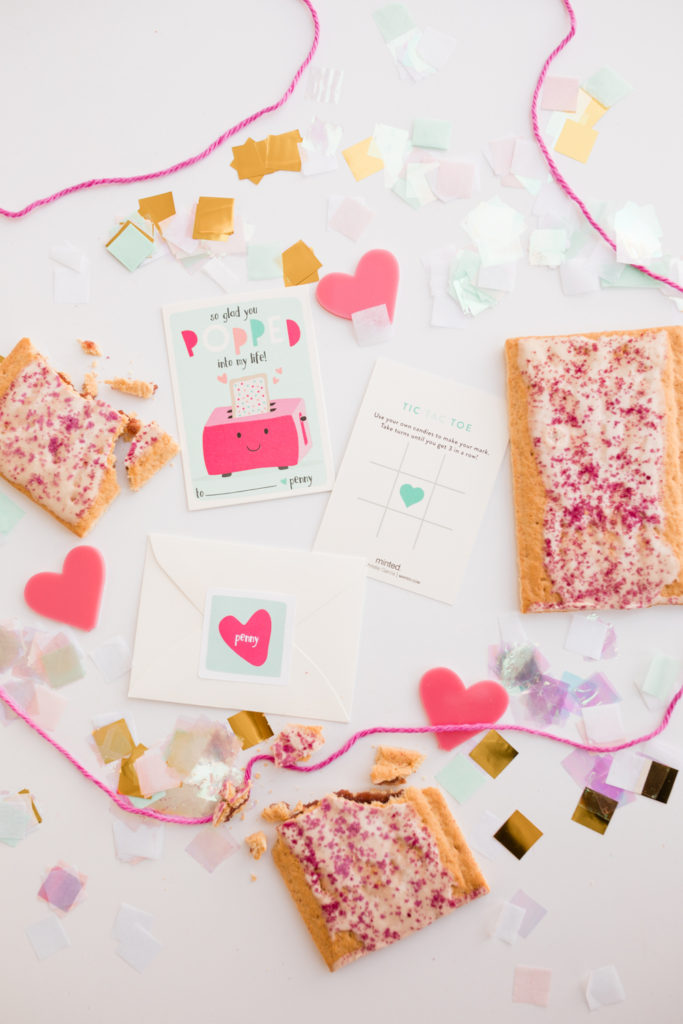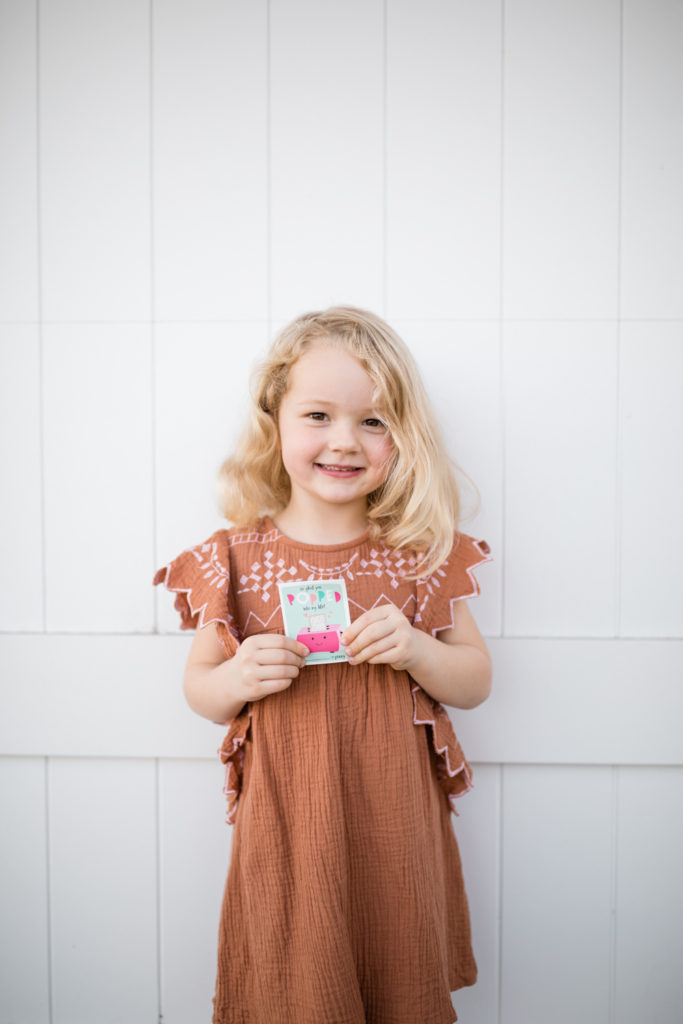 ---
Onto the boys!!! This time we are going youngest to oldest, starting with my 3 year old Cruz! Like any boy, he has a dino obsession! He chose this bright and colorful card that I really love and we are going to be giving away these dinosaur egg excavation kits! It's a fun alternative to candy don't you think?! He loved them and can't wait to give them out! Oh, and if you look closely I did my kiddo's photos on the backs of their cards, I think it's a cute touch and fun option Minted offers…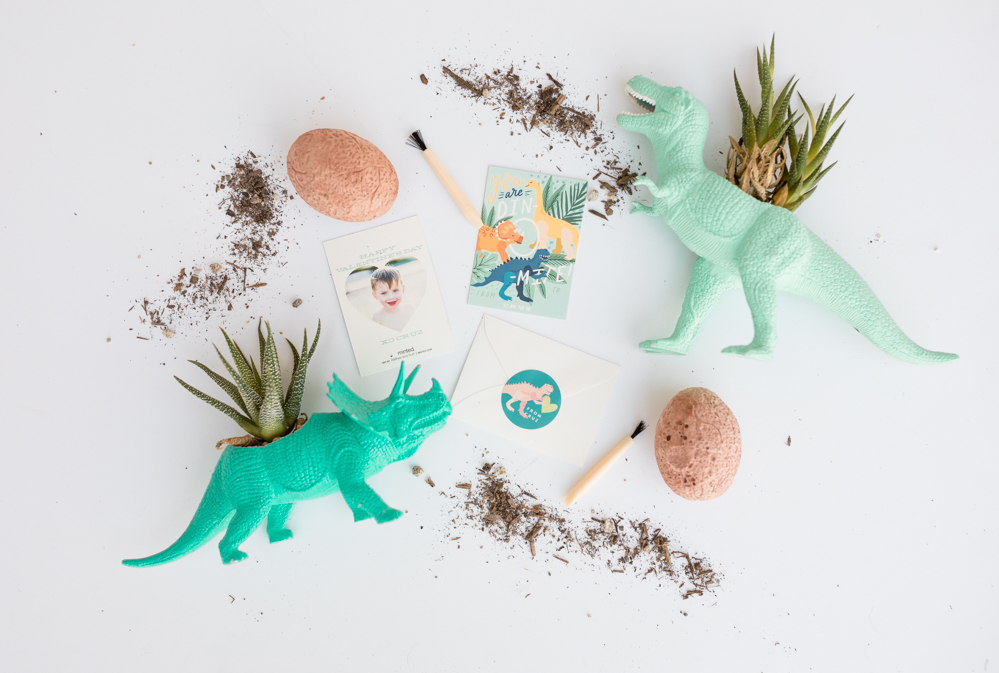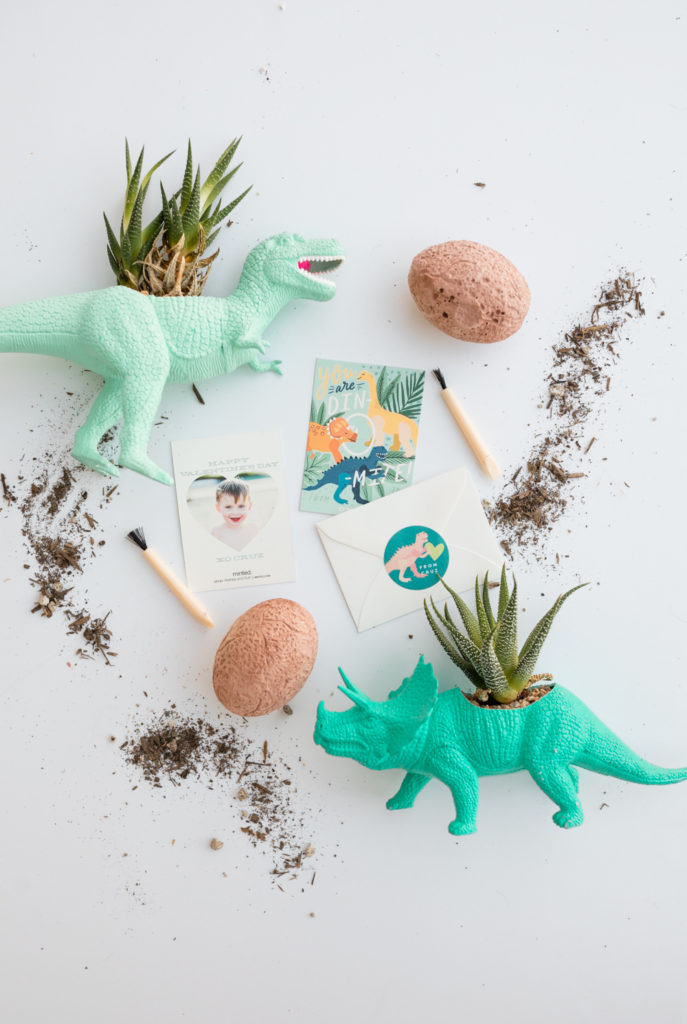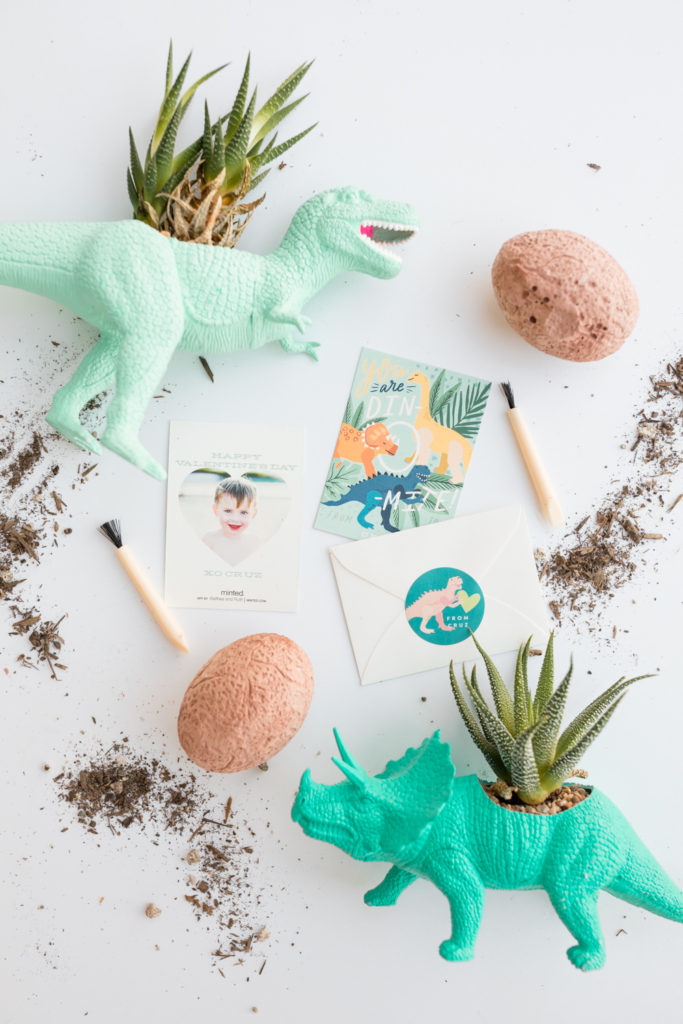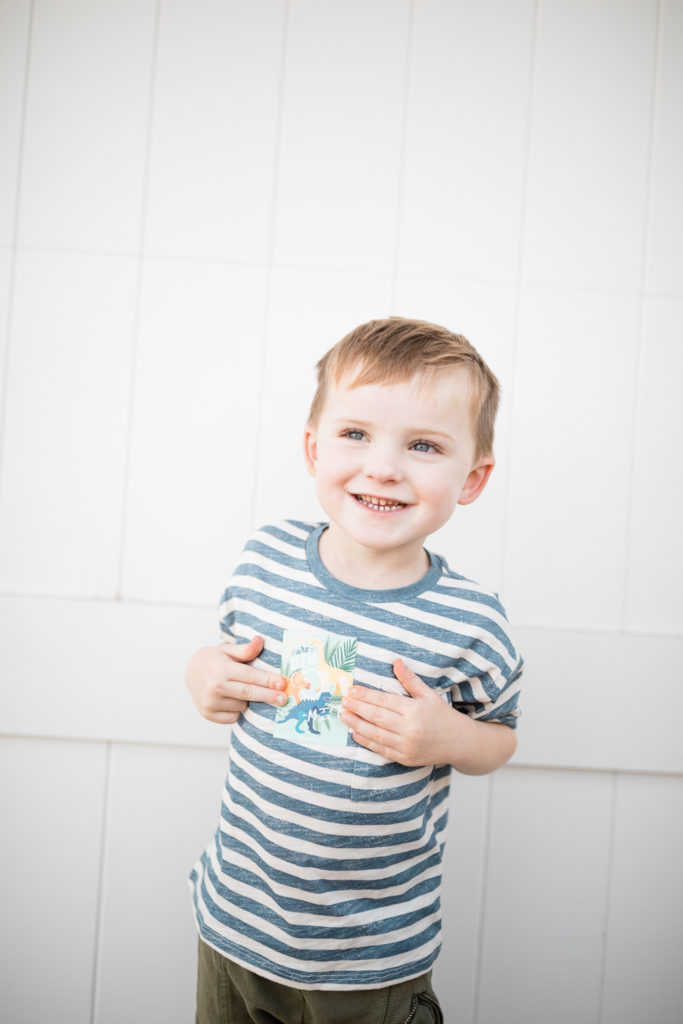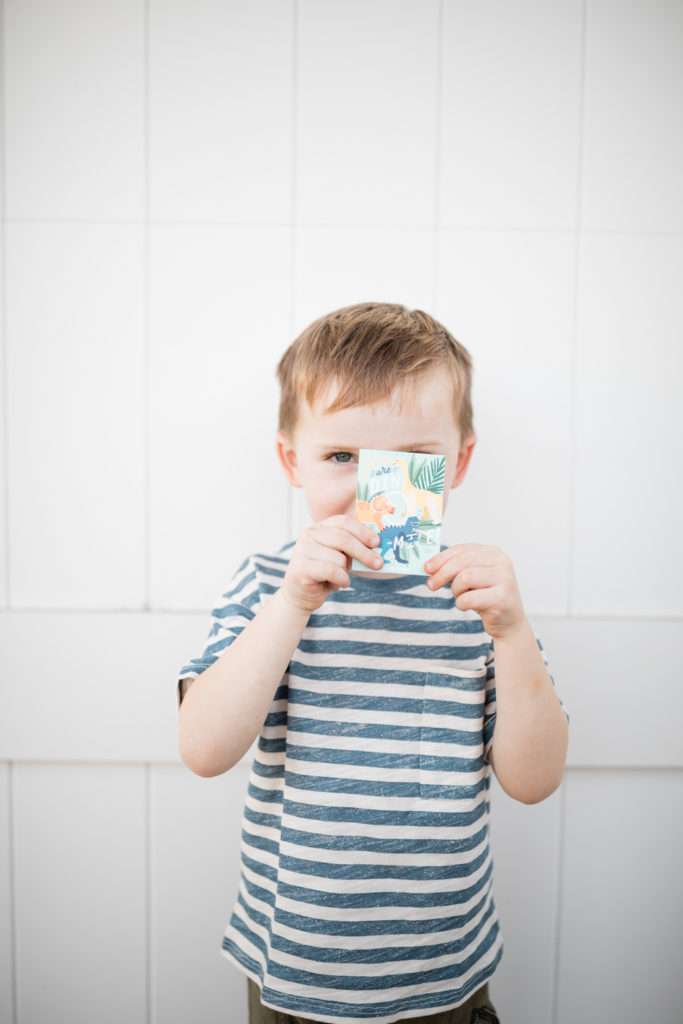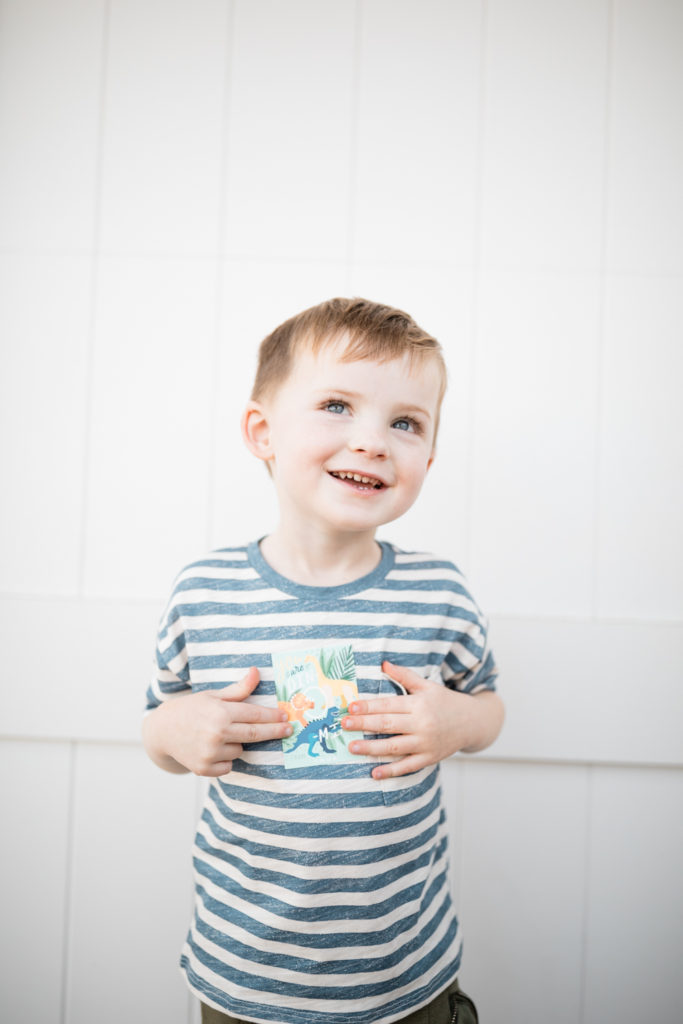 Next up, my big 5 year old kindergartner Court! I love how much he loves holidays, I don't know where he got it from… I showed him the cards and hands down this Friend-Chip one was our favorite, we both thought it was pretty funny! He's giving away chips of course and if I'm being honest, I'd be really into that as a Valentine treat, haha!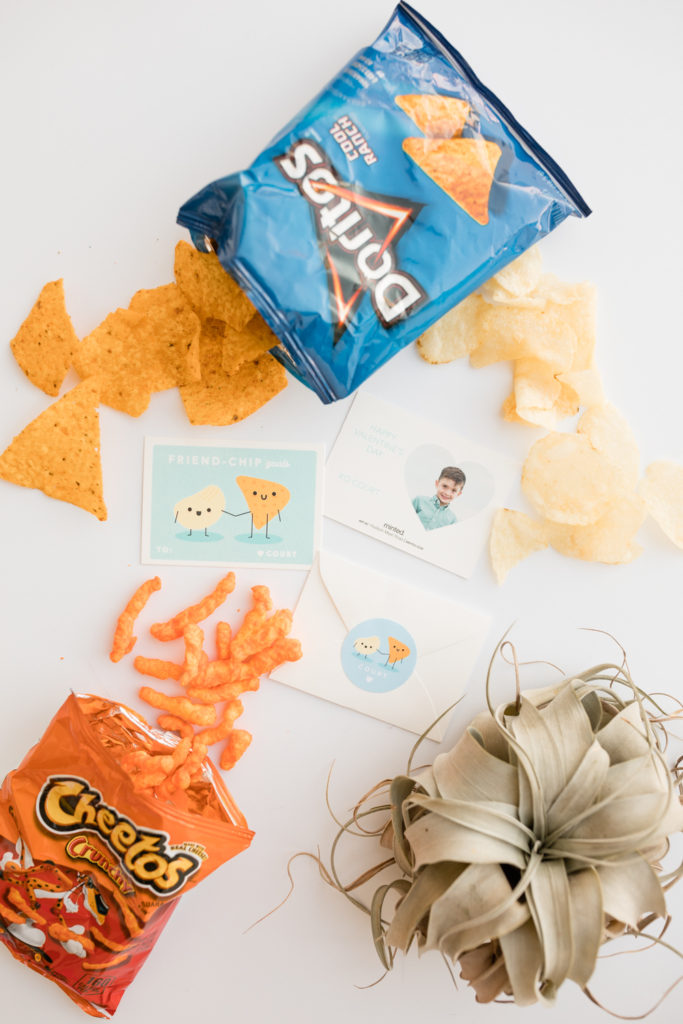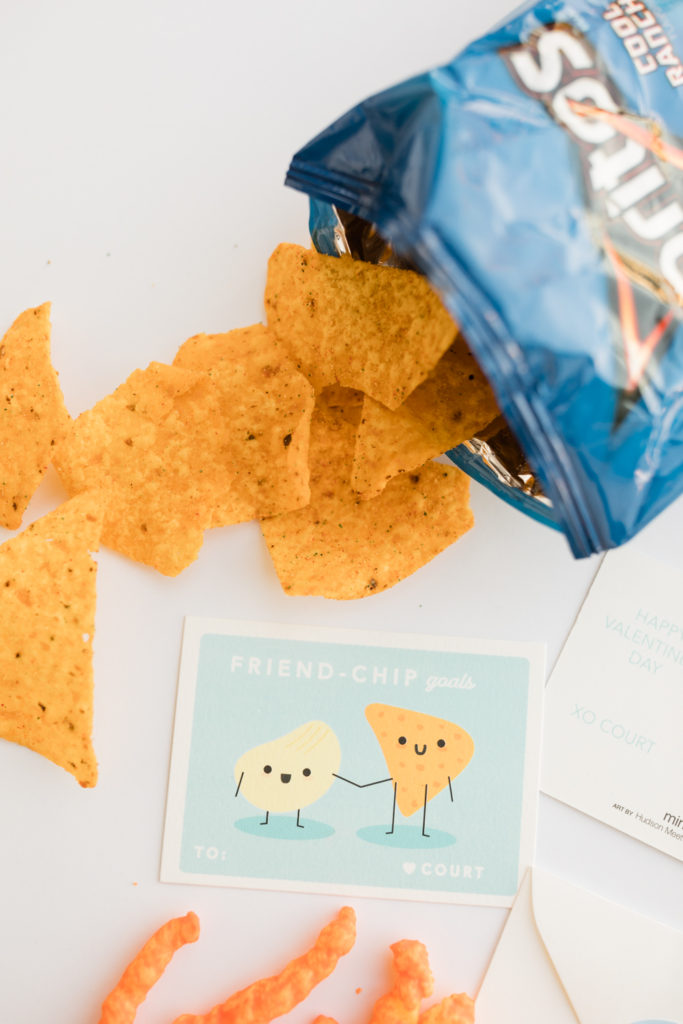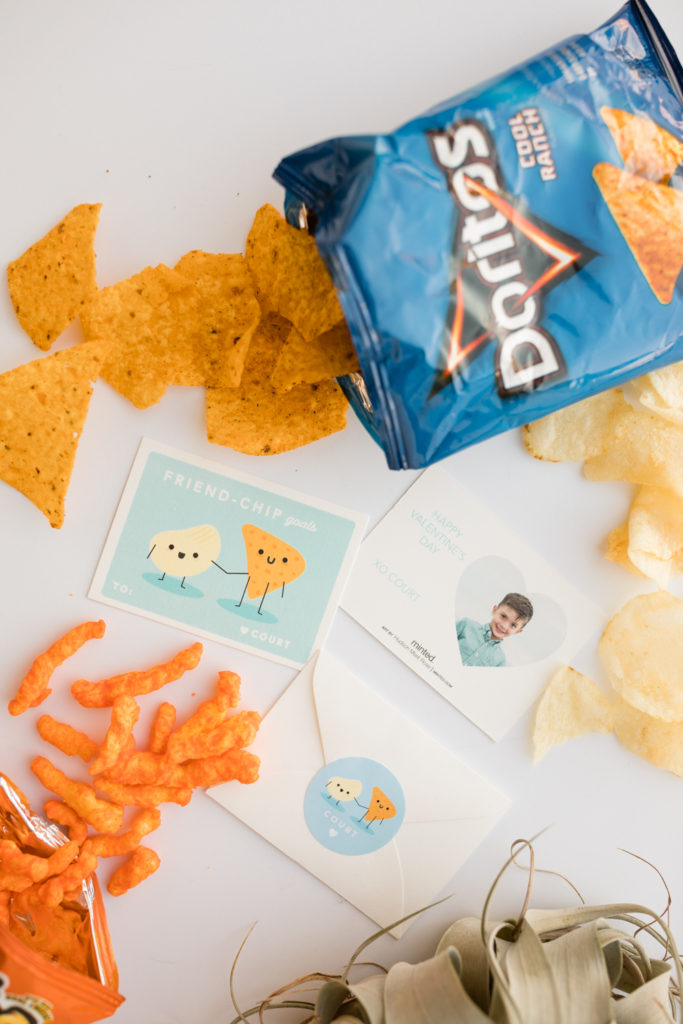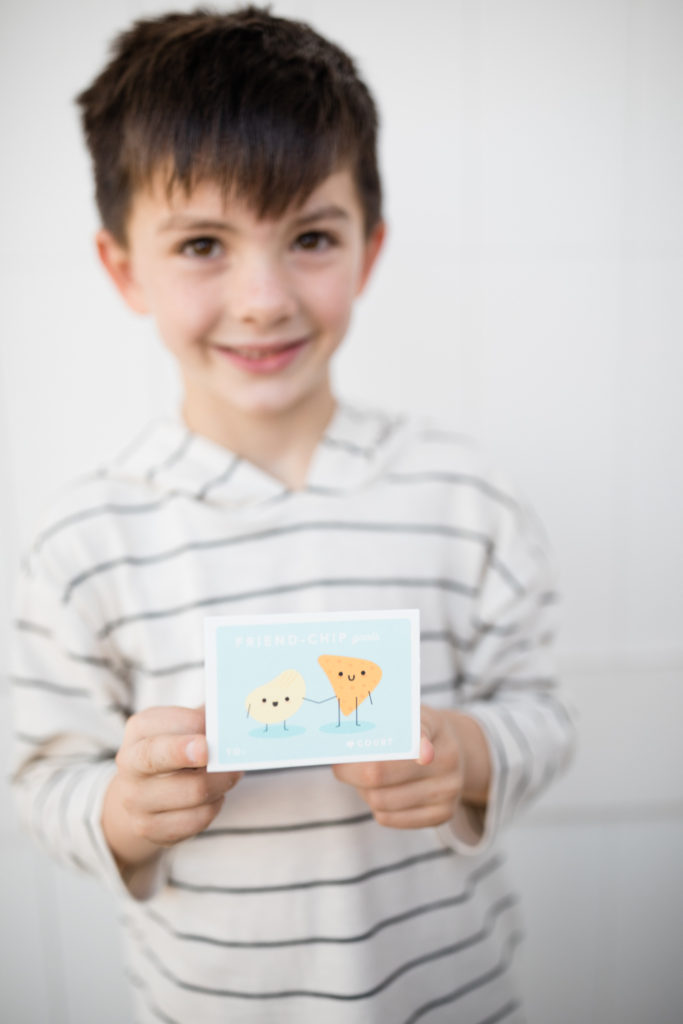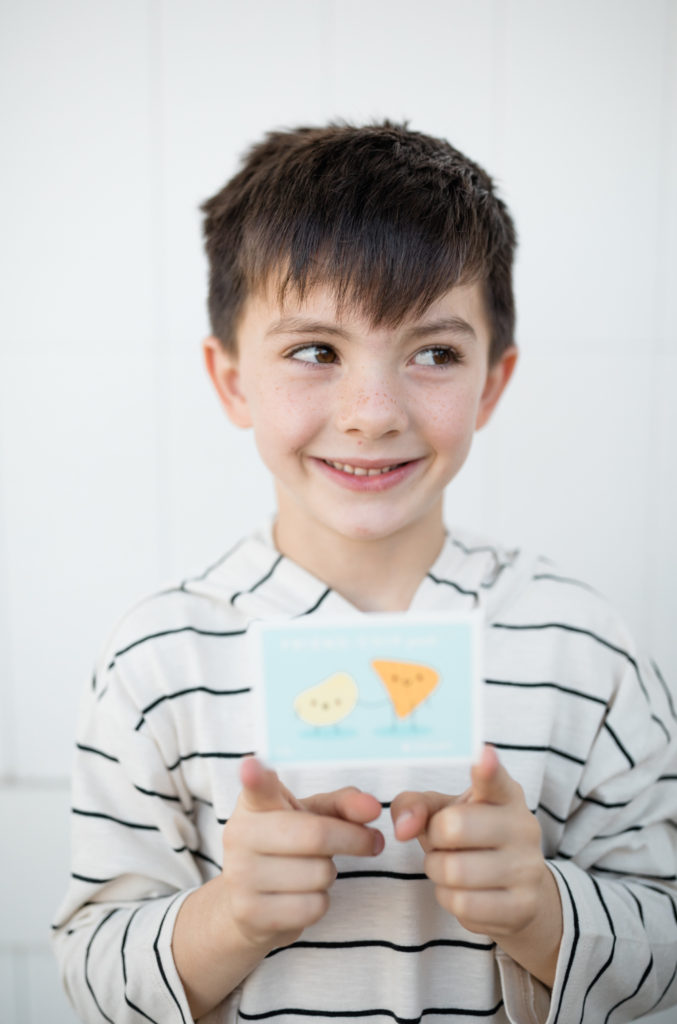 Last but not least is our oldest boy Jett who is 7 going on 8! He's Mr Big stuff these days and is too cool for some of this stuff, so of course he went with this card! Pretty much sums it up, don't you think?! Since it's sort of dark humor, Abby went with dark chocolate! She also found the cutest black heart sunnies that go perfectly…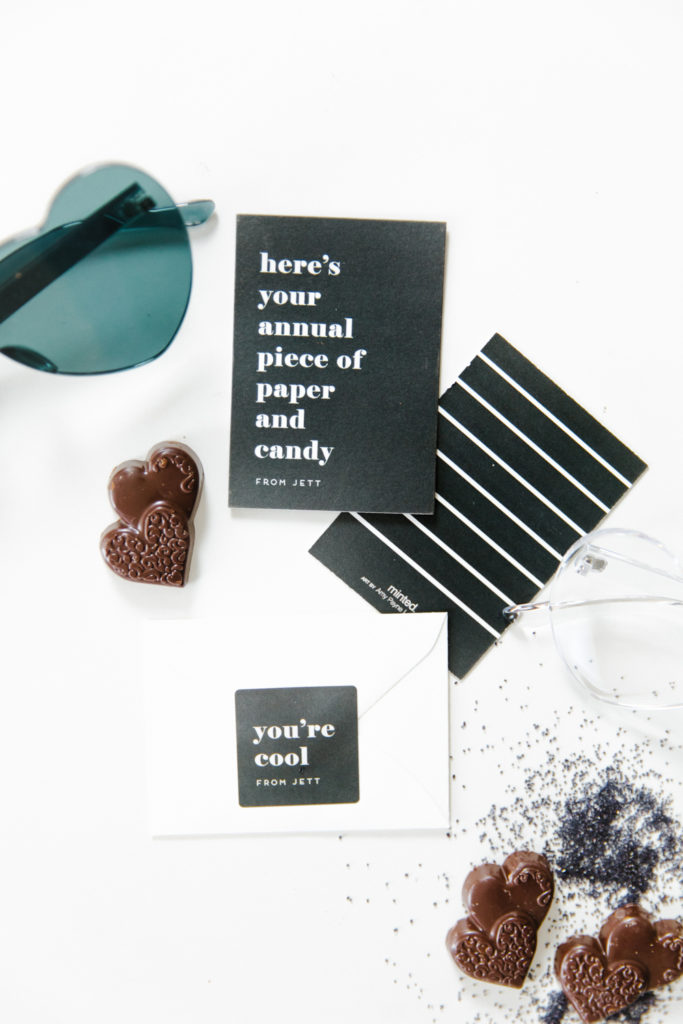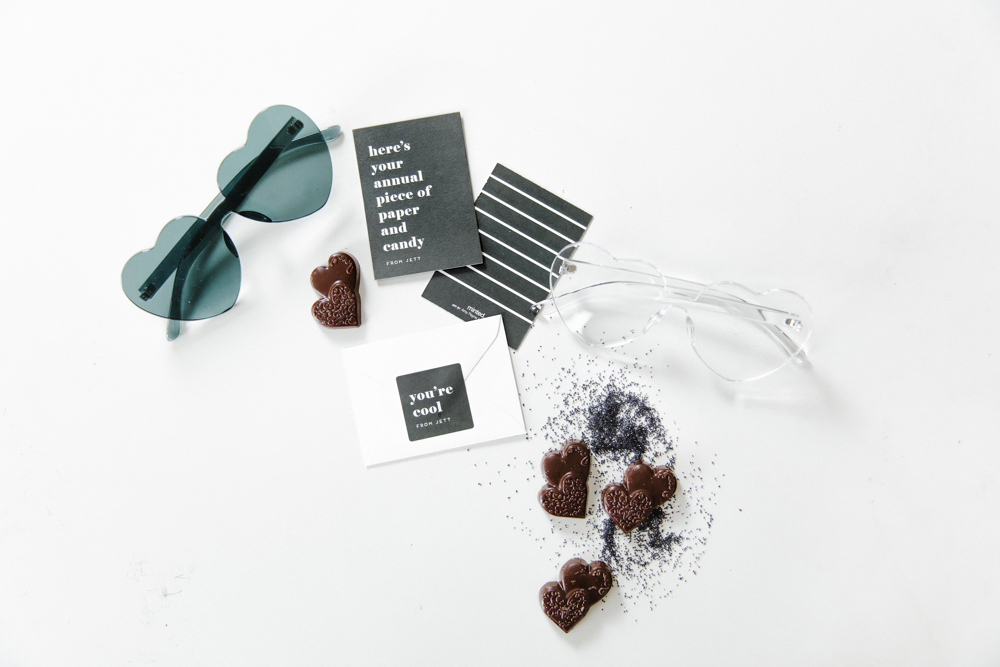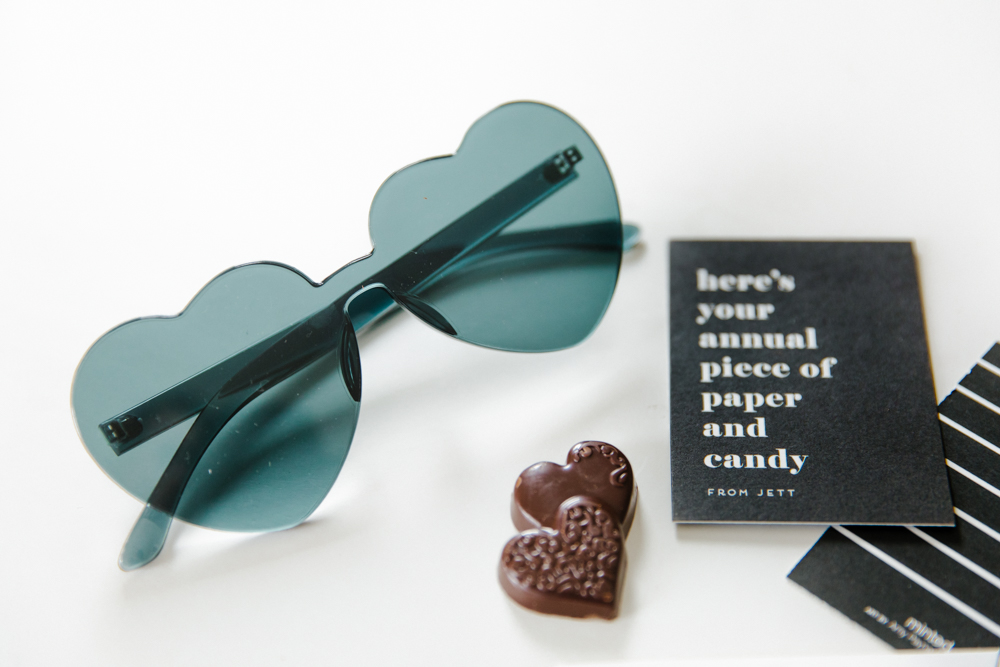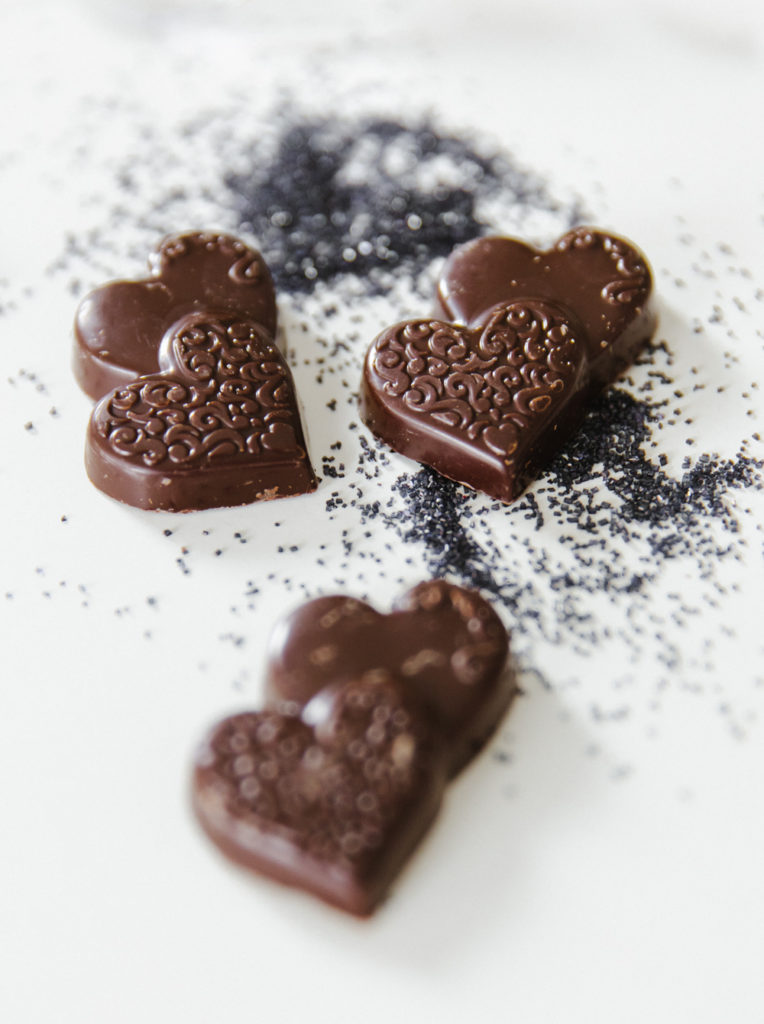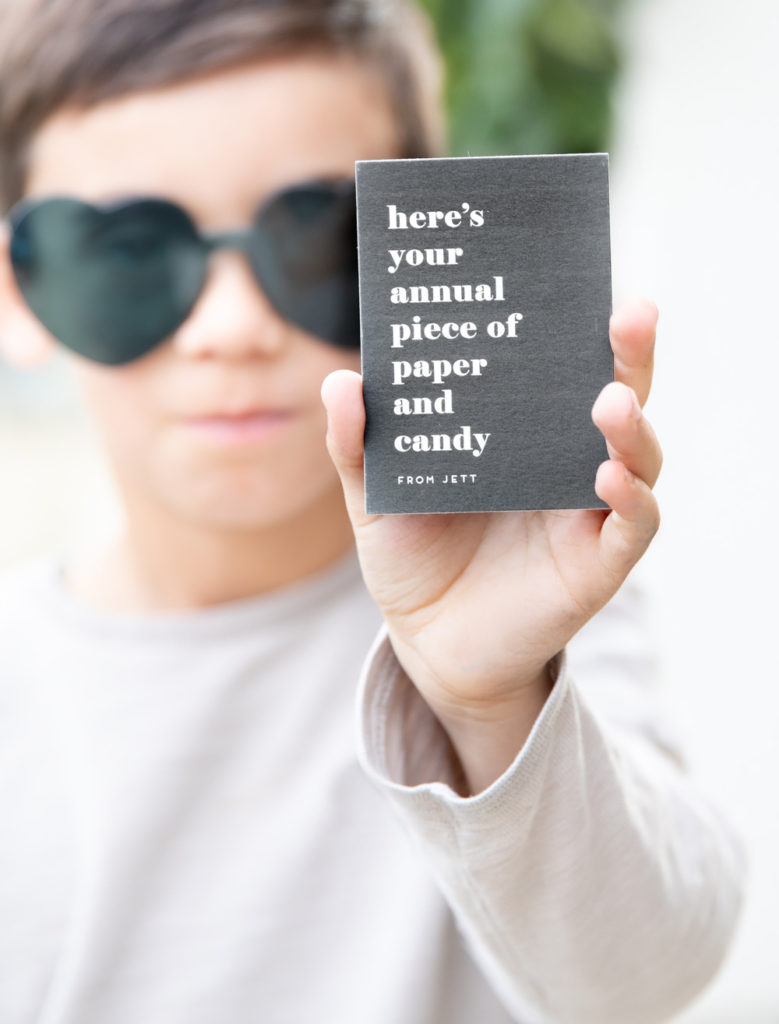 Shop Beijos Valentine's Classroom Cards & Stickers

---
Onto wall art & home decor! We all know Minted has the best art prints, we all use them through-out our homes. But what we really like is adding some love in our home for holidays and making it festive in a stylish way. We found some fun prints on their site that will spice up your home for Valentine's Day that's not store bought cheesy!
This Love Love Love You print by Max and Bunny sits perfectly in Dylan's room on her shelves. I think it would look great there year round but is obviously so sweet for Valentine's Day!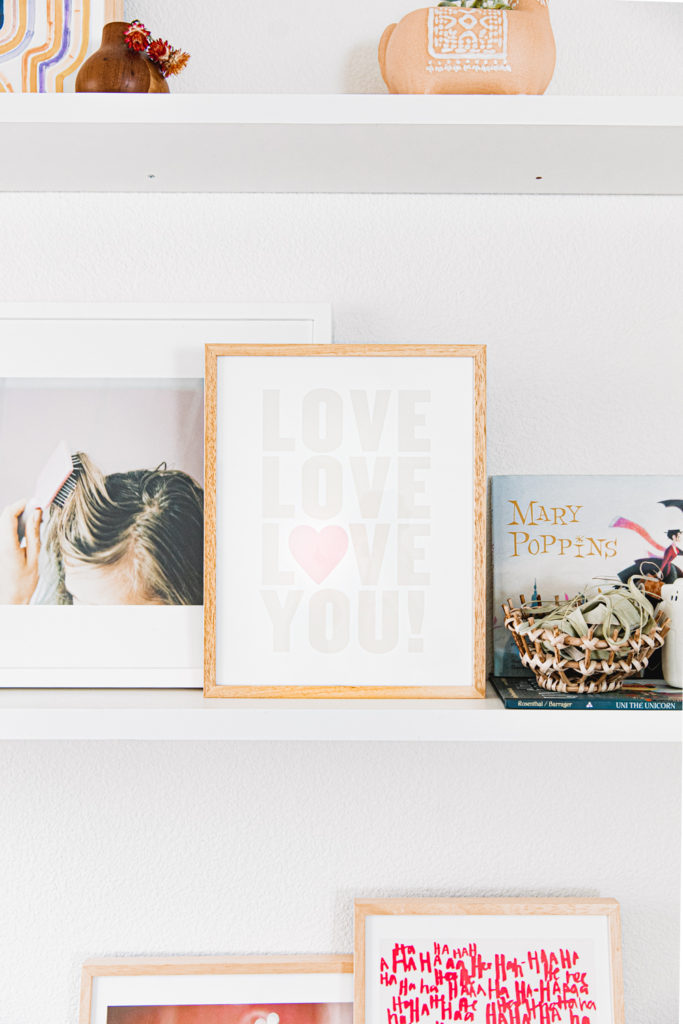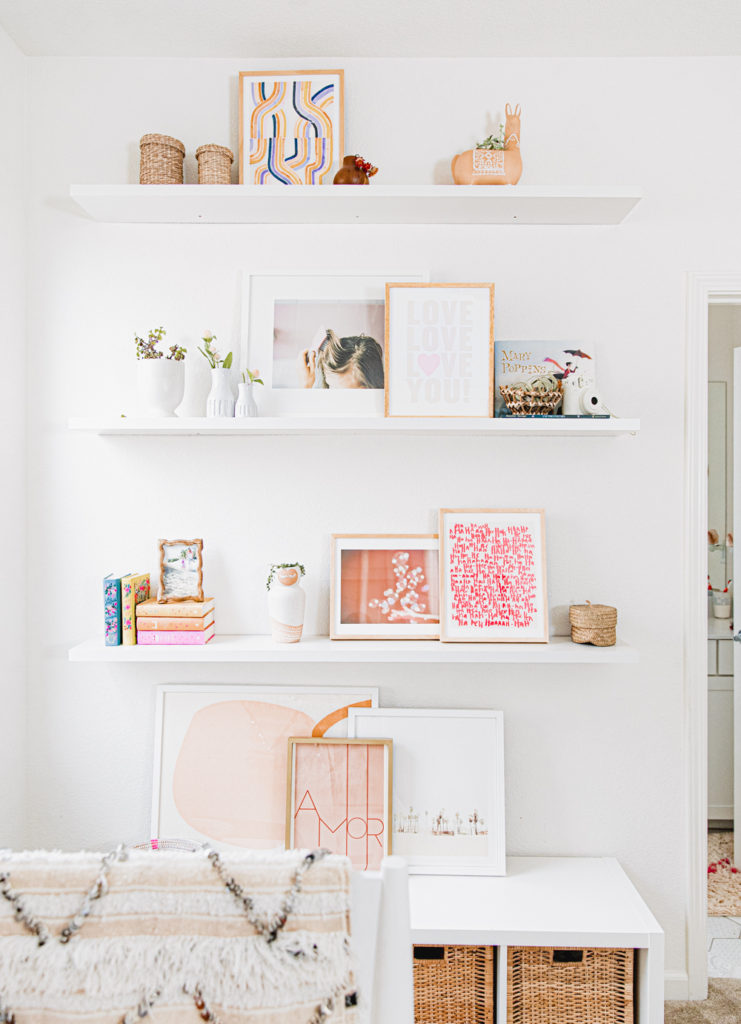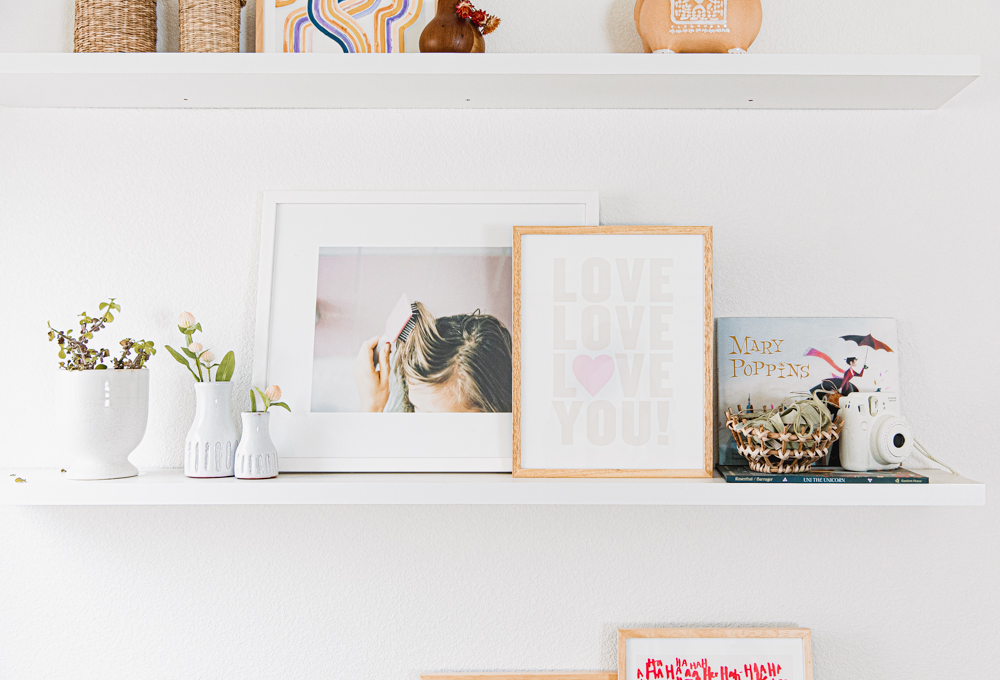 I love the simple modern feel of this print below by hi-lighter inc. and of course what it says!! It's called the News Flash print and that is one news flash you better be sharing come February 14th!!! It's the day to tell someone you love them, and what cuter way is there then this?! We also had some flowers delivered from Teleflora – which you can never go wrong with that either!!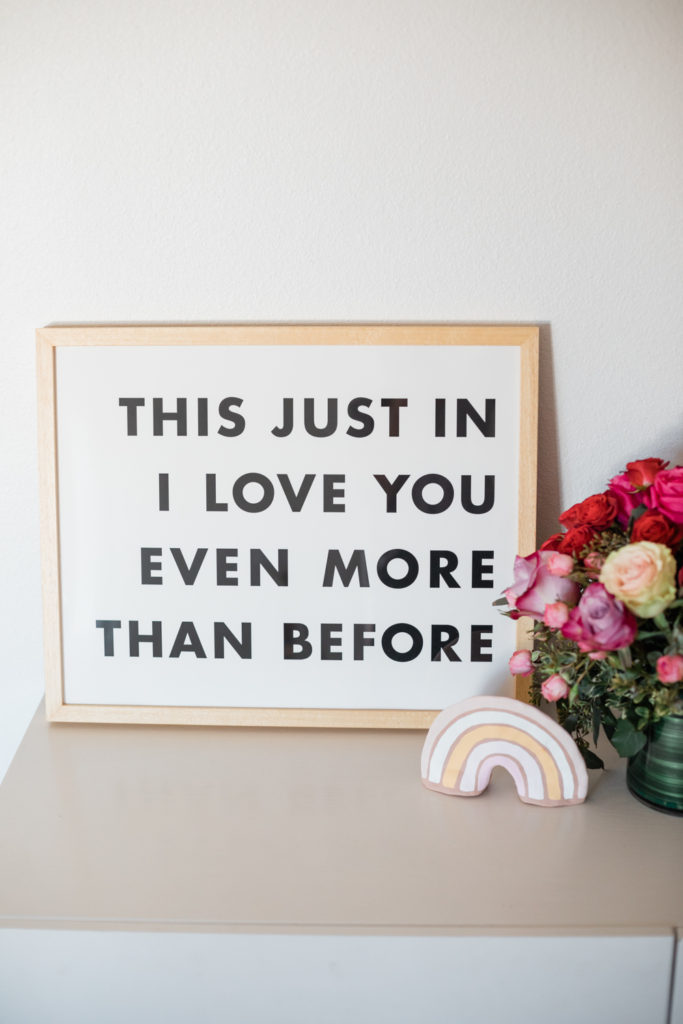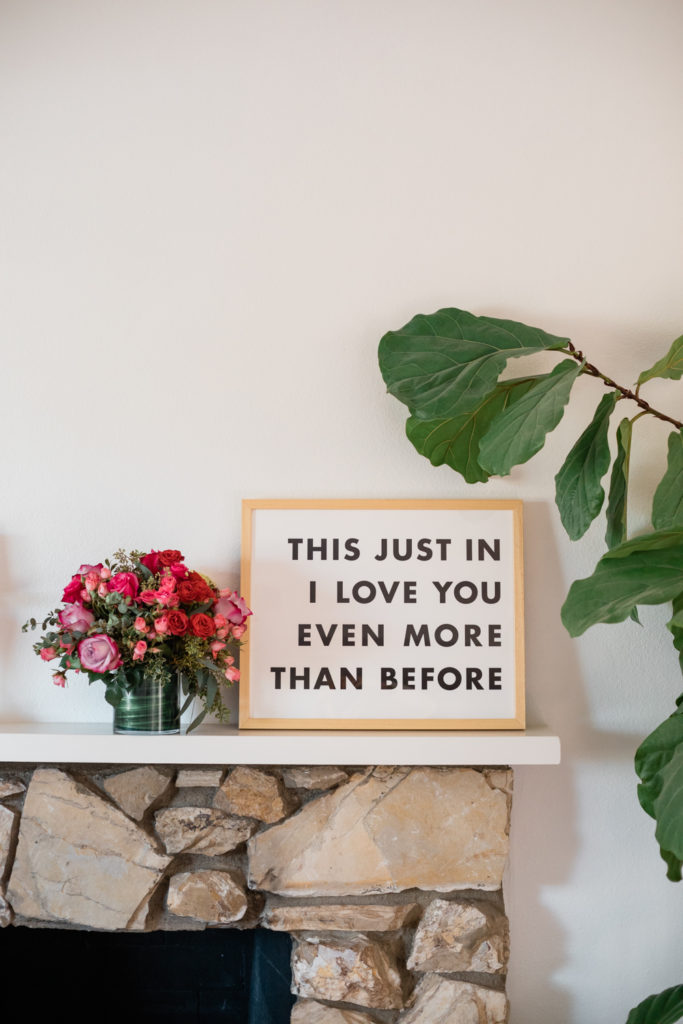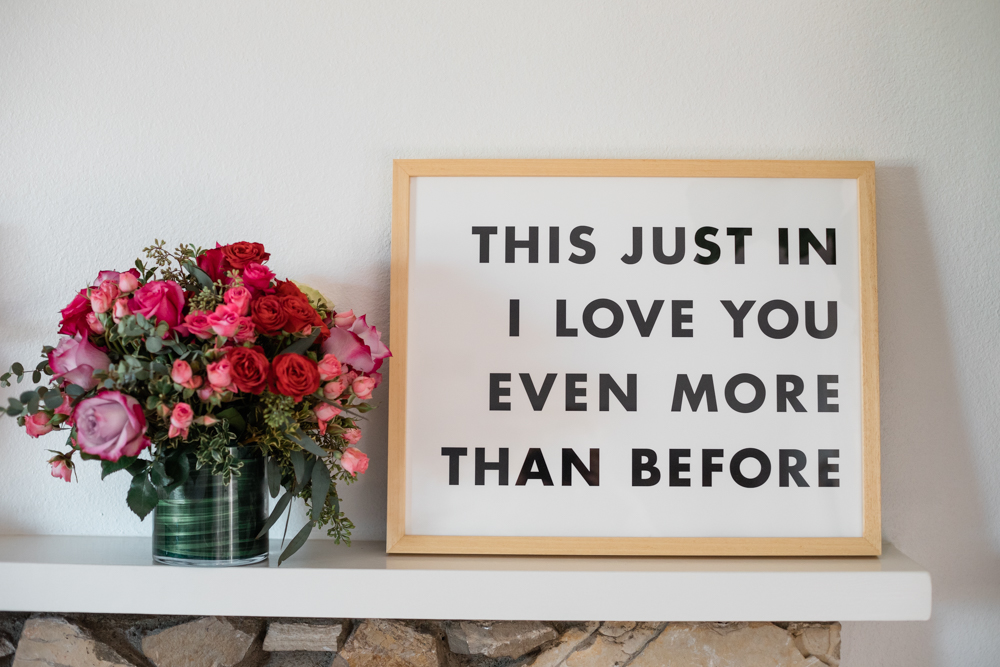 Last but not least, my family and I got a new piano for Christmas and I wanted to dress it up for Valentine's Day! I got this cute I Love You So print by Kelly Ventura last year and since I love it so much, it now sits up in my house year round. We added a photo booth strip of my husband, kids and I to it which I love.
But I needed something behind it and I wanted it pink for the day of love!! I found this beautiful Mountain Range print by Sadie Holden and thought, that is perfect!!! Lastly, adding a beautiful arrangement from Teleflora and disco balls and this is one happening spot!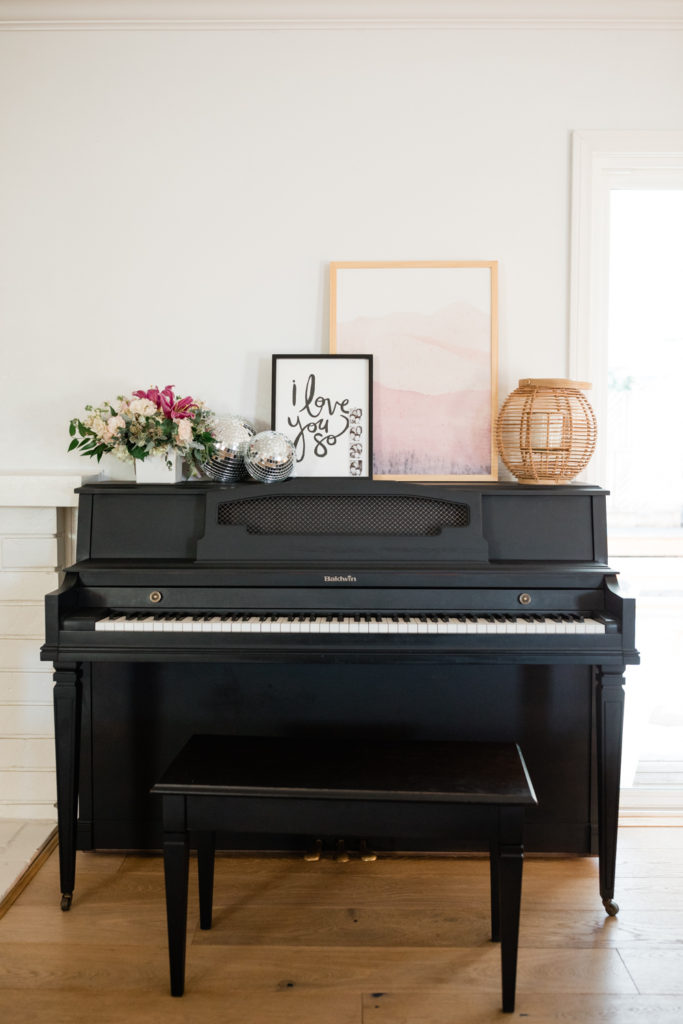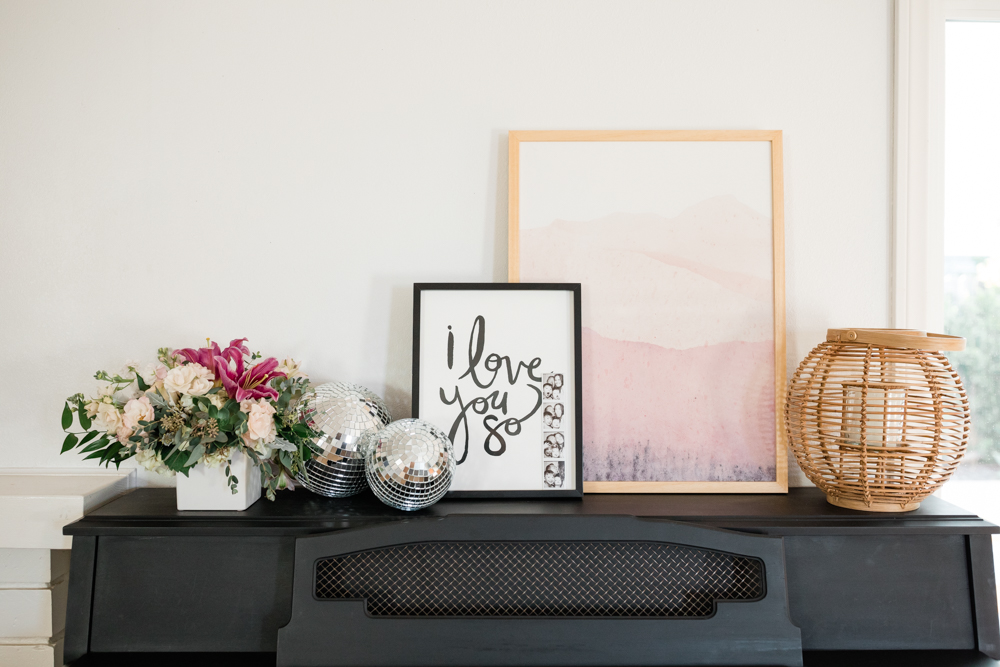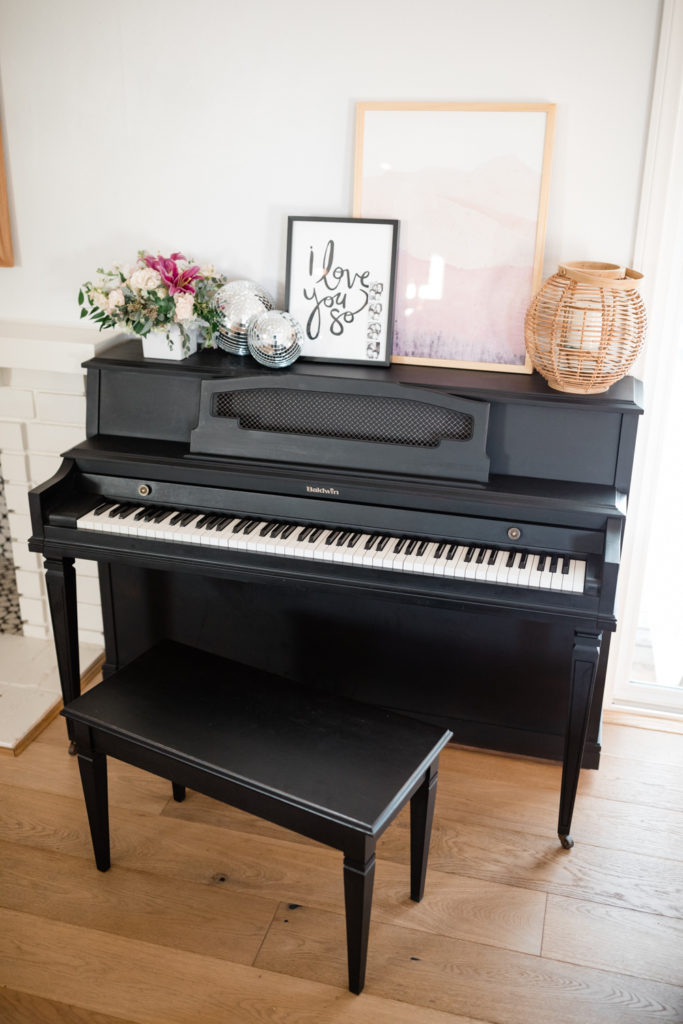 Shop Beijos Valentine's Day Art Decor

And there you have it!!! So many fun ideas from Minted for Valentine's Day!!!
More Valentine's Day posts coming soon!
xx
Jacquelyn