As Halloween creeps up on us more, we will be sharing lots of fun inspiration! We've already shared this cute backyard kid's party, a ladies Tarot night and this amazing Ouija cheese board. Today it's all about a black and white themed fright night!
This elegant tablescape would be the perfect haunting night in for the adults. It has just the right amount of spook to it! We are featured on Green Wedding Shoes today as well, so be sure to check that out! In the meantime, let's get to this prettiness and a little advice on how to recreate this in your own home!
Photos by Cyd Weeks Photography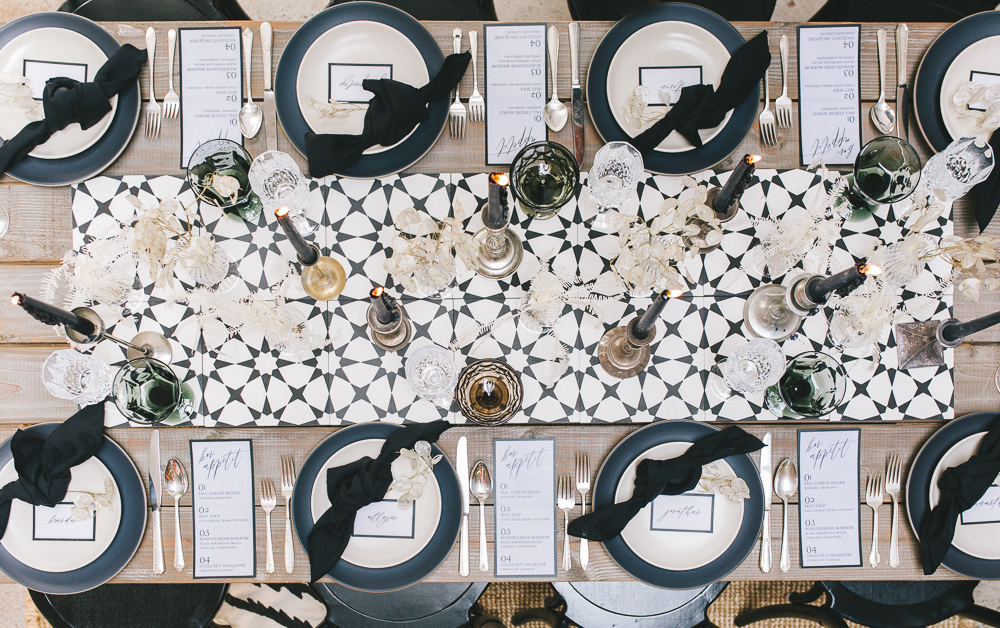 The design of this table started with these pretty Cement Tile Shop Atlas II tiles. I used these tiles in my home and had some extra and thought they'd make for something fun! The tiles add a great modern vibe to the overall feel of the party. Which leads me to my first bit of advice…
If you want a modern vibe – go Minimal… With the stand out pieces being the tiles and the floral installation (more on that later) I kept everything else fairly clean and simple. From the paper goods by River & Bridge to the gorgeous tabletop from Cherished Rentals. We also used sparse flowers on top of the table to let the tiles do the talking – but black tapered candles are definitely a must!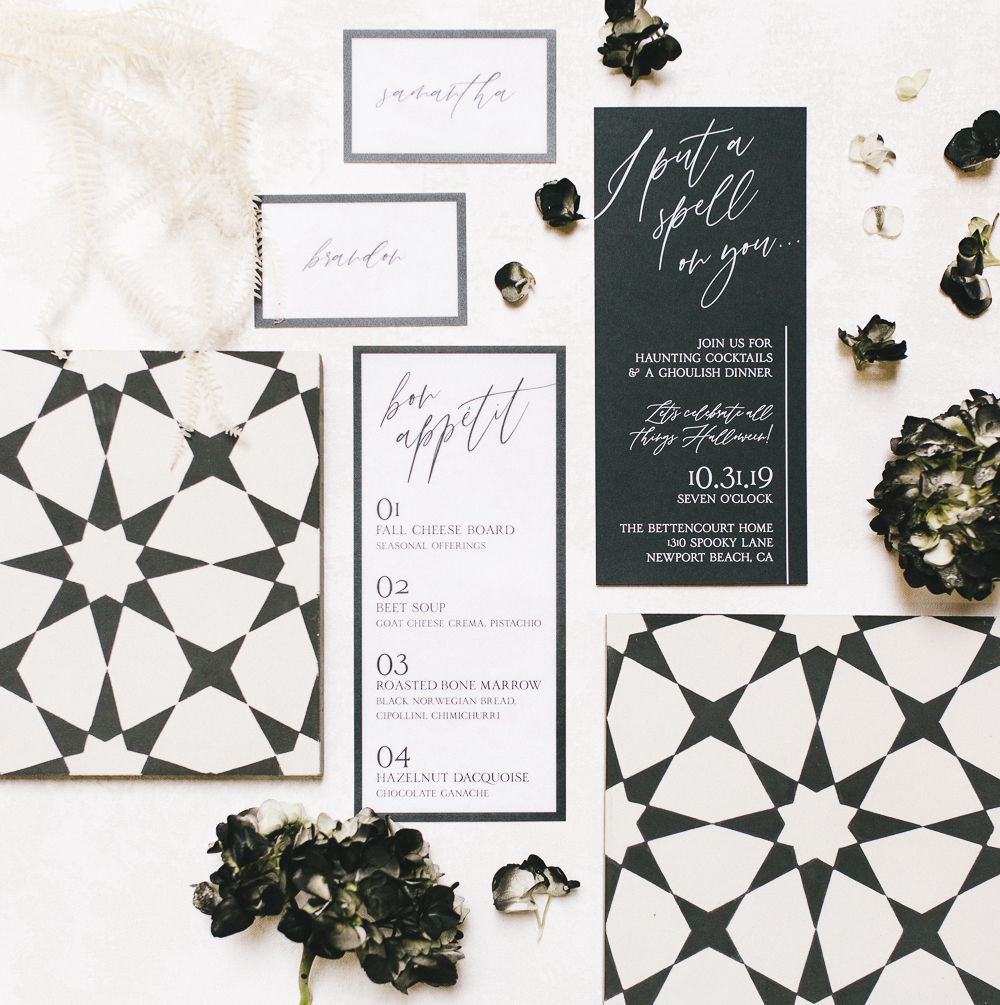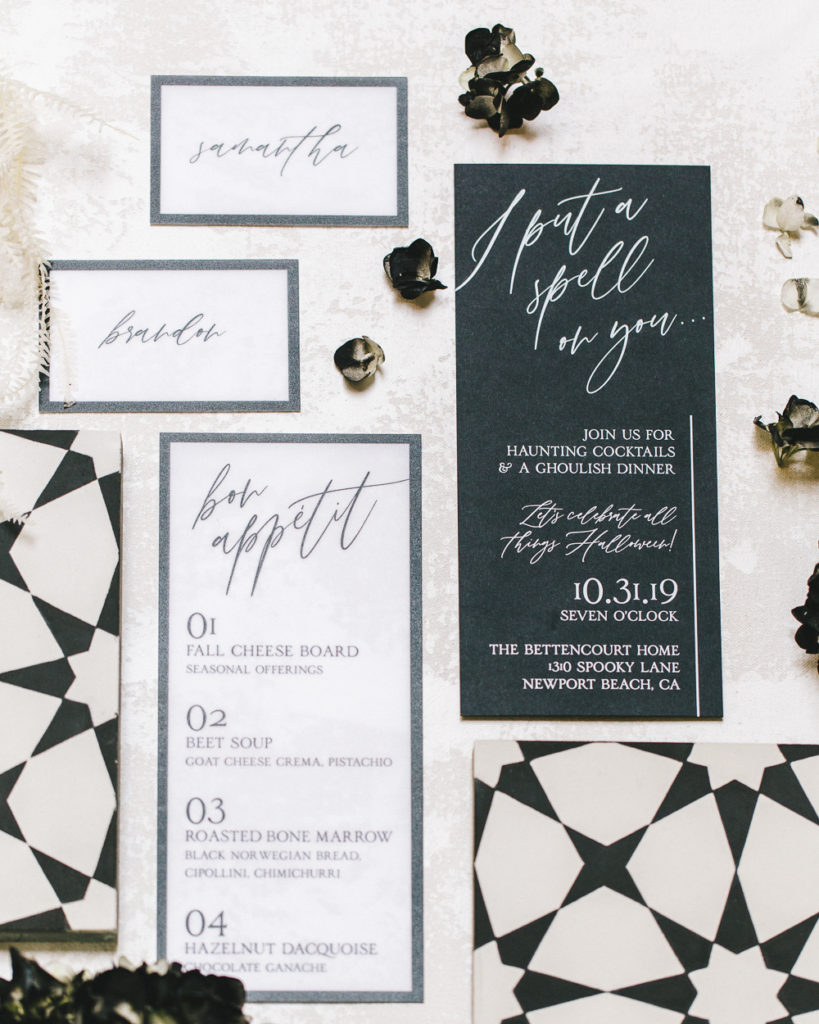 All of this pretty is laid out on Chasing Stone's gorgeous styling surface. We use them a lot when styling all of our flat lays. They are going to sell these pretties real soon, so stay tuned!!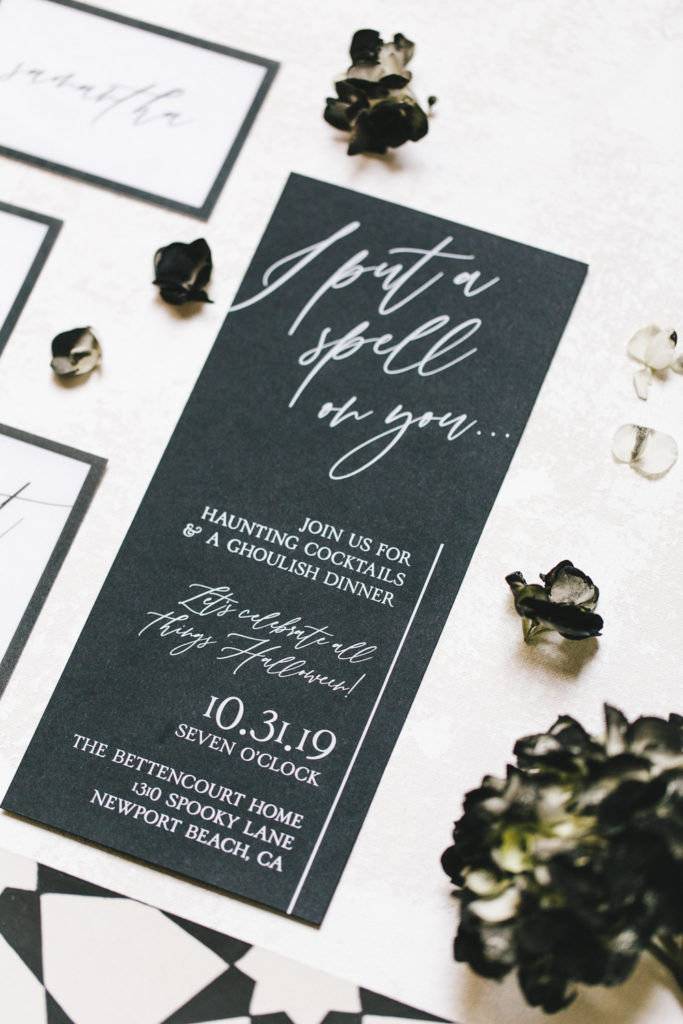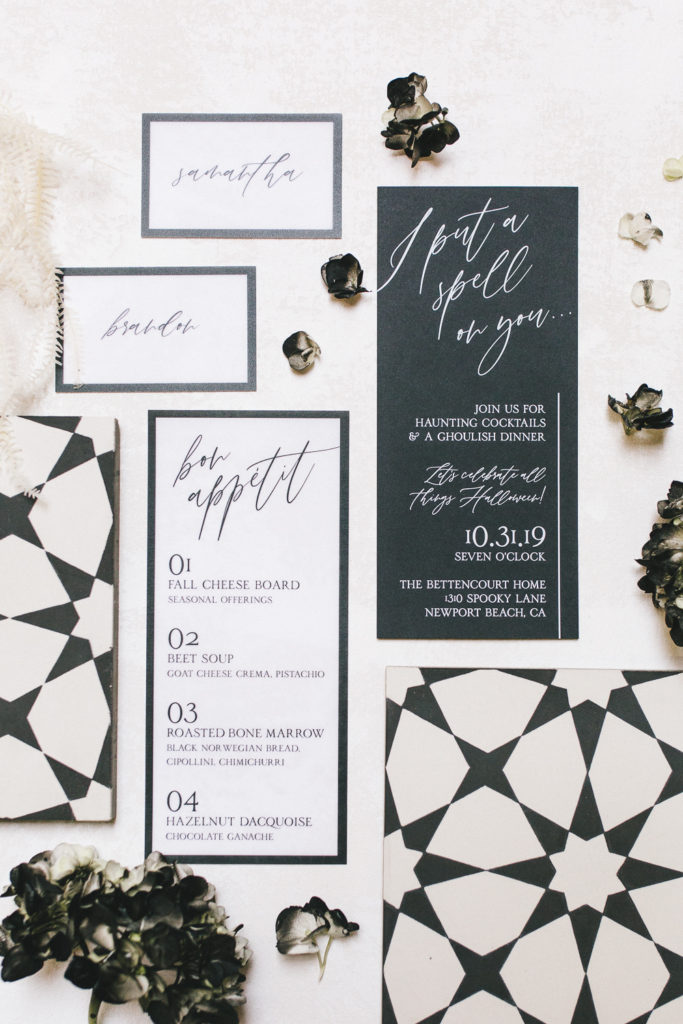 Next up – Get Spooky with your Florals… Our florist Alex from Third & Park spray painted hydrangeas to make them have that dark grayish black color! I love the eerie yet eye catching feel they created above our table.
It's definitely a different and out of the box idea that would wow your guests! Obviously this hanging installation may be difficult to recreate in your own home, but you could use them on the table or through-out your home instead.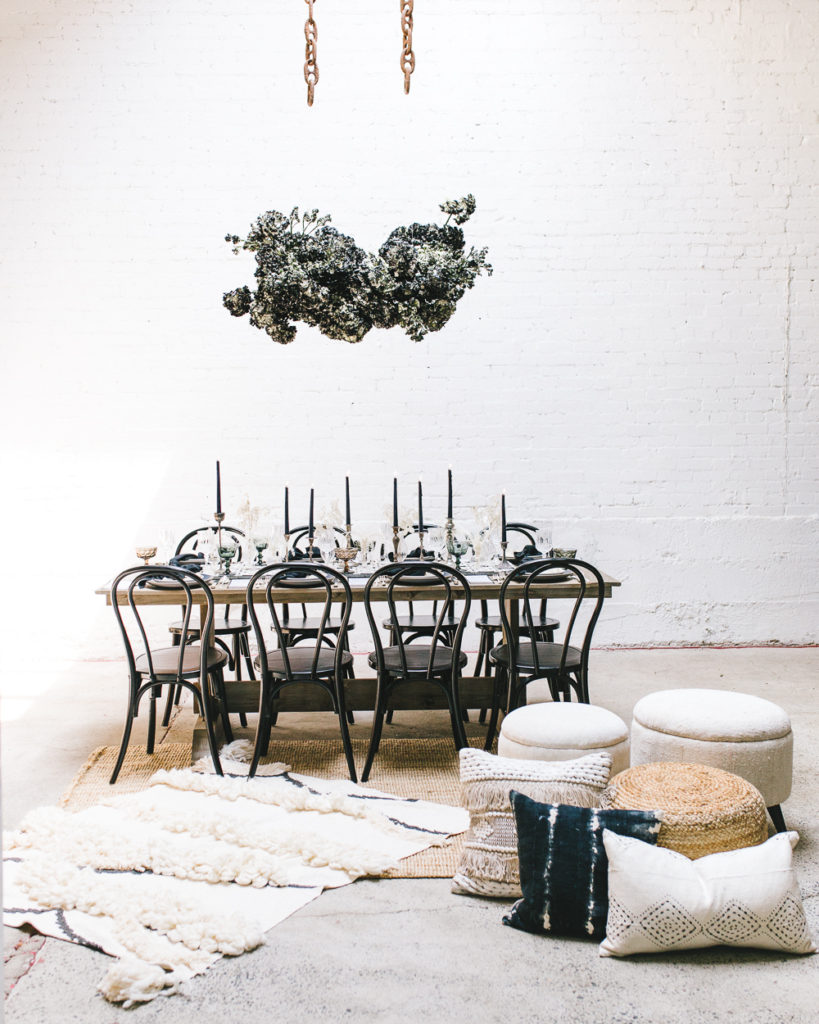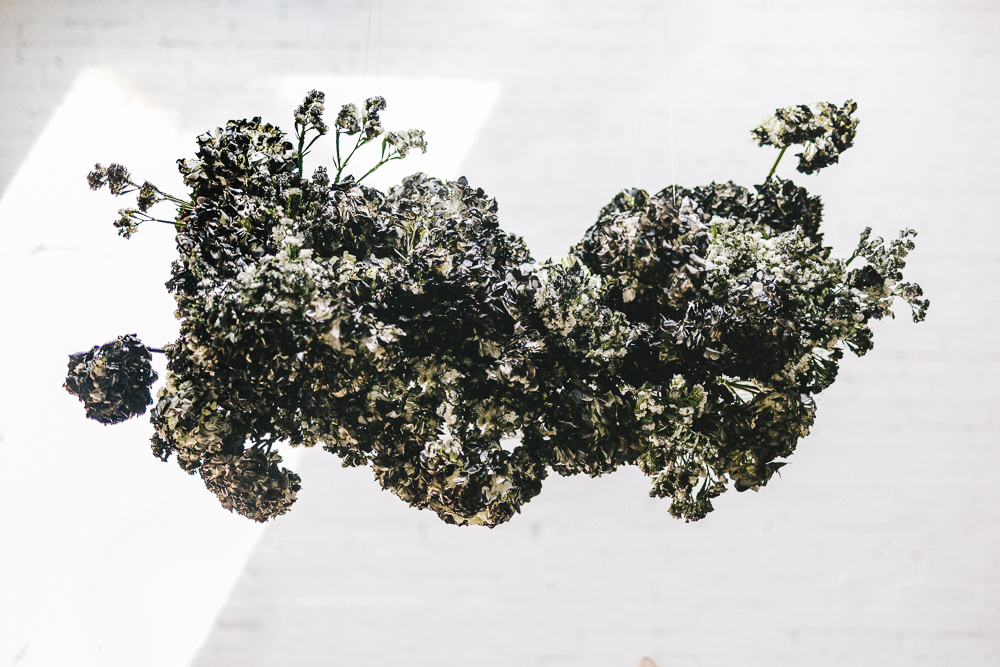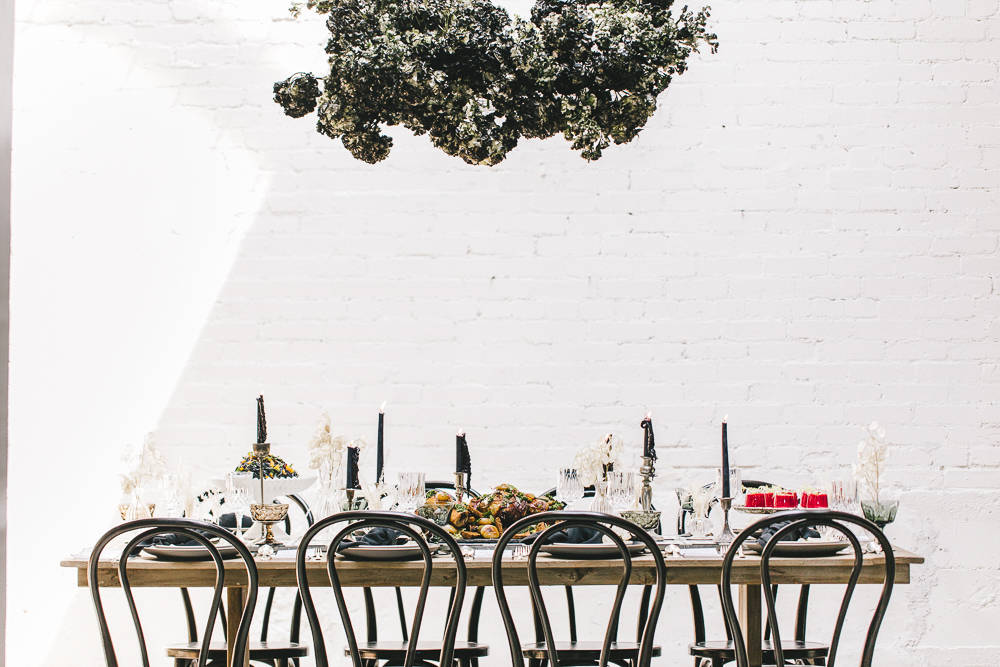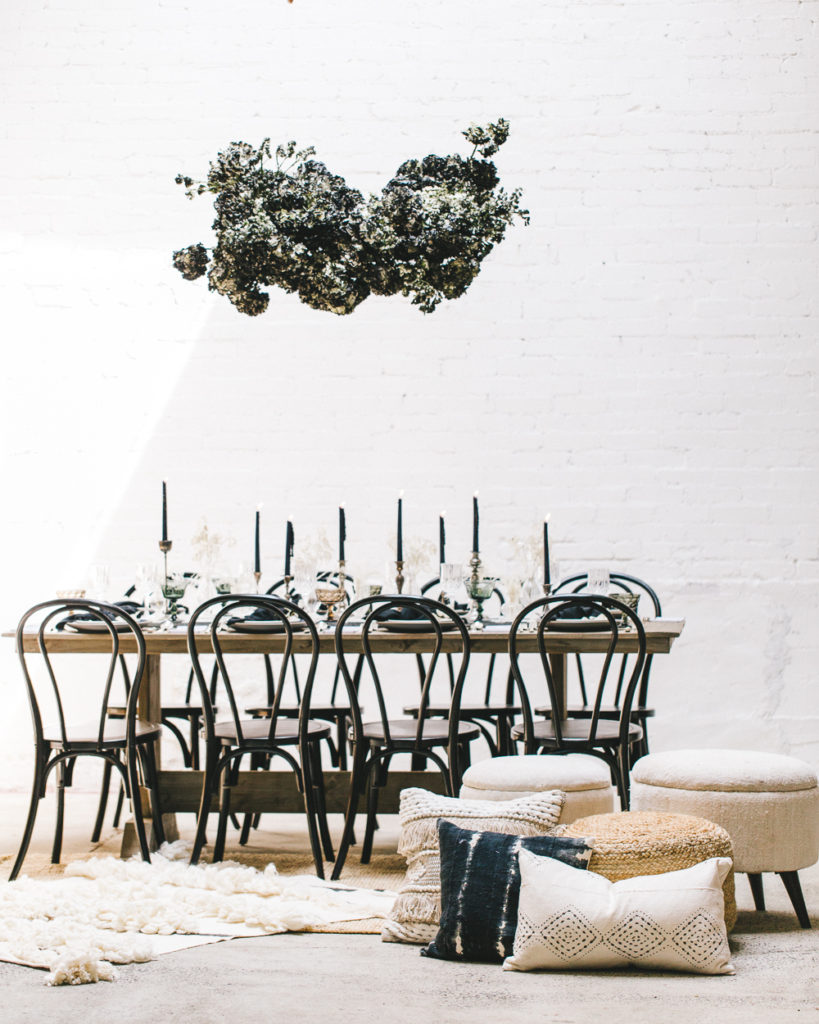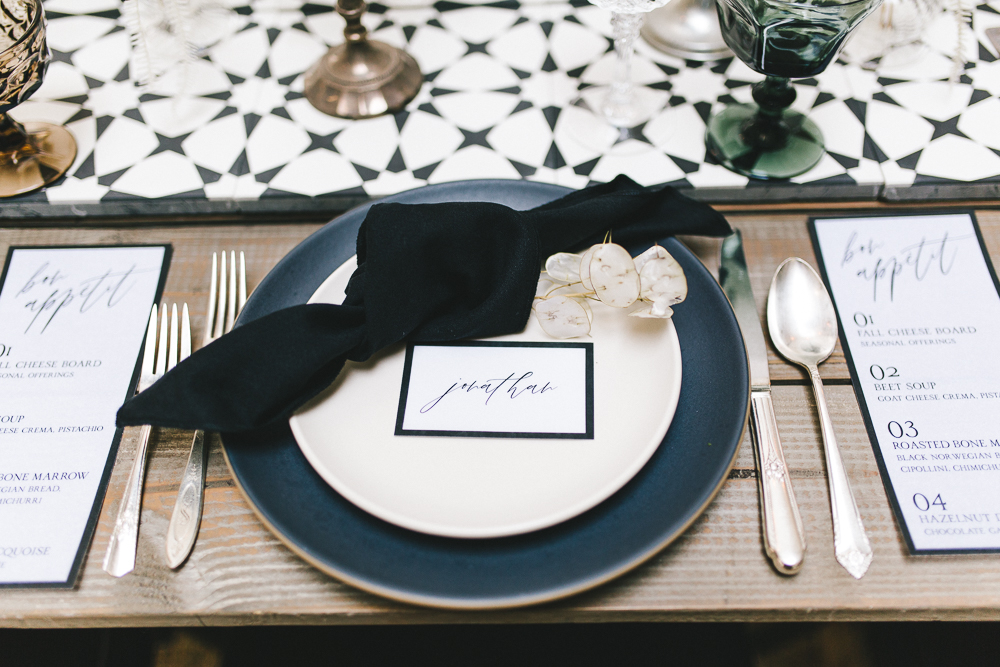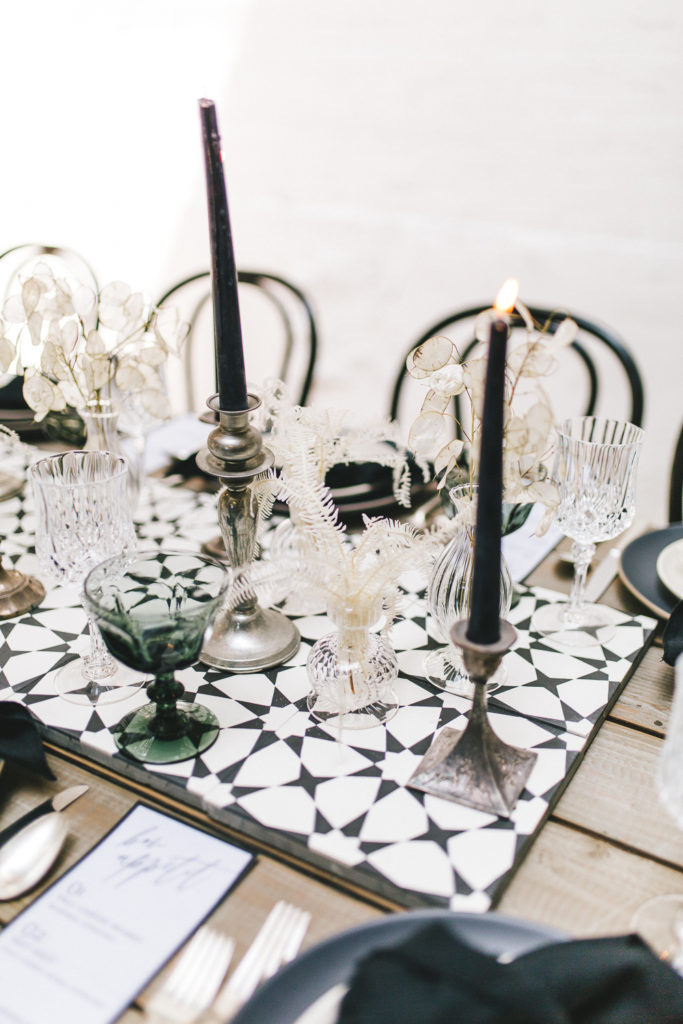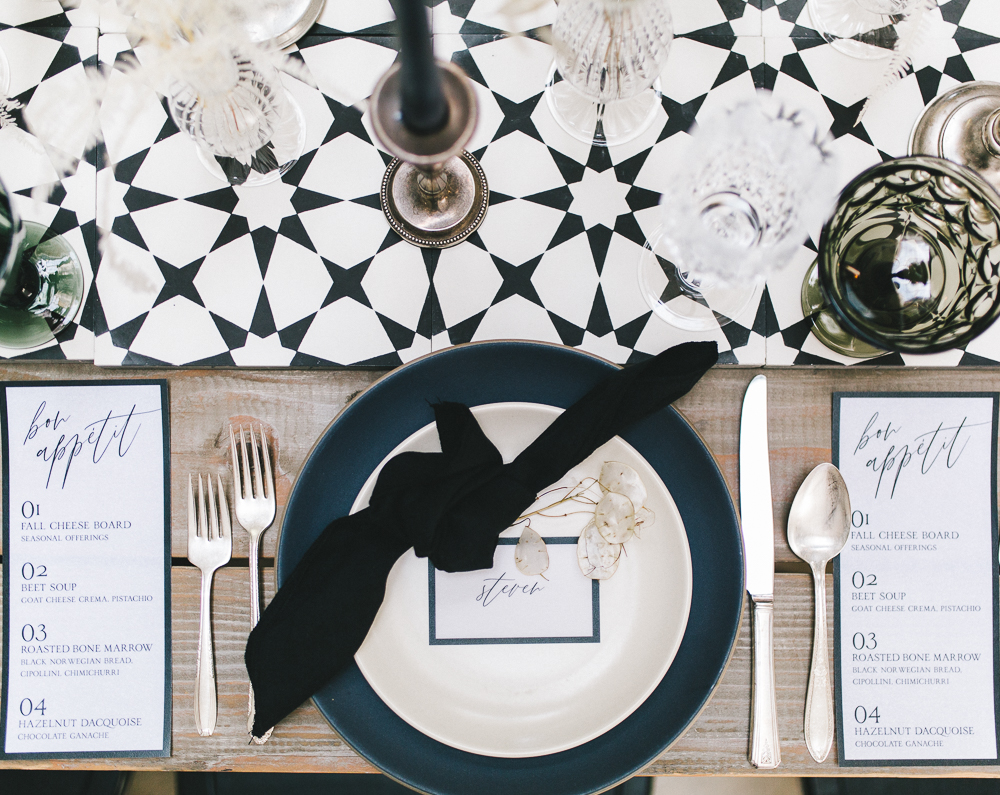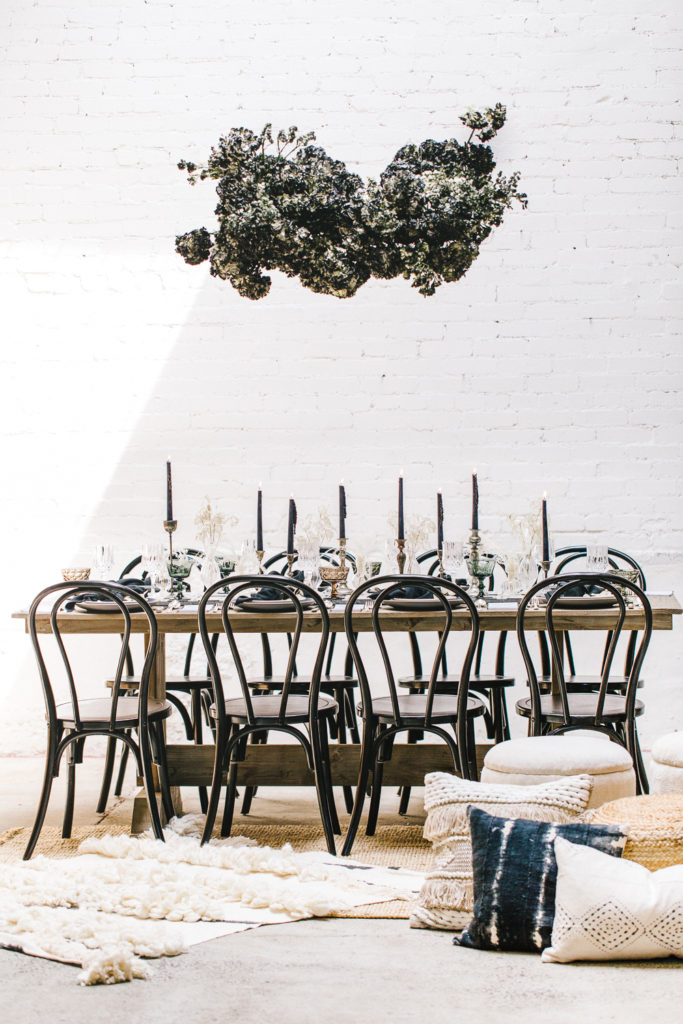 There's that pretty and minimal tabletop and glassware I was talking about! With the Cement Tile runner you really don't need to go crazy on that front. Keep it simple and modern and the results will turn out great! Plus, adding some black tapered candles on Halloween is ALWAYS a good idea!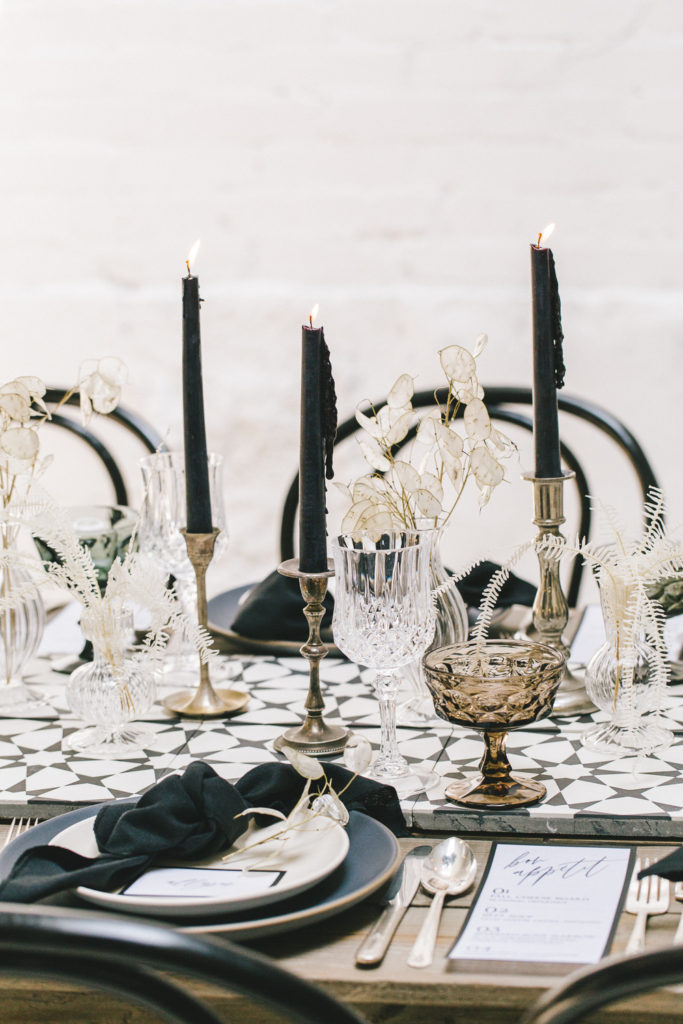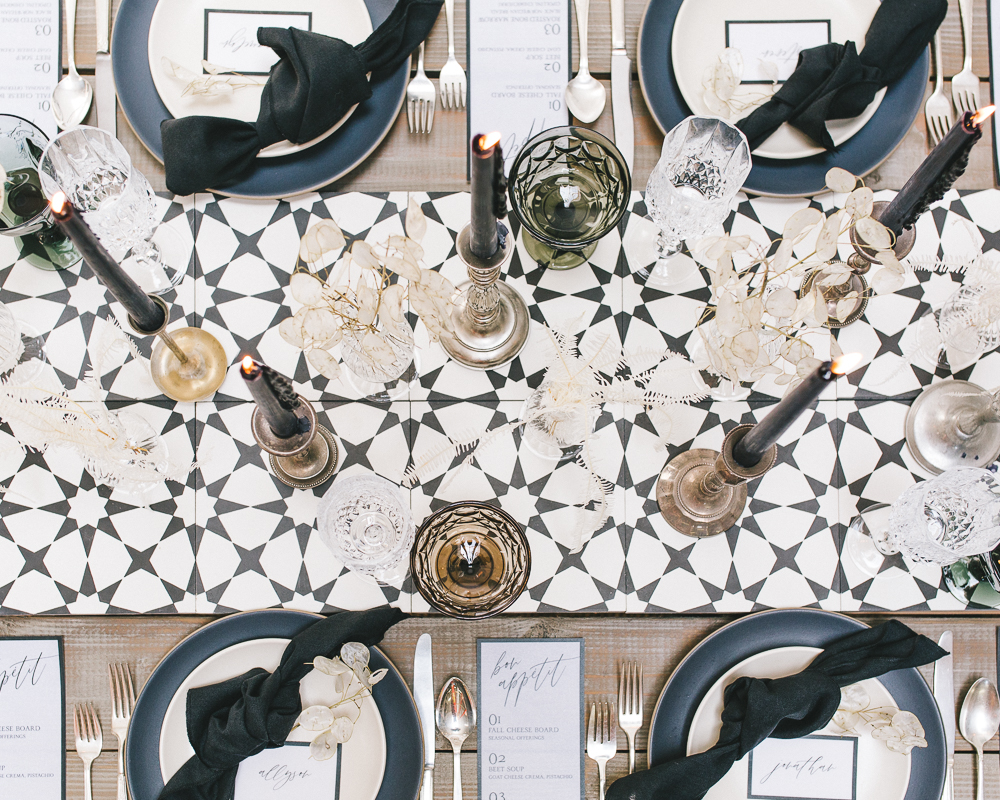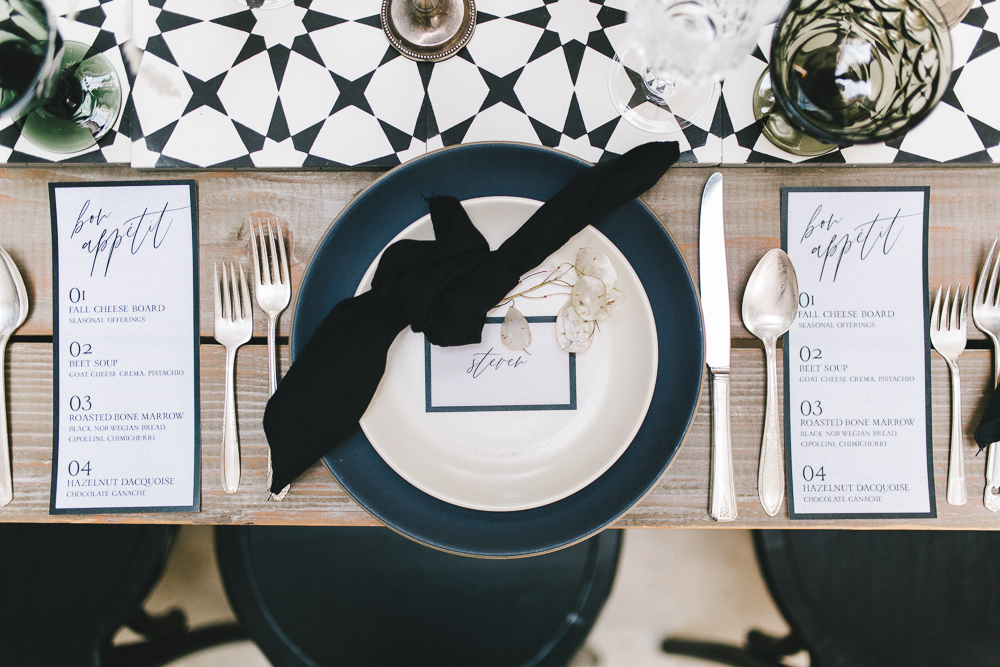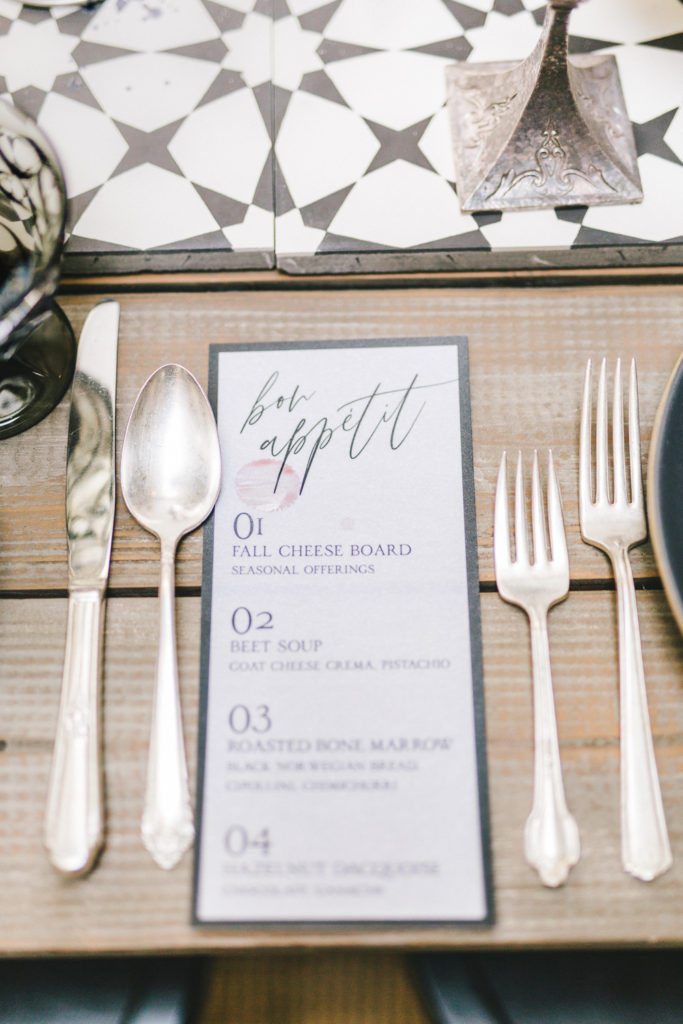 It looks so pretty all together, doesn't it?!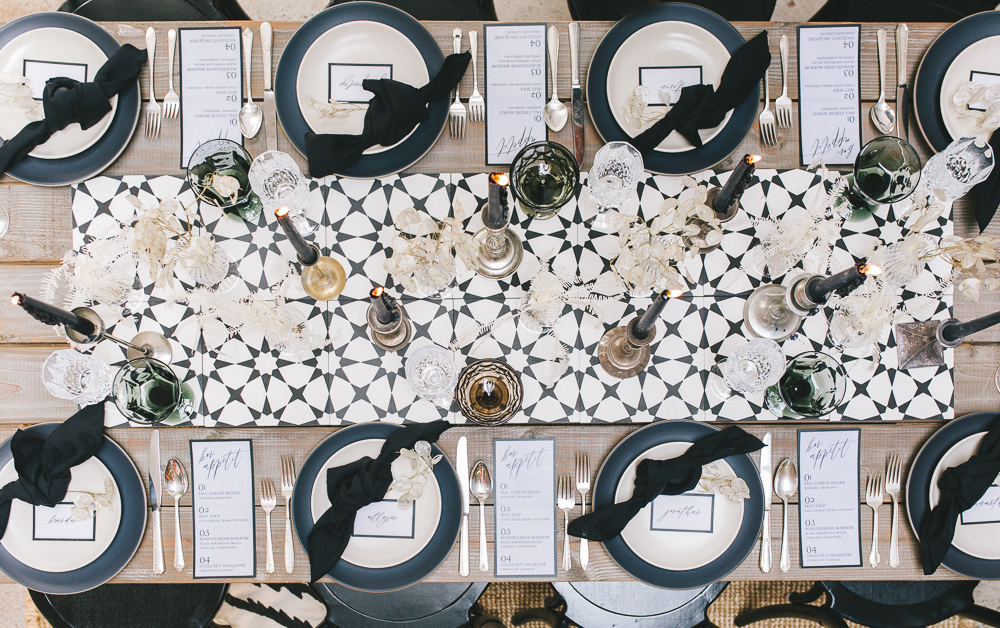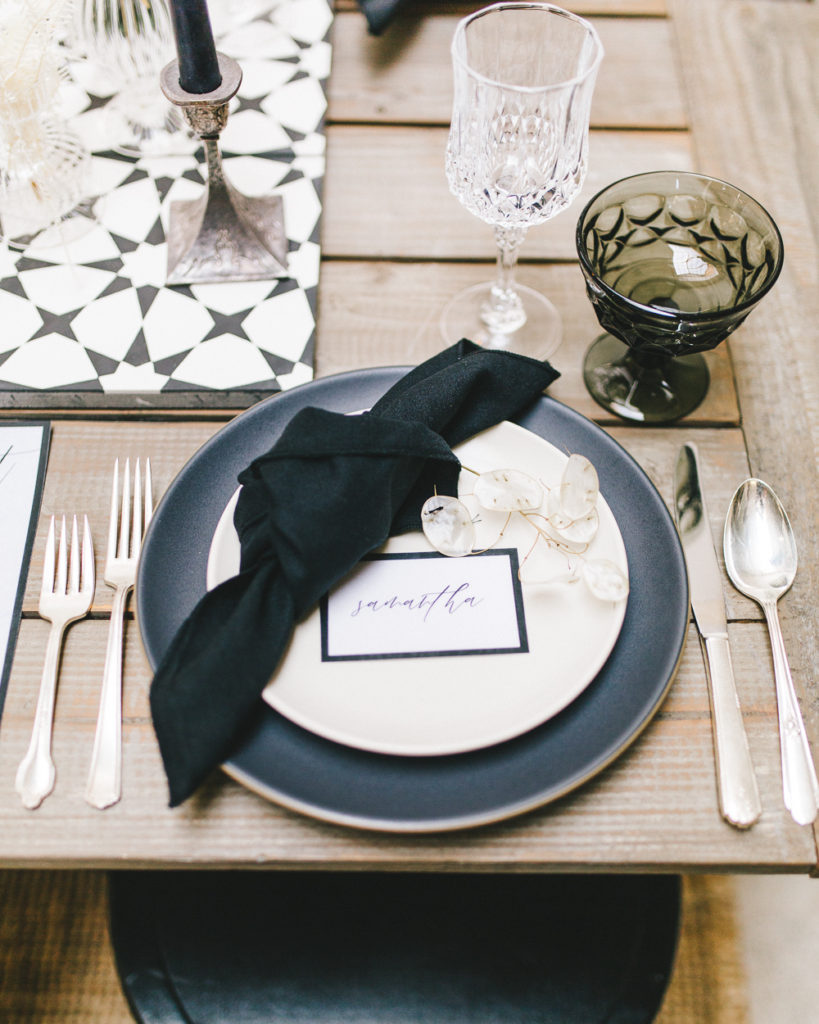 My next tip, when hosting at home, keep it cozy – It's important to make your home feel inviting when hosting a party. We love using all of Sweet Salvage Rentals beautiful goodies, and all of their rugs, poufs, pillows are the perfect touch to make anyone feel at ease.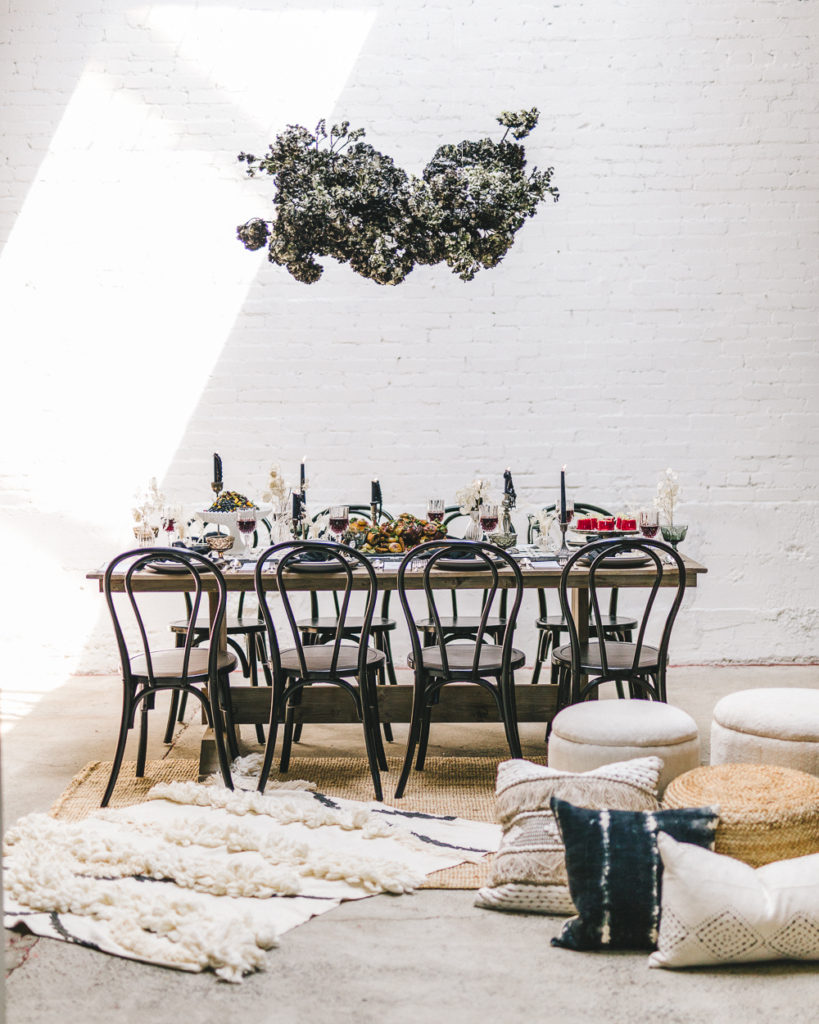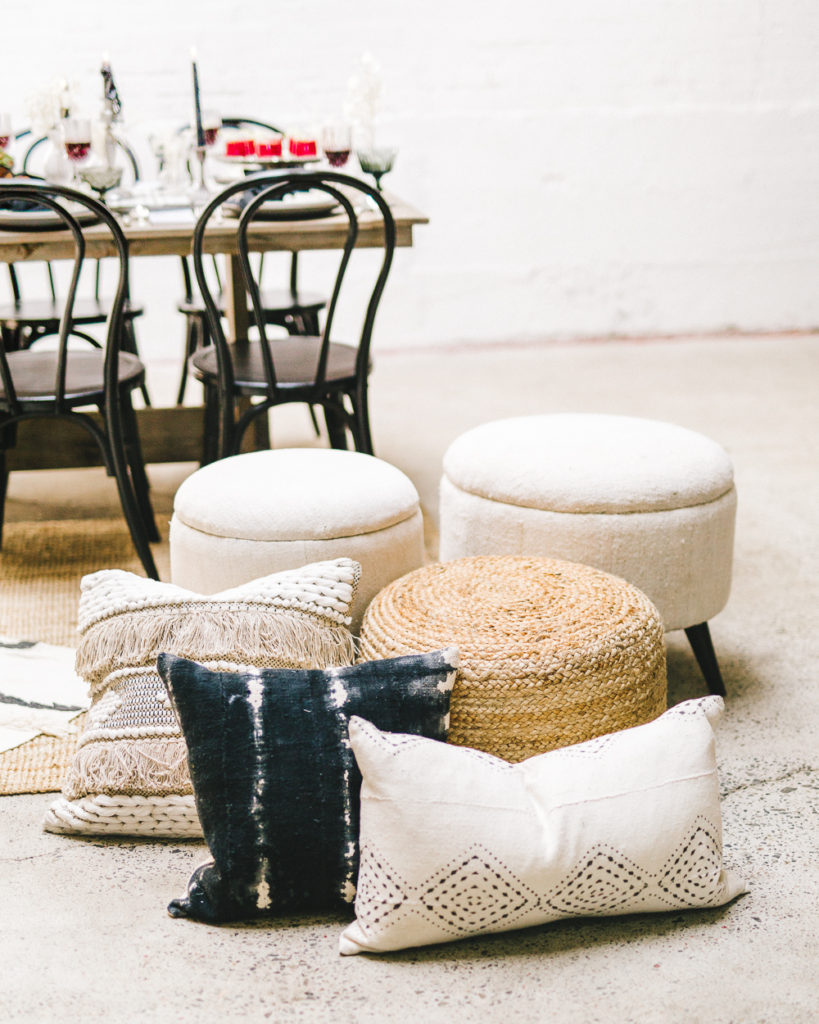 Now, for my last piece of advice… Wow them with a creepy menu! Colette's Catering did it again with some terrifying treats! The menu consisted of a deep red beet soup, bone marrow, and a black squid ink pasta!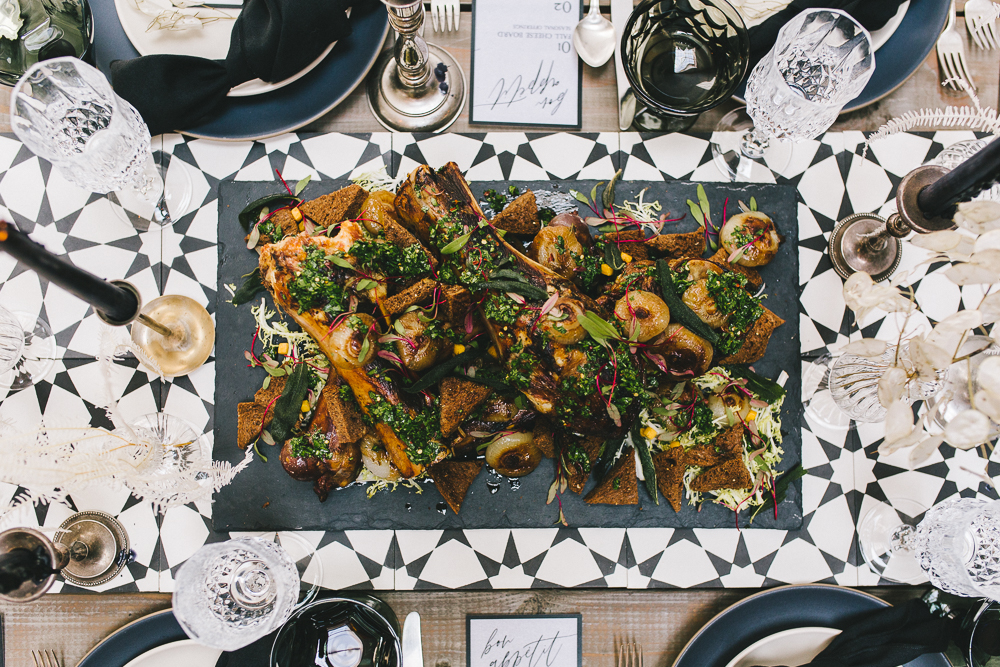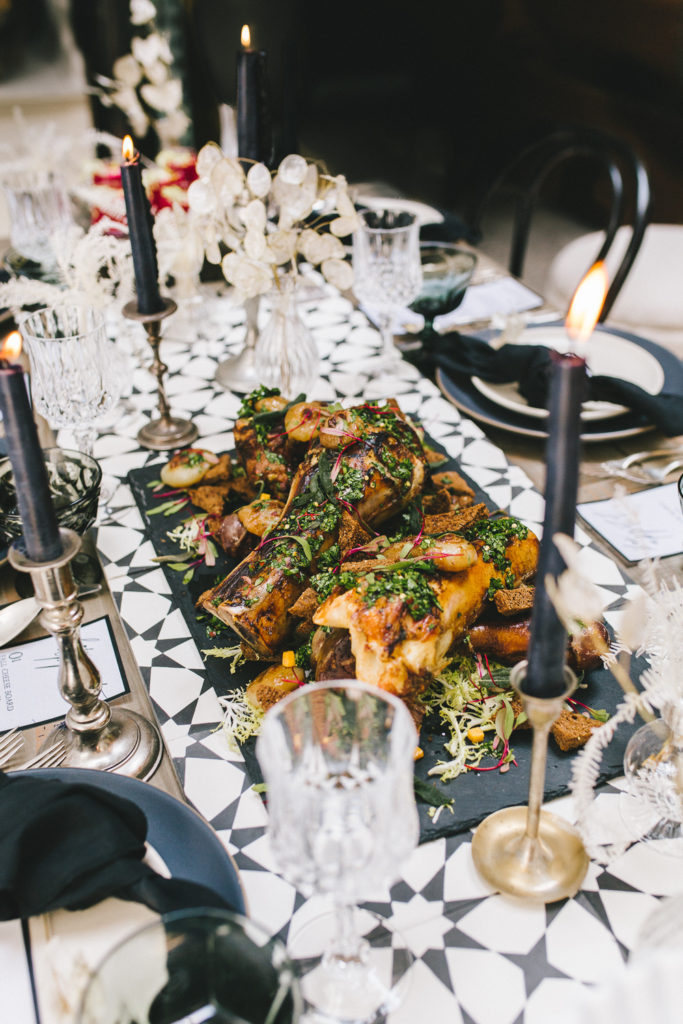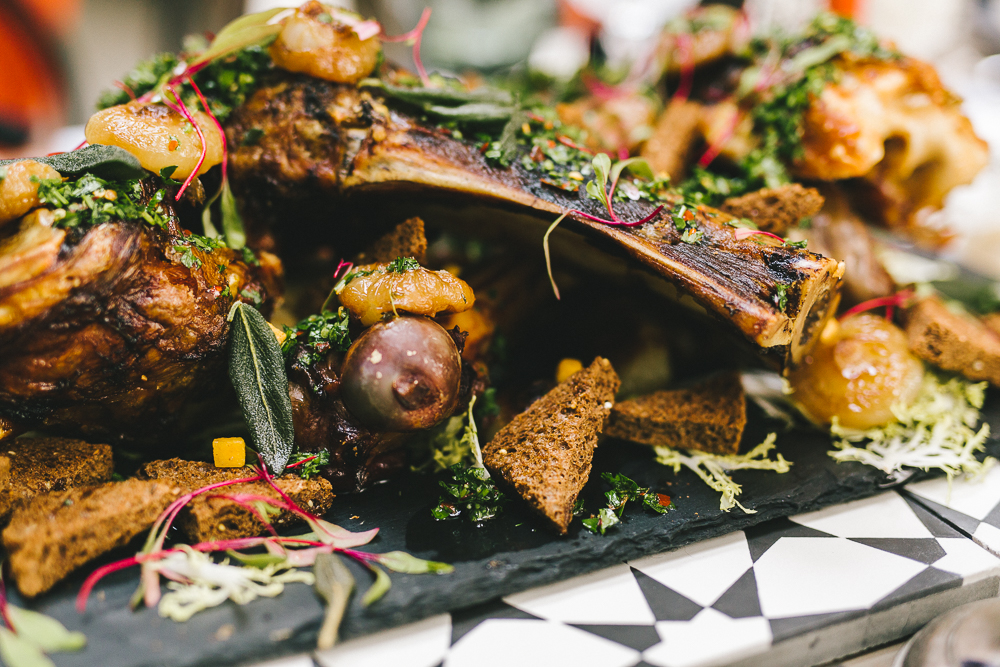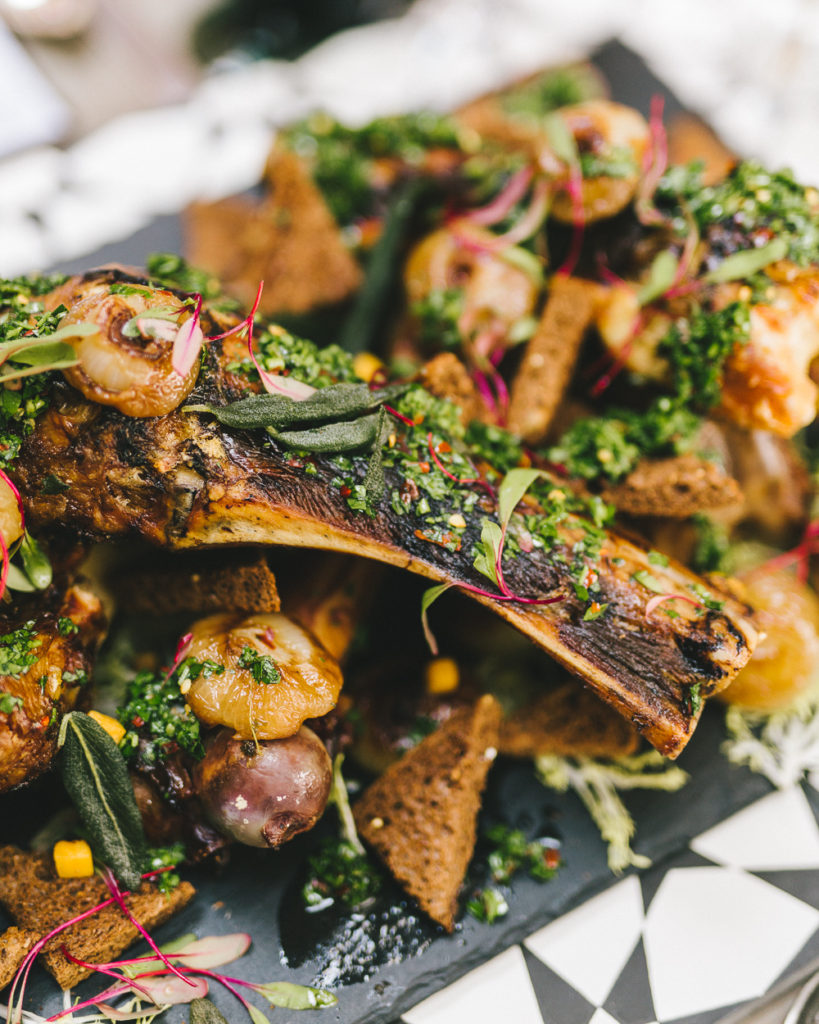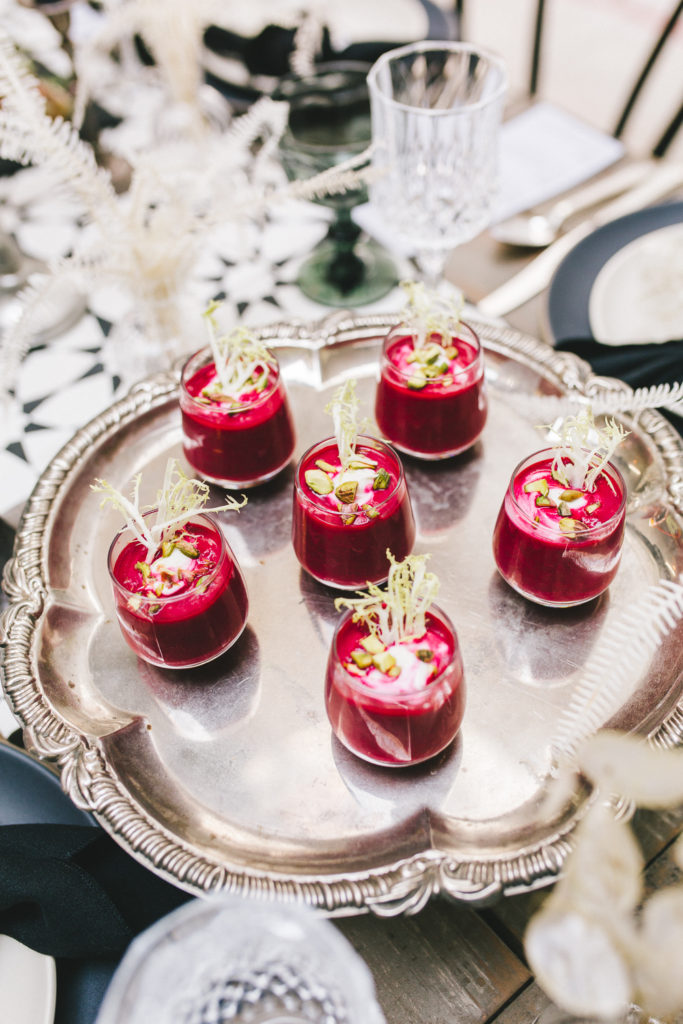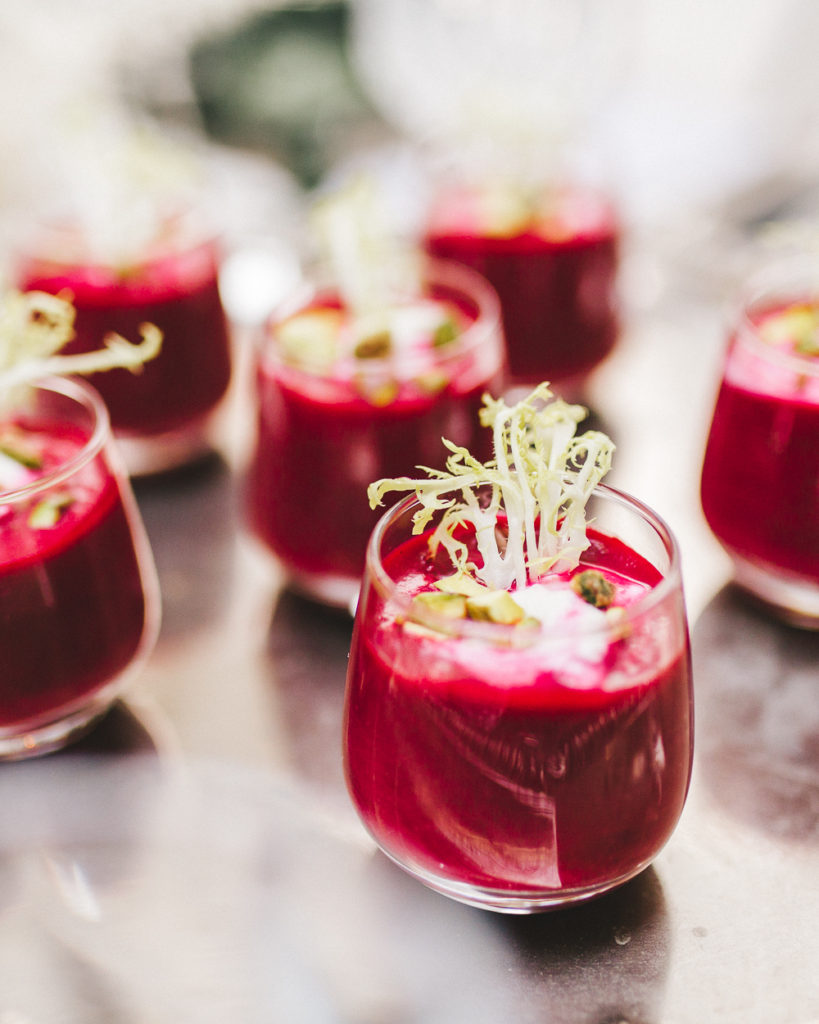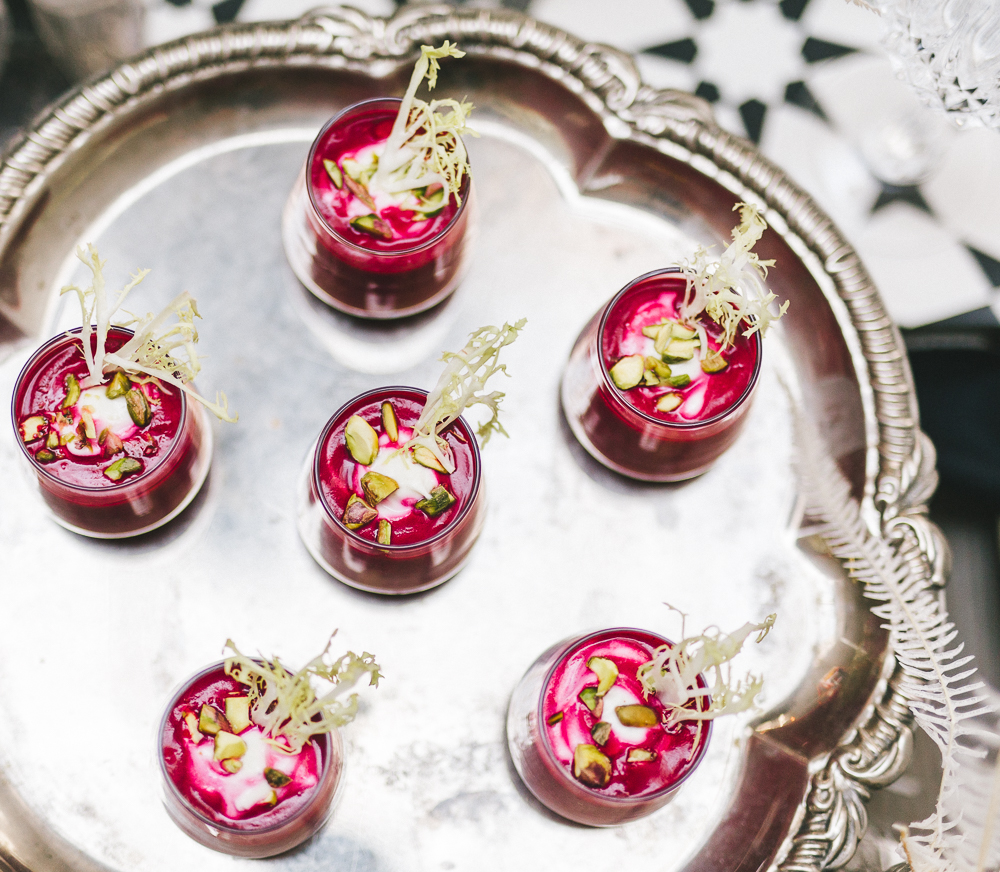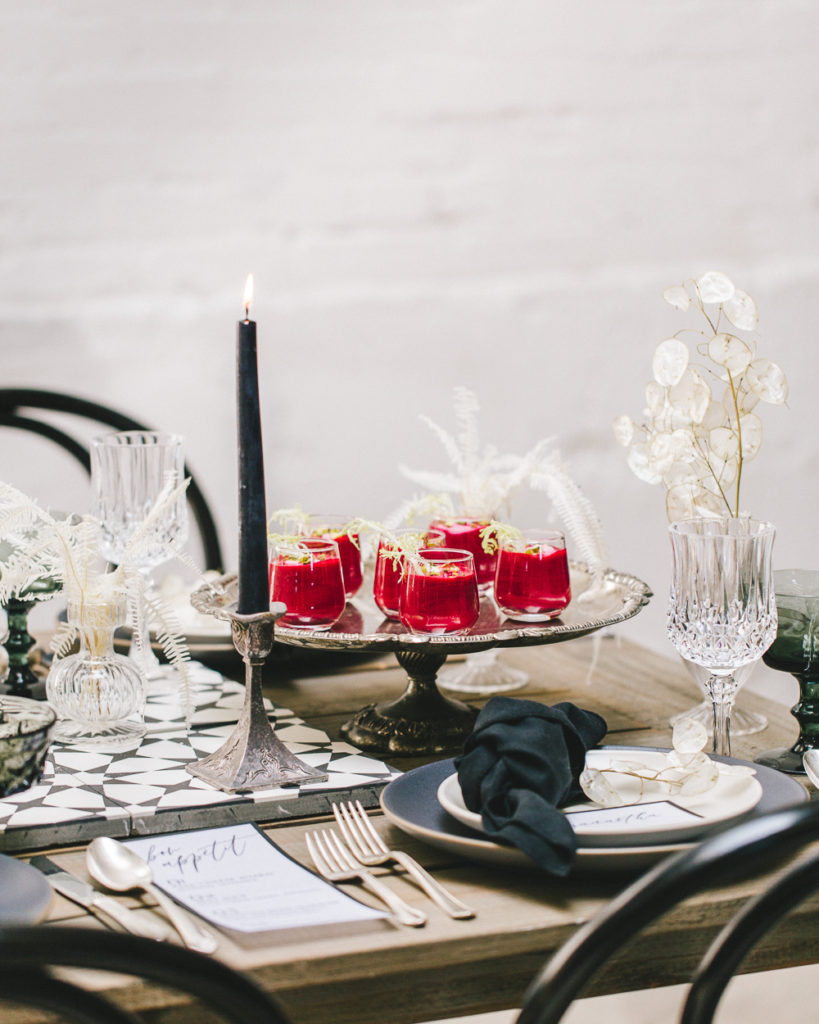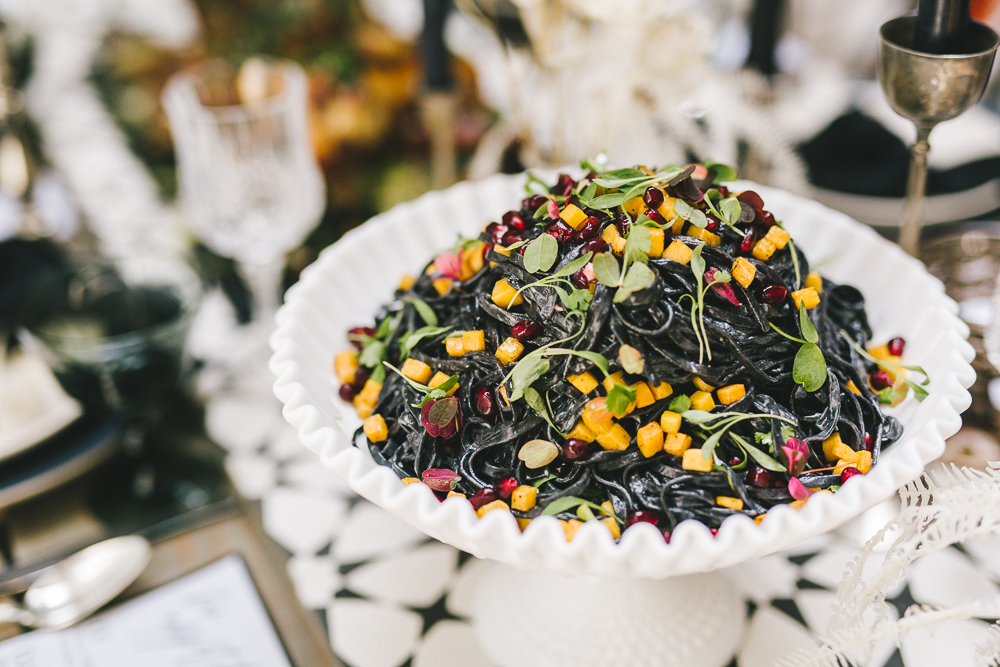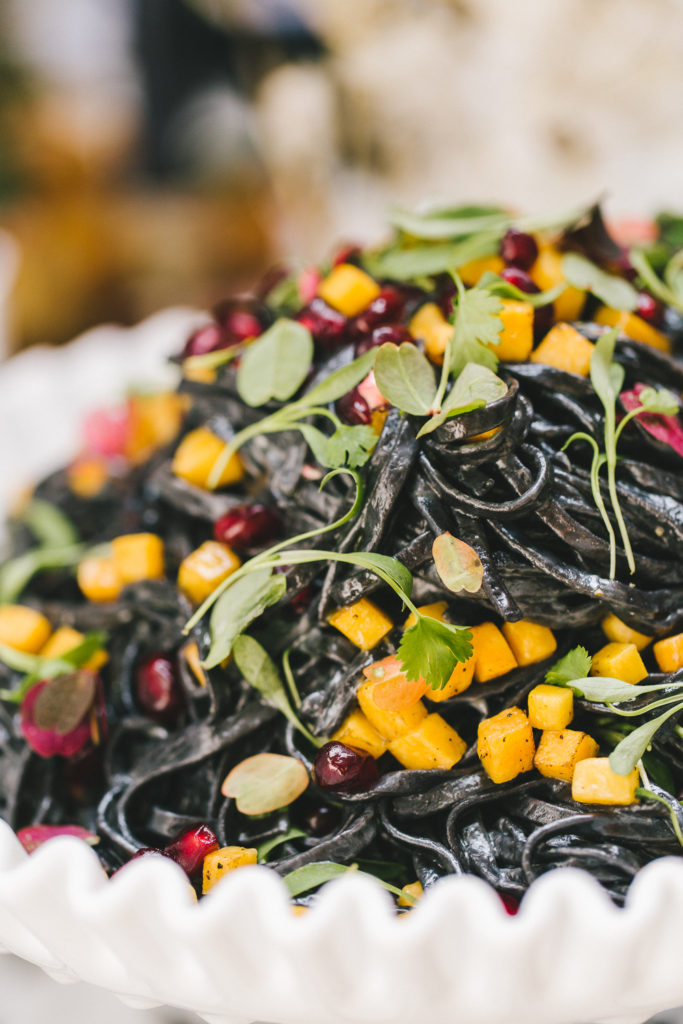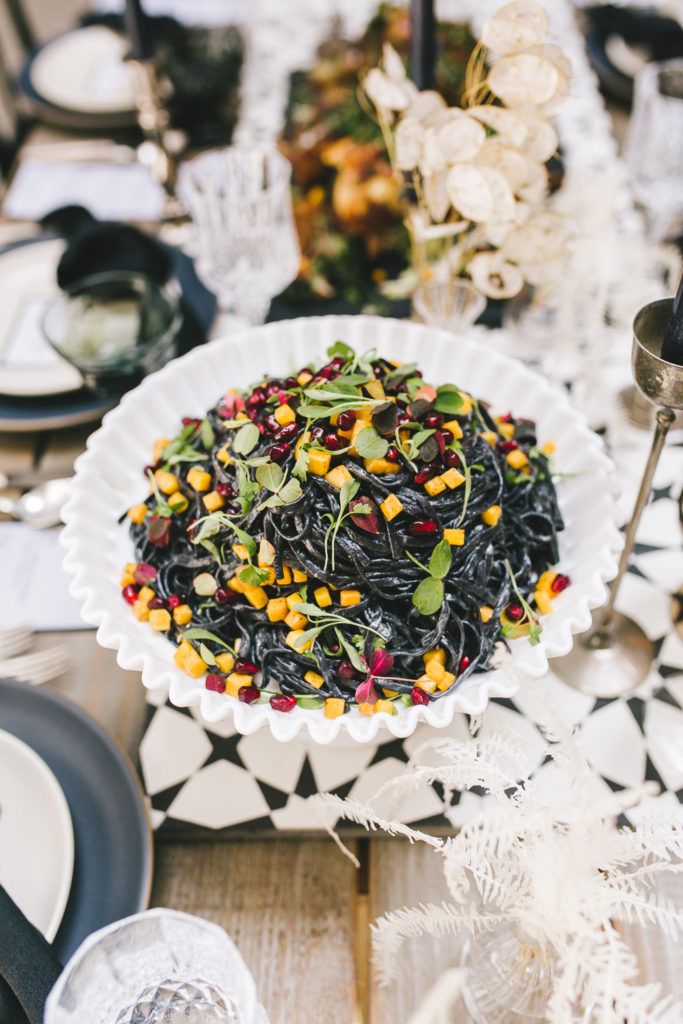 And don't forget the wine & cocktails – those are always a necessity!! In my opinion at least!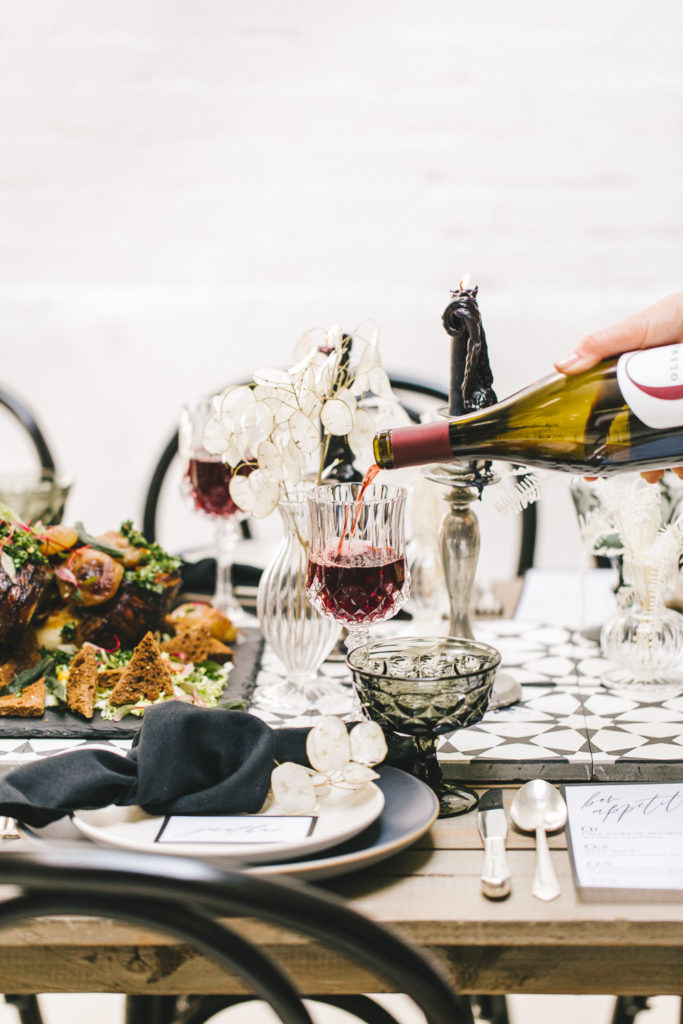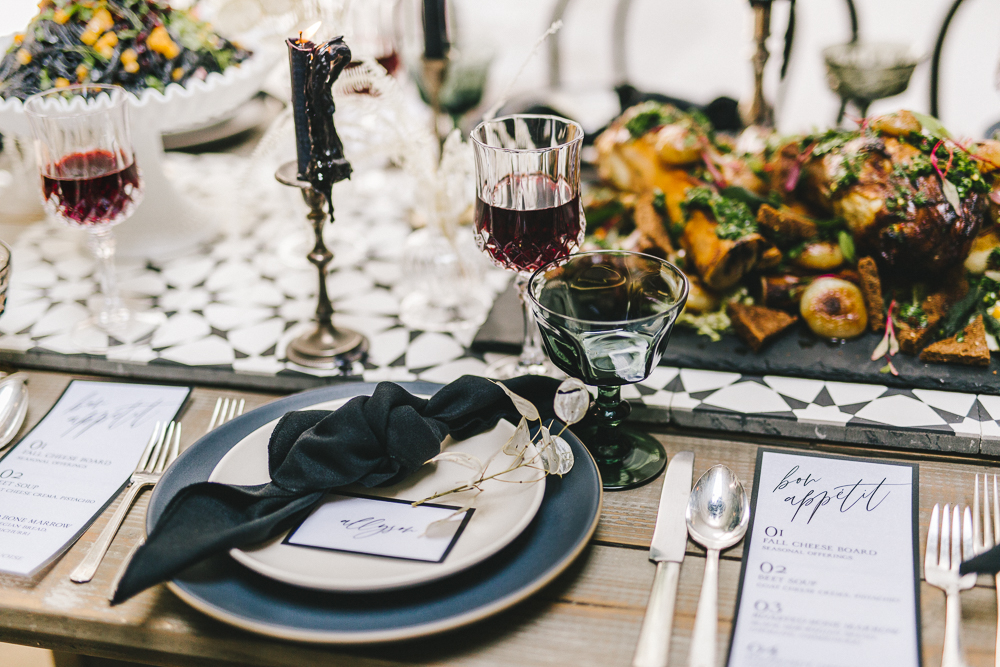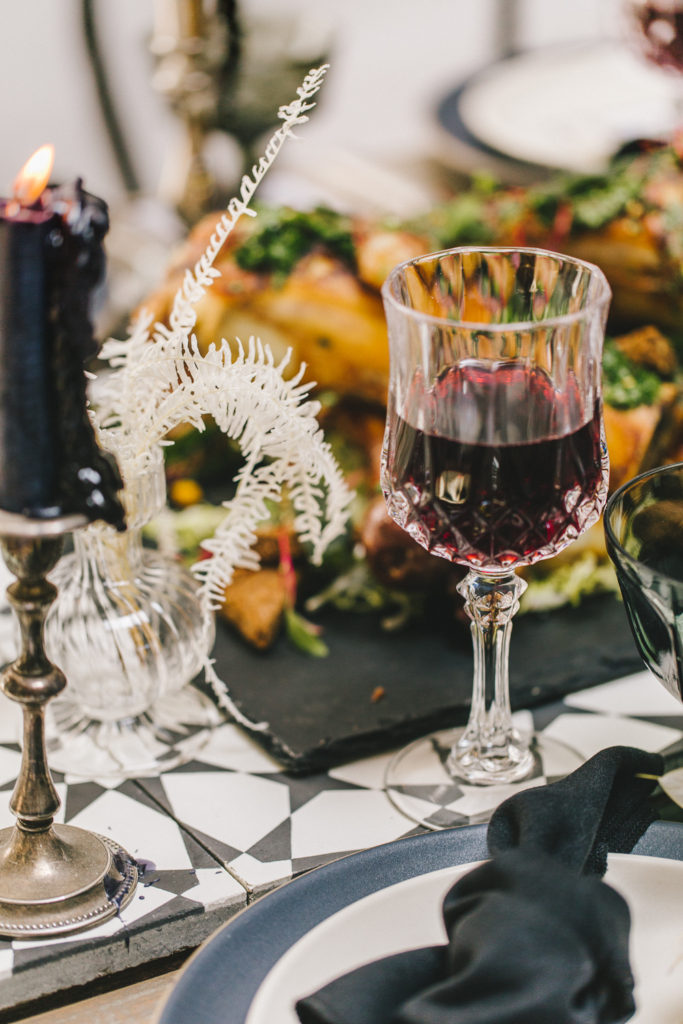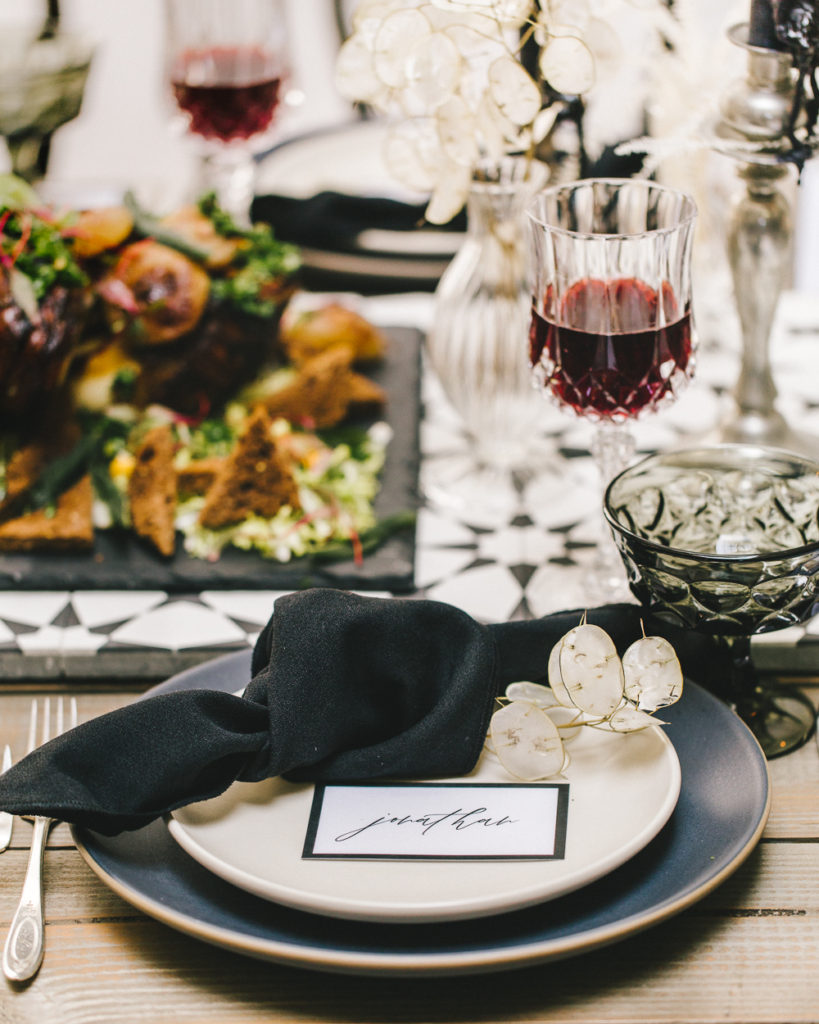 Spooky and pretty, that's a Halloween table I can get behind!! Hope you loved this table as much as we did! I'm still so in love how it all came together!
More Halloween fun to come this week!
xx
Jacquelyn