Now, we have done all kinds of fun treats for the kids for summer, like our snow cones and our fun summer popsicles we did years ago! But what about us!?! Are you with me!? I was introduced to this new wine company called Sunny With A Chance of Flowers. It's a sunny and cheerful wine company based out of Monterey County that thrives on creating positivity and a healthy outlook on life. They make mindfully made wine designed to make you feel good inside and out. Its a Zero Sugar, 85 little calories and FLAT-OUT delicious! Plus, their packaging is just the cutest. 
Now, I wasn't going to throw in some diary loaded ice cream in with some crisp, sweet, healthy white wine. You know me, let's just make it! Plus, doesn't it make you feel better knowing you are having a healthy ice cream cocktail so that if you have more then one, its ok? I think so! 

It's an easy recipe guys, just go for it!
Photos by Dayna Studios
---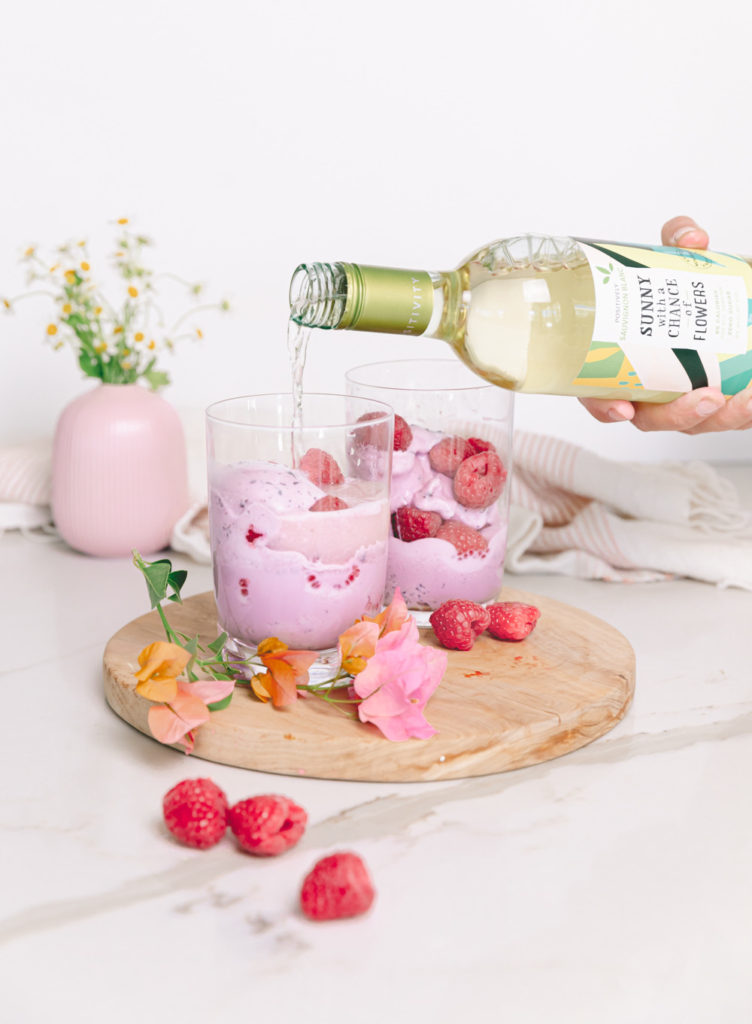 BLACKBERRY ICE CREAM WINE COCKTAIL
serves: 1-3 COCKTAILS
W H A T   Y A   N E E D!
White Wine
1 pound blackberries frozen
Fresh raspberries
1 teaspoon vanilla extract
1 can full-fat coconut milk
1/2 tablespoon lemon zest
1/4 cup raw honey 
B U S T   O U T:
Food Processor or Ninja
Stainless steel 9X5 loaf pan
Plastic wrap
Ice cream scooper
Glassware

---
I N S T R U C T I O N S

Let's start with adding all your ingredients to a food processor. Puree until ingredients until you get a smooth puree. Transfer the yummy mixture to stainless steel 9×5″ loaf pan. Taste tasting at this point is highly encouraged. Not only to sneak a taste but to adjust anything to your liking. Then, cover with plastic wrap. Stick in your freezer for about 4-5 hours. I like to do mine overnight, but let's be honest, no one wants to wait that long. I like to make it in the morning, and it will be oh so ready for cocktail hour later that day.

Take the ice cream out of the freezer and let sit for 15 to 20 minutes to soften. Then place one scoop on the bottom of your glass. You've got to work fast starting at this point. Then place a couple of raspberries on top. Then repeat till you get to the top. You will get between 2-3 scoops depending on the size of the cup and your scoop. Then right before serving, like literally have the person there in front of you! And pour over your white wine. Be sure that it's chilled too!
Then drink right away!

May this cheerful ice cream cocktail make it a sunny day!
---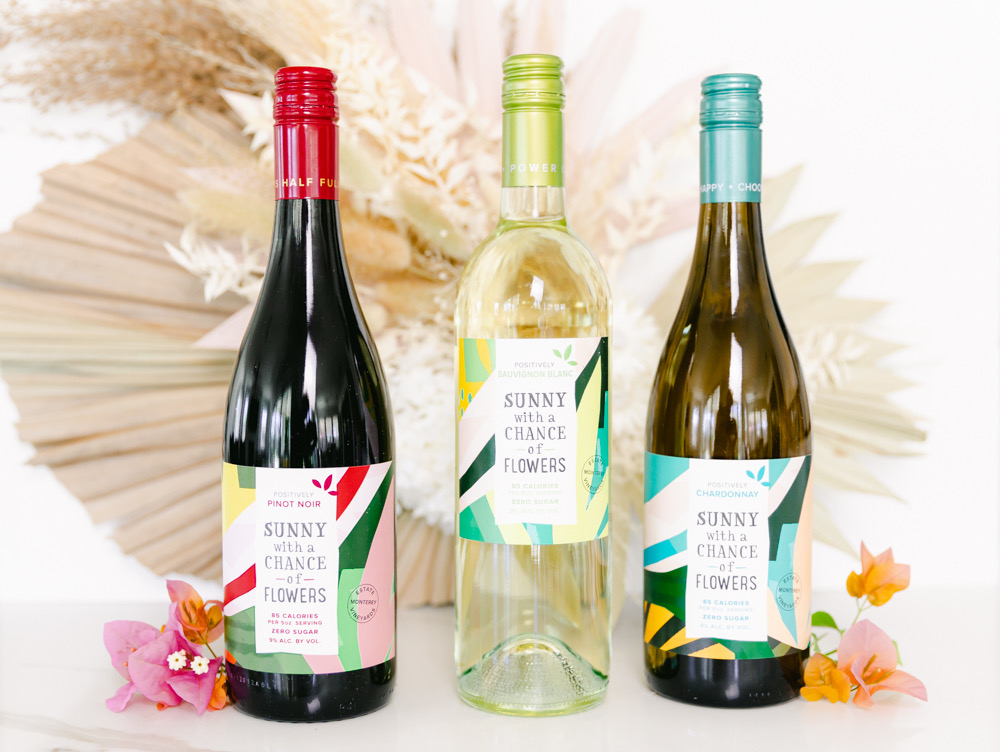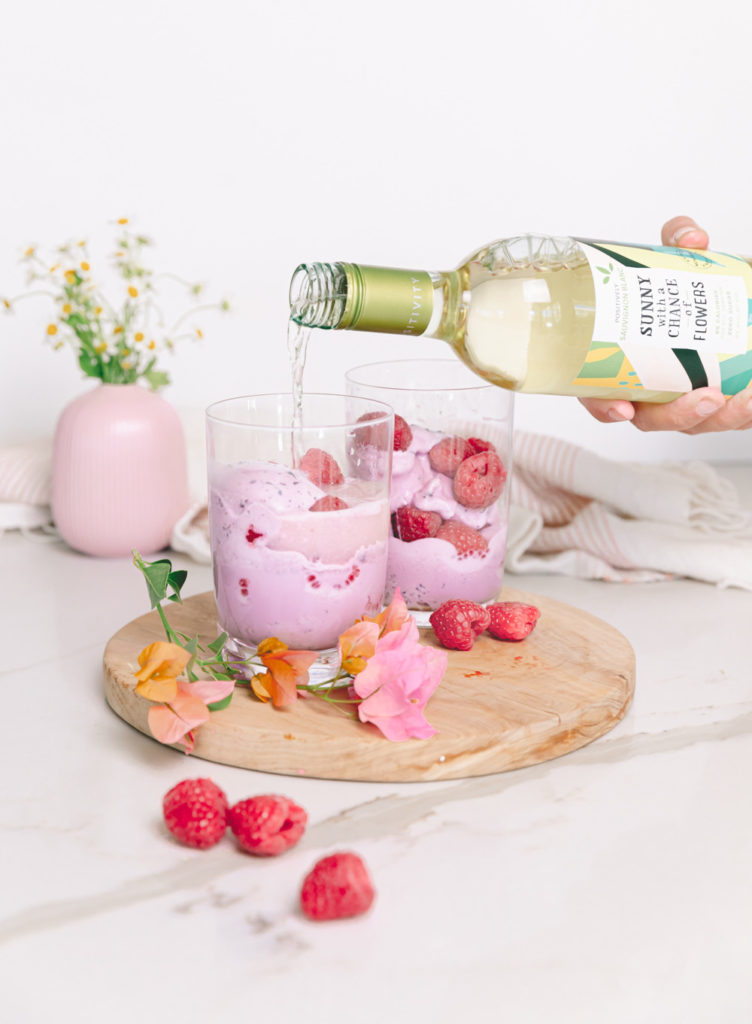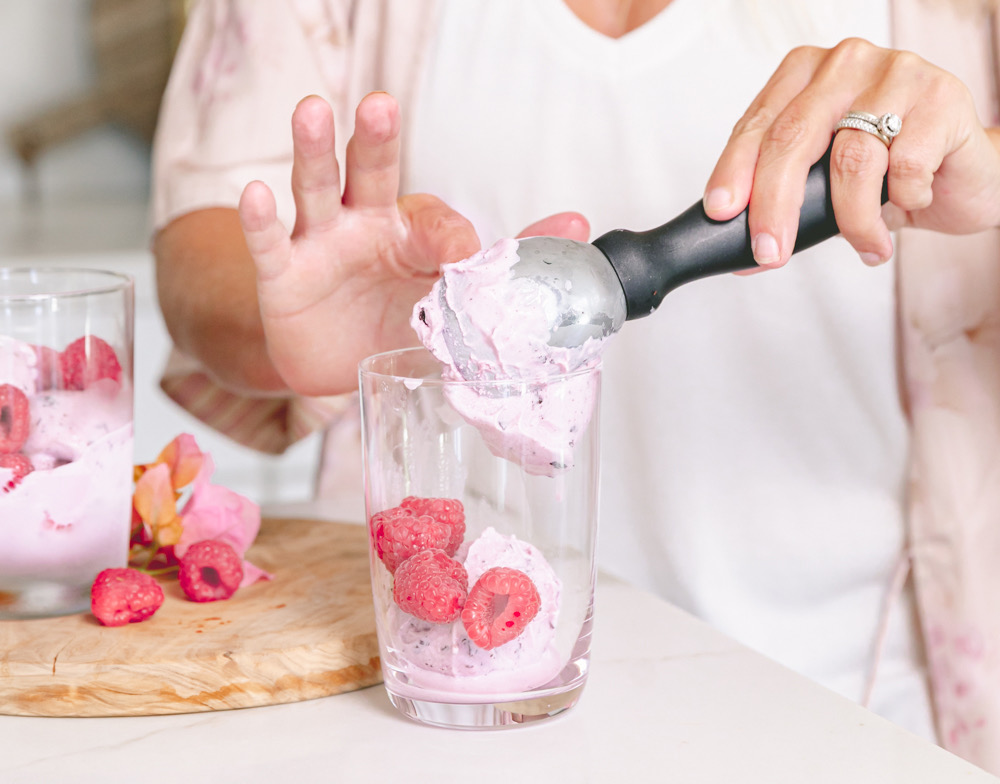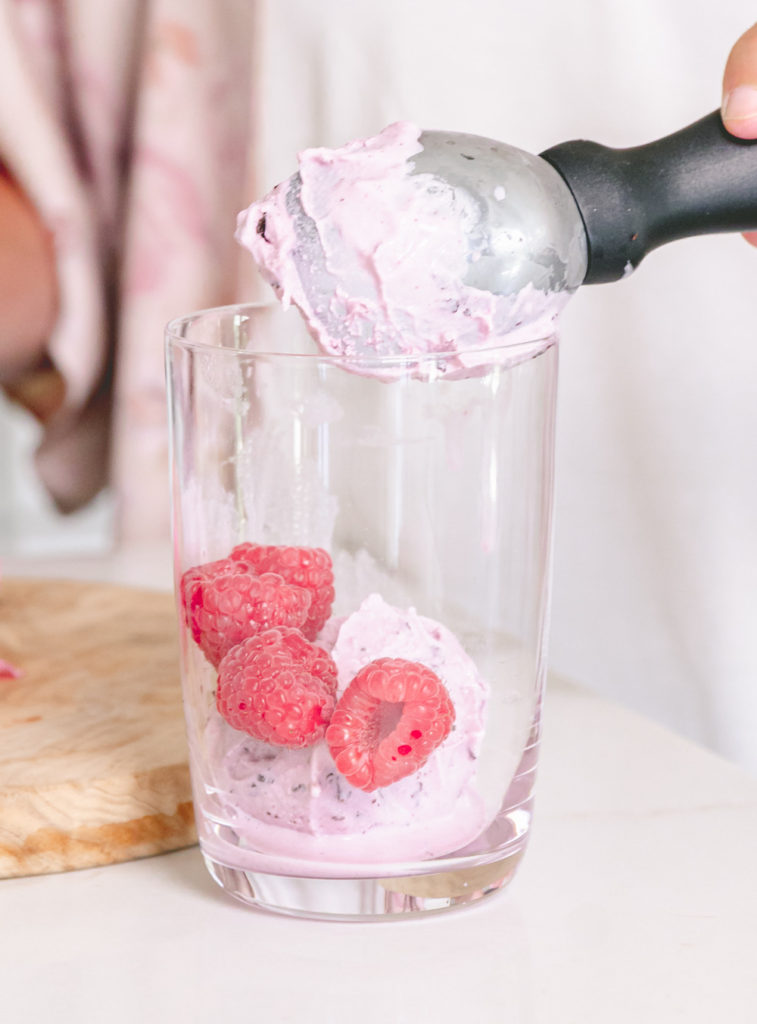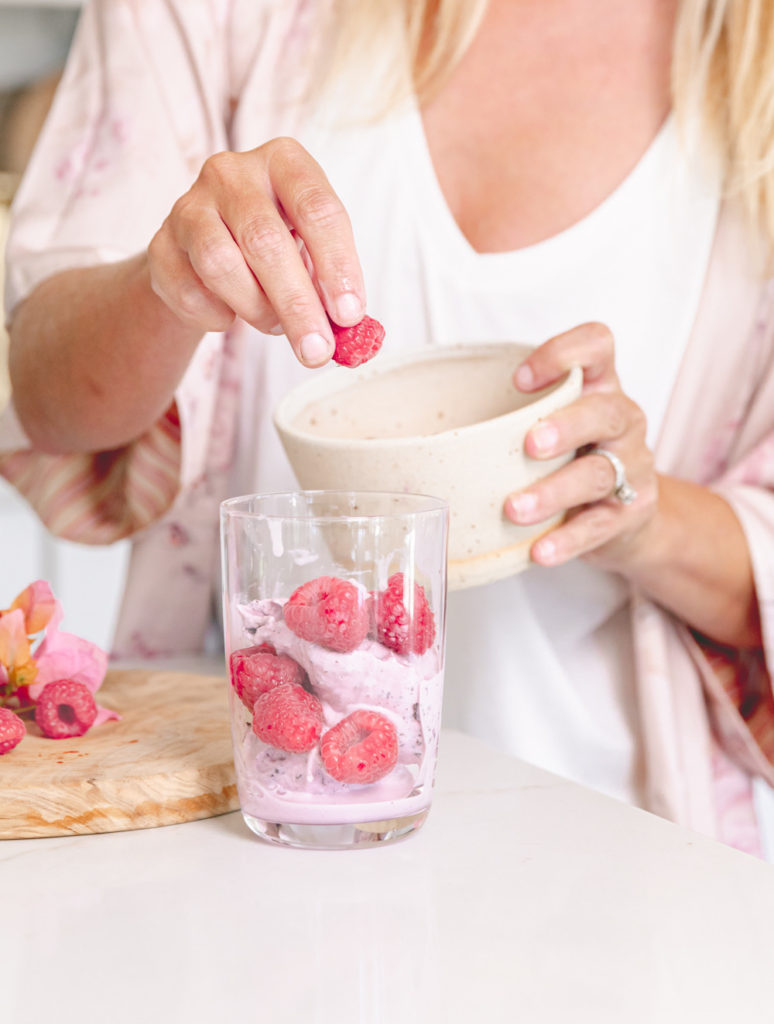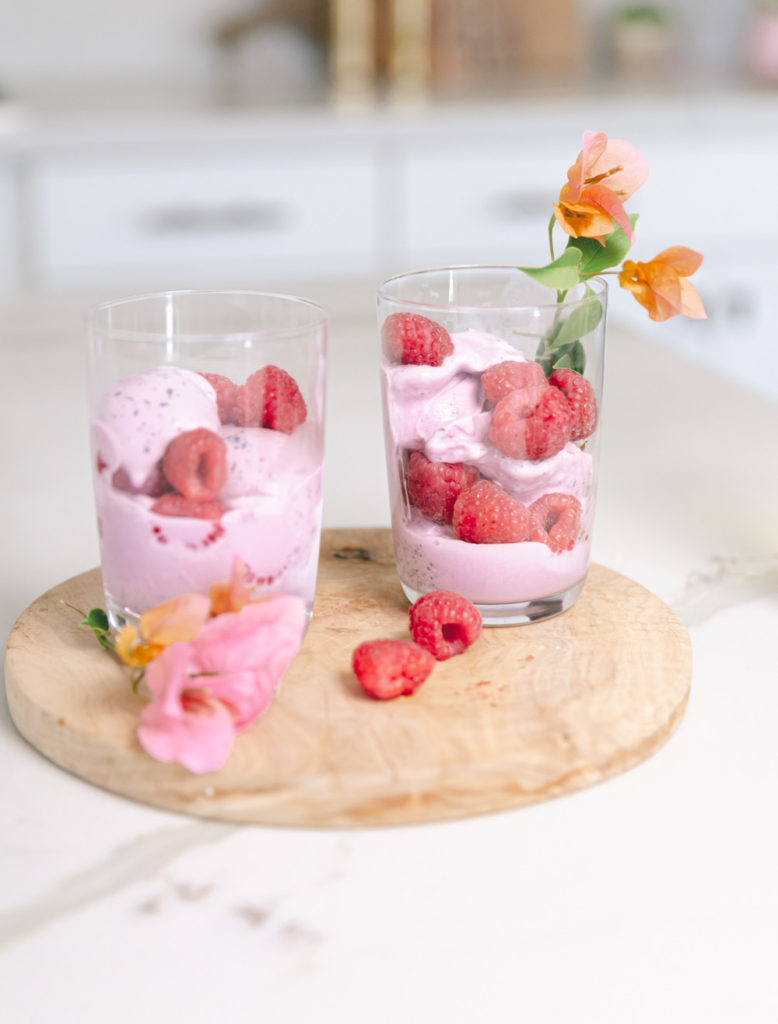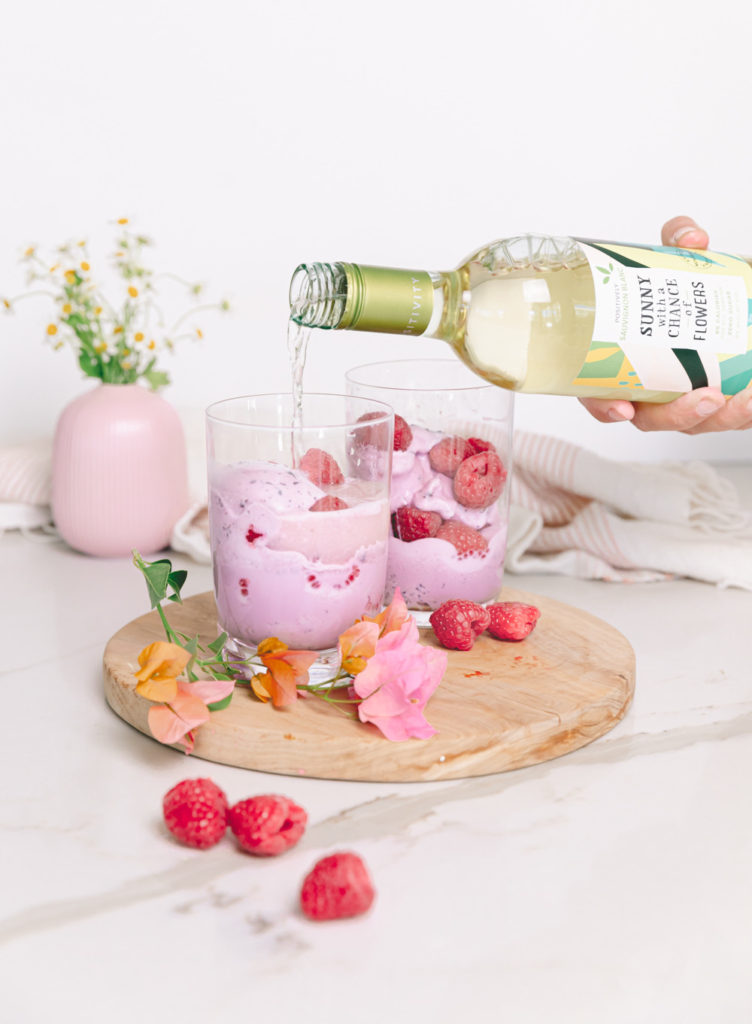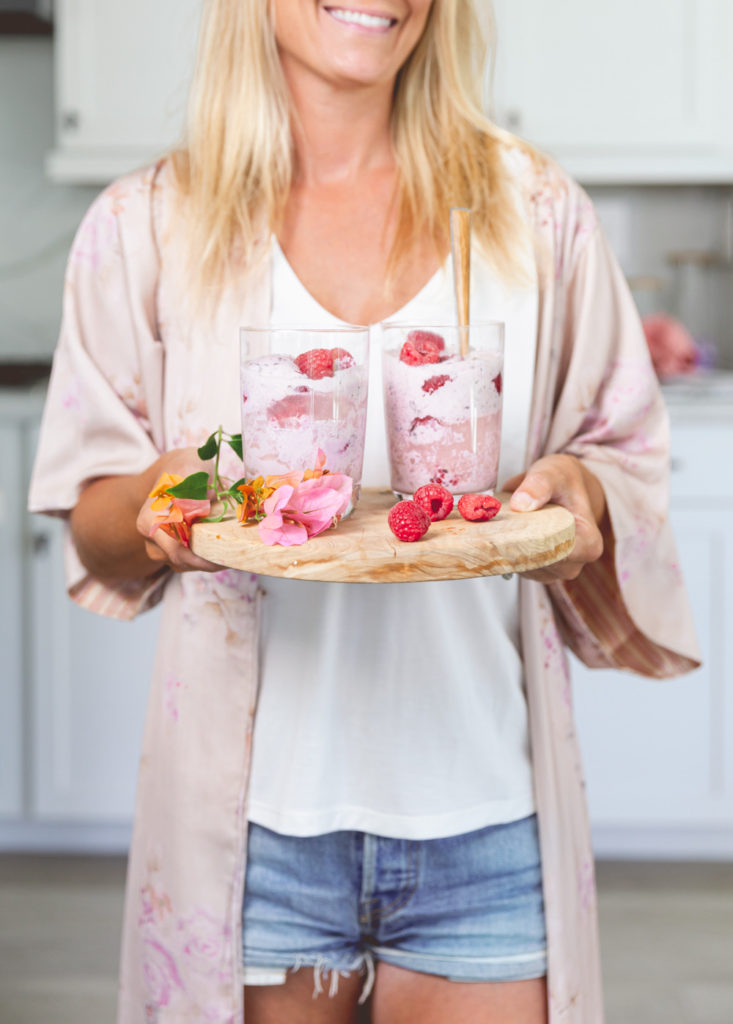 B E I J O S B A R

Have a sunny day!
xx
Abby