We love any chance to dress up a table and make it look real pretty for you, and Cinco de Mayo is our favorite holiday to do just that- the Beijos way! We teamed up with some of our favorite vendors, The Little Market, Siestas for Fiestas, and Commerce Fine Goods to bring you a more imitate way of celebrating Cinco de Mayo. As much as we love having our dear friends over to help us celebrate, sometimes a simple get together with another fun couple or just your special someone is just as fun.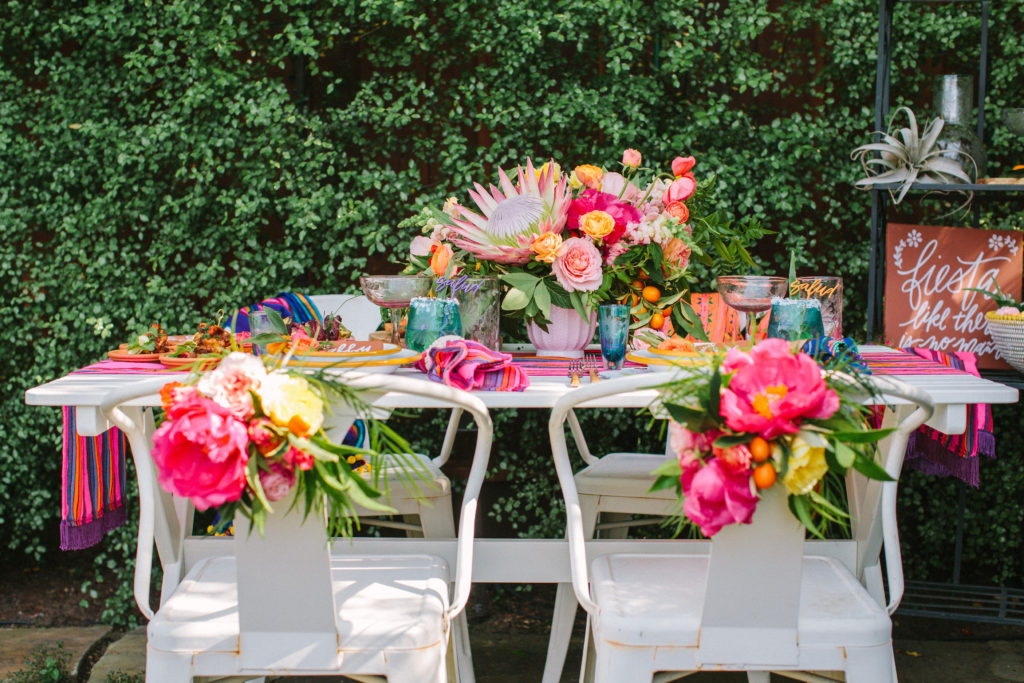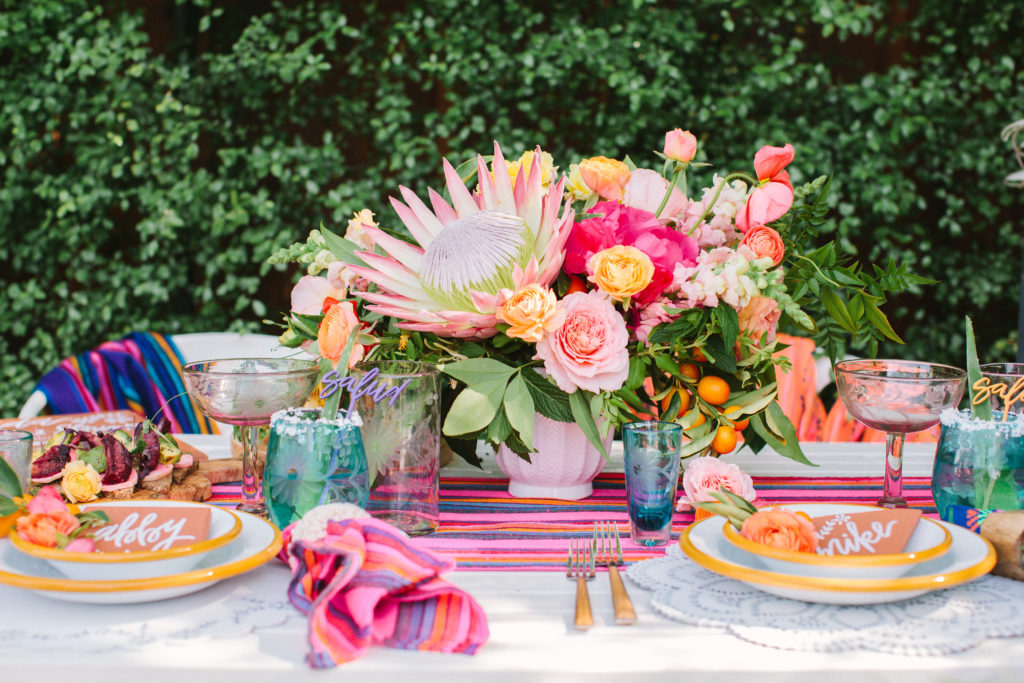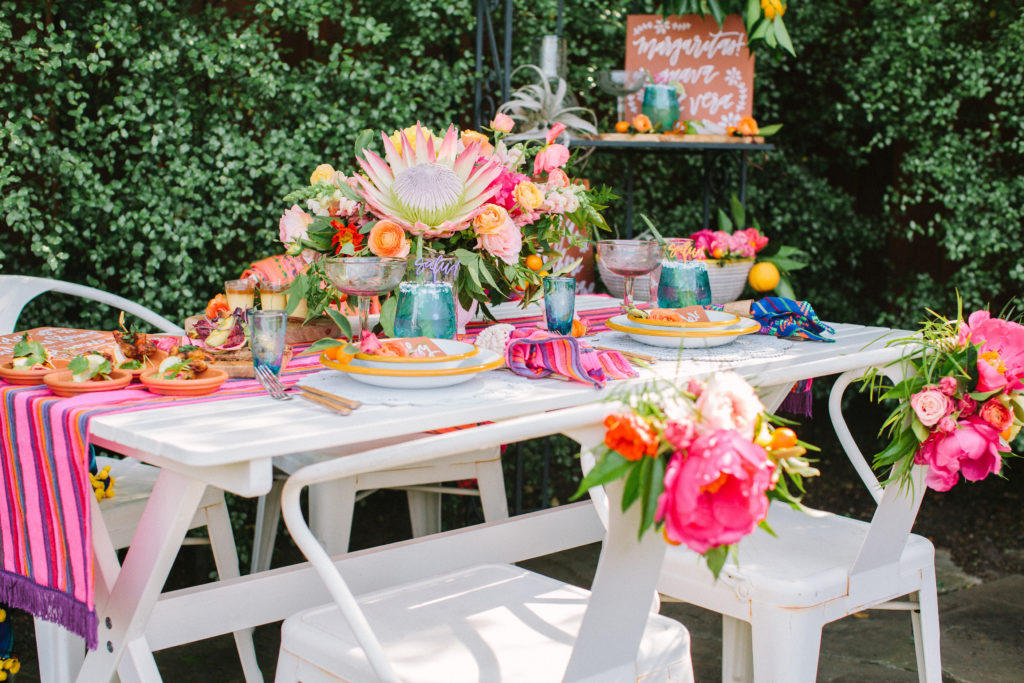 This fiestas is also partying it up on Green Wedding Shoes today!
Stunning pictures by our gal Yasmin Sarai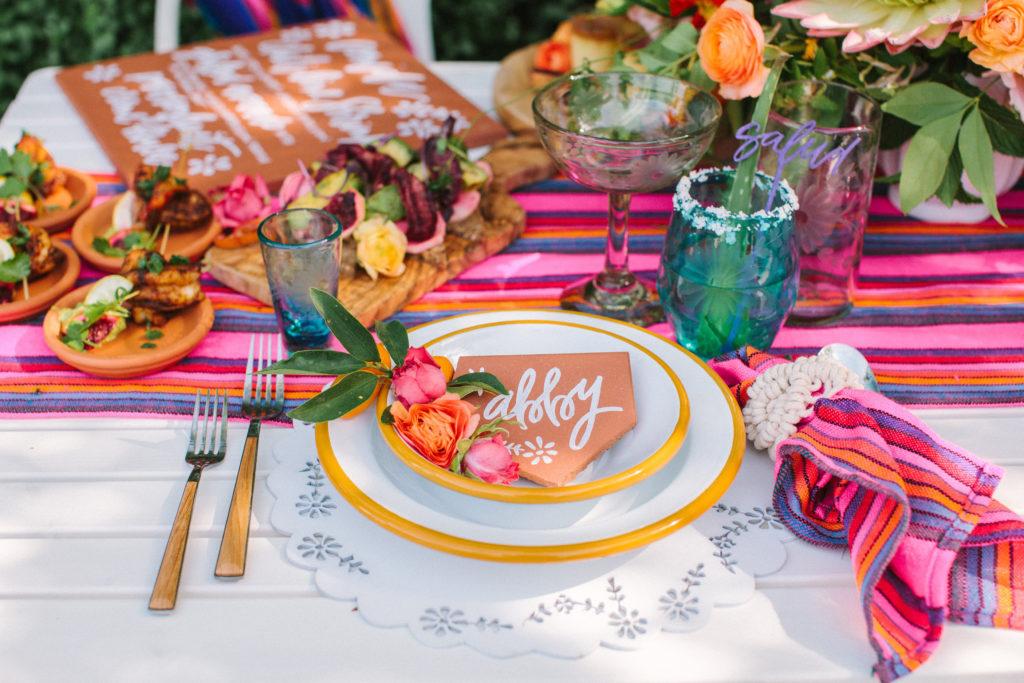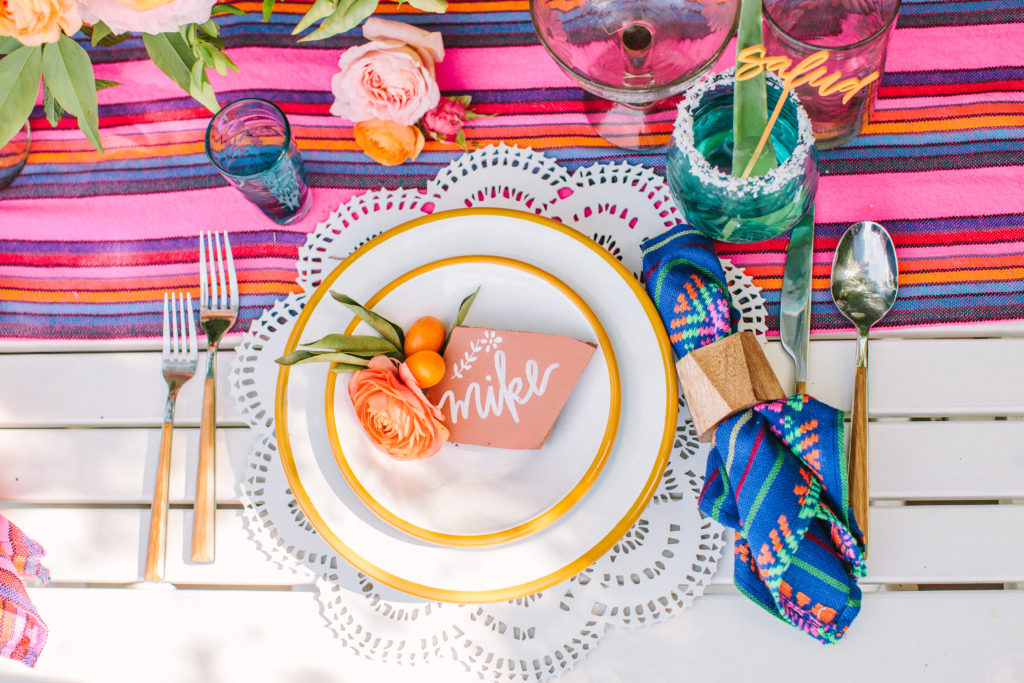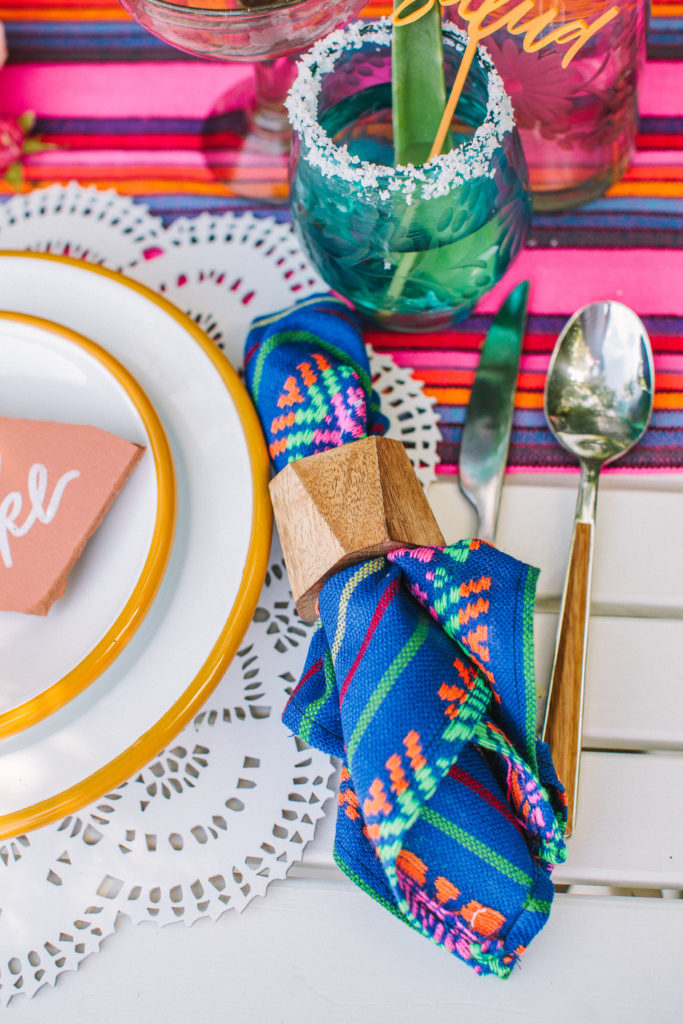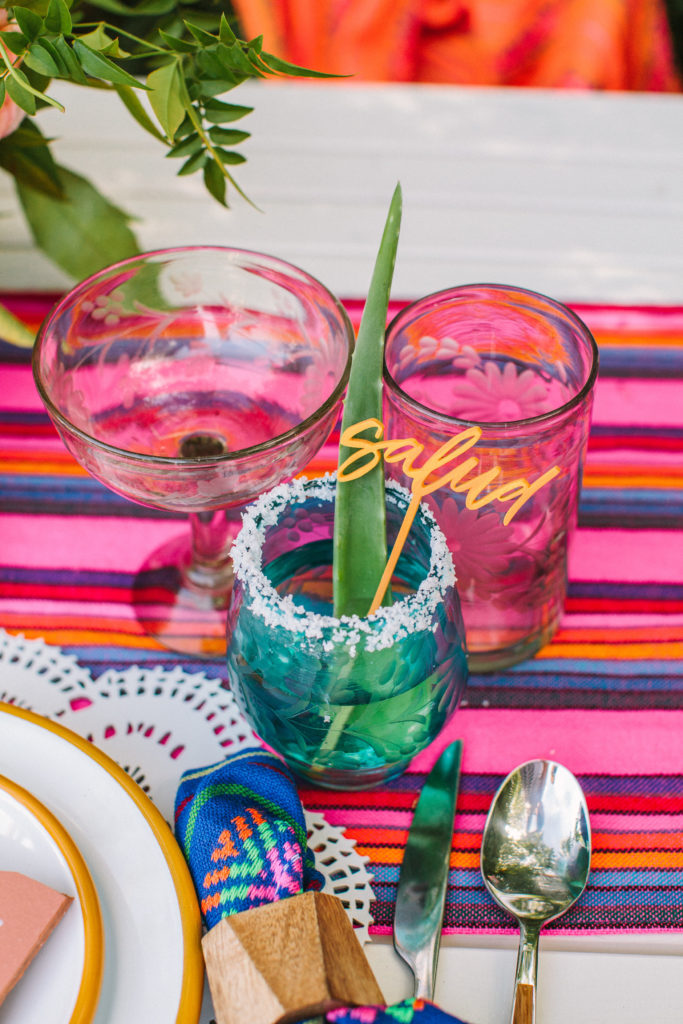 No cocktail should be without a cocktail stir, its like being naked. Meghann made sure we were fully covered!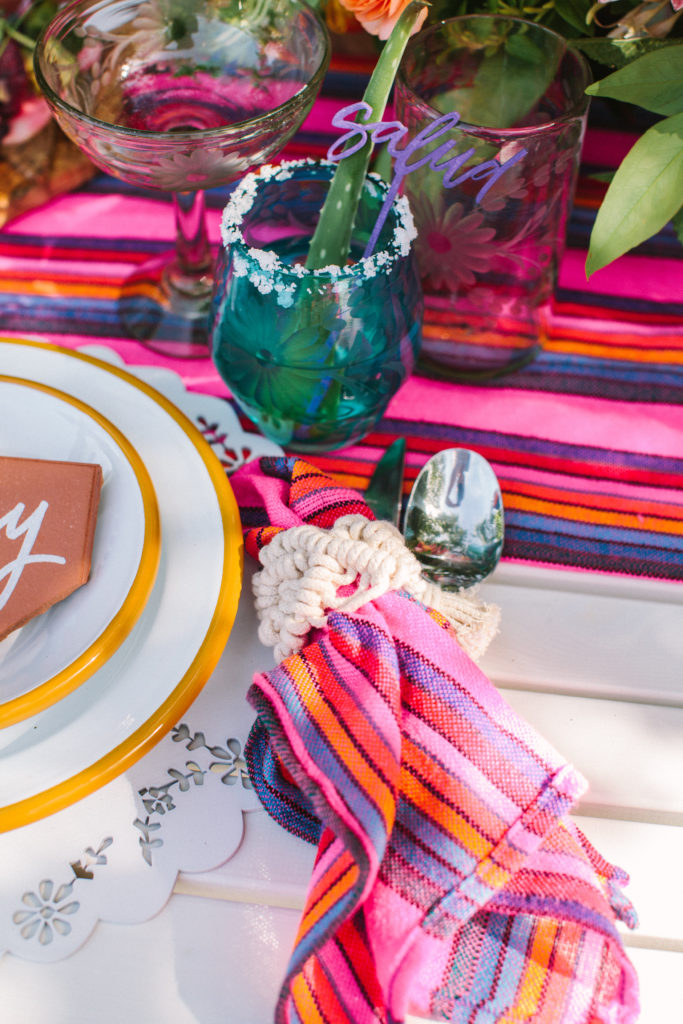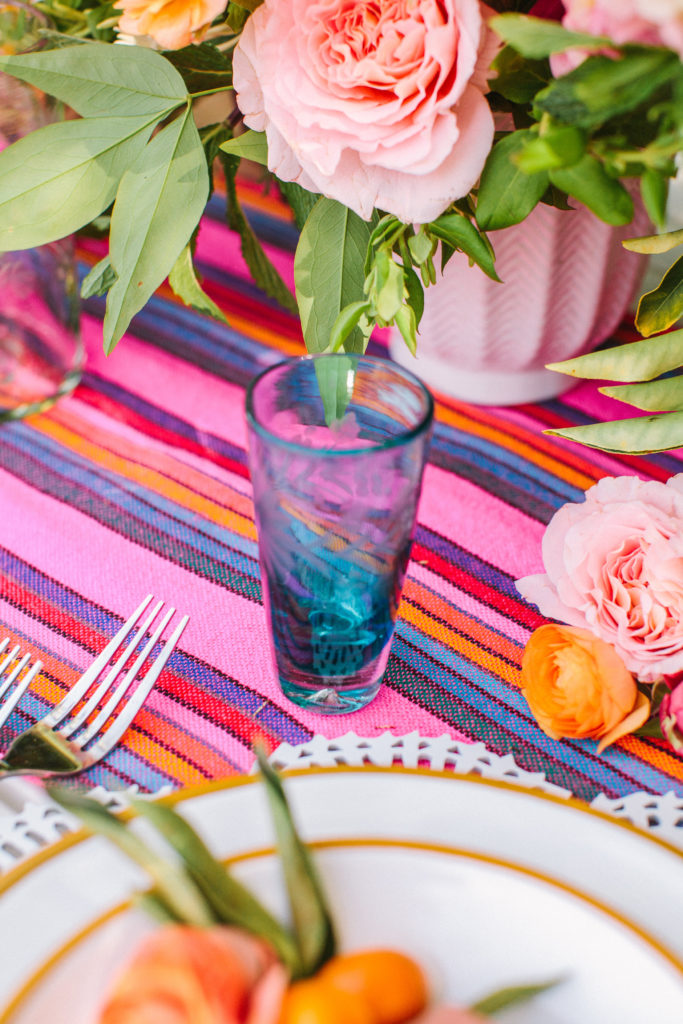 Siestas for Fiestas have great textiles that are perfect for this boho fiesta. Bright colored blankets ,table runner, and napkins were right at home.  Accompanied by The Little Market glassware, and Commerce Fine Goods dinnerware you have yourself a perfect evening fiesta for two!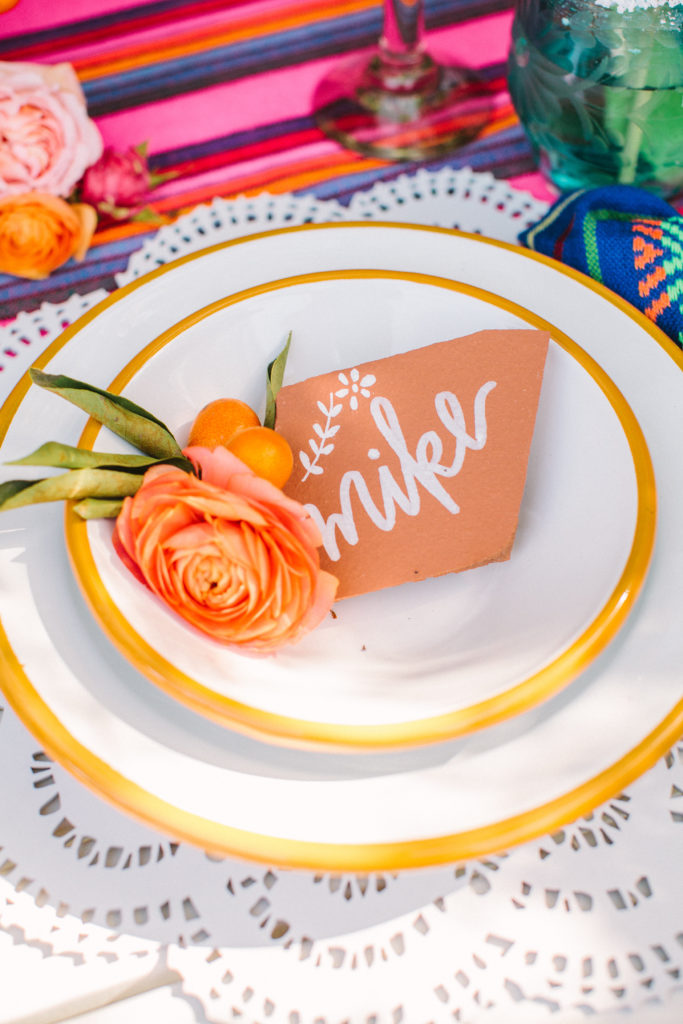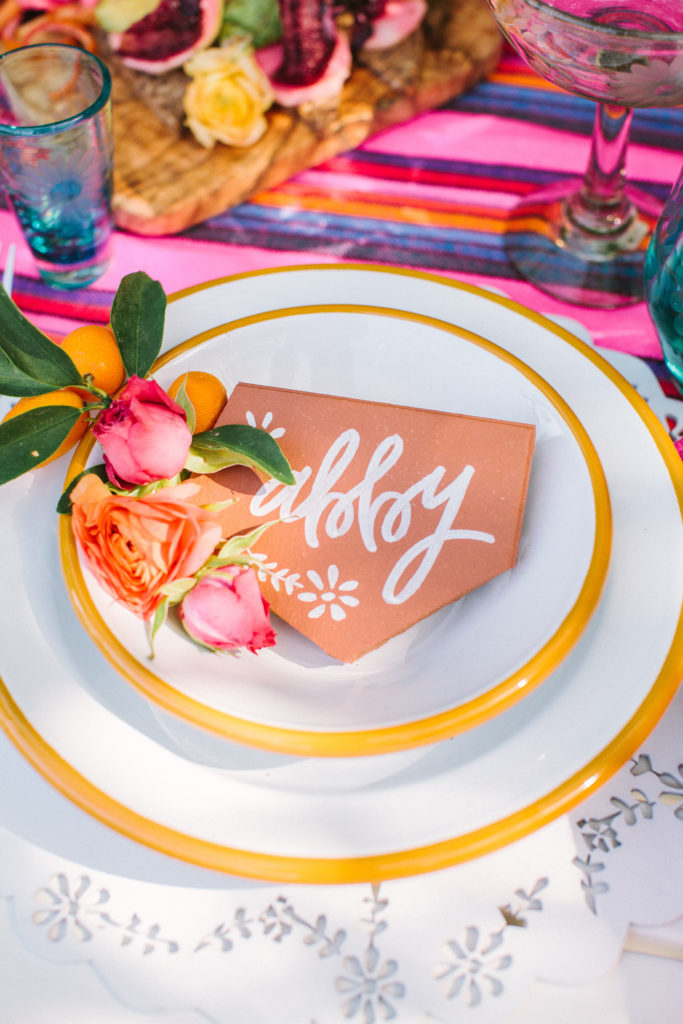 Terra cotta is our new pal, we are currently obsessed with using it any chance we get. The combination of terra cotta and bright colors like yellows, oranges, and pinks is our jam lately. Meghann Miniello, made our terra cotta dreams come true with her signs. Let's not forget her die cut wooden white floral chargers, and salud cocktail stirrs. See the terra cotta bar signs below, so good!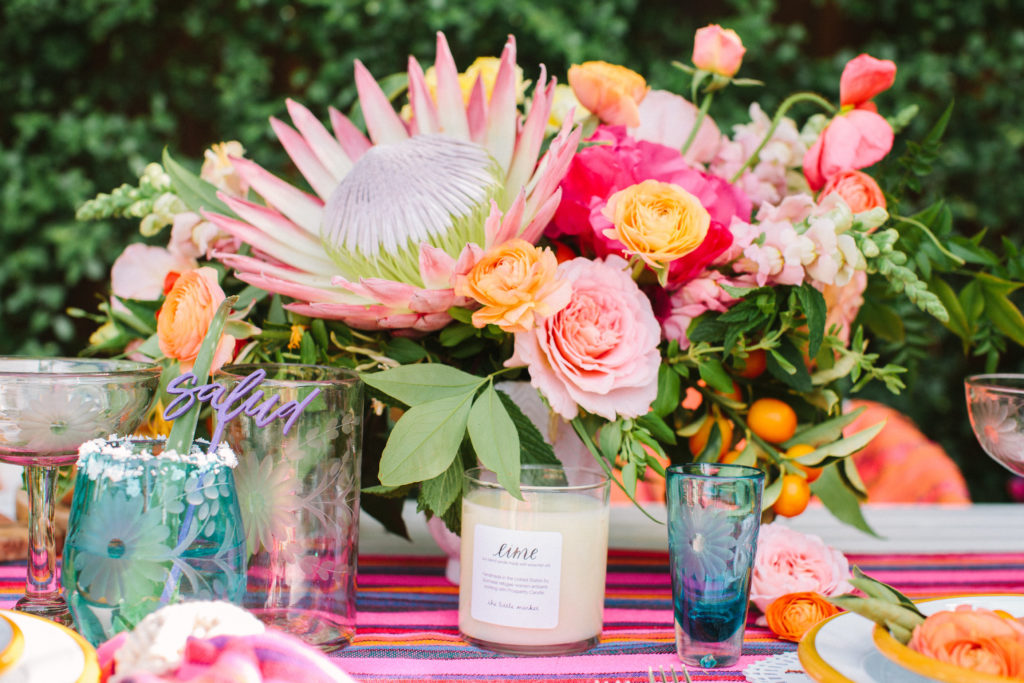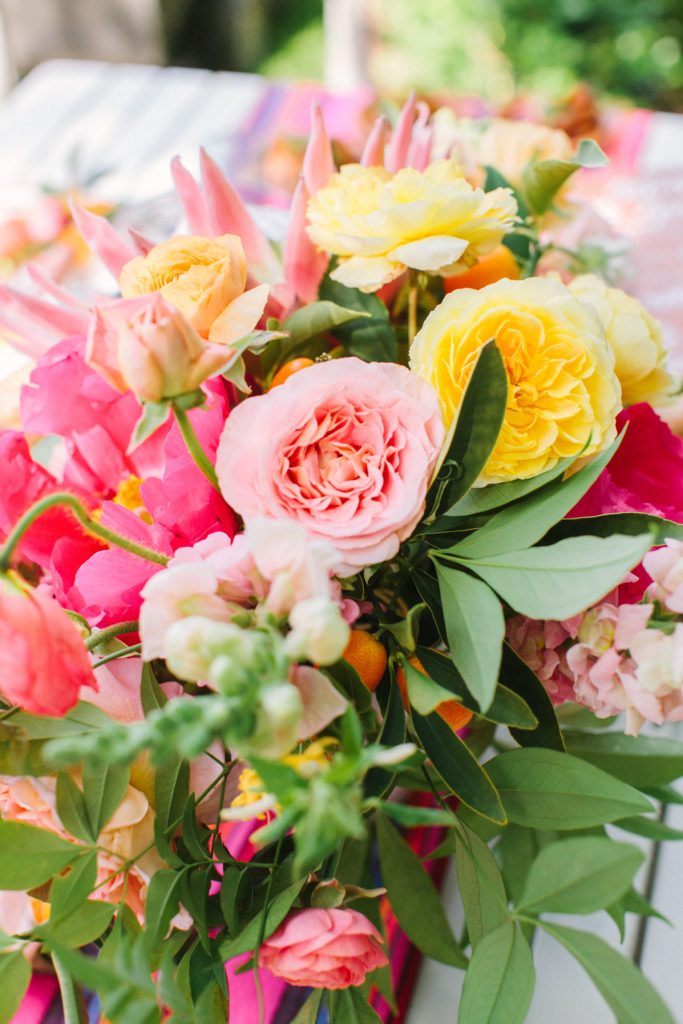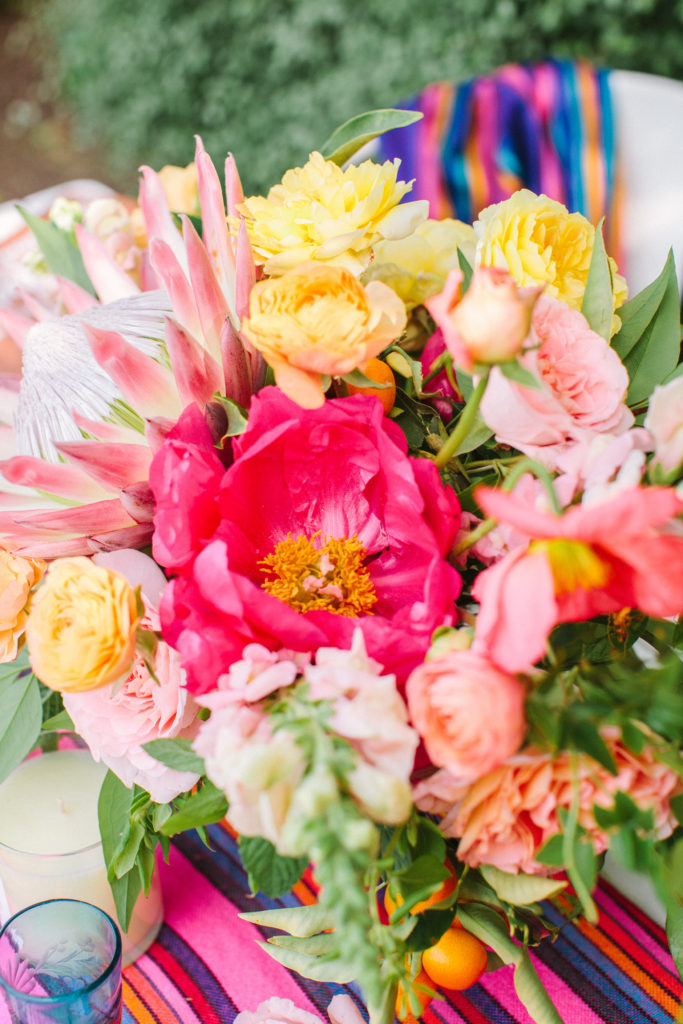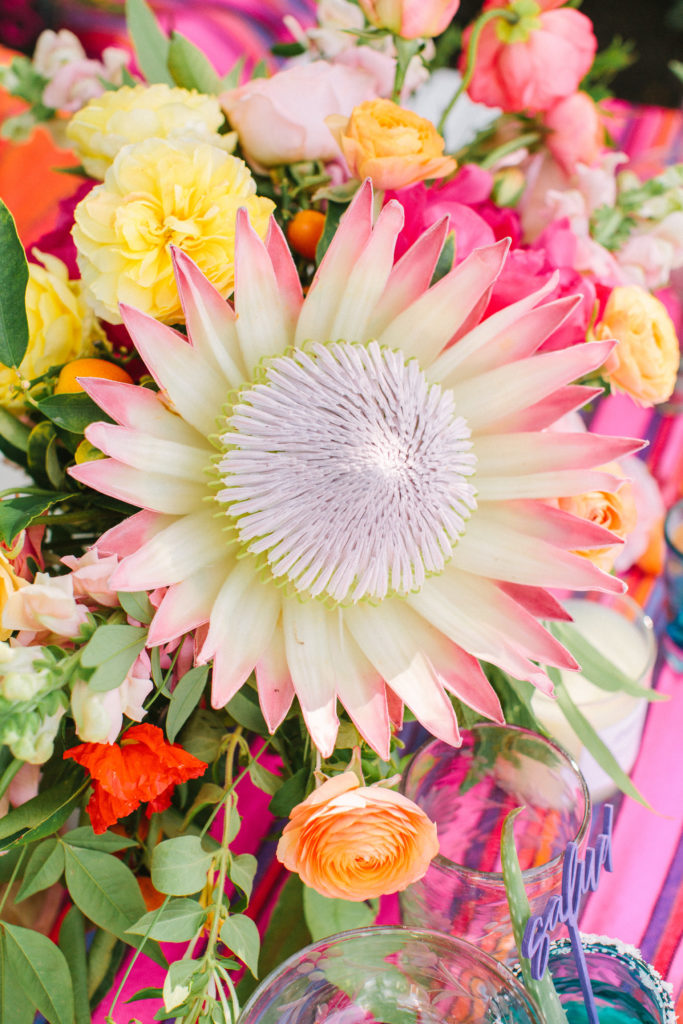 Any holiday, any table, pretty much any reason…. you need flowers and lots of it we say! We had the pleasure of working with Allie from Bloomwell and Co. and boy did she capture the boho fiesta look we were going for. Love the kumquats and fresh herbs that were peaking out.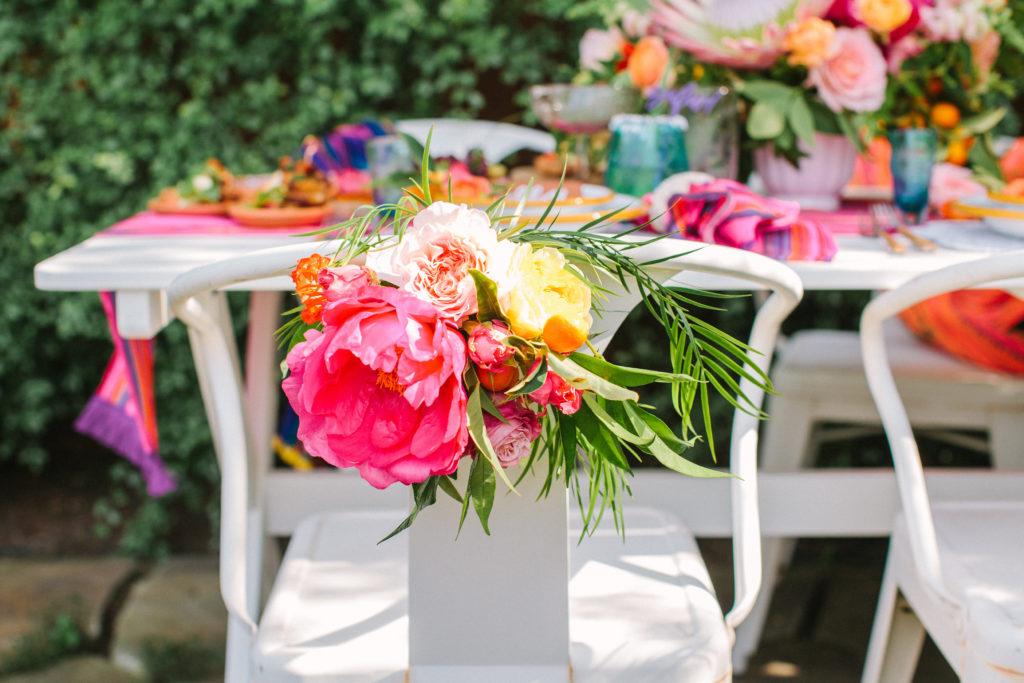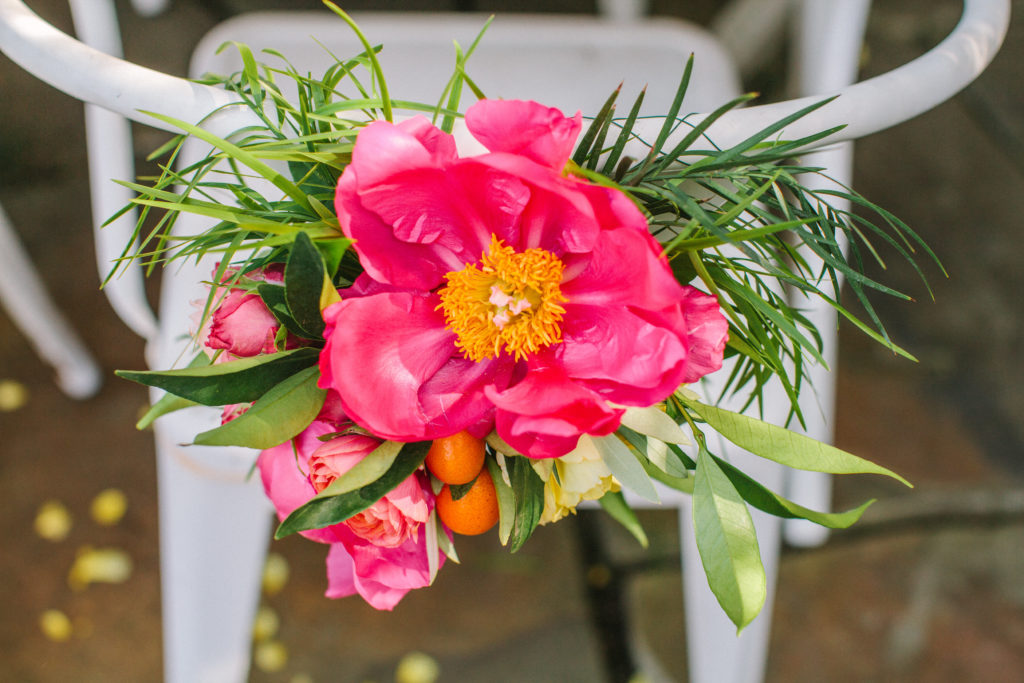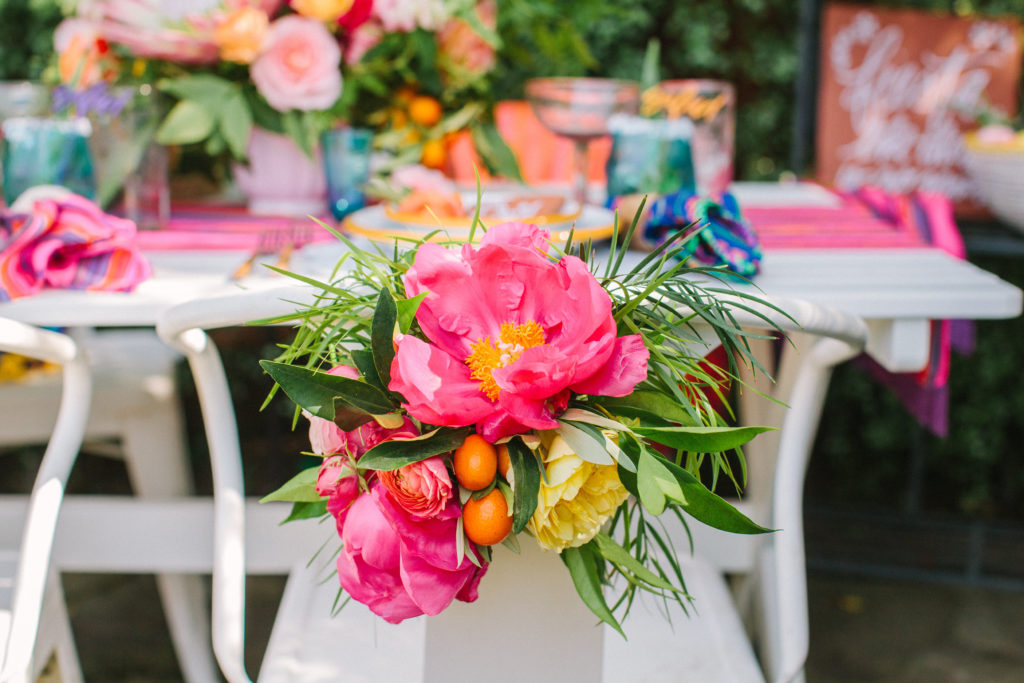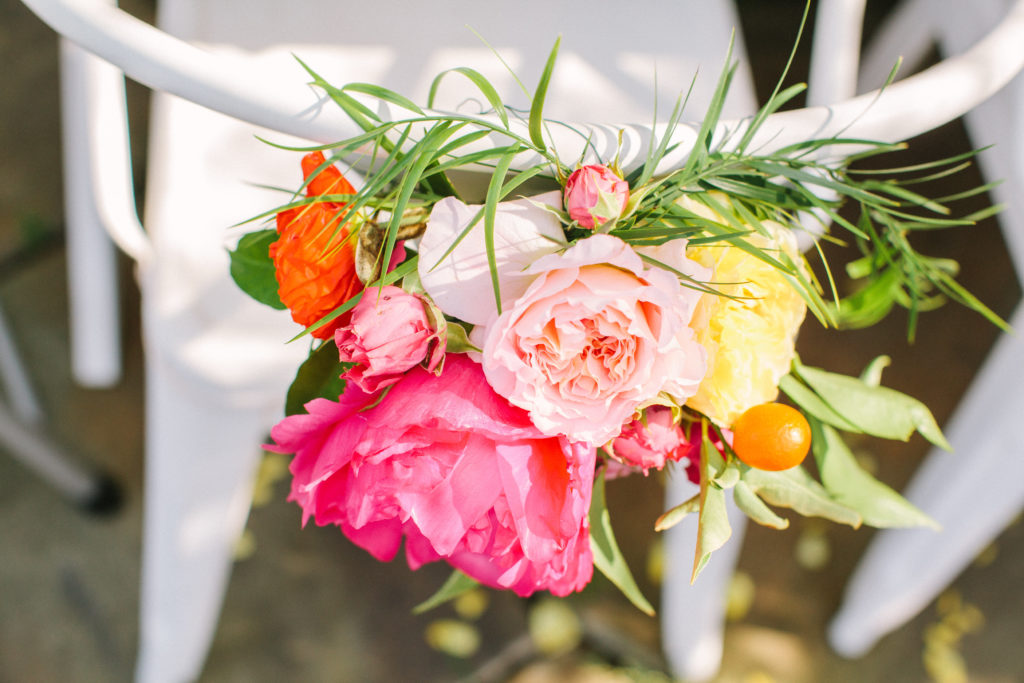 Umm… how cute are these flower details on the chairs. They add that perfect pop of color to a white chair. Love this idea!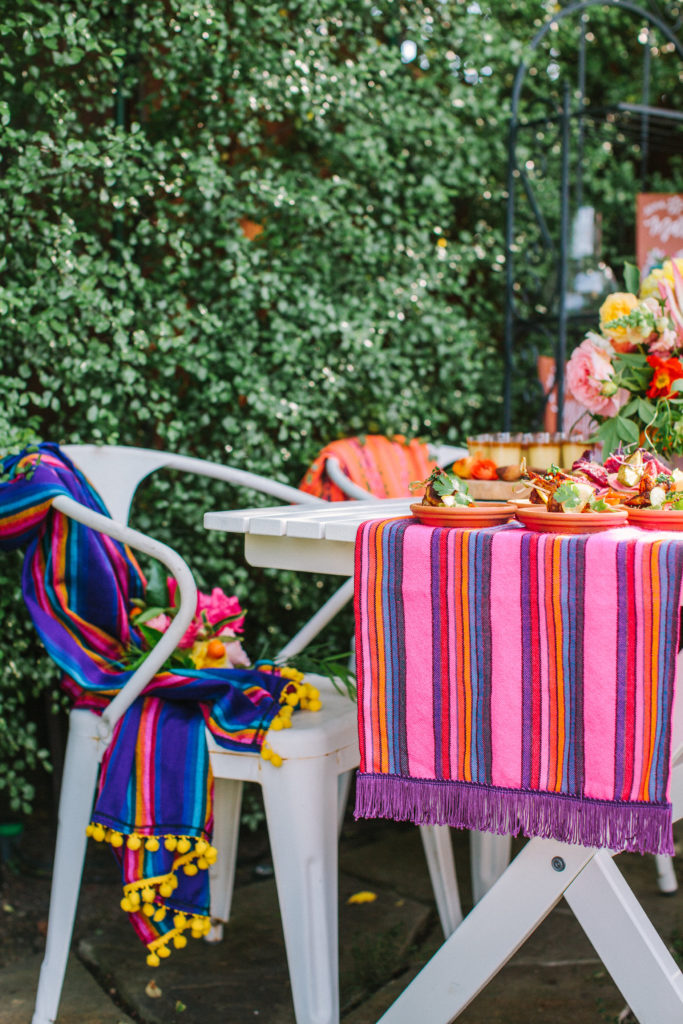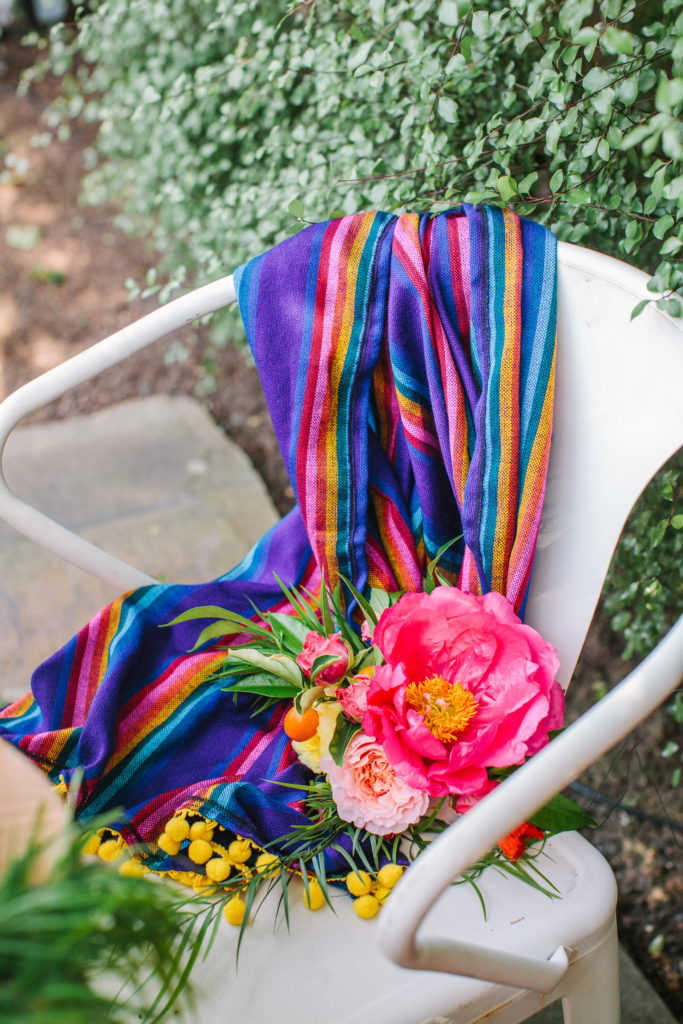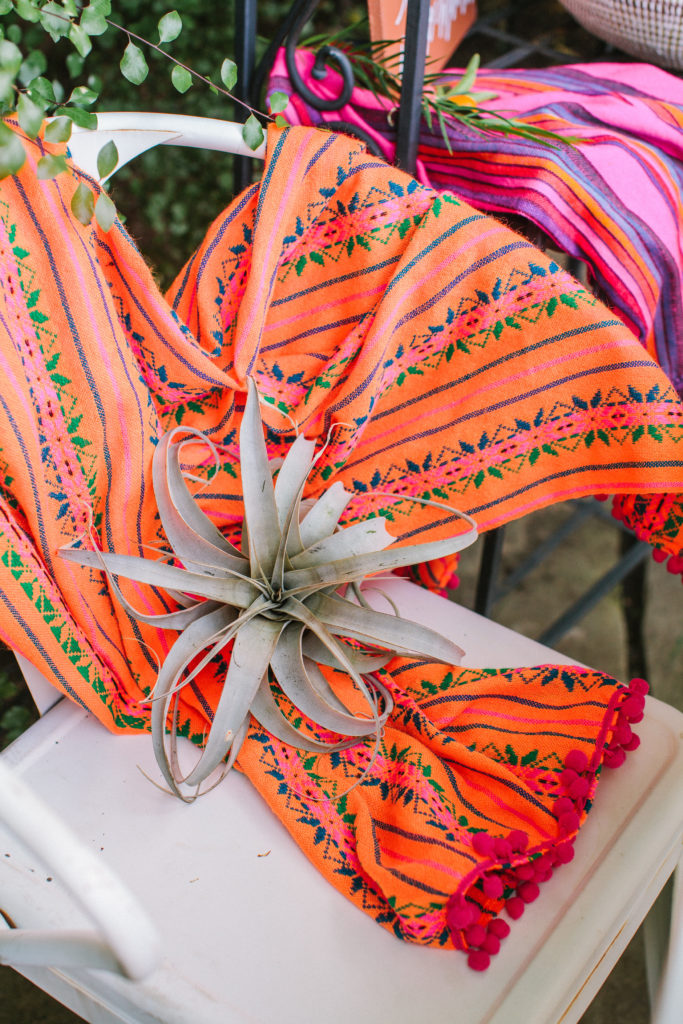 Now the nights can get a little chilly, and Siestas for Fiestas has you covered with their bright textile blankets. Put a couple on your chairs for yourself and your guests.
Lets check out the bar shall we?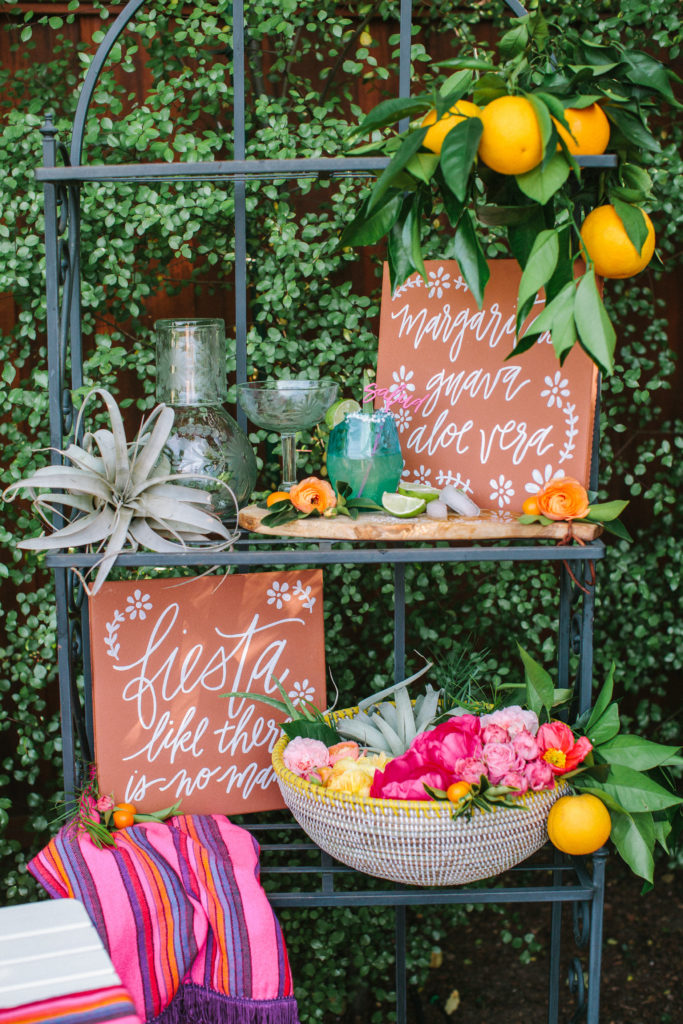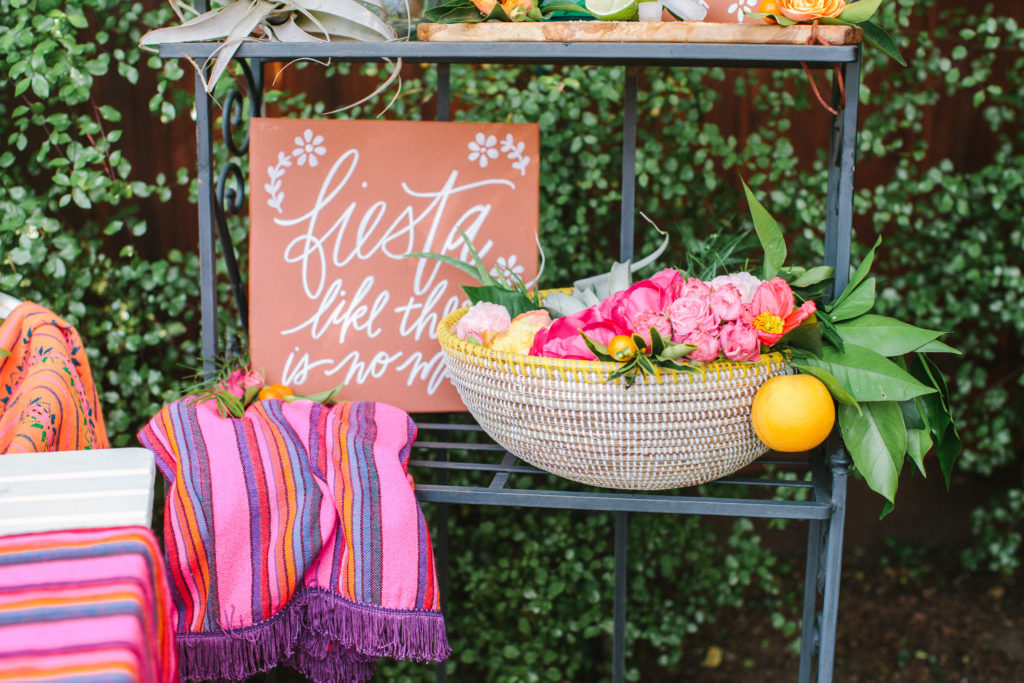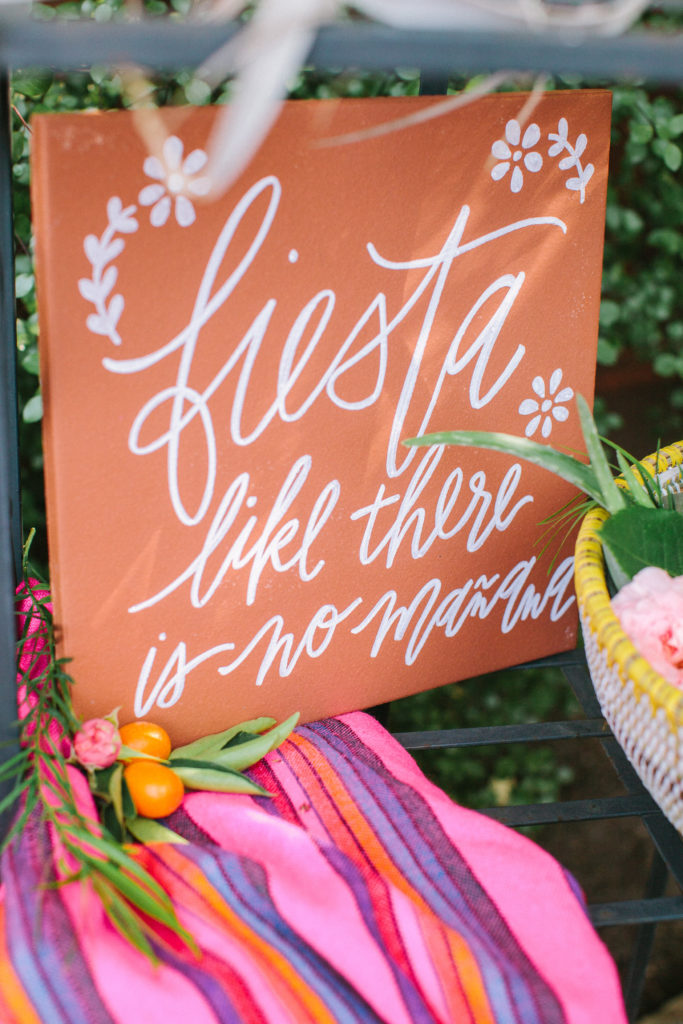 Fiesta like there is no mañana!
Terra cotta tiles done by Meghann Miniello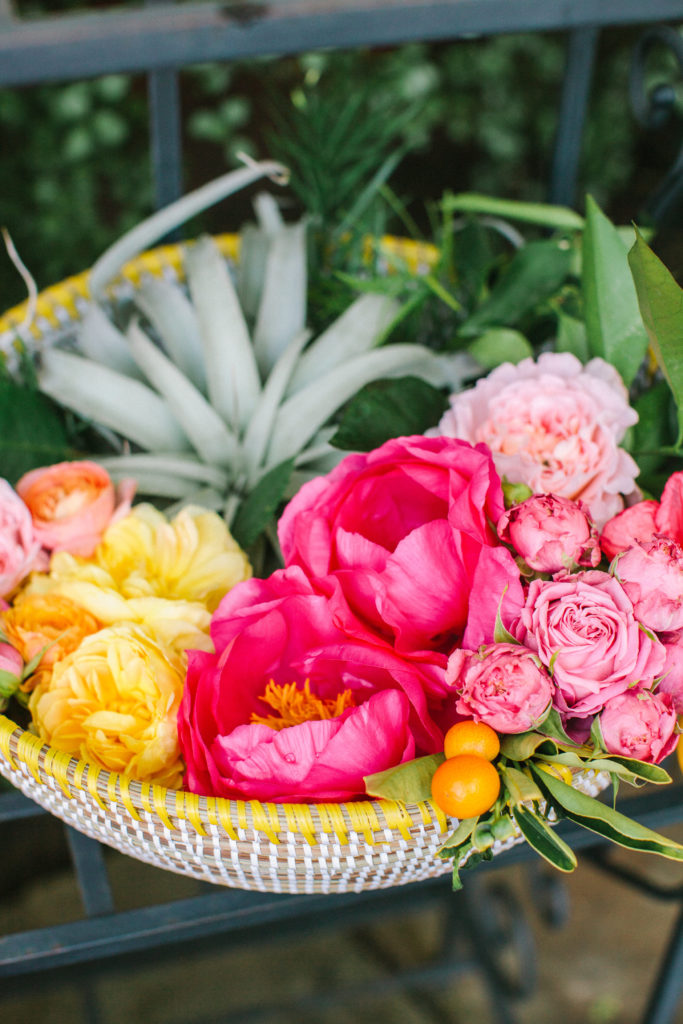 Us beijos ladies love a bowl full of flowers, something so pretty and happy about them.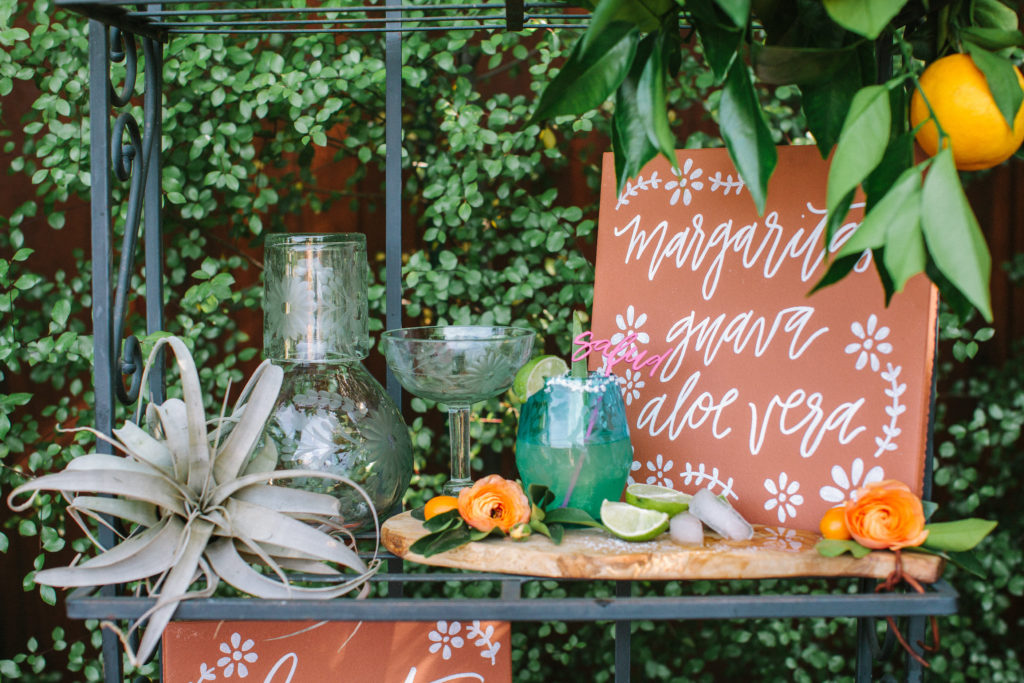 Now no fiesta can start without cocktails and food, are you with us?!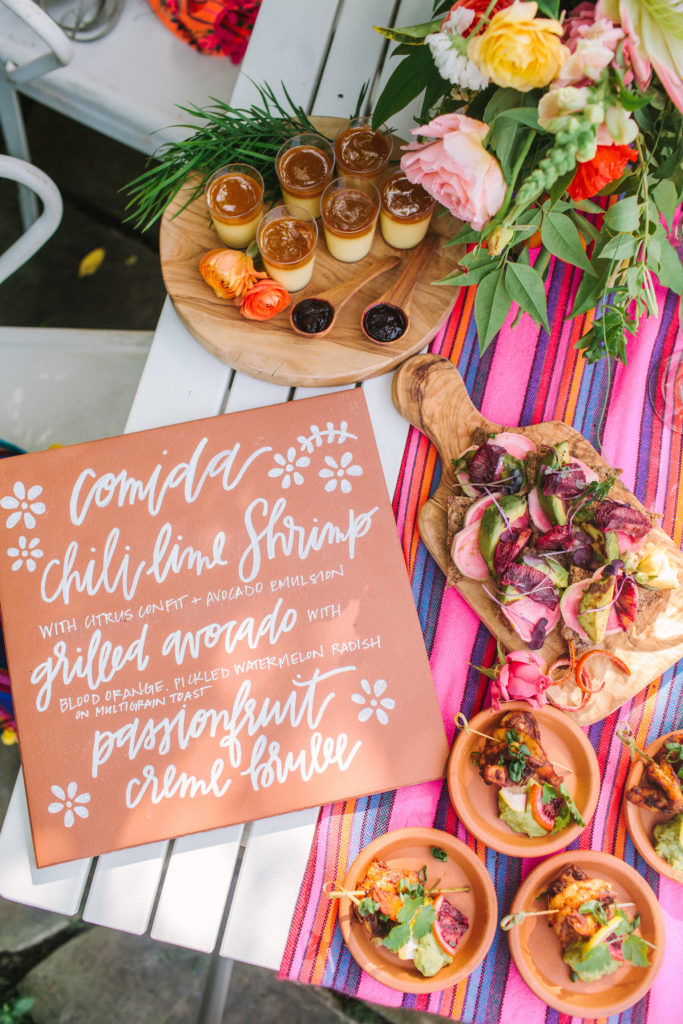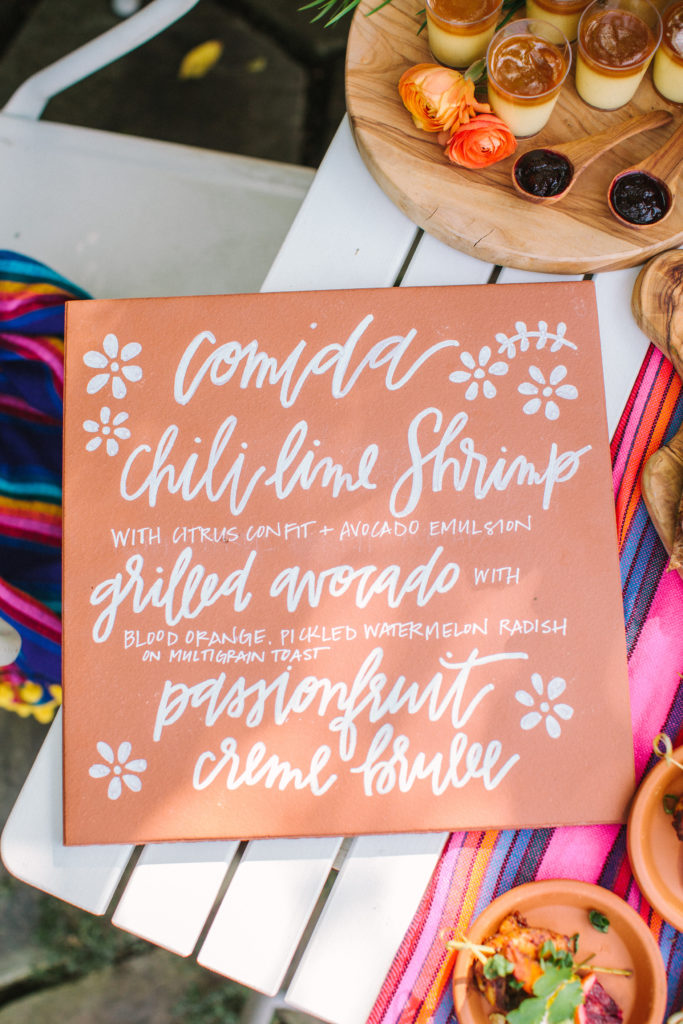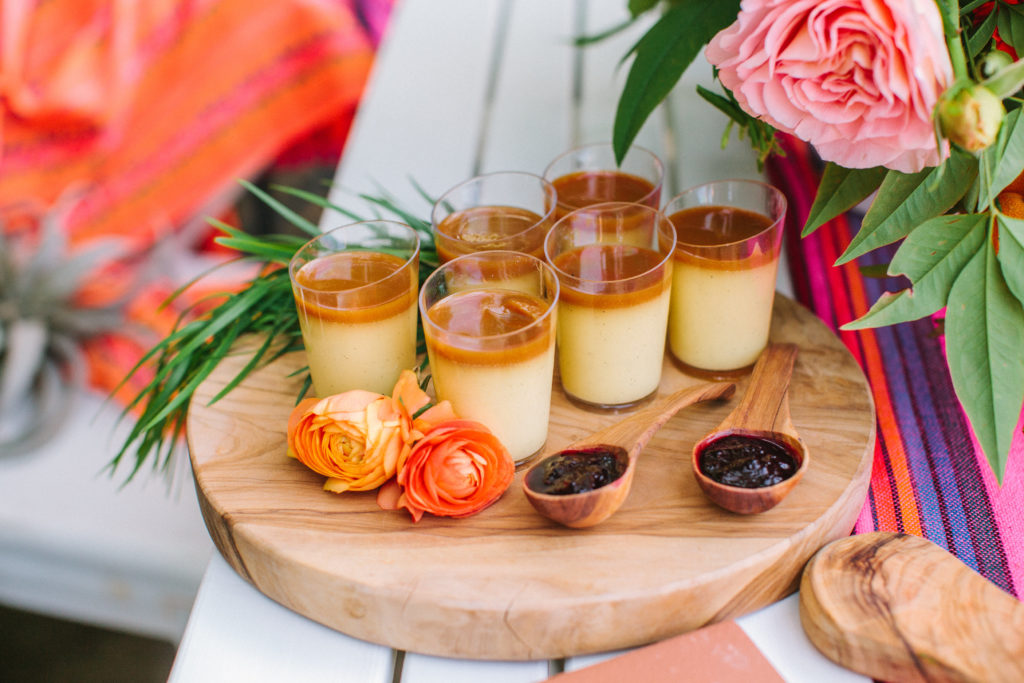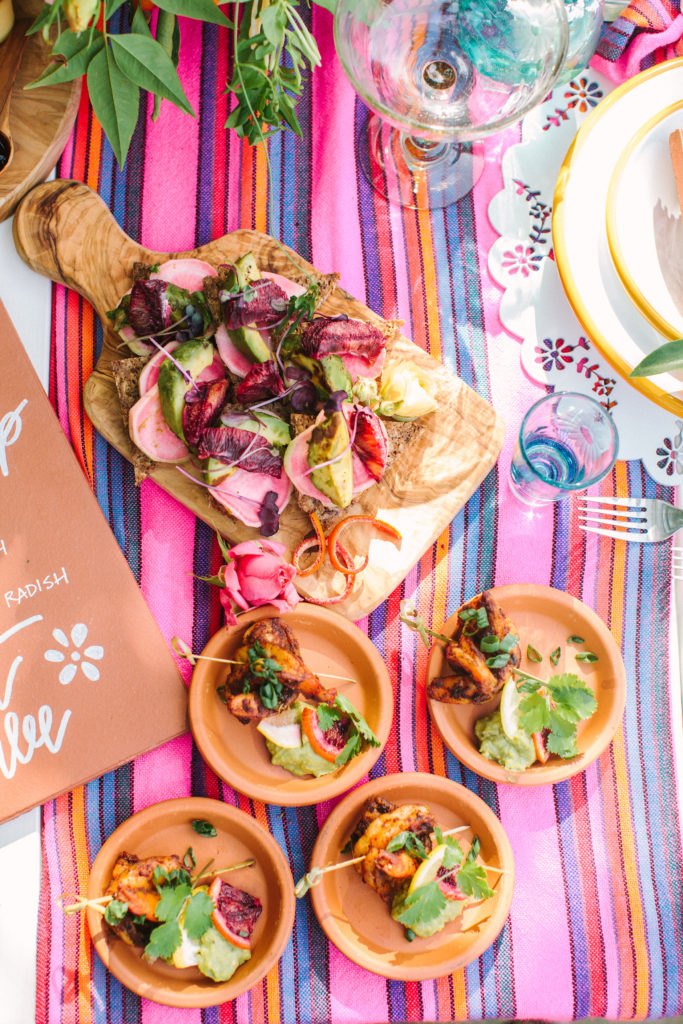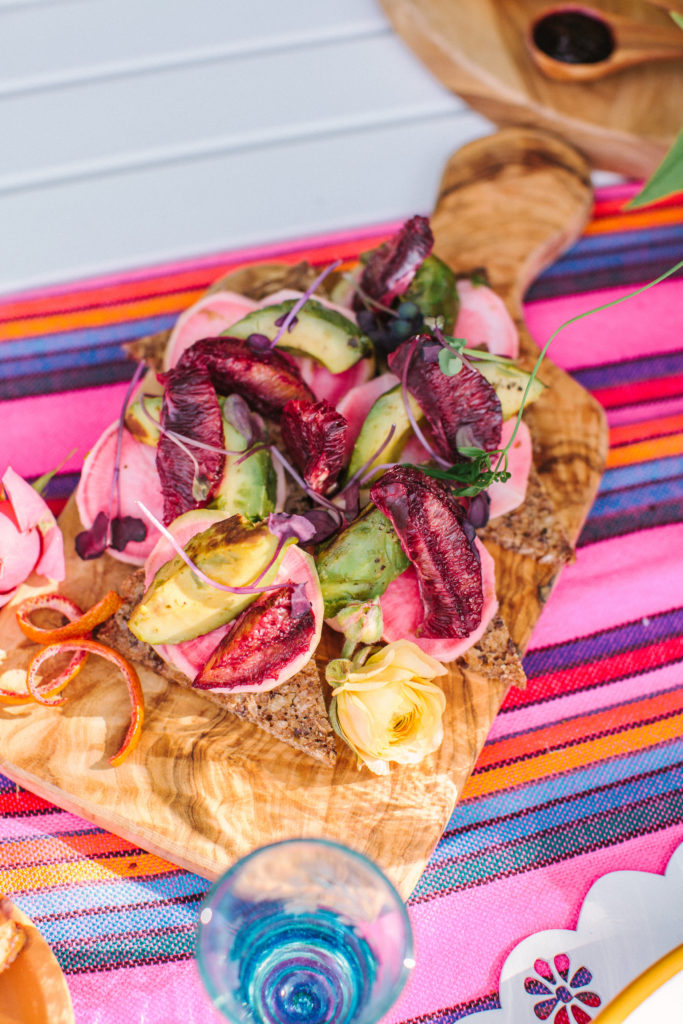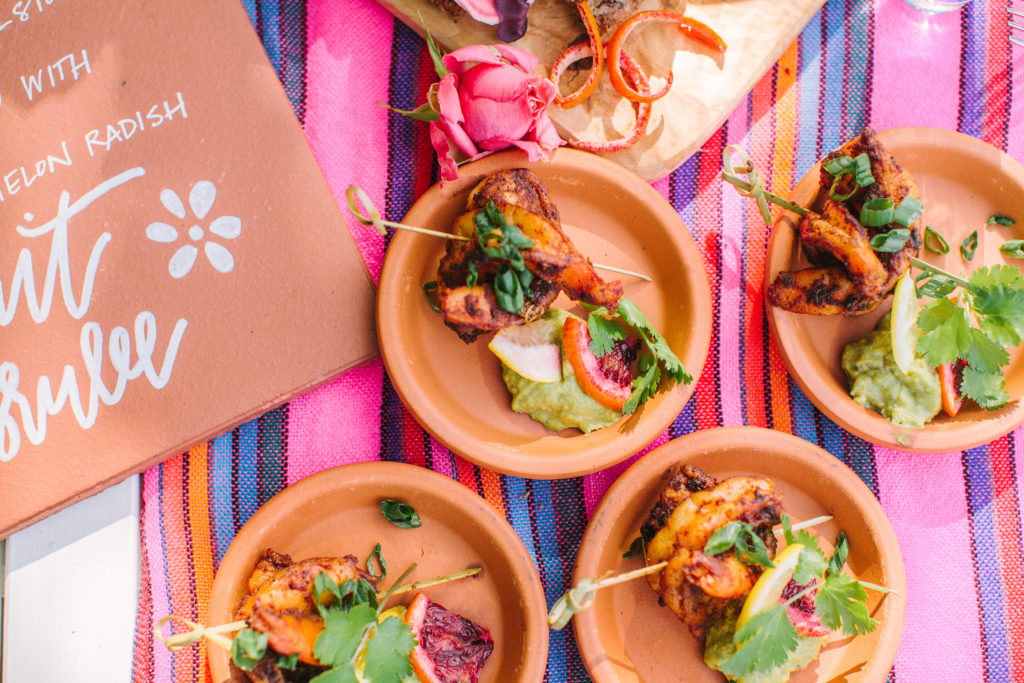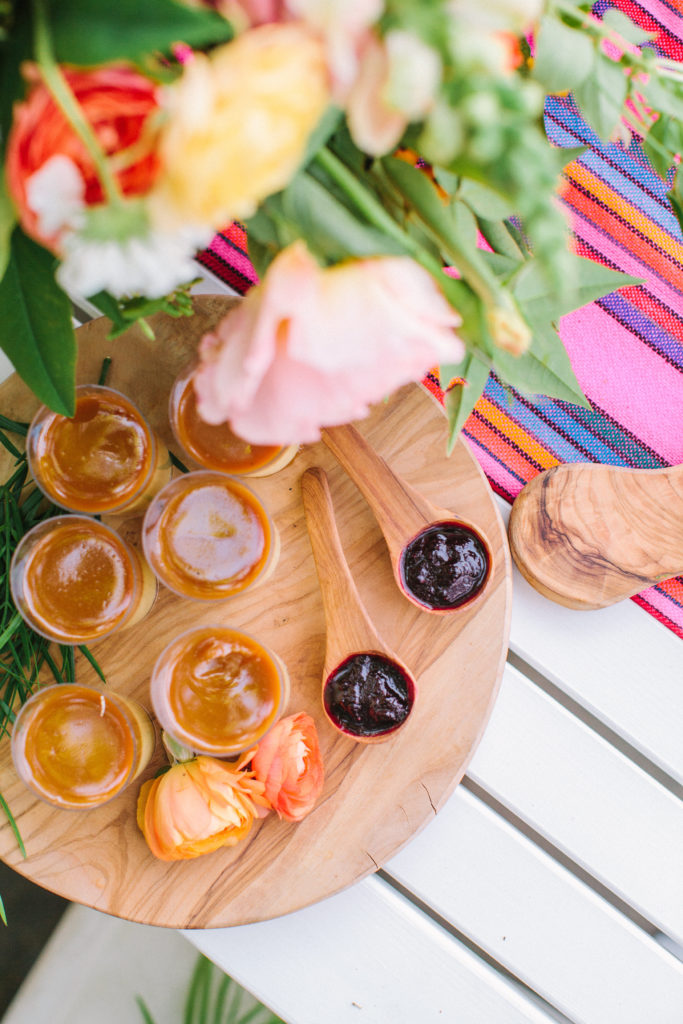 Our gal pal, Molly from Organicopa made the food just as pretty as the table! Food should look this pretty all the time. We have worked with Molly in some of our past parties, and she sure does keep our bellies happy!  Of course, we can't forgot cocktails! We are crushing hard on guava and aloe vera margs. Yeah you heard it right, Aloe Vera Margaritas. Yummy! Ay! Ay! Ay! Ay!
Last week we showed you how to make these pretty aloe vera margs.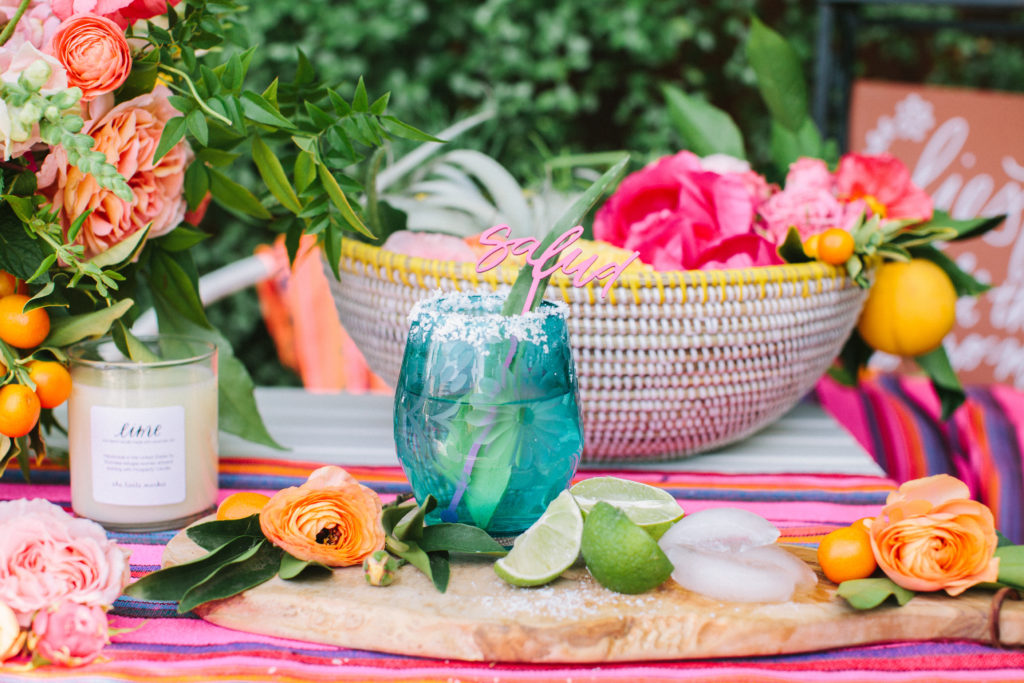 Drink safe and fiesta on my friends!
xx
Abby