This wedding was over a year ago, but it still holds such a special place in our hearts… It was our first official wedding as designers and planners, and we are so thrilled to share it with you today and have it featured on Green Wedding Shoes!!
Jessica and Mike are not only clients but also friends, and when they asked us to be such a big part of their wedding day we were not only honored, but thrilled as well!  Lucky us, Jessica was a dream bride and their venue, the Santa Barbara Historical Museum, was gorgeous!!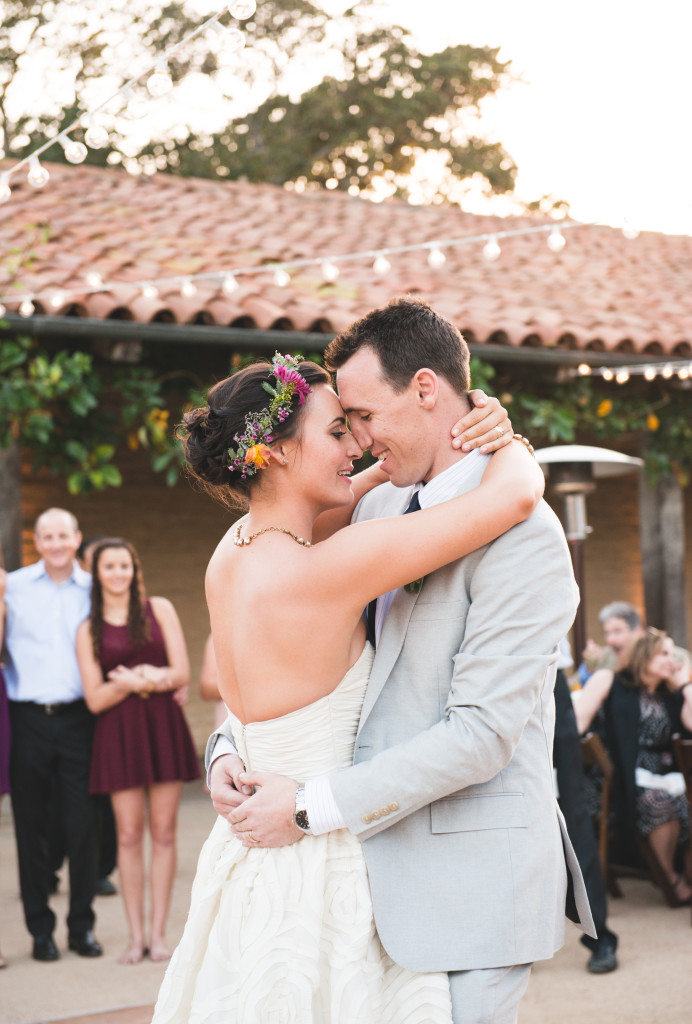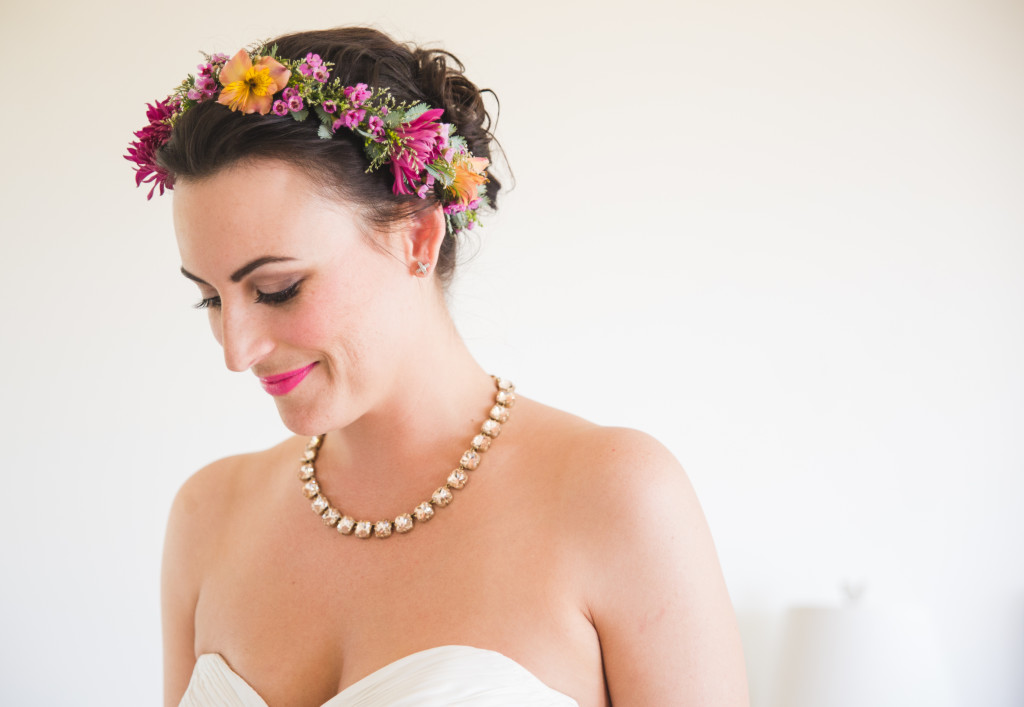 Jessica is one of the most genuine, sincere, and kind hearted people I have ever met, a true sweetheart.  She is the type of person that puts others first and is always there when you need her.  When it came time to plan her wedding she was so excited and had a vision of an eclectic vibe with Mexican touches but also staying true to Santa Barbara with some local details, oh and a color scheme we loved!  Jessica wasn't afraid of color and we adored that!!
A little bit from the bride & groom:
Living in Santa Barbara both of us wanted to represent Santa Barbara and the Spanish Heritage in the wedding and also Jessica grew up going to her family's home in Mexico, so the memories spent there in Baja had a huge influence on the decor and food.  Both of our favorite food is Mexican so we had a a taco buffet with someone making fresh tortillas, a ceviche station, and an elaborate salsa bar.  The Churros for desert were an ode to our favorite festival here in Santa Barbara, Fiesta! Super important to both of us was making sure McConnell's (local Santa Barbara brand) Ice Cream was present at the wedding.  They brought their ice cream cart and guests could choose between the groom's favorite Mint Chip or the bride's favorite Double Peanut Butter Chocolate Chip. The table decor was reflective of the Spanish theme as well with crocheted lace covering the tables and Spanish tiles as coasters for the ornate amber glasses.  Local Santa Barbara olive branches were tucked into each napkin and all flowers were local and seasonal.  We served all local wines and our specialty cocktail was each of our favorite margaritas.
We loved this escort display, a bright pink door with leather tags with each guest's name hammered into them to find their seat… Turned out pretty perfect to us!
Those bridesmaids are looking pretty stunning, right!?!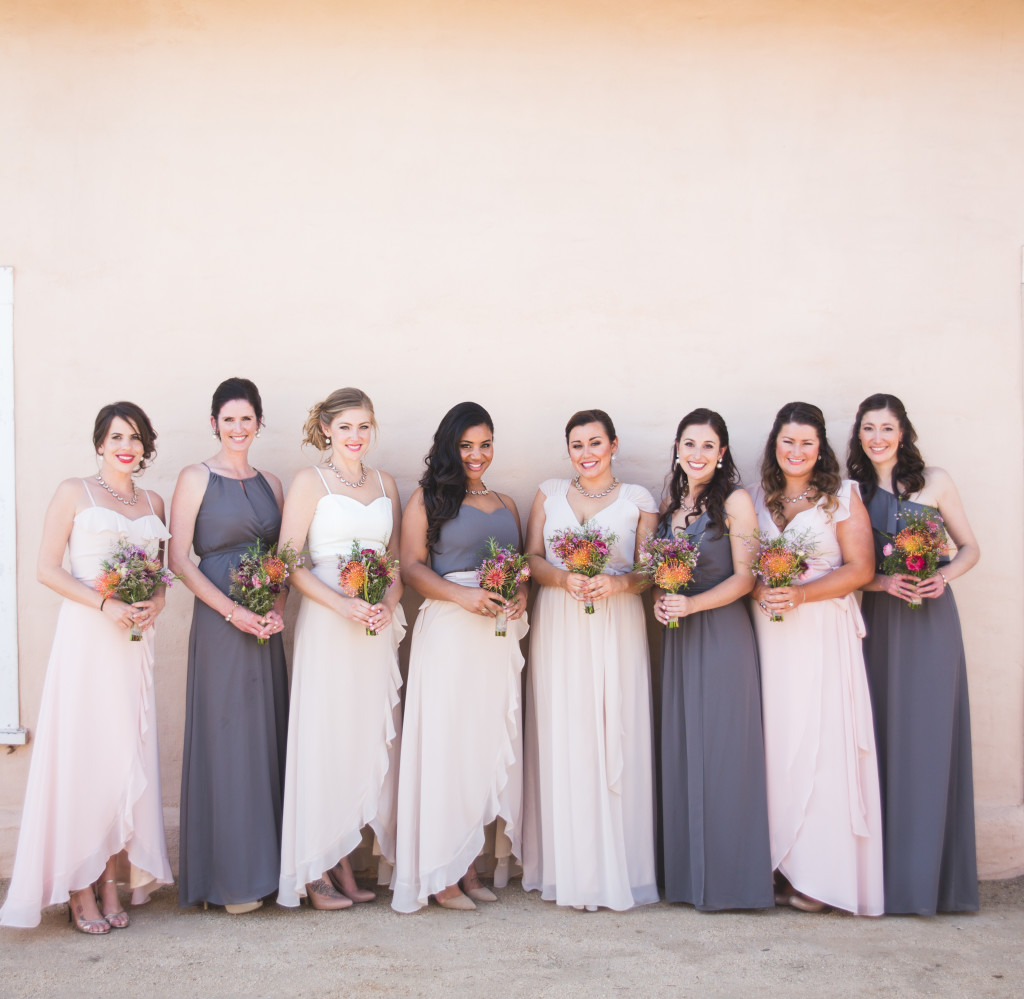 The tables were decked out with Mexican tiles, gorgeous amber glassware and crochet doilies collected by the bride and her family at various flea markets through-out Southern California.  All the paper goods, including these gorgeous menus, were made by the bride's talented sister!
The florist – Terra Malia Designs – truly out did herself, she sourced everything locally and the florals really blew us away.  We loved how she took Jessica's vision and ran with it, and especially how she incorporate fresh cut fruit and air plants!!
Some of our favorite photos of the day were taken of the couple on their own as they snuck away during cocktail hour to the streets of their beloved Santa Barbara… How gorgeous are these?! Jacqueline Pilar is responsible for the amazing photography of this beautiful day!!
Can we talk about how awesome this getaway car is!?!
The evening really made the venue shine!!  We forgot to mention that the day of the wedding it was 90 degrees!!  Which is pretty uncommon for a March day in Santa Barbara, but it made for the perfect evening full of dancing and lots of fun!
We always feel lucky to be surrounded on a day filled with so much love…
Thank you Jessica & Mike for letting us be a small part in such a big day of your lives!!
xo,
Beijos Events