Shopping for your wedding dress is supposed to be the most magical, fun, and special shopping experience of your life – and it really is all those things – but at the risk of sounding like a Debbie Downer, not everyone has that "this is the one" moment, which can make deciding on a dress rather difficult!
First of all, you will likely never put on a garment as expensive as your wedding gown.  It's a BIG purchase, for only ONE day!  Secondly, they are all pretty!  It's so hard!
I went in to my day of dress shopping with an open mind.  I didn't want to have a dress or style so ingrained in my brain that it would keep me from trying everything.  In retrospect, that made it harder to decide!  There were dresses that I liked equally, but one would be a ball gown and the other mermaid.  And again, THEY ARE ALL PRETTY!
I was lucky to have my mom, sister, and little nephew, Court, accompany me while dress shopping.  We started our day at Monique Lhuillier.  This was both a good thing, and a bad thing…  The dresses were TO DIE FOR.  Honestly, they were all amazing.  Our stylist was really sweet, and made me feel so comfortable while trying on the gowns.  We fell in love with several styles right away.  They had a huge variety and each was really special in it's own way.  The experience was wonderful and set the tone for our day.  The one thing I must say, is that although we communicated our budget to our stylist at the outset, of the 6 or 7 dresses she pulled for me, only 2 were in our price range.  I really considered going beyond my allotted dress budget for one of the dresses we found there, but after sleeping on it for a bit, I ultimately came to my senses.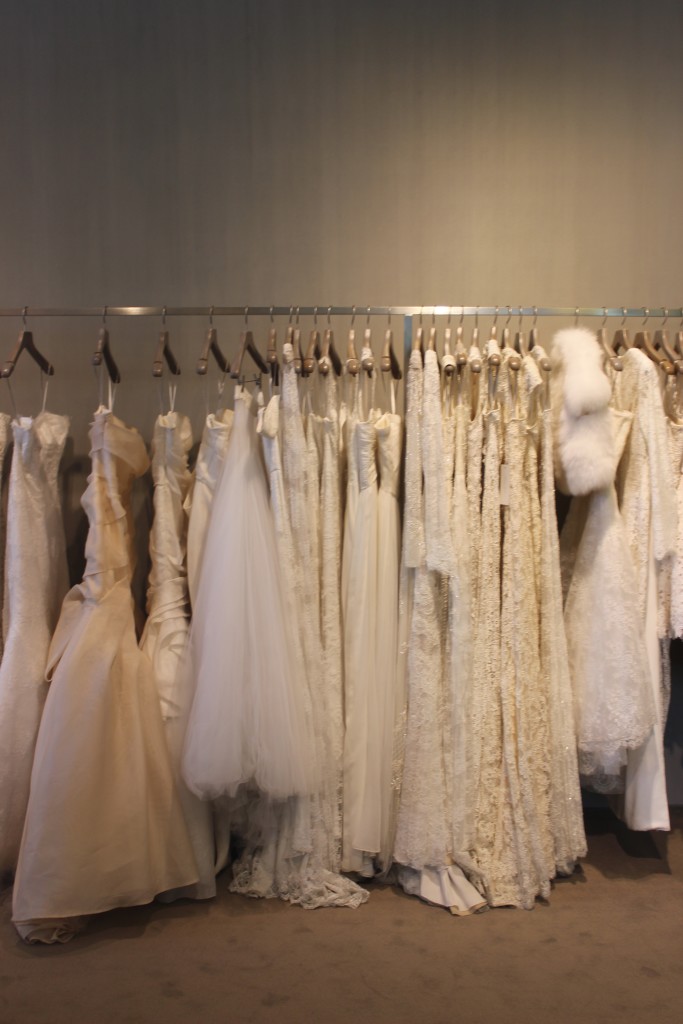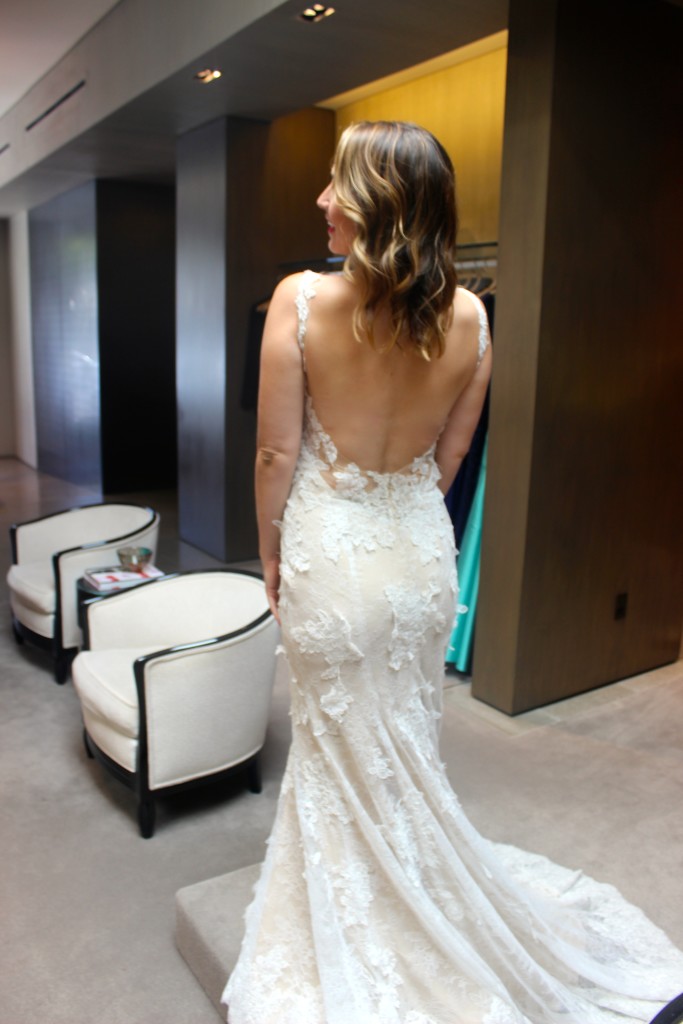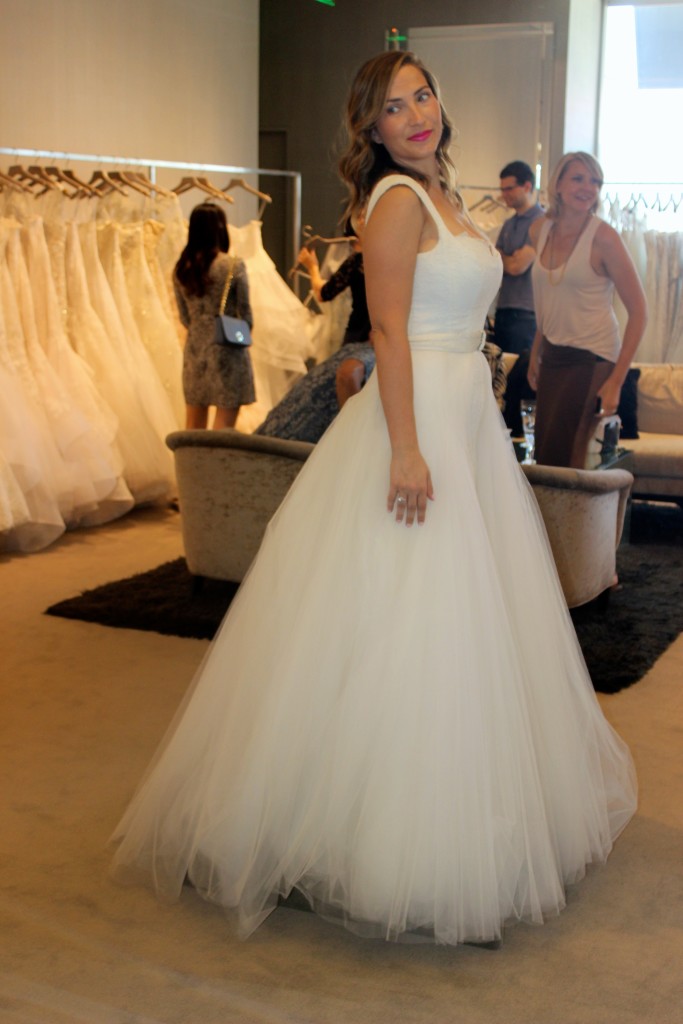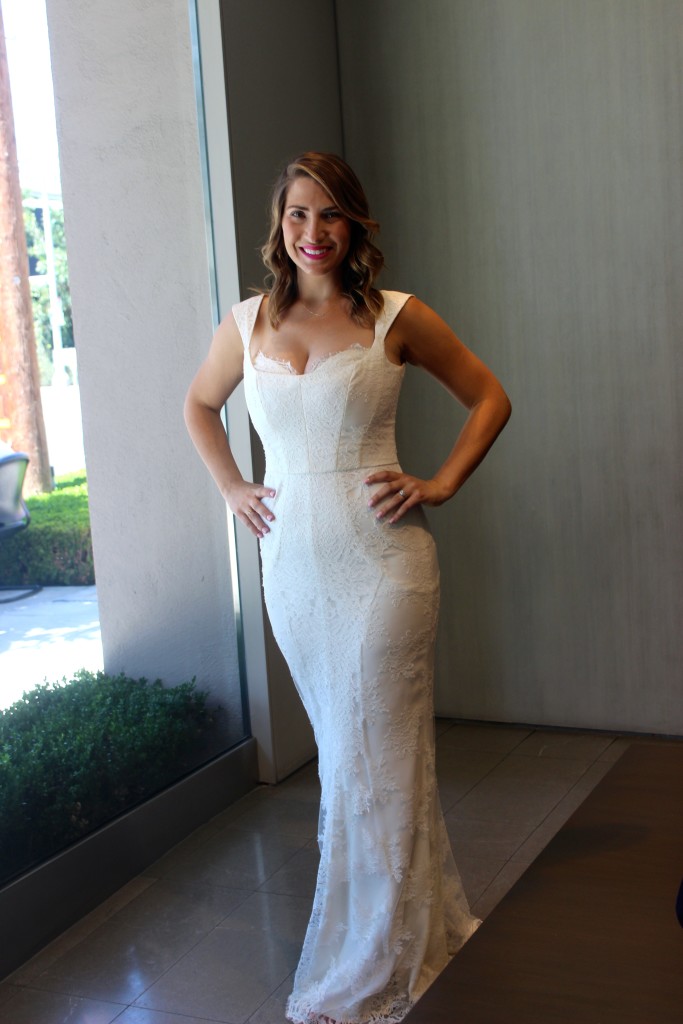 Our next stop was BHLDN.  Frankly, going to ML right before BHLDN was not the best decision. While the LA store, on the second floor above the Anthopologie on Beverly, is really cute, the dresses just didn't quite stand up to the dresses I had just tried on (obviously, as they were about 1/3 the price, which is a plus of shopping at BHLDN).  My stylist met us and took us back to a hall filled with dressing rooms.  I entered the room with my stylist and went to put on my first dress.  Her first question to me, as we looked at the dresses I had selected was "what is your least favorite thing about your body"?  Ummmmm WHAT?!  Aren't brides supposed to feel beautiful while trying on dresses?  It made the entire experience strange from the outset.  I don't know if I just picked poorly from the selection at BHLDN, but the dresses really didn't do anything for me.  I have friends who have had great luck at BHLDN, but my hourglass body type requires a little more structure, and the dresses just sort of hung on me in an unflattering way.
The last store we went to on our initial day of shopping was Lovely Bride in West Hollywood.  We had a really great experience at Lovely.  While not nearly as opulent as ML, it was funky and cute, and our stylist was very sweet. It was far more laid back and I felt comfortable right away. They had a great selection of more independent designers, and a huge variety of styles.  I came across a few dresses that I really liked.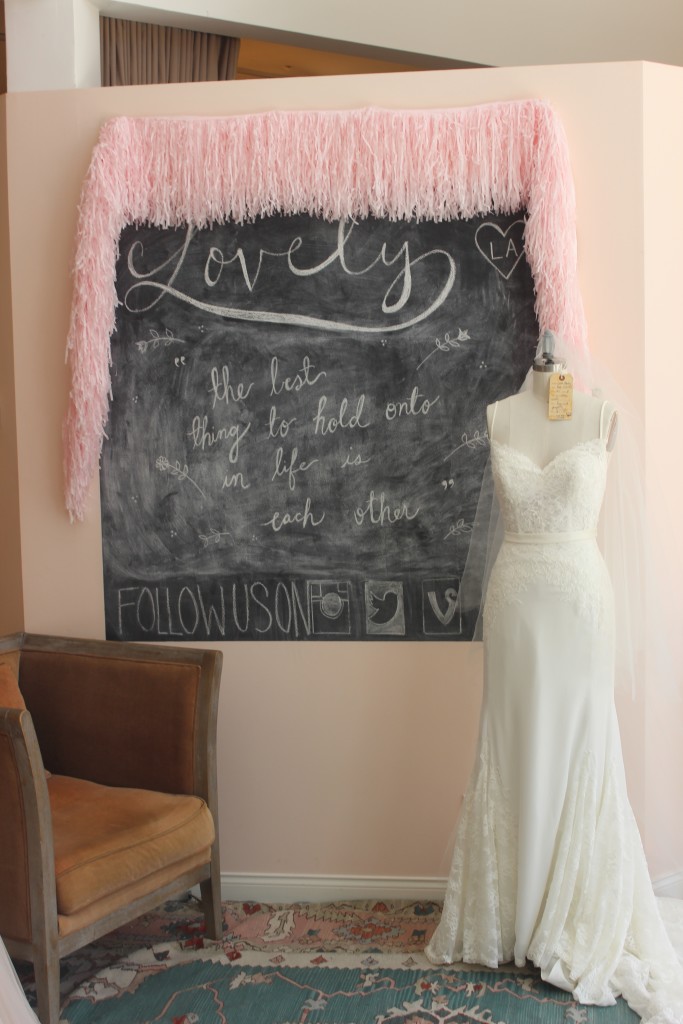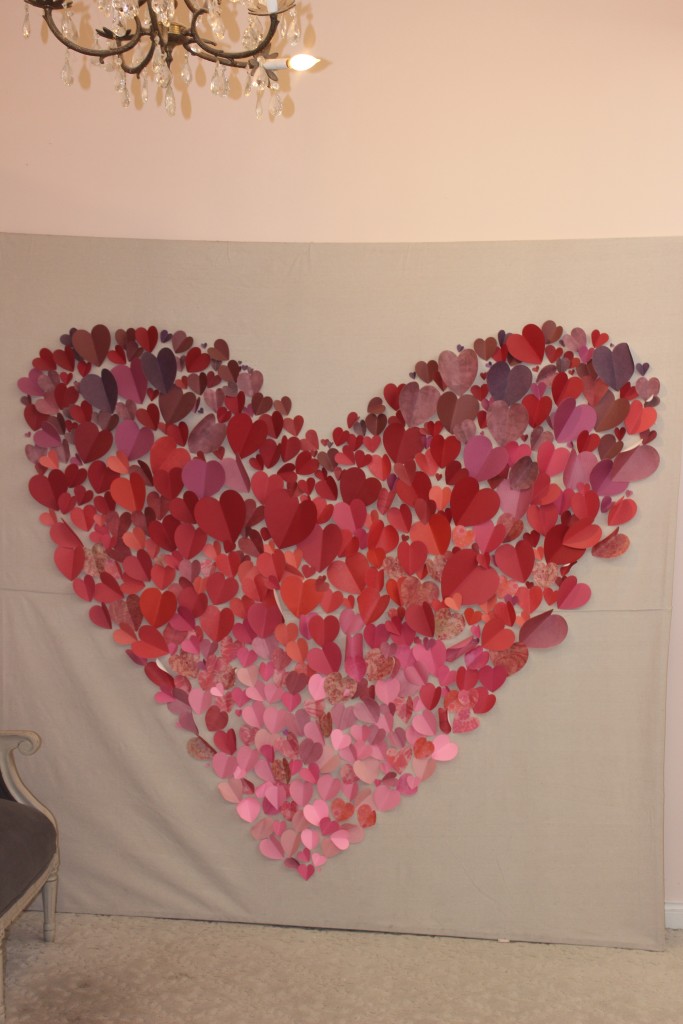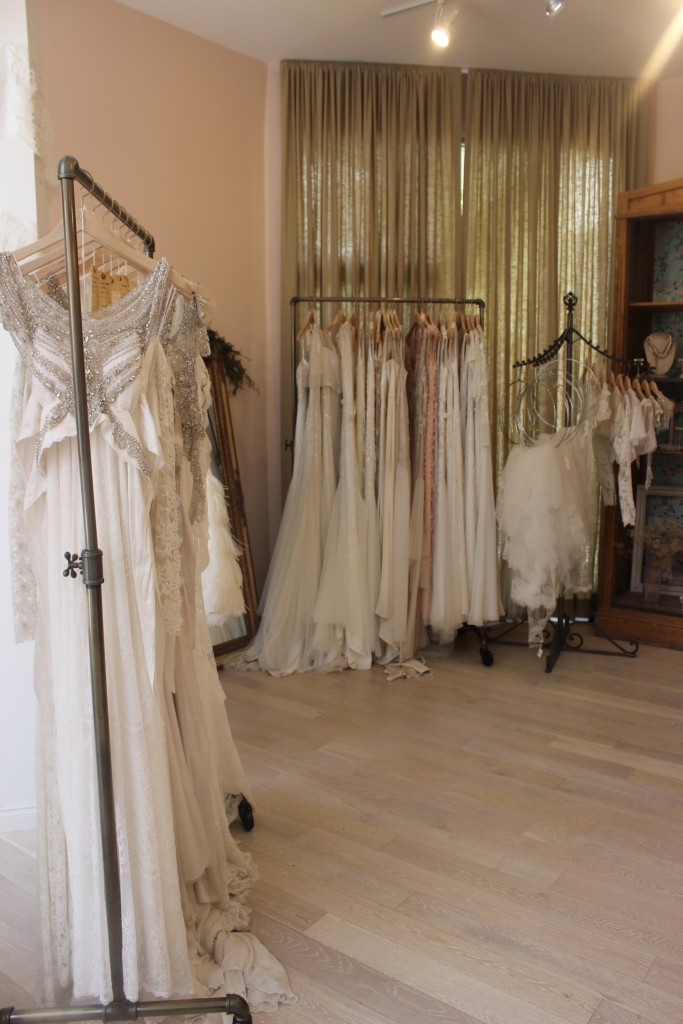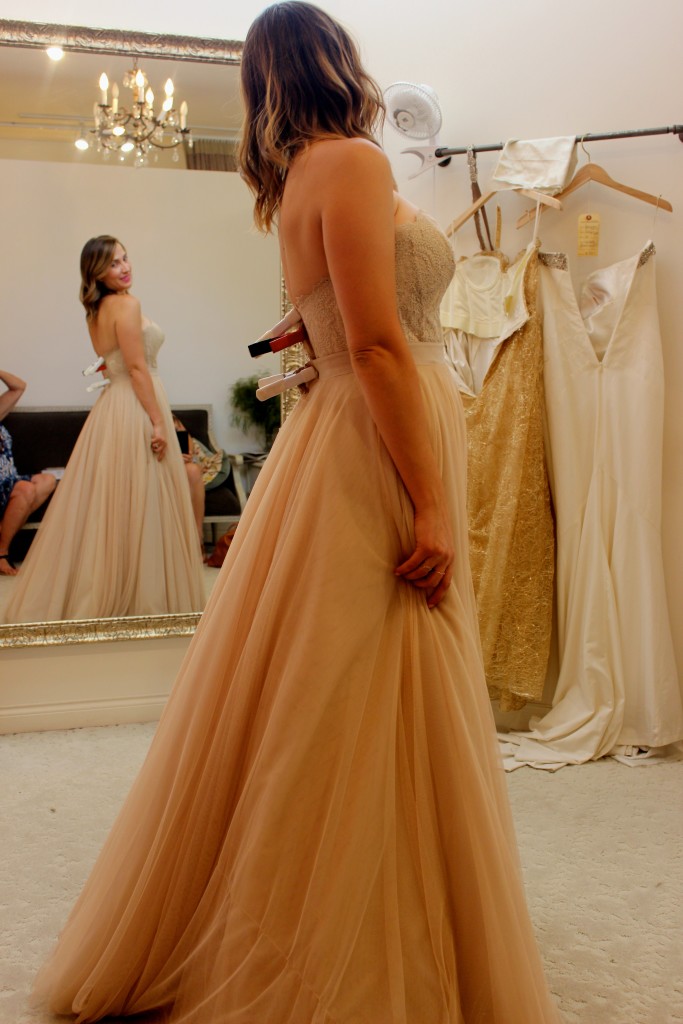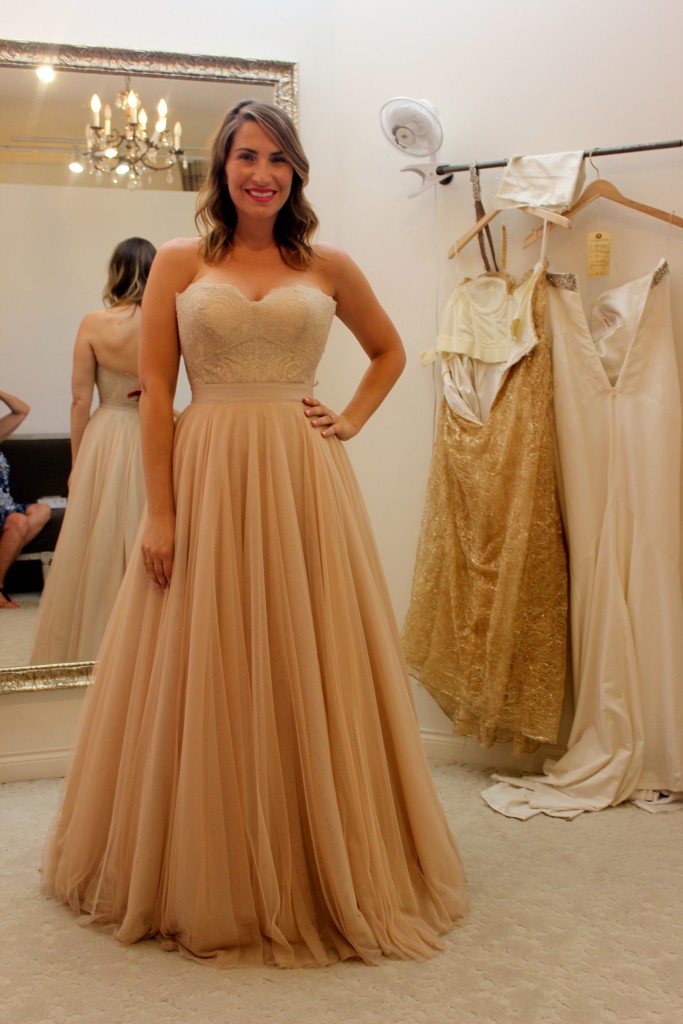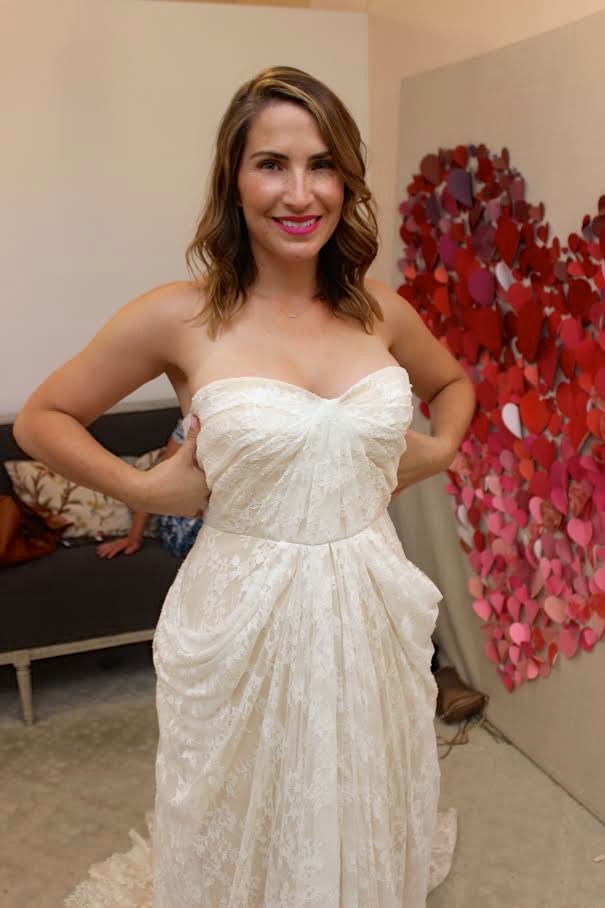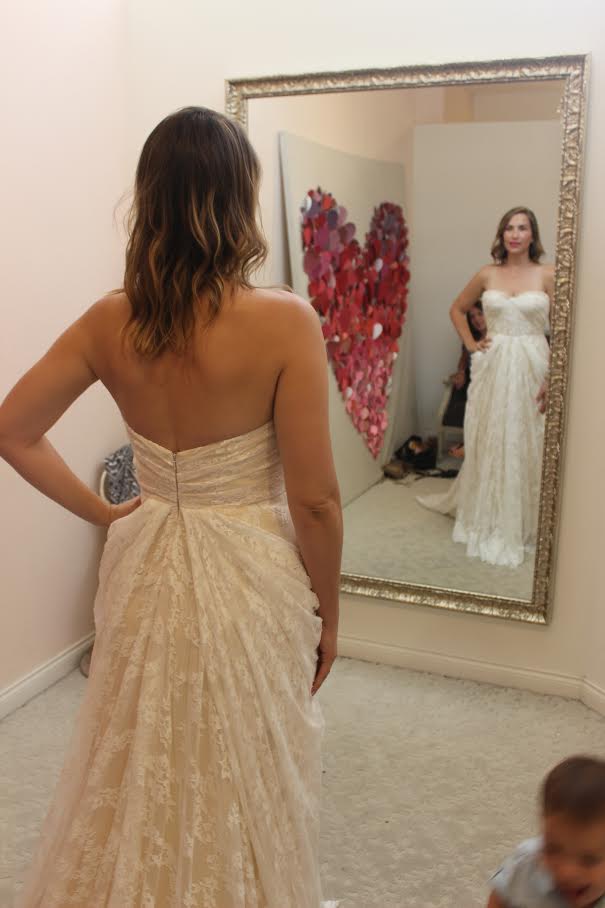 With a couple dresses in mind, we ended our day and it was up to me decide if any of the dresses we liked was "the one".
As it turns out, we didn't buy a dress we saw that day.
However, a couple weeks later when my mom made a trip down to Newport Beach, we decided to try again.  I made a last minute appointment at Erin Cole in Costa Mesa, just for kicks.
I had been to Erin Cole twice before, first when I joined my friend Lily for a dress fitting after she had found her dress there, and again when my friend Stephanie and I searched for her dress.  I also knew that they lovely Leah of Beijos had gotten her dress there and highly recommended it.
 We arrived and were met by our lovely stylist, Tara.  She was super sweet and we had a good feeling about this shopping trip from the second we met her. The store is open and bright, and the dresses are displayed beautifully.  They also carry their line of gorgeous accessories that you can try with the dresses which is fun.  Tara really listened to me and helped me pick out a selection of dresses that were so beautiful and elegant.  She worked within our price point, and brought out dresses she thought I would like based on my input.  We found 2 dresses I loved at EC, but I still hadn't felt that 100% certainty I had been expecting going in.  However, something happened that really sold me on Erin Cole – Tara promised if I purchased in the next 2 days she would give me a discount… DING DING DING!  We have a winner!!
I left deciding between 2 gorgeous dresses.  They were so different, but both beautiful.  After a lot of discussion between my mom, sister and I (and some input from my trusted bridesmaids, photographer, wedding planners, and brother-in-law), I picked a dress!!  Ultimately, comfort was the deciding factor.
Despite not having the feeling I hoped for and immediately knowing "this is the one!", shopping for my dress was a wonderful experience.  I hope that this post may give other brides some insight and recommendations on one of the best parts of planning a wedding. I can't wait to rock my dress on the big day!
xo
Janna