Moving on with our love for Cactus, we did a little front door or patio inspiration here, now we're moving inside!  Since moving into our new home my husband and I have yet to decide or find art we wanted to put up.  It's such a commitment, right?!  I mean, it's gonna be up on your wall and you'll see it every day!  Plus, it sort of sets the tone for your style and home that your guests will see.
When we decided to do this cactus themed week I thought about how much cute artwork I'd seen with cactus!  And also how different and unique they all were… There are so many places and ways to style it in your home.  I acted as your little cactus guinea pig and am sharing the results today!  Also, all of the amazing wood frames are from Framed & Matted, always my go to spot!!
Photos by Alison Bernier
The first and most focal spot that needed some wall love was above our fireplace.  My husband and I went back and forth on what we wanted up there.  It's basically one of the first things you see when entering our home, so it was important.  For some reason I just didn't want our tv above our fireplace, I wanted it to be it's own thing… So obviously I better find a really good piece of art!
I reached out to my friend Jane of Wilder California.  I've worked with her before on a few things and trusted what she thought was the best print.  She sent me this gorgeous Joshua Tree landscape shot and it fits perfectly.  The soft muted colors don't take away too much from the rest of the room but the bold image is eye-catching.  Plus, my husband and I like that it's not your typical coastal shot, which is what most people would probably expect in our home.
I accented it with some cactus (this one and this one – fake if you believe it or not!), rattan baskets, soft muted blankets from Gunn & Swain, and of course some pretty vases and flowers on the mantle!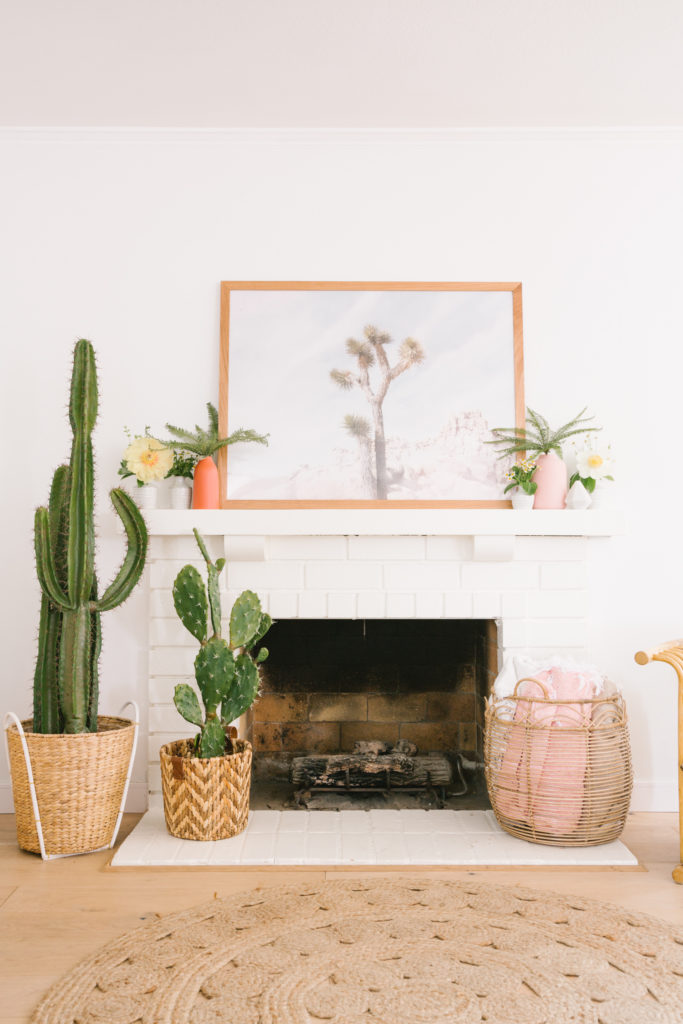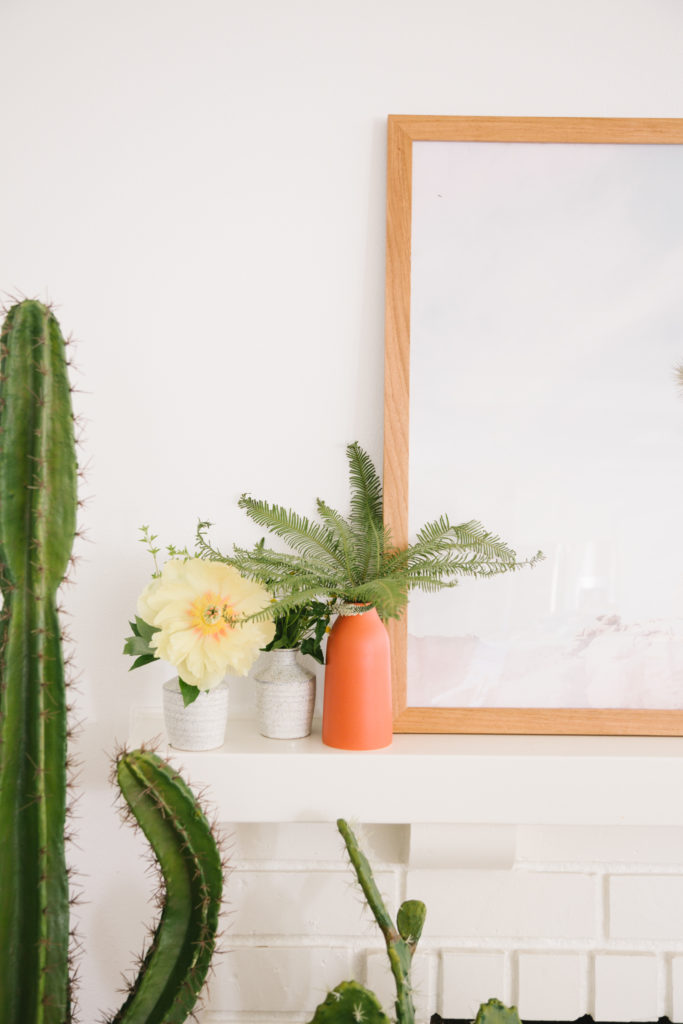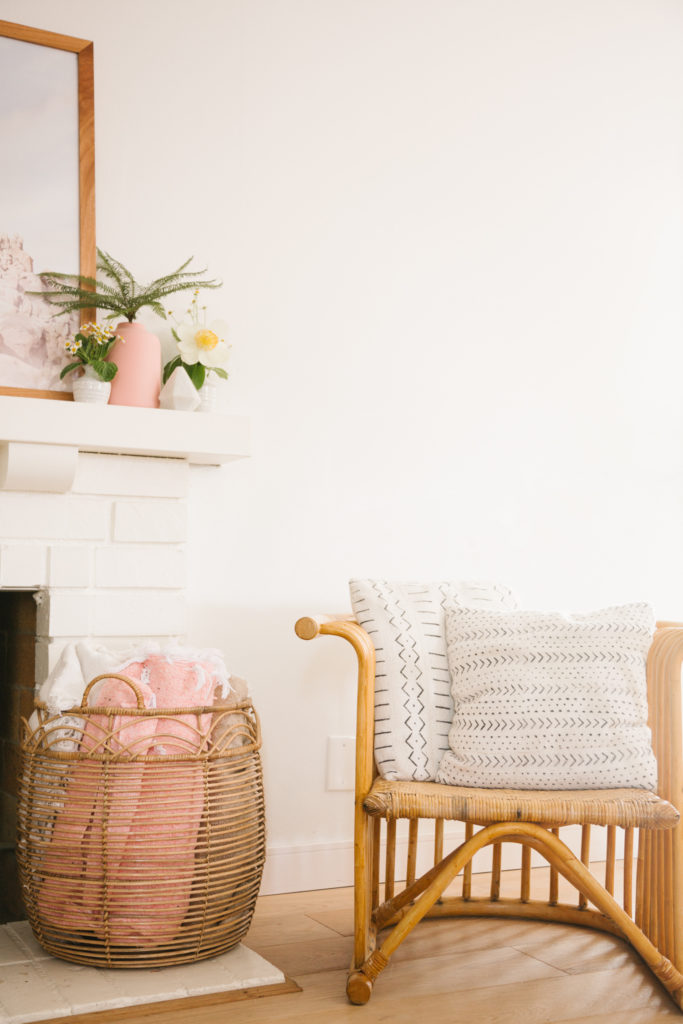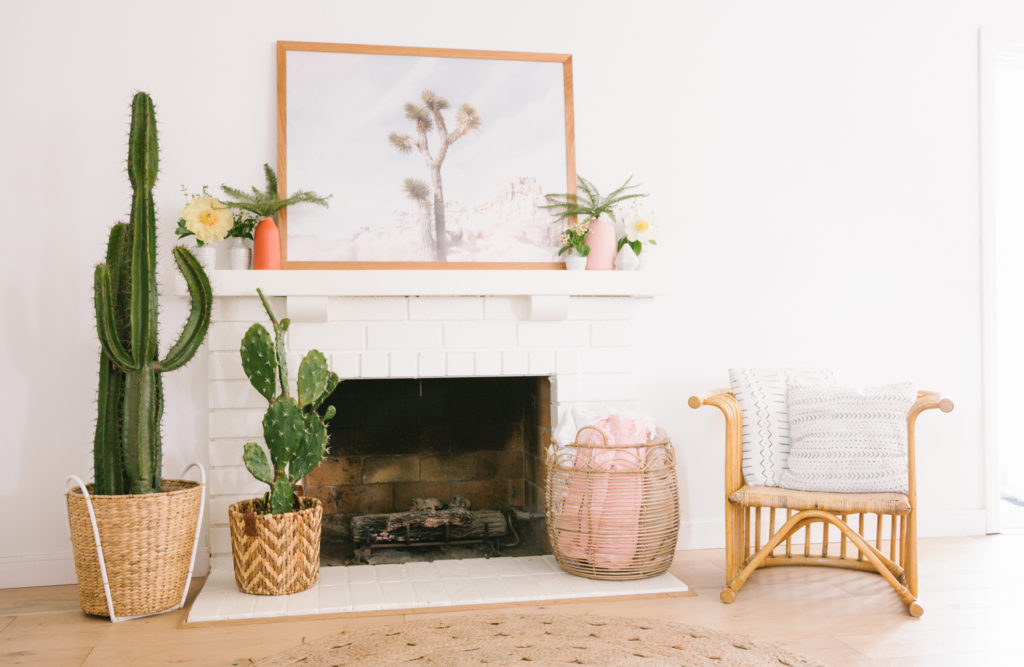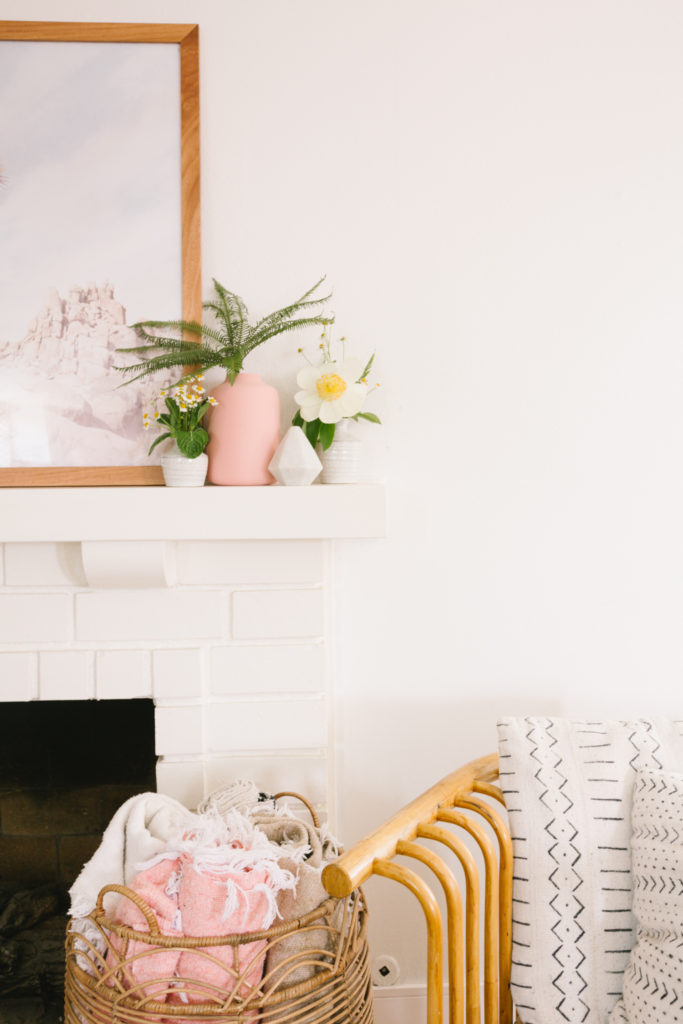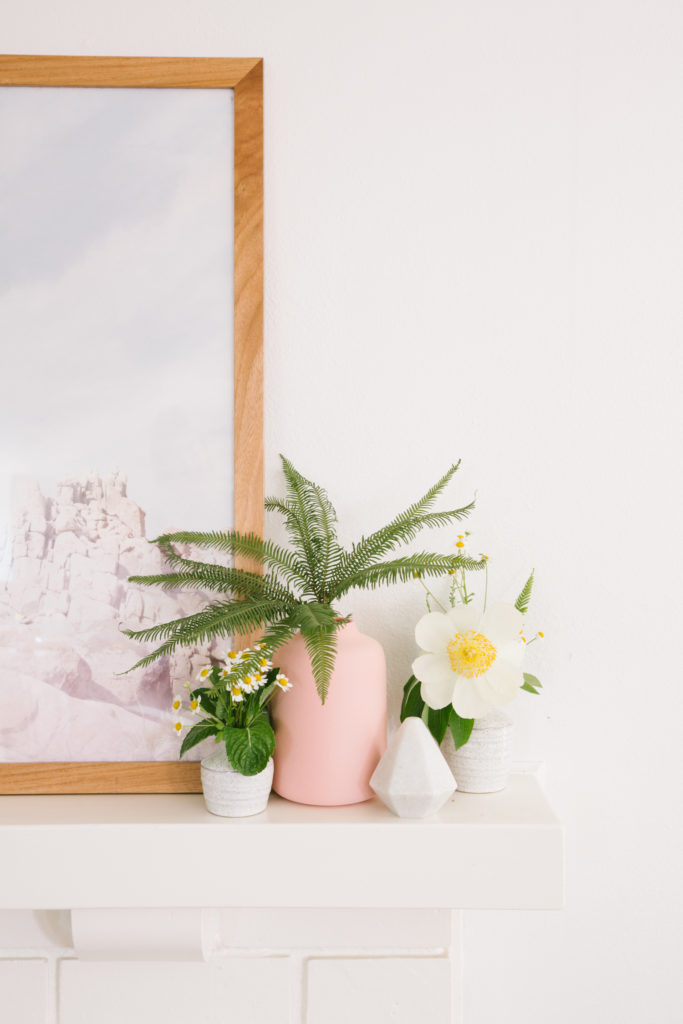 Next up is another focal point in our home, our entry way.  I use the term entry way loosely, you basically walk into our house and your in our kitchen, living room and near this little wall, haha!  It's a small house ok, we live in Orange County and real estate ain't cheap!!  But getting back to this, I bought the large round circle mirror and side board last year.  I got inspired by how to style it through looking on Pinterest and mainly Amber Interior's work.
I had a cute basket, some nice vases, a stack of books and my husband's guitar, but needed the perfect piece of art.  While scouring through a few websites I came across Kristin Kirkley and her beautiful photography.  She does a lot of her work in the desert and I found so many beautiful cactus prints.  The one I thought worked best in this spot was this Agave plant print.  We have a lot of them in our yard but I just loved the simplicity of it.  It was the ideal addition to this spot.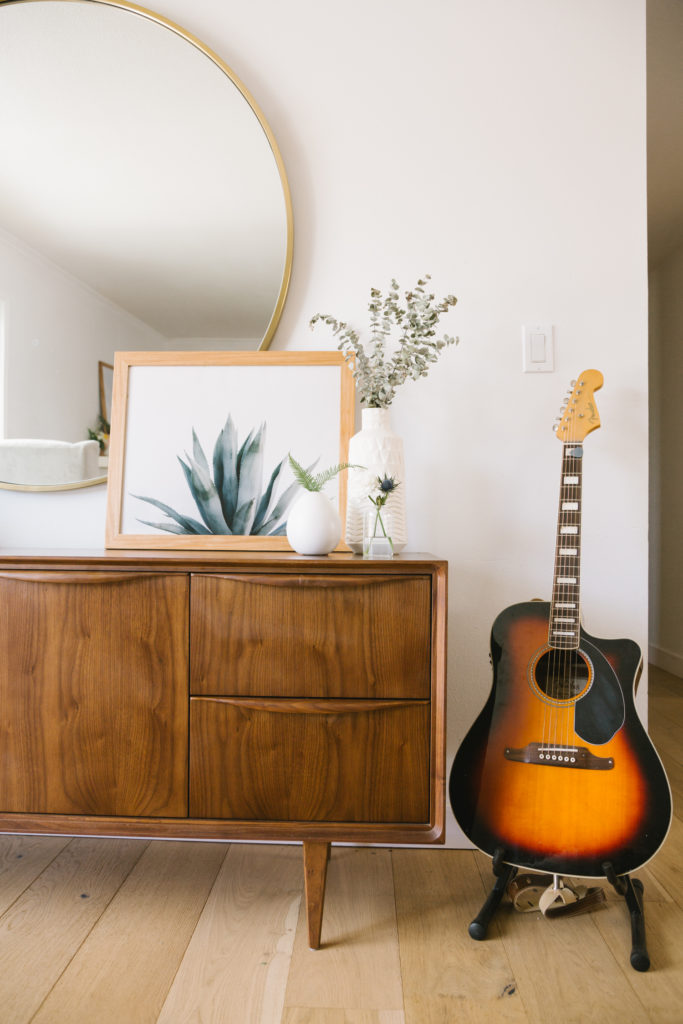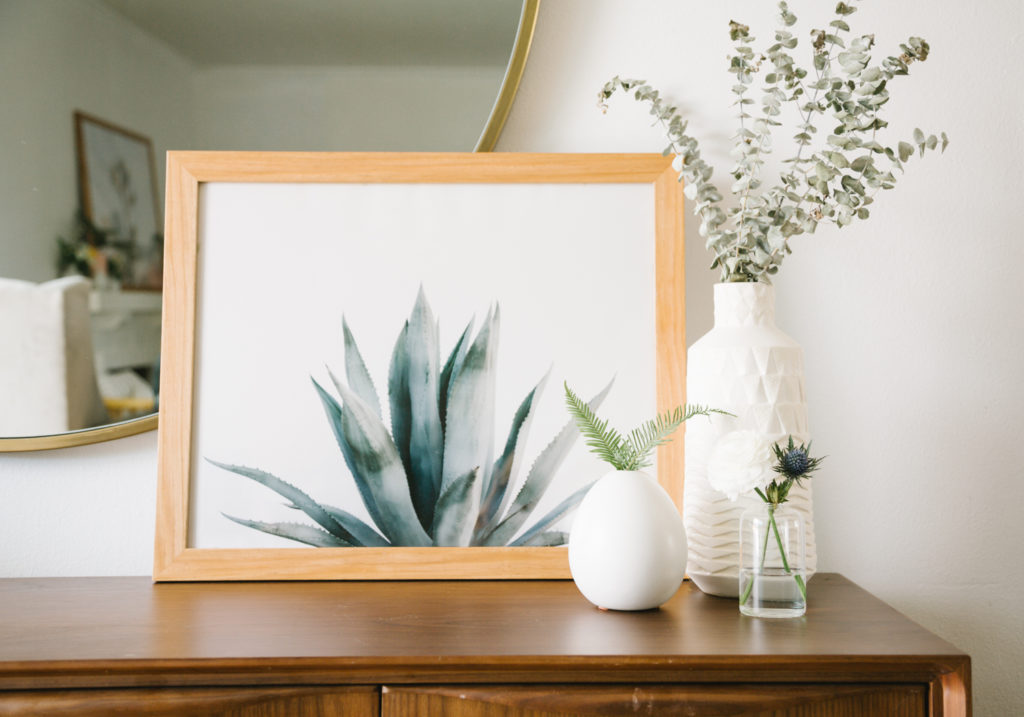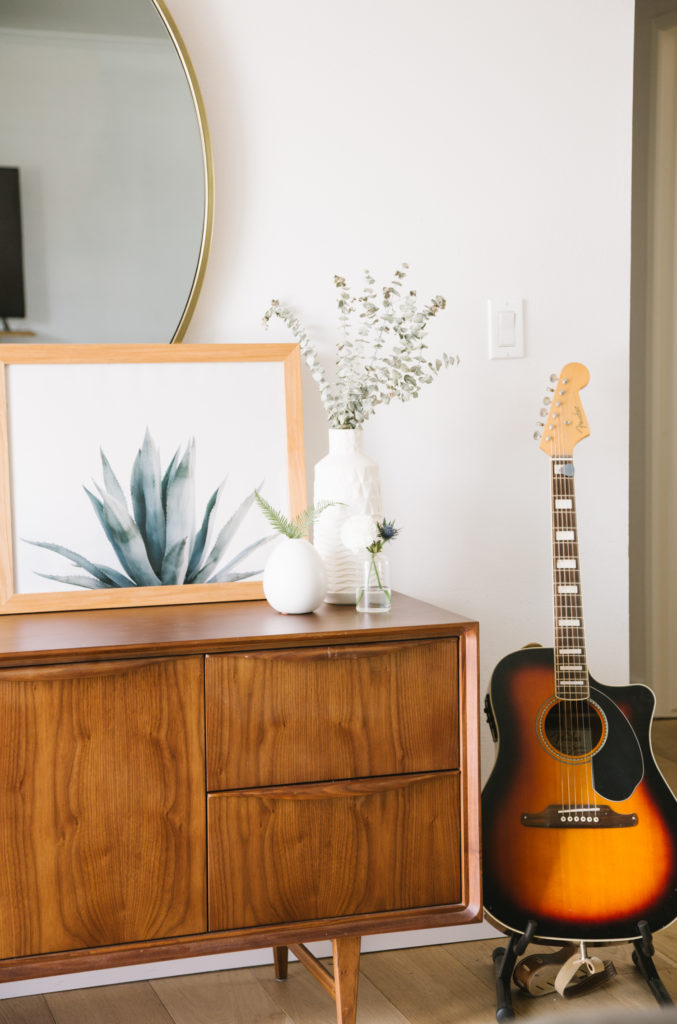 The next spot is a bit unexpected… The kitchen!!  I actually styled these prints from Orange & Park in two different spots here.  You may remember Orange & Park from an interiors post we did with them a few years ago.  I love their graphics and found this amazing cactus series they did.  Black and white abstract versions of cactus graphics?!  Sign me up!
We used a graphic black and white tile in our kitchen as an accent so they fit in nicely.  First I styled our open shelving.  You've probably seen it before from a few of my posts, but it's just such a great place to play with!  I used their agave and saguaro prints here, just used my existing succulents and airplanes to accent the pretty!  Oh, and how cute is that little rattan tray?!  Loved adding that to the mix too!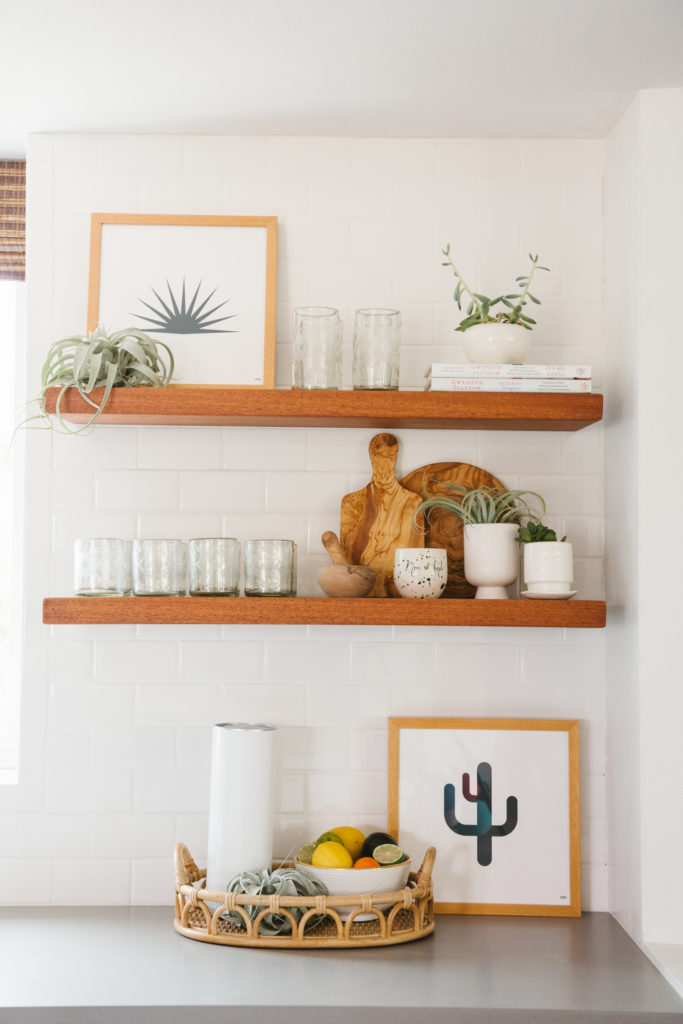 The other spot was across the way near our little cooking area.  Doesn't it look so great with the cement tile?!  For this area I used the Nopal and the Kalanchoe prints.  And yes, my kitchen is always this clean ;)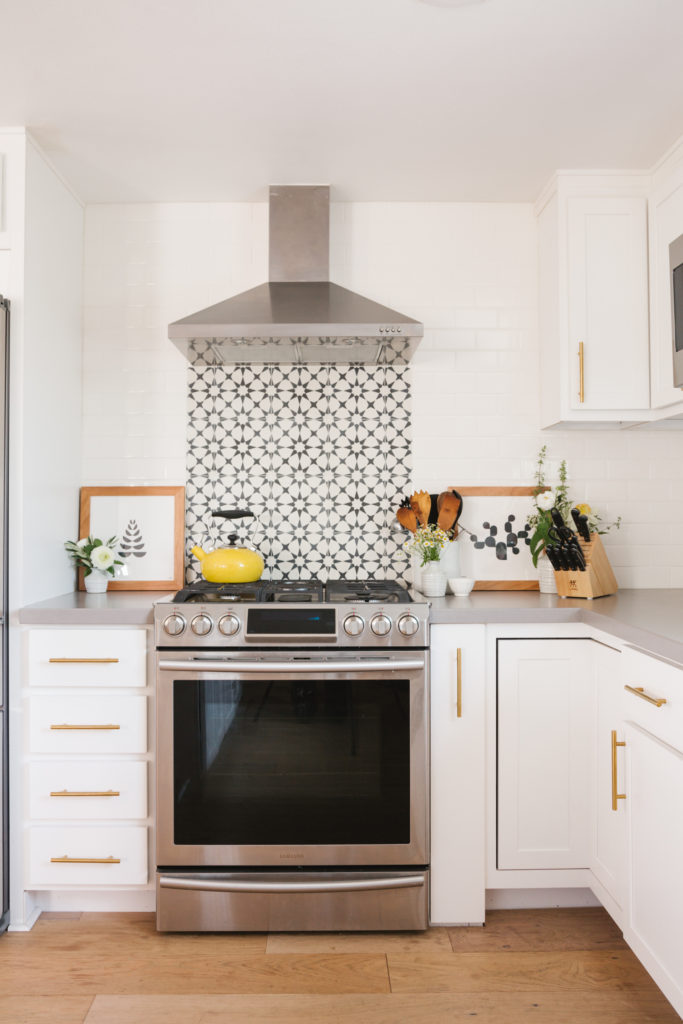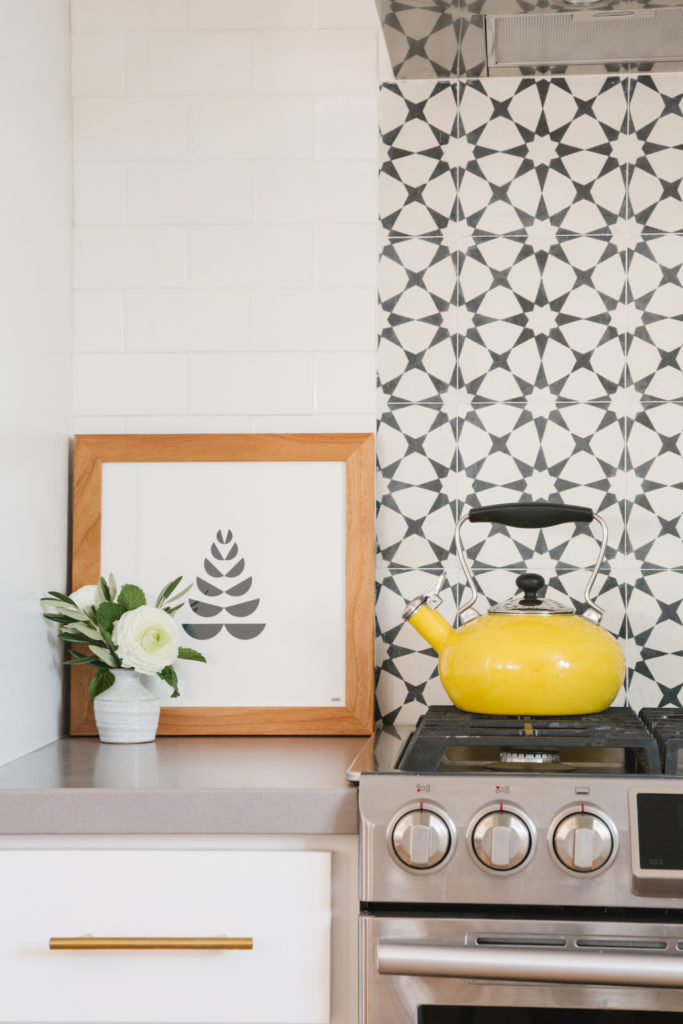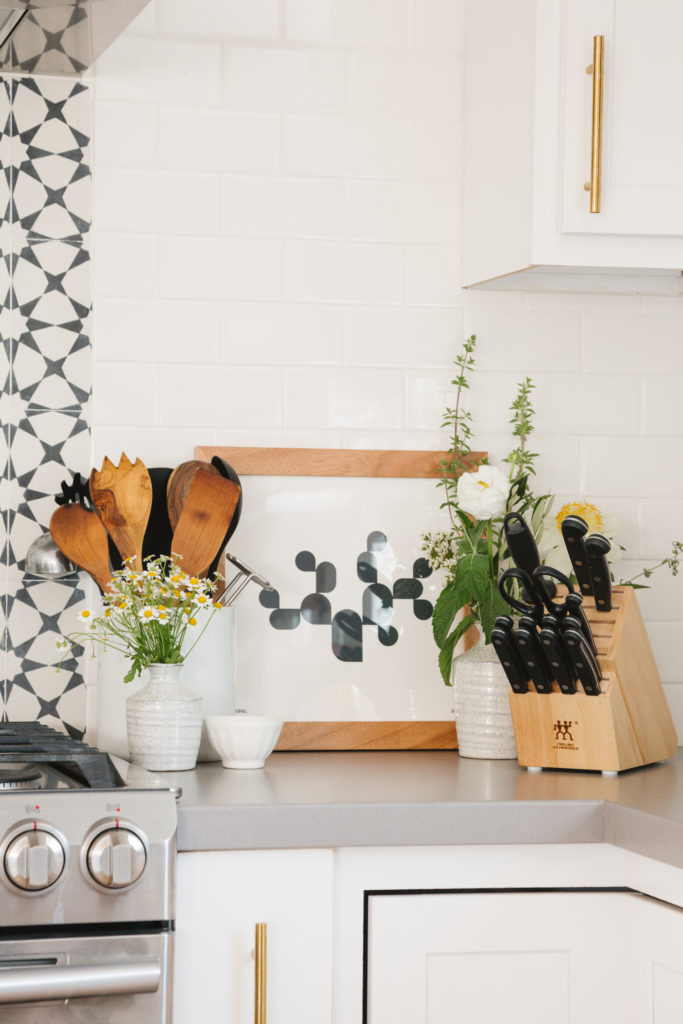 Last but not least, you've gotta style up a bar!!!  Especially with Cinco de Mayo coming up this weekend!  I found these adorable prints by local Long Beach artist Mayumi-ko on Instagram.  She has so many amazing ones, but her cactus ones are what got my attention.  I love how fun and a bit more girly they are then the rest.  Her use of pops of color was asking for some fun so of course they needed some margaritas!!
I put them on this little rattan outdoor table from Witty Rentals and added some Beijos bar essentials.  Pretty flowers, colorful fruit, cactus and drinks!!  Wouldn't you be happy if you came home to this on Saturday?!  Or any taco Tuesday for that matter!  Check out more of her work here, I have about 10 more prints I have my eye on, haha!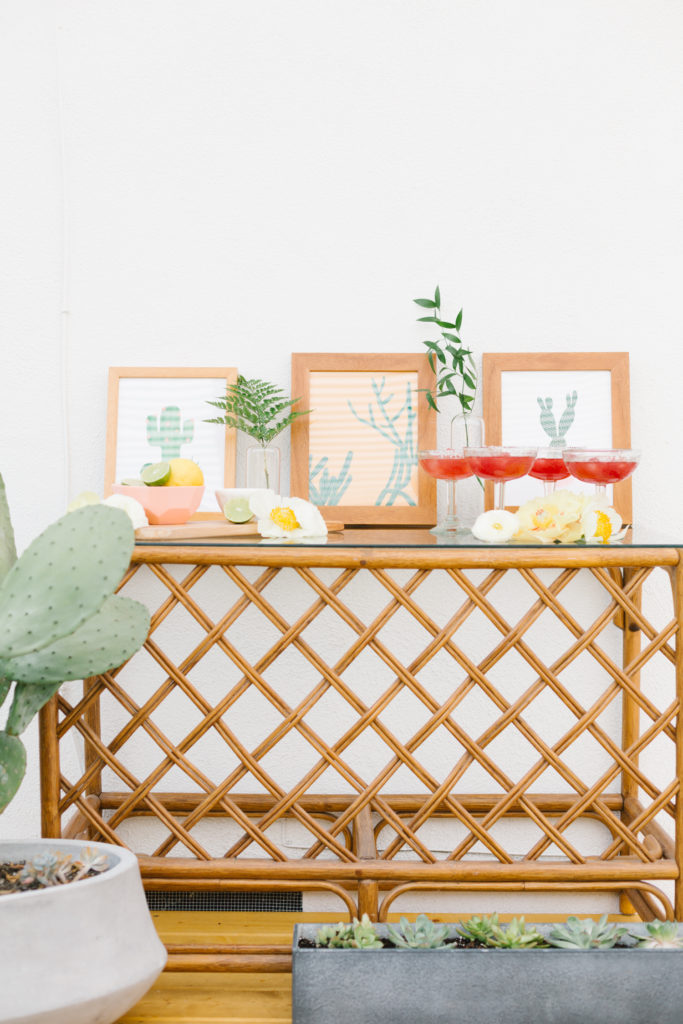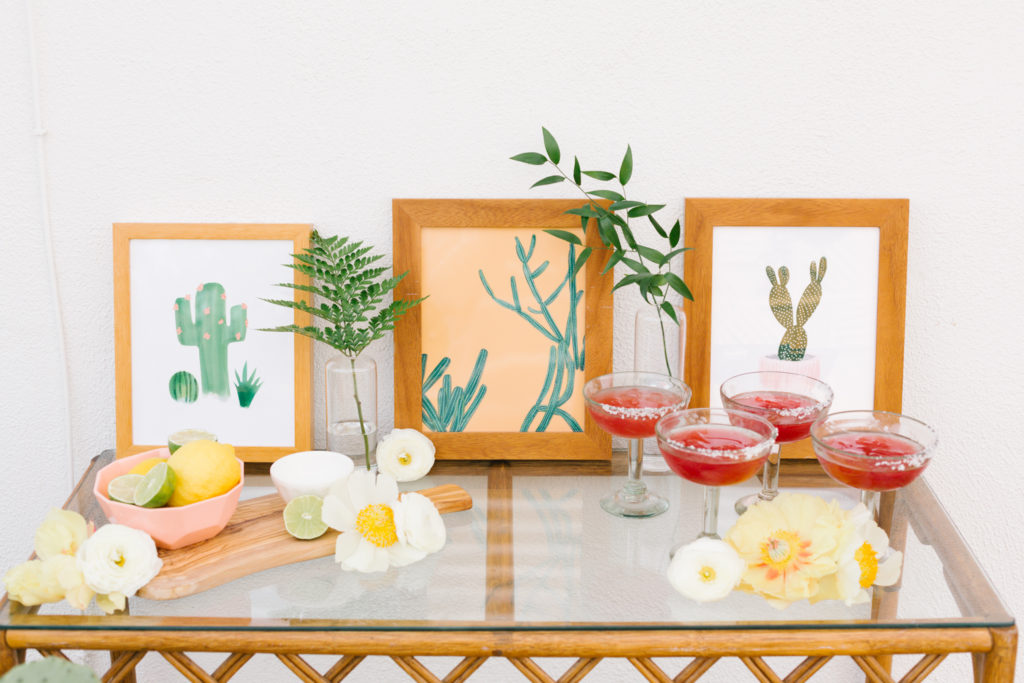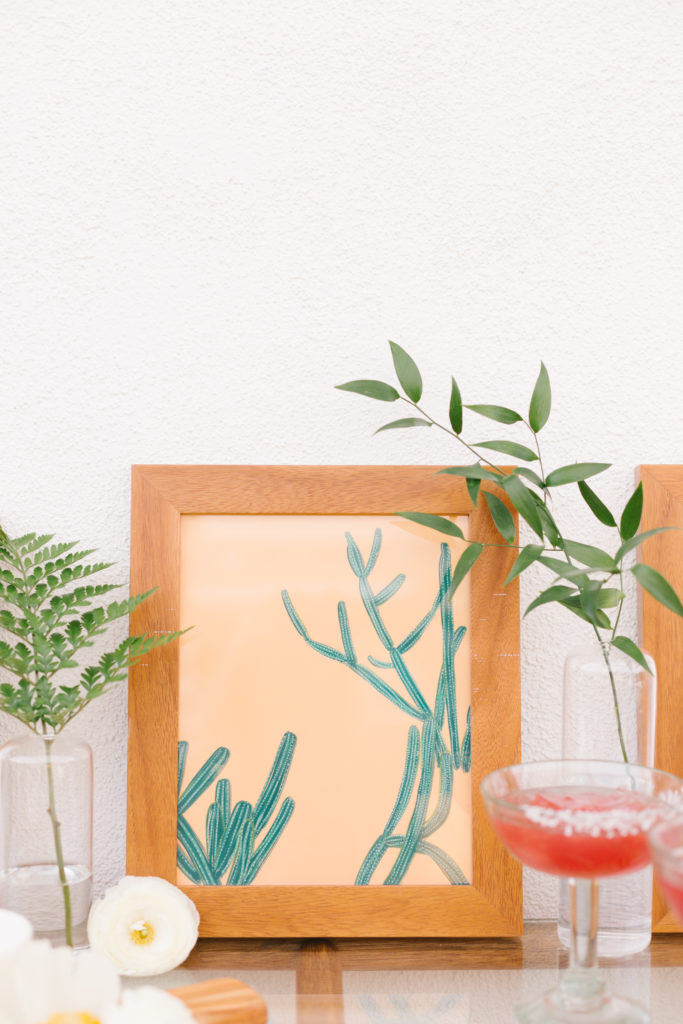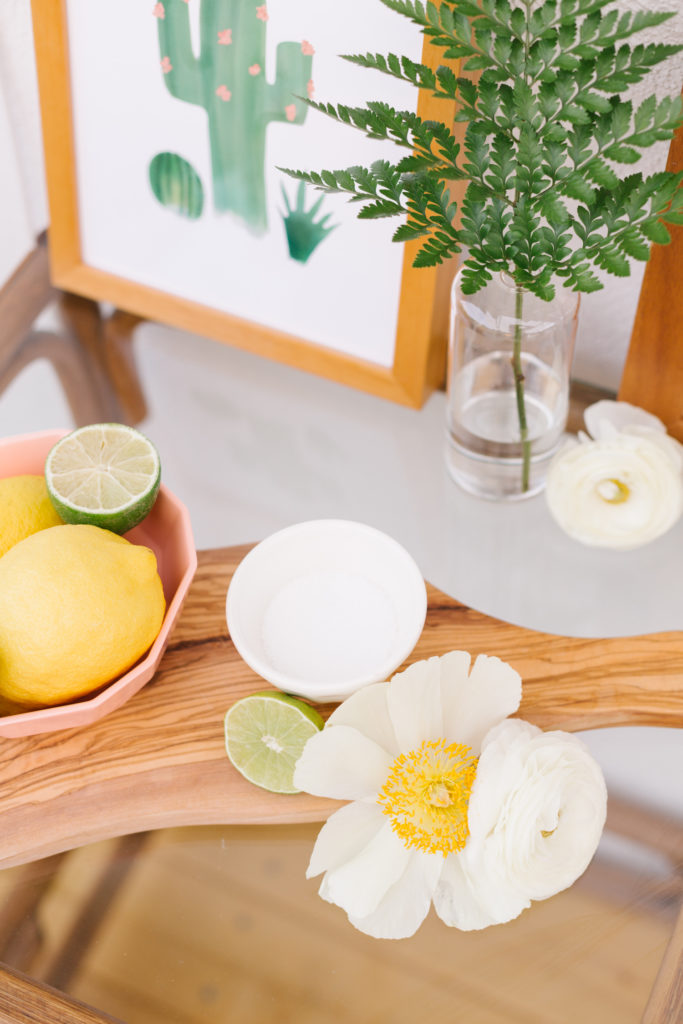 Now this bad boy is real!! No fake-ness in that cactus!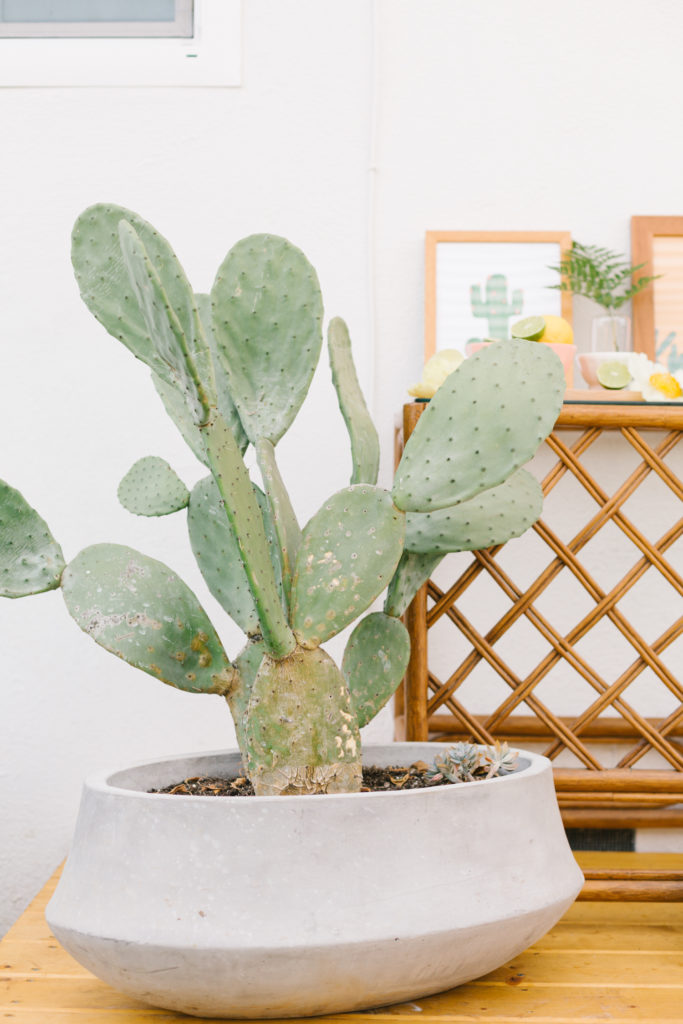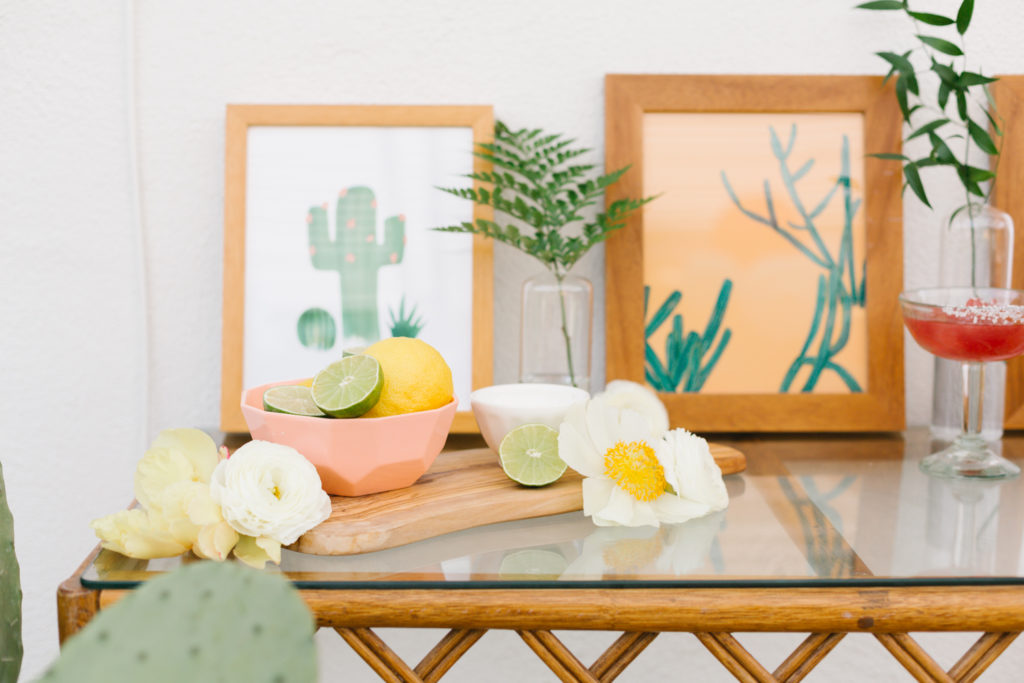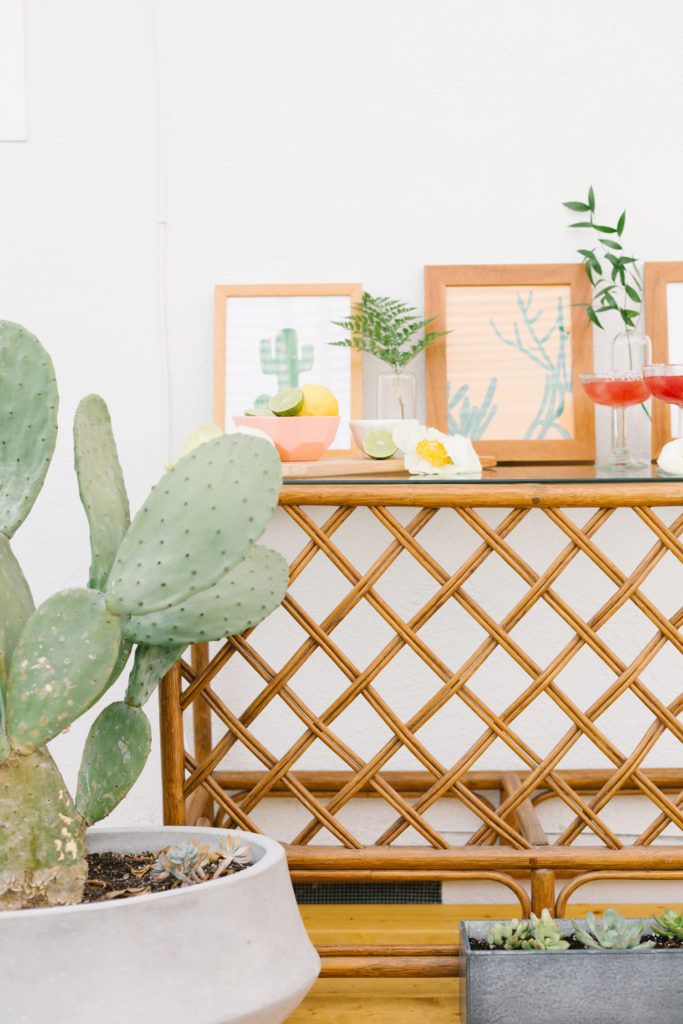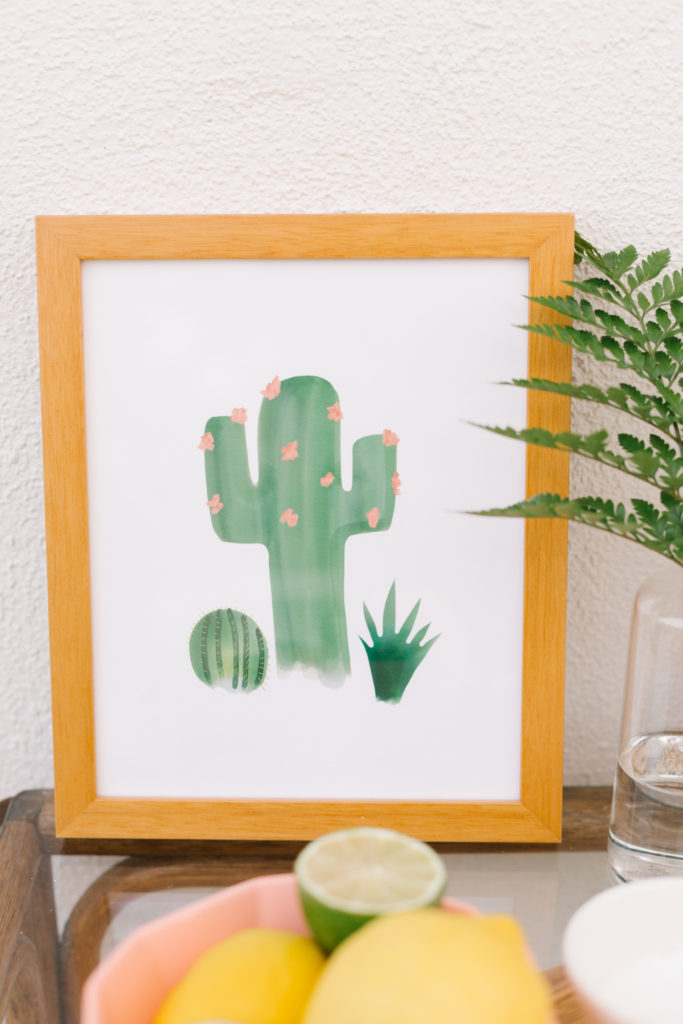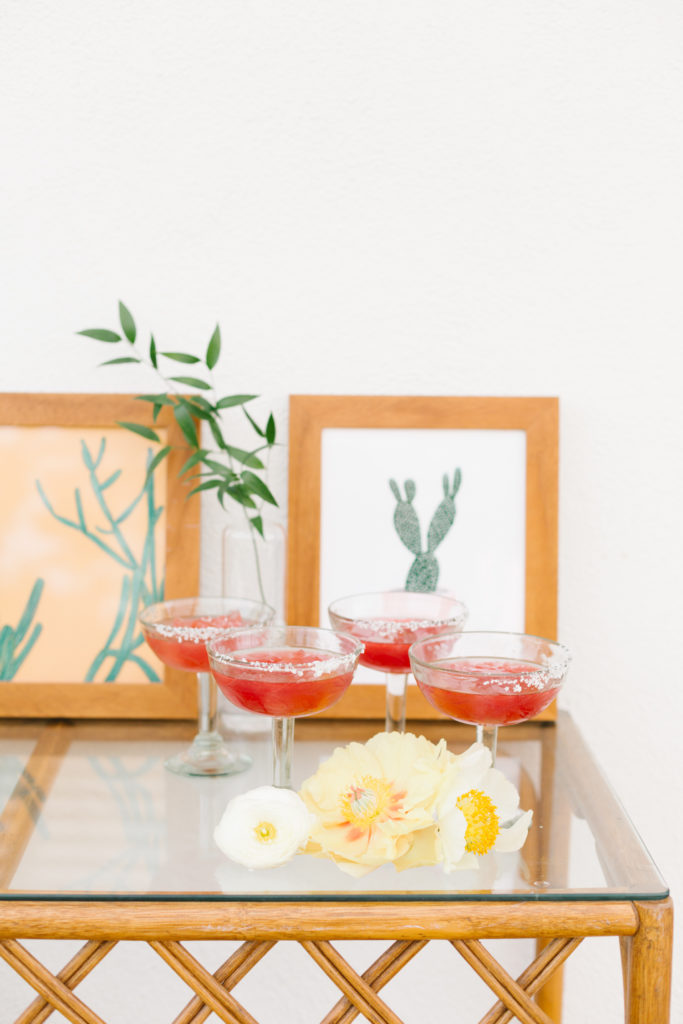 And there you have it!  Five fun and easy ways to style your home with only the prettiest cactus art work!
Here are some of my favorite picks for what to style them with below…
Cheers to that!
xx
Jacquelyn