Deviled eggs are like the must-have food item for Easter Sunday, at least for us! Each year we make it a little bit different from the last. See the previous ones we have done
here
. This year, I incorporated one of my favorite culinary ingredients. Raise your hand if you like truffle!!! If you don't… sorry about that, these babies aren't for you!
These refined pink deviled eggs are as delicious as they are good-looking! Steal the show on Easter Sunday with these adorable floral eggs that are full of flavor!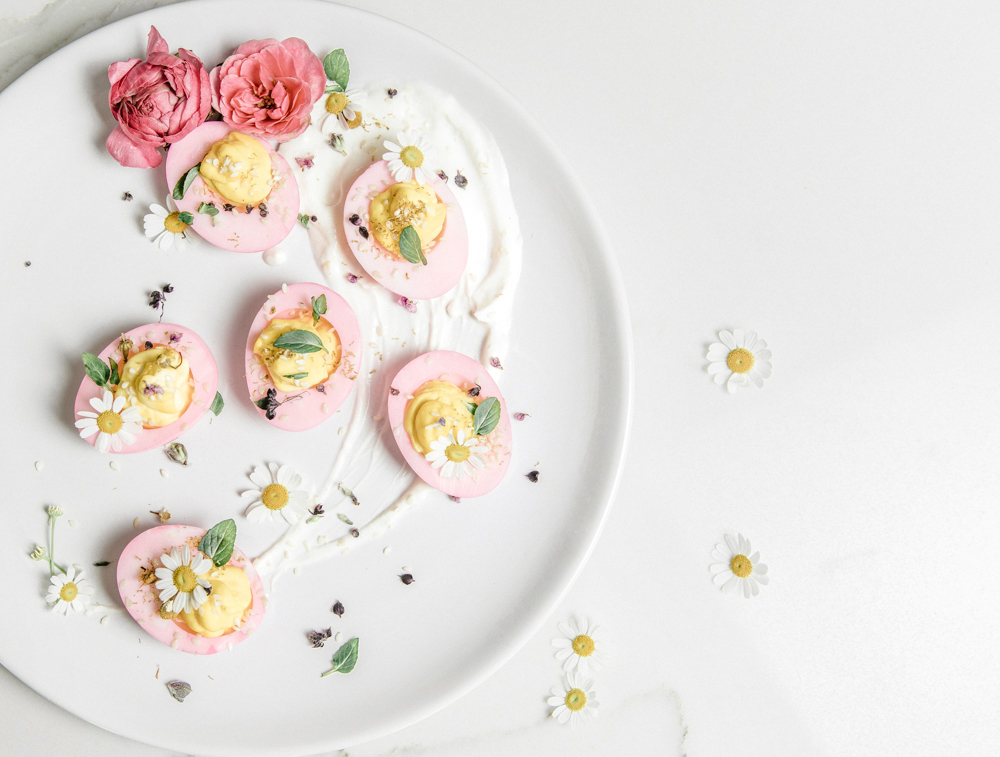 Truffled Deviled Eggs with Crème Fraîche
SERVES: 12 | PREP: 5 MINUTES | COOK: 15 MINUTES
W H A T   Y A   N E E D!
A dozen hard-boiled eggs, peeled and halved
6 Tbsp crème fraîche
3 Tbsp homemade mayonnaise or high-quality store-bought
2 tsp dijon mustard
1 tsp white truffle oil (yummy!)
1/2 tsp sugar
1/2 tsp white wine vinegar
1/2 tsp black truffle salt or any finishing salt
---
I N S T R U C T I O N S
Let's start with no fail way to hard boil eggs.
I know there are a ton of different methods that everyone swears by, but this has never failed me yet! And our family consumes ALOT of hard-boiled eggs. We have them every day. So here is how!

Boil baby, boil!
Place your eggs in the bottom of a saucepan. Fill up with cold water and stop when the water level is about an inch above the eggs. Turn the heat on to high. Once the water starts to boil, set your timer for 8 minutes.
8 minutes later…
Bring the eggs to the sink and fill the saucepan with ice water. The ice bath will stop the cooking process.
Let's make them pink!
Once cooled, I cracked all the eggs and carefully took the yolk out and placed the yolks in a separate bowl. You can either dye them with natural food coloring or use beet juice. I used natural food coloring this time, cause I wanted to achieve a light pink color. One or two drops of the food coloring in the water. Then place the half eggs in the water bowl, and let the color start to set in. This process will only take a minute or two. Be sure to keep an eye on them so you can obtain the look you want! Once it's the perfect pink, take them out and place on a paper towel to dry.
Let's get our truffle on!
 Combine yolks with the next six ingredients. Mix until thoroughly incorporated and creamy. Season to taste with salt if needed. Pipe or scoop mixture into your pink egg whites. Top with either a sprinkling of black salt or another finishing salt.

Let's get pretty, shall we!
Chamomile is in all the stores now, and they made the perfect finishing touch to the eggs! I also did a dollop of creme fraiche on the plate to give that extra fun presentation. A sprinkle of edible lavender and black sea salt completes the dish!
---