Tis the season! It's time for holiday cards and as you know we love to use our friends at Minted year after year. They always have amazing new designs that make choosing a holiday card fun and make each year memorable. We love getting a head start each year and showcasing what we chose for our family cards with you. Keep scrolling to see each of our picks along with a few of our favorite cards that Minted has for 2022, you'll love these options! Plus, Minted is offering our readers 20% off their cards with the code BEIJOSCARDS2022 – so hop to it friends!!! The time is now!!
Photos by Alison Bernier & Dayna Studios
L E A H
I can't believe it's this lovely time of year again, where we get to take family photos (even though my husband wants to kill me for doing this every year lol) and choose a beautiful Holiday card to share with our family and friends. I really love this process, but my favorite part is getting all the cards in return from everyone who sends us one too! This year I chose a picture of just the kids because I loved it so much. Their bright smiling faces really stuck out amongst the photo gallery we got from our photographer. I kept going back and forth on a complete family picture, or just using one of the kids, and they won of course. Plus, it had been a while since we went this route, and I like to change it up.
I really liked the style by Hannah Williams – Merry Flourish. It's simple with no borders and I love to customize the edges of the card, the envelope and envelope liner. Minted gives you so many options, even on the back to add more pictures, you can truly make it your own. I ended up going with one family picture on the back and added one of my favorite songs – What a Wonderful World, by Louis Armstrong. Whenever I hear that song, I love the reminder that we are so #blessed in this wonderful world. Hopefully when people read it they will get a big smile and a warm heart like I do. Happiest of Holidays, and happy photo card shopping at Minted!!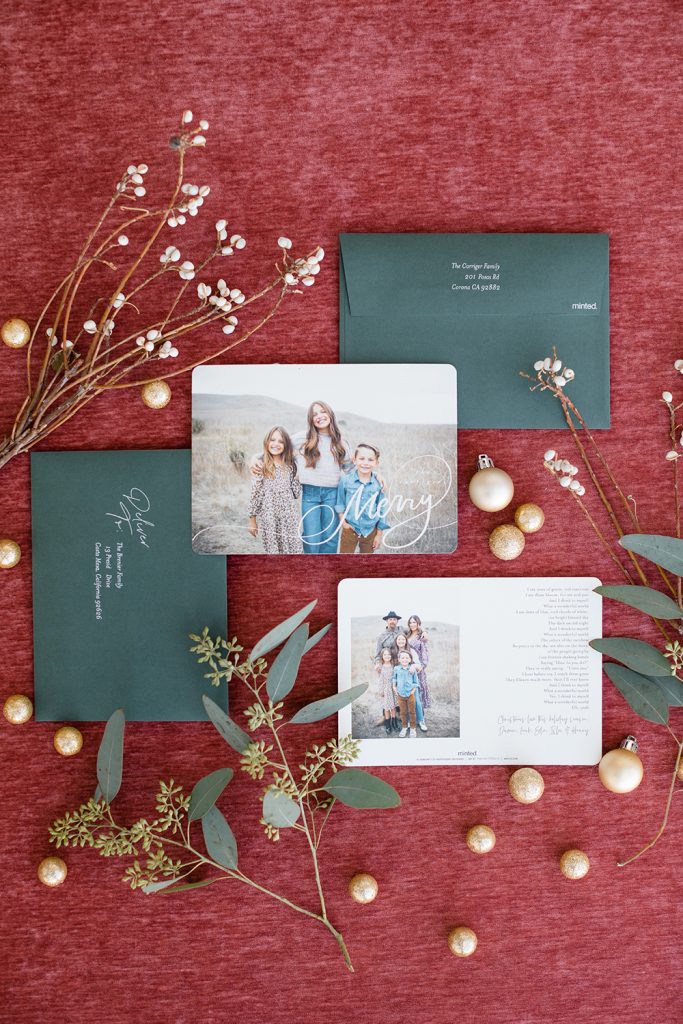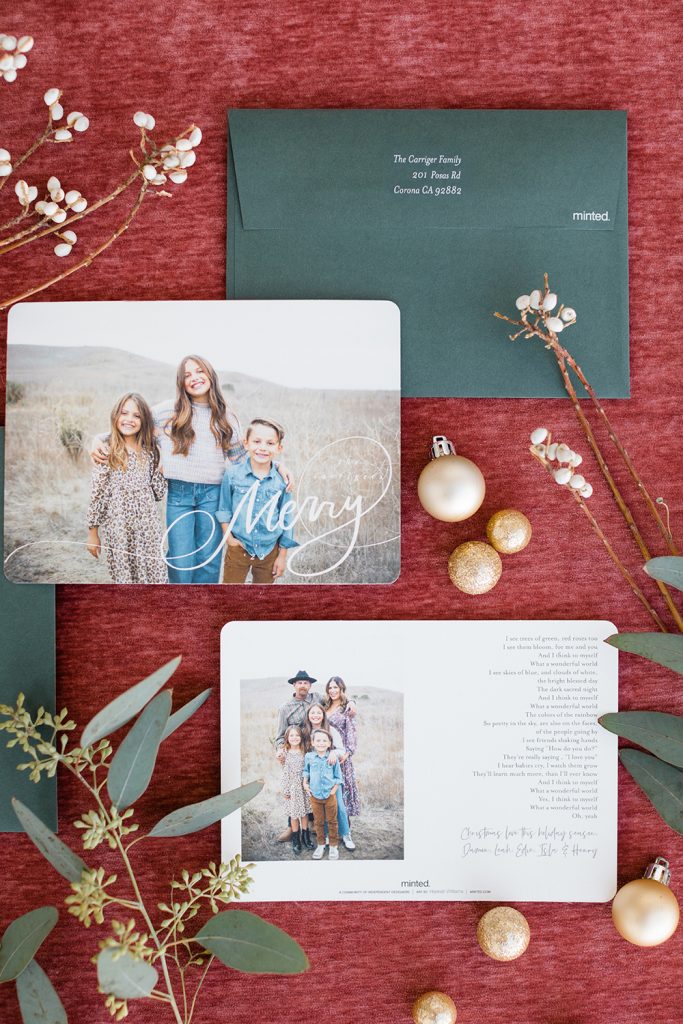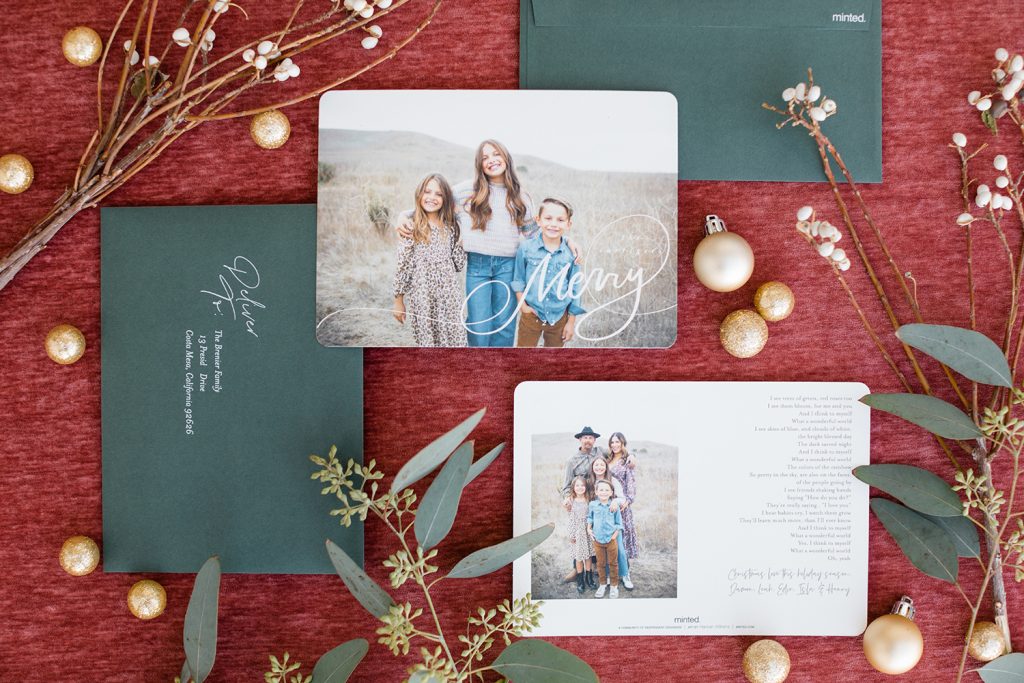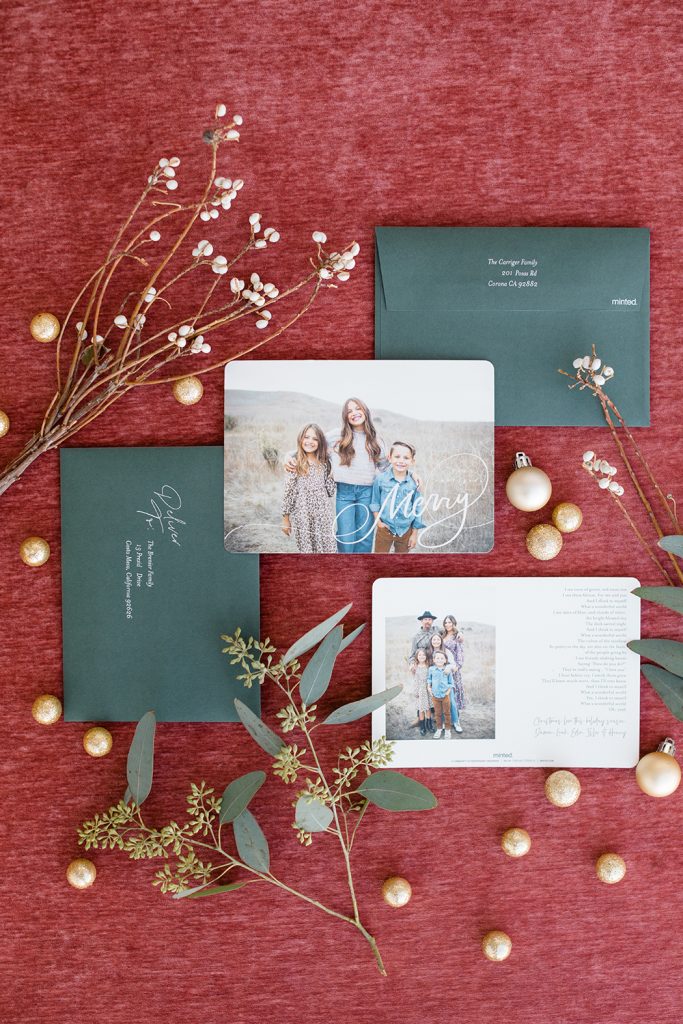 J A C Q U E L Y N
Believe it or not, Leah and I shot our holiday photos in the same spot! Such a funny coincidence! Anyhoo, my friend Alison of course shot our family pics – she is always so sweet to do so! I dragged my kids & hubby out (does anyone else feel that way?! Haha) and we made some magic!
When looking for the right card I wanted something neutral but special and this arched shape with the metallic gold detail immediately caught my eye. It's the Merry Arches card by Lori Wemple and it's even more lovely in person! I'm excited to send these out as to me they are very special and I love all of the detail! Of course, I had to give a family update on the back and include a few more photos of my cute boys. I can't wait for my family and friends to receive these beauties!!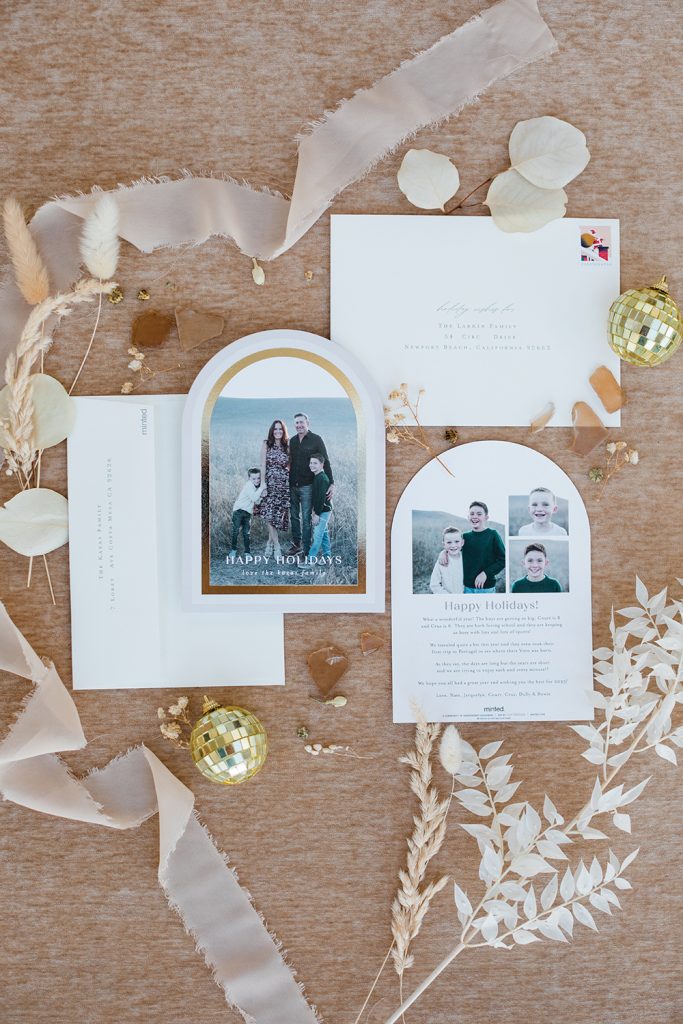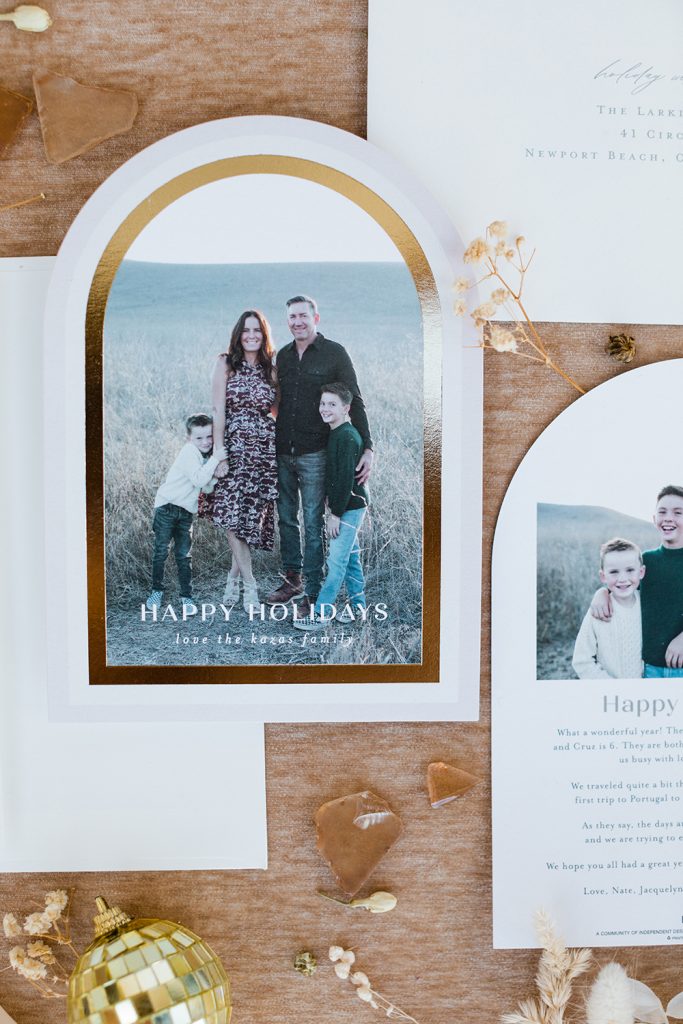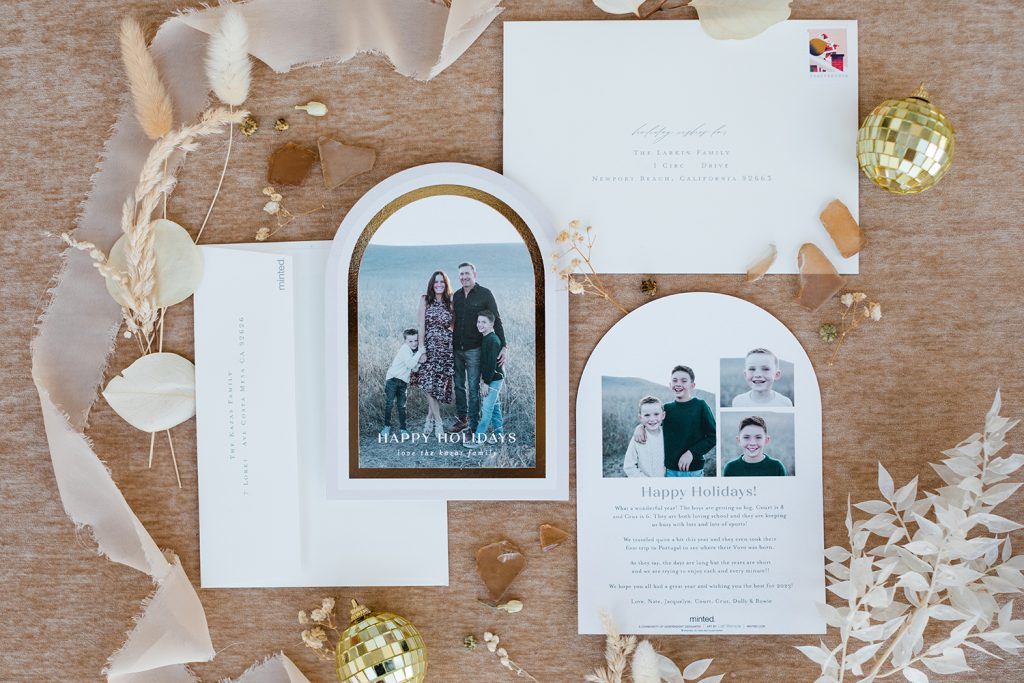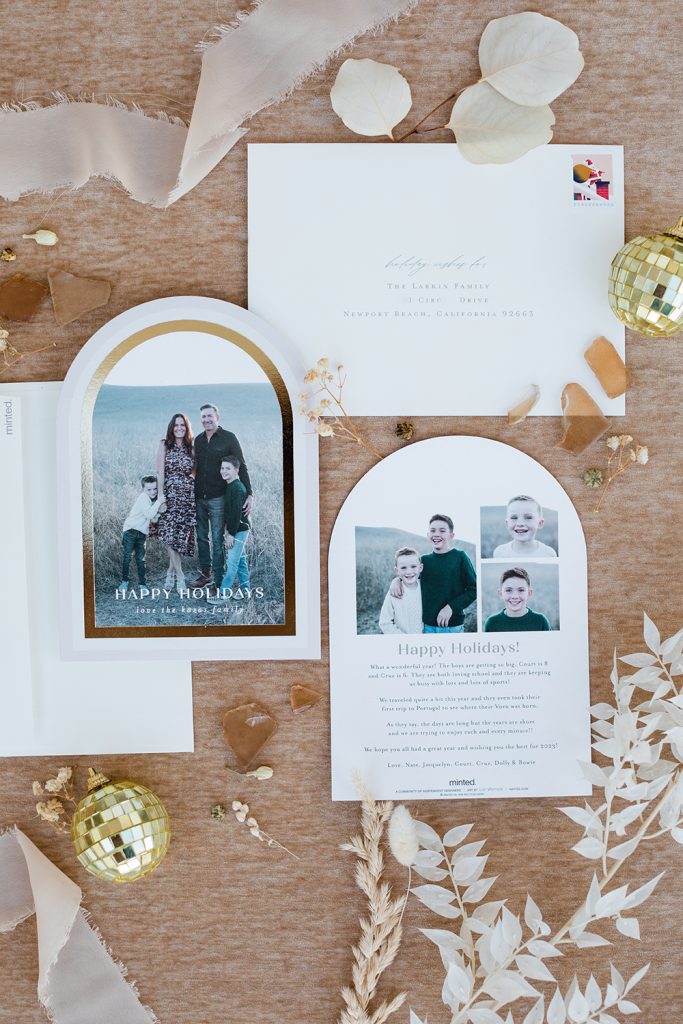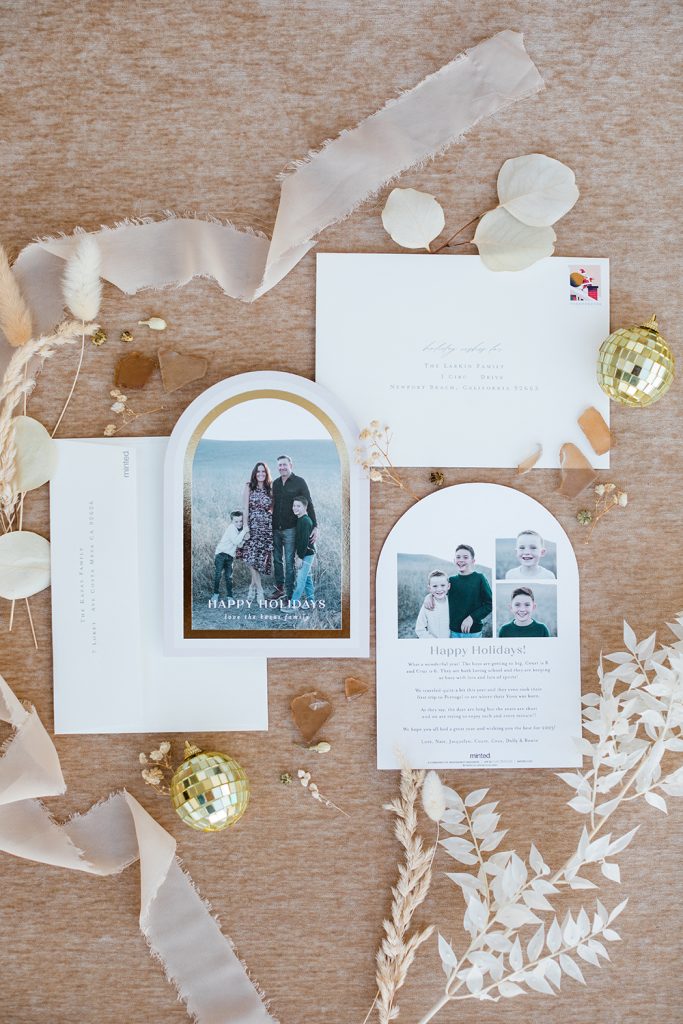 A B B Y
This year we went simple and clean with our photos. We did them in our house against a blank white wall. Took about 10 minutes! I love our yearly family pictures, but honestly, it is usually a nightmare for me with everyone complaining about it. So I didn't fight it this year. I dressed us up in neutral colors and made the photo black and white, and I have to say they might be one of my favorite cards to date. What makes it extra memorable is that my husband had to wear a beanie cause I permed his hair for Halloween, so needless to say we had to cover that situation up!

When it came to picking a card, I knew that I wanted it to flow with the black and white colored photo. The Modern Sky Holiday Photo card by Nicole Walsh was a perfect choice! I picked the cookie dough color, and just really made our photo pop! I really how the font overlaps on the top too! I added an additional wax seal stamp to complete the look along with the corresponding inner envelope liner. So fun! Looking forward to sending these out this year.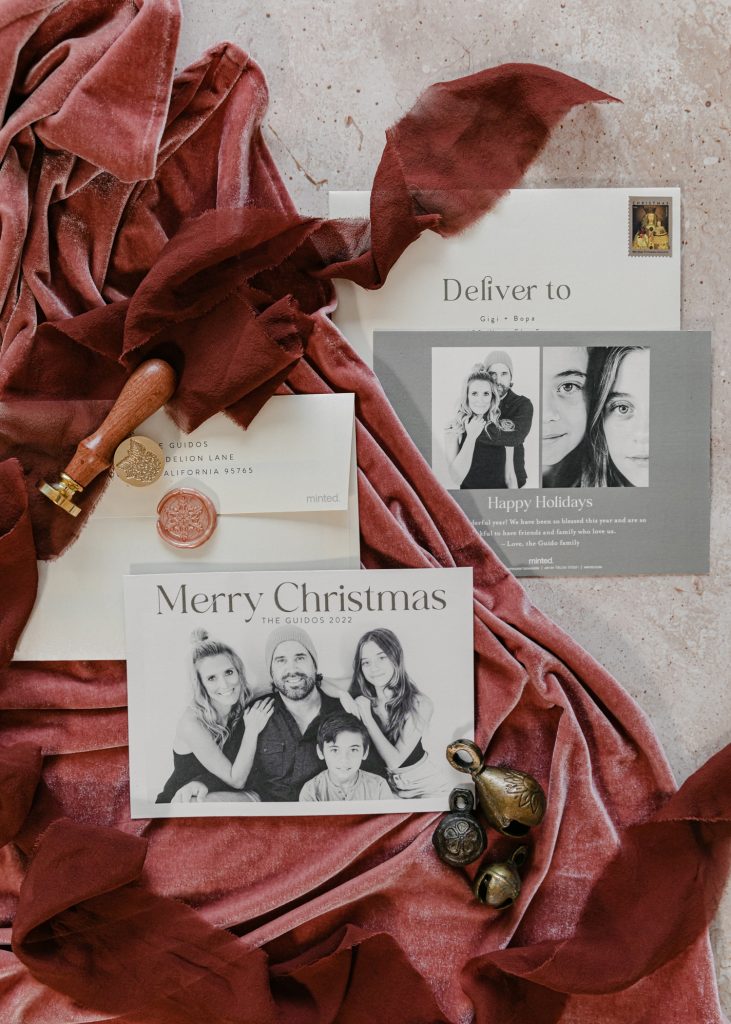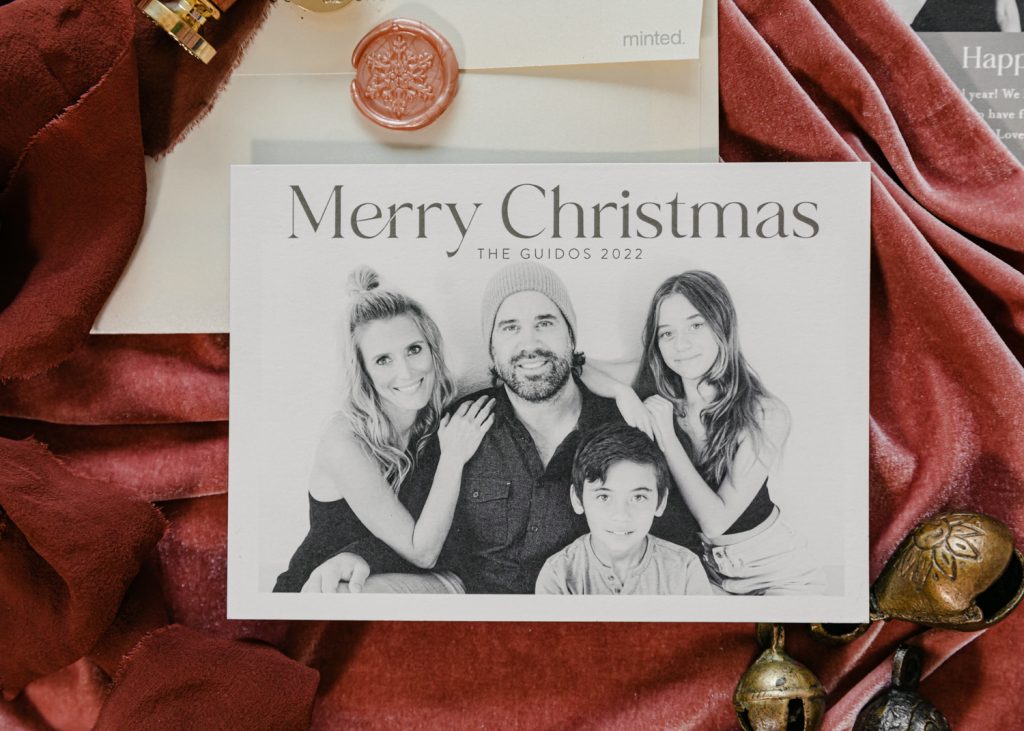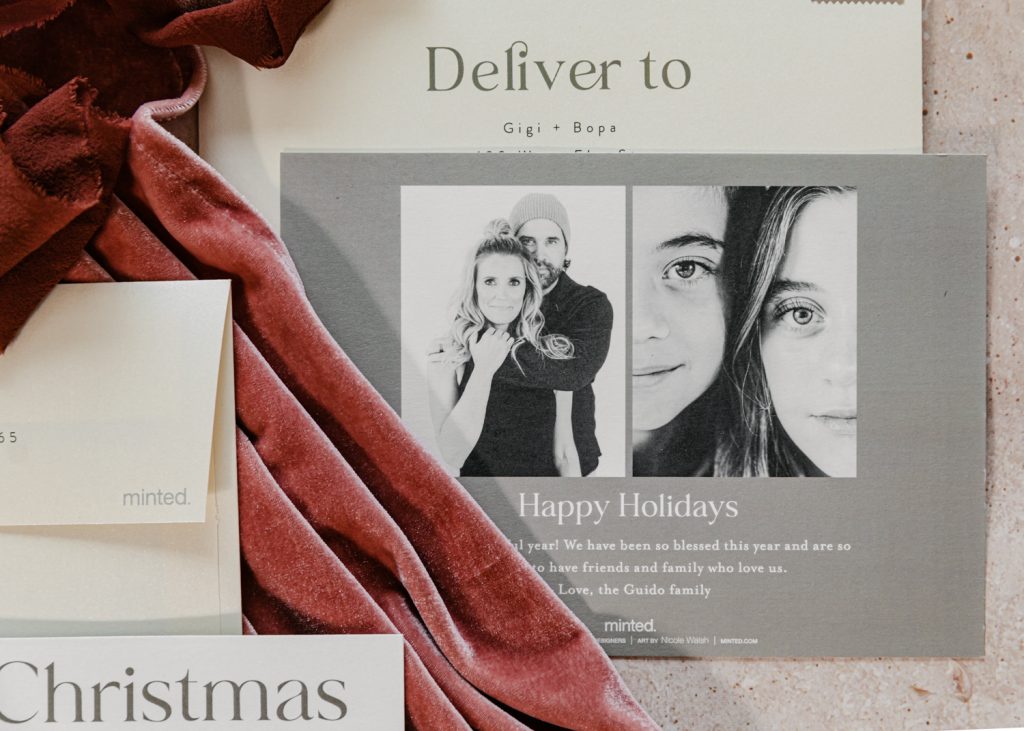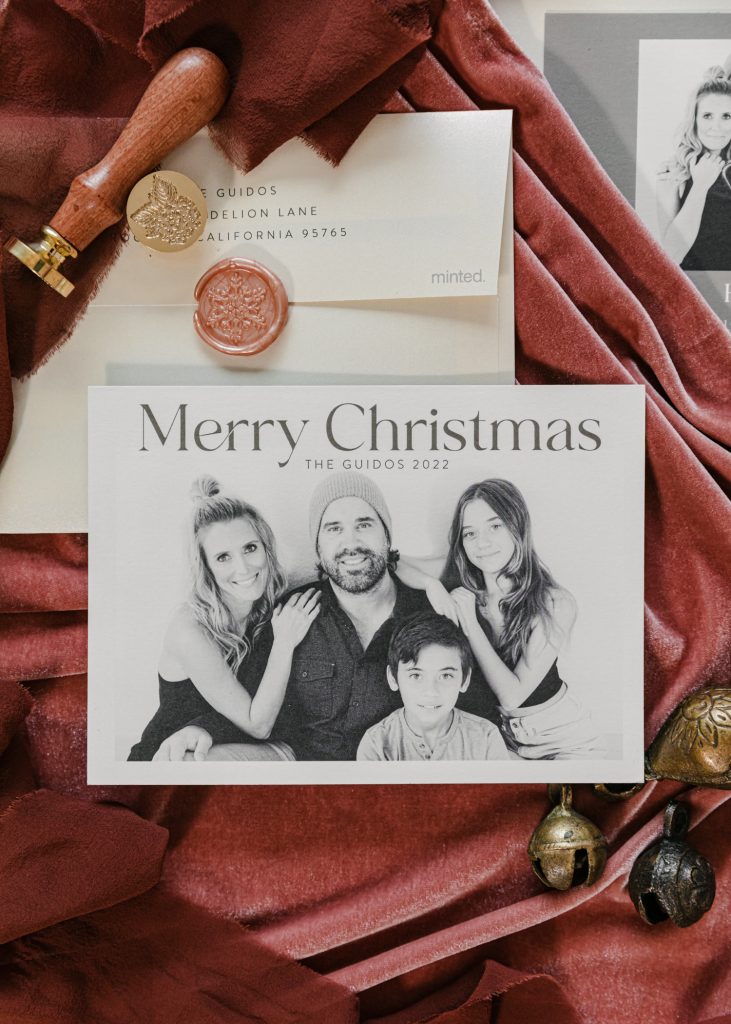 A L I S O N
For our holiday cards, I usually go for a more simple design to allow our family photo space to be the star of the show. However this year I decided to go a different route and fell in love with Angela Thompson's "Joyful and Bright" card.
I love that Minted gives you customizable options with different colors, shapes, and paper stock. I chose the green and pink colors because it truly did feel joyful!
It was also fun to add a few extra images on the back from special times throughout the year.
I'm excited to send these out this year and hopefully bring a smile to all our friends and family when they open these fun green envelopes!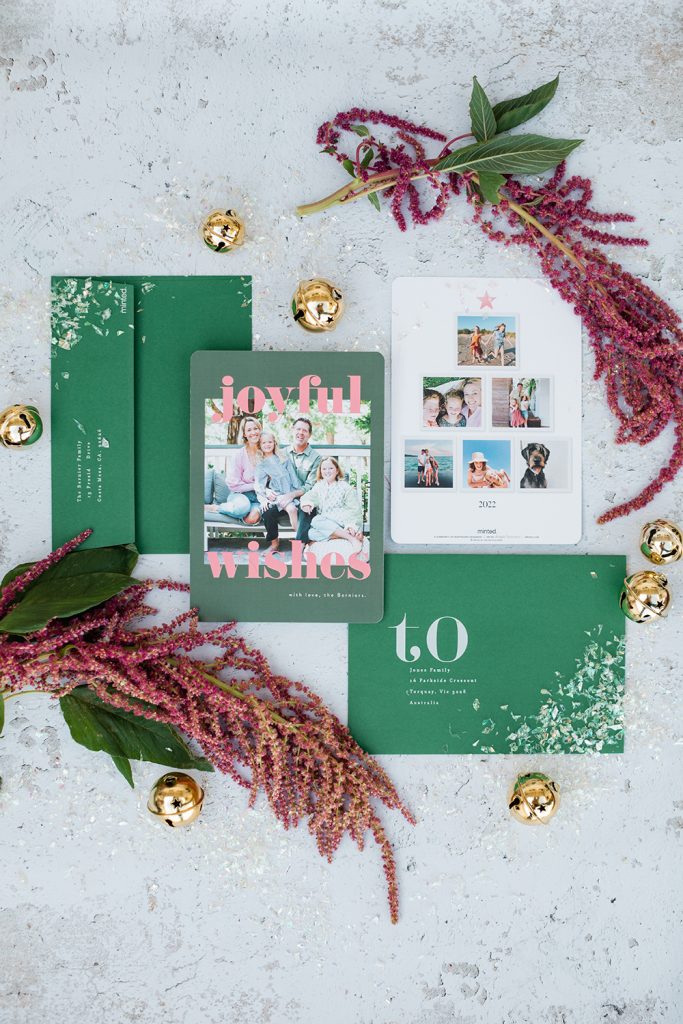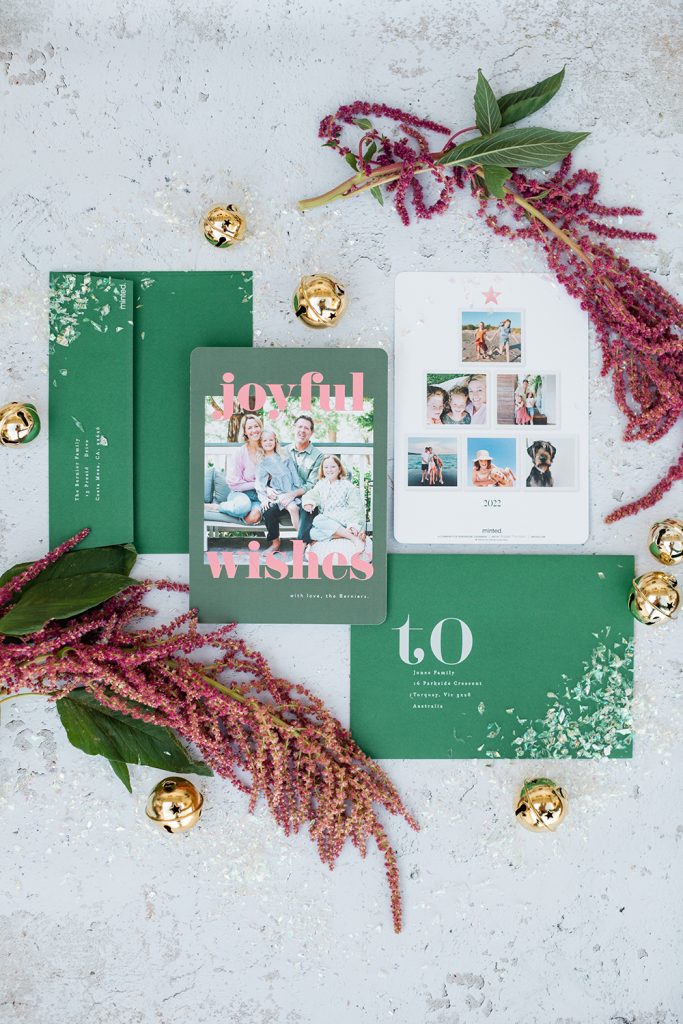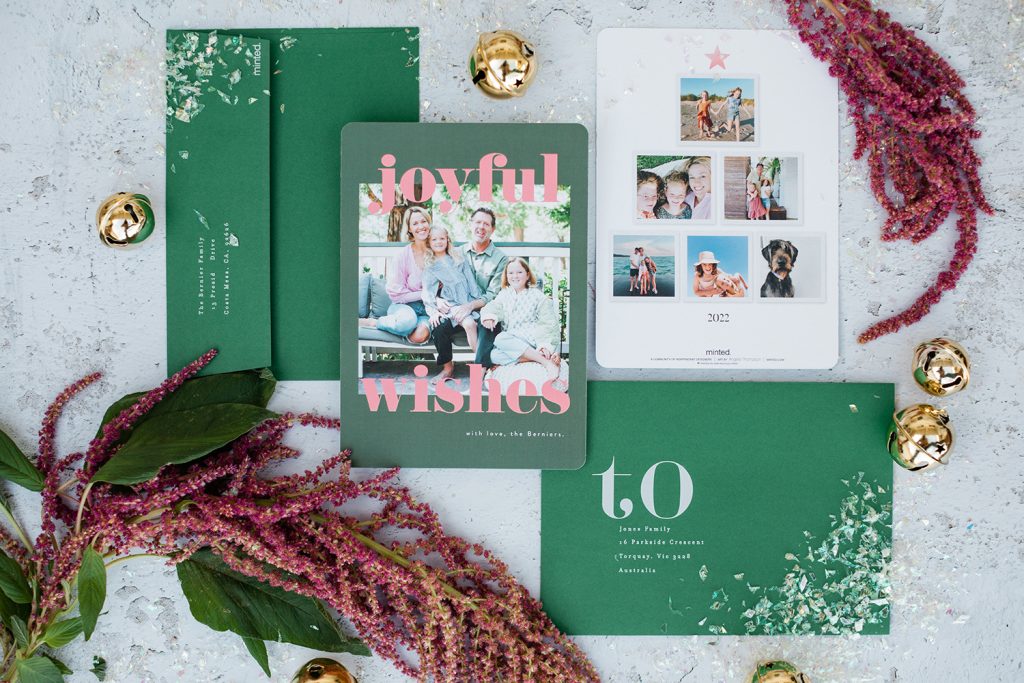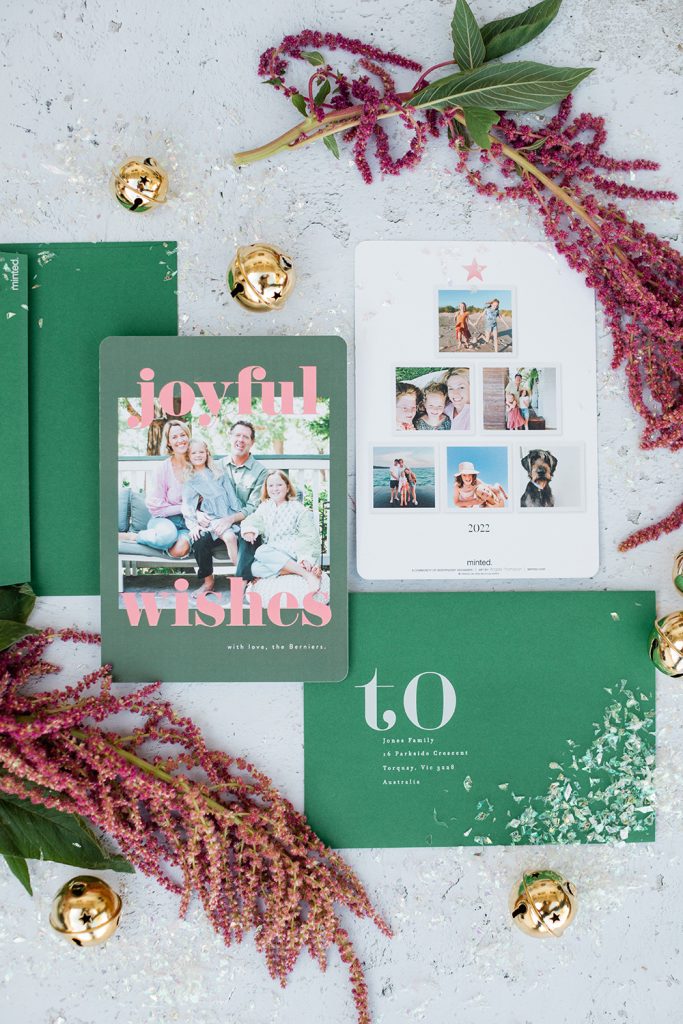 Such a fun group of cards we have picked this year! Creating holiday cards is such a fun holiday tradition we love to do! Minted truly has so many to pick from, I think that is our favorite part of the whole process. You can add your image so while you are scrolling through the countless options, you can see how your image will appear. Shop our cards and more of your favorites below.

Happy Holidays!
xx
Jacquelyn and Abby