Home tours are probably my absolute favorite posts we do, and this one is a goodie!! Lauren Peelman is a gorgeous mama living in Northern California with a real swoon worthy Instagram feed. I love following along and seeing her family and their adventures and I've sort of gotten a girl crush on her and her style. Her home is seriously amazing and this babe of a mom can't do any wrong when it comes to fashion either. Keep scrolling to read all about Lauren and her little family with tons of gorgeous photos of them and their home, plus shop some of Lauren's picks at the bottom of the post!
Photos by Erin Northcutt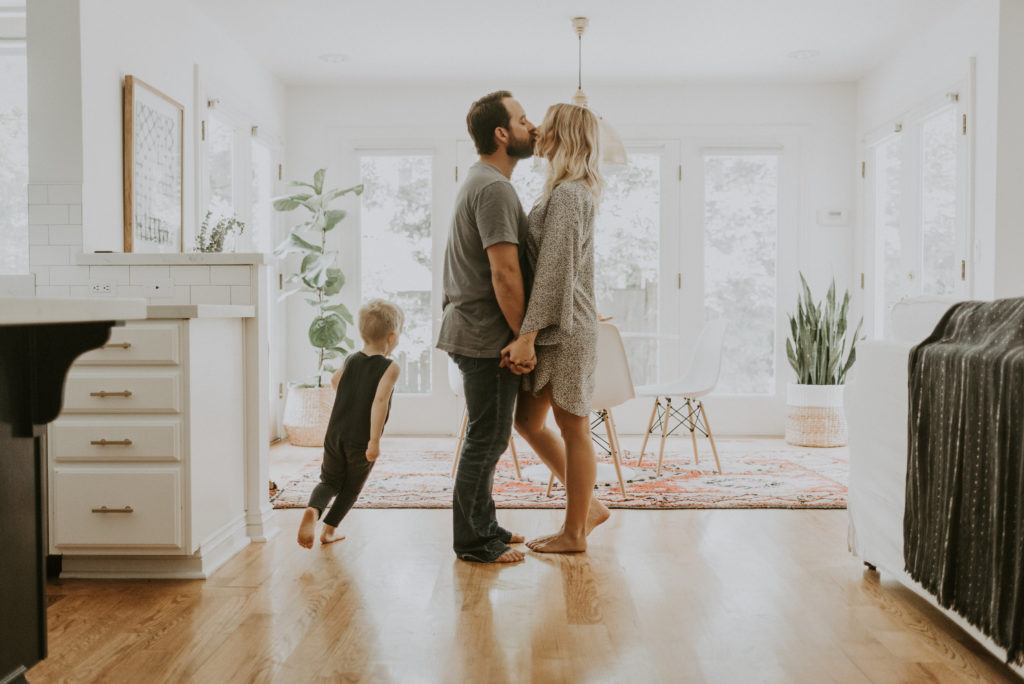 Tell us about you and your gorgeous family!
Well, we're a pretty tight little bunch! I'm Lauren, a stay-at-home mama, living in a small farm town in Central California, with my husband Kenny, and our tractor obsessed son, Holden (4). He's our little sunshine boy.
Our days here are simple—usually spent cruising through our family orchards (daily tractor rides for the babe, of course!) or splashing in the pool!
When we [very suddenly] made the decision to move back to my hometown last year, we had actually just finished a new build where we lived previously. Naturally, I took a lot of design attributes of that house and carried them into this home, such as the kitchen design. Because we will be building our forever home on our family ranch in the next few years, we opted to make small changes to the aesthetic design of this house, rather than do a major remodel. We've checked a few projects off the list, but we still have plenty of fun ones to complete.
As far as outside inspiration, Amber Lewis of Amber Interiors is definitely my designer crush. I love her use of vintage furniture and textiles. Her style is everything!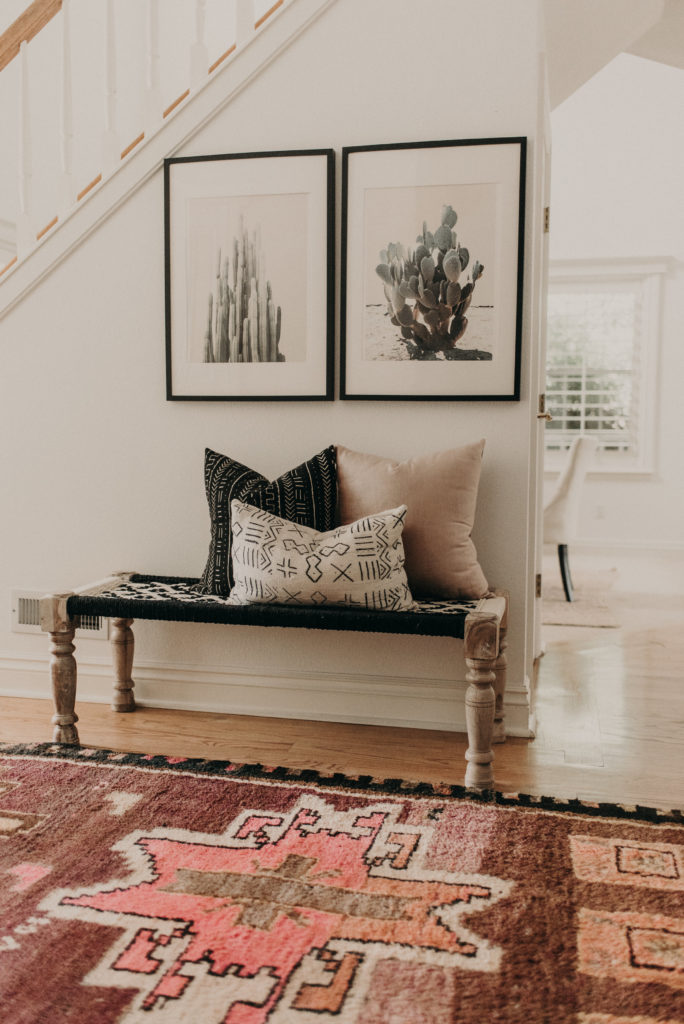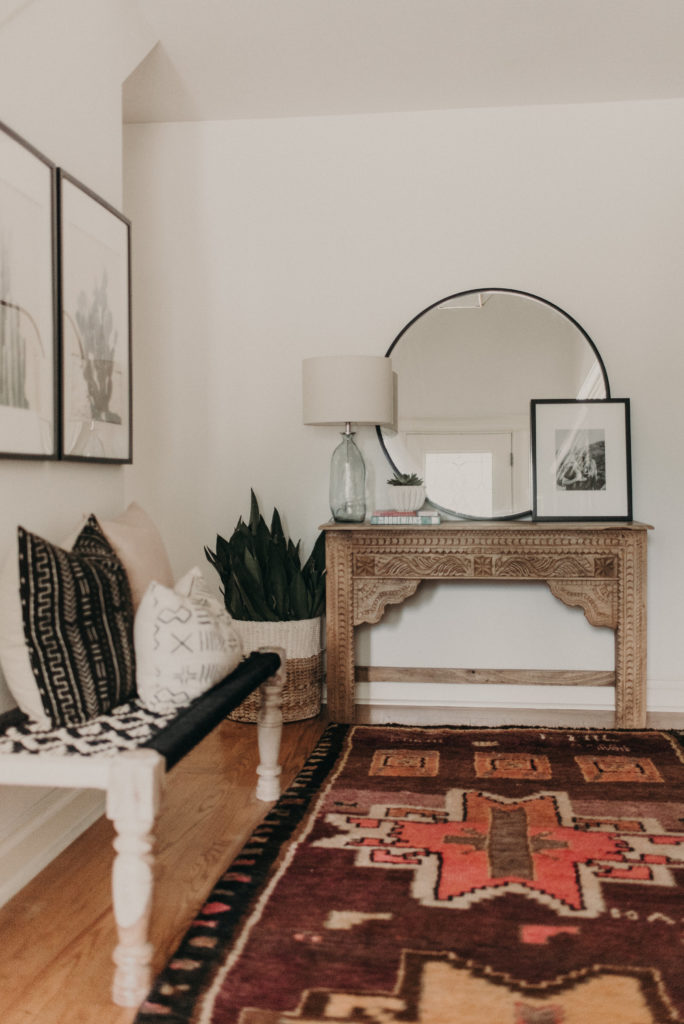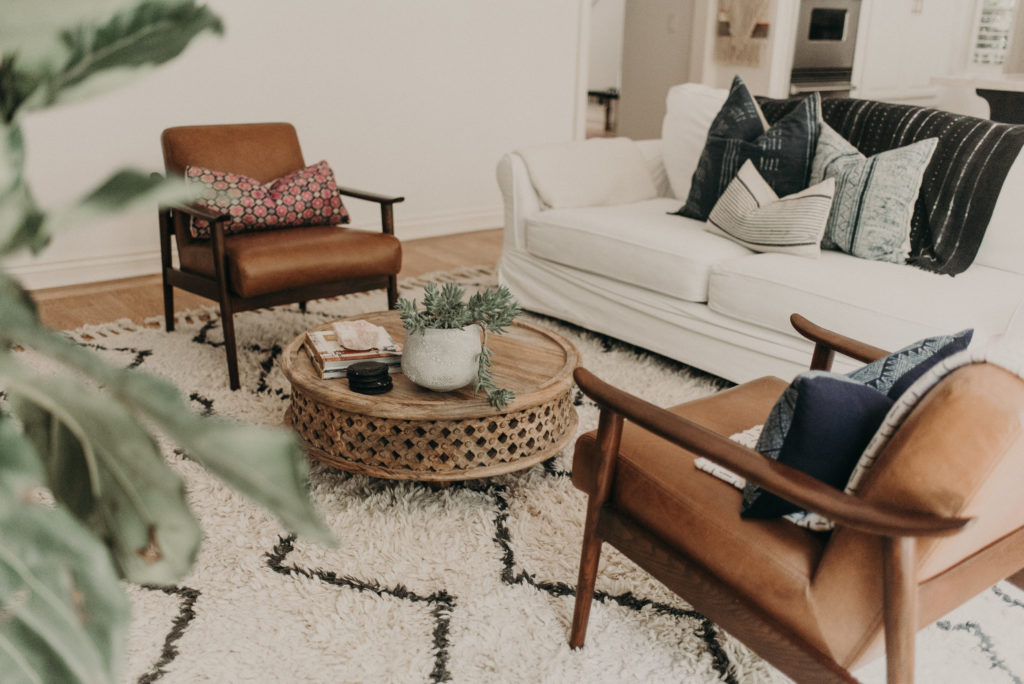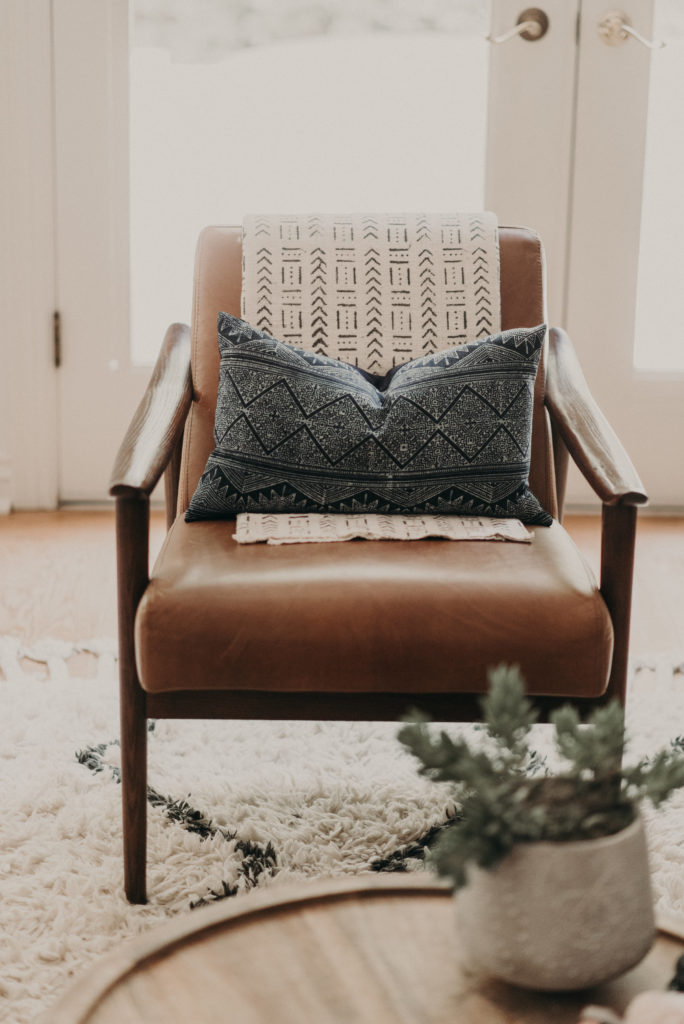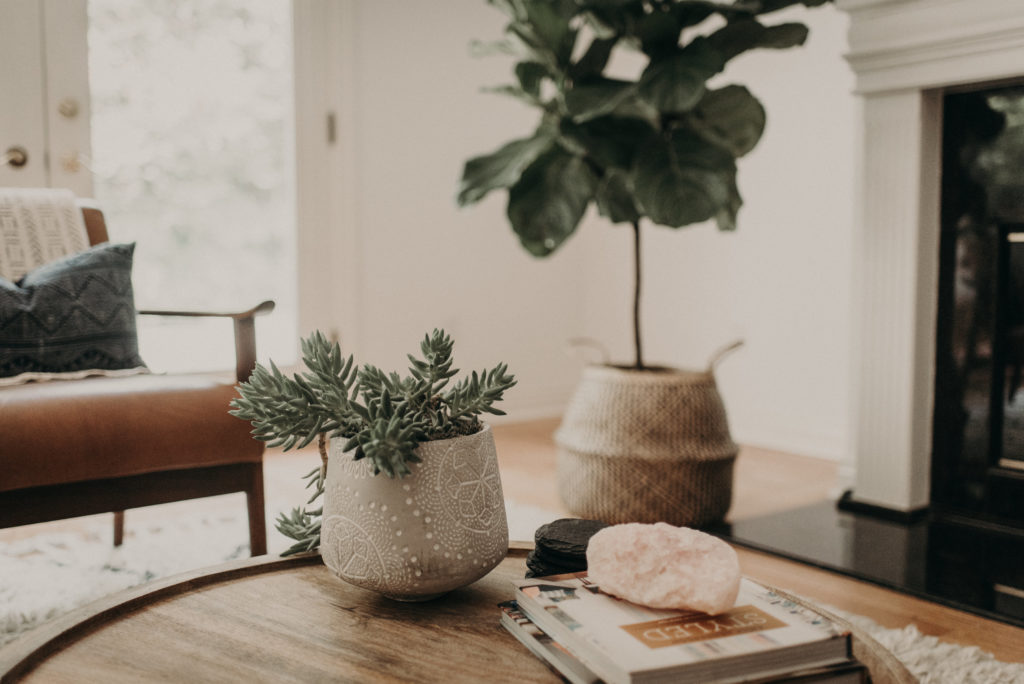 What is your favorite room in your home and why?
I think our breakfast nook & informal living room is my favorite space. Not only because that is where we spend most of our time together as a family, but also because I'm a big sucker for natural light, and that area is flooded with it. The slew of french doors was one of the selling points when we bought our home! Gimme all the windows!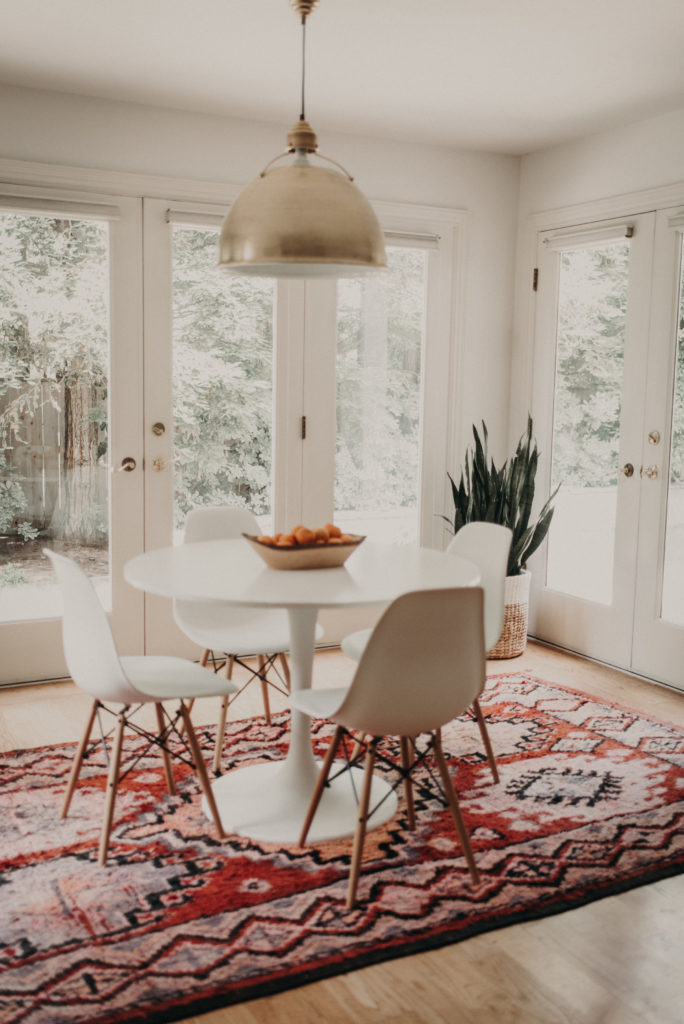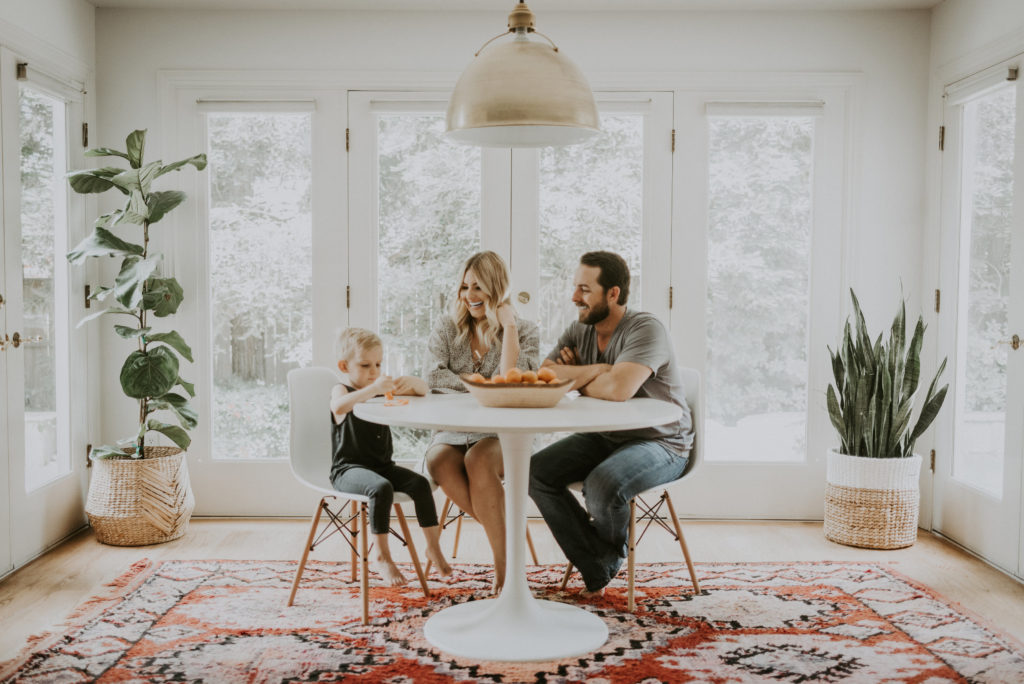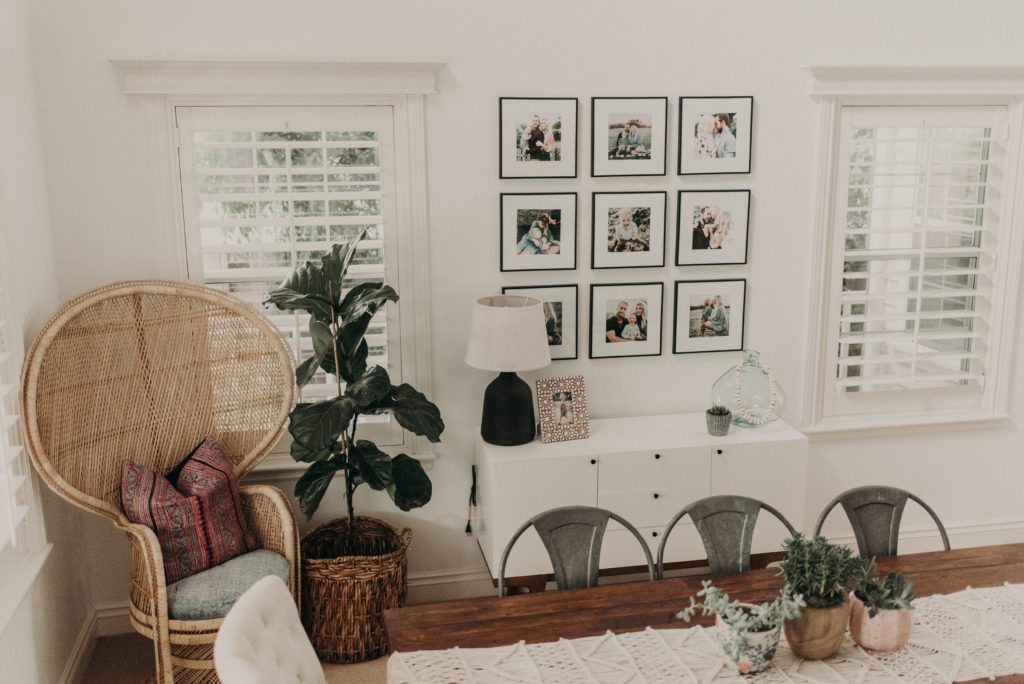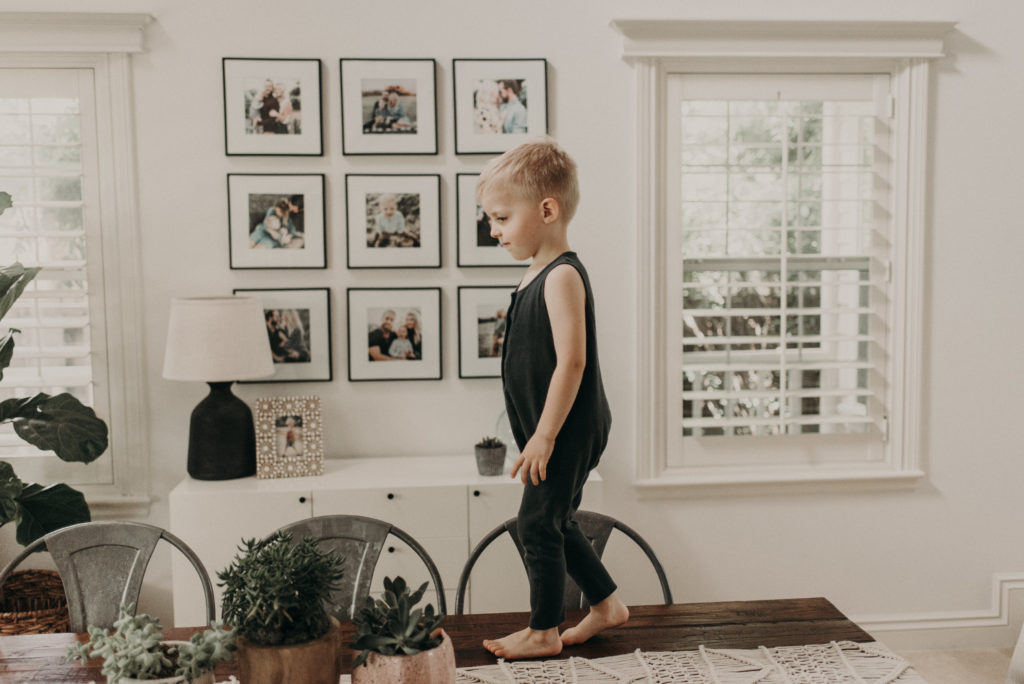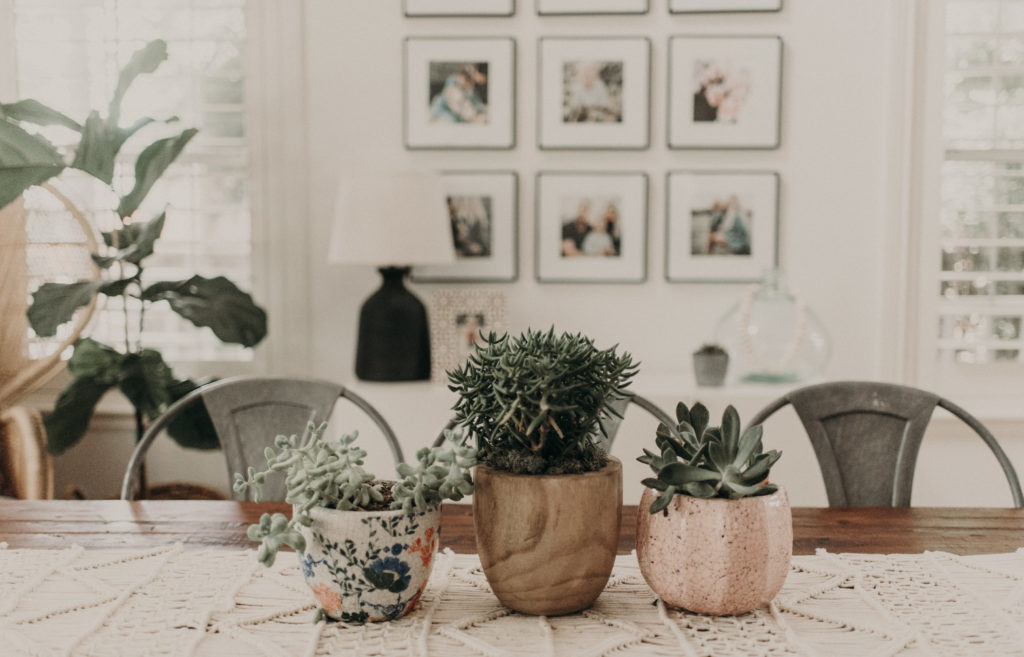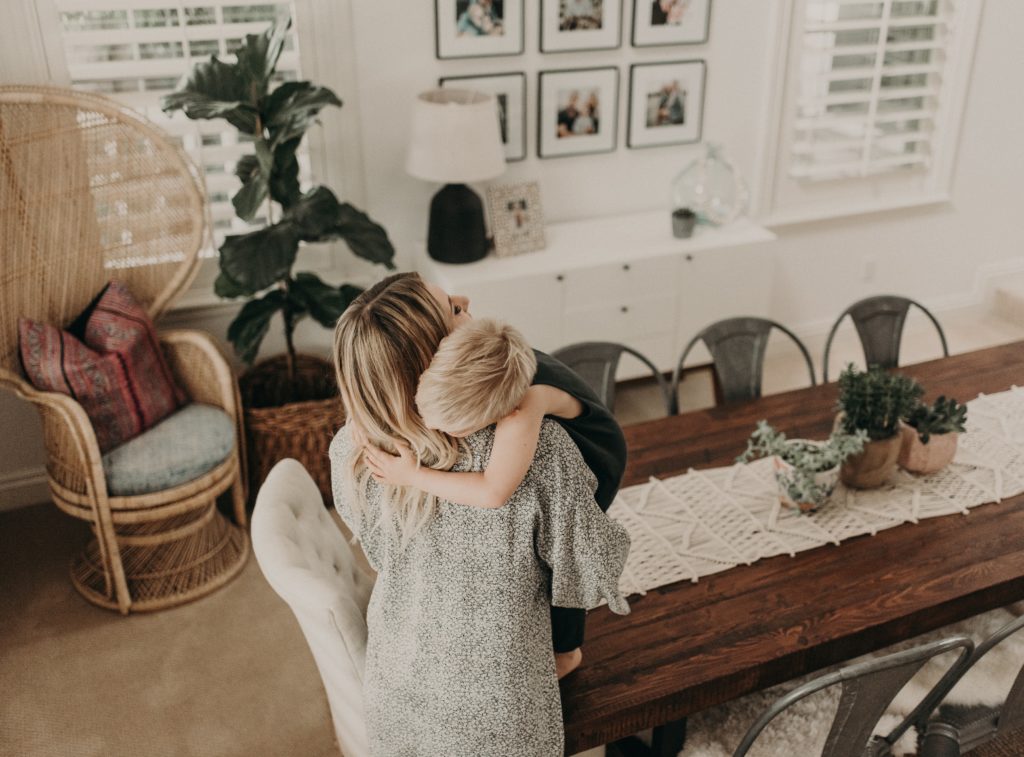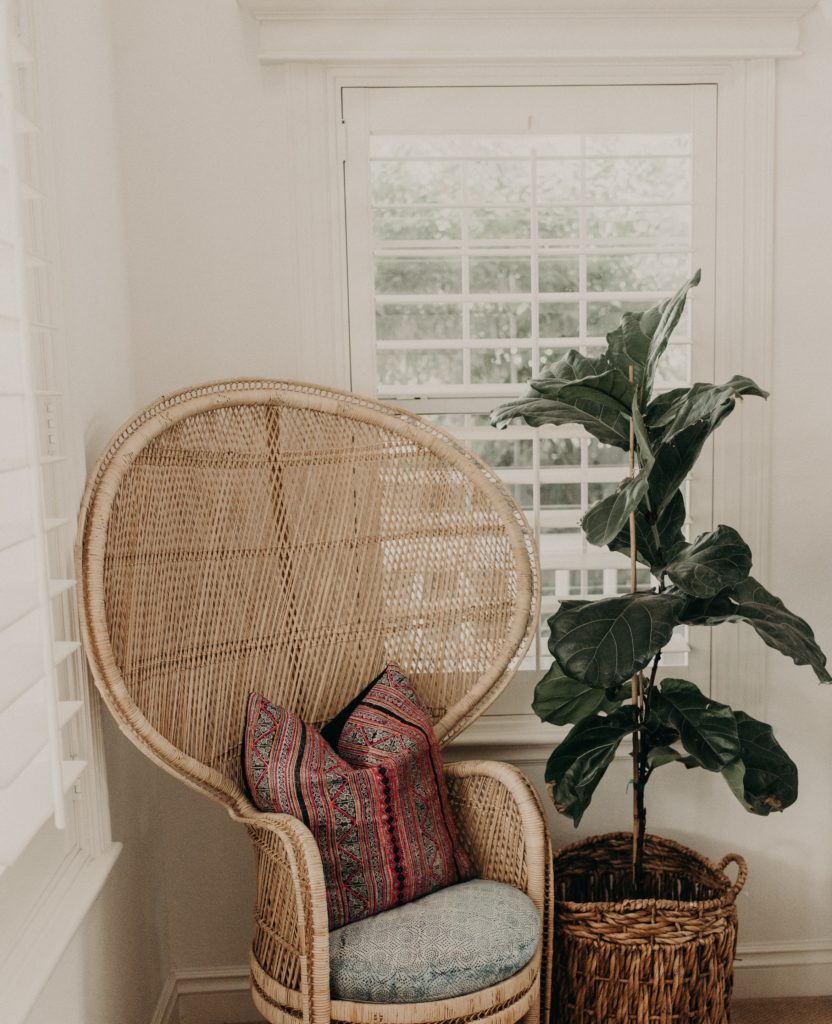 You and your husband's love for each other is undeniable! How did you two meet?
We actually met in college! In the Fresno State agriculture department…I was an incoming freshman, he was a [6.5 year…haha] graduating senior. We were both Agriculture Business majors and had a class together… I asked to borrow a pen, he made fun of me for being a farmer's daughter [super smooth] and the rest was history!
We really are attached at the hip. I've been lucky enough to be able to stay at home with him since the he was born, so he really has become my miniature best friend. He is the happiest little boy, outgoing and strong willed, but also incredibly sweet. To know him truly is to love him. He's a total farm boy, and there's nothing that makes him happier than a day on the ranch with Daddy. He can name every piece of farm equipment, and currently insists on wearing a John Deere shirt and jeans, EVERY single day… much to my dismay! ha!
Something most people don't know about him is that, he was diagnosed with Craniosynostosis when he was 9 months old and underwent major skull reconstruction surgery the day before his first birthday. Besides the [super cool] zigzagged scar across his head, you'd never know it though. He's our little craniobaby warrior, and we couldn't love him more.
Well, I wanted him to have a room that he could grow into and love for years to come [with a few tweaks of course]. I started with the Oeuf Sparrow bed, and his kilim rug from his previous room, and designed from there. I have always loved mudcloth, so I thought why not have a mud cloth inspired accent wall? I went on to add some vintage pillows, fun artwork, and lots of baskets for toy storage! Actually, since these photos were taken, his room has evolved a bit. The rest of his furniture came in [nightstand & dresser] that had been backordered for months… I will have to update y'all on Instagram. It's easily one of my favorite rooms too!
I really love small shops, and I try my hardest to support them whenever I can. Boho Pillow is my absolute favorite shop to score beautiful pillows! I also love to collect things from our travels and incorporate them into our home. They serve as fun souvenirs of the places we've been, while also playing a functional role in our home. I make it a point to head to the Alameda Flea Market whenever I get the chance. You never know what treasures you'll find! Of course, it's not always realistic to shop that way though— World Market, West Elm and Restoration Hardware are some of my go-to big box stores.
Free People, Nordstrom, Madewell & Revolve are probably where the majority of the things in my closet are from. There is nothing quite like a good boutique though. I run to San Francisco every chance I get!
We spend the majority of our weekends hanging around home or cruising around the ranches. Bike rides, swimming and long walks are our jam. We love the lake, so in the summer we run up to our family lake house every chance we get! Our little town is only about an hour and a half away from the bay area also, so we definitely love the fact that we can escape the valley and go explore San Francisco as often as we like. Go Giants!
You know, that's a good question! Right now we're just enjoying each other and this chapter of our lives. Whatever the future holds, I guess we'll have to wait and see :)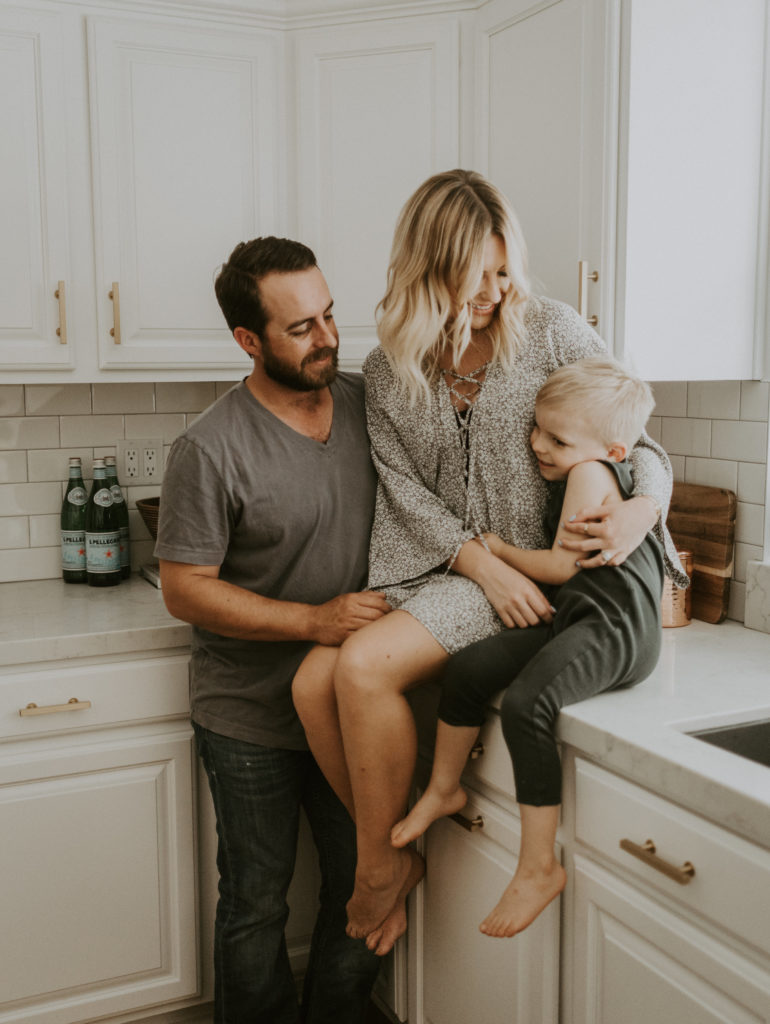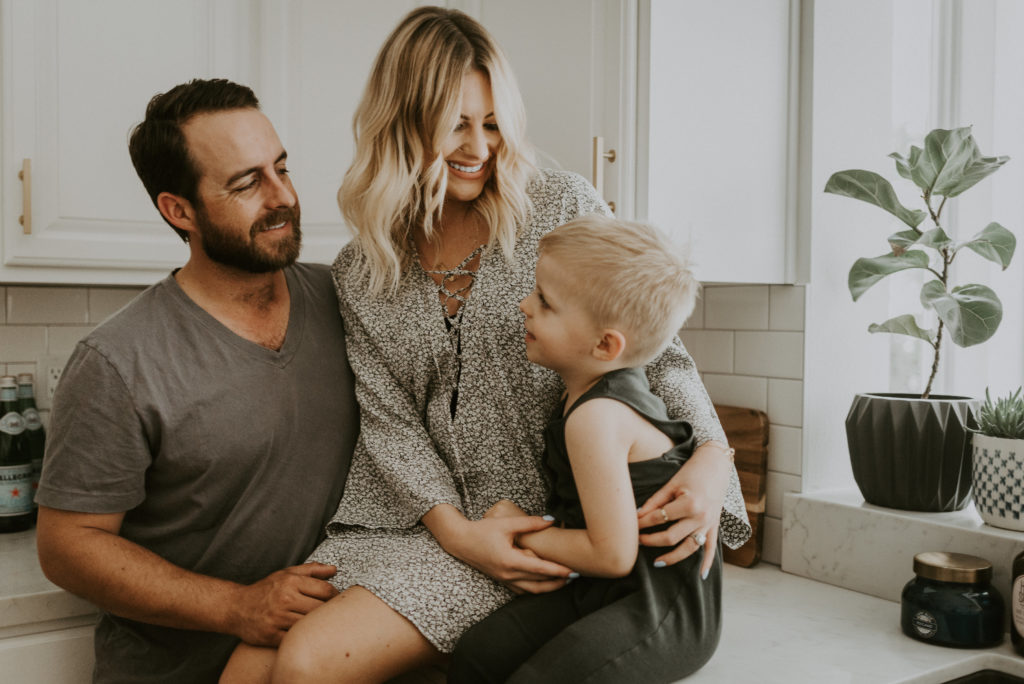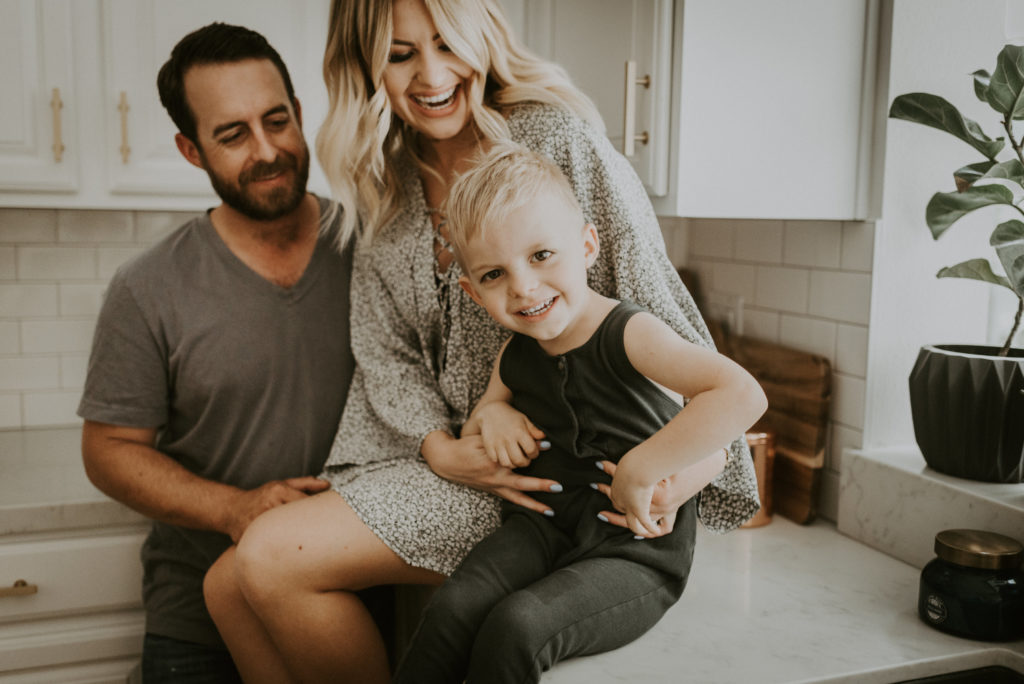 Thank you Lauren for letting us take a peek inside your beautiful home Lauren!! Shop the post below!

xx
Jacquelyn