You probably don't remember, since it's been so long I've written about it, but we bought a house last year and have been renovating since. Last year it was all about new floors, taking down walls, and redesigning the kitchen. This year we have been focusing on other projects, but our kitchen is basically complete!
Today I'm sharing a little sneak peek of a DIY my husband did in a little corner of the kitchen. It's our floating shelves that he did all on his own and I styled!
Photos by Corrie Lynn Photo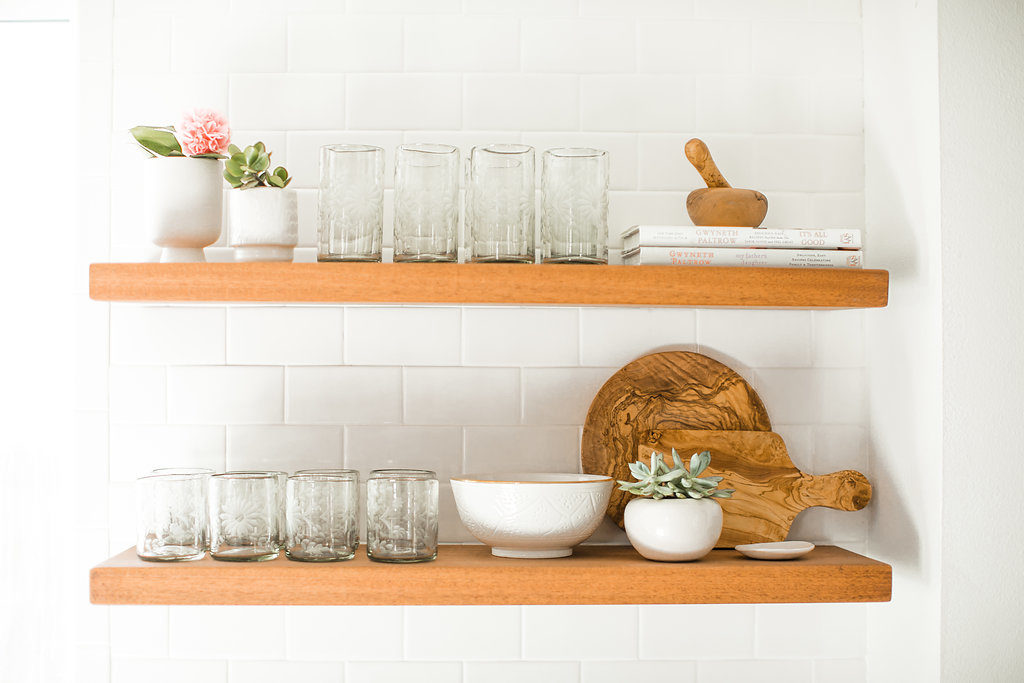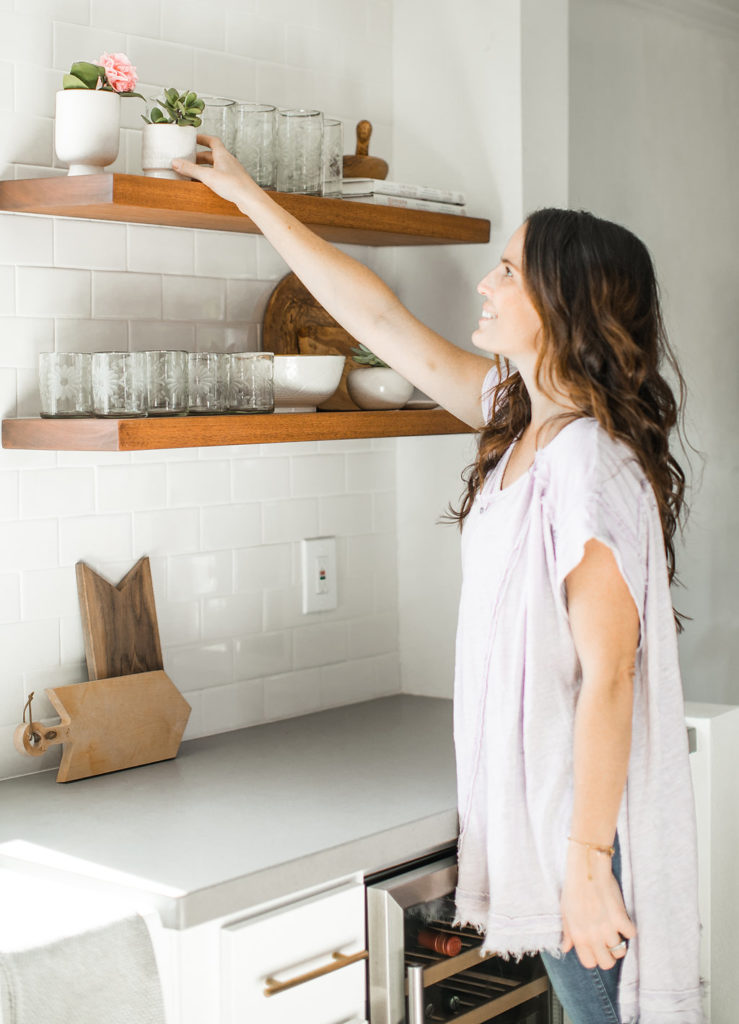 Maybe you are saying, floating shelves, big deal! But if you've ever renovated a house with your husband, then you know it's not easy, haha! With two small children, jobs, and just life, it's really difficult to find time to do home projects. Especially when you're on a budget and trying to do as much as you can on your own. Obviously, when something (even something small) is completed, you want to jump for joy!
I posted a video on our Insta stories not long ago and a few people dm'd asking where my shelves were from. Well, these were all made by my hubby! He went to our local lumber yard, bought wood, cut, sanded and stained it, then hung them up! Not gonna lie, I feel like it took quite a while to get these bad boys up, haha, but once he did it he definitely scored some points!!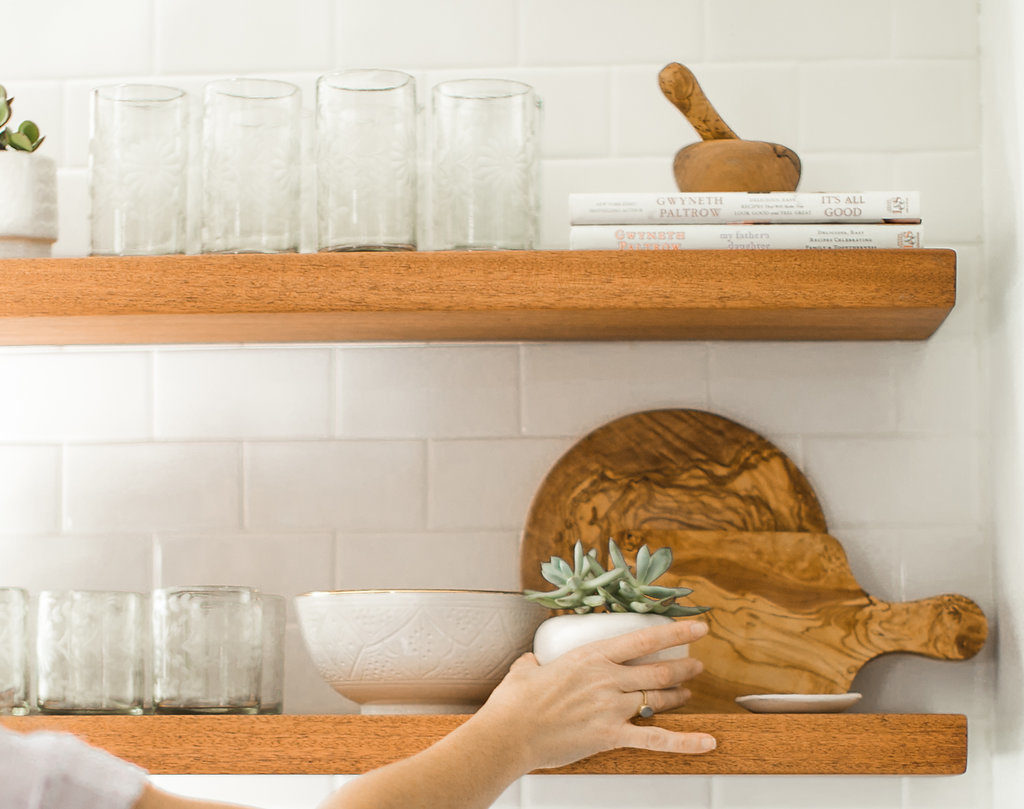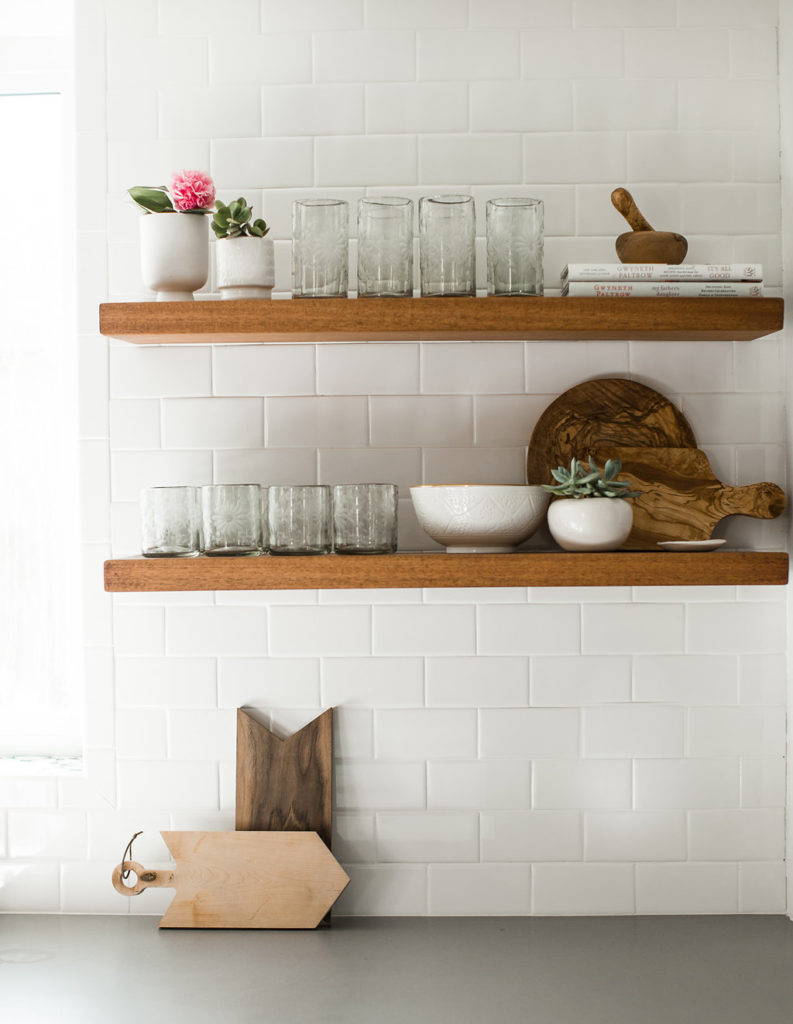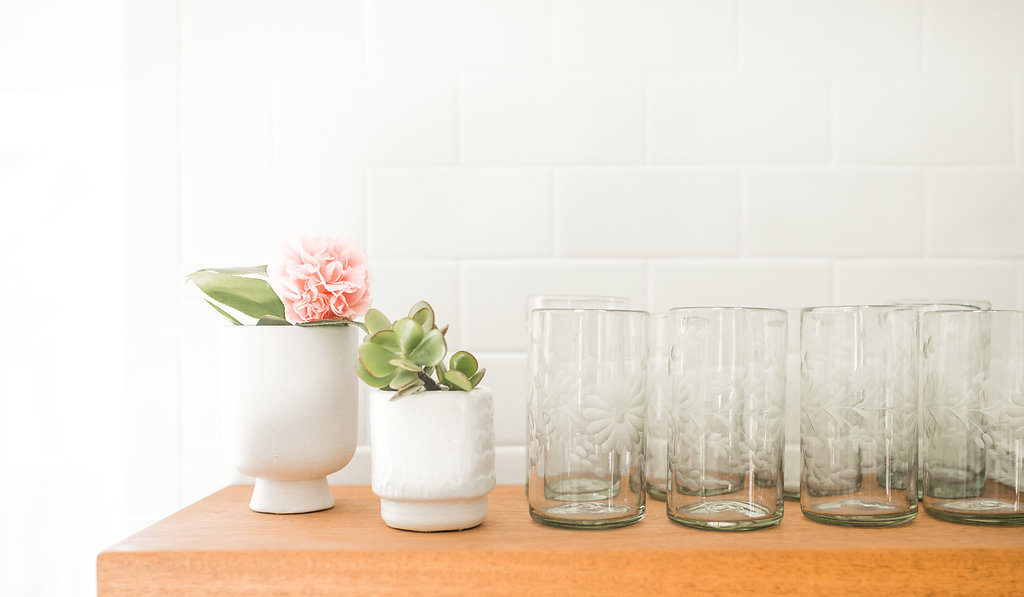 As far as styling, I of course wanted it to look great but be functional as well. I love my glassware from The Little Market, we use it everyday so it's nice that it's easily accessible. We also use the shorter glasses for wine, and you better believe I need that close!! Next, the cutting boards, also from The Little Market, are something I use daily, so having them near is great, but also layered in a stylish way.
Of course I wanted to add some color, my kitchen is mainly white, black, wood and brass. In order to do that I brought in some plants of course! For the planters I turned to local designer Luna Reece Ceramics. You may remember I used her planters for Court's birthday party last year. She has beautiful handmade creations and I love adding an artisan like that to my home.
While I love having cookbooks around, our new home is quite smaller than our last so we had to edit a lot of our "stuff". I only kept a few cookbooks, ones I actually used and these two by Gwyneth Paltrow made the cut. Luckily they are also aesthetically pleasing!
To me, keeping things simple and functional is the best way to go with your open shelves. You never want them to look too cluttered as they are visible to everyone! Ultimately figure out what you and your family use the most and display it in a clean and minimal way.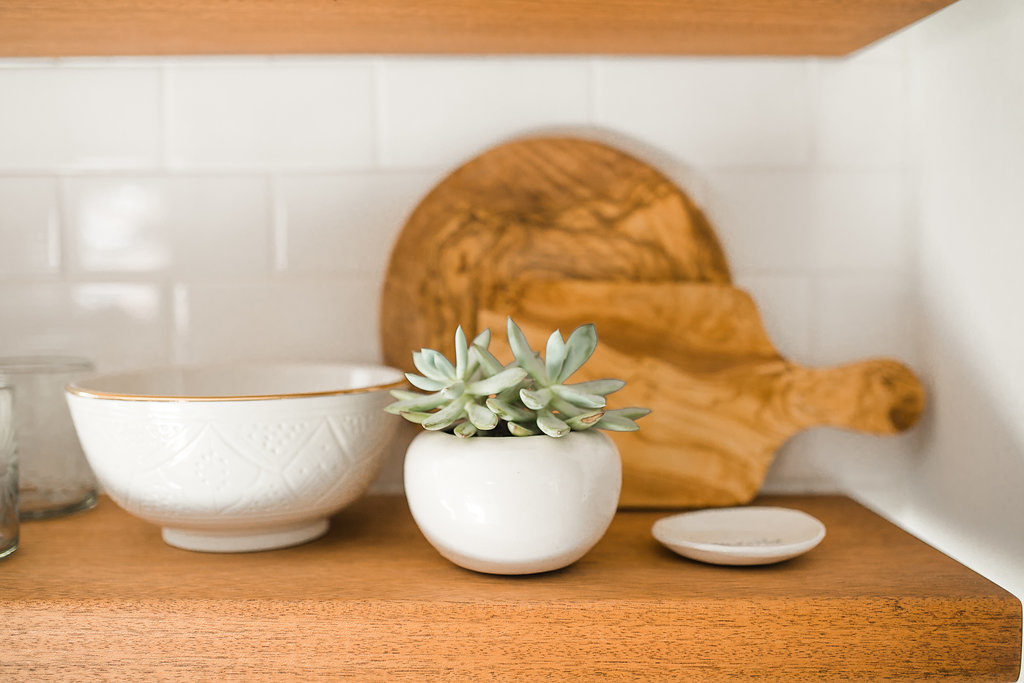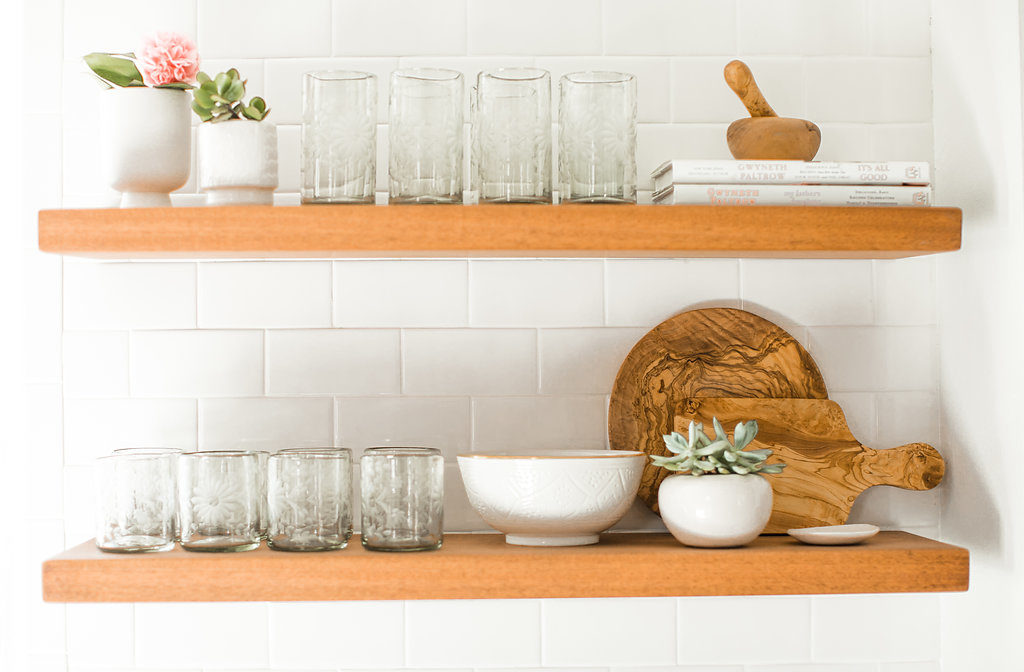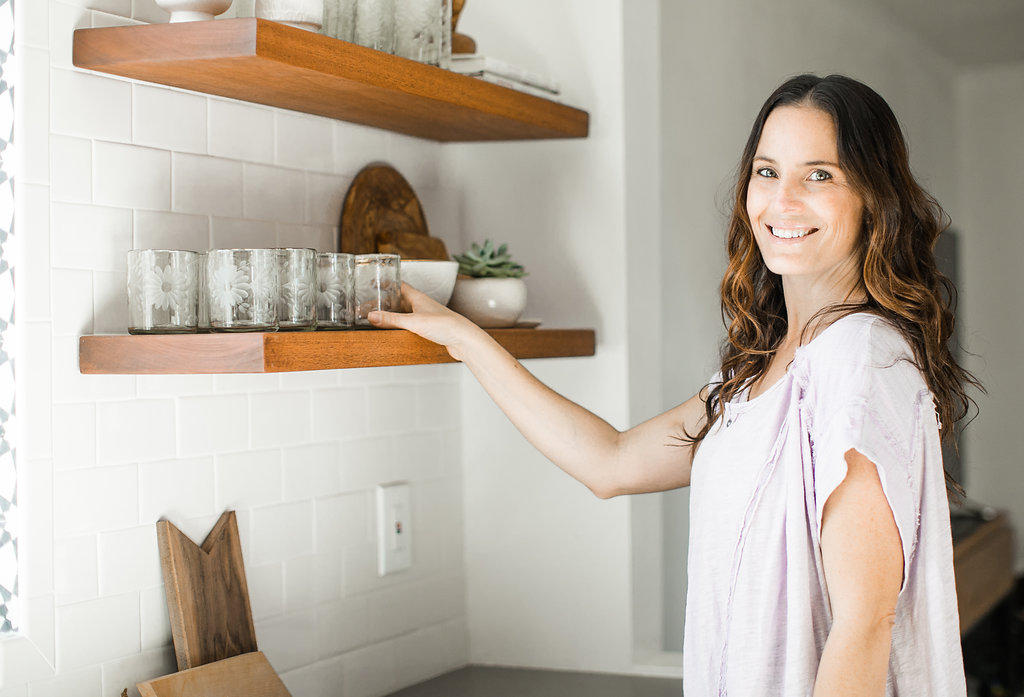 I hope this helps you in your own styling at home! Also, if you are in the same boat as me and working with you husband on renovating your home, just know you're not alone!! Let's virtually drink a bottle of wine together, because it's a long road, haha!!
xx
Jacquelyn